Now that Qatar Airways has taken delivery of their first A380, it seems like they're finally starting to solidify their schedule and route plans for the aircraft. This has been a long time coming, given how often they've changed their A380 delivery schedule.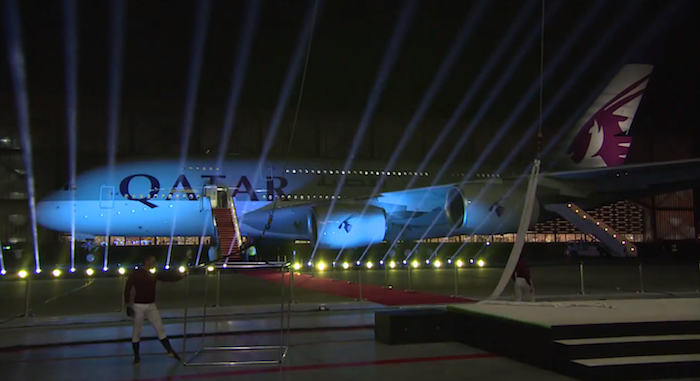 As it stands, their first A380 service will be daily between Doha and London Heathrow as of October 10, 2014, with the following schedule:
QR03 Doha to London departing 7:45AM arriving 12:25PM
QR04 London to Doha departing 2:15PM arriving 11:55PM
Next they'll be flying the A380 daily between Doha and Paris Charles de Gaulle as of November 1, 2014, with the following schedule:
QR39 Doha to Paris departing 7:55AM arriving 1:10PM
QR40 Paris to Doha departing 3:00PM arriving 11:25PM
Finally, Qatar Airways has just announced their next A380 flight. They'll be launching a second daily A380 flight between Doha and London Heathrow as of December 1, 2014, with the following schedule:
QR01 Doha to London departing 12:50PM arriving 5:30PM
QR02 London to Doha departing 8:30PM arriving 6:15AM (+1 day)
This schedule actually seems to be reliable, as they're not doing any of the weird inventory blocking they were previously doing. For example, they were originally going to start A380 service to Paris earlier, though weren't selling any first class seats, clearly because they weren't sure the service was going to happen (the alternative was a 777-300ER without a first class cabin, hence the blocking).
The above is pretty interesting because it suggests that Qatar Airways will have three A380s in service by December. With that in mind, I wouldn't be surprised if they started A380 service to New York in the first half of next year, given that they should have a couple more A380s within that timeframe.
Unlike Emirates and Etihad, I don't think Qatar Airways has aspirations of offering all A380 service to London Heathrow, given their A319 Business One flight and the fact that they have a really good business class product on their 787s.
Lastly, check out these two cool videos that Qatar Airways has uploaded to their YouTube channel the past few days.
The first is a "concept to reality" video:
And then the second is of the A380 delivery event in Doha (which includes a great line from His Excellency: "I'm hugely proud that I'm serving my country to the best of my capability." Be sure to thank him for his "service" the next time you see him!):