---
Etihad 651
Abu Dhabi (AUH) – Cairo (CAI)
Wednesday, October 8
Depart: 12:55AM
Arrive: 2:45AM
Duration: 3hr50min
Aircraft: Airbus A320
Seat: 4C (Business Class)
Even though I've flown Etihad quite a bit, this was my first time on one of their regional aircraft.
Etihad's A320 business class consists of a total of 16 seats, spread across four rows in a 2-2 configuration.
The color scheme of the cabin is a bit, erm, bright, at least for a flight departing at 1AM. Though I didn't totally hate it. It kind of matched the motif of most Florida homes built in the early 90s.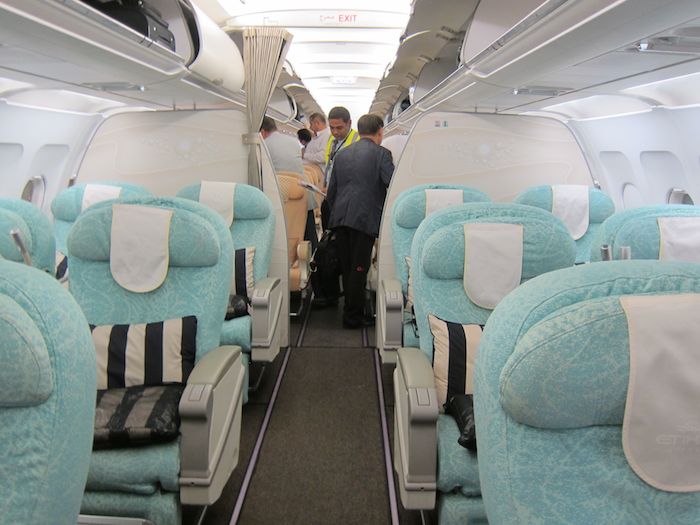 Etihad A320 business class cabin
The legroom in the cabin is generous. Seats have ~49″ of pitch, which is quite a bit more than you'd get in domestic first class within the US, though quite a bit less than you'd get in business class on a longhaul flight. So for a roughly four hour flight, it was more than enough.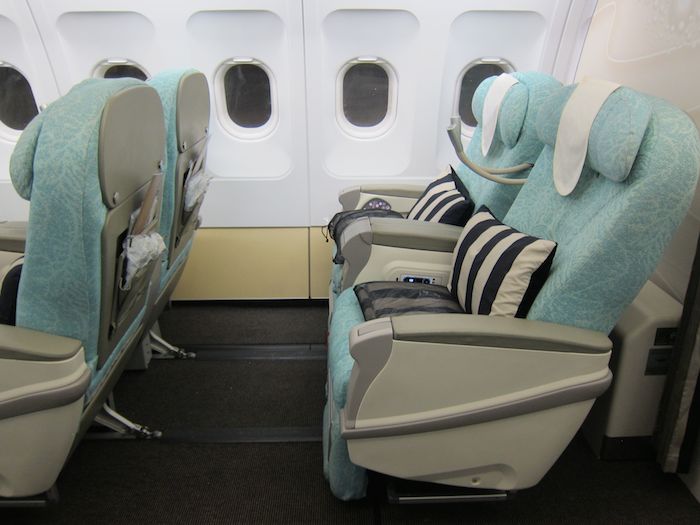 Etihad A320 business class seats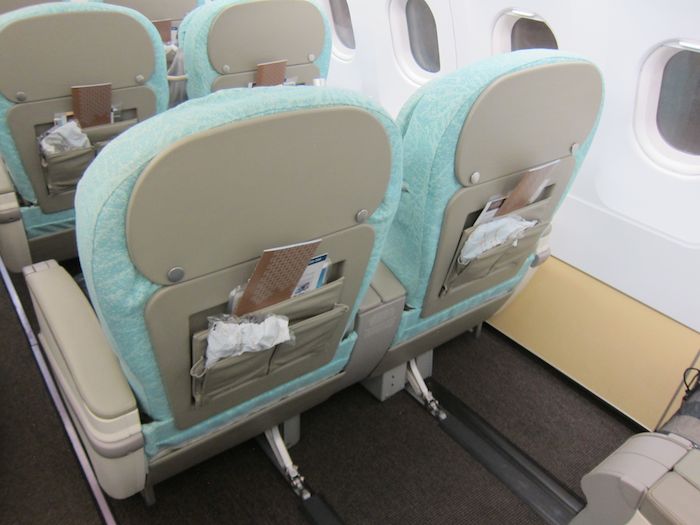 Etihad A320 business class seats
I quickly settled into 4C, which was my assigned seat.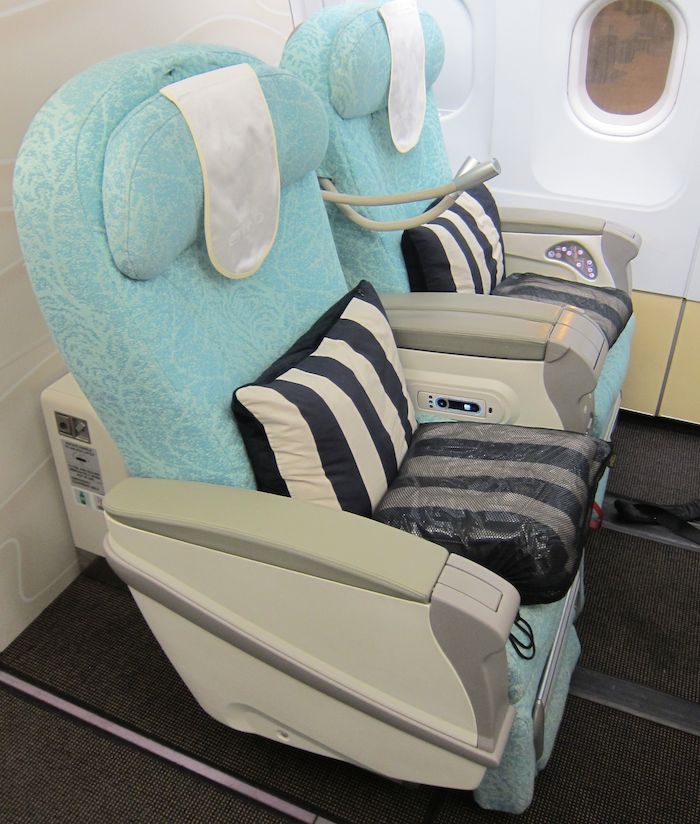 Etihad A320 business class seats
Waiting at my seat were a pillow and blanket. The patterns on those were at least a bit more neutral than the seats themselves, so it balanced things out a bit.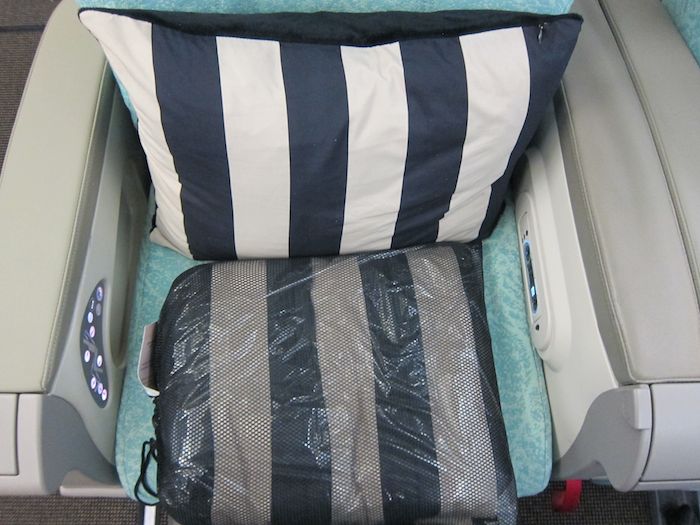 Etihad A320 business class pillow & blanket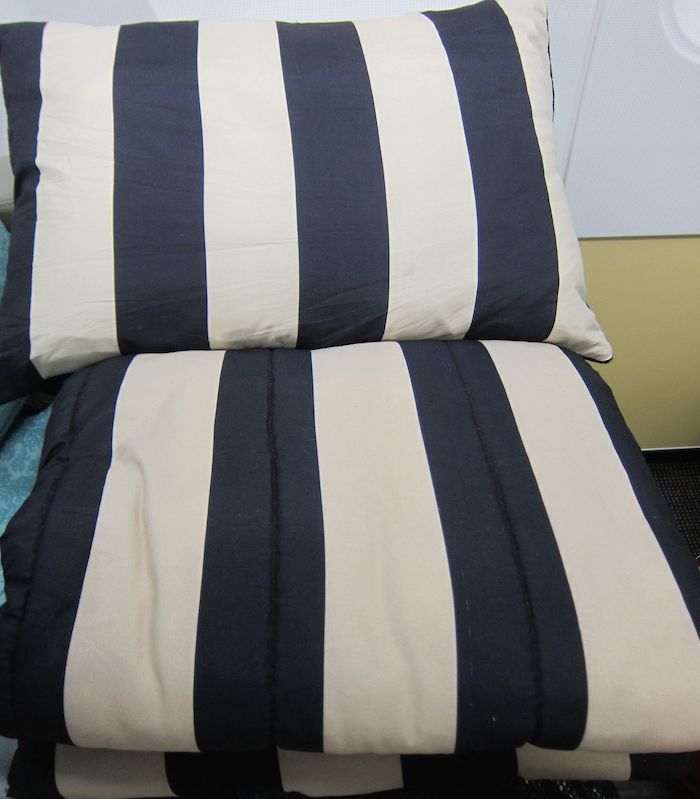 Etihad A320 business class pillow & blanket
Then waiting in the seatback were headphones, the menu, etc.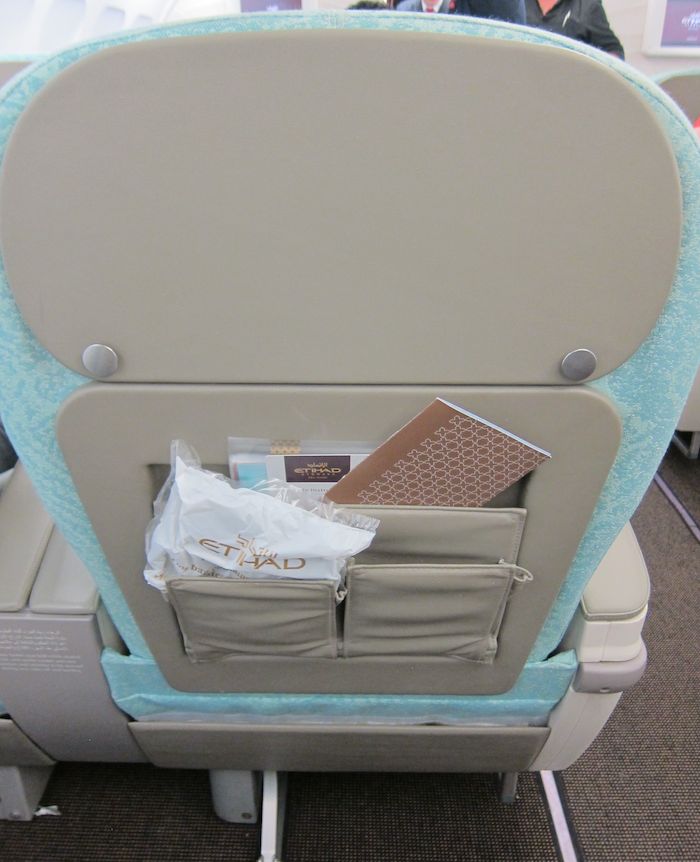 Etihad A320 business class seatback
The headphones were the fairly cheap and crappy variety, unfortunately.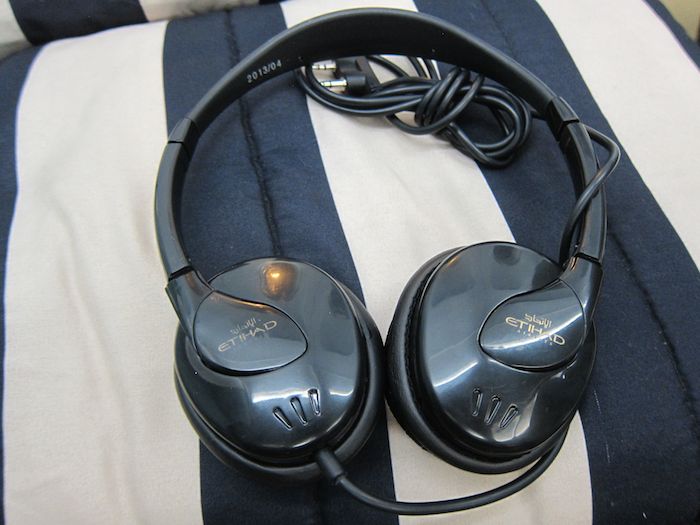 Etihad A320 business class headphones
On the side of the seat were the seat controls, which were electric and fairly intuitive (then again the seat didn't do all that much, so…).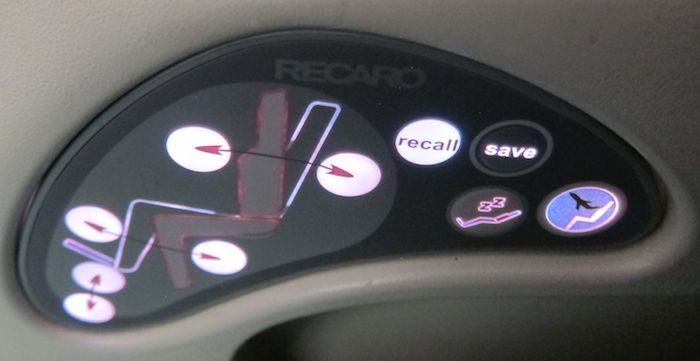 Etihad A320 business class seat controls

Then on the opposite side of the seat was the entertainment controller, which was easy to use.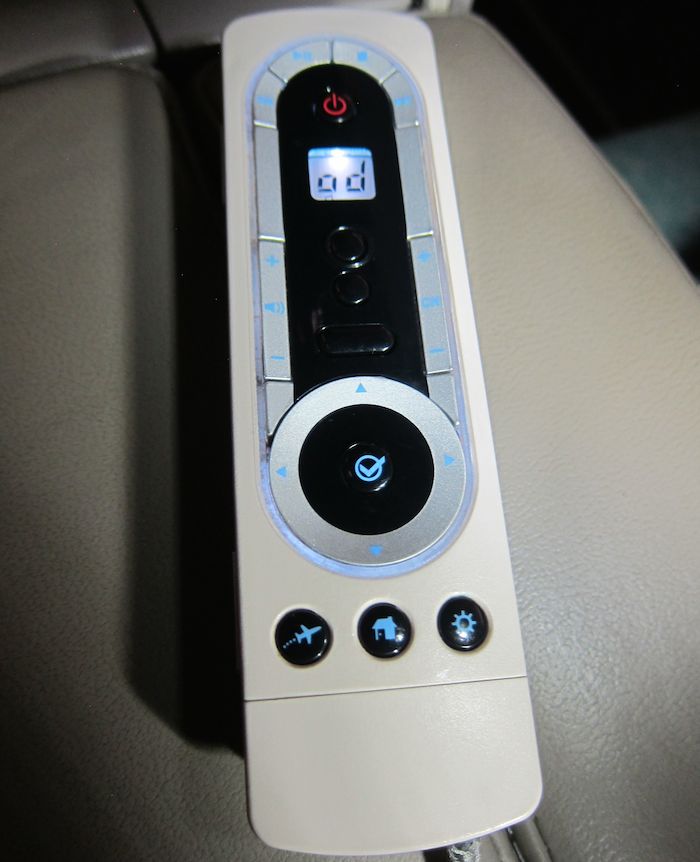 Etihad A320 business class seat controls
Then in the console between seats were two 110V outlets.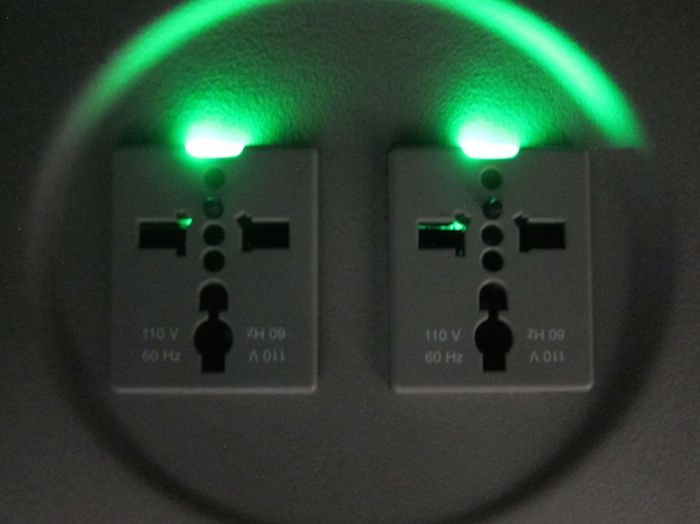 Etihad A320 business class power port

As soon as I settled in the cabin manager, Shayan, came by to introduce himself. He was a nice guy, and told me to let him know if I needed anything during the flight. He also offered me a pre-departure beverage. I ordered some still water, which was accompanied by a hot towel. I was also offered a selection of newspapers and magazines.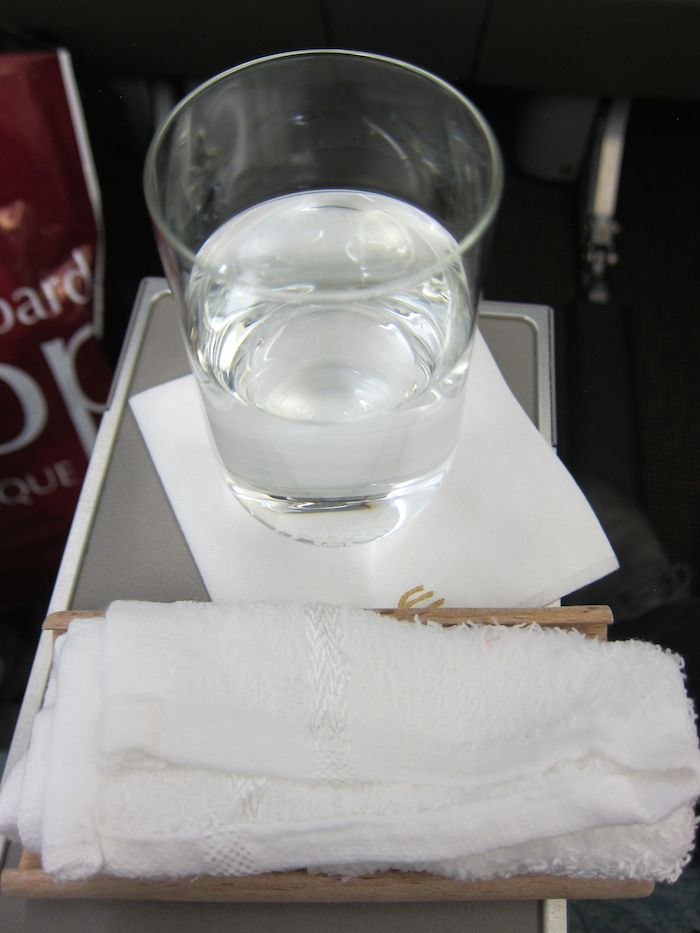 Etihad A320 business class pre-departure water

After that I was offered eyeshades and socks. Further amenities were available in the lavatory.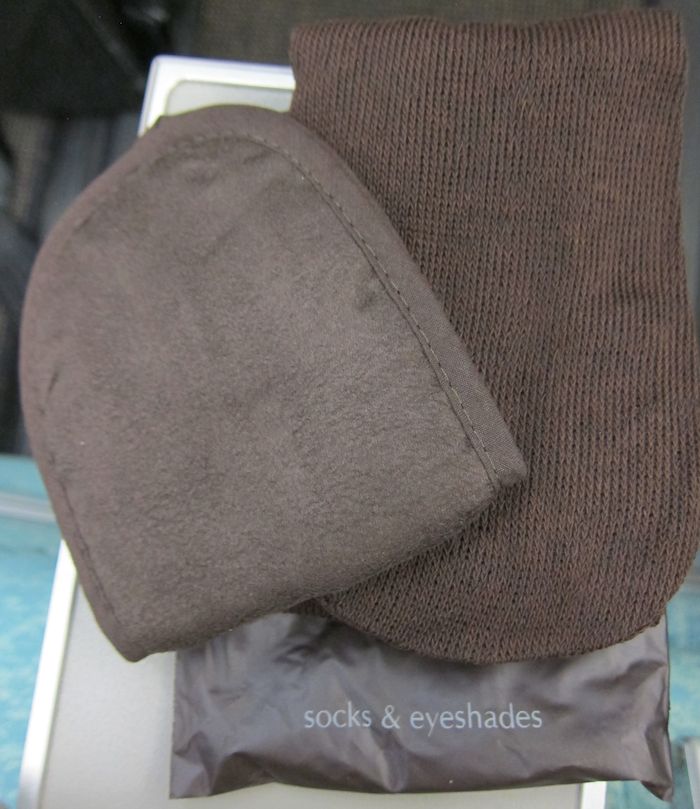 Etihad business class amenities
The boarding process was a total freaking mess. Like, I don't think I've ever seen such a disorganized boarding process. For one, people didn't at all pay attention where their belongings were as they boarded. Despite the aisle in business class being wide, I got hit in the face by what must have been dozens of bags. So that's a reason to pick a window seat on flights to/from Cairo.
And no one seemed to actually look at their boarding passes, so everyone just sat down wherever. And when the few people that looked at their assigned seats arrived to find them occupied, they wouldn't say "excuse me, you're in my seat," but rather "get out."
At one point a young boy boarded, and just stood in the aisle in business class. The flight attendant asked where he was seated. He screamed back at the flight attendant "I DON'T KNOW." The flight attendant asked if he had his boarding pass and he screamed back "I SAID I DON'T KNOW!" Eventually his mom walked on, and then he started hitting her and yelling at her. It was just nuts…
An Egyptian mom and her daughter were seated across from me, and they spent a good 20 minutes during boarding taking selfies. When the cabin manager explained they'd have to store their big bags in the overhead bin, they started yelling at him and saying "how dare you." WTF?!
As the cabin manager walked by I whispered to him "I don't know how you even work these flights," and I asked if he was working a direct turn or not. Amazingly enough Etihad actually makes their crews do direct turns on these flights. They take the 1AM flight to Cairo, and then get back to Abu Dhabi at 9AM the next day. And worst of all, they do that same trip for three days in a row. But as he explained it, that's their "bad" trip for the month, and then the rest of the month they get "good" trips.
At 12:50AM boarding was complete, with the business class cabin three quarters full. The seat next to me was open, so I moved over to 4A.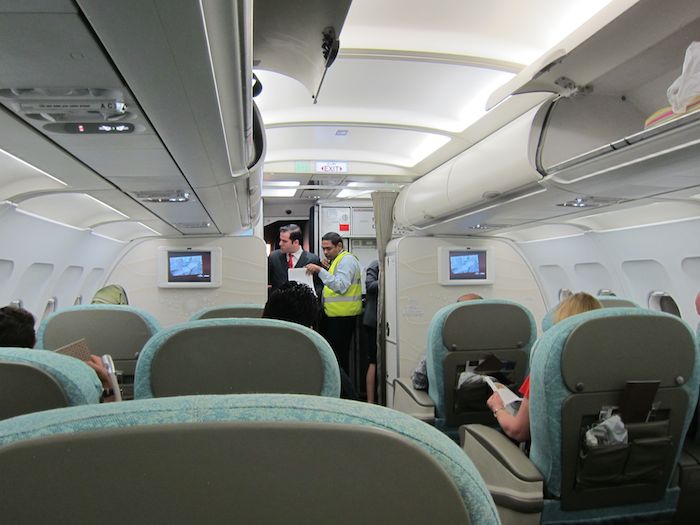 Etihad business class cabin A320
At that point the captain made a welcome aboard announcement. He sounded and looked almost exactly like Akbar Al Baker, the CEO of Qatar Airways. It was creepy how much he resembled him. He informed us that our flight time would be 3hr35min, and anticipated an on-time arrival in Cairo.
At 1AM we began our pushack, at which point the safety video began to play.
We taxied out to our departure runway, 31R, which took a long time — over 20 minutes.
At 1:25AM we were finally cleared for takeoff. As we climbed out I first checked out the airshow, which I always find especially interesting in the Middle East. The personal televisions are in the center console, so can't be used while on the ground.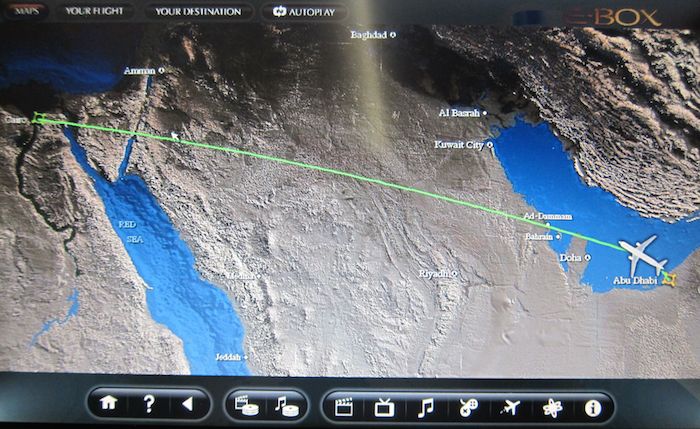 Etihad A320 business class airshow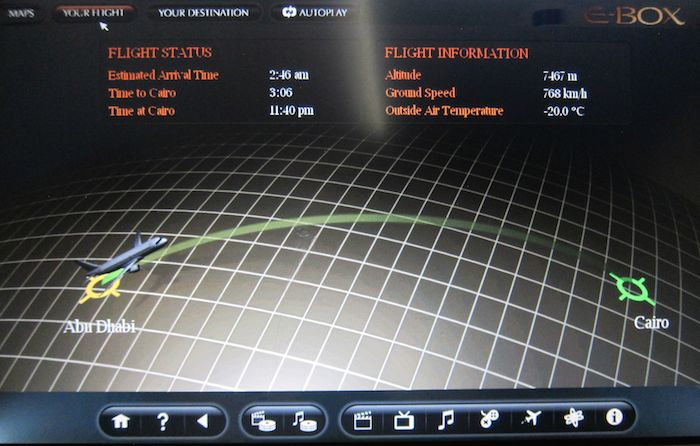 Etihad A320 business class airshow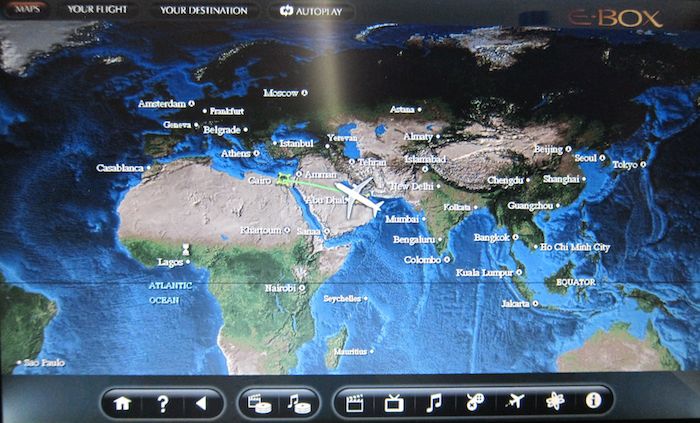 Etihad A320 business class airshow
I then browsed the entertainment selection, which was quite extensive — not as good as on longhaul flights, but still quite good.

Etihad A320 business class entertainment system
I decided to watch Tammy, staring Melissa McCarthy. Maybe I just have a dumb sense of humor, but I find her to be HILARIOUS. It was the second best movie of this decade, in my opinion (after Abduction).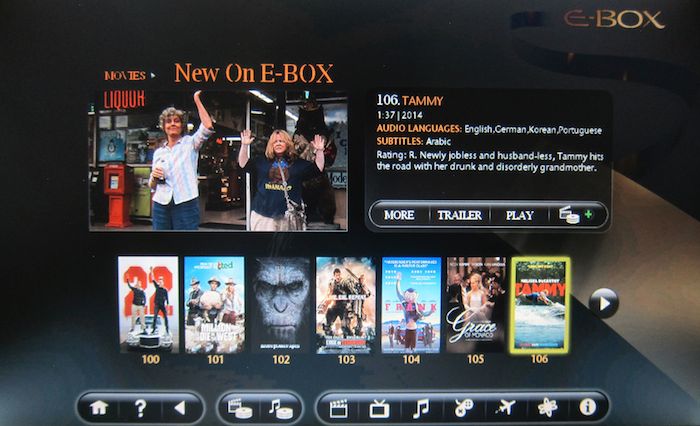 Etihad A320 business class entertainment
Once we passed through 10,000 feet the seatbelt sign was turned off and the curtains between cabins were closed. I know it sounds silly, but it really does make a huge difference when airlines have "thick" curtains, something we're not used to in the US. It keeps all the light in the galley out of the cabin.
At that point meal orders were taken.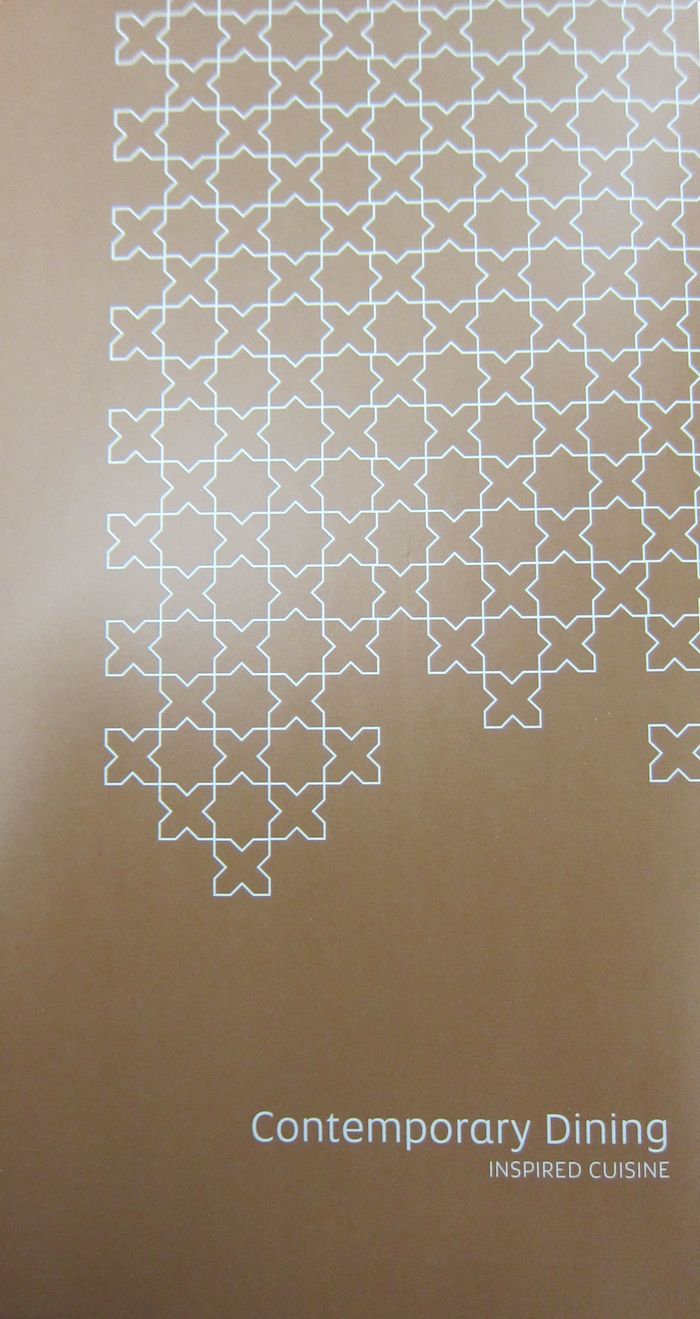 Etihad business class menu
The dinner menu read as follows: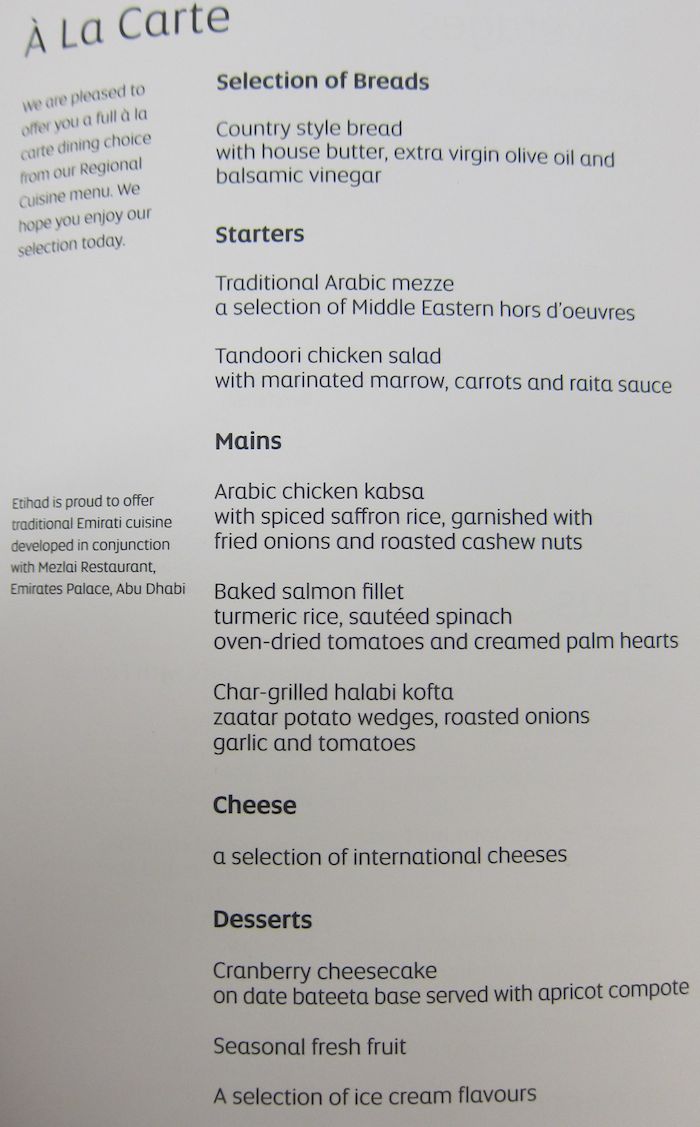 And the beverage list read as follows: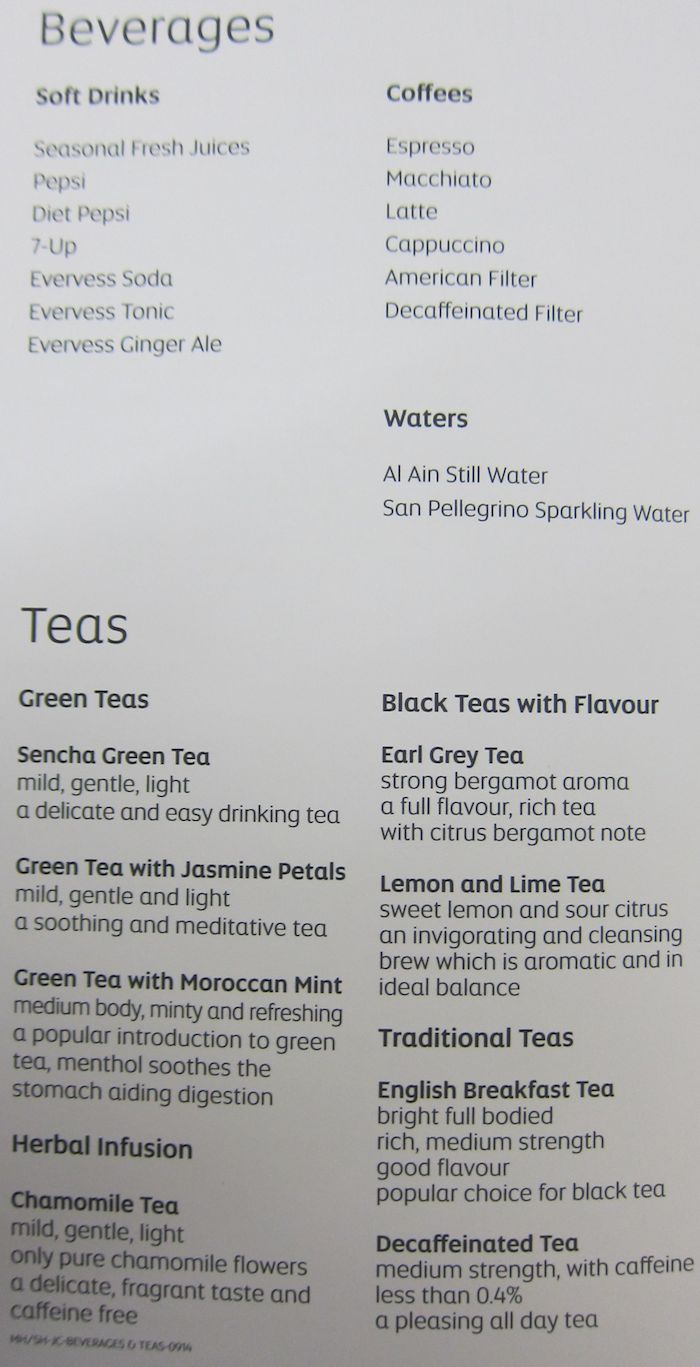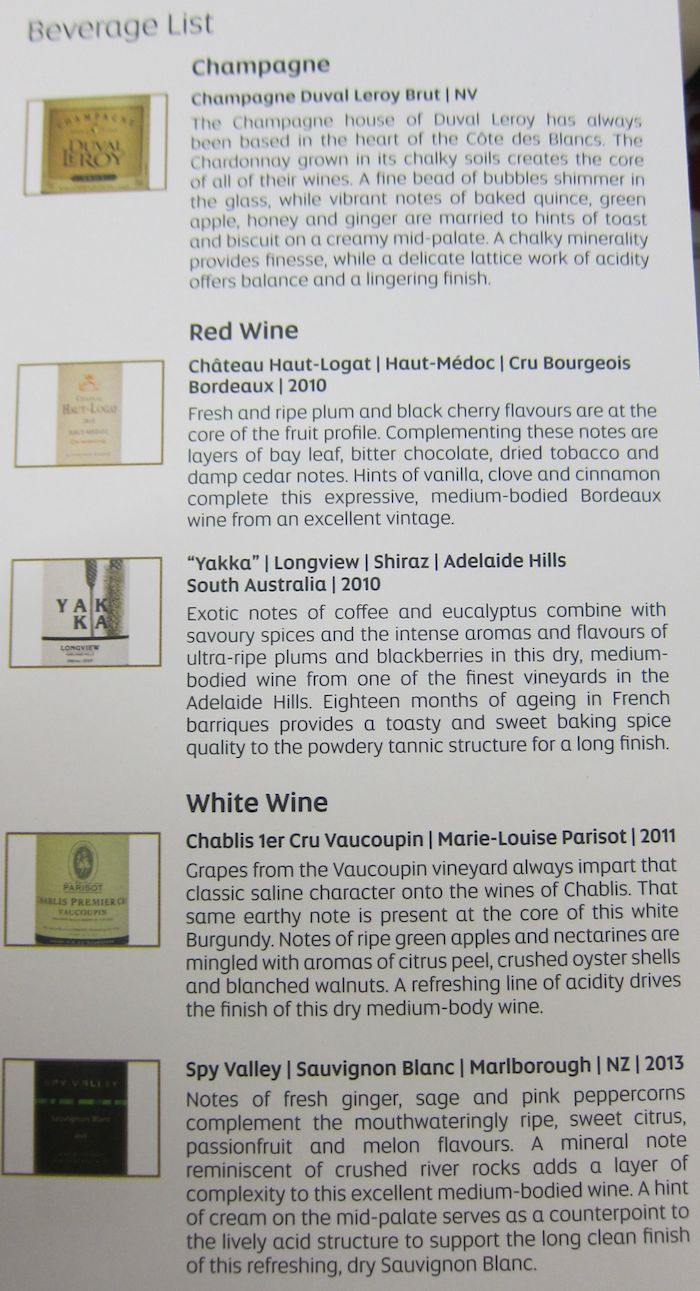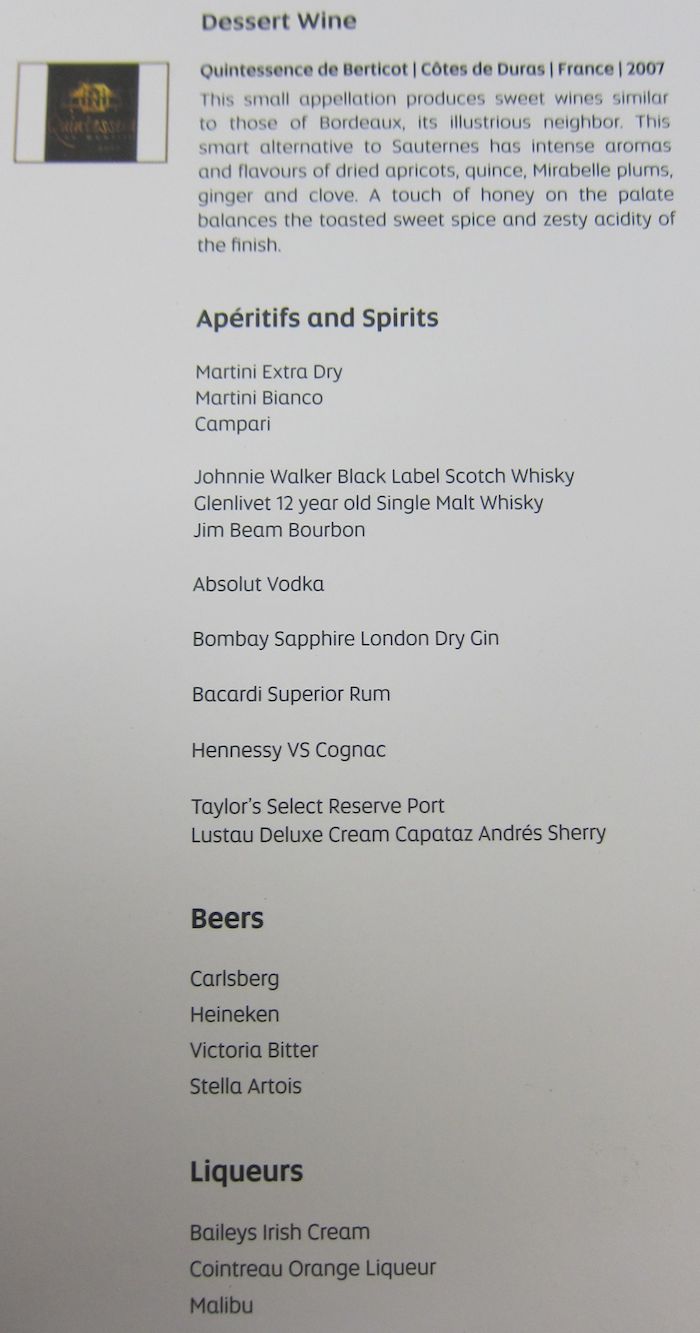 For a flight departing at 1AM I found the menu to be damn impressive.
I had a Diet Pepsi to start, which was served with mixed nuts.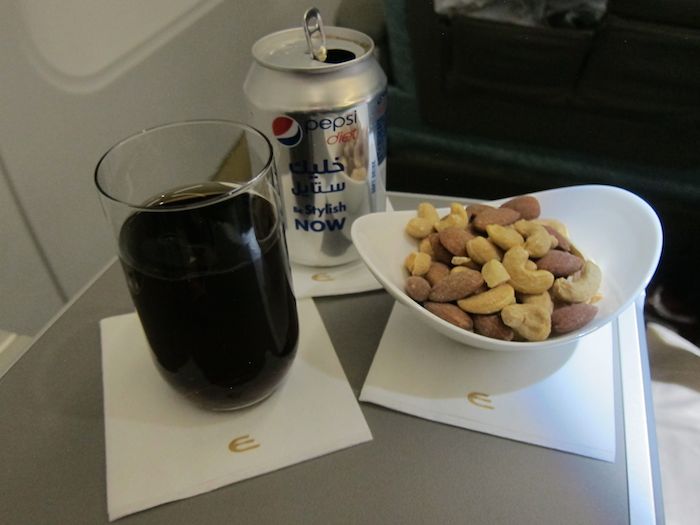 Etihad business class drink and mixed nuts
After that, the appetizer and main course were served on a single tray. I ordered the Arabic mezze as a starter and Arabic chicken kabsa as my main course. Both were excellent.
The country style bread that was served with it was incredible as well (which, after Singapore's garlic bread, deserves second highest marks in the "airline bread awards").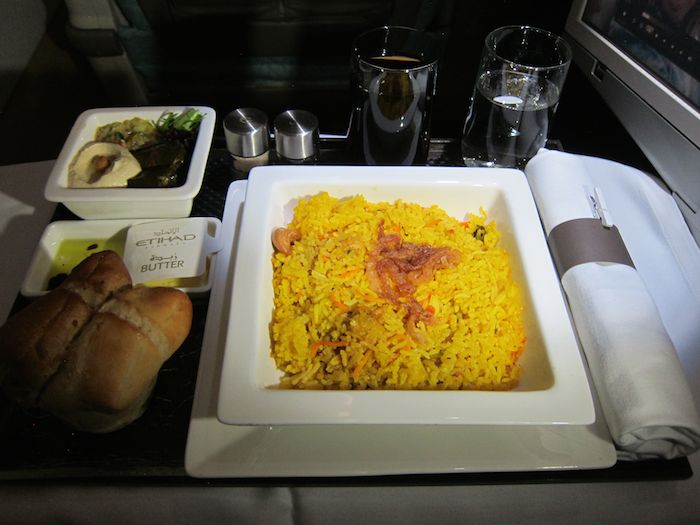 Etihad business class dinner service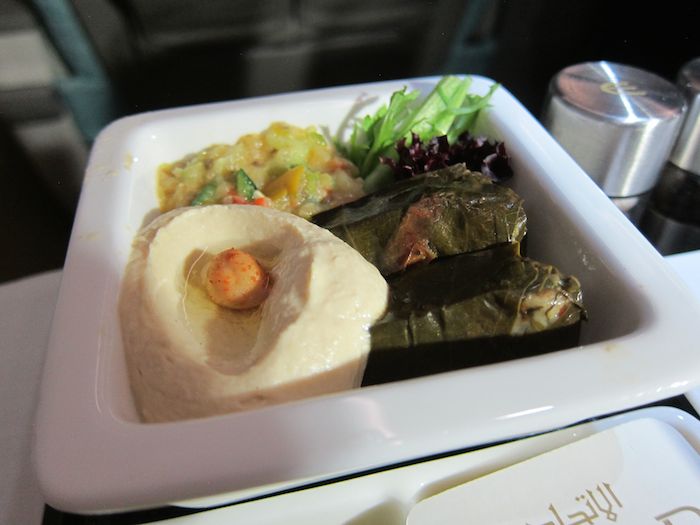 Etihad business class appetizer
For dessert I ordered ice cream, which was baklava flavored. Yum, yum, yum. Etihad even has cappuccinos on their short-haul flights, so I ordered one of those as well, which was served with a chocolate.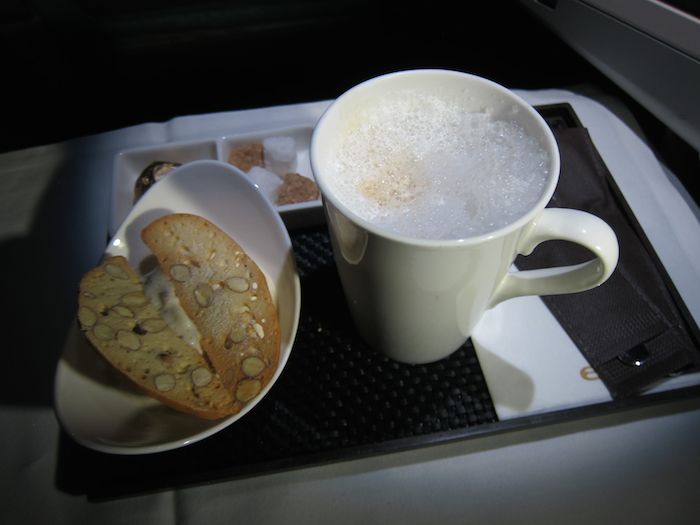 Etihad business class cappuccino and ice cream

After dinner Egyptian landing forms were handed out.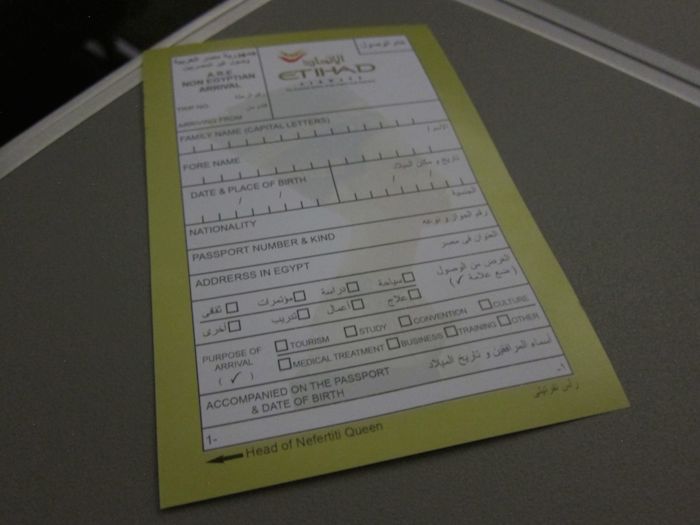 Egypt landing form
At this point we had about two hours to go to Cairo. Usually I can't sleep on planes unless I have a fully flat bed, though I did manage to doze off for about 90 minutes, given that the cabin was dark and I was exhausted as heck.
The seat didn't recline all that much, but between the pillow and blanket, it wasn't half bad.
30 minutes out of Cairo the captain came on the PA to update us on our arrival, and shortly thereafter the flight attendants were asked to prepare the cabin for landing, which seemed awfully early to me.
Our descent was smooth, and at 2:45AM we touched down on runway 5R in Cairo.
Literally the moment we touched down the one Egyptian flight attendant got up and stood in the aisle right behind where I was seated, in front of the economy cabin. Every two seconds I saw him make a hand motion urging people to sit down, since many seemed to think it was okay to get up the second we touched down.
The taxi to the gate took over 15 minutes, and every single time we made a temporary stop the captain would authoritatively get on the PA and say "this is the captain, I request you stay in your seats as we have just reached a temporary stop. We are not at the stand."
Shortly after 3AM we did arrive at a remote stand. Ugh, I was tired and I wasn't feeling excited about the remote stand.
I bid the crew farewell and took the stairs down to the tarmac.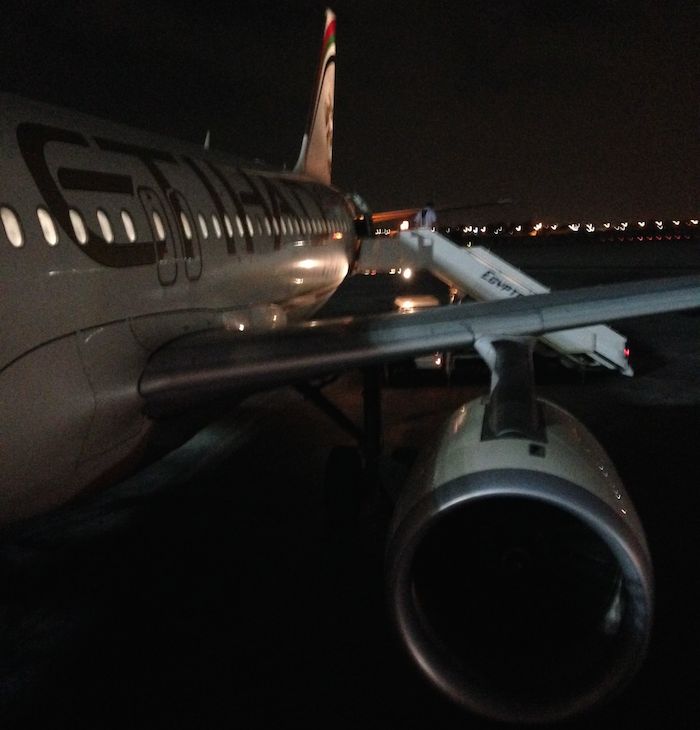 Etihad A320 from remote stand Cairo Airport
Since I was the last business class passenger to deplane, the second I stepped into the shuttle the doors closed and we were driven to the terminal. I've never had such an aggressive tarmac bus driver. I felt like I was holding on for dear life, as he didn't even pretend to slow down as we made turns. Unbelievable.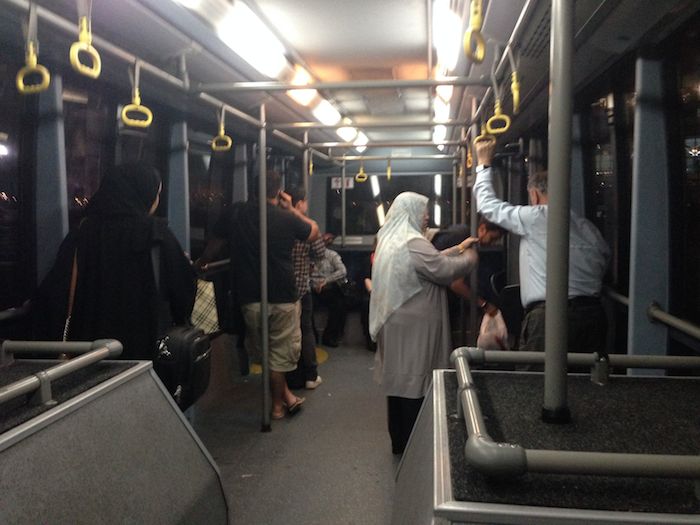 Remote stand bus Cairo Airport
Once in the terminal I paid my $25USD arrival fee and was through immigration in a matter of minutes, where a representative from Le Meridien was waiting for me.
Etihad business class bottom line
Etihad really impressed me on this sector — great food, great service, plenty of personal space, and a good entertainment system. My only complaint would be the other passengers, who were just beyond words.