---
Since we were spending the night at the Sheraton Frankfurt Airport, we decided to cut it (relatively) close, and arrive at the airport about 90 minutes before departure. It's nice to be to walk straight from your hotel room into Terminal 1.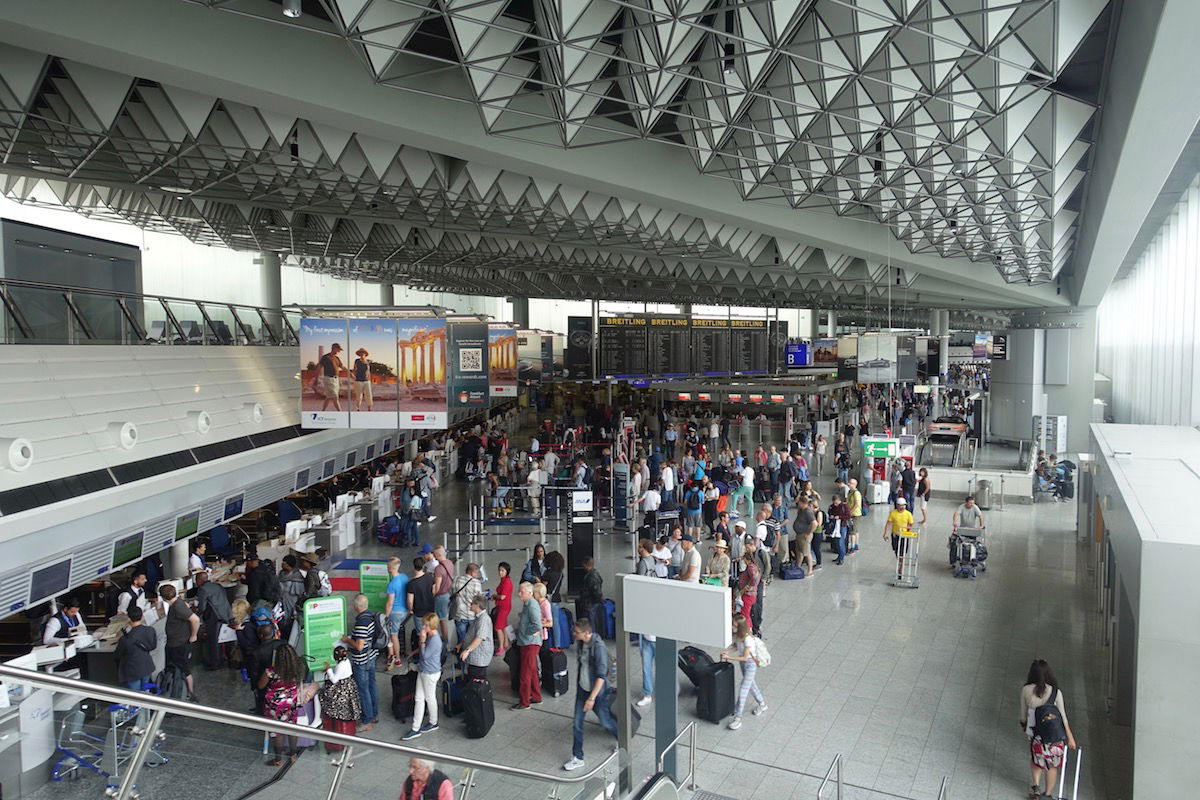 Frankfurt Airport departures hall
Check-in was quick, though unfortunately we both got "SSSS" on our boarding passes, so would be subjected to an additional security check. Grrrr. Security was slow, and Ford also had to wait at passport control for about 10 minutes. So we got to our departure gate about an hour before departure.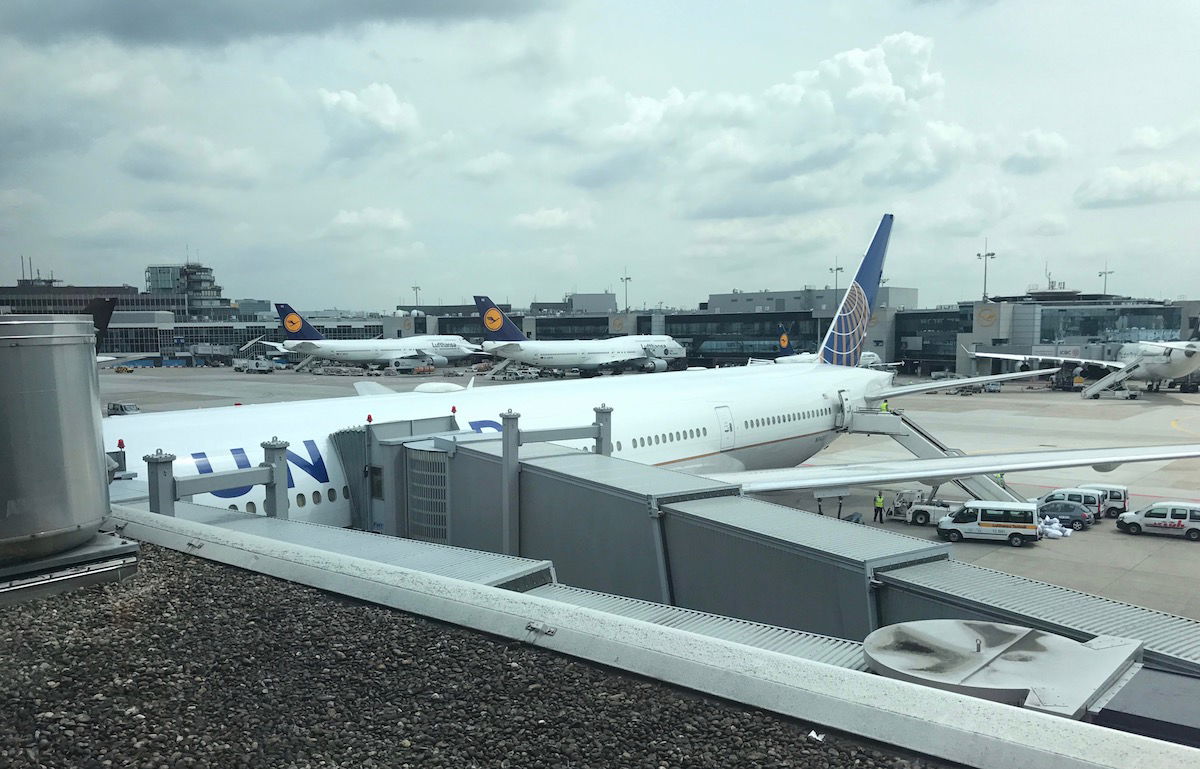 United 777 taking us to Houston
There we had to go through the most disorganized secondary screening process I've experienced. Since the gate wasn't partitioned off from the rest of the terminal, they'd page everyone subjected to additional screening, have them come to the counter, then someone would escort them to another gate where the security checks happened, and then we could go back to the gate.
By the time our secondary screening was done it was 12:45PM, and a minute later boarding started at gate Z19.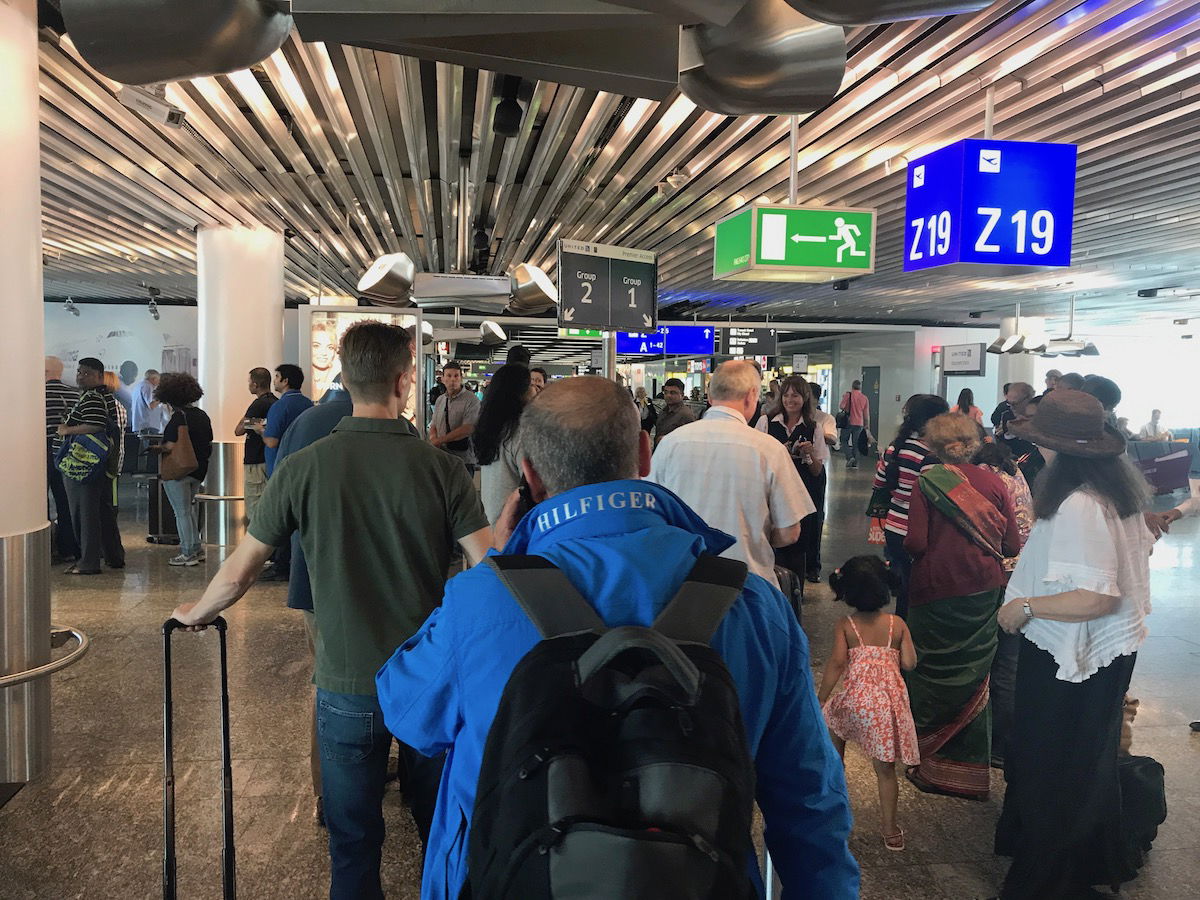 Frankfurt Airport gate security check
United 47
Frankfurt (FRA) – Houston (IAH)
Monday, July 17
Depart: 1:35PM
Arrive: 5:35PM
Duration: 11hr
Aircraft: Boeing 777-200
Seat: 11K (Business Class)
I boarded through door L2, where I was welcomed aboard by two friendly flight attendants and pointed right towards my seat. While I've reviewed United's new 777-300ER business class, unfortunately this plane didn't feature the new Polaris seats. Instead it was an ex-Continental 777-200, featuring B/E Aerospace Diamond seats. These are the same seats you'll find on plenty of other airlines, including Aeroflot, Aeromexico, Air China, KLM, Kuwait, Royal Jordanian, Saudia, etc.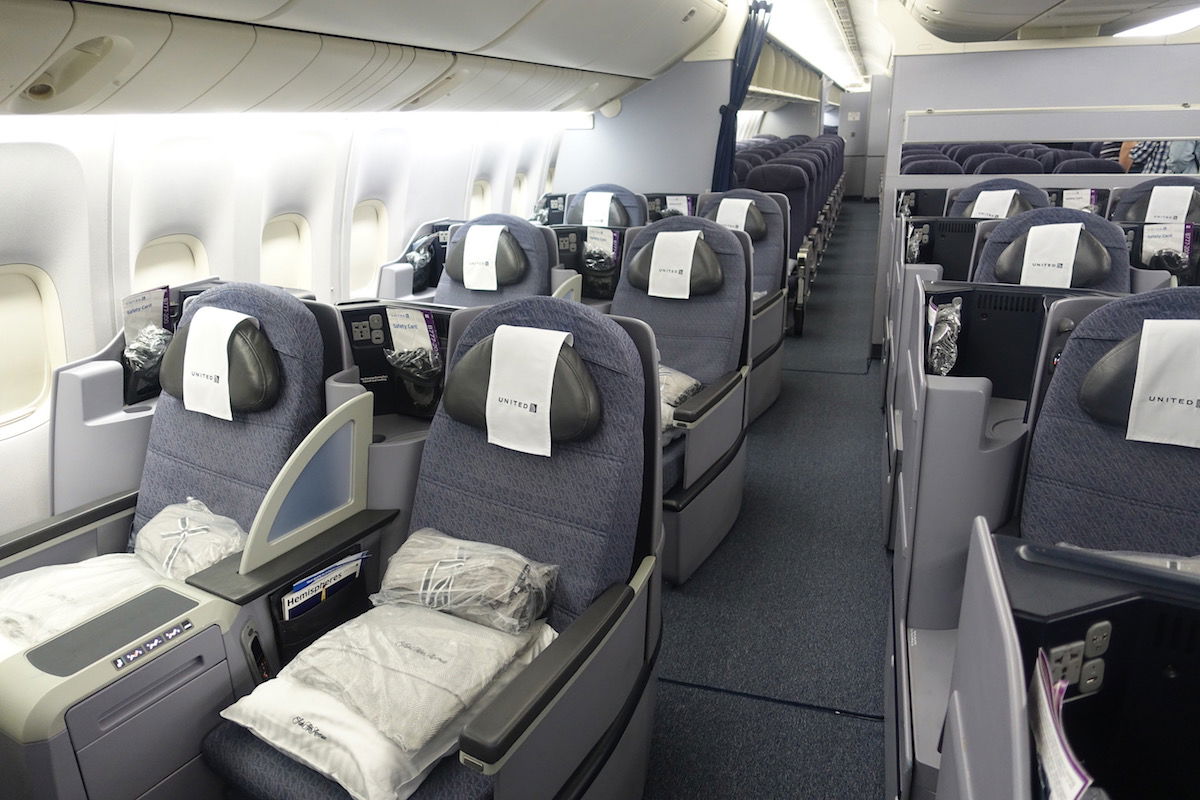 United 777-200 business class cabin
There are a total of 50 business class seats on this plane, all in a 2-2-2 configuration. There are 26 seats in the forward cabin, and then 24 seats in rear cabin.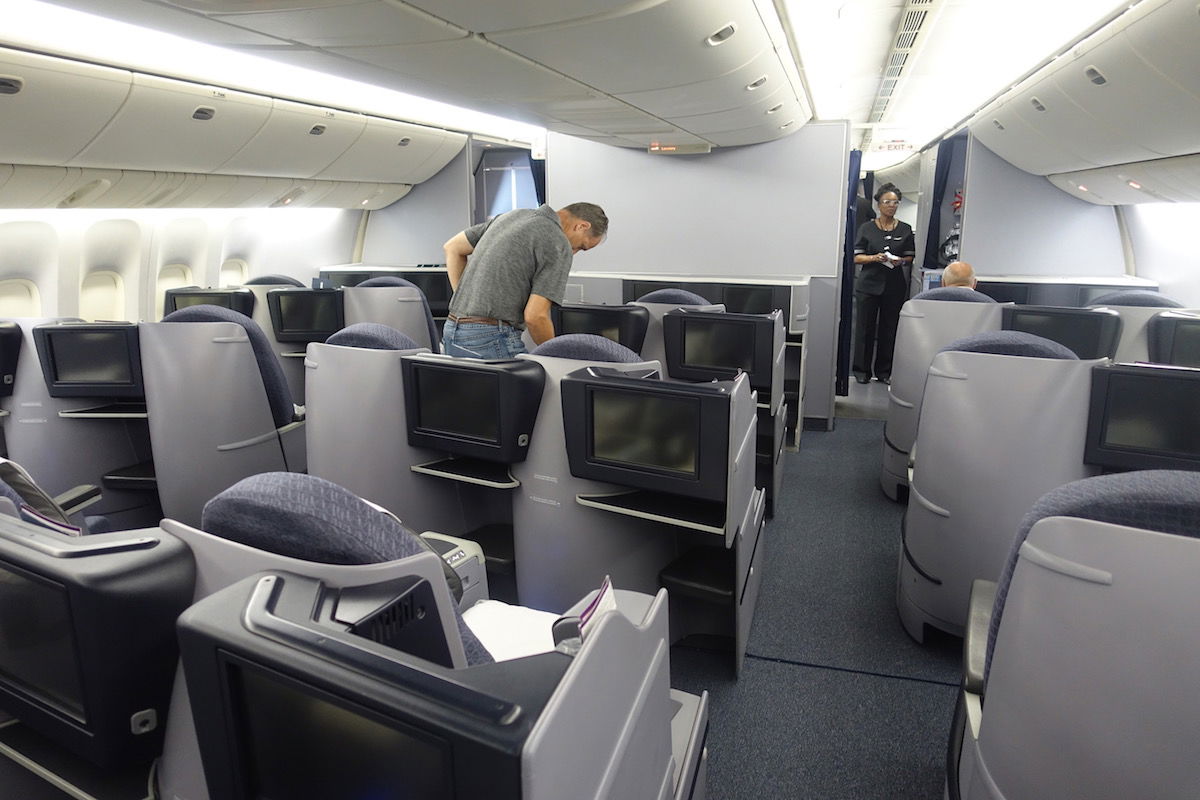 United 777-200 business class cabin
We were seated in 11K & 11L, the aisle and window seat combination in the last row of business class on the right side.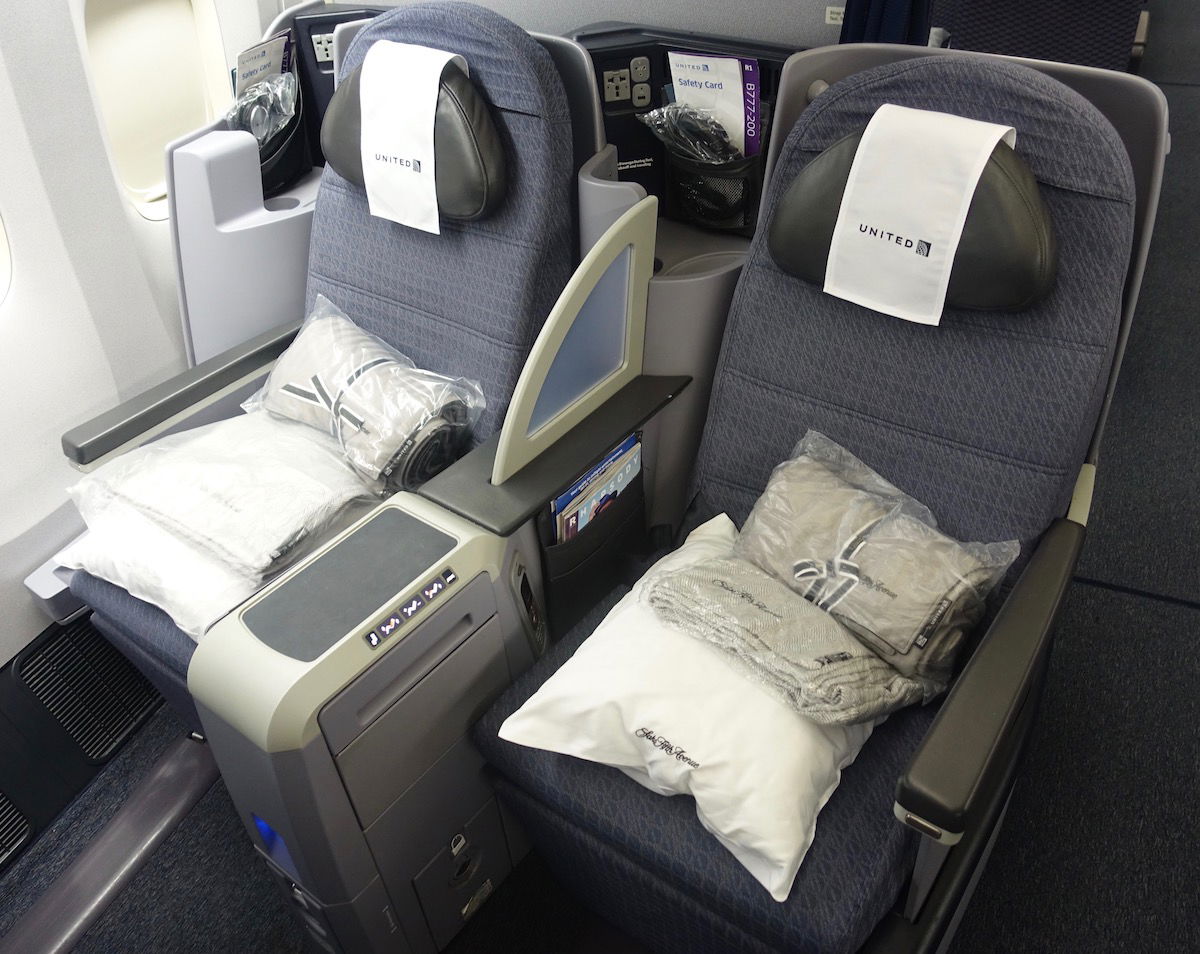 United business class seats 777
The benefit of these seats is that they have a bit more privacy than most fully flat forward facing seats, as they're slightly staggered. There's even a small privacy partition that is nice when reclined, though not so big that you won't be able to talk to your seatmate.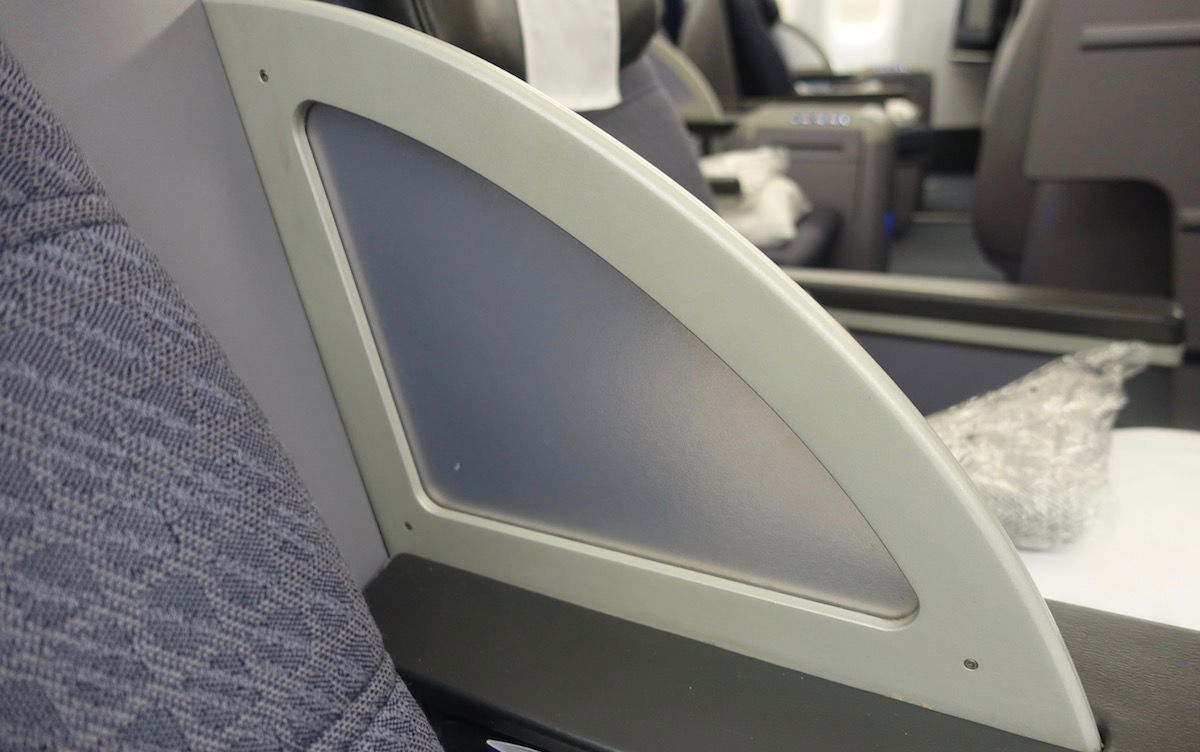 United business class seat privacy shield 777
The biggest problem with this product is that the foot cubby for your feet is fairly small, so it's not the most spacious seat if you're trying to get some rest. Furthermore, the lack of storage offered in this seat is frustrating.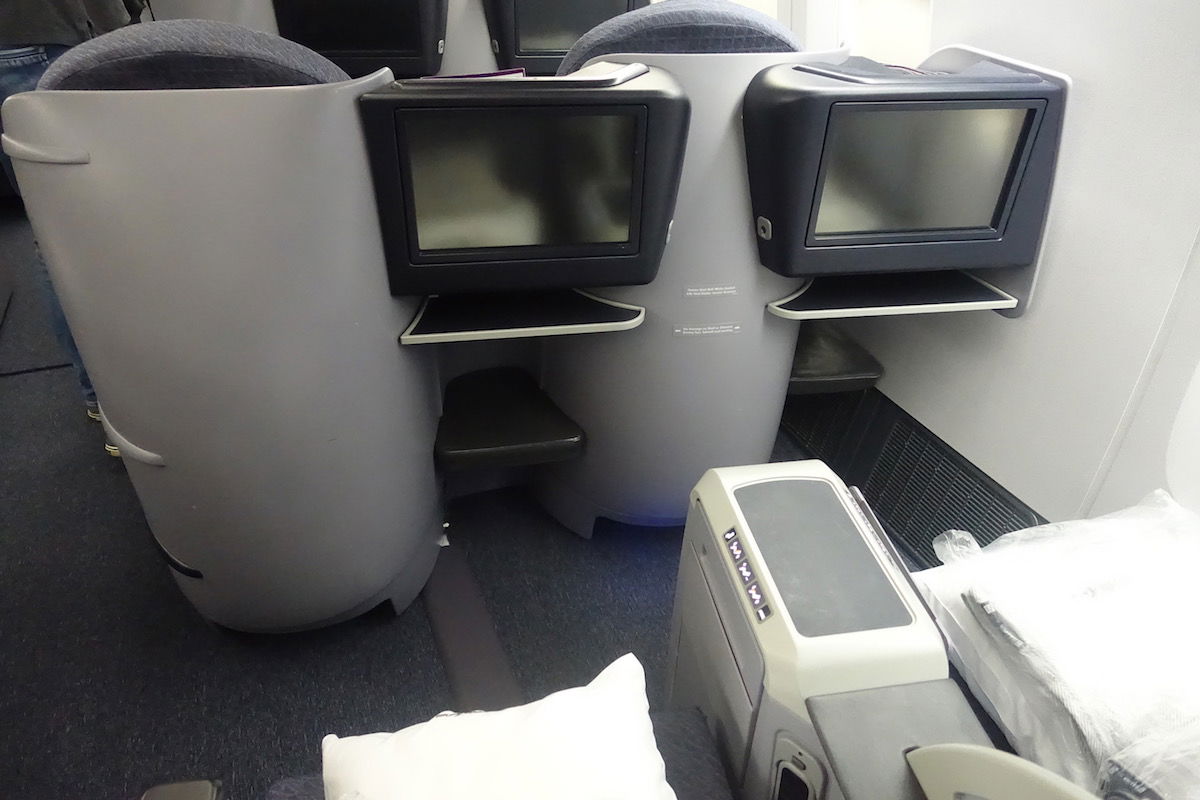 United business class seats 777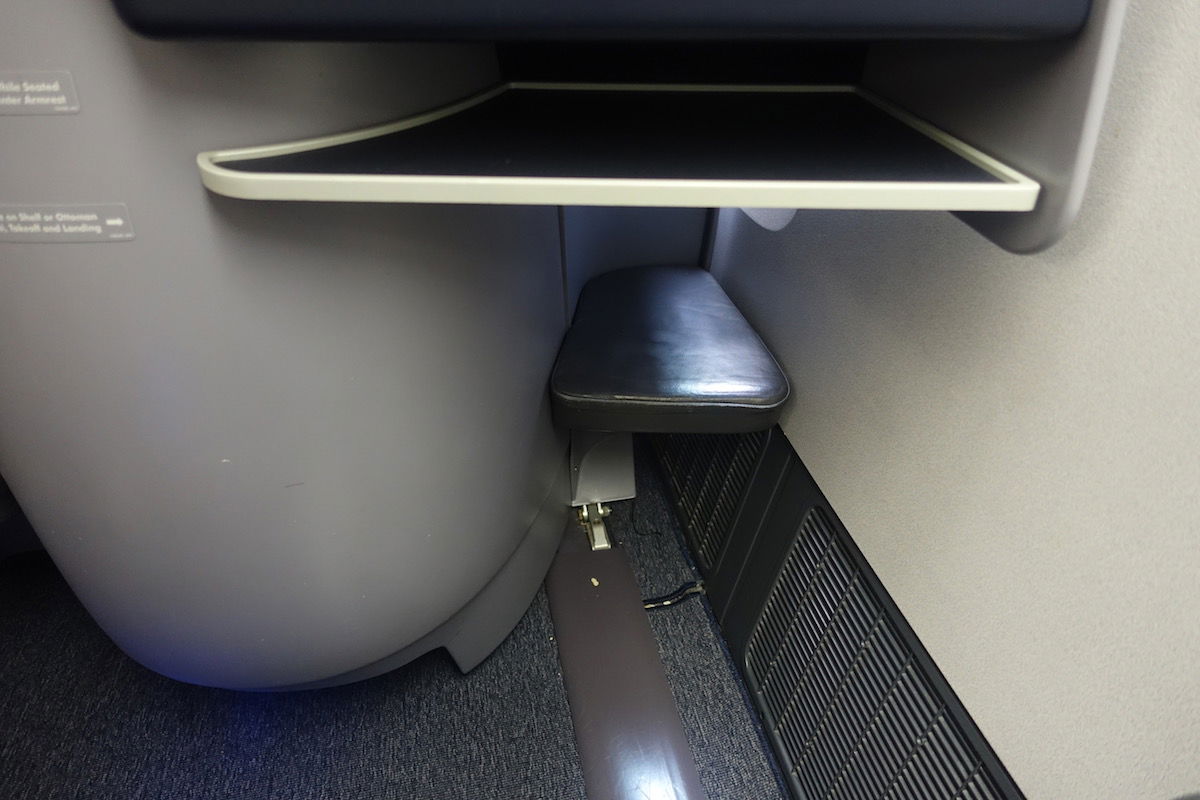 United business class seat legroom 777
In the back corner of the seat was an exposed storage compartment, which is also where the headphone jack and power outlets were located (both 110v and USB).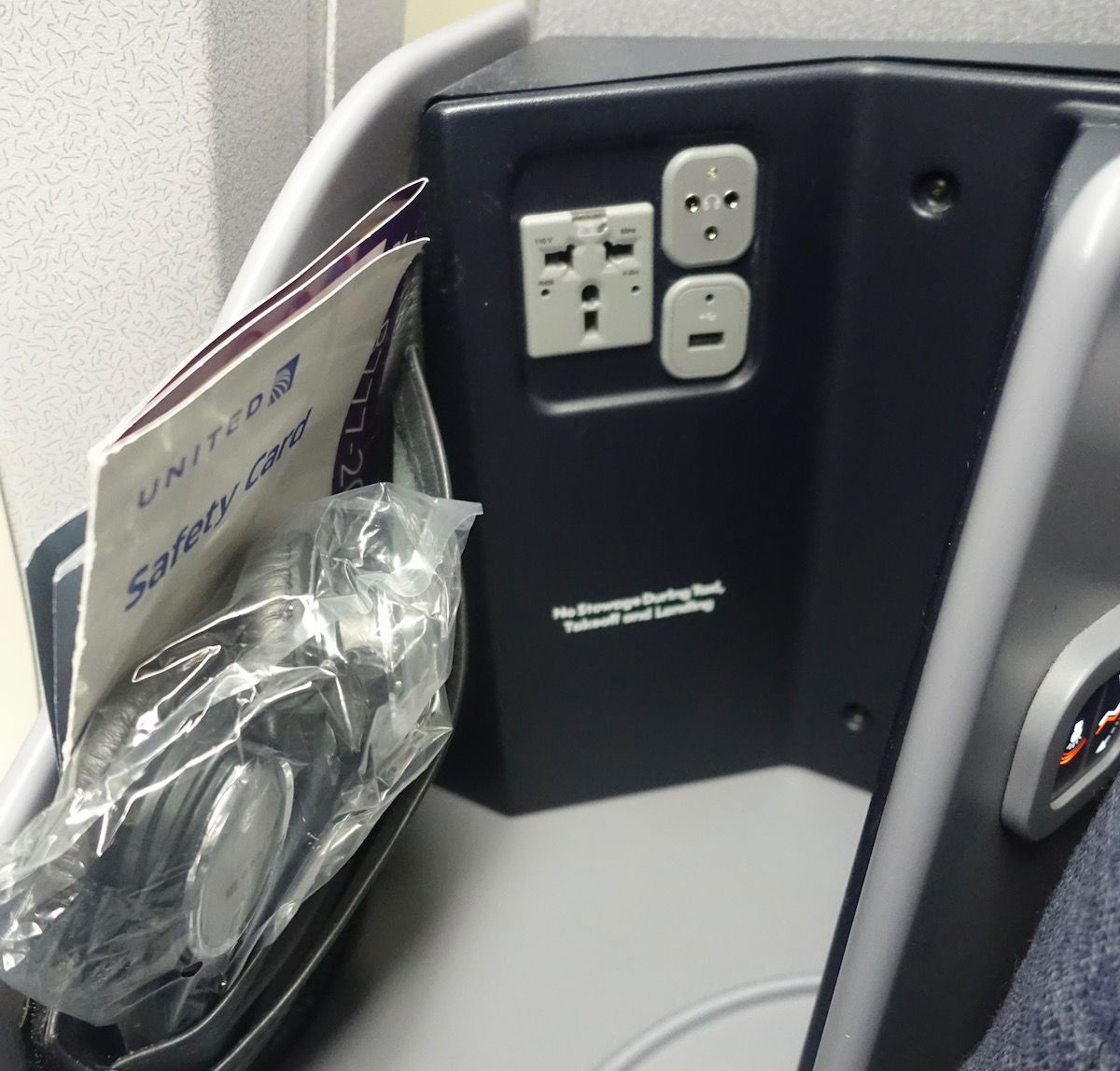 United business class seat storage & power outlets
The seat controls were located along the center armrest, while the entertainment controls were located underneath the center armrest.


United business class seat controls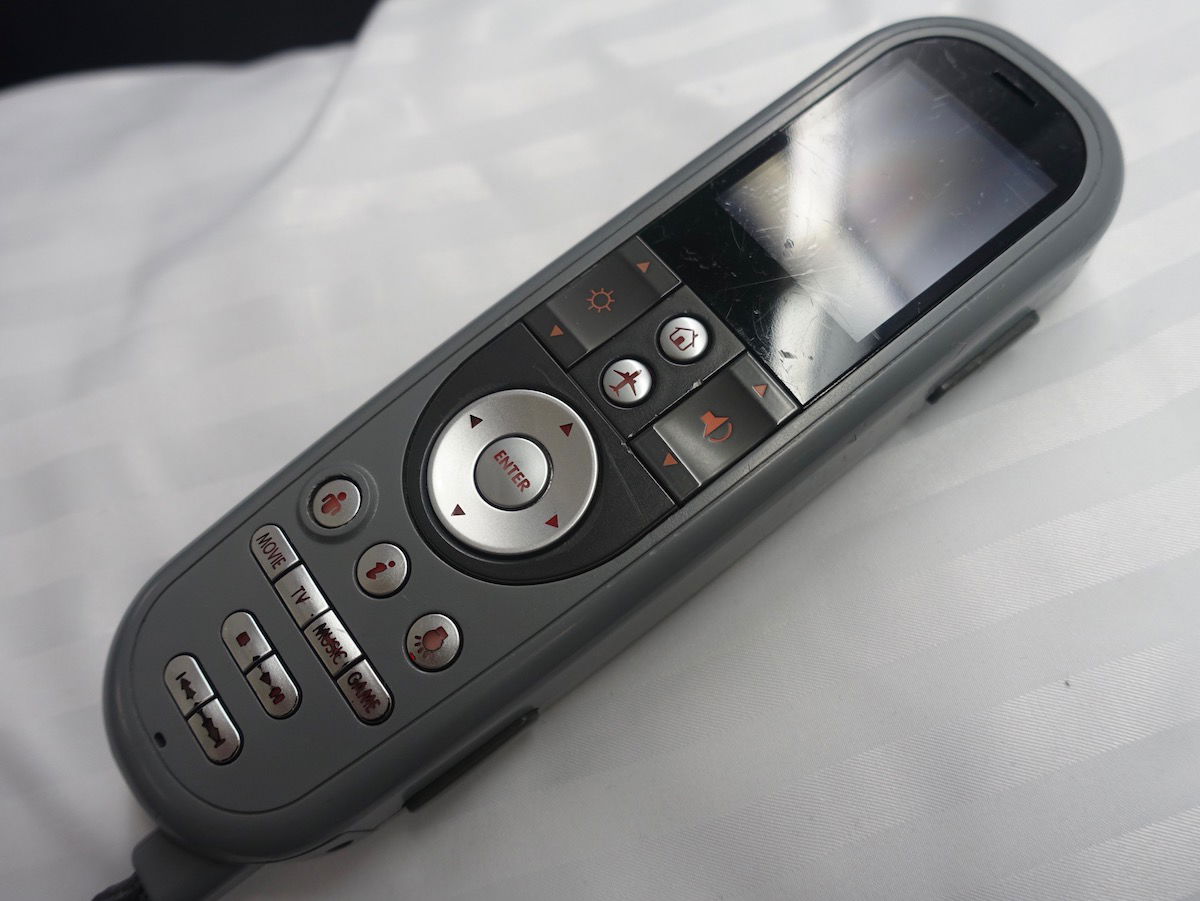 United business class entertainment controls
The tray table could also be extended out of the center armrest, and could be folded in half to get out easier.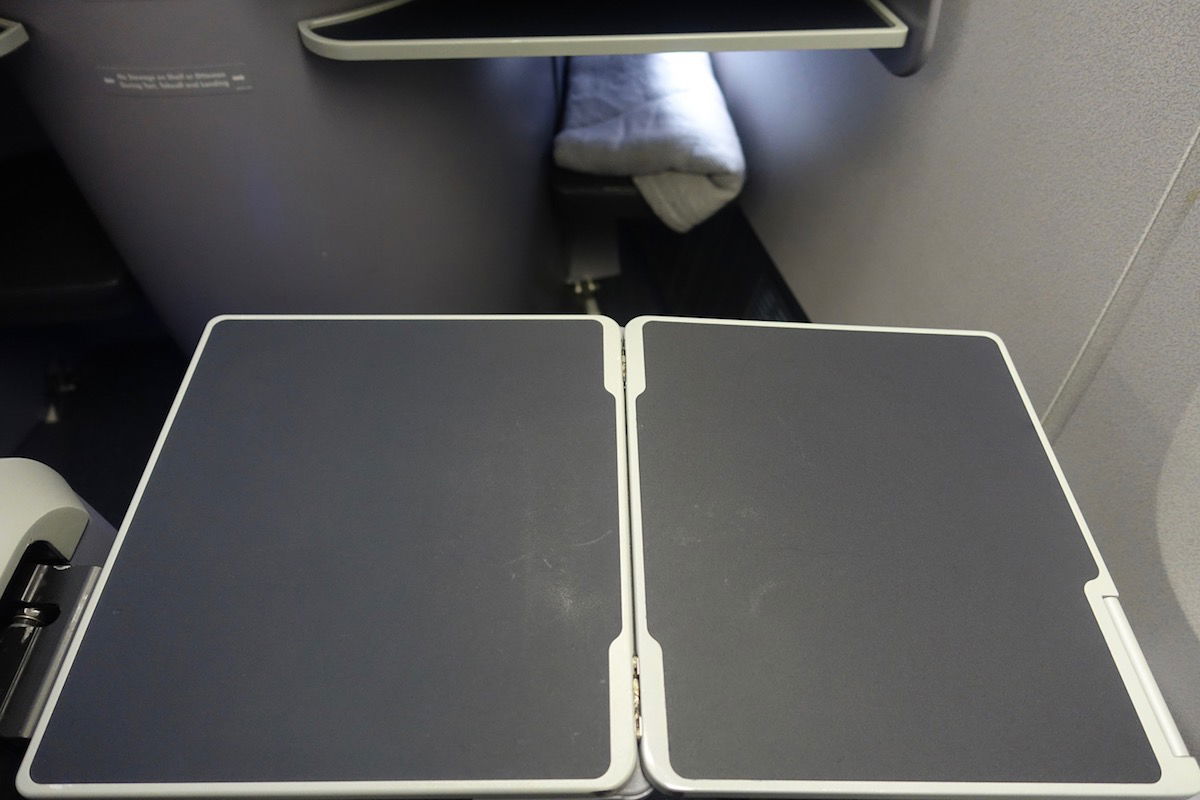 United business class seat tray table
Overall these are decent seats, though there are so many better business class products out there. I do have to mention that the cabin looked remarkably worn, which I guess shouldn't come as much of a surprise. There also aren't individual air nozzles on the plane, which is an amenity I value immensely.
While the Polaris "experience" was only introduced last December, United has already cut back on the number of pillows you get. You used to get two, while now you get one.
So at my seat was a pillow, a light day blanket, and a thick duvet. Even with their cutbacks, the bedding is great. Beyond that, the extra pillow was almost impractical, given the lack of storage that the seat offers.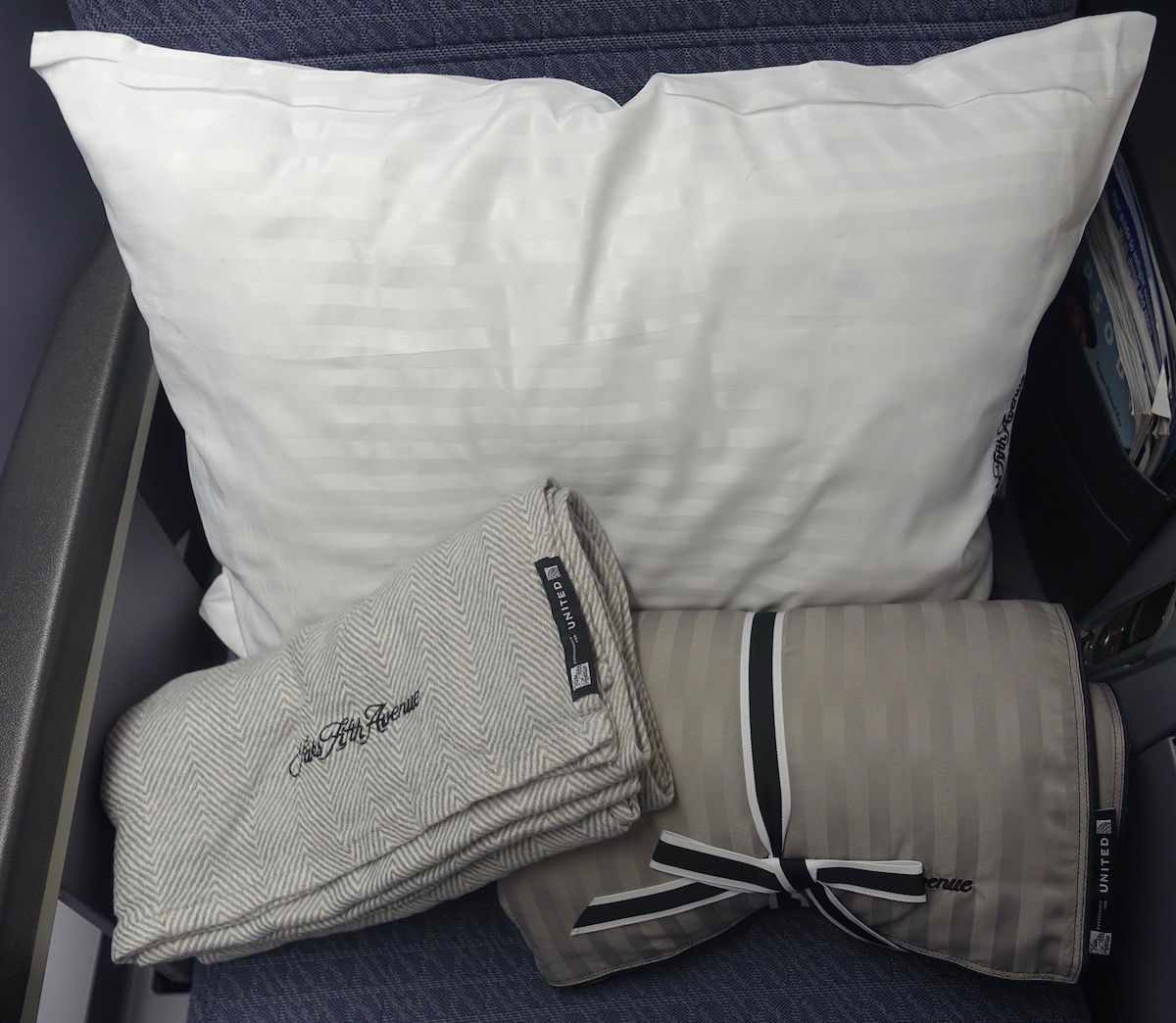 United Polaris amenities
Also at my seat were a pair of okay noise canceling headphones.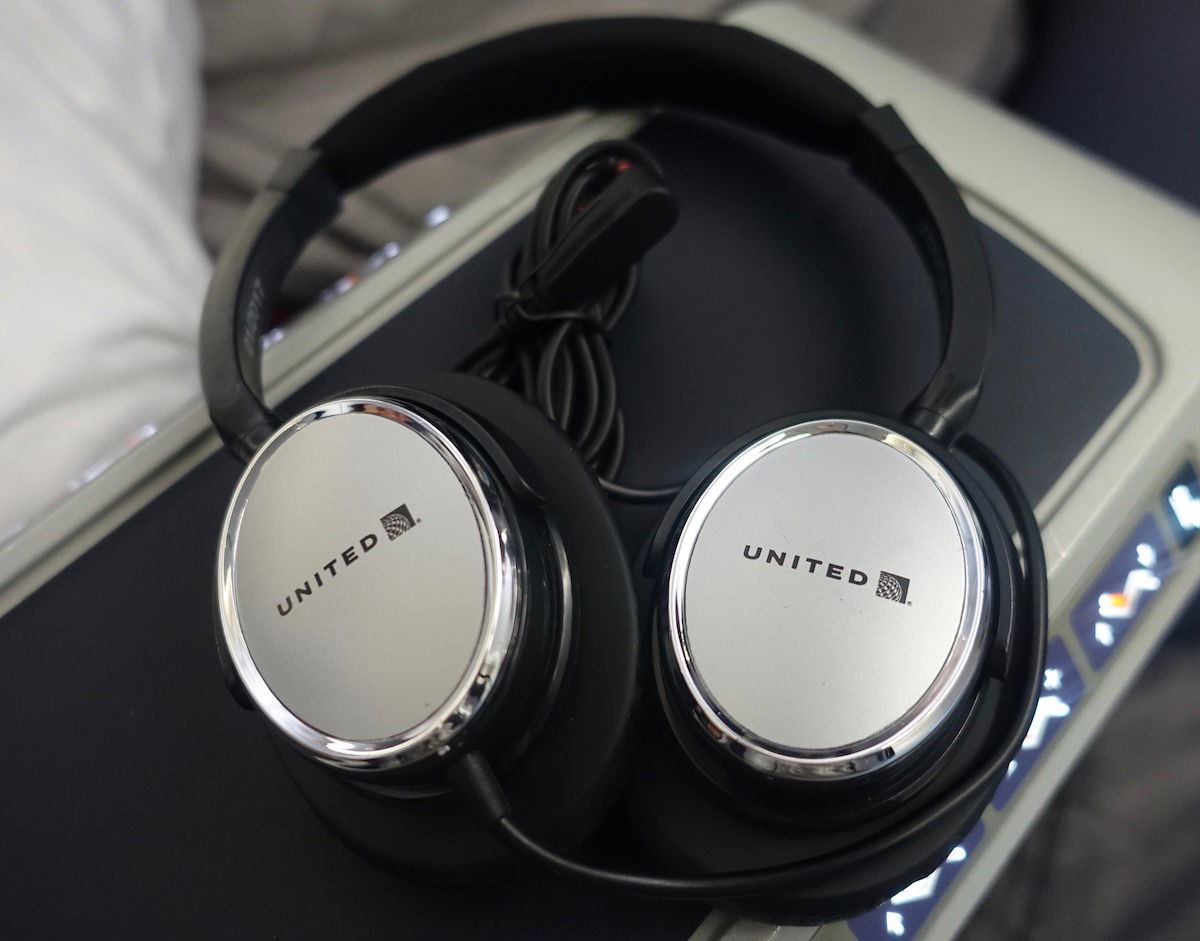 United Polaris headphones
Within a minute of settling in, Pam came by our seats to introduce herself, explain she'd be taking care of us, and offer us pre-departure beverages. Pam was gone-with-the-wind fabulous. She wasn't overly formal or over the top, but rather provided genuine, friendly service from the heart. I love that.
I appreciate that United offers pre-departure beverages of choice in Polaris, and I'm happy they got rid of the ridiculous cups that they had when they first introduced the product (though I do wish they used glassware). I ordered some champagne, while Ford had water. We were also offered a box with two chocolates each with our pre-departure beverage, which is a cute touch.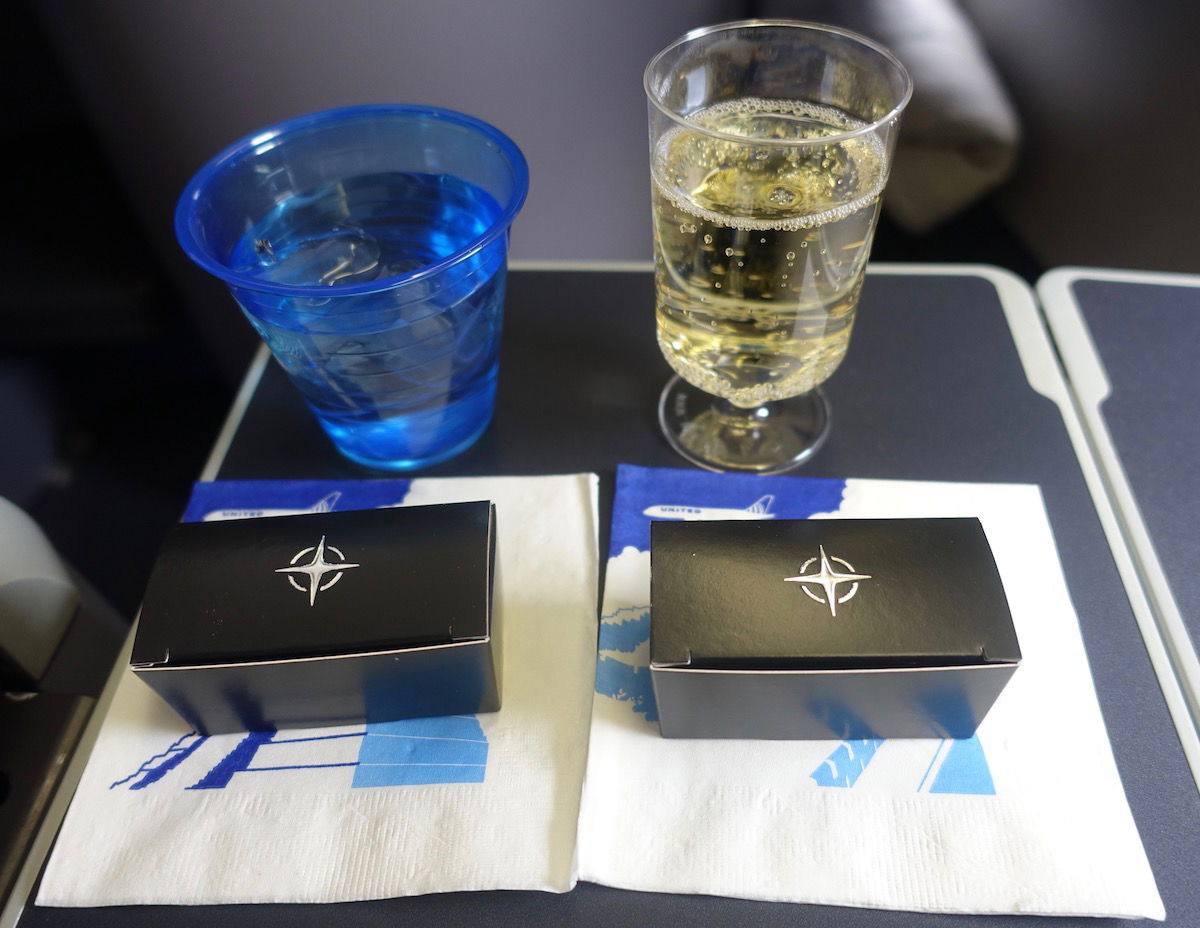 United business class pre-departure drinks & chocolates
A few moments later Pam returned with the Polaris menu, drink list, and amenity kit.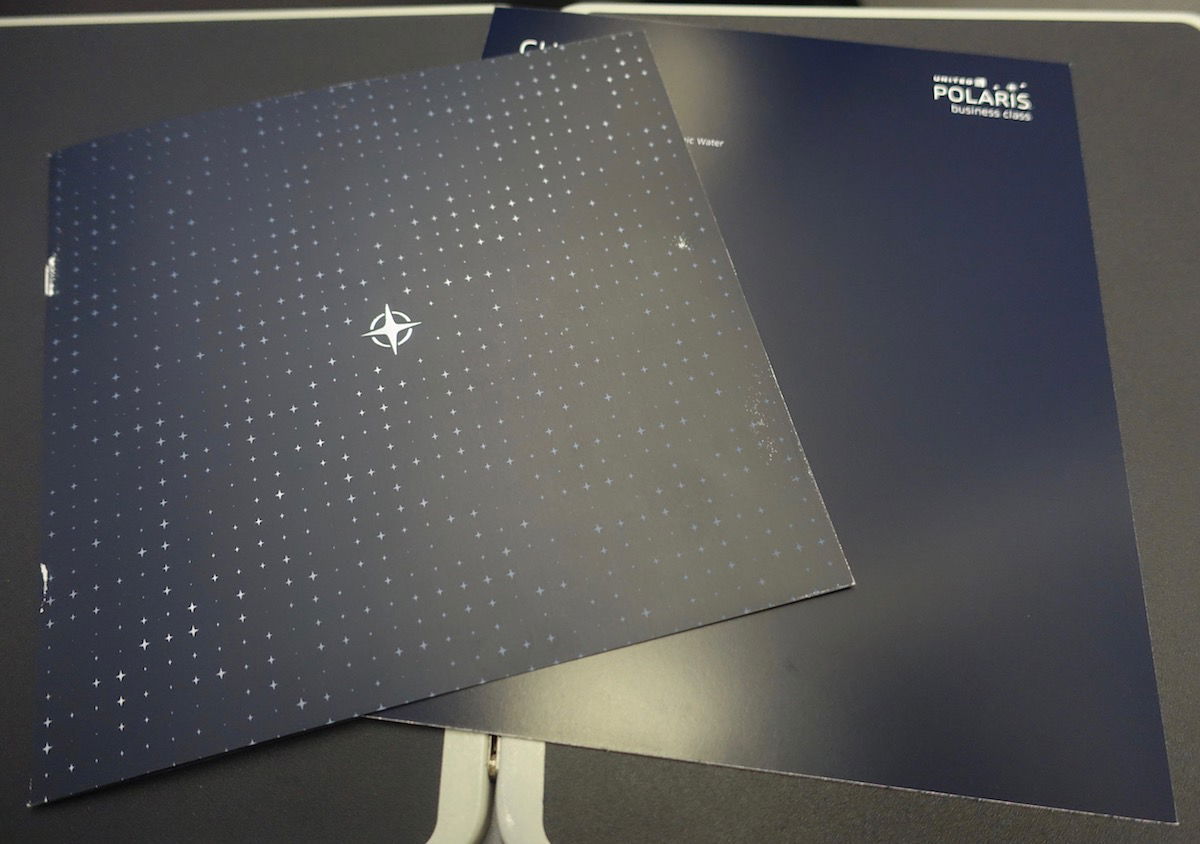 United Polaris menu & wine list
The amenities came in a cool pouch that could be zippered up.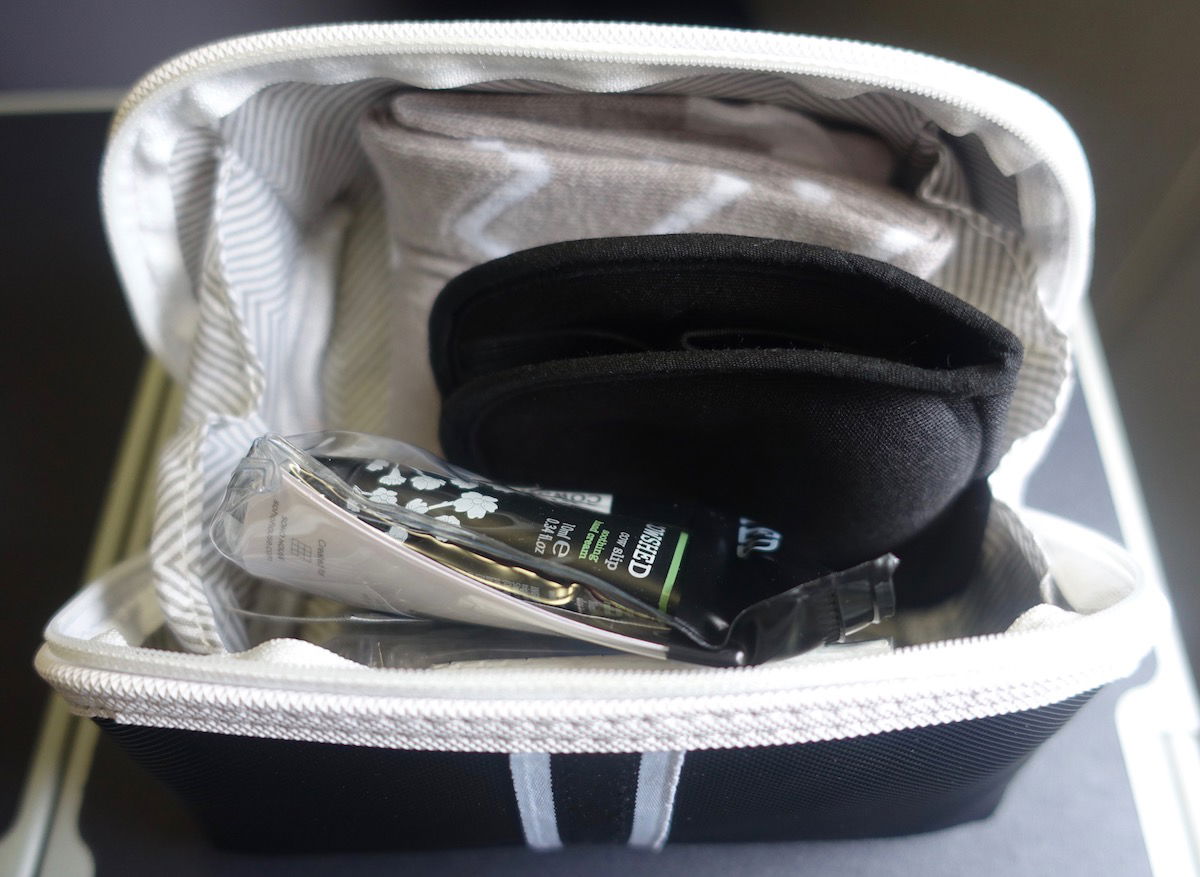 United Polaris amenity kit
The amenities inside the kit were pretty good too, and included eyeshades, a toothbrush and toothpaste, socks, facial tissues, a pen, anti-bacterial hand wipes, and several types of Cowshed toiletries.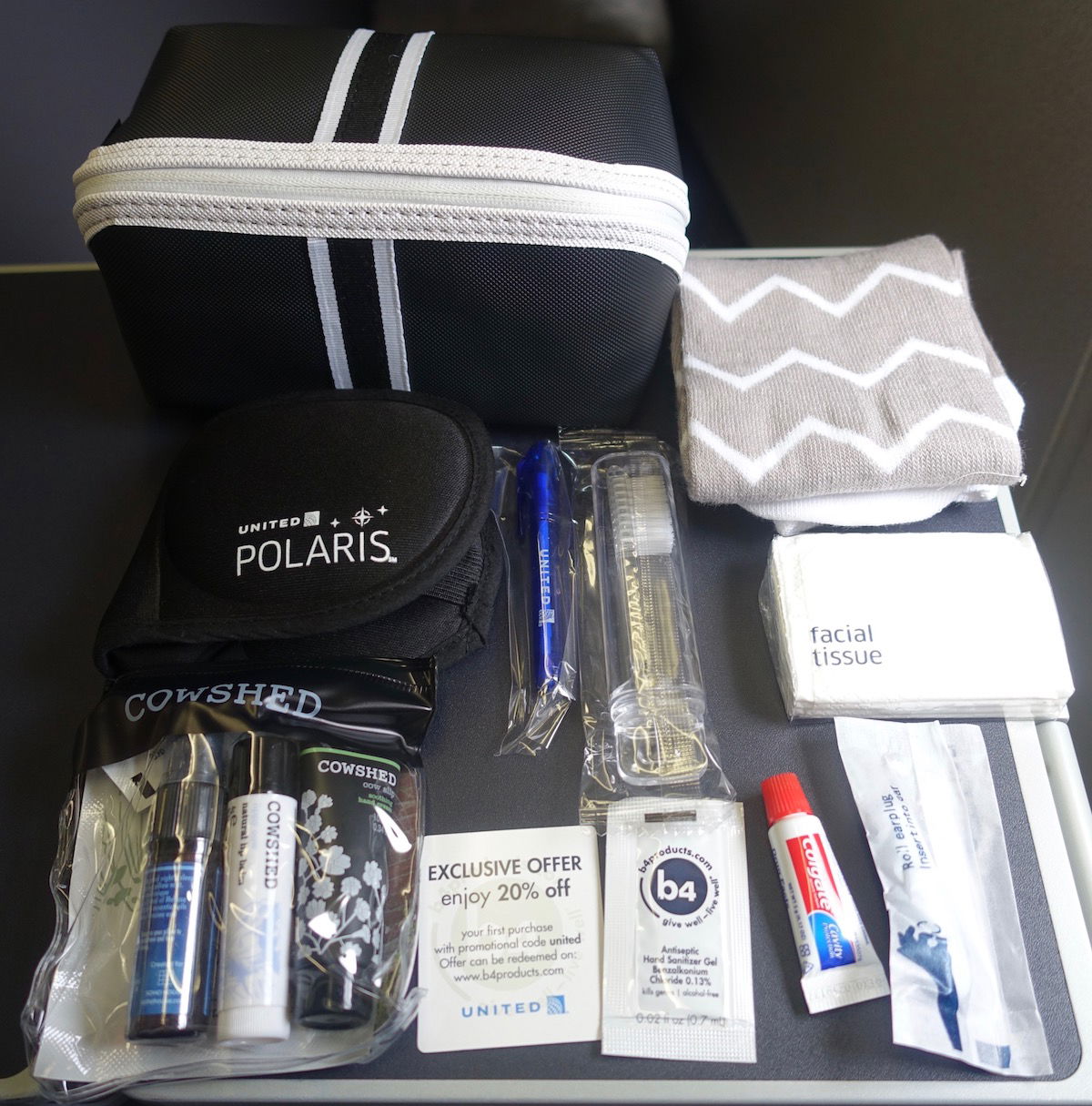 United Polaris amenity kit
About 10 minutes later Pam came by to take meal orders, and asked for both our first and second choice.
United offers a few Polaris amenities on demand that are in limited quantities, so I recommend asking for them as early as possible, before they run out. This includes mattress pads, cooling gel pillows, slippers, and pajamas (though they're only offered on flights that are 12+ hours).
So I immediately asked for a cooling gel pillow, both so I'd have a second pillow, and also because I find them to be surprisingly good.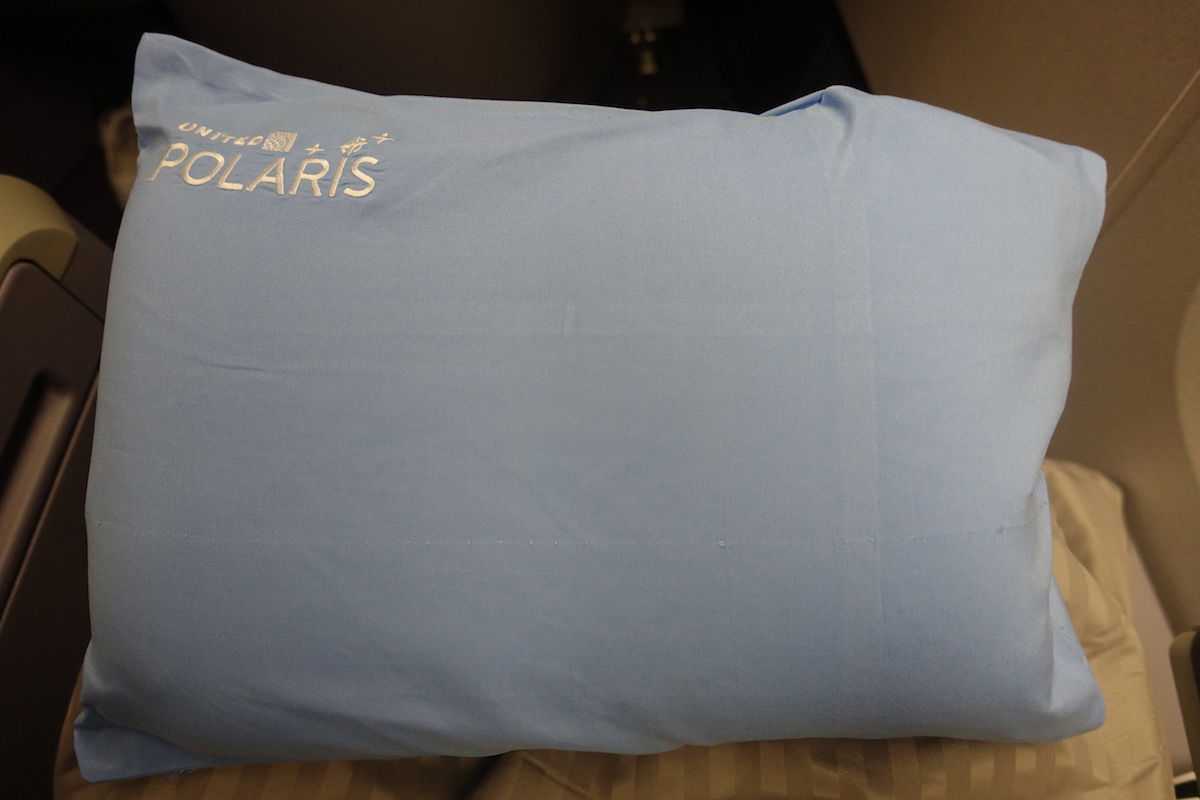 United Polaris gel pillow
Boarding was inefficient and somewhat chaotic. The flight was full, and on top of that there was confusion about who had received additional security screening. Apparently two people had managed to board without going through the extra screening, so they had to be taken off and screened, before getting back on the plane.
At 1:35PM the chipper captain made a PA welcoming everyone onboard and informing us of our flight time of 10hr10min, which he said should put us into Houston a bit ahead of schedule.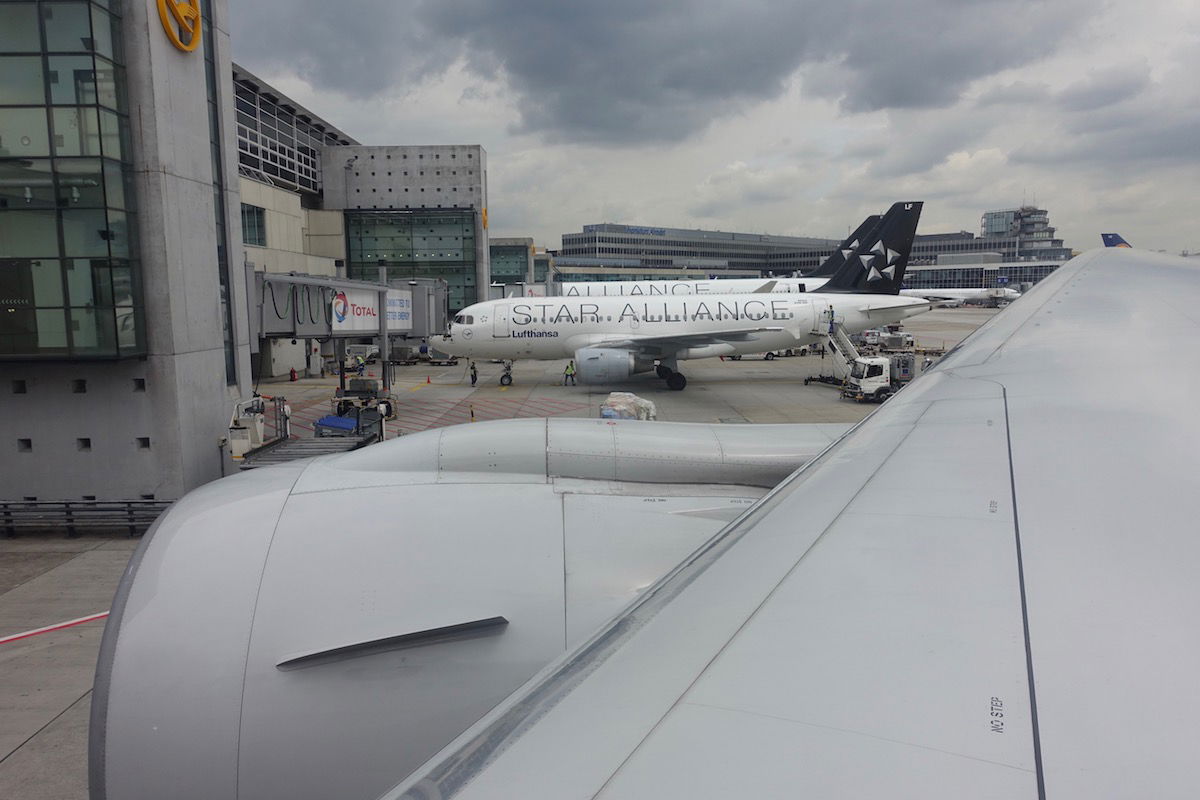 View prior to pushback at Frankfurt Airport
At 1:40PM the door closed, and at 1:45PM we began our pushback, at which point the safety video played.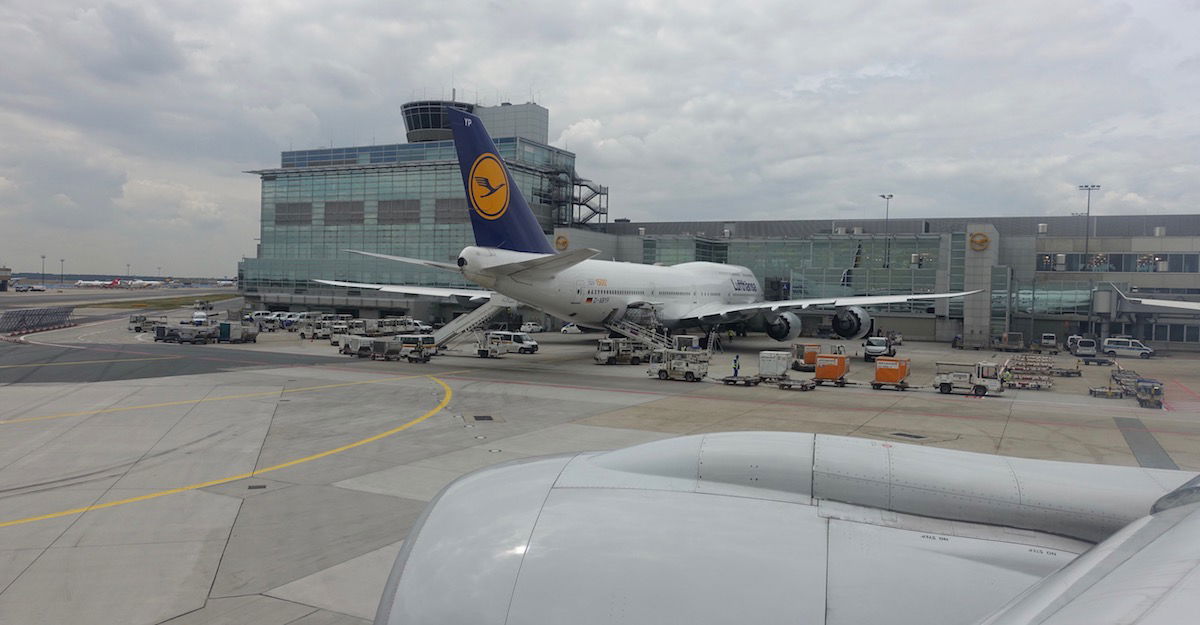 Taxiing Frankfurt Airport
I'm always amused by the "German speaking" flight attendants on US carriers. The flight attendant making the announcements in German on this flight was terrible.
We were departing from runway 7C, which is a ways from Terminal 1, though despite that we managed to take off by 2:05PM.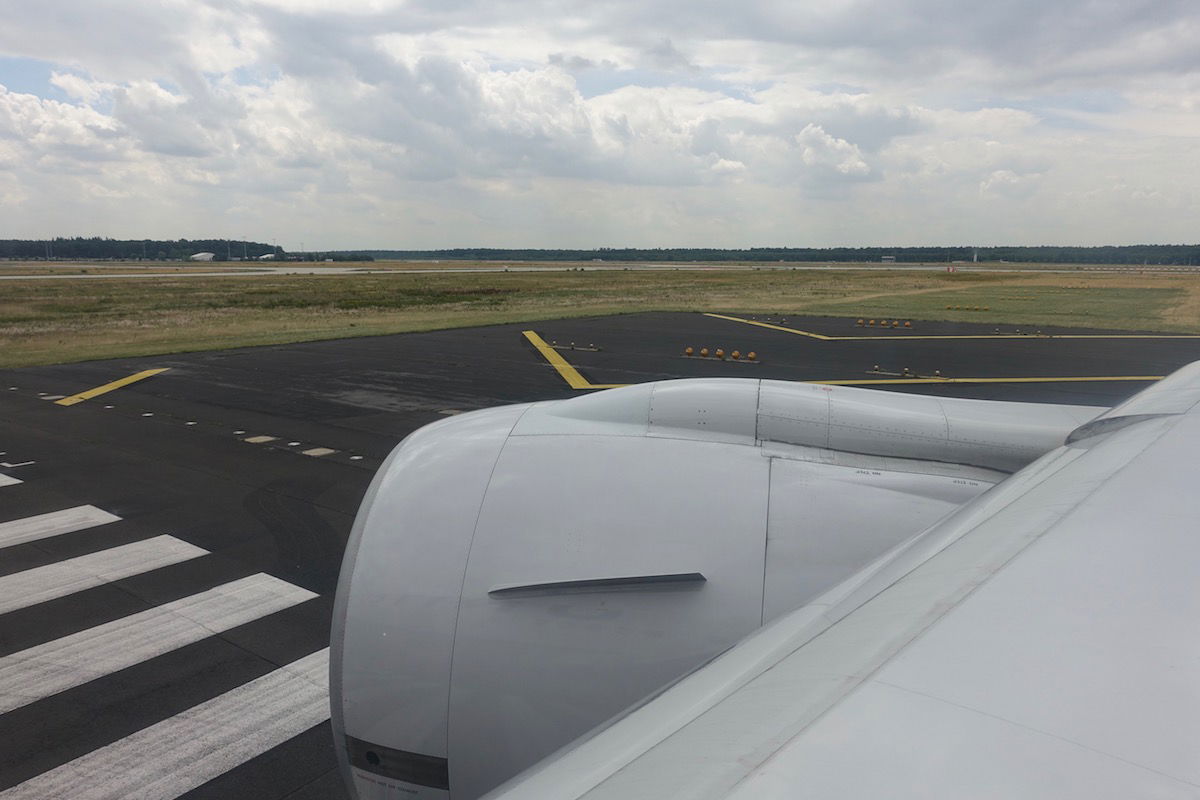 Taking off Frankfurt Airport
Our climb out was smooth, but as usual on US airlines, the seatbelt sign stayed on for about 30 minutes.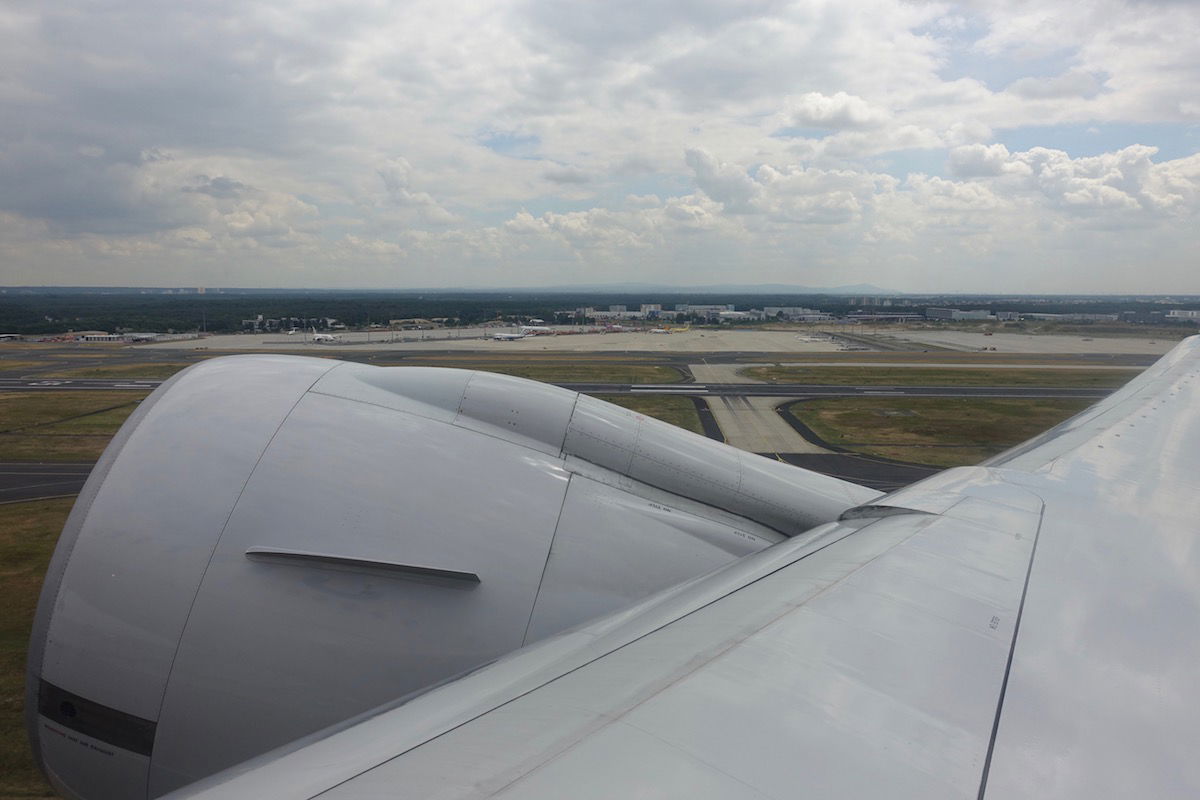 View after takeoff from Frankfurt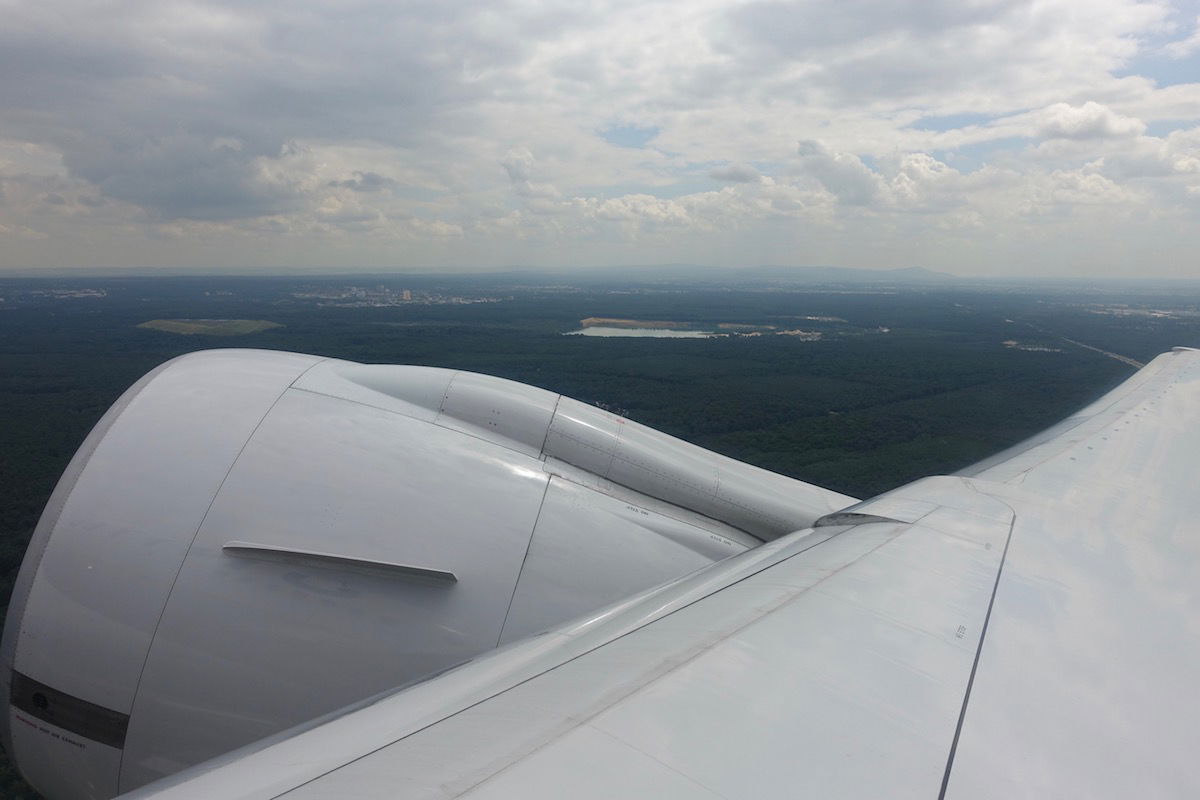 View after takeoff from Frankfurt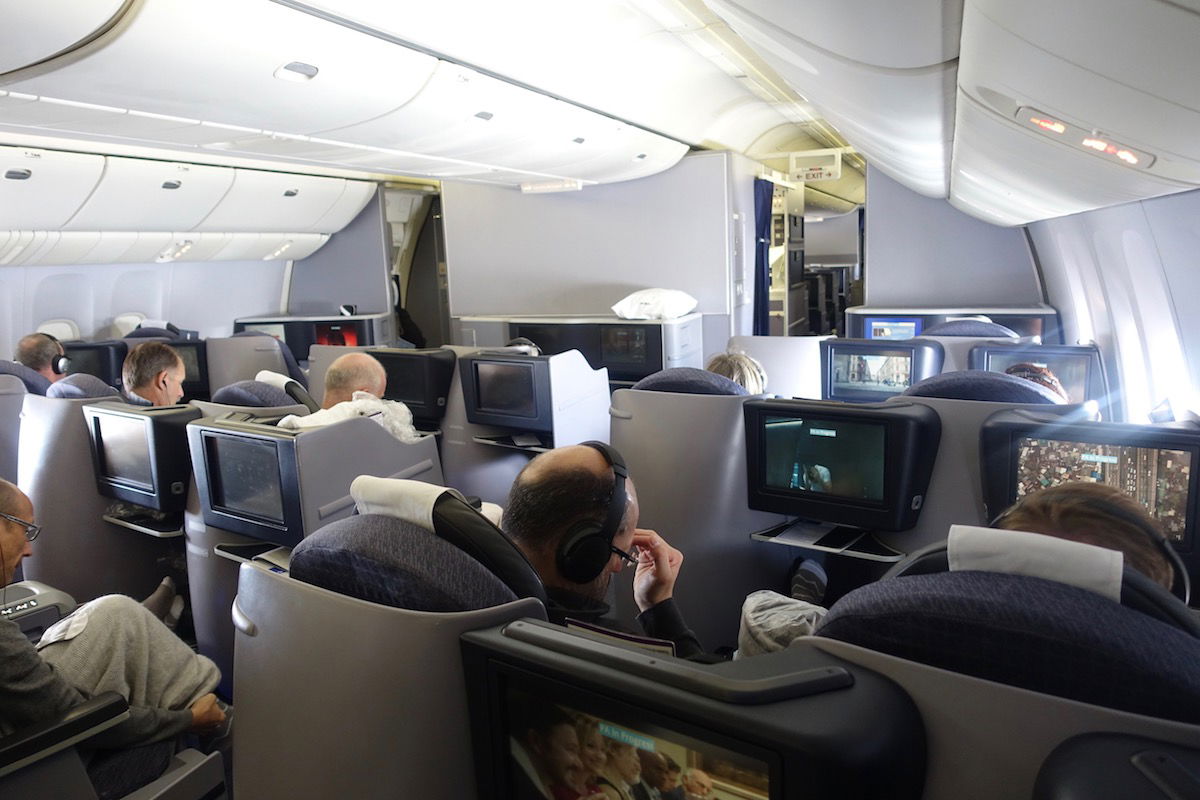 United 777 business class cabin
As we climbed out I checked out the airshow for our flight. United has a pretty low quality interface on this version of the 777.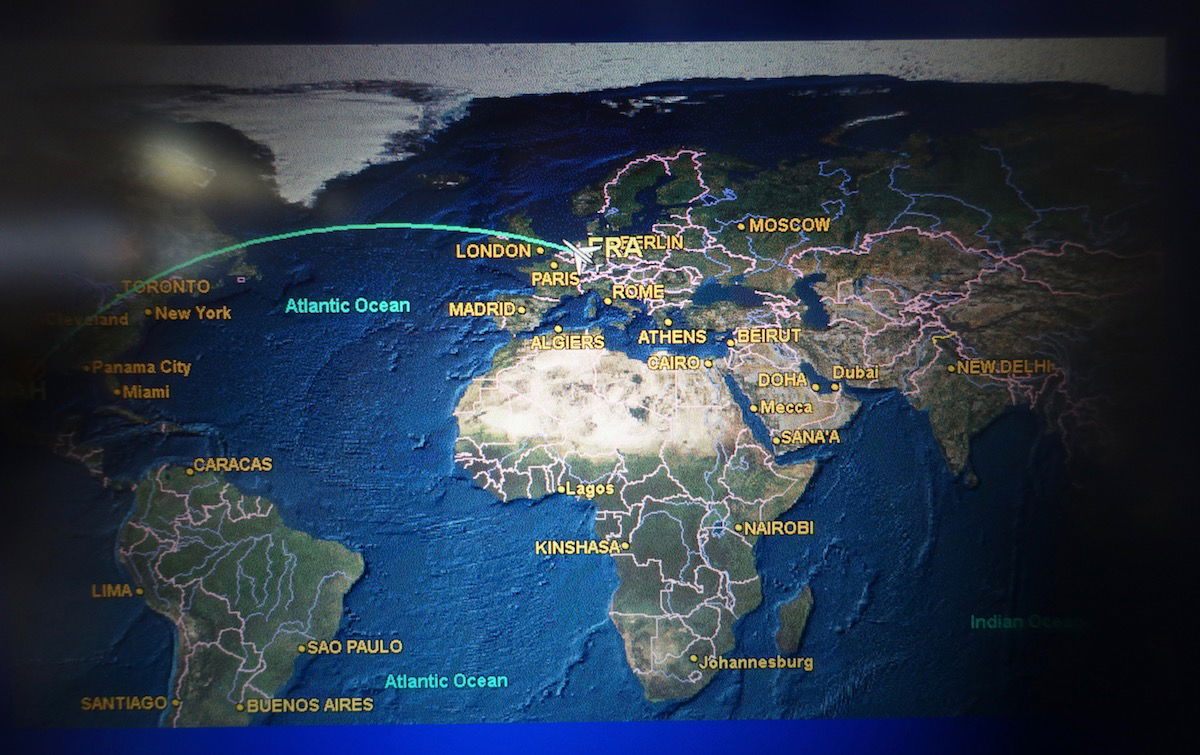 Airshow enroute to Houston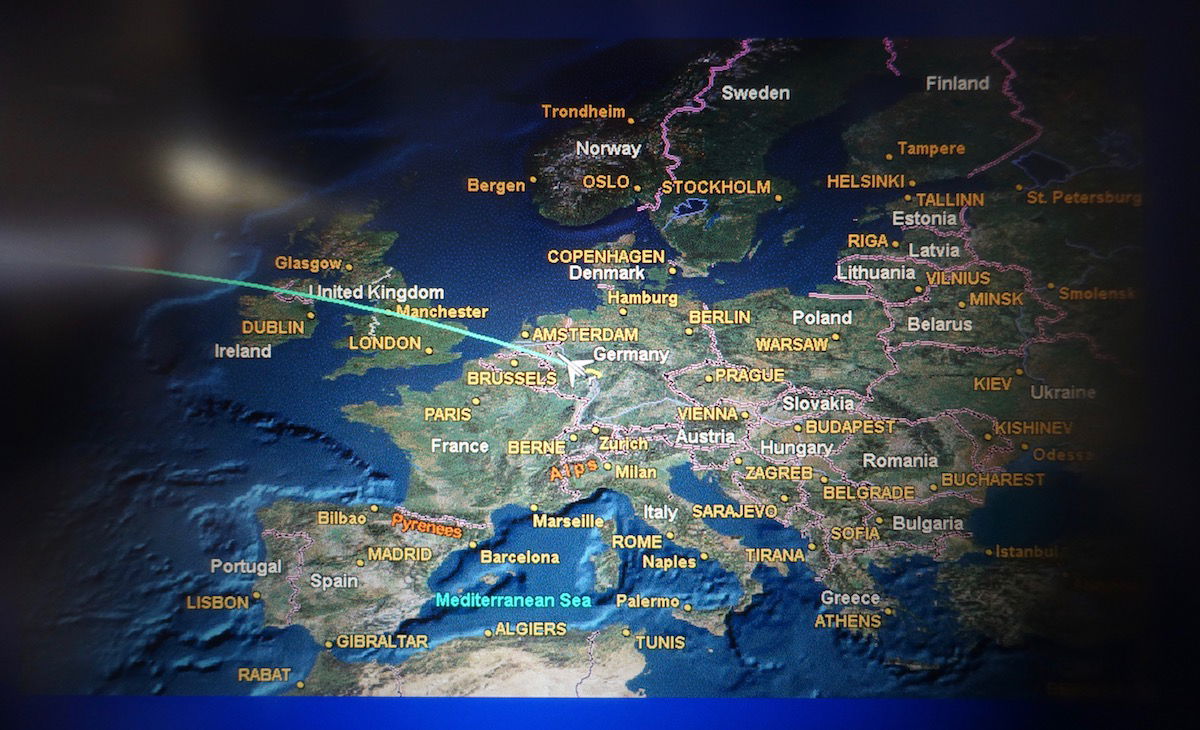 Airshow enroute to Houston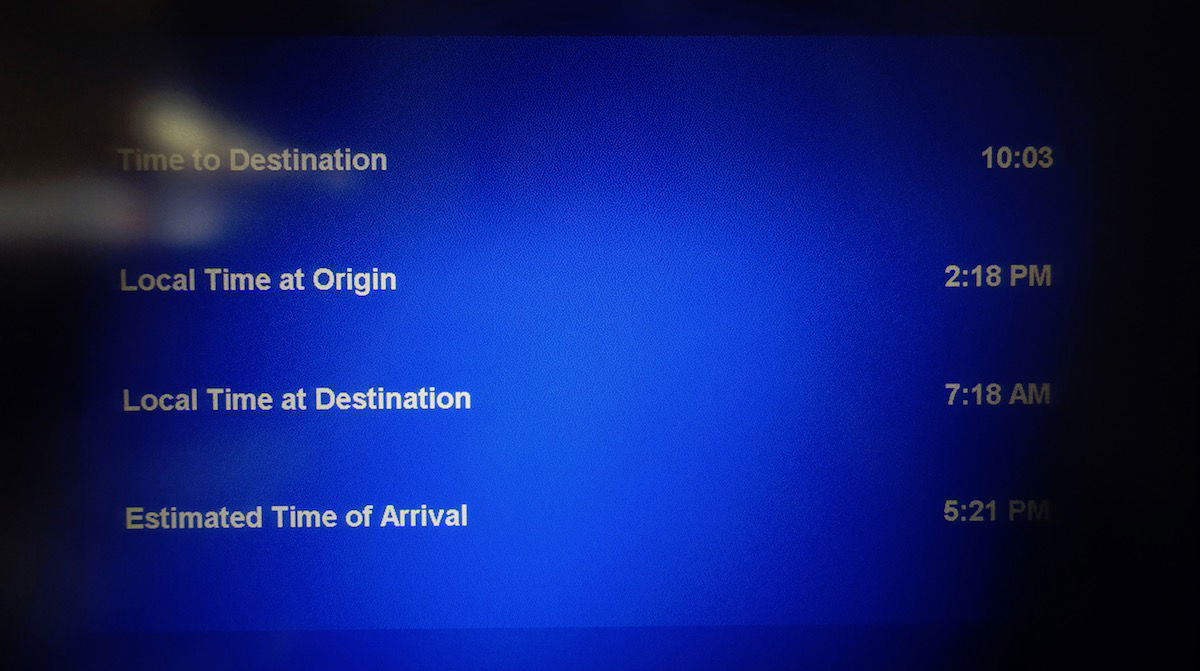 Airshow enroute to Houston
I also checked out the entertainment selection, which was extensive. United has an impressive selection of both movies and TV shows, both in terms of the variety and in terms of the number of episodes they have of each show (for example, they had 10 episodes of "Curb Your Enthusiasm").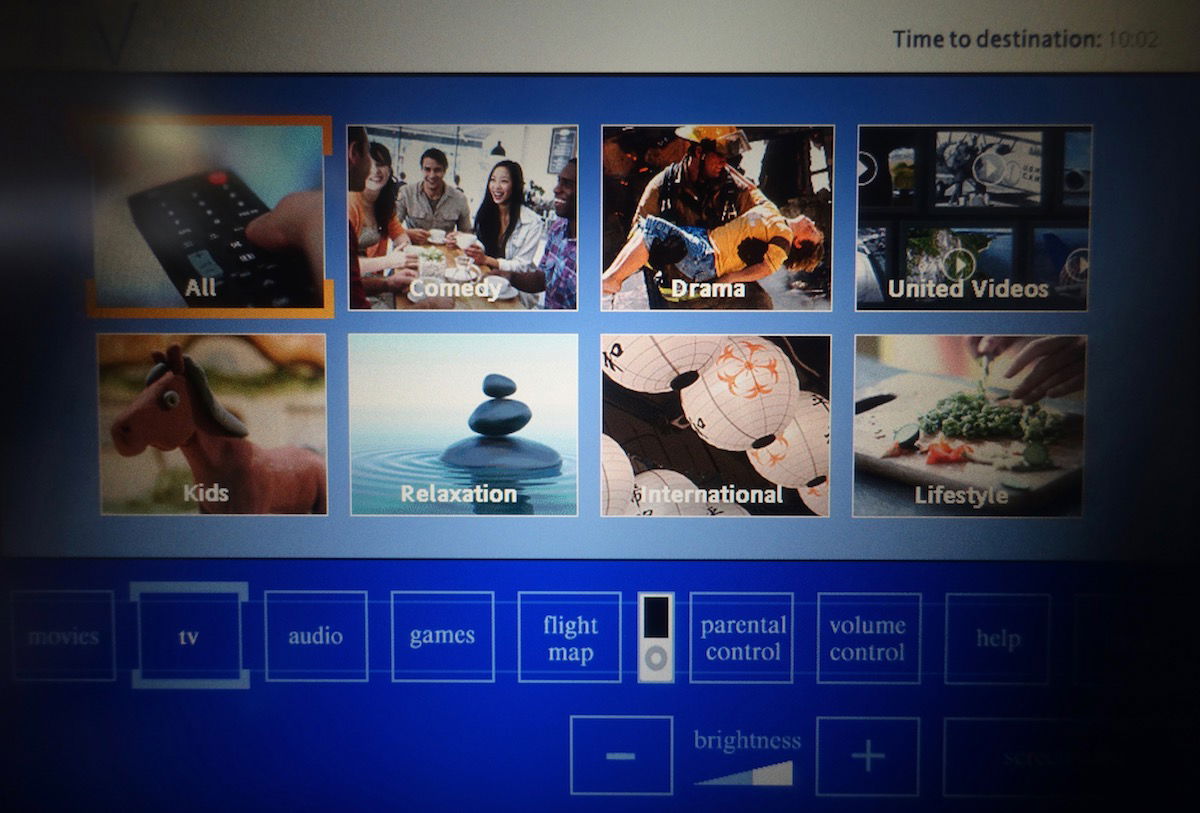 United entertainment selection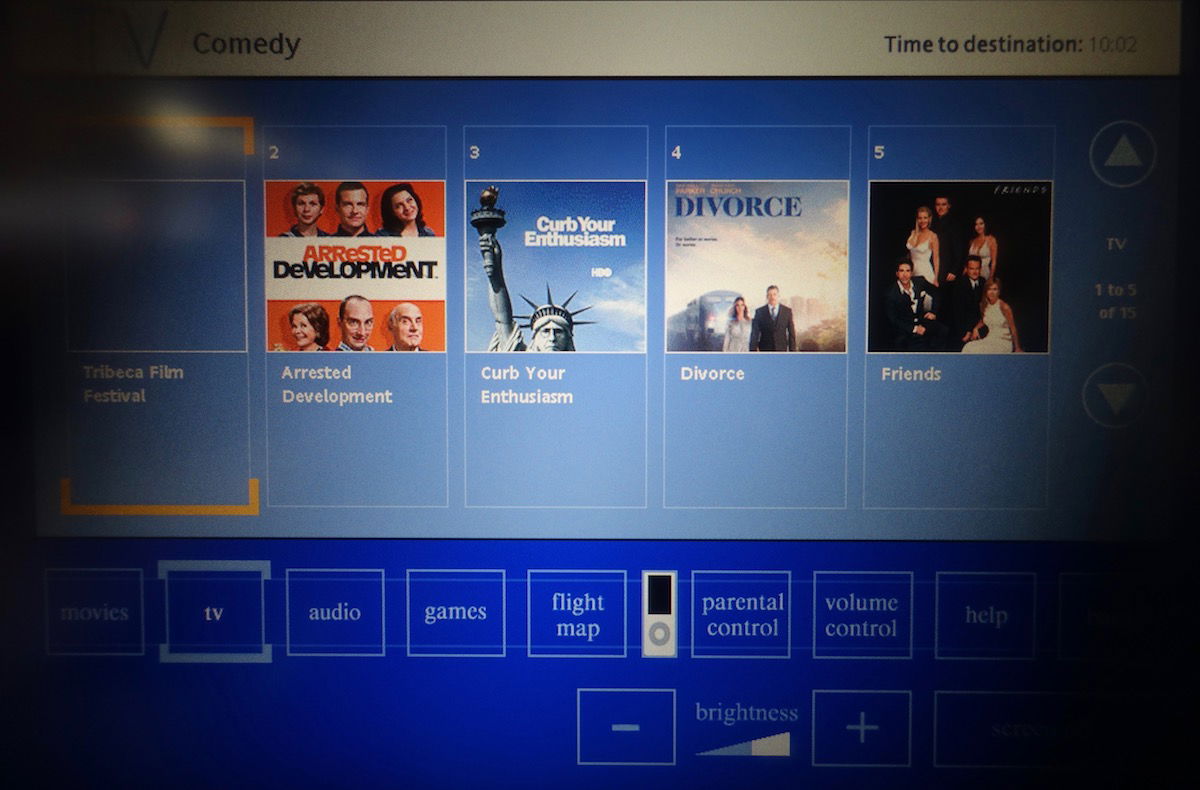 United entertainment selection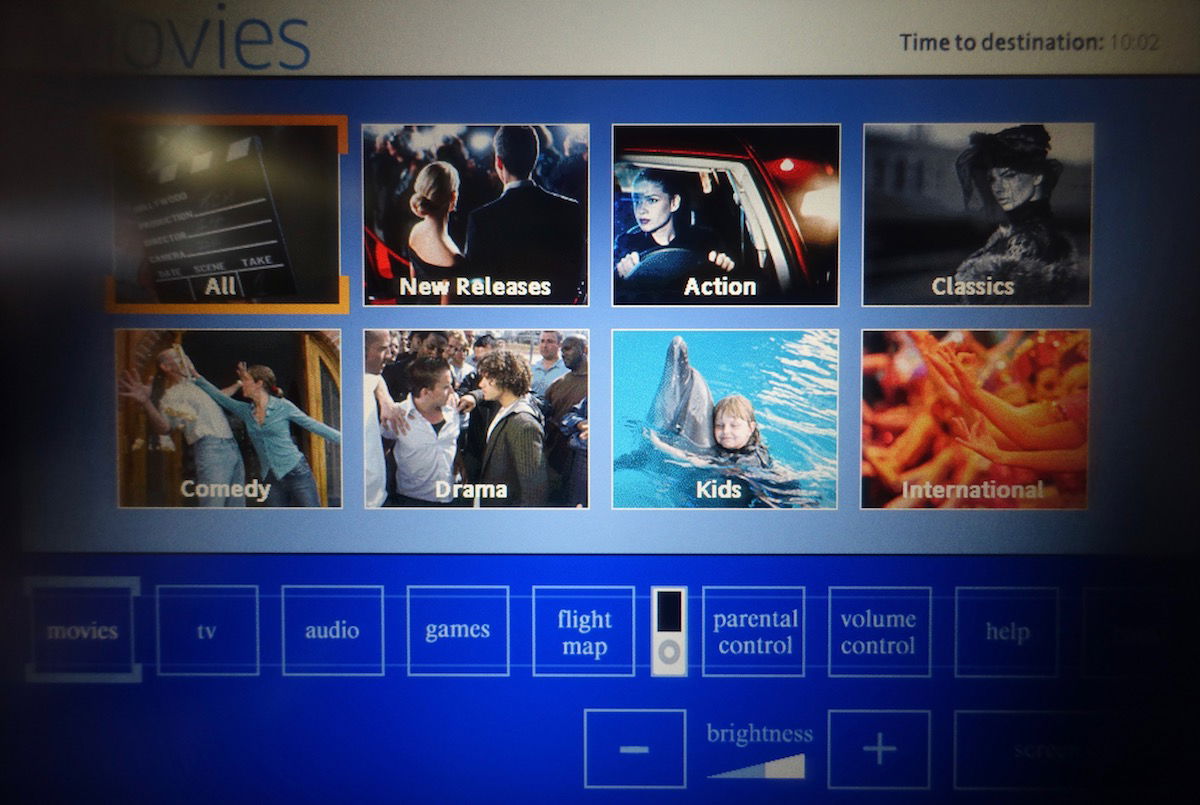 United entertainment selection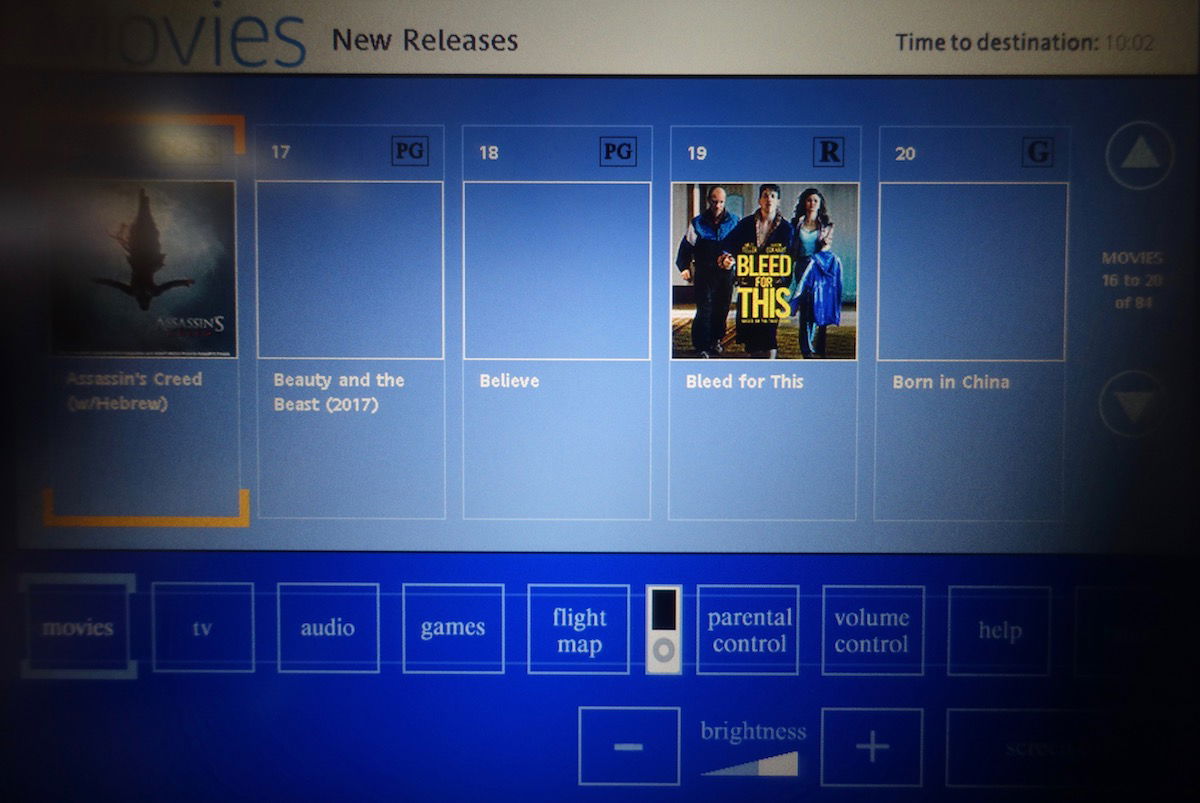 United entertainment selection
However, I was flying on a Monday, and United also has Wi-Fi, so I immediately connected to that so I could get some work done. United charges $27 for a Wi-Fi pass lasting the whole flight, which is reasonable, though more than they used to charge. Still, overall United has a good Wi-Fi offering on international flights.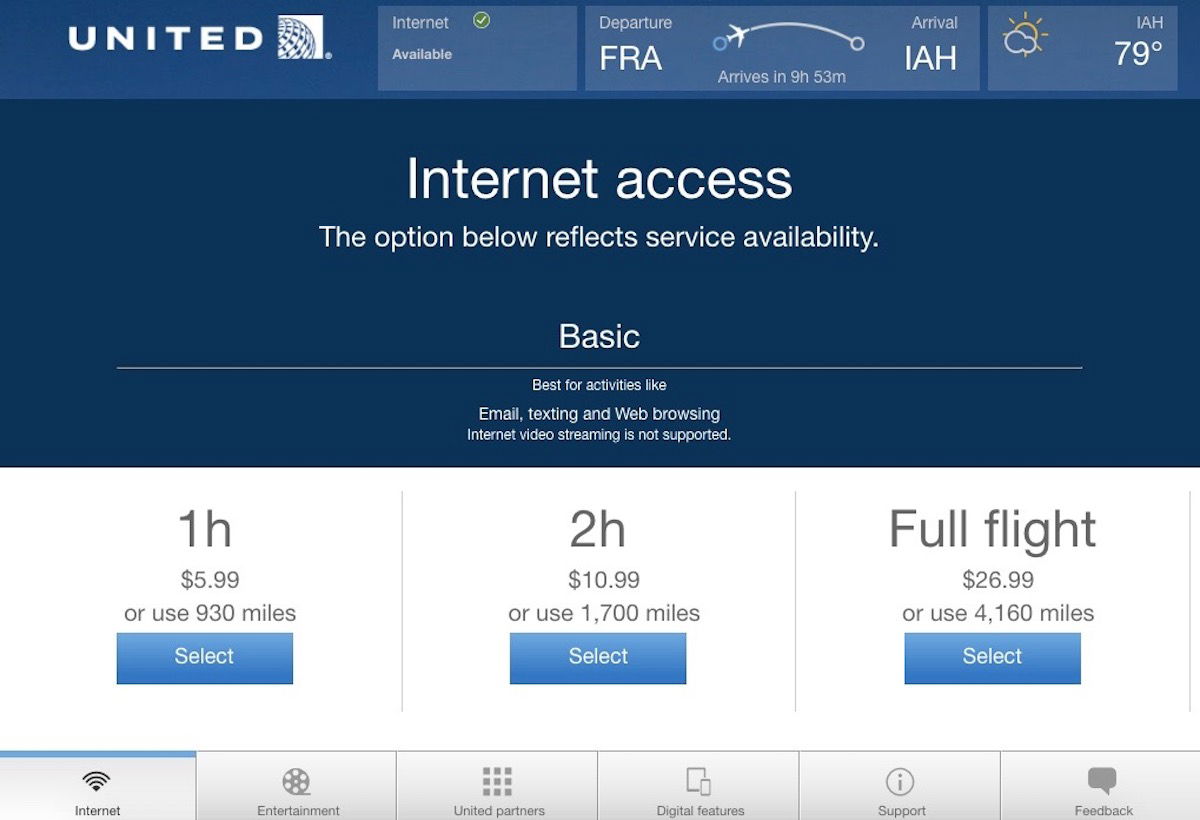 United Wi-Fi pricing
About 45 minutes after takeoff the meal service began. The lunch menu read as follows: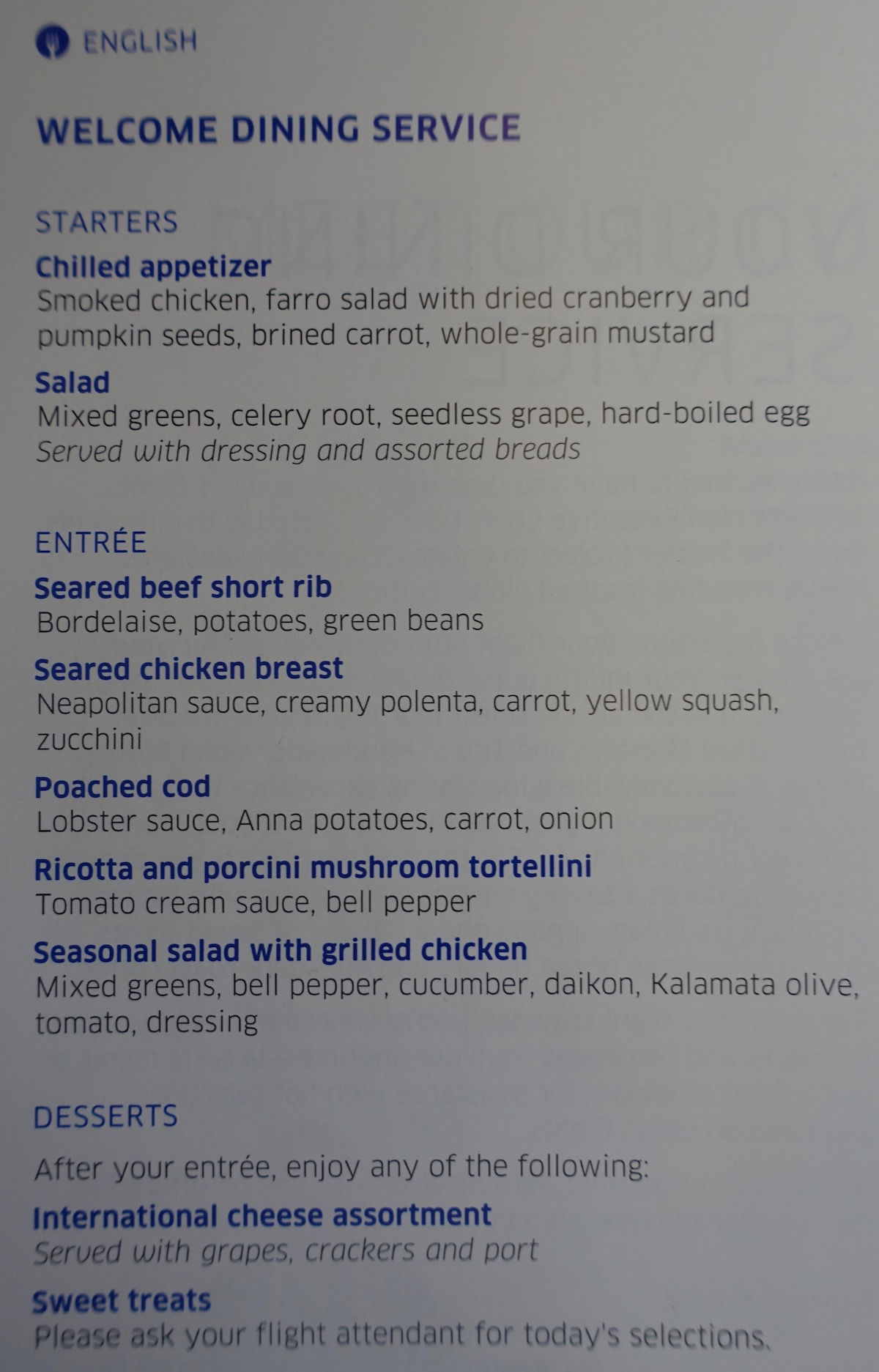 The drink menu read as follows (you'll notice it doesn't list wines, since that selection varies):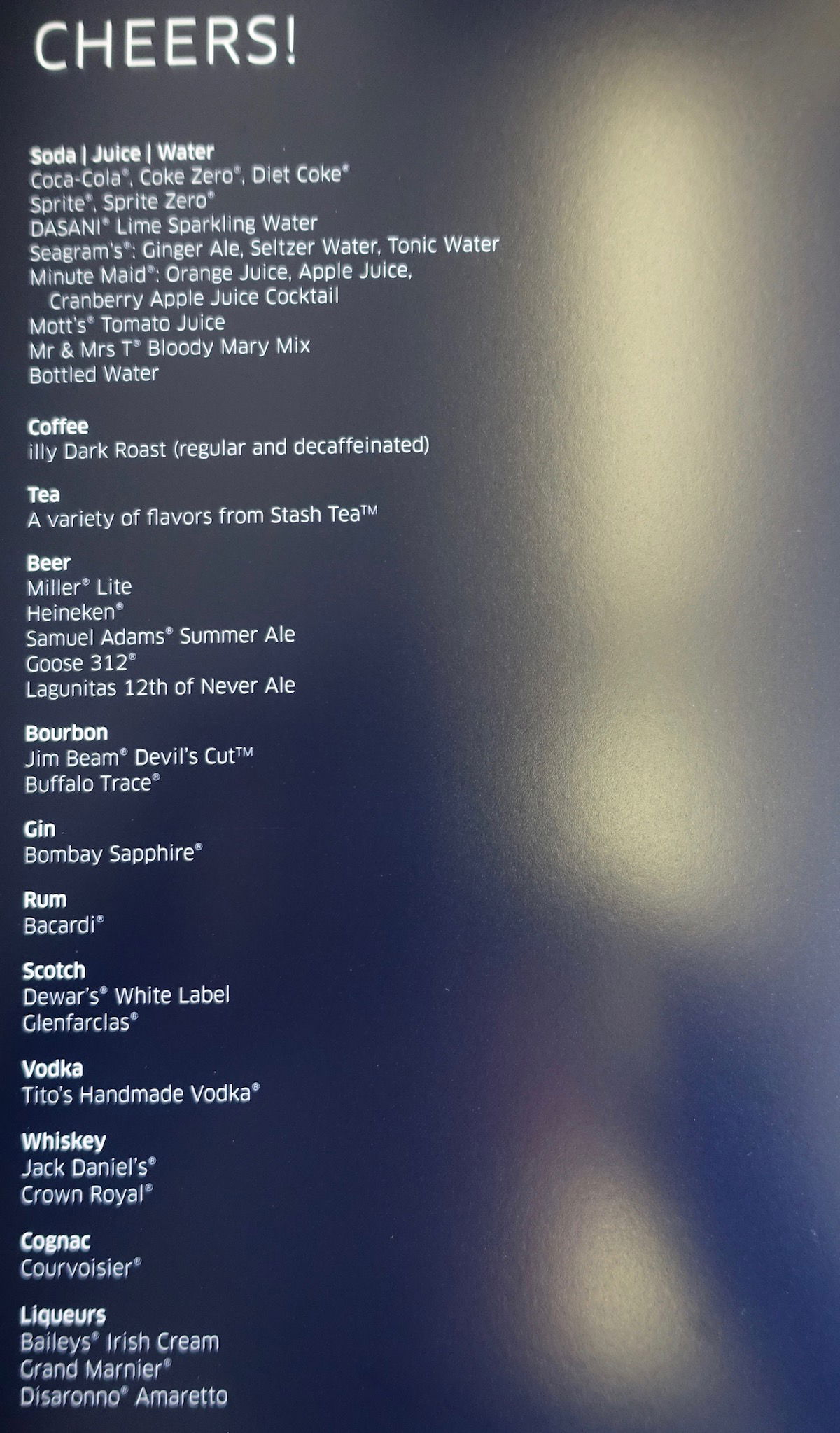 The rest of the menu read as follows: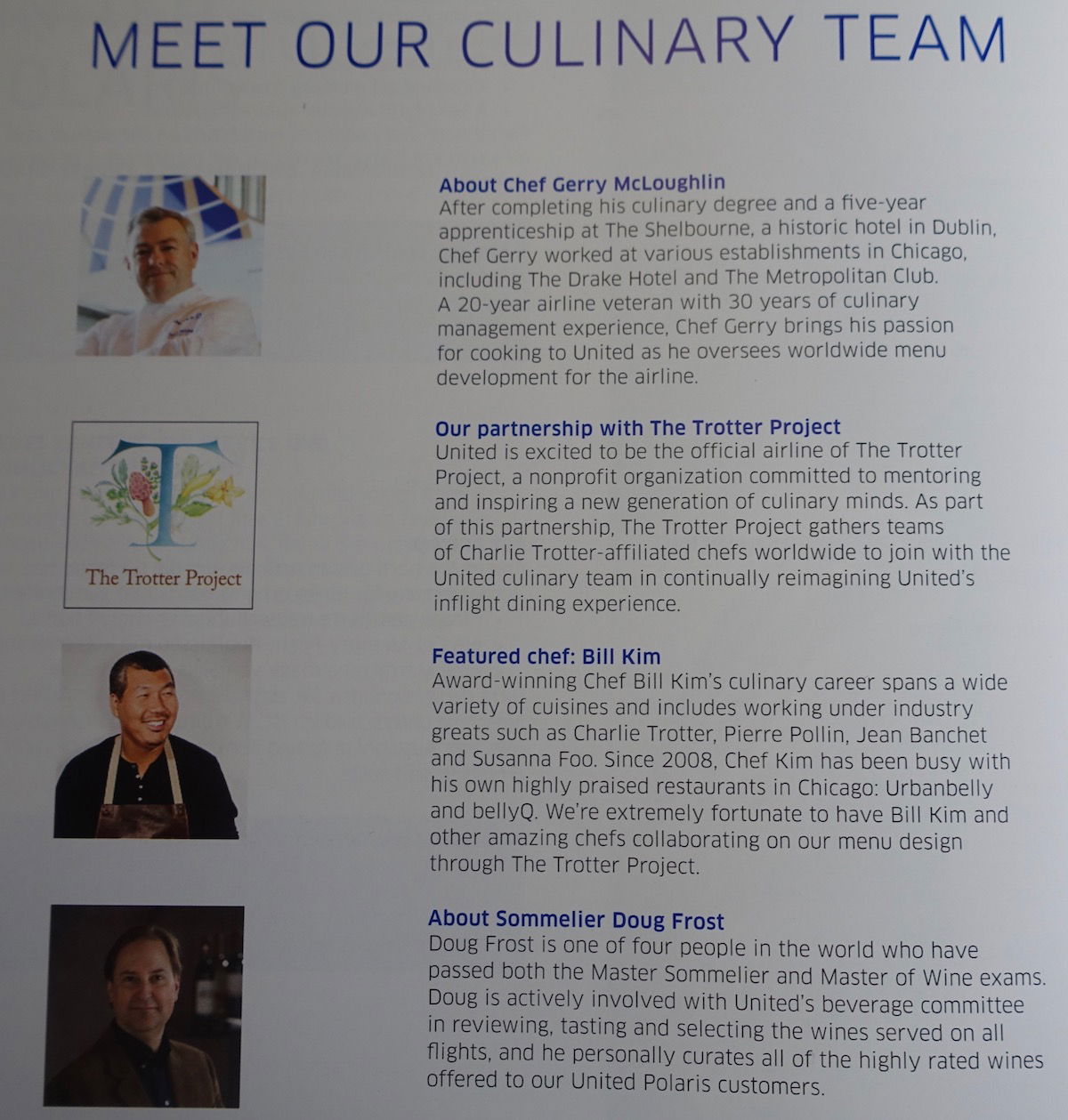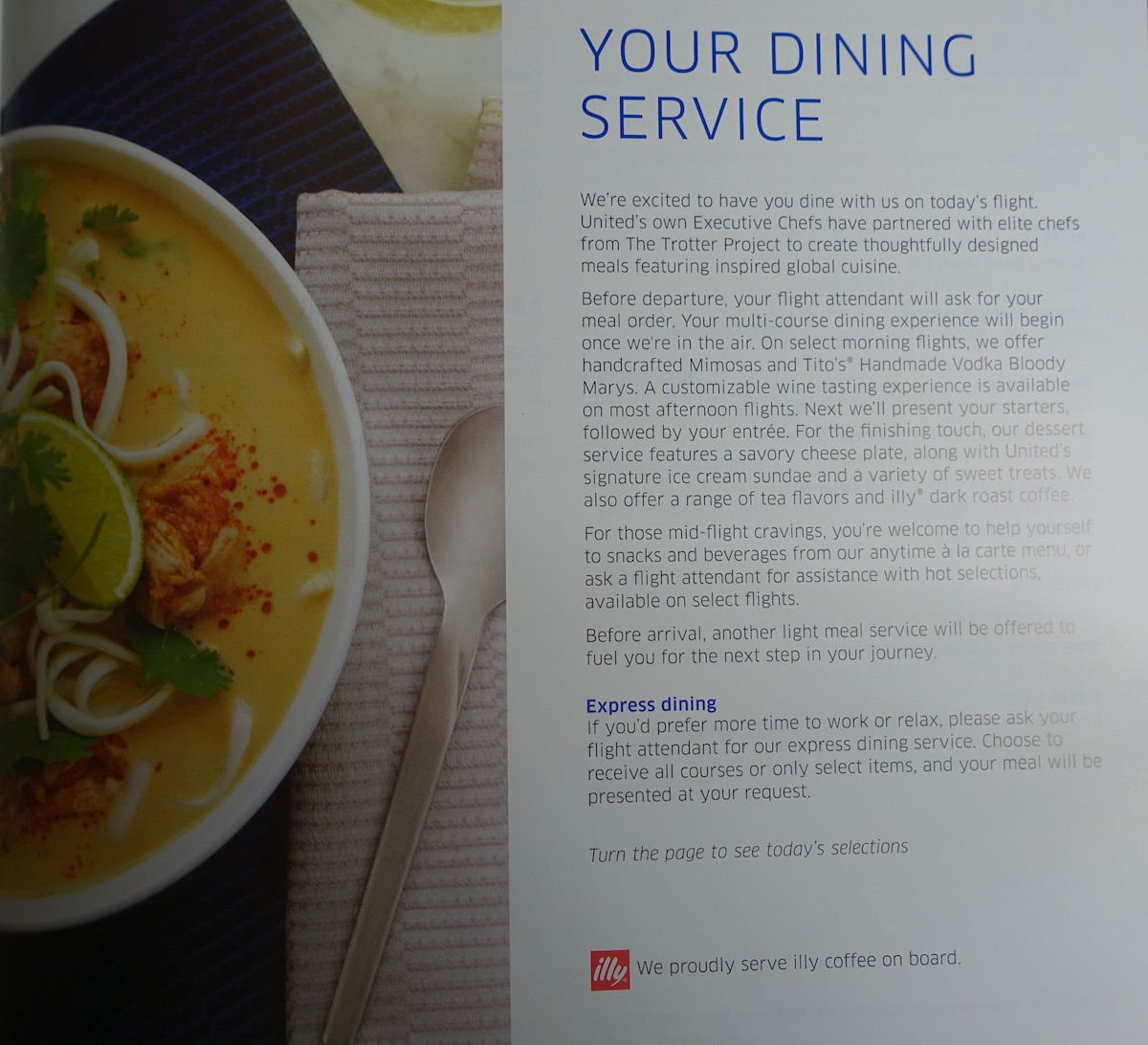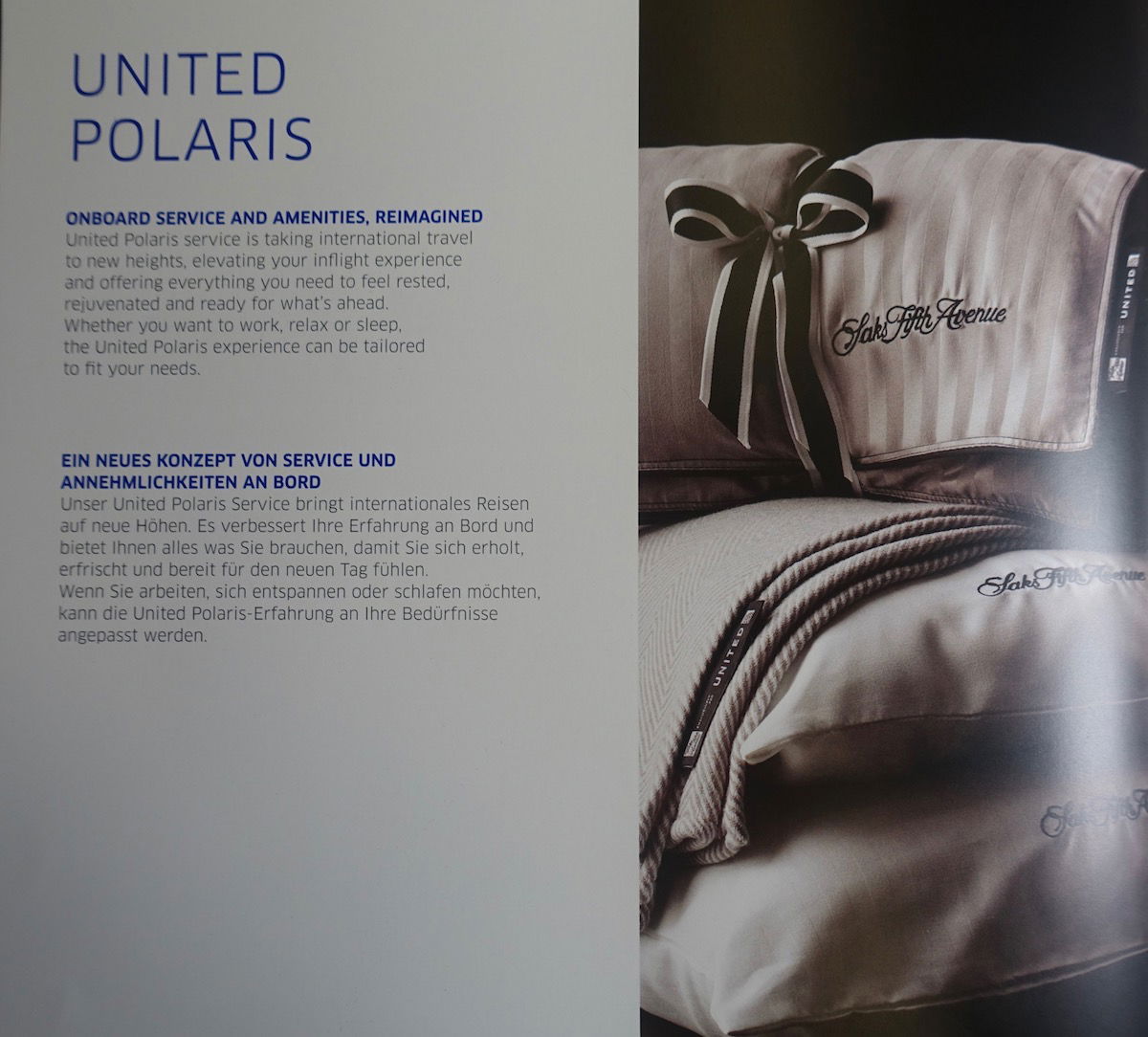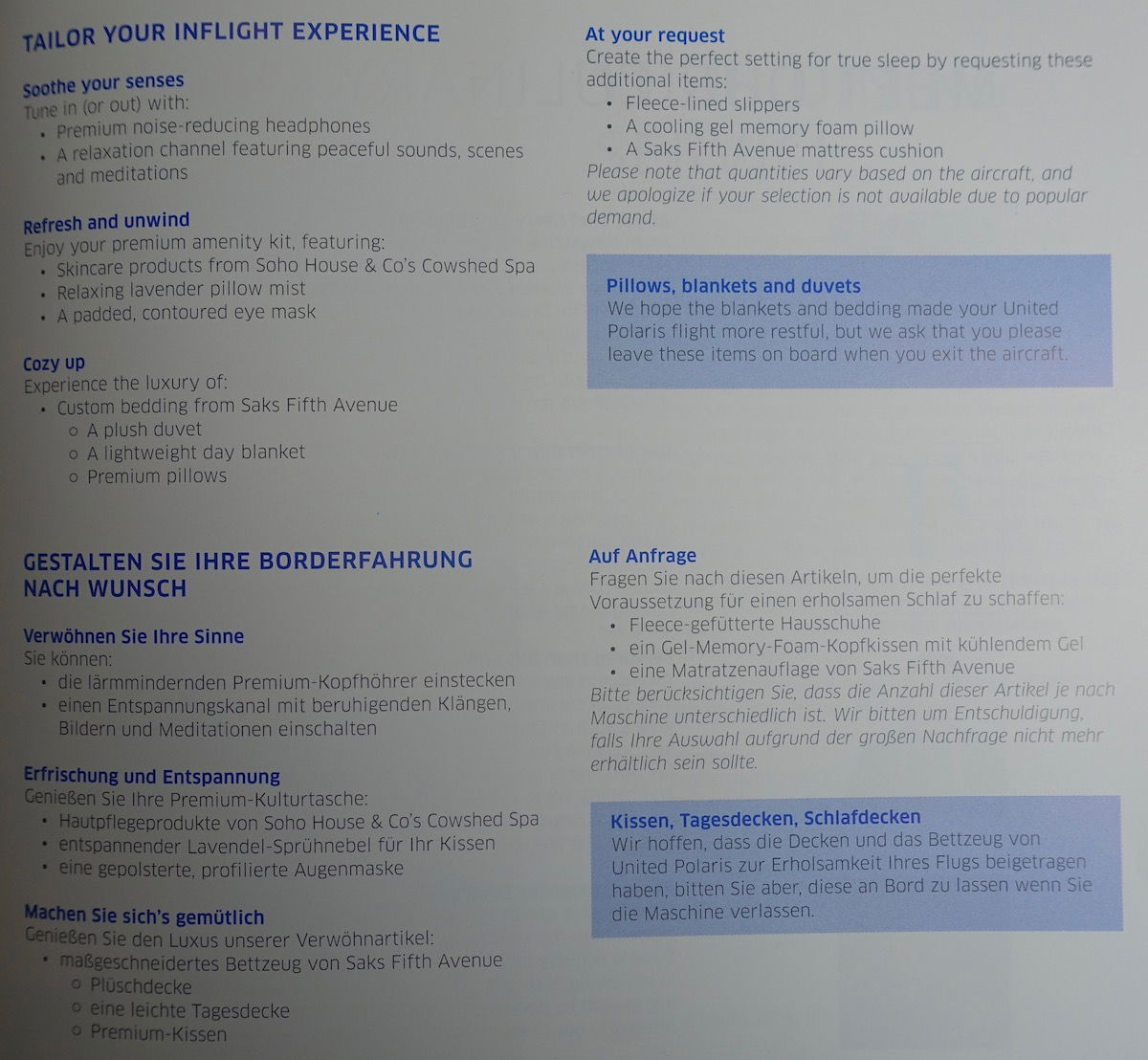 Service began with warm towels.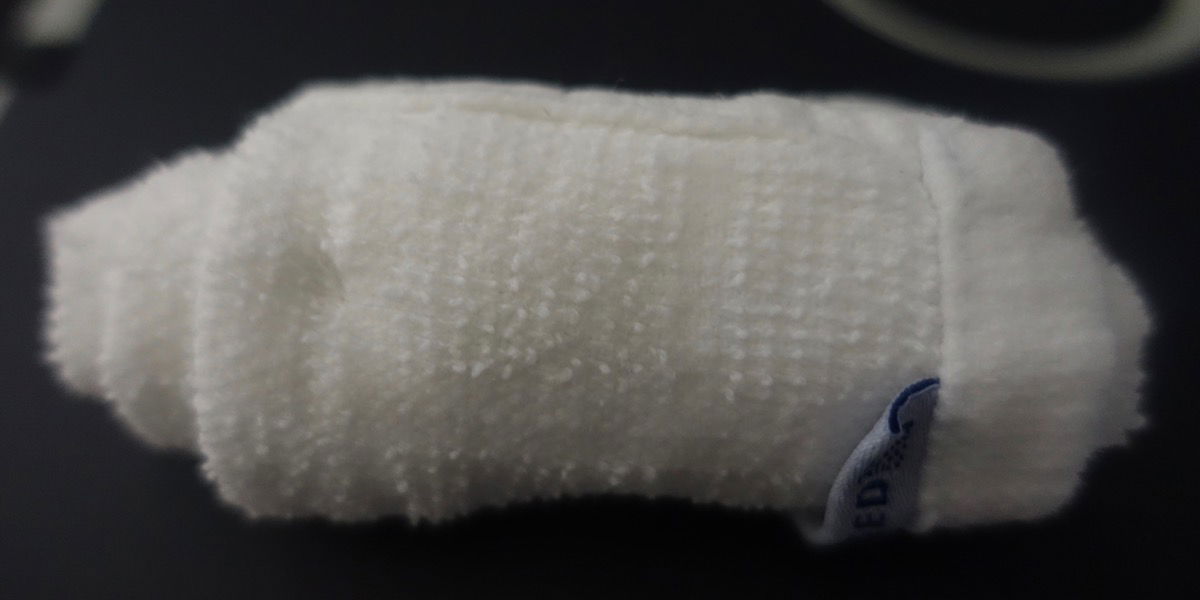 United business class warm towel
Next Pam rolled a cart down the aisle with drinks. United offers a wine tasting in Polaris, which I partook in. I tried the three whites, and was also offered a glass of San Pellegrino sparkling water, as well as warm mixed nuts. While I think the wine tasting is a nice gimmick, ultimately that's all it is to me.
We all have our wine preferences, so it's not like I really need to try the three wines to know whether I prefer a sauvignon blanc, a chardonnay, or a riesling. Now if you let me try three different sauvignon blancs, that would be a different story. Yet somehow I still partook in this gimmick. 😉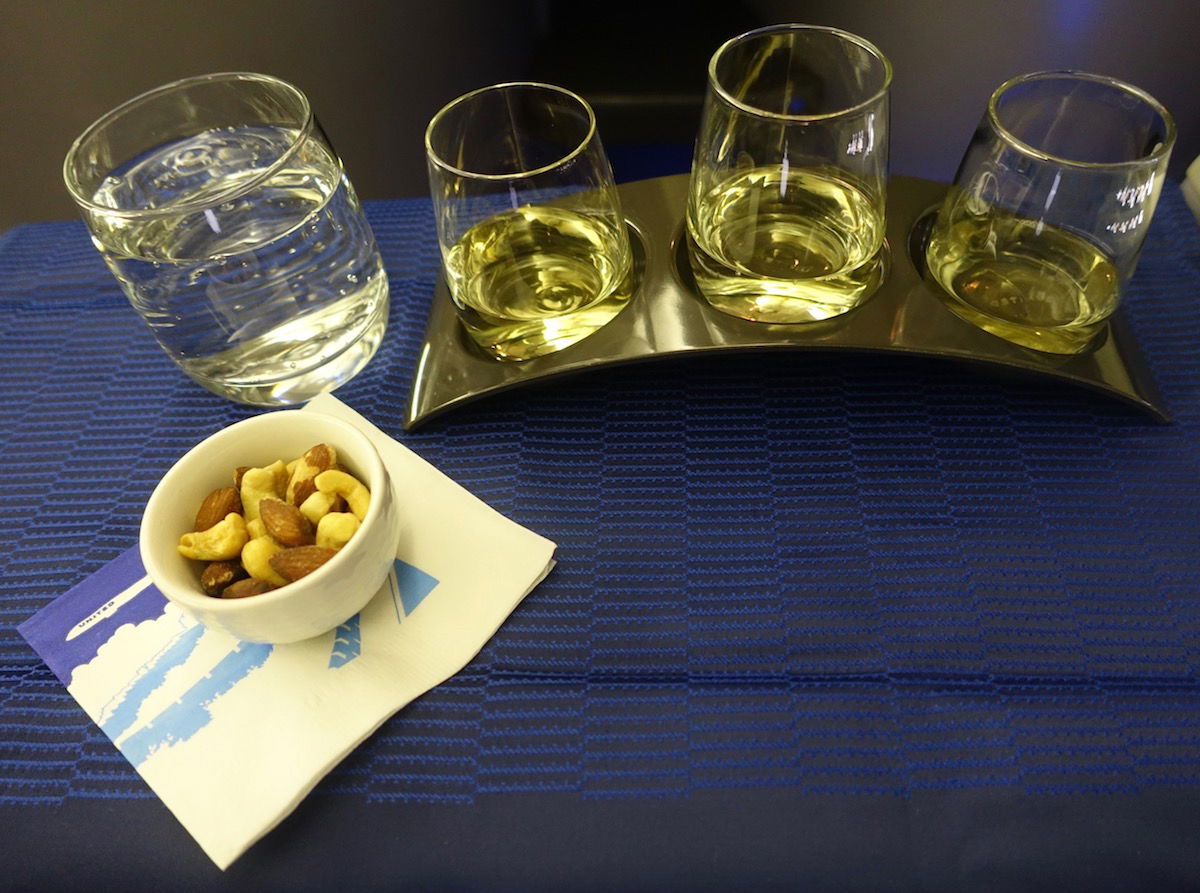 United business class wine flight & mixed nuts
60 minutes after takeoff the appetizer and salad were served. The appetizer consisted of smoked chicken, farro salad, with dried cranberry and pumpkin seeds, brined carrot, and whole-grain mustard. I thought it was healthy and tasty.
The salad consisted of mixed greens, celery root, grape, and hardboiled egg. It was good as far as airplane salads go, and I appreciated that fresh cracked pepper was offered to go along with it.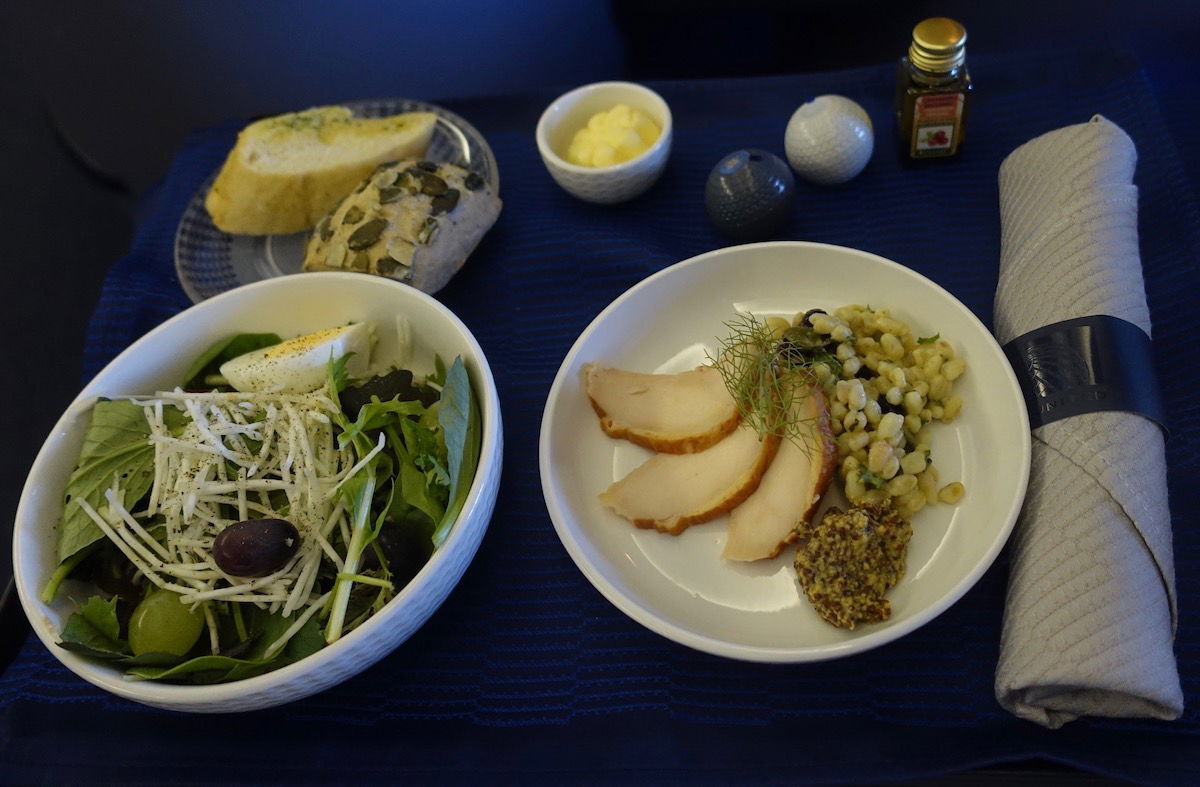 United business class lunch — salad and appetizer
One thing I don't get about United's new Polaris service is that they no longer offer bread of your choice. Instead everyone is automatically served the same two types of bread.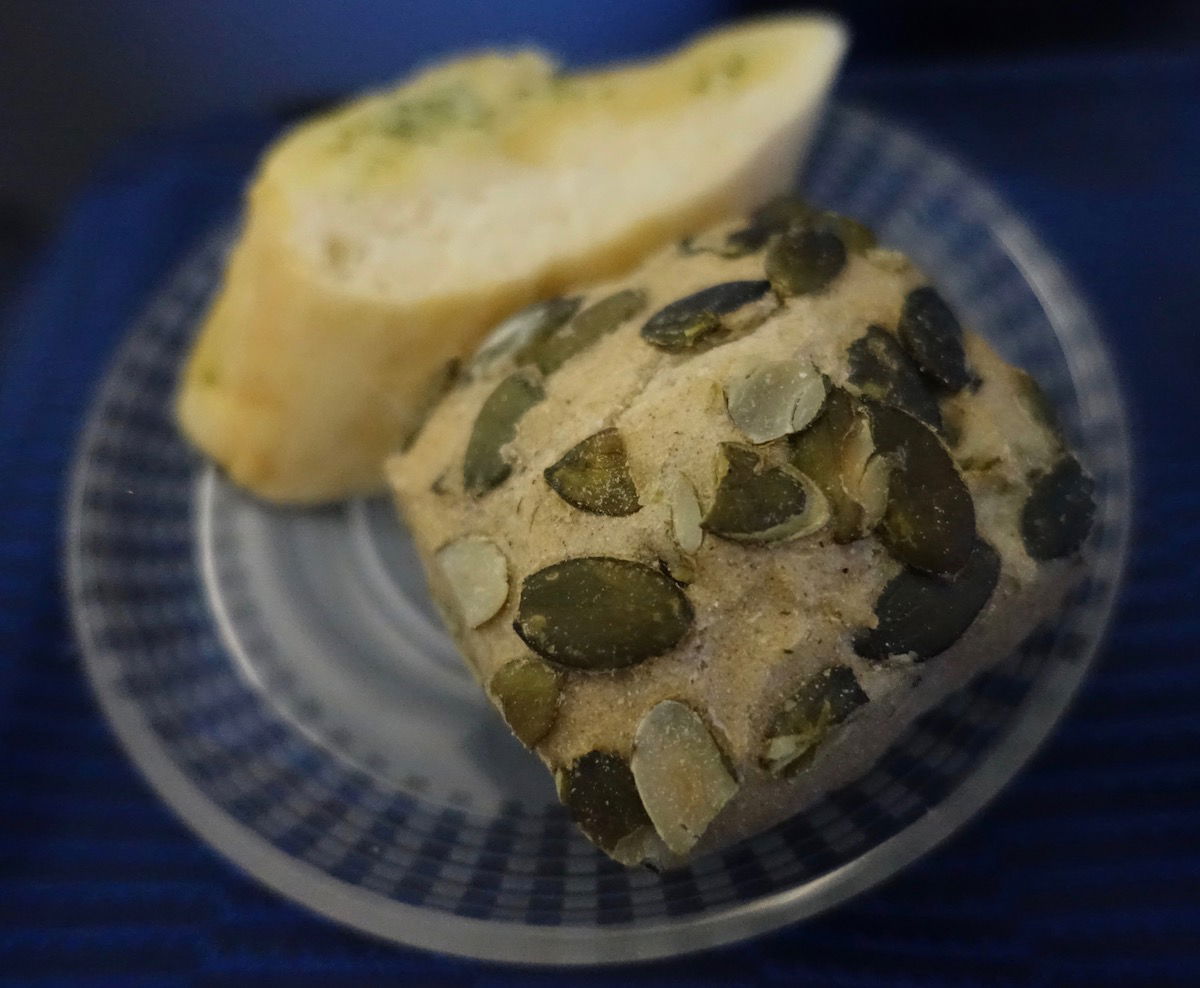 United business class lunch — bread selection
As each person finished their starter and salad those plates were cleared, and then the mains were brought out.
Ford had the seared chicken breast with polenta, carrot, squash, and zucchini.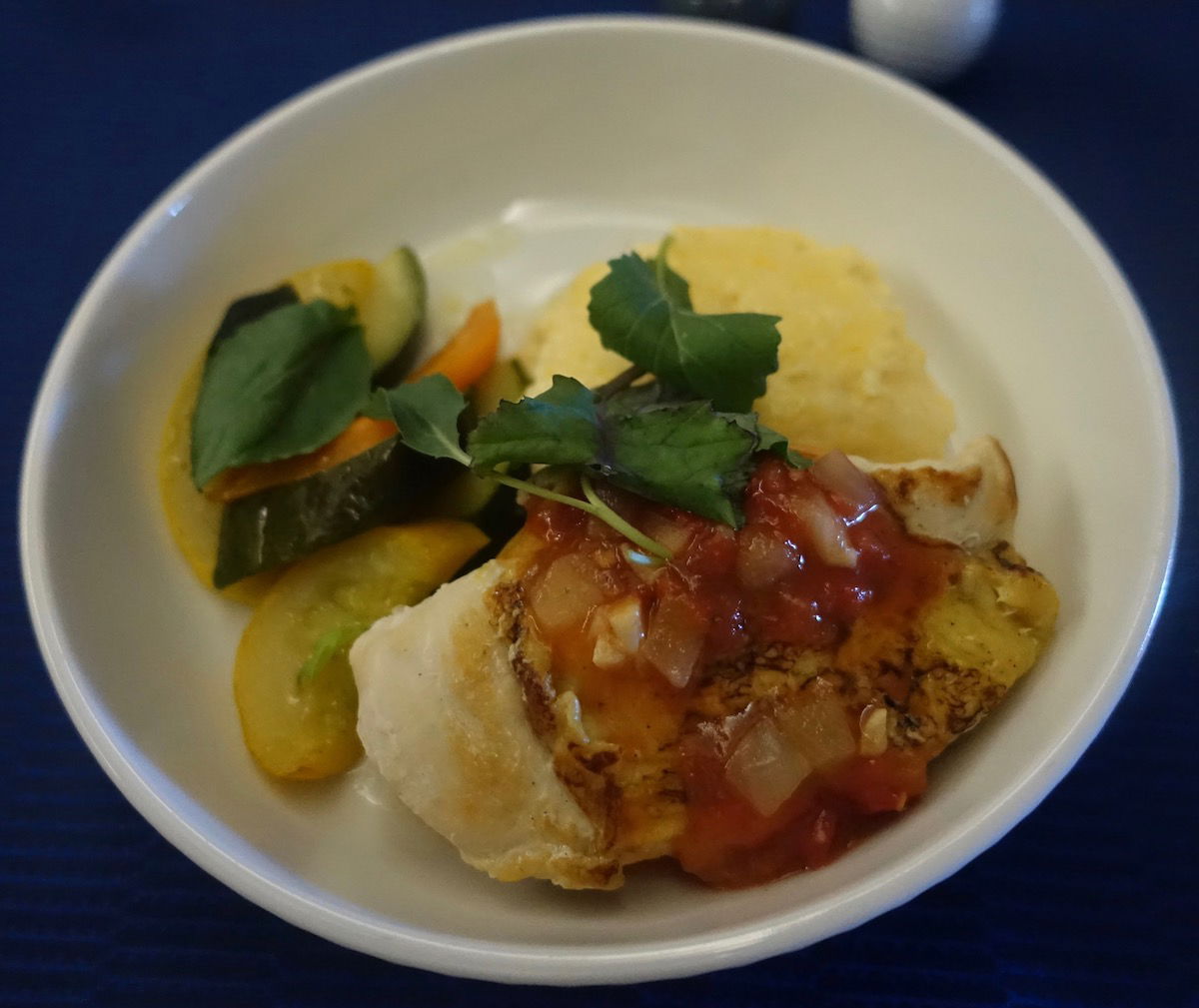 United business class main course — seared chicken breast
I had the poached cod with with lobster sauce, potatoes, onions, and carrots.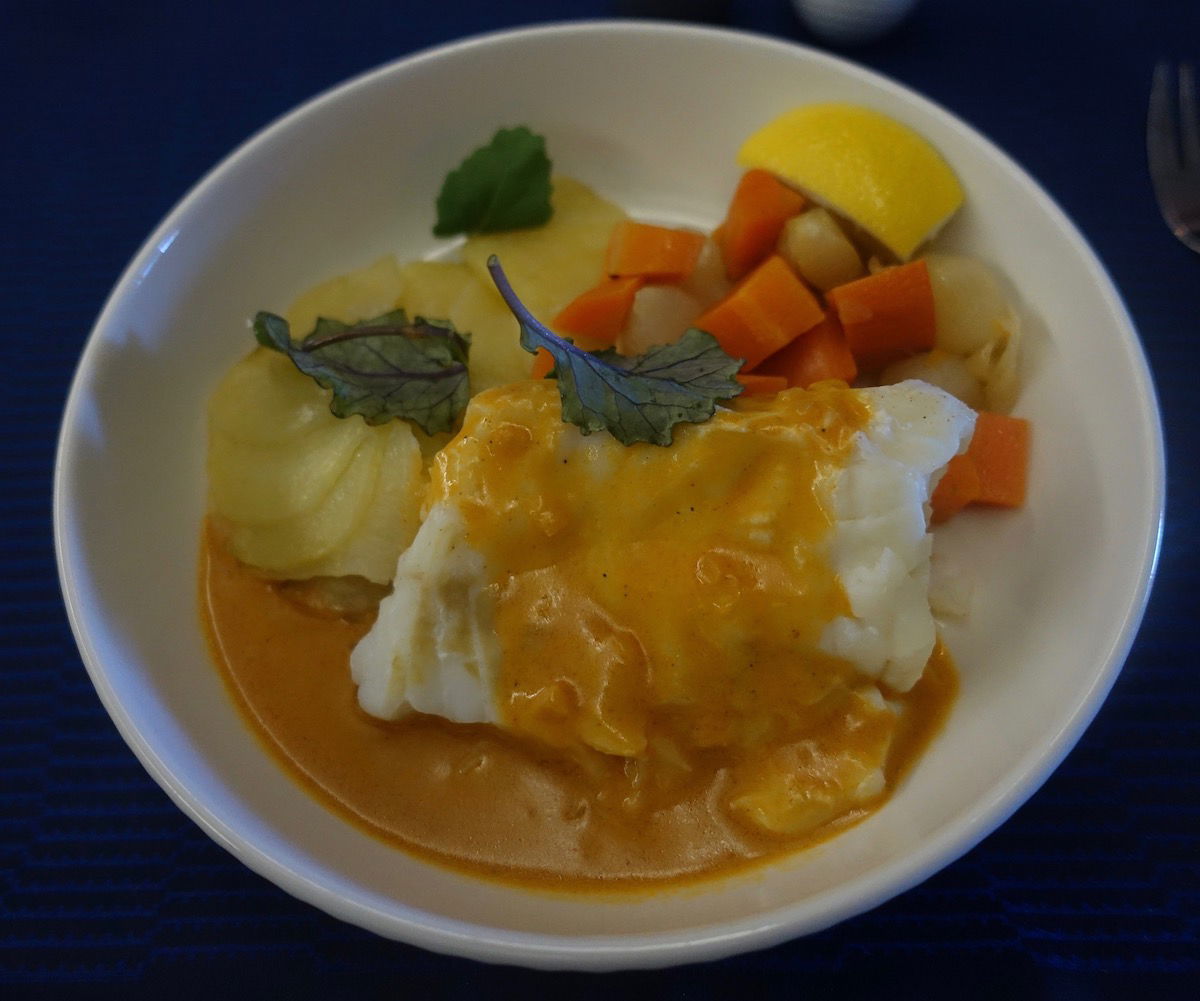 United business class main course — poached cod
Both dishes were pretty good, but unmemorable. Once those were cleared, the crew came around with a cheese course and port (though I passed on the latter).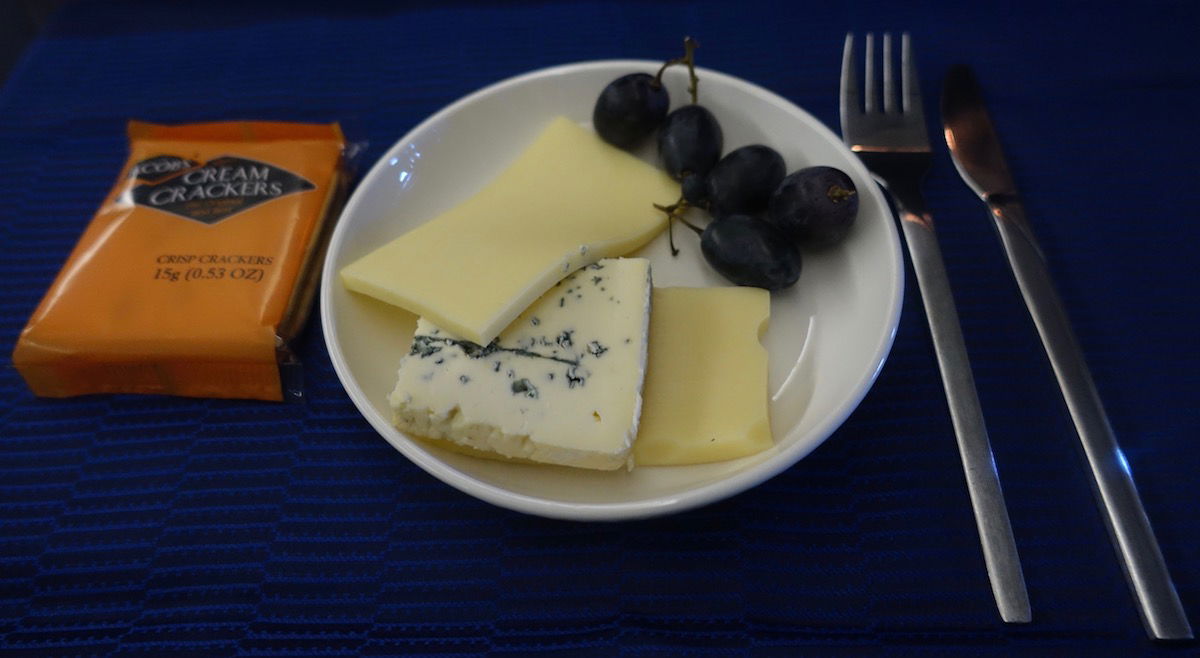 United business class lunch — cheese plate
And lastly came the dessert trolly, which had the choice of some different sweet treats as well as ice cream sundaes. United had issues with their old ice cream sundae bowls cracking, so instead they're now serving them out of plastic cups. Not the classiest presentation, but the ice cream still tasted good.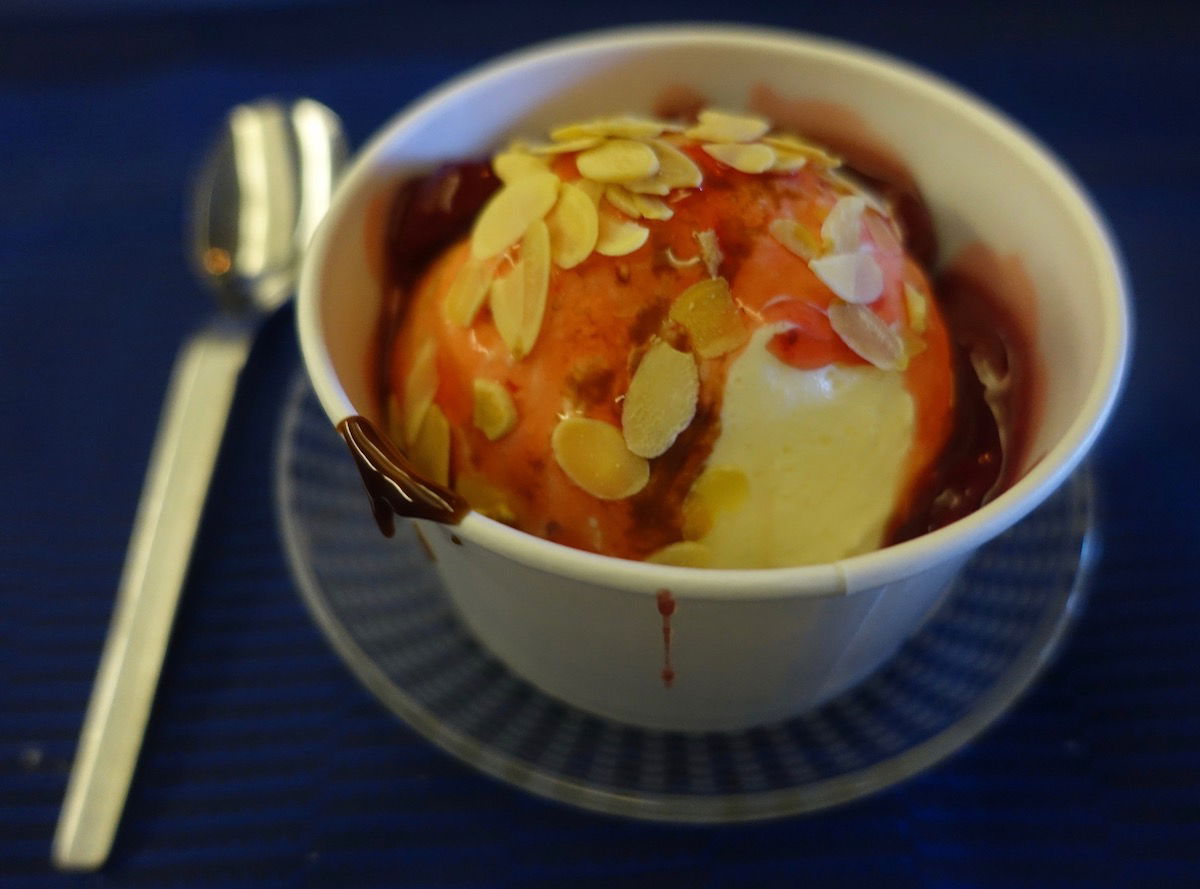 United business class lunch — ice cream sundae
Once the meal service was done bottles of water were distributed to all passengers.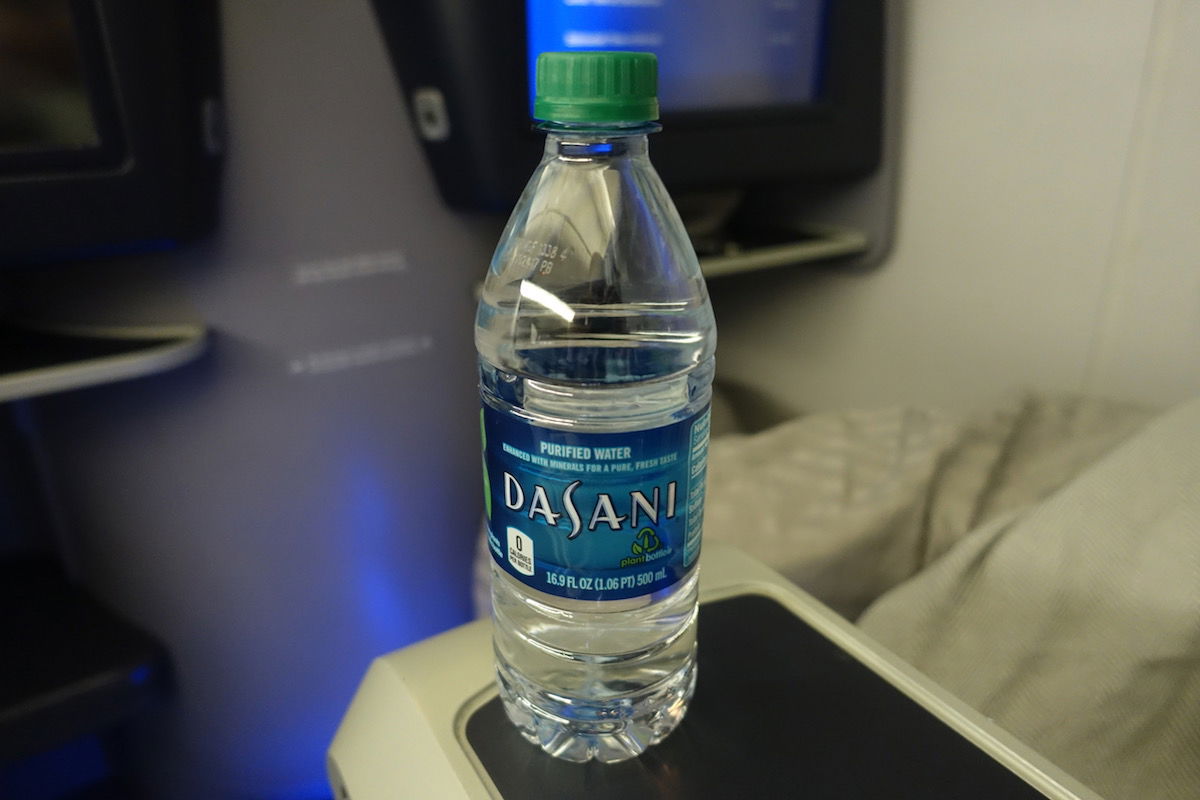 United business class bottled water
Overall I thought the food was fine. It's a nice improvement over what United used to offer, and I appreciated that for the most part it was pretty healthy meal. However, there are many areas for improvement — they could introduce dine on demand, they could get rid of the trays, they could offer a choice of appetizers and/or bread, etc.
The highlight of the meal was service. Pam (and the rest of the crew, based on observing them) were just lovely. They all seemed to enjoy their jobs and took their time with each passenger, which I appreciate.
After the meal I checked out the lavatory between the two business class cabins. The lavatory was large and had Cowshed amenities.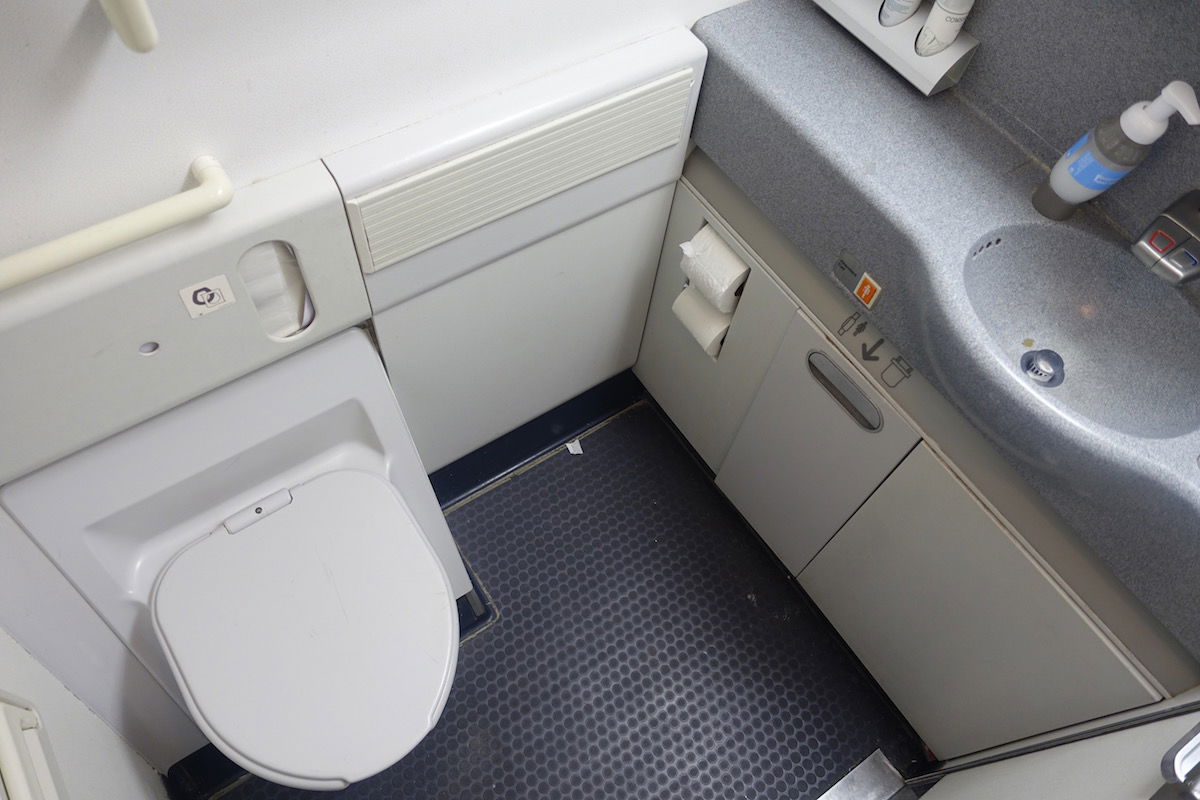 United 777 business class lavatory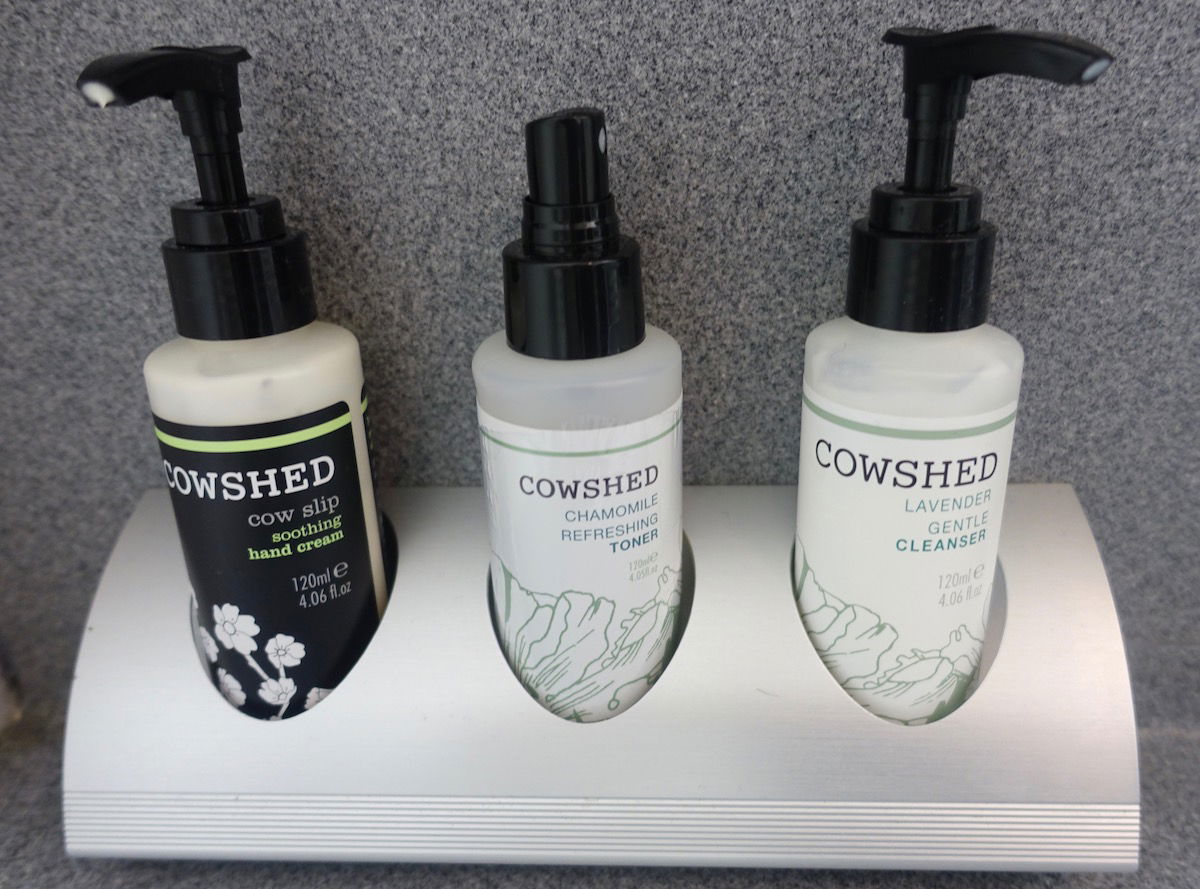 United 777 business class lavatory amenities
I also took a quick peek at the forward business class cabin.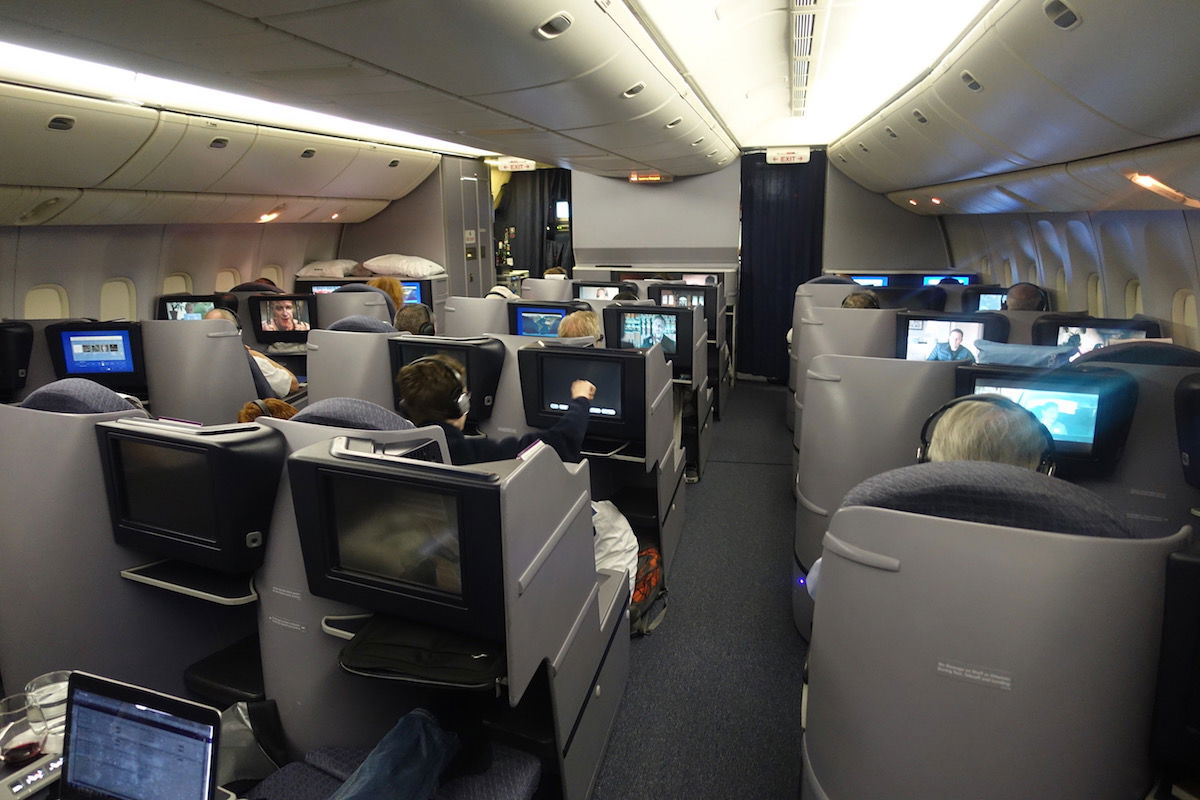 United 777 business class cabin
I then decided to try and nap. After getting the mattress pad I went ahead and made the bed. United's bedding is exceptional — it's the best of any airline in business class, in my opinion. It's just too bad that the seat itself isn't great.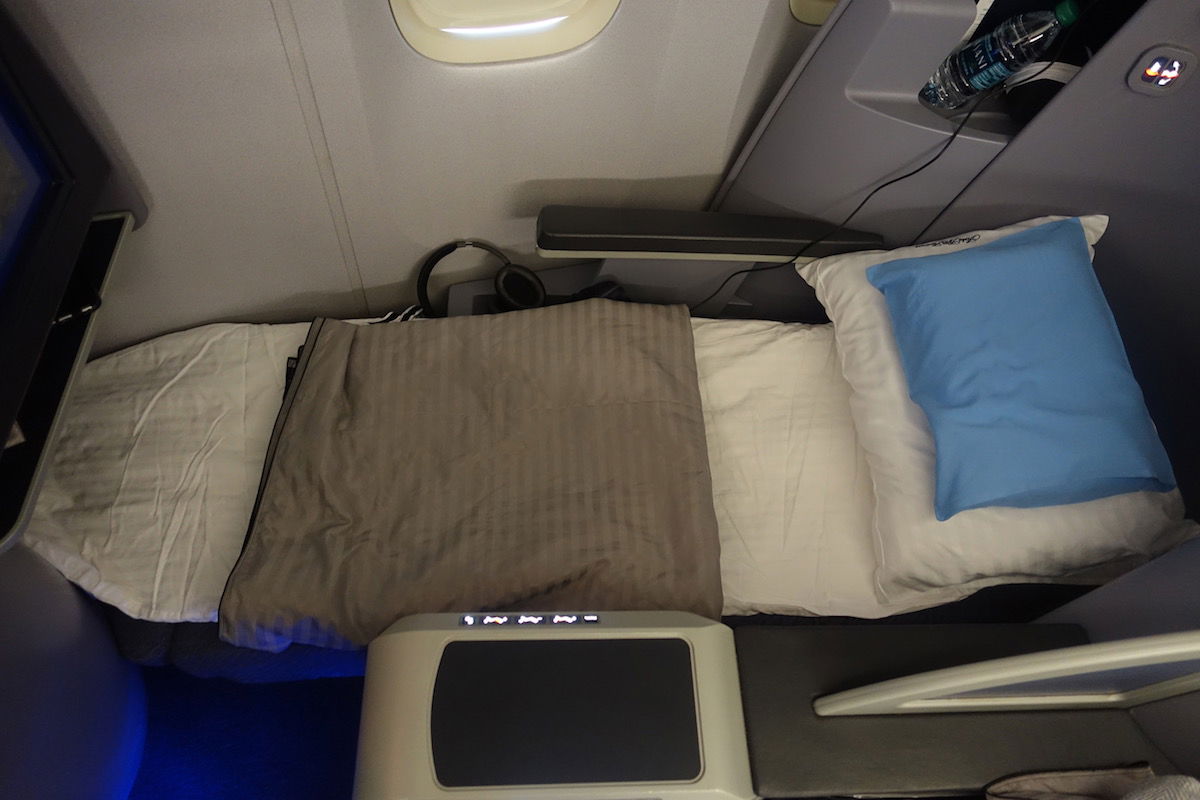 United business class bed
At this point we were about two hours into the flight, and I napped for about four hours.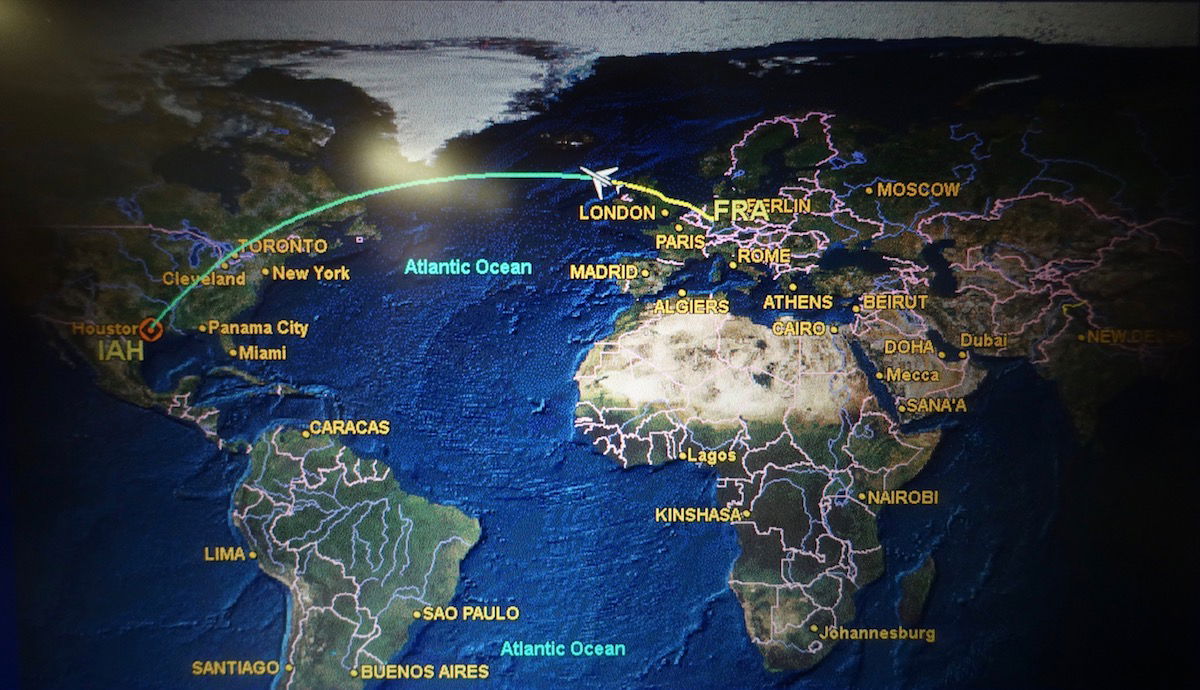 Airshow enroute to Houston
By the time I woke up we were just under four hours from Houston.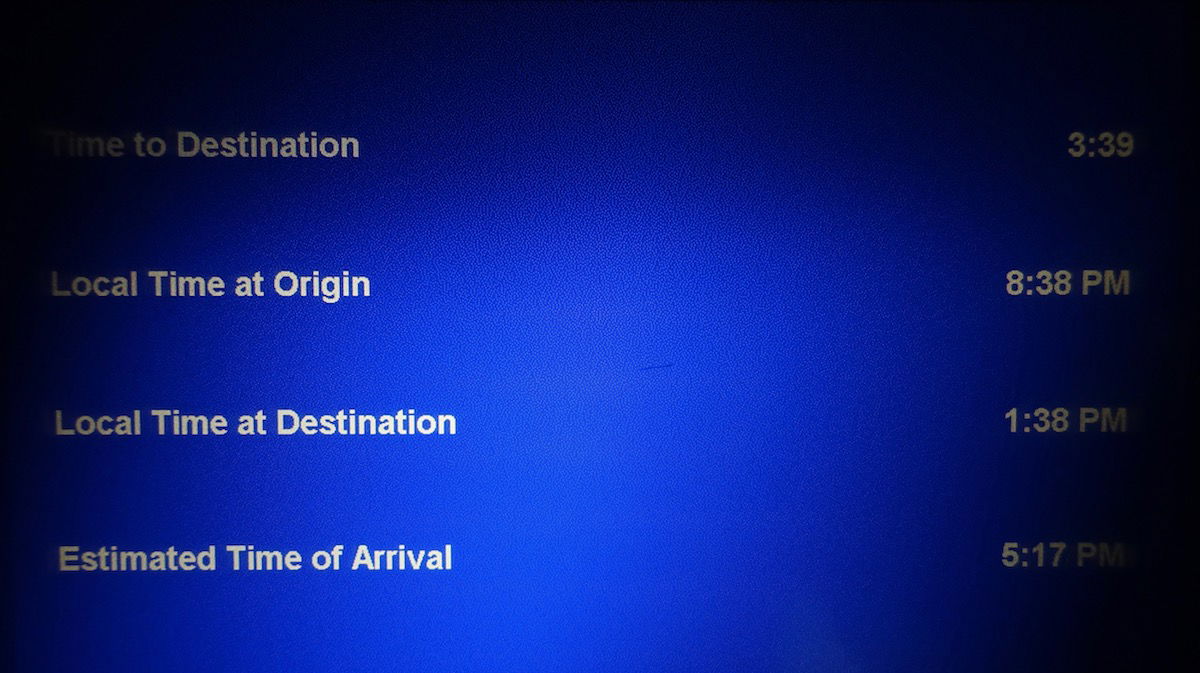 Airshow enroute to Houston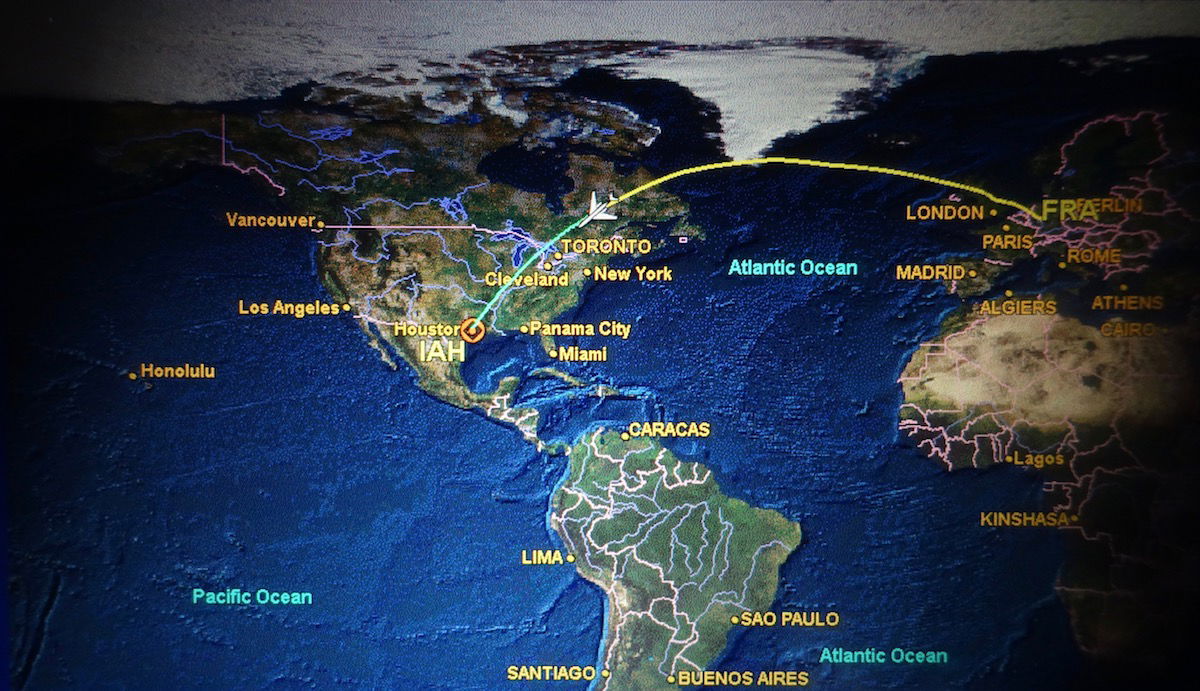 Airshow enroute to Houston
I checked out the snack selection in the galley. Since this isn't an ultra longhaul flight there aren't any hot snacks (when there are, the grilled cheese and tomato soup are tasty), though there were packaged snacks, whole fruit, slippers, bottled water, etc.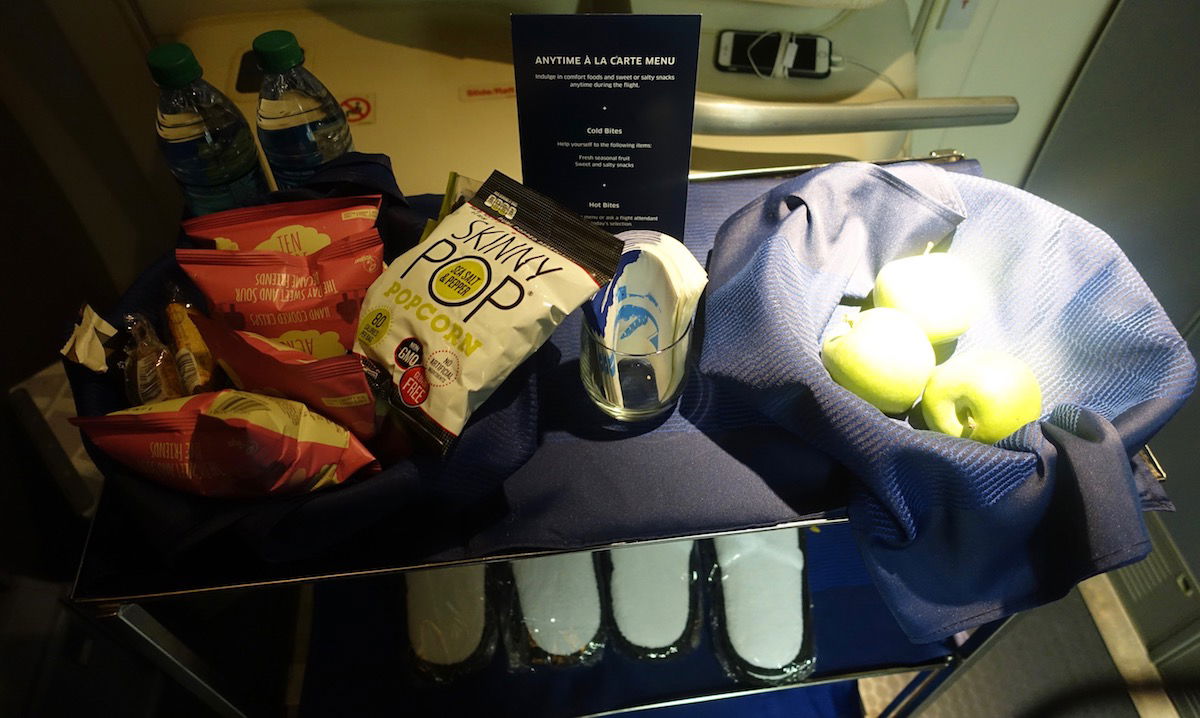 United business class snack cart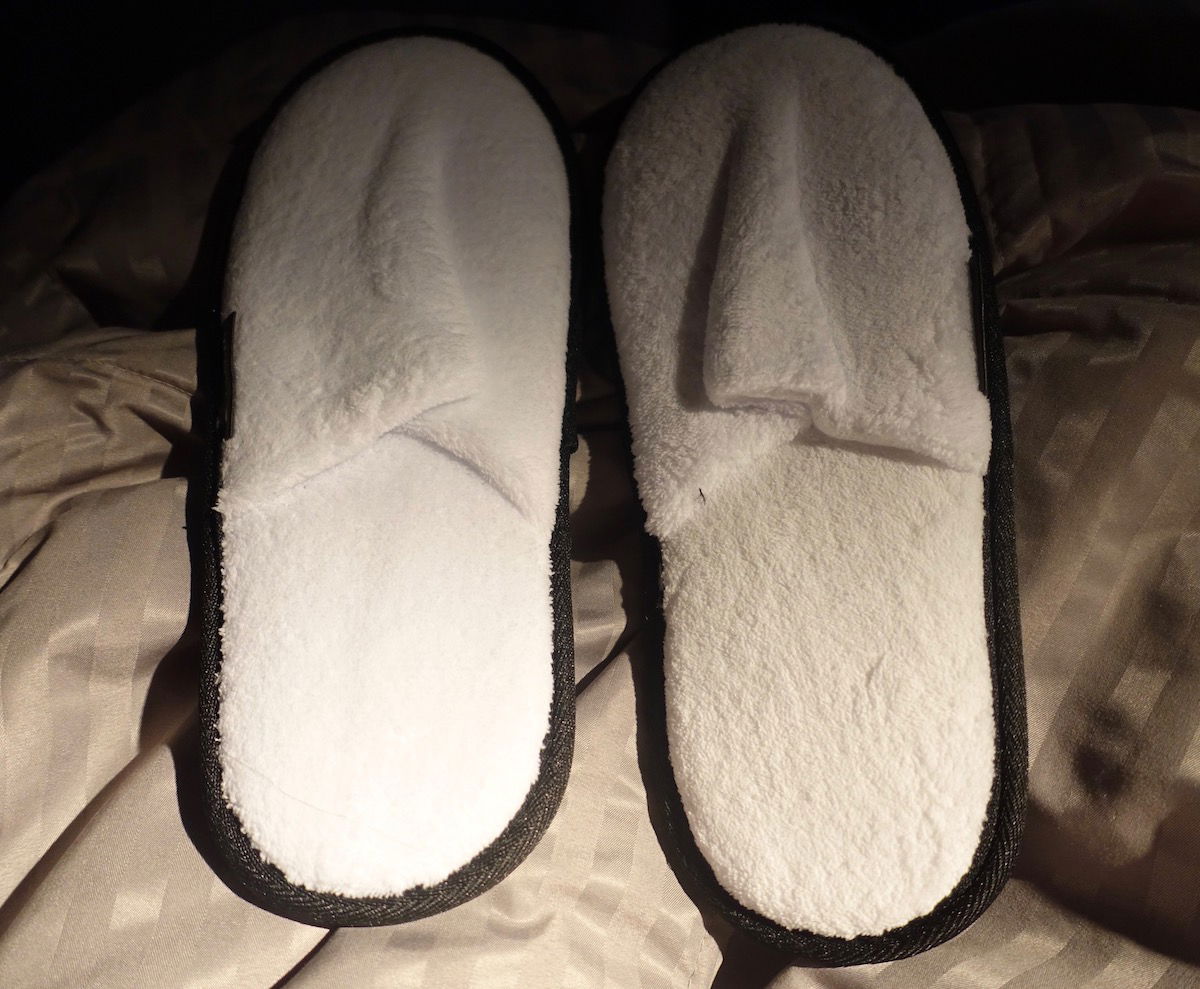 United Polaris slippers
I worked for a couple of hours, until about 90 minutes before landing, when the pre-arrival snack was served. The pre-landing menu read as follows: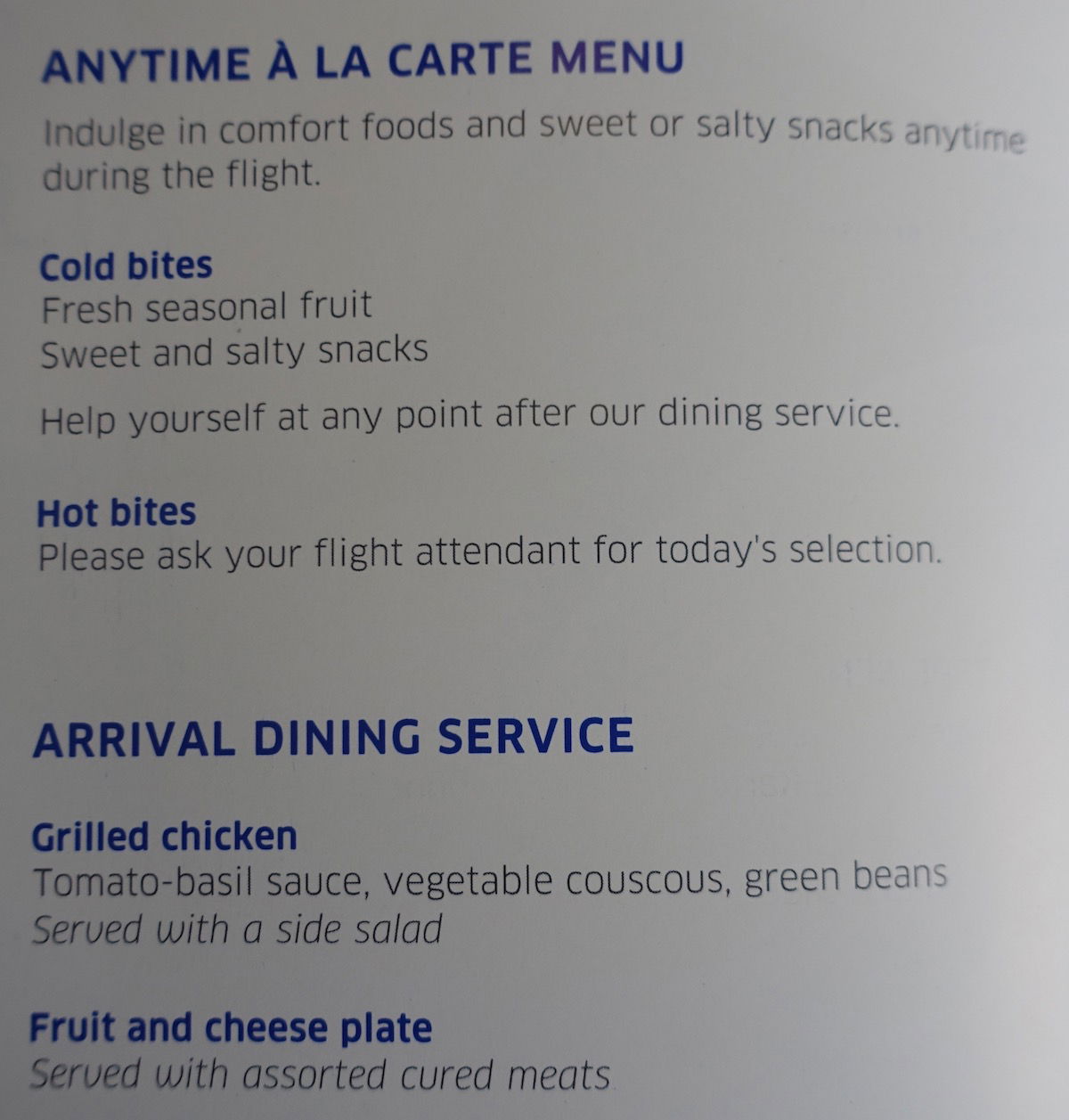 We both had the grilled chicken with tomato-basil sauce, vegetable couscous, and green beans as our main. It wasn't very good at all. The chicken was low quality, and tasted like rubber. The meal was served with a side salad and a piece of bread, though I was surprised there was no dessert of any kind.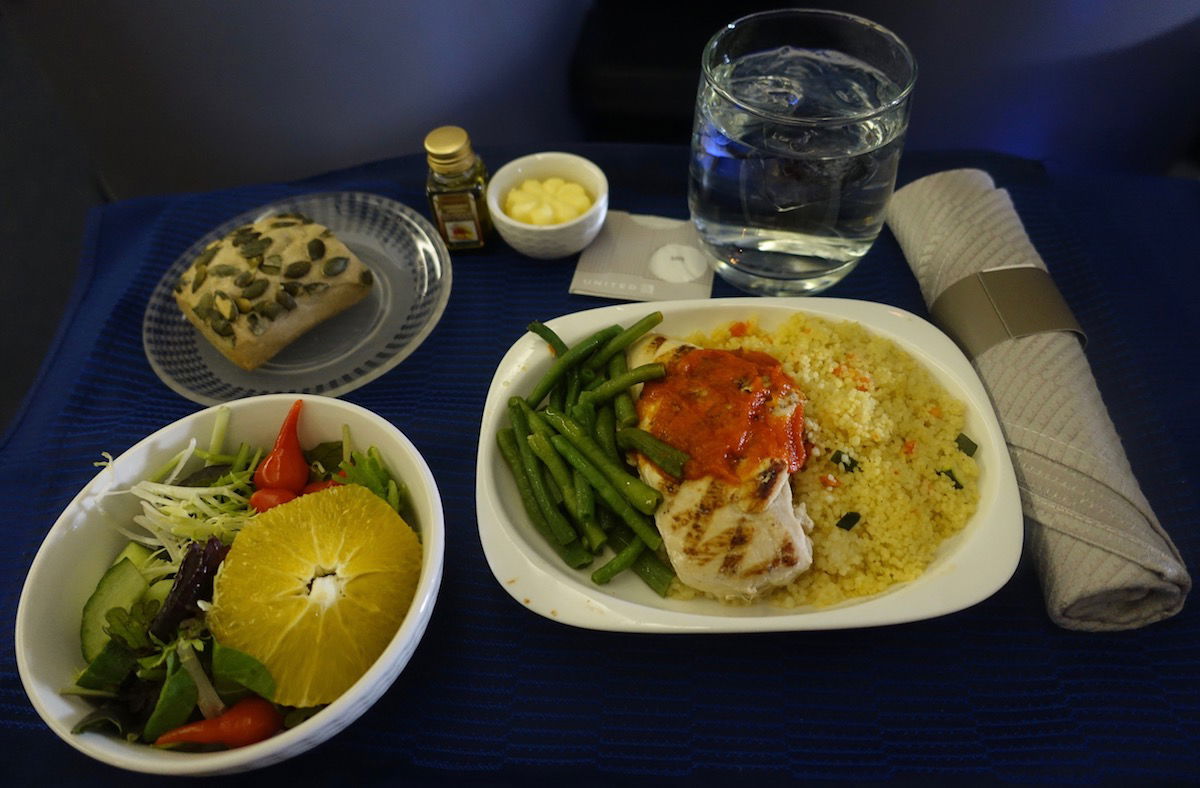 United business class pre-landing snack
After the meal I had a cup of coffee.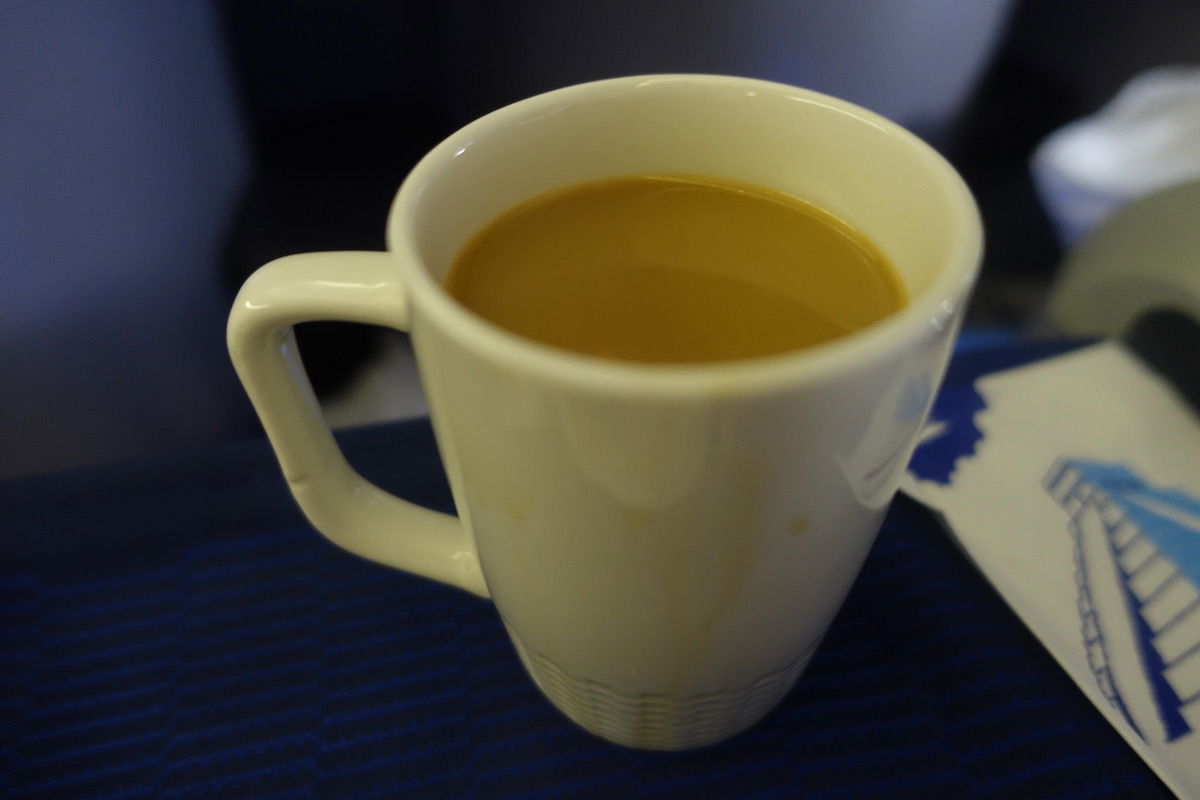 United business class coffee
Before I knew it we were descending into Houston. At this point Pam came around to each passenger in her section and thanked them for flying with United.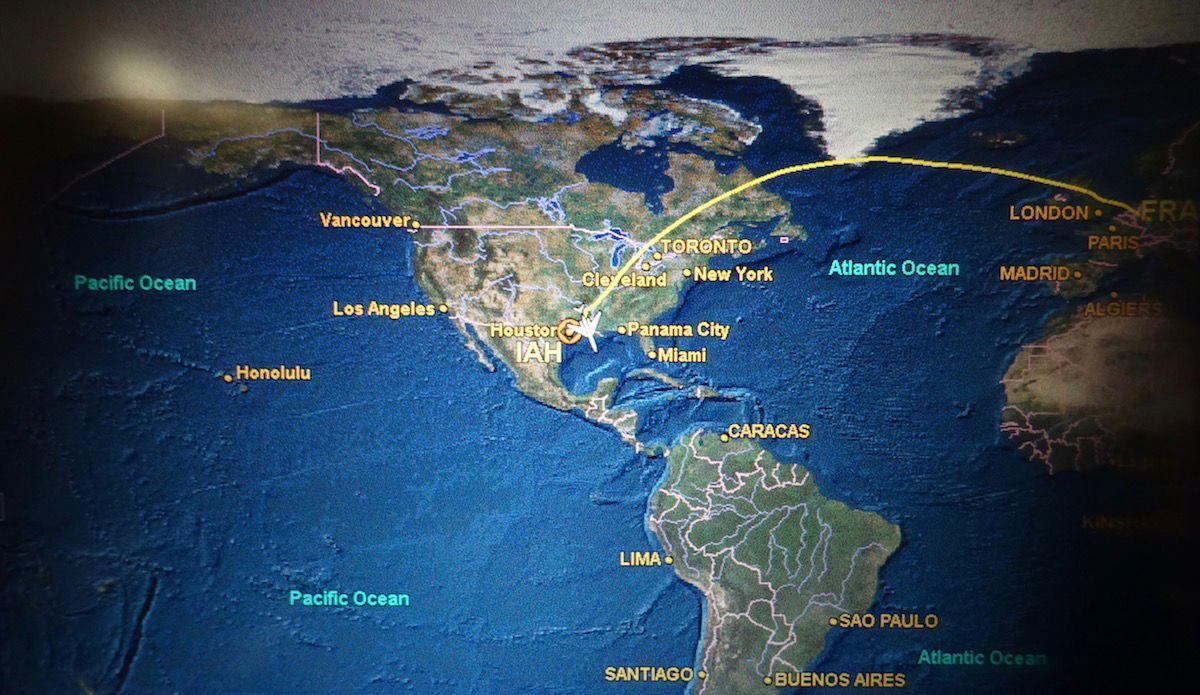 Airshow approaching Houston
There were some thick clouds in the area, and we did quite a bit of vectoring on approach.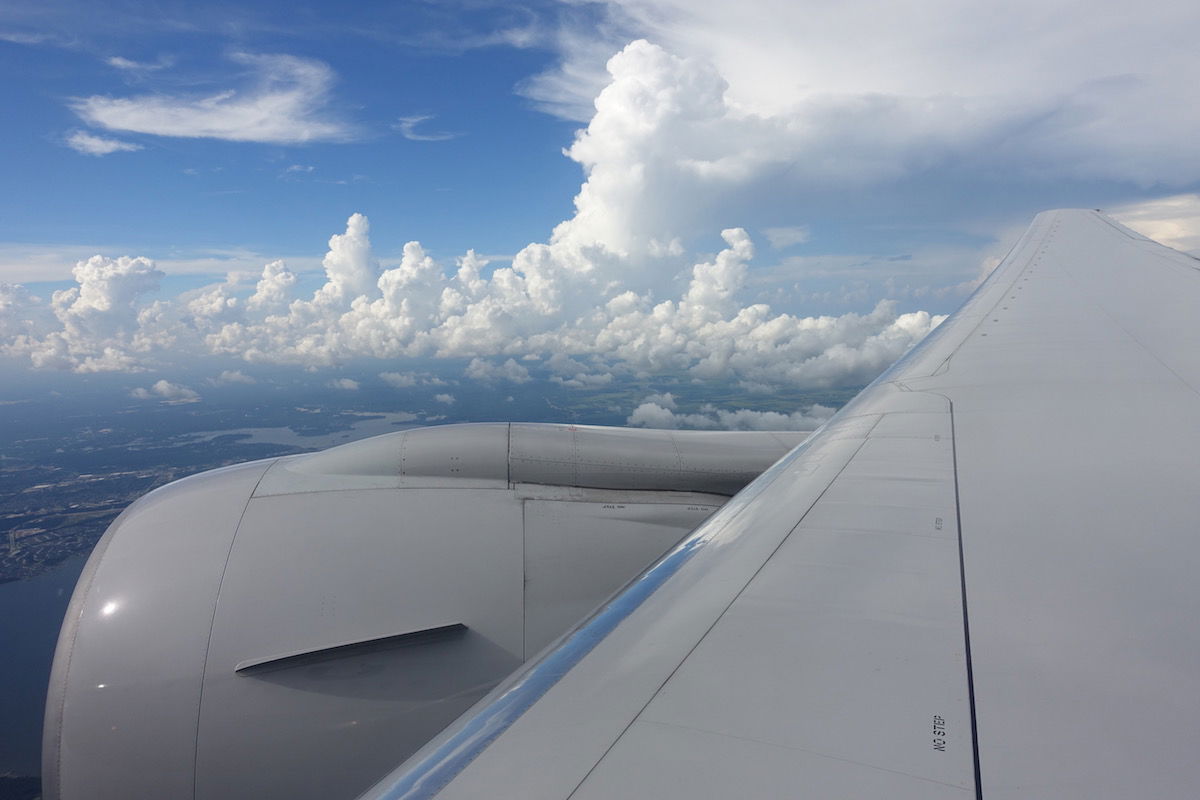 View approaching Houston
We flew past the airport, and then eventually made two 90 degree turns to line up with our arrival runway.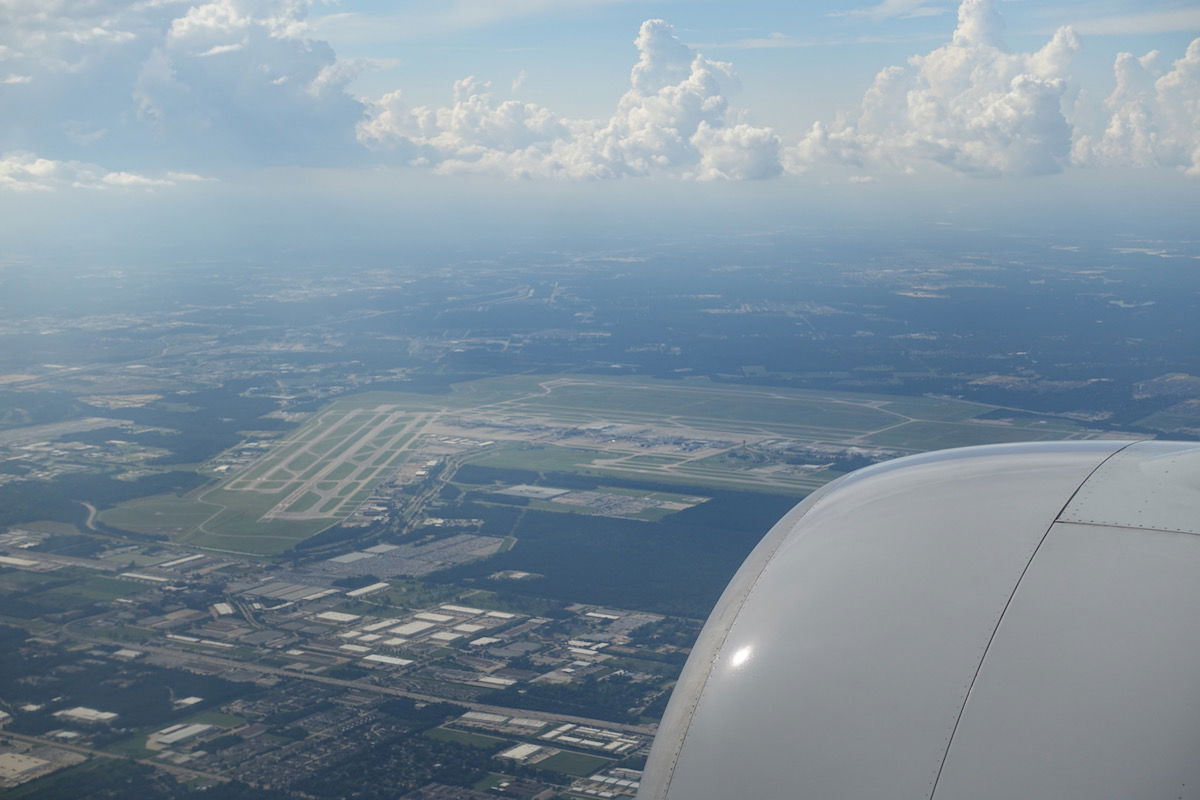 View approaching Houston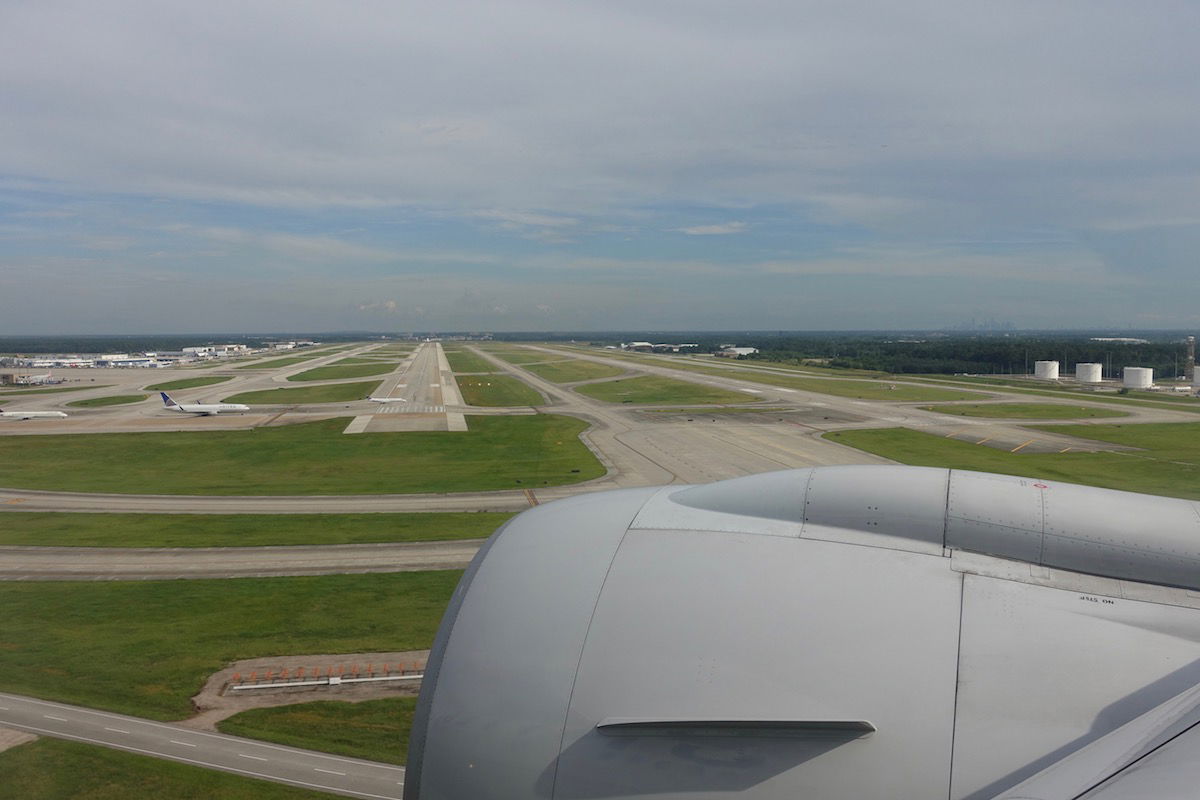 View on final approach to Houston
We touched down in Houston at 5:25PM, and from there had a roughly five minute taxi to our arrival gate.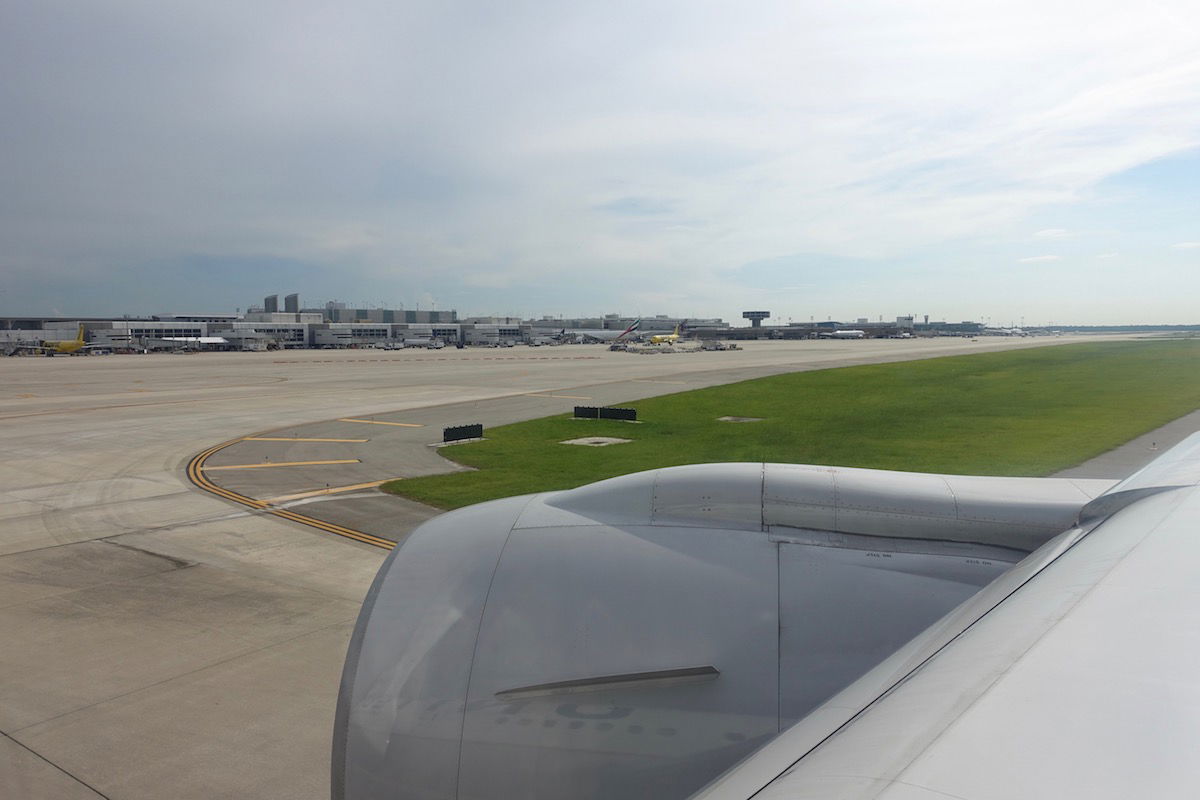 Taxiing Houston Airport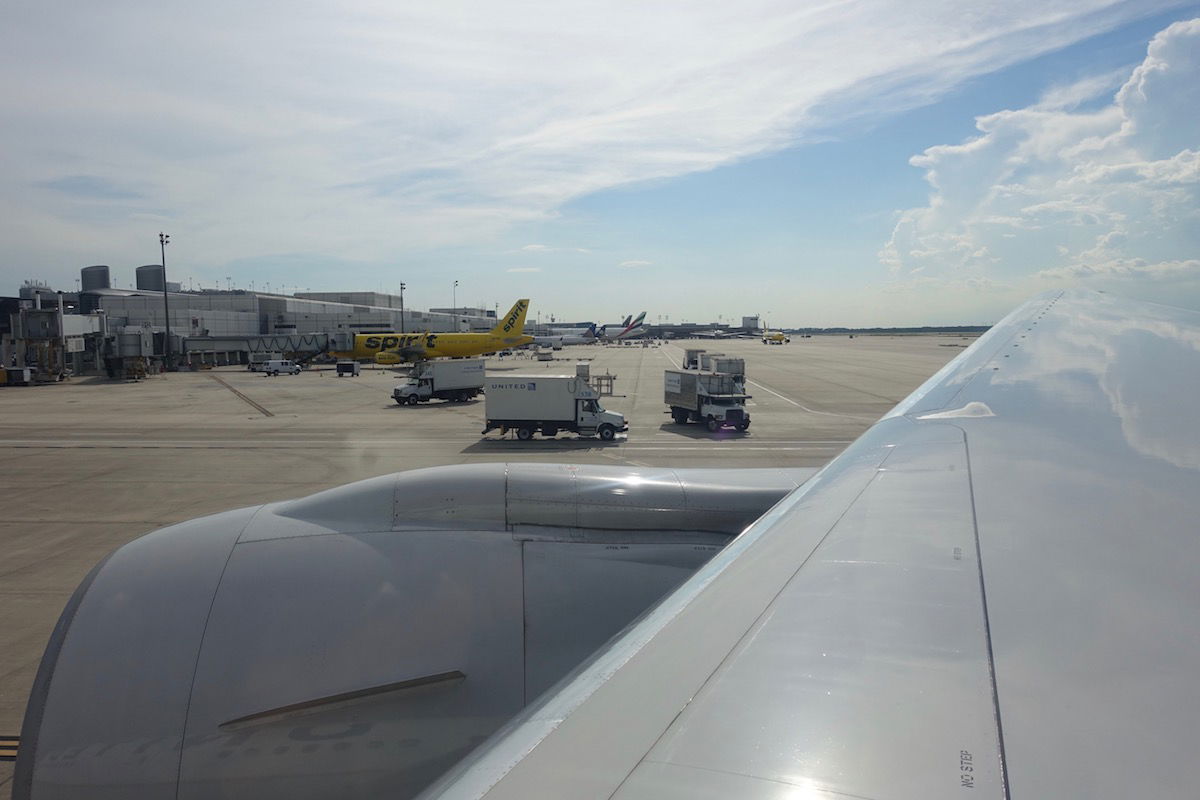 Taxiing Houston Airport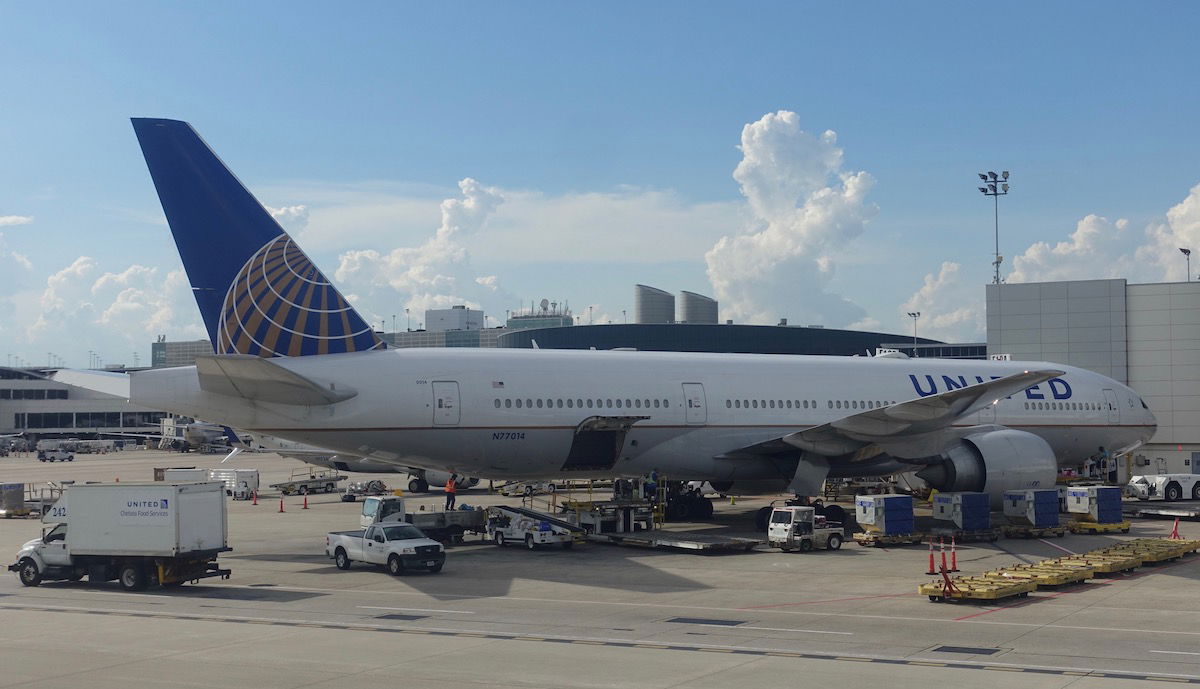 United 777 Houston Airport
By 5:30PM we were deplaning, and thanks to Global Entry we were landside a few minutes after that.
United 777 business class bottom line
Having flown United's new Polaris seat between San Francisco and Hong Kong earlier in the year, it was interesting to experience the new soft product with the old hard product.
United's 777-200s are badly in need of a refresh, and sadly this is even the nicer of the two business class products on these planes (United's other 777-200s have eight seats per row in business class). The seats themselves are fine, though don't compare to reverse herringbone seats, Apex Suites, etc.
As far as the Polaris soft product goes, there's no denying that United is putting more effort into their product than they used to. The bedding is fantastic (even if scaled back somewhat). But otherwise I don't think the changes are substantial or make United industry leading in any way. The main meal on this flight was pretty good, while the pre-arrival snack wasn't.
My main takeaway, though, was home awesome Pam was. This crew was phenomenal — they were friendly, attentive, and personable. Now if only all US airline crews could be like this. Instead the only thing that's consistent about service on US airlines is that it's inconsistent.