A week ago I had the chance to fly United's new 777-300ER Polaris product from San Francisco to Hong Kong. The plane commenced international service just a few days prior to that, so it was the first real opportunity to try the "full" Polaris experience.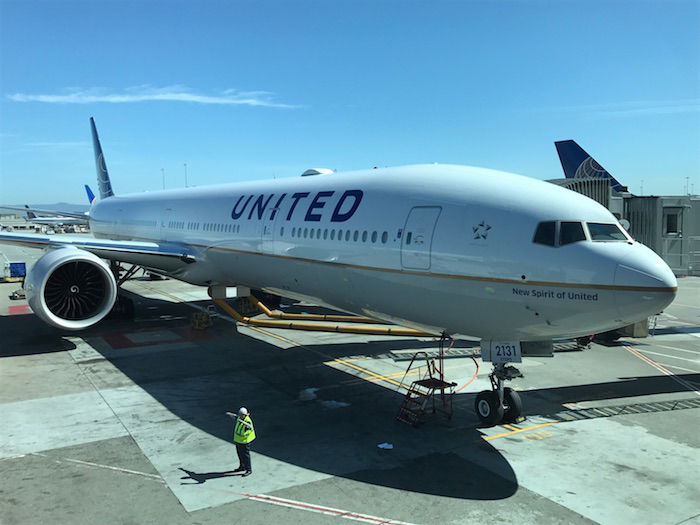 Overall I was impressed — this is a huge step in the right direction for United, and their business class bedding is the best bedding offered by any airline in business class. The seats are also a big improvement, as there's direct aisle access from every seat, though I didn't find them to be that comfortable compared to what else is out there.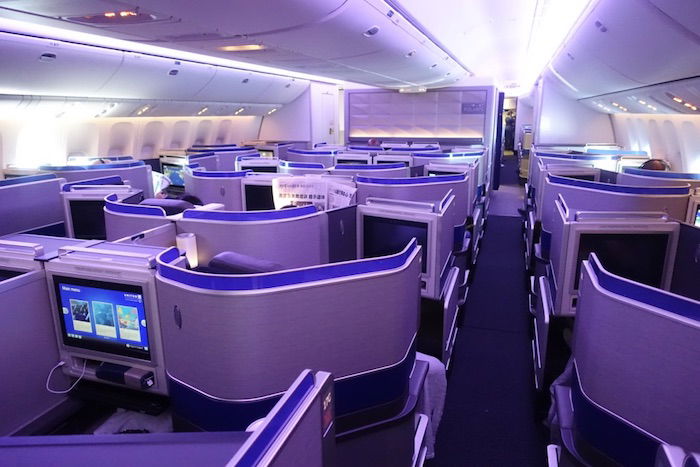 Anyway, United Polaris is a huge improvement over what they used to have. However, like any product, there's room for improvement. In this post I figured I'd look at eight ways United could easily improve Polaris. Most of these points are intentionally very minor.
In other words, one complaint of United Polaris is the lack of storage space, but that's not something they could easily fix. These are intended to be constructive tips for areas where I think they could improve. Again, some of these are really minor, but when you compare premium products among airlines, that's what sticks out.
In no particular order:
1. Fix the pre-departure beverage cups
United has really upped their pre-departure beverage game. You now get a pre-departure beverage of choice, and it comes with a chocolate. Well done to them on that.
Unfortunately the cup they serve it in is poorly designed. The cup "hooks" into a plate, though many people don't realize that the two come apart. I'd like to think I'm pretty good with airplane glassware, but I spilled my cup. So did the person seated across from me. So did the person seated in front of me. That's about all the sample size I need to know that this is a poor design.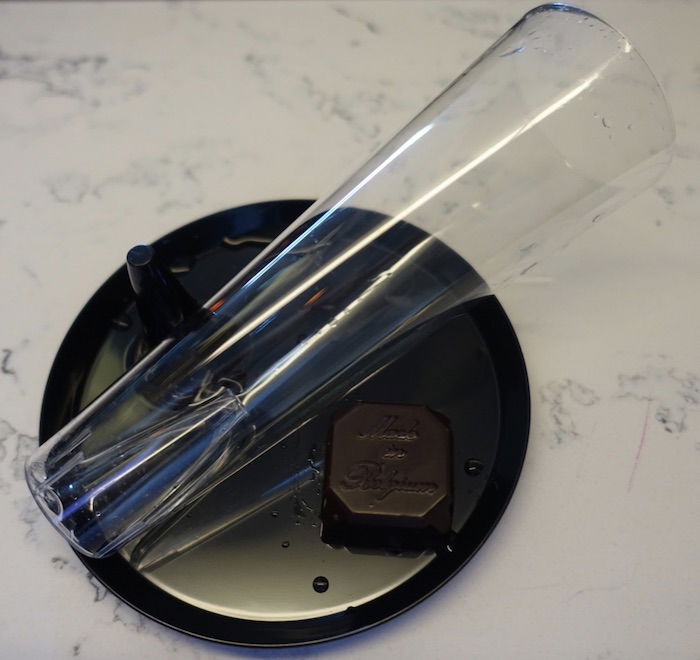 2. Add espresso based drinks
United touts their Illy coffee partnership, though frankly I didn't find the coffee on the flight to be any good. Furthermore, top airlines nowadays have espresso based drinks in first and business class, which United doesn't. You'd think they could install that on their brand new, flagship 777-300ER.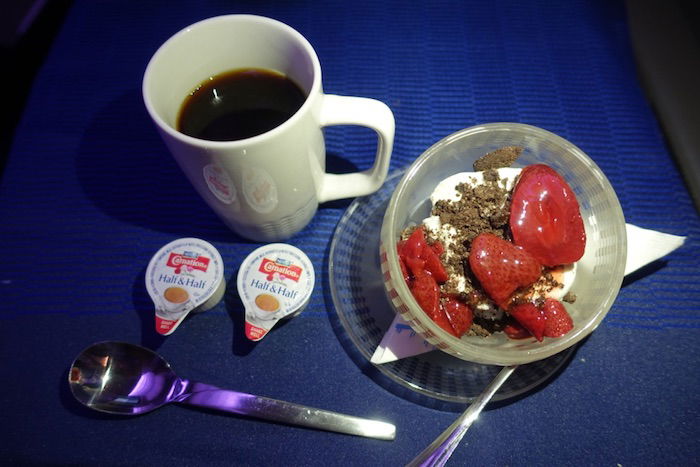 3. Get rid of meal trays
If you want to create a restaurant style dining experience, get rid of the trays and serve the meal directly on the table. The only place on the ground you'd eat off a tray is in a cafeteria. Most premium airlines have eliminated trays for the main service in business class, and I see no reason United couldn't do the same.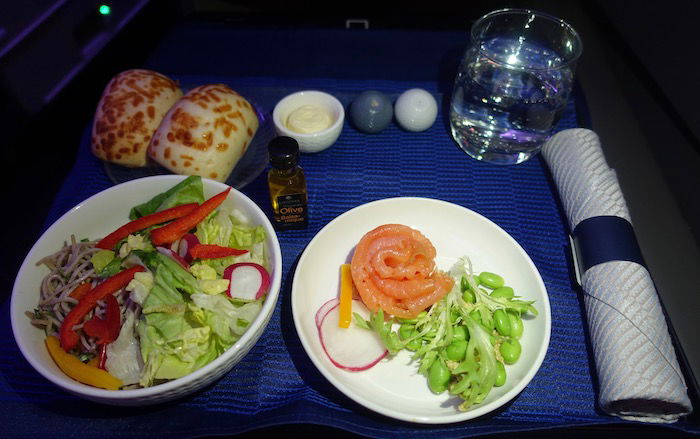 4. Have enough mattress pads/gel pillows/pajamas for everyone
United's bedding is the best or any airline in business class. They almost overdo it. There are two pillows, two blankets, and then you can request gel pillows, mattress pads, and pajamas. I realize this is probably a cost saving measure, but the items on request are limited, so you have to ask for them early on if you want to get them. I've heard of people being denied these products because they ran out.
If you want to create a great business class experience, you should be telling passengers about all the great things they can get, rather than only offering the best items to those "in the know."
On my flight I barely saw anyone with a mattress pad or pajamas. So I suspect this strategy is saving United a lot of money, though it's also restricting the experience that people have.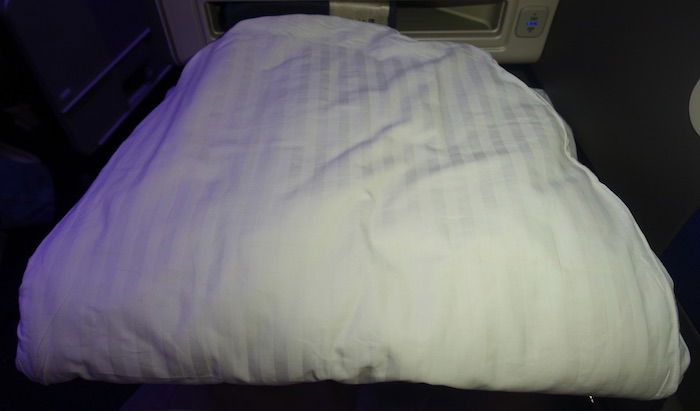 5. Offer higher quality headphones
United's headphones aren't great. American has Bose headphones in business class, though in fairness they're one of the few airlines in the world to offer such good headphones. Given how much Polaris is about designer products, they can do better with headphones.
6. Fix the Wi-Fi issues
There have been many reports of Wi-Fi issues with United's new 777-300ERs. On my flight it was broken for half the flight (not due to the coverage zones, but rather just because it was broken), and I've heard similar reports from others. They should be able to fix this and create reliable connectivity.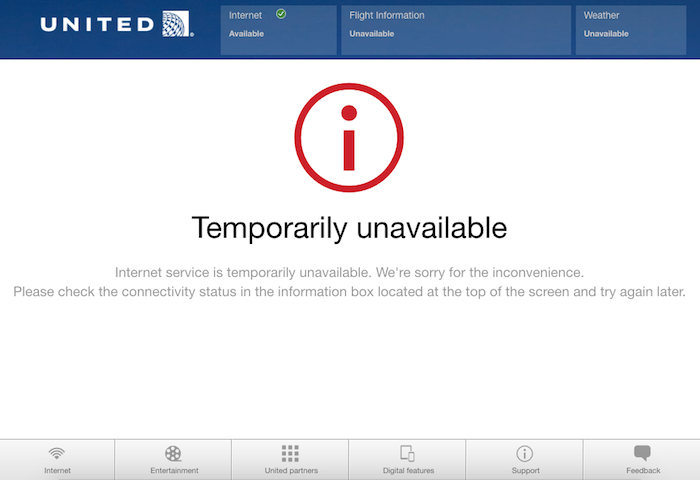 7. Improve the still water selection
I realize some people are going to roll their eyes at me for this (and probably the other points), and that's fine. However, United has great sparkling water — they offer San Pellegrino. However, they offer individual bottles of Dasani water to passengers. At a minimum they should give bottles of spring water, rather than just the filtered, bottled water. If you're going to make a point of offering premium brands, you shouldn't be serving Dasani.
Clearly United sees some value in offering "premium" water, but they stopped halfway.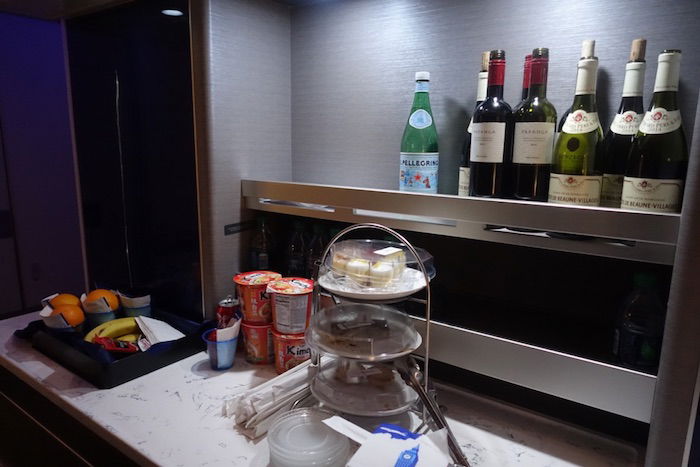 8. Provide labels for the wine flight
One of the cute aspects of United's new service is that they offer passengers a wine flight. However, there's no way to tell which wine is which, unless you happen to be able to tell because of the color. They'll tell you really quickly what they're pouring, but then they flip the tray around, and it's tough to keep track of.
If they're going to offer red or white wine tastings, it could be nice if they had little cards that displayed the wines in order, with a brief description of each ("the wine on the left is ____," etc.).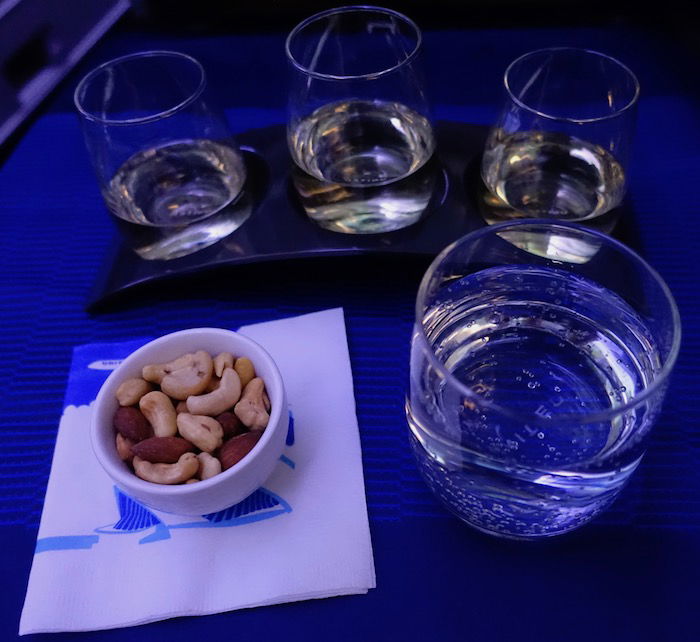 Bottom line
United's Polaris is a massive improvement over what they used to offer. It's refreshing to see an airline put so much effort into their product. The above isn't to take away from the great things they've done with Polaris, but rather to share areas where I see room for improvement. Again, many of these things are minor, but that's the intention — these are things that could (mostly) be easily changed.
If you've flown United Polaris, what would you like to see improved? Do you agree/disagree with any of the above?