Review: EVA Air Business Class 777 Los Angeles To Taipei
Review: Novotel Taipei Taoyuan Airport
Review: Hello Kitty Ridiculousness At Taipei Airport
Review: EVA Air Lounge Taipei Airport
Review: EVA Air Hello Kitty Business Class 777 Taipei To Singapore
Review: KLM Business Class 777 Singapore To Bali
Review: InterContinental Hong Kong
Review: St. Regis Lounge Male Airport
Review: Trans Maldivian Airways Flight
Review: St. Regis Maldives Overwater Villa
Review: St. Regis Maldives Vommuli Resort
Review: Prince De Galles Hotel Paris
Review: Alitalia Lounge New York JFK
Review: Philippine Airlines Business Class 777 New York To Vancouver
---
The only reason we flew to Singapore to begin with was to be able to get onto the Hello Kitty flight from Taipei. We could have flown direct from Taipei to Bali, but that would have meant no Hello Kitty for us.
So we booked cheap paid tickets from Singapore to Bali on KLM. This is a fun fifth freedom route they operate, as it's a tag-on of their Amsterdam to Singapore flight. The one-way business class ticket cost about $250.
Our connection in Singapore was about three hours. We weren't able to check-in online, so we got our boarding passes at the transit desk at Changi Airport. Our flight was departing from gate D42, with boarding scheduled to begin at 5:05PM. So we headed to the gate at around 4:45PM, given that at Changi Airport security checkpoints are at the individual gates.
I love KLM's livery, especially on the 777.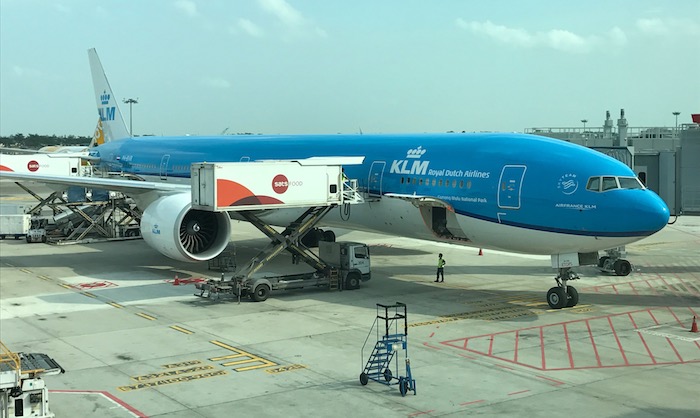 KLM 777 Singapore Changi Airport
Security was quick, and to my surprise, we were among the first people to the gate, despite the flight being full.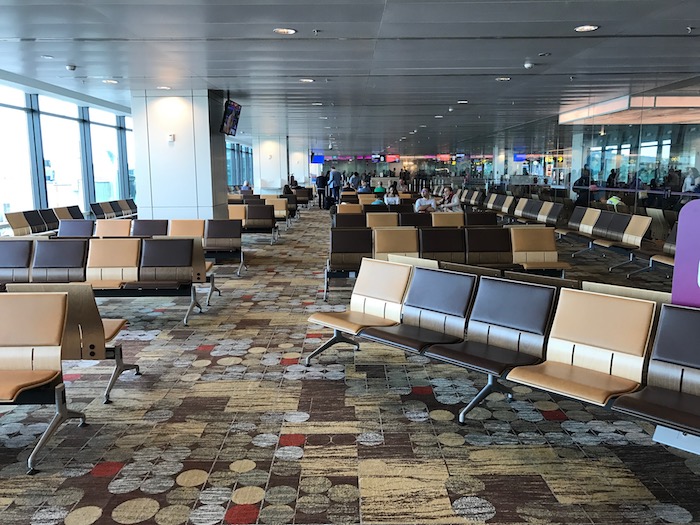 Singapore Changi Airport departure gate
As we sat at the gate I saw a Finnair A350 pulling into the gate next to us. While I've flown the Finnair A350, it was entirely at night, so I couldn't appreciate the livery. What a gorgeous plane.

Finnair A350 Singapore Changi Airport
Finally at 5:15PM boarding began, starting with business class. This was my second flight in KLM's World Business Class, as I flew them a few years back from Amsterdam to Chicago.
KLM 835
Singapore (SIN) – Bali (DPS)
Friday, February 10 
Depart: 5:35PM
Arrive: 8:15PM
Duration: 2hr40min
Aircraft: Boeing 777-300ER
Seat: 5D (Business Class)
I boarded through door L1, where I was greeted by the incredibly charming chief purser. She pointed me towards my seat in row five.
KLM's 777-300s feature B/E Aerospace Diamond seats. These are the same seats you'll find on Aeroflot, Aeromexico, Air China, Royal Jordanian, Saudia, United, etc.
There are a total of 34 seats in business class on the 777. The forward cabin has a total of 28 seats, spread across five rows in a 2-2-2 configuration.
The last row is missing two seats on the right side due to a closet. Do note that while there are seats on the left side, there's a missing window, so you won't easily be able to look outside.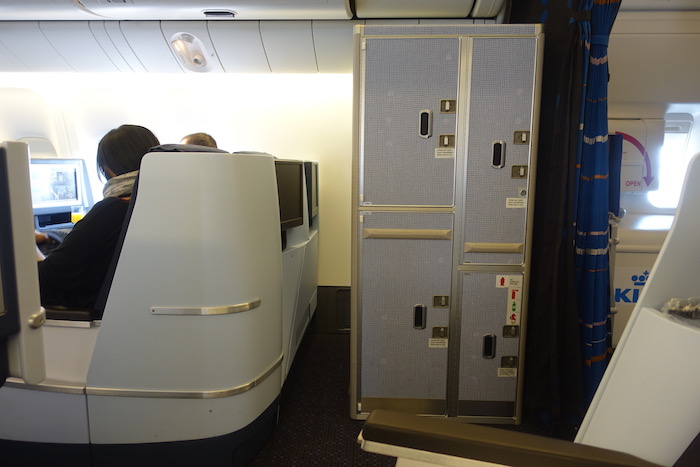 KLM 777 business class row five seat location
Then behind the second set of doors is a single additional row of business class seats.
I had assigned myself seat 5D, which was the center aisle seat in the last row of the forward cabin, on the left side.
This kind of product is excellent for such a short flight. For longhaul flights I think the B/E Aerospace Diamond seats are about average. I prefer them to most forward facing fully flat seats because the seats are a bit more private. There's a privacy shield between each set of seats, and the seats are staggered by a few inches.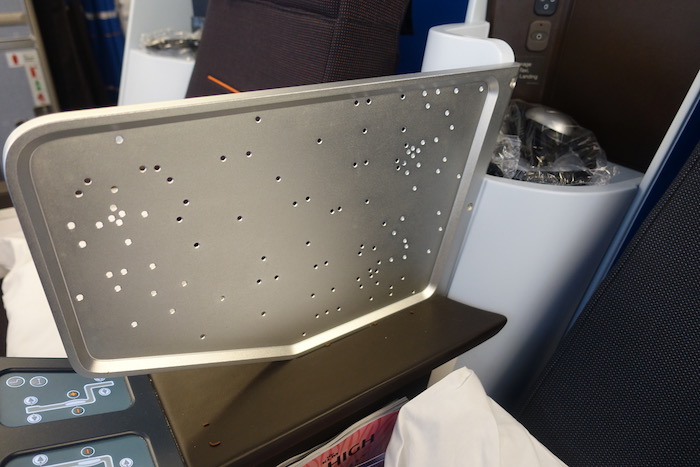 KLM 777 business class privacy partition
The downside to these seats is that the area for your feet is quite small. Each seat has a footwell which can be quite restrictive.
It certainly limits the positions in which you can sleep, unless you bend your knees and don't use the full area for your feet.

KLM 777 business class legroom
On the center armrest were the seat controls, which were easy to use. There were two pre-sets, and then several more options for adjusting only certain parts of the seat.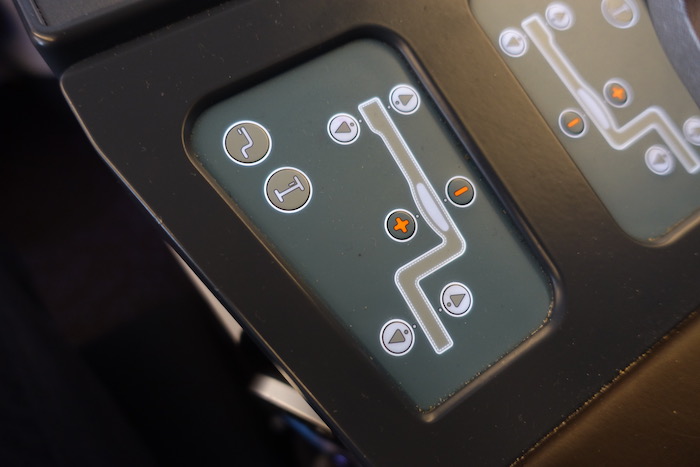 KLM 777 business class seat controls
Behind the seat and to the right was an exposed storage area, and also a 110v outlet, USB outlet, and headphone jack.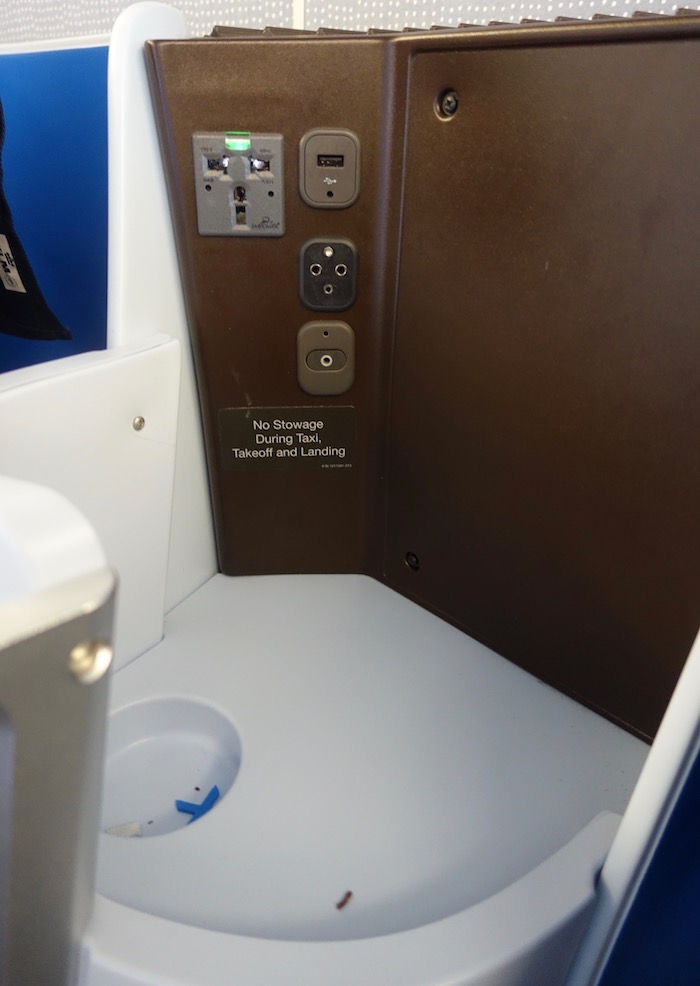 KLM 777 business class storage and outlets
The entertainment controller was underneath the center armrest. You could select entertainment options directly from the controller, or if you prefer, could us it to control what appears on the entertainment screen.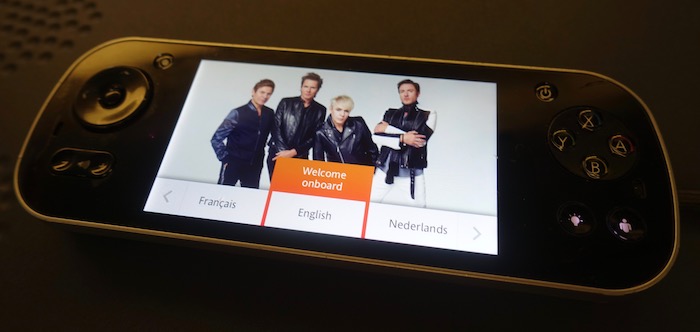 KLM 777 business class entertainment controller
The tray table extended from the center armrest, and could be folded over so that just half of it was out.
There were also headphones waiting at my seat. They weren't especially well padded, though were supposedly noise canceling.
Once I was settled in, one of the lovely flight attendants came by to offer me a drink. The choice was between water, orange juice, champagne, or Heineken (served in a can). I selected the champagne, which was served in a nice glass.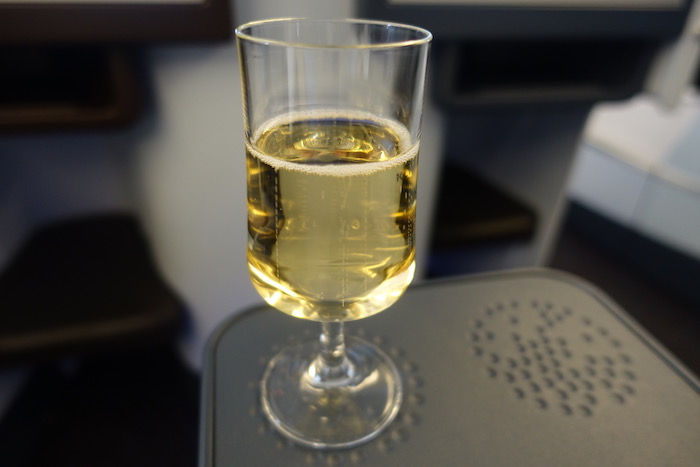 KLM business class pre-departure champagne
By 5:45PM the cabin door was closed, with every seat on the plane taken. Once the door closed the captain made his welcome aboard announcement. He informed us of our flight time of 2hr10min, and said "if you're coming from Amsterdam, I'd like you to know that you are being served by a fresh crew."
The captain went on to say that there was a slight ATC delay, and that we'd be pushing back a few minutes late.
Once that announcement was done, the very cool safety video was screened. It apparently uses over one thousand hand painted Delft Blue tiles, which is pretty awesome.
After that the crew came through the cabin to distribute menus for the quick flight.
Since I had time, I decided to browse the entertainment selection.
There was a decent selection of TV shows and movies. It wasn't as good as Emirates' ICE system, but wasn't half bad either, especially as far as European airlines go.
One thing I found a bit unusual is that some TV shows had just a single episode, while others had entire seasons. That's quite a contrast.
However, for most of the flight I just kept the entertainment set to the airshow.
At 5:55PM we began our pushback, and from there it was about a 15 minute taxi to the runway, and then a five minute wait for our takeoff clearance.
At 6:15PM we were cleared for takeoff.
About 10 minutes after takeoff the seatbelt sign was turned off, at which point the crew began their service.
They first distributed landing cards for Indonesia.
A few minutes later they came through the cabin with warm towels, just prior to the meal service.
The menu read as follows: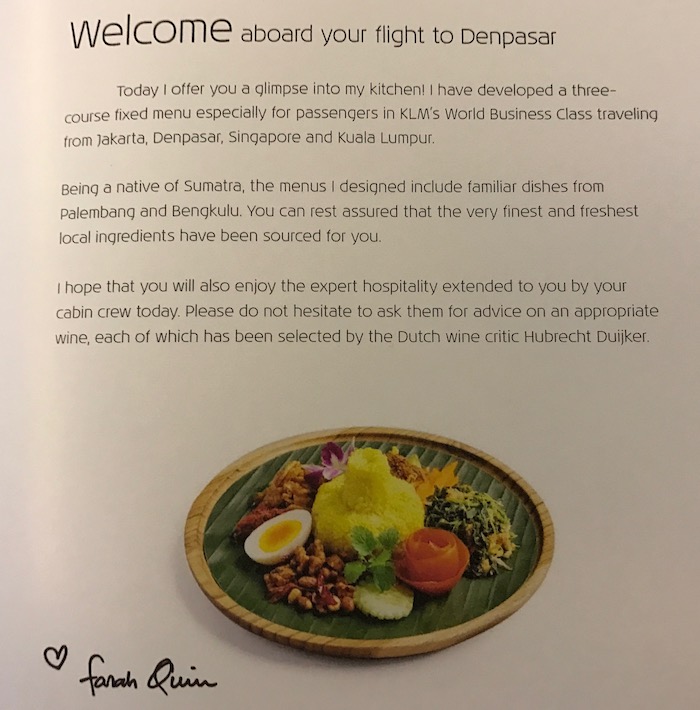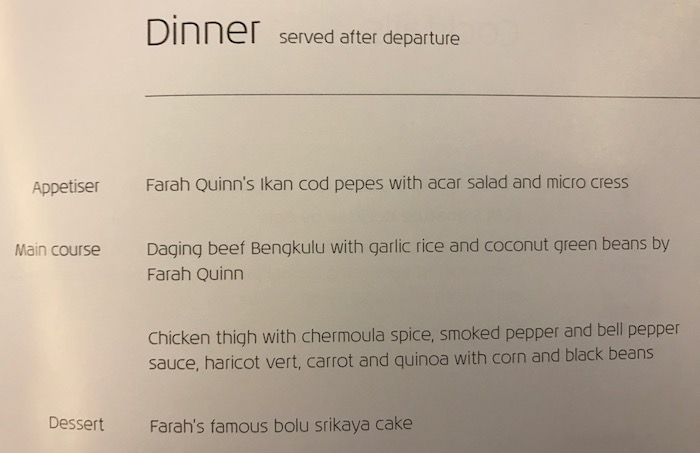 The drink list read as follows: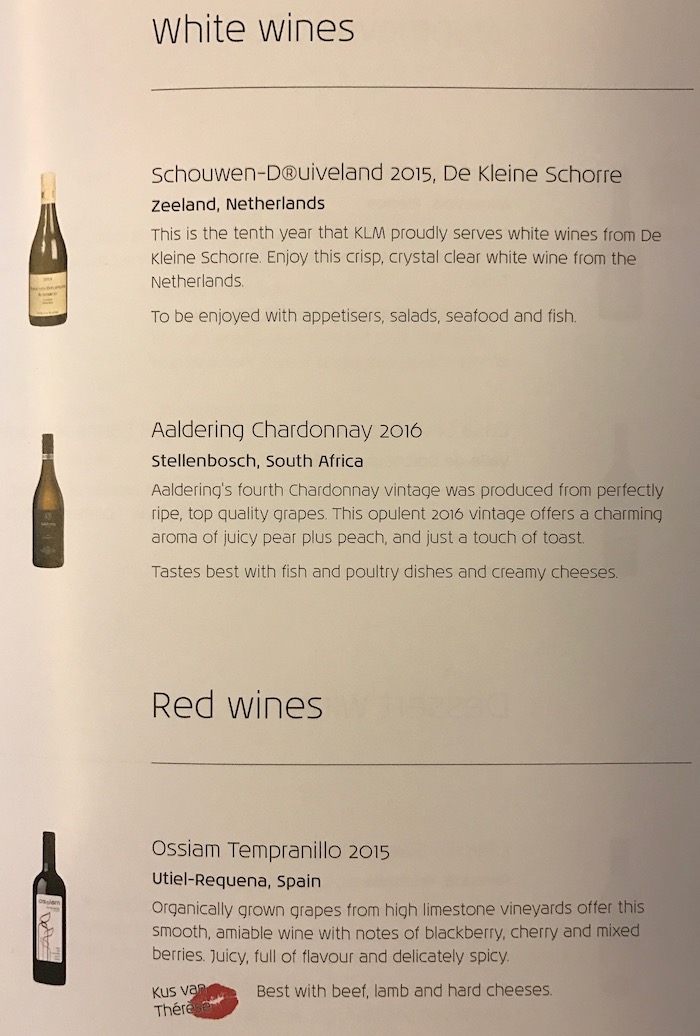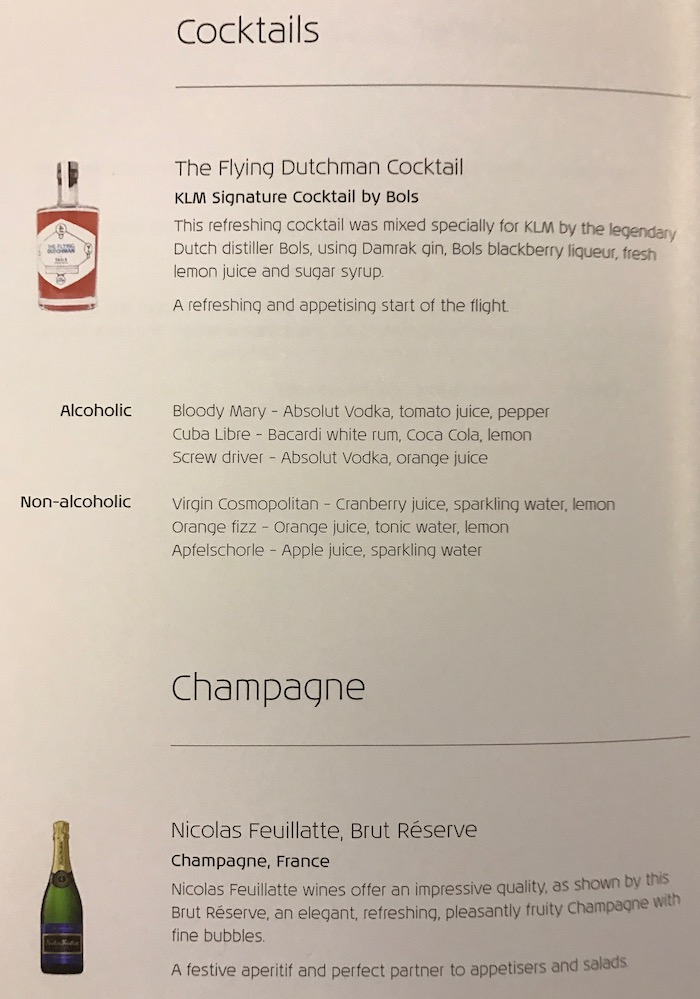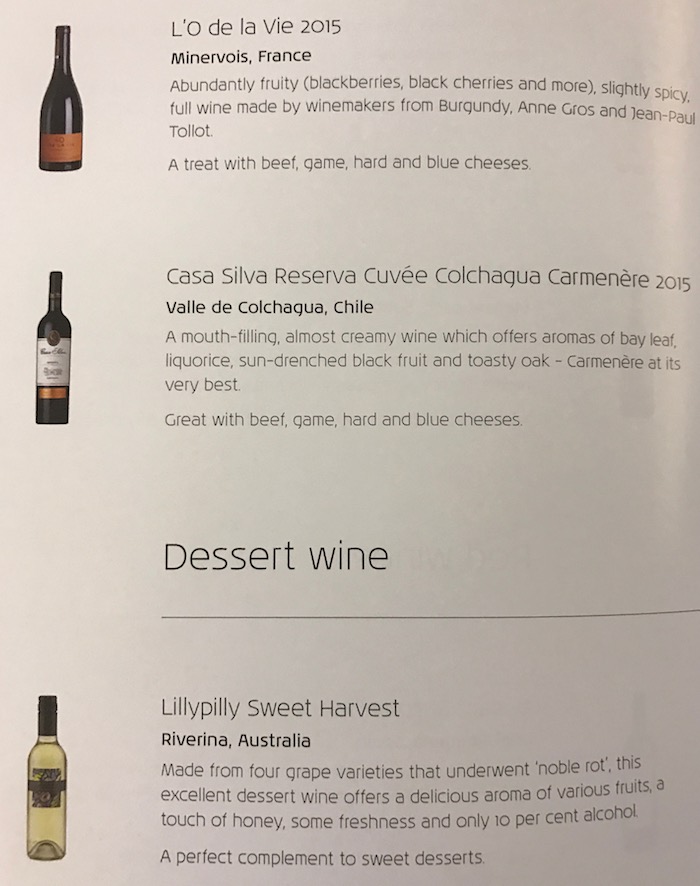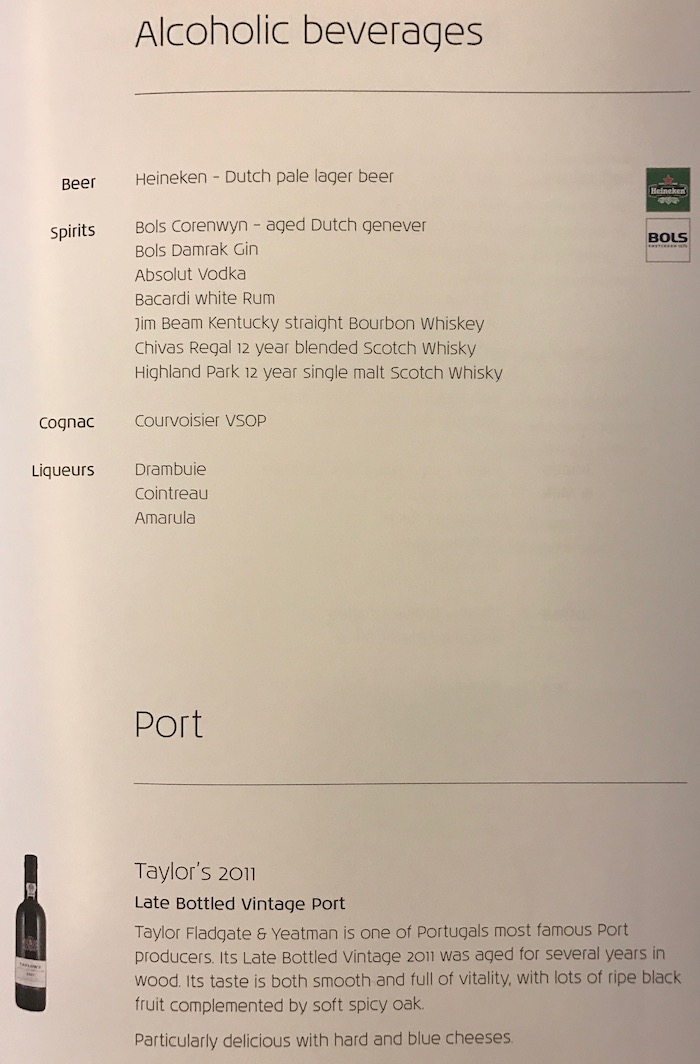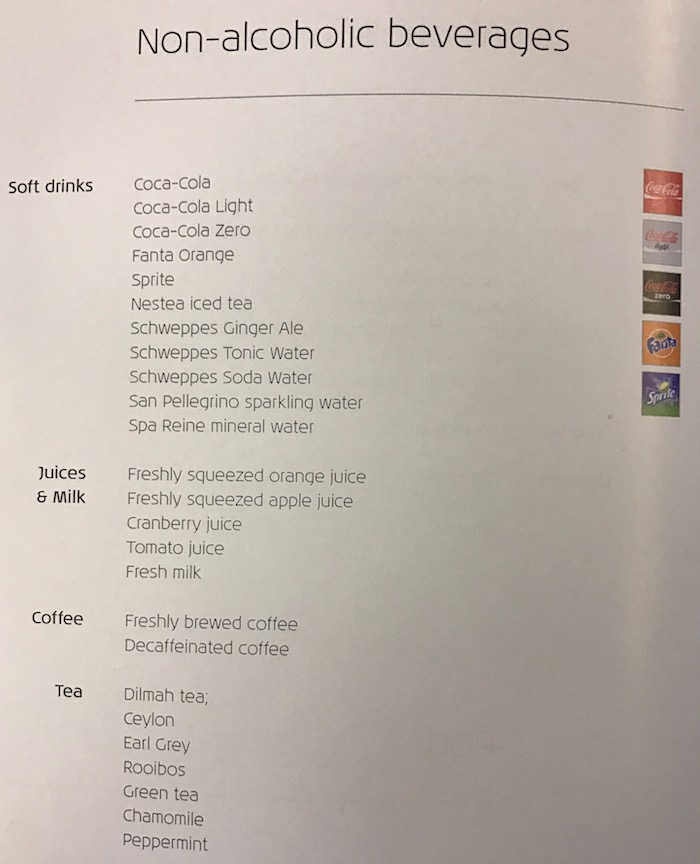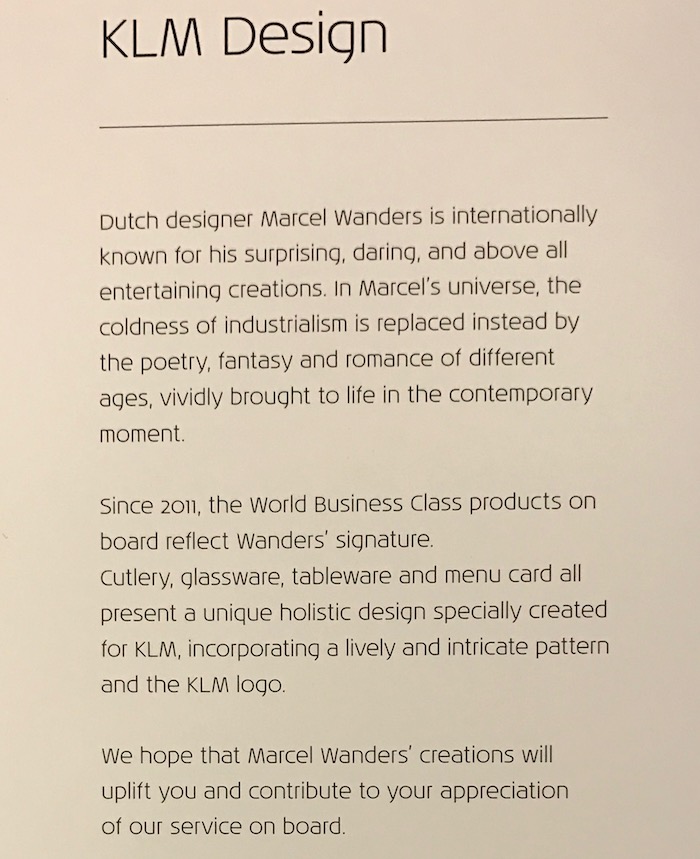 All the service on this flight was done off a cart, and given the short duration of the flight, the appetizer, main course, and dessert, were all served on a single tray. I ordered The Flying Dutchman to drink, which is KLM's signature cocktail, with gin, blackberry liqueur, lemon juice, sugar syrup, etc.
The flight attendant explained the history of the drink to me, though it was a bit too sweet for me.
While I had no clue what to expect from the food based on the menu description, the food was phenomenal, especially for such a short flight.
The starter consisted of ikan cod pepes with acar salad and micro cress… whatever that is. It was flavorful.

KLM business class dinner — Ikan cod pepes with acar salad and micro cress
The main course consisted of daging beef benkulu with garlic rice and coconut green beans.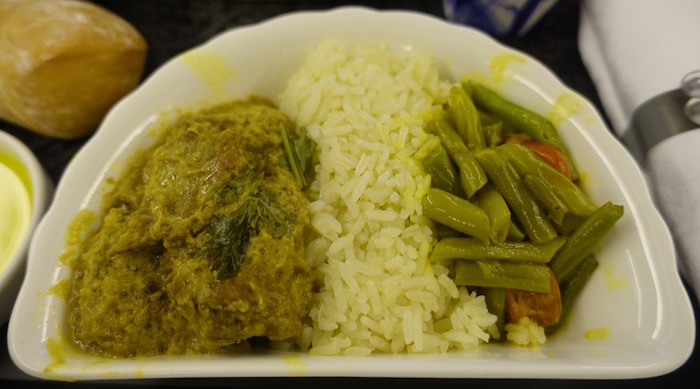 KLM business class dinner — daging beef benkulu with garlic rice and coconut green beans
The dessert consisted of "Farah's famous bolu srikaya cake" (again, whatever that means). It was also tasty.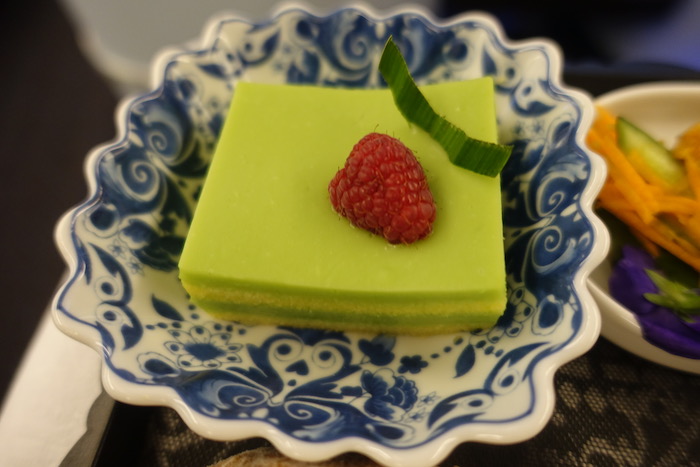 KLM business class dinner — Farah's famous bolu srikaya cake
I love the tableware that KLM uses, and even the hourglass salt & pepper shaker. KLM does such a great job with the details, in my opinion.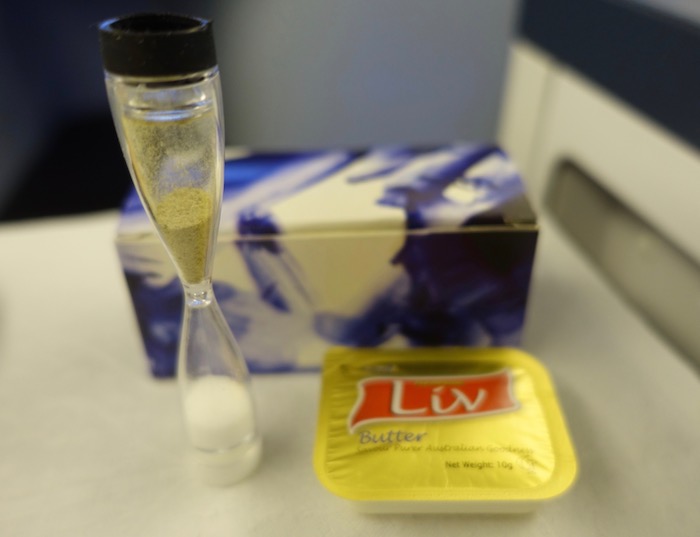 KLM business class salt & pepper shaker
After the meal service, the chief purser came around with a box of chocolates. You most commonly see that in first class, so it's an especially nice touch in business class.
After that the crew came around with coffee and tea. I had a coffee with milk.
Even though the flight was quick and the crew was busy, I can't say enough positive things about how friendly they were. At U.S. airlines they were what we'd call "senior mamas," and they couldn't have been more pleasant.
The flight attendant working my aisle humorously explained how she doesn't ever have problems with jetlag, and said it was because she doesn't drink coffee and alcohol. Of course she told me this story while serving me coffee and alcohol. 😉
I was impressed by how the crew managed to engage in small talk with just about everyone, while still working efficiently.
After the meal I quickly checked out the lavatory, located between the two business class cabins. The lavatory was pretty basic, and had Zenology toiletries.

KLM business class lavatory Zenology amenities
About 30 minutes before landing the crew came around the cabin with KLM's famous little houses, which Tiffany has explained the history of in a previous post.
A few minutes later the captain provided us with updated arrival information, expecting we'd land at 8:30PM.
We hit some turbulence on the descent, though had a smooth touchdown at 8:30PM sharp. From there it was just a five minute taxi to our arrival gate.
I bid farewell to the crew on the way out — they were turning right around to Singapore, and then laying over for a couple of days before going to Amsterdam — and then we cleared immigration quickly.
KLM 777 Business Class bottom line
My flight on KLM was awesome, and made me want to fly with them again on a longhaul flight. While the hard product is just okay, the crew was exceptional, the food excellent, and I love the quirky elements of KLM's service, like the little houses, the hourglass salt & pepper shaker, etc.
It's time to give KLM a try on their new 787, I think!