---
Originally we had a 1hr45min connection in Lisbon, though we arrived from Ponta Delgada about 25 minutes late. Then we had to go through passport control (even though the Azores is part of Portugal, it's still considered separate for these purposes). I was through in no time with my German passport, though Ford had to queue for over 20 minutes with his non-EU passport.
So we didn't have any time to use the lounge, but rather headed straight to our departure gate, S24, where we arrived just minutes before the scheduled 2:10PM boarding time. Boarding was delayed by a few minutes, and actually started at 2:15PM.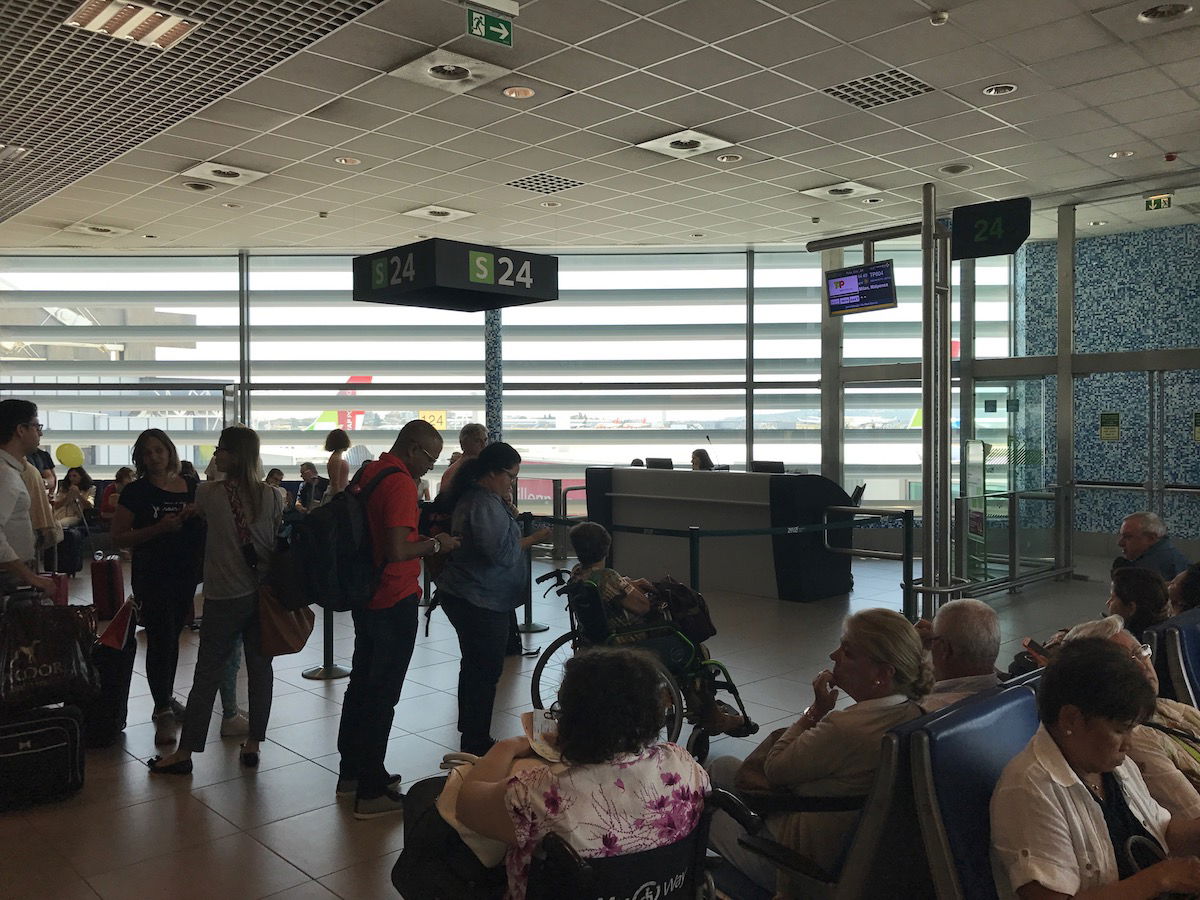 Lisbon Airport departure gate
TAP Portugal 804
Lisbon (LIS) – Milan (MXP)
Friday, June 23
Depart: 2:40PM
Arrive: 6:15PM
Duration: 2hr35min
Aircraft: Airbus A321
Seat: 4F (Business Class)
My initial impression of the cabin was favorable. The plane had new seats, and the legroom was solid, at least for intra-Europe business class (which is basically just economy with a blocked middle seat).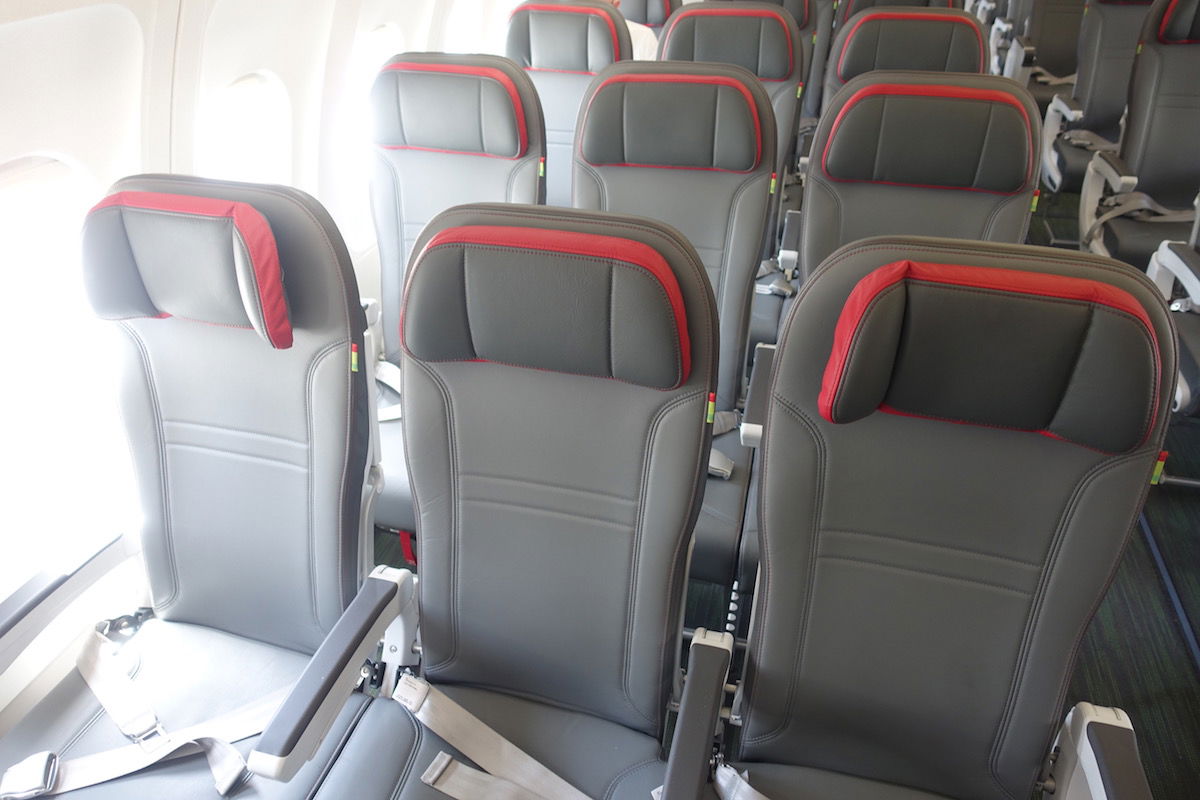 TAP Portugal A321 seats
While other airlines install tray tables on the center seat in intra-Europe business class, TAP Portugal doesn't, so from the appearance of the seat you really can't tell whether it's business class or not.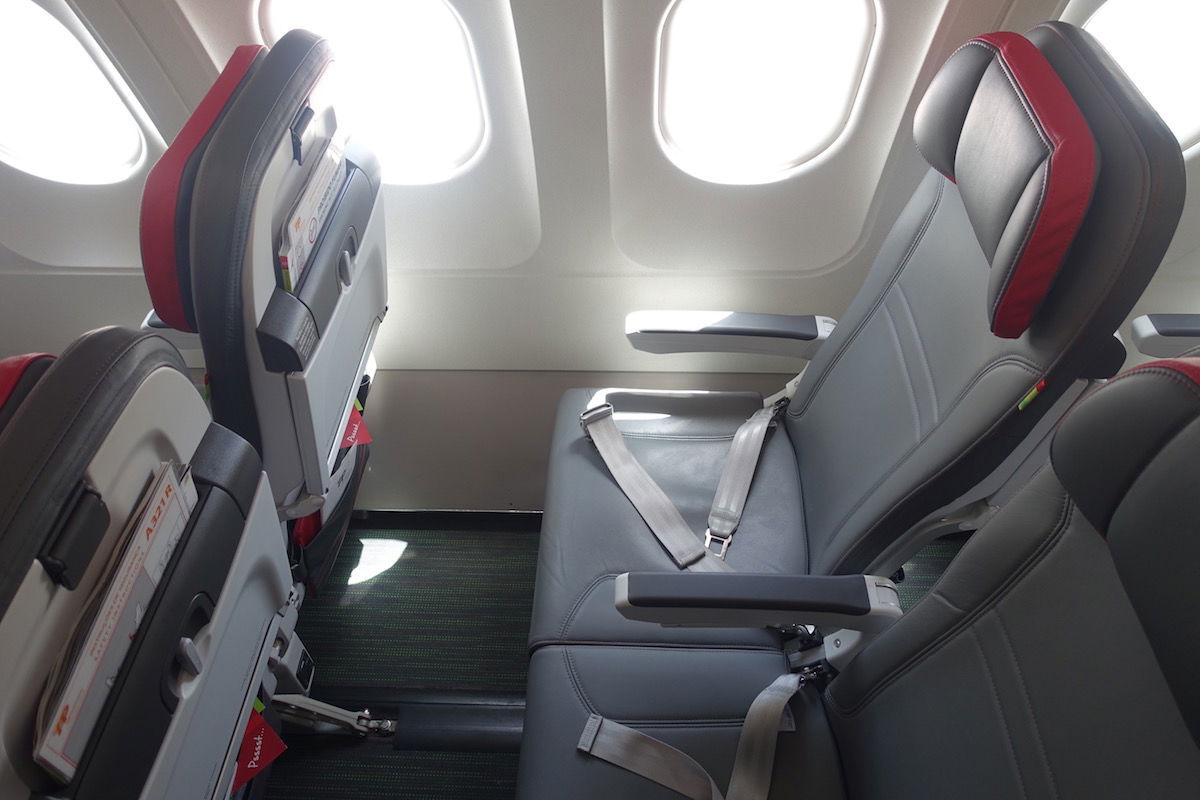 TAP Portugal business class A321
The legroom was pretty decent in these seats, and all the reading material was located in either a leather pouch towards the bottom of the seat, or a hard-case near the top of the seat.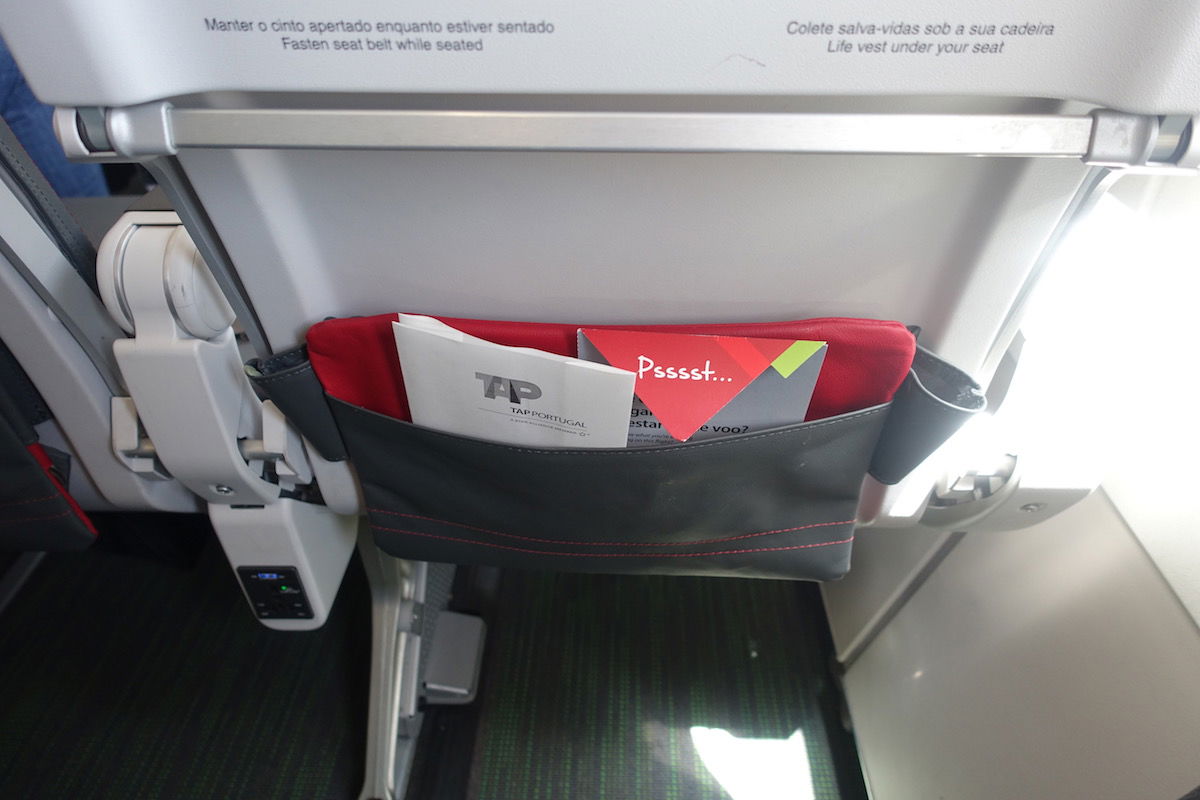 TAP Portugal business class legroom A321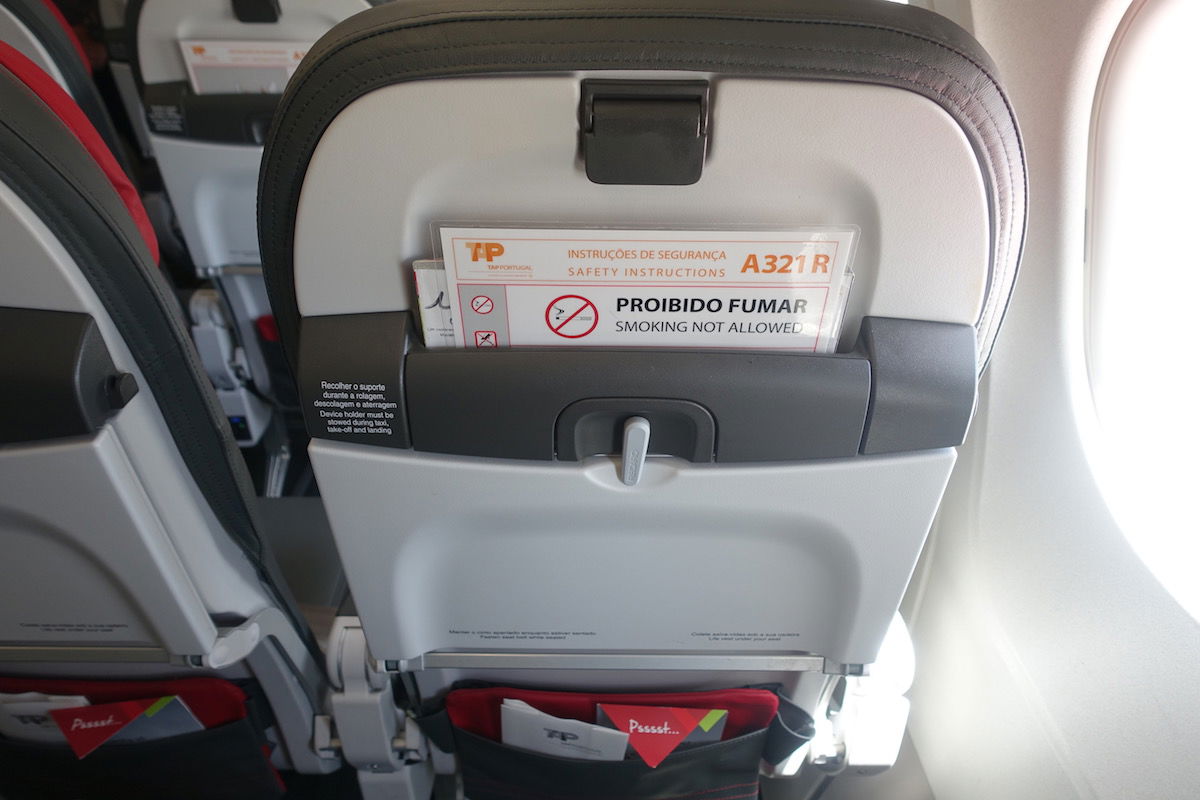 TAP Portugal business class seatback A321
What I was happiest to see was that the seats had power outlets, including both a 110v and USB outlet. I don't know if I've ever seen power outlets in intra-Europe business class before, so I was thrilled to find that, especially given that my previous flight didn't have power outlets.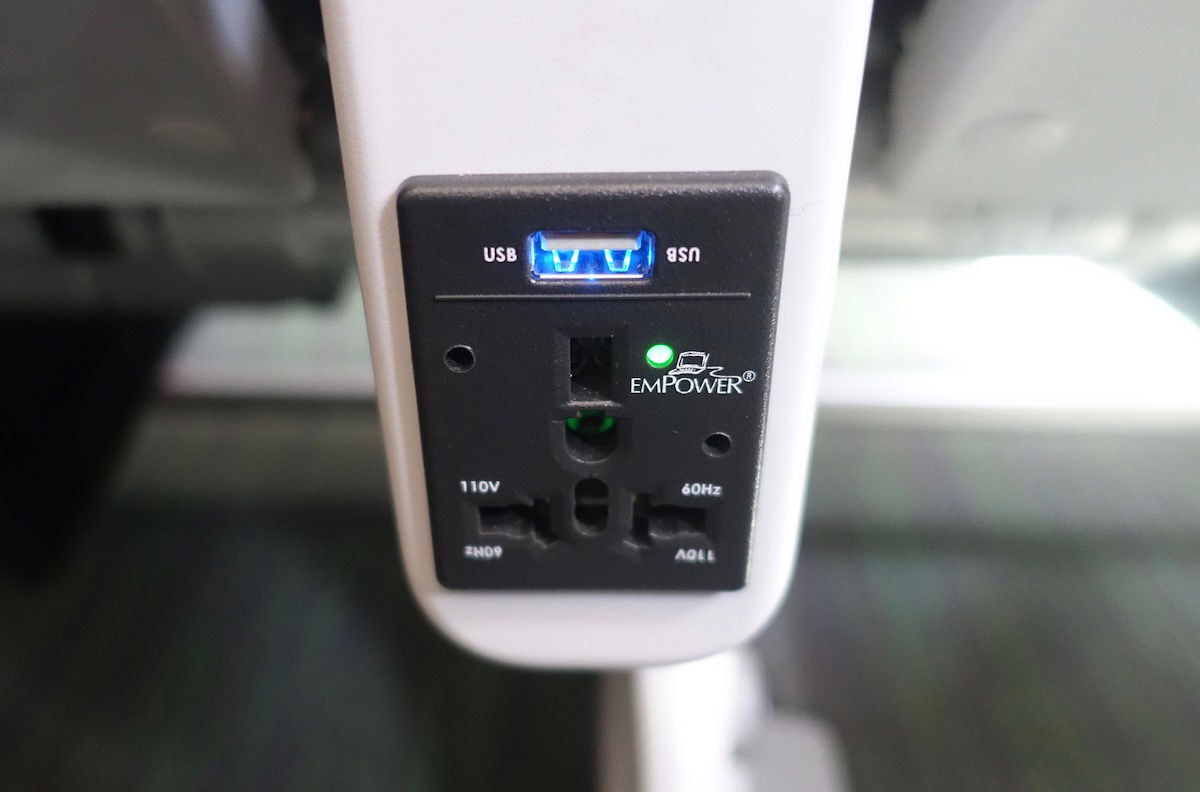 TAP Portugal business class power outlet A321
There were also pillows and blankets, which aren't always available in intra-Europe business class.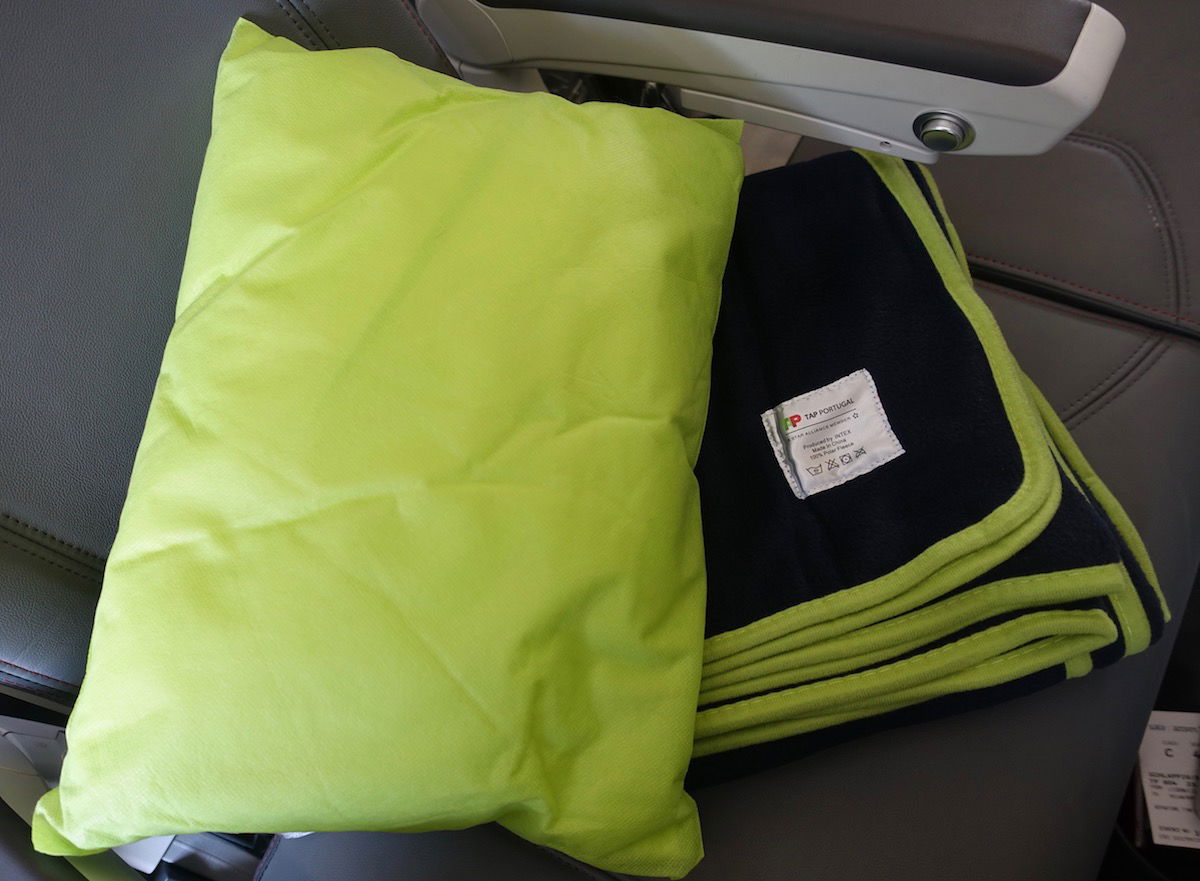 TAP Portugal business class pillow & blanket
There were a total of four rows of business class, and spread across those four rows were 11 passengers.
Unfortunately that's where the good things that I have to say about TAP business class end. A couple of times during boarding the crew announced "this flight is operating with reduced cabin crew and for that reason there will be no meal service on this flight."
At 2:40PM the door closed, at which point the crew sprayed the cabin. At this point the captain made his welcome aboard announcement, informing us of our flight time of 2hr5min. However, he said that a few passengers had no showed, and their bags needed to be offloaded. That delay lasted quite a while, and at 3:10PM he apologized for a further delay, as he said we were now slightly delayed due to ATC.
Sure enough at 3:15PM we began our pushback, at which point the safety video was screened. Off our right wing was a gorgeous Swiss CSeries, which I still need to fly.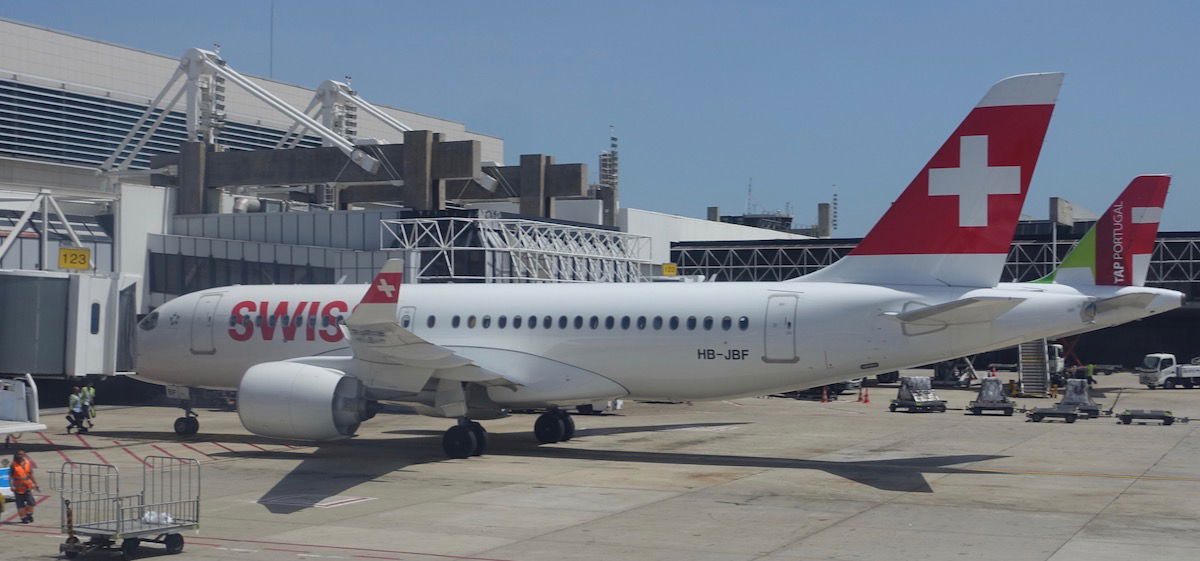 Swiss CS100 Lisbon Airport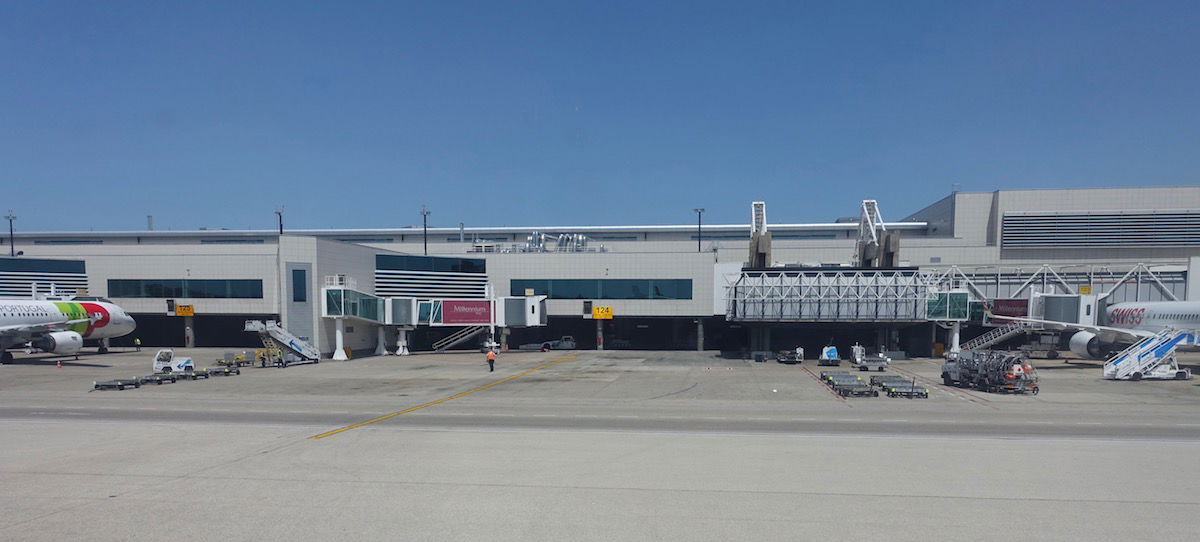 Pushing back Lisbon Airport
As we taxied out we crossed the runway where two TAP A330s were parked, including one in a retro livery.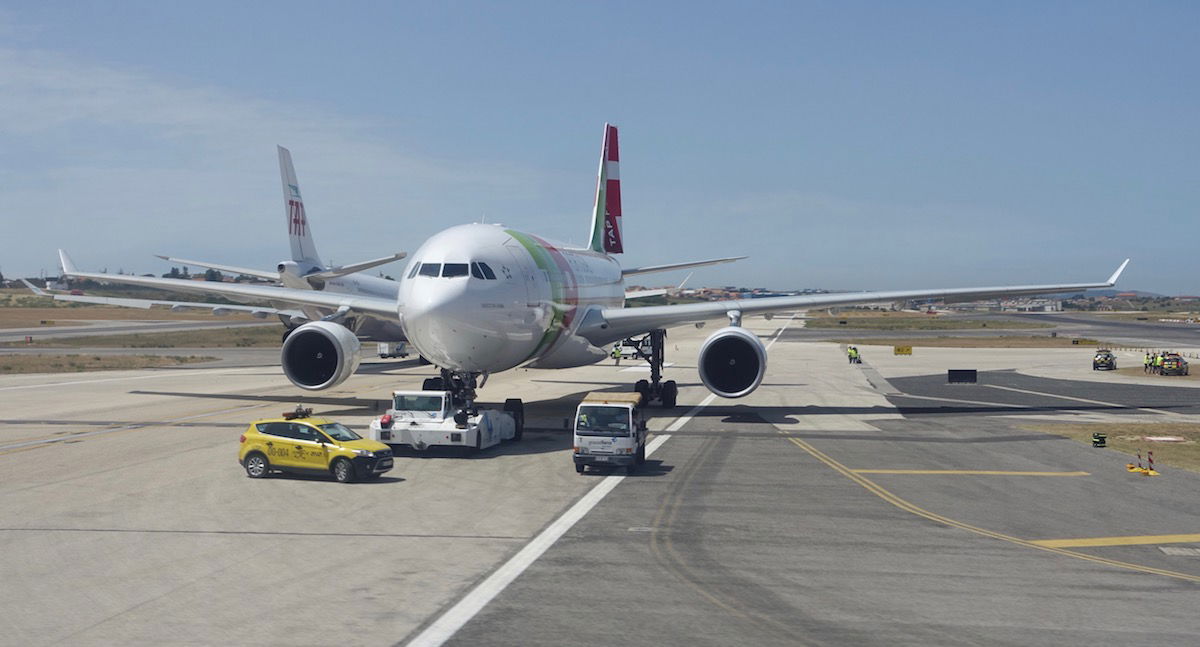 TAP Portugal A330 parked on runway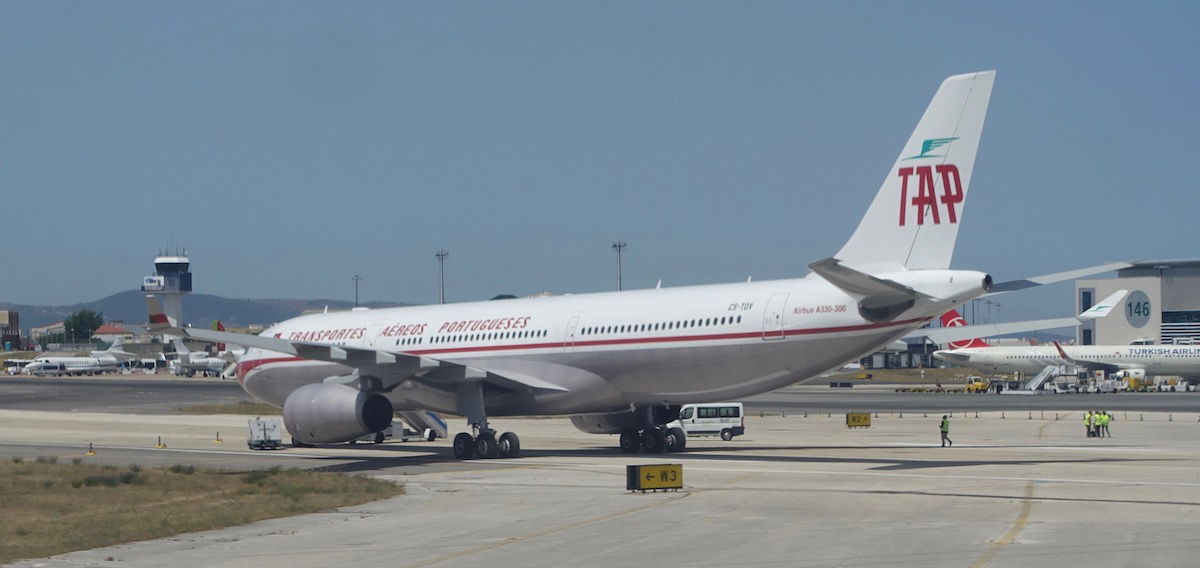 TAP Portugal A330 retro jet
Our taxi to the runway was quick, and by 3:20PM we were cleared for takeoff on runway 3.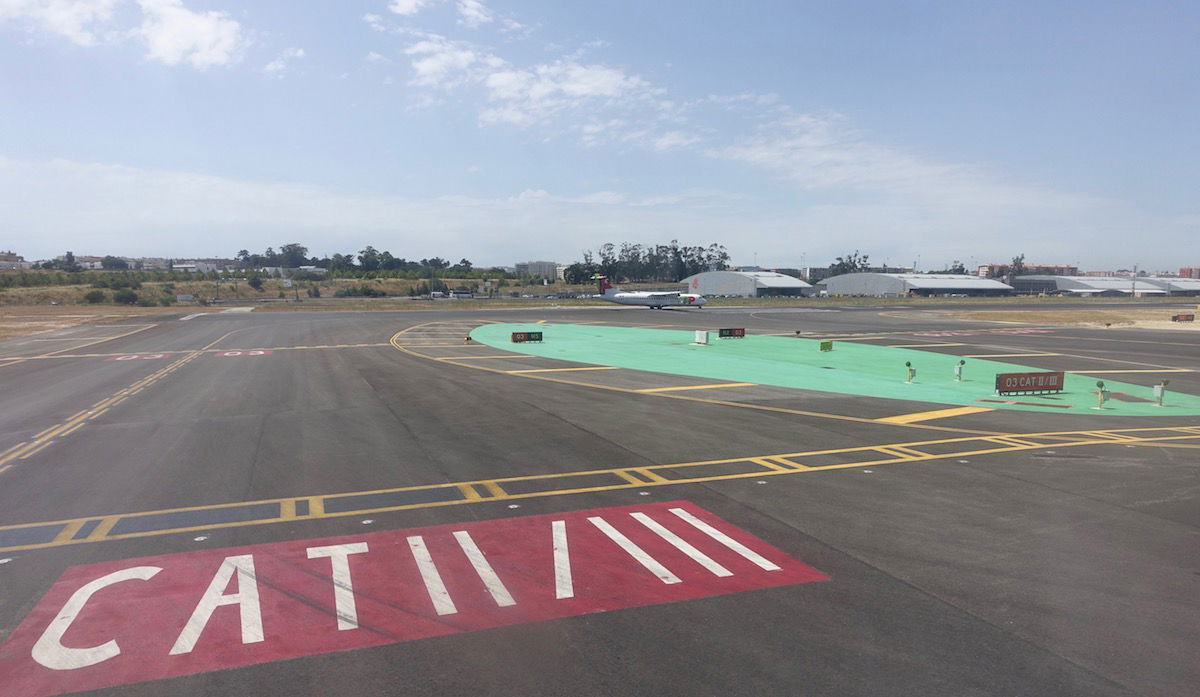 Holding short of departure runway Lisbon Airport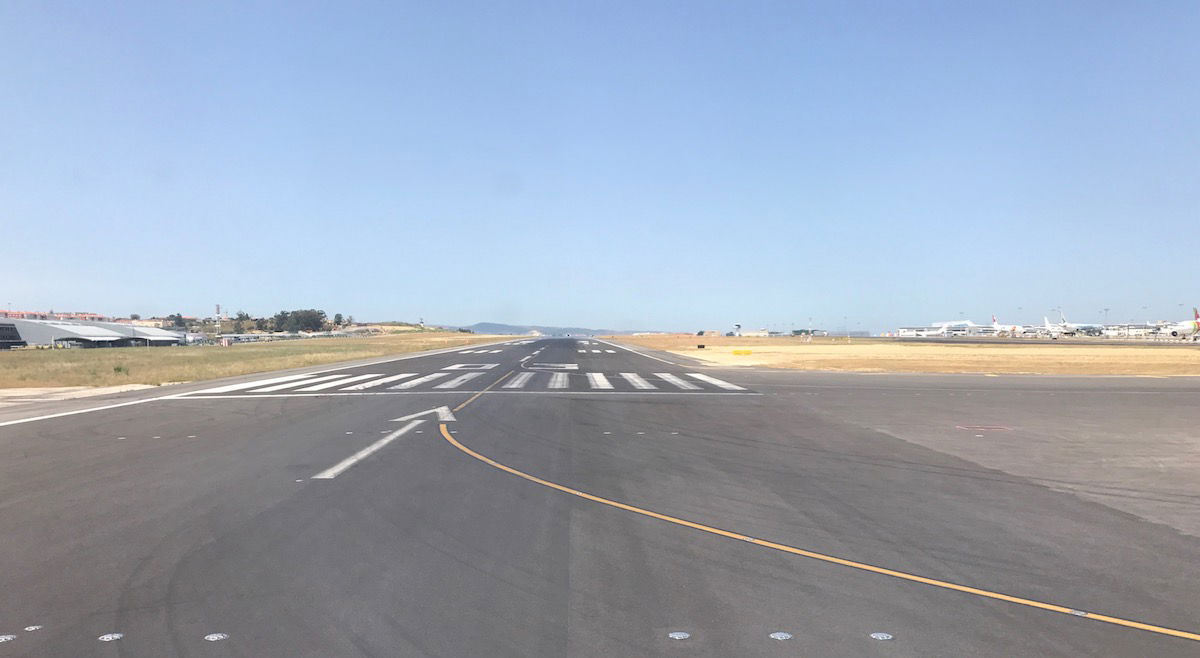 Taking off Lisbon Airport
We had a quick takeoff roll, and gorgeous views of Lisbon and the water as we climbed out.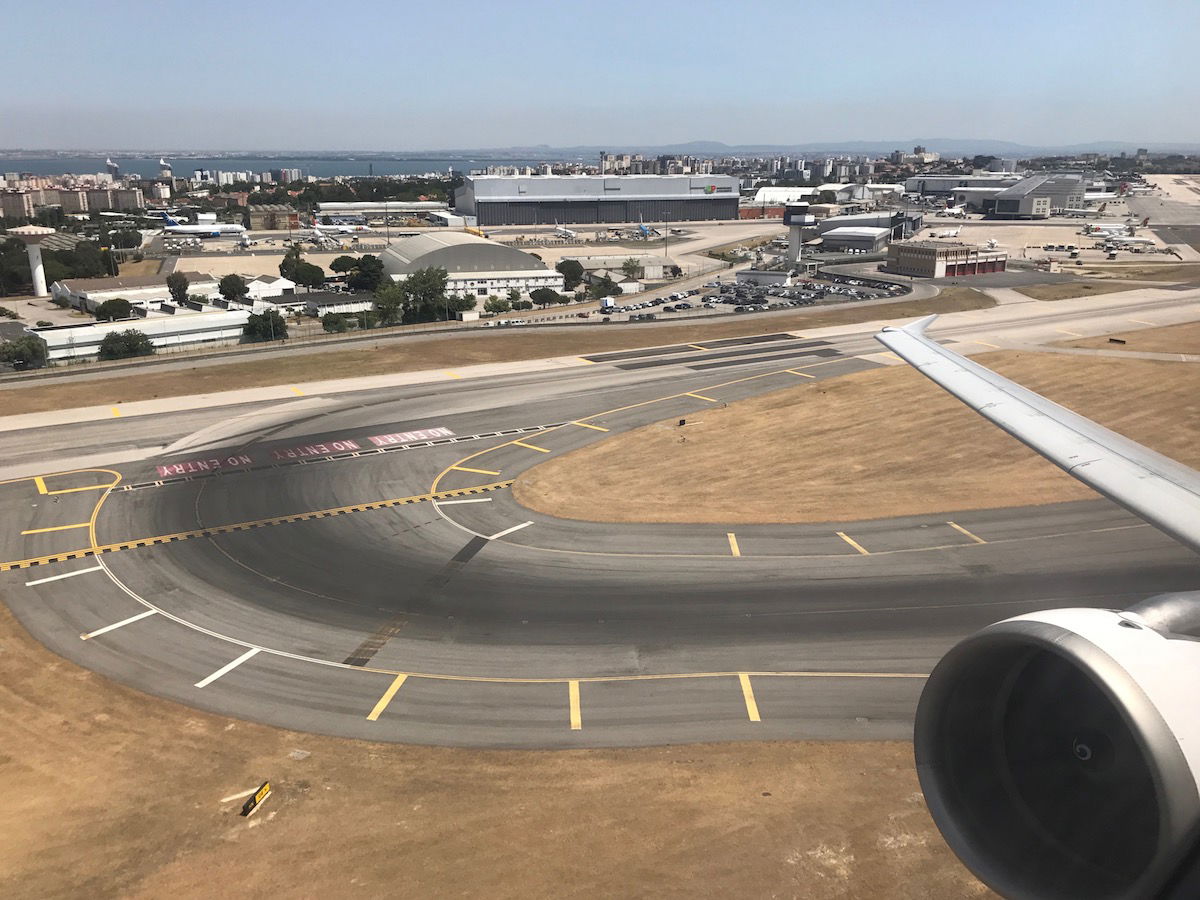 View after takeoff from Lisbon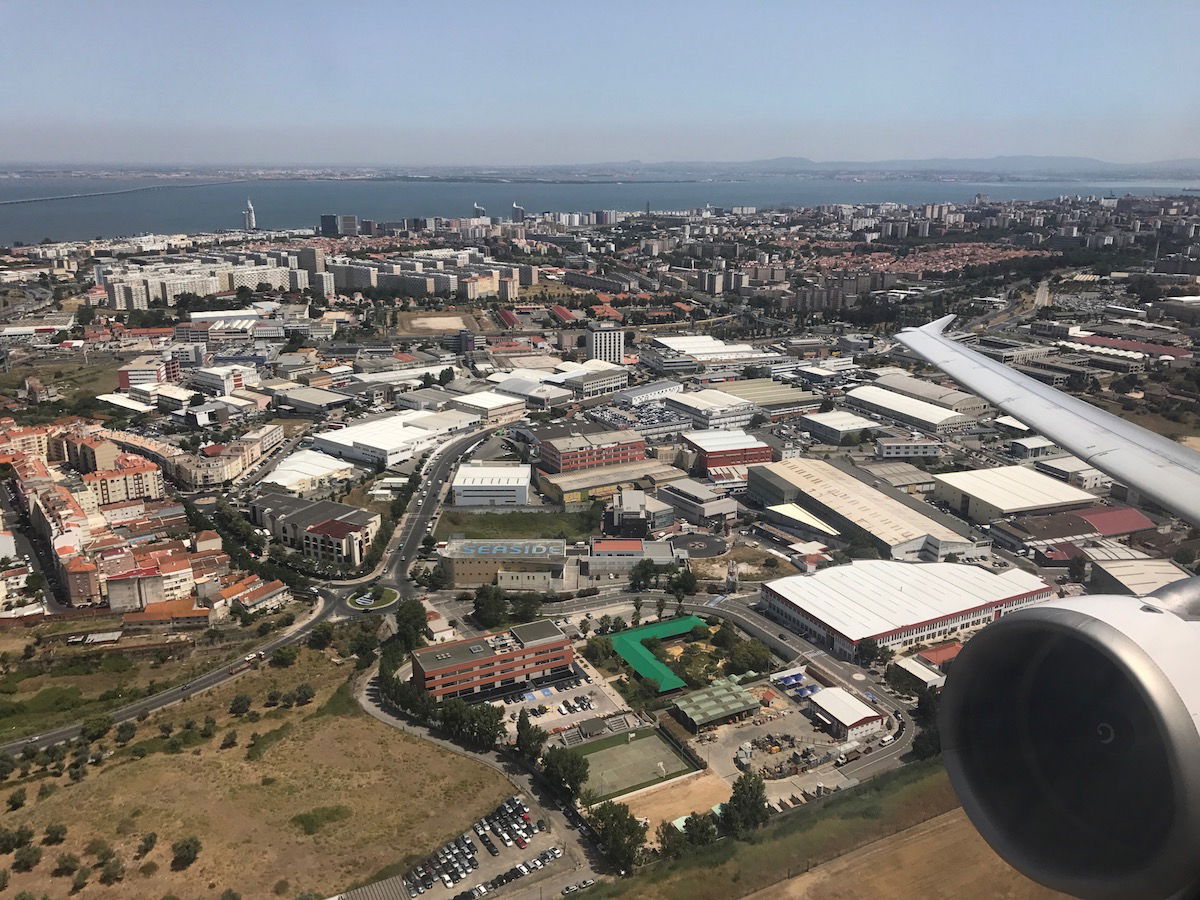 View after takeoff from Lisbon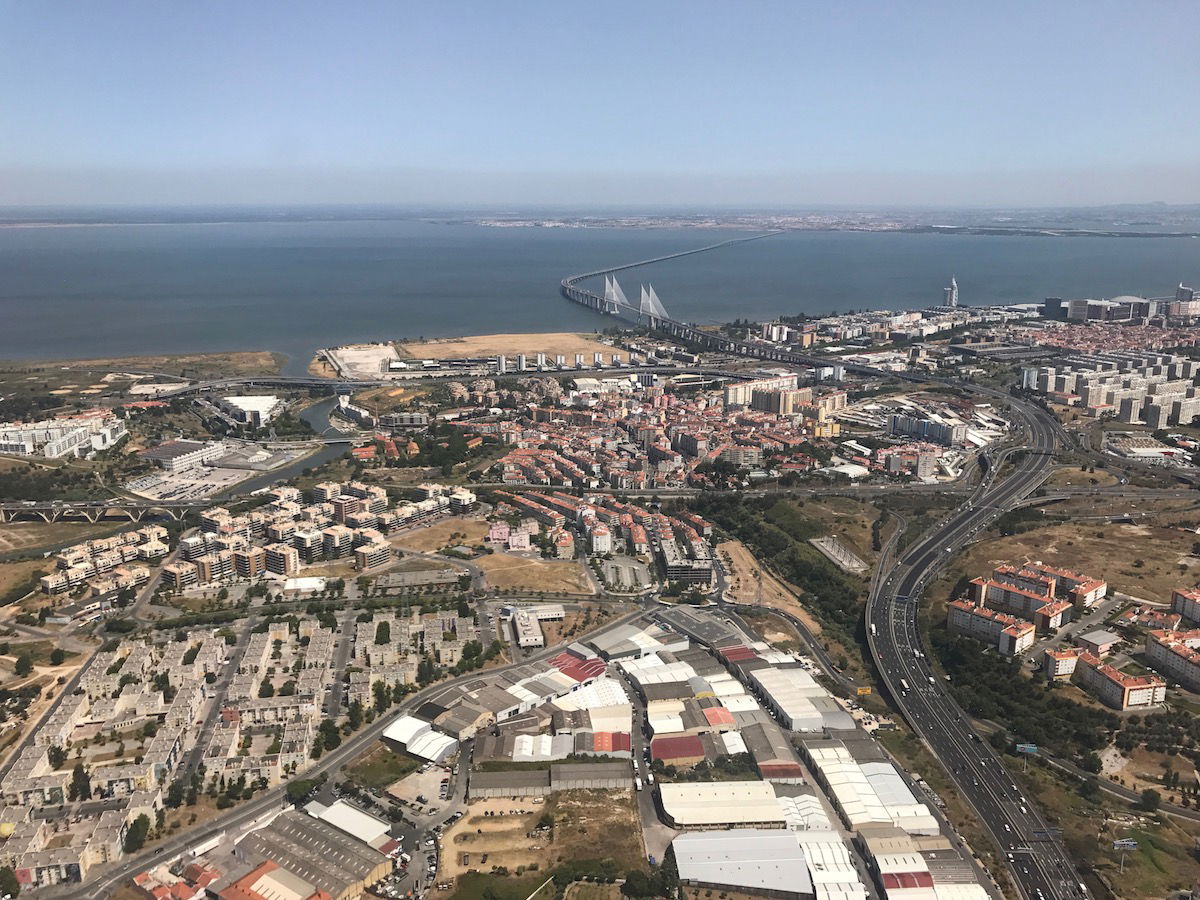 View after takeoff from Lisbon
Five minutes after takeoff the crew drew the curtain between the cabin and galley. The seatbelt sign stayed on for over 30 minutes, even though it was a smooth ride.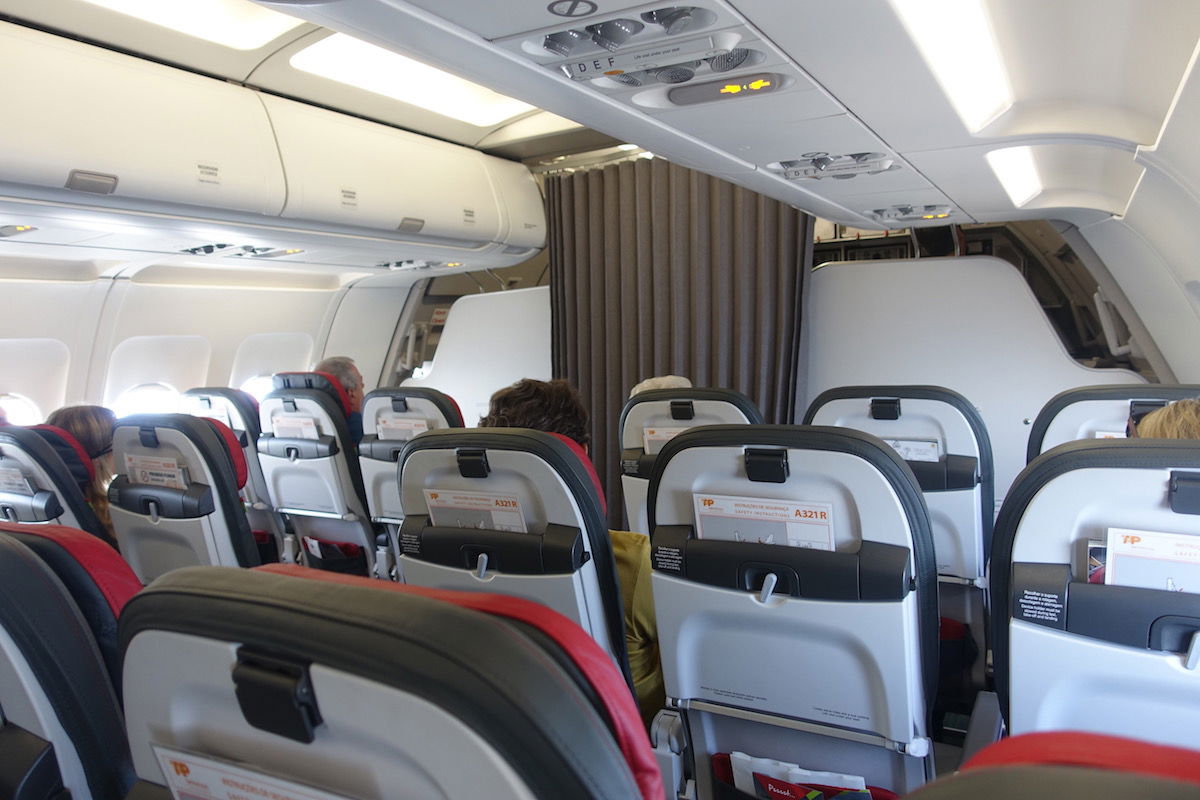 TAP Portugal business class cabin
Once it was turned off, I visited the forward lavatory, which was simple.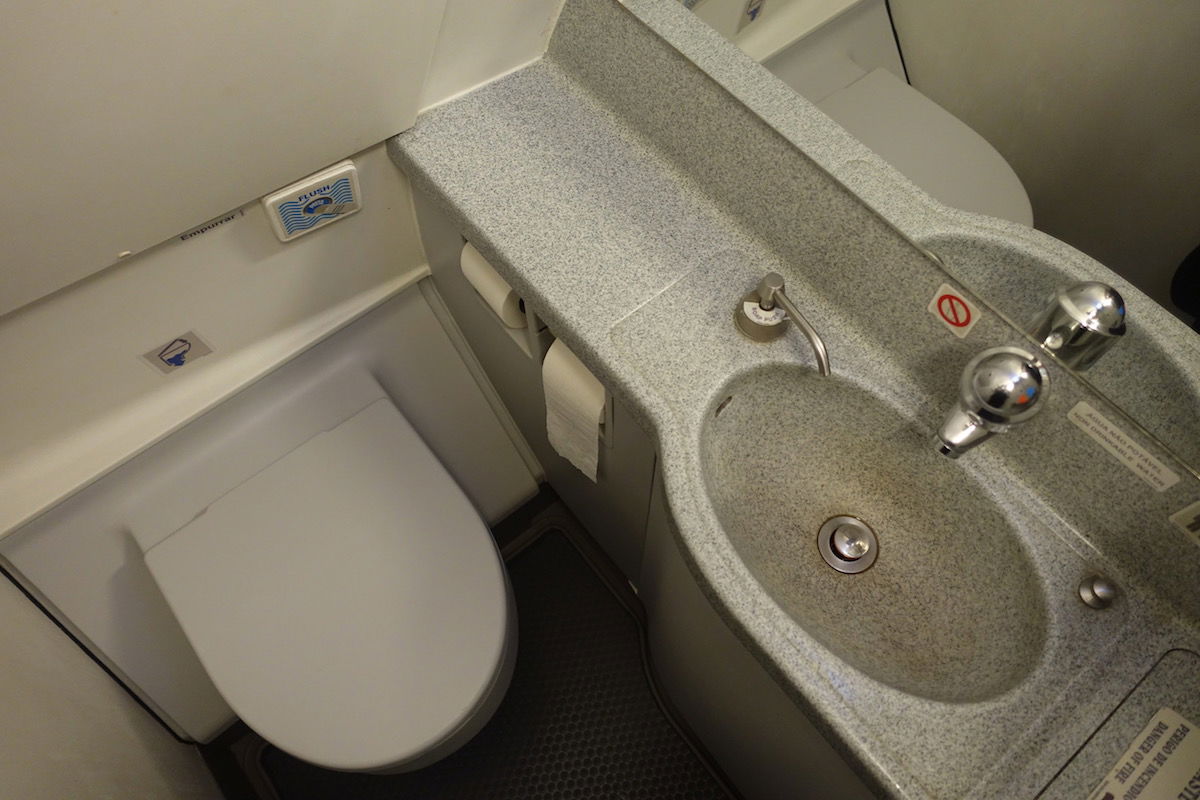 TAP Portugal business class lavatory
I smelled food in the oven, so I figured that maybe business class passengers would at least get meals, since surely they can serve a dozen meals on a two hour flight. Nope, those were just crew meals.
Finally 45 minutes after takeoff the crew made a pass through the cabin with just water and orange juice. Later in the flight I asked for a refill of water, and I was told "one per person."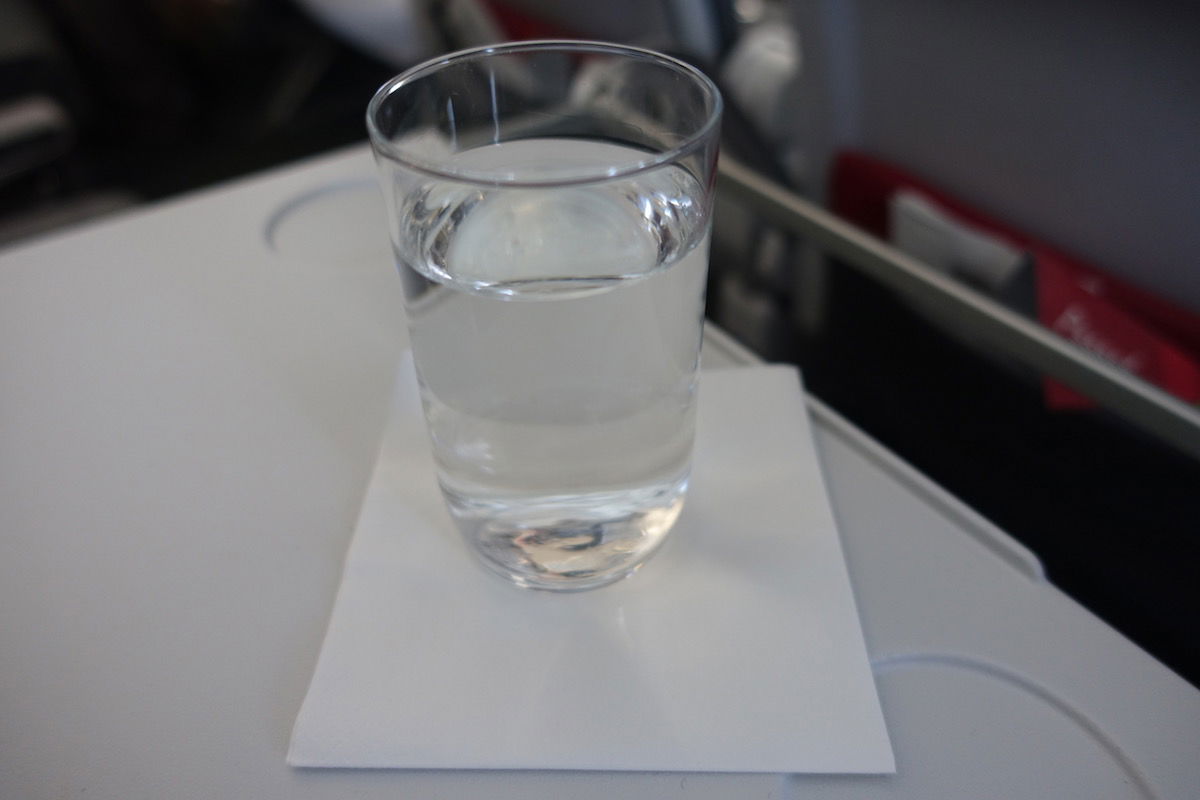 TAP Portugal business class service
Ultimately this comes down to an issue between management and the union, where they're technically not staffing these flights to the agreed upon levels. So while the crews are still encouraged to provide the service, they're not going to on principle. So the crews didn't make another pass through the cabin until they did their landing safety checks, but rather sat in the galley chatting the whole flight.
I spent most of the rest of the flight working and looking out the window, as the views were beautiful.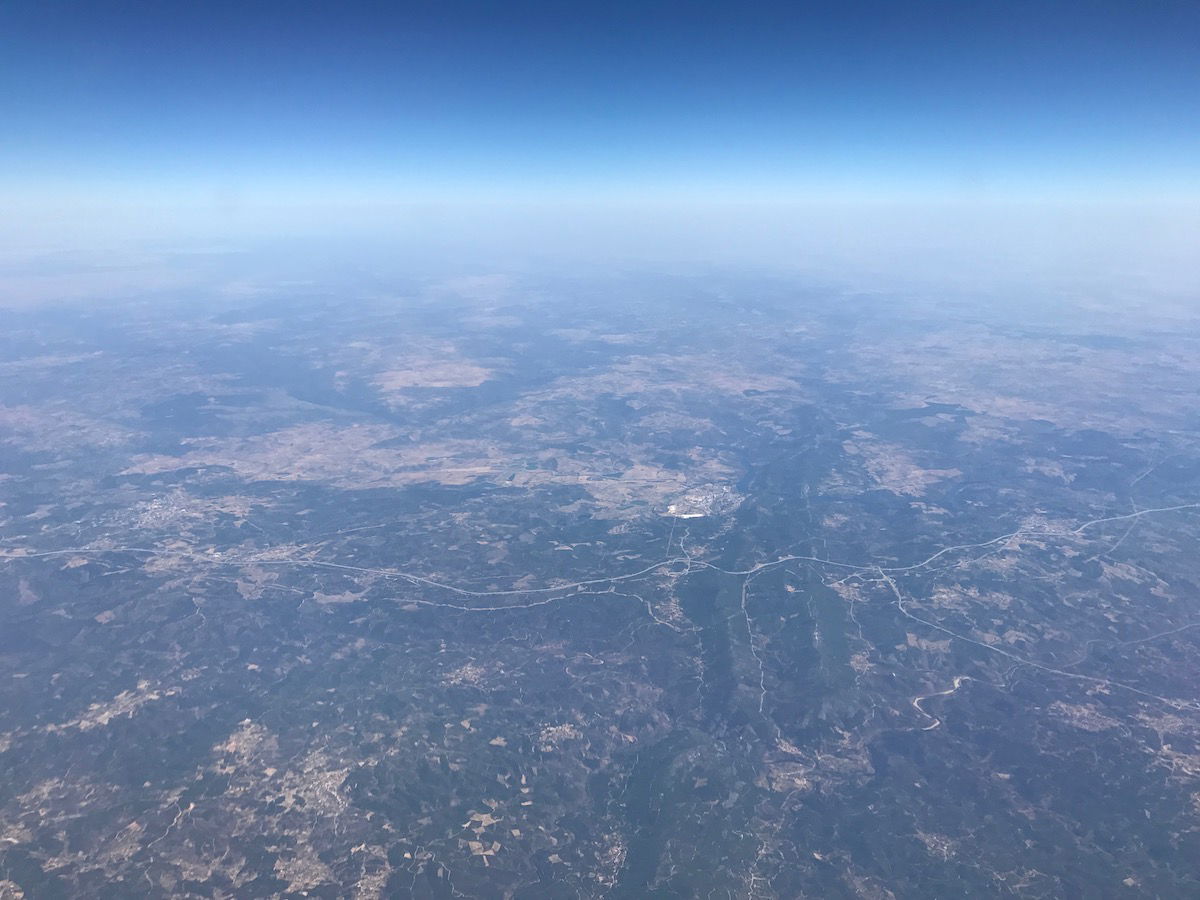 View enroute to Milan
Finally around 30 minutes before landing we began our descent, and there was a bit of chop.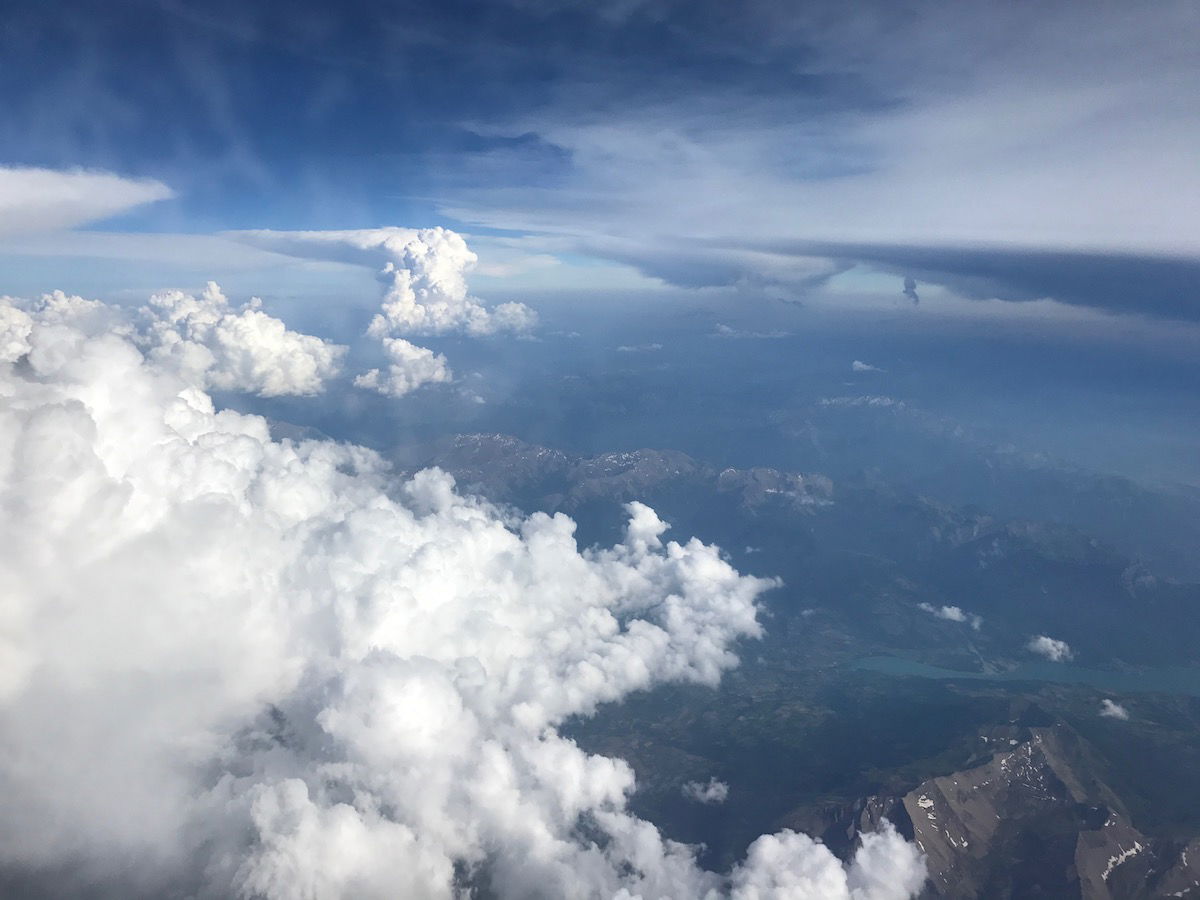 View enroute to Milan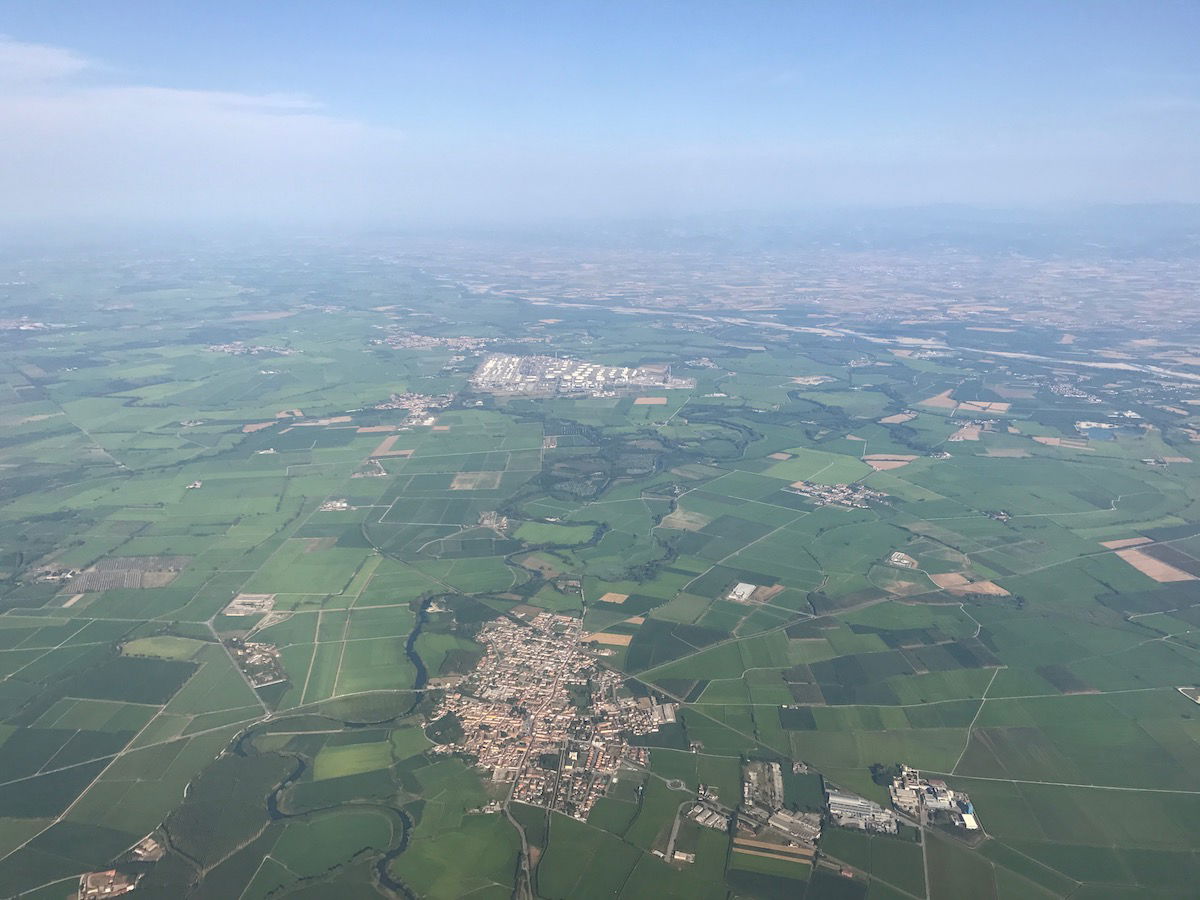 View approaching Milan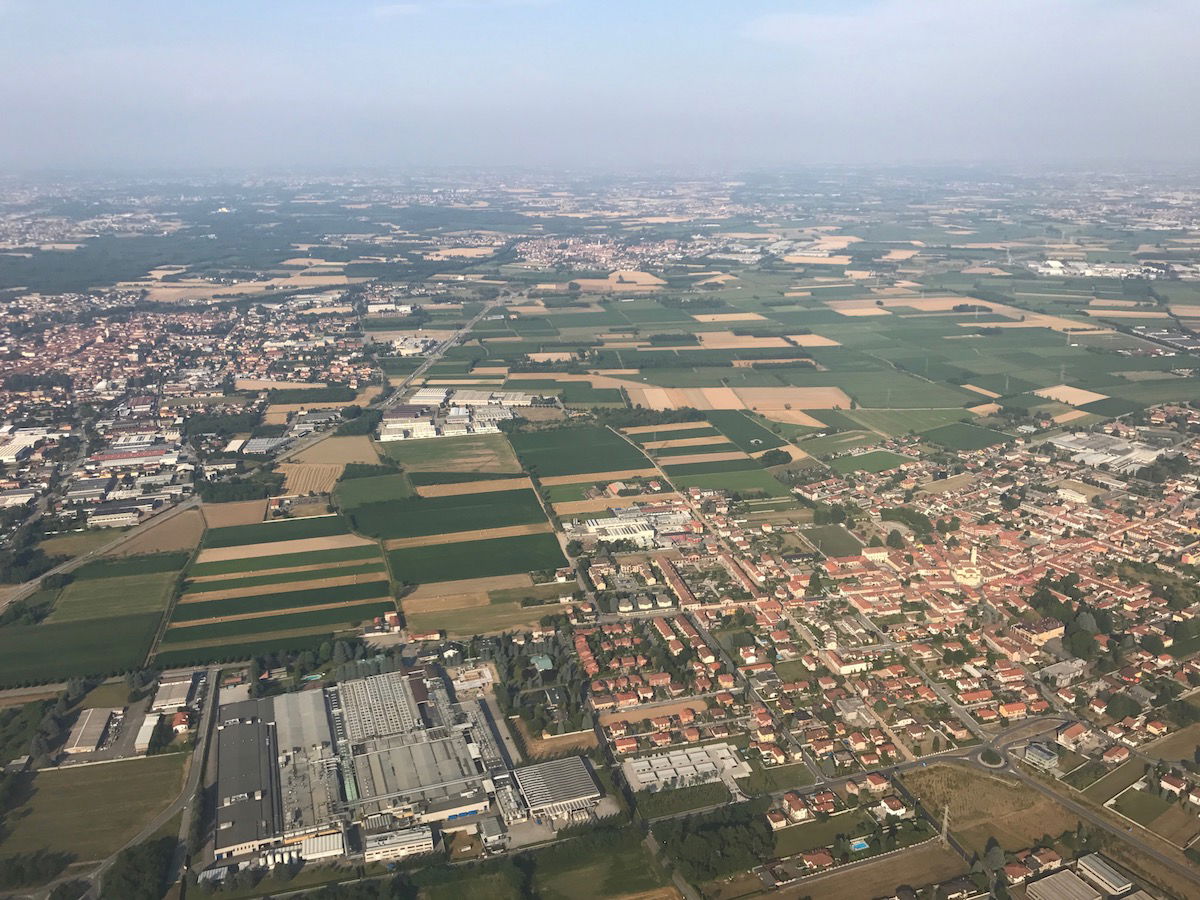 View approaching Milan
We touched down in Milan at 6:30PM.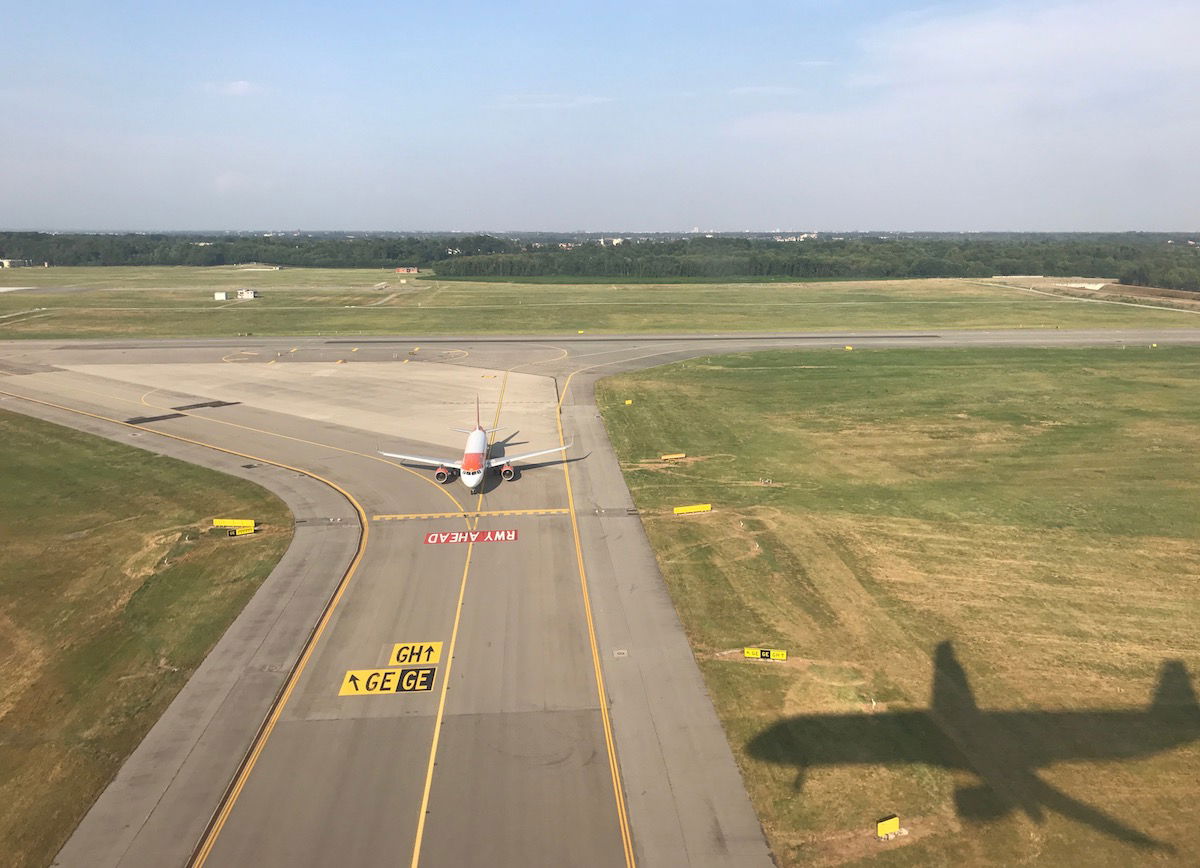 View approaching Milan
As we taxied to the gate the crew made the standard after landing announcements, including "it was a pleasure having you with us onboard today." I feel like they should modify these announcements on flights with no service.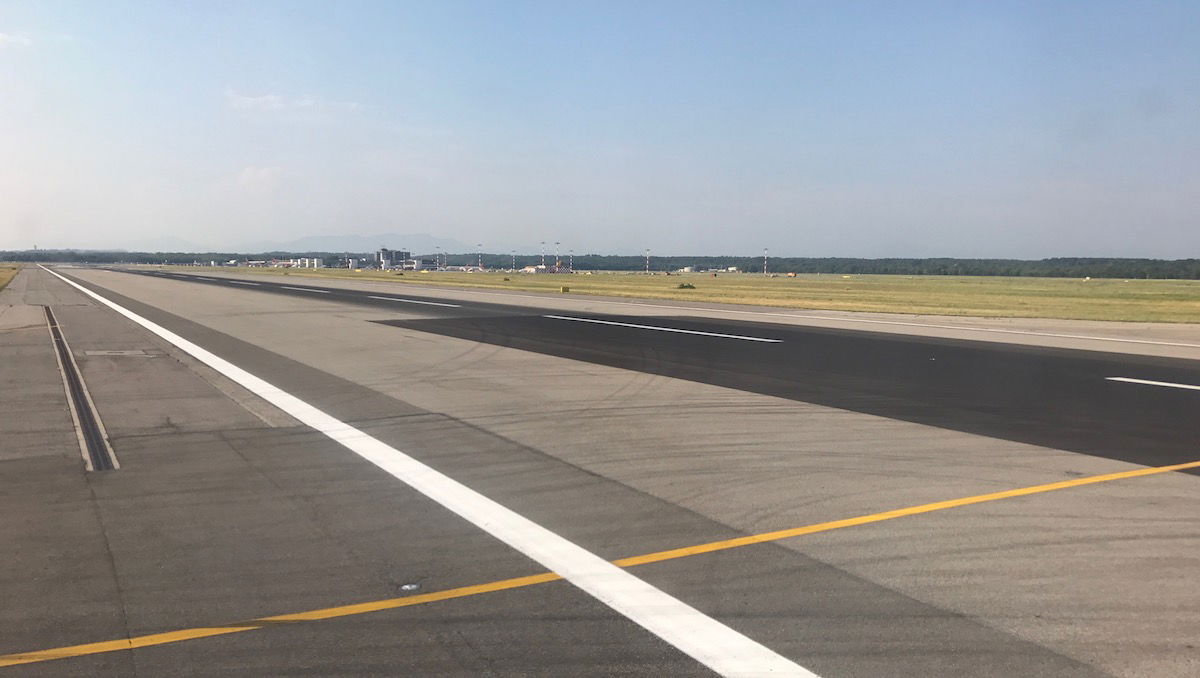 Taxiing Milan Airport
Our taxi to our arrival gate was quick, and we arrived by 6:35PM, about 20 minutes behind schedule.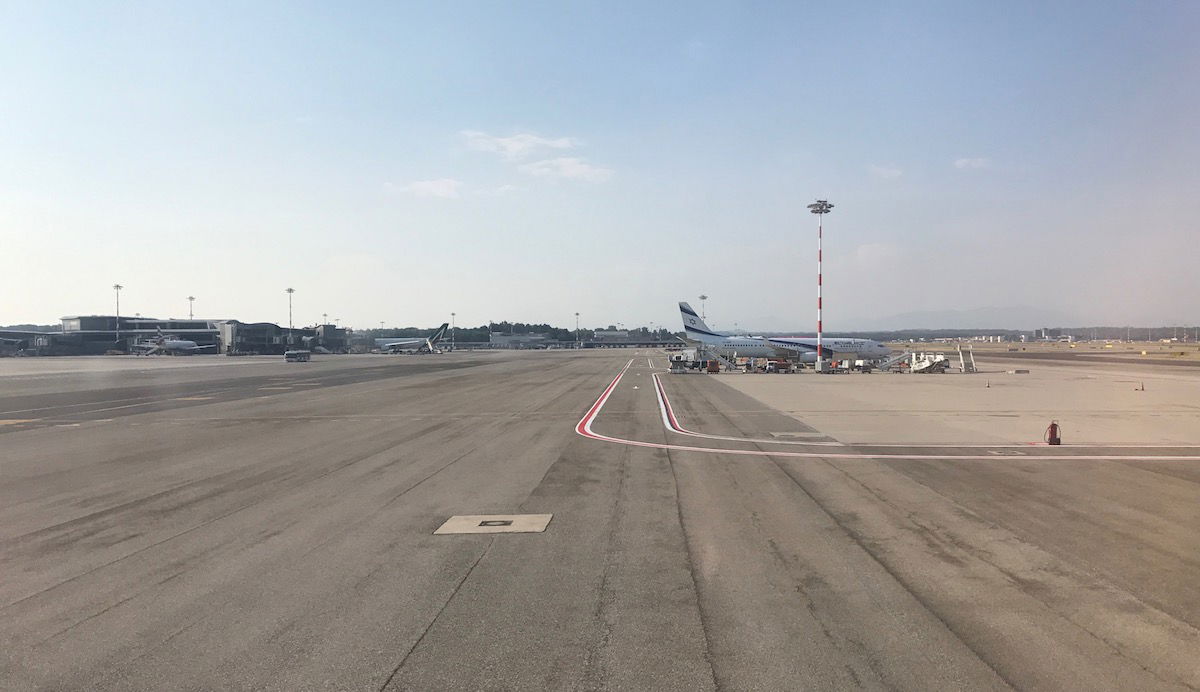 Taxiing Milan Airport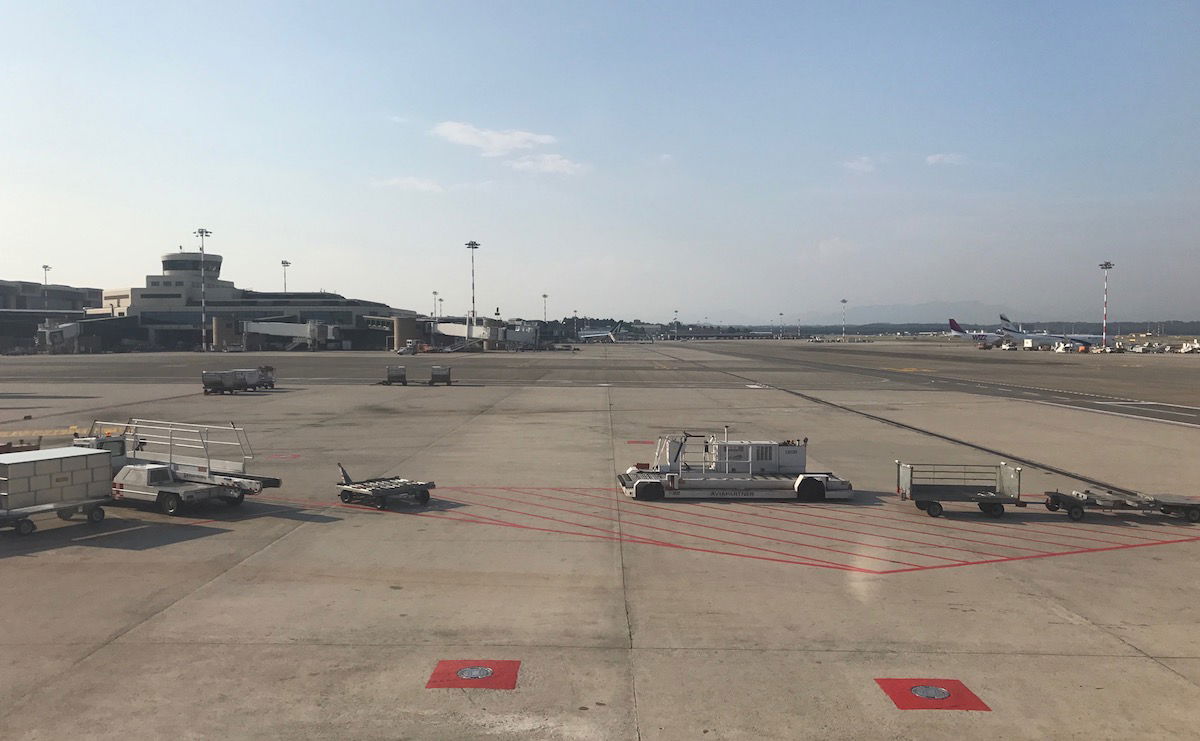 Arrival gate Milan Airport
TAP business class bottom line
I was impressed that TAP Portugal had power ports on these planes, which sadly most airlines don't on intra-Europe flights. Unfortunately that's where my compliments of the product end. TAP Portugal needs to figure out their management and union issues ASAP, because this is just plain embarrassing. This issue is also shockingly common. Since publishing my post, I've received dozens of messages from readers who have experienced the same.
So if you're flying TAP Portugal, make sure you bring some bottled water and snacks. We were so hungry when we landed in Milan that we headed straight to the airport food court. That's not usually what you want your first meal in Italy to be!