---
At long last it was time to fly Starlux Airlines, which had launched operations just a few days prior. What was it like to fly with this self-proclaimed "detail-oriented luxury airline?"
Booking Starlux Airlines Business Class
Starlux Airlines currently flies to just three destinations, and I decided to book a roundtrip ticket on them from Taipei to Penang, simply because this is their longest route, and I wanted the "full" experience.
I booked just hours after ticket sales opened in mid-December, and paid ~$1,000 for the following roundtrip ticket:
01/27 JX721 Taipei to Penang departing 9:20AM arriving 2:00PM
01/28 JX722 Penang to Taipei departing 3:00PM arriving 7:45PM
Starlux Airlines does have the COSMILE frequent flyer program, though since the airline is brand new, it's not practical for many people to redeem miles on them. Starlux Airlines doesn't have any airline partners or credit card transfer partners as of now, though hopefully that changes over time.
Starlux Airlines Business Class A321neo Review
I left the Starlux Airlines Galactic Lounge well ahead of the 8:50AM scheduled boarding time for my 9:20AM flight to Penang. My flight was departing from gate B6, about a five minute walk from the lounge.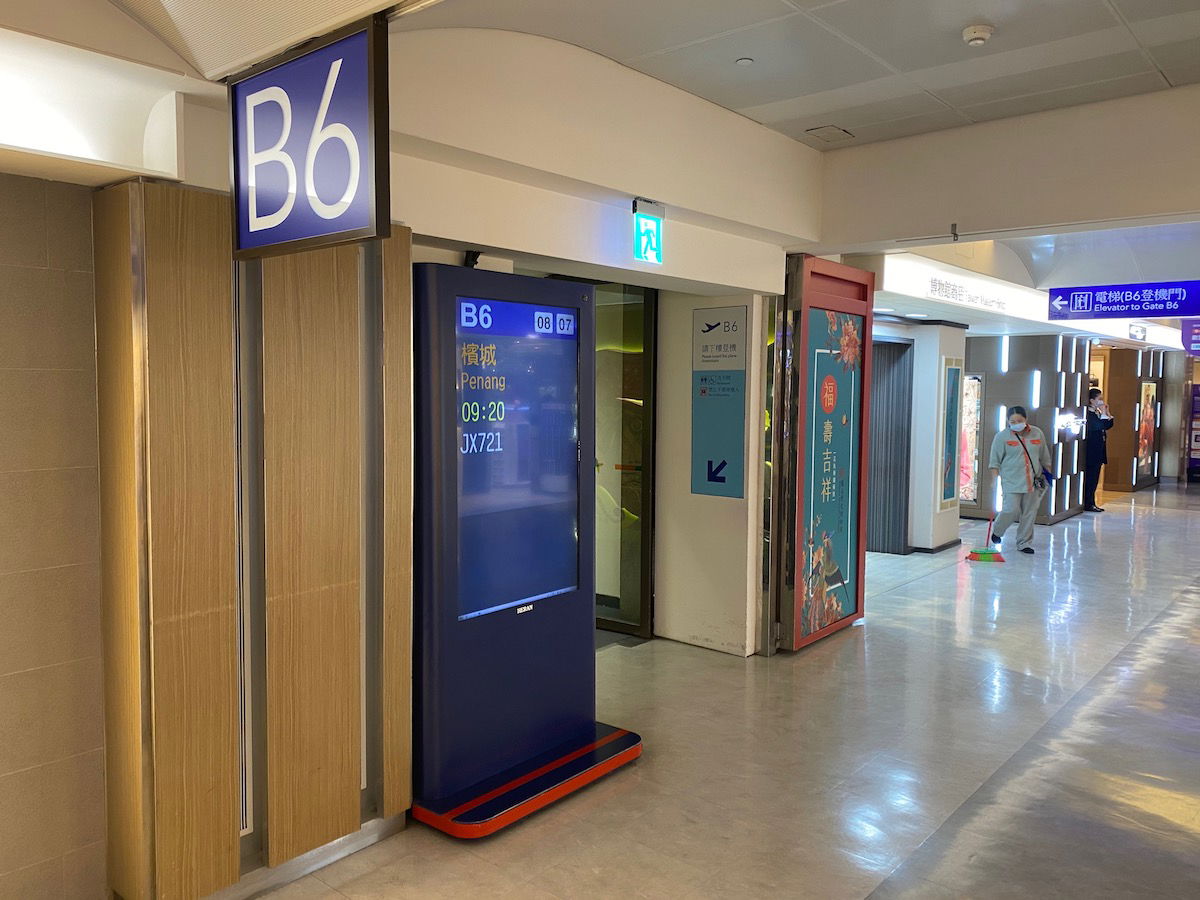 Starlux Airlines departure gate Taipei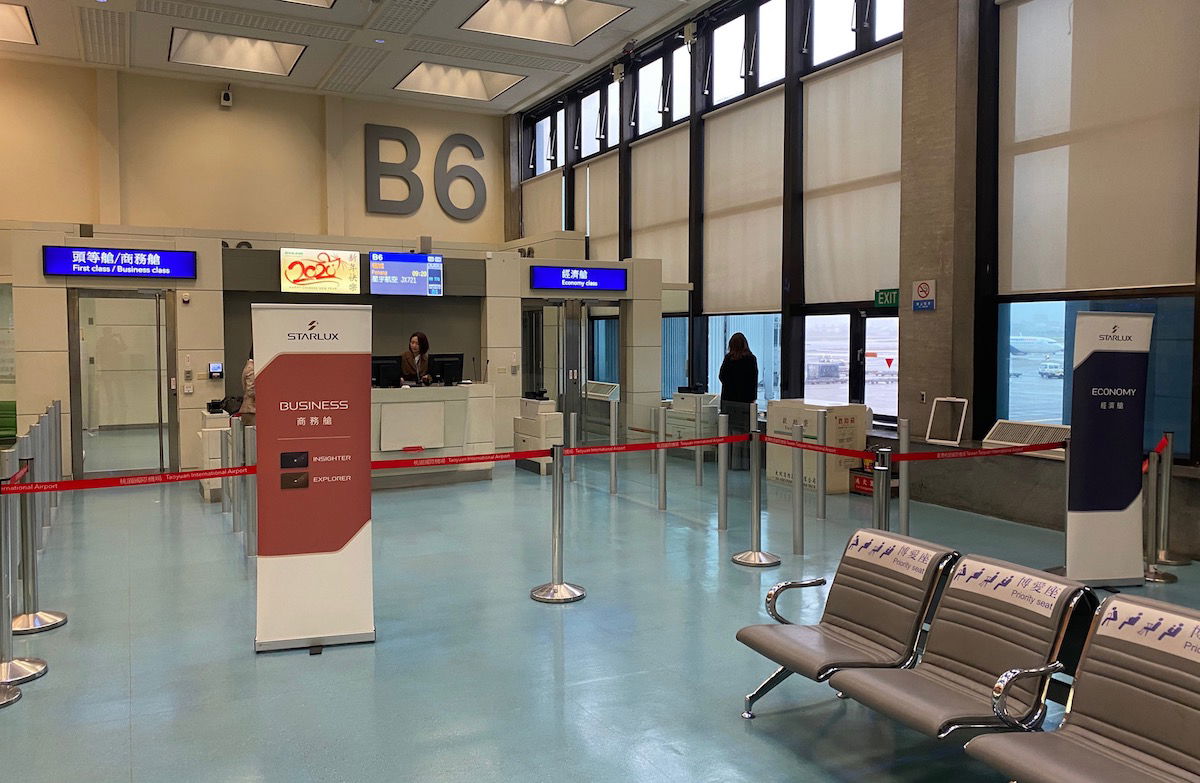 Starlux Airlines departure gate Taipei
I watched at 8:10AM as the plane was towed into the gate, and around the same time the crew showed up, consisting of six flight attendants and two pilots. The enthusiasm among the crew was obvious, as I saw the captain photographing the plane as it was pulled into the gate, and the crew taking photos with one another. Cute!
Boarding started at 8:55AM, with business class passengers being invited to board first.
Starlux Airlines 721
Taipei (TPE) – Penang (PEN)
Monday, January 27
Depart: 9:20AM
Arrive: 2:00PM
Duration: 4hr40min
Aircraft: Airbus A321neo
Seat: 3C (Business Class)
At the forward door to the A321neo I was greeted by two fabulous flight attendants, who welcomed me onboard with big smiles, and escorted me to my seat. Starlux Airlines' A321neos feature a total of eight business class seats, spread across two rows in a 2-2 configuration.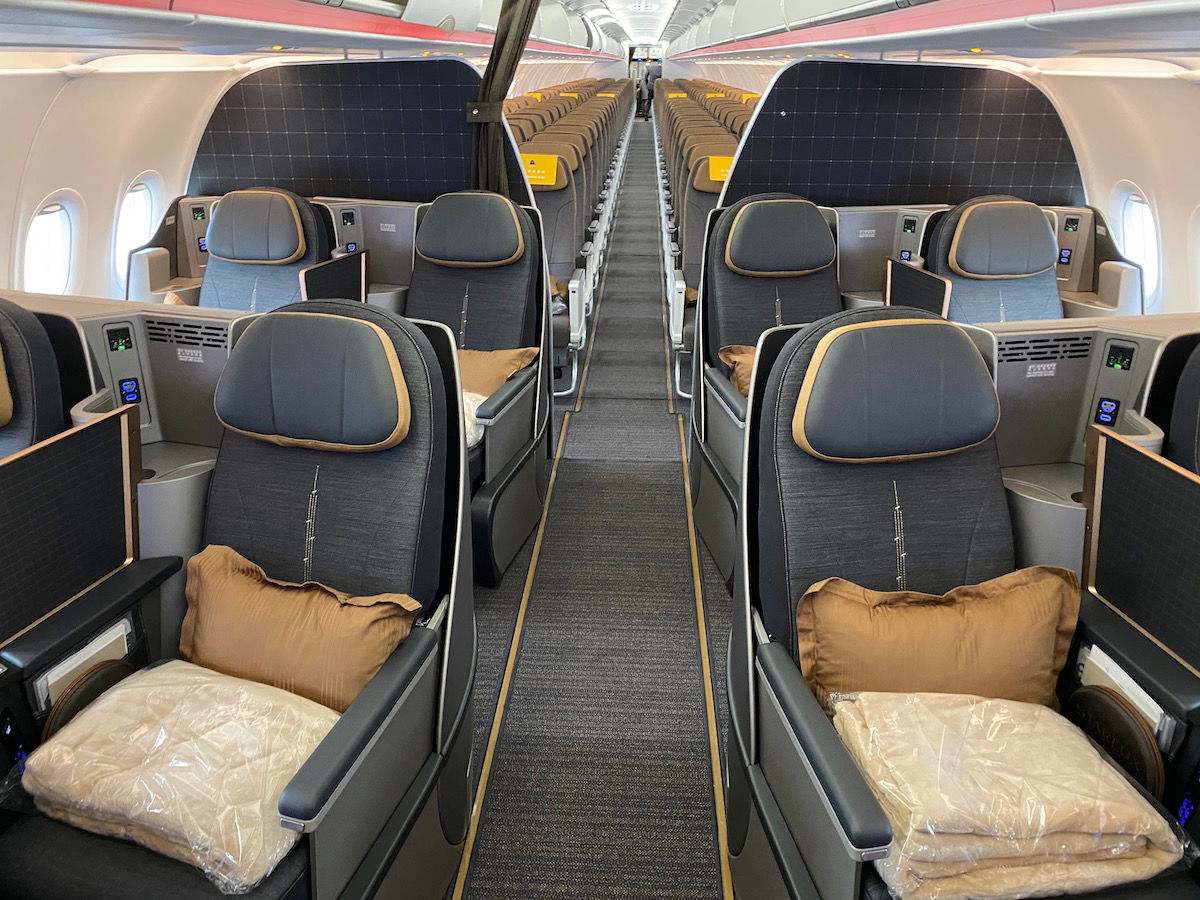 Starlux Airlines A321neo cabin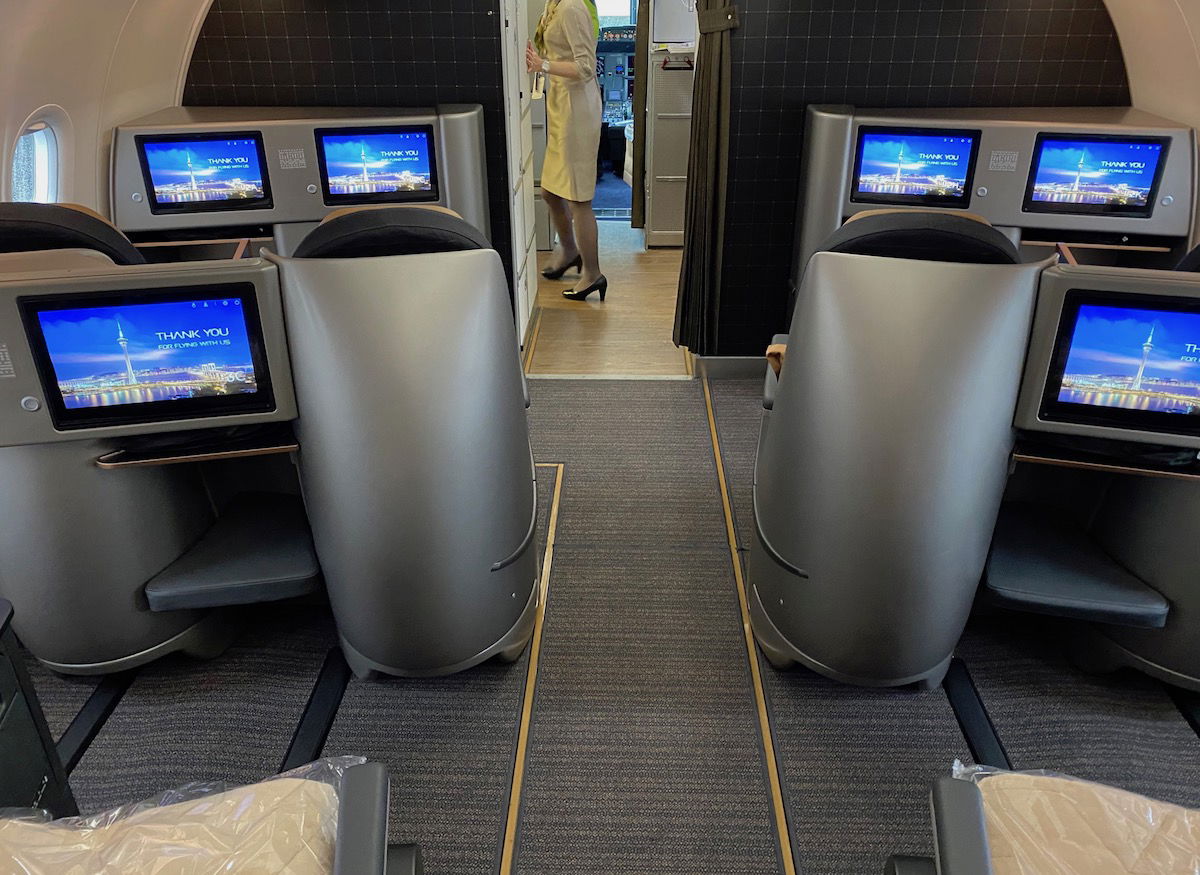 Starlux Airlines A321neo business class cabin
Before getting into the details of the business class seats, I had a quick look into the Starlux 180 seat economy cabin. I thought the color scheme was nice, and each seat had a personal television, outlet, pillow, and blanket.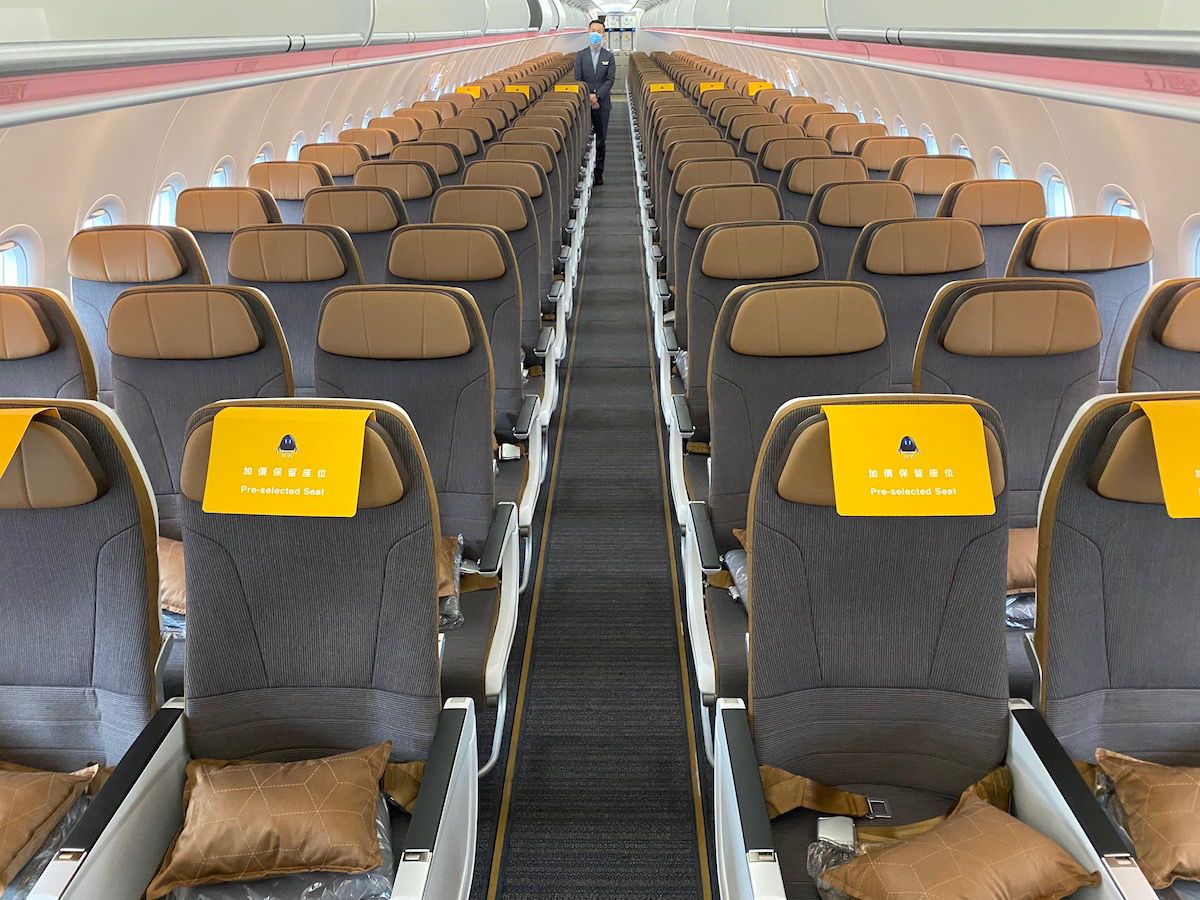 Starlux Airlines economy class cabin A321neo
Legroom looked about average — not too bad, but not great either.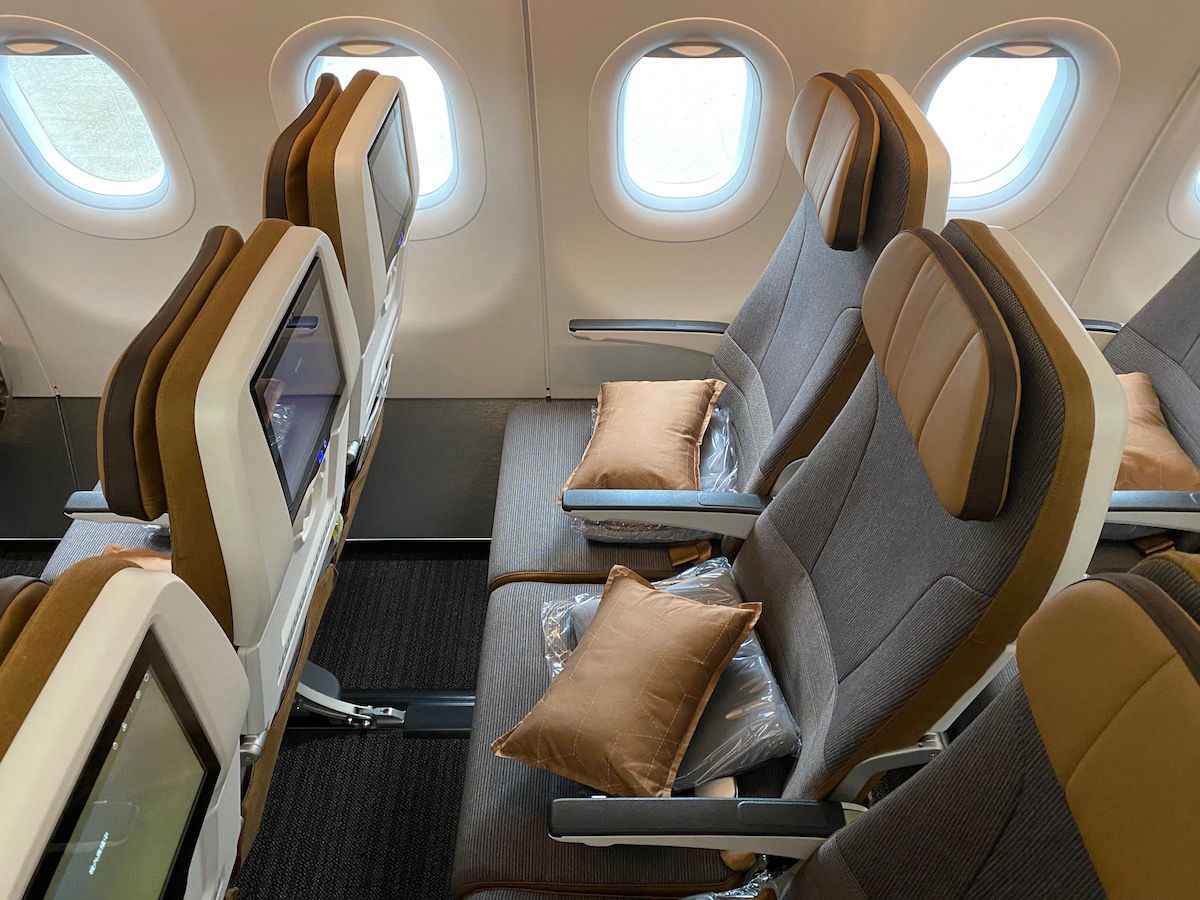 Starlux Airlines economy class seats A321neo
Anyway, back to business class. Starlux has Collins Aerospace Diamond seats in business class, which are a common choice for narrow body flat bed business class. I thought they did a phenomenal job with the finishes, from the gold trim around the headrests, to the stitching down the center of the seats.
Compare these to American's 757 business class seats, for example, which on the surface are the same kinds of seats.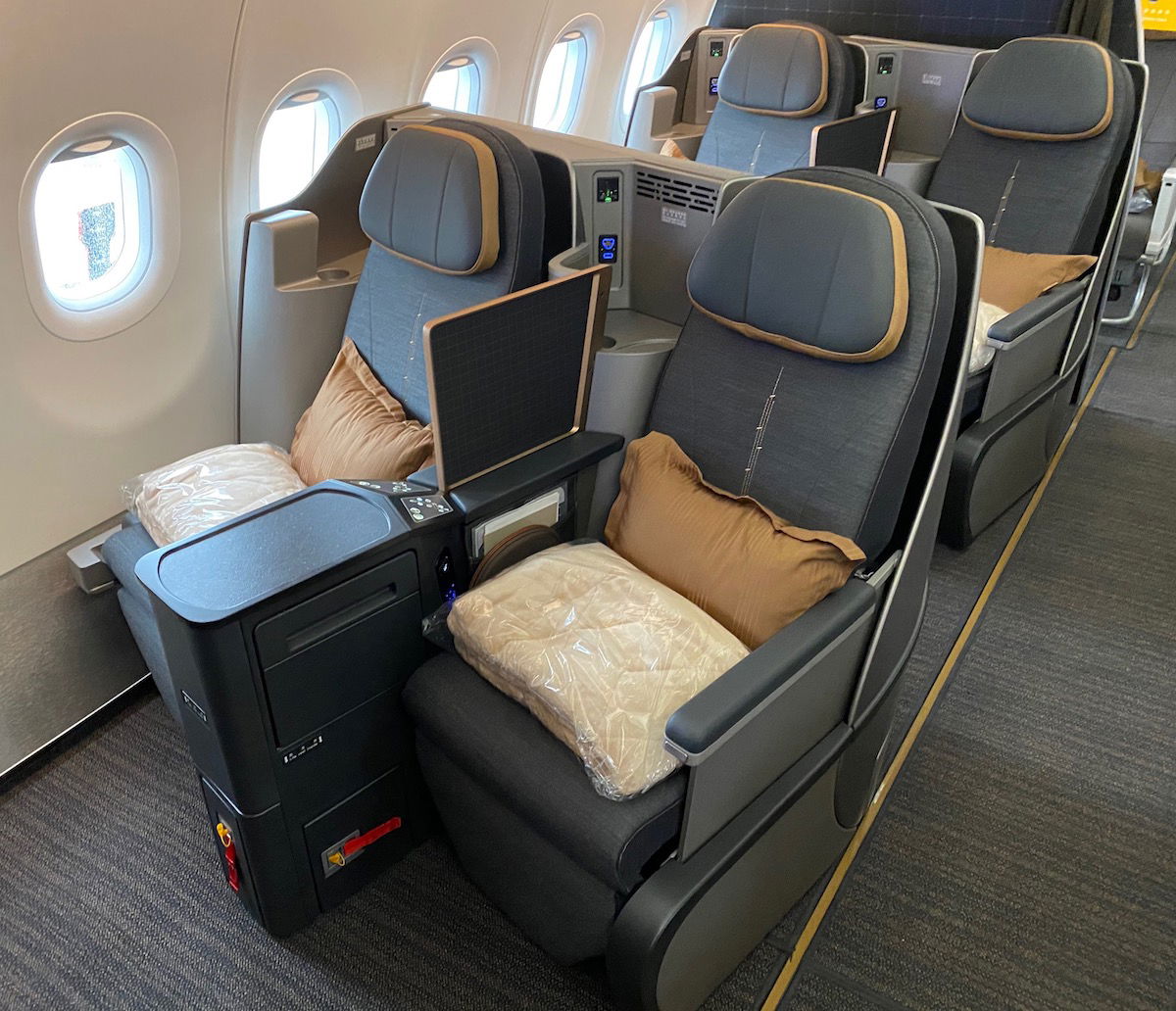 Starlux Airlines business class seats A321neo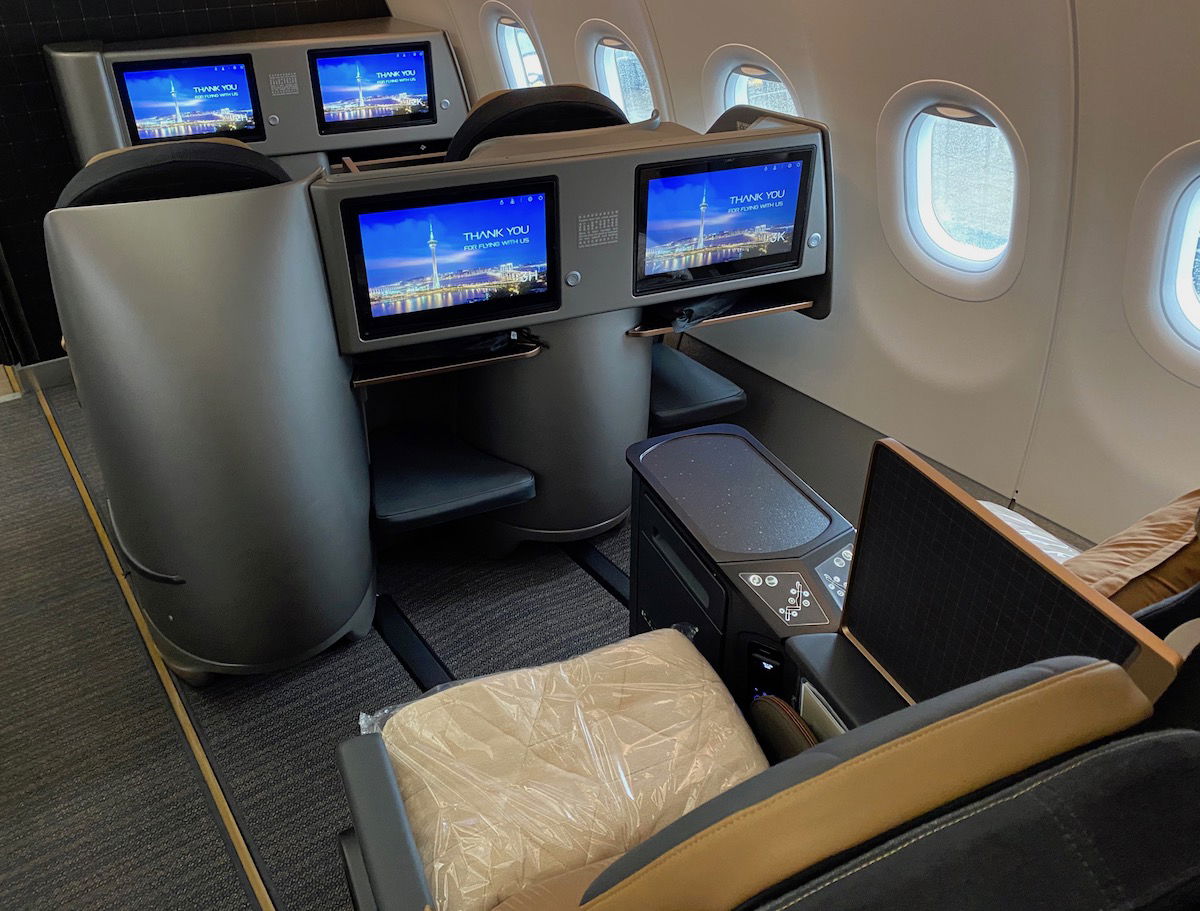 Starlux Airlines business class seats A321neo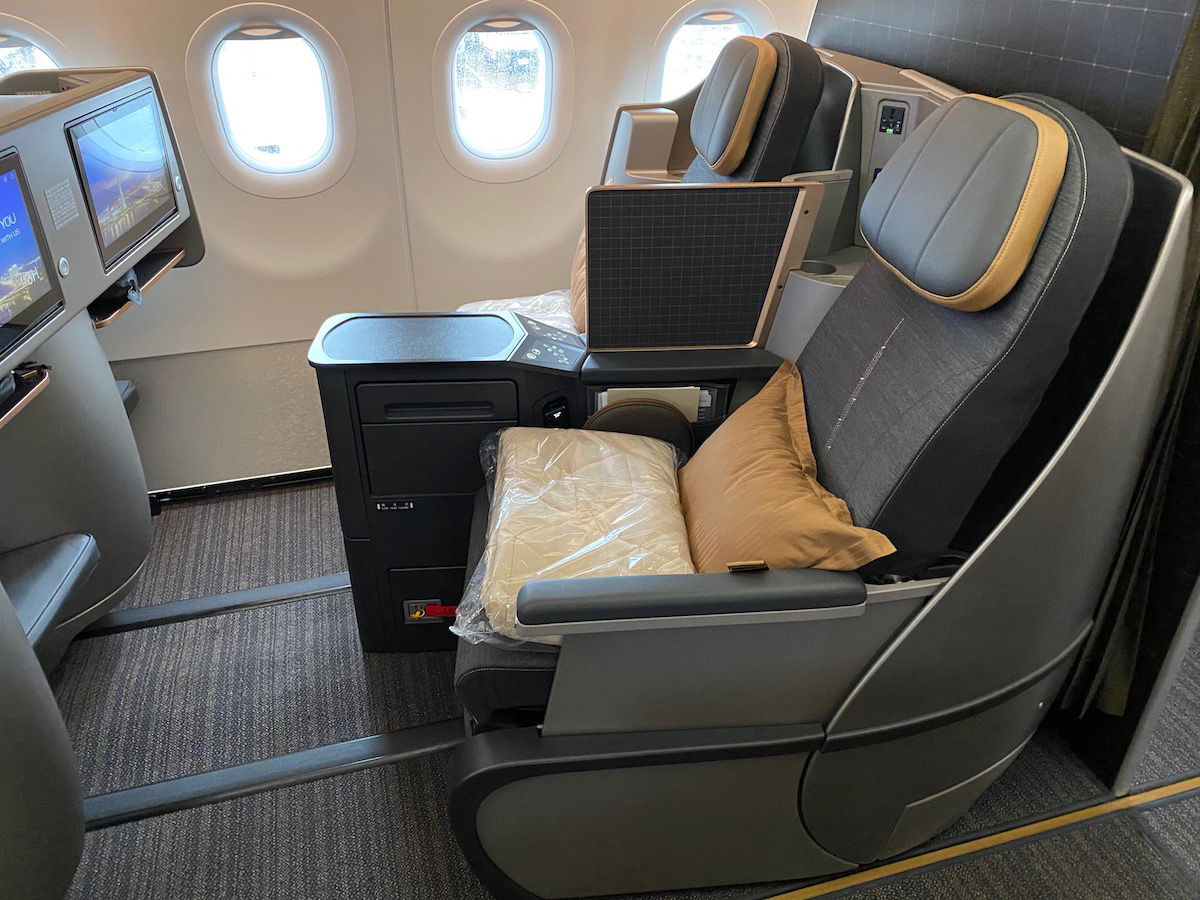 Starlux Airlines business class seats
I had assigned myself seat 3C, the aisle seat on the left side in the second row. As you'll see, each seat has a fixed privacy partition. It's low enough so that most people can look over it, but at least it adds a bit of privacy between seats when you're trying to sleep.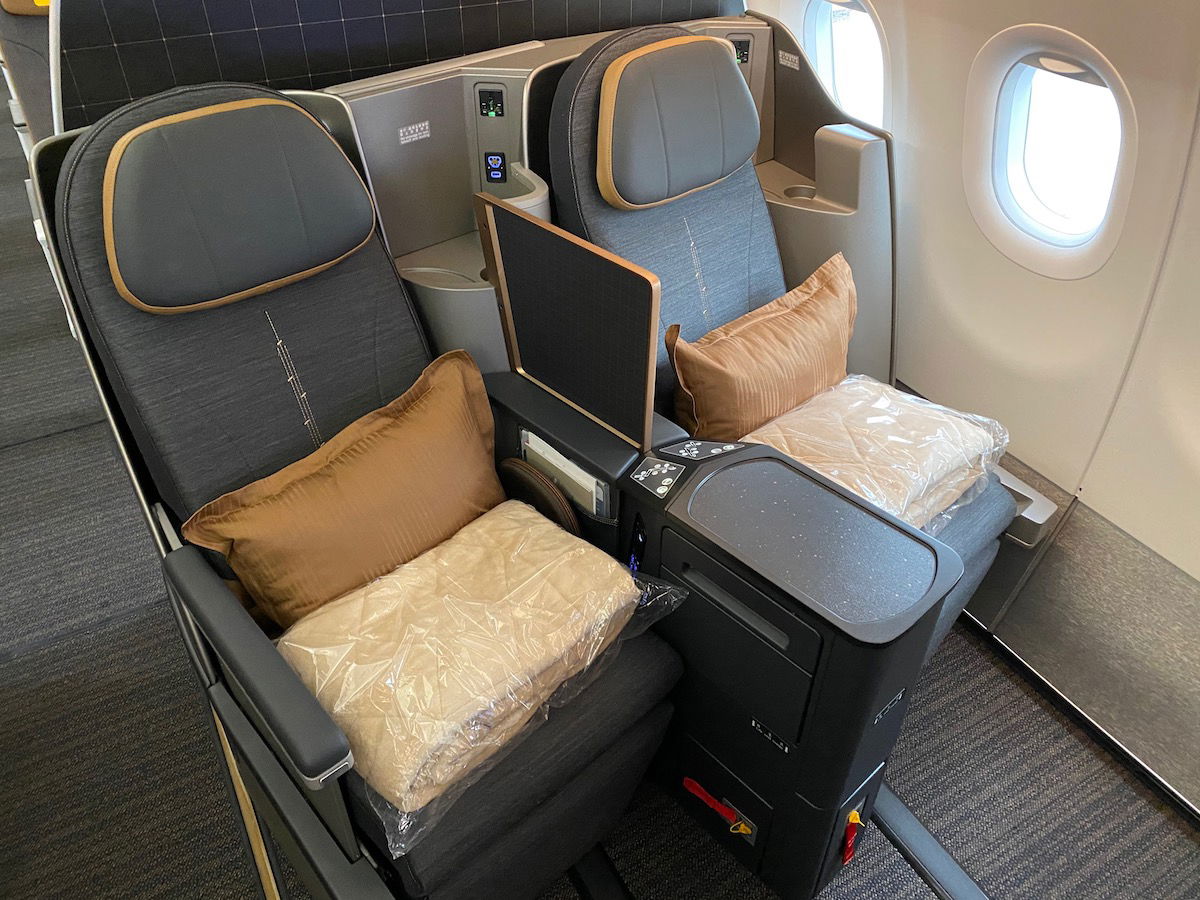 Starlux Airlines business class seats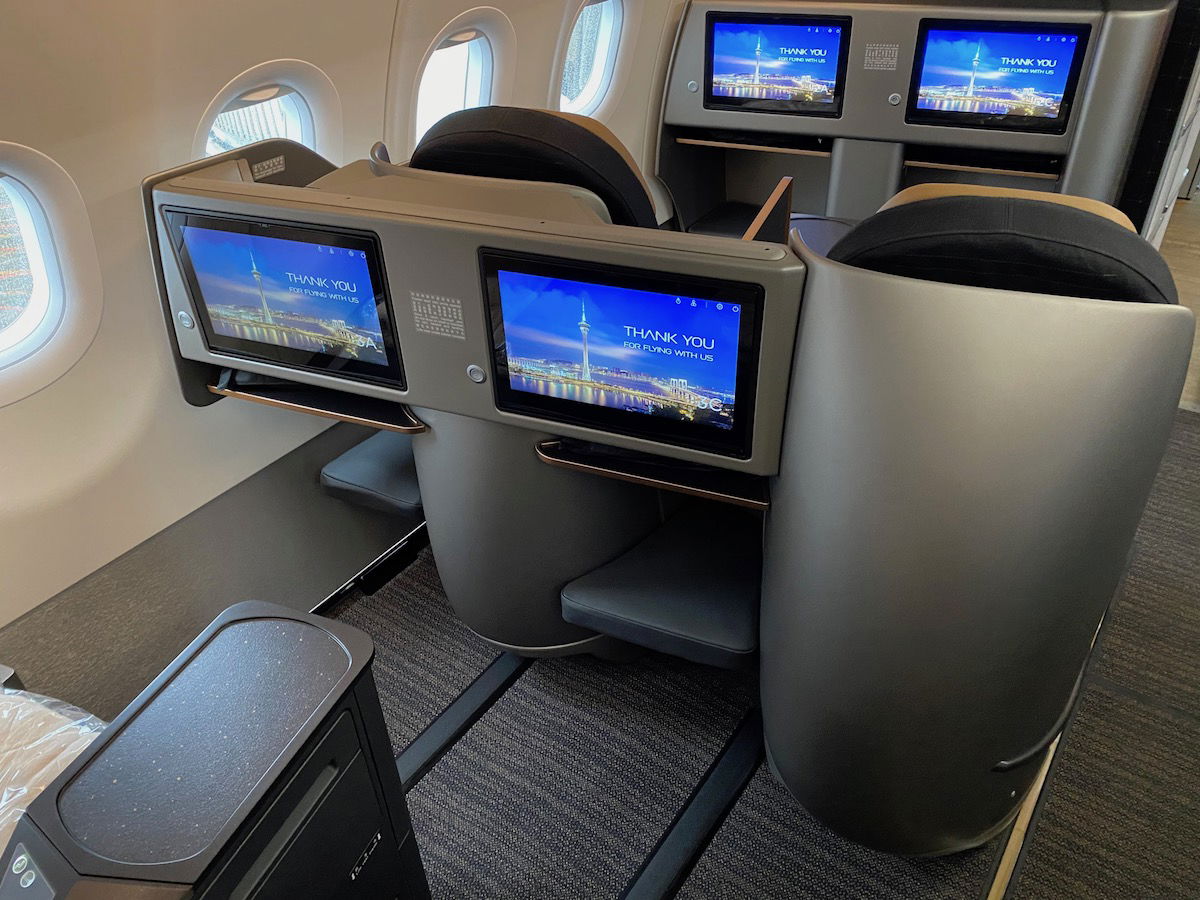 Starlux Airlines business class seats
As is the norm for these seats, there was an exposed storage compartment to the back side of the seat, with a headphone jack and power outlet.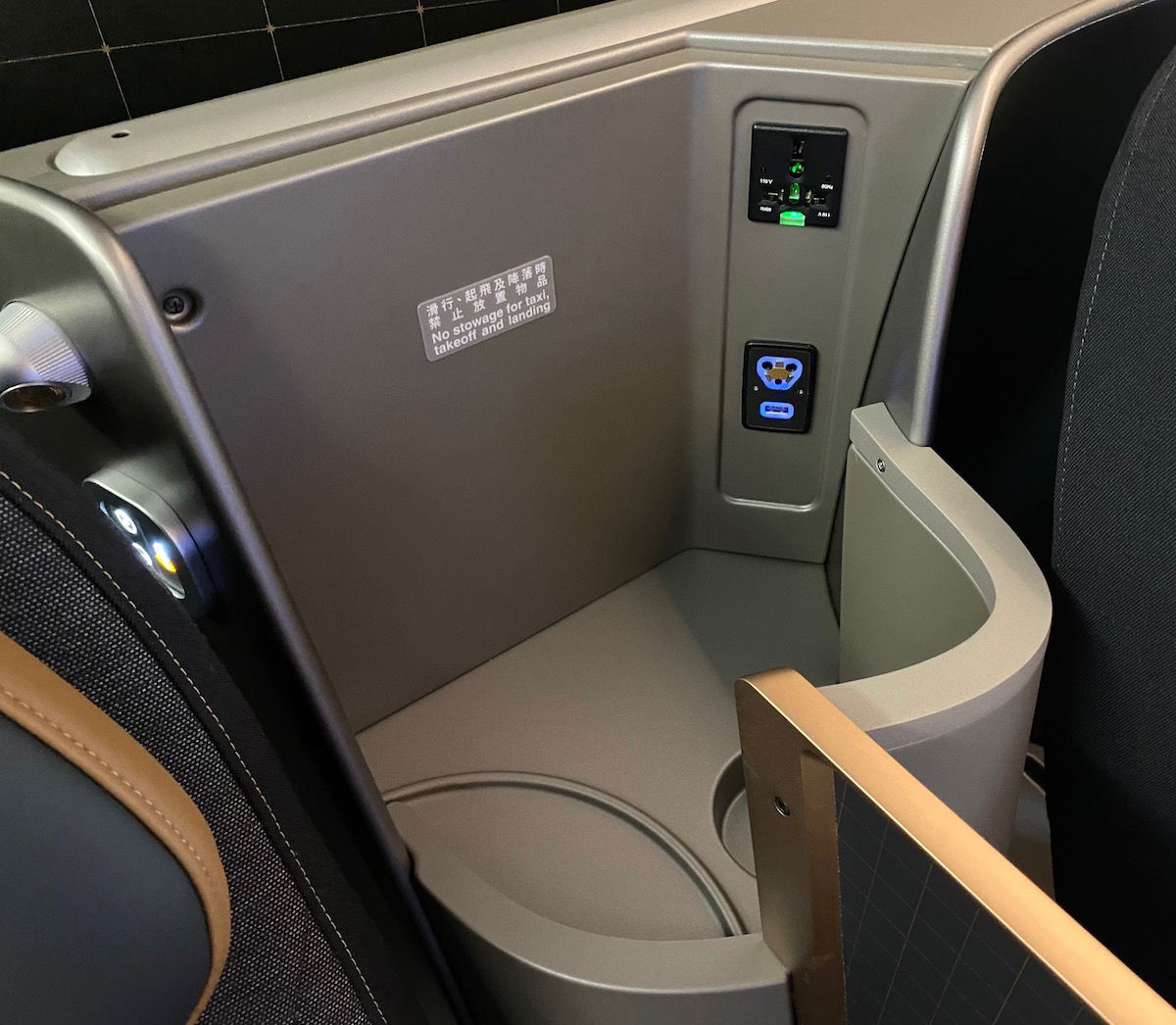 Starlux Airlines business class seat storage
The seat control functions were on a panel on the center console, and were easy to use.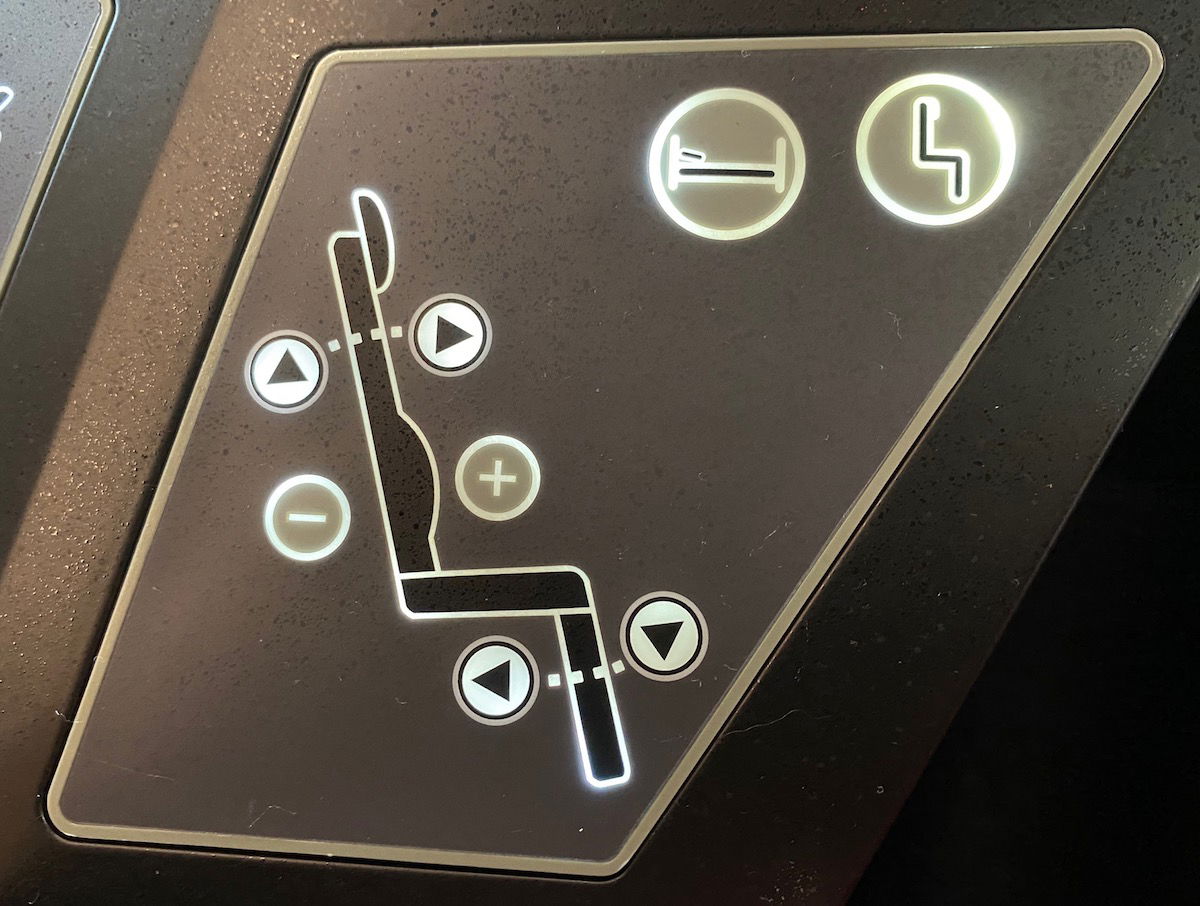 Starlux Airlines business class seat controls
The tray table extended from the center armrest, and could be folded over in half.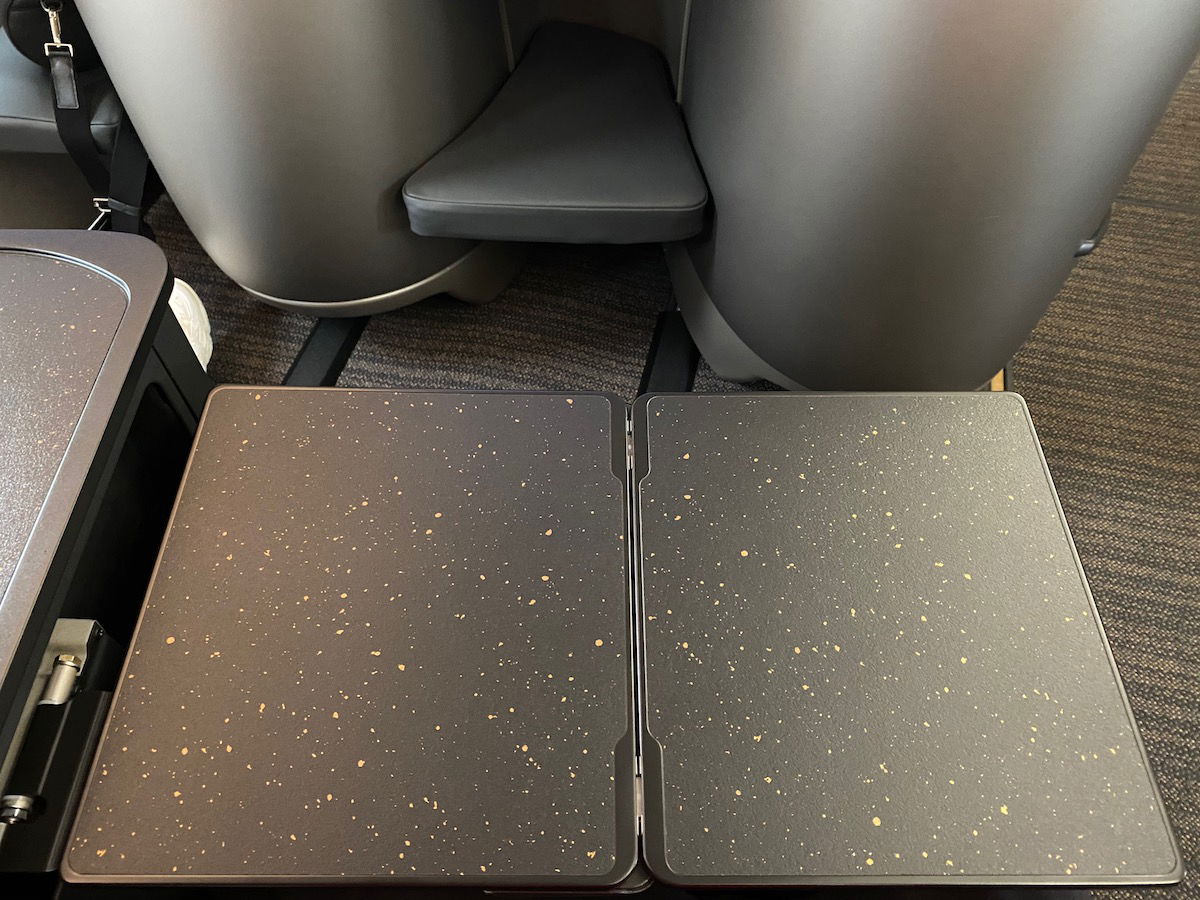 Starlux Airlines business class seat tray table
Entertainment controllers were also underneath the center armrest.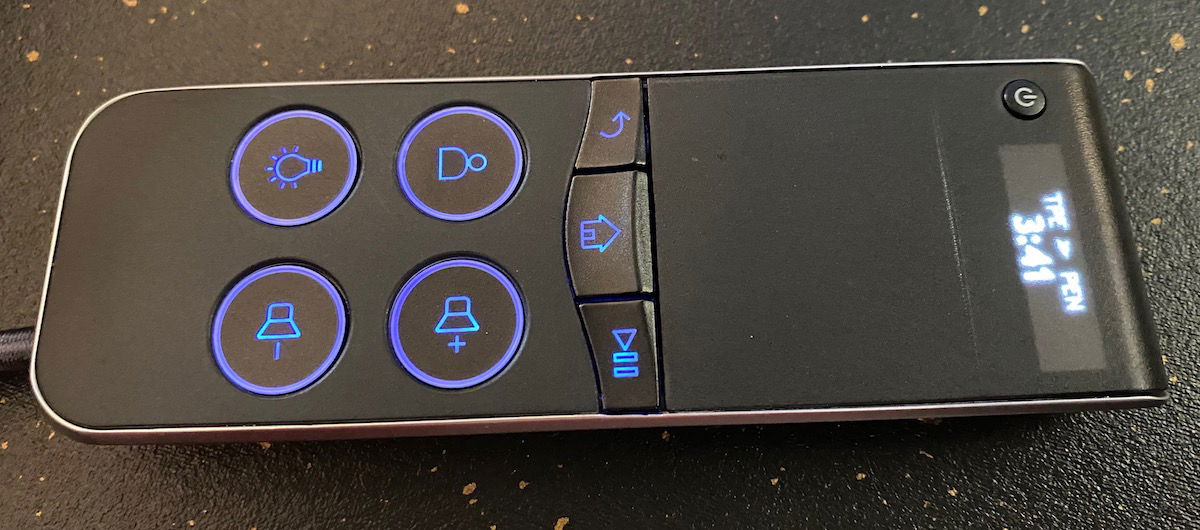 Starlux Airlines business class entertainment controls
One downside to these "Diamond" seats Is that the footwells are quite small, which is because they're to the sides of the seats in front.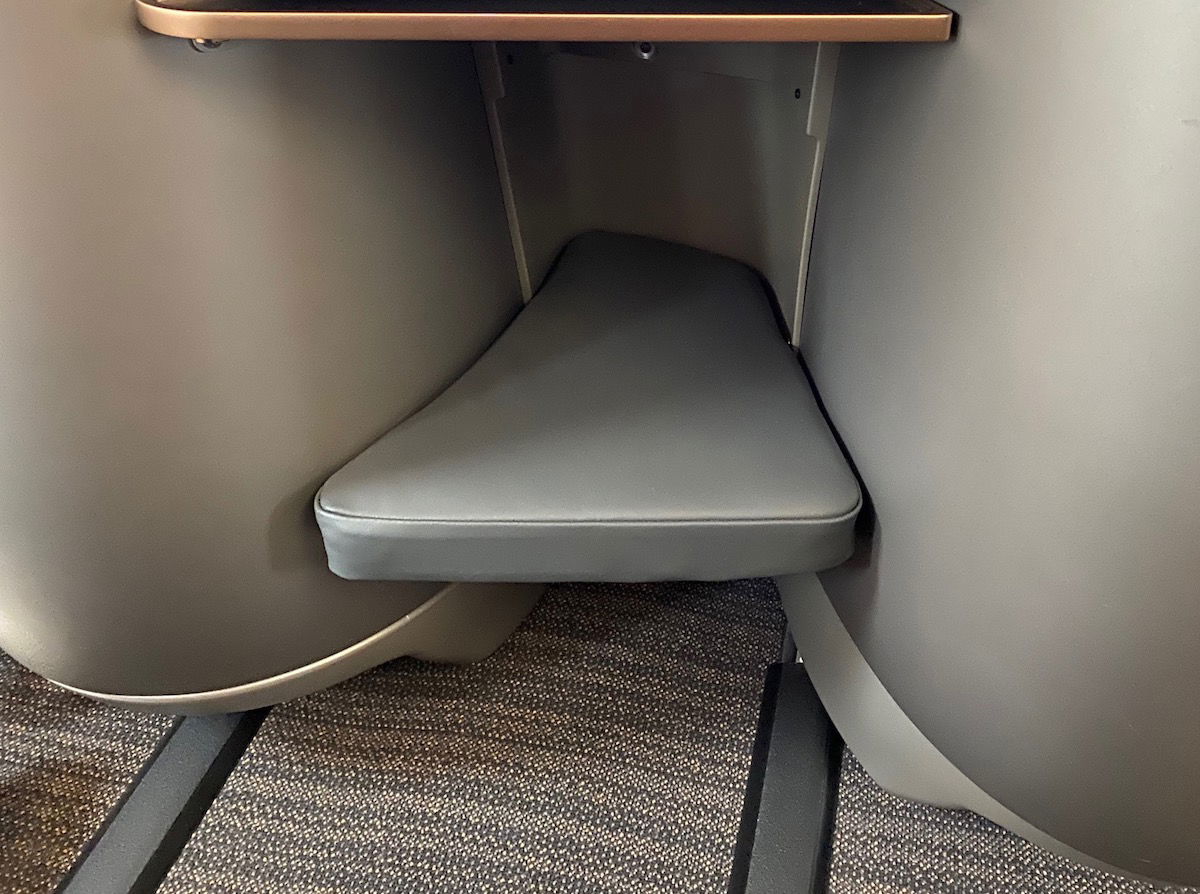 Starlux Airlines business class seat footwell
On Starlux Airlines I'd highly recommend sitting in the first row of business class (row two), because the footwells are significantly bigger.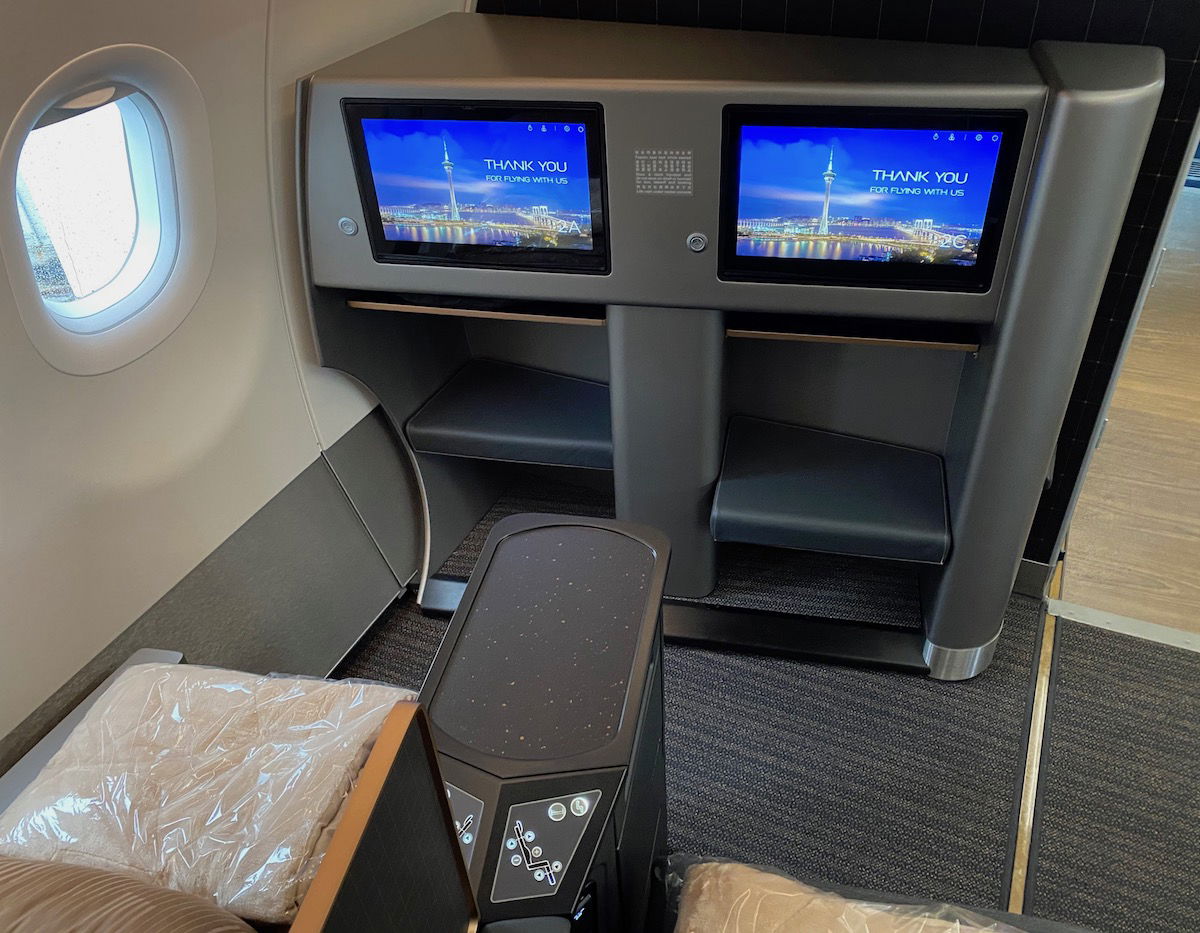 Starlux Airlines business class seats
Each seat had an individual reading light and an air nozzle, which is much appreciated.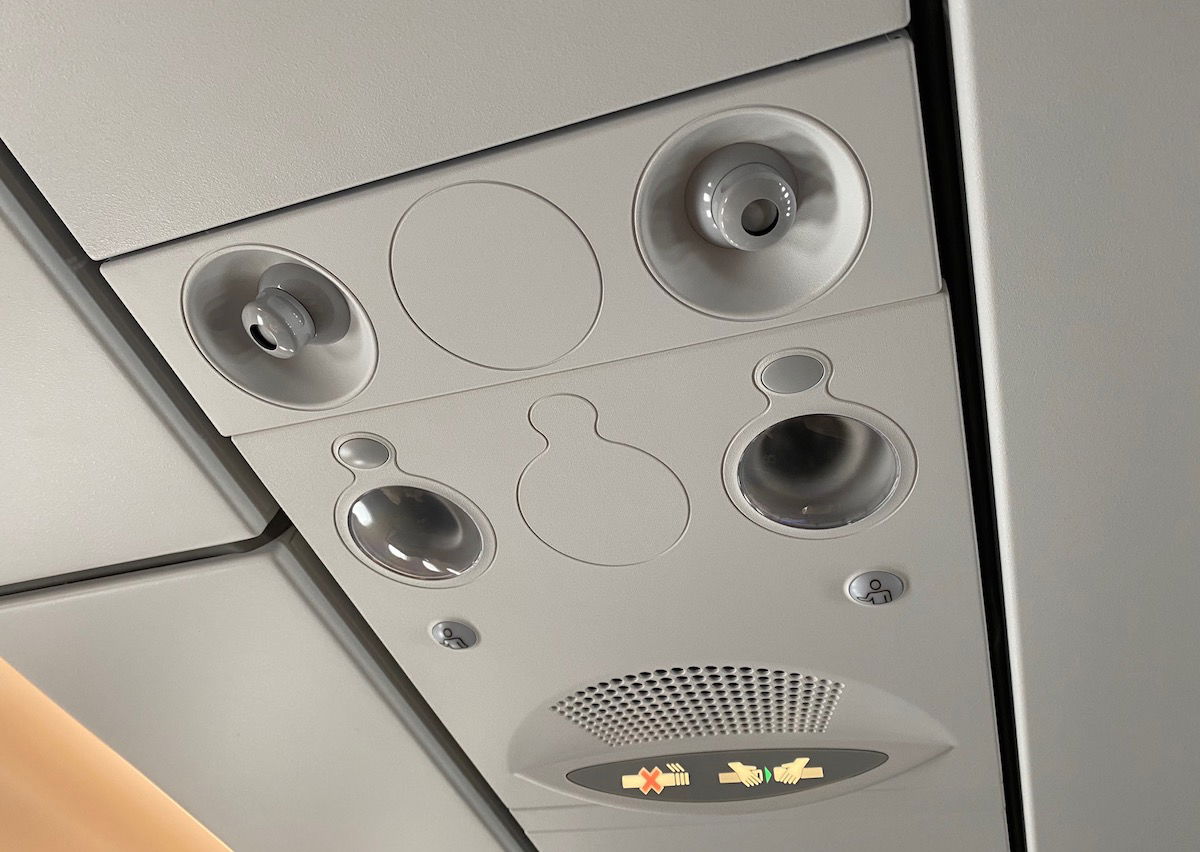 Starlux Airlines business class individual air nozzles
As far as the amenities go, there were pillows and blankets at each seat, which were super comfy. The pillows were quite thick, while the blankets were cozy and huge.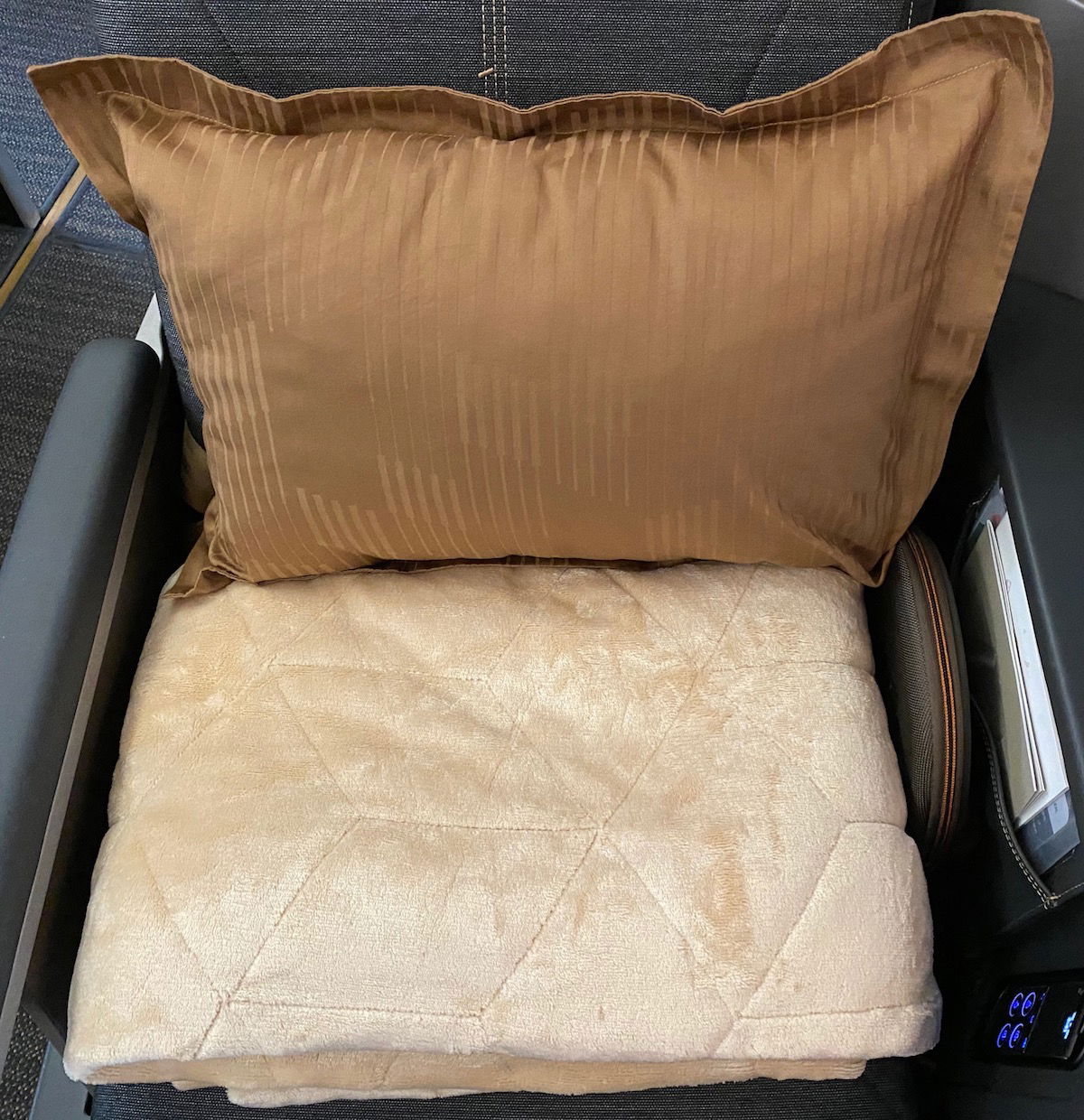 Starlux Airlines business class pillow & blanket
There were also a pair of reasonably high quality noise canceling headphones, with full-on Starlux branding.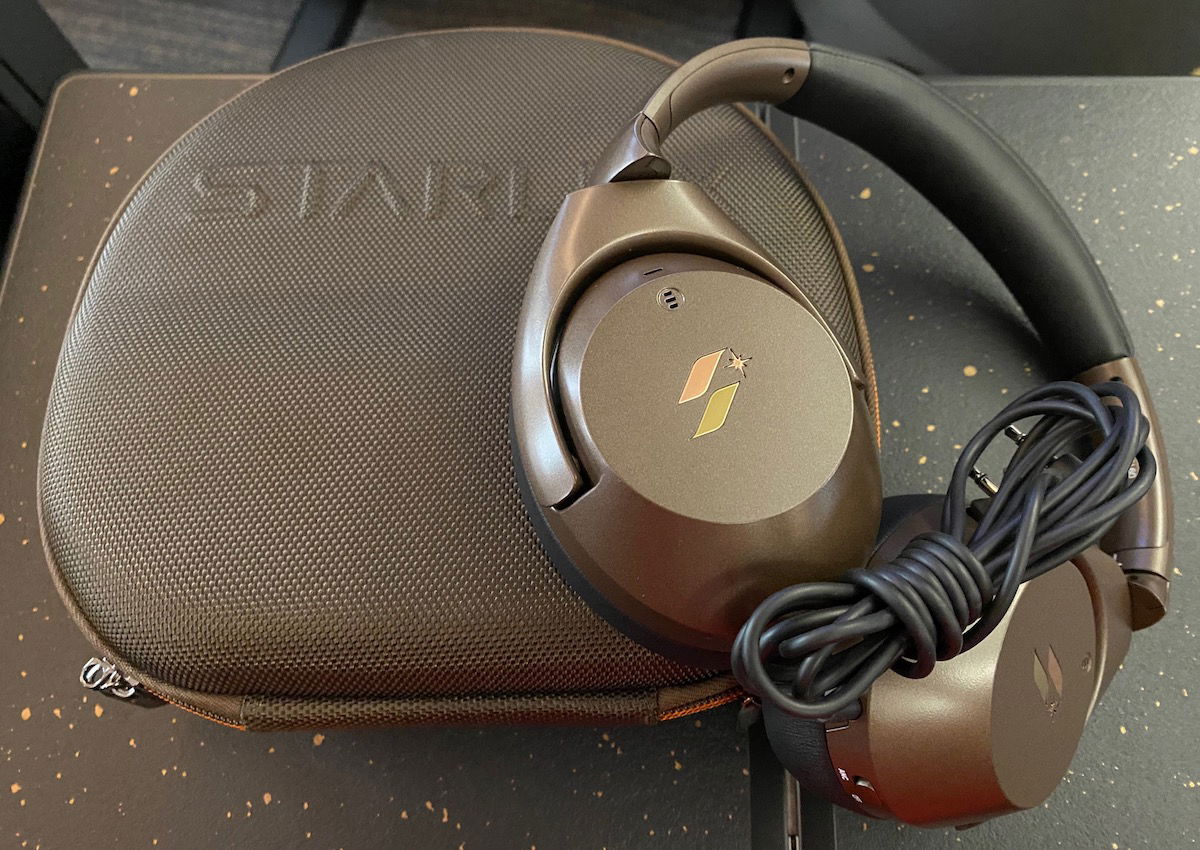 Starlux Airlines business class headphones
Then there were slippers.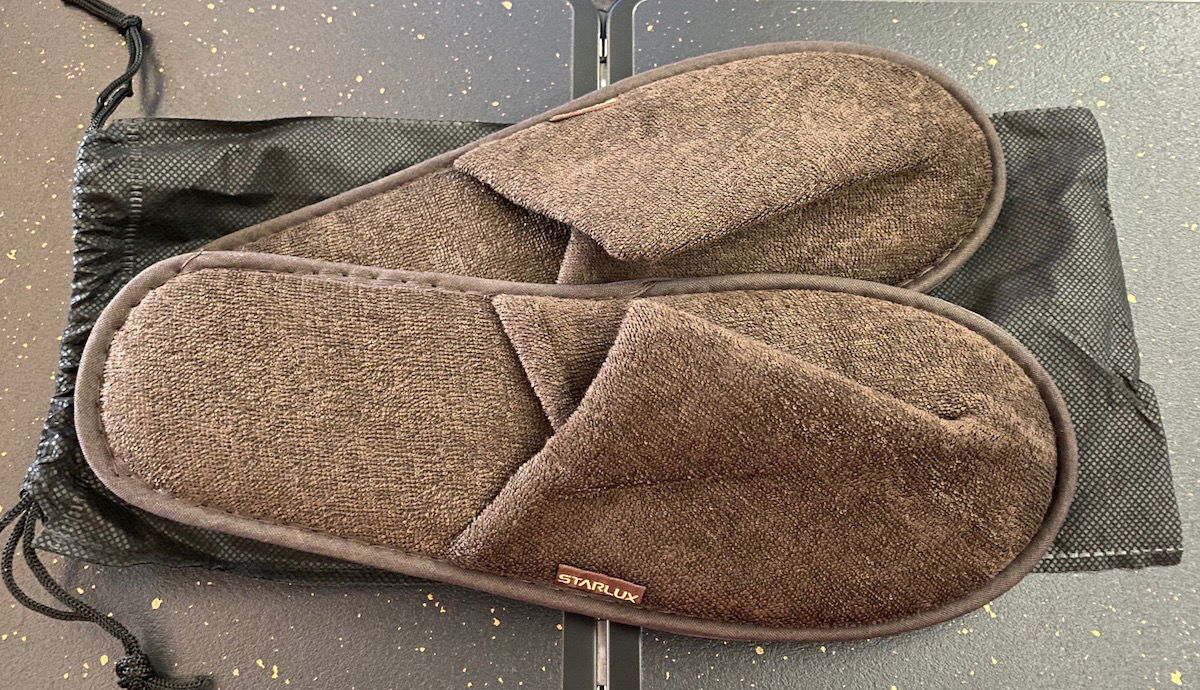 Starlux business class slippers
Then in the literature pocket were the menu and wine list.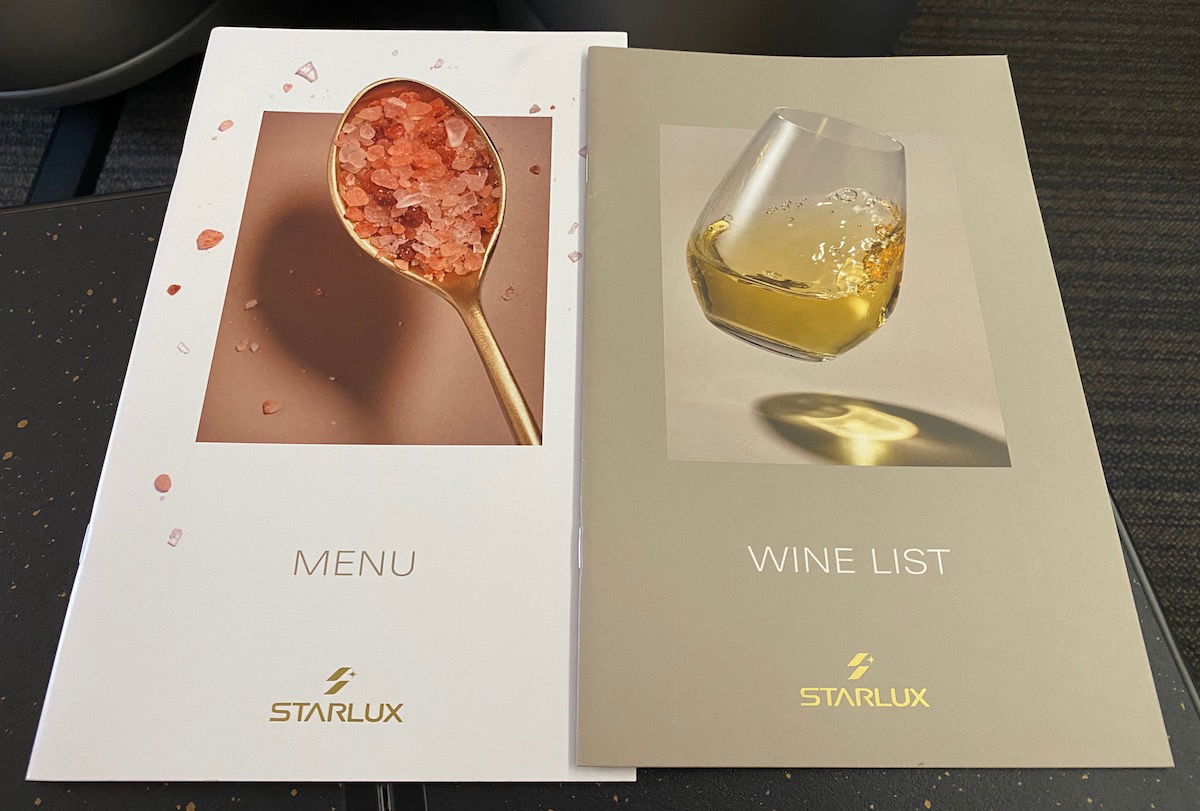 Starlux business class menu & wine list
Literally a couple of minutes after settling in the flawless service began. Grace, the business class flight attendant, introduced herself and welcomed me onboard on behalf of the purser as well (who was also named Grace).
She confirmed she was pronouncing my last name correctly, and then throughout the entire flight I was addressed by name in a natural way (as was everyone in business class).
To kick off the flight I was offered the signature pre-departure drink, which was a cold-pressed guava and pineapple juice with a warm towel.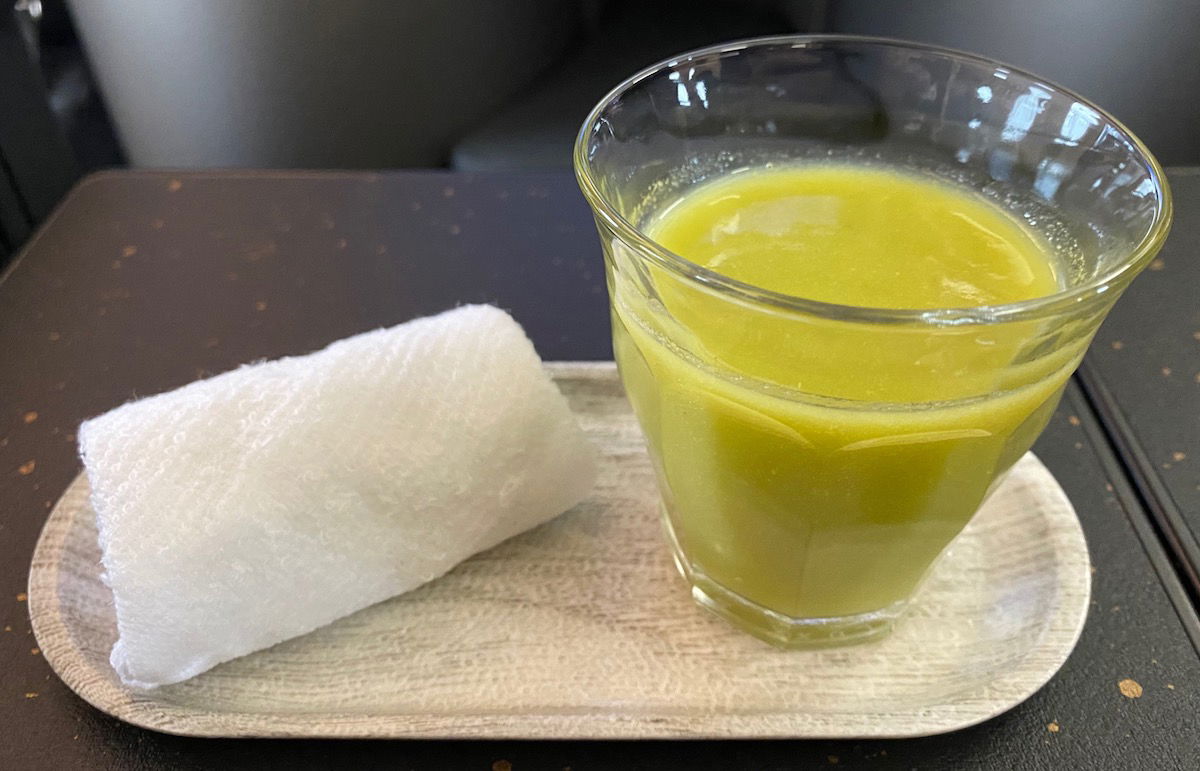 Starlux business class pre-departure drink and towel
Since I tend to notice this stuff and care about it more than most, I also loved Starlux Airlines' soothing boarding music.
Every business class seat was taken, while I'd say the flight was probably 90% full in economy.
As you'd expect, it was a very leisure oriented crowd. In business class there was a mother with her young son, two young ladies traveling together, and then a group of three young guys.
At 9:20AM the captain made a welcome aboard announcement, and she informed us of our flight time of 4hr31min (which is awfully long for a flight with a 4hr40min block), and anticipated smooth flight.
At 9:25AM we began our pushback, at which point Starlux Airlines' ridiculously adorable safety video was screened:
That's not your average startup airline safety video, eh?
At 9:30AM we began our taxi, and after a very short taxi we were cleared for takeoff at 9:35AM.
Just five minutes after takeoff the seatbelt sign was turned off, and about 10 minutes after takeoff purser Grace stopped by to personally introduce herself to each passenger, and she even apologized she wasn't able to introduce herself during boarding.
I can't emphasize enough how genuinely friendly and polished the business class team of Grace and Grace were. I've flown a lot of startup airlines, and it almost always feels like amateur hour. Yet in both cases it felt like they had been doing the job for a decade (more later on that).
Anyway, as we continued our climb out I browsed the personal entertainment selection. The selection was quite good, but not amazing. There were about 65 movies and about 55 different TV shows, though there were multiple episodes of some TV shows not accounted for in that total.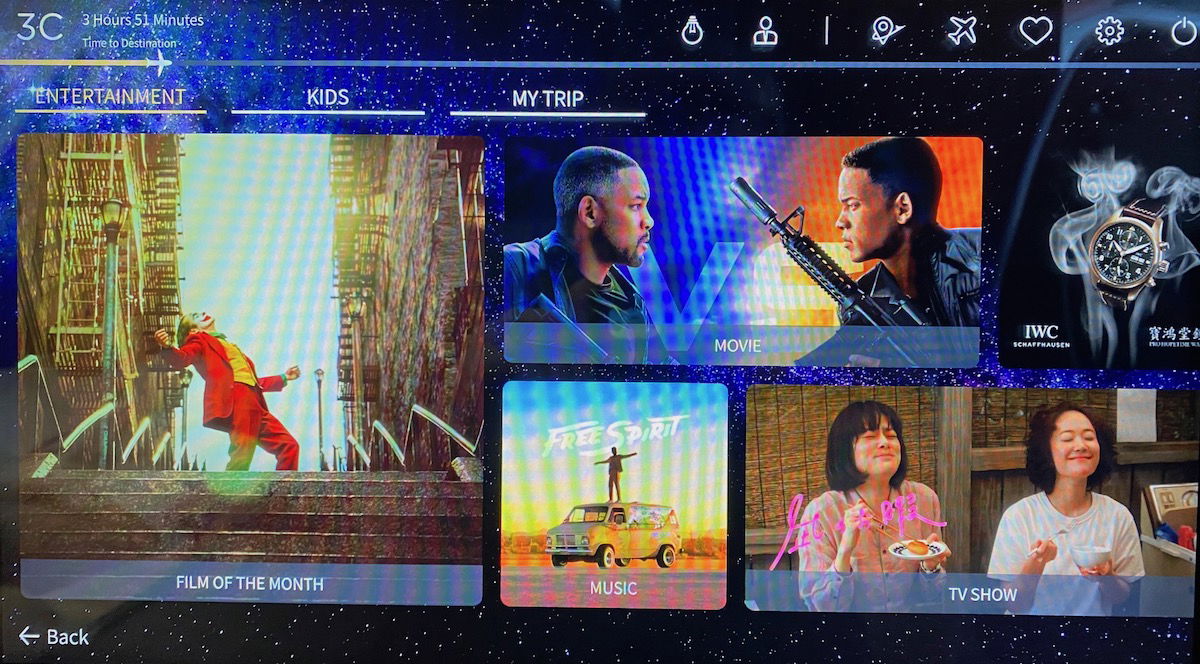 Starlux Airlines entertainment selection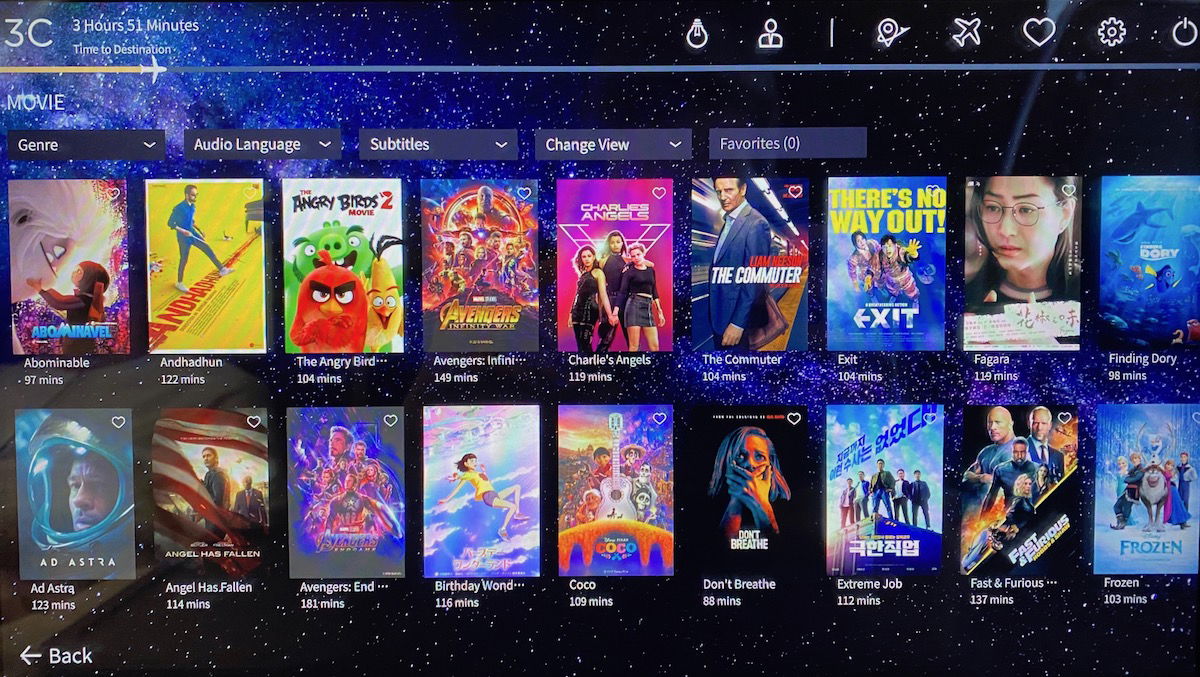 Starlux Airlines entertainment selection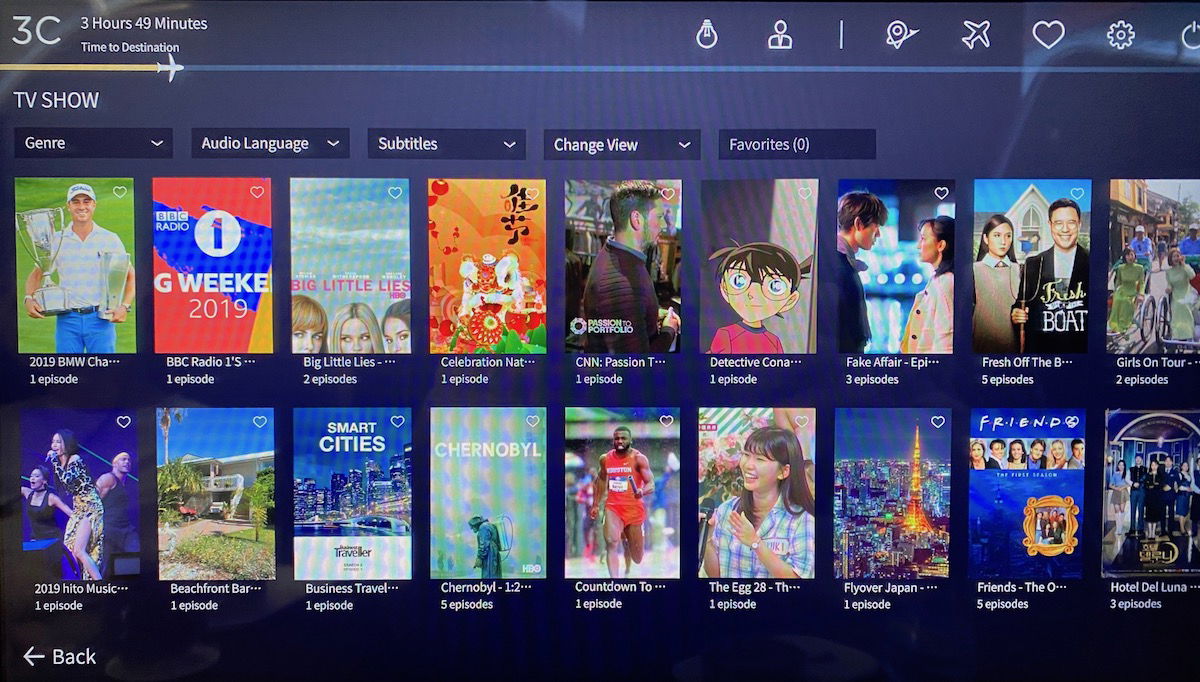 Starlux Airlines entertainment selection
For the most part I just watched the moving map on my personal television.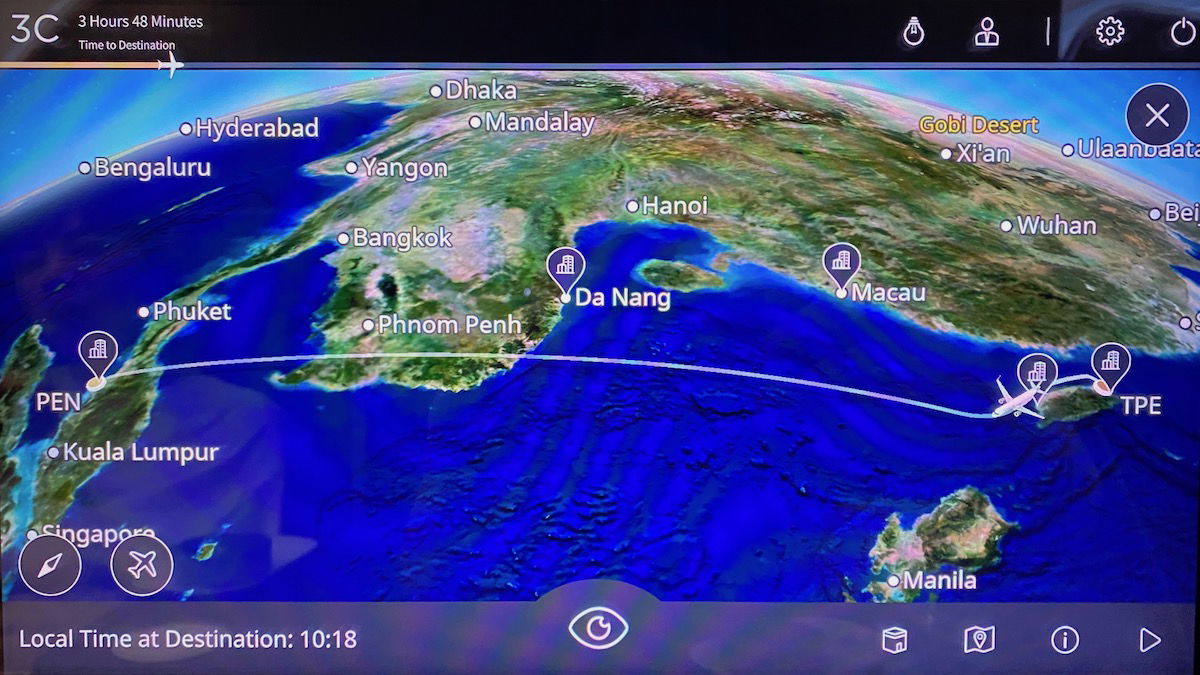 Map enroute to Penang
Starlux Airlines has Wi-Fi on their A321neos.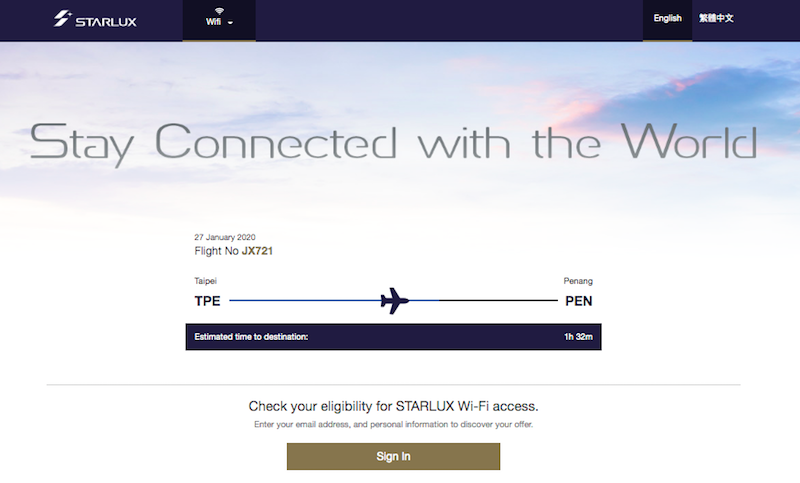 Starlux Airlines Wi-Fi system
Ordinarily the pricing is as follows:
Free messaging is available through WhatsApp, WeChat, Instagram, Viber, Messenger, iMessage, and Line
You can buy 30MB of data for $5
You can buy 100MB of data for $10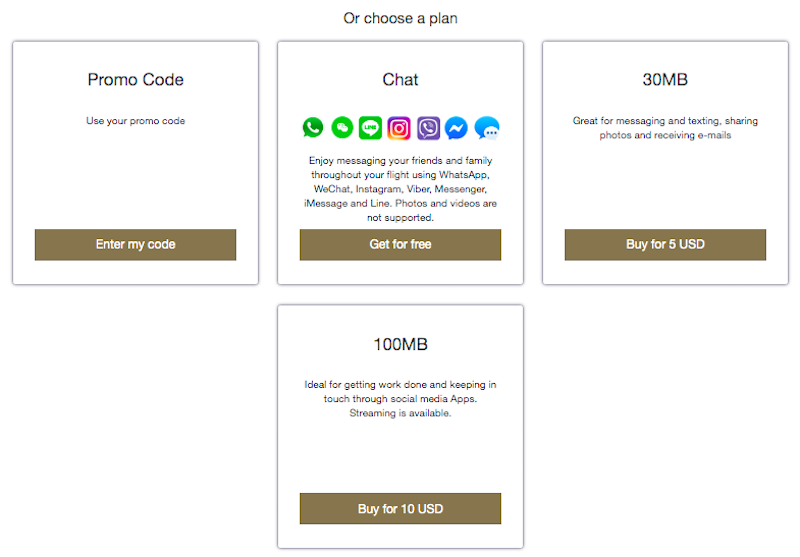 Starlux Airlines Wi-Fi pricing
However, business class passengers receive unlimited free Wi-Fi with no data caps. You simply have to enter your email address, last name, and date of birth (and make sure it matches your ticket), and then you'll automatically be connected. You can even switch between devices.


Starlux Airlines free business class Wi-Fi log-in
Speeds weren't amazing, but for free Wi-Fi with no data caps, I was very happy.
Anyway, about 20 minutes after takeoff meal and drink orders were taken. Starlux Airlines lets you pre-order meals, so I had already done that.
The menu read as follows: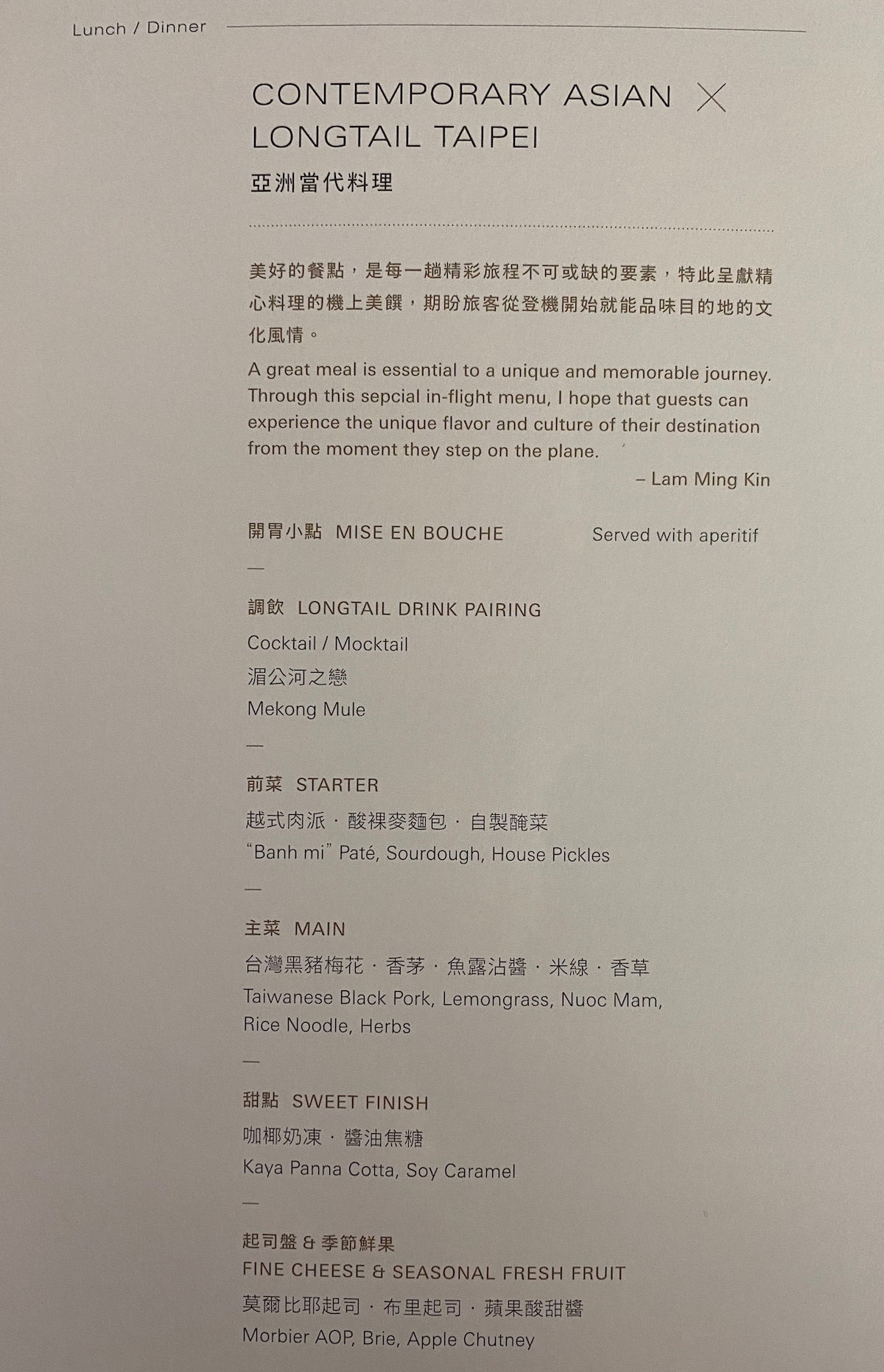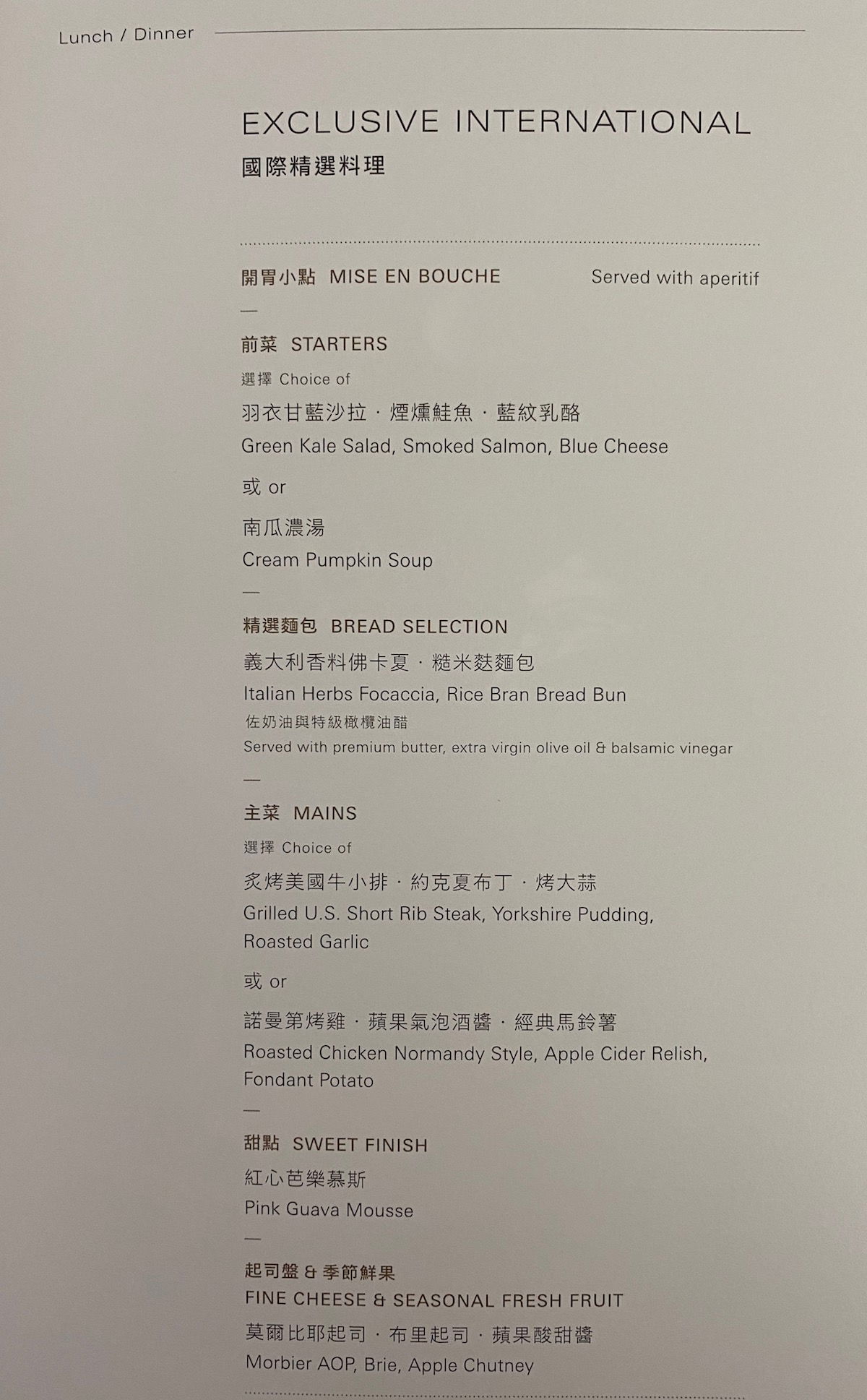 The drink list read as follows: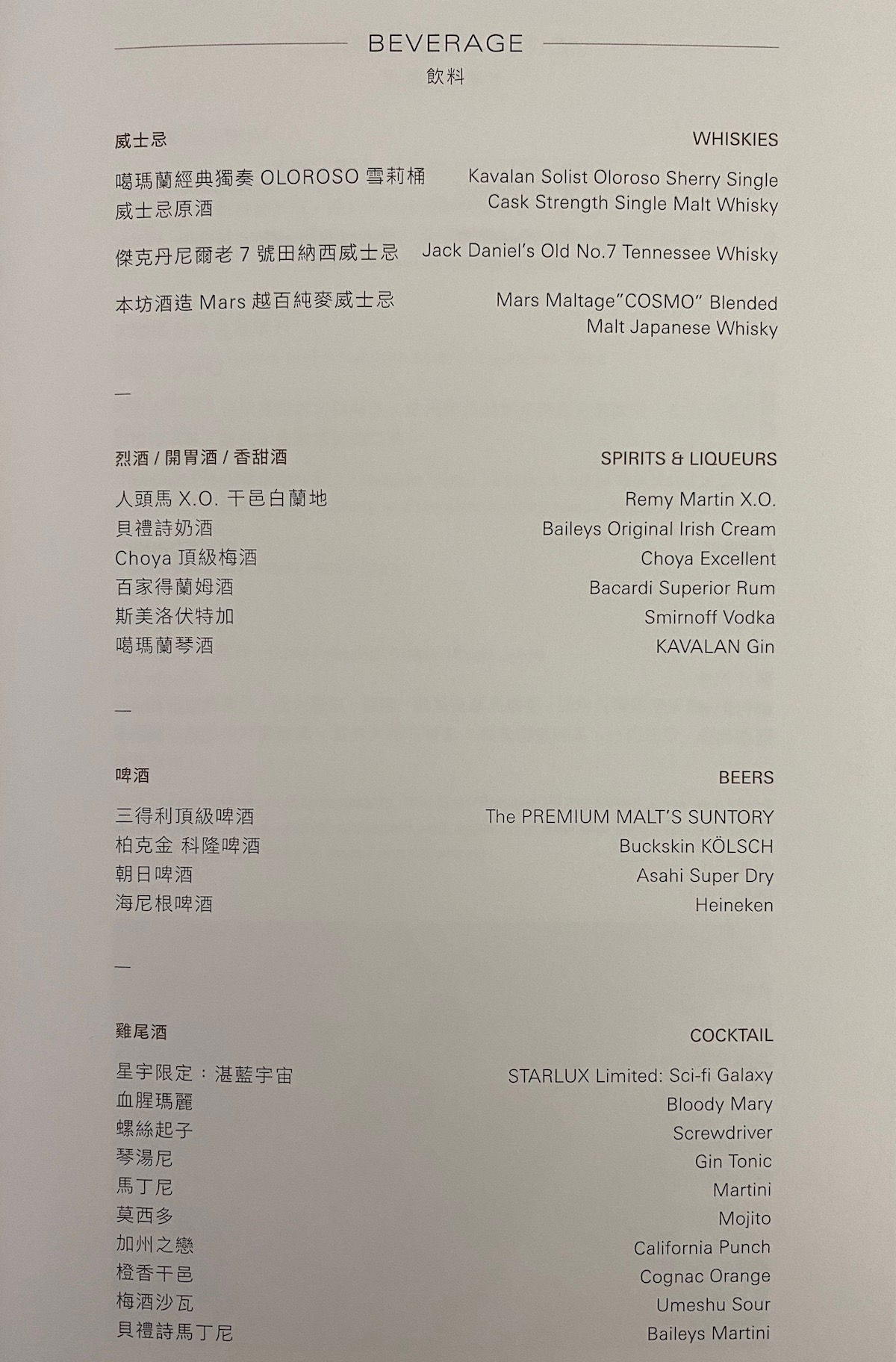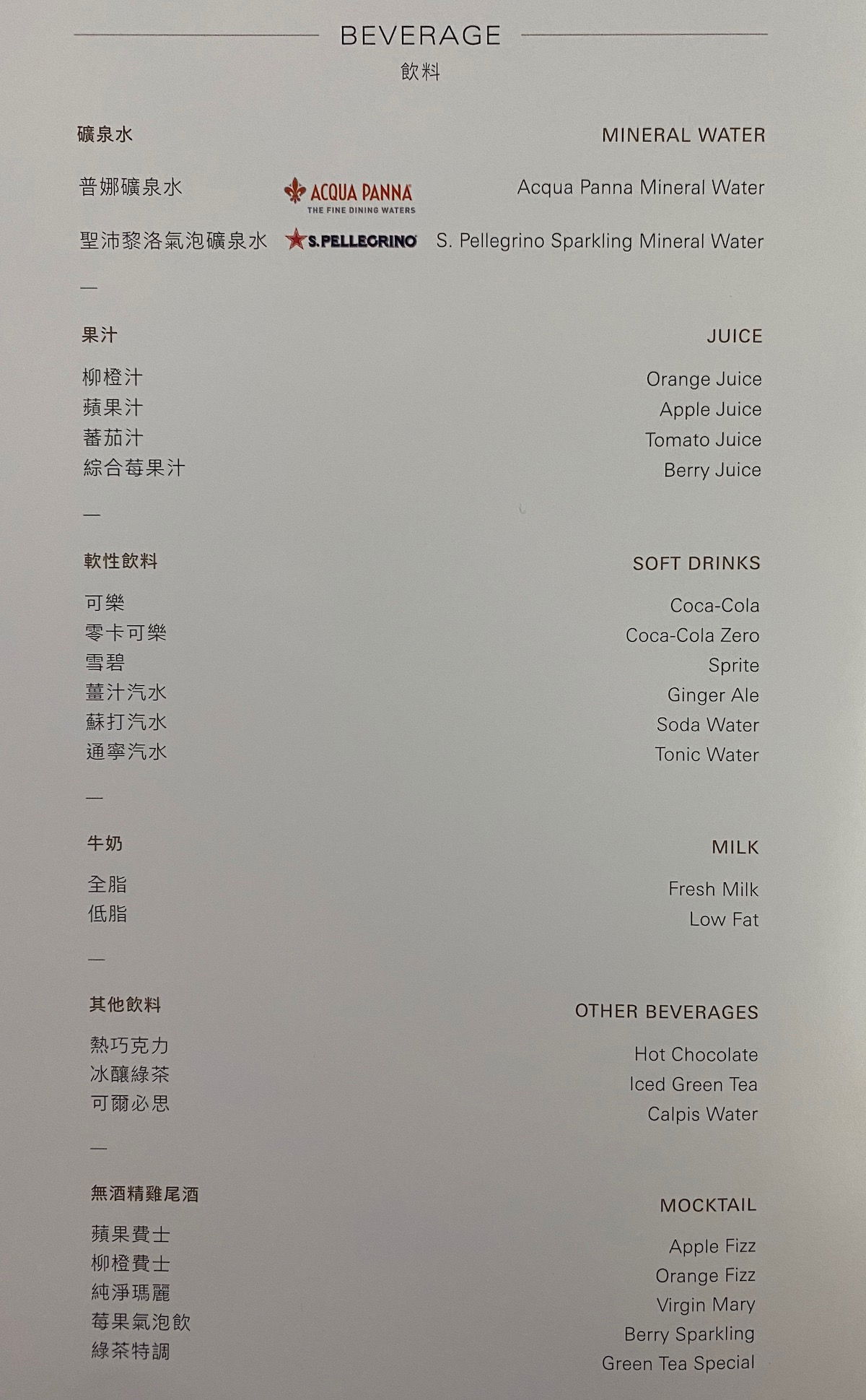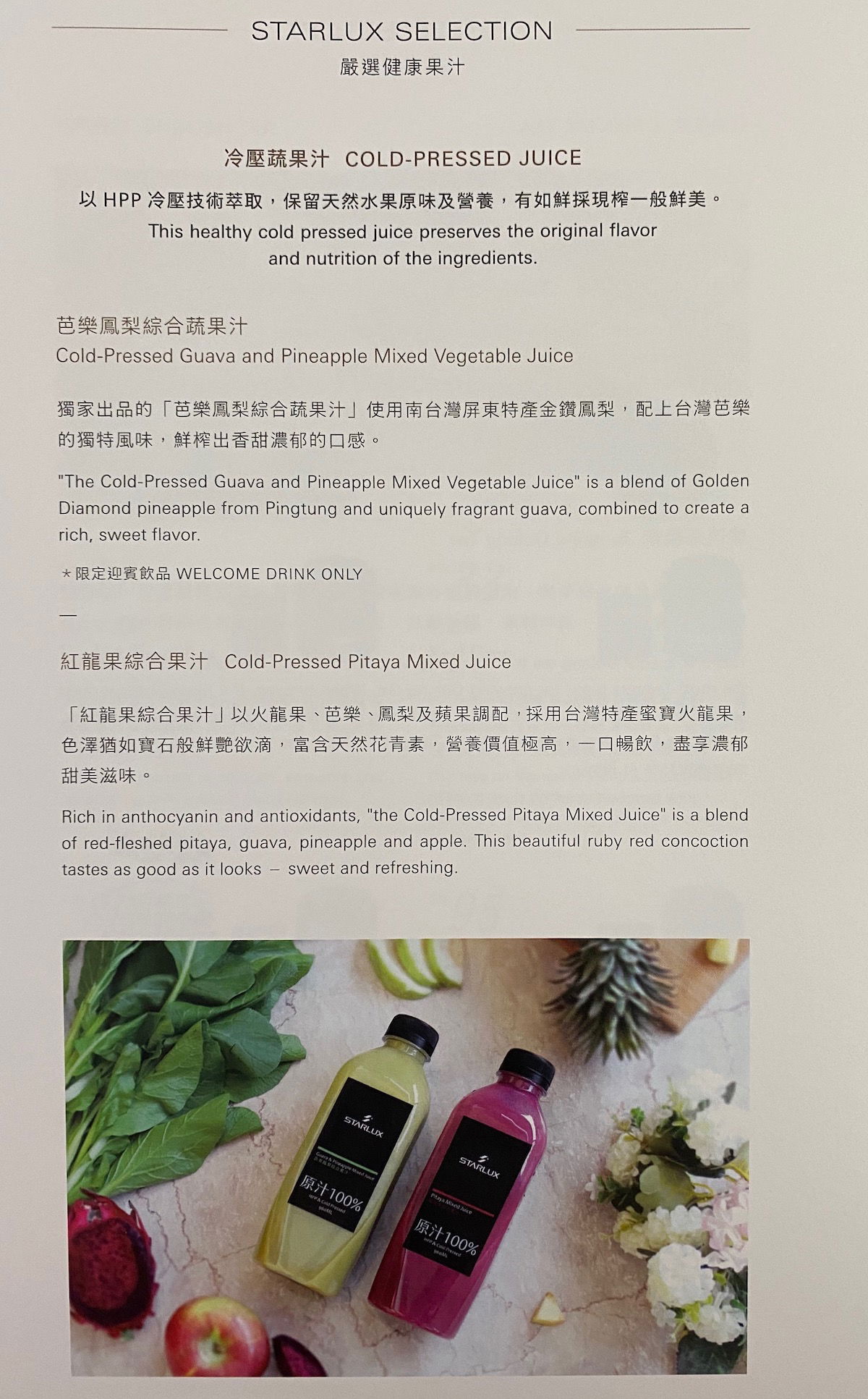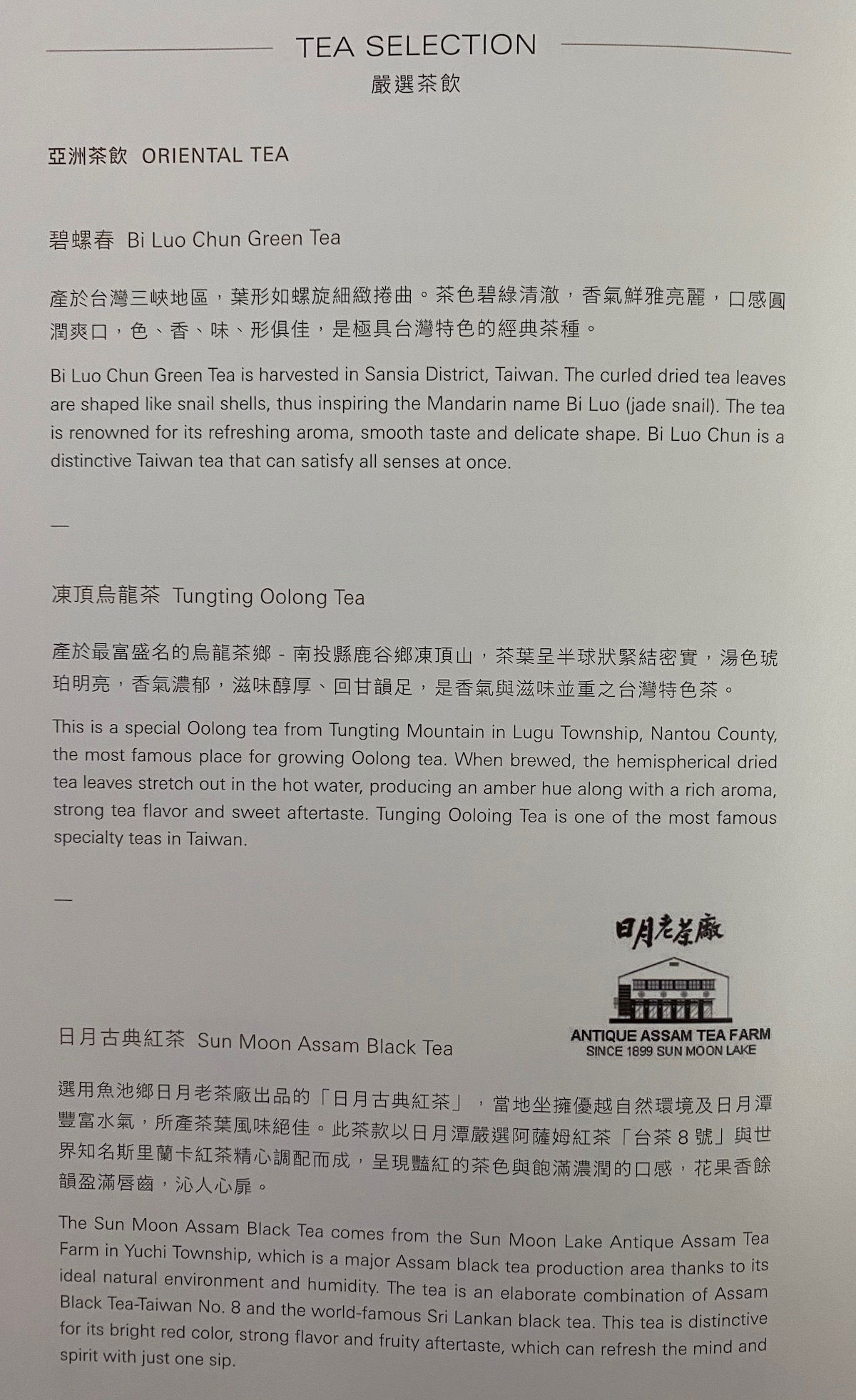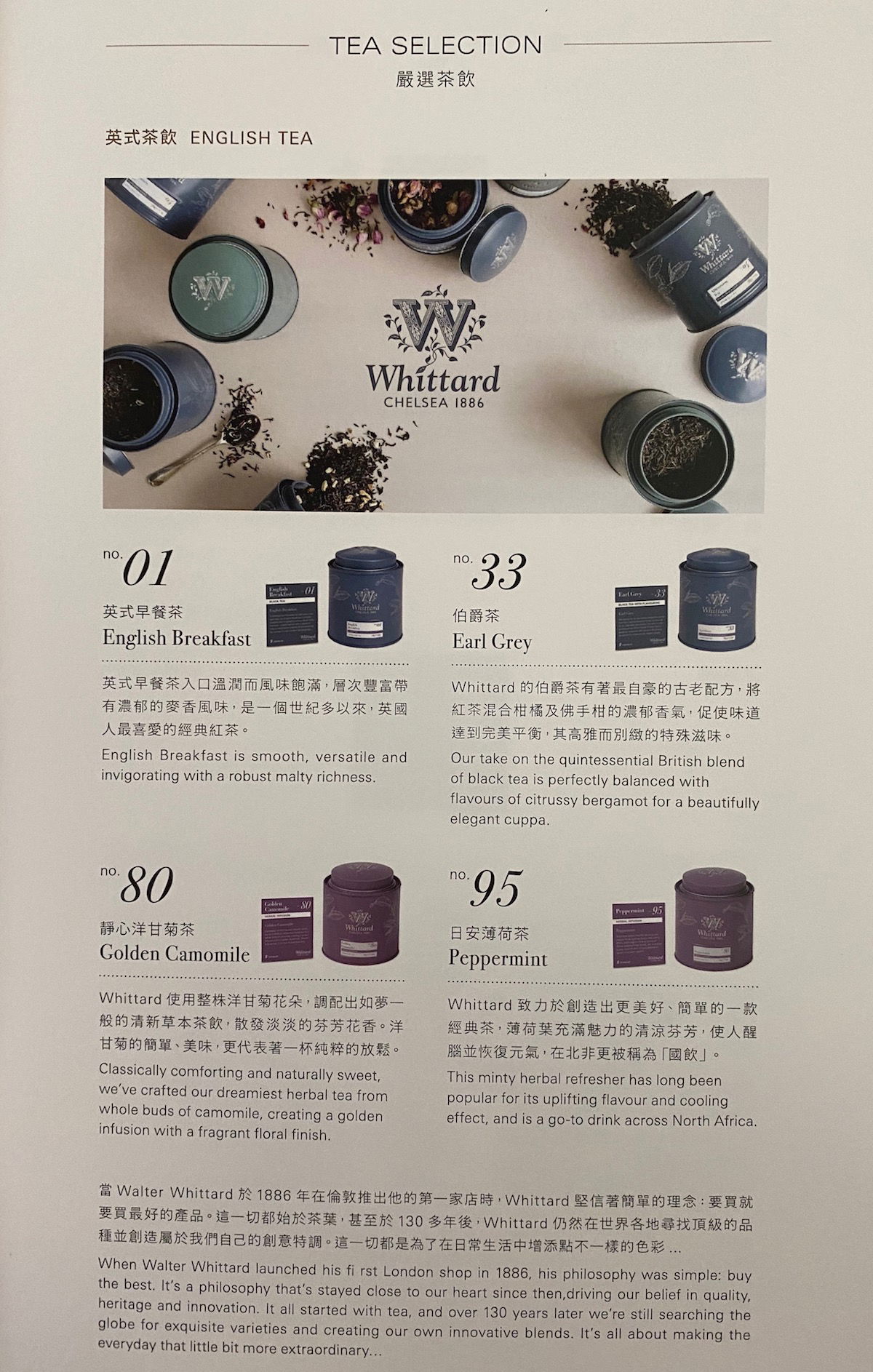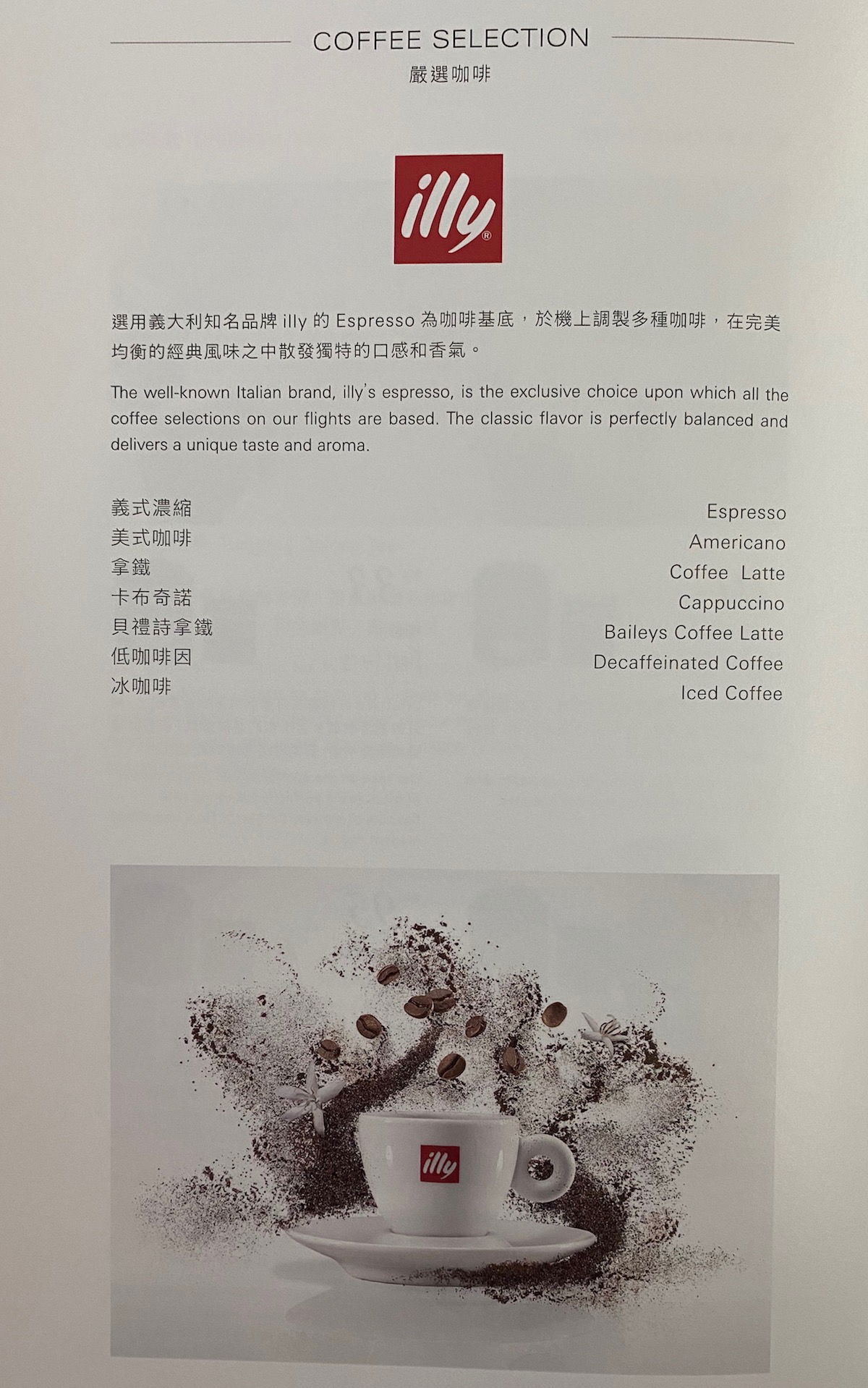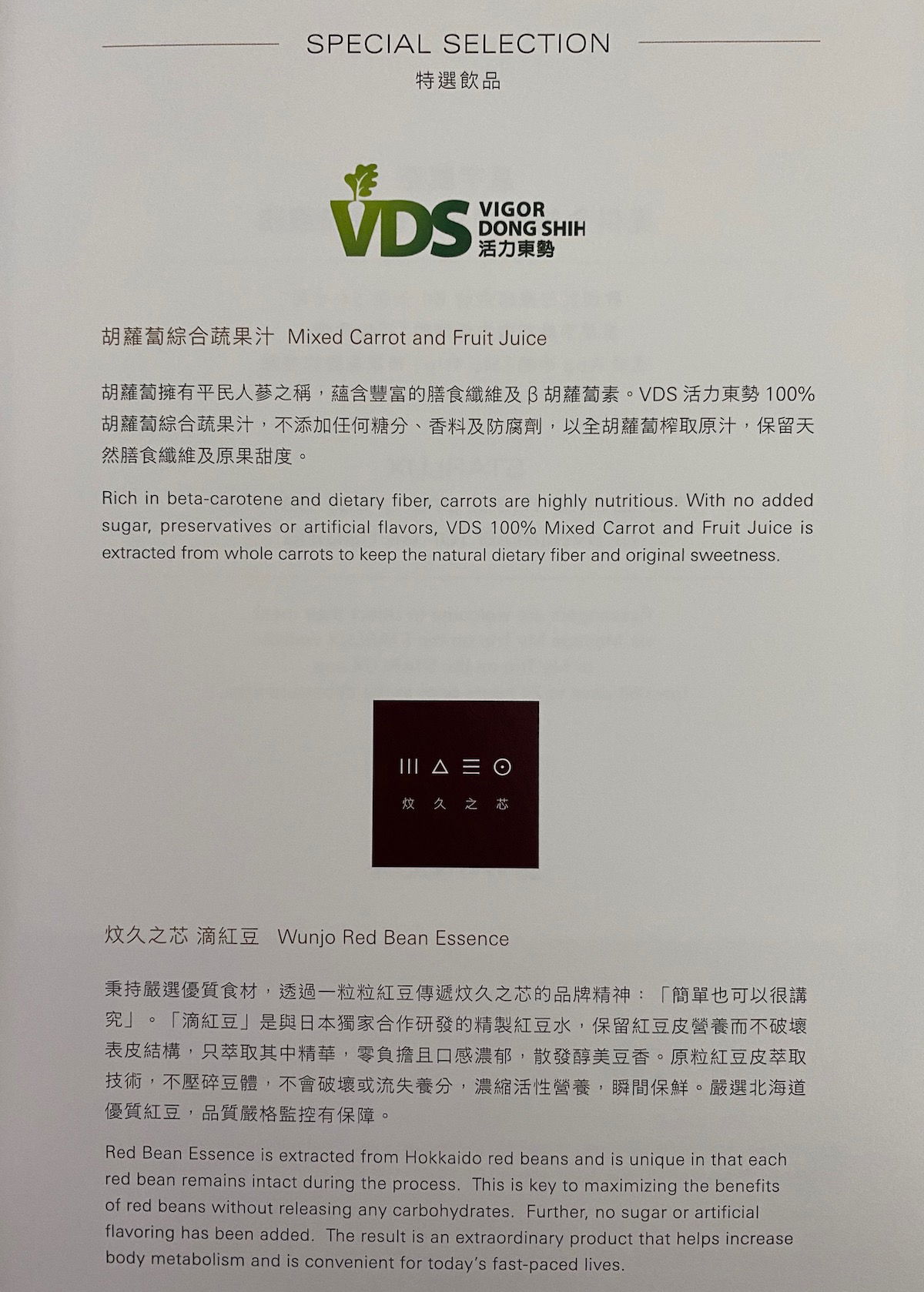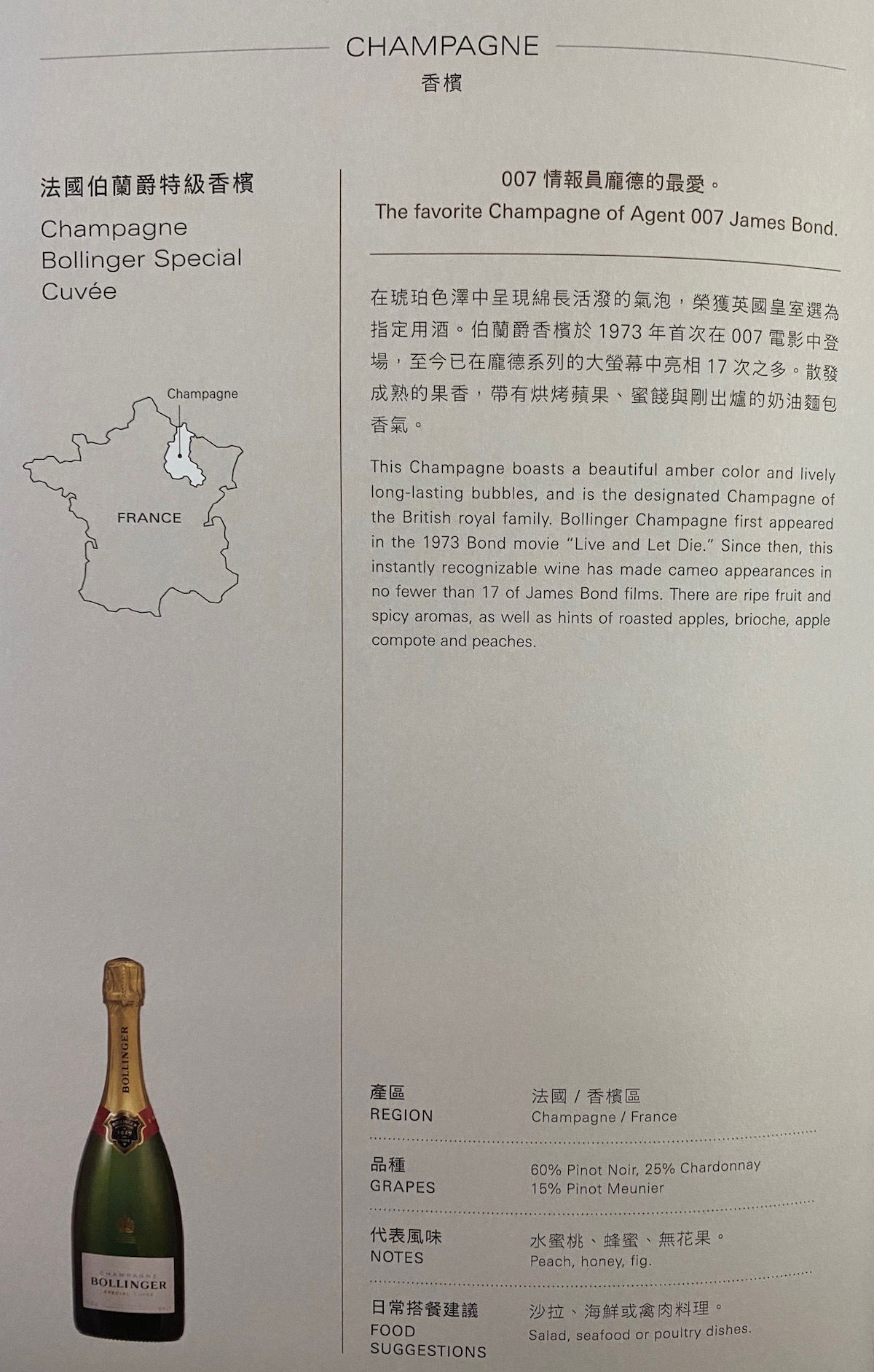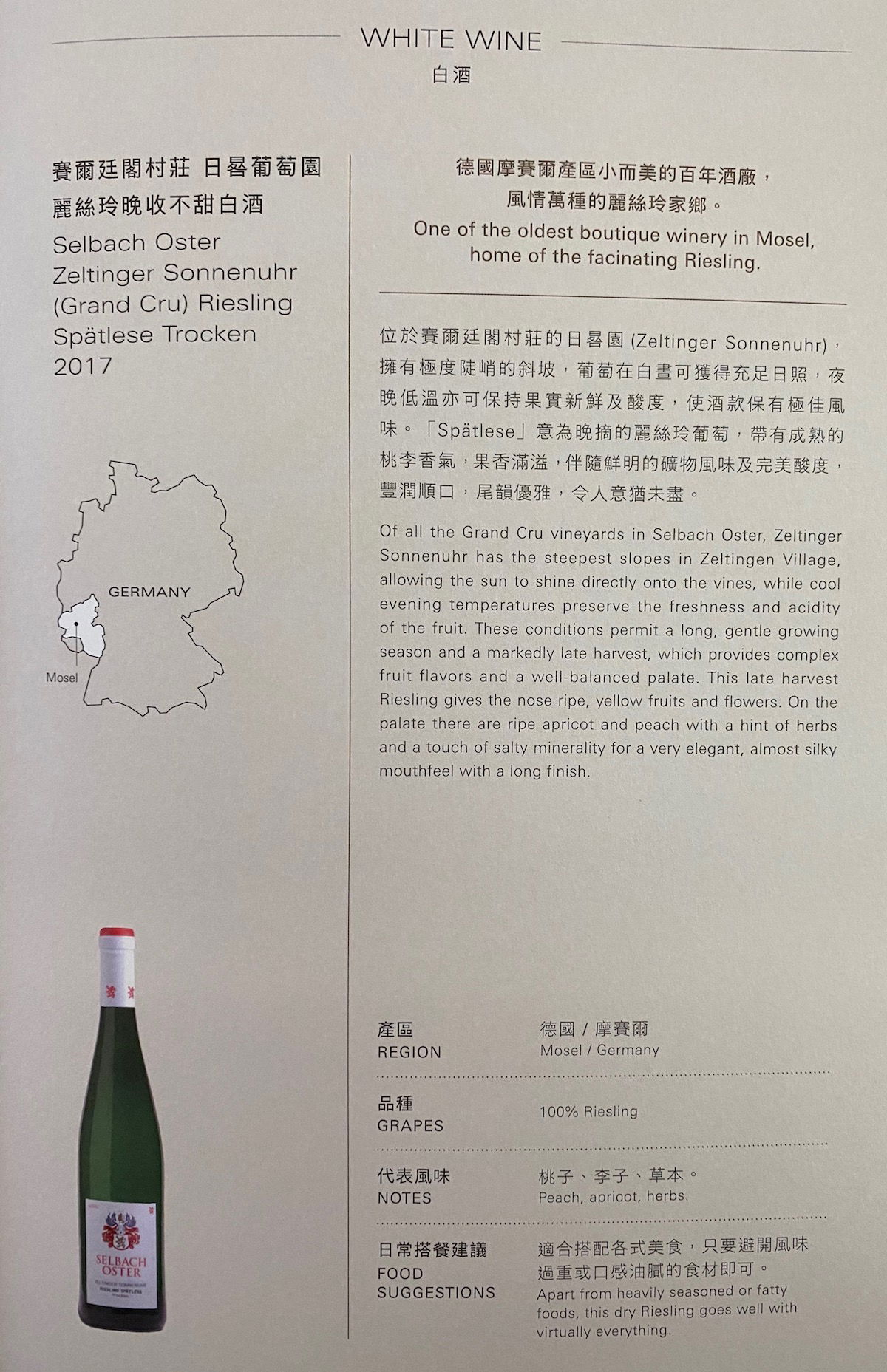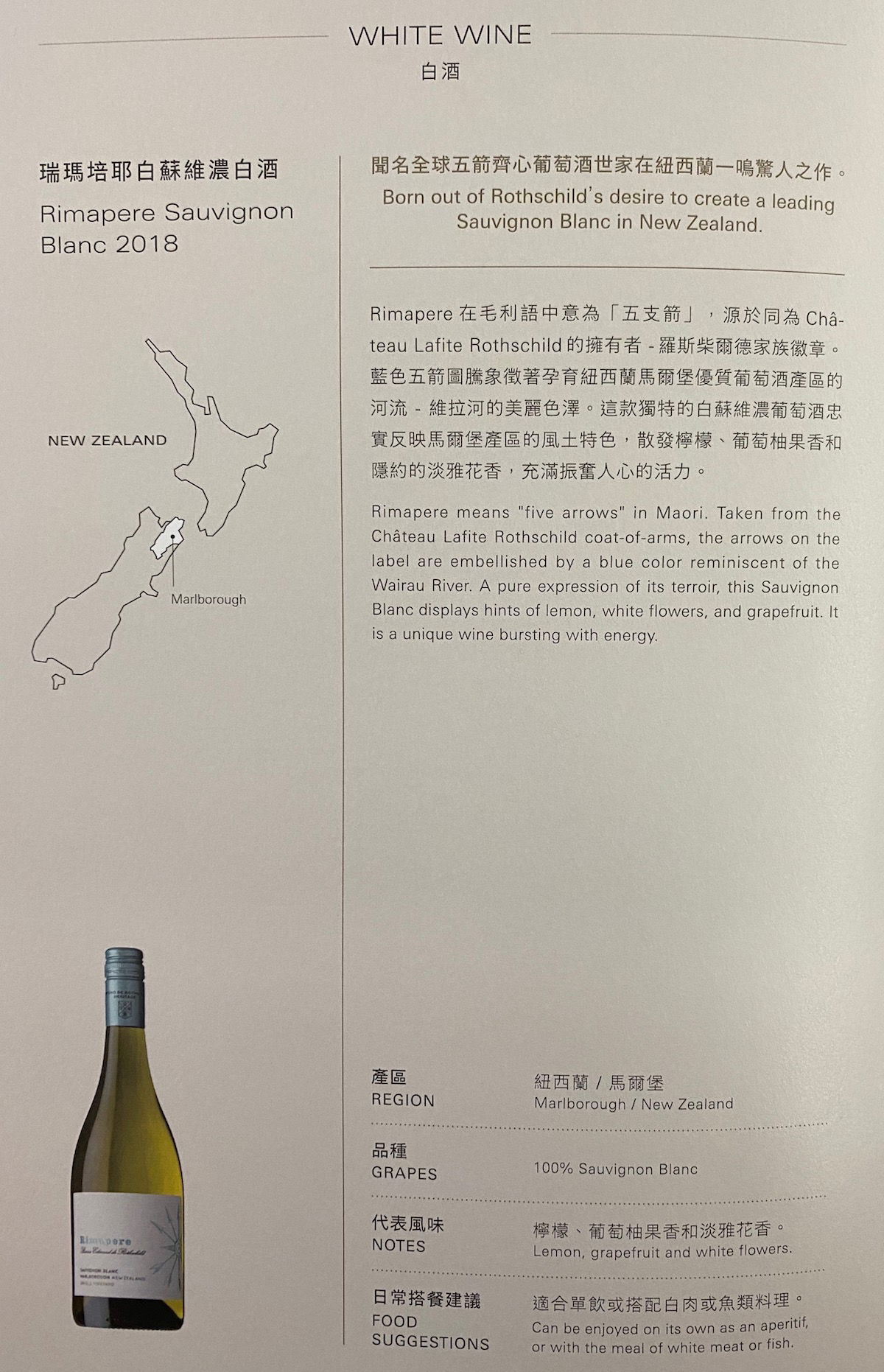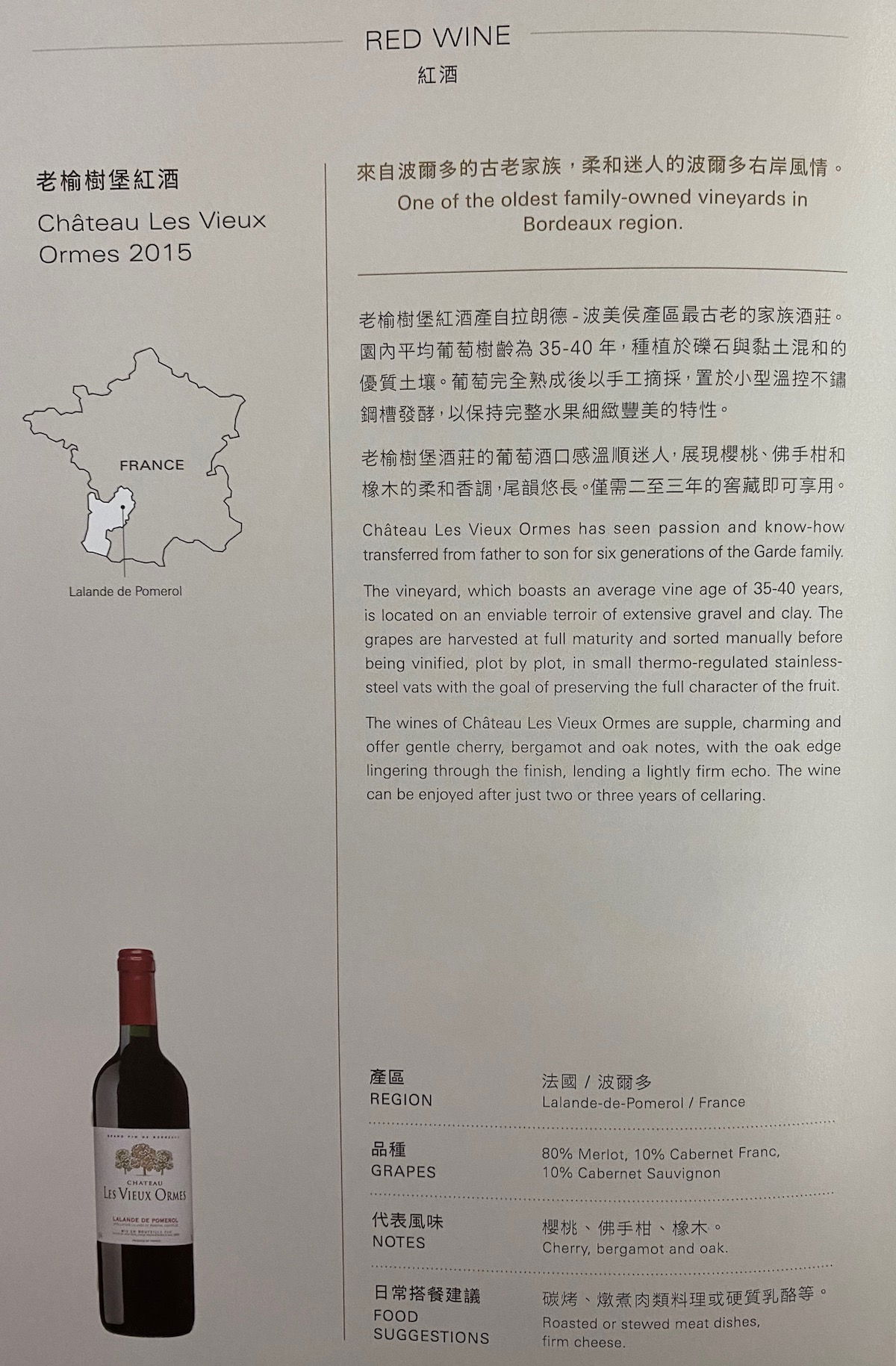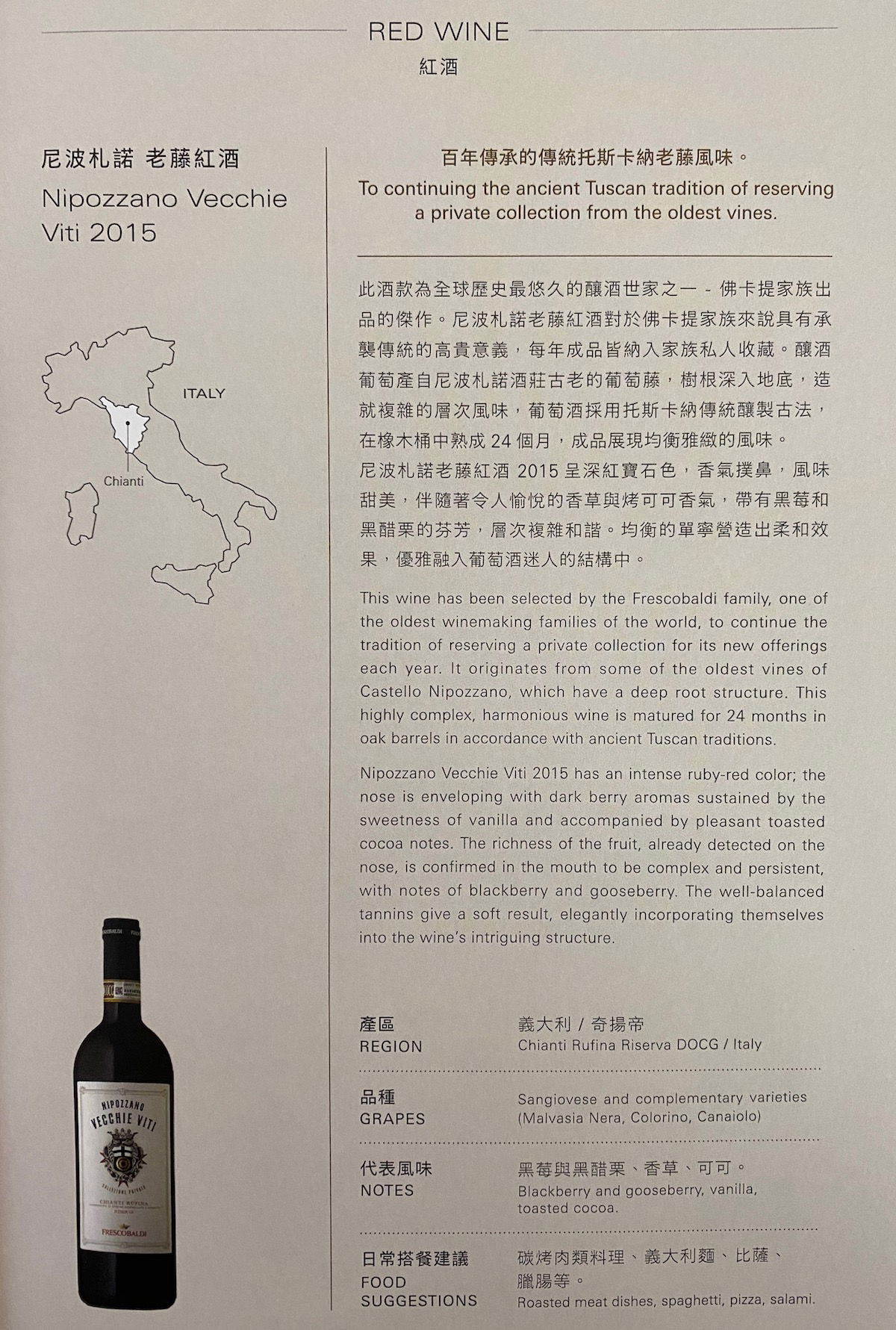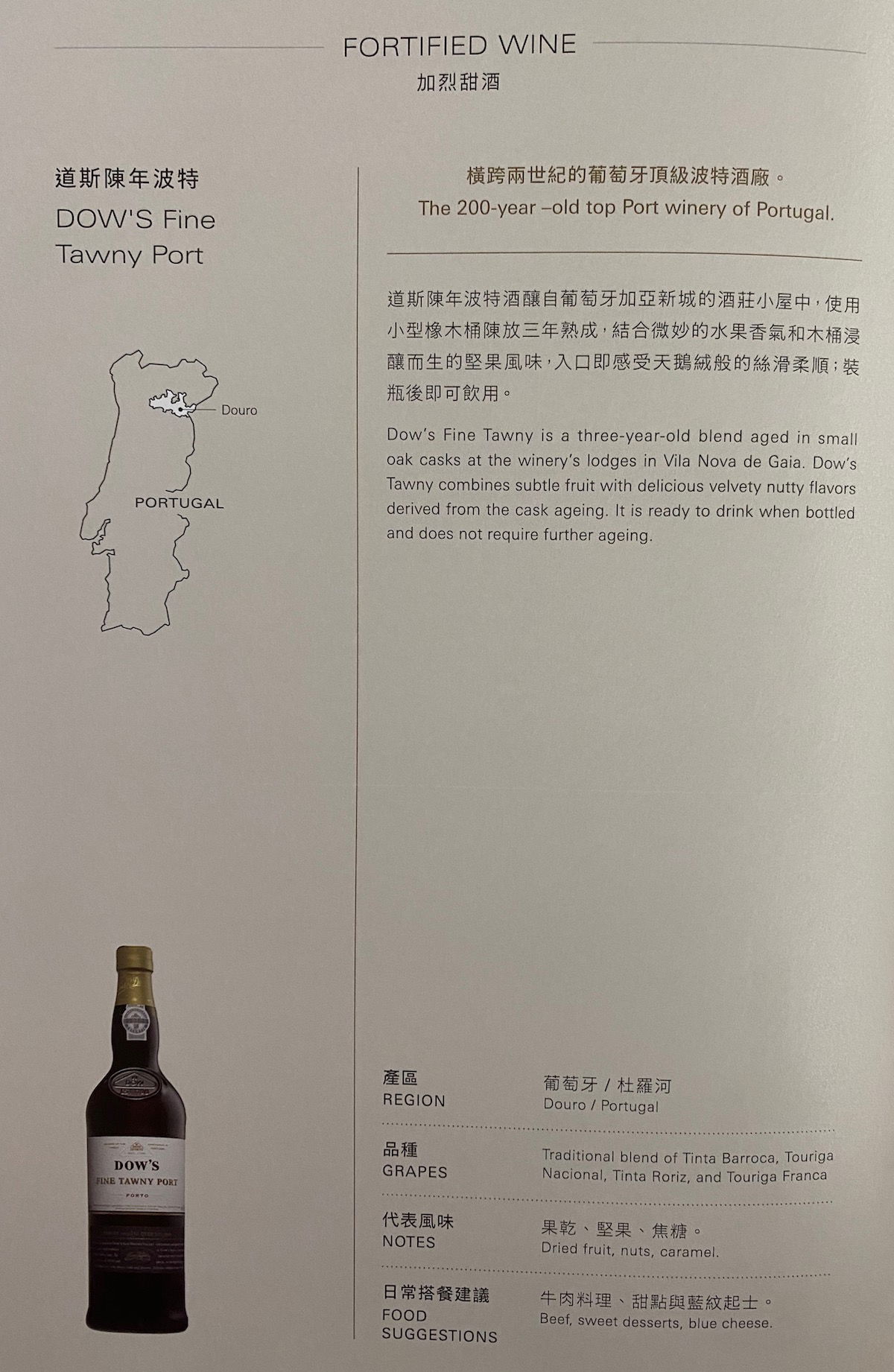 "Mr. Schlappig, I just wanted to confirm you pre-ordered the roasted chicken normandy style for your main course? What may I get you to drink? We'll be serving drinks shortly with the amuse bouche, which is a truffle puff today."
I decided to order Starlux Airlines' signature cocktail.
About 30 minutes after takeoff I was served the "Starlux Limited Sci-Fi Galaxy" drink (which is gin based), along with the amuse bouche.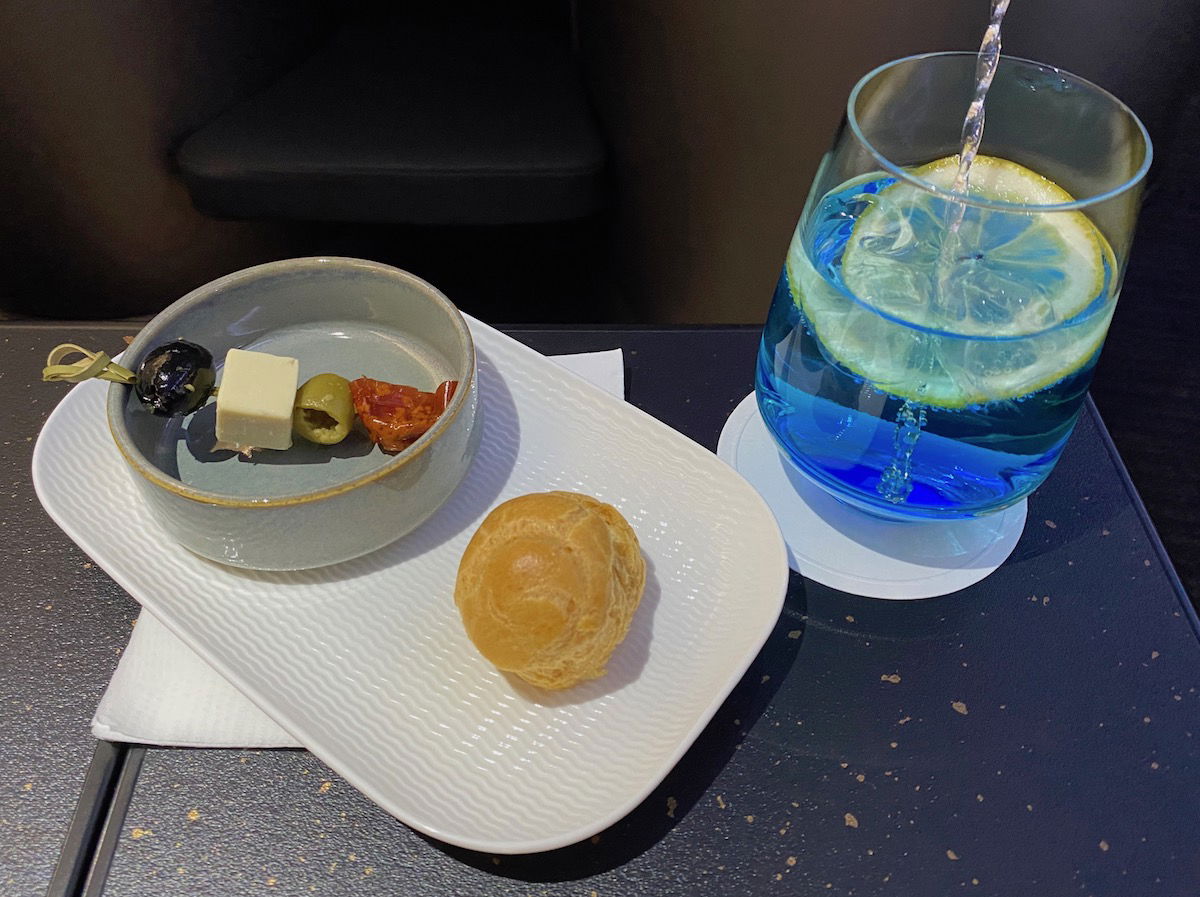 Starlux Airlines business class lunch — amuse bouche
The cocktail was cute, though a bit too sweet for my liking. After that I decided to switch to champagne. Starlux has Bollinger champagne in business class, which is spectacular for a regional business class product (or any business class product, for that matter).
Again, the service was flawless. Both of the Graces would come out together — one would bring the glass and place it down, while the other Grace would hold the bottle, present it, and then pour it in front of me.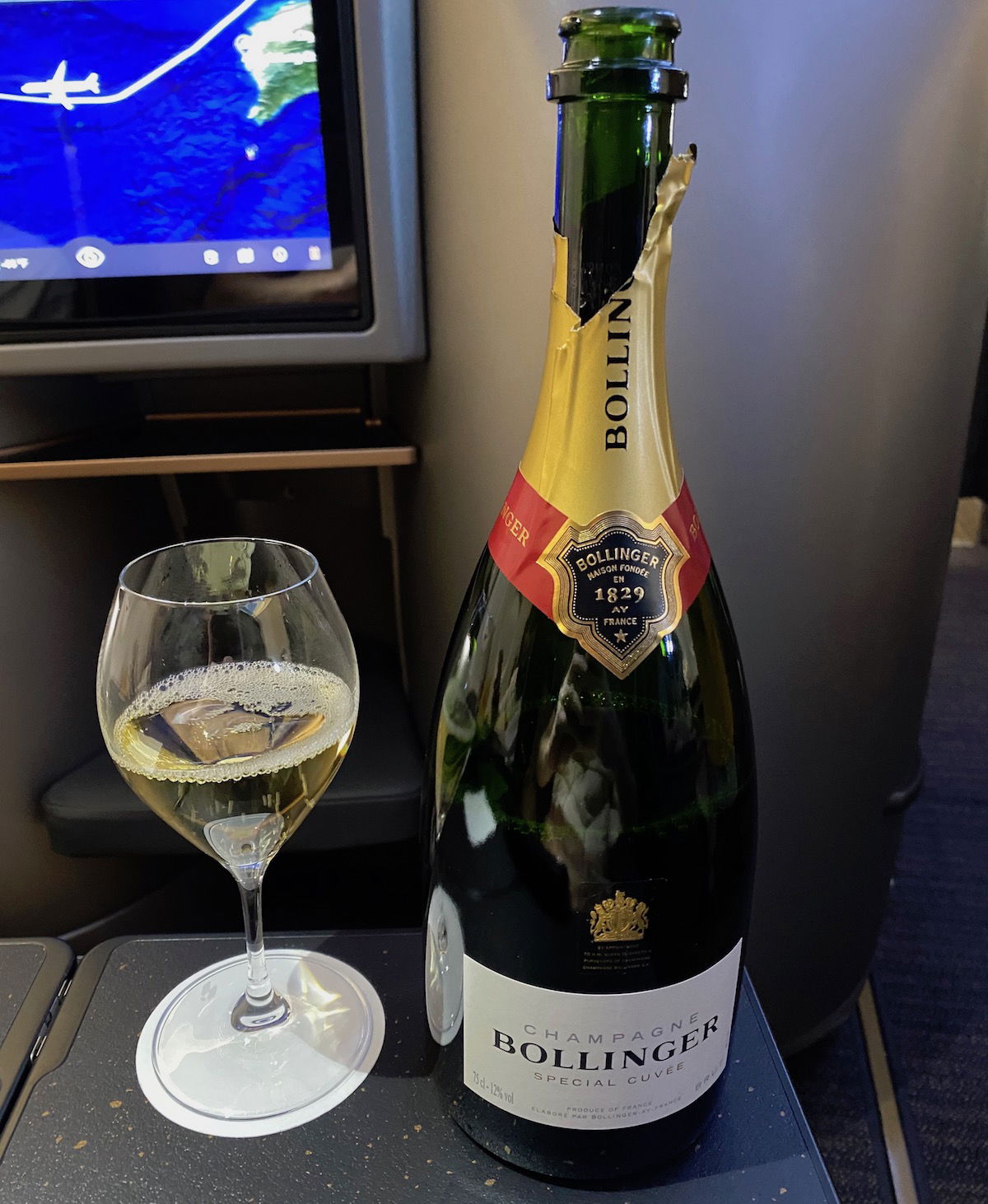 Starlux Airlines business class lunch — Bollinger champagne
The meal service was extremely drawn out, and for once I didn't mind. Often I complain that meal services take too long, but I only feel that way when:
It's an overnight flight, and/or it's a daytime flight where a lot of people are connecting off overnight flights and are tired
When the meal service isn't anything special, and service isn't proactive
Why didn't I mind Starlux's drawn out service? Because it wasn't drawn out in the sense that an empty tray sat at my seat for an hour and I wasn't offered a drink refill, but rather it was drawn out in the sense that for the first 90 minutes of the flight passengers were still looked after, and constantly offered drink refills.
One of the Graces was in the cabin every couple of minutes to see if anyone wanted anything, and my glass of Bollinger never even got close to empty. Heck, at one point it was decided that I had the glass for too long, and it was time for my glass to be refreshed.
Anyway, about 90 minutes after takeoff the actual meal service began. First warm towels were distributed, and then tablecloths.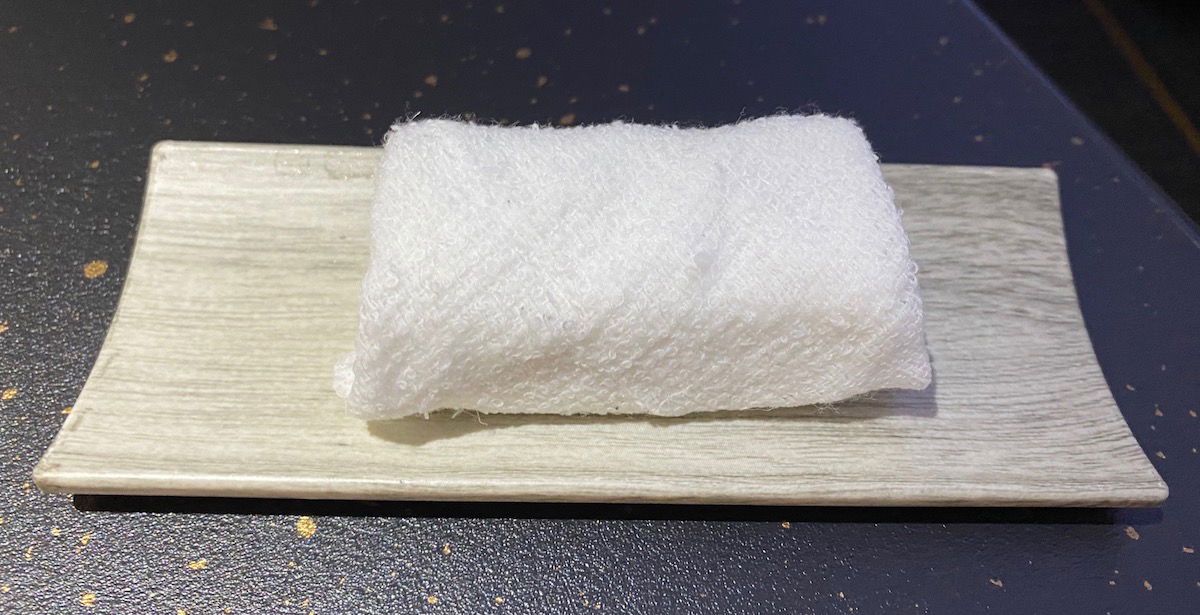 Starlux Airlines business class lunch — warm towel
To start I selected the salad over the soup, which was an excellent kale salad with smoked salmon and blue cheese. That was offered with a side of bread, olive oil, and butter.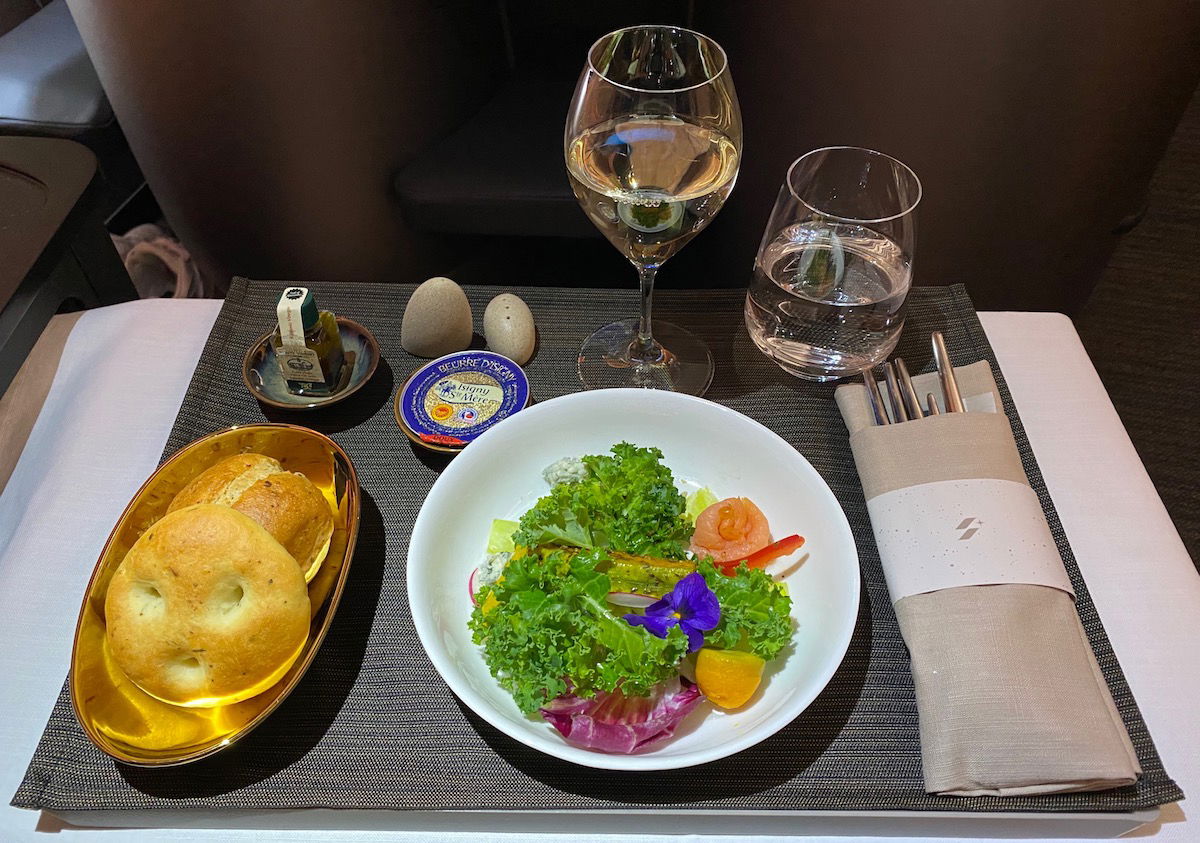 Starlux Airlines business class lunch — appetizer
With the starter I switched to a New Zealand sauvignon blanc.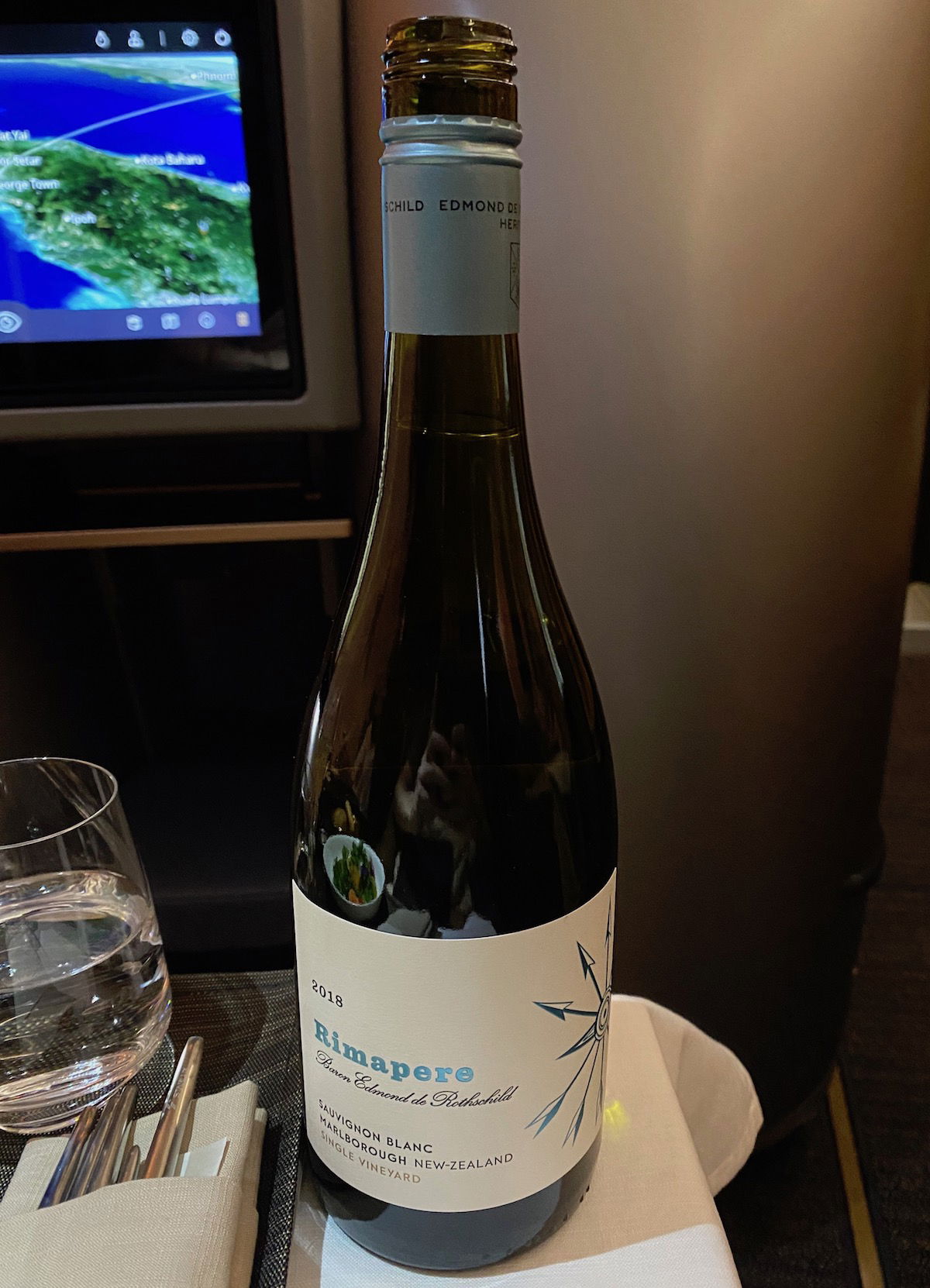 Starlux Airlines business class lunch — wine
About 20 minutes after the starter the main course was served, for which I selected the roasted chicken normandy style with apple cider relish and fondant potato. Generally chicken normandy isn't my favorite dish, but this was a pretty good version of it, at least. I would have gone with the local option, but I don't eat pork.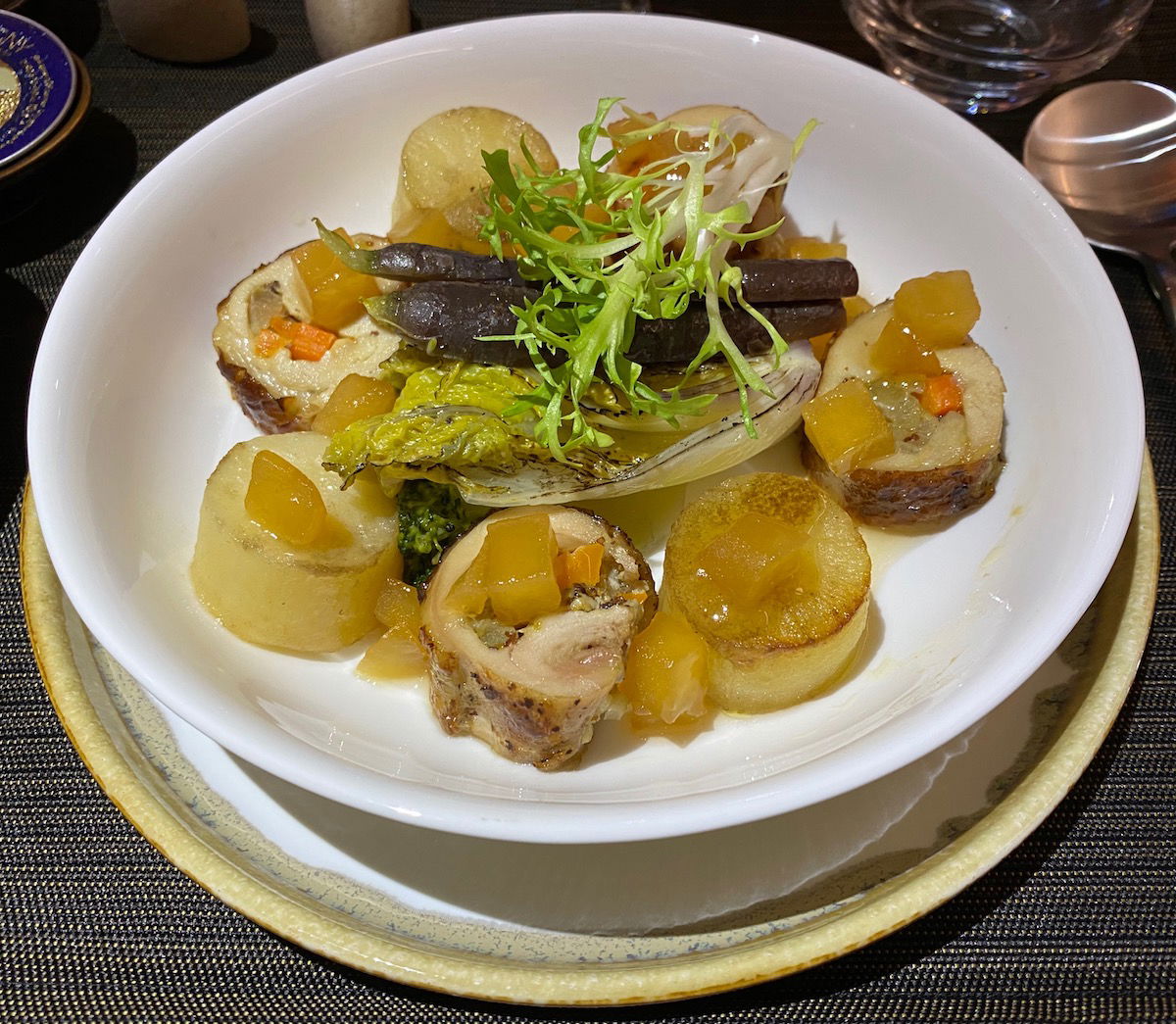 Starlux Airlines business class lunch — main course
About 20 minutes after that the next course was served, which included a pink guava mousse for dessert, and then a fruit and cheese plate.
I also had a cappuccino to go along with it, which was served with a chocolate as well.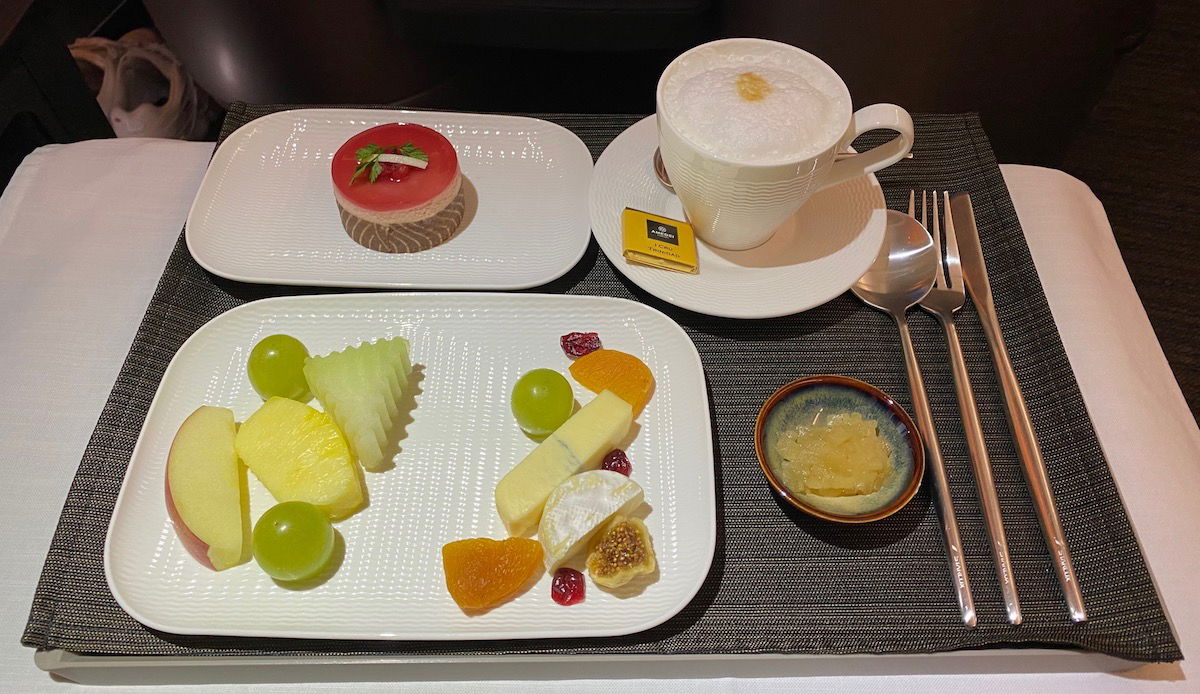 Starlux Airlines business class lunch — dessert, cheese, and cappuccino
The meal service was done about 2.5 hours into the flight. The food, drinks, and presentation were great for a regional flight, though it's the service that was exceptional. I can't put into words how lovely and truly passionate the two Graces were about their jobs.
Let me give one example — when passengers went to use the bathroom, the flight attendants would come into the cabin and fold the blankets and then place them neatly on the armrest. You're super lucky if you experience that in first class, but I don't think I've ever experienced that in business class on any airline.
What a simple way to show attention to detail.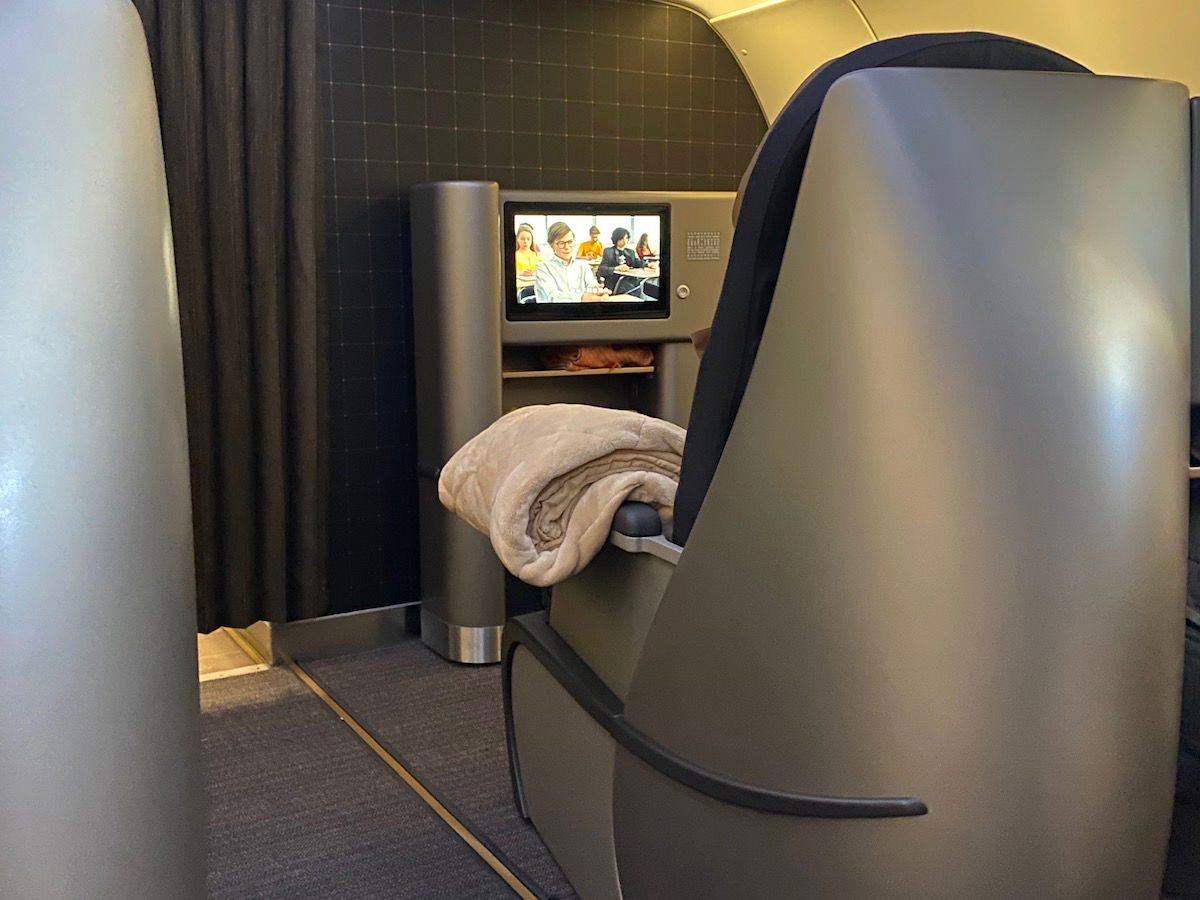 Great service in Starlux business class
After the meal I checked out the lavatory at the front of the cabin, which had a flower and some THANN toiletries. I know Starlux Airlines apparently has a signature scent — I didn't notice that in the cabin, but the lavatory definitely had a very strong scent, which I imagine is the brand's signature one.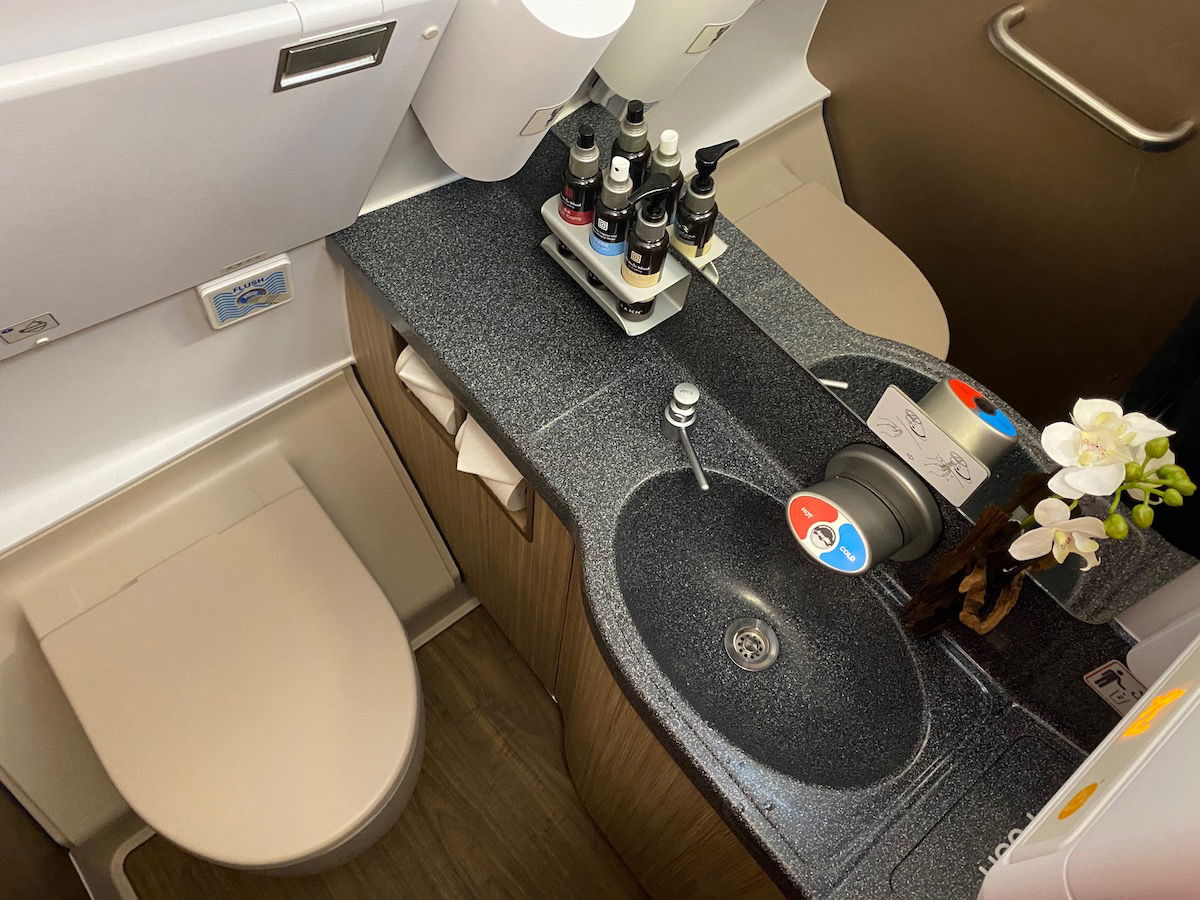 Starlux business class lavatory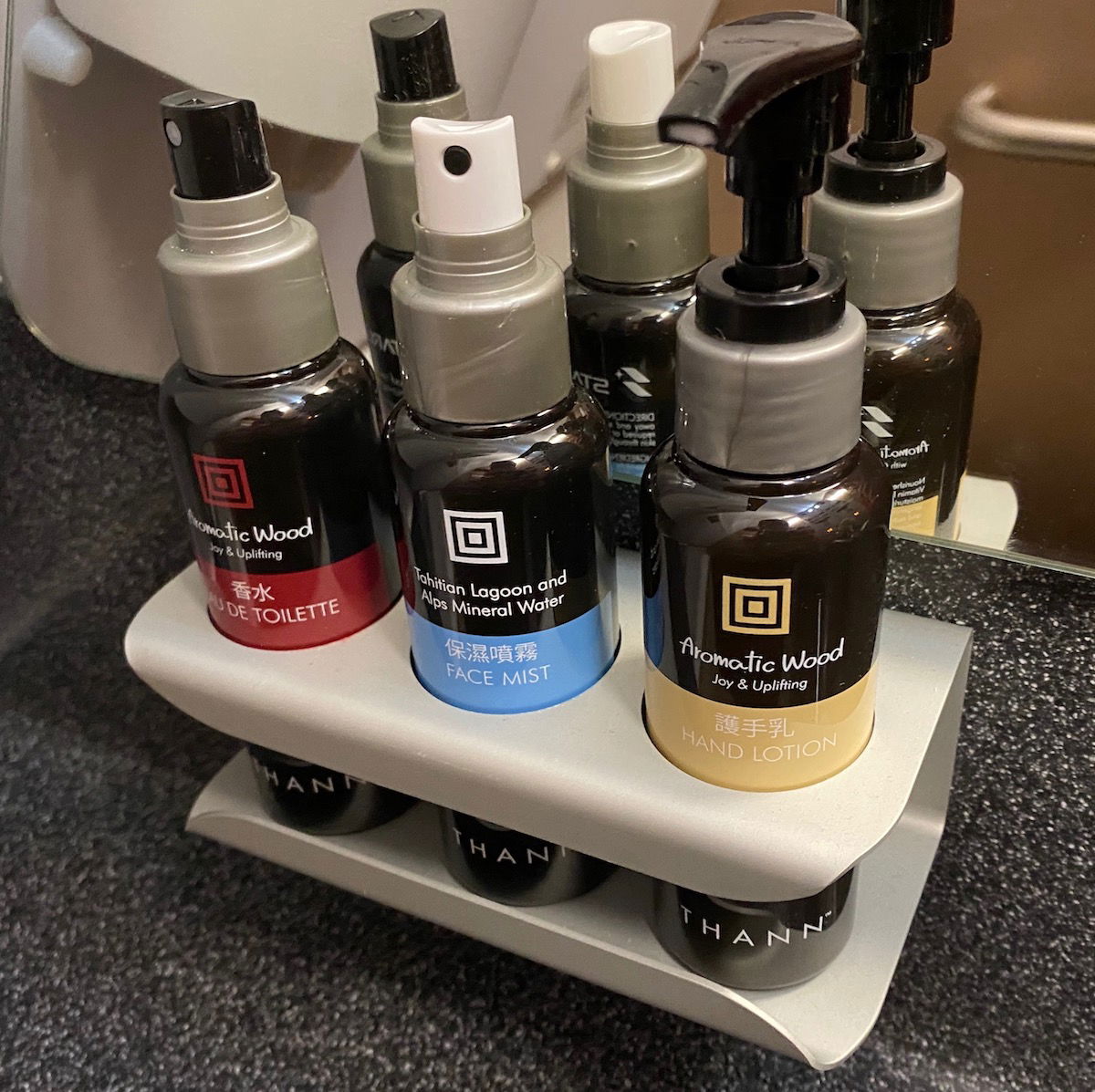 Starlux business class lavatory amenities
When I walked through the galley I stopped briefly to chat with the two Graces, since I was curious to find out more about them, and I discovered some interesting things.
First of all, I complimented them on the amazing service they were providing, and couldn't help but ask if they had experience in the airline industry, because they were acting like seasoned professionals.
As it turns out, both of them had worked at Emirates before coming to Starlux, and the purser was even at Emirates for a decade… wow!
The purser noted this was her first ever airline job working on a narrow body plane, and that was quite an adjustment (this was only their second trip ever with Starlux).
I asked more about the company as such, and she noted how people have very high expectations of the airline given all that has been promised, and they do everything they can to live up to it. And sure enough they did.
I also found out that Penang is their only destination where they don't turn directly around, so I would be flying back to Taipei with them the next day. I had assumed they even did a direct turn to Taipei, so that surprised me somewhat.
The most telling part of the interaction was what Grace asked me.
"How has your experience been so far with Starlux?"
"Exceptional. I can't say enough how impressed I am."
"Please give me more feedback than that, I want you to be honest. What could we do better?"
That question tells you just about everything you need to know about the quality of this crew.
Anyway, I was intrigued by Starlux's massive beverage list, and there was one other drink in particular that I wanted to try. I was impressed by the quality of their cappuccinos, and I also noticed iced coffee on the menu (which I love), so I ordered one of those. It was very good.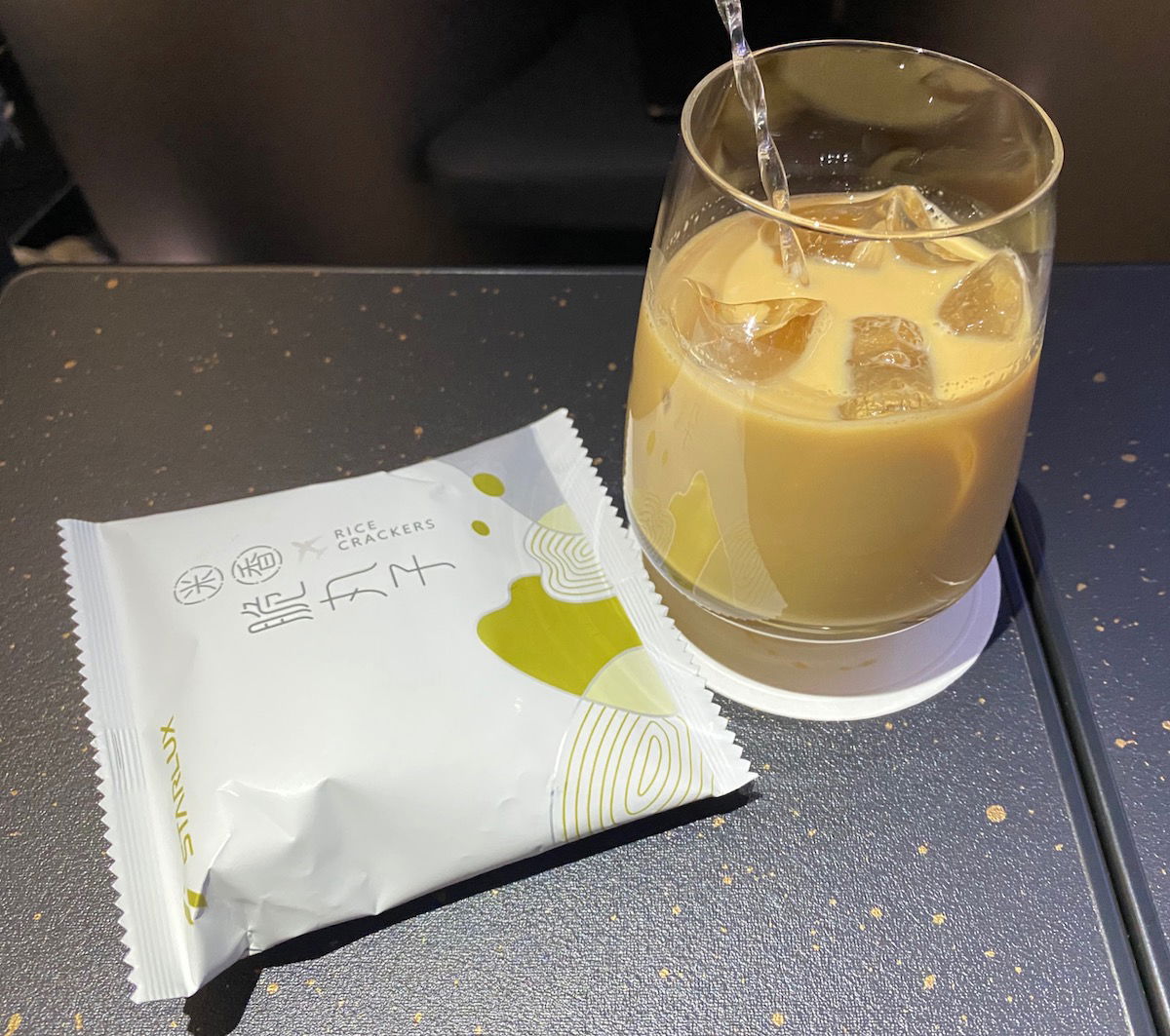 Starlux business class iced coffee
I worked on my laptop for a bit, and then about 30 minutes before landing the crew passed through the cabin to hand out some Starlux Airlines candy and playing cards.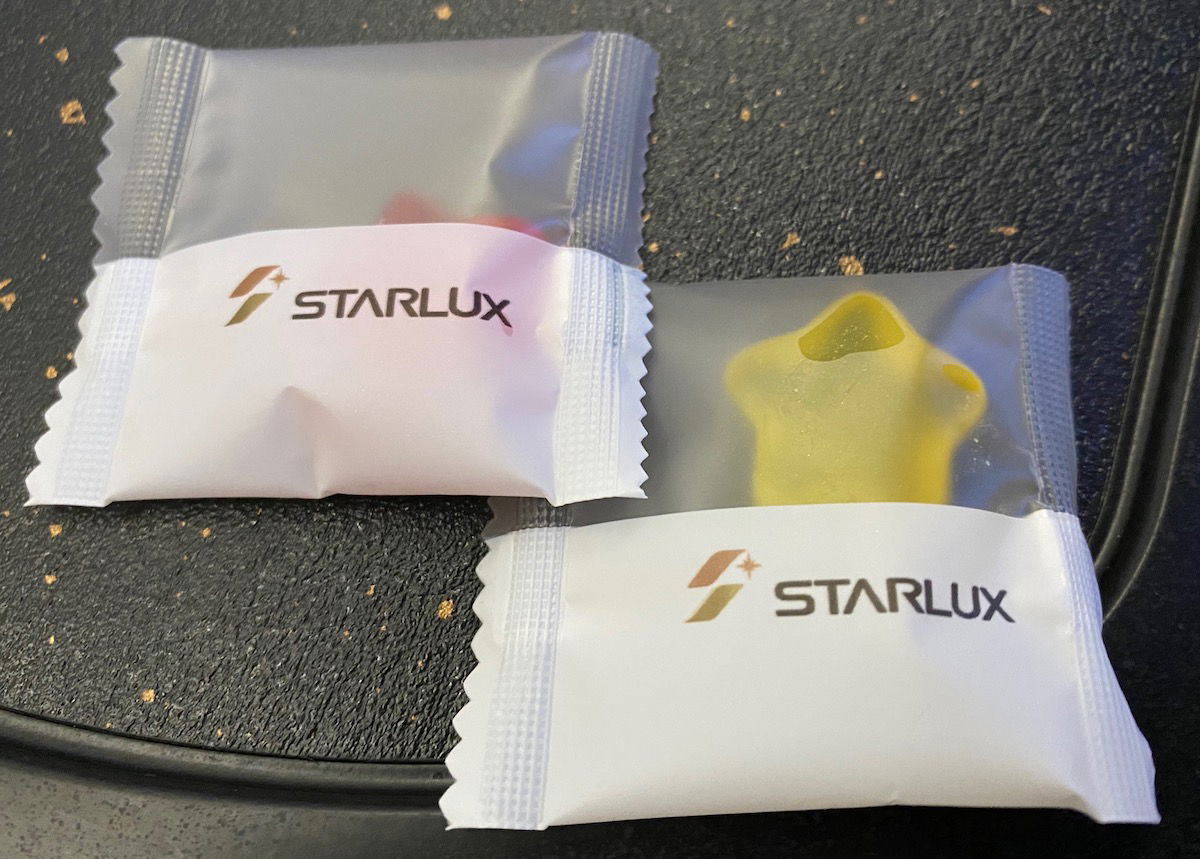 Starlux business class candy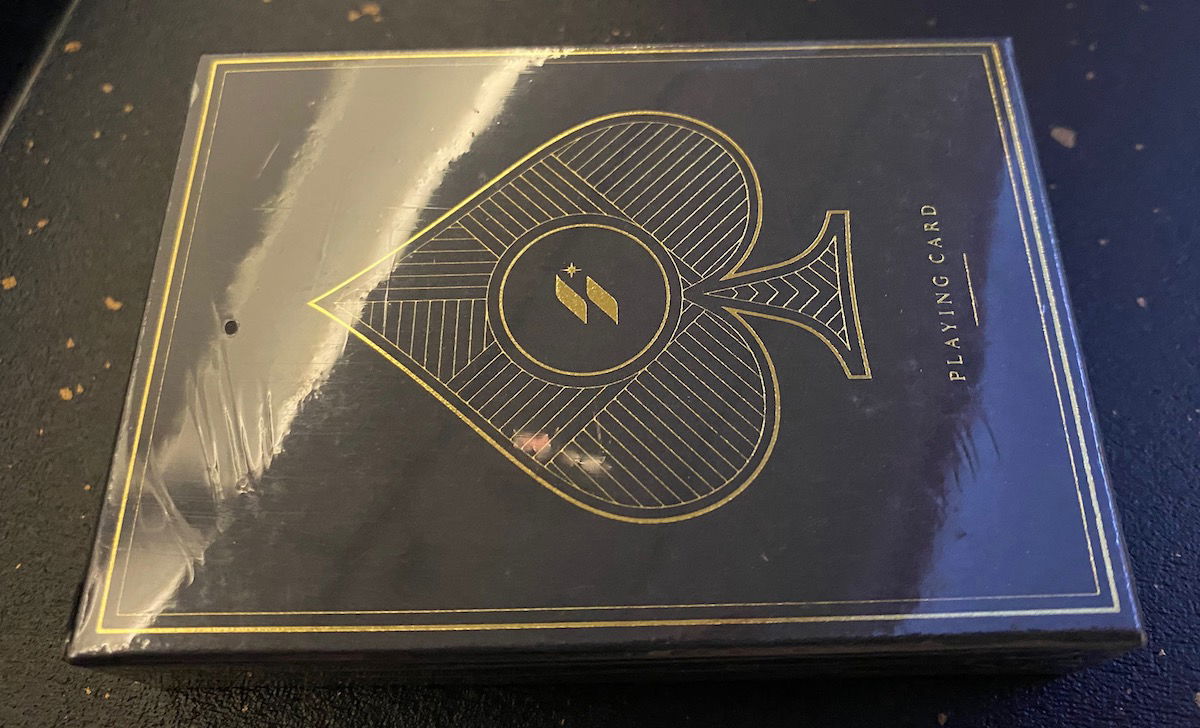 Starlux Airlines playing cards
At 1:30PM the captain announced that we'd be descending in five minutes, and that we would be landing at 2:05PM.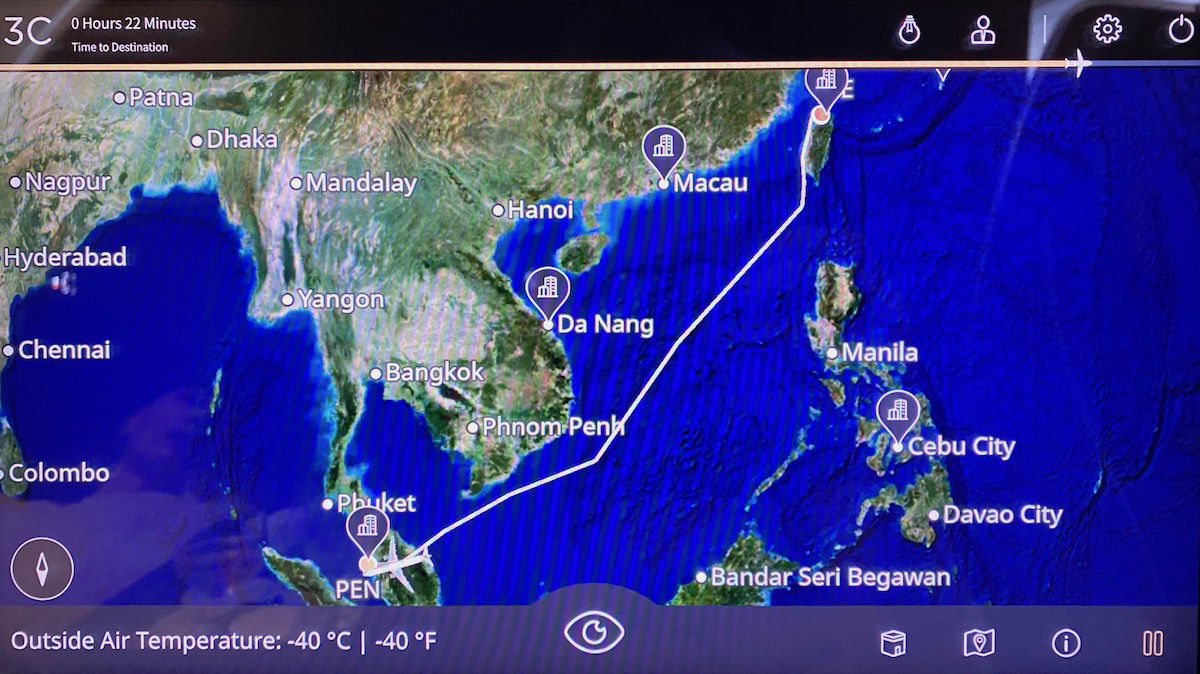 Map enroute to Penang
While some airlines have music that they play in the cabin during boarding and during the taxi in, Starlux Airlines starts playing music about 20 minutes before landing. I quite liked that, since it was soothing/non-offensive background music.
Sure enough we touched down in Penang at 2:05PM, and from here had a 10 minute taxi to our arrival gate. As we pulled into the gate the crew closed the curtain between business class and economy, to make sure business class passengers could disembark first.
Upon arrival in Penang we received this lovely greeting…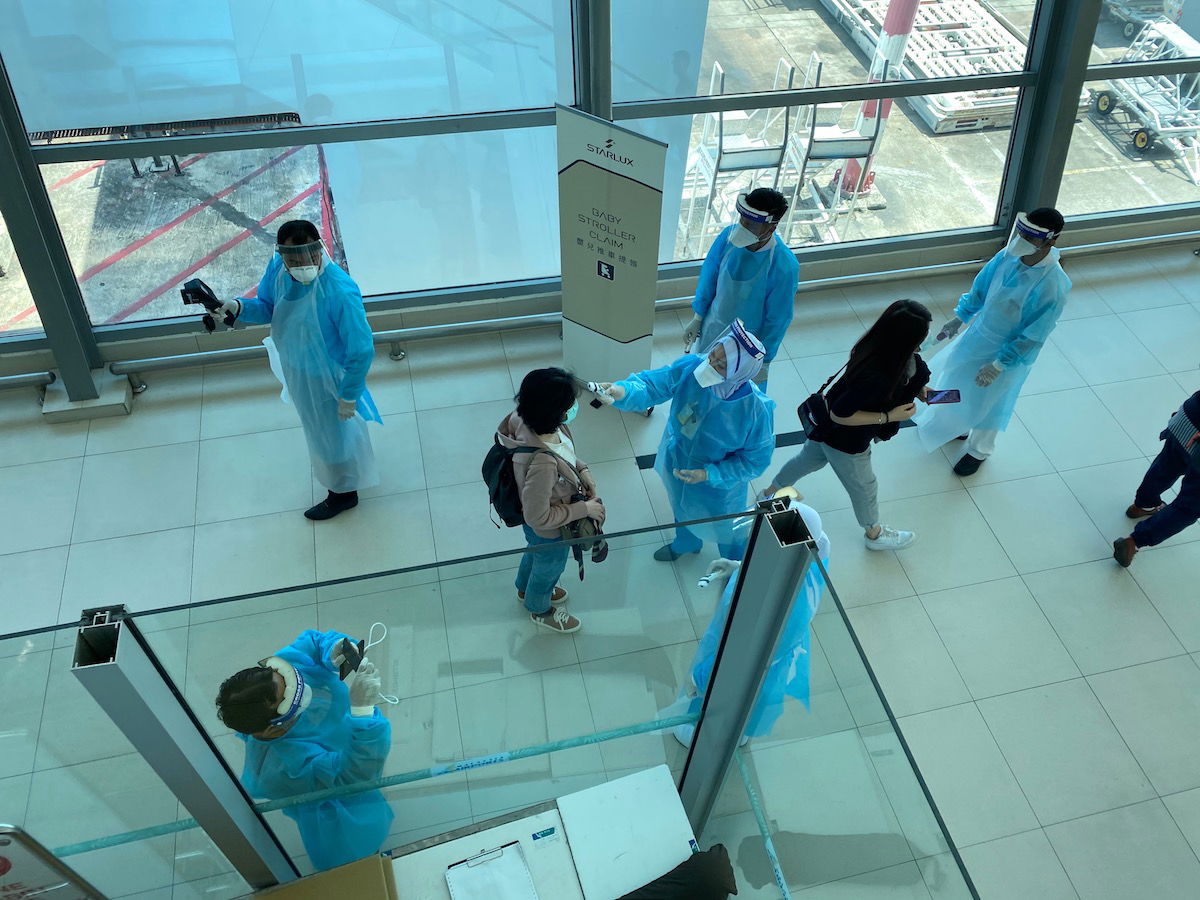 Health checks upon landing in Penang
Immigration was quick, and within minutes I was in a taxi headed to my hotel, ready to explore Penang for the next 24 hours. Funny note about the taxi ride — when the guy found out I was from the US he wanted to talk politics the whole way (and by "talk politics" I mean he wanted to just talk and have me listen), and he made the point of how he really likes Trump and thinks he's an amazing president.
Fair enough if you believe that, but his logic was a little unusual — he liked Trump because he's tough on China, and because he's stupid, and that's exactly what America needs right now.
Hmmm…
Starlux Airlines Business Class Bottom Line
I came into my Starlux Airlines flight with outrageously high expectations, and they were met. The truth is that business class within Asia is usually to a high standard, so I was curious how Starlux could really differentiate themselves.
The truth is that Starlux's food selection was good, their drink selection was excellent, and the service was exceptional. I've flown a lot of startup airlines in the first few days/weeks of operations, and you always notice it with the service. Heck, you even feel it when you're flying an existing airline and they take delivery of a new plane.
To get such flawless, detail oriented, and genuinely enthusiastic service on a brand new airline is a real testament to Starlux's hiring choices and their training.
I can't wait until Starlux Airlines gets A350s and starts long haul flights!