---
My connecting flight was out of London Gatwick, which meant I had to get between the two airports. I'm terrible with ground transportation, though was pleasantly surprised by the National Express coach experience I had between the two airports.
Options For Getting Between Heathrow & Gatwick
I'm by no means an expert on London transportation, though the way I see it, I had three realistic options for getting between the two airports:
I could order an Uber, which is the most costly of the options, and on top of that might not even be the fastest, as I've consistently had really long waits for Uber pick-ups at Heathrow
I could take the National Express coach service, which runs over 80 times per day between the two airports, with travel times of as little as 65 minutes
I could take the tube and other public transportation, which is the cheapest option but also requires transfers and is more time consuming
I decided to book the National Express coach, which will mark the second-ever bus review here on OMAAT, as I also recently reviewed a bus service between Paris Charles de Gaulle and Paris Orly. 😉
Soon enough maybe this blog will be renamed OBAAT (One Bus at a Time?).
Booking A National Express Coach Ticket
National Express' website is easy enough to use, and if anything it was overwhelming just how many services there were between the two airports. It required doing a lot of scrolling to get to the service that I wanted.
When you select your service you also specify which terminals you want to go to & from. I was departing Terminal 3 at Heathrow and going to the South Terminal at Gatwick.
I ended up deciding on a 12:05PM bus that was scheduled to arrive at 1:20PM, which was marketed as one of the fastest journeys, at 75 minutes.
The ride cost 28GBP, or about 37USD. That's more expensive than some flights in Europe.
The booking process was easy enough, though National Express' website reminds me a bit of EasyJet in terms of how much they try to upsell you.
The "base" fare was 27GBP, then there was a 1GBP booking fee.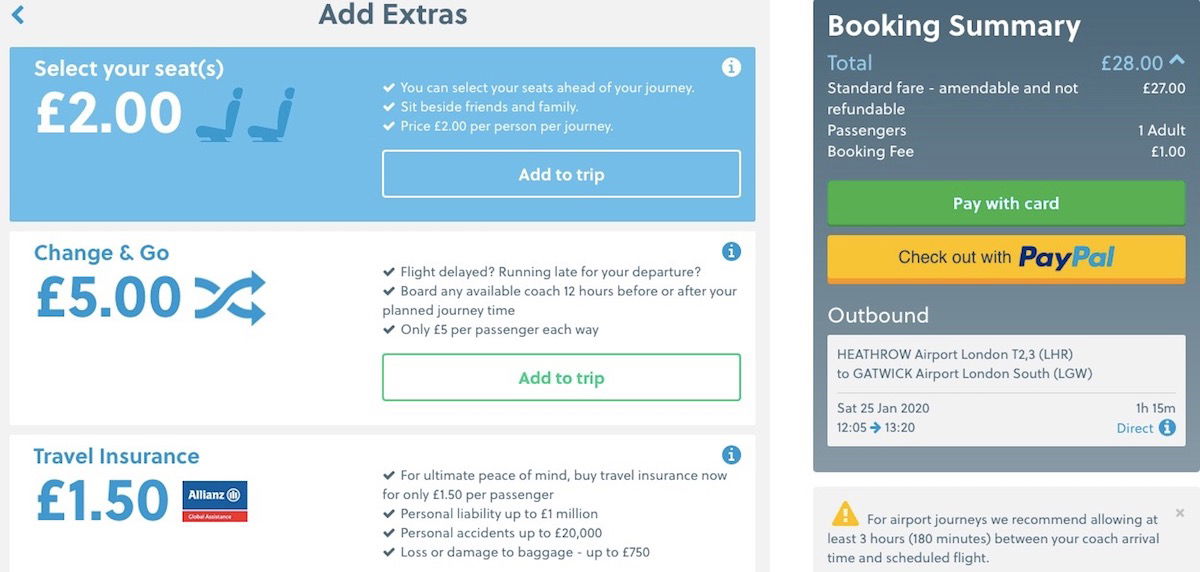 They tried to get me to pay 2GBP to assign a seat, though I didn't do that. It seems that you can just assign seats in the first five rows, but I prefer to sit in the back of the cabin, just as I do on airplanes. 😉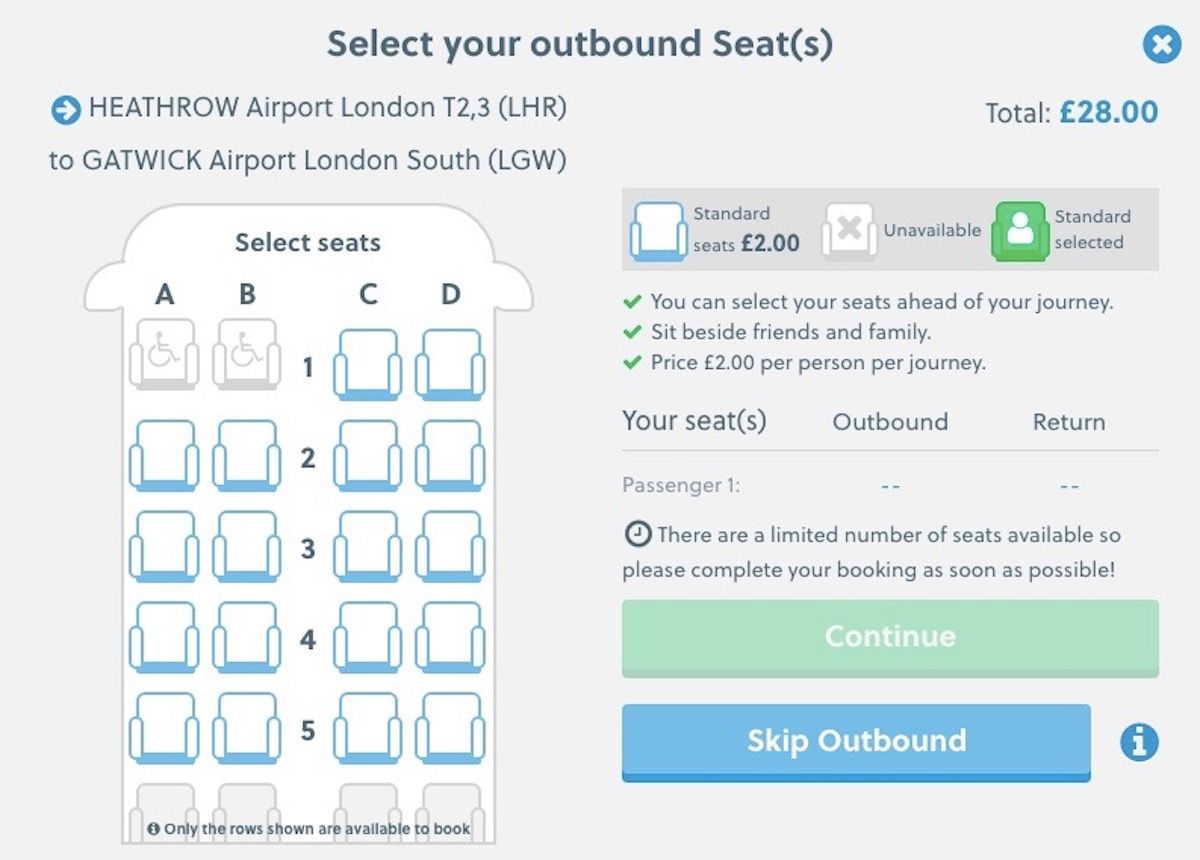 At least there were no fuel surcharges.
I was emailed an e-ticket, which I was told to show to the driver.
You can also buy tickets for the service at the ticket counter or through a machine, though you can't buy the tickets onboard.
National Express From Heathrow To Gatwick Review
National Express coaches depart from three separate points at Heathrow. They operate from:
The Heathrow Central Bus Station serves Terminals 2 & 3
Outside of Terminal 4
Outside of Terminal 5
I headed to the central bus station, which was about a 10-minute walk from the terminal.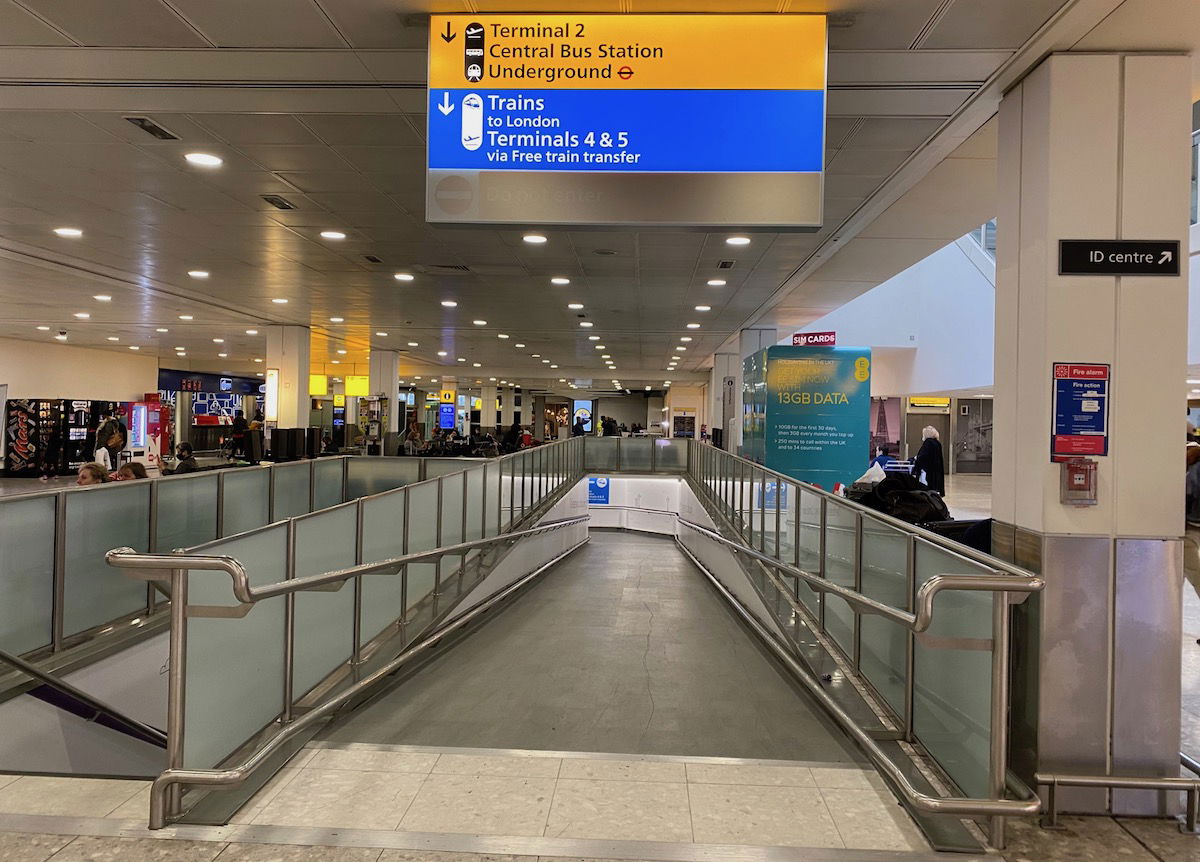 Walking to Heathrow central bus station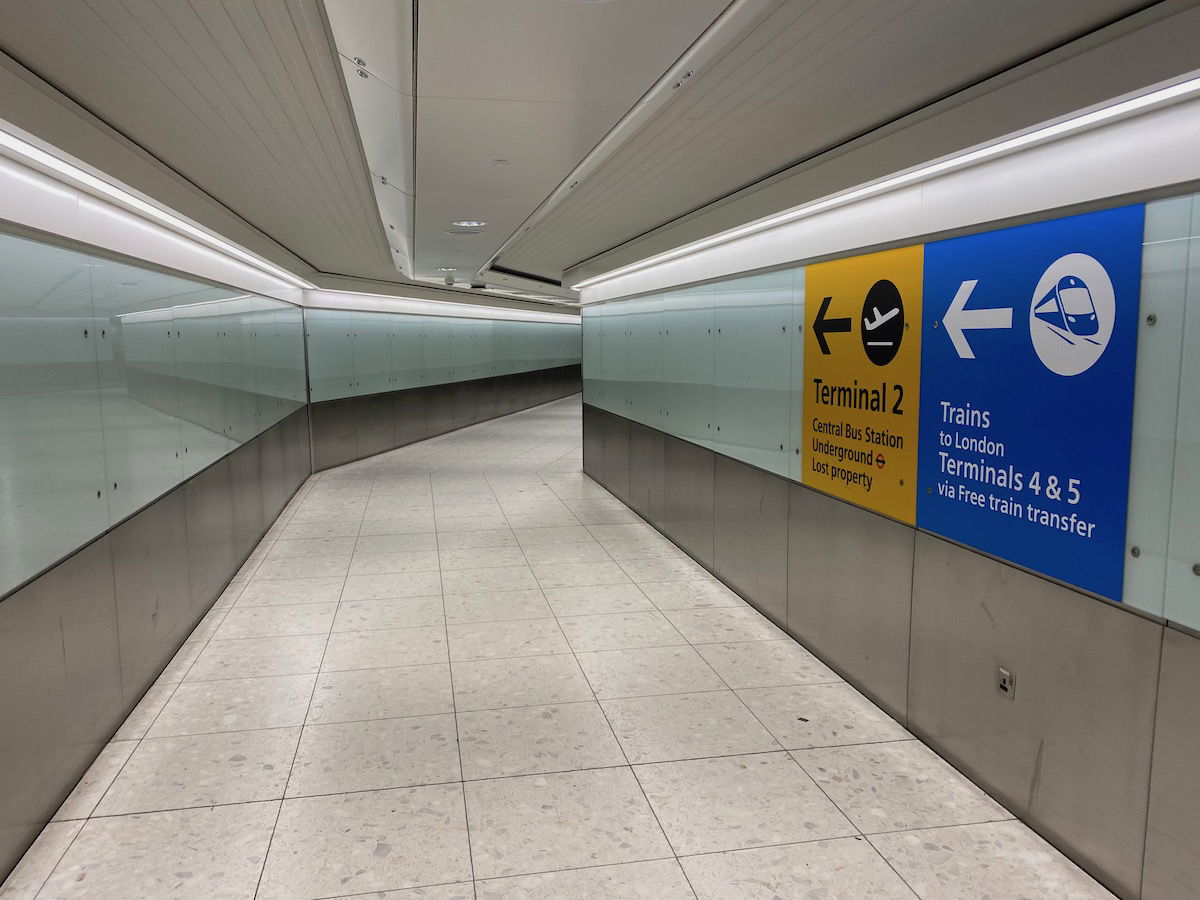 Walking to Heathrow central bus station
The central bus station basically looks like a terminal of its own, and they also have a departures board that shows what "stand" your bus departs from. Much like Heathrow has the habit of doing with planes, they only like to display it close to departure.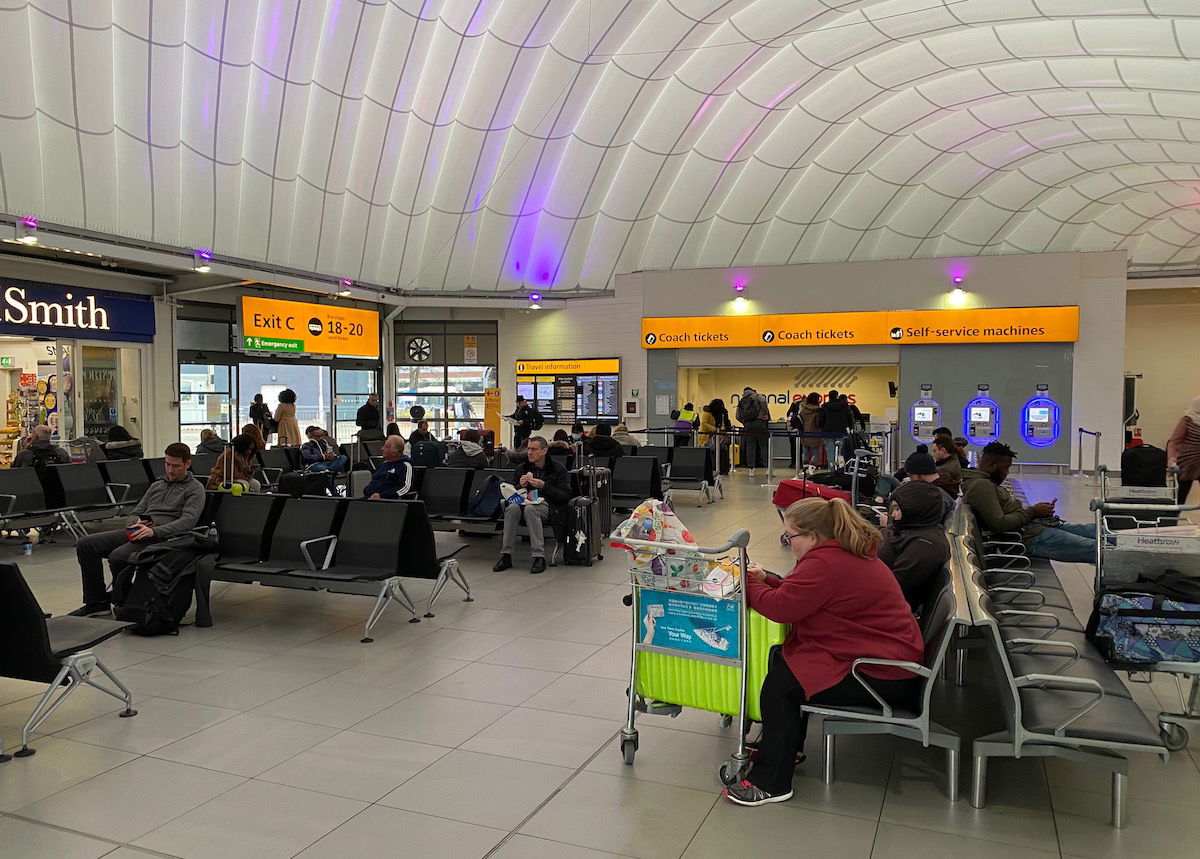 Heathrow central bus station
10 minutes before departure the monitor showed that my bus would be departing from stand eight.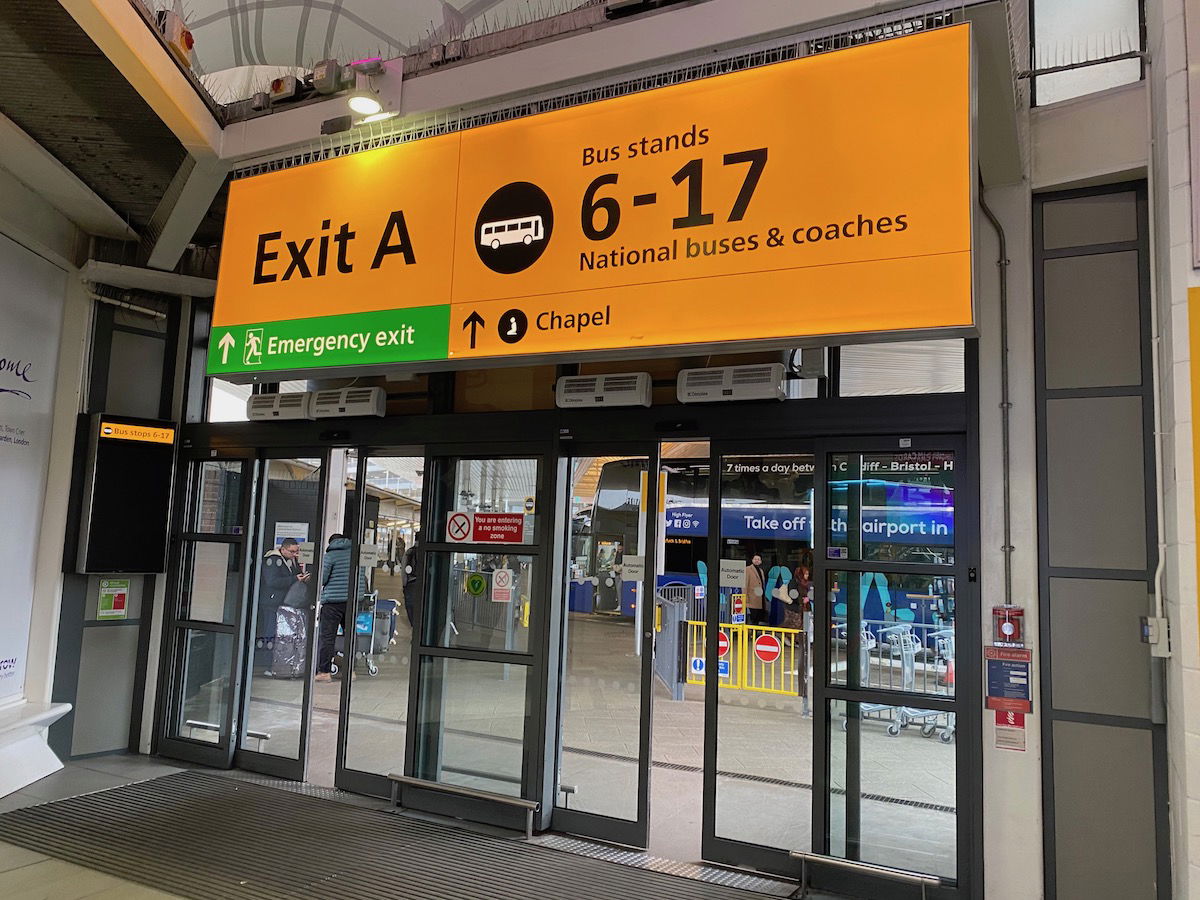 Heathrow central bus station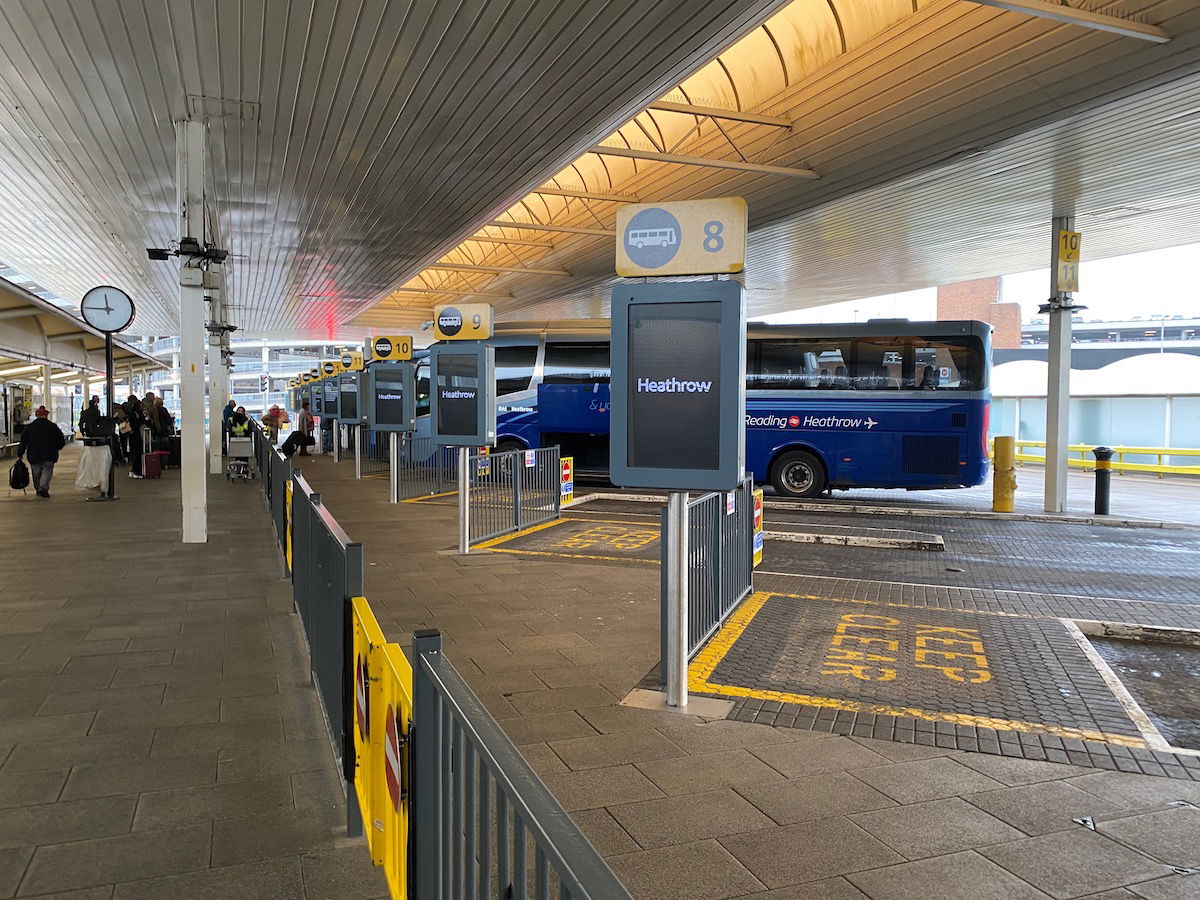 Heathrow central bus station
The bus driver took my bag, and then I got on board.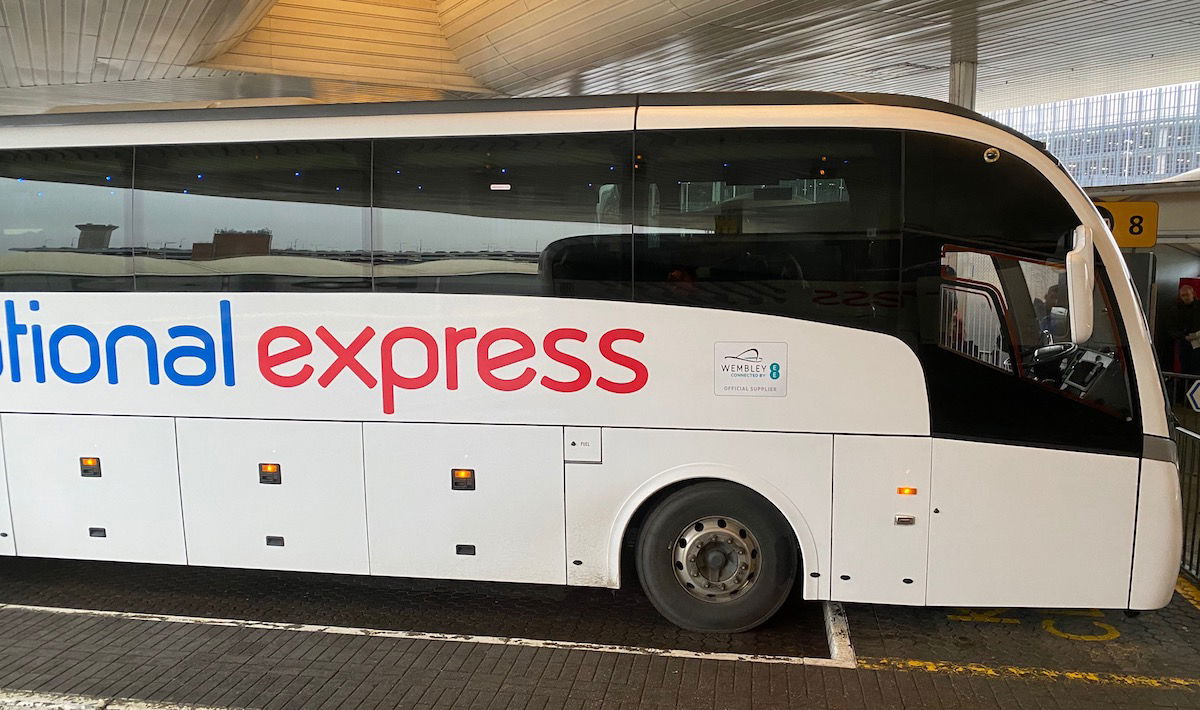 National Express bus
Oddly my ticket was never checked (not on arrival or departure), which I'm confused about. I know a lot of public transportation uses the honor system (except when they randomly check), though I figured they'd check tickets on this service, given that it's quite pricey.
The bus had swanky mood lighting, but really that was just a distraction from the tight legroom.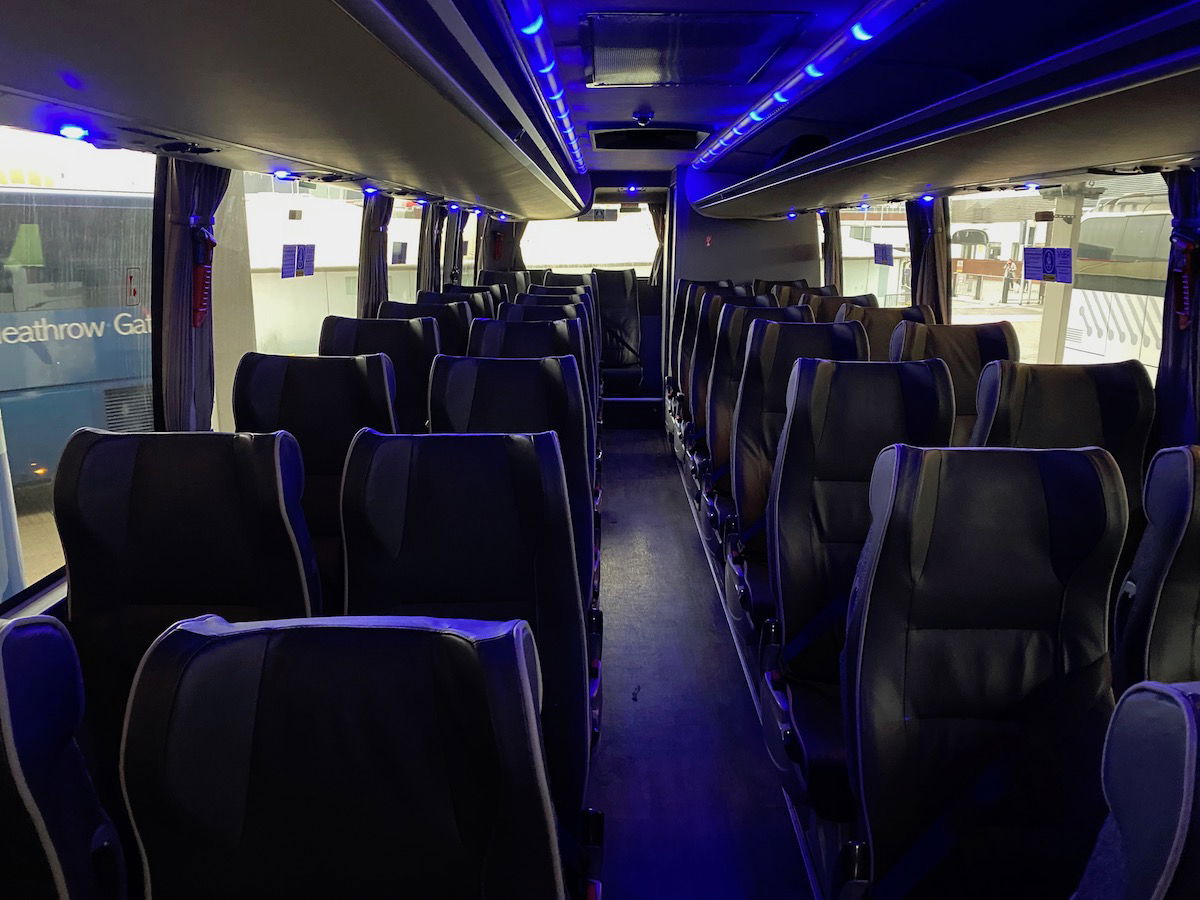 National Express coach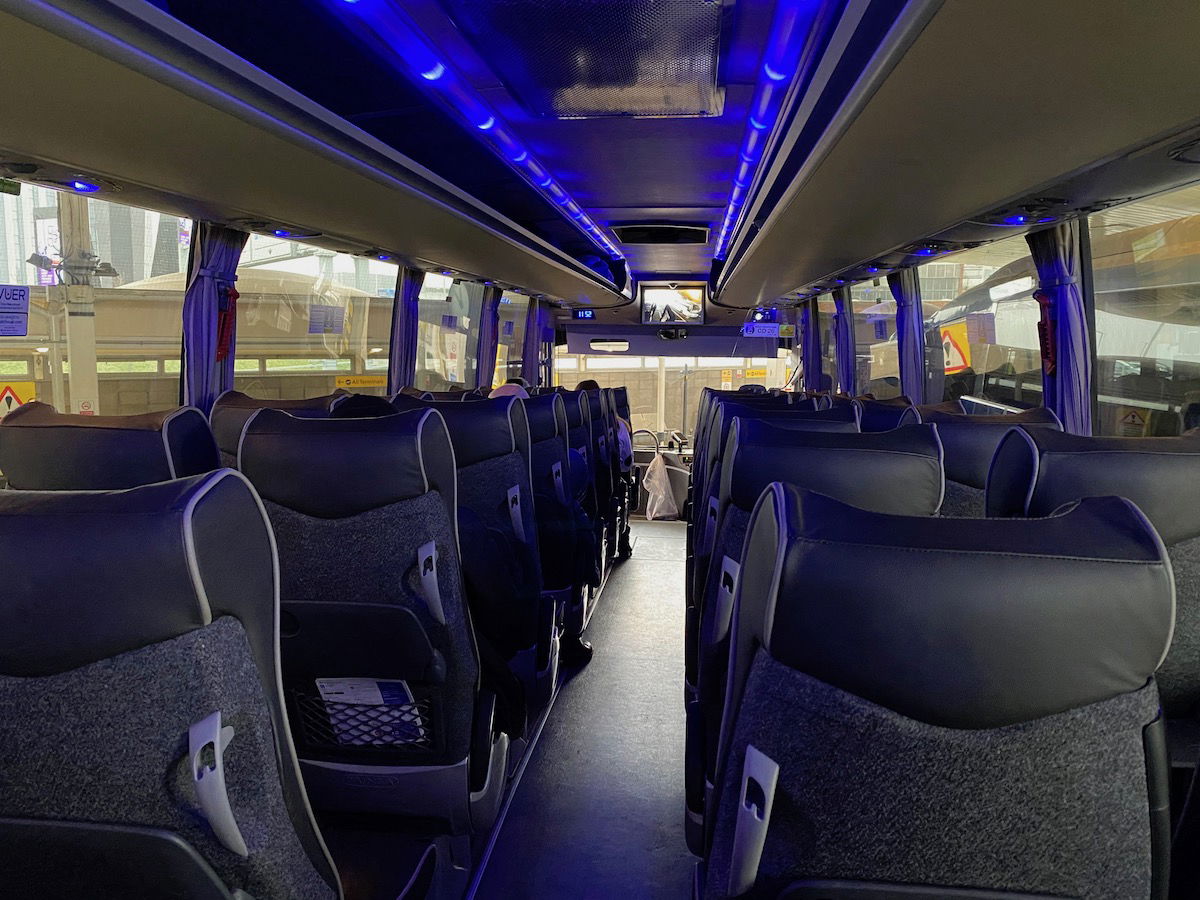 National Express coach
The seats were thick and well padded, but the legroom was limited. I guess they haven't yet learned about slimline seats from airlines. 😉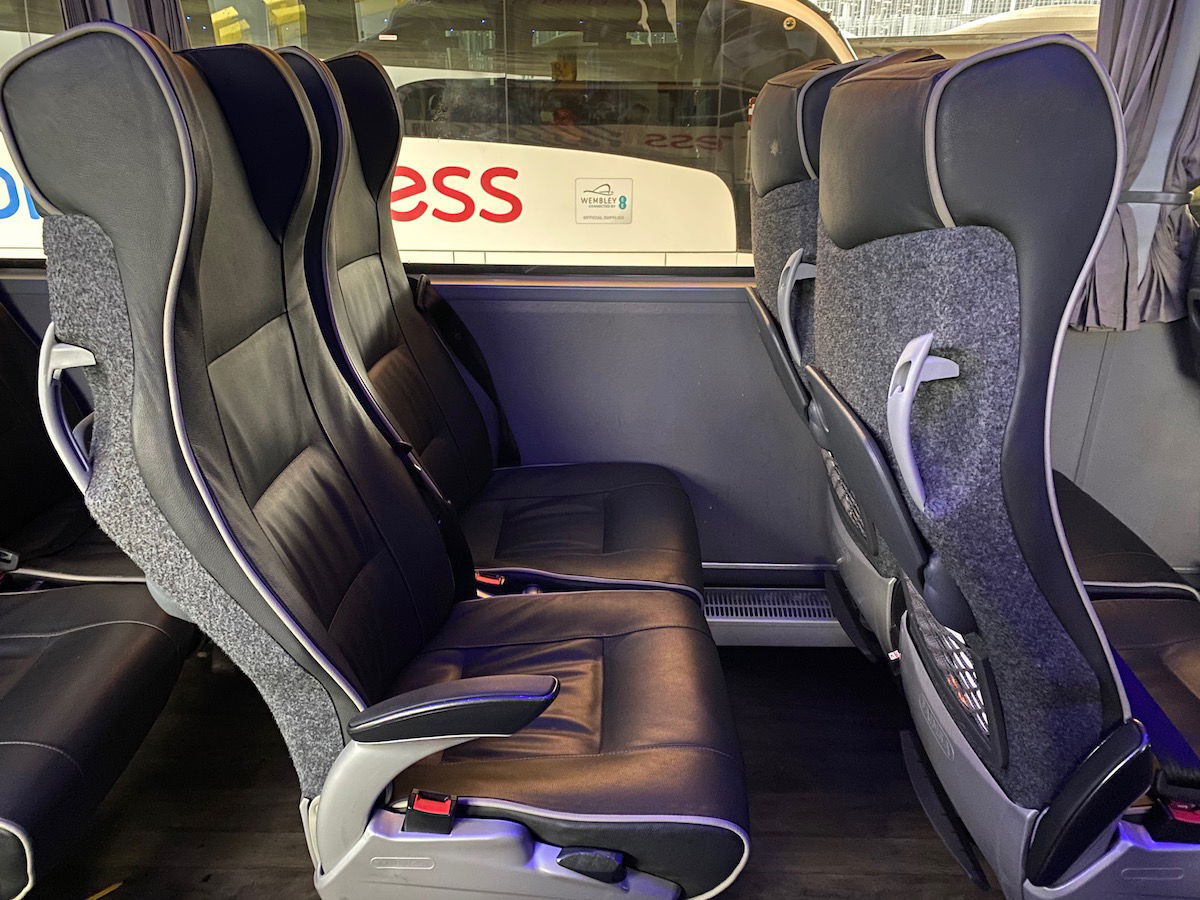 National Express coach
The second to last row had a ton of extra legroom, though it was also right by the bathroom, and the bus driver kept a trash bag on the back of the seats right in front.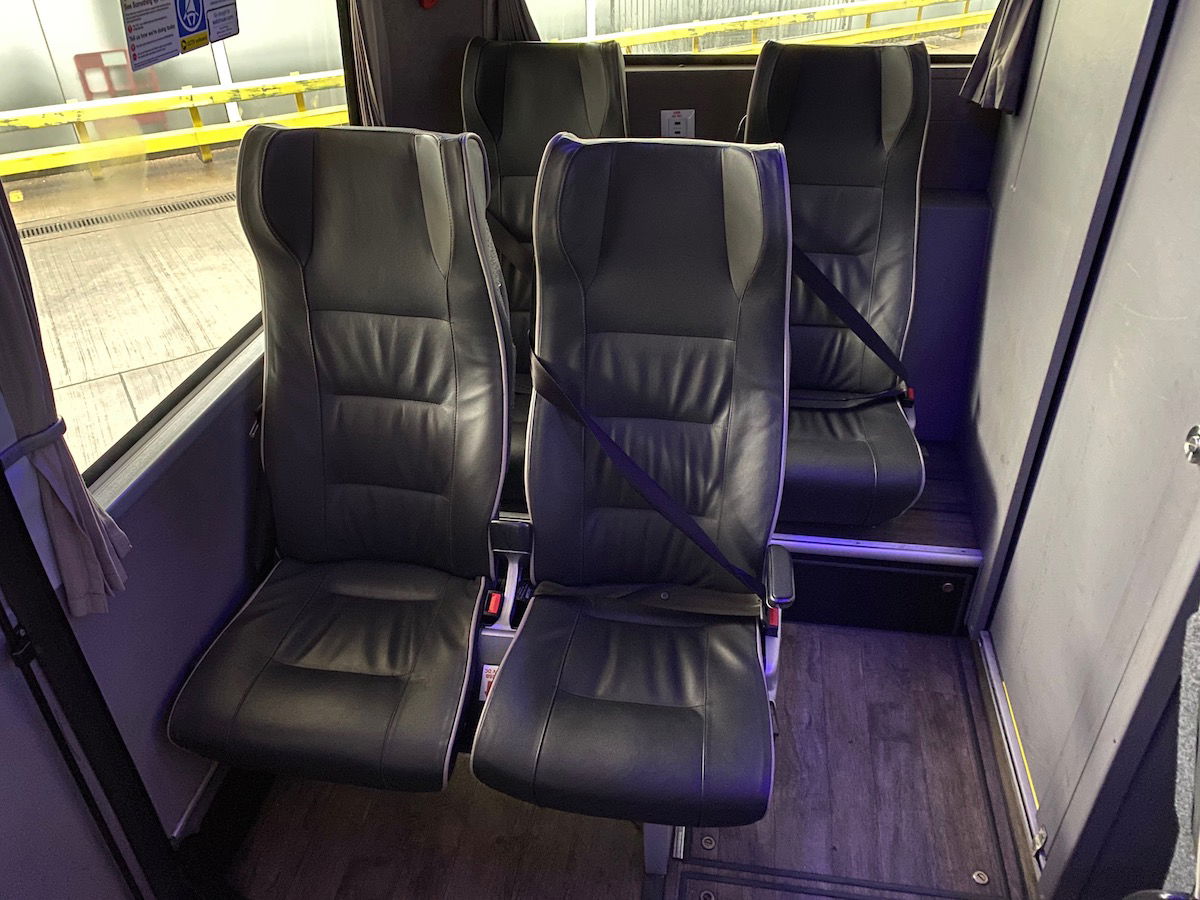 National Express Comfort+
Each seat had a tray table, though it really wasn't big enough to accommodate all of the items distributed with the onboard service. It was large enough when the individual caviar tins were brought out (since they perfectly fit in the cupholders), but when the chateaubriand cart was rolled down the aisle, there simply wasn't enough space for all the sides.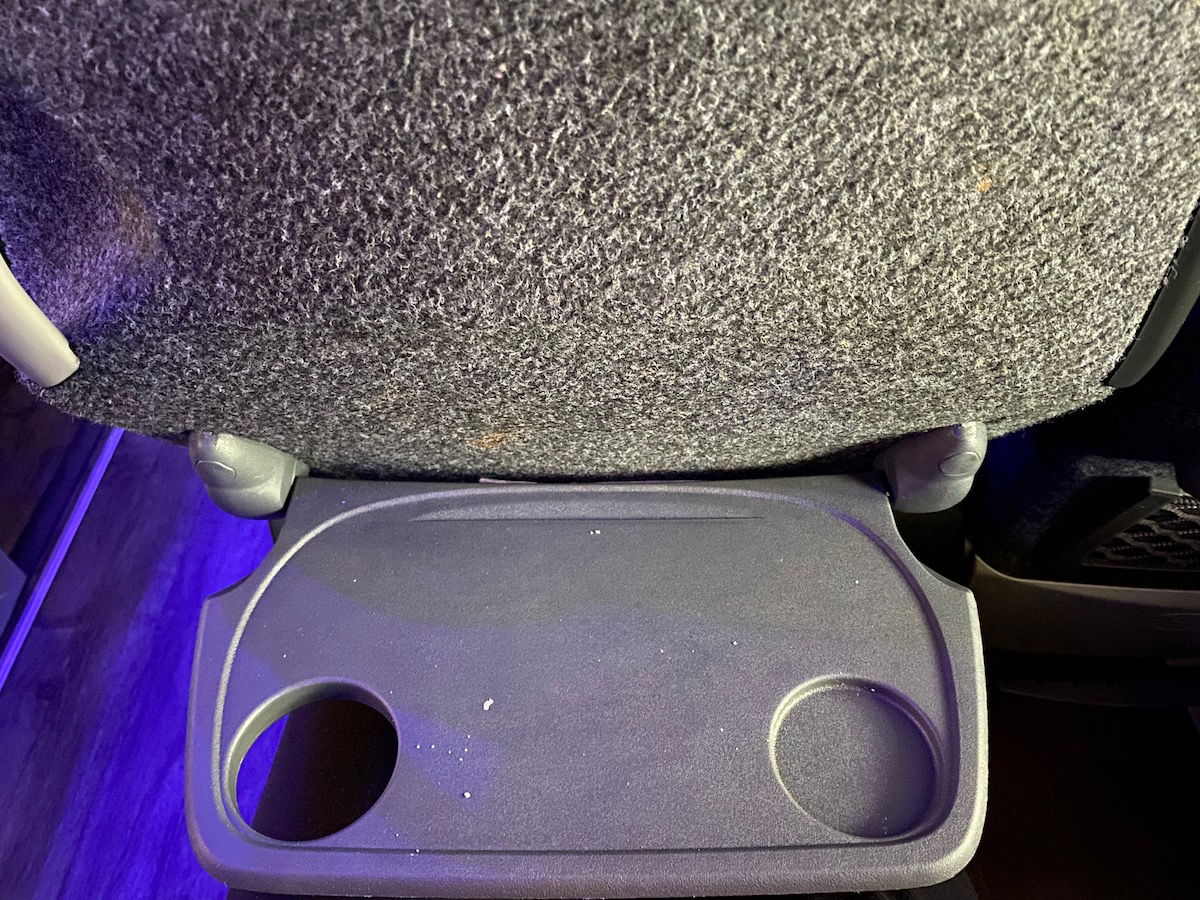 National Express seat tray table
Each seat had a 230v outlet, and the bus apparently had Wi-Fi, though I couldn't get it to work (which wasn't an issue, since I could tether).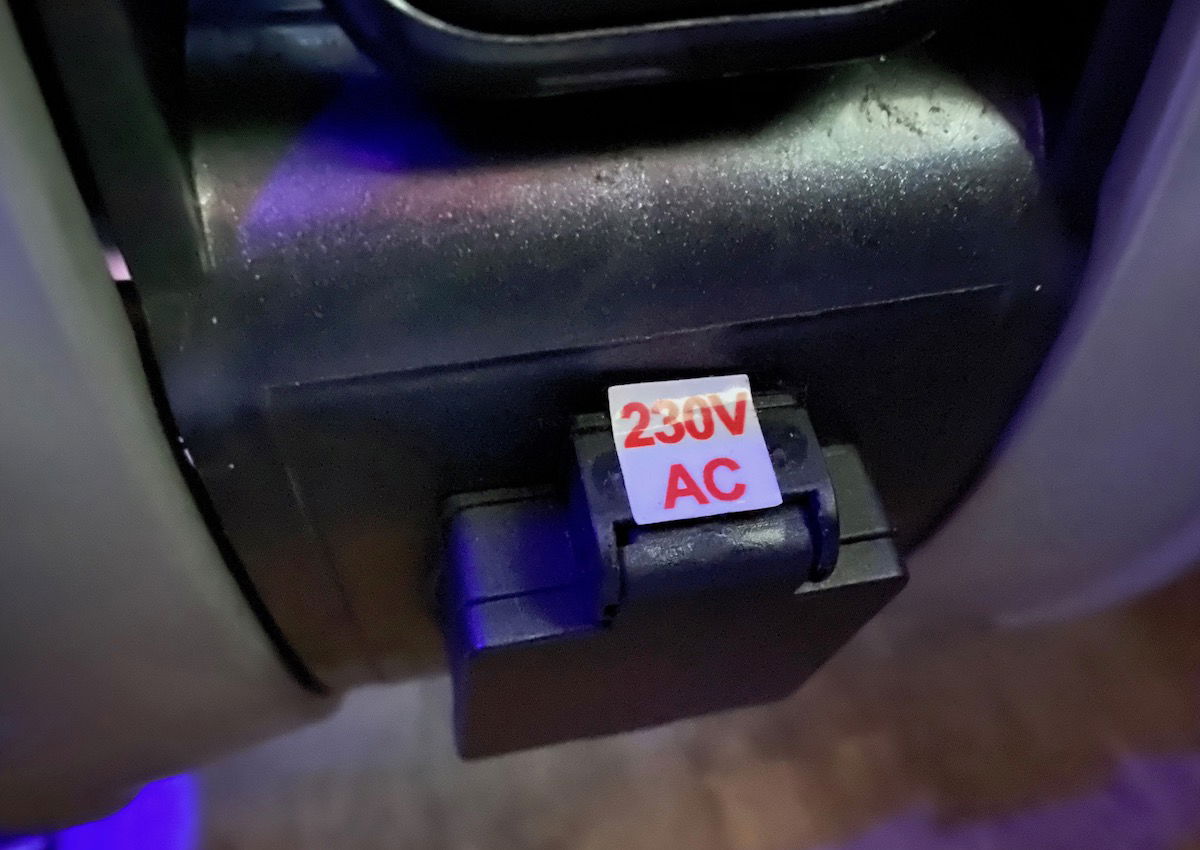 National Express power outlets
We left five minutes behind schedule, at 12:10PM, though we had a pretty smooth ride with very little traffic. I guess that's the benefit of driving on Saturday afternoon. The bus was pretty empty, as there were fewer than a dozen people on board.
Onboard entertainment was limited to a nose camera on the overhead monitor. It was better than nothing, though personally I prefer tail cameras.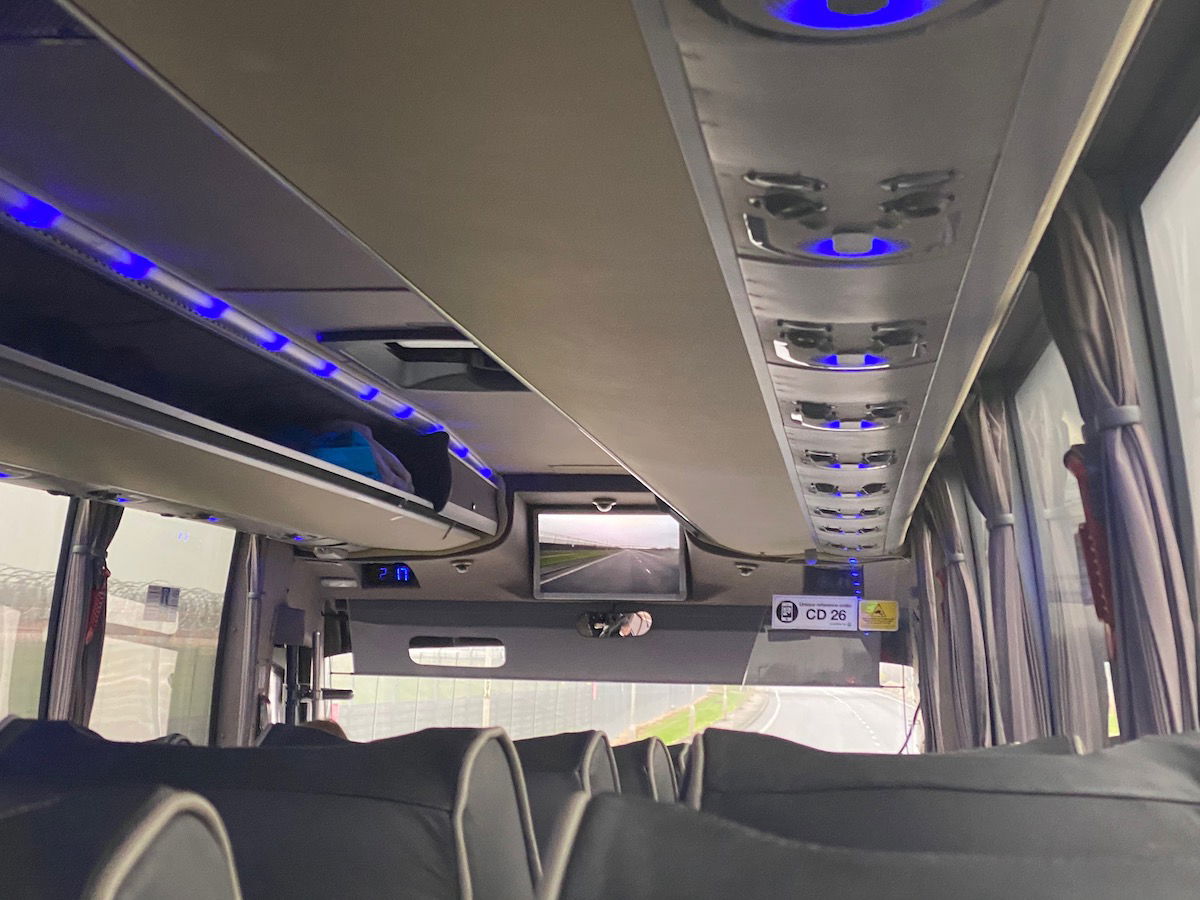 National Express nose camera
Despite departing five minutes late, we arrived five minutes early, at 1:15PM. The bus first stopped at the North Terminal, and then at the South Terminal.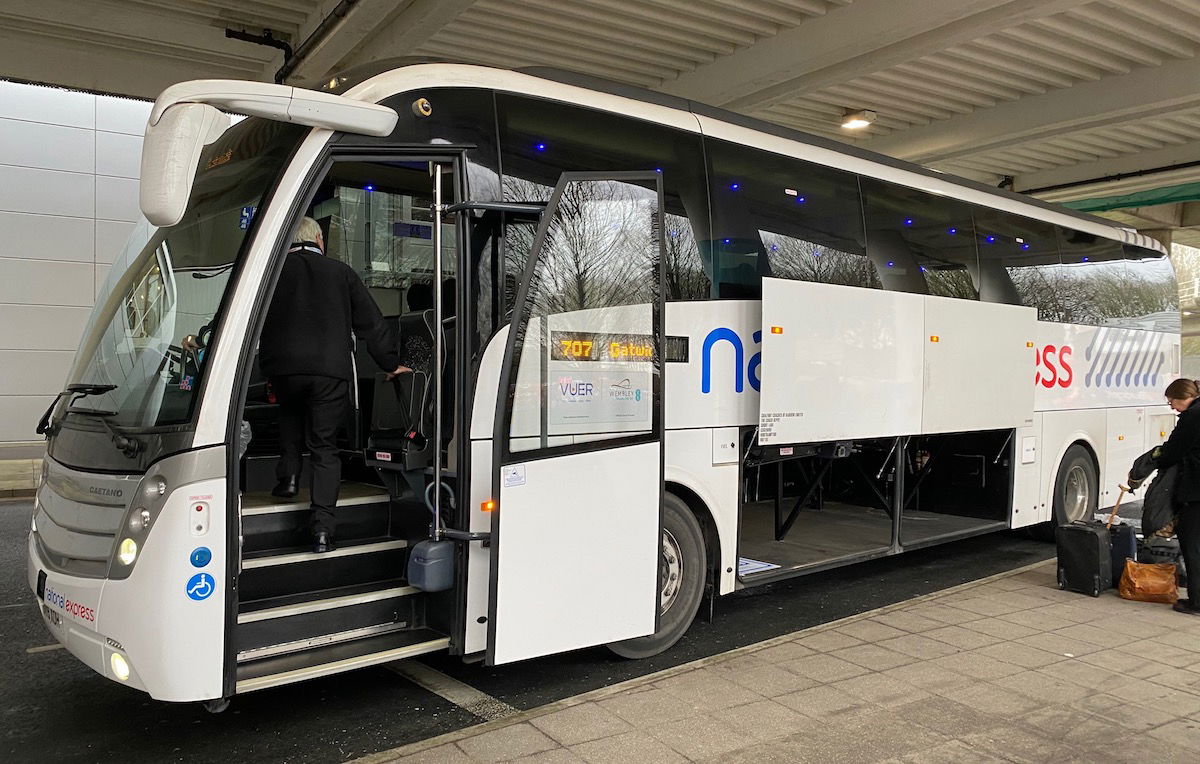 National Express bus
From there it was an easy walk to my next stop…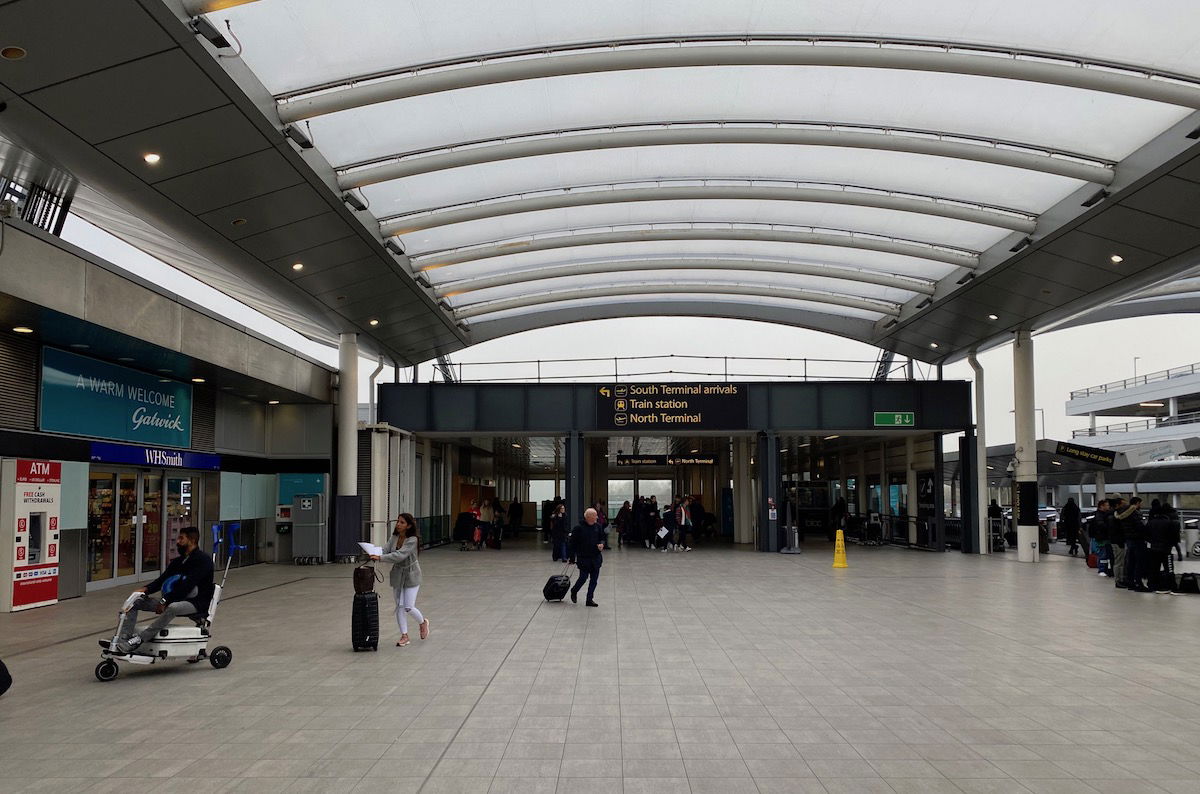 Gatwick Airport South Terminal
National Express Coach Bottom Line
Getting between Heathrow and Gatwick sure is painless with the National Express coach. They have a high number of frequencies, and it's convenient to just get on board and not have to worry about anything until you arrive.
In the past I've avoided transfers between airports in London, and while it's still not ideal, it's not nearly as bad as I was expecting.
If you've transferred between Heathrow and Gatwick, what method of transportation did you use, and what was your experience like?