---
To kick off this trip I flew from Tampa to Boston. I was starting in Tampa because I was visiting my mom before the trip, and I was going to Boston because of the airline I was connecting to from there (you guys will just have to wait to find out what that is). 😉
Booking Delta Air Lines First Class
I completely reworked the outbound portion of my trip last minute due to my decision to avoid mainland China for now, so I ended up booking this flight from Tampa to Boston the day before departure.
As I often find to be the case, Delta had a reasonable fare in first class. I booked the last first class seat available for sale for $332.
As a point of comparison, economy cost $223, so paying an extra $110 for first class on a roughly three hour flight seemed worth it to me.
Delta Air Lines A320 First Class Review
I've done my fair share of Delta reviews lately, including of first class on their 737-800s, A321s, and CRJ-900s. I'll keep this review relatively brief, and just hit on some of my key takeaways.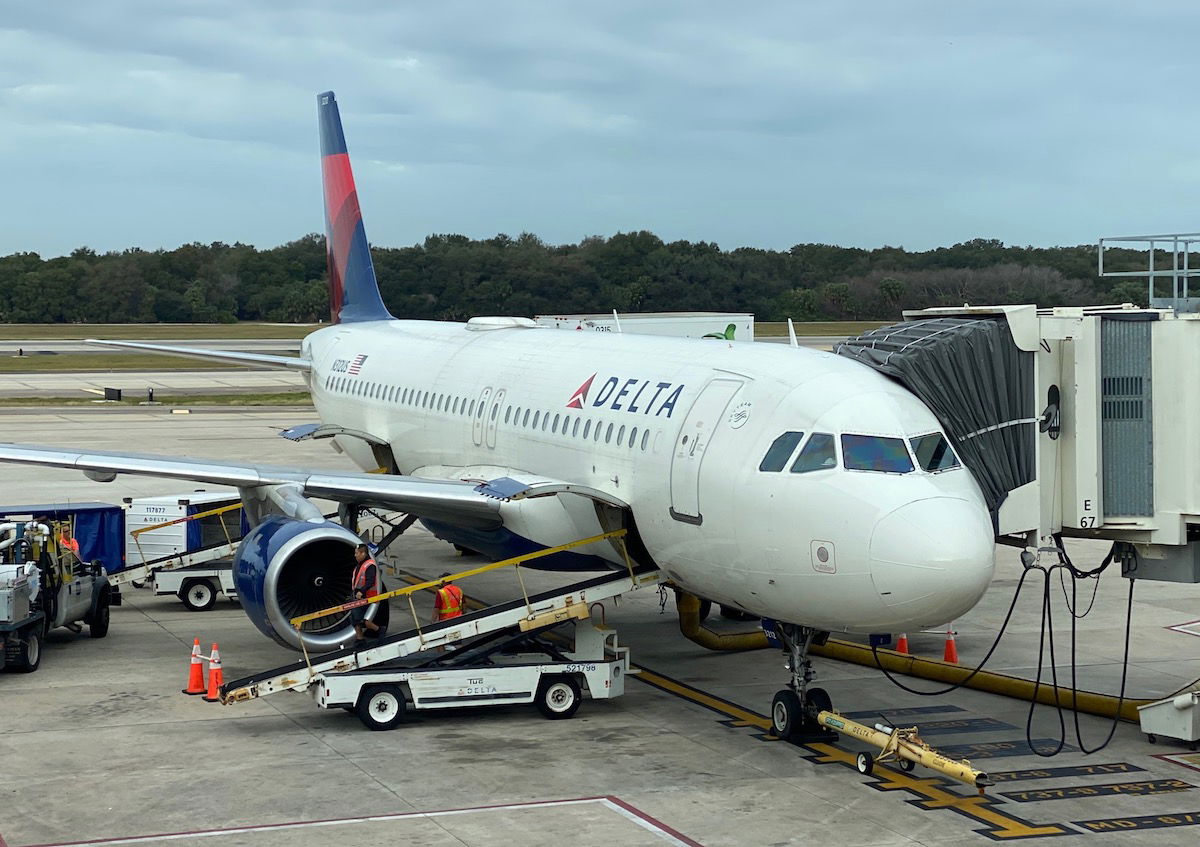 Delta A320 at Tampa Airport
I visited the SkyClub before my flight (which I won't be reviewing since it was pretty crowded), and then headed down to gate E67 shortly before the 10:55AM scheduled boarding time.
Delta Air Lines 2136
Tampa (TPA) – Boston (BOS)
Friday, January 24
Depart: 11:35AM
Arrive: 2:30PM
Duration: 2hr55min
Aircraft: Airbus A320
Seat: 4D (First Class)
Delta's A320 first class cabin consists of a total of 16 seats, spread across four rows in a 2-2 configuration.
While there's some minor variance between Delta first class seats on A320 and 737 family aircraft, they mostly have the same core features — legroom isn't amazing, but the cabins feel fresh, there are power outlets, there's high speed Wi-Fi, and there are personal entertainment monitors. Note that on Delta will be introducing an all new first class seat on their upcoming A321neos.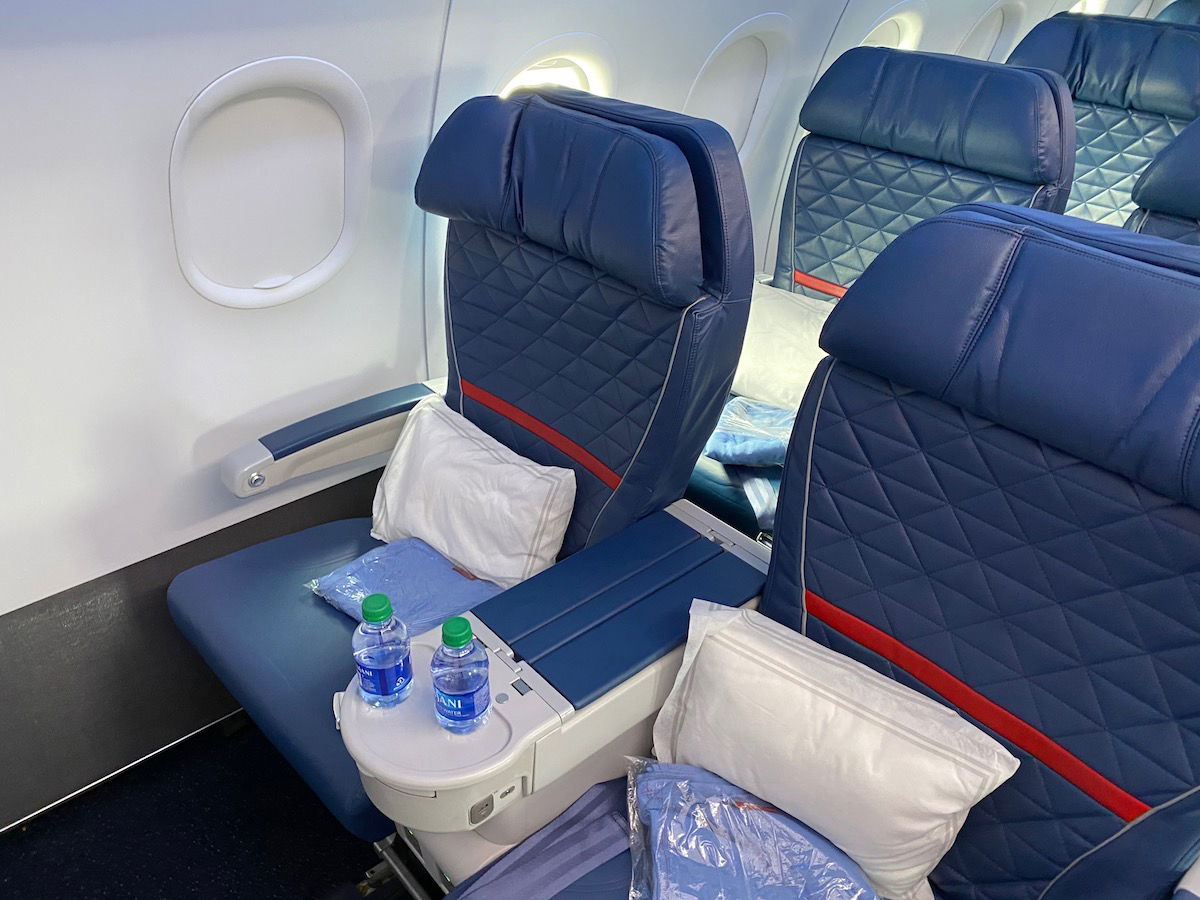 Delta A320 first class seats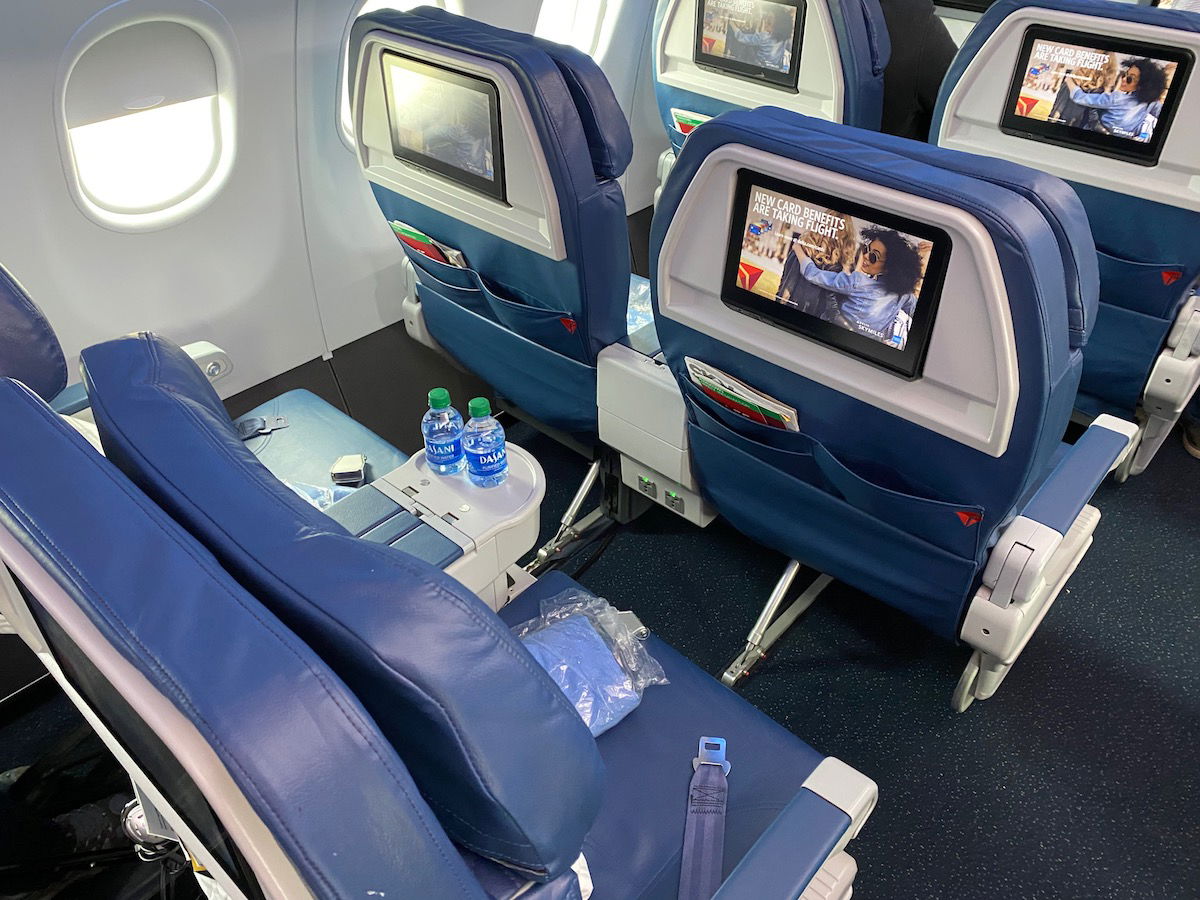 Delta A320 first class seat
I assigned myself seat 4D, the window seat on the right in the last row (which was also the last available seat when I booked).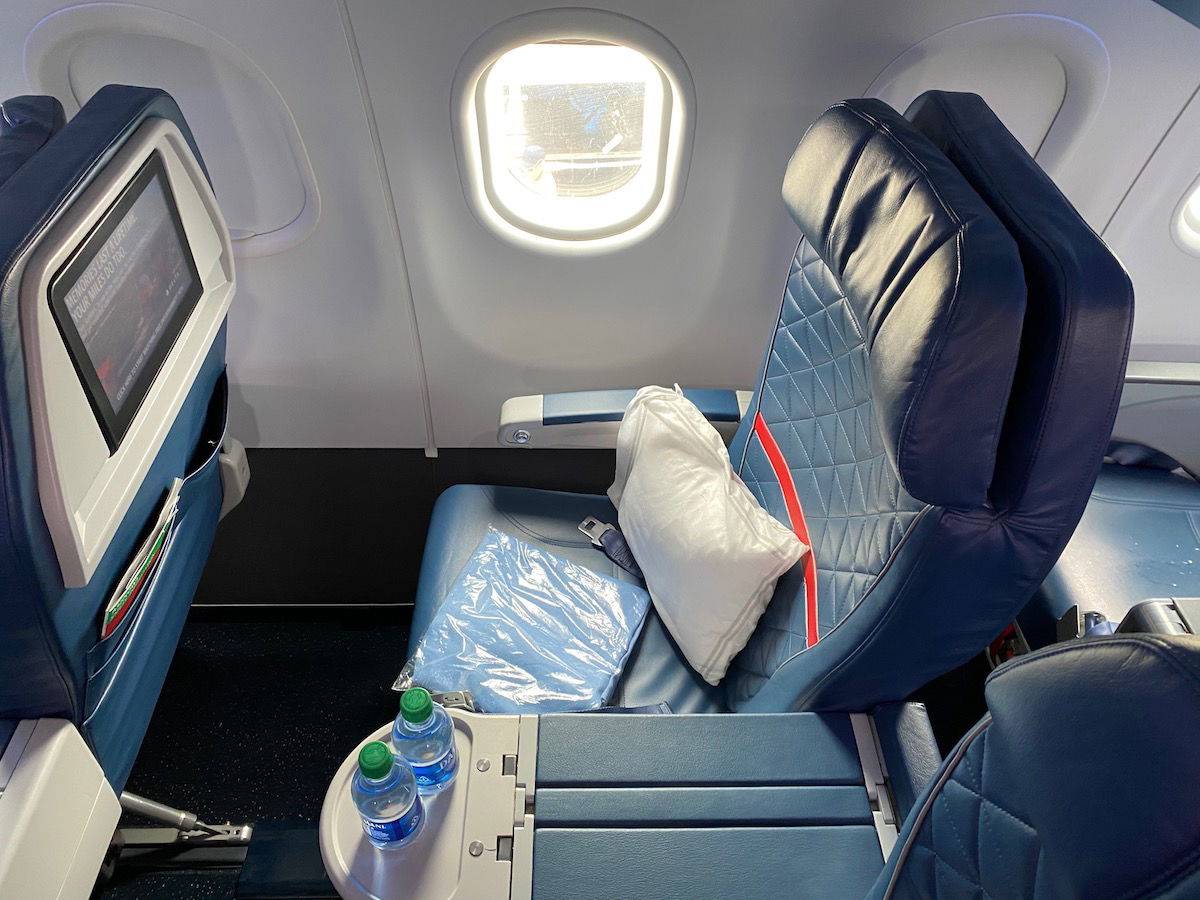 Delta A320 first class seat
Delta doesn't have a proper divider between first class and economy, so my seat basically reclined into the first row of Comfort+.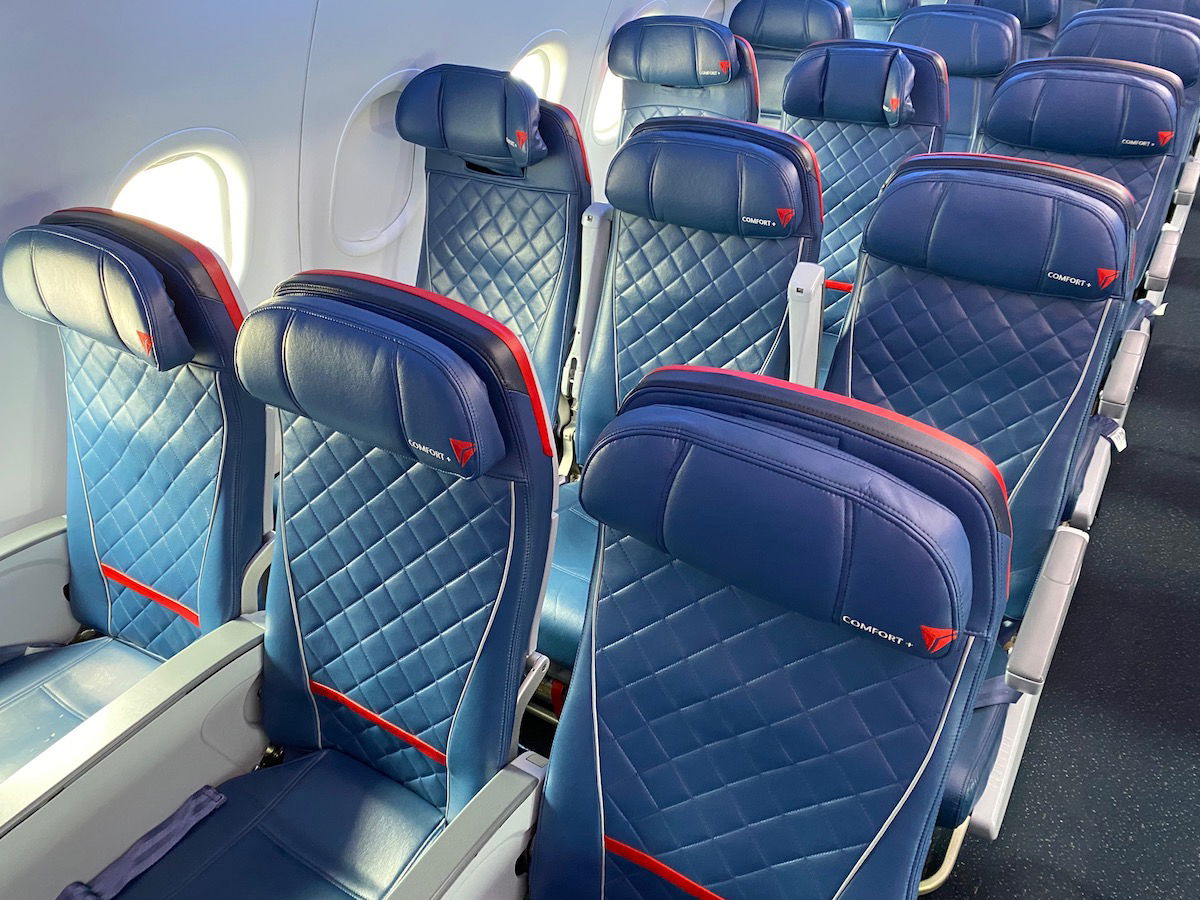 Delta Comfort+ seats A320
The plane had large overhead bins, and also had cool overhead consoles, which look like Roombas, or something.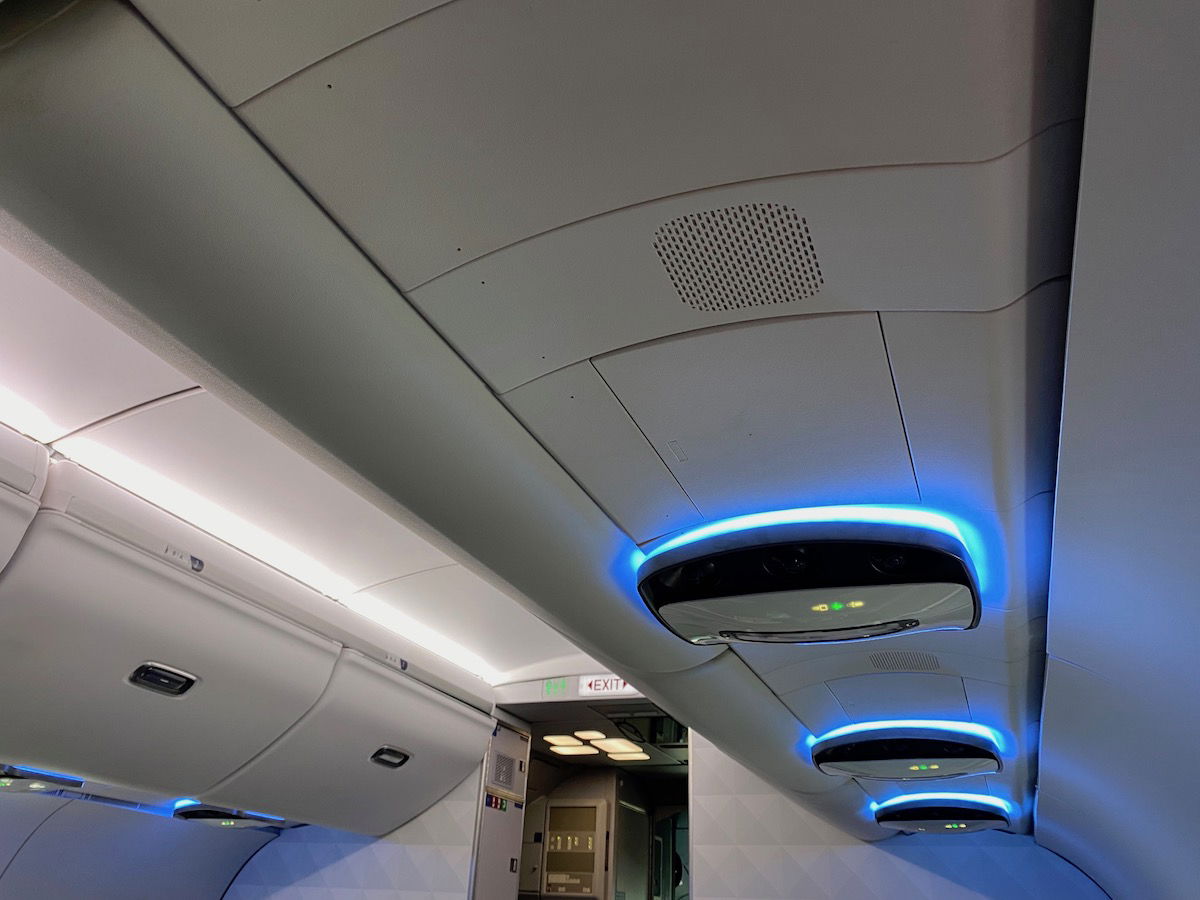 Delta A320 overhead consoles
Here's the crazy part, and what's actually one of the key points I want to make with this review — this is a 29 year old plane. That's old. But you wouldn't know it based on the interior. That's something Delta does masterfully.
As usual there were pillows, blankets, and bottles of water at each seat.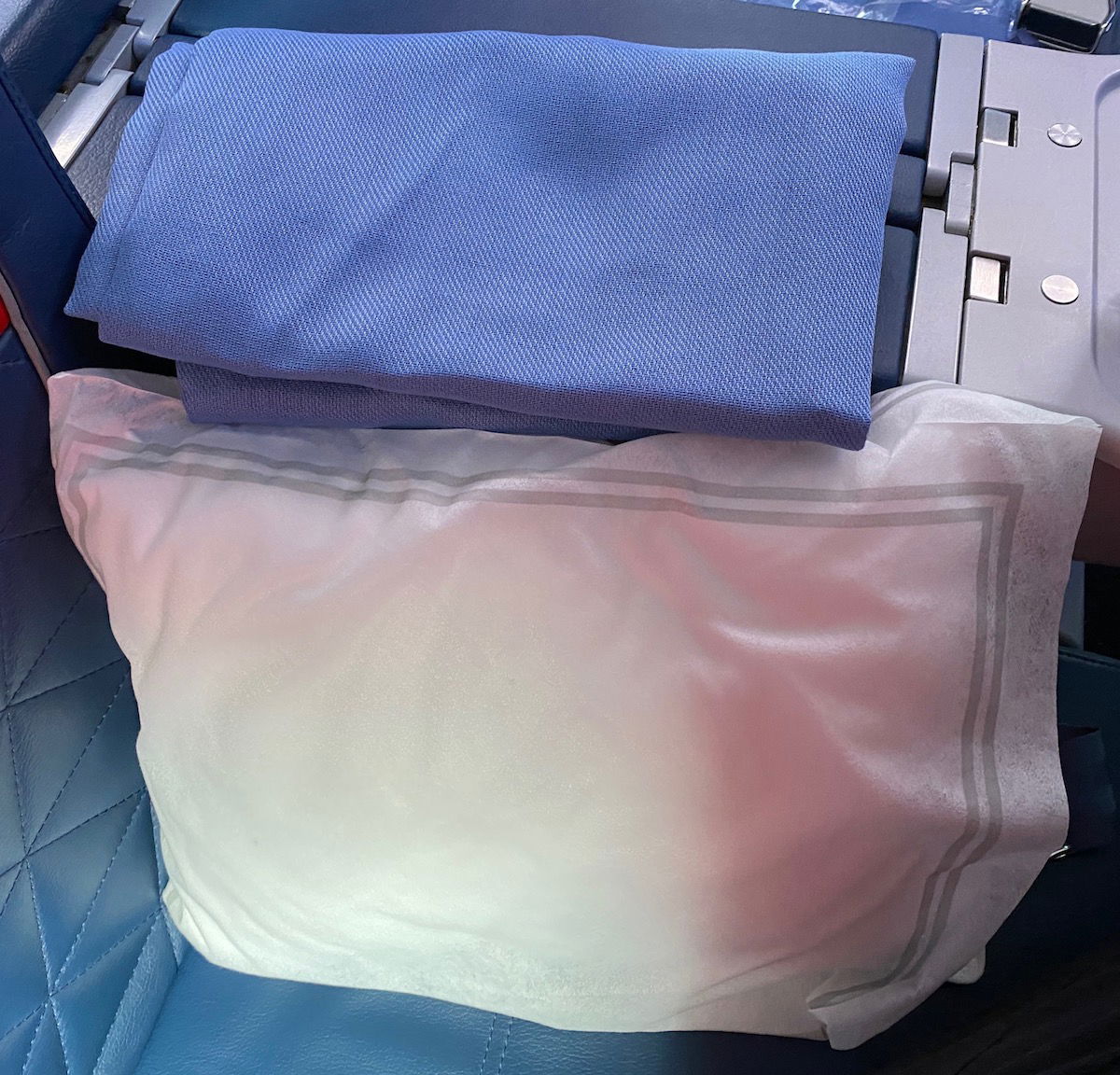 Delta first class pillow & blanket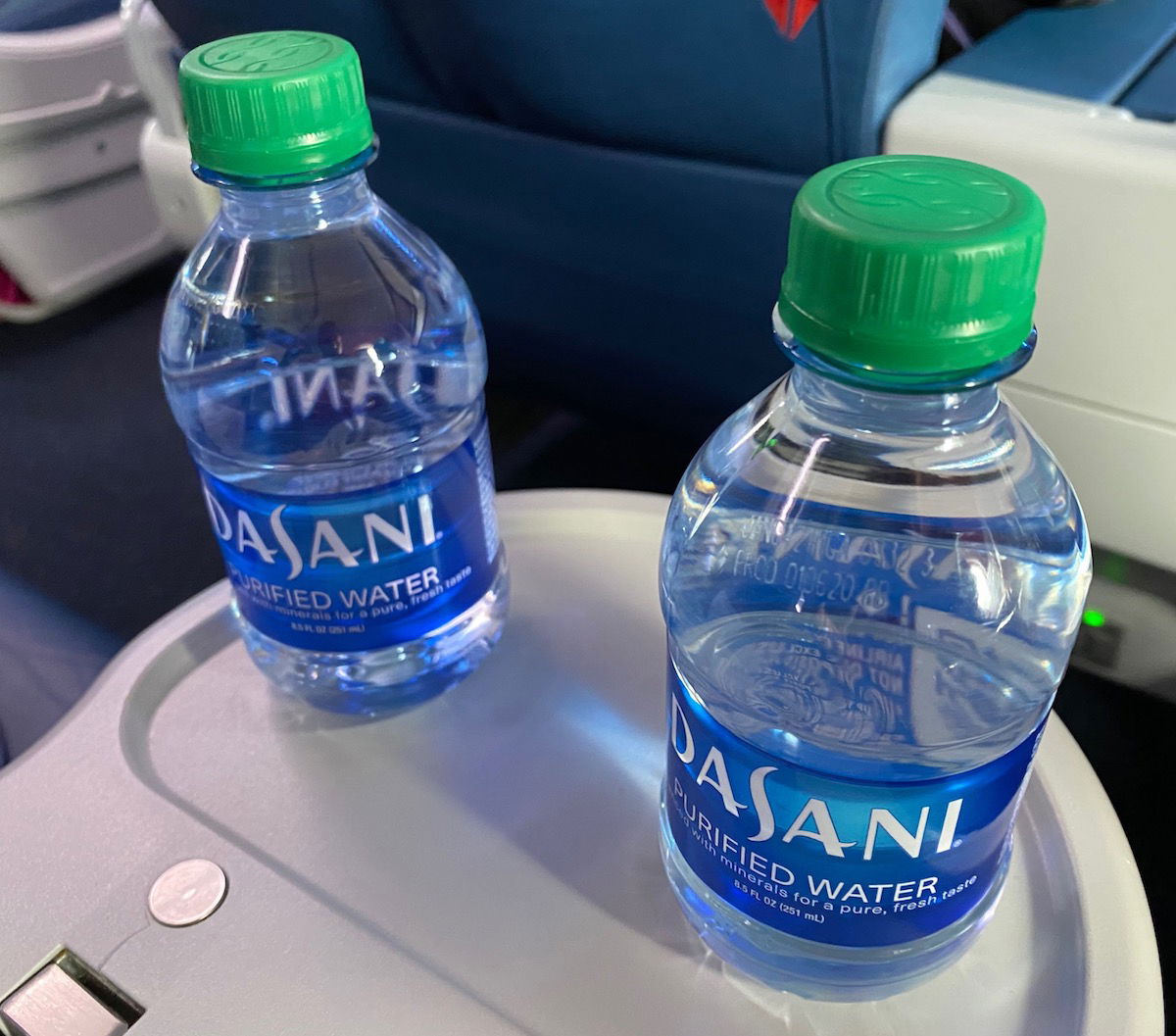 Delta first class bottled water
Ironically on this flight the most impressive hospitality came from the captain. Once boarding finished up he stood at the front of the first class cabin and gave passengers a nice welcome aboard, informed us of the flight time of 2hr20min, said it should be a smooth flight, etc. What a nice touch!
The crew, by comparison, was not as great. I constantly rave about Delta employees, so while I wouldn't at all say that the crew was bad, they didn't have that touch that sets Delta apart.
Again, there was truly nothing bad about them, I just didn't walk away from the flight thinking "wow, they like their jobs/take pride in their jobs."
For what it's worth, the crew was Boston based I believe (at least based on their accents — "prepaaah the cahhhbannn fo depatchaaaa and crosscheck").
I spent most of the flight working, which was easy thanks to Delta's Gogo 2Ku Wi-Fi (though I still prefer American's Viasat Wi-Fi). I have a Gogo subscription, but otherwise the cost would have been $10 for a one hour pass, or $25 for a pass for the whole flight (though there are ways to get discounts by buying Wi-Fi in advance). Delta does offer free messaging to all passengers.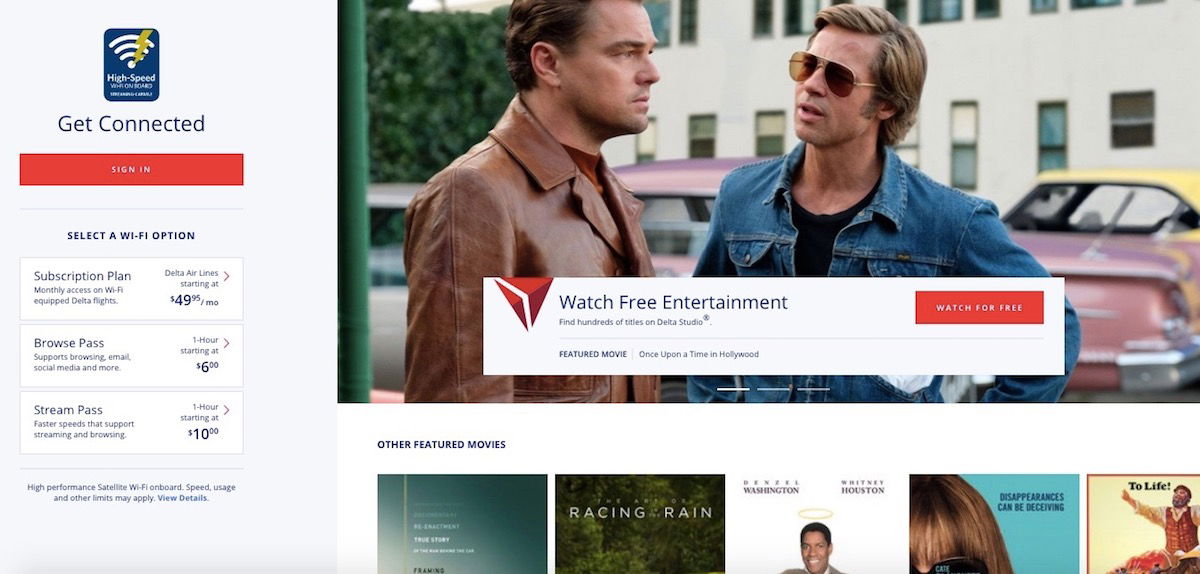 Delta Wi-Fi pricing


Delta Wi-Fi pricing
Service was slow to get started after takeoff — I was offered a warm towel about 30 minutes after takeoff, and then was served the meal about 60 minutes after takeoff.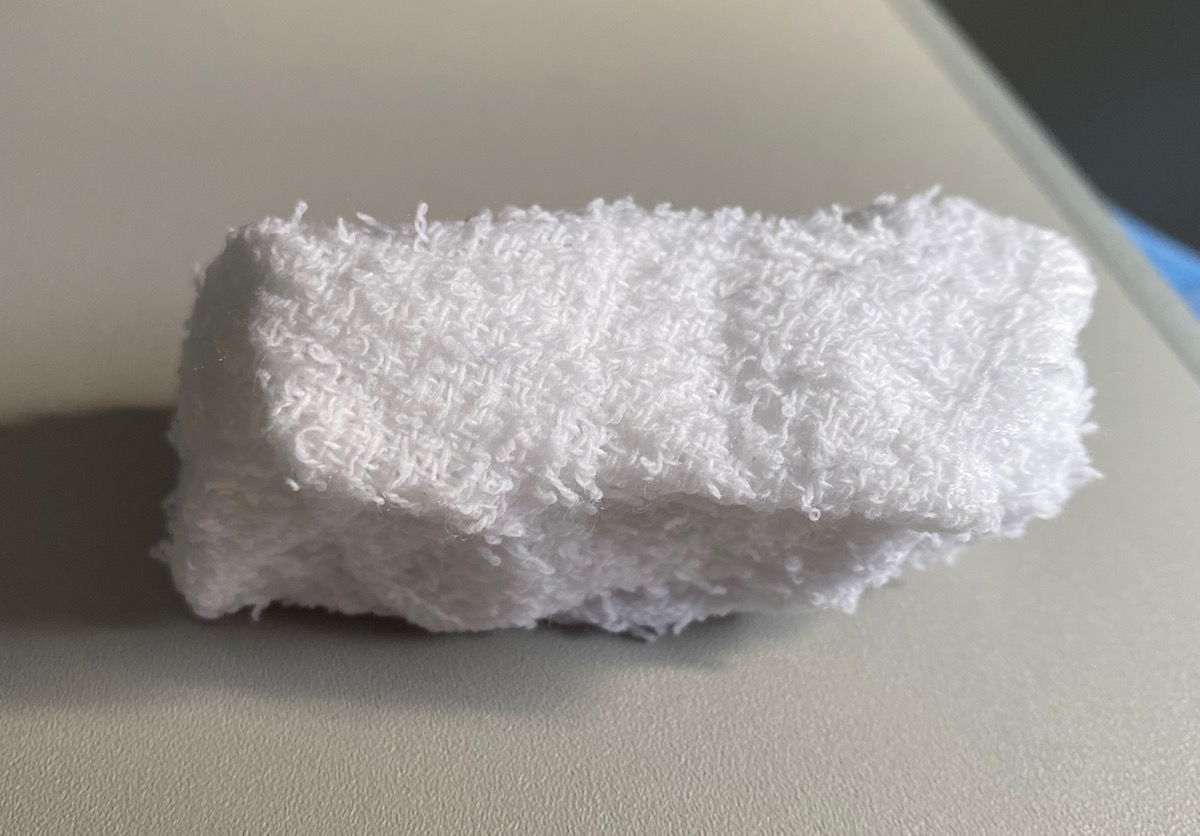 Delta first class warm towel
Delta's domestic first class catering is a weak point of the experience, in my opinion. On this flight there were two options, described as follows:
Chef salad with turkey — romaine lettuce, cheddar cheese, hard-boiled egg wedges, cherry tomatoes, and chives
Chicken club sandwich — roasted chicken, turkey bacon, and colby jack cheese with bistro sauce
I pre-ordered the salad, and it… wasn't particularly good. The turkey tasted like it came from a Lunchables container (maybe it did?), but otherwise it was fine.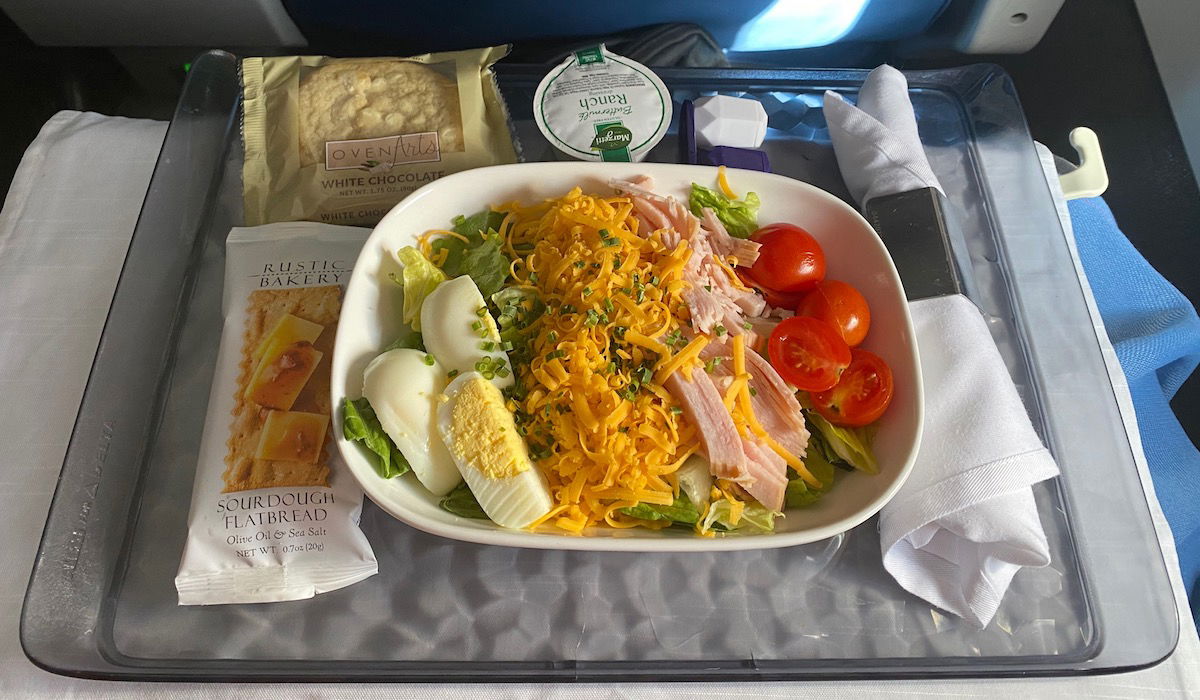 Delta first class lunch
Unlike American, Delta doesn't offer warm mixed nuts before the meal, warm bread, or warm cookies for dessert. Rather they offer nothing with the first drink, they offer some sort of packaged flatbread or breadsticks, and then they offer a packaged dessert, usually a cookie.
Perhaps that's for the better since that's not as tempting and I don't end up consuming an unnecessary number of calories out of boredom, as I might on American (usually the only decent thing about American's meals are their mixed nuts, pretzel bread, and cookies).
Anyway, we arrived in Boston about 15 minutes ahead of schedule, and I was looking forward to continuing my journey to… well, you'll find out soon enough.
Delta First Class Bottom Line
Reviewing domestic Delta flights sure is repetitive, because the airline is consistent. Sure, there are minor variances, but the core elements are the same:
Delta prices first class reasonably in many markets
While Delta's first class seats aren't the most spacious out there, they're consistent, with power, entertainment, and fast Wi-Fi
Delta's cabins are consistently well maintained, even on this 29 year old plane
Service is usually good/above average, though I'd say this was one of the less-great Delta crews I've had (but they still weren't bad)
Food is a real weak point on Delta in domestic first class, but then again, American and United aren't much better (or better at all)
That's my takeaway, at least.
What do you make of the Delta domestic first class experience, and how do you think the "big three" US carriers compare when it comes to domestic catering on non-transcons?