---
I arrived at Gatwick Airport shortly after 1PM, though my flight wasn't until 9PM. Since I was doing two back-to-back redeyes, I figured it would be nice to get some rest in a "real" bed during my layover.
Fortunately that was easy thanks to the Yotel Gatwick. I'm quite a Yotel fan, and have reviewed their locations at London Heathrow and Singapore Changi.
Booking The Yotel Gatwick
Like most transit/cabin hotels, you can book the Yotel Gatwick either for an overnight stay, or by the hour, with a minimum of a four hour stay.
According to Yotel's website, rates can be as low as the following:
Four hour usage from £42
Six hour usage from £52
Eight hour usage from £62
I booked a six hour block from 1PM until 7PM for £55 (~$72), including all taxes and fees.
Yotel Air Gatwick Review
Ultimately there's not that much to talk about with the Yotel Gatwick, since unlike the location at Singapore Changi, this one doesn't have a "lounge" or a gym. Below I'll talk about the location of the property, and my cabin.
Yotel Gatwick Location
The Yotel is located at Gatwick's South Terminal, though it's also easily accessible via the inter-terminal shuttle service from the North Terminal.
To get to the Yotel, just go to the South Terminal international arrivals area.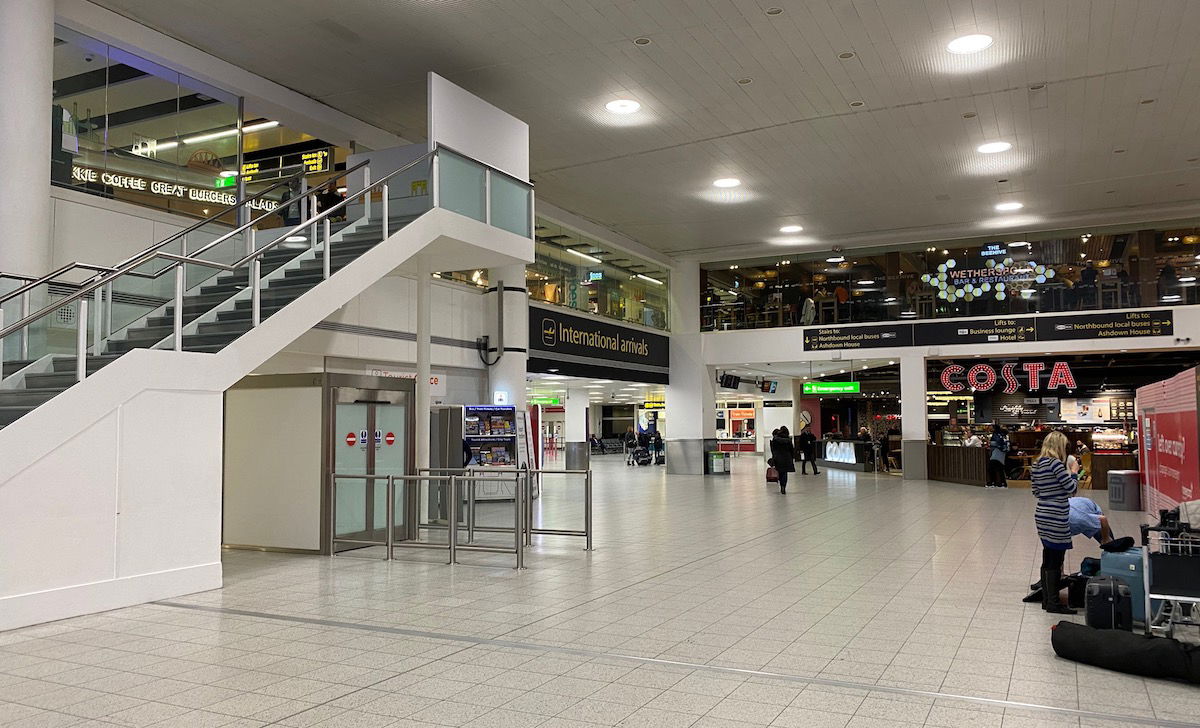 Gatwick South Terminal international arrivals
Then on the right you'll see the elevators leading down to the Yotel.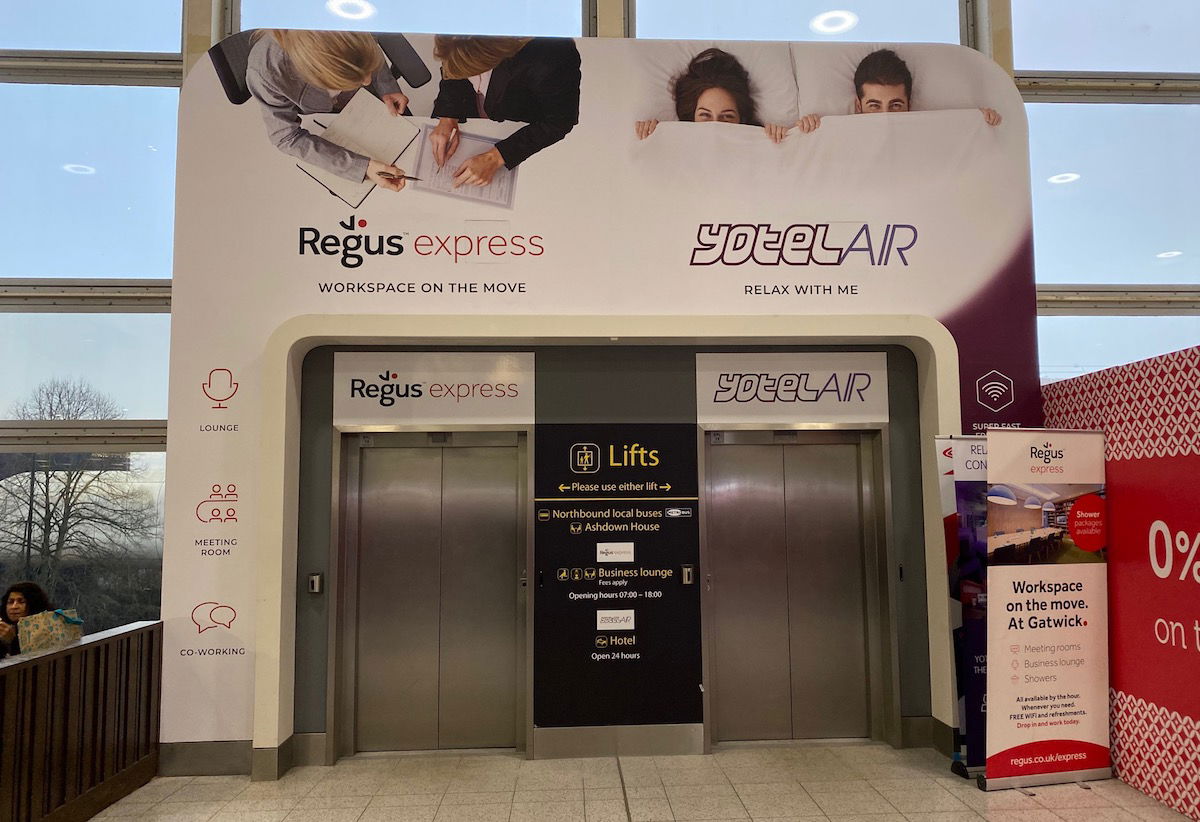 Elevators to Yotel Gatwick
Take the elevator down a floor, and you'll see the Yotel entrance on the left.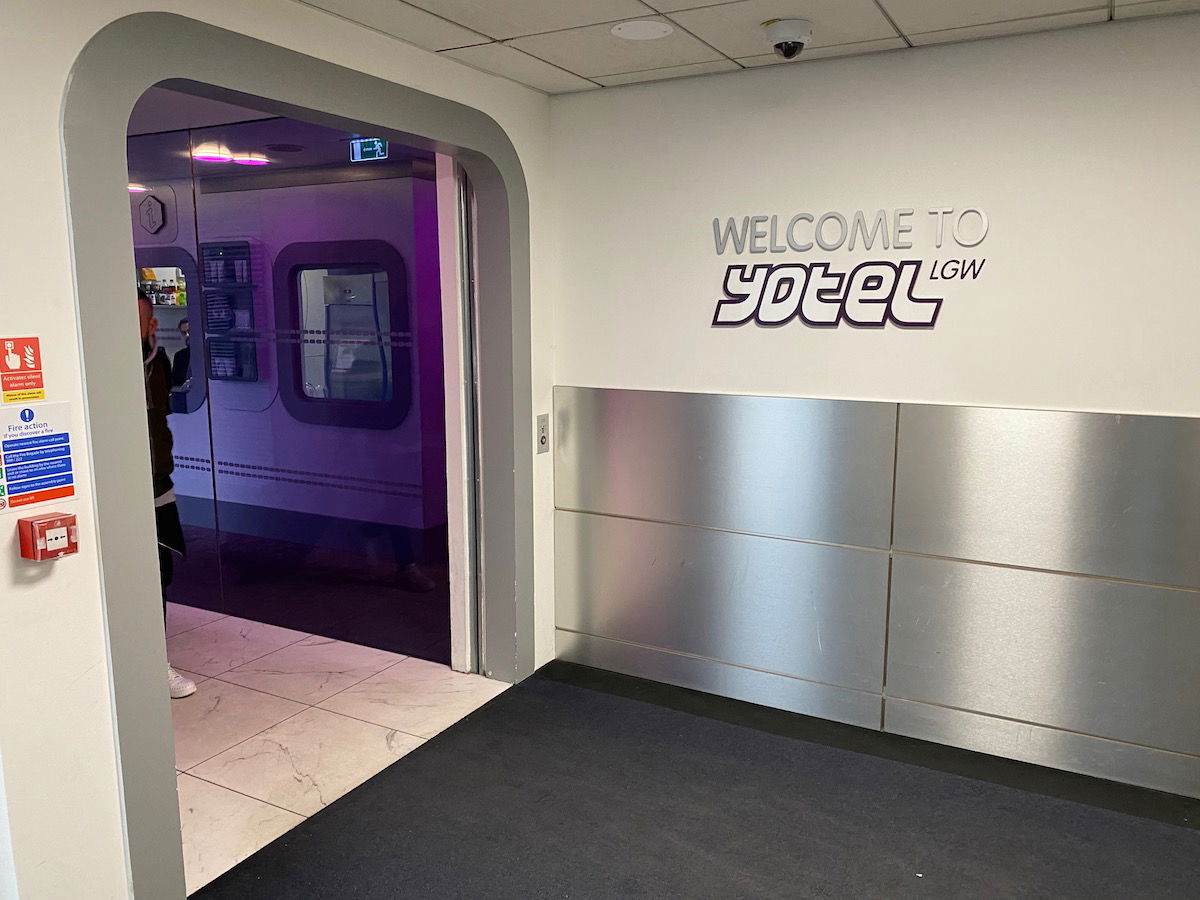 Yotel Gatwick entrance
In case that's not clear enough, here's a map showing the location: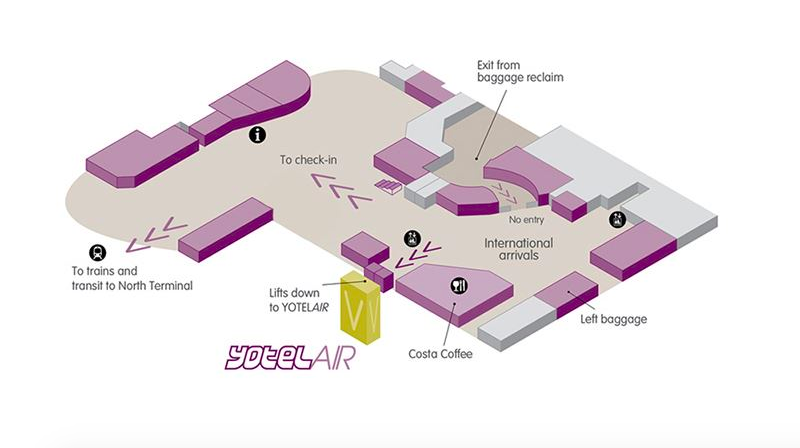 Yotel Gatwick location
Yotel Gatwick Standard Cabin
Once inside I headed to "Mission Control," which is Yotel's term for the check-in desk.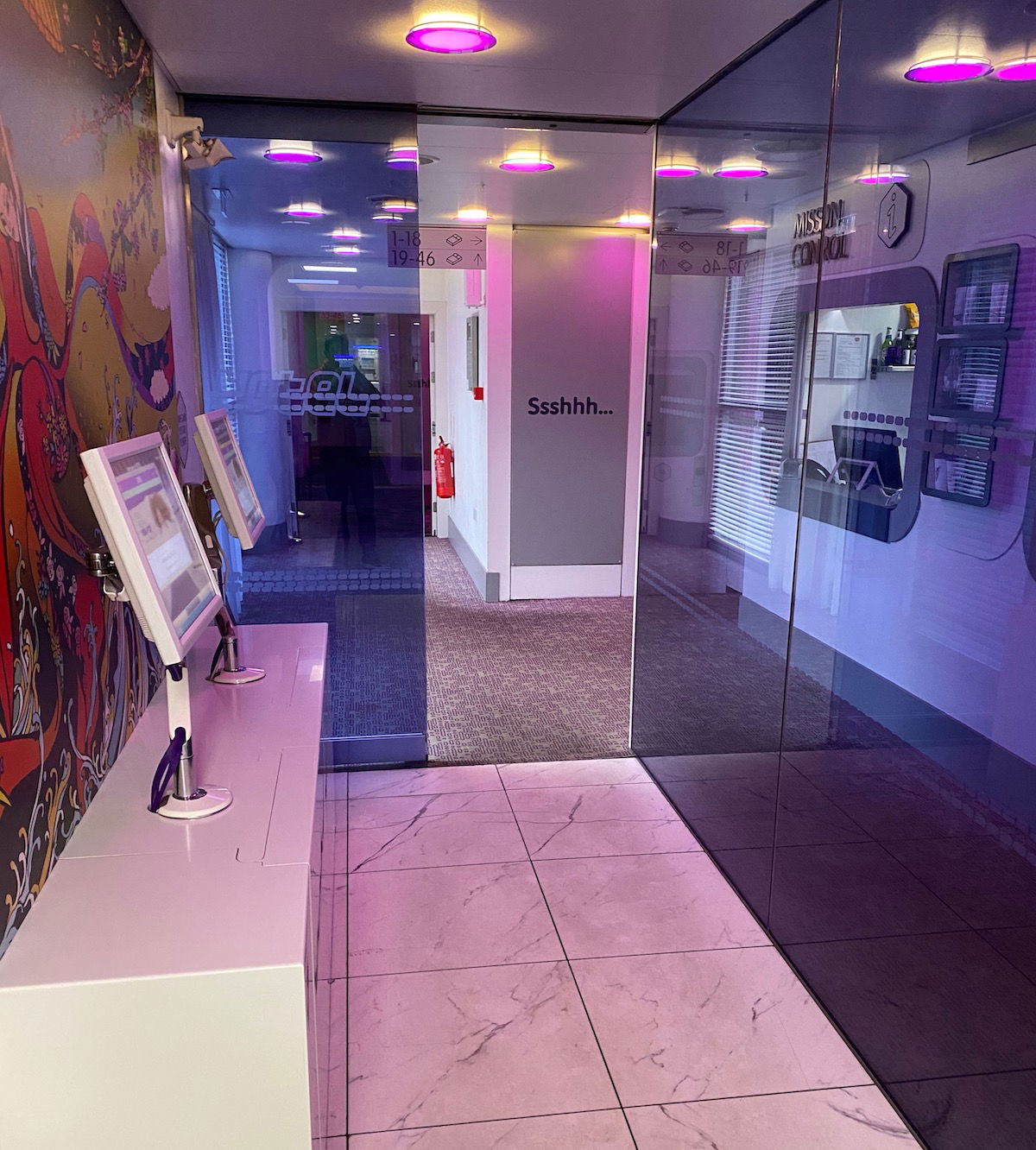 Yotel Gatwick entrance
The check-in process couldn't have been faster. I wasn't asked for a credit card, and was issued a key for my cabin literally within seconds. The Yotel employee told me that water and coffee are free at Mission Control at all times, and that there was also a room service menu in my cabin that I could order from.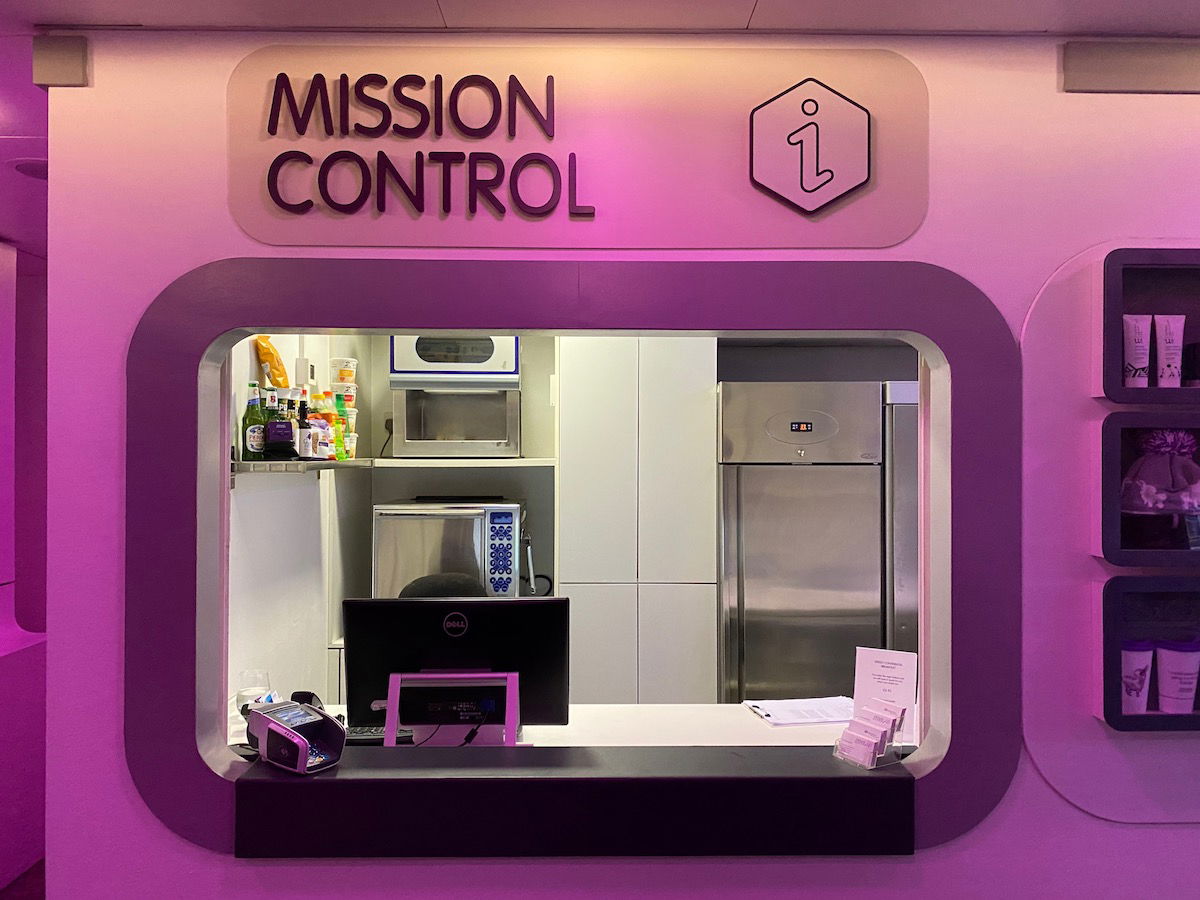 Yotel Gatwick Mission Control
I was assigned cabin 21, which was down the second hall and to the right, just a short walk from reception.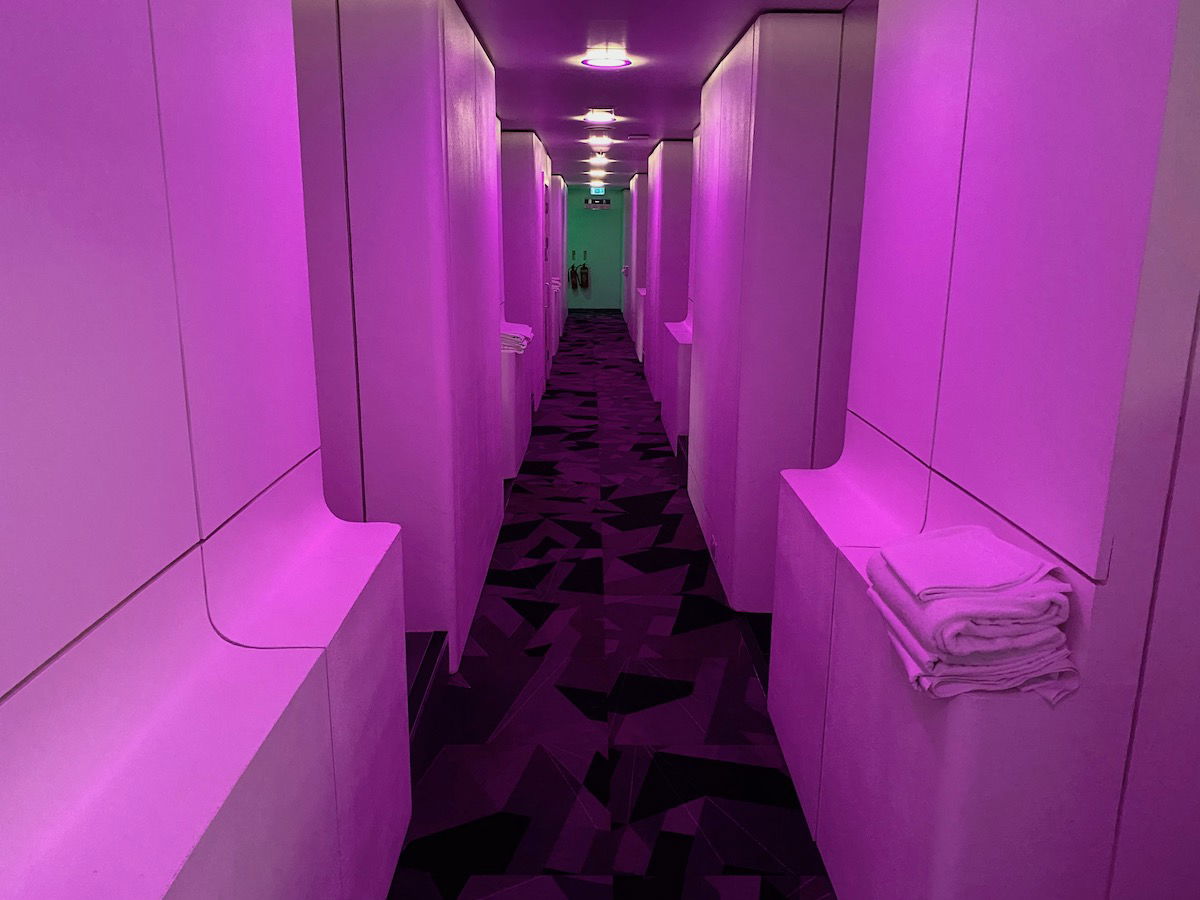 Yotel Gatwick hallways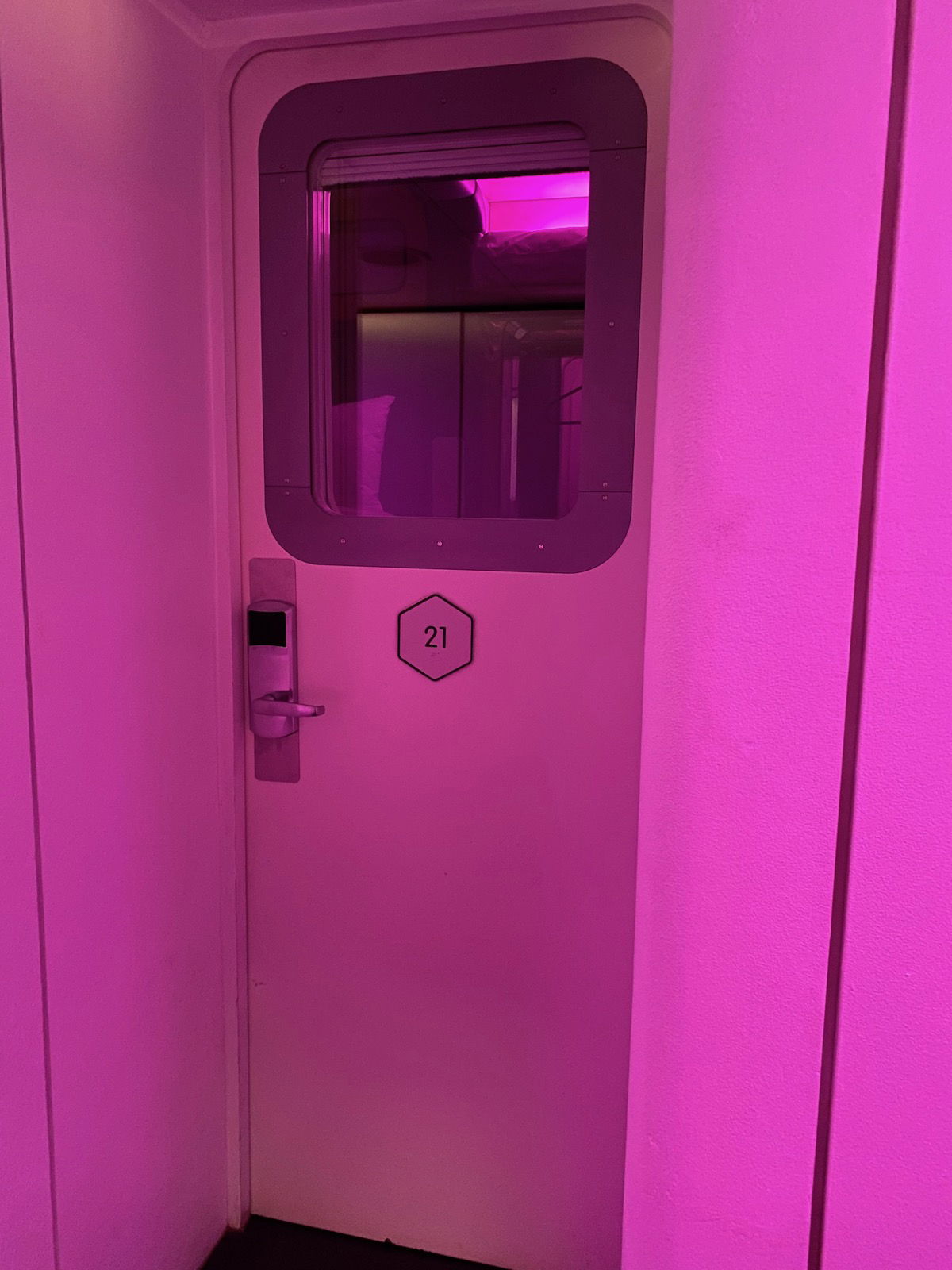 Yotel Gatwick cabin entrance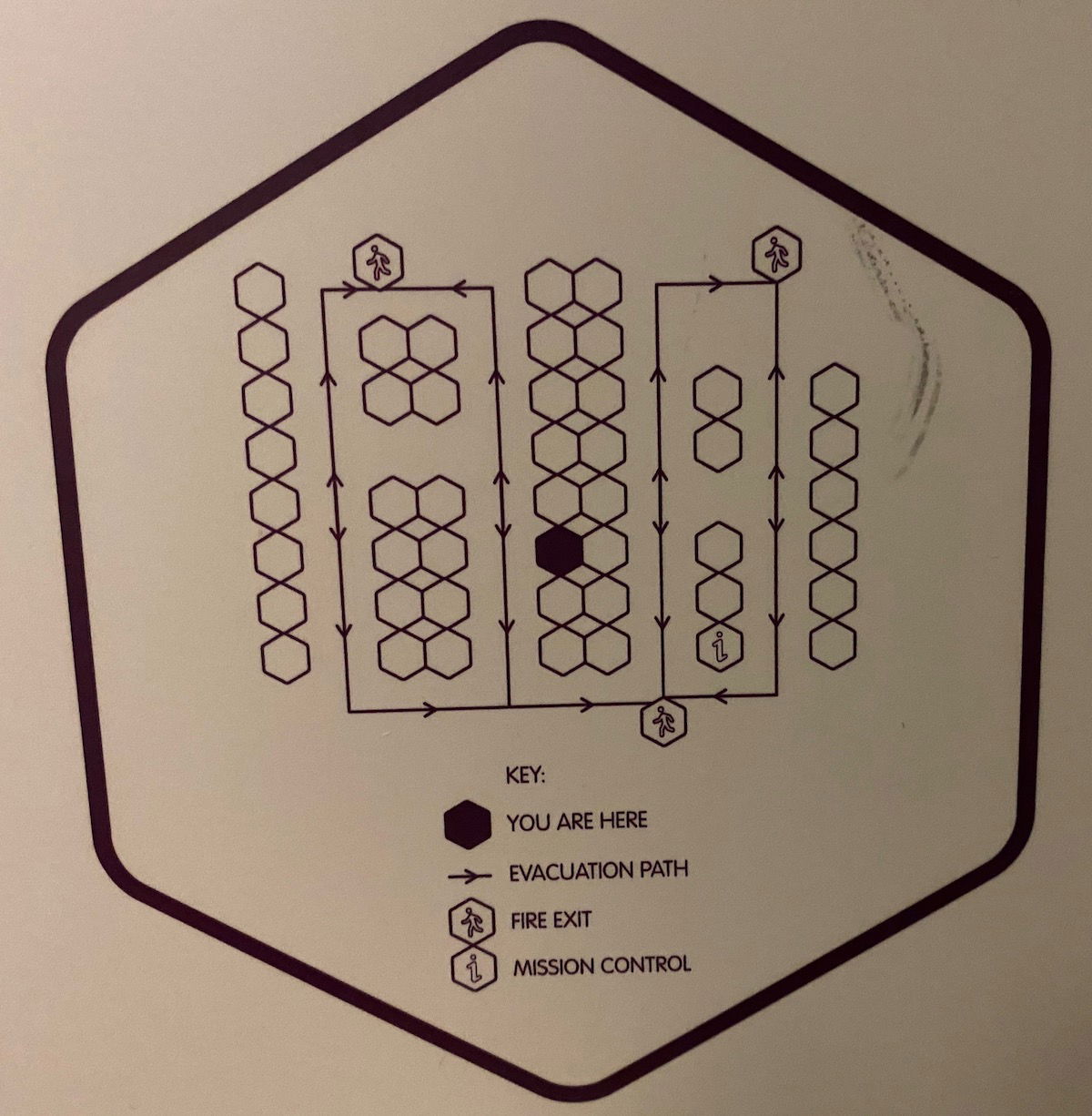 Yotel Gatwick floorplan
The previous times I stayed at Yotel I was in Premium Queen Cabins, which are significantly larger, but this time I was in a Standard Cabin. It was tiny, and I loved it.
There's just something so indescribably cozy about these cabins. You know how kids love the concept of bunk beds? To me, Yotel is kind of like of like the adult version of that. I just love how it almost feels like a first class suite.
That's not a coincidence, because the Yotel concept was even modeled after first class airplane suites.
Anyway, my cabin featured a twin bed that was quite a ways up — there was a little step that folded out so that I could access it, because otherwise it would be too high.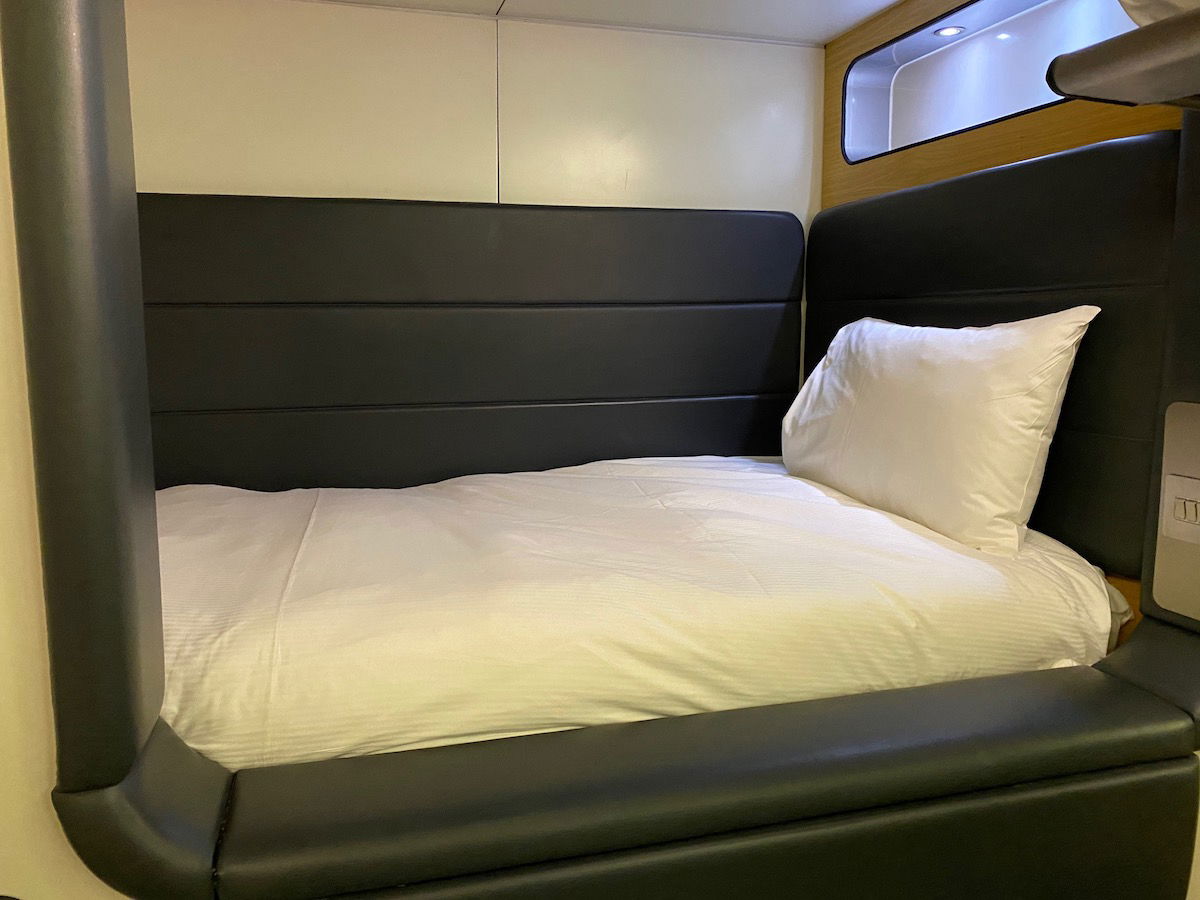 Yotel Gatwick standard cabin
The bedding was excellent, and there was a second pillow on a shelf across from the bed. The bed also had a wall-mounted personal TV, though I didn't use it.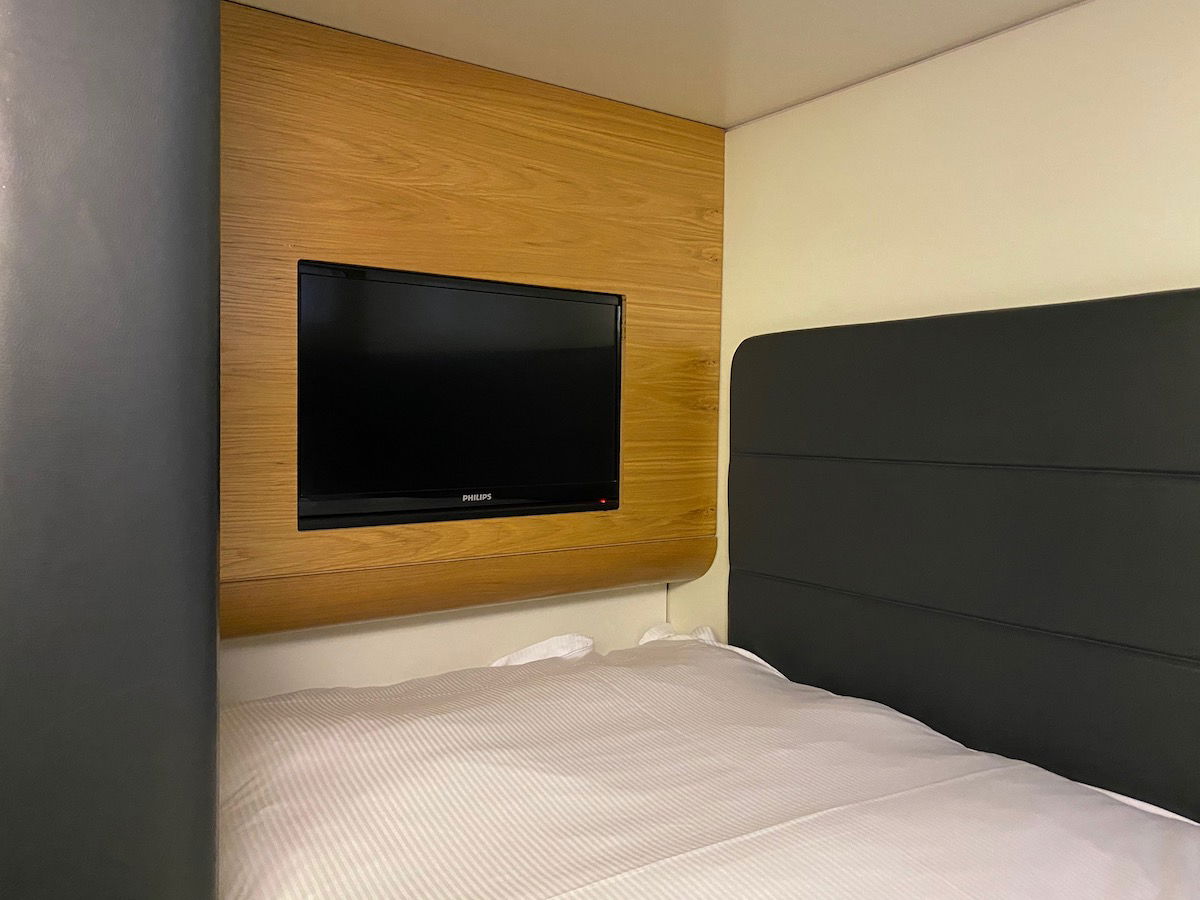 Yotel Gatwick standard cabin bed
While the bed may look a bit claustrophobic, I didn't find that to be the case at all.
The floor space next to the bed was tiny, but well designed. There was a mirror and then a wall with a bunch of outlets.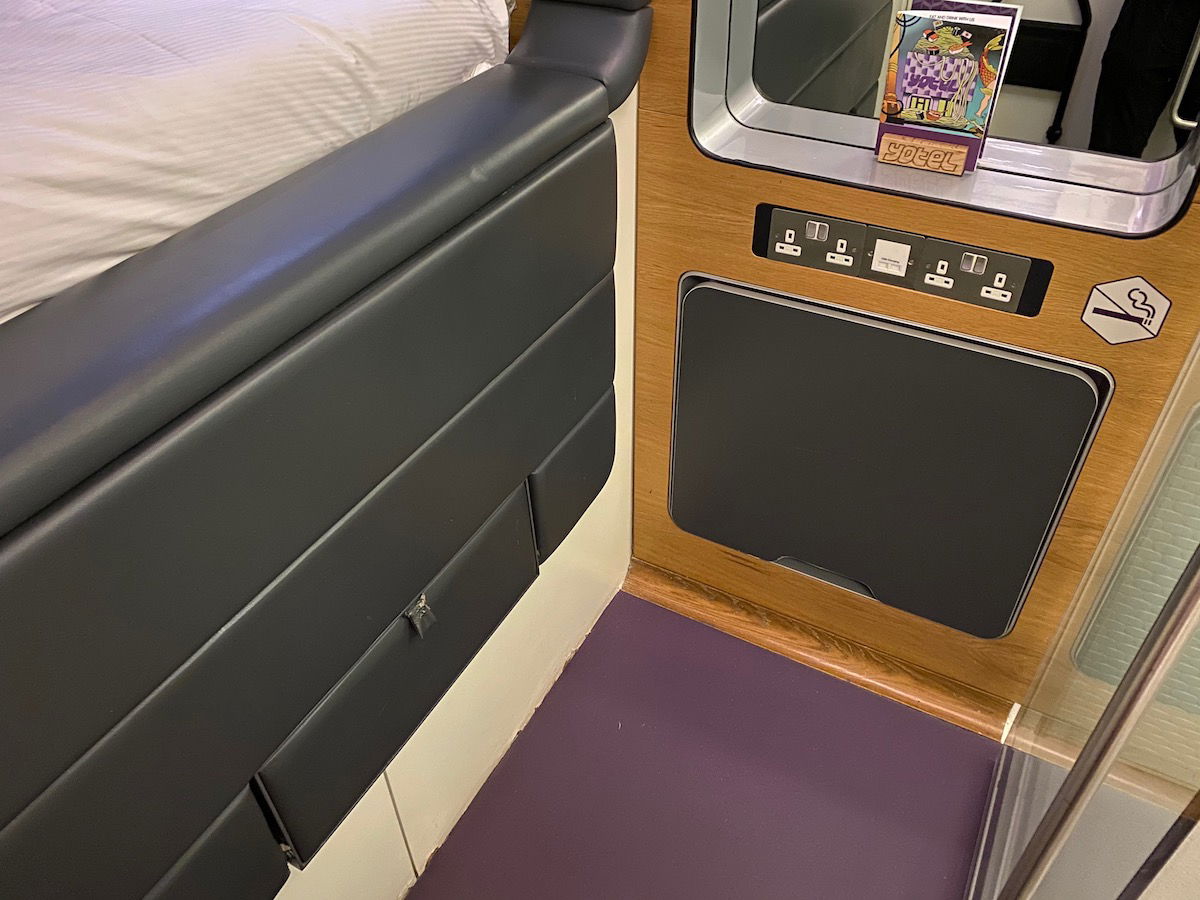 Yotel Gatwick standard cabin
There's a fold-out table, and then also a small stool that's stored on the back of the door, so that you can even sit in the cabin if you'd like.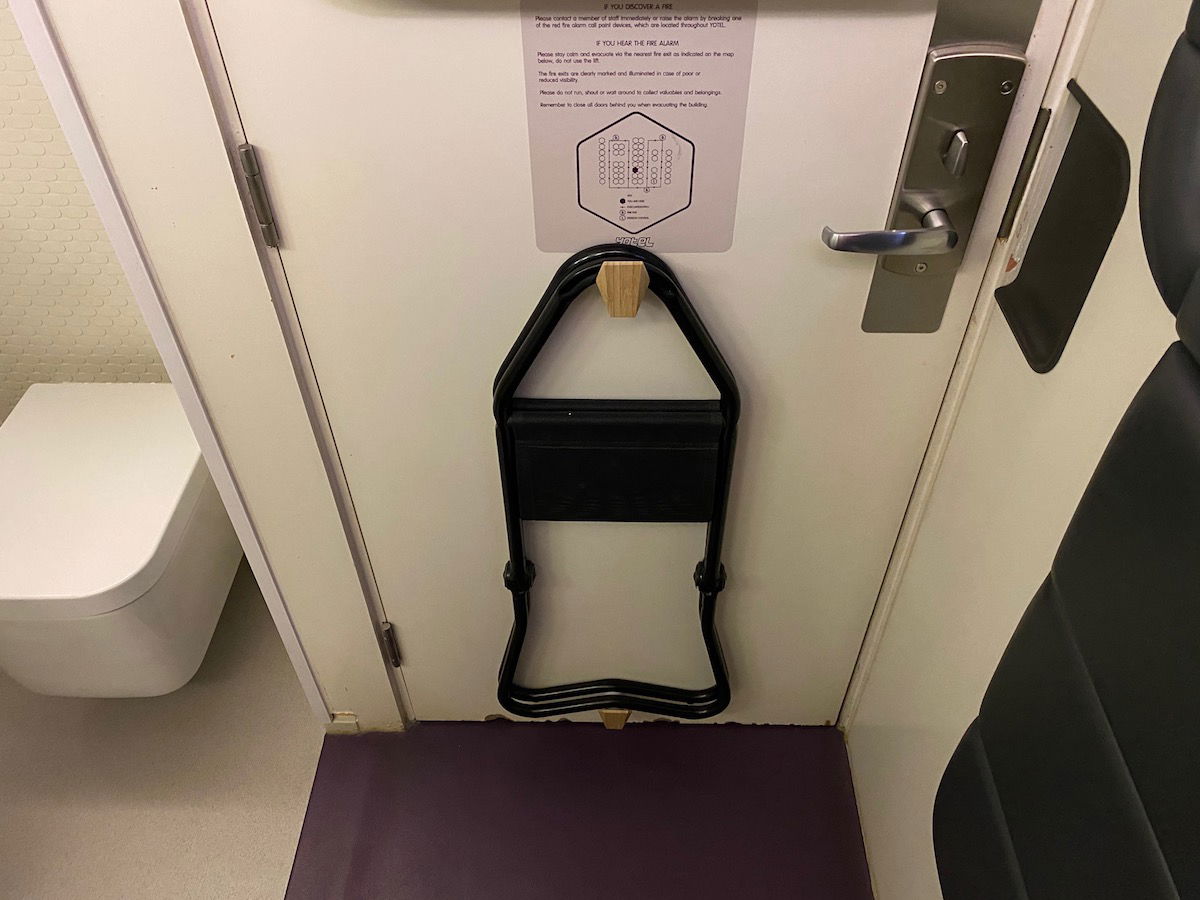 Yotel Gatwick standard cabin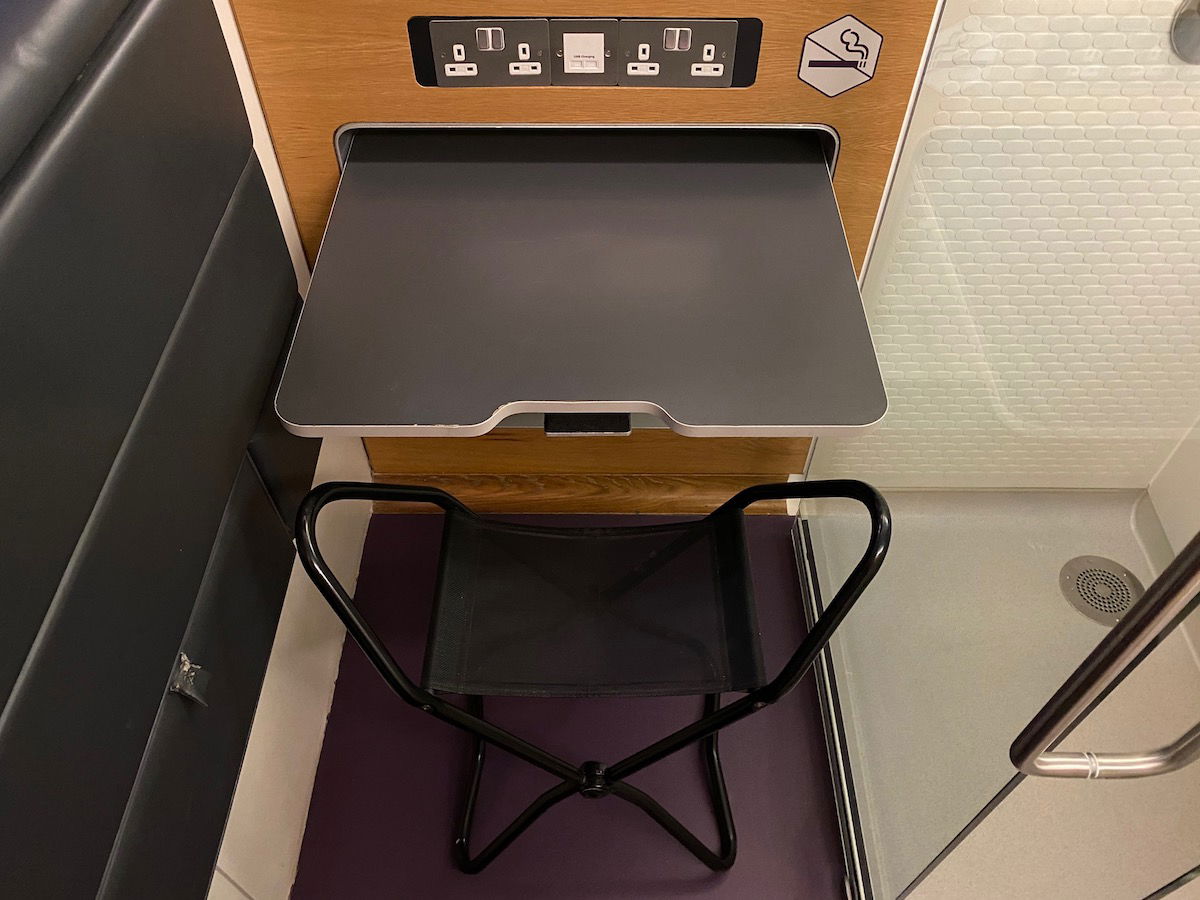 Yotel Gatwick standard cabin sitting area
The bathroom was tiny, and had a toilet, sink, and shower. The toilet definitely had an odd location, but I understand they're working with limited space.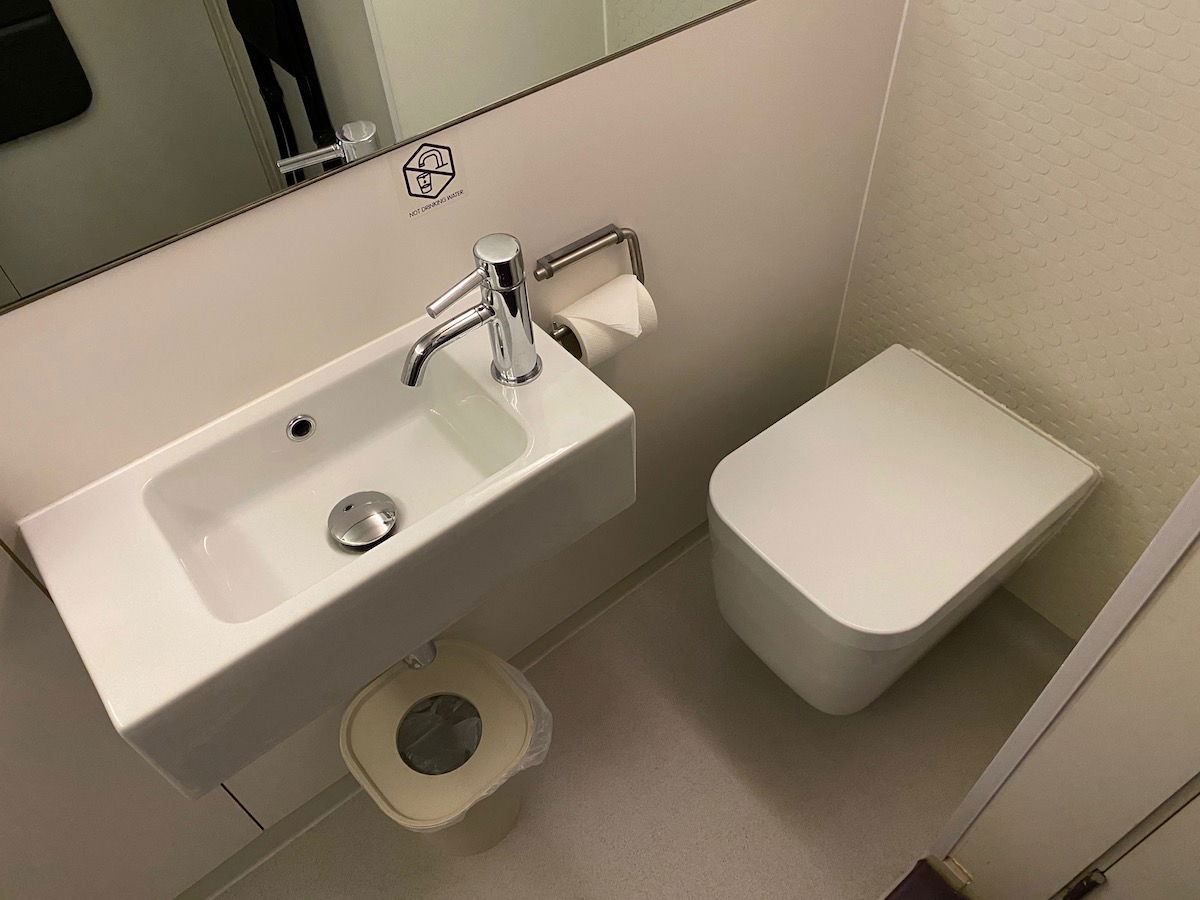 Yotel Gatwick standard cabin bathroom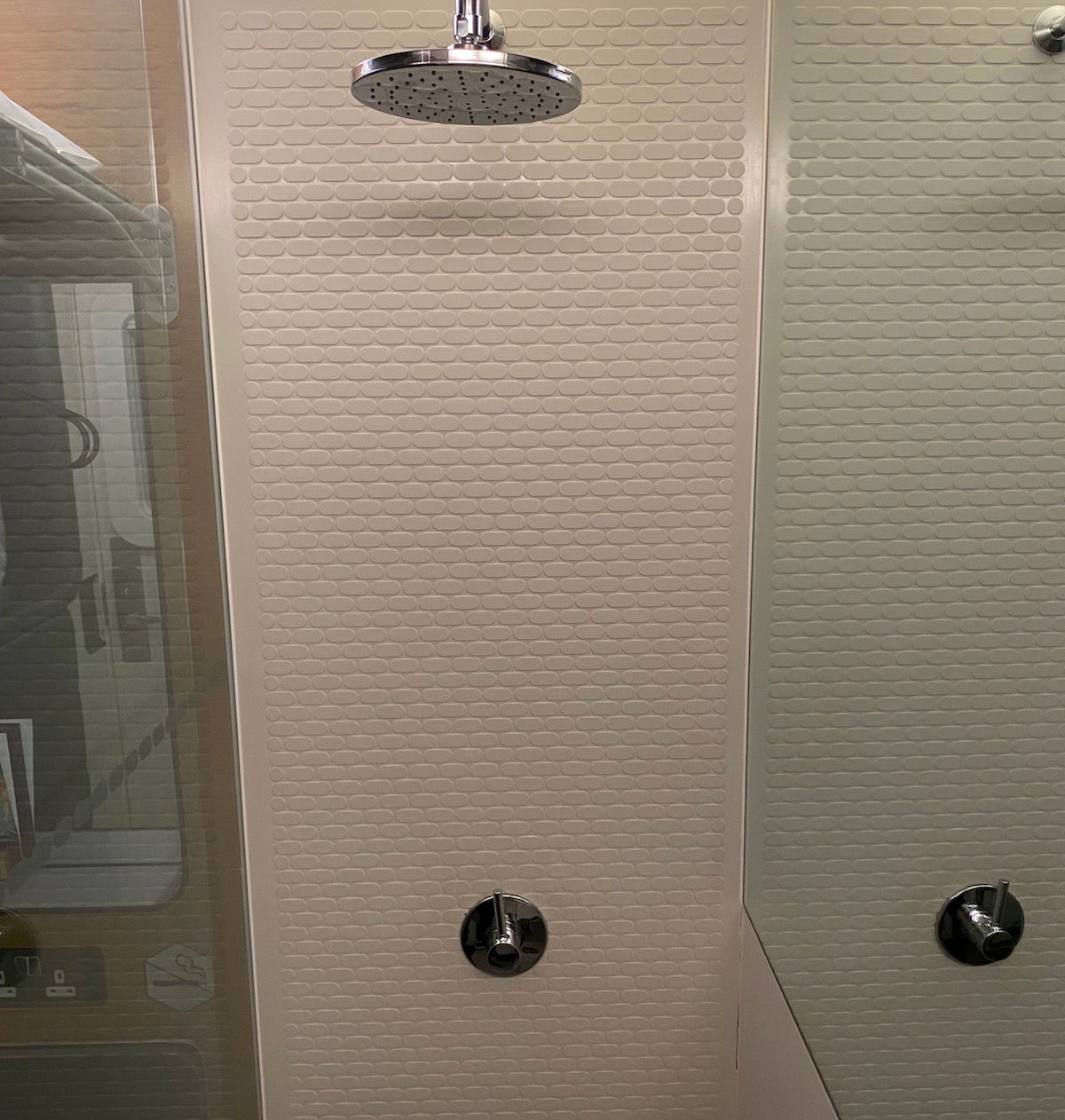 Yotel Gatwick standard cabin shower
Toiletries were in reusable containers.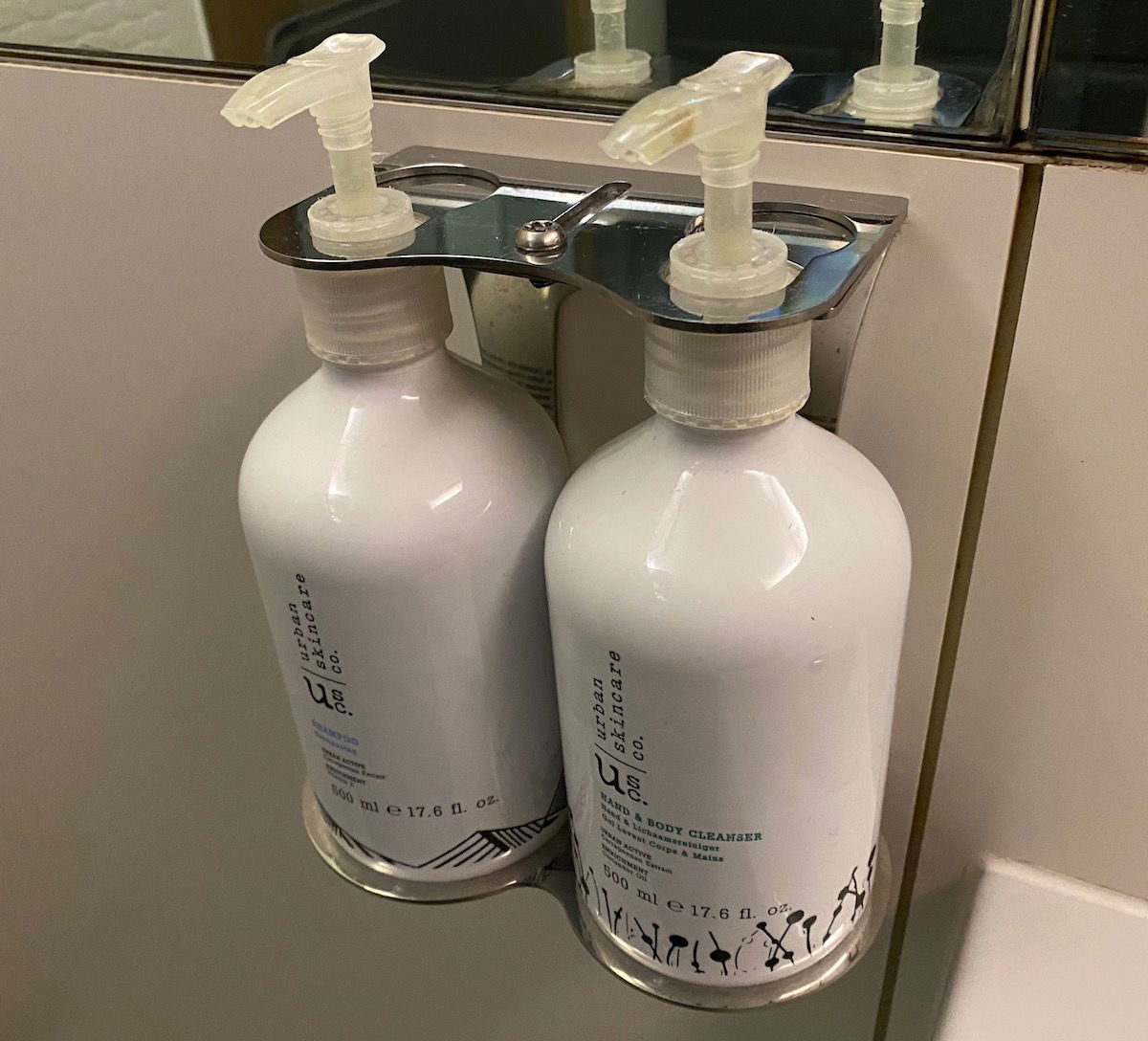 Yotel Gatwick standard cabin toiletries
The cabin also had cute mood lighting.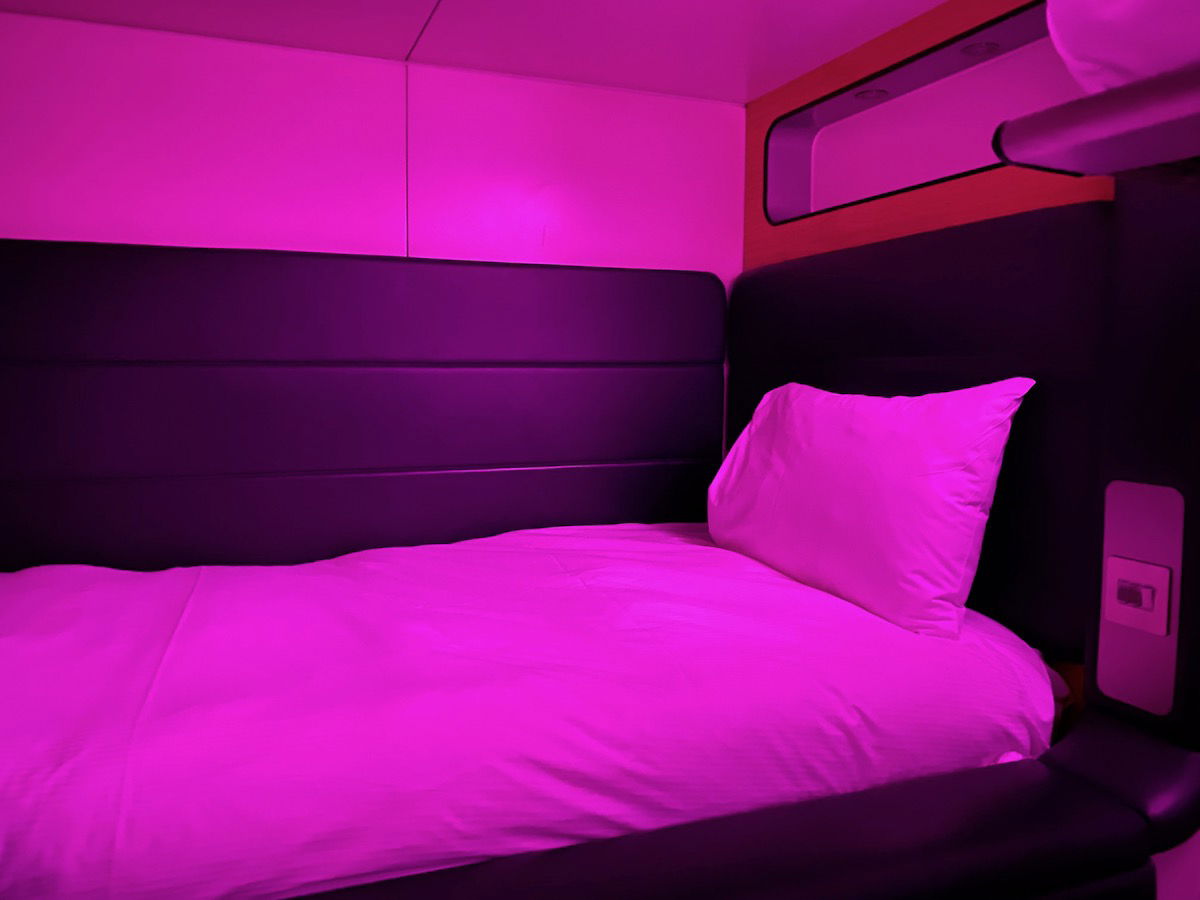 Yotel Gatwick cabin mood lighting
I got a solid three hours of sleep, which makes such a difference when you're on a trip like this. When I woke up I went to Mission Control to get a coffee and a water (both of which are complimentary).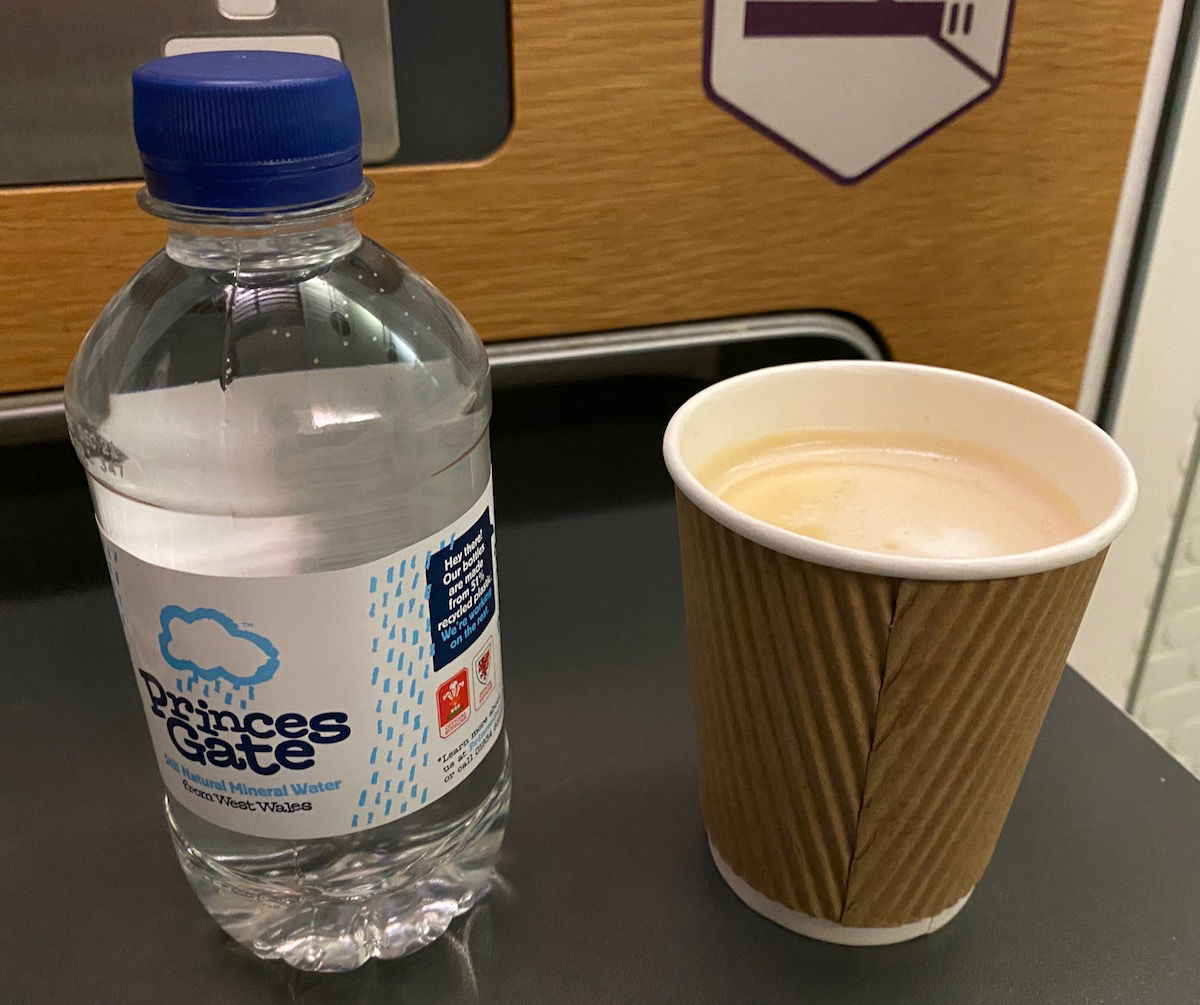 Yotel complimentary coffee & water
I then worked from bed for a couple of hours — the Yotel has fast and free Wi-Fi.
I didn't end up ordering anything, but for what it's worth, the room service menu read as follows: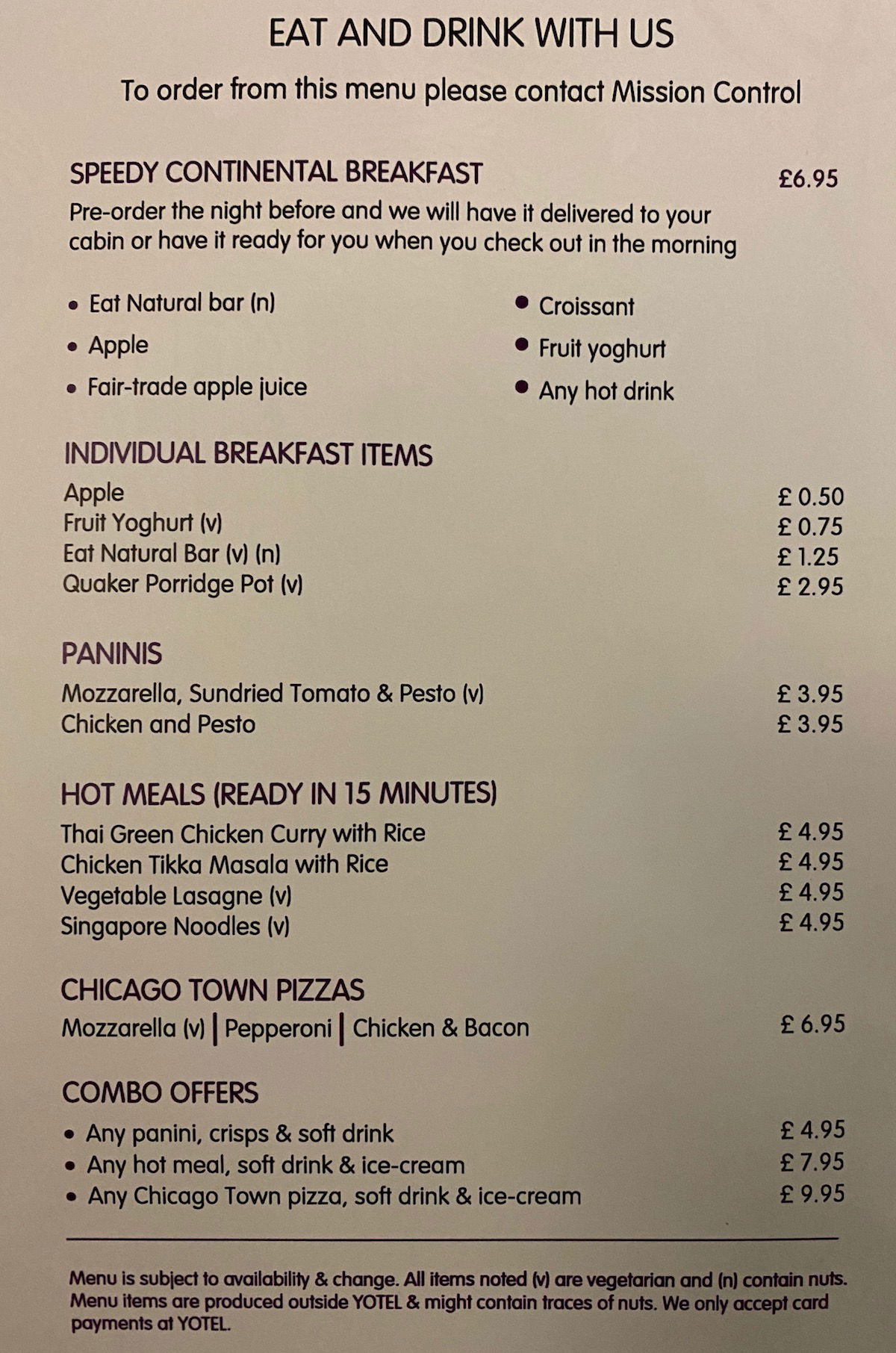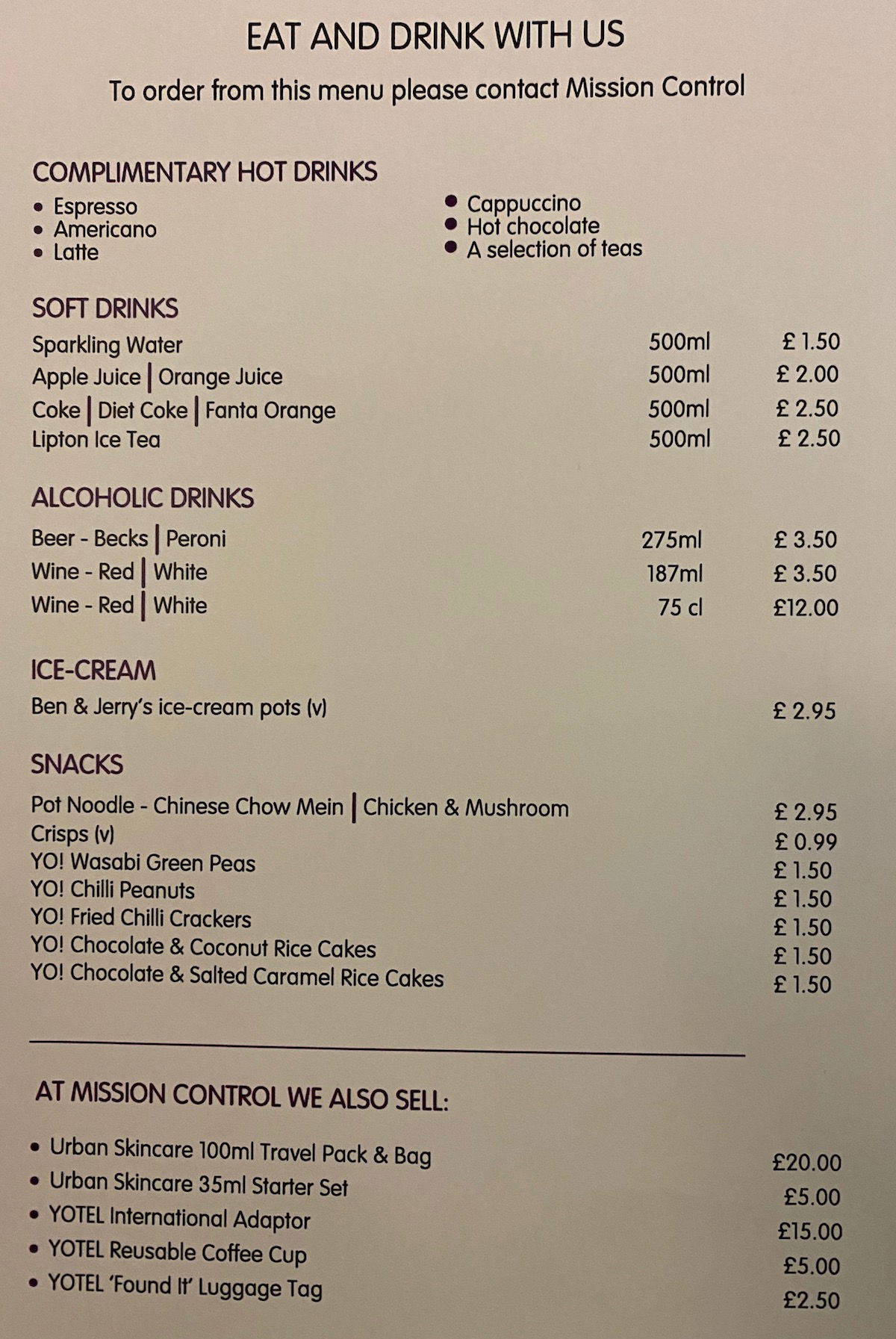 Yotel Gatwick Bottom Line
I love Yotel, simply put. The brand is incredibly consistent, and they deliver on their promises. I find Yotel cabins to be cozy, and I'm always thrilled when I have a long layover and see that there's a Yotel. They're the perfect place to get some rest, or to feel like you're enjoying a first class suite (minus the service) at a fraction of the cost. 😉