Update: See here for a review of Starlux Airlines Lounge in Taipei, and see here for my review of Starlux Airlines' A321neo business class. Unfortunately Starlux Airlines has now suspended operations through April 30, 2020, due to reduced demand.
Taiwan is known for having two great airlines — China Airlines and EVA Air — and in a few months a third airline will be joining the ranks. Starlux Airlines is launching operations (and their frequent flyer program) in January 2020, and they look promising.
Hell, the company's slogan is "Born to be luxury, shining like stars," the vision is to be "the Emirates of Taiwan," and they describe themselves as a "detail-oriented luxury airline."
Yes please to all of that!
What Is Starlux Airlines?
Starlux Airlines is an airline startup that has been under development for a few years now. The company is run by Chang Kuo-wei, who is the former Chairman of EVA Air, and also a 777 pilot (which is pretty awesome).
He was Chairman from 2013 until 2016, and was removed from his position after his father (who was Evergreen Group's founder) passed away, and a brawl erupted for power.
I love the guy's vision, and am really excited about this new airline.
Starlux Airlines' Fleet
Unlike some other startup airlines, this one is very legitimate. Starlux Airlines has 10 A321neos on order, the first of which will be delivered shortly, and all 10 will be delivered by 2021.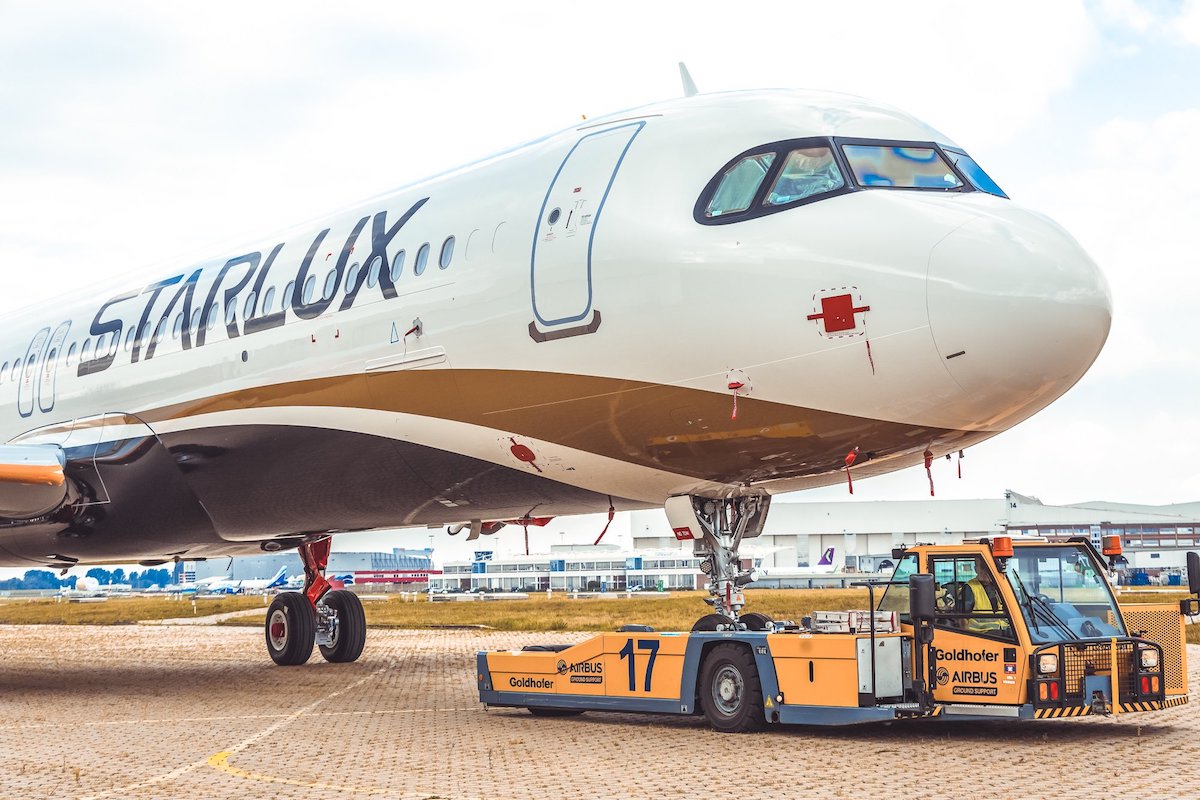 Then the airline also has 17 A350s on order, with an option for 10 more. This includes:
12 A350-1000s, due to be delivered starting in 2024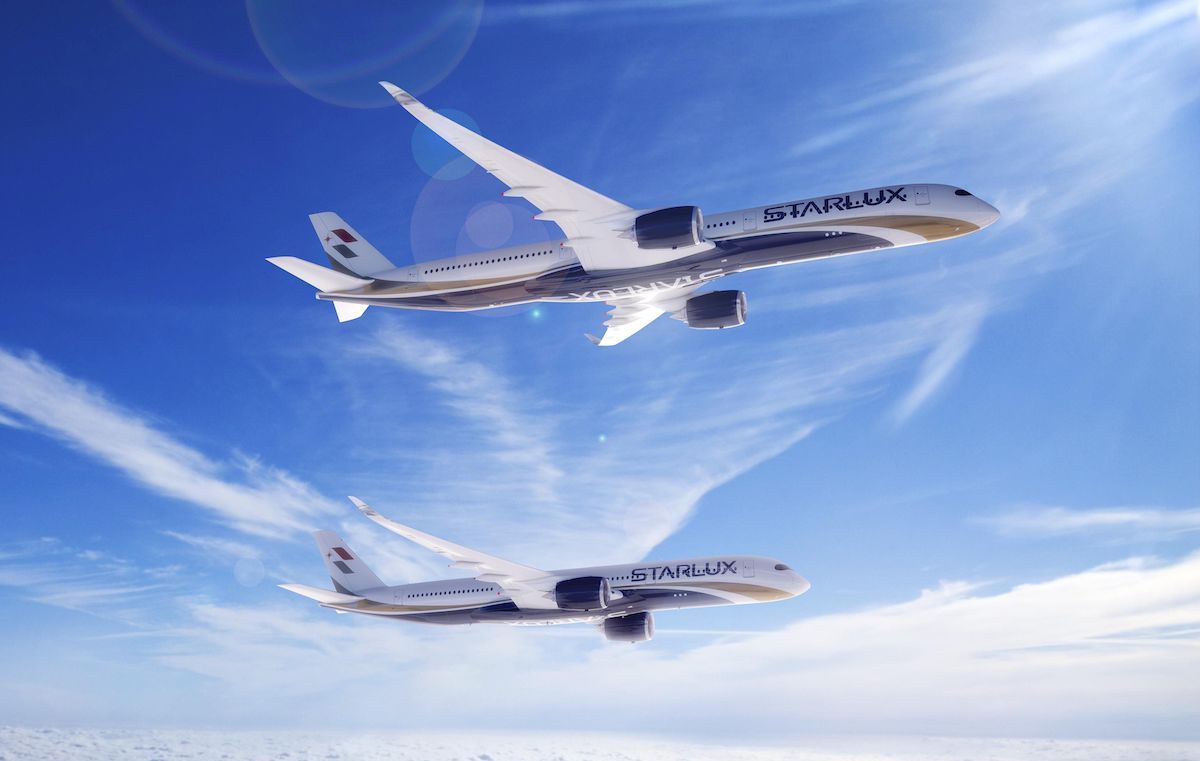 Starlux Airlines' Routes
Eventually the airline plans to launch long haul operations with their A350 (including to the US), but initially the airline will operate the following routes:
Taipei to Da Nang as of January 23, 2020
Taipei to Macau as of January 23, 2020
Taipei to Penang as of January 23, 2020
Starlux Airlines' A321neo Cabins
This past week Starlux Airlines has revealed their A321neo cabins, which are designed by BMW's Designworks Studio. They're definitely aiming to be a premium carrier, as is the norm in the region.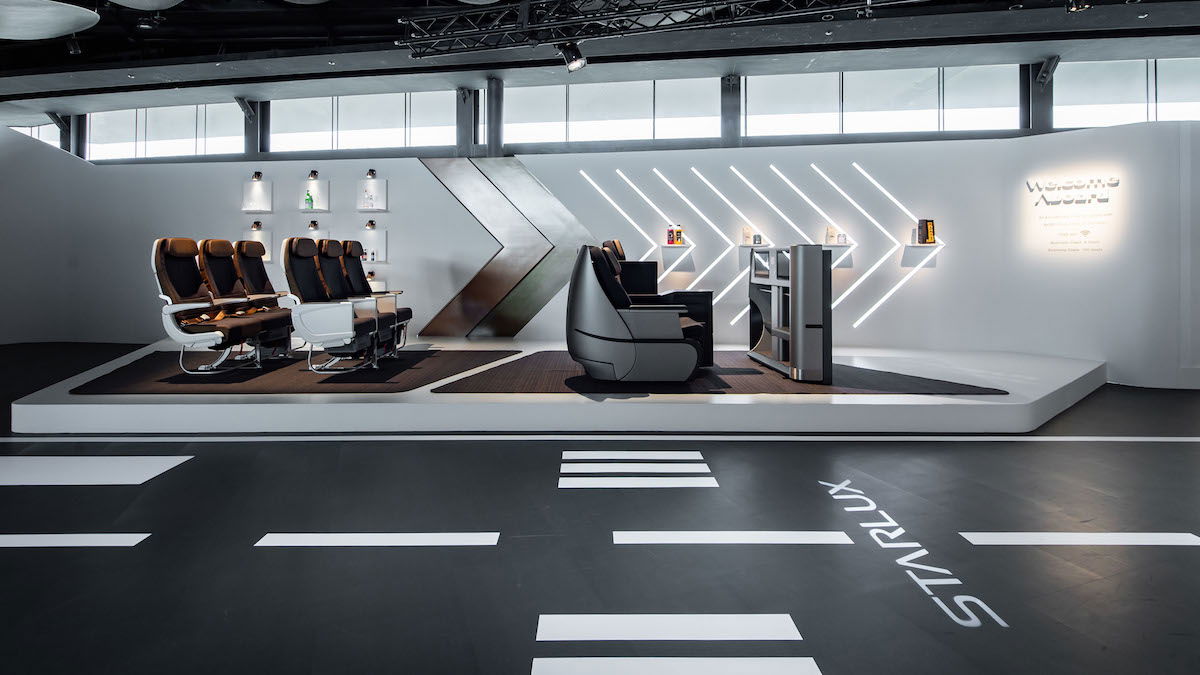 In business class they're offering eight fully flat beds that are 82″, in a 2-2 configuration. This will make them the first of Taipei's three airlines to have flat beds on narrow body planes. Each seat will have a 15.6″ 1080p inflight entertainment system.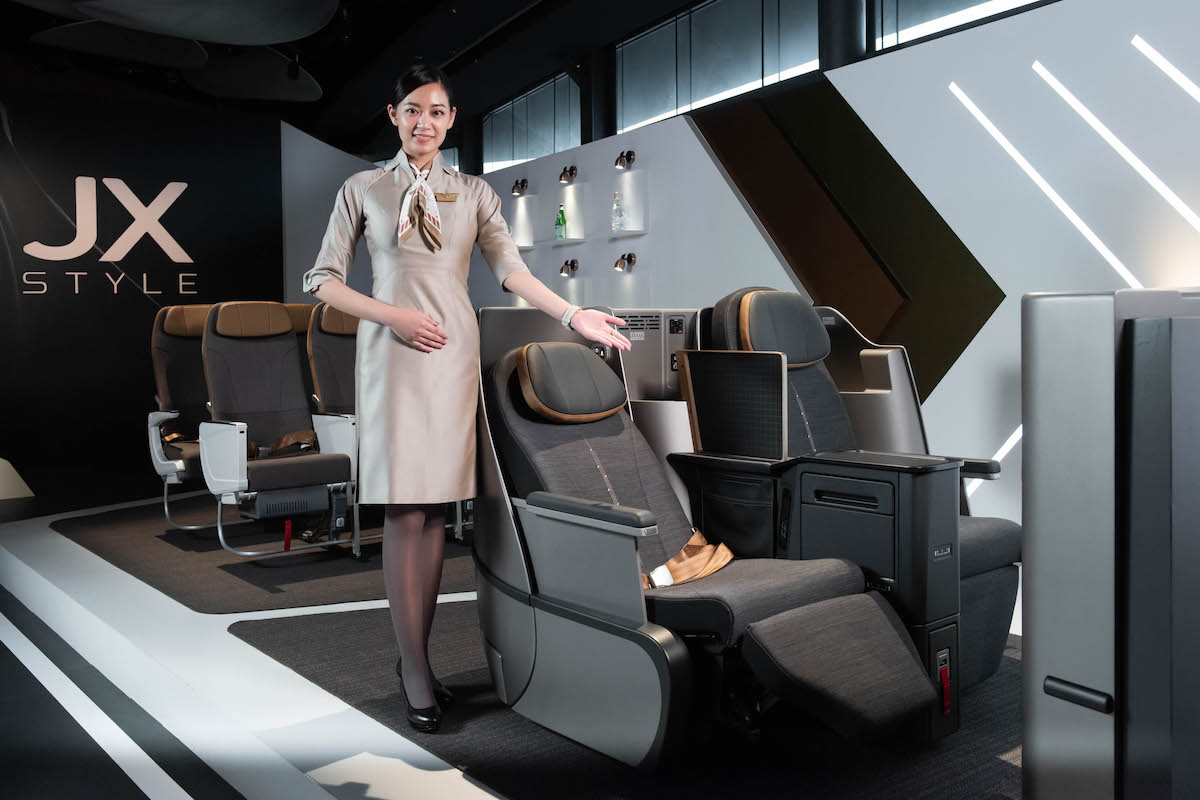 Economy will be in a 3-3 configuration, with 180 seats. Each seat will have a 10.1″ 720p screen, USB ports, and leather headrests.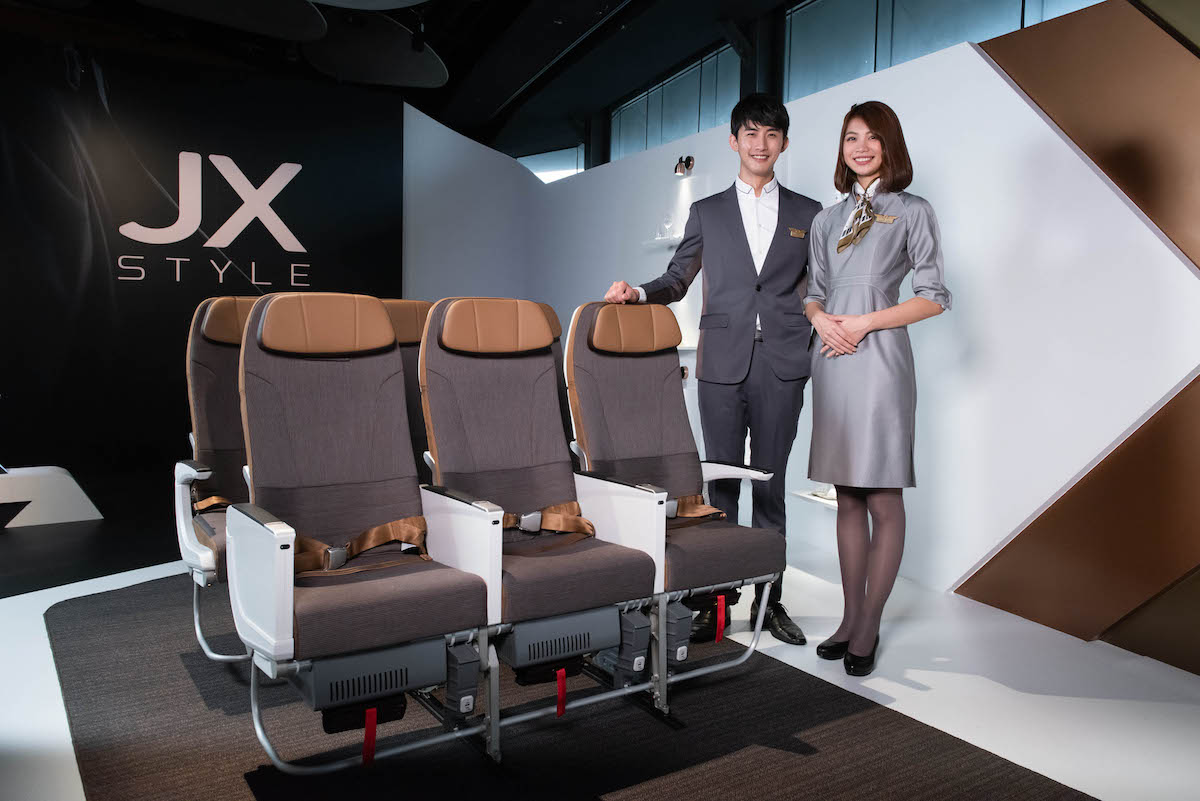 Starlux Airlines will also offer free basic Wi-Fi to all passengers.
Starlux Airlines' Uniforms
Not that uniforms really matter (as long as people feel proud and comfortable wearing them), but I really do like their uniforms as well.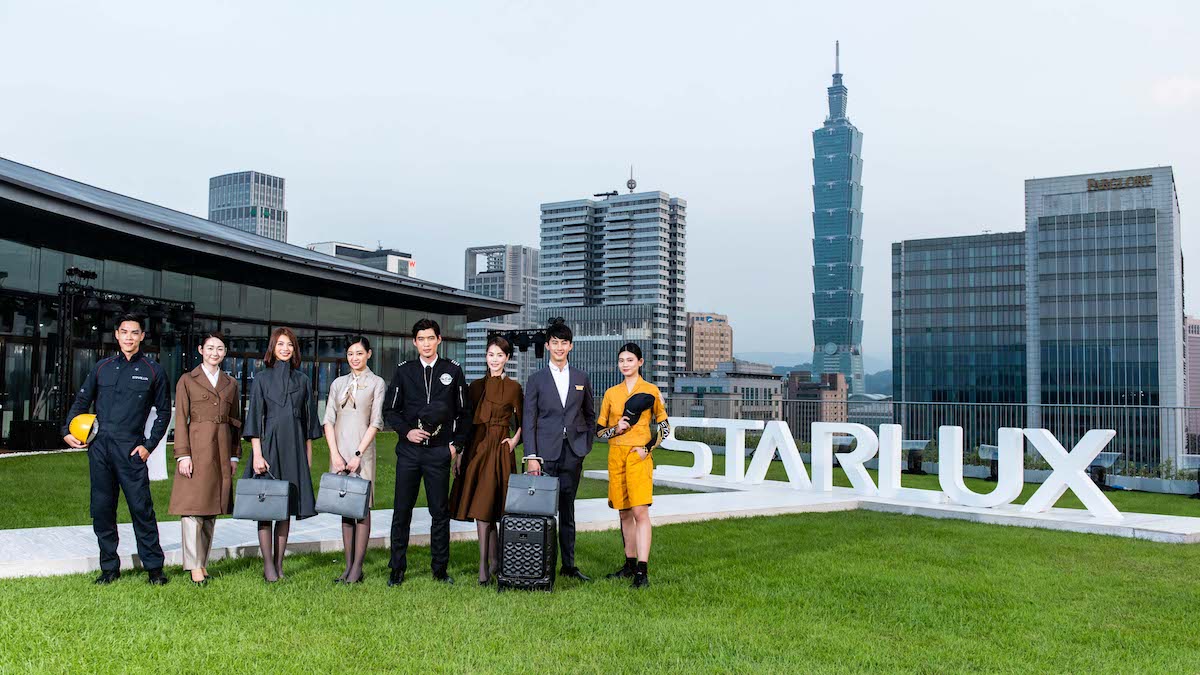 The uniform collection is designed by Taiwanese fashion designer Sean Yin, who said the following:
"For me, STARLUX is a luxury brand — not just another airline. I wanted to combine a classical airline look with modern touches to create chic but practical fashions unlike anything that has been seen before."
As the design is described:
The collection combines fashion elements from the 40s and 50s with space-age accents, employing natural gold and space silver tones to simultaneously evoke elegance and state-of-the-art appointments. STARLUX employees with first-hand work experience contributed to the design of the new uniforms by providing opinions and suggestions.
There are some other cool innovations:
The traditional pilot hat will be replaced by more casual caps
Both male and female cabin crew will carry the same attaché case, which can hold an iPad and A4-sized files, and can be worn either as a handbag or a crossbody bag
Male airport agents and cabin crew will wear collared shirts without ties
Badges with the slogan "safety is our attitude" are displayed on the uniforms of pilots, engineering, maintenance, and ground handling staff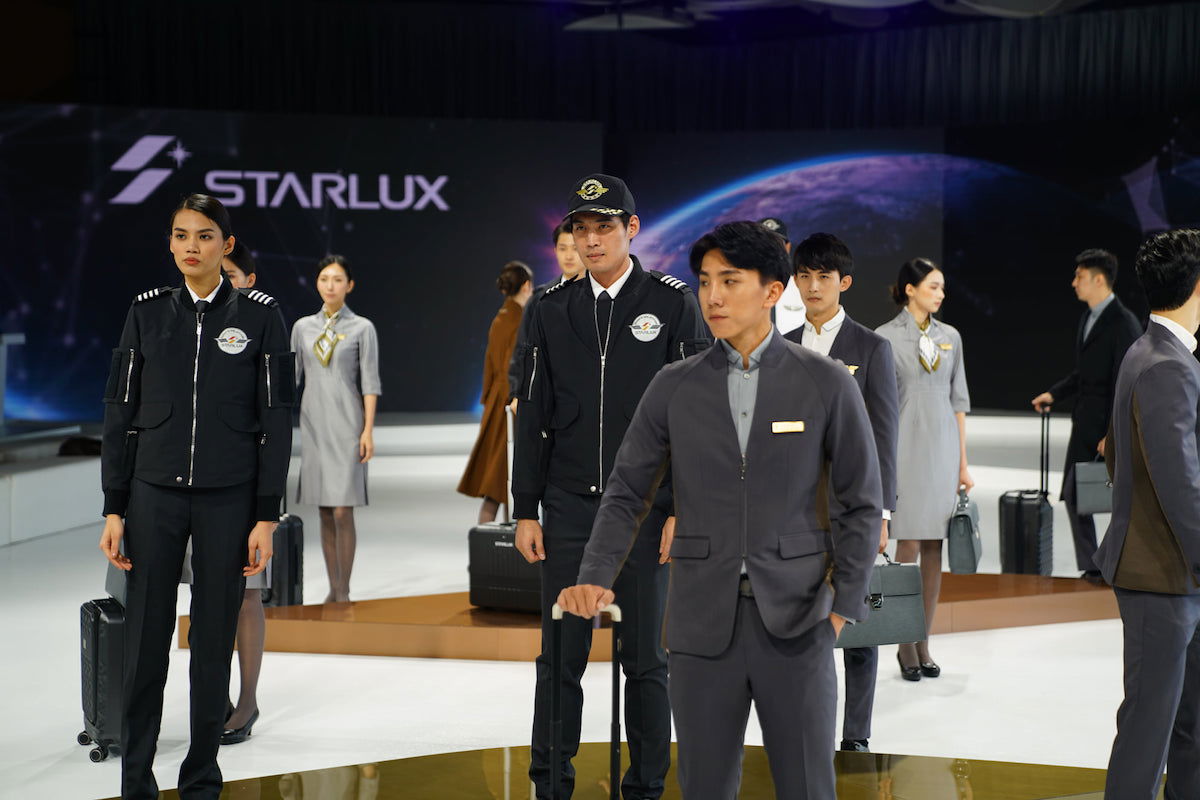 Starlux Airlines' Signature Fragrance
Like any respectable airline, Starlux will have a signature fragrance. 😉
They're calling it "Home in the Air," and they enlisted the help of perfume manufacturer P. SEVEN to help produce it. P. SEVEN came up with multiple formulations, and then employees voted on which of the offerings would become the signature fragrance of the airline. As the founder of P. SEVEN explains:
"Smells can be an indelible part of our memories. A certain aroma can remind you of a specific place and time. I tried to develop a fragrance that could evoke the pleasant feeling of flying with STARLUX."
So, what should we expect from the fragrance?
"Home in the Air" evokes the tranquility of home and the expanse of the galaxy. Notes of various woods and leather have been combined to elicit the warmth of mother earth, while the aromas of iris and violets conspire to create a calm and soothing cabin environment.

Passengers will encounter the new fragrance not only on STARLUX flights but at the airline's ticketing counters and lounges. It will also be featured in the lotion and hand wash dispensed in economy class and the hot towels used to welcome business class passengers upon boarding.
Bottom Line
I love following airline startups in general, no matter how legitimate they are (yes, I'm even looking at you, BALTIA and Global Ghana Airlines). I'm particularly excited about Starlux Airlines.
Here we have an airline that has legitimate funding, that's founded by an experienced airline executive, and that's countering the global trend by going over luxury rather than low cost.
Of course it remains to be seen how much of the "luxury" element is marketing rather than their actual product, though I wouldn't be surprised if their product is really good, given the high standard for China Airlines and EVA Air.
I also love their focus on the basics, like safety and consulting their own employees on aspects of the operation, ranging from uniforms to the signature fragrance.
Anyone else excited to fly with Starlux Airlines?