---
When I wrote about the Philippine Airlines ticket that I booked, many readers warned me that the connection experience at Manila Airport is the worst in the world. I don't want to say that that I dismissed what people were saying, but I figured they hadn't been to as many awful airports as I've been to.
After all, I've gotten to the point where I almost enjoy transiting Cairo Airport, in a masochistic way.
Well, folks, we may not have a fancy award show filled to the brim with D-list celebrities, but I'm ready to give a first ever OMAAT award…
Manila Airport's Award Winningly Bad Connection Experience
I can officially say that connecting on Philippine Airlines at Manila Airport is the world's worst single airline hub transfer experience. I strongly believe this is true:
I'm referring specifically to the connection experience at a carrier's hub
Not everyone will have to transfer terminals in Manila, and I assume it's significantly less bad if you're connecting in the same terminal; however, for those having to change terminals, good luck
I totally understand airport logistics are extremely complicated, and I'm not sure if this is Philippine Airlines' fault, Manila Airport's fault, or a combination of both; the reality is that as a passenger that's not really our problem
What made this connection experience so bad?
My bags were screened five separate times
There's no way to make a "sterile" connection
I had to wait over 30 minutes for a bus
Most people I interacted with were rude, for a country that's otherwise known for hospitality
The airline doesn't even operate their own lounge in the terminal out of which their most premium flights operate
Connecting From Terminal 2 To Terminal 1 In Manila
My flight from Taipei arrived at Terminal 2, while my flight to Toronto was departing from Terminal 1. The first thing to note is that there's no real signage or information about what you should do.
I had asked the flight attendant on my flight from Taipei about how I should transfer, and he told me I had to clear immigration. I went up to an immigration counter, and then was yelled at and pointed to another guy. I showed him my connecting boarding pass.
Then he walked me through the immigration checkpoint and to the Philippine Airlines transfer desk. There the agents took a photocopy of my boarding passes and handed me a stamped piece of paper, and then that guy escorted me back to the immigration counter, where an immigration officer sort of let me into the country.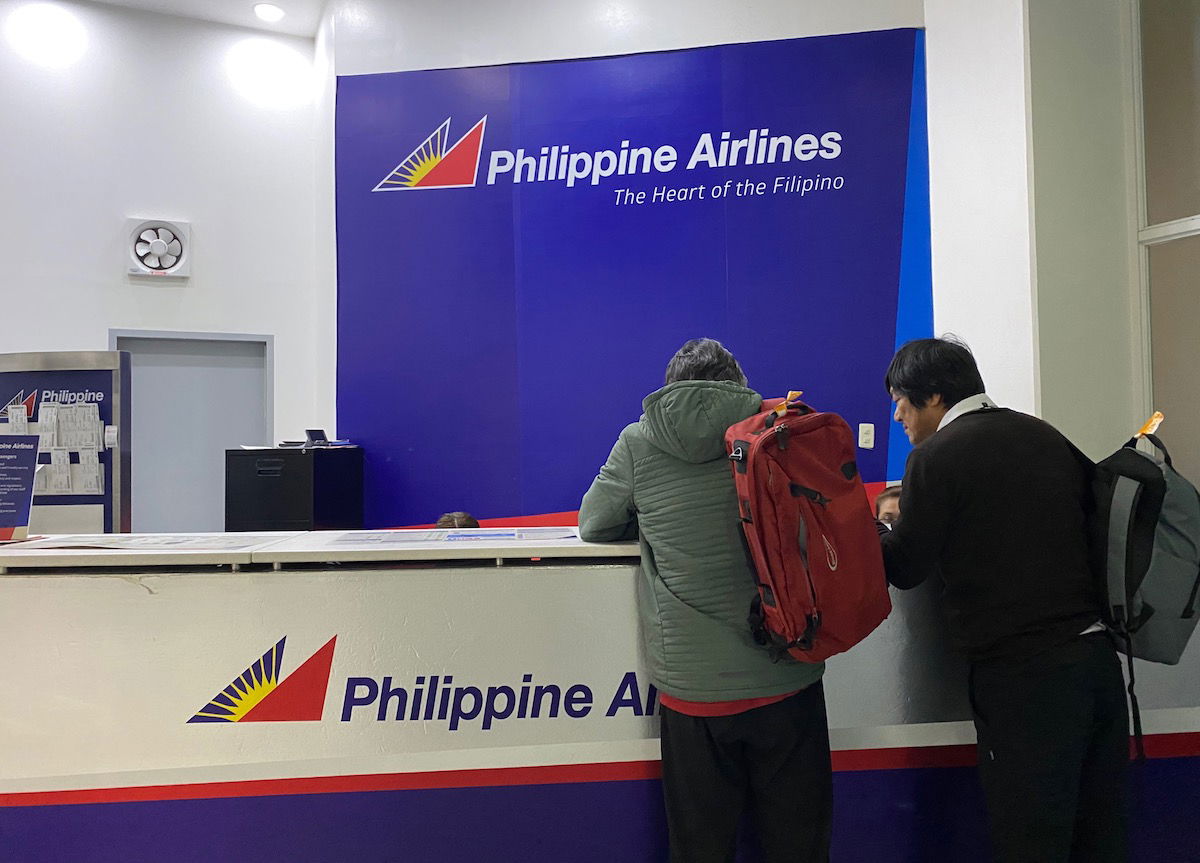 Philippine Airlines transfer desk Manila
My bags then had to be screened on arrival, and I found myself in the standard arrivals hall. I was told to look for the signage for the ITTL shuttle bus to get to Terminal 1.
In the arrivals hall signage was bad, not to mention the arrivals area is either under construction, or was under construction many years ago but they just gave up (based on appearances, the latter seemed to be the case).
At around 11:55AM I found the ITTL shuttle bus area, where I had to have my bags screened again. I found that odd initially. Were my bags being screened because we'd be dropped off airside?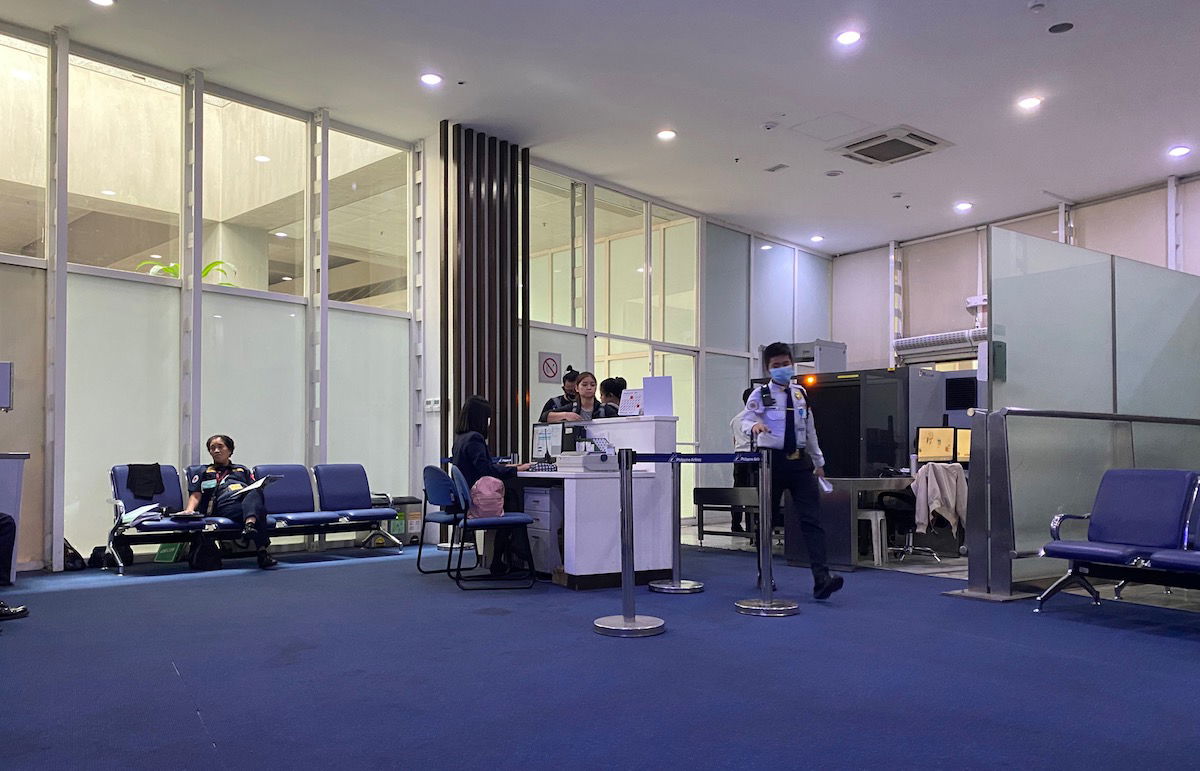 Manila Airport ITTL shuttle bus station
"Have a seat," I was told. I asked when the bus would arrive, and was told 12:30PM. So I had to sit in this room without air conditioning and wait for 35 minutes.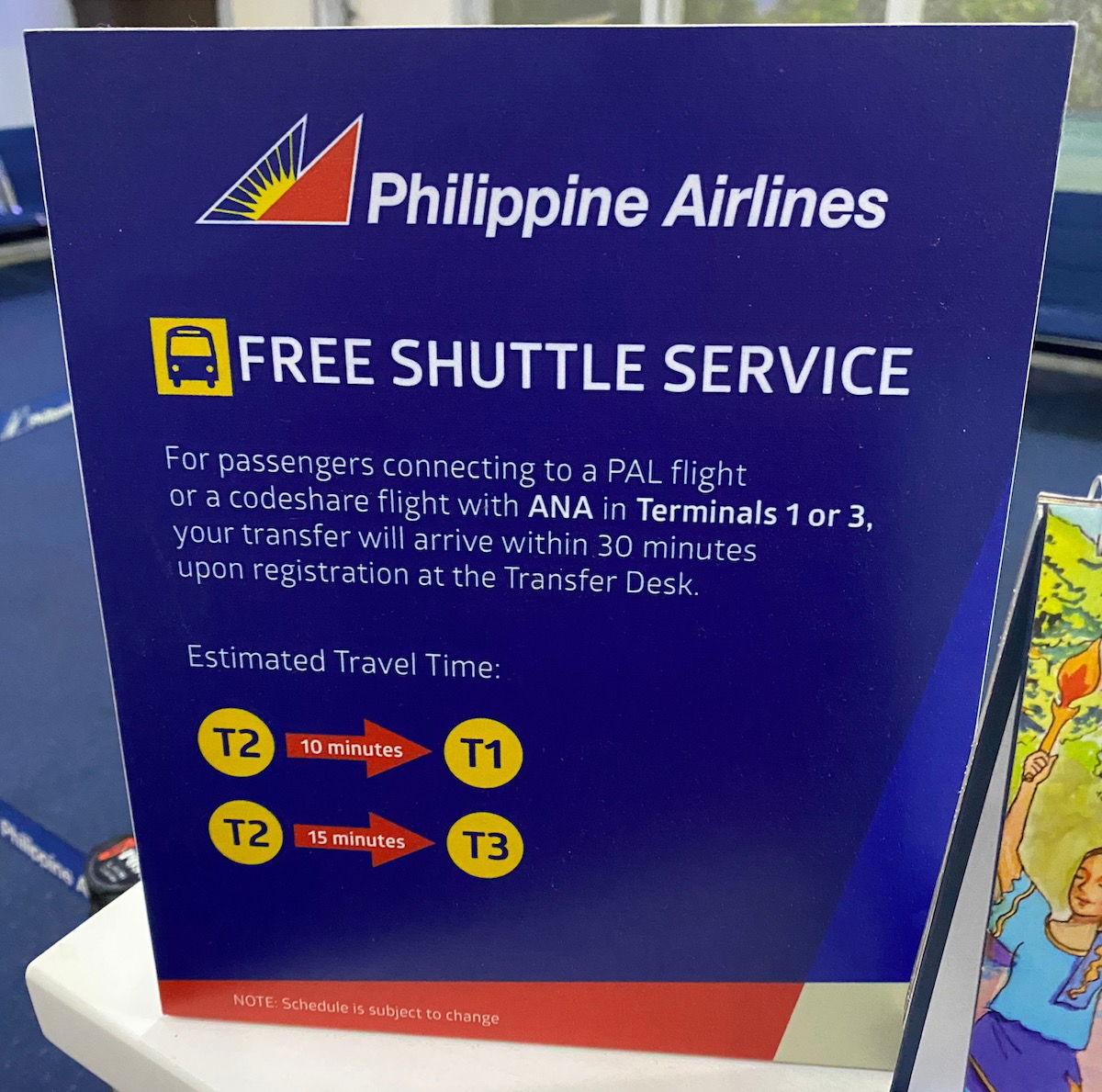 Philippine Airlines shuttle bus service
Sure enough, at 12:30PM the shuttle bus showed up.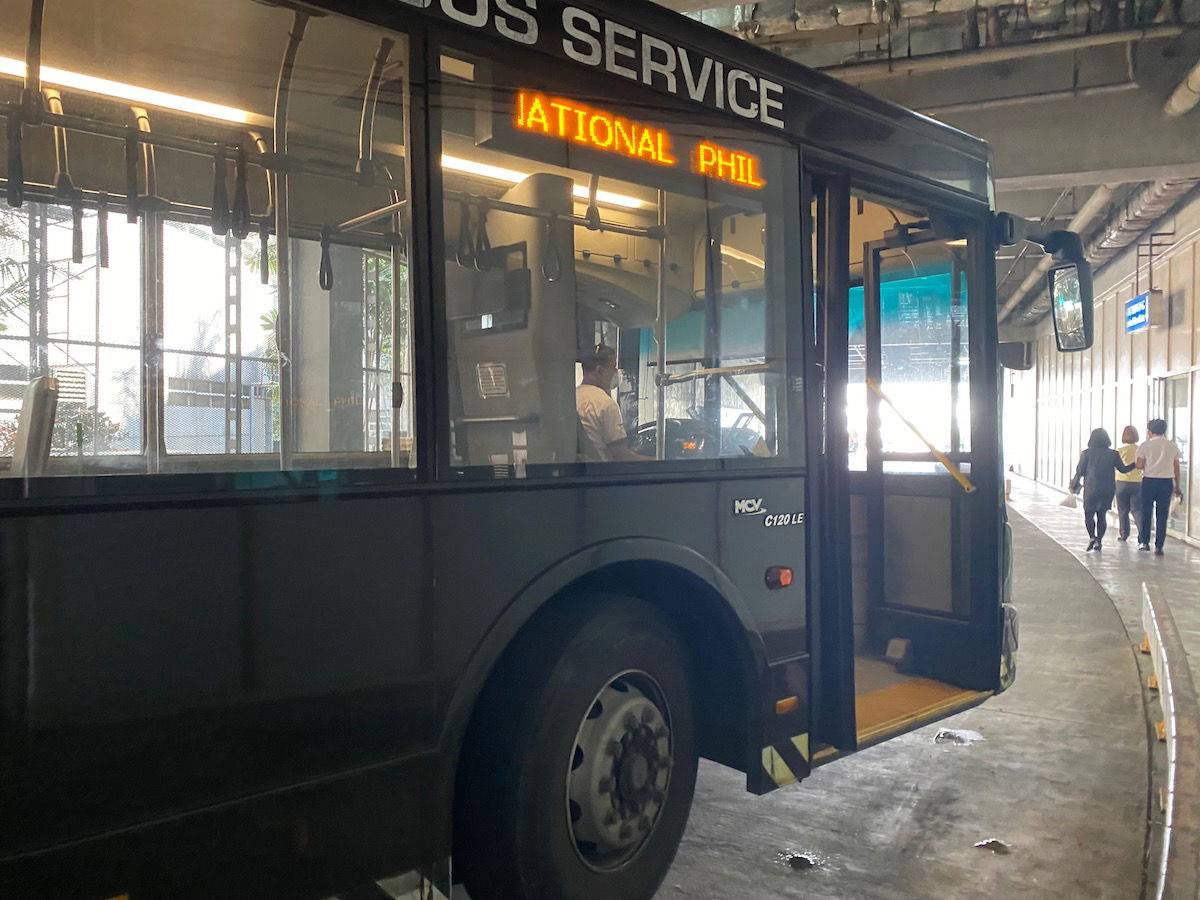 Manila Airport shuttle bus
I'm not sure where exactly we were driving. Were these just the roads around the airport, or was this some sort of secure area? If the former, why did we need to have our bags screened?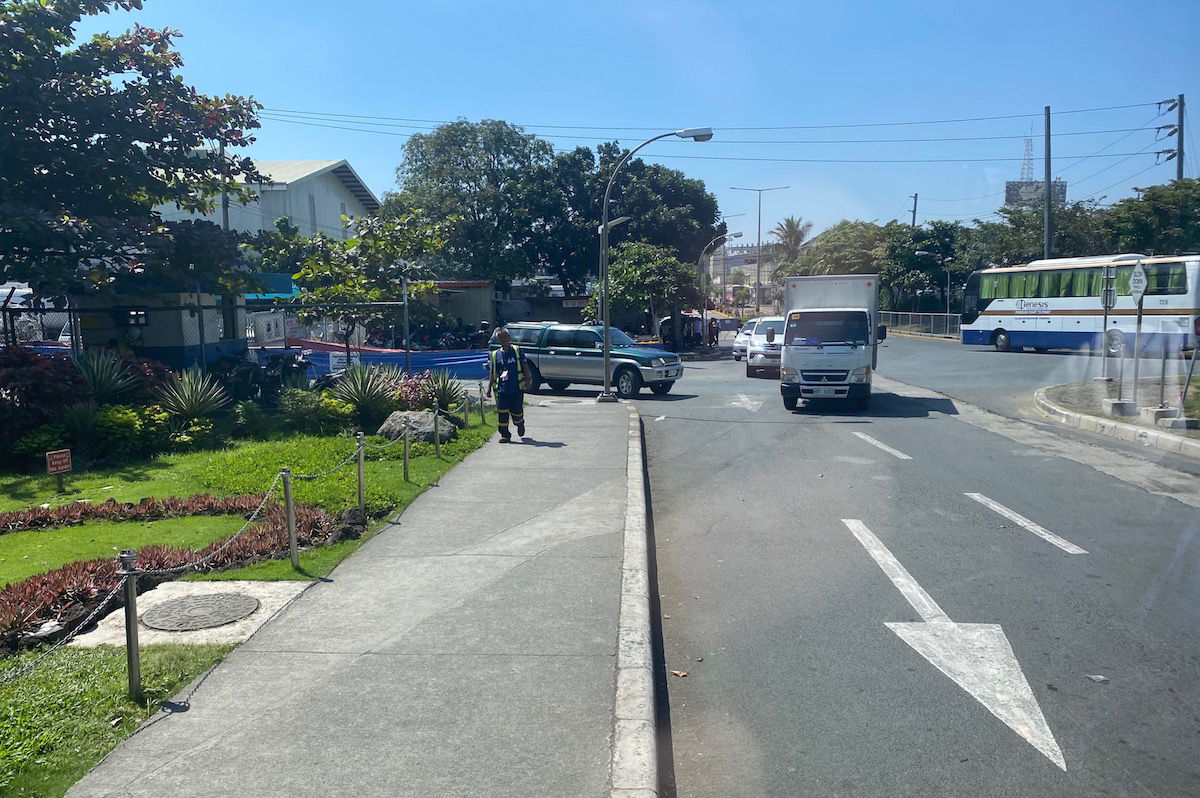 Shuttle bus ride to MNL Terminal 1
This bus just dropped us off in the departures area, so then my bags had to be screened once again to even enter the terminal.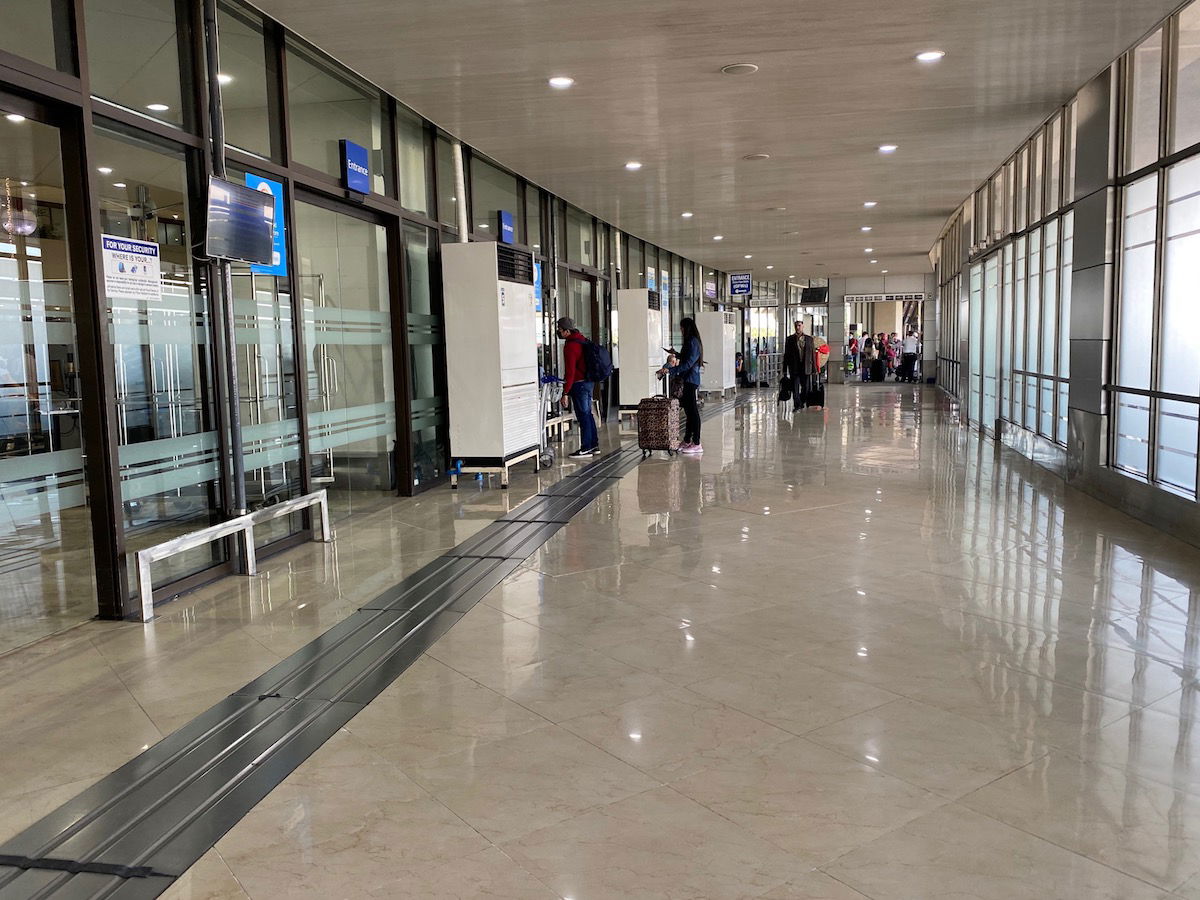 Mania Airport security screening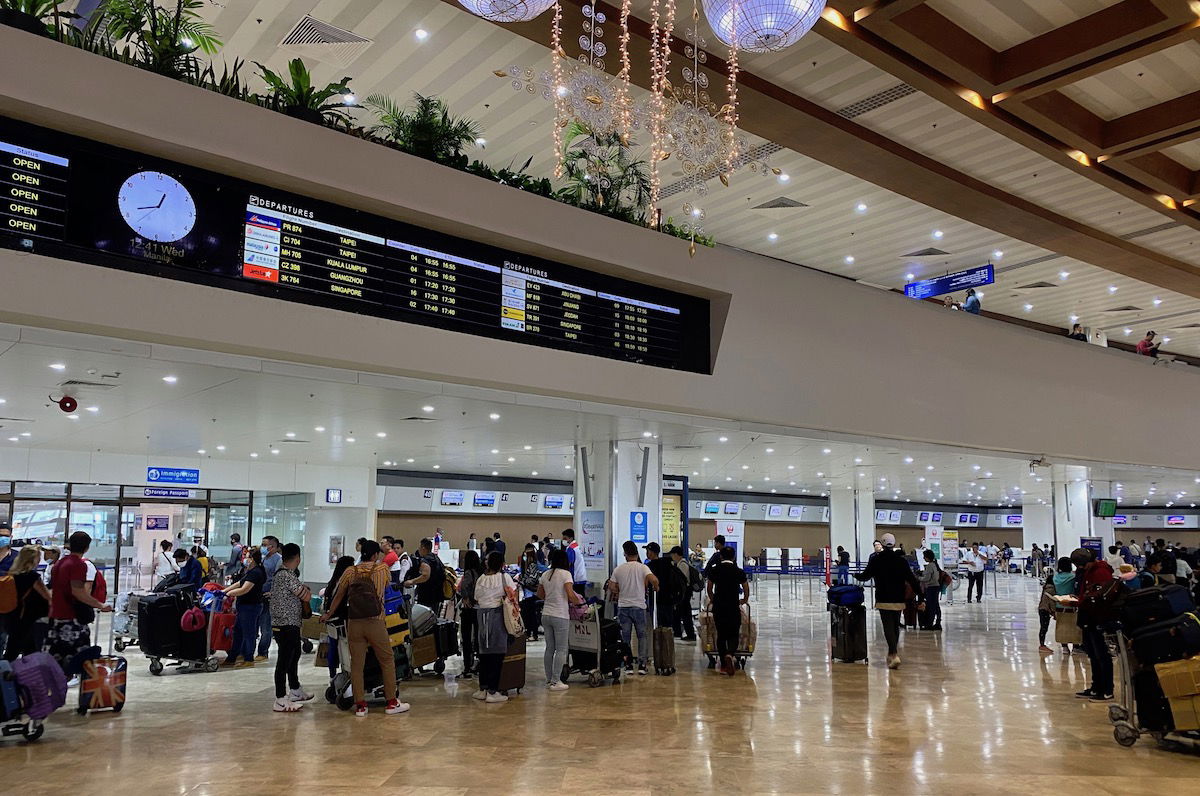 Manila Airport Terminal 1
Then I had to go through immigration and a full security check again. Fortunately I beat the rush, because it's my understanding that the security lines can be really bad certain hours of the day.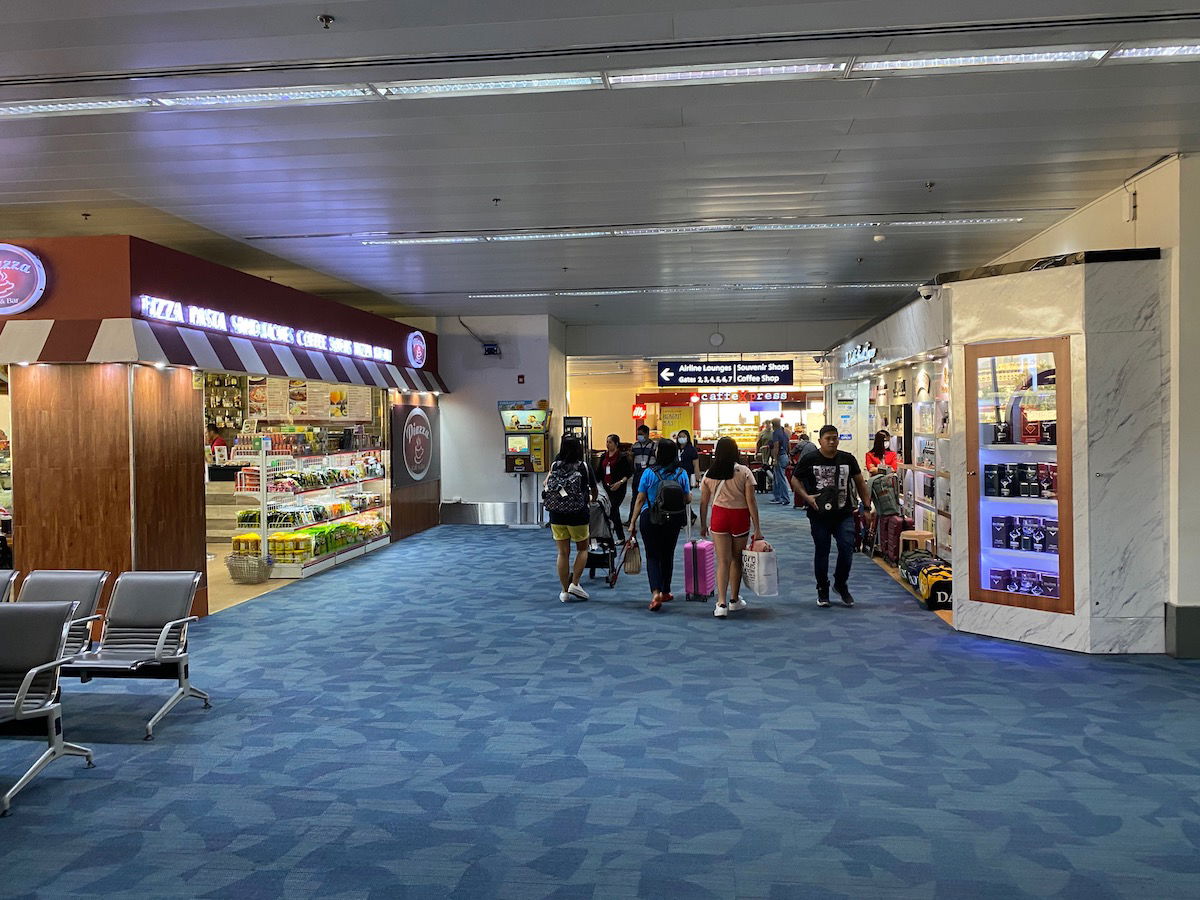 Manila Airport Terminal 1 airside
What's really strange is that at this point I was already airside, and this is all one terminal. However, for whatever reason they try to restrict what parts of the terminal you can walk into. For example, take the below pier. There was a security guard trying to restrict who could walk down this hall.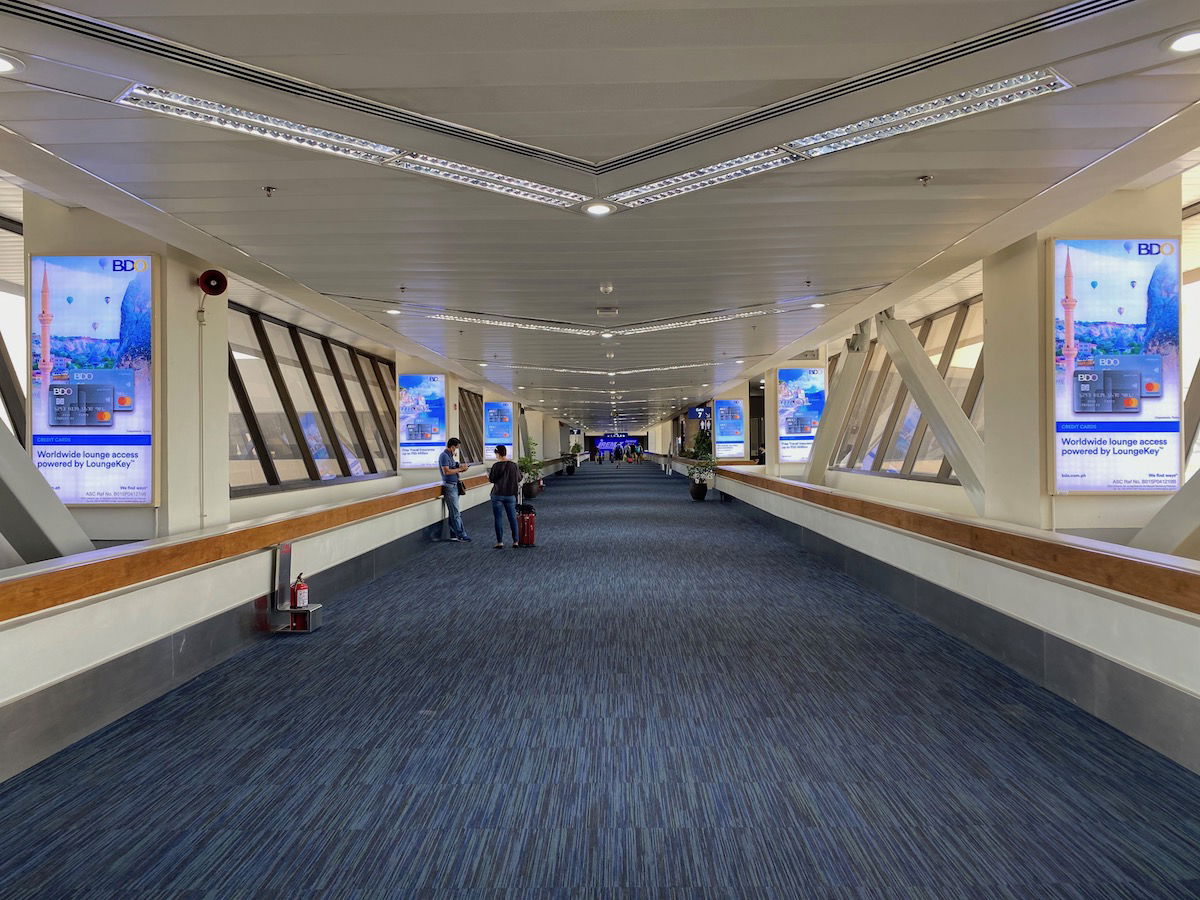 Manila Airport Terminal 1
"Stop! Where do you think you are going?"
"The lounge. Isn't this where it is?"
"And what is the name of the lounge?"
"PAGSS Lounge."
"Okay, go ahead."
Does anyone know why they care what part of the terminal you walk into?
I'll review the lounge as such in the next installment…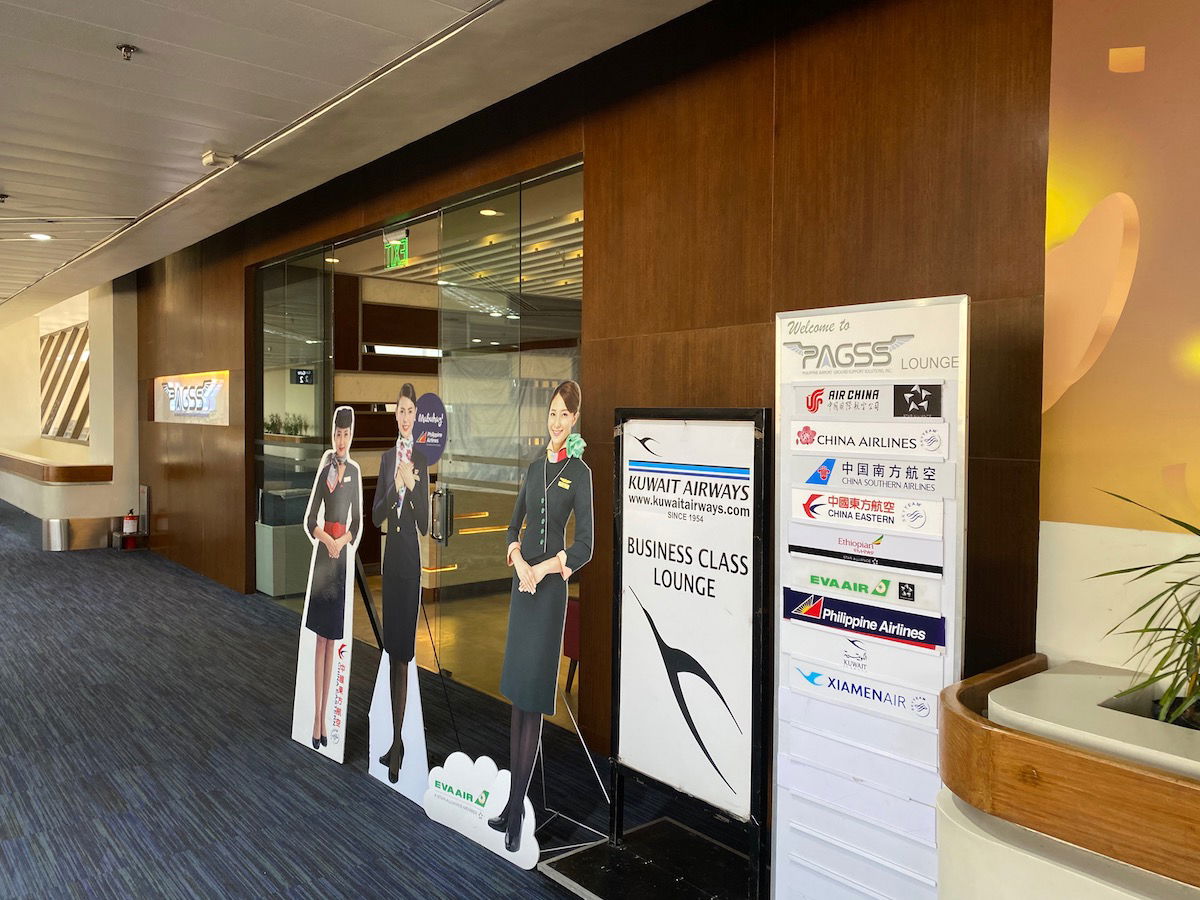 PAGSS Lounge Manila
Even at the carrier's hub on some of their most premium flights, you're still using a contract lounge.
The fun didn't end there. Each individual gate is partitioned off, and you have to go through yet another security screening there.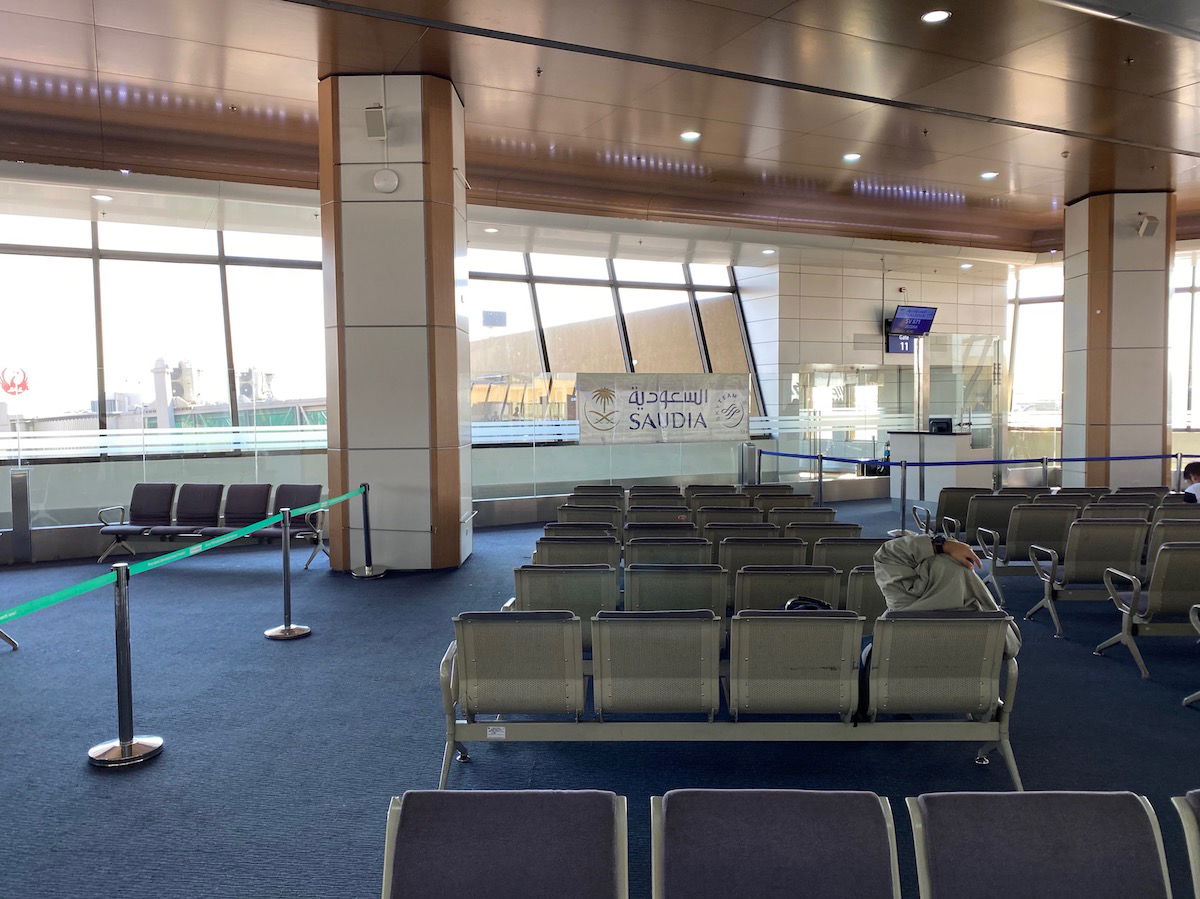 Manila Airport departure gate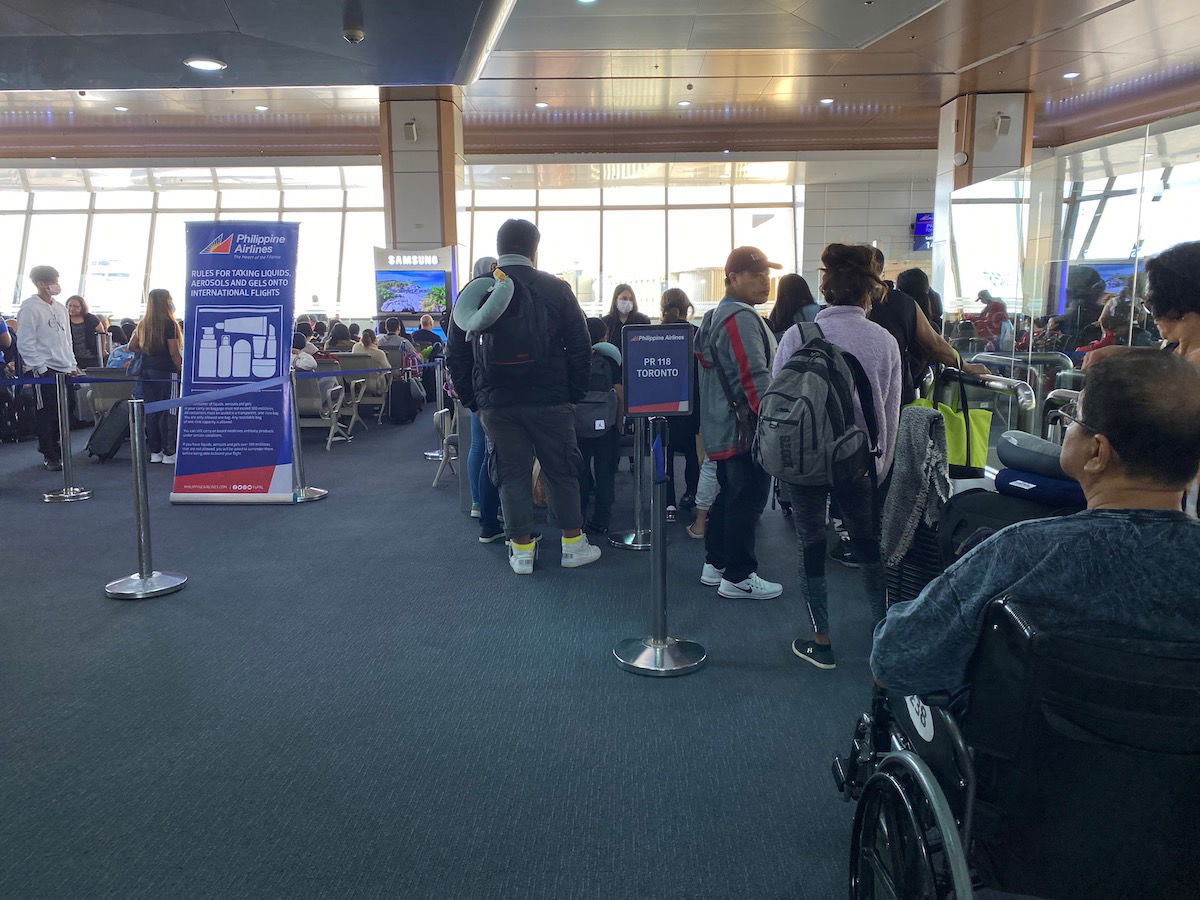 Line to get into Philippine Airlines departure gate
I took the below picture over an hour before departure, so it really doesn't do justice to how full the gate area got. There were several dozen wheelchair passengers on the flight, and there simply wasn't room for everyone.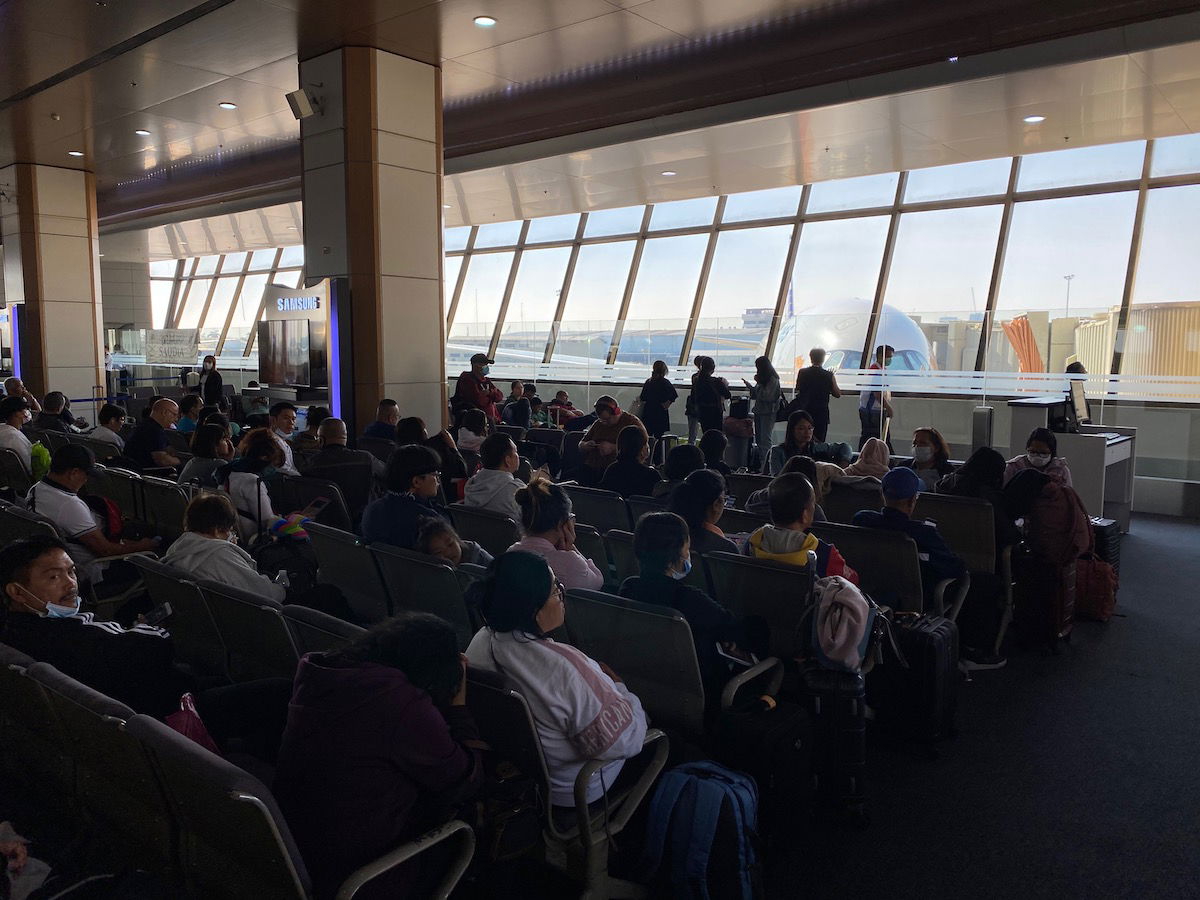 Philippine Airlines departure gate
Before boarding started they also announced that elderly passengers could board with wheelchair passengers, and I'm not exaggerating when I say that probably half of the passengers identified as such, and then proceeded to get in line and stand for 10 minutes before boarding started.
That seems counterproductive in terms of trying to make the experience as seamless for everyone as possible.
Philippine Airlines Ground Experience Bottom Line
I truly believe the Philippine Airlines ground experience in Manila is the worst in the world when you have to change terminals. My bags were screened five times, signage was bad, I had to wait over 30 minutes for a bus, and more.
I can't think of any other airline in the world where a hub transfer on the same airline is this complicated.
I fully acknowledge this likely isn't entirely (or even mostly) Philippine Airlines' fault.
However, if the airline and airport want to promote Manila as a connecting hub and want Philippine Airlines to improve, big work needs to be done when it comes to the transfer options. Either operations need to be consolidated in a single terminal, or there needs to be a better, more streamlined option for connecting between terminals.
To those who have transferred between T1 and T2 at MNL, how did your experience compare to mine? Can anyone think of a worse hub airport transit experience?