The first segment of this trip had me flying from Miami to Dallas, prior to continuing the following morning from Dallas to Hong Kong.
Booking My American Airlines Flights
As I outlined in the introduction, the outbound portion of this trip was a paid ticket. I had booked a roundtrip ticket from Miami to Beijing, with the outbound in paid business class and the return in paid economy, for about $1,600.
The outbound portion looked as follows, after I applied a systemwide upgrade to get first class on the Dallas to Hong Kong flight:
12/08 AA2524 Miami to Dallas departing 7:36PM arriving 9:52PM [Business]
12/09 AA125 Dallas to Hong Kong departing 10:40AM arriving 5:35PM (+1 day) [First]
12/10 KA906 Hong Kong to Beijing departing 7:00PM arriving 10:10PM [Business]
The Beijing to Miami return flight (which I'm upgrading to business class) will be flown early next year.
American Airlines Flagship First Check-In
While I was able to check-in online for my Miami to Dallas flight, I wasn't able to get a mobile boarding pass for my connecting flight, presumably because my Chinese visa had to be verified.
Due to my ticket I was able to use American's Flagship First Check-In facility, which is open to the following passengers:
Those traveling in American Airlines three cabin first class
Concierge Key members and non-American oneworld Emerald members on any itinerary
Executive Platinum members on any eligible long haul itinerary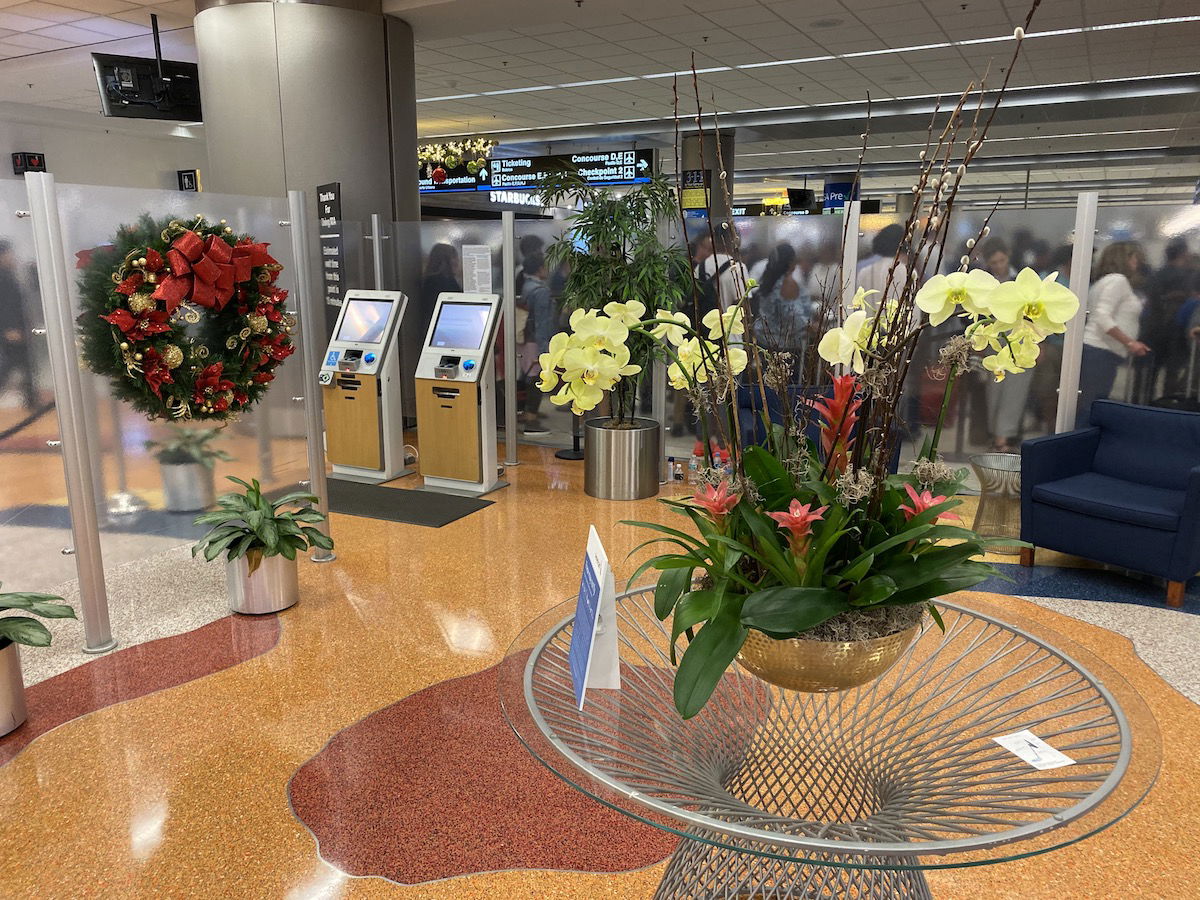 American Airlines Flagship First Check-In Miami
This is supposed to be an exclusive facility that lets you cut part of the security line, though the experience was rather underwhelming. It was roped off so that there's basically a "bouncer" who admits you to the facility, but then there was initially only one agent working.
I had to wait for several minutes before being helped, and then it took forever to get me checked in, not to mention the agent wasn't friendly. She just kept me waiting for several minutes without saying a word, and then said "my system isn't working."
I also don't get what some airline agents are trying to accomplish with their questions. For example, I handed her my passport with the Chinese visa page open (explaining it was my expired passport, but that the visa was still valid), and as she entered the info she asked me "the visa expires April 2025?"
It explicitly has the expiration in the passport, so I'm not sure why she's asking/how she thinks I know from memory?
On the plus side, using this facility does let you cut to the front of the Pre-Check line, which sure is nice, so there is that benefit.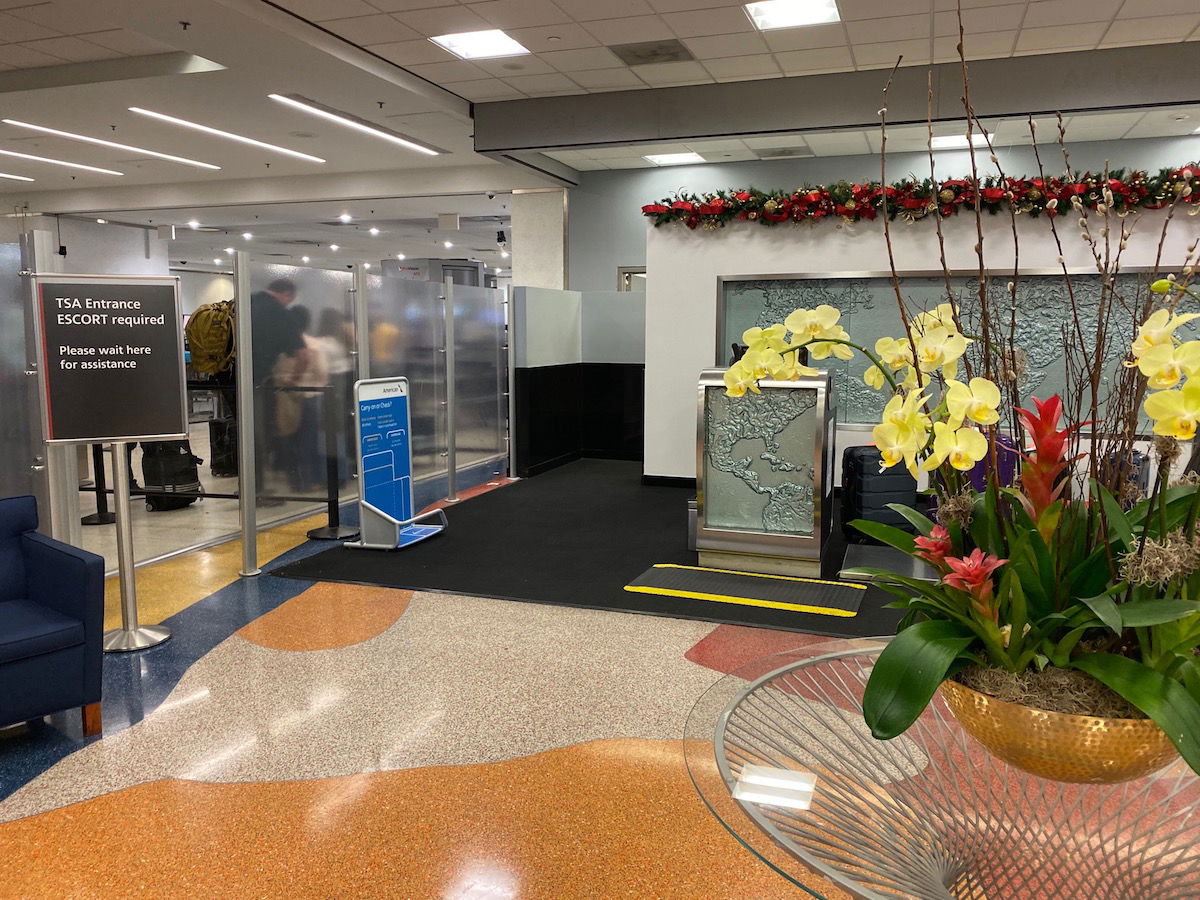 American Airlines Flagship First Check-In Miami
I had a bit of time to visit the lounge. I went to the Admirals Club by gate D30, thinking that's what I had access to. However, to my surprise I was given an invite to the Flagship Lounge, which I've reviewed before.
I don't think I was technically entitled to visit that, since my eligible international flight was the following day, and access is only supposed to be granted same day. However, sometimes they look at the overall itinerary, and I'm guessing that's why I was admitted.
Similarly, if I had flown from Miami to Dallas the same day as my international flight, I would have also had access to Flagship First Dining, which I've reviewed before.
American Airlines Business Class 757 Review
My flight to Dallas was departing from gate D48, just a few minutes walk from the lounge.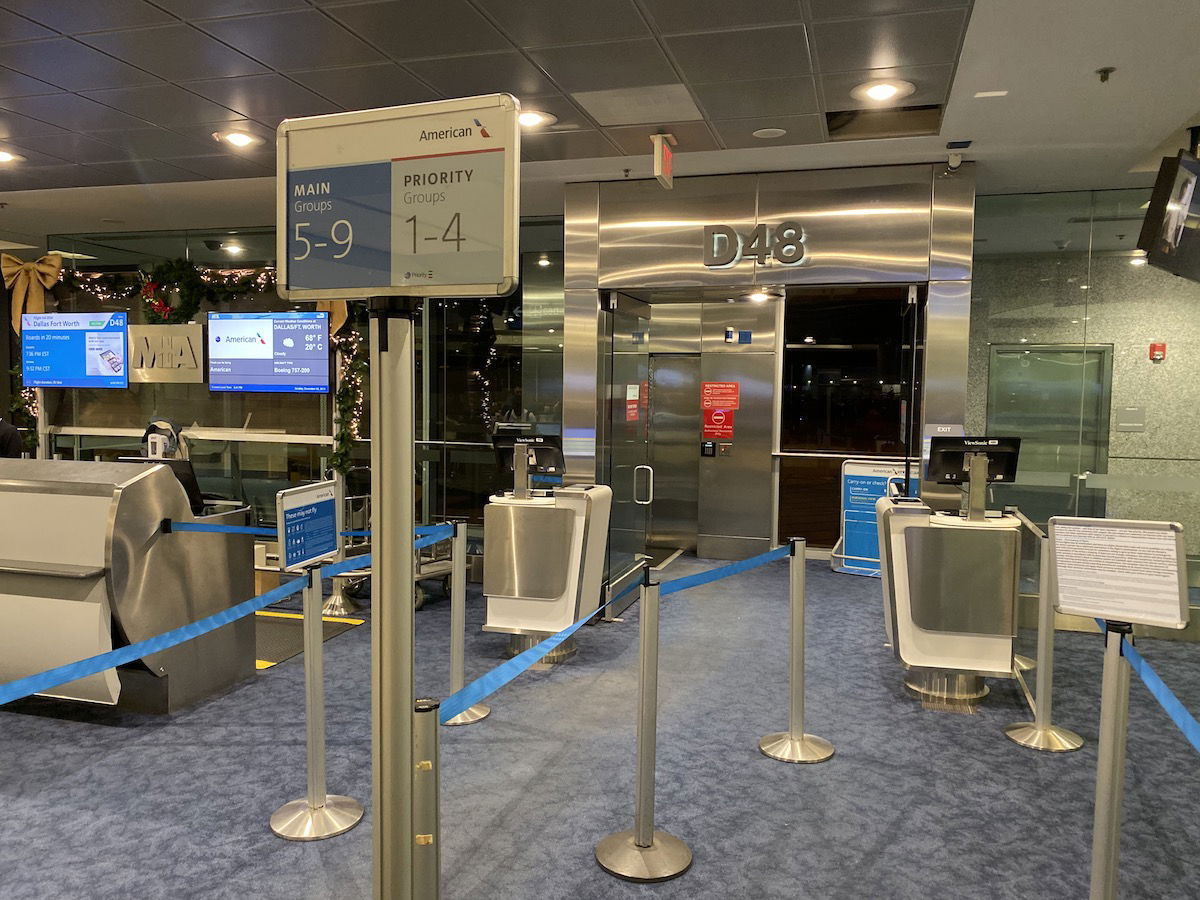 American Airlines boarding gate Miami
Boarding was scheduled to start at 7:01PM, 35 minutes before departure. Sure enough, that's right when boarding started.
Concierge Key members were invited to board first, which was nearly a dozen people. I was expecting this would make it very difficult to get cabin pictures, since I assumed these Concierge Key members would be occupying most of the seats up front.
American Airlines 2524
Miami (MIA) – Dallas (DFW)
Sunday, December 8
Depart: 7:36PM
Arrive: 9:52PM
Duration: 3hr16min
Aircraft: Boeing 757-200
Seat: 4A ( Business Class)
I boarded through the forward door of the 757-200, and was shocked to find all the Concierge Key members headed back to economy. In fairness I booked the last "paid" first class seat on this plane, but still, you'd think some Concierge Key members would be paying for first class as well.
Even though it was the Sunday evening after Art Basel, the crowd in first class was almost exclusively retirees who looked like they came off a cruise, rather than business travelers or Art Basel-looking-people.
One of the nice things about flying American out of Miami is that they operate internationally configured aircraft on quite a few domestic routes. A majority of my flights to Dallas and New York are in flat beds, either on 777s, 767s, or 757s. They also fly those planes sometimes to Chicago, Los Angeles, Philadelphia, and San Francisco. That's mostly pretty awesome.
The reason for this is that a lot of wide bodies have some extra time between international "turns," so they often fly them between hubs during that downtime.
This flight was operated by an internationally configured 757-200. American started installing new business class seats on these back in 2016, and it's more or less the same seat they have on the American A321T, with one major difference.
American has a total of 16 Collins Aerospace Diamond seats, spread across four rows in a 2-2 configuration. For an old 757 it's not a bad-looking cabin.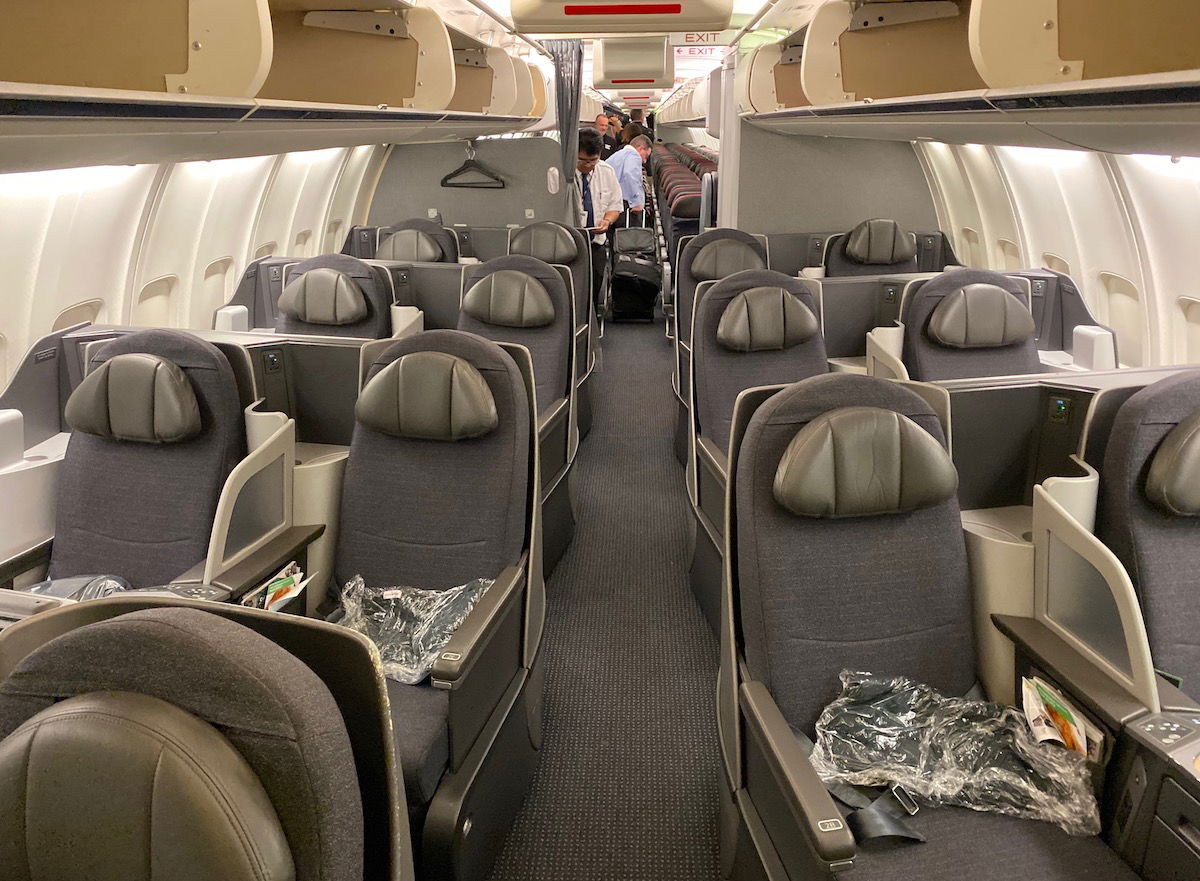 American Airlines 757 business class cabin
However, when you look at the cabin in the other direction you may notice something missing — personal televisions.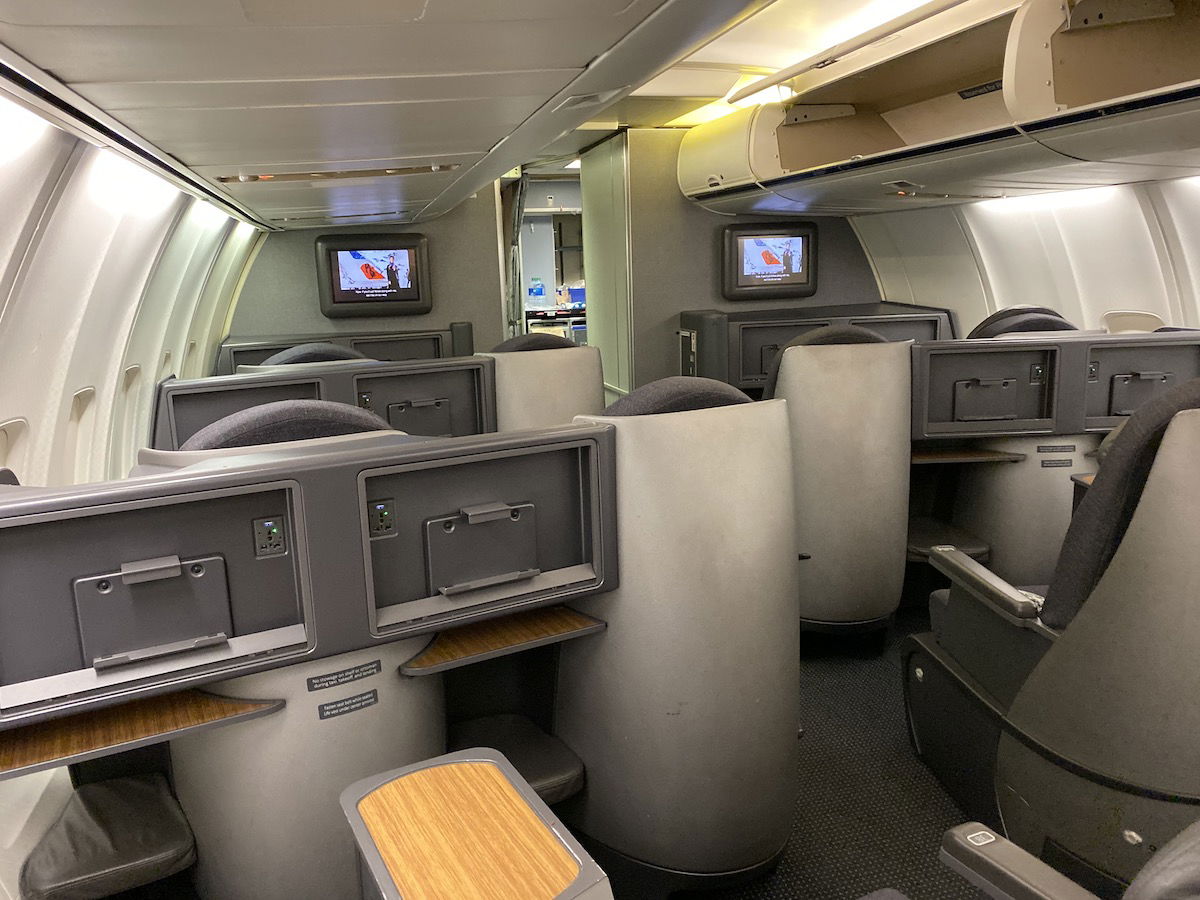 American Airlines business class cabin 757
Interestingly when American had angled seats in business class on these planes they had built-in personal televisions, but they decided not to offer them with their new product (however, on long haul flights they hand out portable entertainment devices).
I laughed out loud when the lady seated a row up called over a flight attendant and said "excuse me, I think there's something wrong with my seat, the TV is missing" (she was serious). Mood!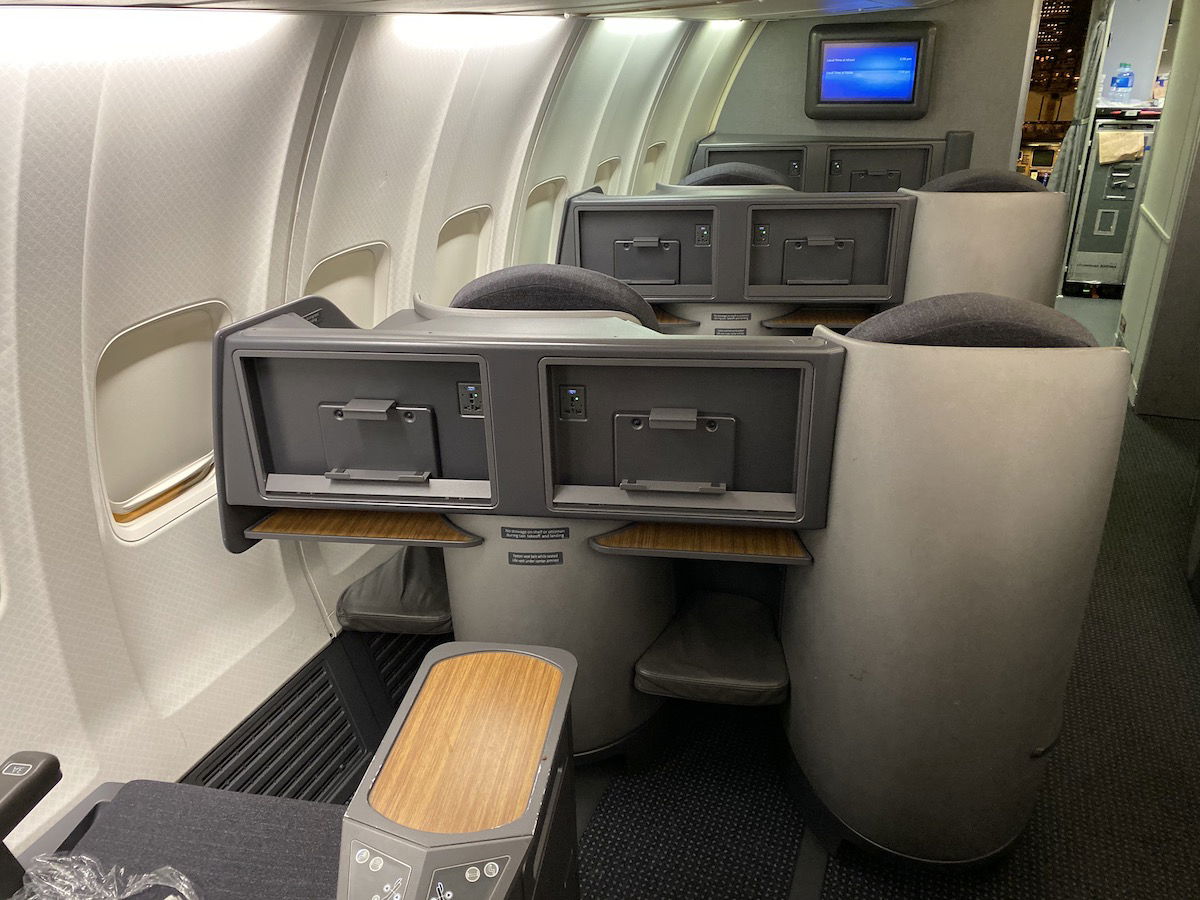 American Airlines business class cabin 757
These seats are really nice when you're flying domestically, and they're even quite nice when flying internationally, especially when you're traveling with someone. It's not like the 757s operate any ultra long haul flights.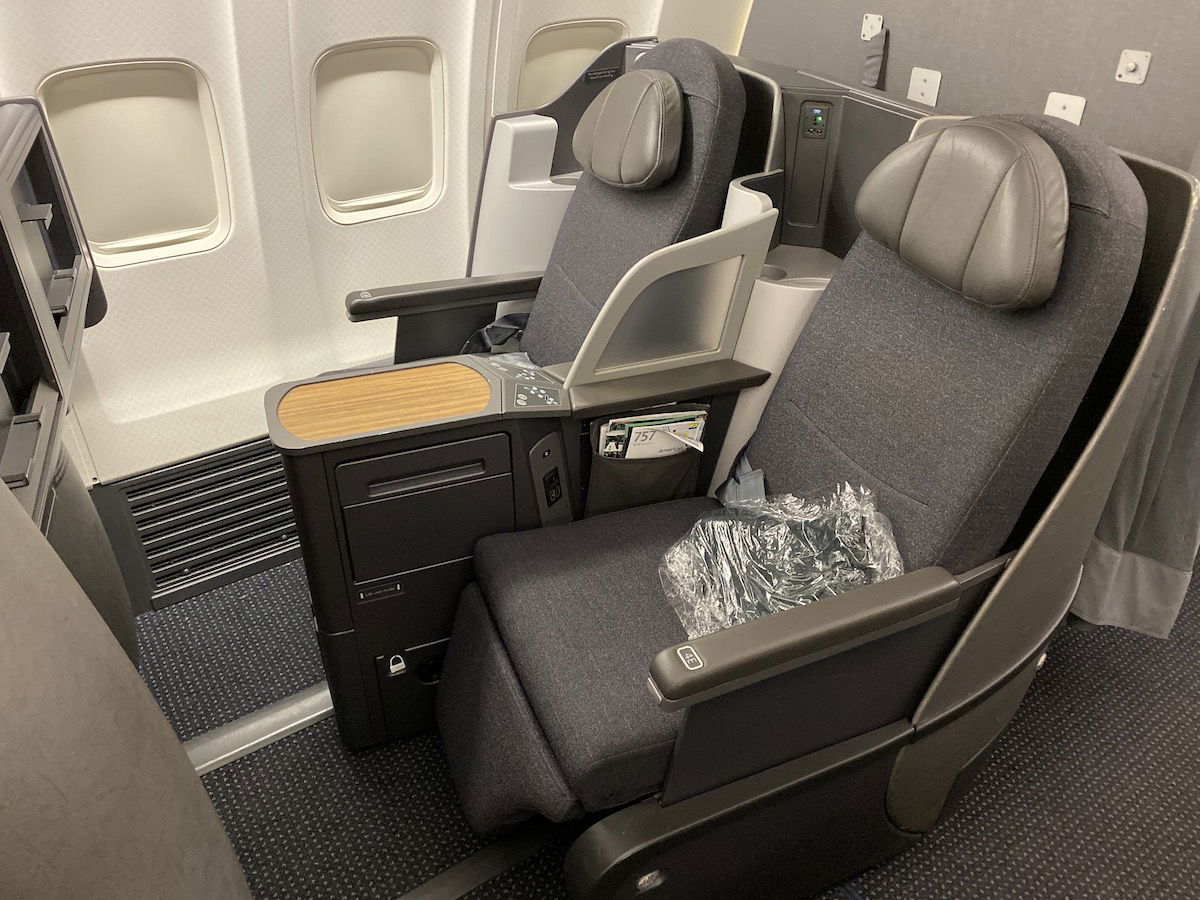 American Airlines 757 business class seats
I had assigned myself seat 4A, the window seat in the last row on the left.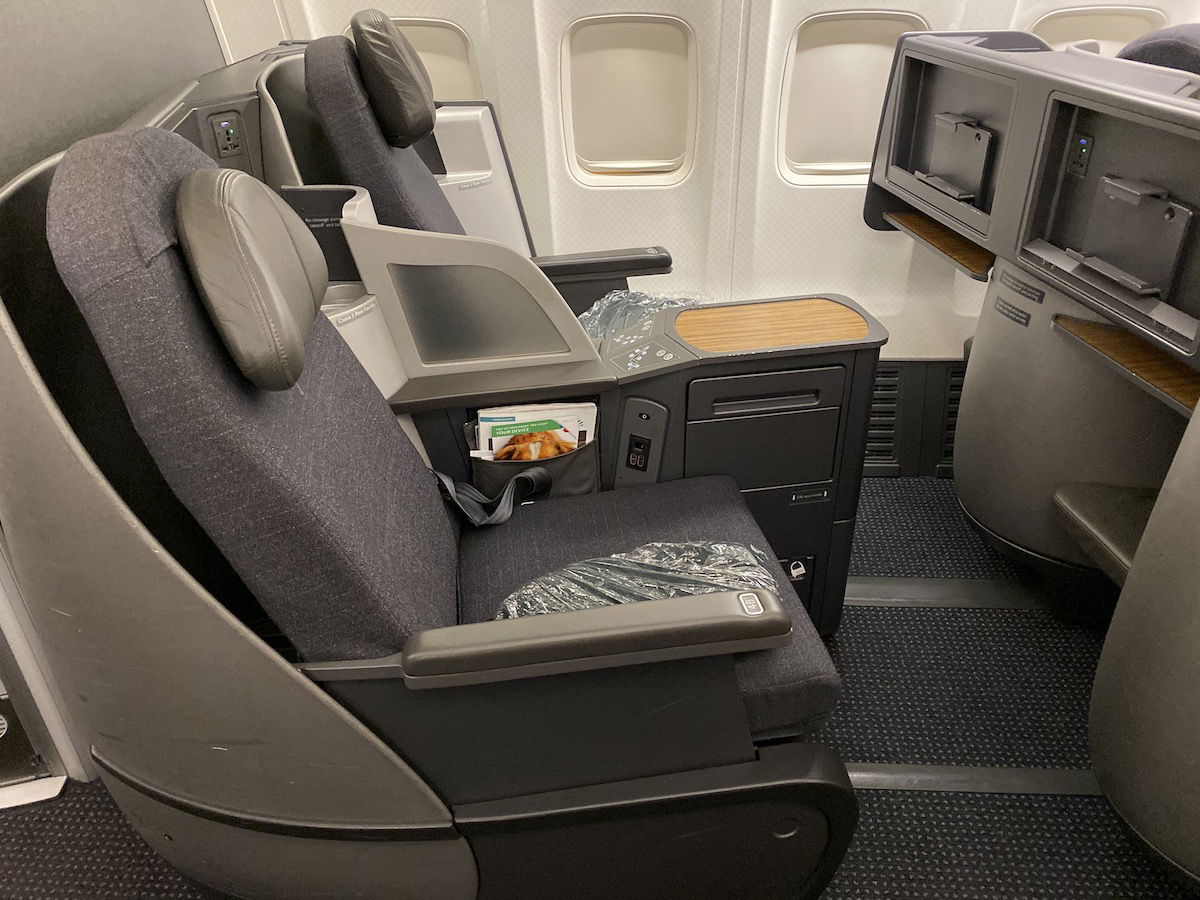 American Airlines business class seats 757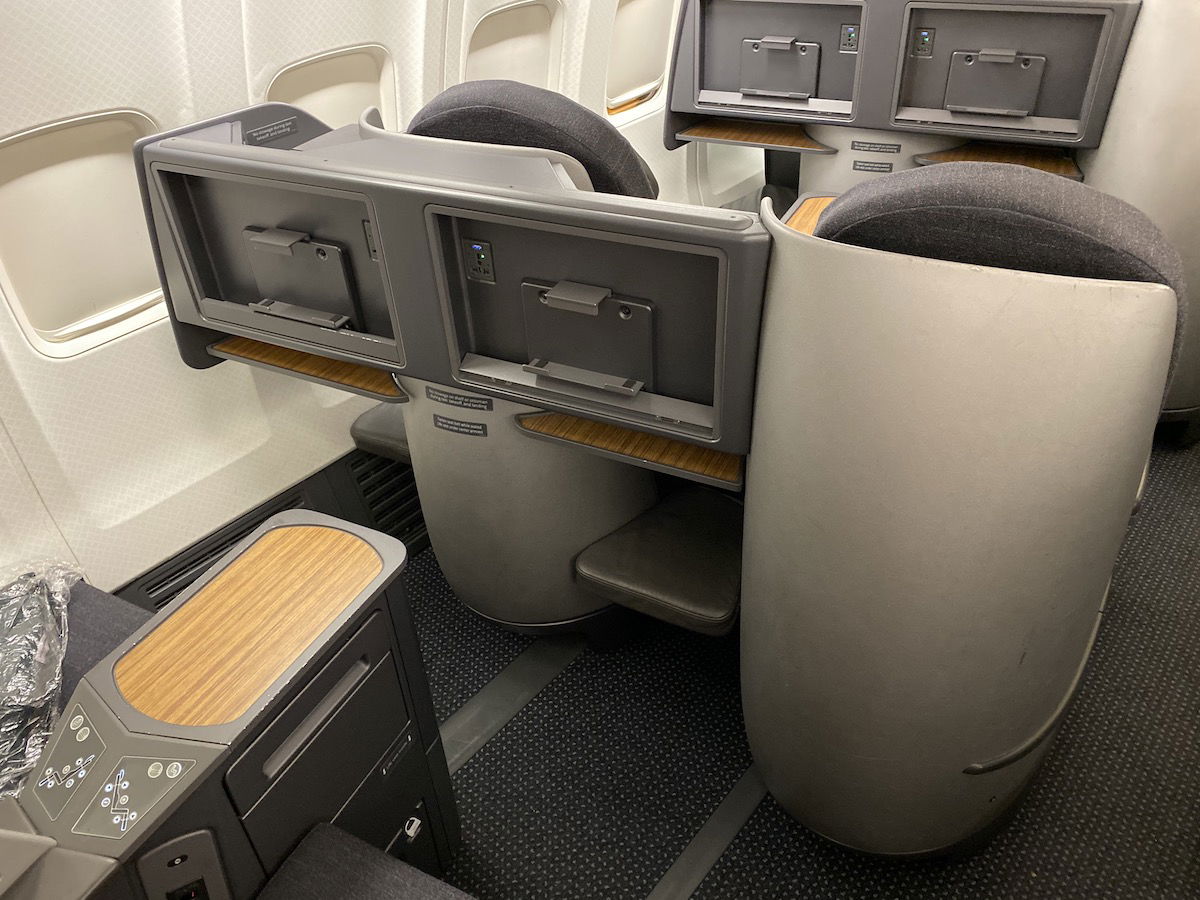 American Airlines business class seats 757
To the back left of the seat was a small exposed storage compartment, as well as a 110v and USB outlet.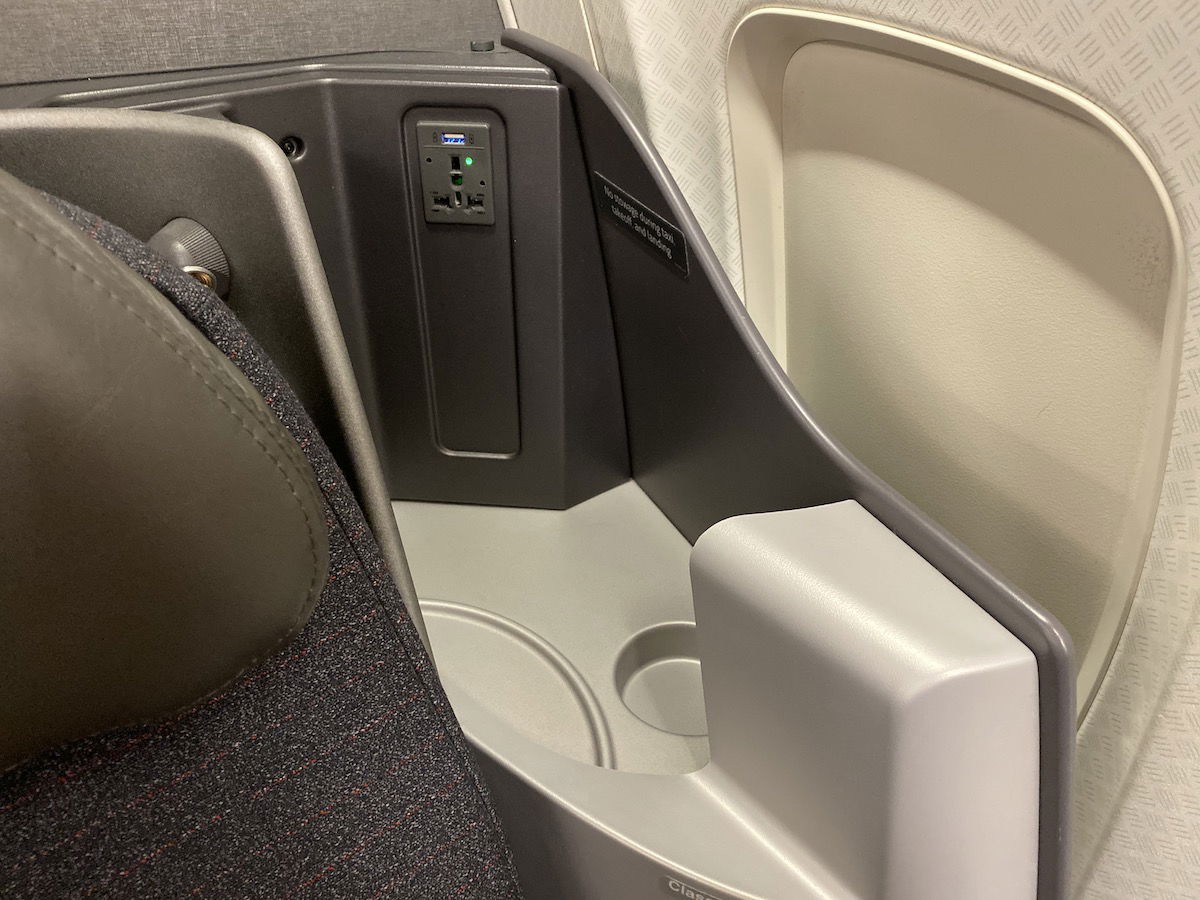 American Airlines business class seat storage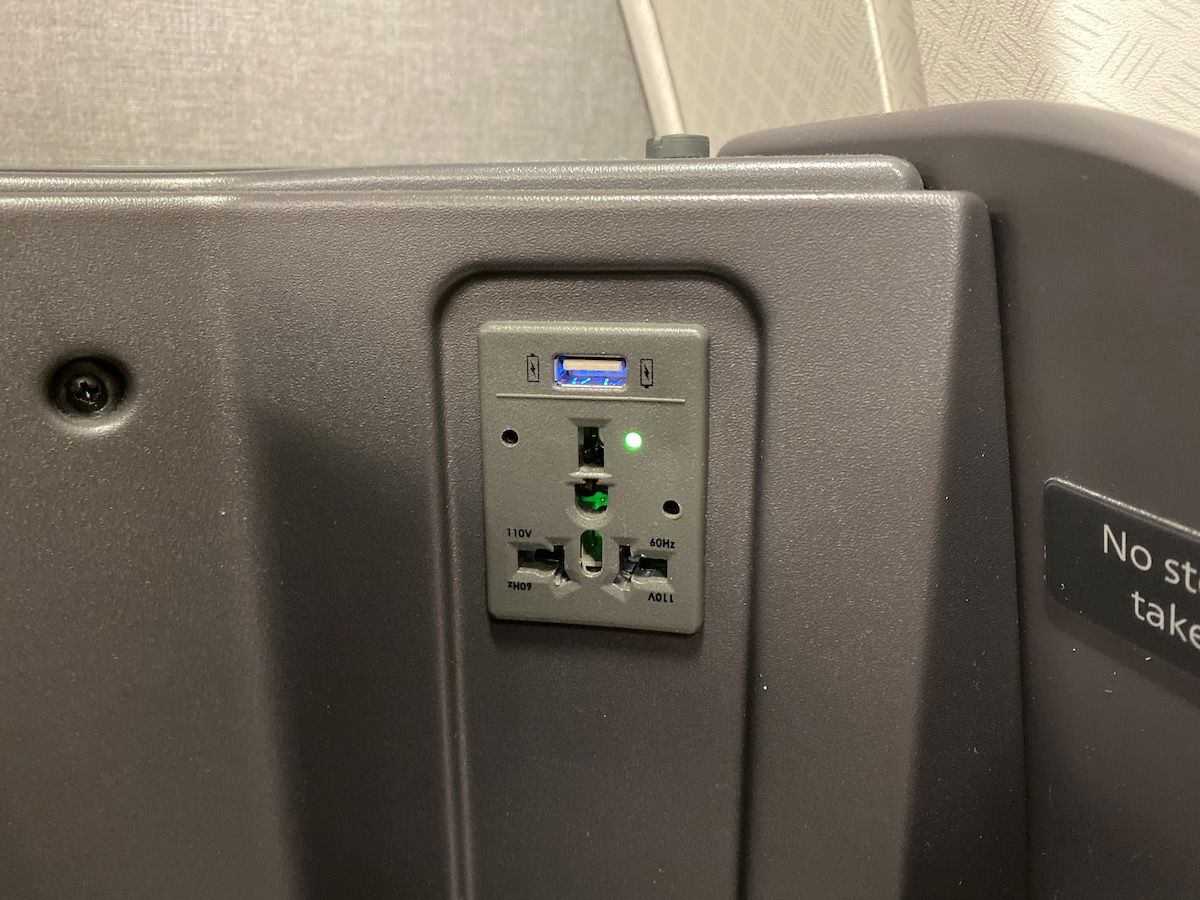 American Airlines business class seat outlet
The seat controls were on the center armrest, and easy to use.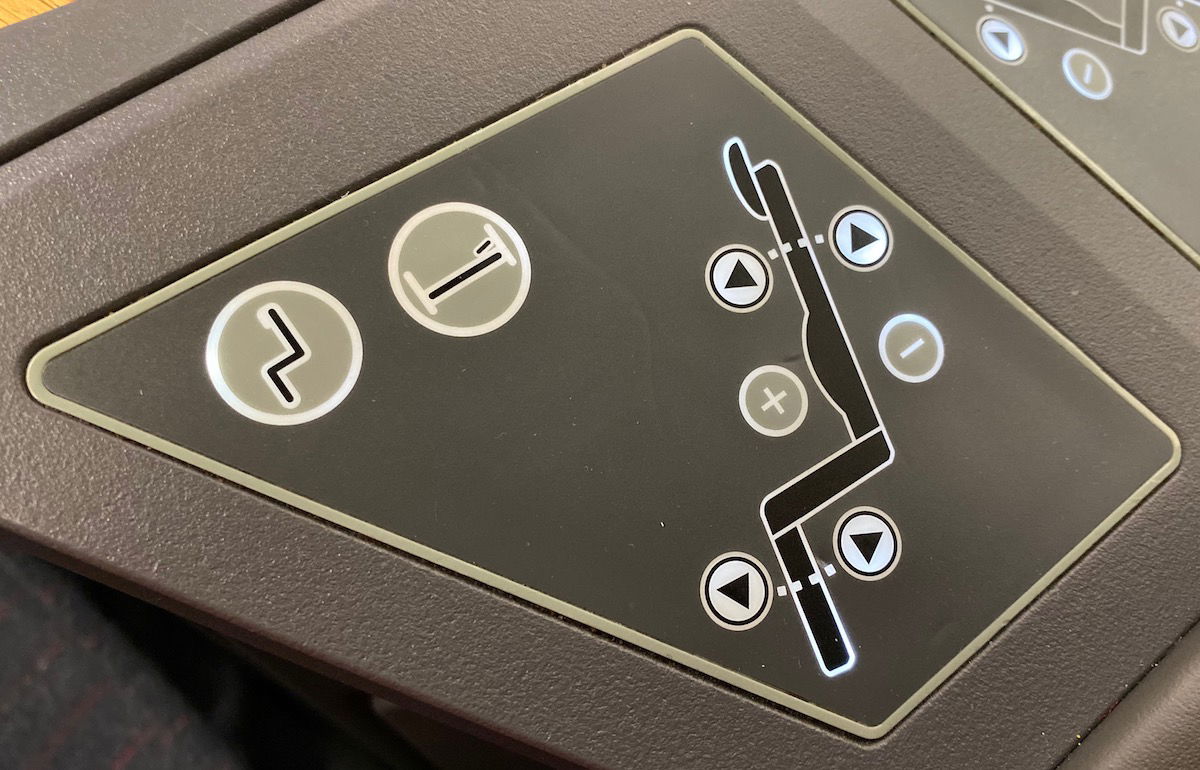 American Airlines business class seat controls
The tray table also extended from the center armrest, and could be folded over in half.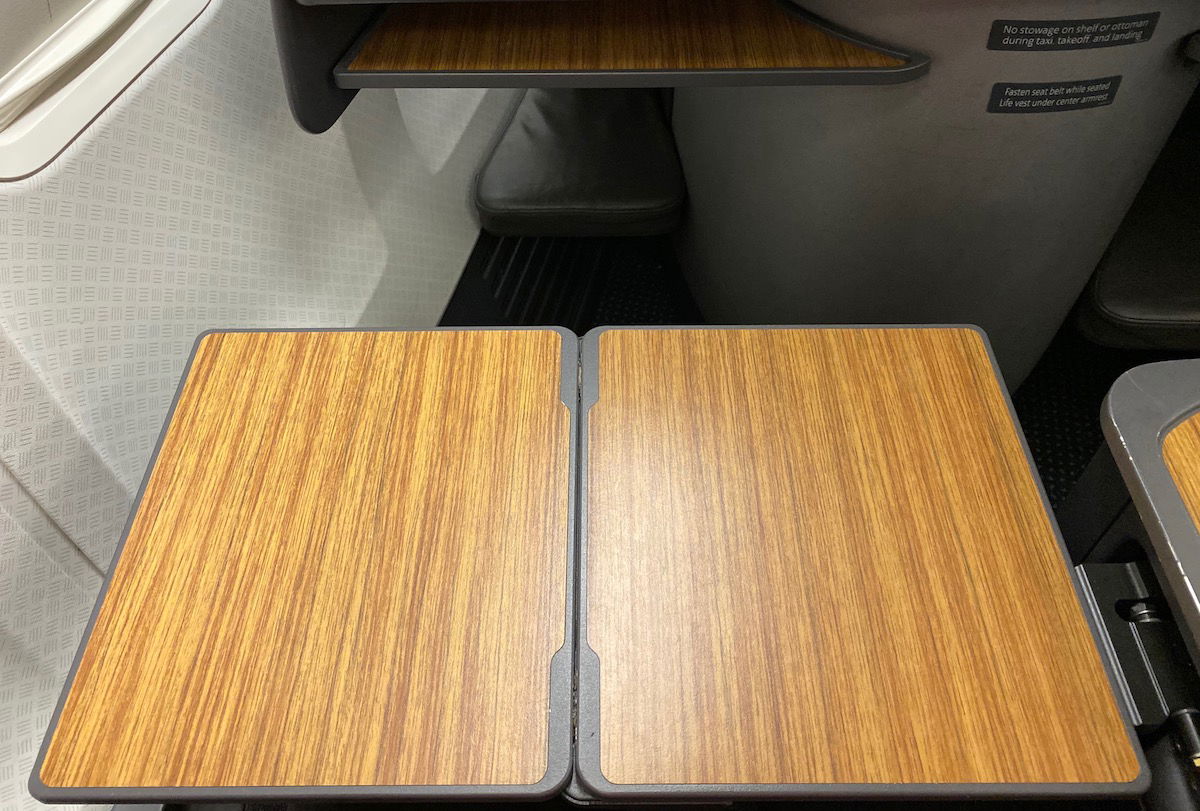 American Airlines business class seat tray table
There was another 110v and USB outlet by the personal entertainment holder, so that you can charge your device while watching something. There's also a small shelf beneath this area, but it's not particularly deep, so I don't find it to be too useful.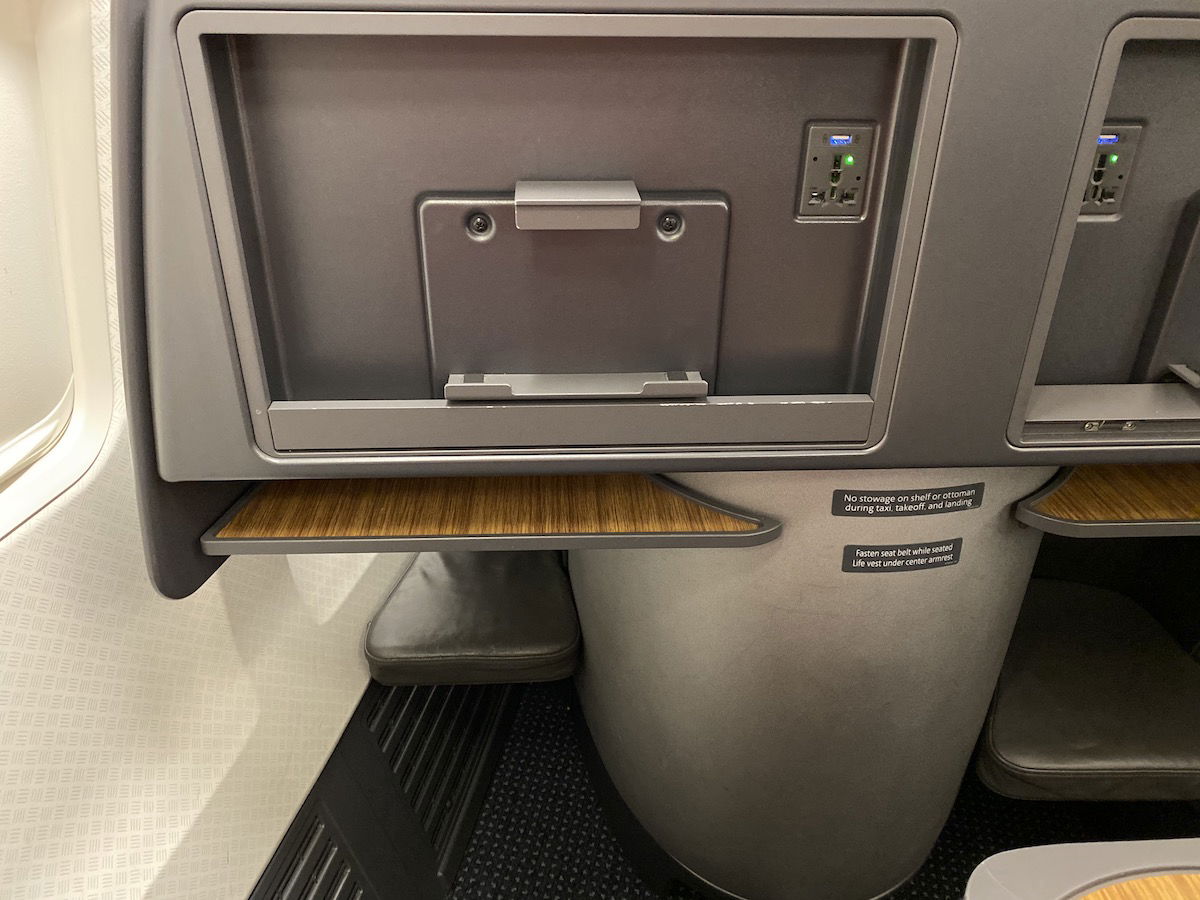 American Airlines business class seatback entertainment holders
The footwell with these seats are on the tight side, which is also part of what makes this such an efficient seat, since your feet go to the side of the seat in front.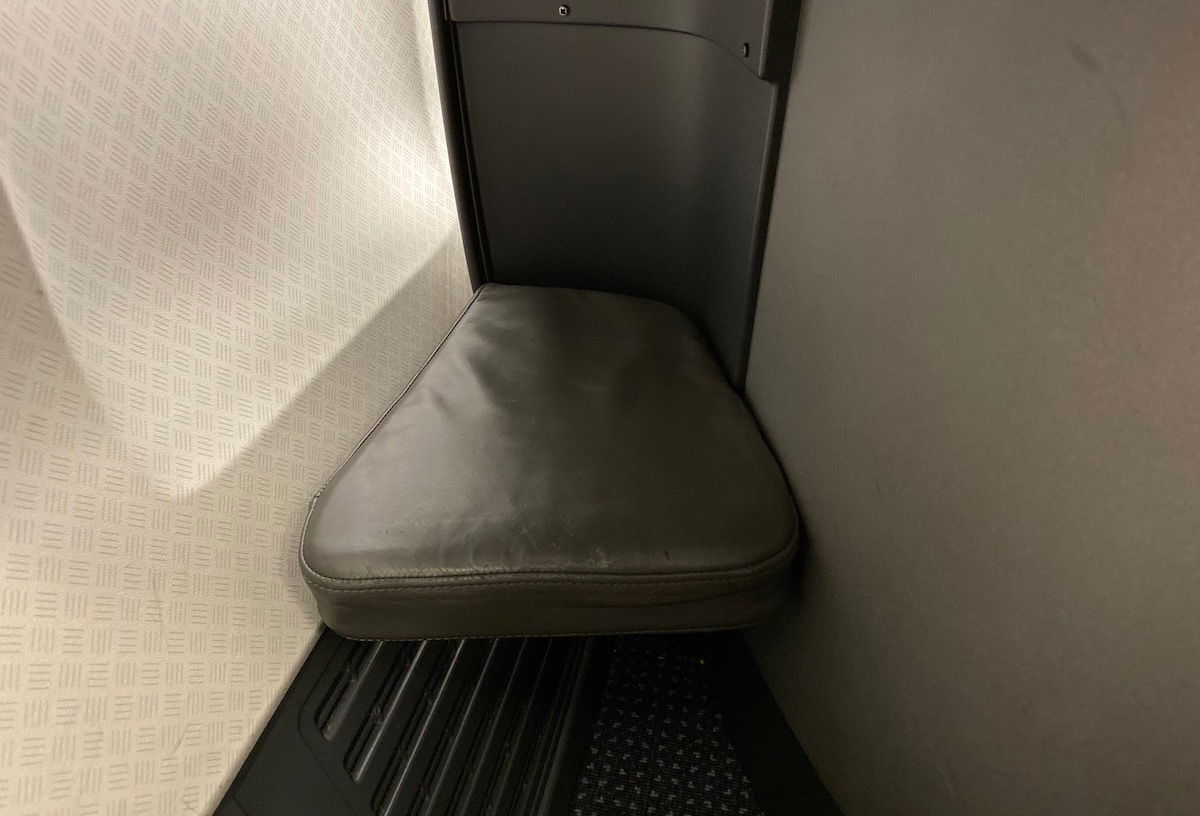 American Airlines business class seat footwell
While the seats as such felt fresh, the overhead consoles felt retro, though on the plus side they had individual air nozzles.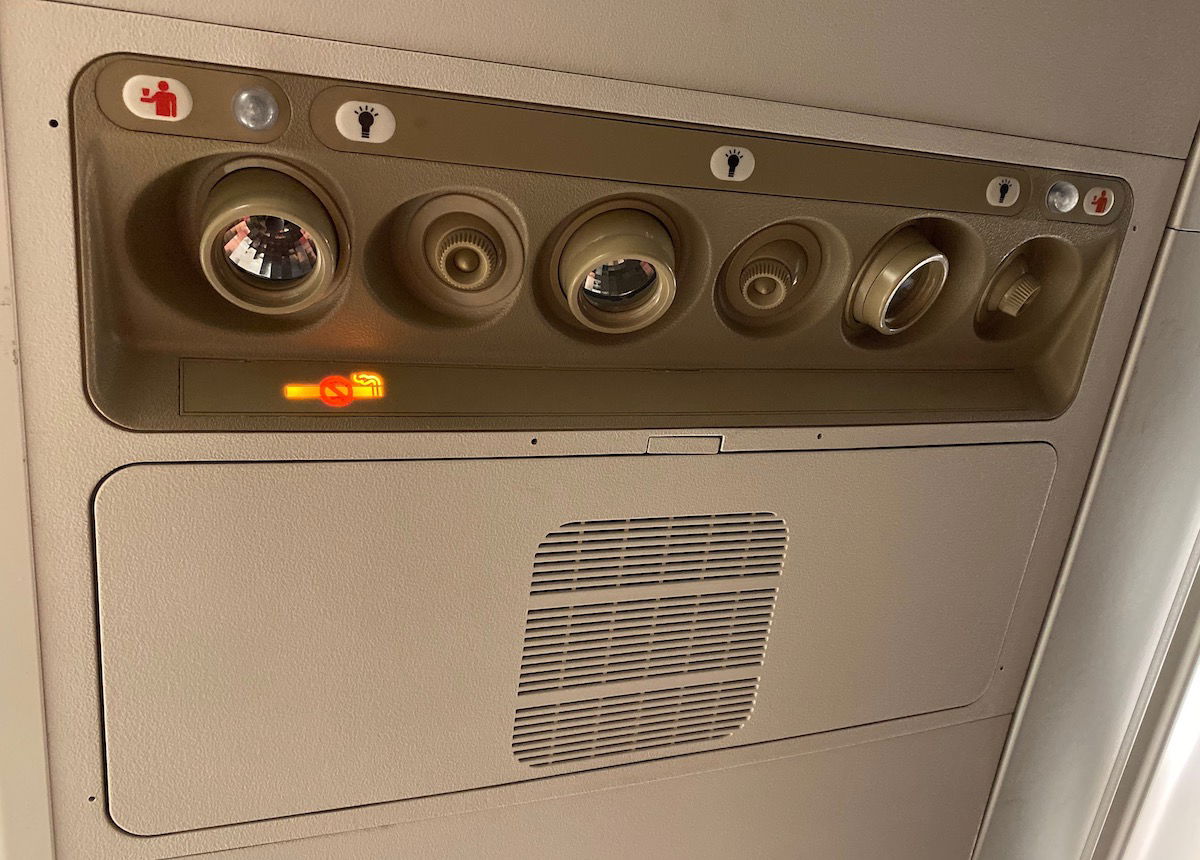 American Airlines overhead console 757
Waiting at each seat upon boarding was a thin blanket. American doesn't offer pillows in domestic first class, unfortunately.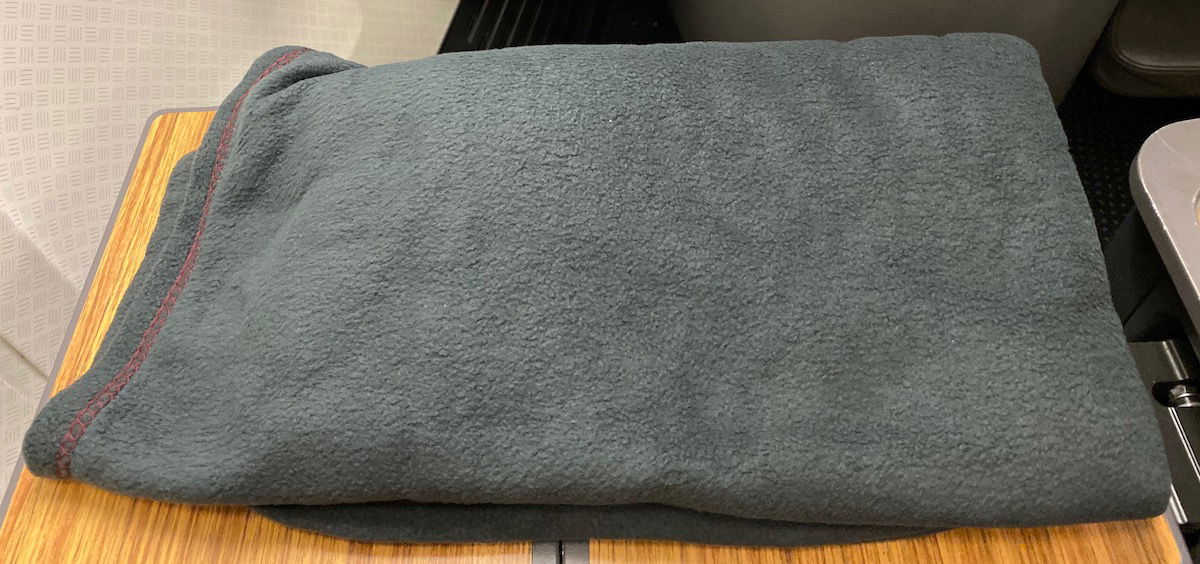 American Airlines domestic first class blanket
Boarding was pretty efficient, and by 7:30PM just about everyone was boarded. At 7:35PM the captain made his welcome aboard announcement.
"I wish I could tell you we will be leaving within the next couple of minutes, but when we boarded the aircraft there was a screen not turning on, and we are getting that replaced." He said that once we depart the flight time would be 2hr39min.
American's on-time record is mostly much better than it used to be, though I do still think it's worth pointing out that the plane had been on the ground in Miami for more than 24 hours. I always find that the longer the plane has been on the ground, the greater the odds of a mechanical issue.
At around 7:40PM the flight attendant came around to take meal orders. She didn't offer any sort of pre-departure drinks, not during the standard boarding process, and not during the delay.
"Chicken or vegetarian chili?"
Since American lets you pre-select meals in advance, I took a screenshot of the meals as described, and the choices were:
Grilled chicken with shiitake mushroom sauce and twice baked potato
Vegetarian chili with roasted garlic polenta cake
Fruit and cheese plate (available by pre-order only)
Zoes Kitchen Charcuterie Plate (available by pre-order only)
Usually I would have ordered an Asian Vegetarian meal, but I wanted to review the standard food, so I chose the vegetarian chili.
Anyway, the maintenance delay was surprisingly short, and by 7:50PM the door closed, and moments later we began our pushback, at which point the safety video was screened.
Our taxi was also quick, and by 8:10PM we were airborne.
Just 10 minutes after takeoff very wet warm towels were distributed.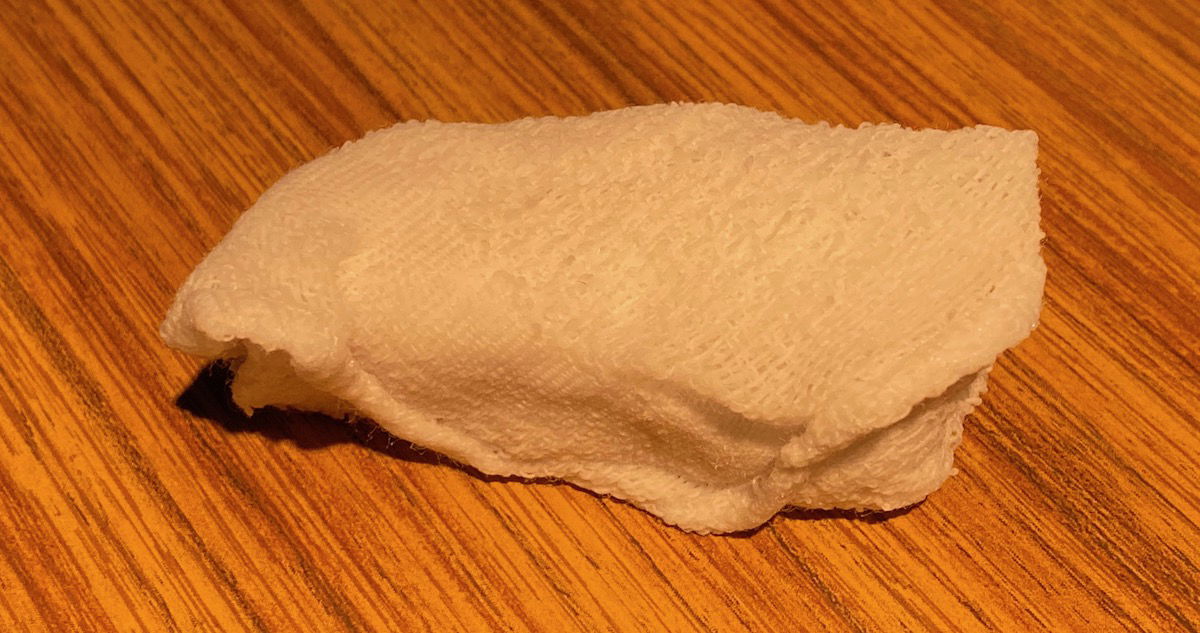 American Airlines business class dinner — warm towel
I also connected to Wi-Fi to get some work done. One downside to being on a 757, 767, or 777, is that these planes don't have the Gogo 2Ku or Viasat high speed Wi-Fi. So not only is the Wi-Fi slower, but a Gogo subscription doesn't get you free access.
Wifi pricing was:
$12 for two hours
$17 for four hours
$19 for the flight duration
Given the short flight time, I just purchased a two-hour pass. The wifi wasn't fast, but did the trick.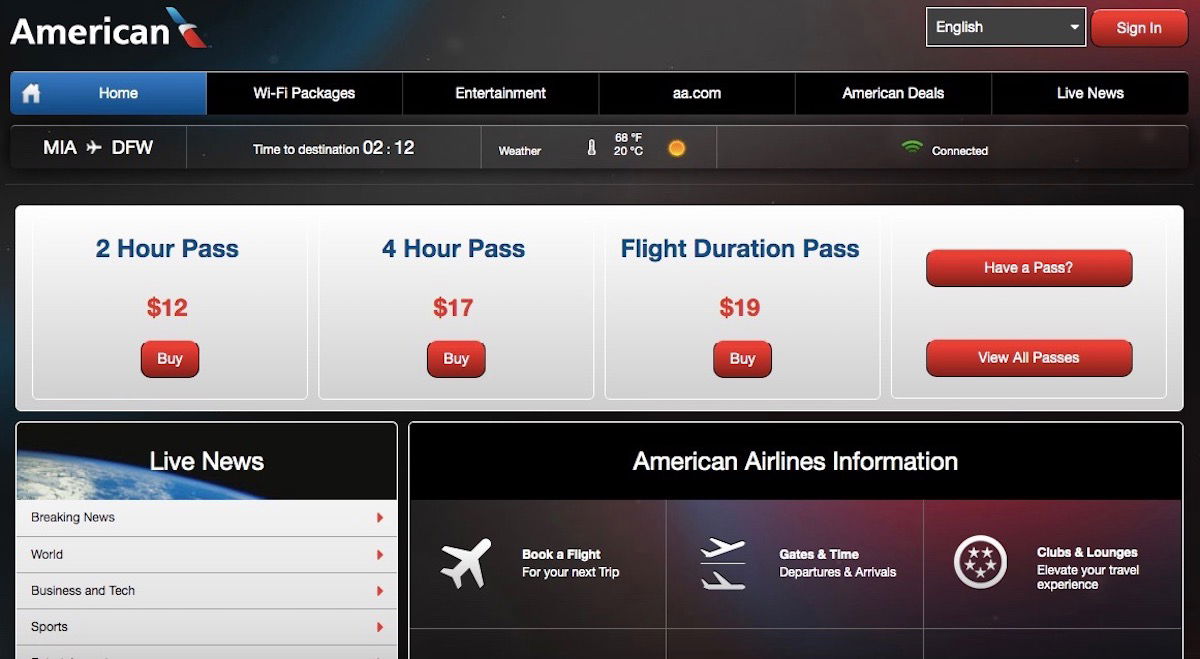 American Airlines Wi-Fi pricing
About 30 minutes after takeoff drinks and mixed nuts were served — I ordered a Diet Coke to drink.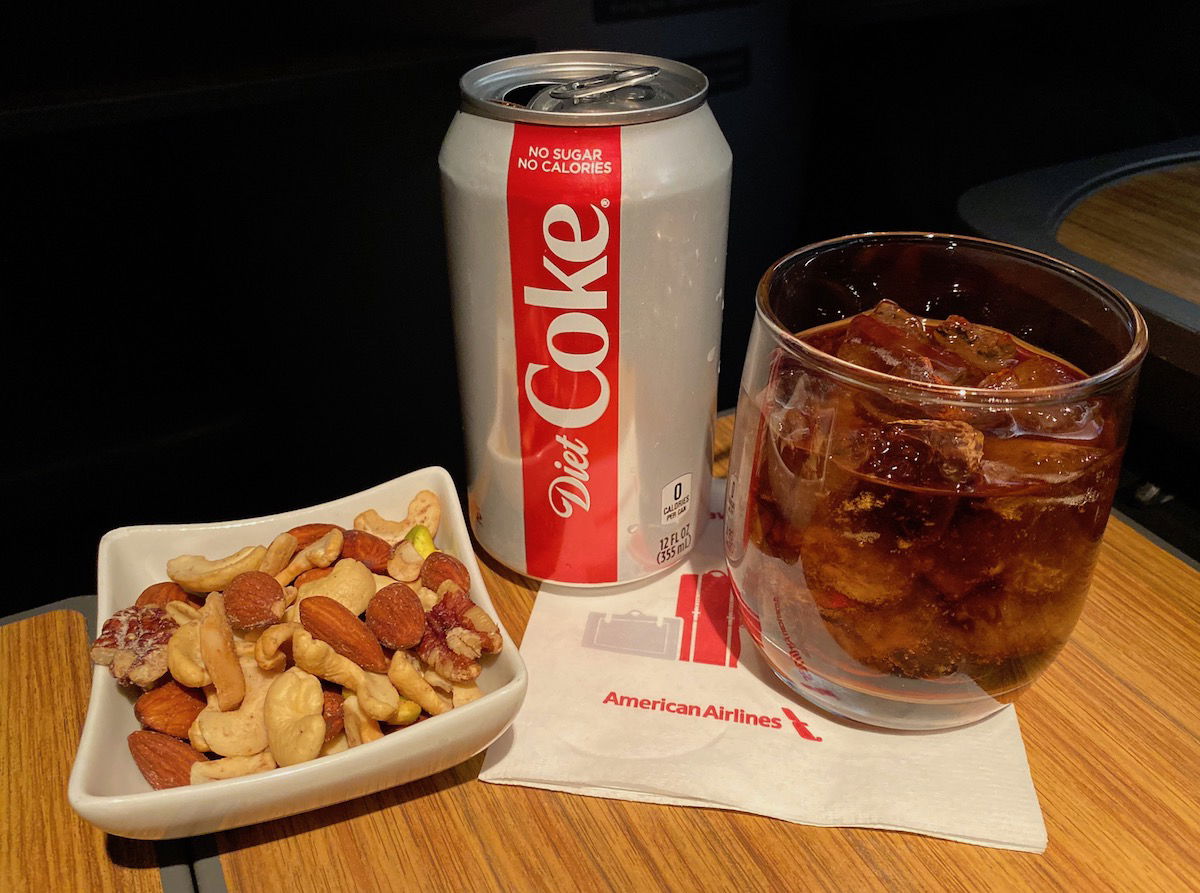 American Airlines business class dinner — drink & nuts
Then about 45 minutes after takeoff the meal was served. The food tasted as good as it looks… need I say more?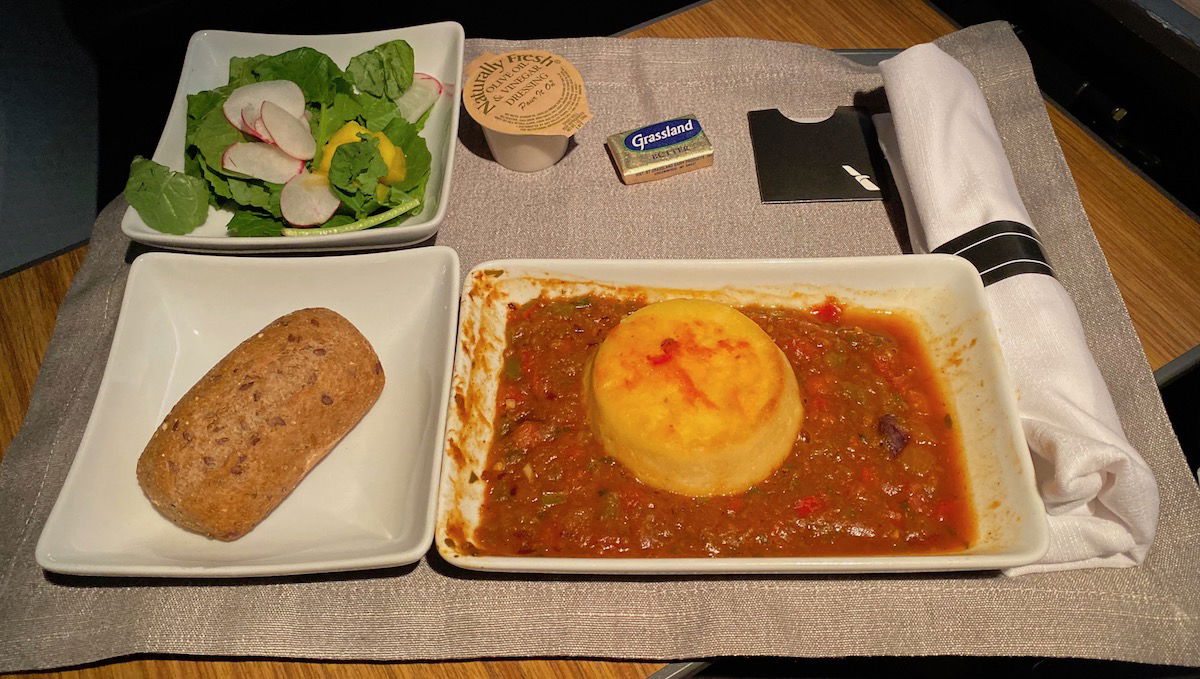 American Airlines business class dinner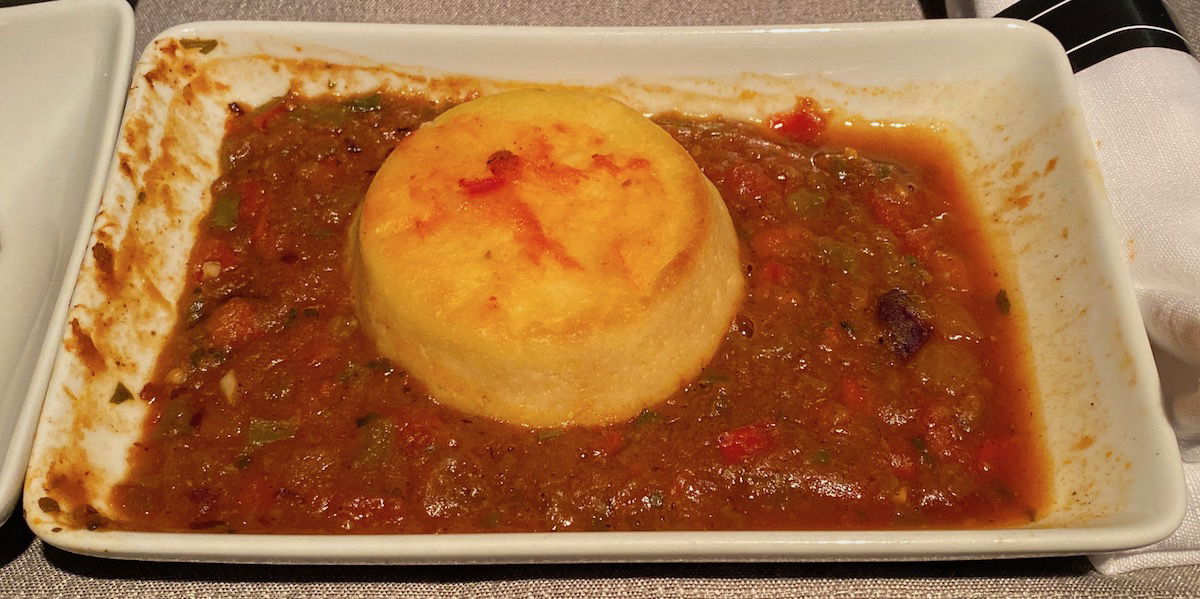 American Airlines business class dinner — yum!
After the meal warm cookies were distributed, and I ordered a coffee to go along with it. American recently changed their cookie vendor, and the new cookies are really soft, to the point that they just kind of fall apart. I find the only real way to eat them is to literally eat them off the napkin.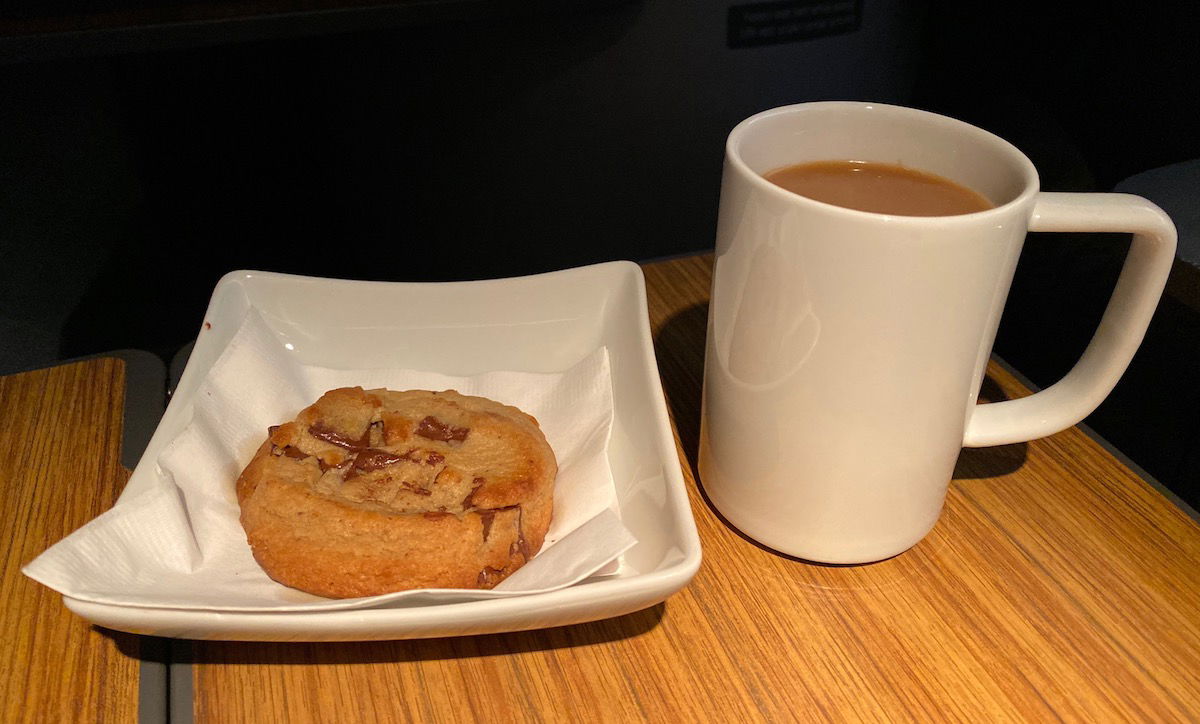 American Airlines business class dinner — cookie & coffee
I worked for most of the rest of the flight, and then about two thirds of the way through the flight I checked out the lavatory, which was alright.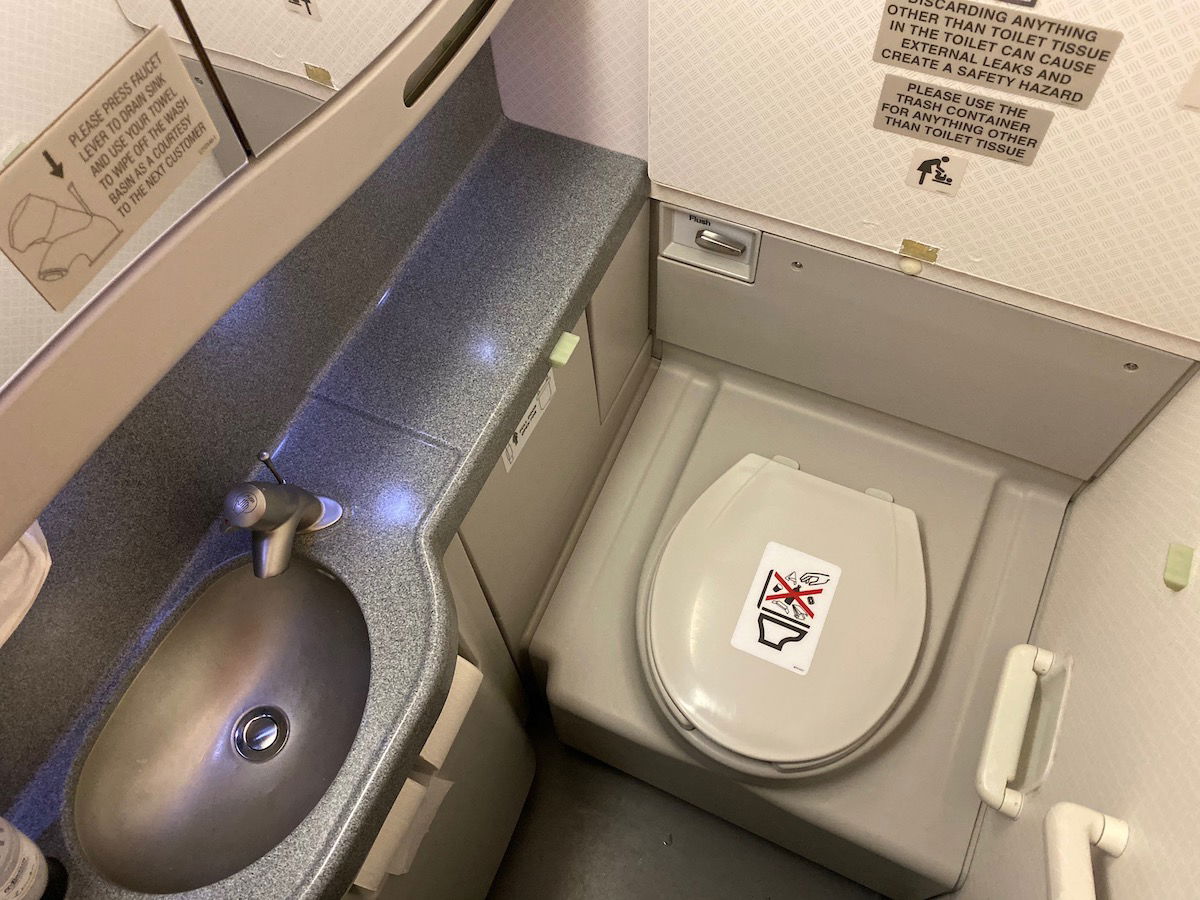 American Airlines business class lavatory 757
At 9:10PM Dallas time the captain announced we'd be descending soon, and that we would land in about 45 minutes.
The seatbelt sign was turned on about 20 minutes before landing, and around that time the flight attendant passed through the cabin to hand out mints.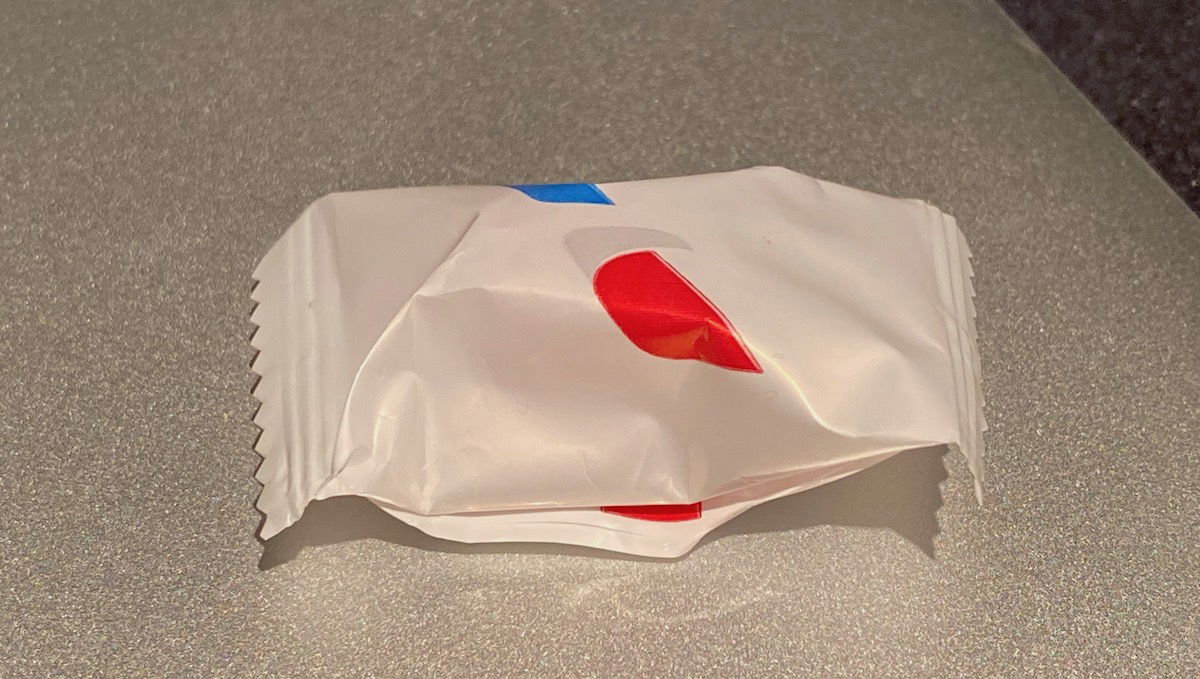 American Airlines business class mint
We landed in Dallas at 9:45PM, seven minutes ahead of our scheduled arrival time. It was great that we'd arrive on-time in spite of the mechanical delay on departure.
Unfortunately at 9:50PM the captain announced that our arrival gate was occupied by a plane having a maintenance delay. "They say that they should be out of the gate soon. What soon means they don't tell us."
We ended up having to wait for over 30 minutes, and only pulled into our arrival gate at 10:25PM. At least American is consistent with maintenance delays — you get them on departure and on arrival!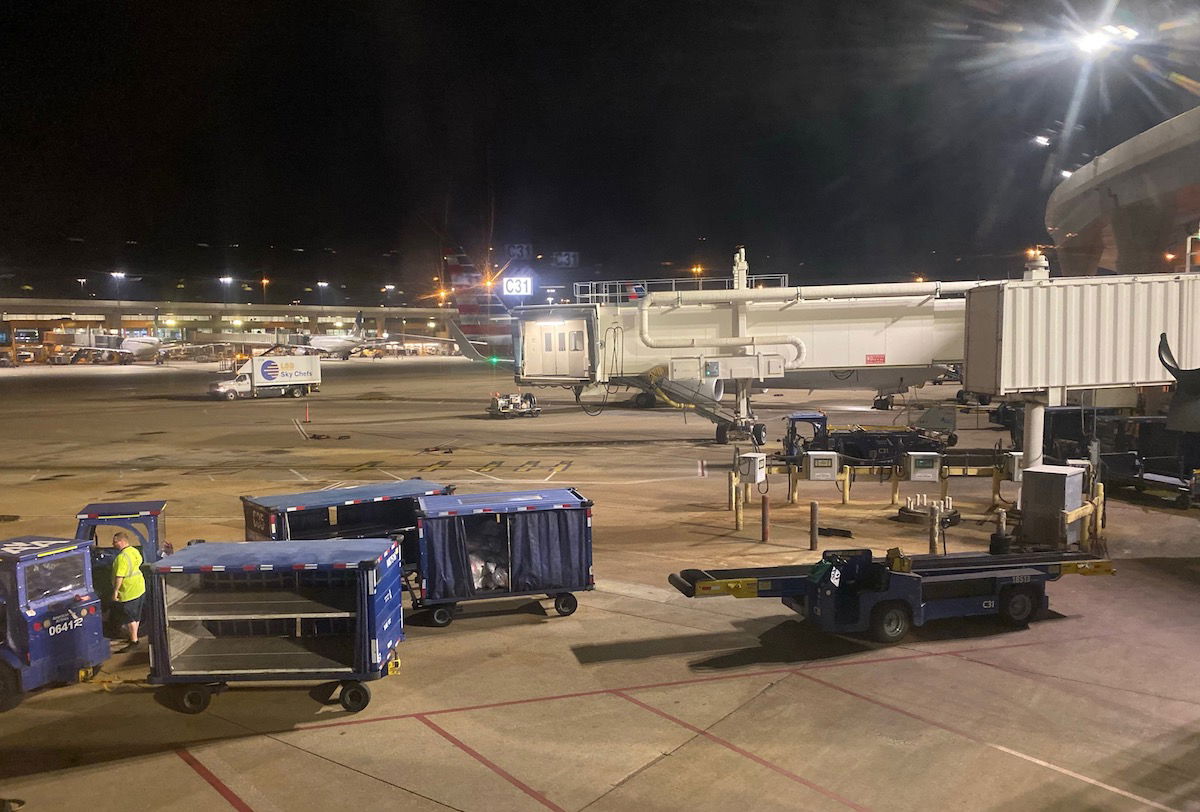 Arrival gate DFW
I took the train over to the D Concourse, and then checked into the Grand Hyatt DFW for the night, before a very early start the next morning.
American 757 Business Class Bottom Line
On the plus side, I like the number of internationally configured planes that American operates out of Miami on domestic flights (though it does mean slower Wi-Fi, not to mention having to pay even when you have a Gogo subscription).
Otherwise this was just your average domestic American flight — the food wasn't good, the flight attendant actually wasn't too bad, and we had maintenance delays both on departure and arrival.
At least I had a comfy seat for the journey!