For our trip to Greece, we spent our first night at the 60-room Academias Hotel, a Marriott Autograph Collection property, which opened in 2019. My primary motivation in picking this hotel was to be able to review a new property in Athens.
For context, I'd say the Four Seasons Athens Astir Palace is the best hotel in Athens, but it's not really a city hotel, but rather more of an Athens "riviera" hotel, if you will. I'd say the best "proper" city hotel is Hotel Grande Bretange, a Marriott Luxury Collection property. Right next to that hotel is King George Athens, a Marriott Luxury Collection property, which is also quite decent.
So, how was Academias Hotel? While it's not quite of the same caliber as Hotel Grande Bretagne, and it's also not a historic property, we had a great stay otherwise. The hotel has a central location, good amenities, feels modern and clean, and service is friendly. Let's get into the review.
Booking Academias Athens
I booked our one night stay at Academias Hotel with cash. The rate was roughly €380. While that's of course not cheap, Athens hotel rates are high in summer, and Hotel Grande Bretagne was charging twice as much.
I booked our stay through the Marriott Luminous program, which offers free breakfast, room upgrades subject to availability, and a $100 property credit (these benefits stack with my Marriott Bonvoy Titanium perks).
As a point of comparison, if redeeming points, the hotel would have cost 65,000 Bonvoy points per night. I value Bonvoy points at 0.7 cents each, meaning an award stay would have cost the equivalent of ~$455. So I paid cash, because I'd rather redeem points for potentially higher value redemptions.
Academias Athens location
Academias Athens has a central location, just off Syntagma Square. The hotel is only a few blocks from both Hotel Grande Bretagne and King George, so location-wise, it's tough to beat this hotel.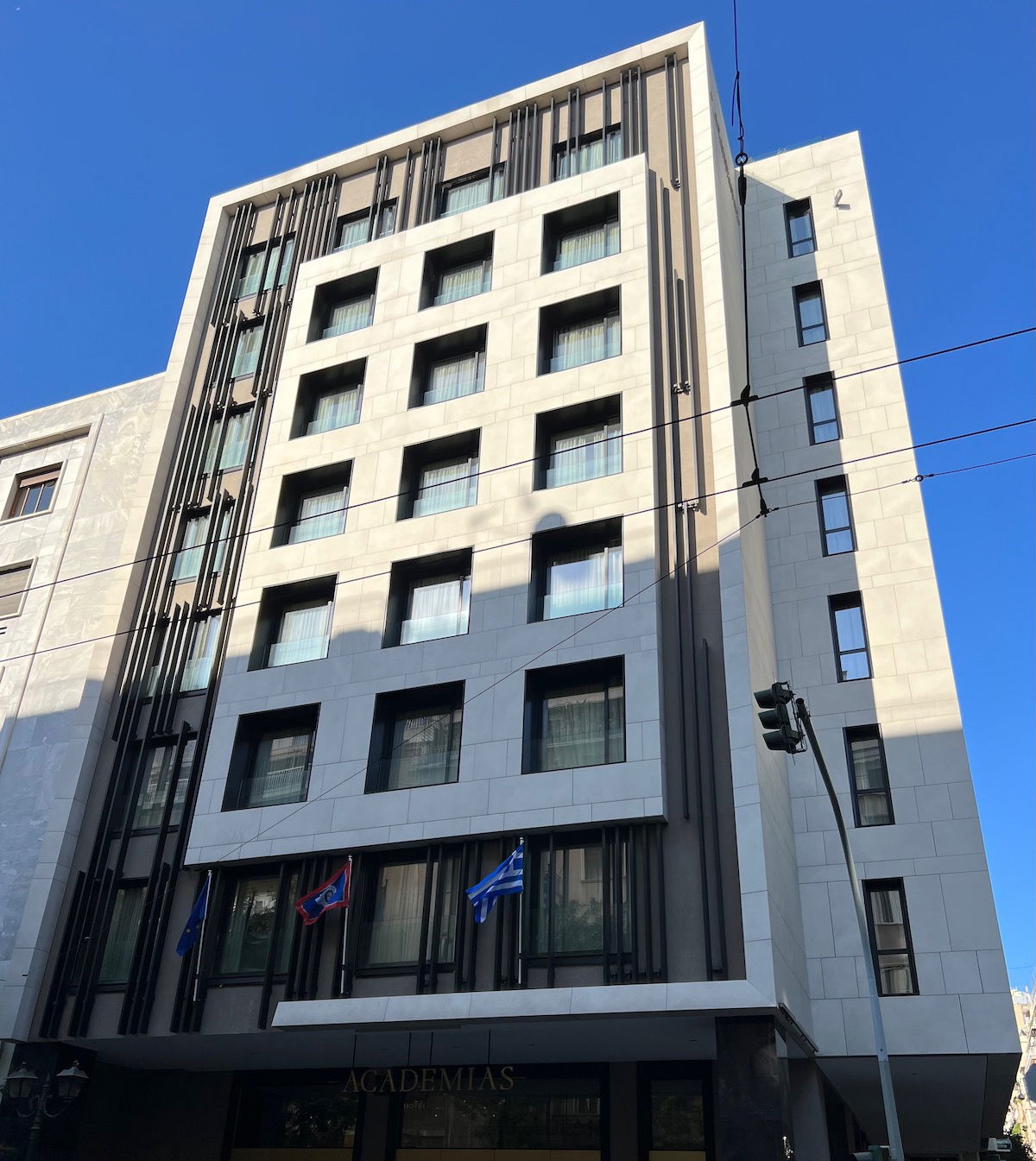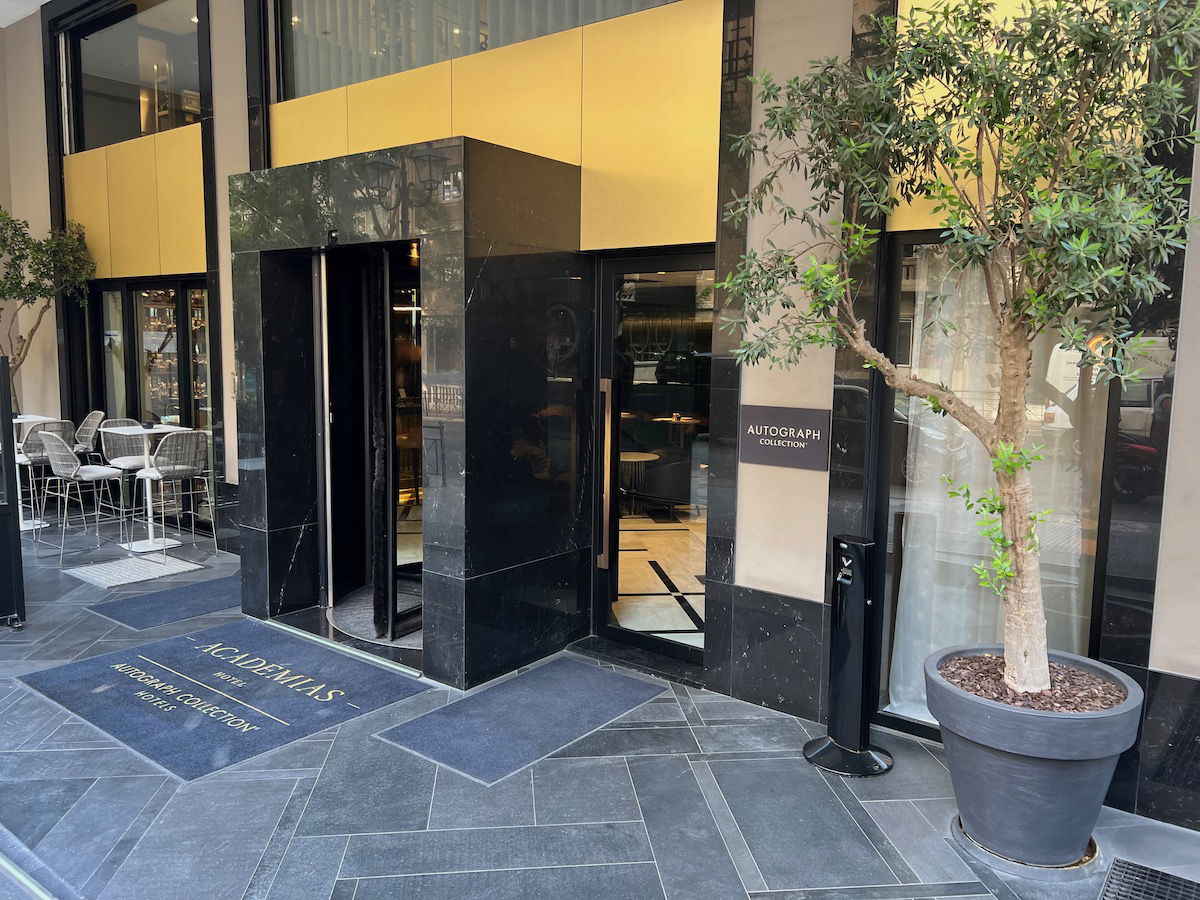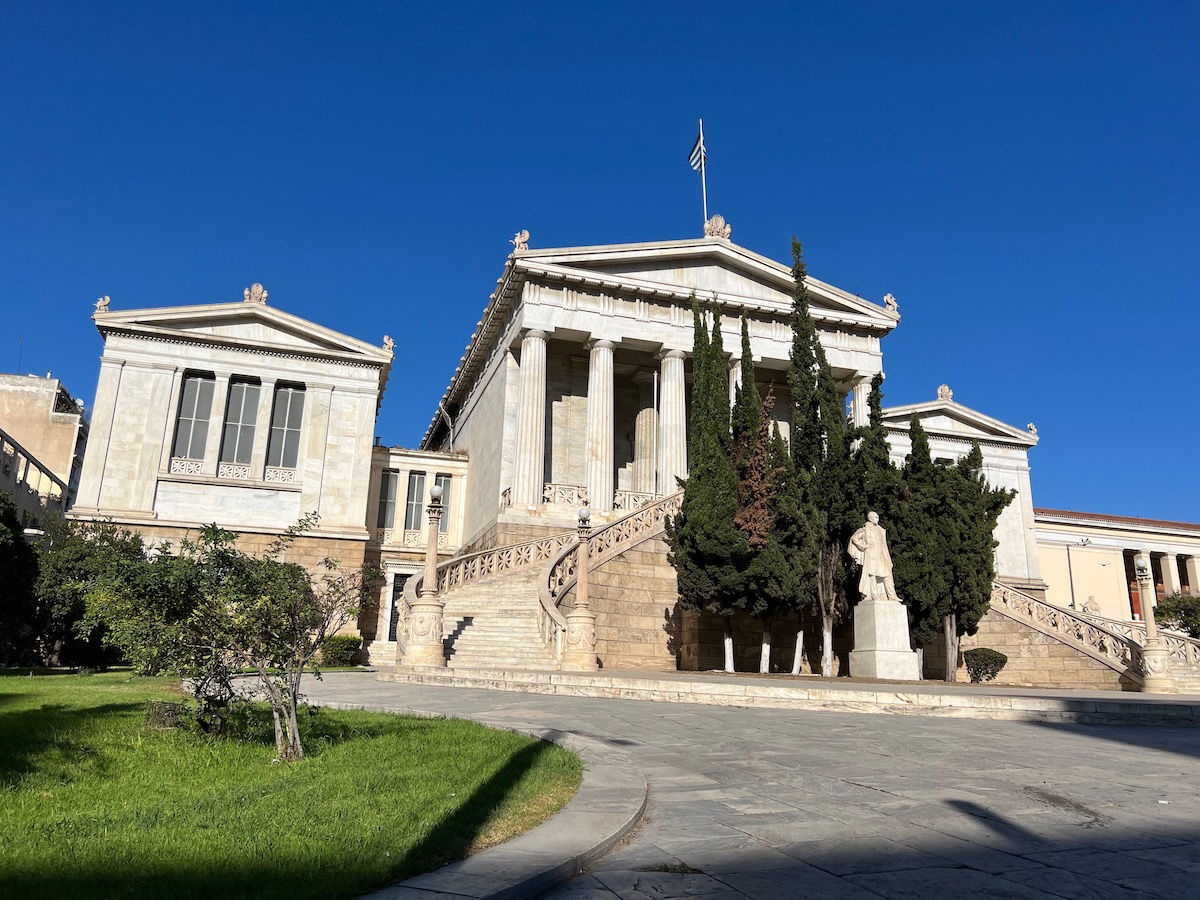 If you're in Athens for the first time, it's worth staying in a hotel that's in a central area that's walkable, as these hotels are. That's much better than staying at a hotel off of Leoforos Andrea Siggrou, which feels like being on a major highway, and isn't really walkable.
If you're coming from Athens Airport (ATH), you can expect that it'll be a roughly 40 minute drive to the hotel, assuming there's no major congestion. You can also take the metro from the airport to Syntagma, which takes under 40 minutes, and then it's a short walk to the hotel from there.
Academias Athens theme
Before we take a look at the hotel's facilities, it's worth mentioning that the hotel kind of goes with a theme, at least in terms of how things are named. You have Symposium Restaurant, Plato Bar & Lounge, etc. Here's how the hotel describes itself:
Inspired by ancient Athenian wisdom and intellect, Academias Hotel is a luxurious city hotel, portraying a contemporary interpretation of Plato's Academy blending the old and the new, which awakens all the senses, while combining bespoke facilities, with impeccable services and unique experiences. Echoing the spirit of the academy, the hotel embodies the 3 principles of the historic Academy – Science, Art & Philosophy – and brings them to life throughout various spaces within the hotel, in a postmodern way. With a total of 60 rooms and suites and surrounded by all of Athens' ancient landmarks, Academias Hotel provides the ideal setting for harmonious interplay between intellectual creativity and a handful of leisure and business activities.
Honestly, aside from how certain things were named and quotes written on some walls, the hotel doesn't otherwise seem to lean into that all that much.
Academias Athens lobby & check-in
When you enter Academias Athens, the first thing you'll see is Plato Bar & Lounge, which is the hotel's all-day lobby bar, open from 8AM until 12AM. This serves drinks and light snacks throughout the day, and really it's the only seating in the lobby. It's quite a nice bar space, with both couches and high-top seating, as well as a terrace.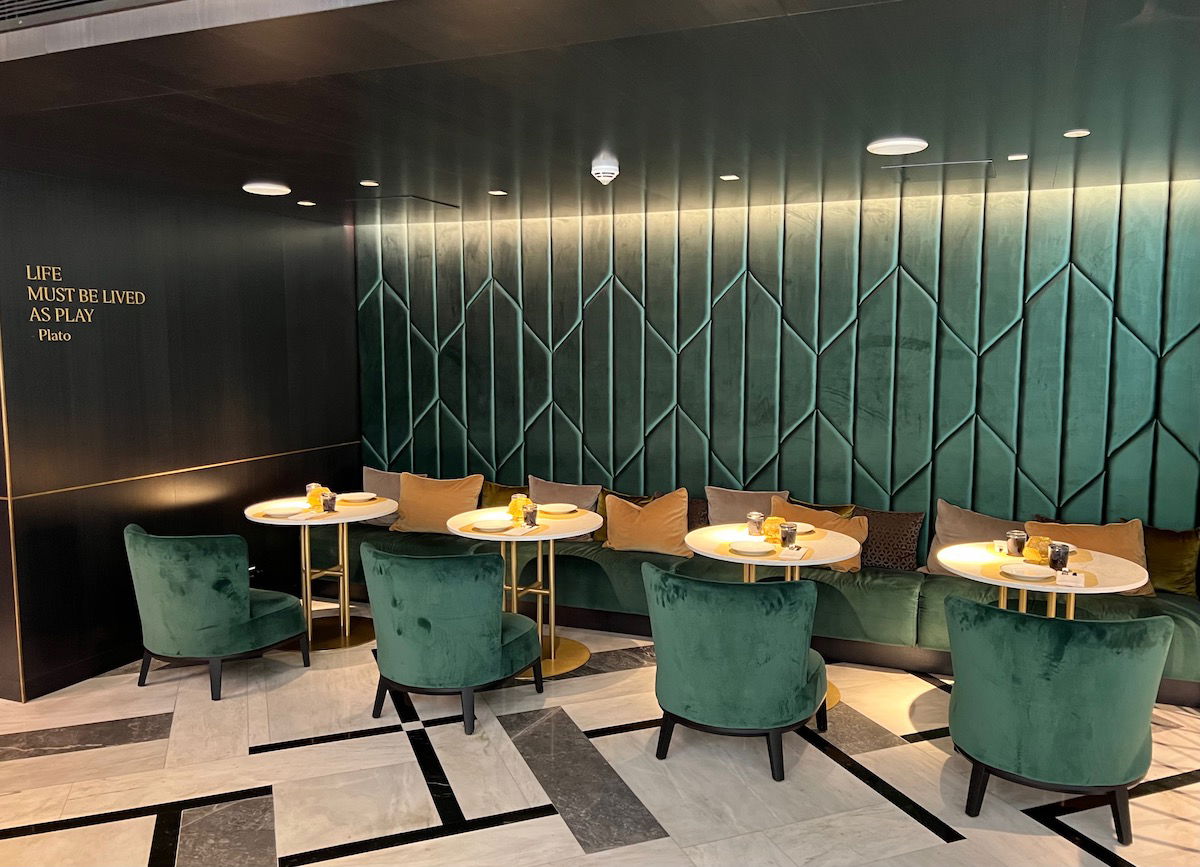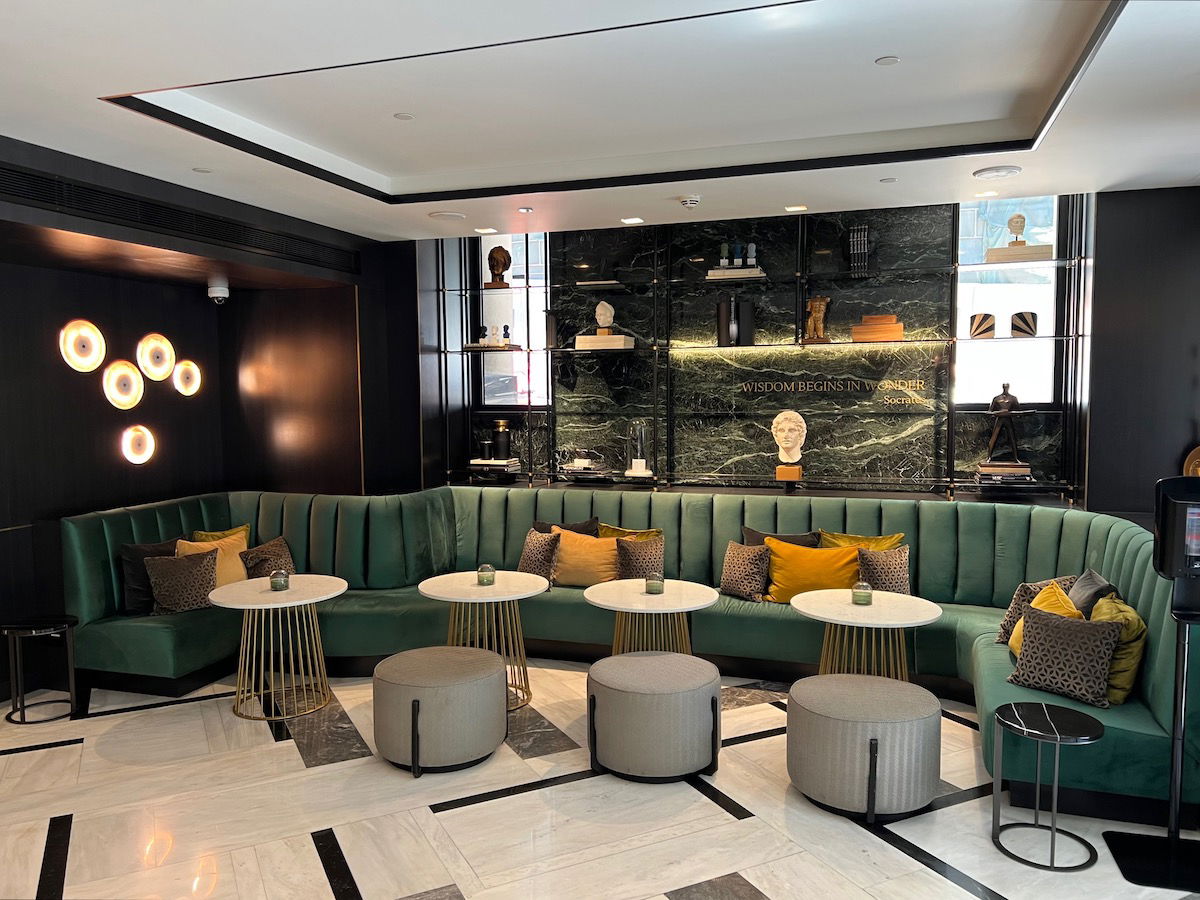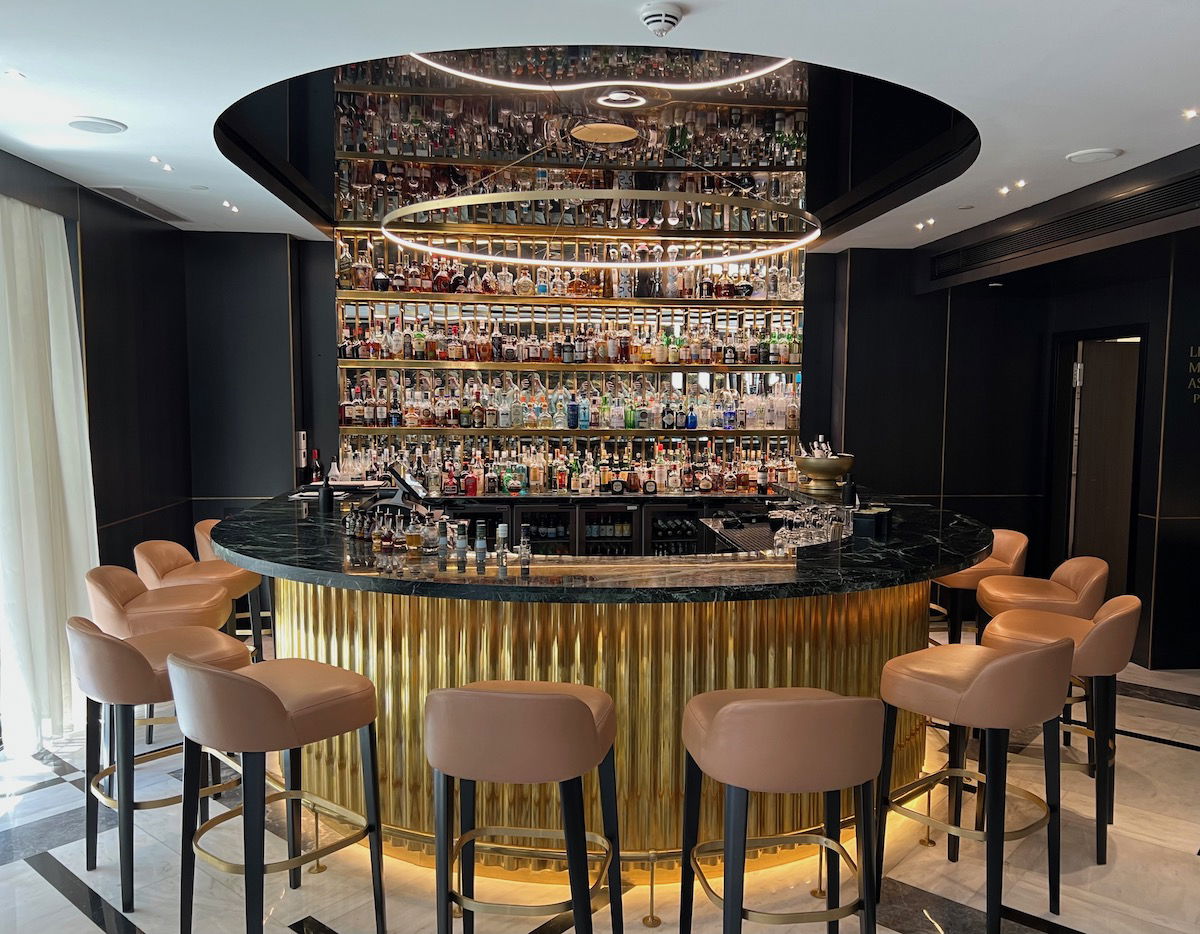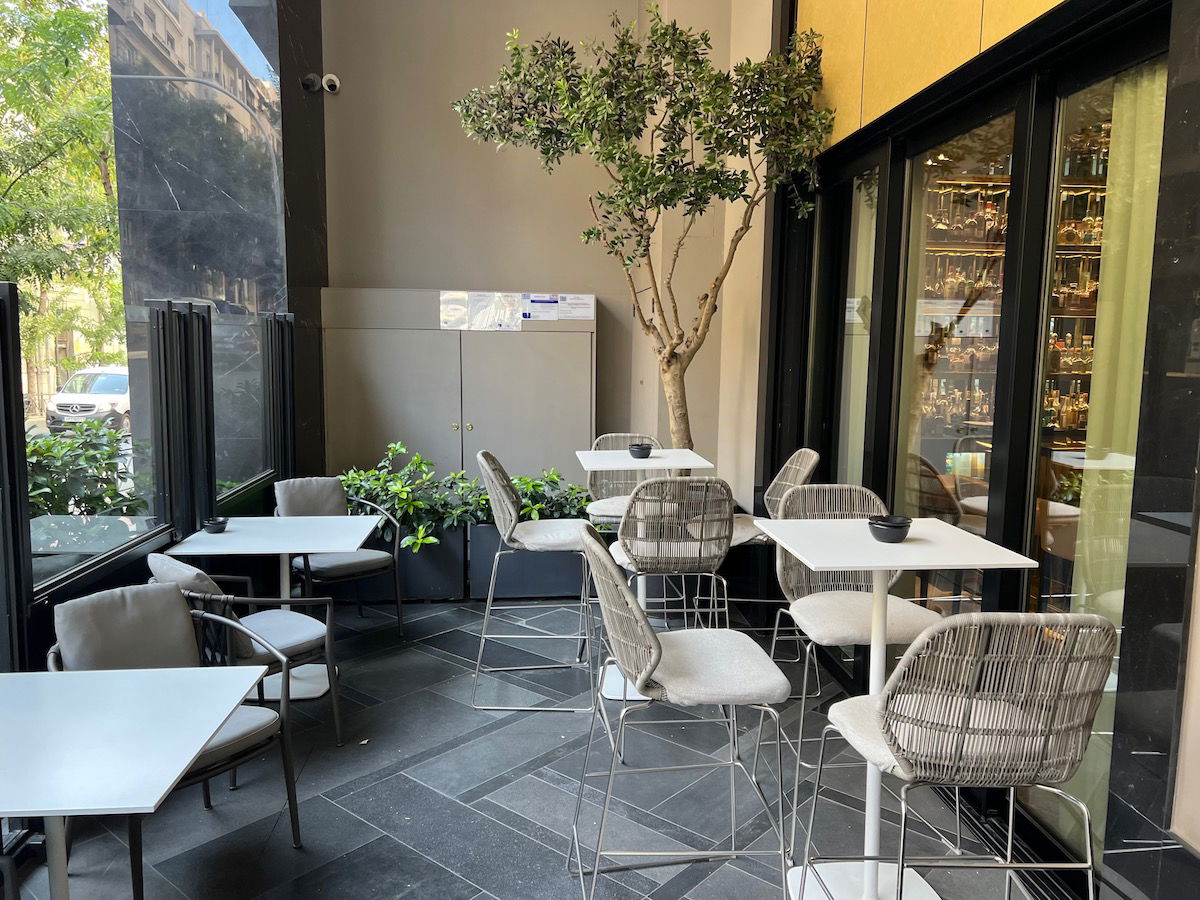 The hotel's small reception desk is then located down a set of stairs and to the right. Our check-in process was quick and friendly, and we were informed that we had been upgraded to a one bedroom suite. With keys in hand, we headed up to the fifth floor, where our room was located.
The hotel goes from level negative one to level seven, and on top of that there's a rooftop bar, so the hotel is quite vertical.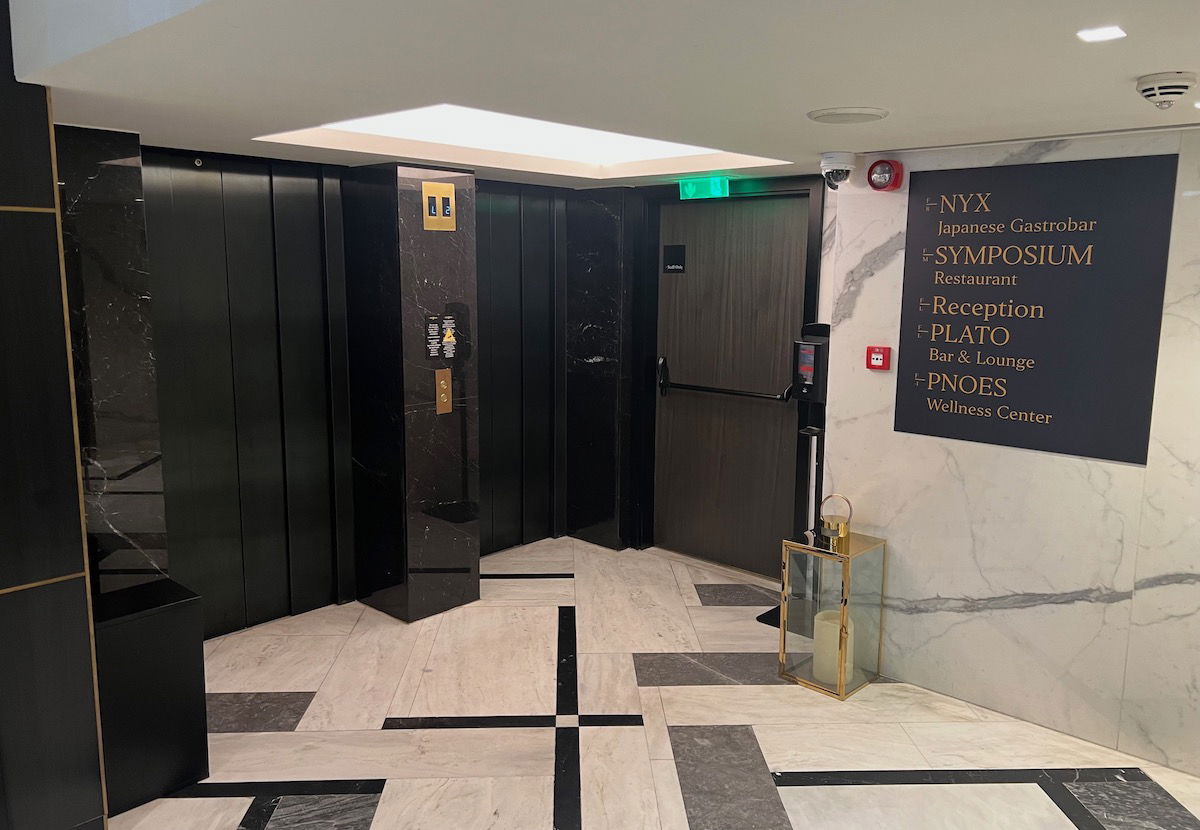 Academias Athens one bedroom suite
There are an average of under 10 rooms per floor, and we were assigned room 57, located on the fifth floor and on the right side.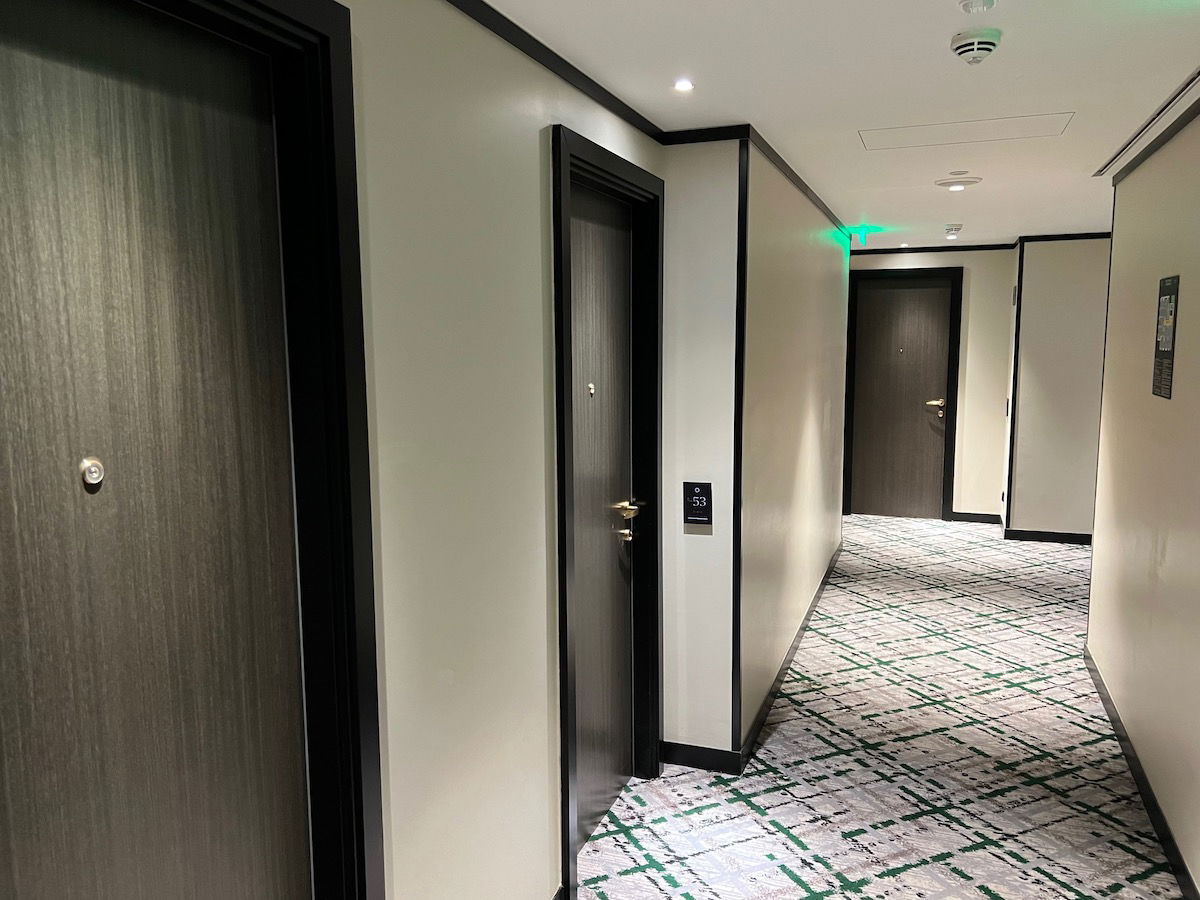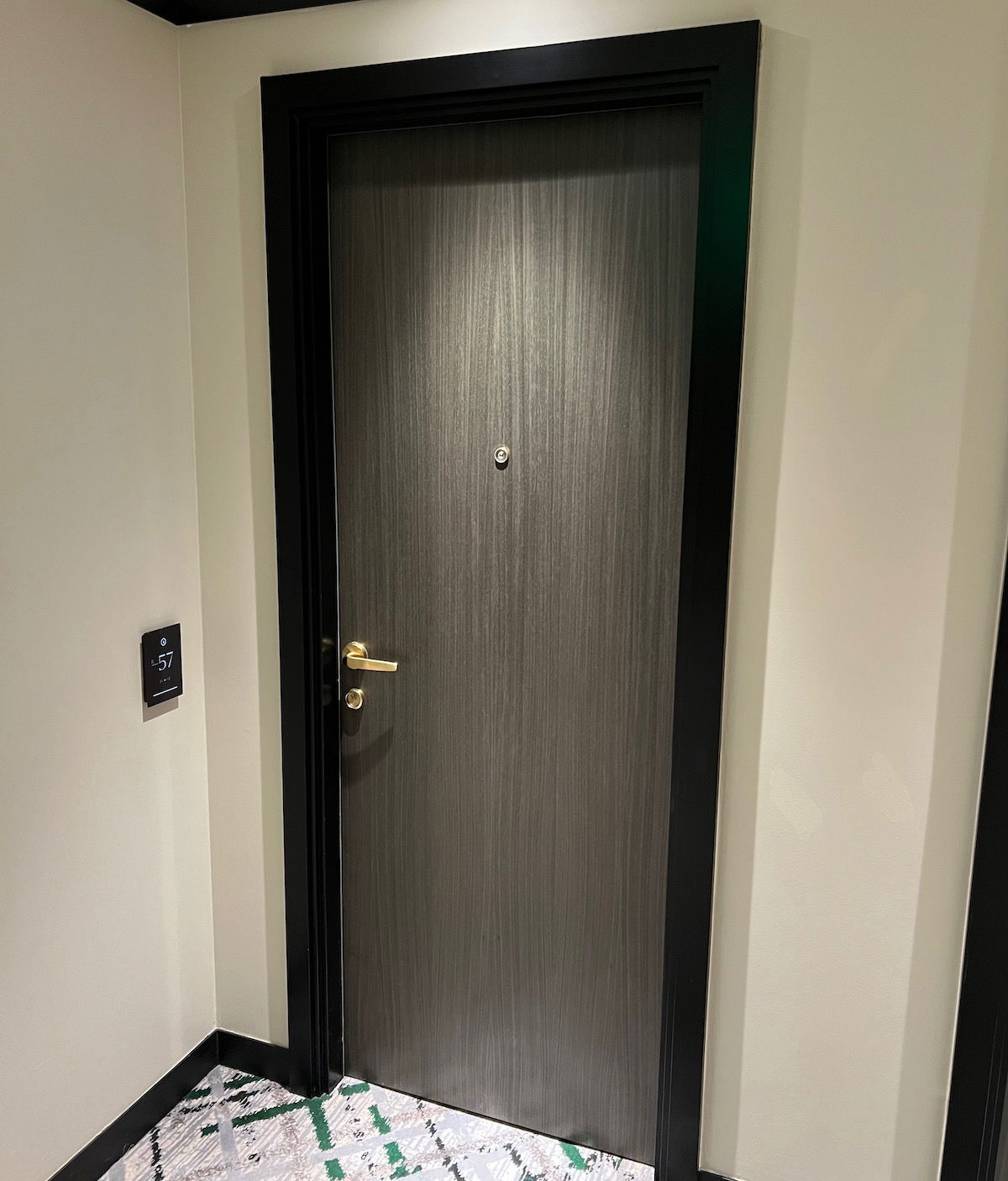 The one bedroom suites at this hotel are the standard suites, and for that matter they're the only suites offered. Suites are 710 square feet, or 66 square meters. I have to say, the room felt very luxurious, and was nicely appointed.
Inside the entrance to the suite was the large living room and kitchen area.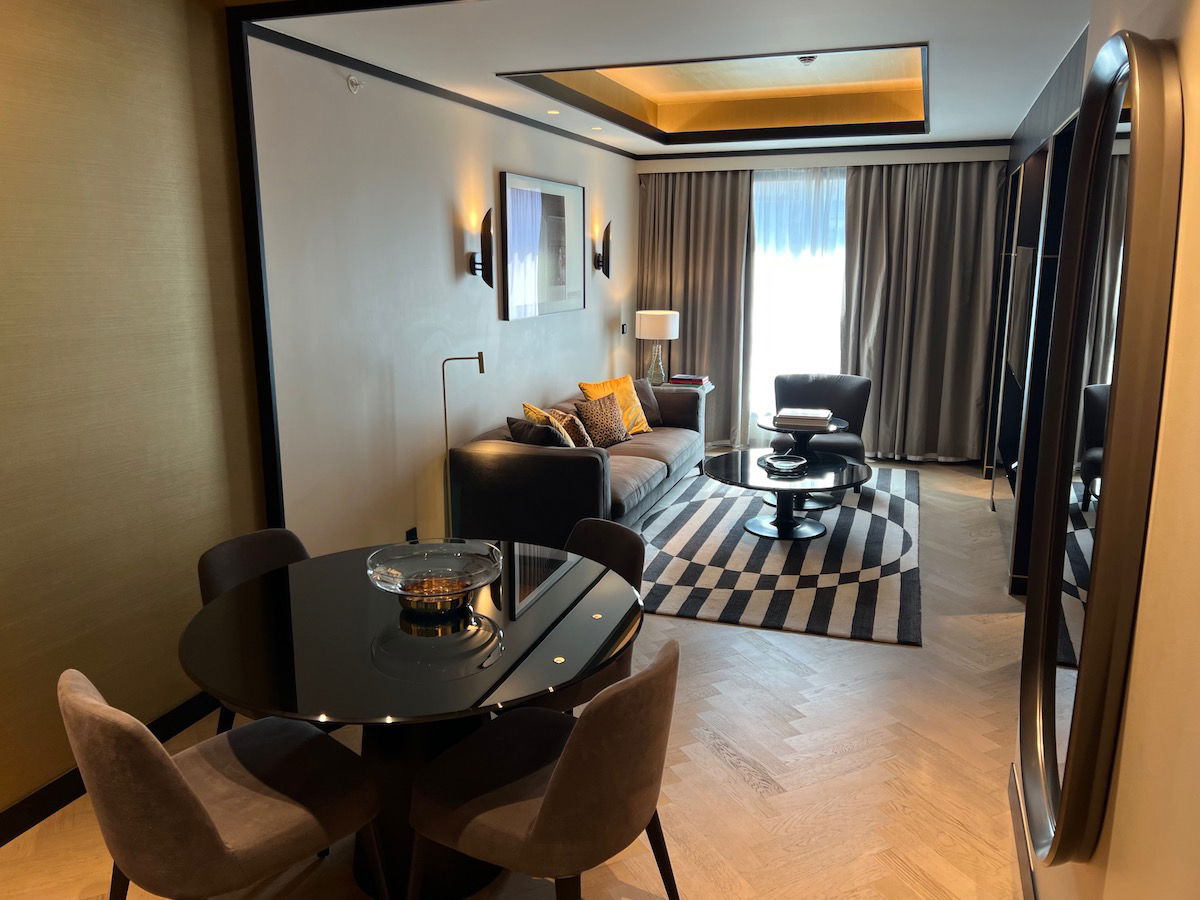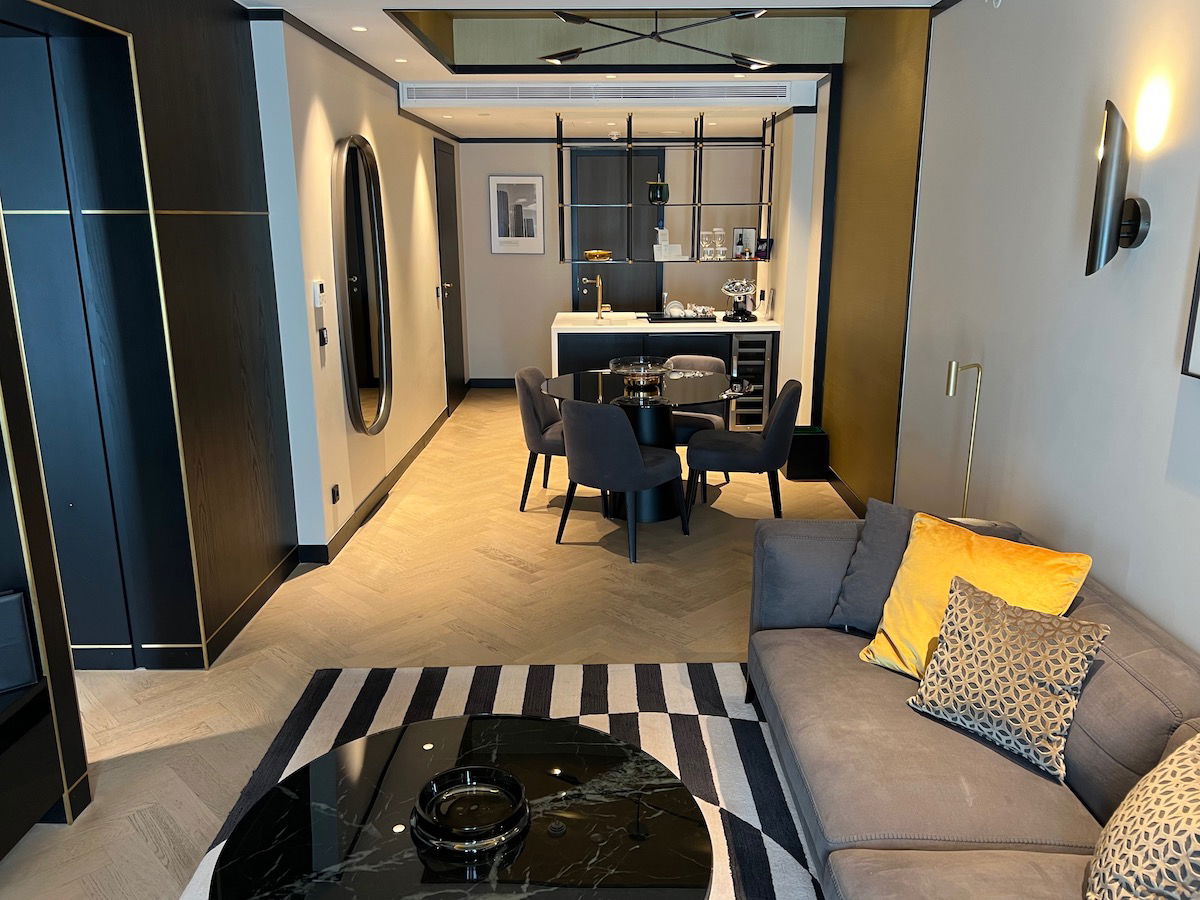 At the far end of the room was the living area, with a comfortable couch and a chair. This all faced a TV, with the bedroom being on the opposite side of a set of two sliding doors.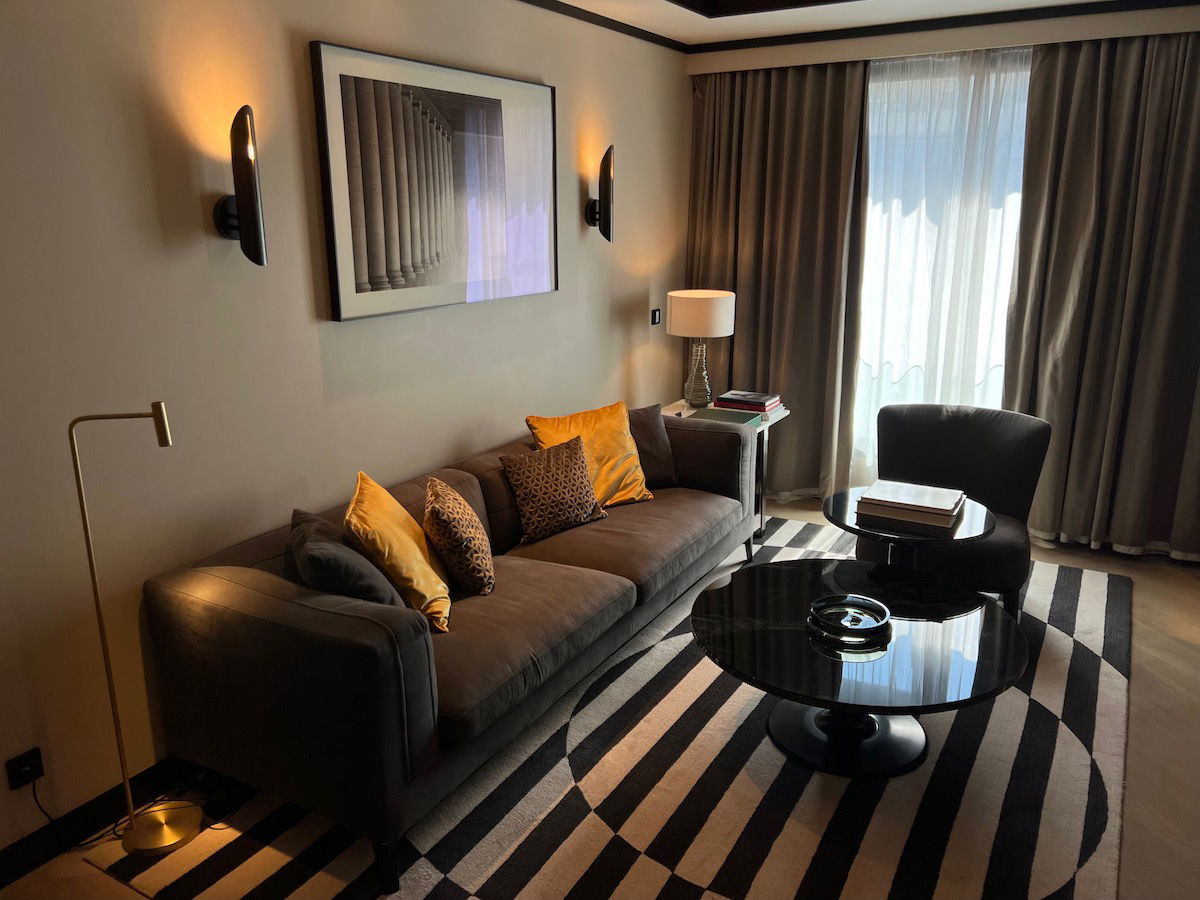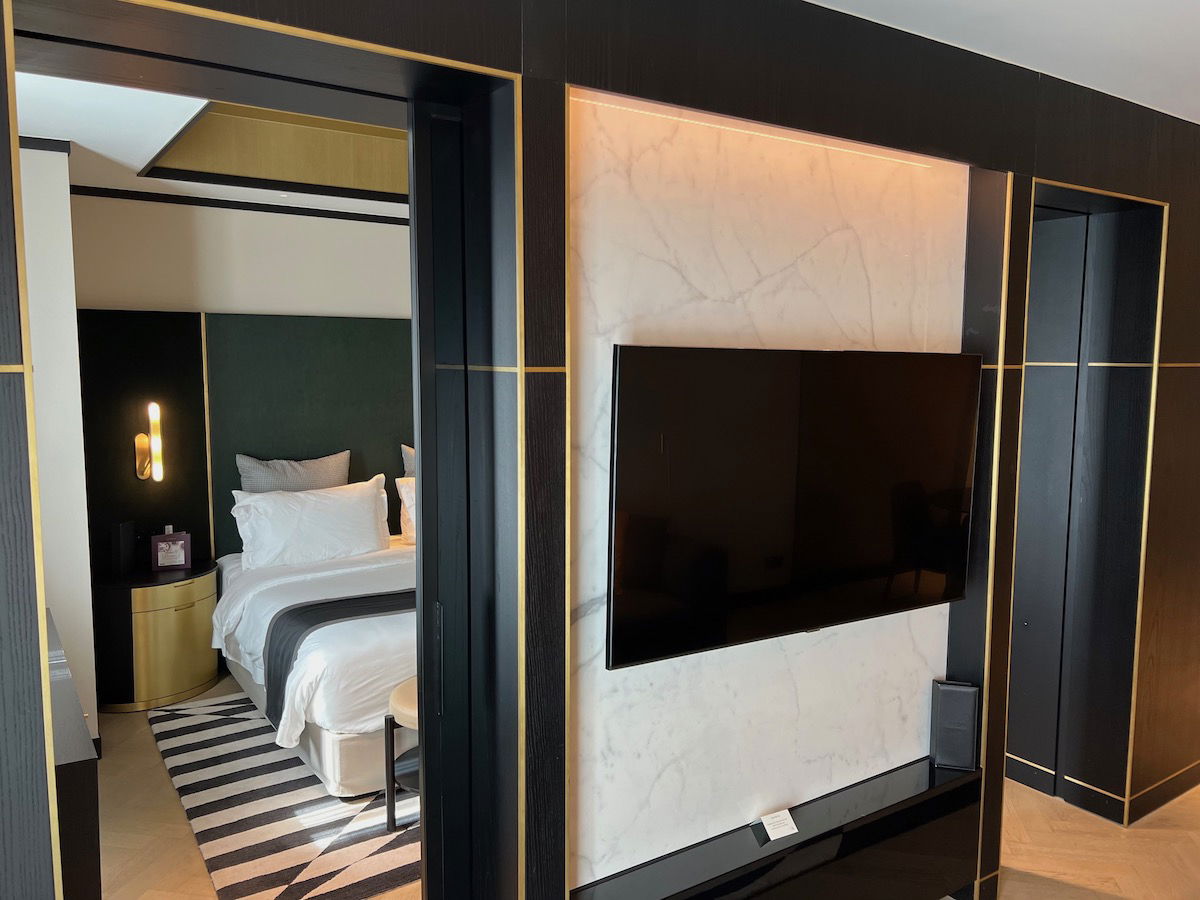 There was then a dining table with four chairs, plus a wet bar with a sink and the minibar setup.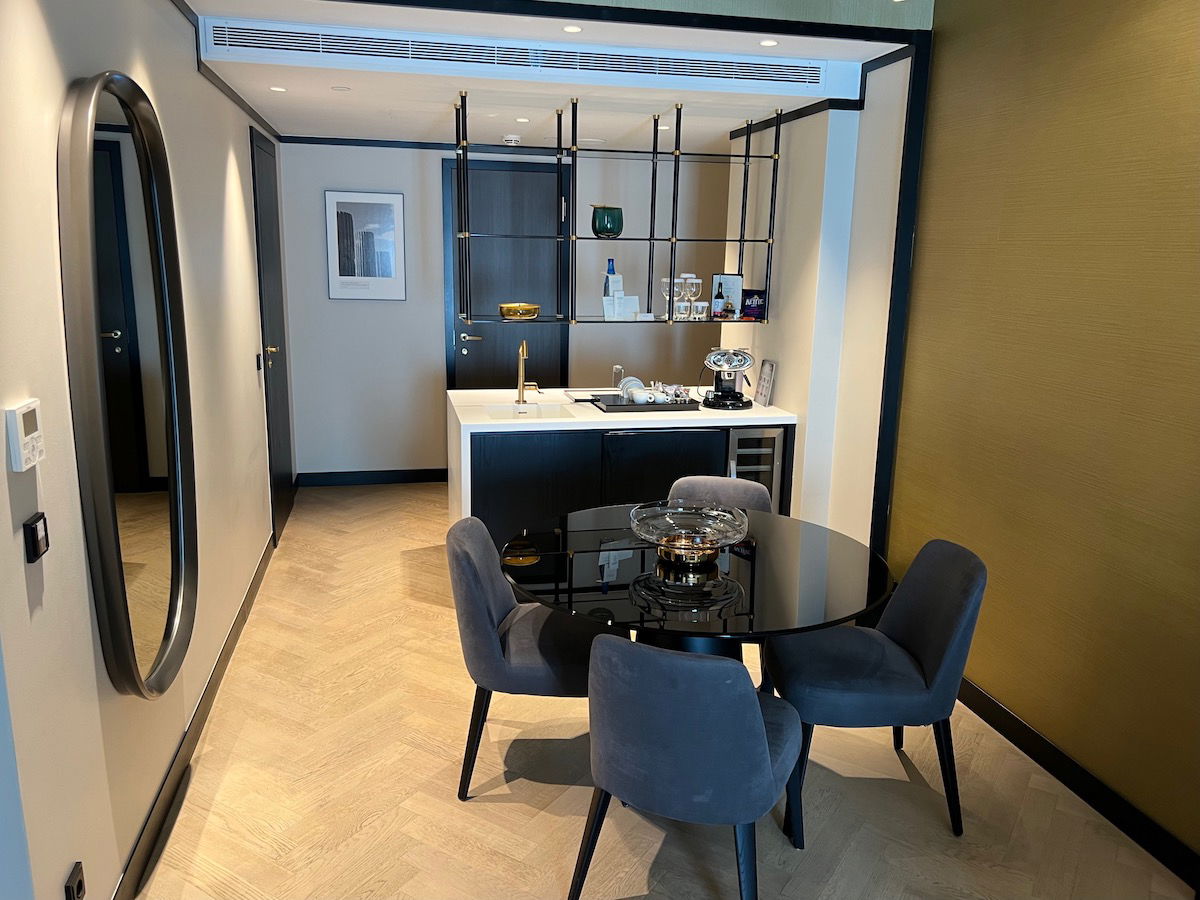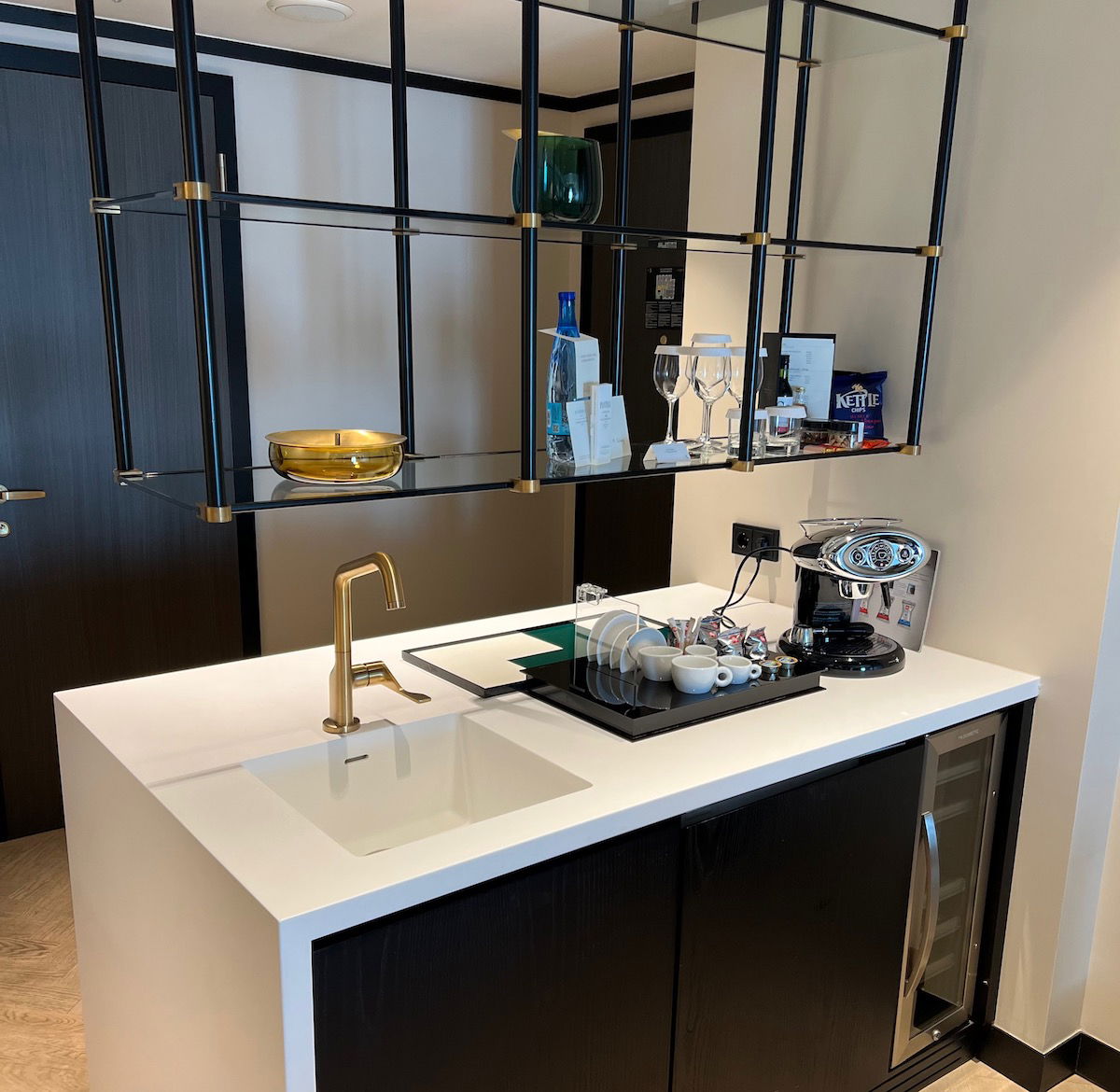 The wet bar had a minibar with both drinks and a small selection of snacks for purchase.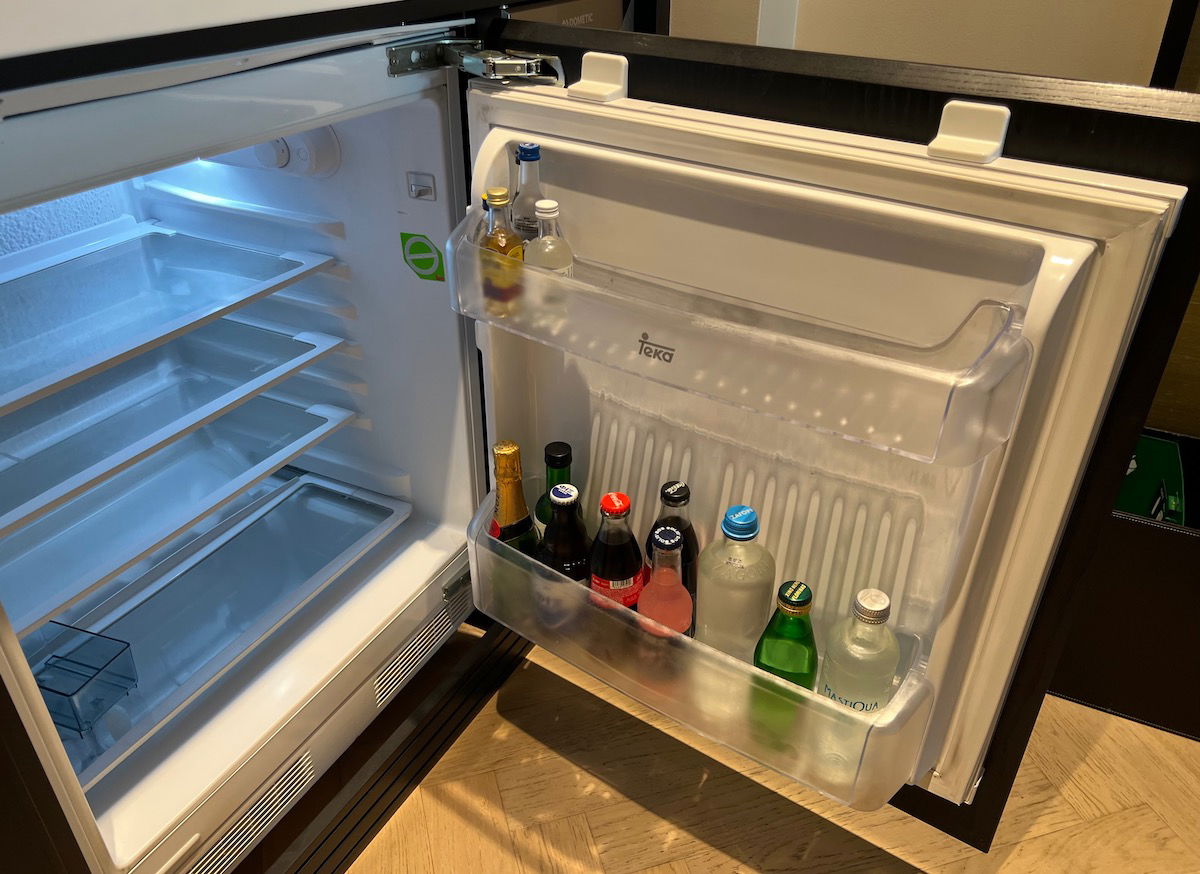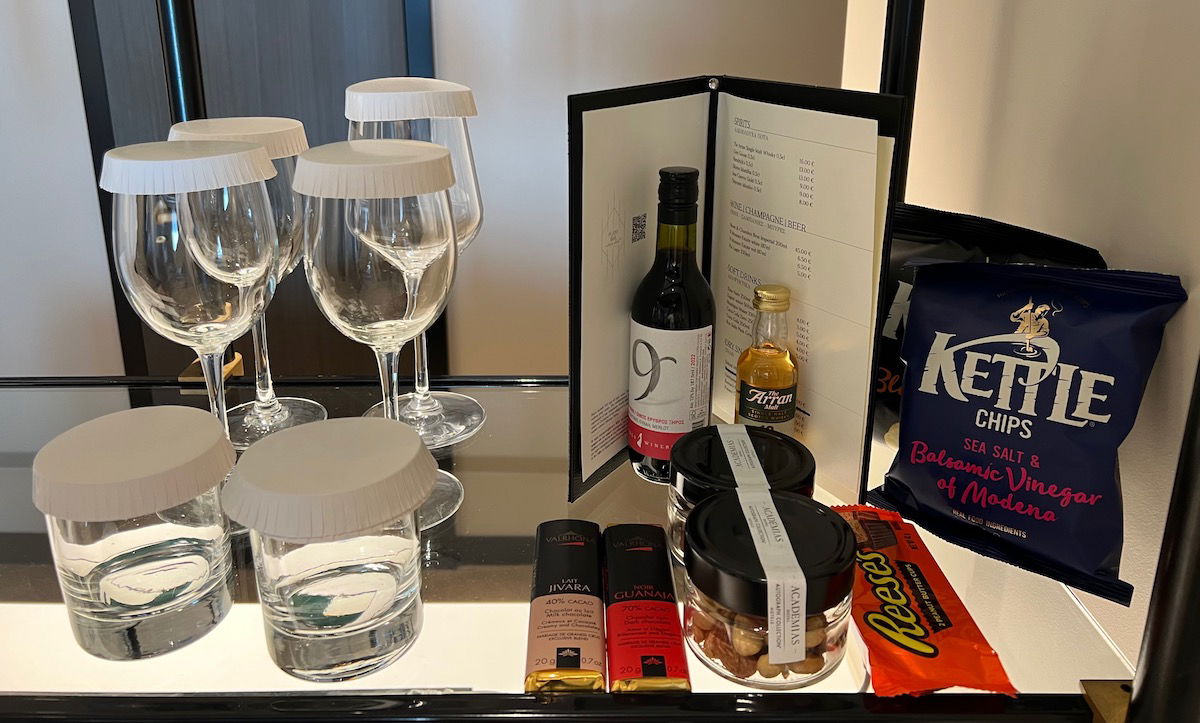 There was also a fancy-looking illy espresso machine, so that was a pretty cool feature, but I believe you could only use pods with it, so I don't think it was necessarily more functional than your average espresso machine (though I may be missing something).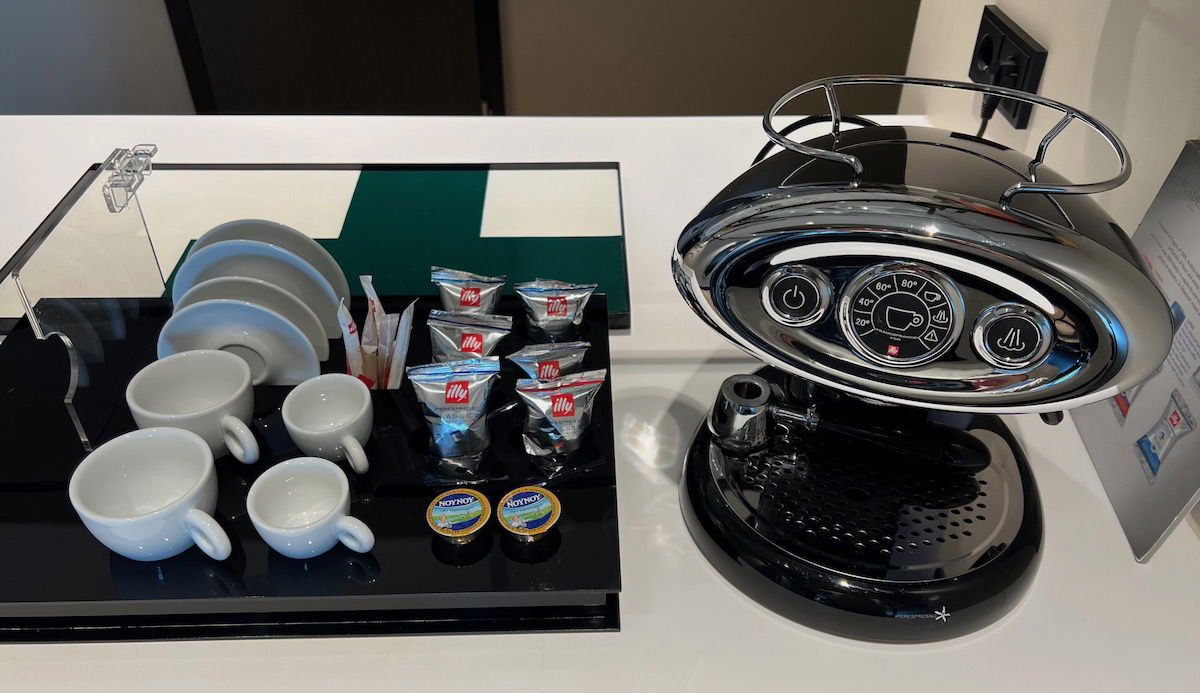 There was also a welcome gift consisting of a bottle of water plus a sesame bar.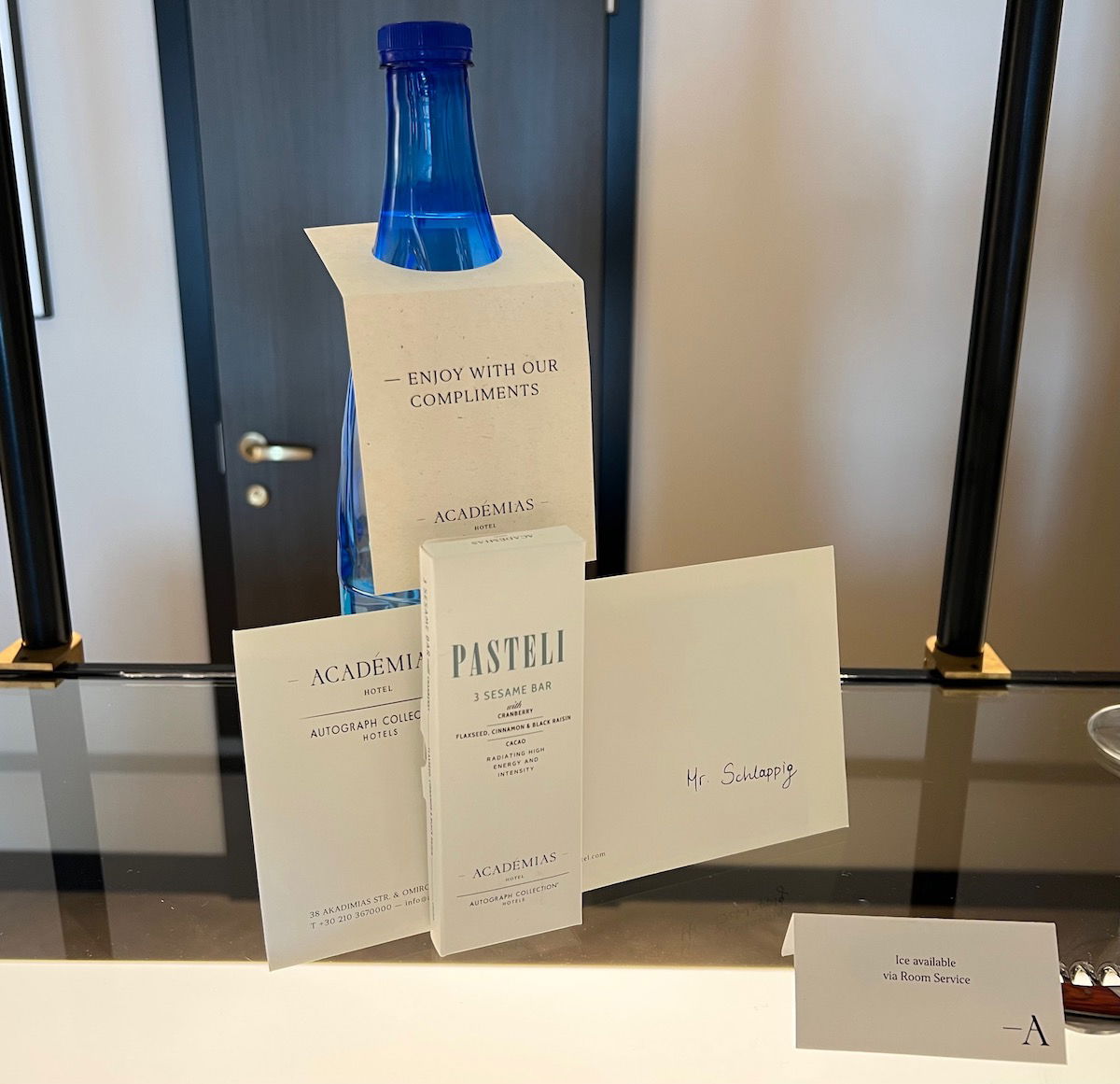 There was a half bathroom near the entrance, with a sink and toilet.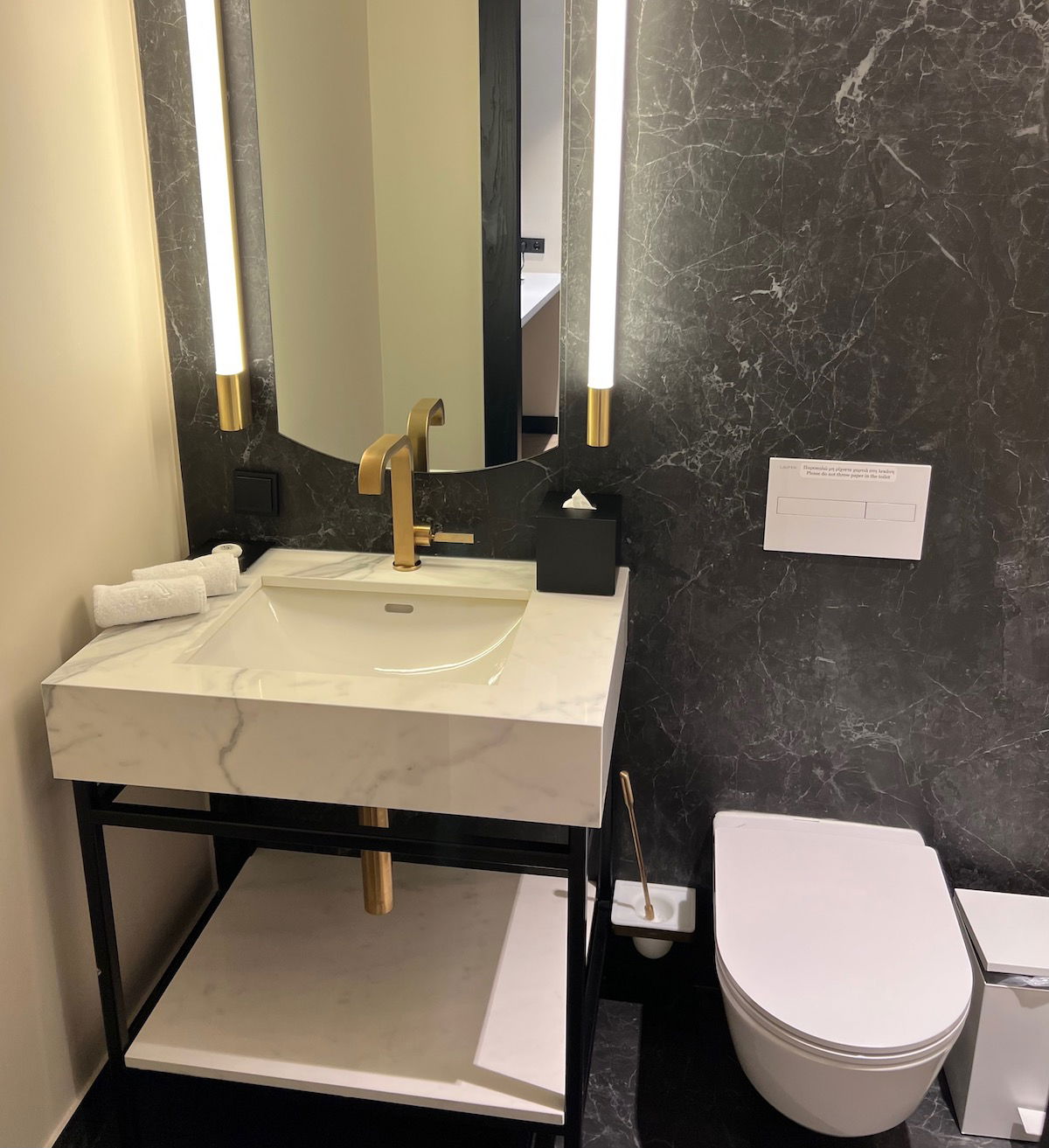 The bedroom was separated from the living room by two doors, and had a comfortable king size bed, as well as another TV.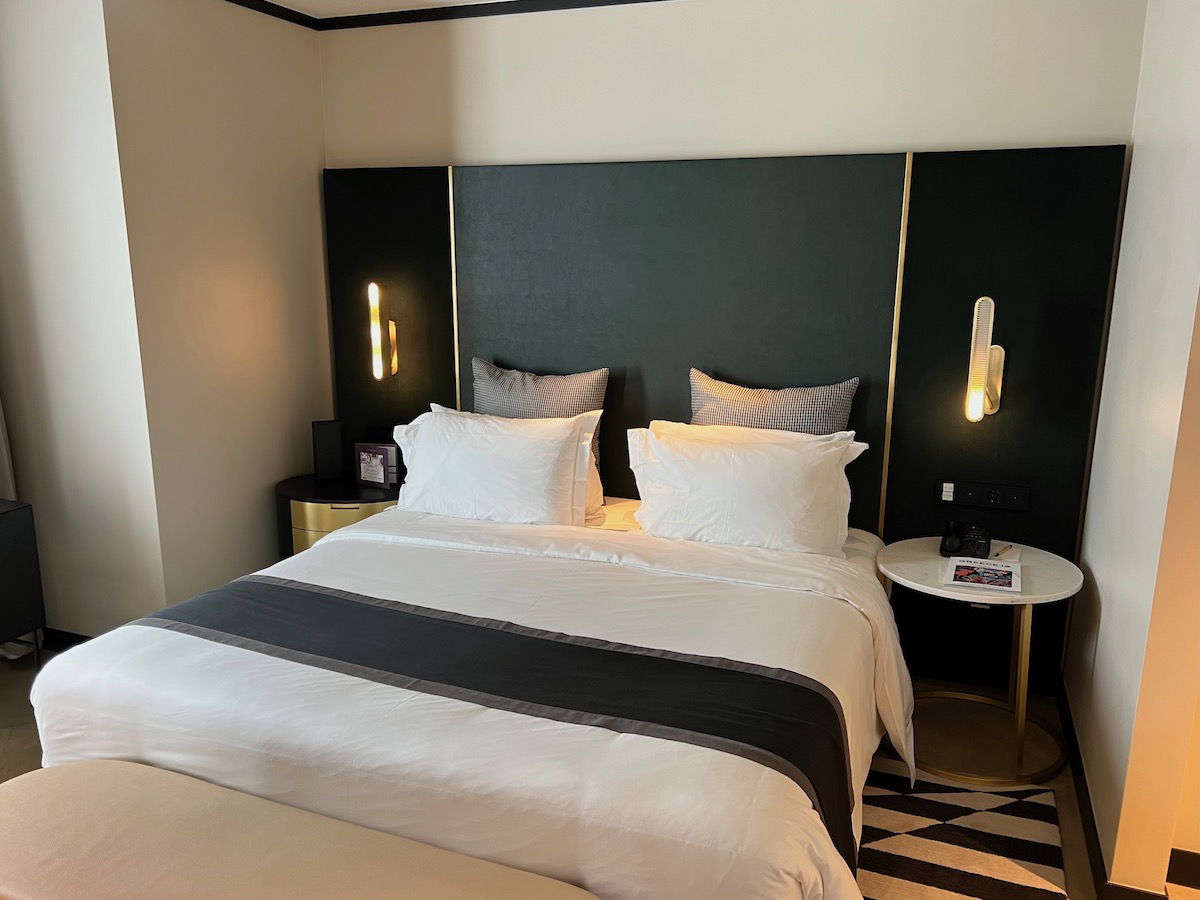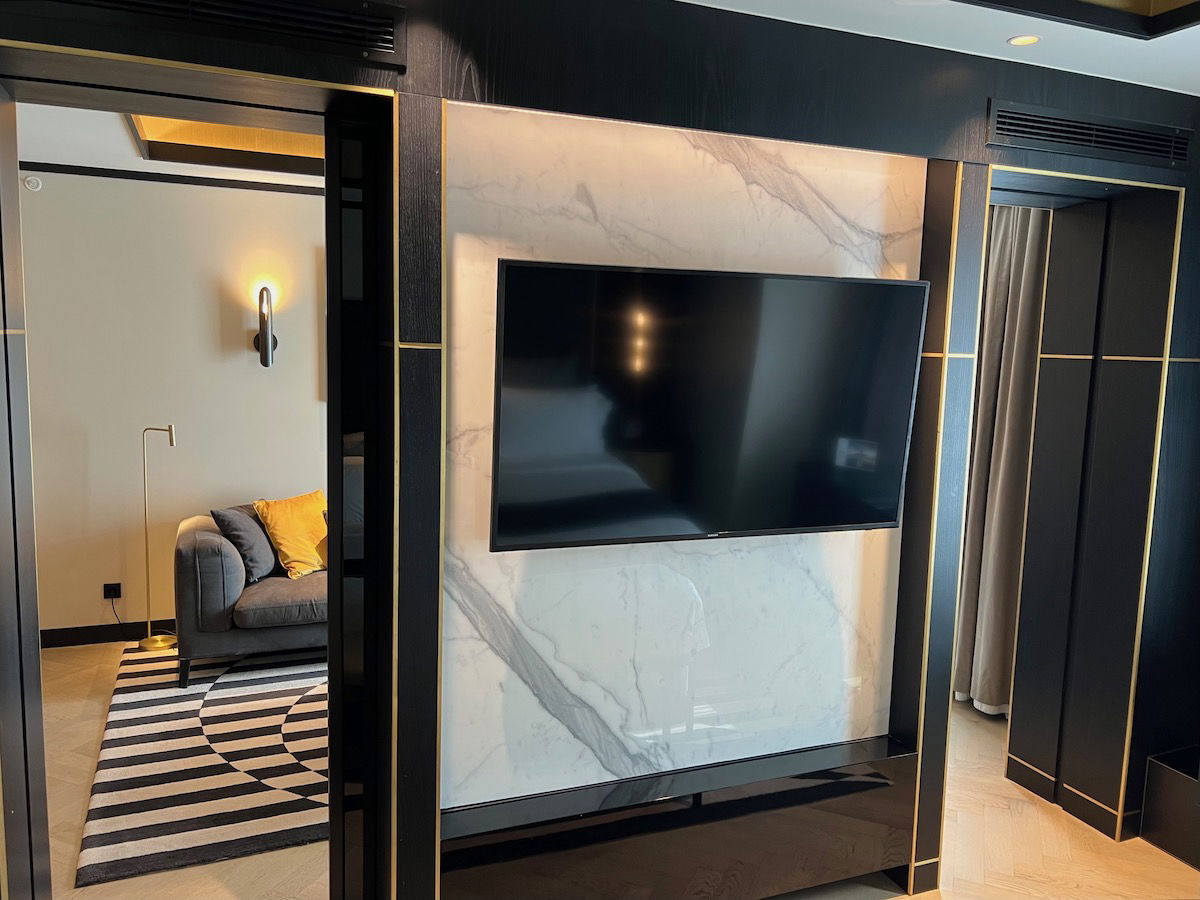 Off the bedroom was the closet area, and then the main bathroom.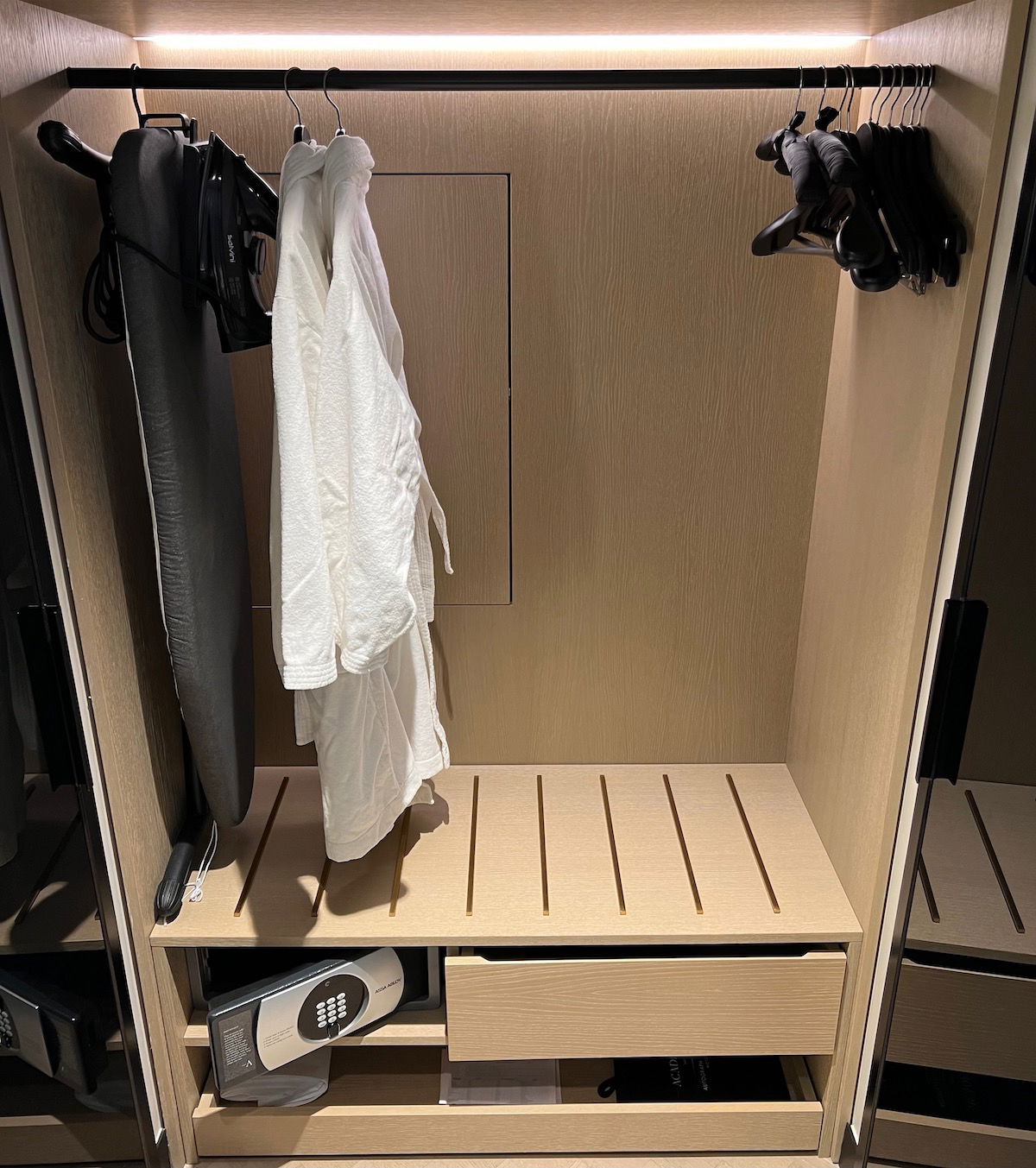 The bathroom was huge and felt luxurious, with double sinks, a massive shower and tub compound (with a total of four shower heads), and a toilet and bidet.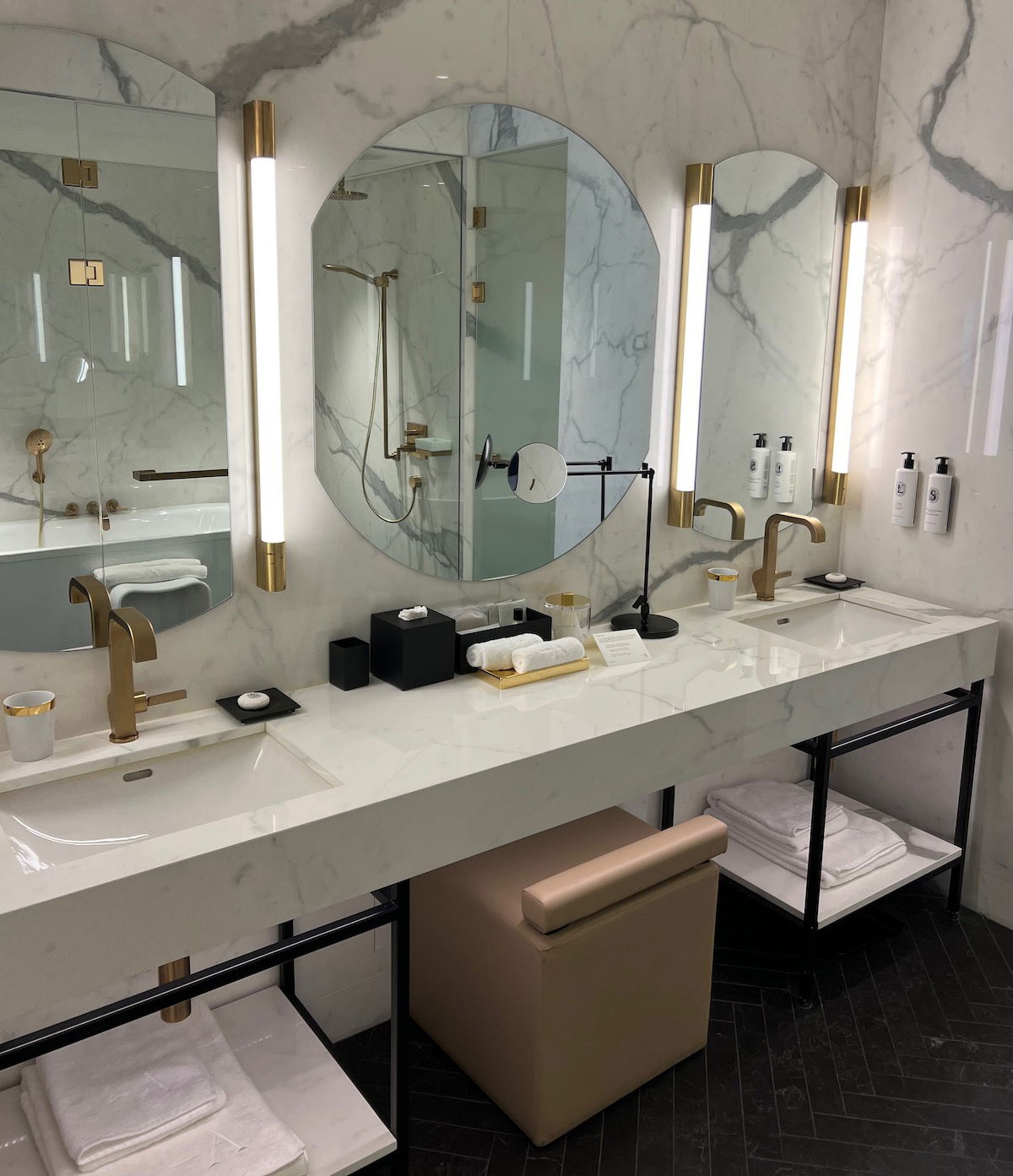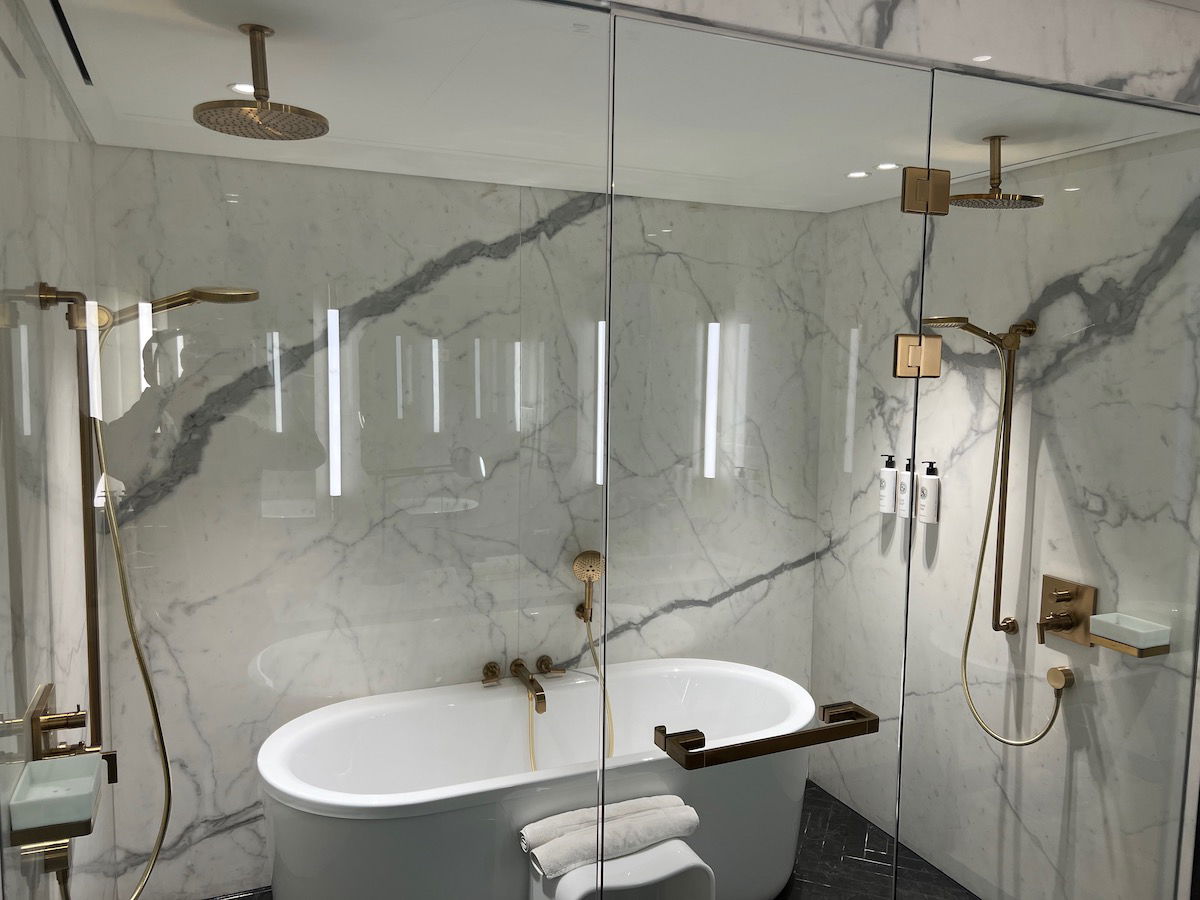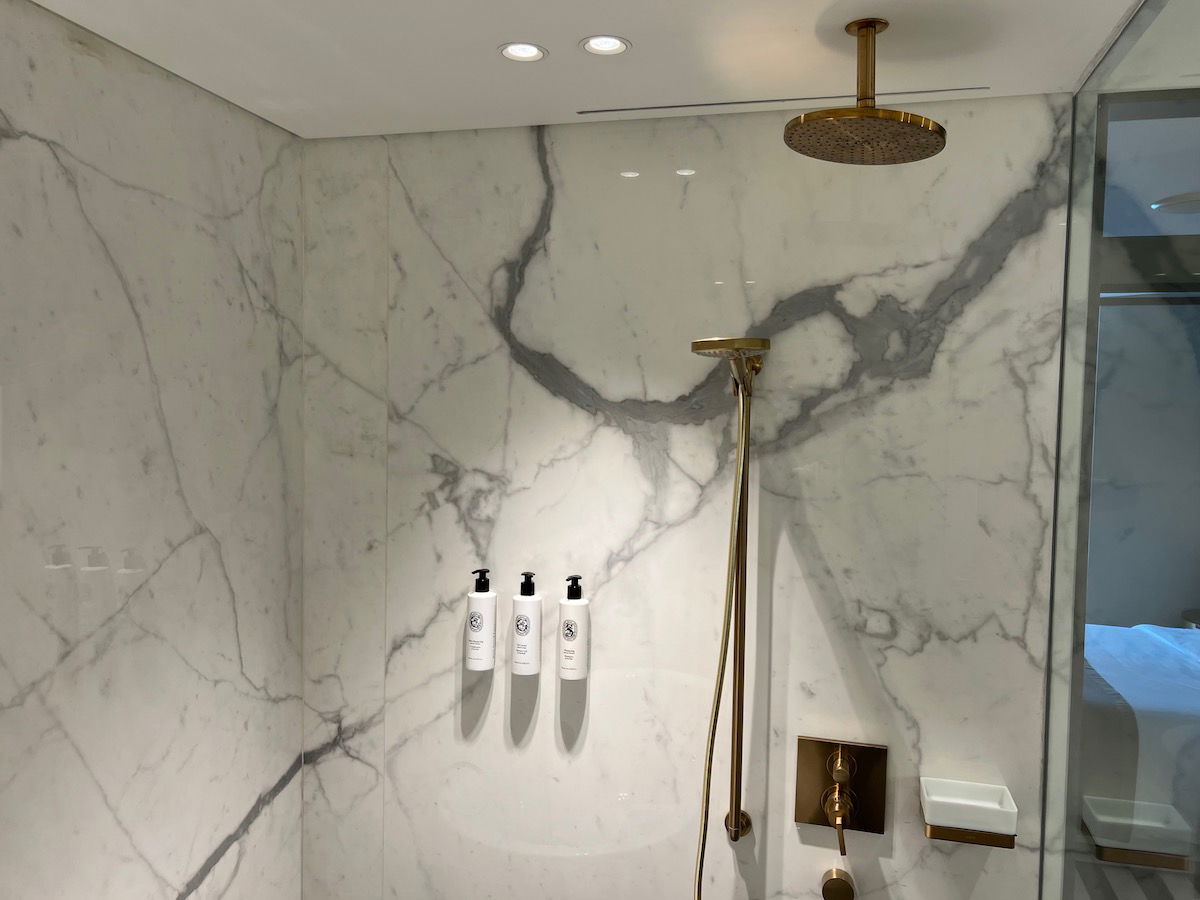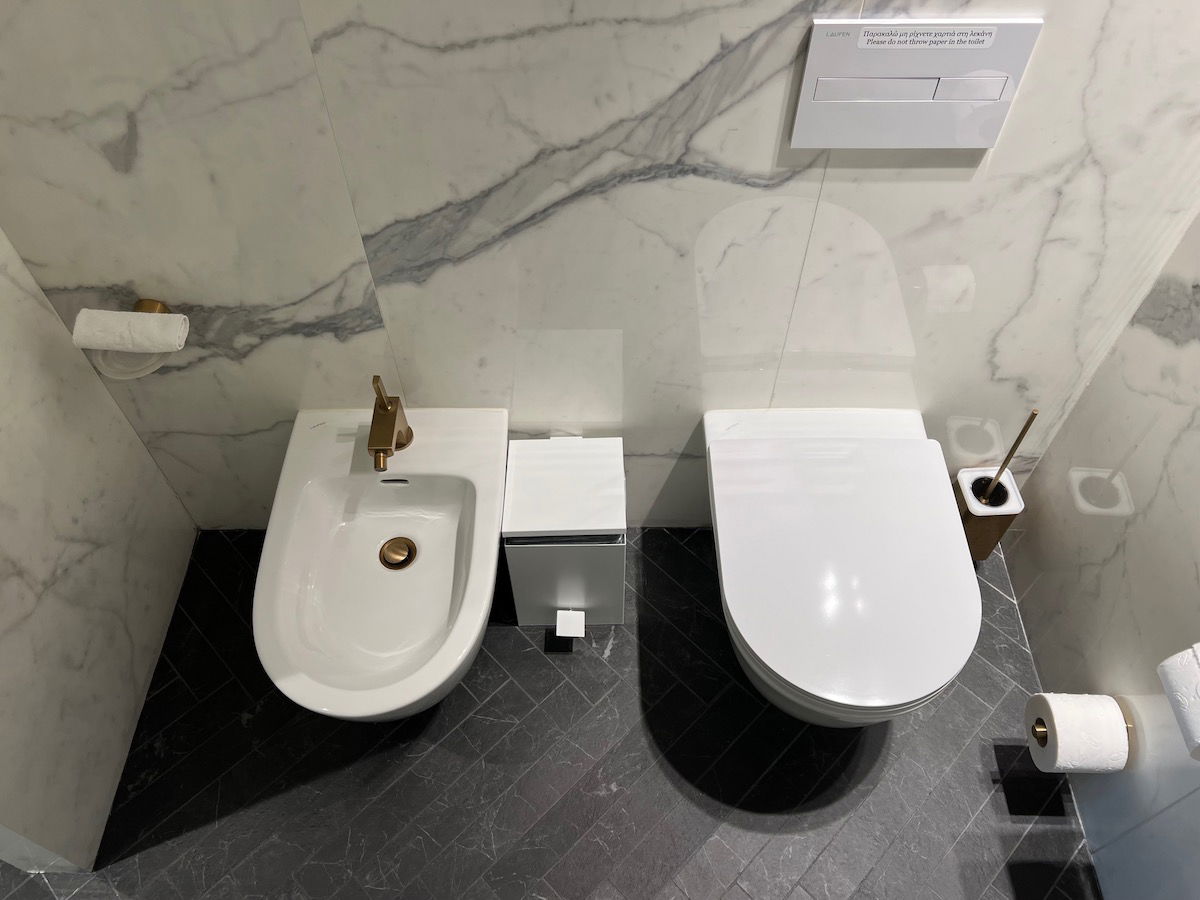 Toiletries were from Diptyque and were in reusable containers.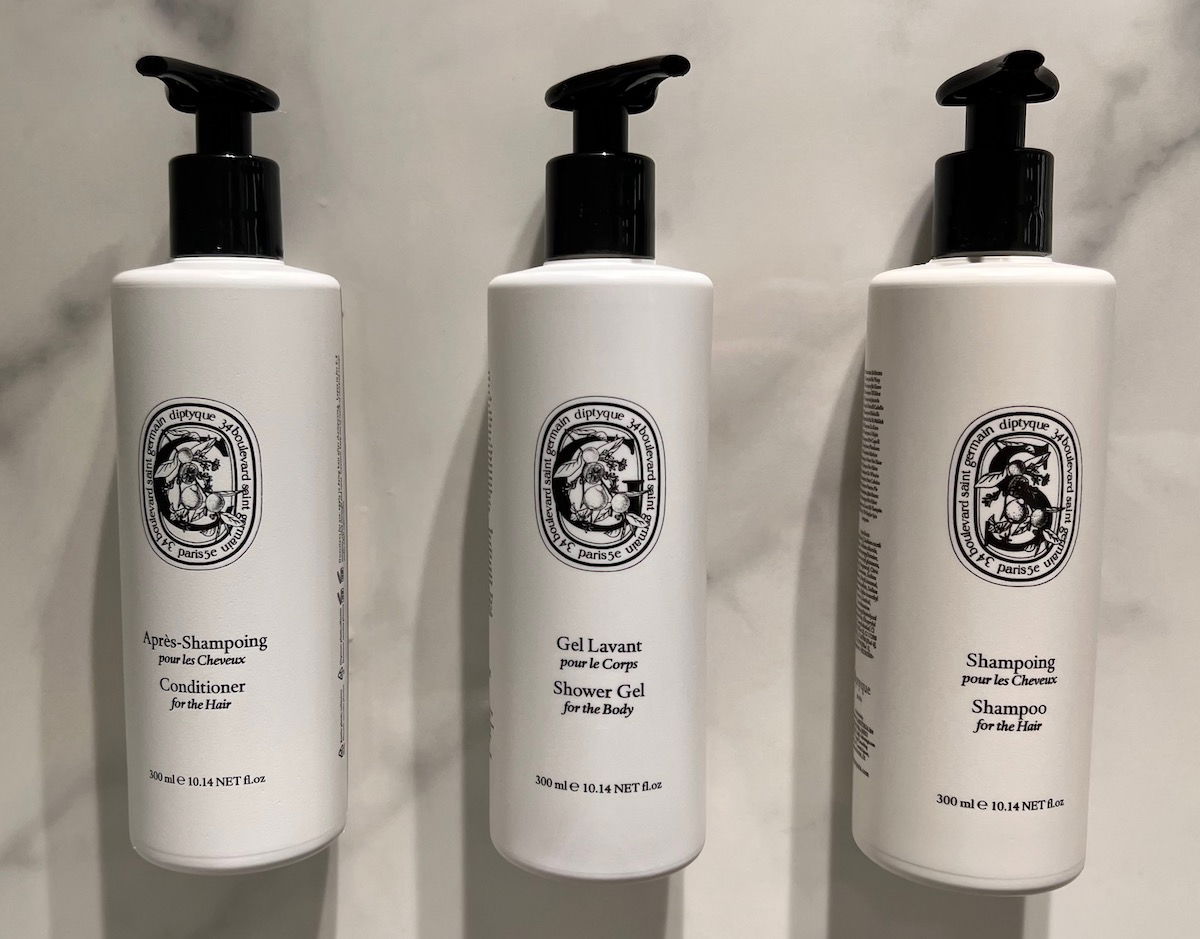 As far as views go, there wasn't much to speak of, as the room faced a building across the street. Then again, most hotels in Athens don't have much in the way of views.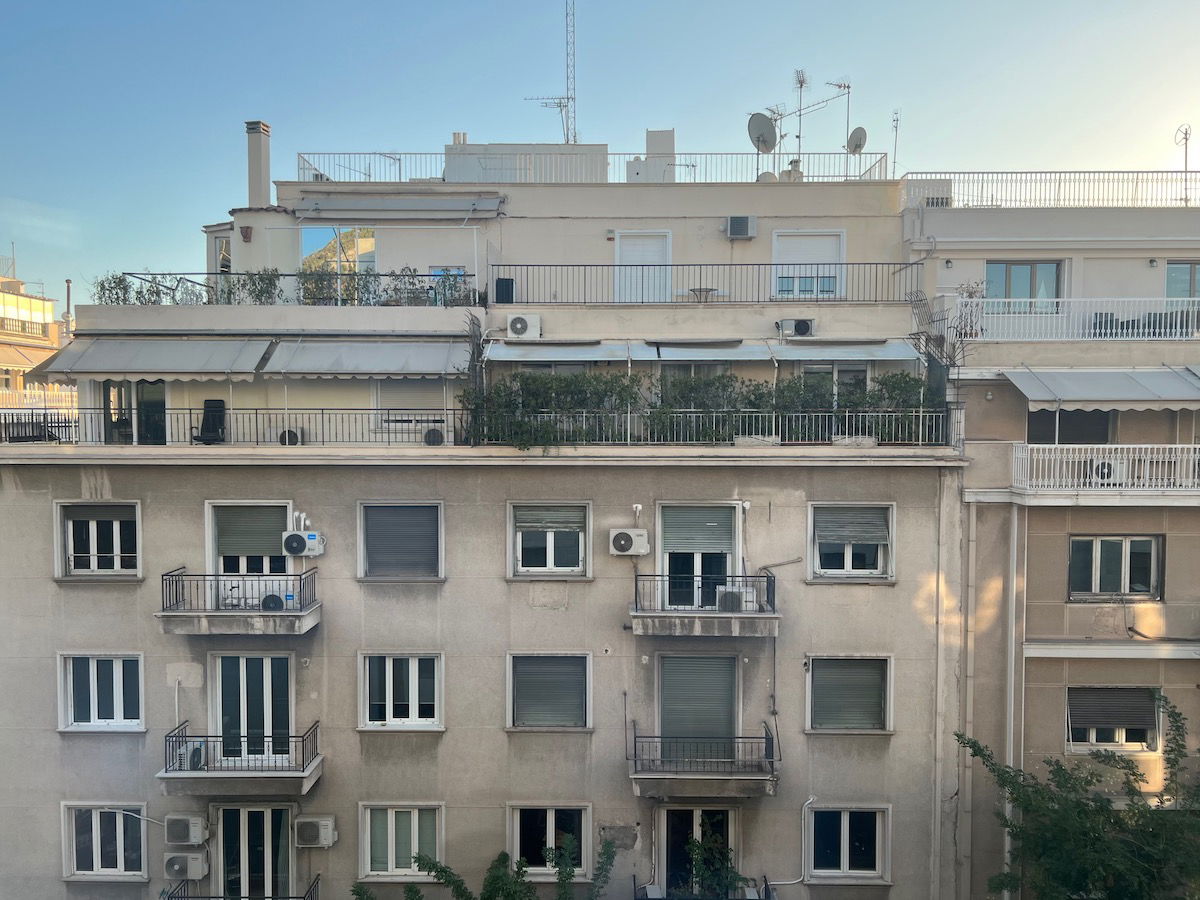 All-in-all, I thought the suite was great. It felt modern and spacious, though of course didn't have the history or old-world charm of rooms at Hotel Grande Bretagne, for example.
Academias Athens spa, pool, & gym
Academias Athens has its wellness area on level minus one.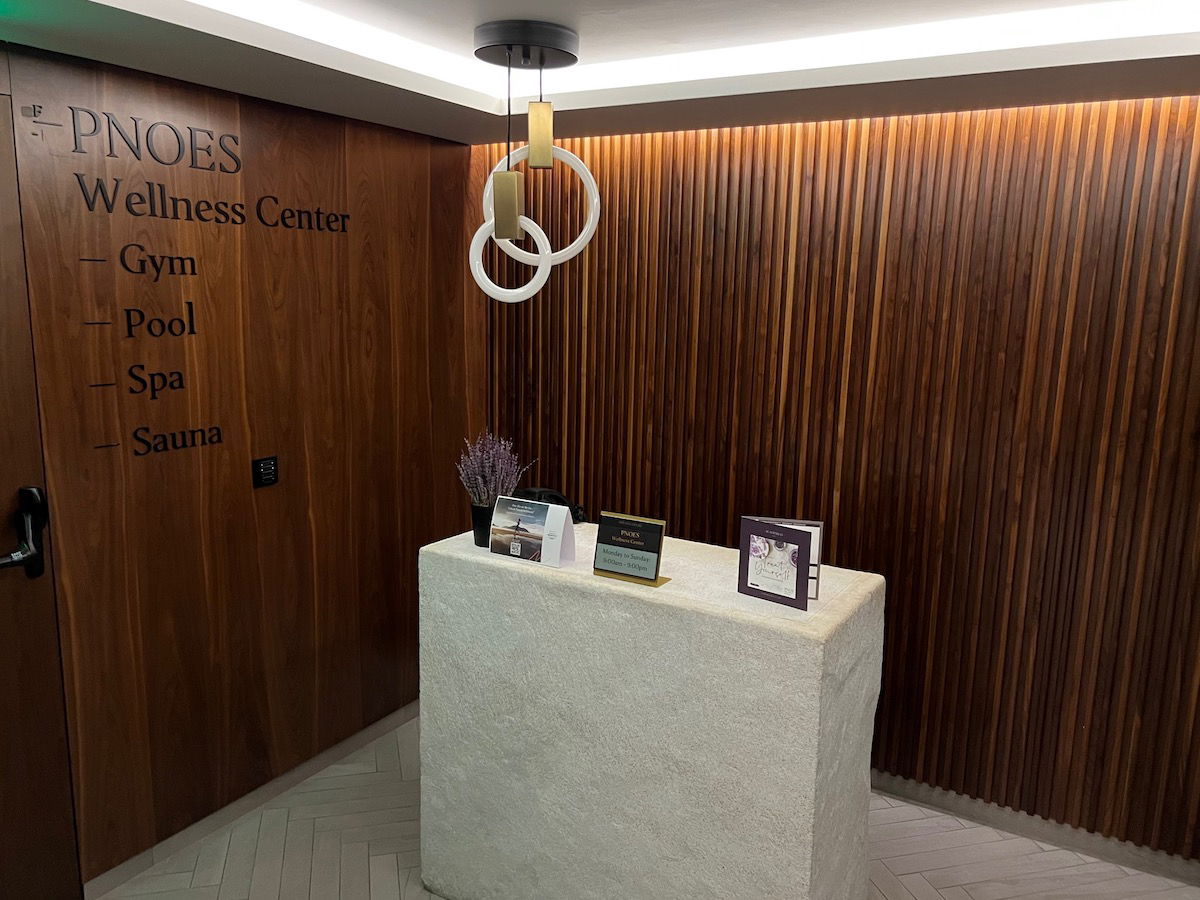 The hotel has a pool that's open daily from 9AM until 9PM. It's a nice indoor pool for a boutique city hotel, but it's also not much to get excited about.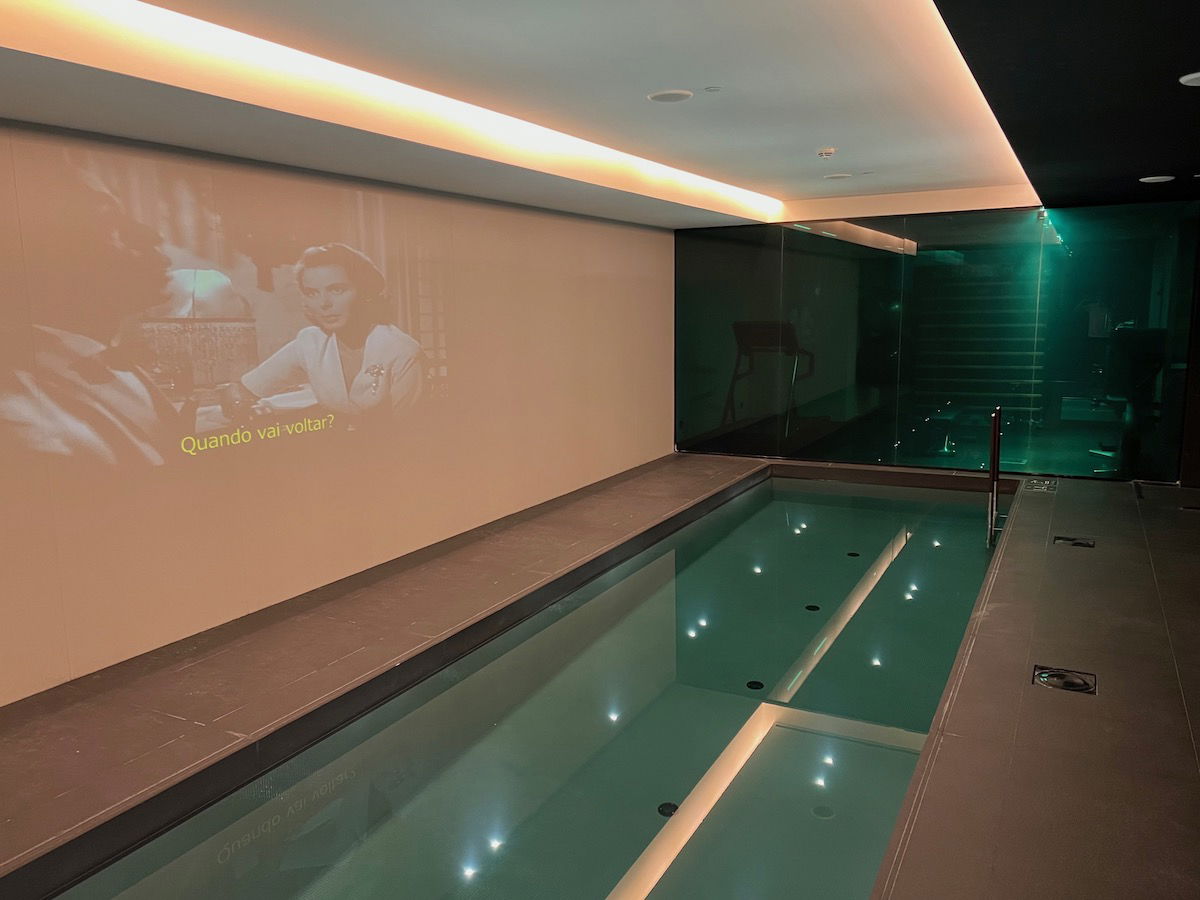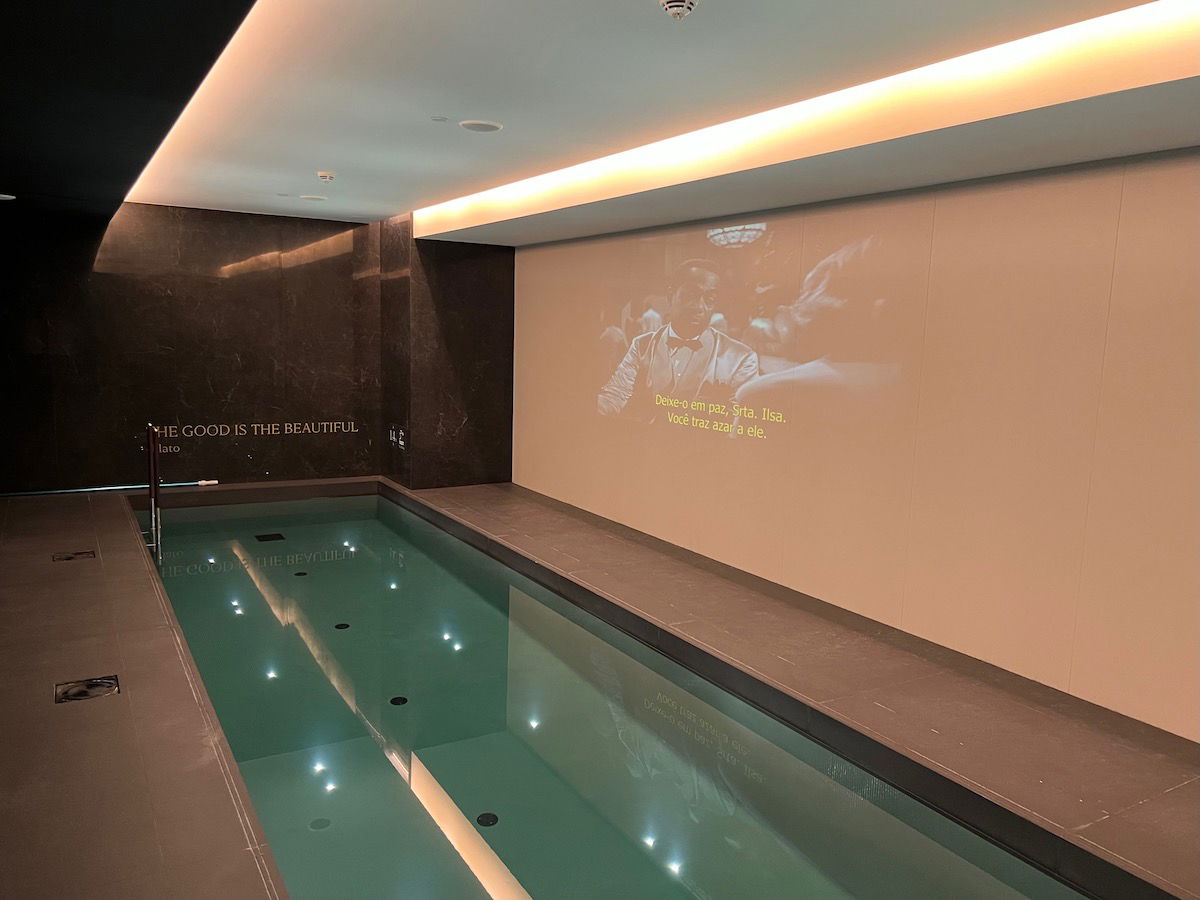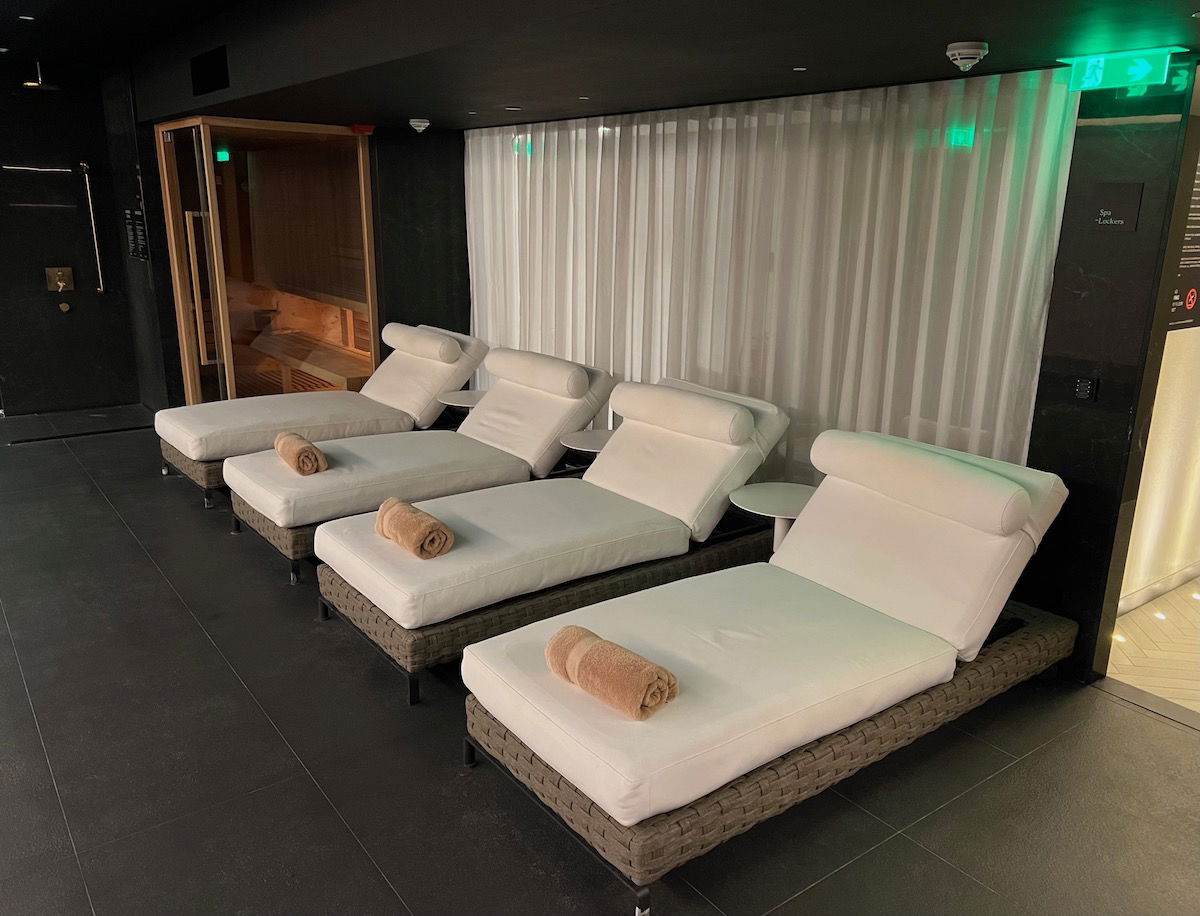 There's also a sauna just off the pool, which some may appreciate.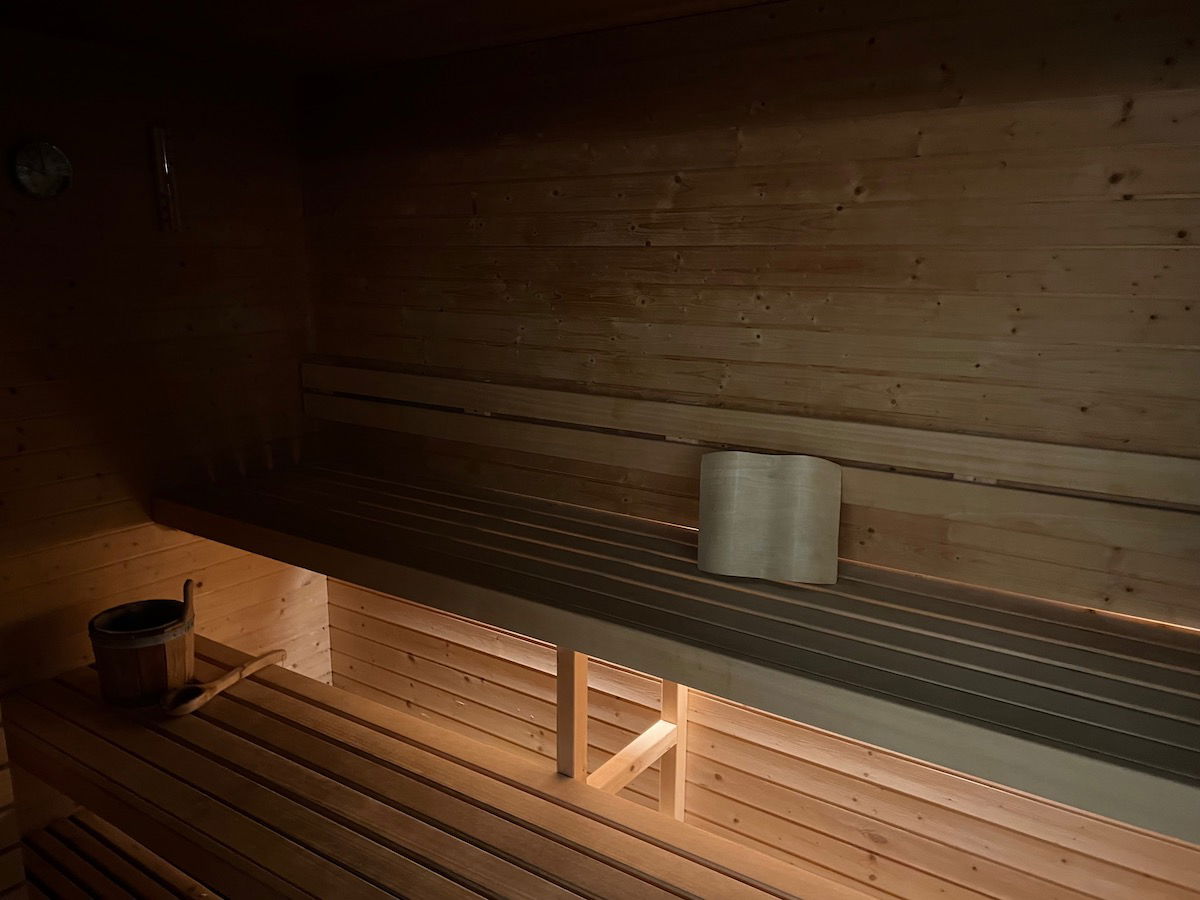 The hotel has a gym that can be accessed 24/7 right next to the pool, and as seems to be the standard at hotels in Athens, it wasn't very impressive. It had a treadmill, a bike, one weight machine, and a bench with some free weights.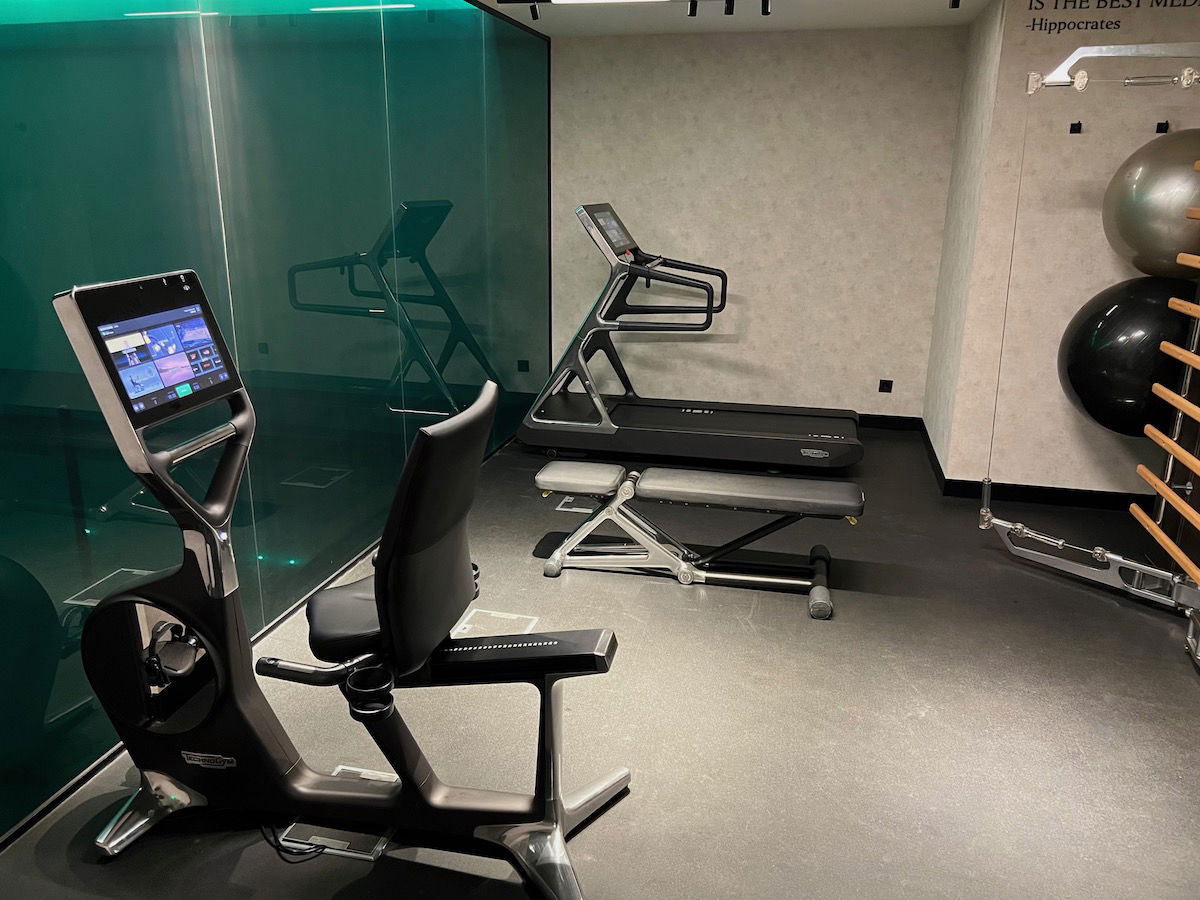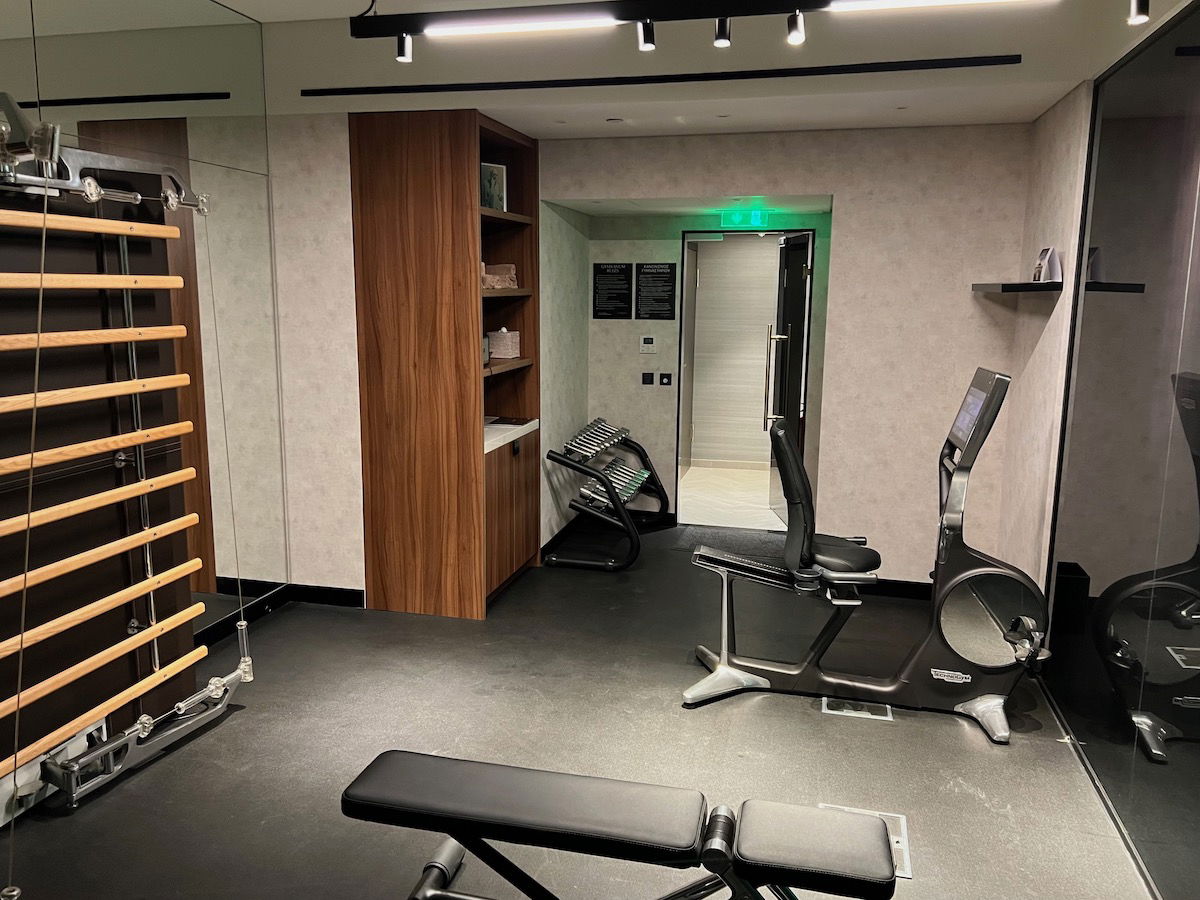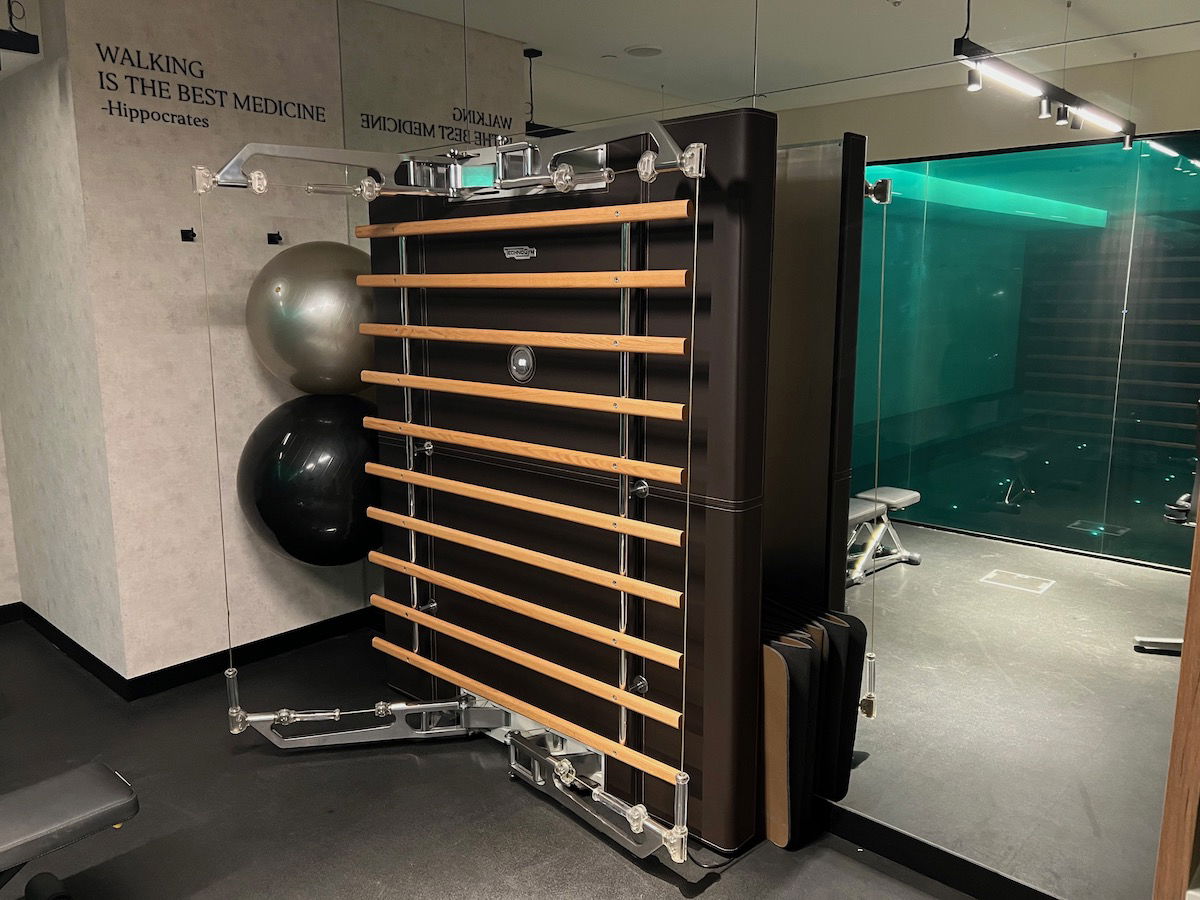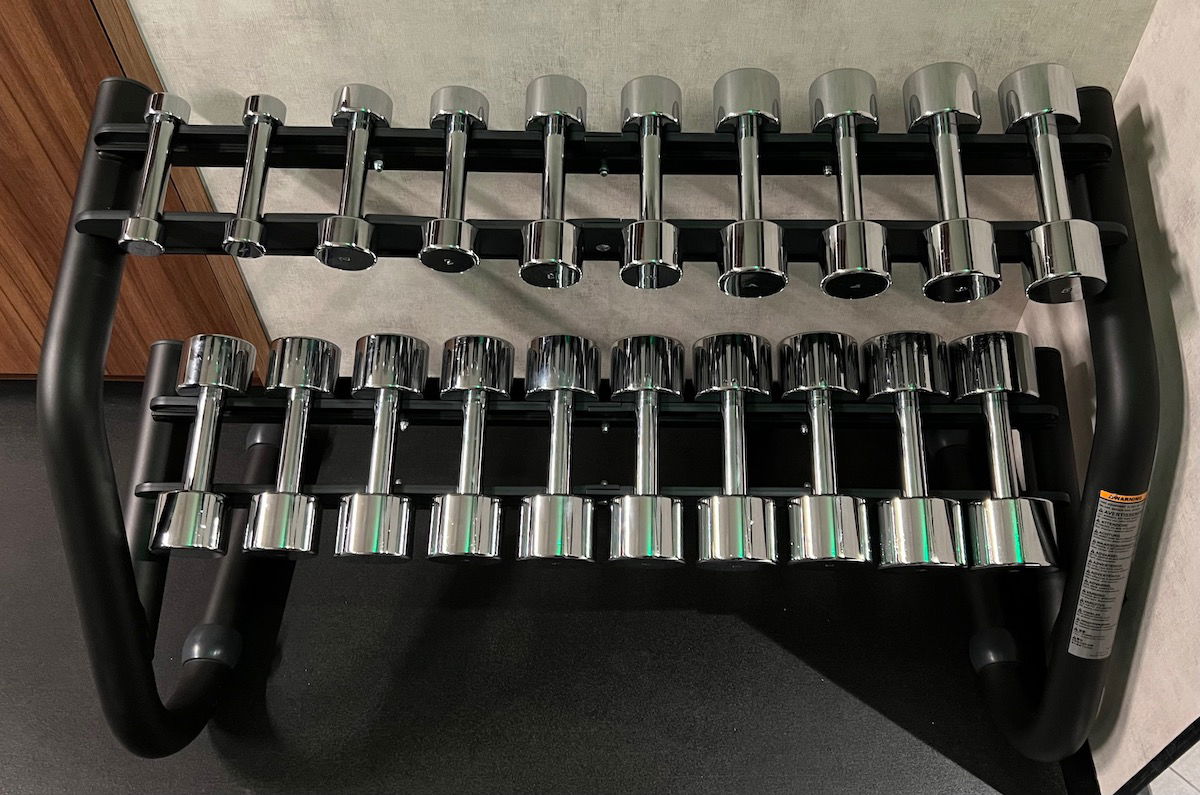 The wellness area also has a small spa with massages, facials, and more, though we didn't get any treatments during our stay.
Academias Athens NYX Rooftop Restaurant
NYX Rooftop Restaurant is Academias Athens' signature restaurant, described as a Japanese fusion gastrobar. It seems to be quite popular with both hotel guests and outsiders. The rooftop opens nightly at 6PM, and is an open-air restaurant with amazing views of the Acropolis and Lycabettus.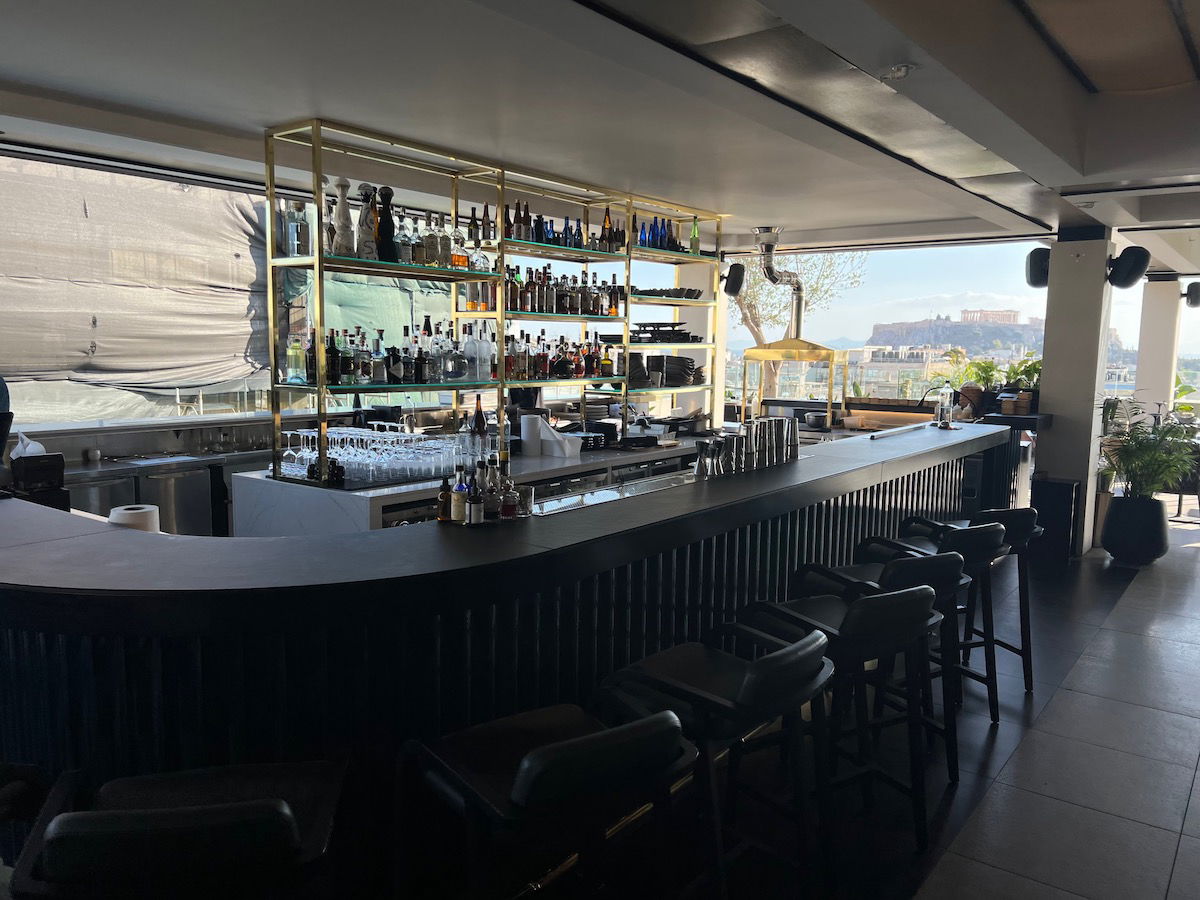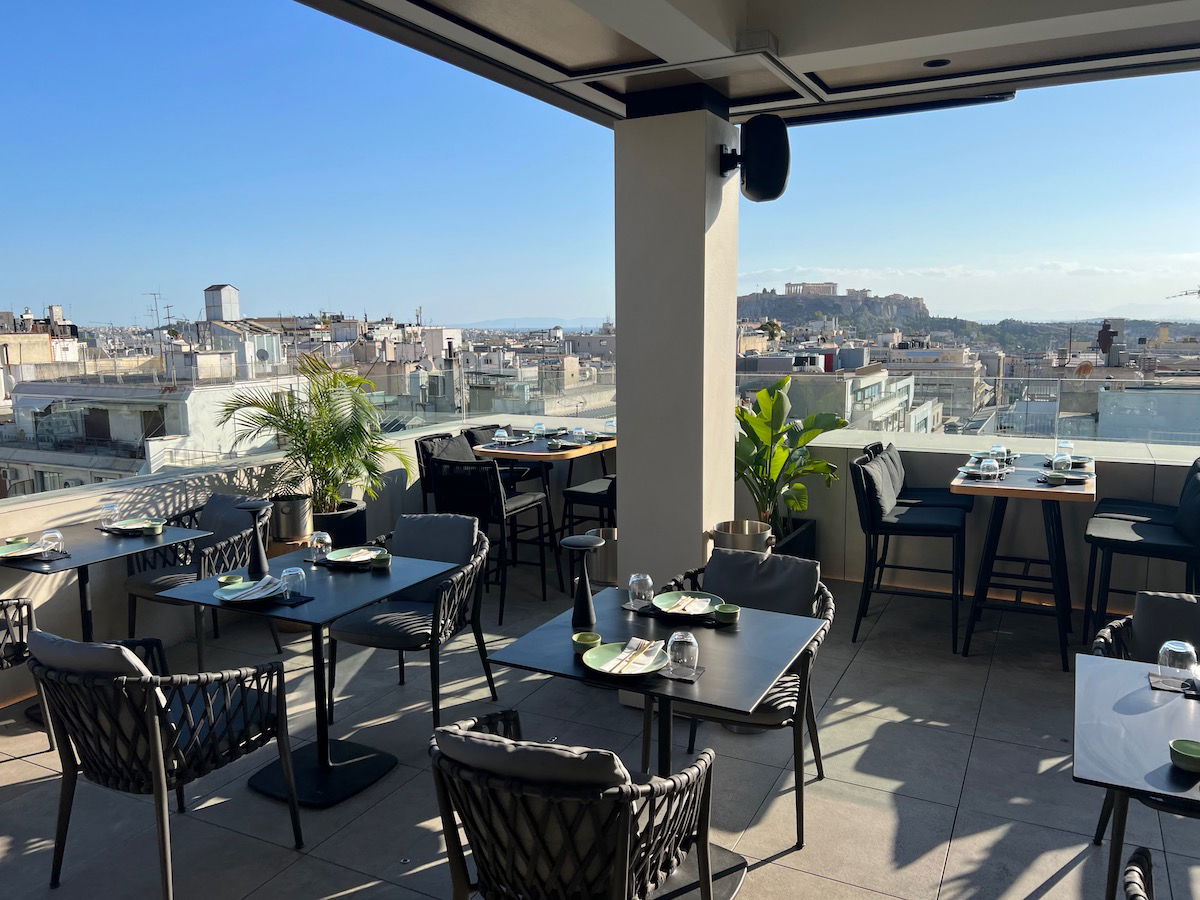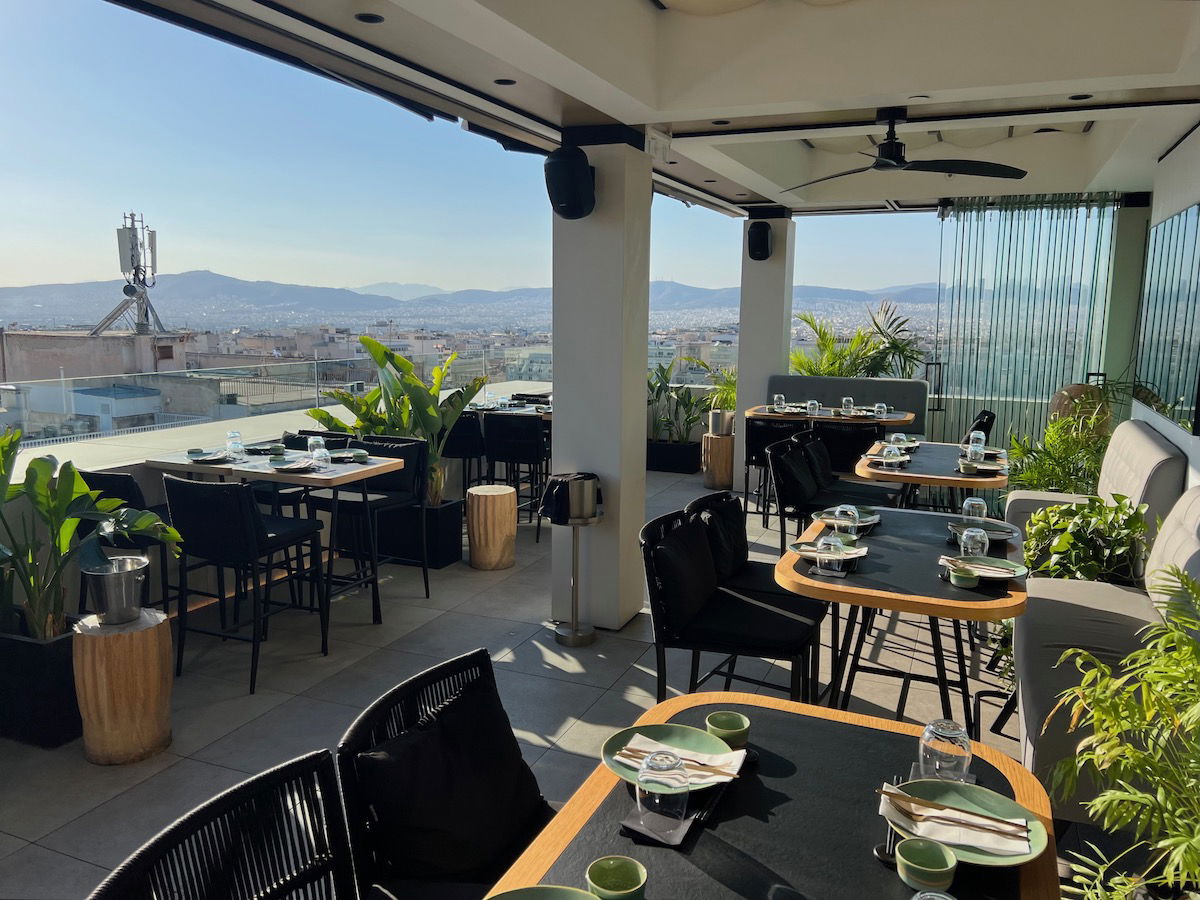 As you'd expect, the views are especially pretty around sunset…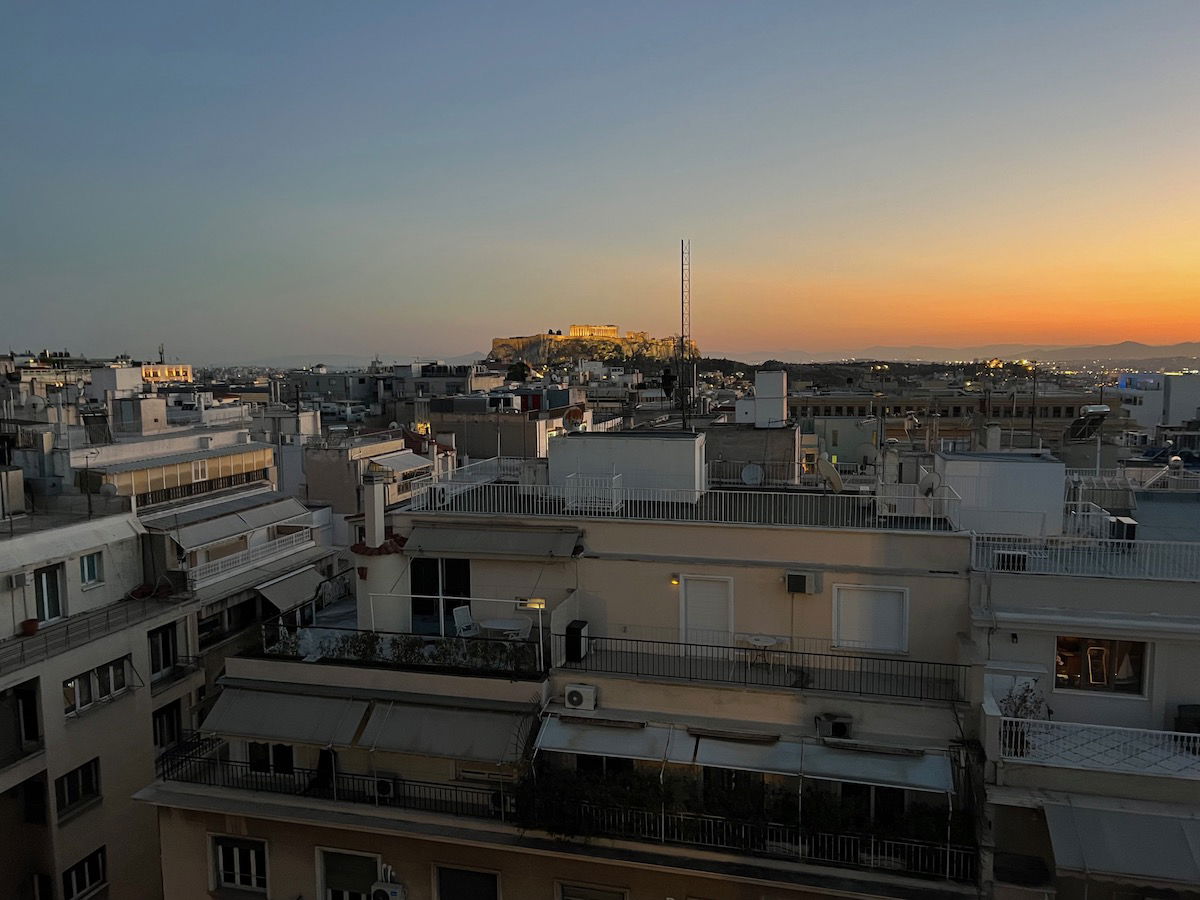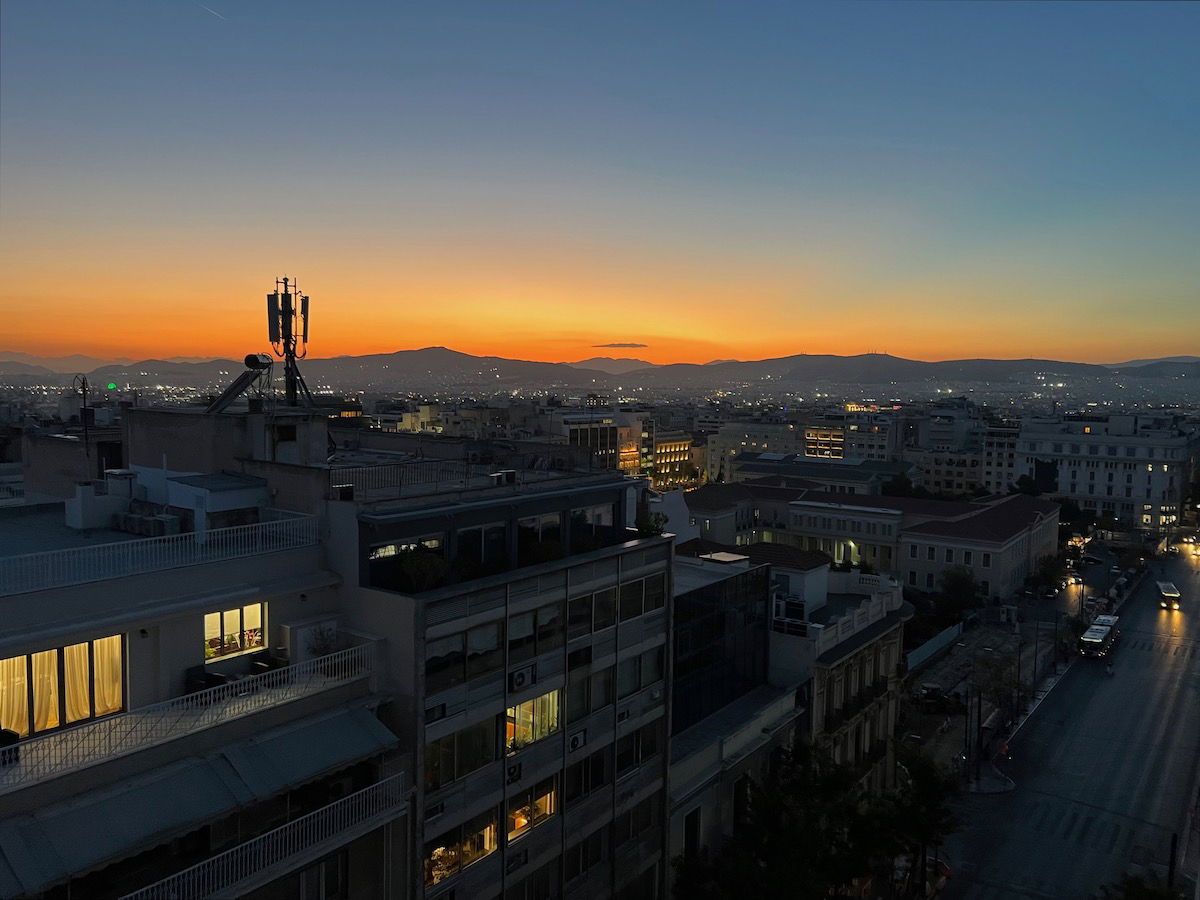 Since we had a $100 property credit to spend, we decided to have dinner here (you can find the menu here). We ordered the sea salt edamame, the crispy tuna tacos, the eggplant, the pukka salmon, and the chocolate miso chili dessert.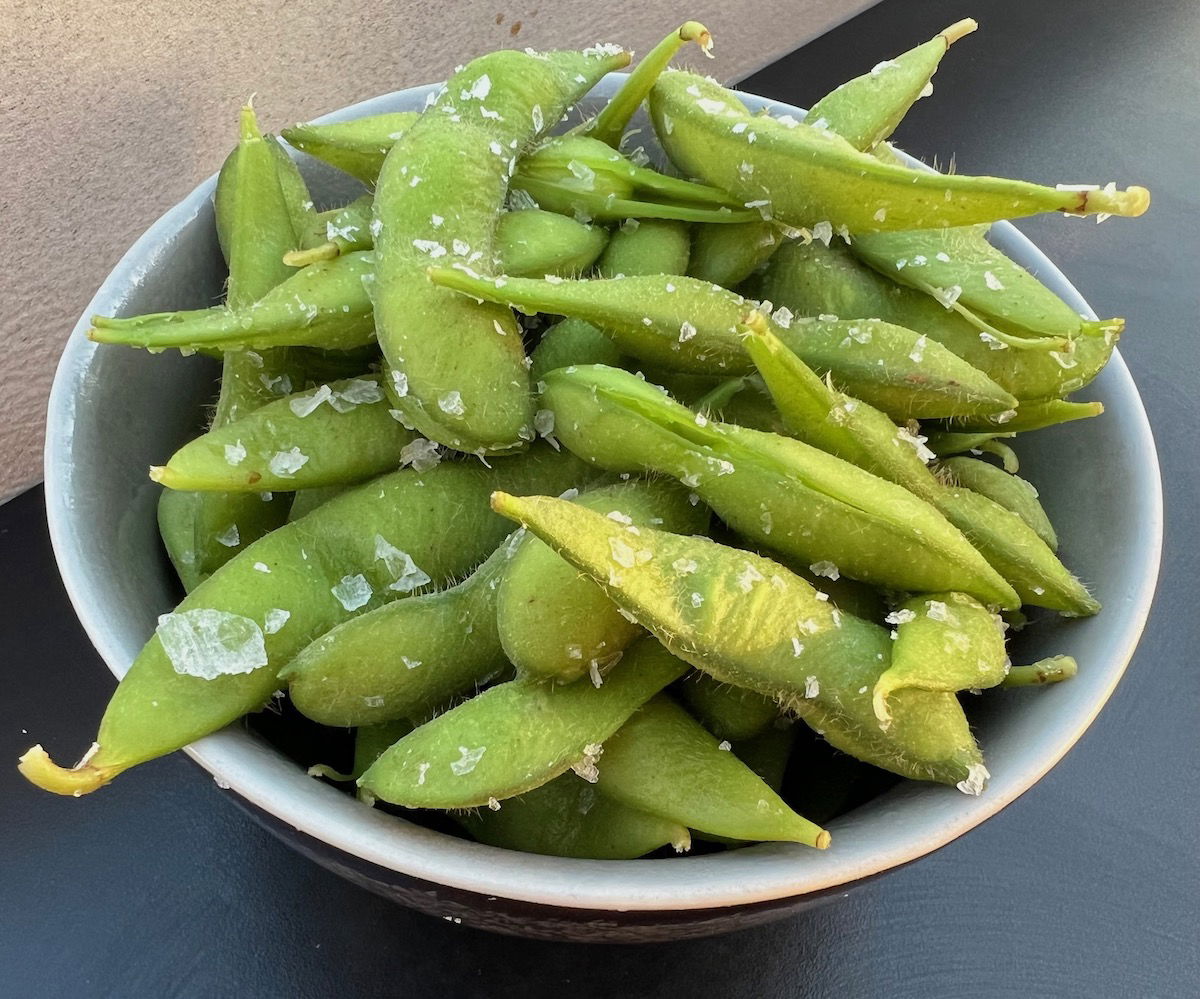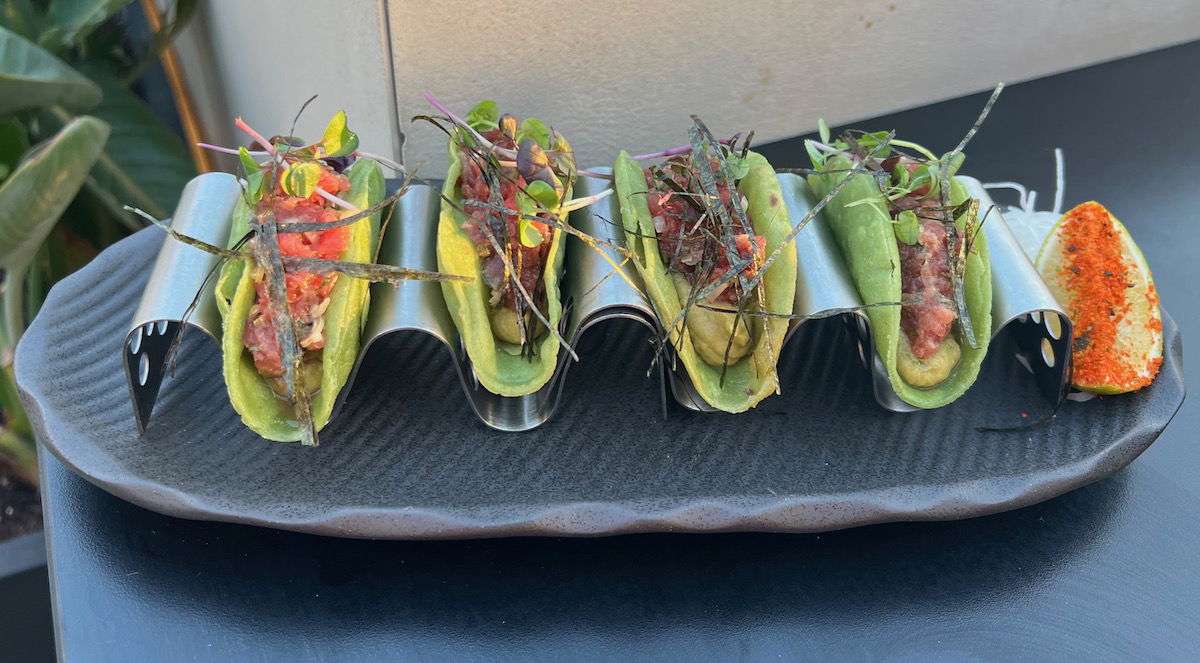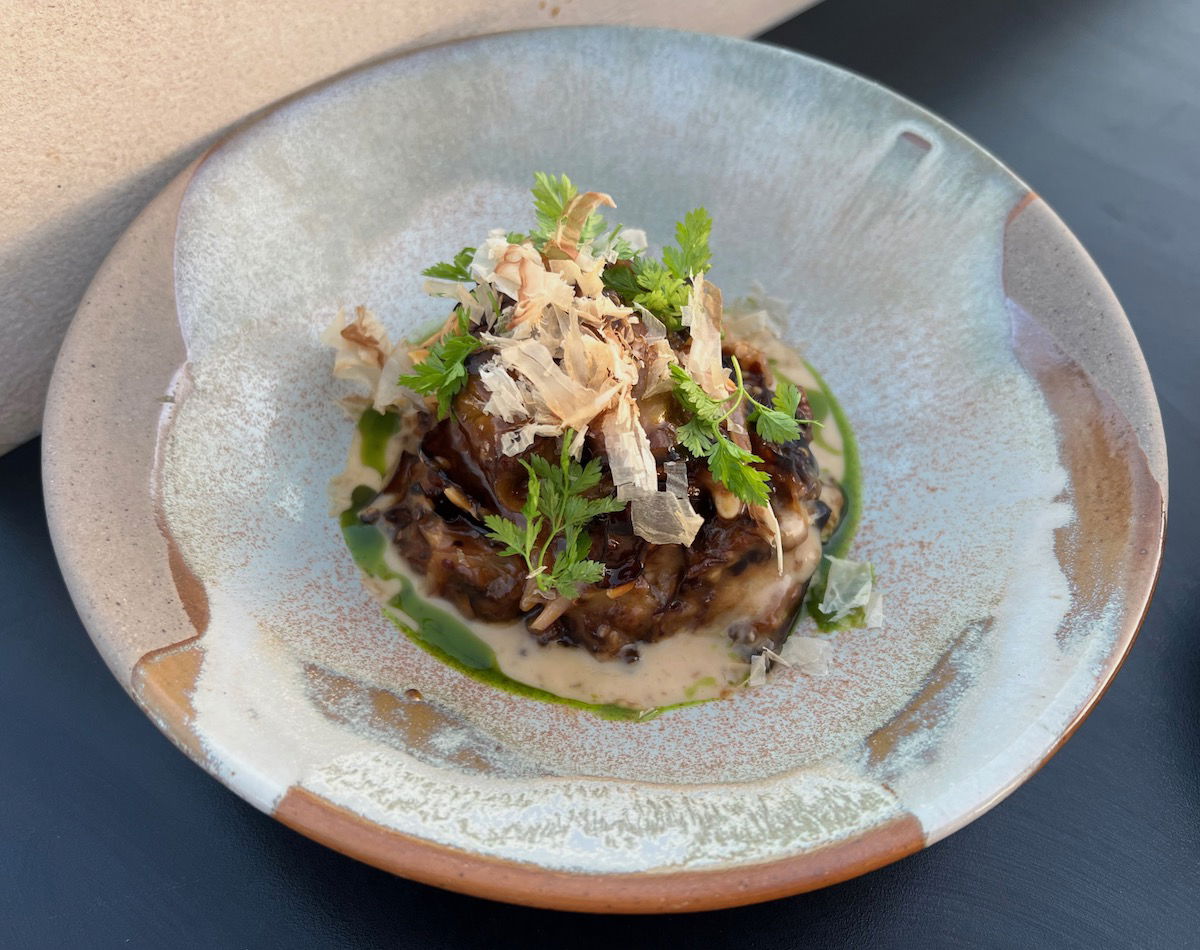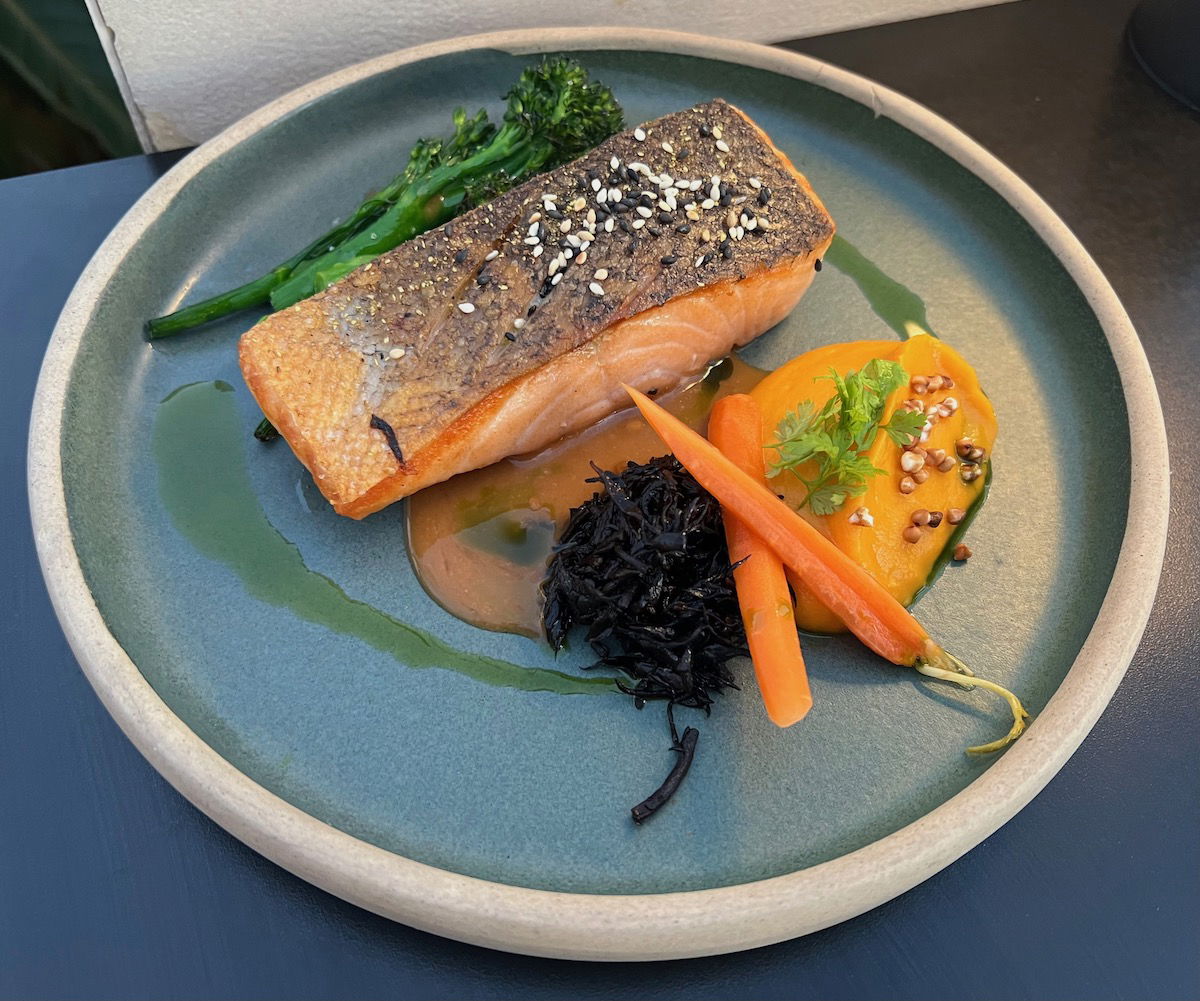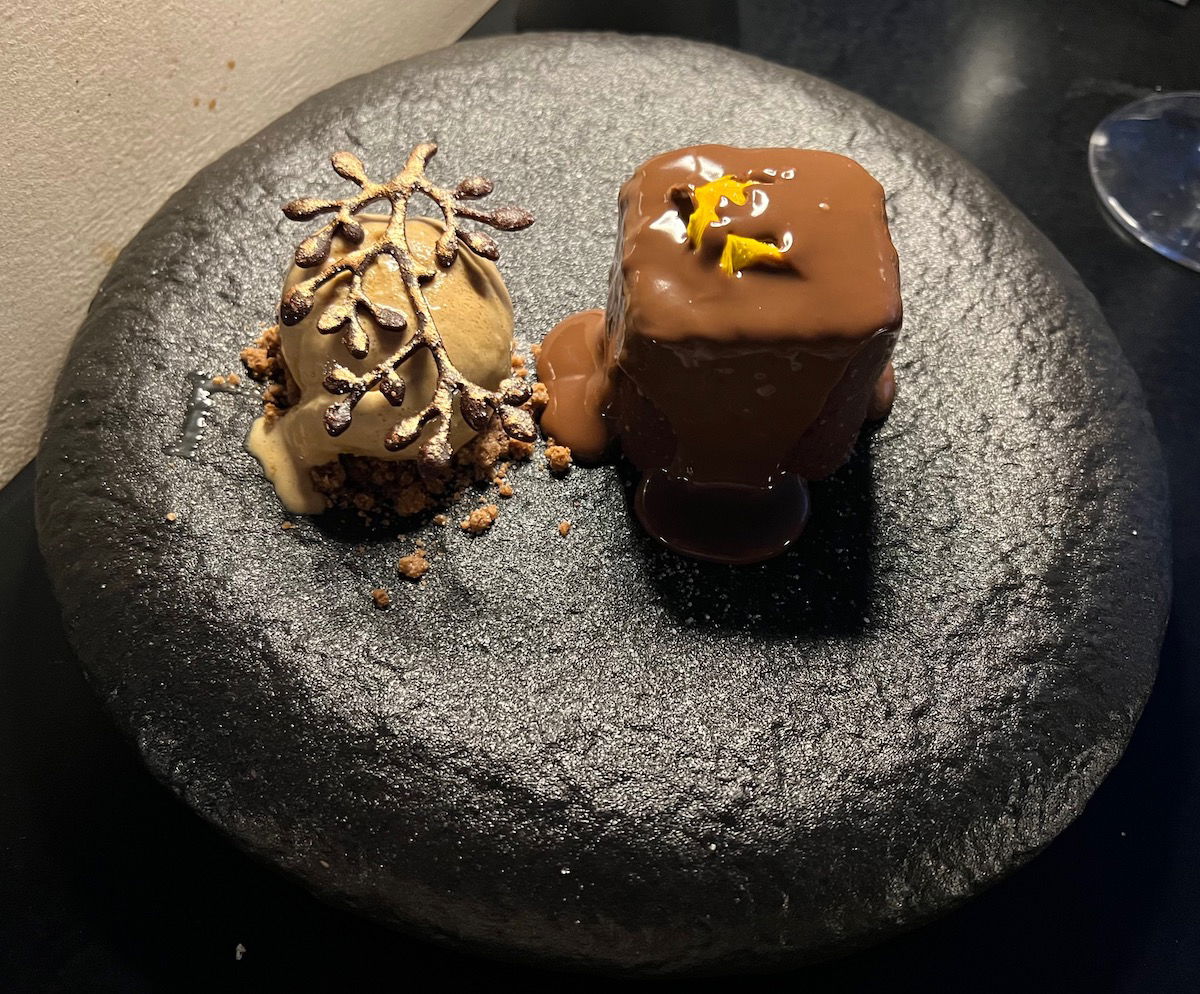 Honestly, it was a great experience in terms of the food quality, service, and ambiance. This was the only non-Greek food we ate while in Greece, and it was very good.
Academias Athens Symposium Restaurant
Academias Athens serves breakfast at Symposium Restaurant, daily from 6:30AM until 10:30AM. The restaurant is exclusively open for breakfast, and it's on the mezzanine level, right above the lobby. The restaurant isn't very big, but then again, the hotel doesn't have many rooms either, so guests should have no issues securing a table.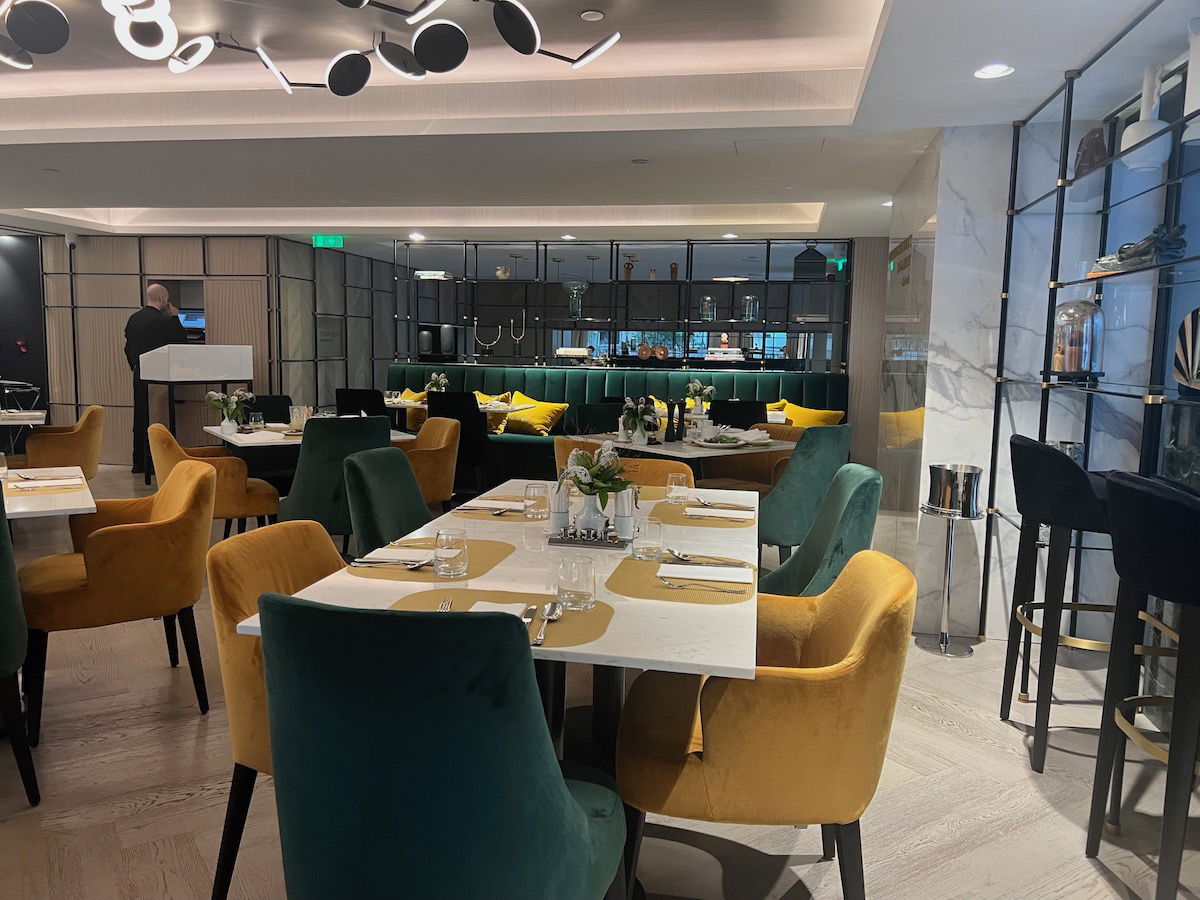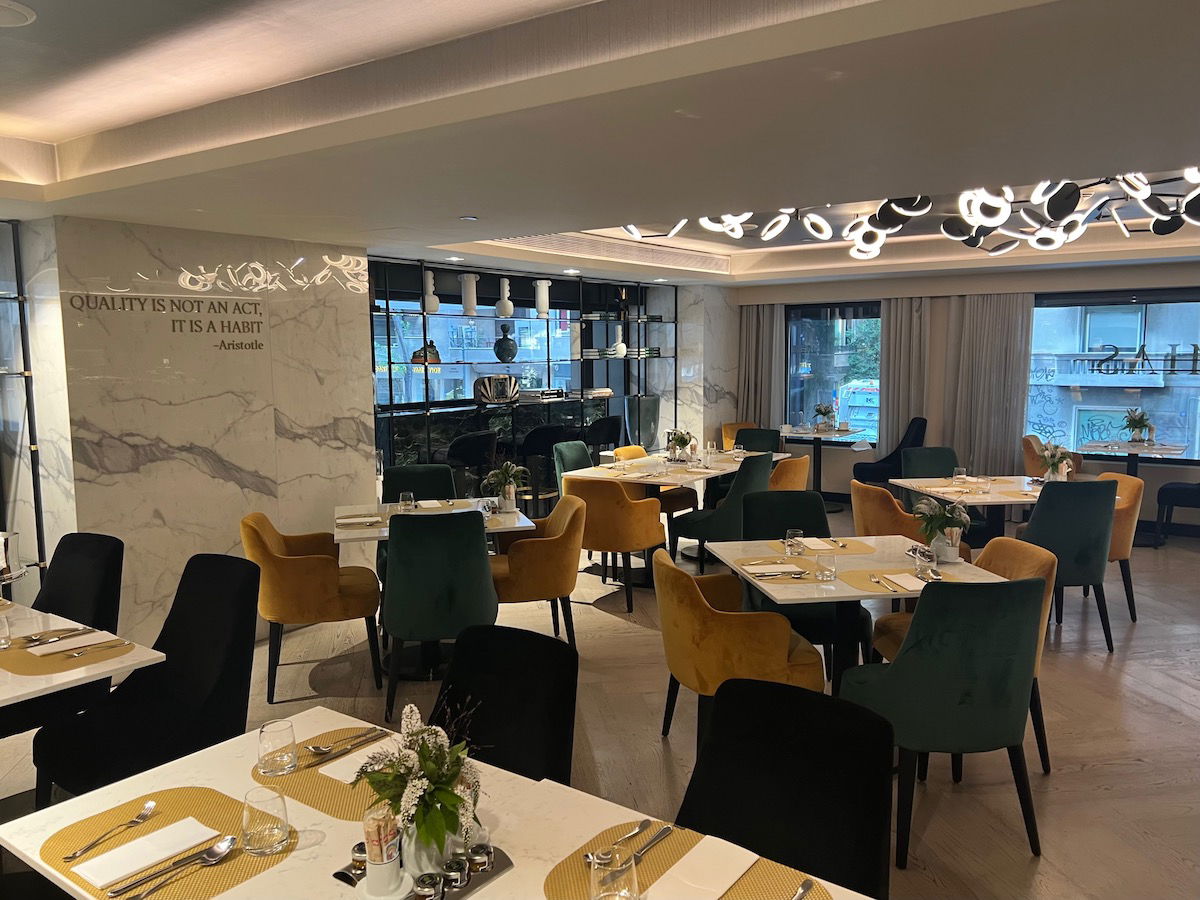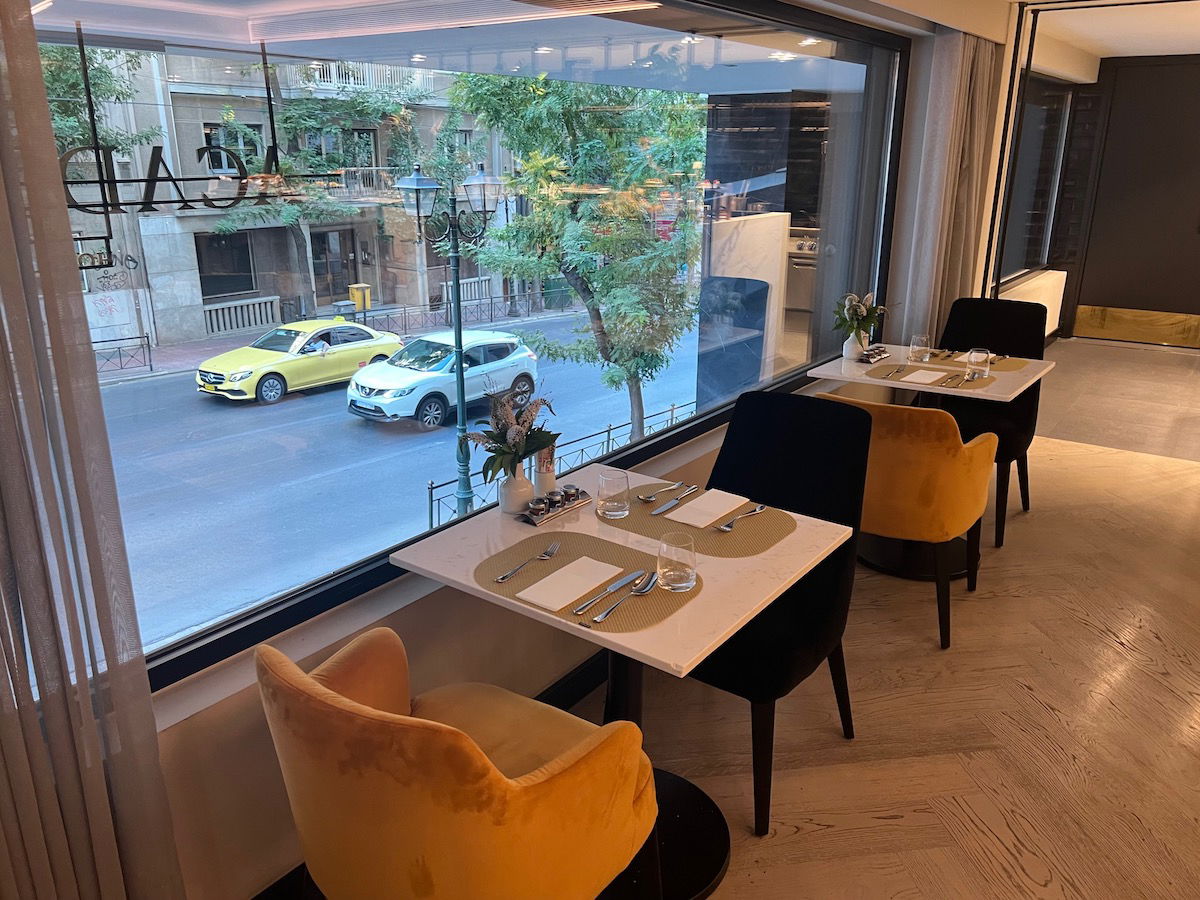 Our rate included breakfast, and with that you could have anything from the buffet, and also order something off the menu. You can find the breakfast menu below.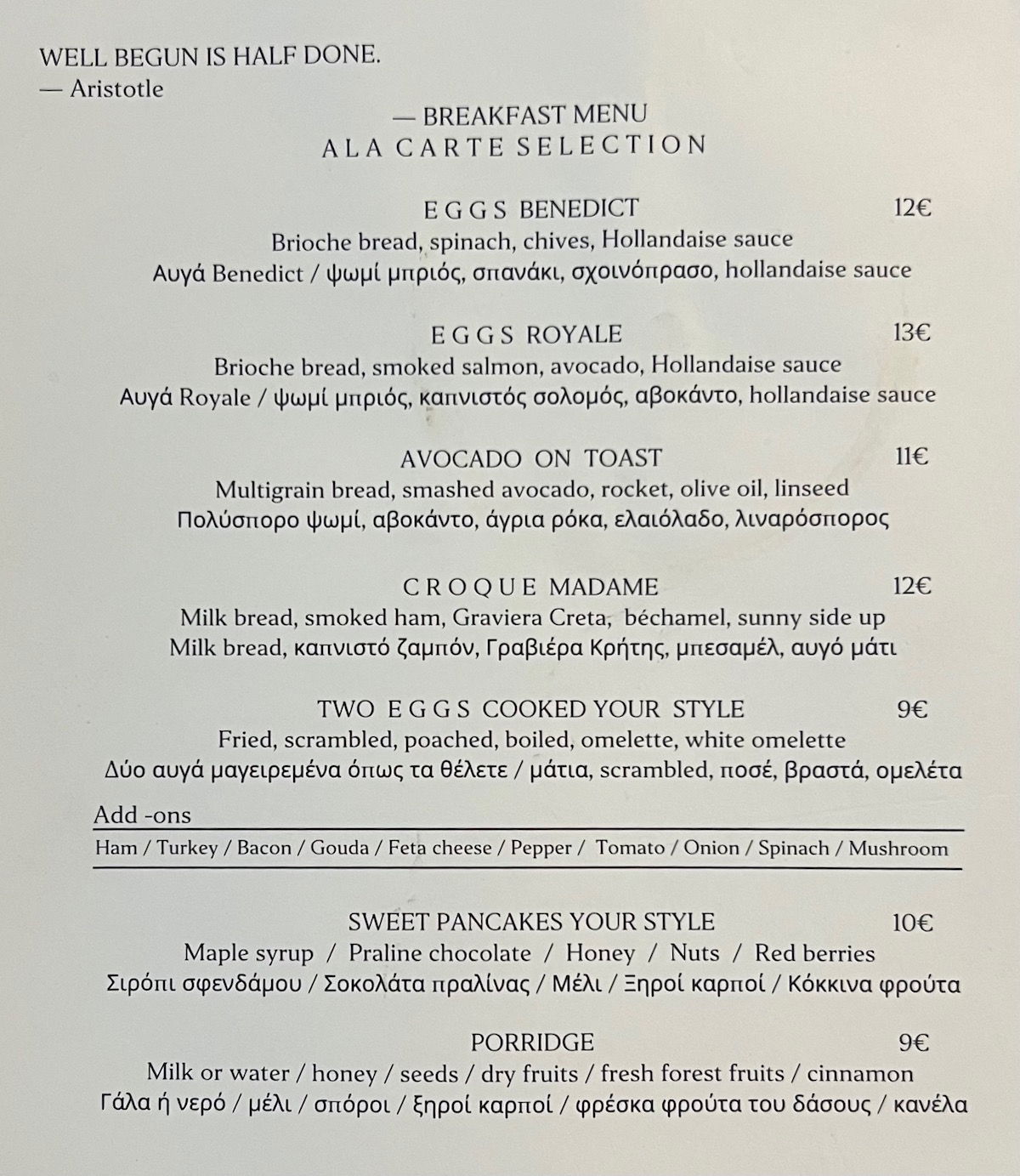 The buffet was fairly good, and consisted of pastries, bread, yogurt, fruit, cereal, cold cuts, hash brown, bacon, and more.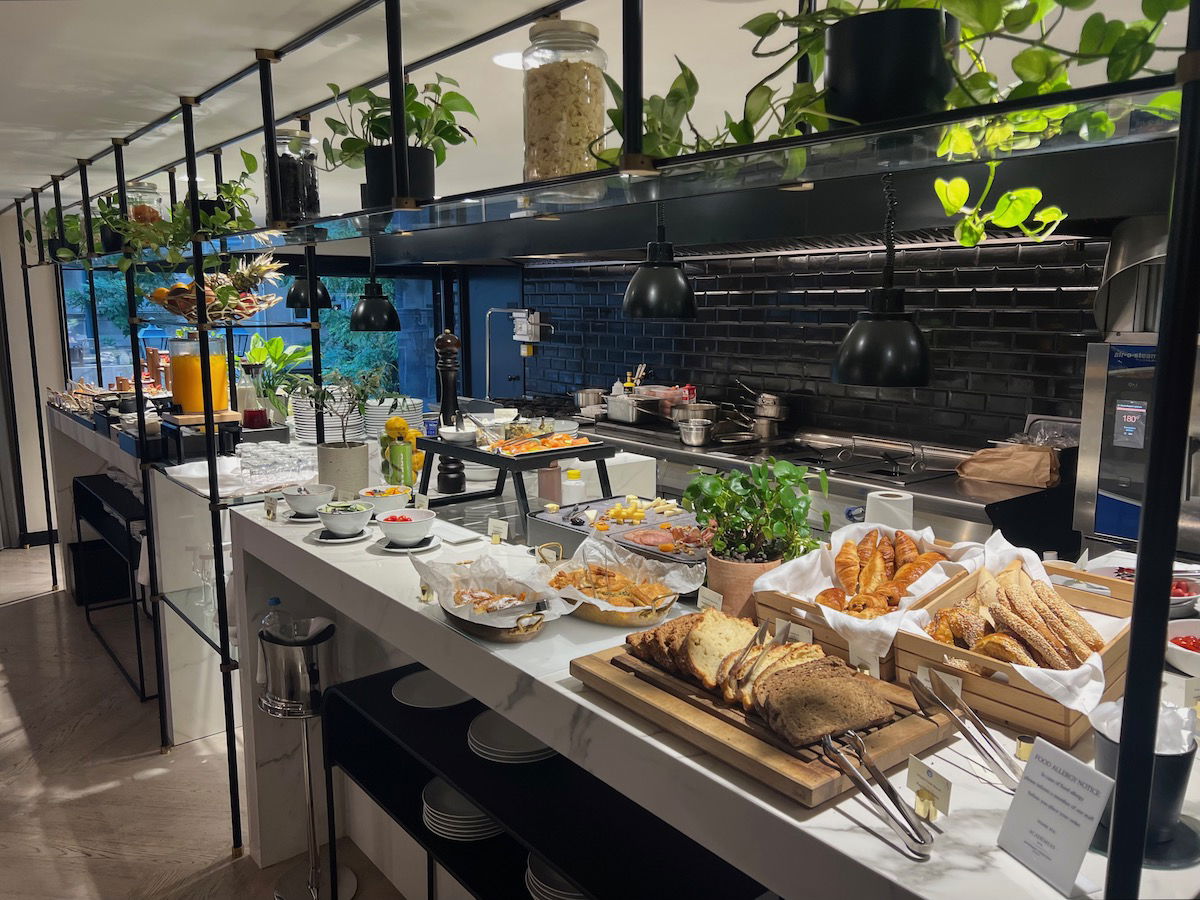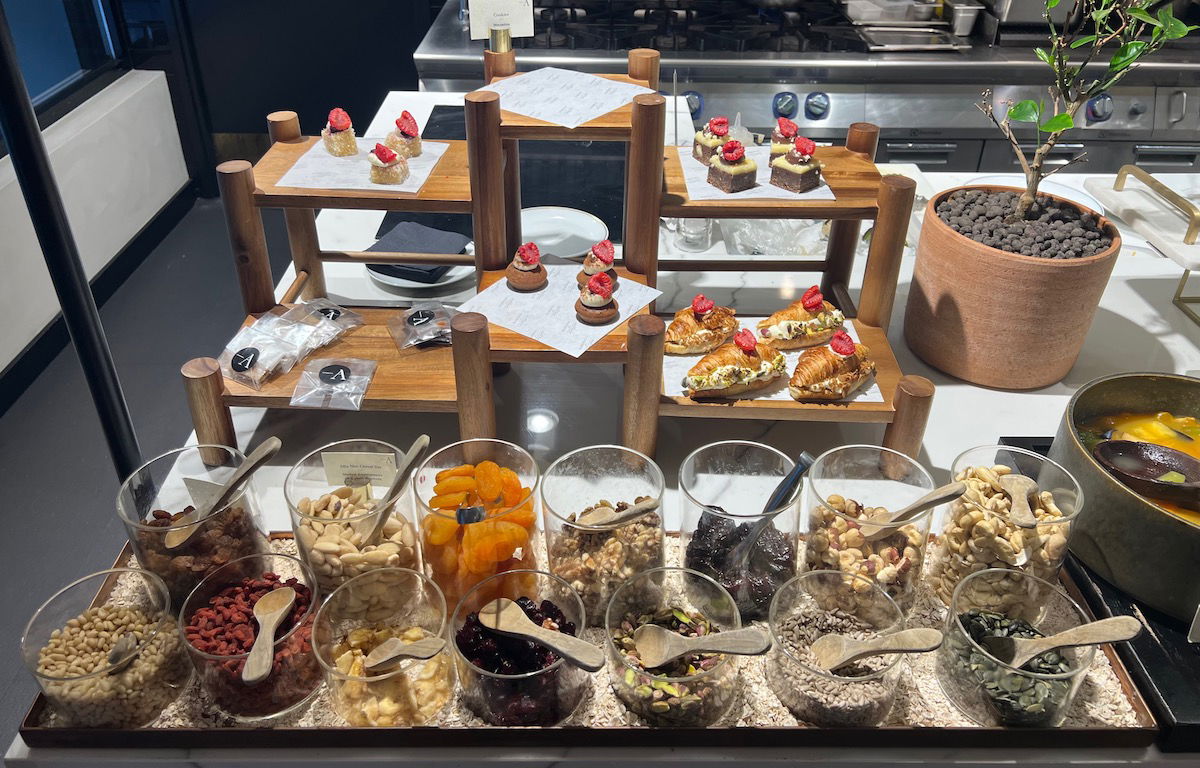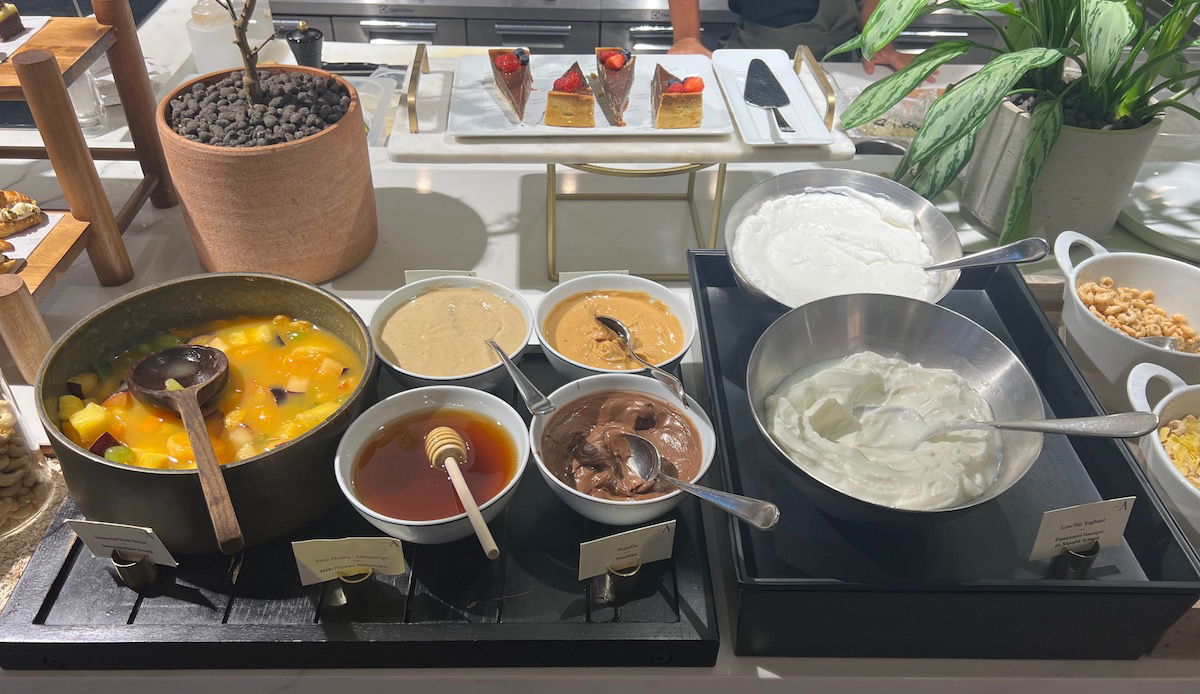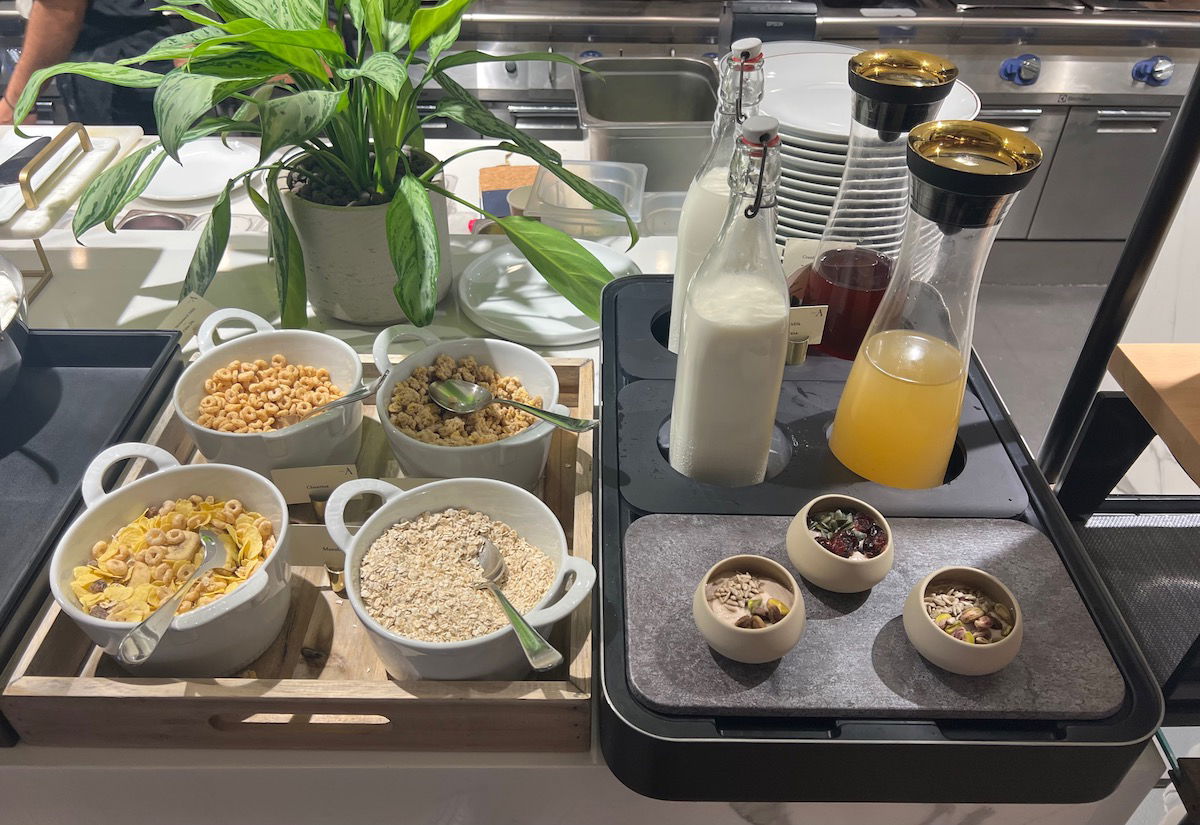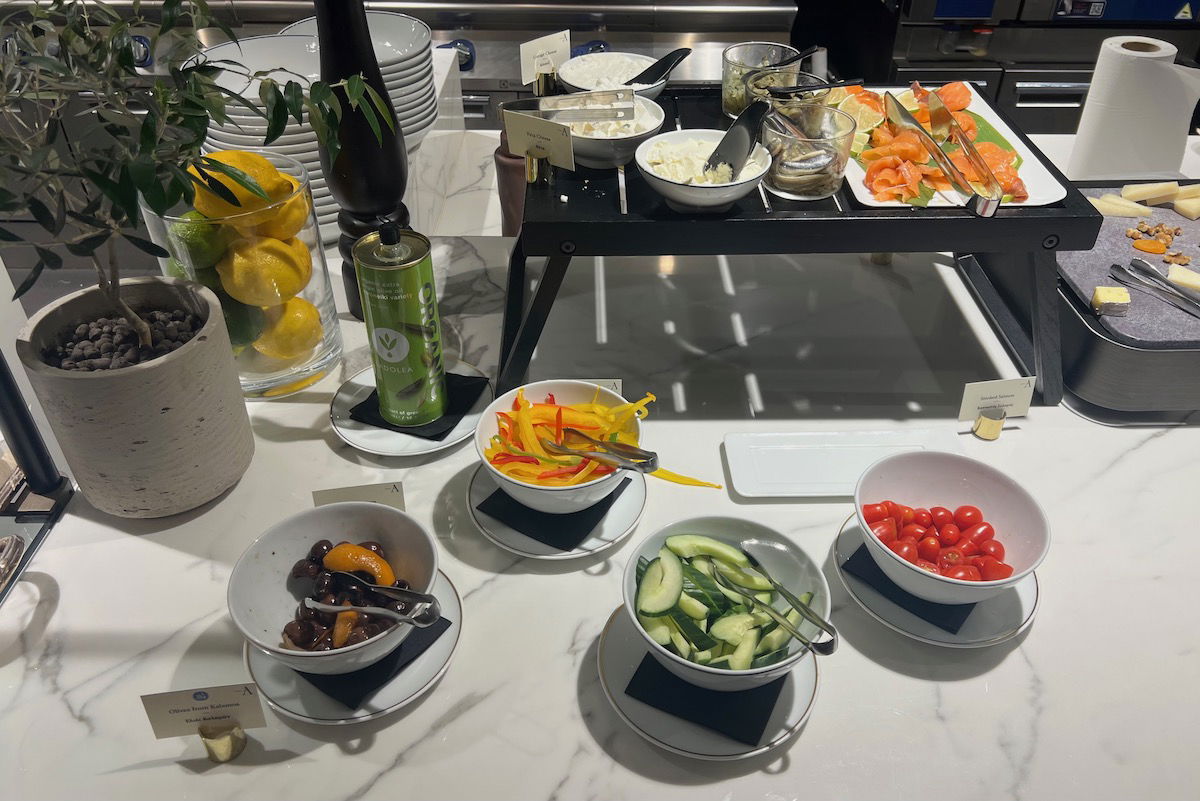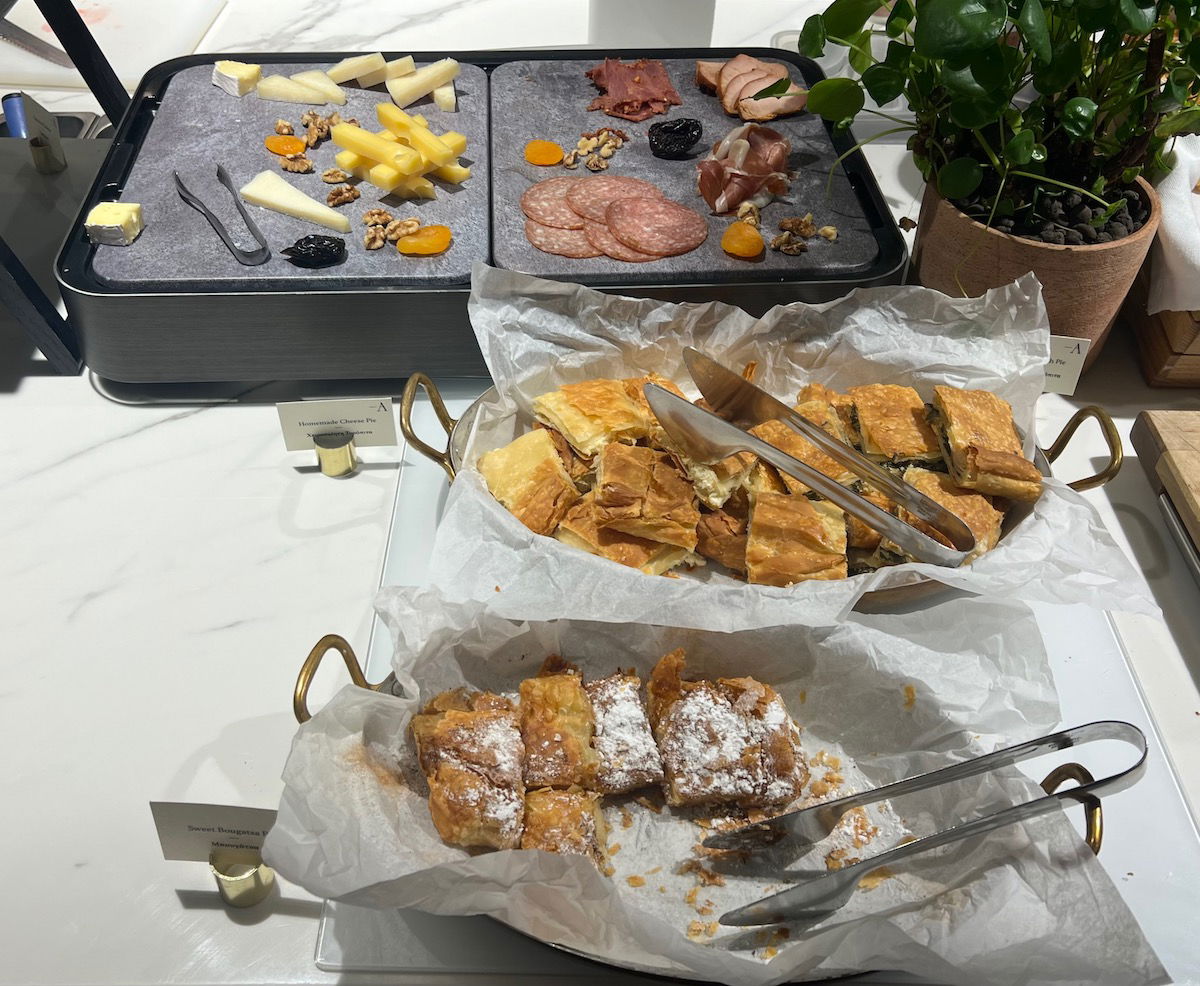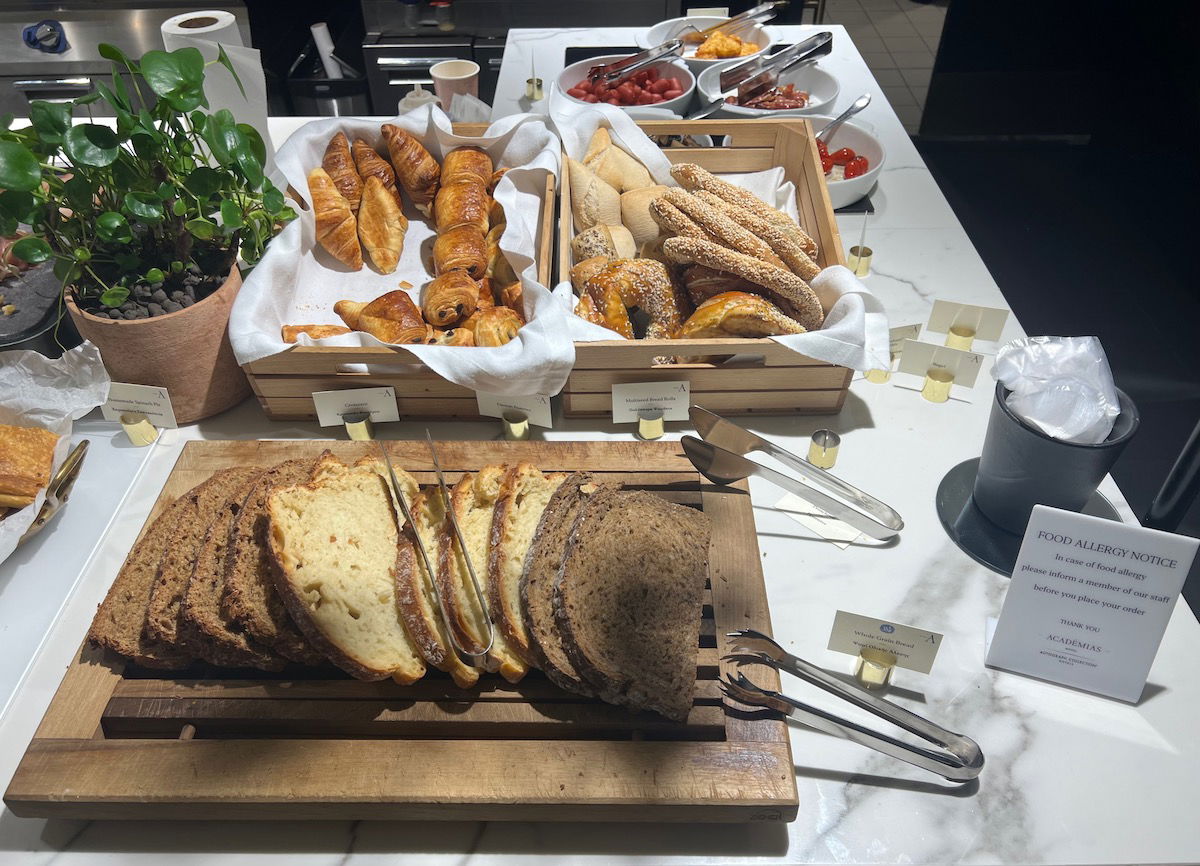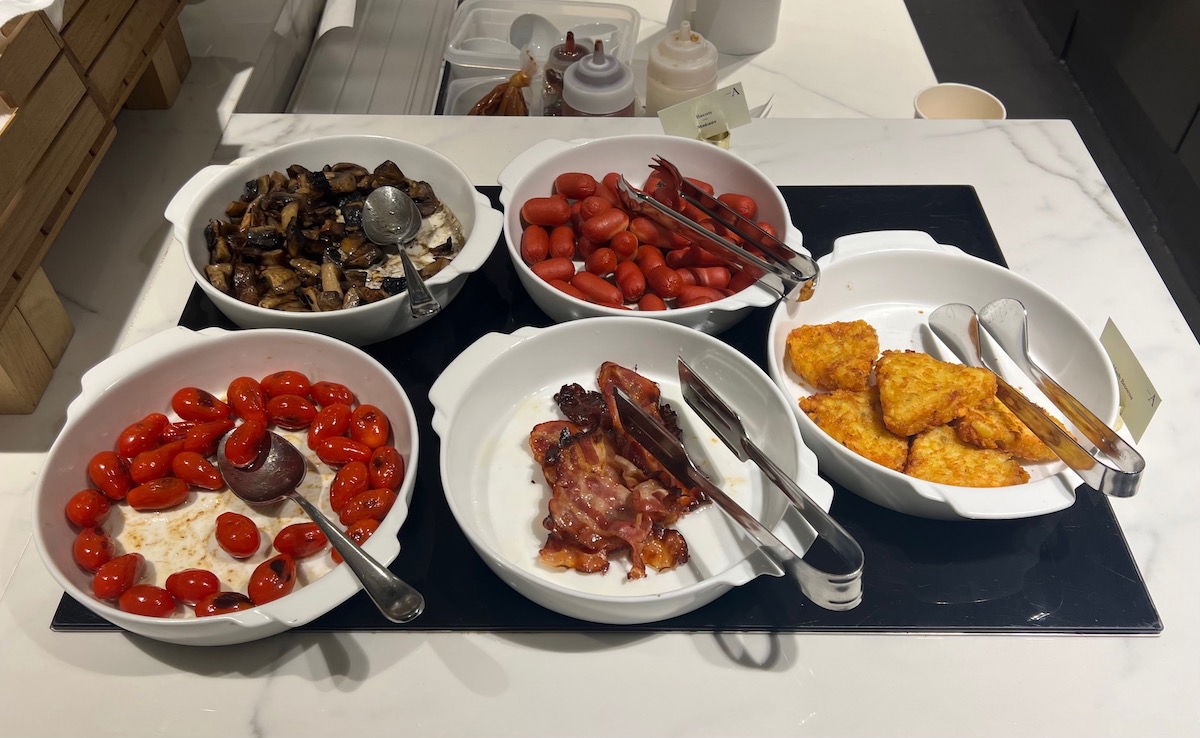 I ordered a cappuccino to drink, which was excellent.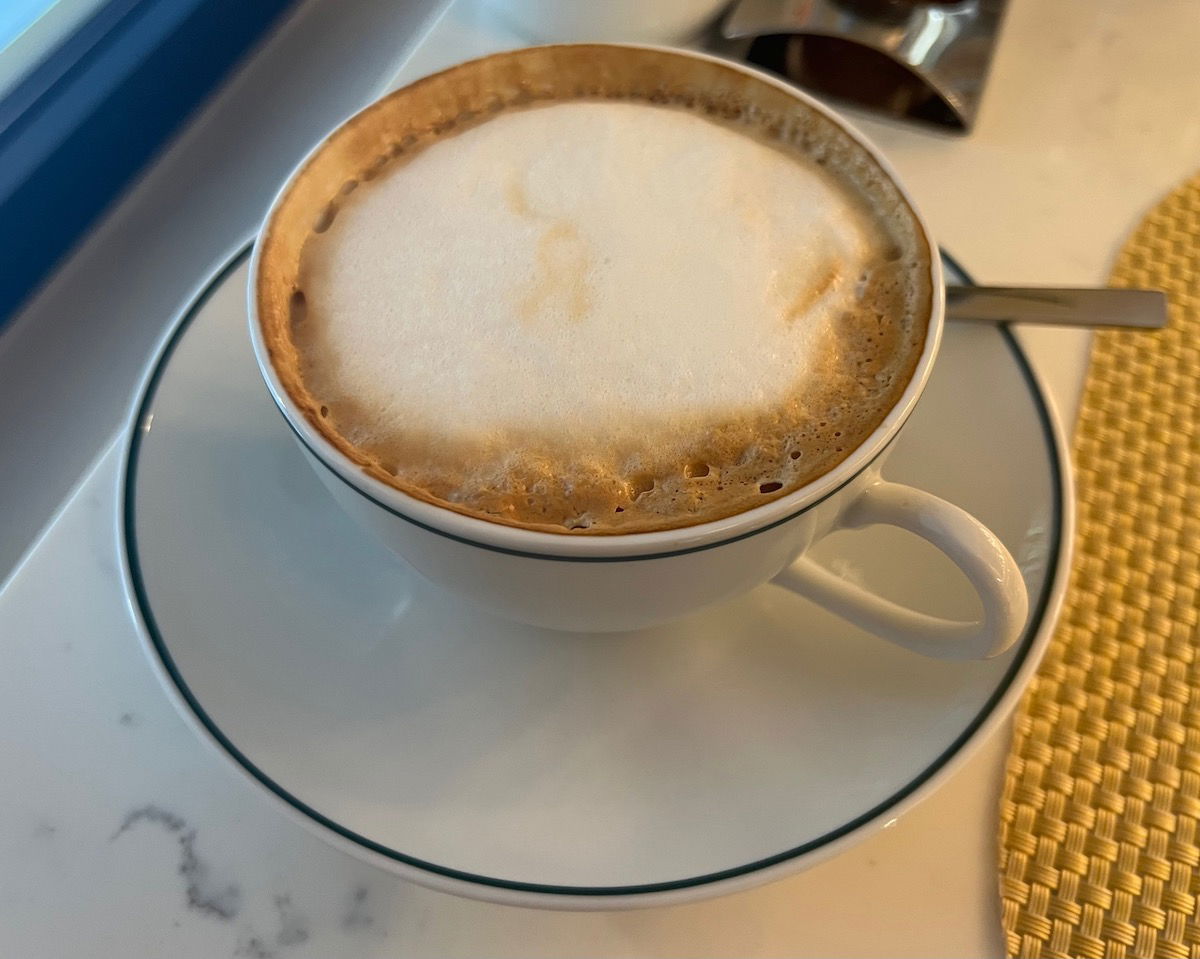 To eat, I had the avocado on toast with a poached egg.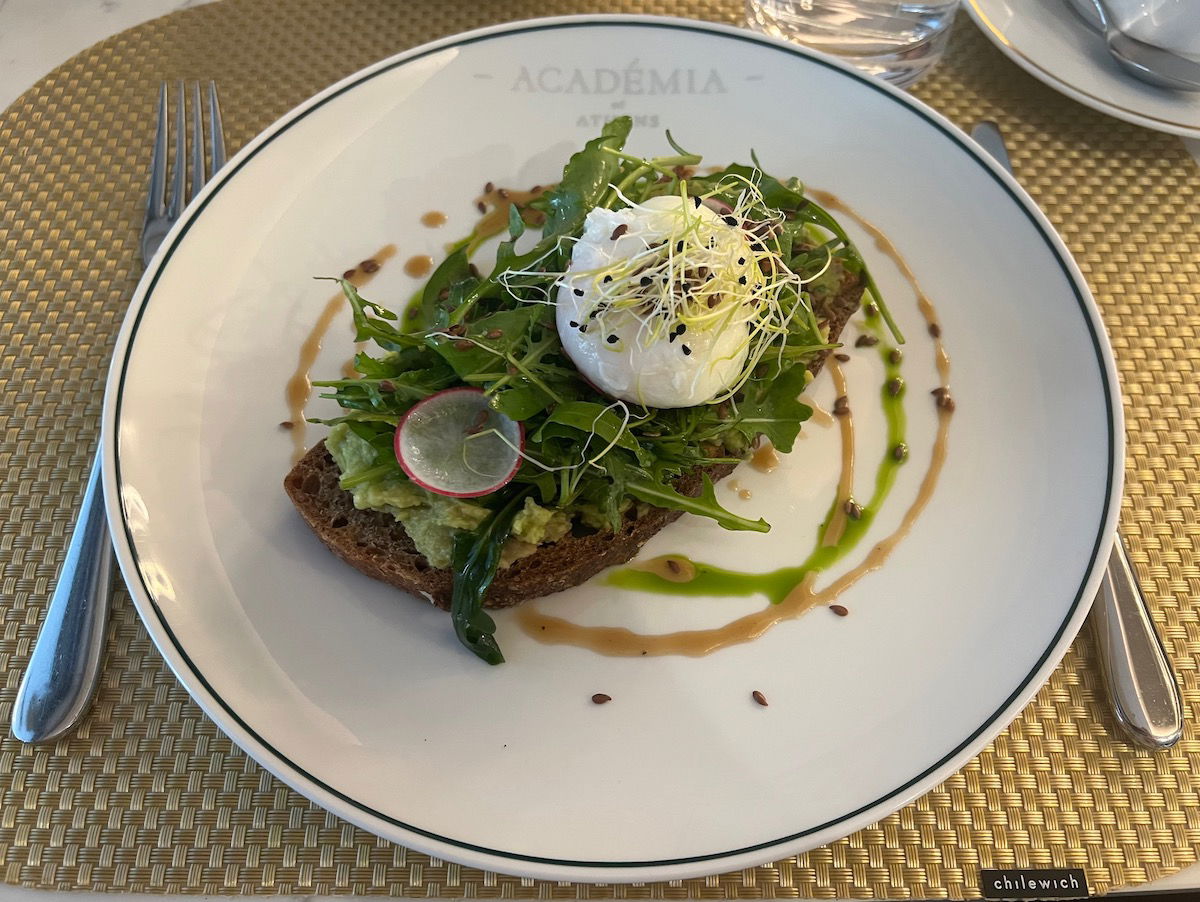 Bottom line
We had a very nice stay at Academias Athens. This is a boutique property with a central location, friendly service, pretty good amenities, a nice rooftop restaurant, and a solid breakfast.
The only downside of this property is that it lacks the charm and history of the nearby Hotel Grande Bretagne or even King George, which are Marriott's two Luxury Collection properties in the city. If you can swing it, I can't recommend Hotel Grande Bretagne enough, but I wouldn't hesitate to return to or to recommend Academias Hotel, especially given the lower price point.
What do you make of Academias Hotel Athens?