EXTRA PERKS AVAILABLE
Enjoy breakfast, upgrades, & more
Want to take advantage of Virtuoso benefits at no extra cost, including a room upgrade, free breakfast, a hotel credit, and more? Contact Ford ([email protected]) for more details. He doesn't charge booking fees, and may even be able to help if you already have a stay booked.
The Burj Al Arab is arguably one of the most iconic hotels in the world. Often referred to as a "7-star hotel" (which isn't a thing), the hotel is one of the most over-the-top things in Dubai, a city known for excess. The hotel is so "exclusive" that it's on a manmade island with a gate, and you can only enter if you're a guest, or otherwise have a reservation at the hotel (either for a tour, or for one of the very expensive dining outlets).
After visiting Dubai dozens of times over the past 15 years, I figured it's finally time to spend a night at the Burj Al Arab. Now, to be fair, I've splurged on afternoon tea at the hotel a few times, and it's an experience. However, nothing — and I really mean nothing — could prepare me for the experience of staying at this hotel. For what it's worth, I paid around $1,400 for the night, and I booked through Virtuoso, which came with some additional amenities, including a complimentary massage for two, which adds quite a bit of value on a one night stay.
Let me be totally honest — prior to my stay, I was expecting that the experience would be totally style over substance, and that I'd be entertained by the ridiculousness of the hotel, but would conclude that people should steer clear of this hotel.
I was expecting that this would be a luxury factory, and that there wouldn't actually be any redeeming qualities to the experience for those who appreciate great service. While the hotel is in some regards a total luxury factory, I have to say that I oddly loved my stay, and it might just be my most memorable hotel stay ever. While I'll have a full review soon, below are my brutally honest initial takeaways from my 24 hours at the Burj Al Arab. Let's start with the bad, and move toward the good.
Rooms at the Burj Al Arab are massive and hideous
While rooms at the Burj Al Arab are very expensive, we have to give the hotel credit for the generous room sizes. Entry level rooms at the hotel are 170 square meters (over 1,800 square feet), and are duplex suites. The base rooms here would be considered presidential suites at other hotels.
While the suites are massive, OMG they're hideous. I mean, the interior of Trump's Boeing 757 looks understated compared to these rooms. How weird to go from the hotel's amazing pools and beach club to this interior, where you feel like you're in some kind of a royal prison, or something. The purple, the polka dots, it's just a lot to take in… I'll let the pictures speak for themselves.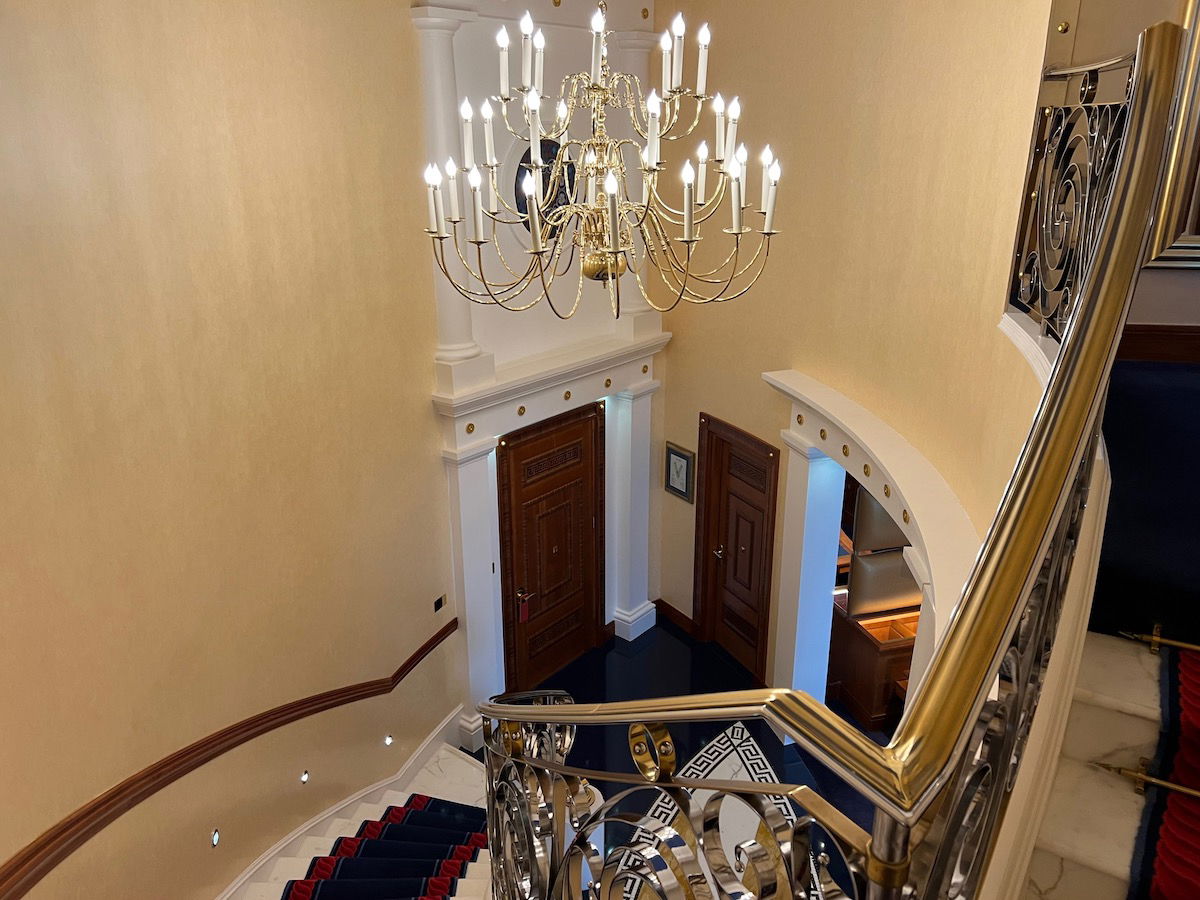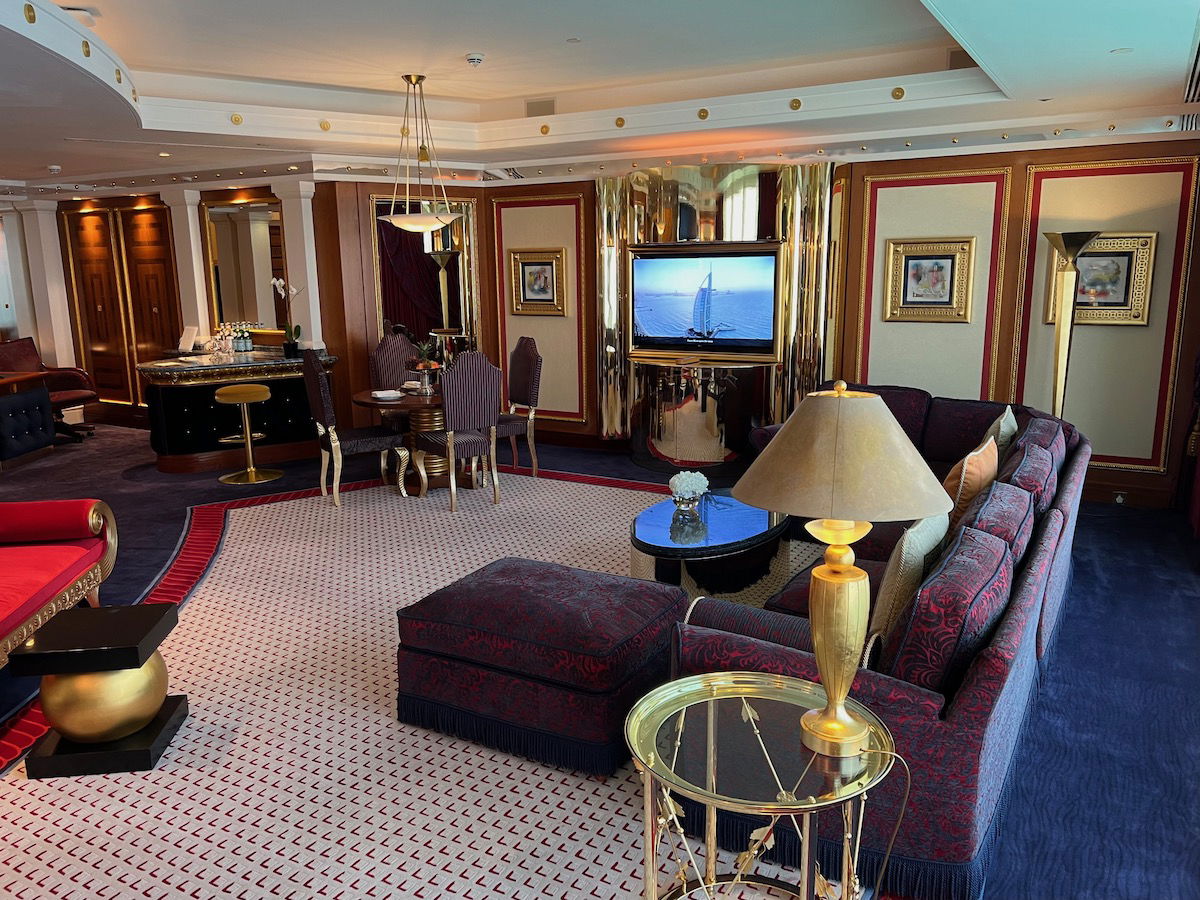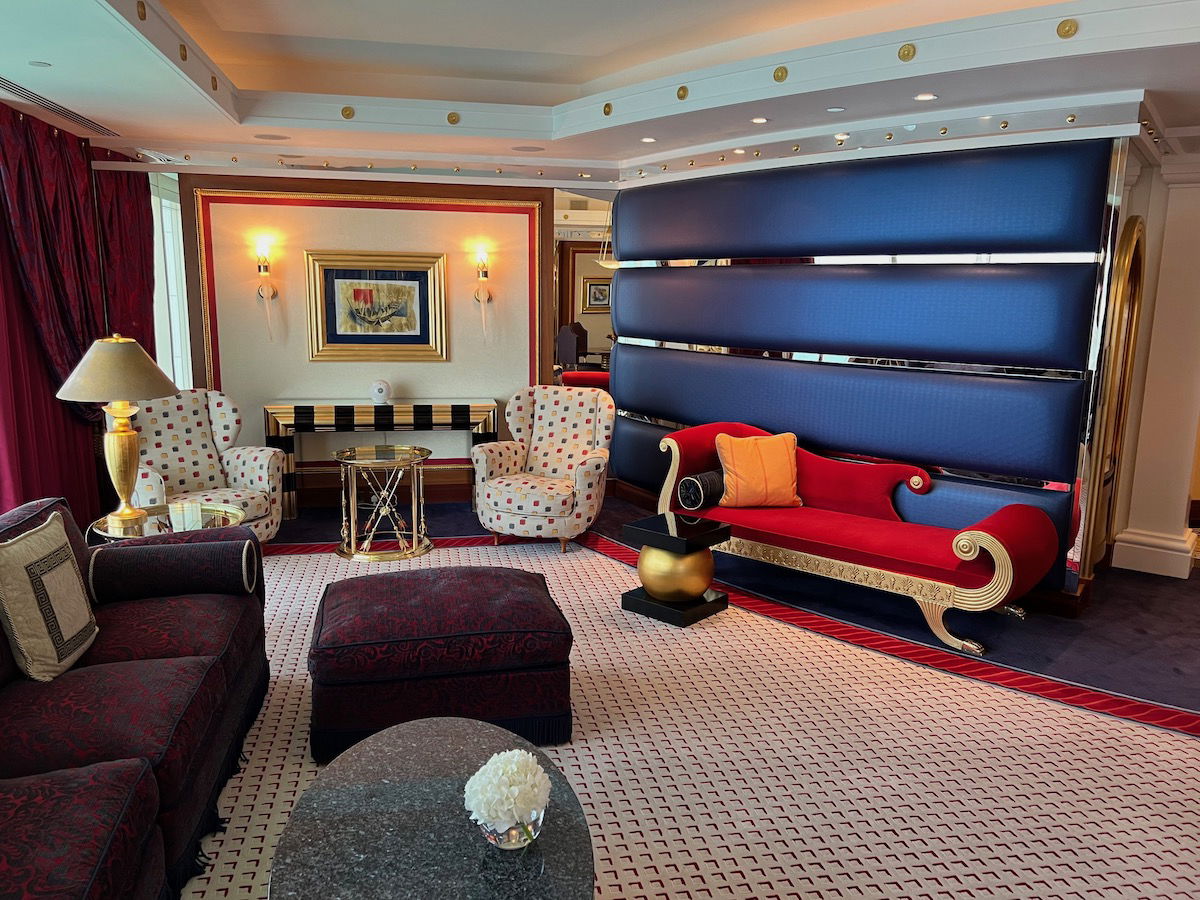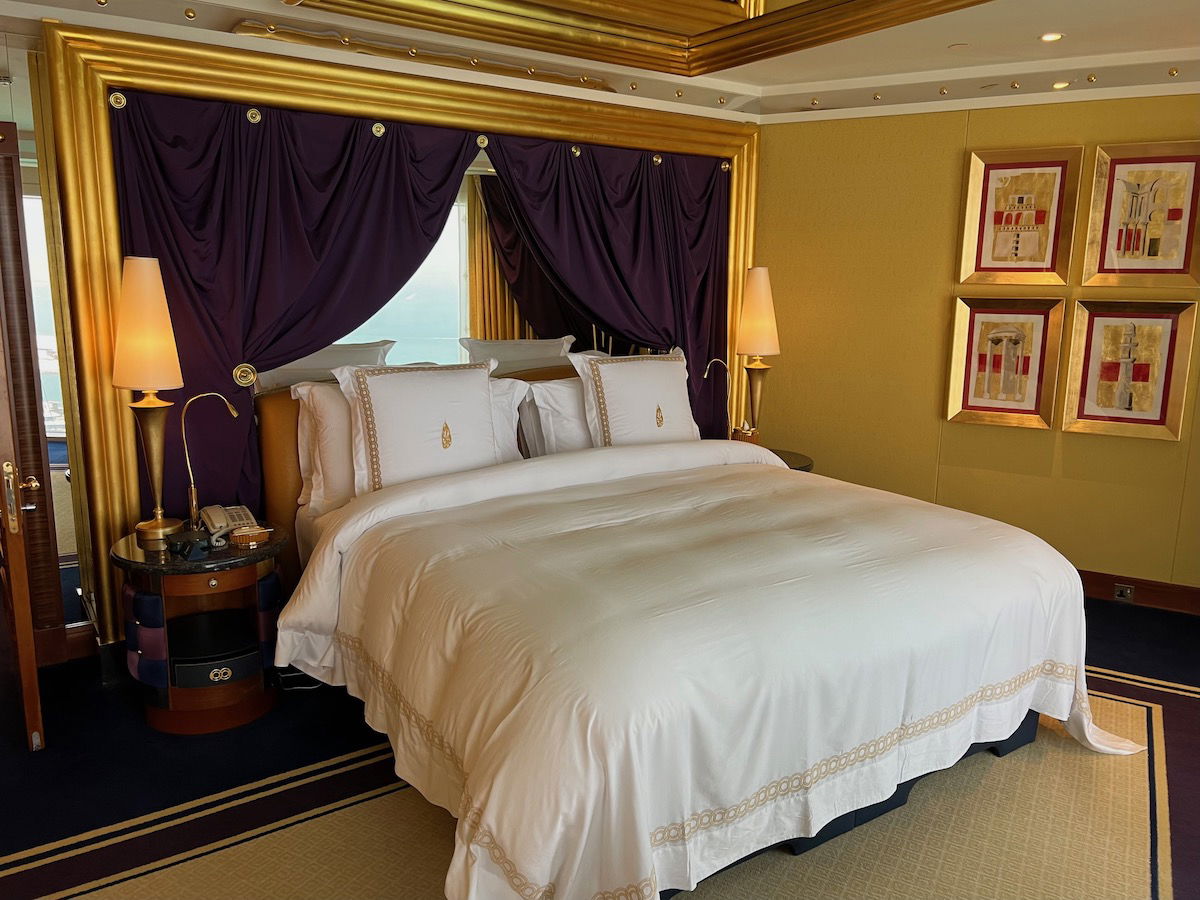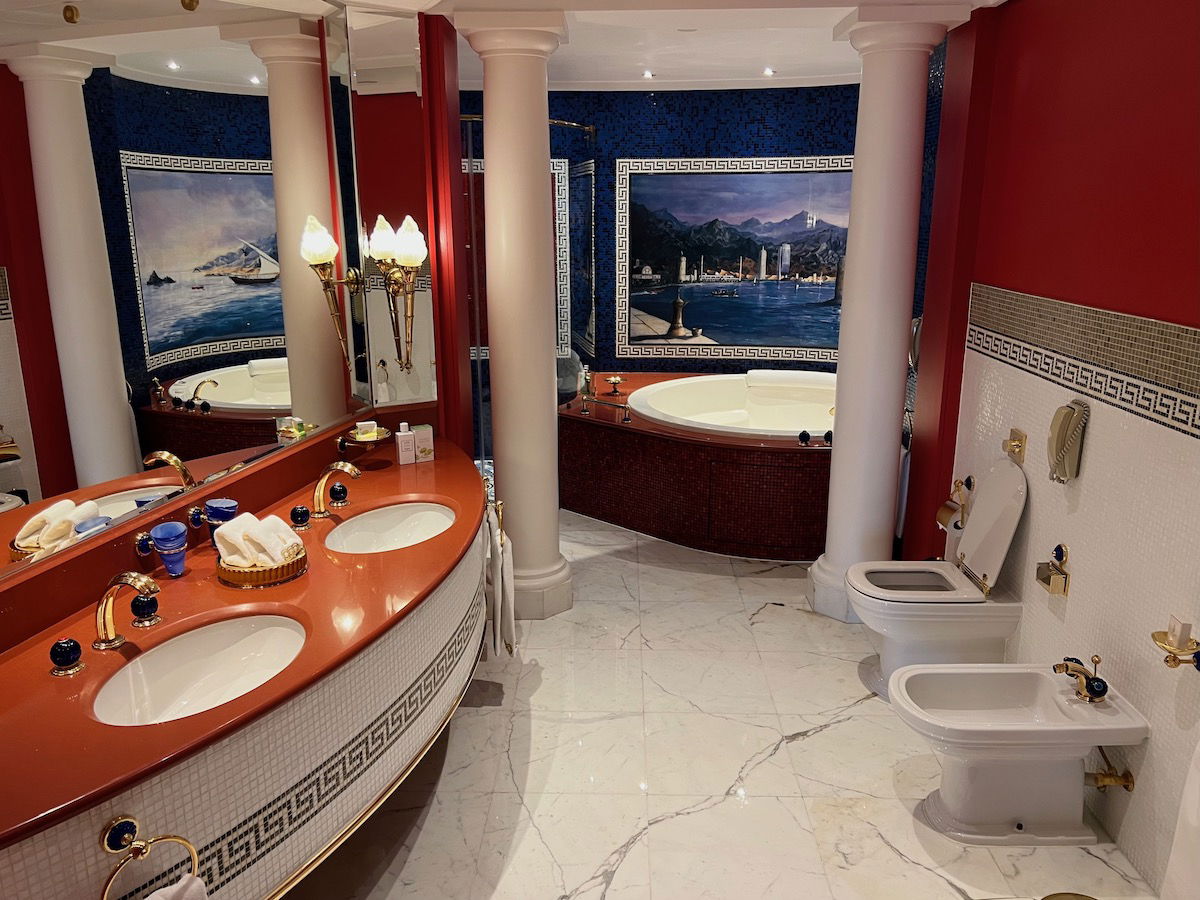 The odd high-low approach that the hotel takes with room design is so weird as well. Like, the toilet paper holder is made of gold, but you have a phone and safe straight from 2003…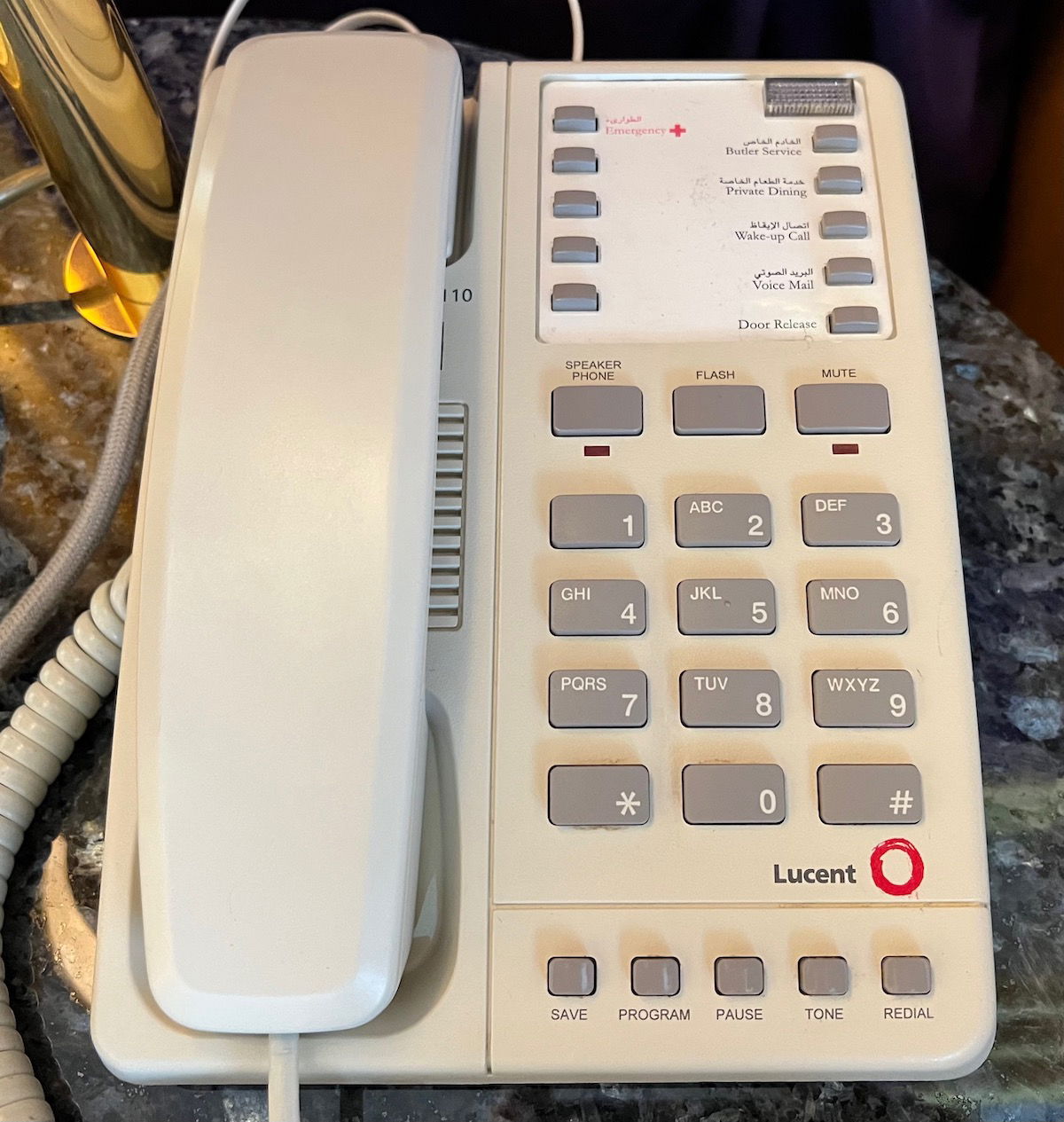 Guests at the Burj Al Arab are the most entertaining thing ever
Okay, this sounds like a negative, but it's kind of a positive, depending on how you look at it. The Burj Al Arab is probably Dubai's most famous attraction. Dubai is a city full of people looking to show off, and there's nowhere that happens more than at the Burj Al Arab.
The hotel is basically full of zombies just taking pictures and videos all day. No one actually seems to be looking at anything directly, but rather they're exclusively looking at things through their phone camera.
As we were being escorted to our room, one of the recommendations from the friendly associate was "you can have a gold cappuccino in the lobby lounge, it's very popular for Instagram" (and yes, we ended up having one, because for 24 hours I just pretended that the conversion rate to the Dirham was different, which you really have to do if staying here… however, I won't be posting it to Instagram).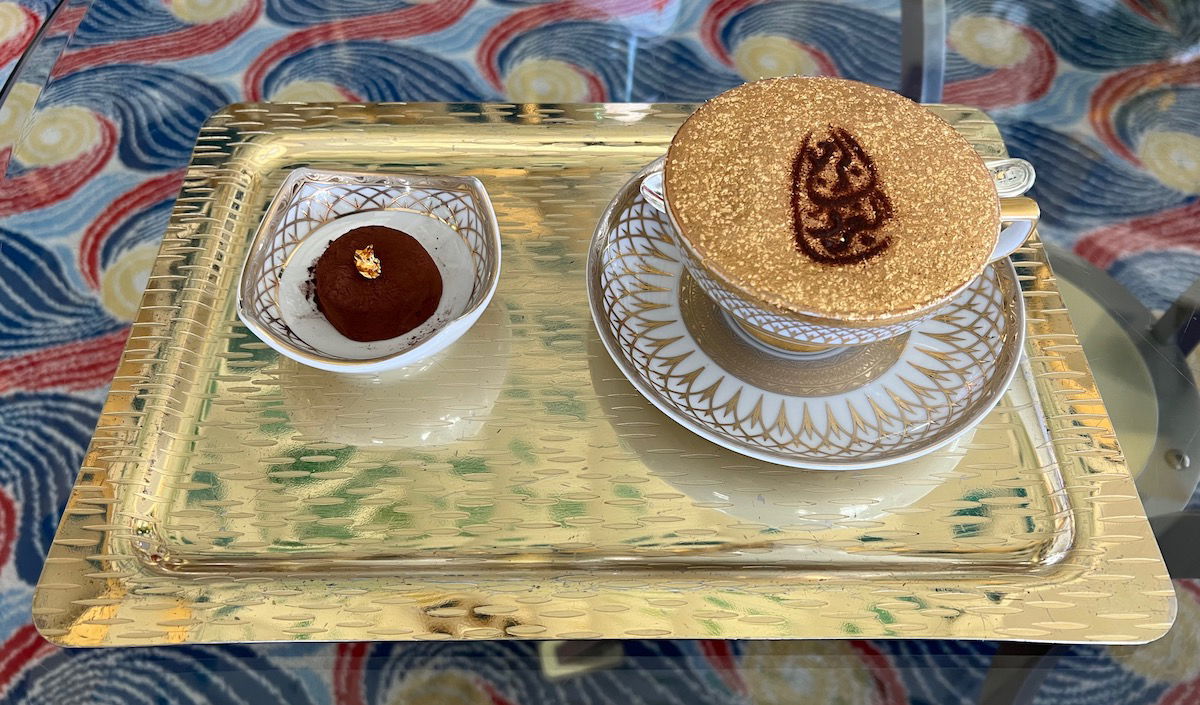 But honestly, nothing I say can do justice to how the guests at this hotel were acting. I'd say about half of the guests seemed to be there exclusively in order to create social media content. Normally this would be horrifying in the context of a luxury hotel, but I don't think I've ever laughed so hard in my life.
I spent 90 minutes at breakfast enjoying the view and working on my laptop, and the people at the tables on both sides of us were doing photoshoots nonstop. Everything about it was beyond hilarious. They then went to the pool, and started to do a catwalk-style walk. It was just amazing. And it wasn't just these ladies, it was basically everyone.
Let me once again emphasize that this is the furthest thing from your typical luxury experience, but for 24 hours I honestly felt like I was transported to a different planet that's much funnier than the one I usually call home.
It's also interesting to note how different the guest profile was from all the other properties I've stayed at in the past few years. We didn't overhear anyone else with an American accent, and I'd say 90%+ of the guests were either Chinese or Russian.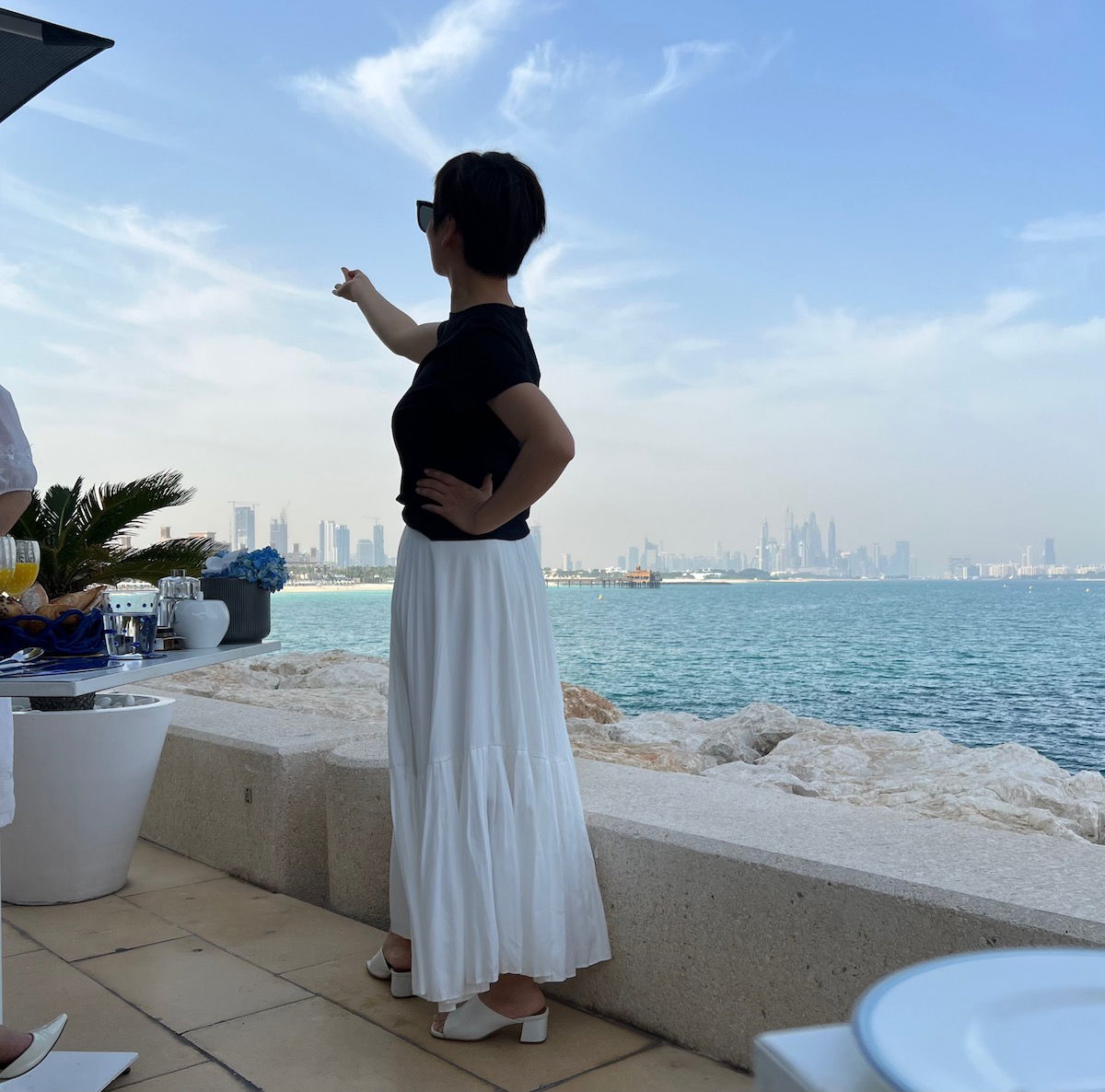 The Burj Al Arab is kind of stunning, in a gaudy way
While I think the rooms at the hotel couldn't be uglier, there's no denying that the hotel is an icon, and being able to actually stay here, and access all parts of the hotel is a fun experience.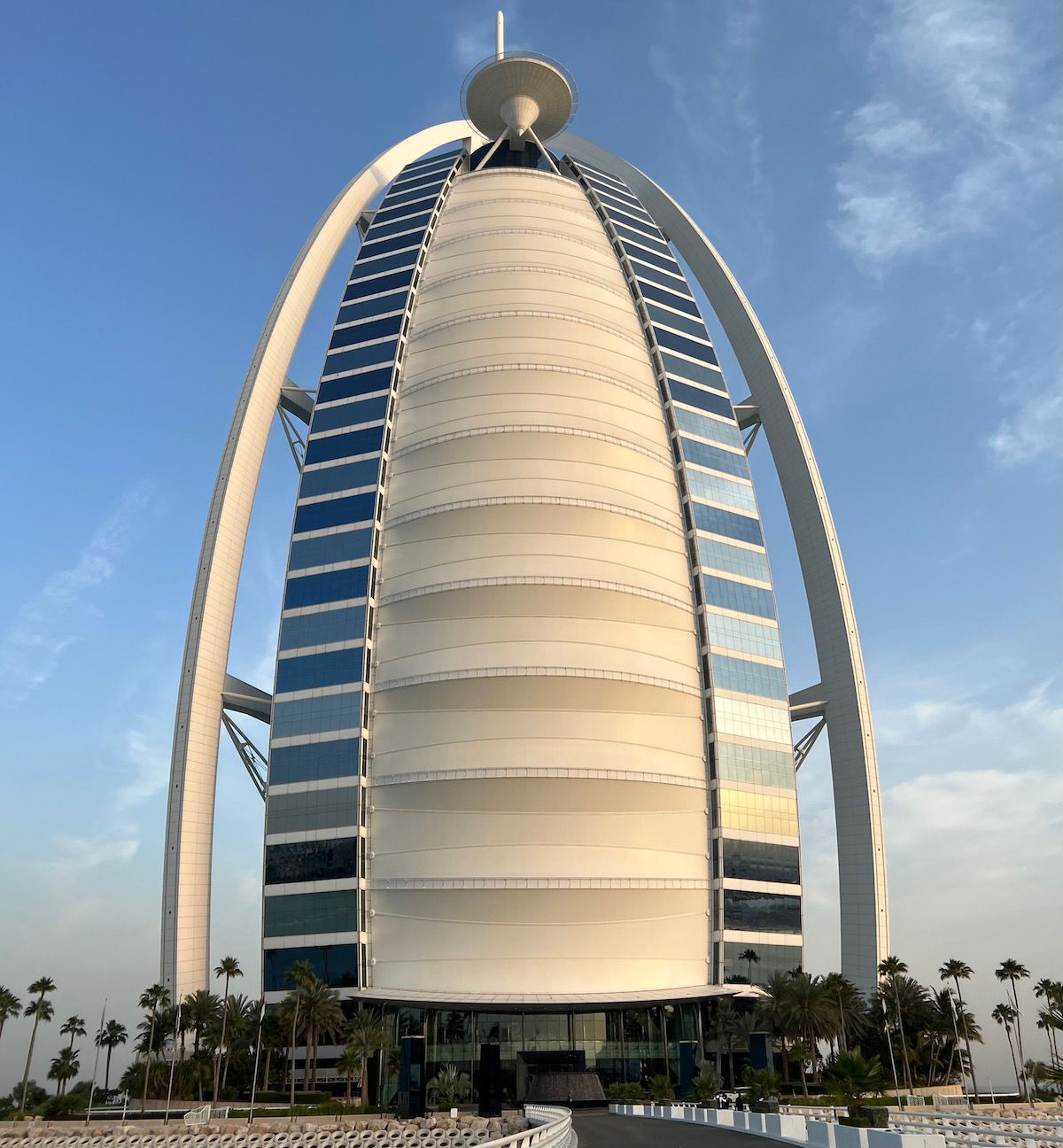 The lobby is legitimately stunning and mesmerizing…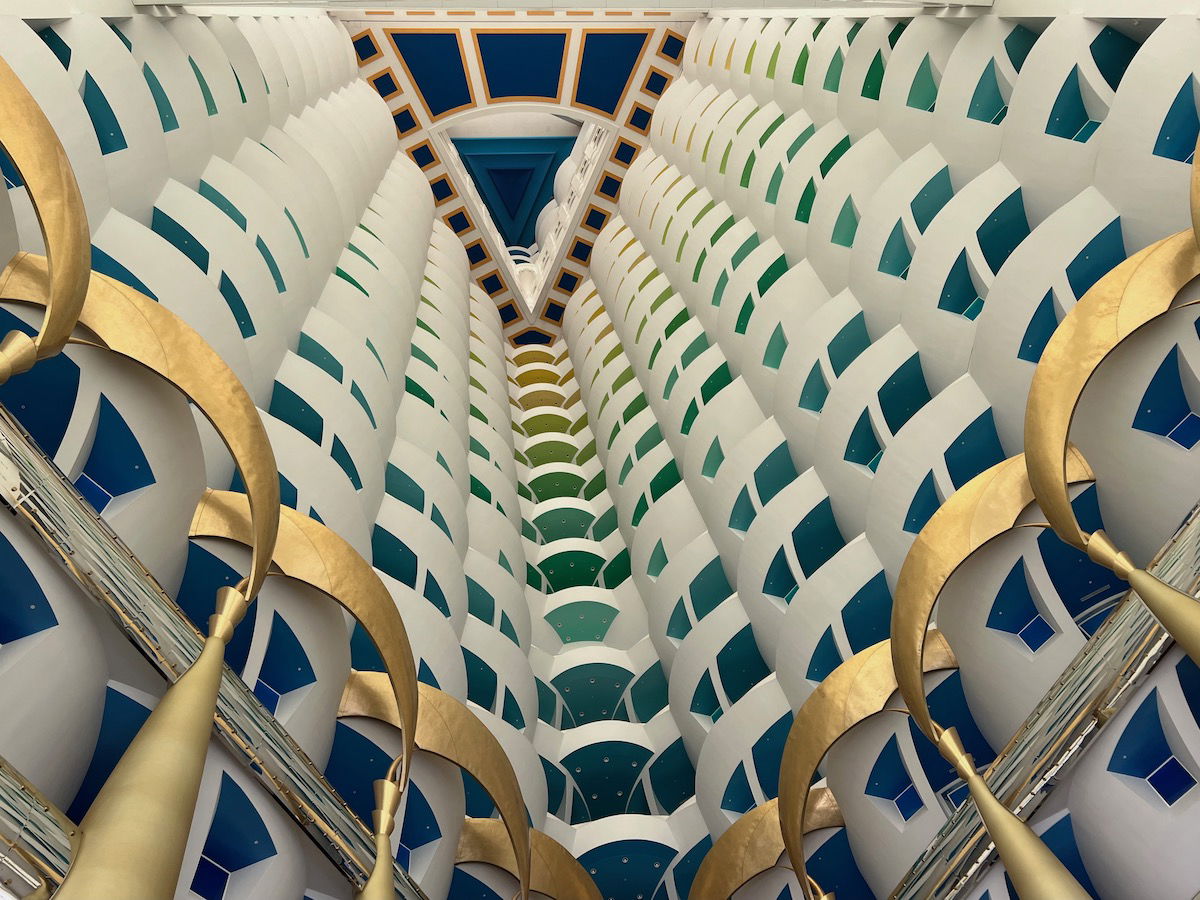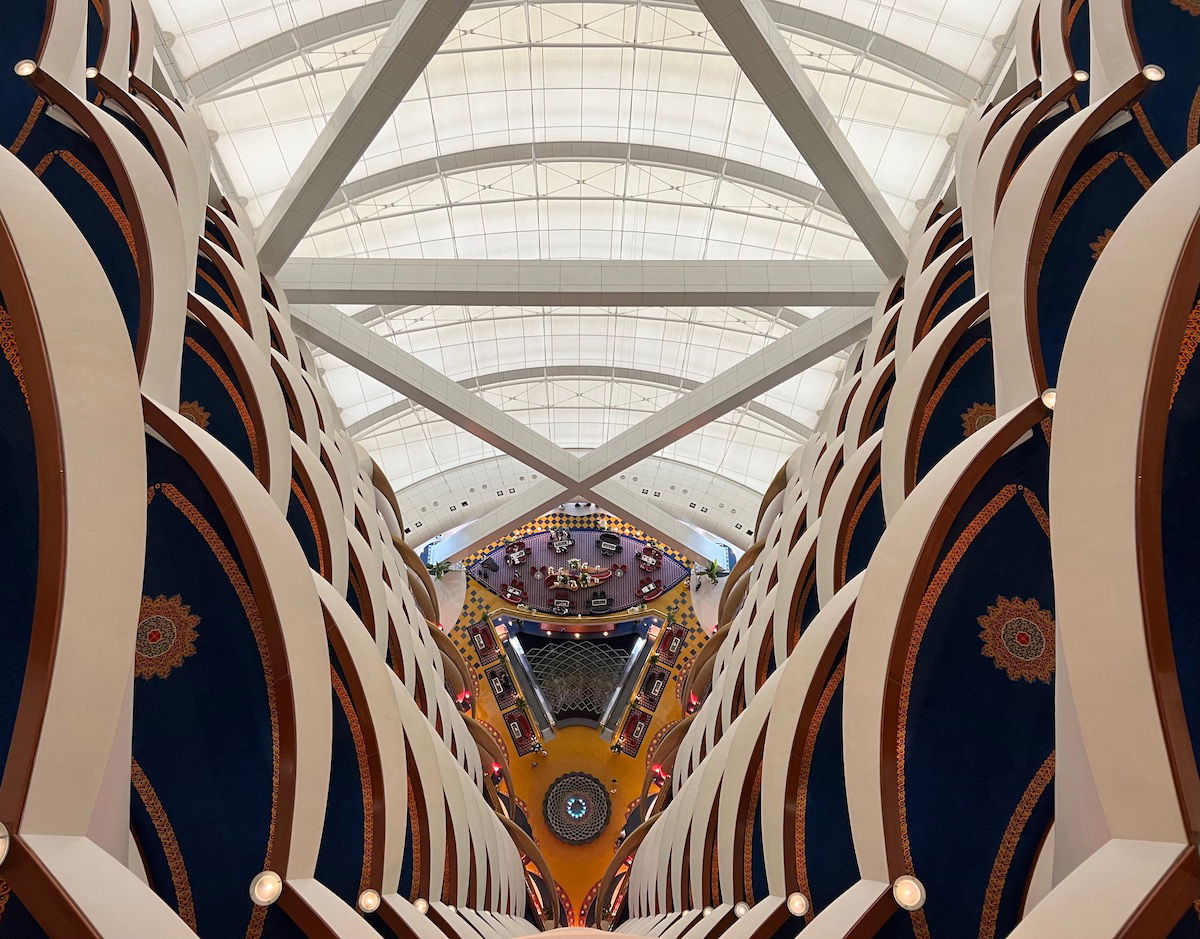 As is the indoor pool…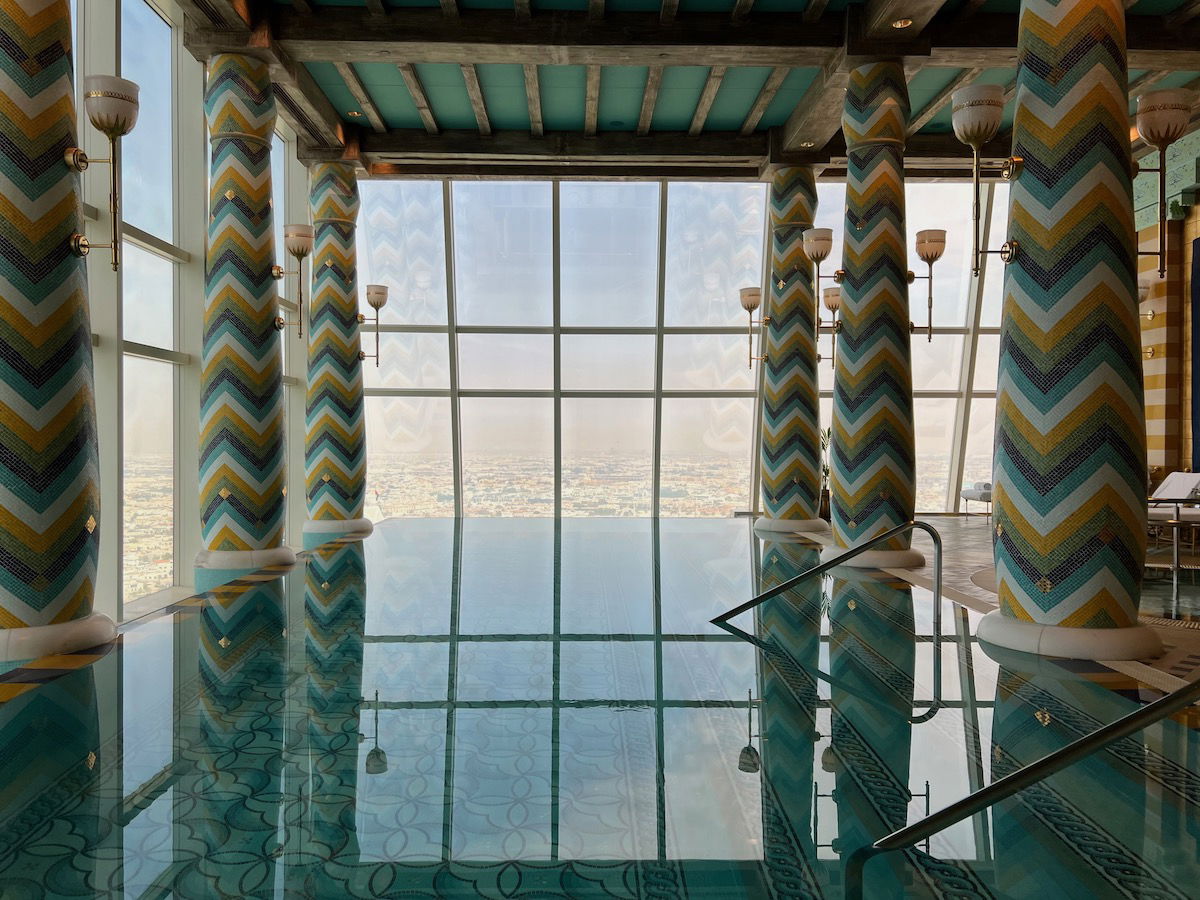 And then there are other parts of the hotel that you can't help but appreciate for just how gaudy they are. Would I want my home to look like this? No. Would I want to stay in a hotel like this for a week? No. Is it kind of awesome to see for one night? Absolutely!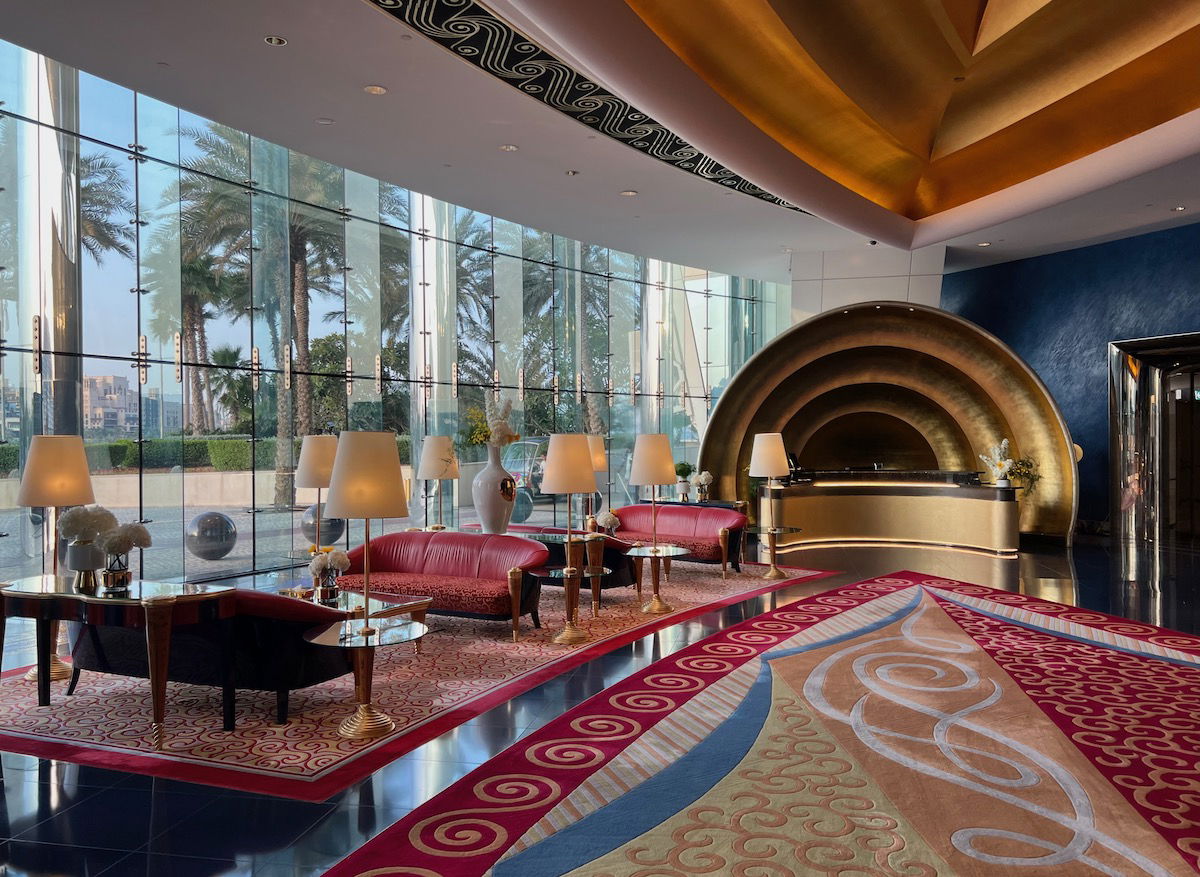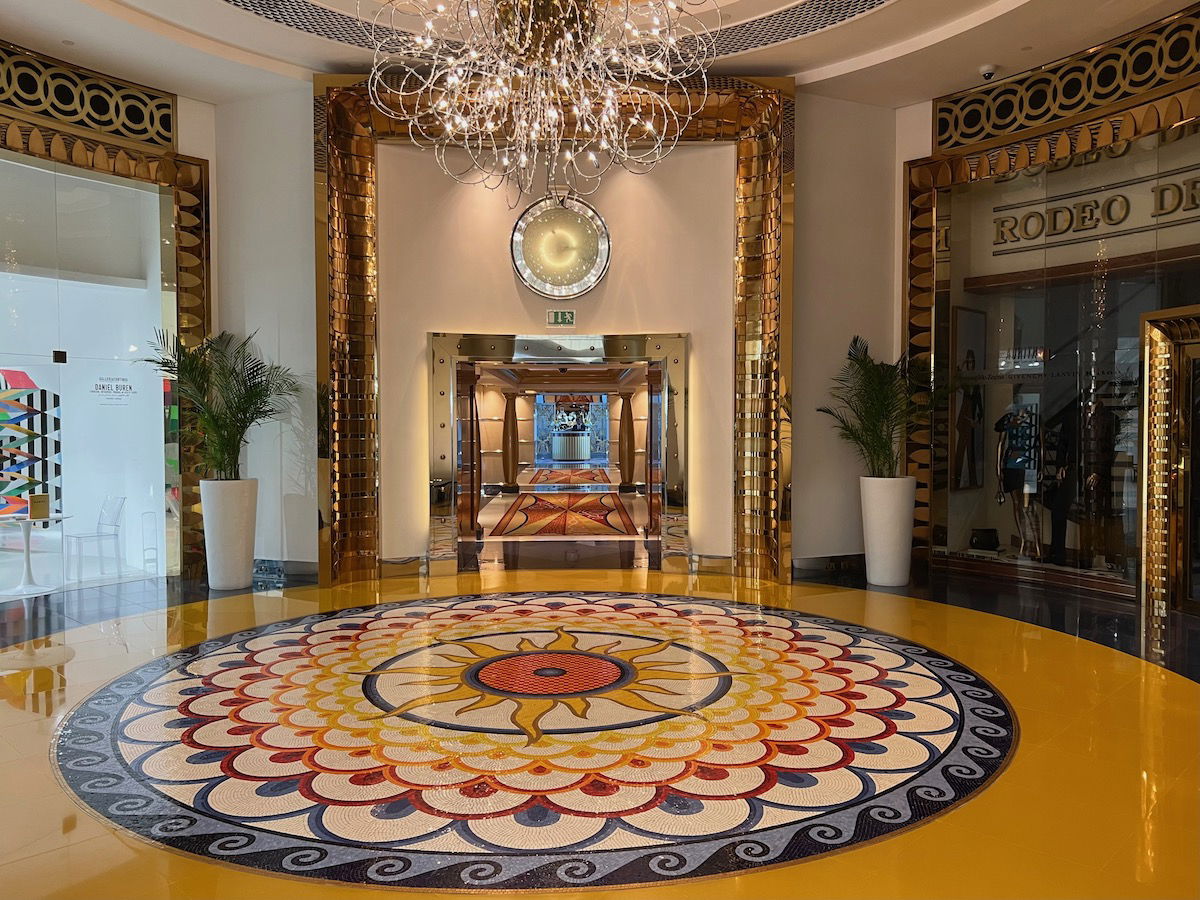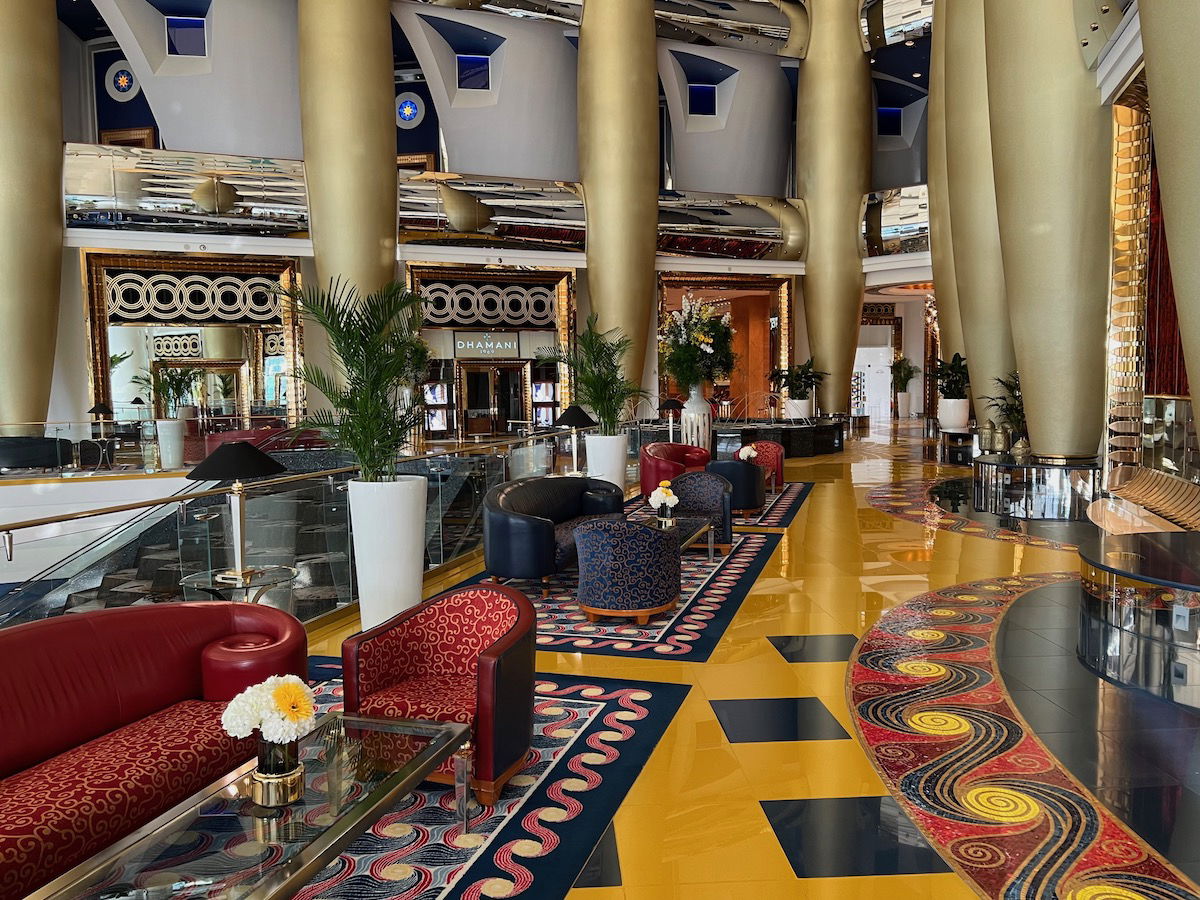 The Burj Al Arab has exceptional service
While one of the main reasons to stay at the Burj Al Arab is for the extravagance and entertainment, what positively delighted me was the level of service. Even though this hotel is a luxury factory in terms of the number of guests and behavior, service couldn't have been better across the board. This hotel has an almost uncomfortably high staffing level, yet every single employee we interacted with was delightful.
Despite this feeling like a "factory," every employee managed to make us feel like we were the only guests there. This is true not only in terms of how polished they were, but also in terms of the interest they showed in guests, and the personality they had.
For example, at breakfast they'd keep asking if we wanted more coffee, if we wanted some dessert, etc. At the pool, they'd constantly refill our waters, offer to clean our sunglasses, and pass around complimentary treats. And they'd always introduce themselves by name, ask how our stay was going, ask if we had any plans for the day, etc.
We had dinner at the Burj Al Arab's iconic fish tank restaurant (Ristorante L' Olivo at Al Mahara), and service was honestly on par with some Michelin-starred restaurants we've been to. Again, I was expecting service wouldn't be great because the hotel doesn't have to try, but that's not the case.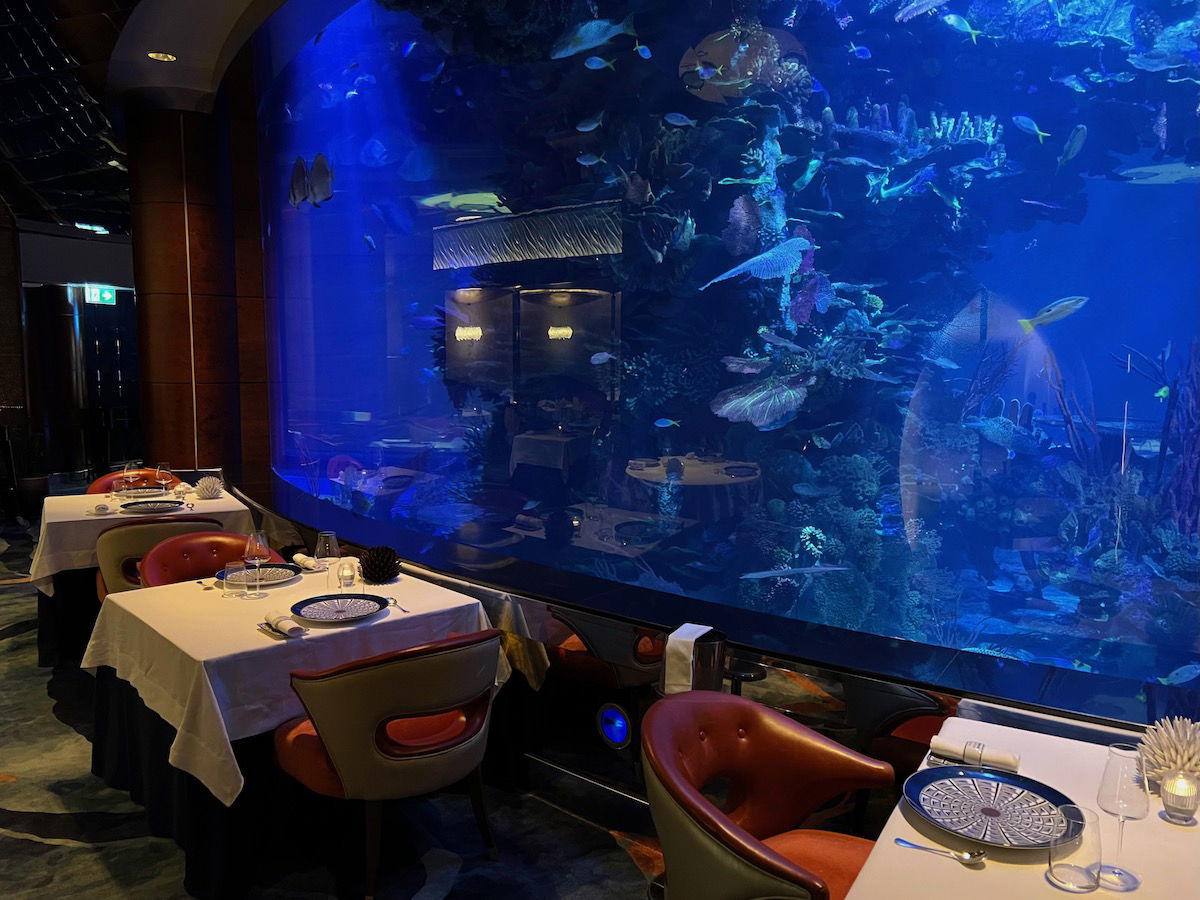 So there's not just style at the hotel, but also substance to the experience.
The Burj Al Arab has some amazing leisure facilities
Interior of the rooms aside, the hotel has some really phenomenal facilities for a beach-style holiday. For one, the Burj Al Arab has an incredible pool deck with two huge pools. This is the best pool setup I've ever seen in Dubai, so if you're looking for some sun and to lounge by the pool, the Burj Al Arab is hard to beat.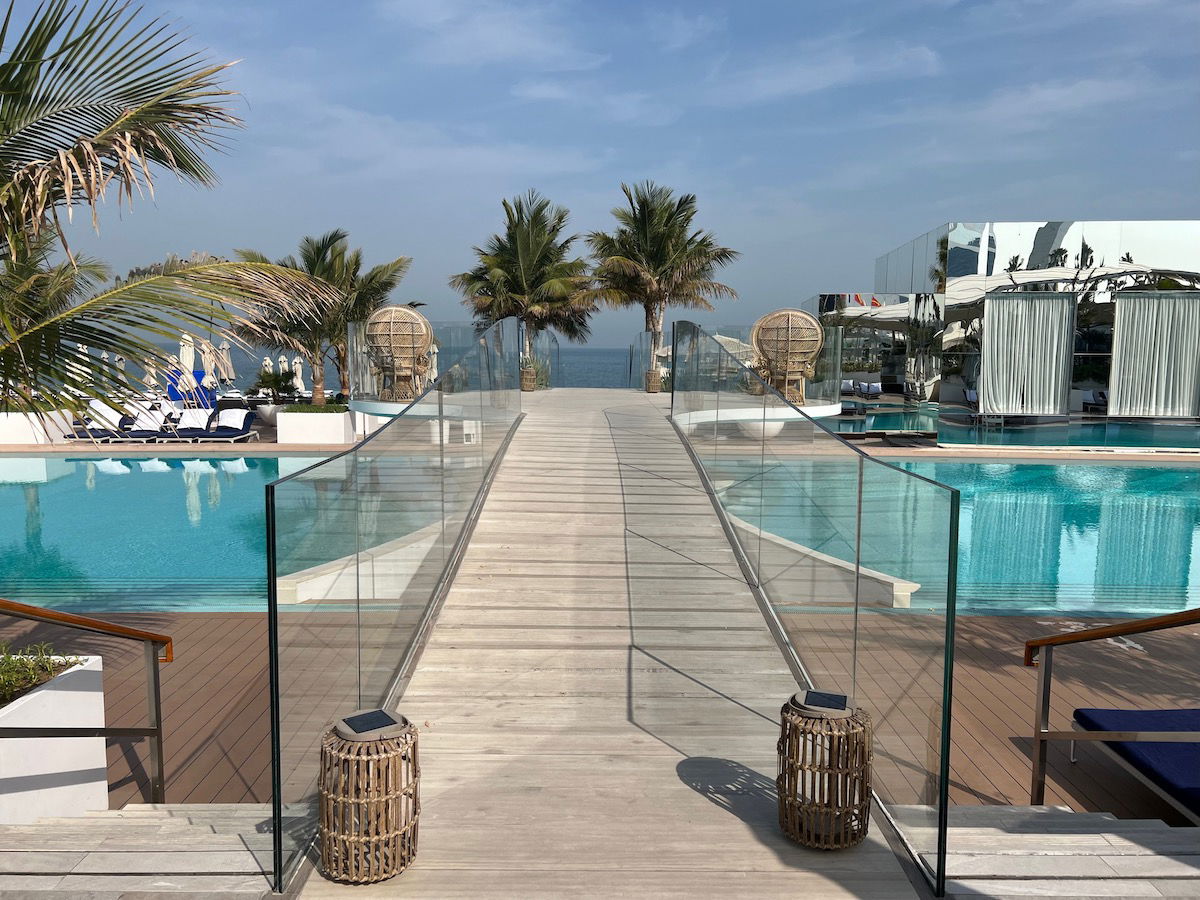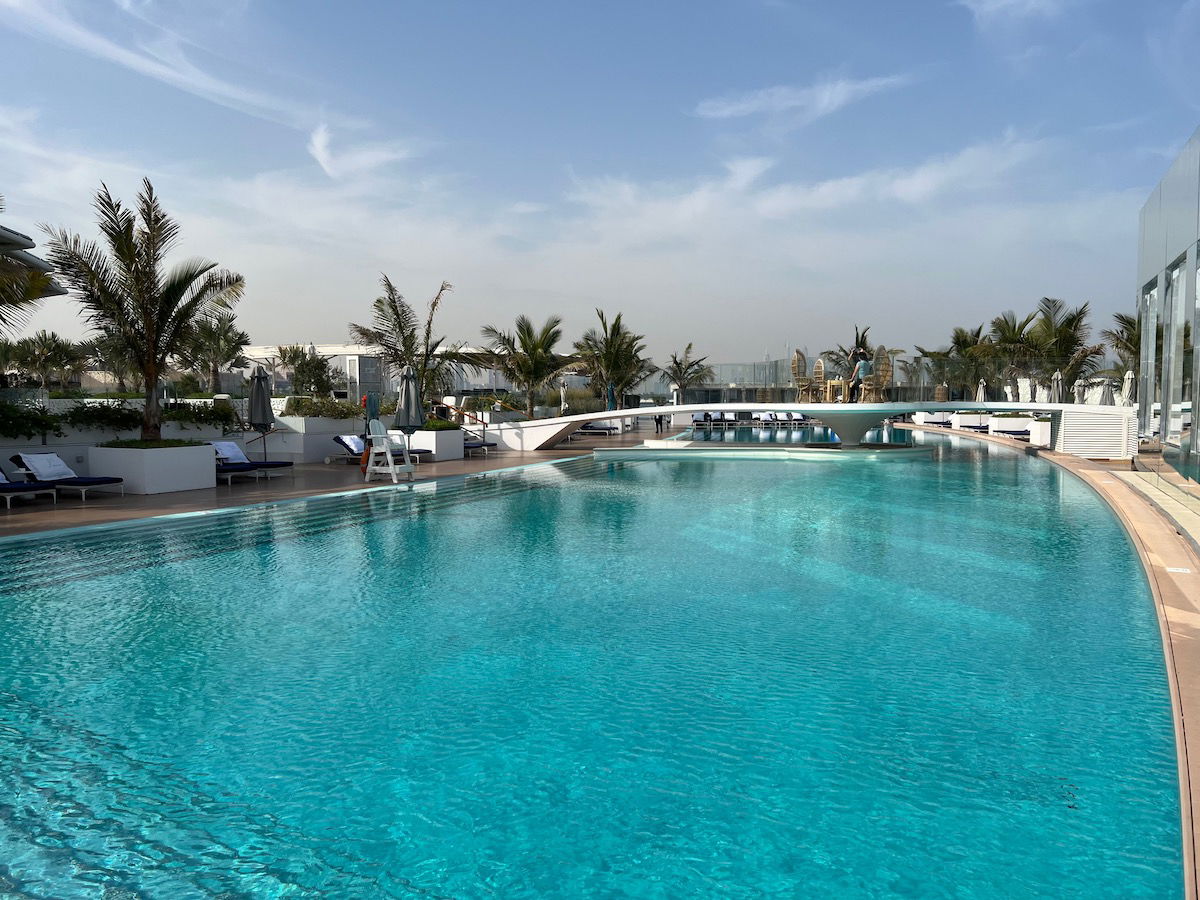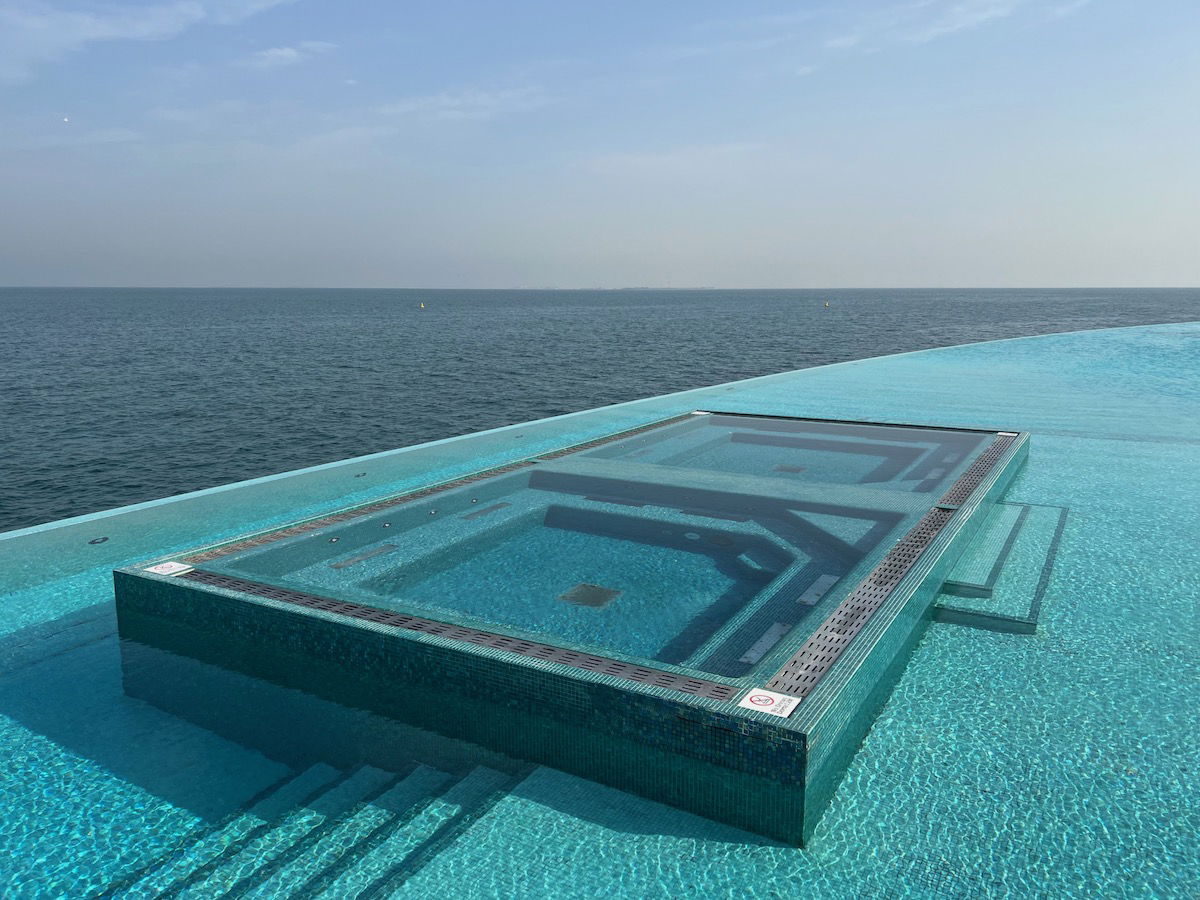 Furthermore, guests get access to a beach club that felt surprisingly chic, and where you could easily enjoy your day on the beach, swimming in the pool, and having delicious food and drinks.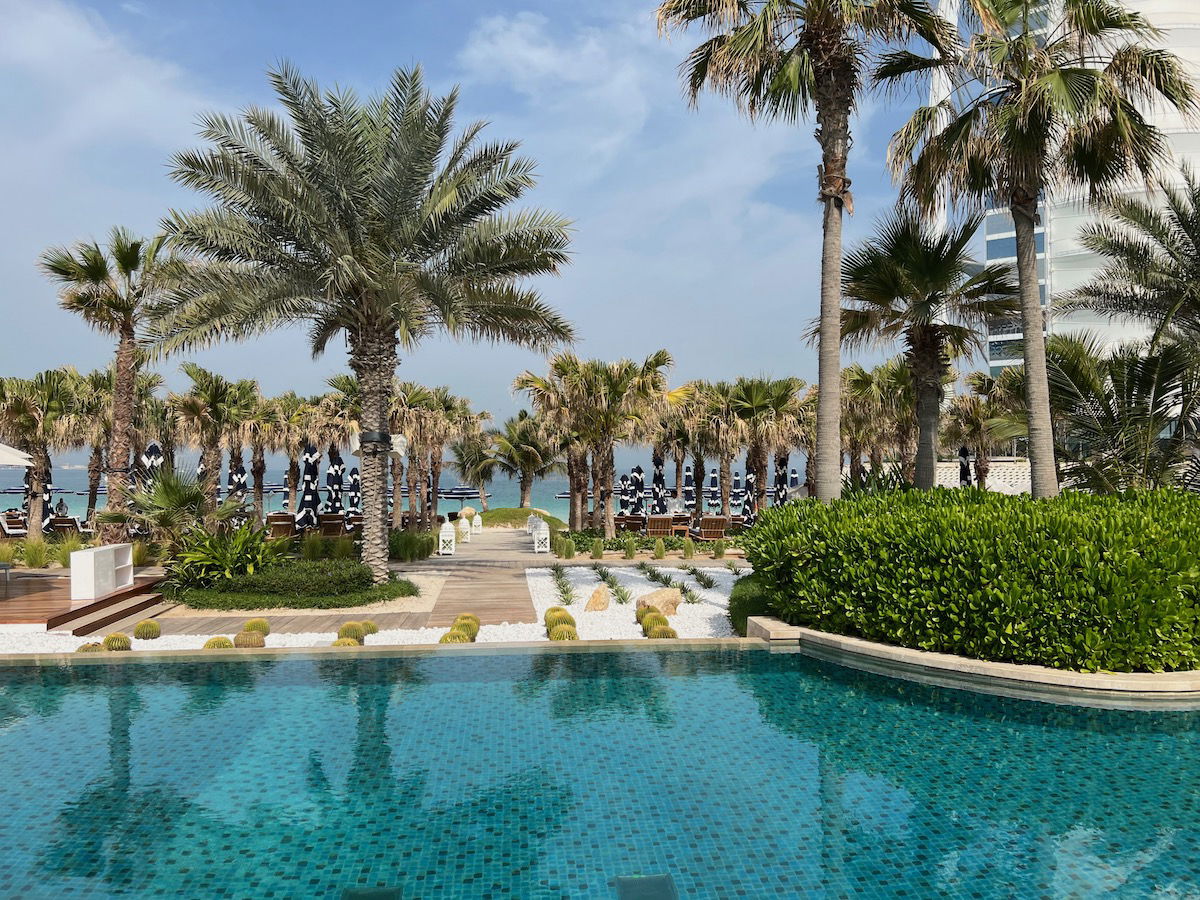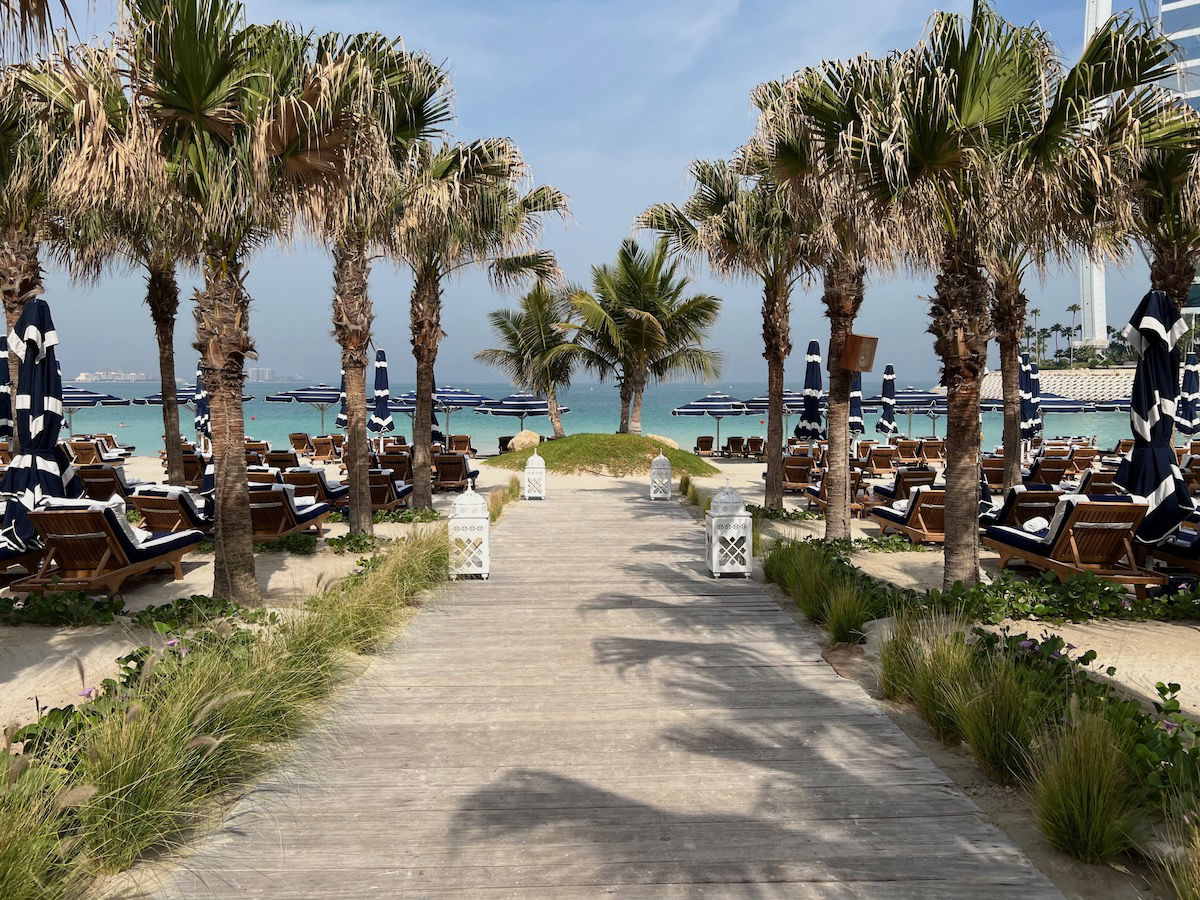 The Burj Al Arab has some generous amenities
Another thing that impressed me about the hotel is how many unadvertised "freebies" are included with the stay. Of course the hotel isn't cheap, but they surprised me in several ways I wasn't expecting. For example, in addition to offering large Hermes toiletries, the hotel also offers a variety of other Hermes products that are intended to be taken home.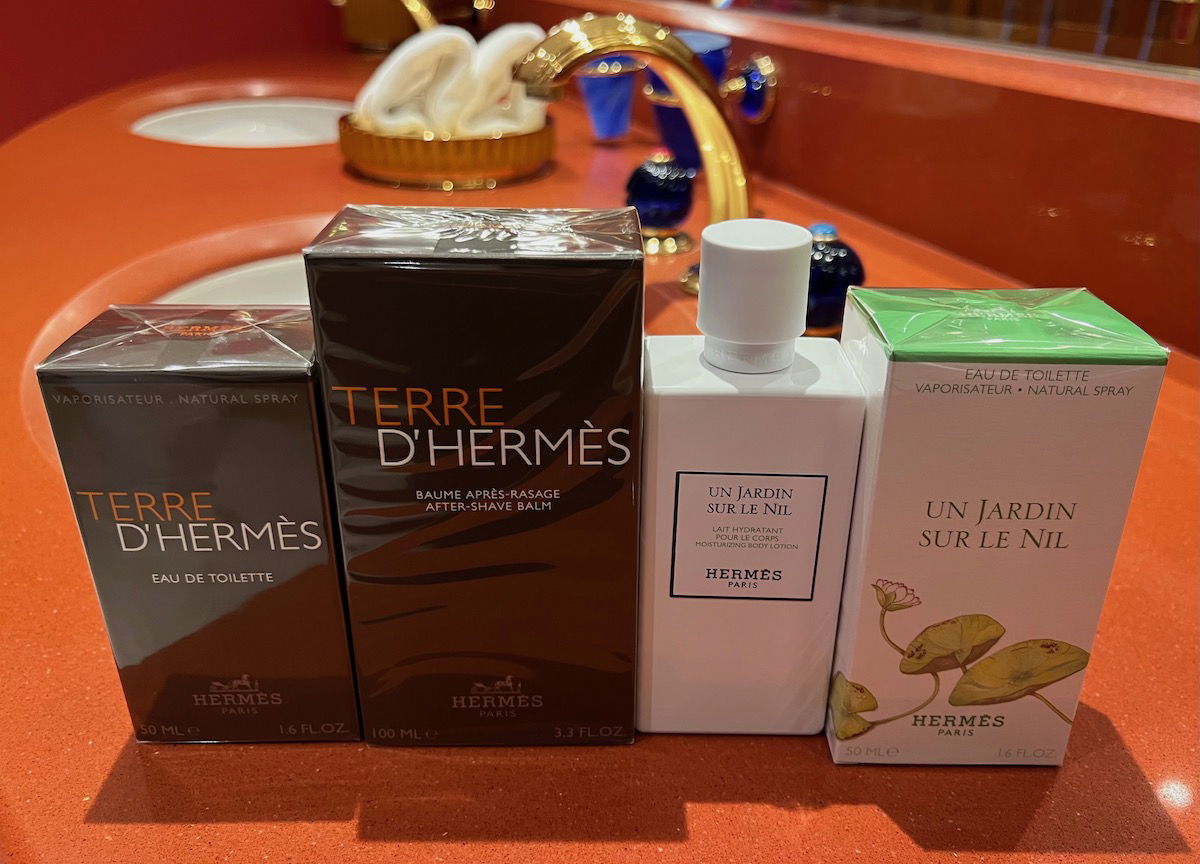 Furthermore, in the evenings the hotel brings guests canapés (with caviar, naturally), and also has a complimentary happy hour where you can have alcoholic drinks delivered to your room (including wine and liquor).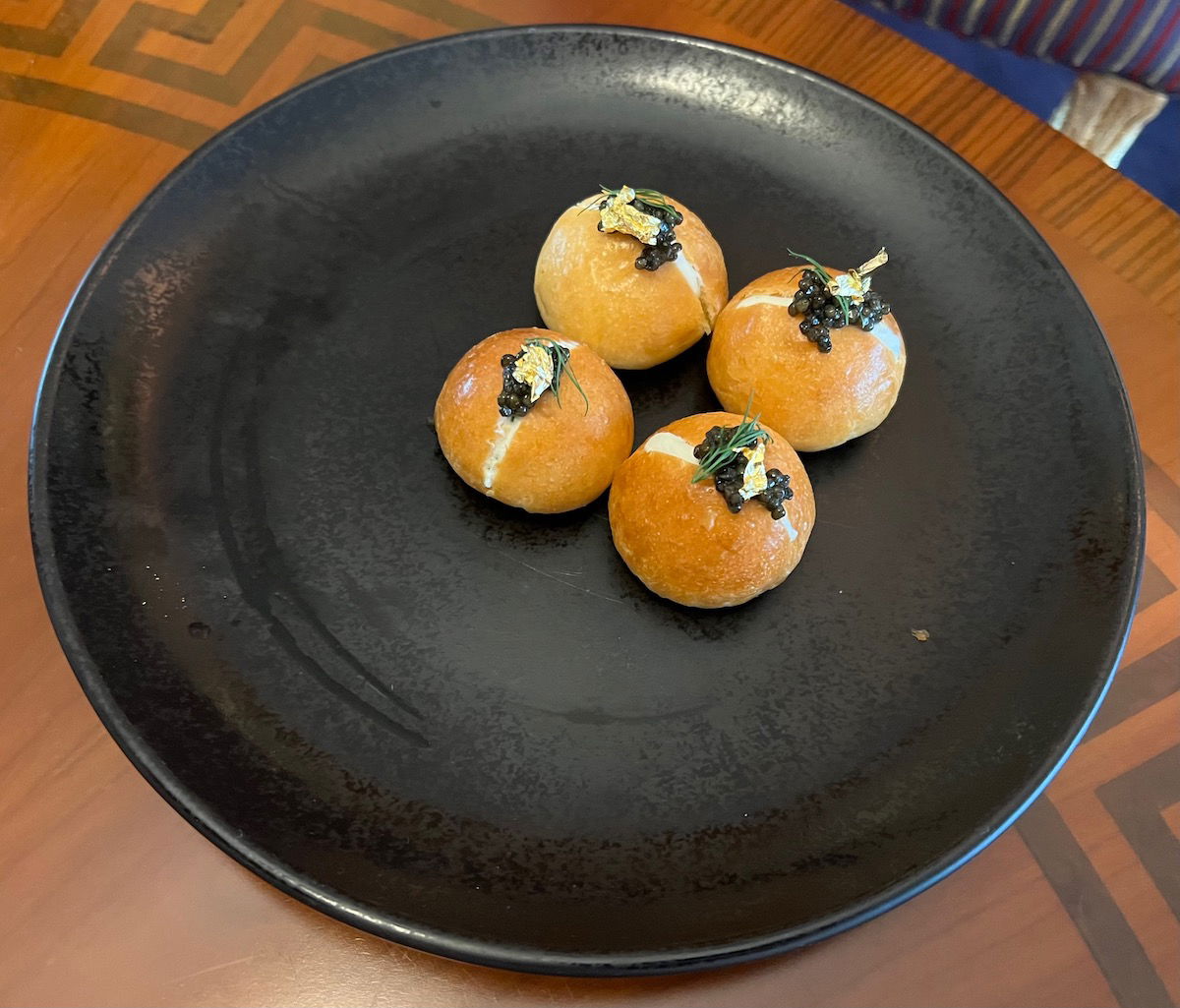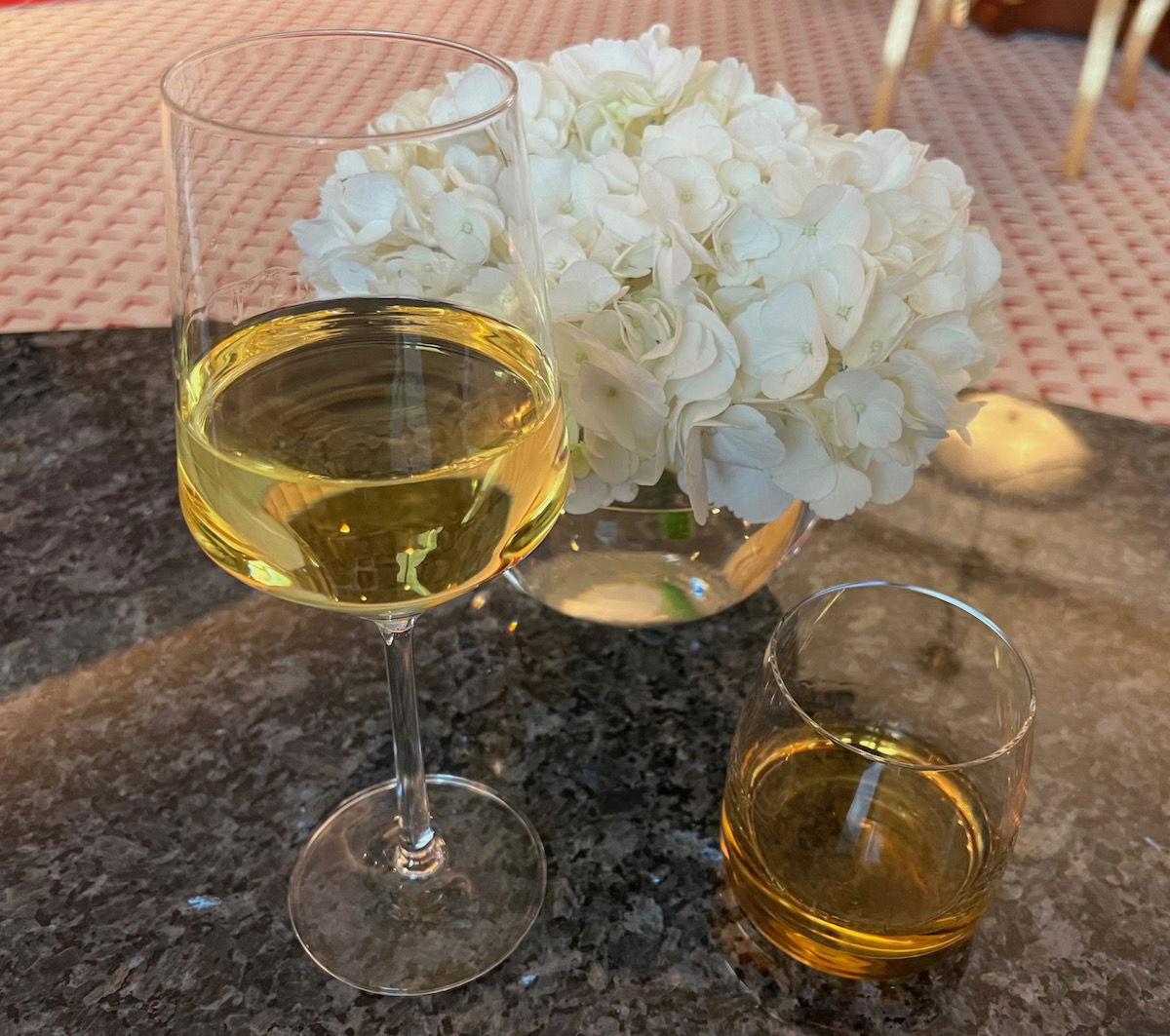 Admittedly you're paying a pretty penny to stay here, but at least the hotel isn't cheap with guests, as you'll find at many other properties.
Bottom line
The Burj Al Arab is absolutely ridiculous. The rooms are hideous. It's the furthest thing from bespoke luxury.
Yet beneath the superficial exterior, I actually kind of loved our stay at the hotel. From the massive suites, to the truly polished and genuine service, to the ability to stay in this (tacky) icon of a hotel, it was one of the most interesting hotel stays of my life.
Don't stay here if you want your typical luxury hotel experience. Do stay here if you want to experience a hotel that's so quintessentially what people stereotype Dubai as being. This hotel is so over-the-top, but fortunately there's some substance to it as well. The service at the hotel is amazing, there are all kinds of "freebies," the pool and beach club are actually top notch, and getting to spend a night at the Burj is such a treat.
I wouldn't want to spend a week here, but if you're into luxury hotels and can swing it, I'd absolutely recommend spending up to a few nights here. There will be no shortage of entertainment, that's for sure.
What's your take on the Burj Al Arab?