---
The last time I reviewed JetBlue Mint was in August 2016, so I figure it's time for an update to see how the product is holding up.
After a long layover in Boston, I headed to gate C17 around 8PM, in time for the 8:10PM scheduled boarding time. Unfortunately there was no plane at the gate, and then soon enough the gate monitors were updated to indicate a 9:02PM departure.
As much as I love JetBlue, their on-time performance isn't amazing, and they're also not great about posting delays in advance, even when they know they're happening. We ended up finally boarding at 8:50PM, and as my boarding pass was scanned I was told "enjoy your Mint experience." And enjoy my Mint experience I did!
JetBlue 987
Boston (BOS) – Los Angeles (LAX)
Tuesday, August 21
Depart: 8:55PM
Arrive: 12:19AM (+1 day)
Duration: 6hr24min
Aircraft: Airbus A321
Seat: 2A (Mint)
Ah, JetBlue Mint, the best way to travel domestically! At the door I was greeted by the fabulous Grecia, who welcomed me onboard and pointed me towards my seat. The Mint cabin consists of a total of 16 seats. This includes three rows in a 2-2 configuration, and two rows in a 1-1 configuration.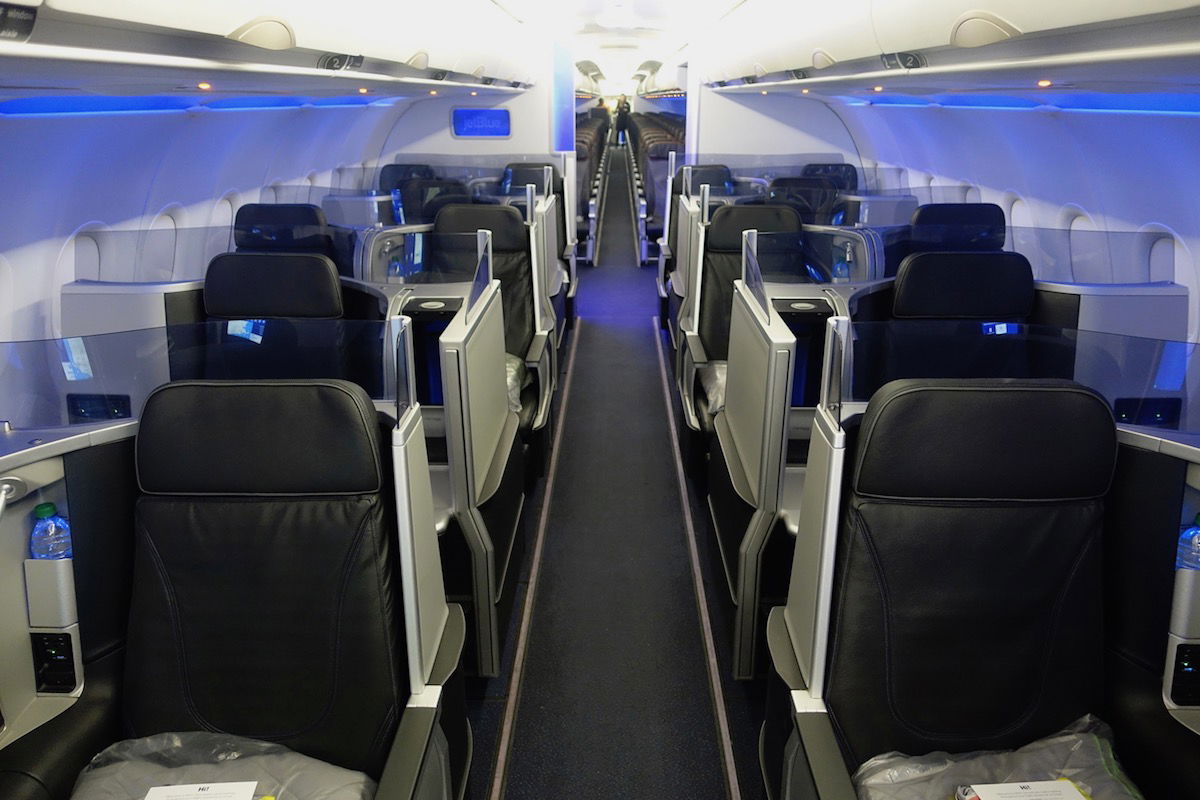 JetBlue A321 Mint cabin
The single seats are available on a first come first served basis at the time of booking, and I managed to score one of these. What makes them so special is not only that you're sitting alone, but that your seat also has a door. It's pretty amazing that JetBlue was the first airline in the world to install doors in business class.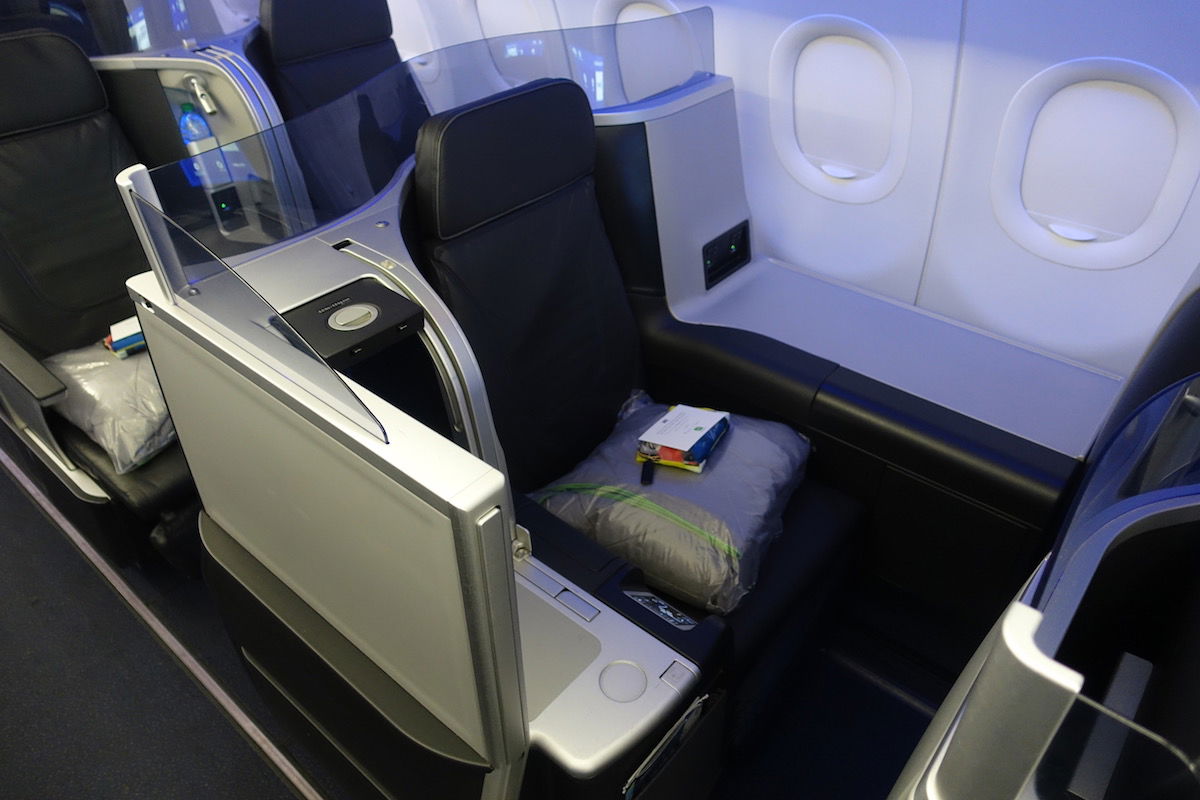 JetBlue Mint suite
If you don't end up in one of the suites, you'll still have a nice fully flat seat that's on par with the transcon hard products offered by other airlines. On this particular flight only 11 of the 16 seats up front were taken, so several people even had empty seats next to them.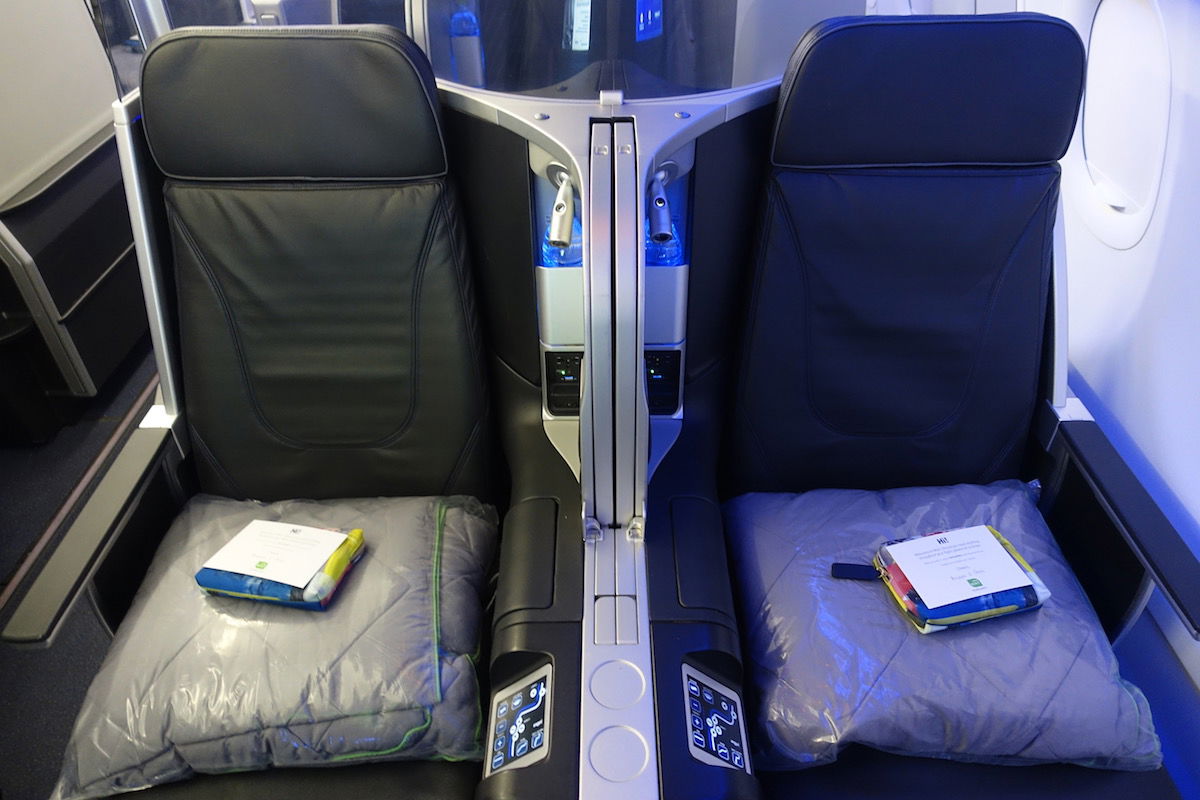 JetBlue Mint seats
I love how well designed the Mint suites are. To the left of my seat was a large counter with four power outlets (two 110v and two USB).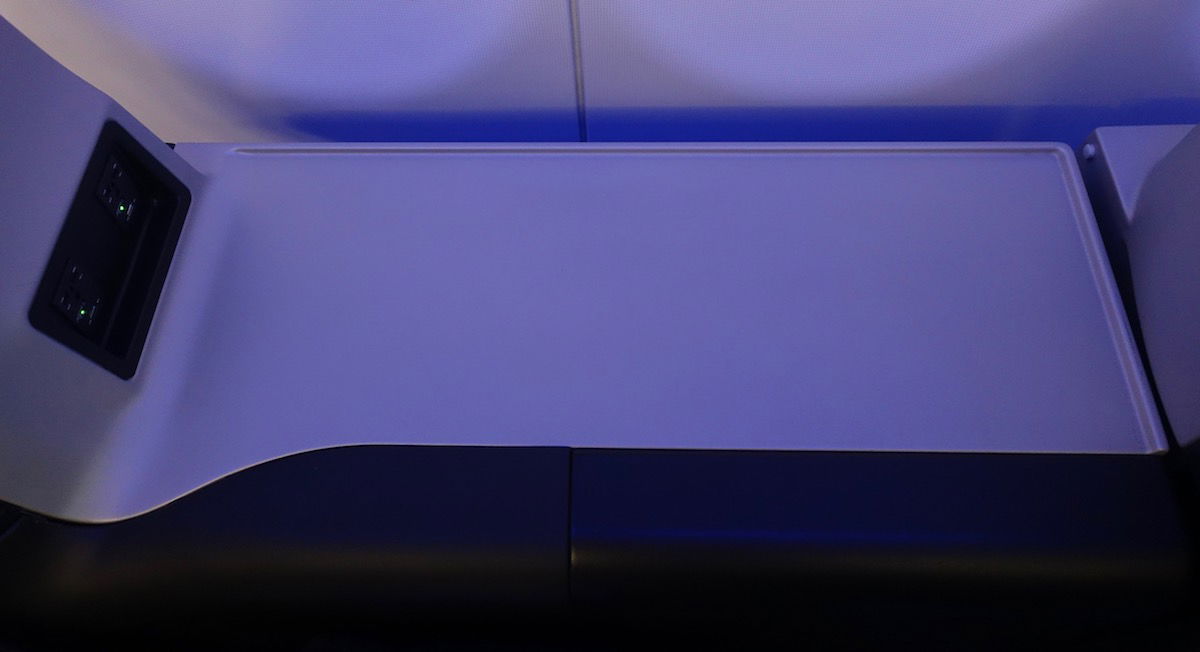 JetBlue Mint suite side console
There's another counter to the right, which has yet another two power outlets (one 110v and one USB). This is also where the seat and entertainment controls are located.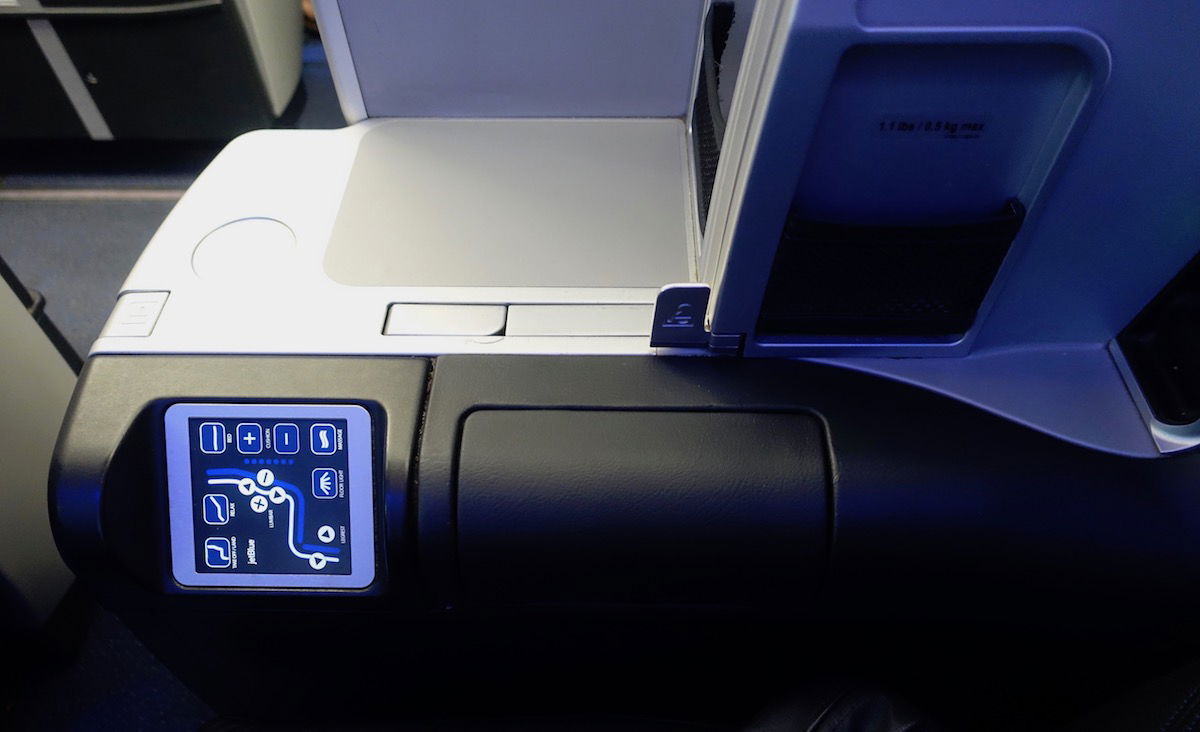 JetBlue Mint suite side console
There's also an enclosed storage compartment, so there's no shortage of storage at these seats.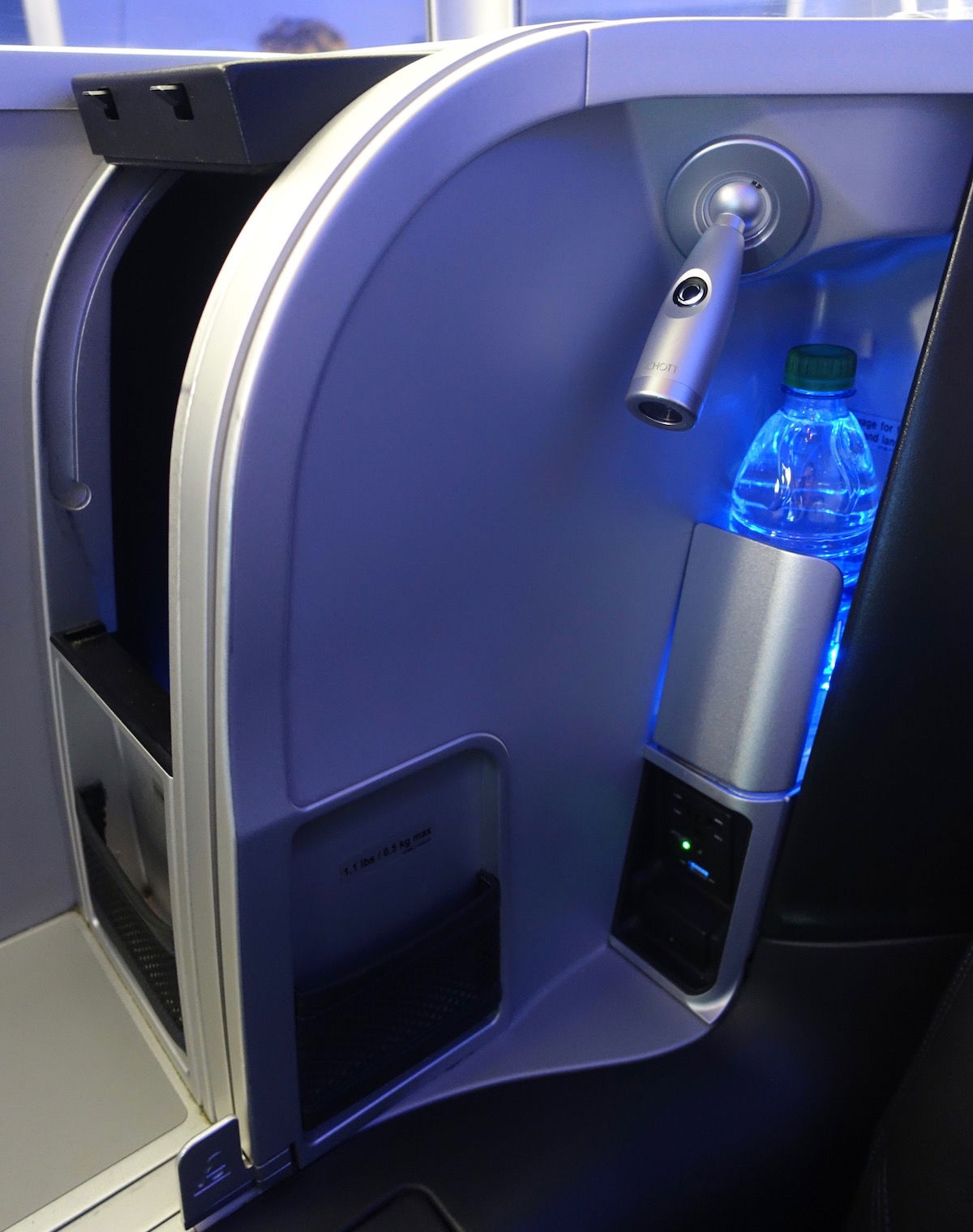 JetBlue Mint suite storage
The one downside to the suites is that they have footwells, and they're on the small side. So if you have big feet you'll feel pretty constrained when you recline your seat and try to move around. That's a small price to pay for the privacy and personal space afforded by this seat, though.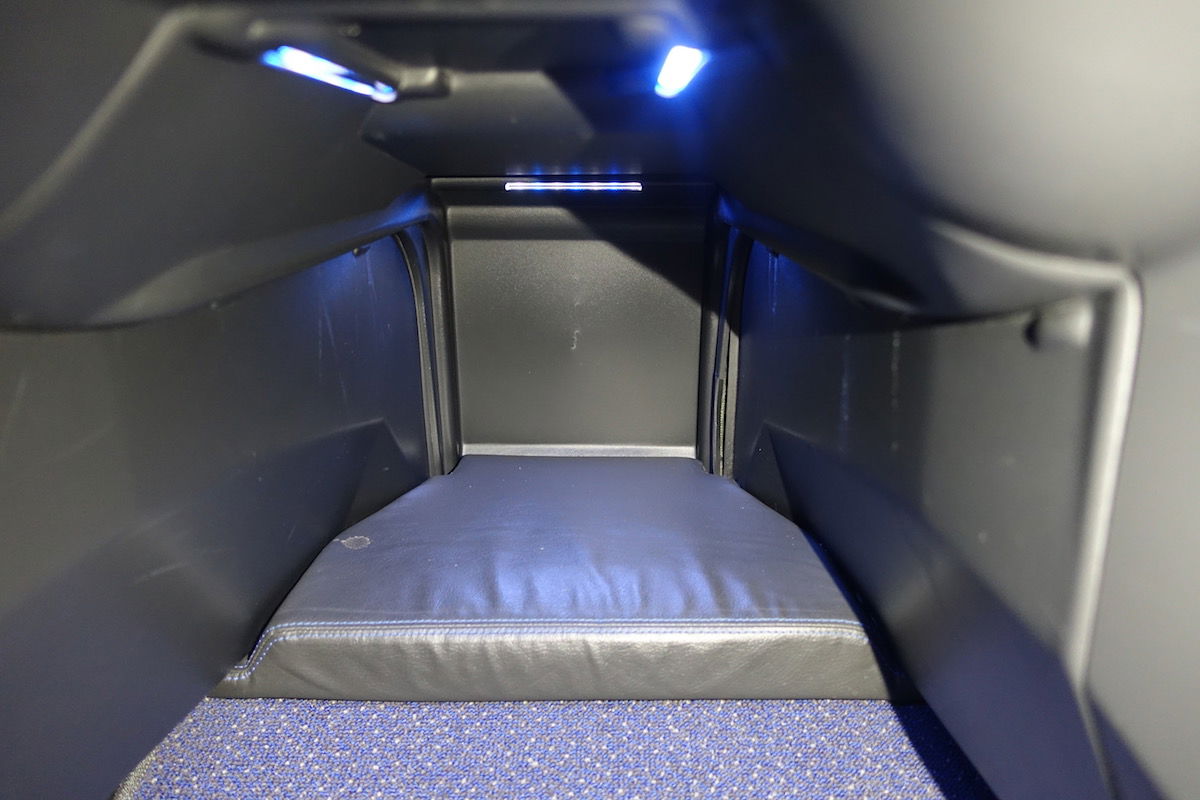 JetBlue Mint suite legroom
Waiting at my seat upon boarding was a welcome card from Grecia and Kiayana, the two flight attendants working Mint. This is such a personal touch that I wish we saw on more airlines.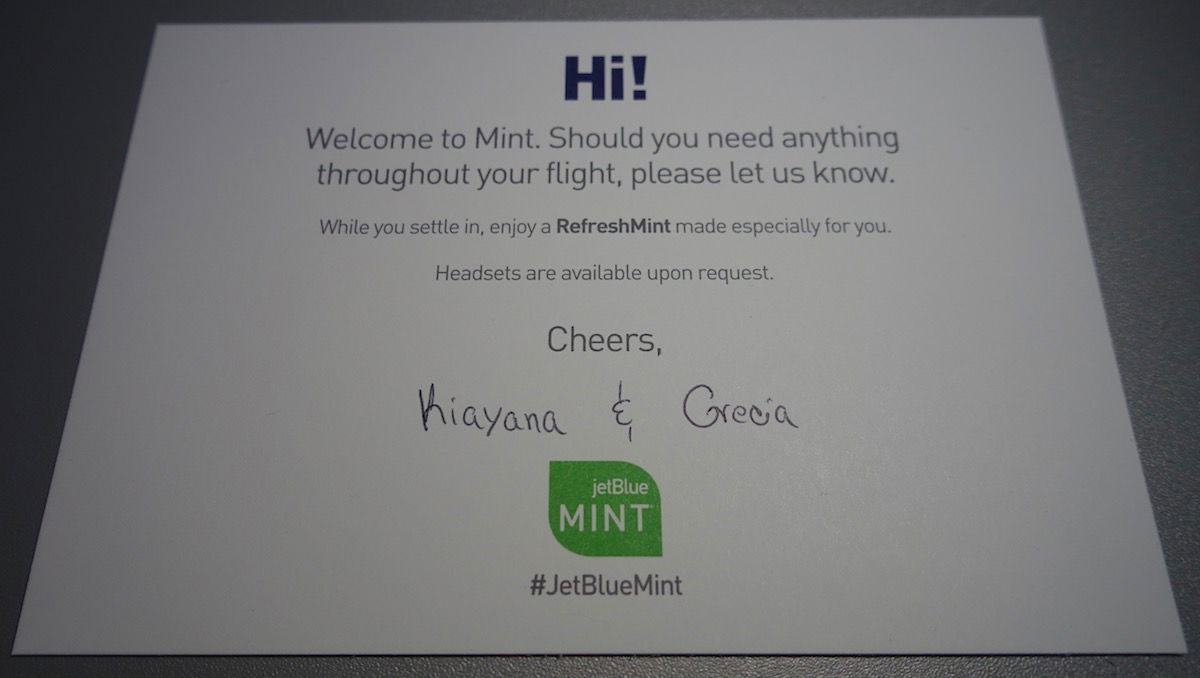 JetBlue Mint welcome card
Also waiting at my seat was a pillow and duvet. The pillow was nice and thick, and the duvet was comfortable without being too warm.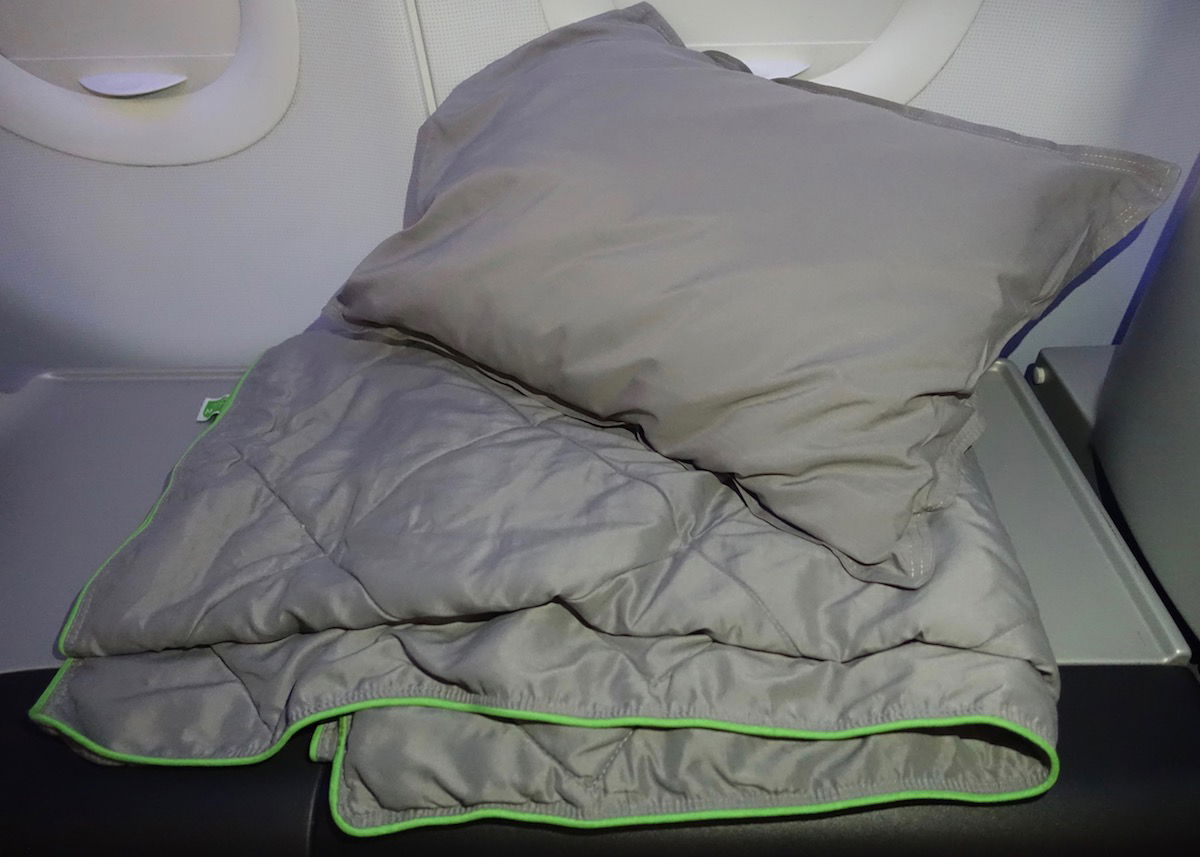 JetBlue Mint pillow & blanket
There was also a quirky amenity kit, with a toothbrush and toothpaste, earplugs, eyeshades, toiletries, socks, and more.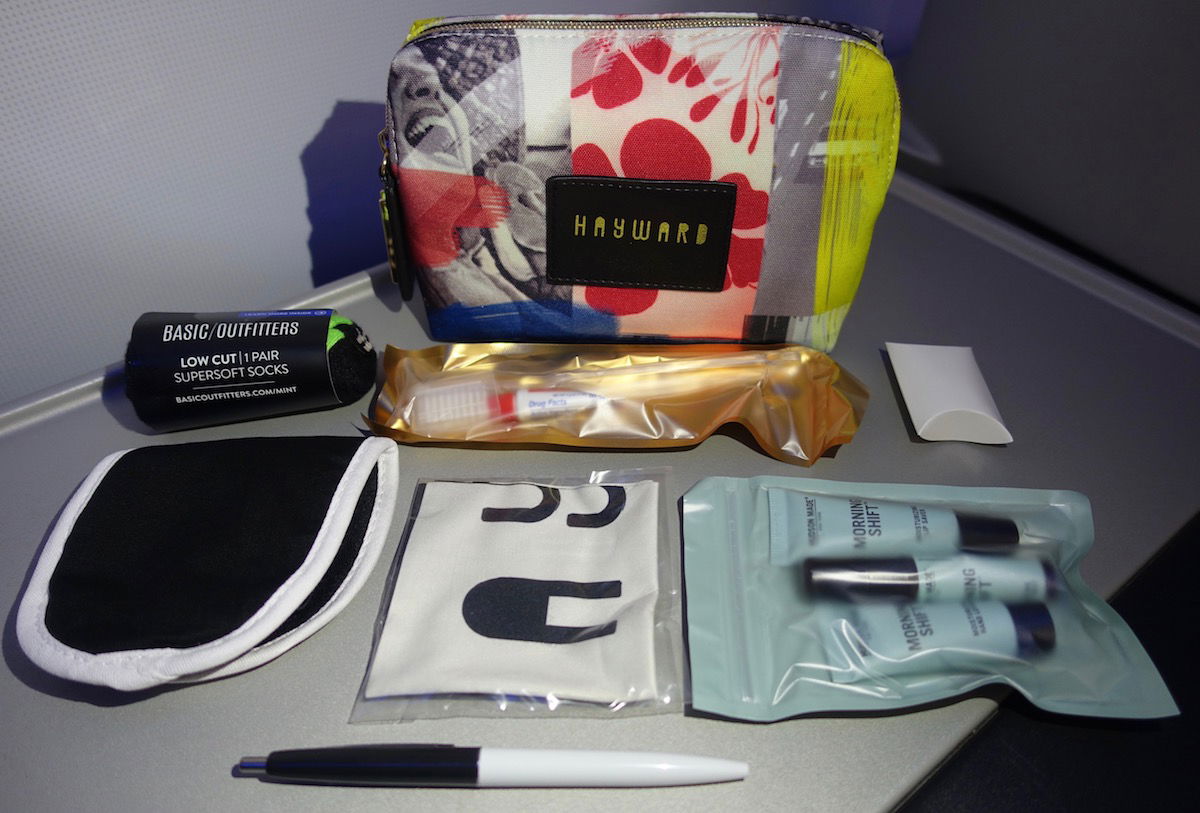 JetBlue Mint amenity kit
A moment after settling into my seat, Grecia came by to introduce herself and familiarize me with the seat. "Hi Mr. Ben, welcome aboard. Have you flown Mint before?"
"Thank you! Yes, I have."
"Well great, welcome back. Let me just remind you of a couple of things about the seat…" She reminded me of where the do not disturb button was, and to not hesitate to let her know if there's anything I needed. She also asked me what I wanted to drink before takeoff.
I ordered the signature pre-departure cocktail, which is a honey infused limeade with fresh mint and vodka, along with a splash of club soda. Yum!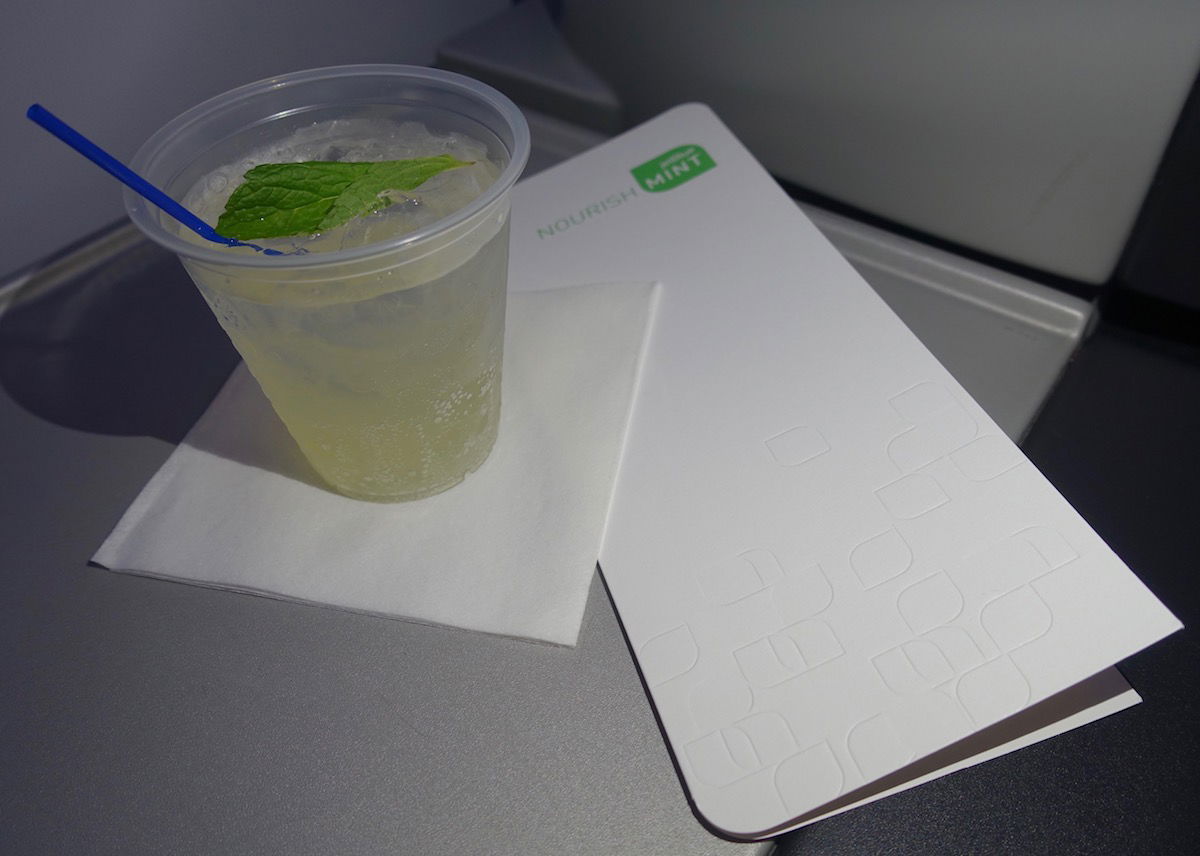 JetBlue Mint pre-departure drink and menu
It impresses me so much how kind Mint flight attendants are. They go through the same spiel with every passenger. Since there were some open seats, they even proactively encouraged passengers to move around so they could have as much personal space as possible.
Boarding was pretty efficient, and as you'd expect, so many passengers commented in amazement at how nice the cabin looked while walking by. American doesn't get the same reaction for their 737 MAX aircraft, that's for sure. 😉
At 9:05PM the captain made an announcement apologizing for the late start. He said our flight time would be 5hr58min, and that we'd be cruising at 32,000 feet. Finally at 9:15PM the door closed, and moments later the safety demonstration was performed.
After pushback we began our taxi to our departure runway, which was runway 9, and were airborne at 9:35PM.
As we climbed out I played around with the entertainment system a bit. Many people like the DirecTV offered by JetBlue. I ended up watching Family Feud and Cash Cab, which, like, I'd never watch on the ground, but on an airplane…
Personally I don't have a strong preference for live TV vs. on-demand programming, I'm just happy that JetBlue has fast and free Wi-Fi.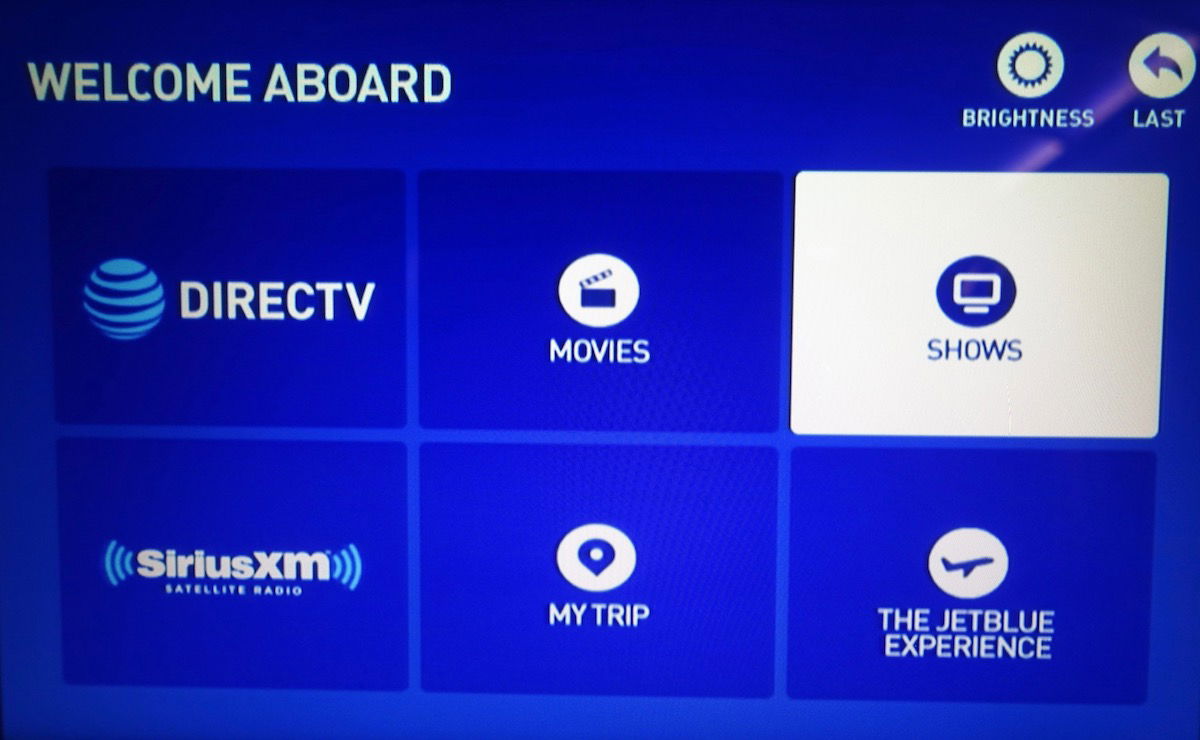 JetBlue Mint personal television
My one criticism of their IFE, as an airplane geek, is that I wish their map was a bit more detailed. Instead they just have one position in which they show the map, and the plane always looks about as big as three states.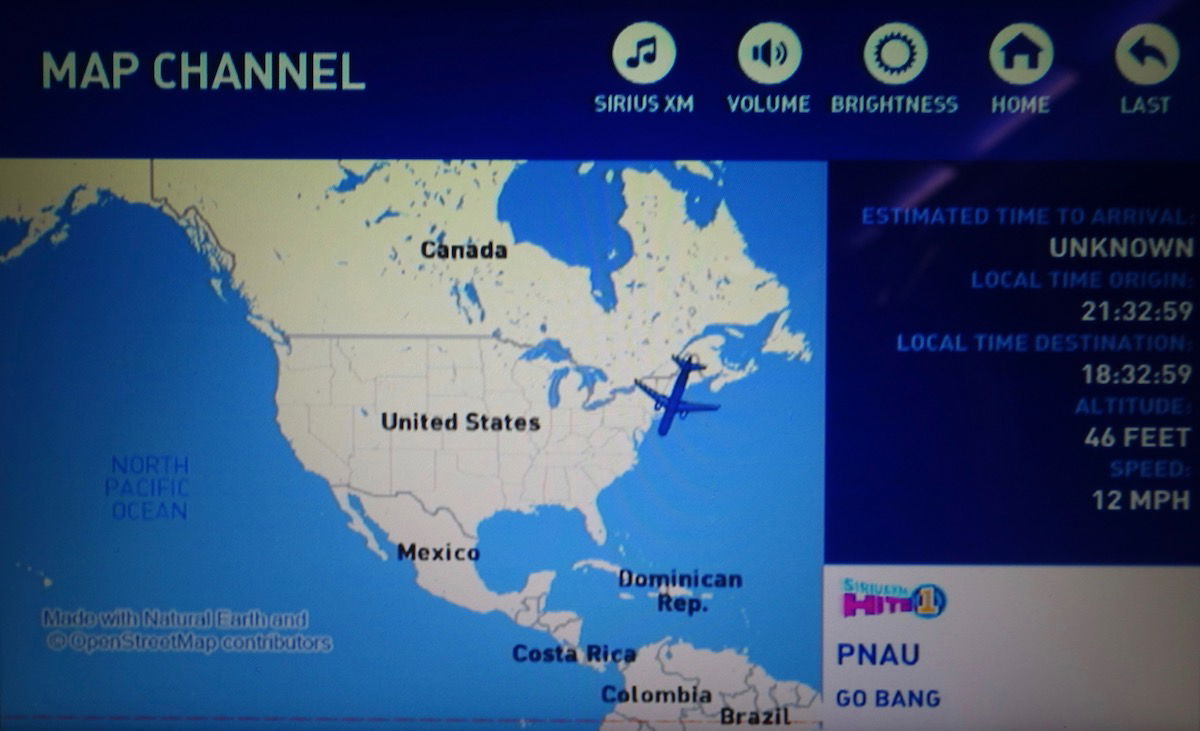 JetBlue Mint airshow
About 15 minutes after takeoff the crew came through the cabin and asked each Mint passenger if there was anything they could get out of the overhead bin for them. Again, this is a level of service you won't find on any other US airline.
A few moments later they came around to explain the dinner service and take meal orders. This is another area where JetBlue wins. On American (even on their premium transcon routes), you only get a snack service on flights departing after 8PM (which is an awfully early cutoff). Meanwhile JetBlue offers a full dinner service.
The menu and drink list read as follows: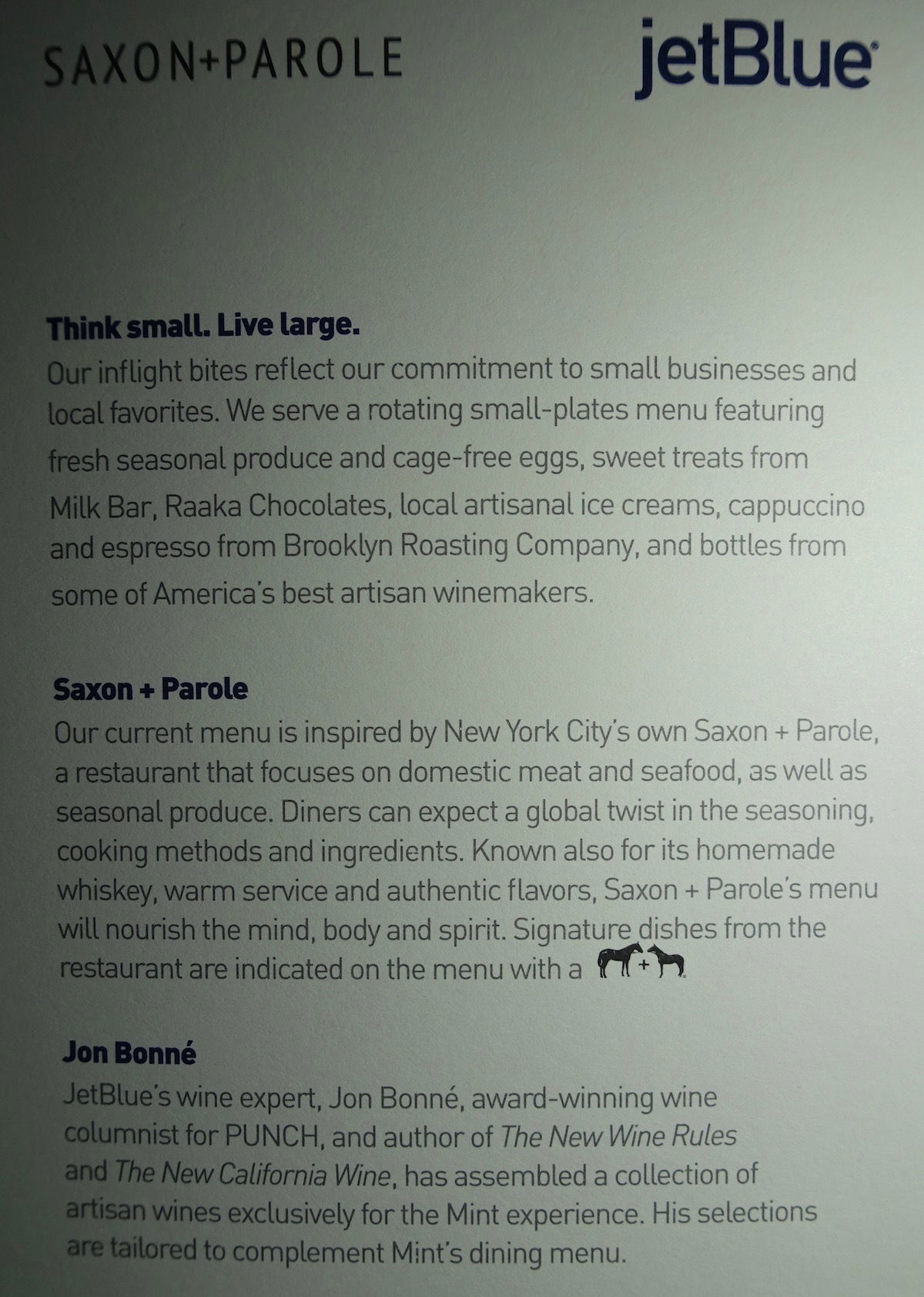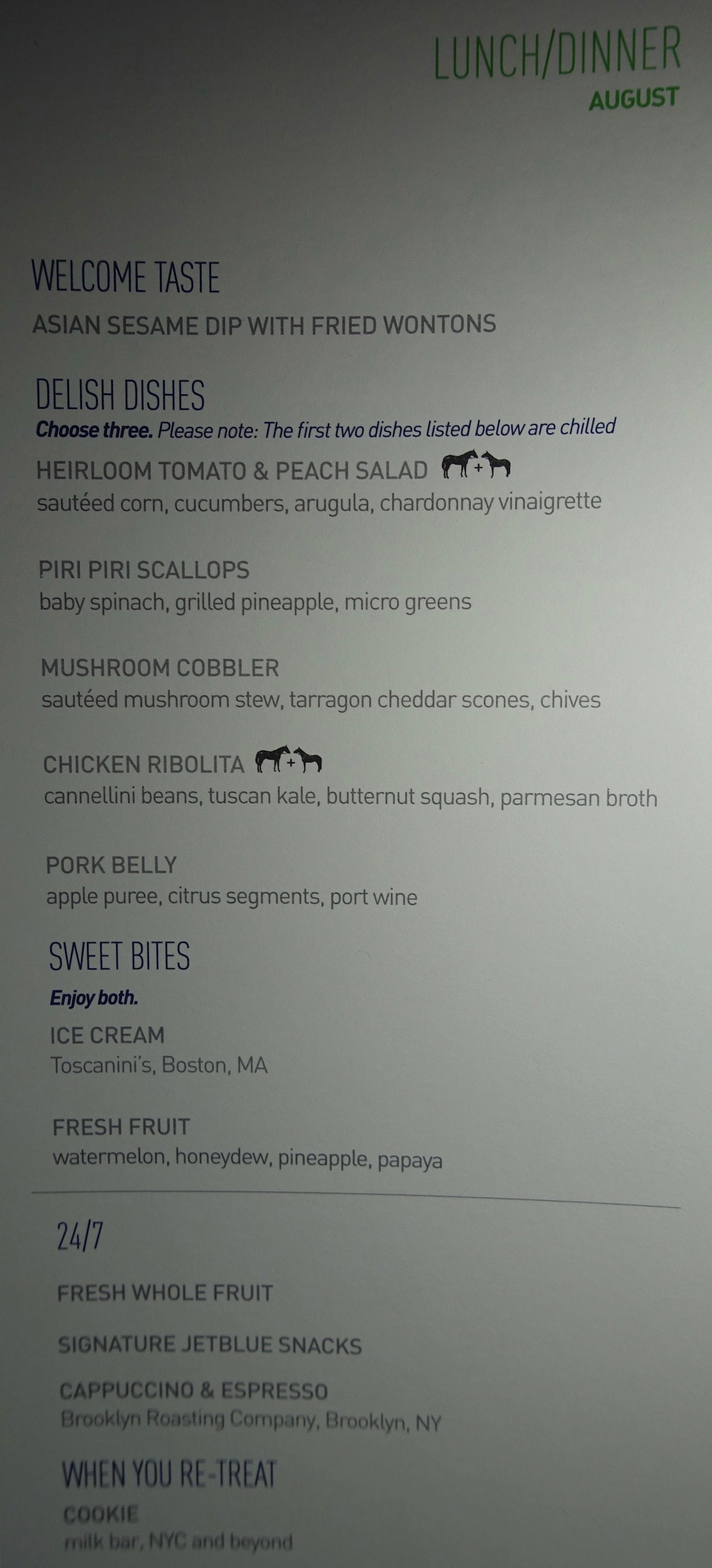 Service began with a warm towel.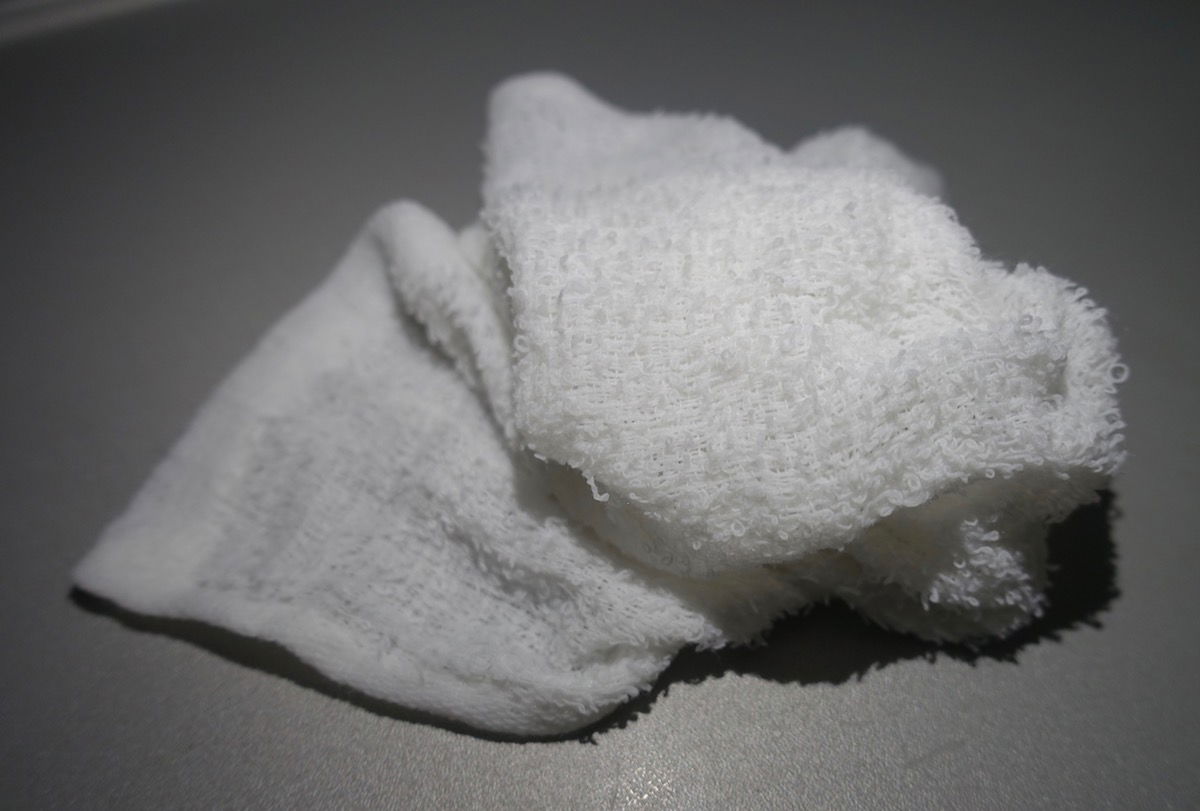 JetBlue Mint warm towel
I ordered a glass of rose to drink, which was served with the "welcome taste." In this case it was an Asian sesame dip with fried wontons. It was delicious and really spicy. Yes, those are all red pepper flakes on top of the dip.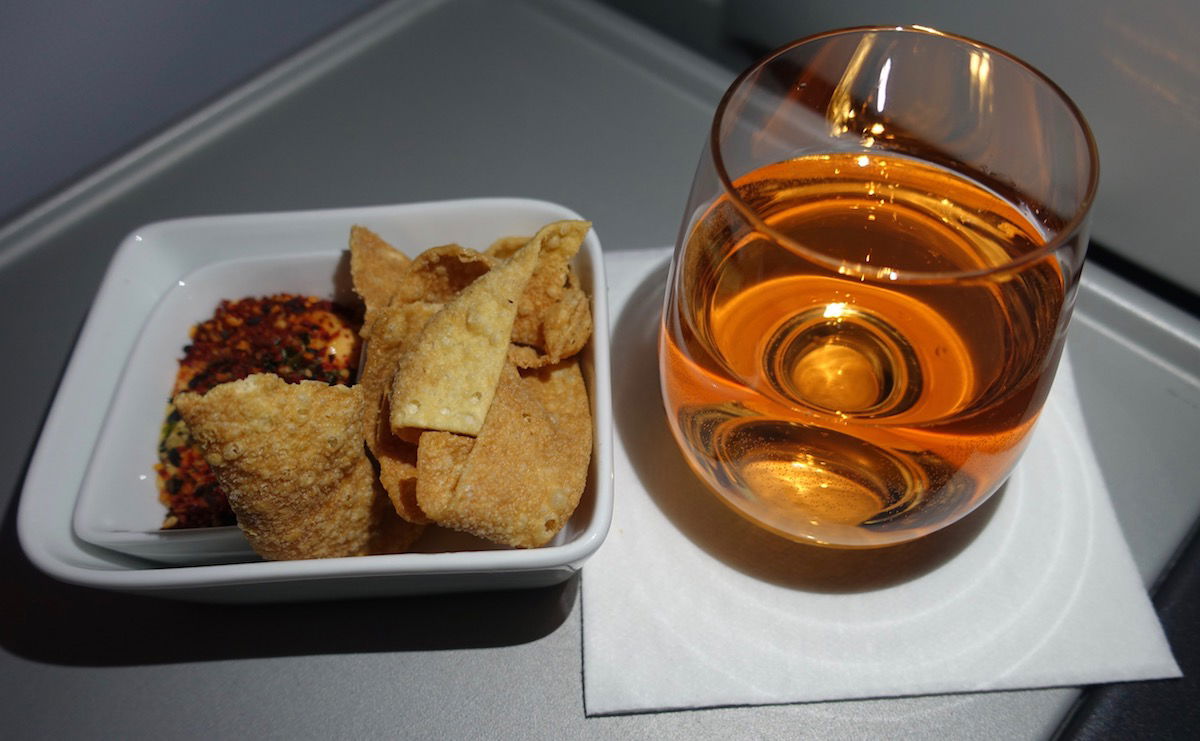 JetBlue Mint rose & welcome taste
The way JetBlue's Mint menu works is that there are five meal choices, and you can choose three of them, so that you can taste different things. I really like this concept, rather than a multi-course meal consisting of things that many people don't want.
For my meal I chose the following three:
heirloom tomato and peach salad with sautéed corn, cucumbers, arugula, and chardonnay vinaigrette
mushroom cobbler with sautéed mushroom stew, tarragon cheddar scones, and chives
chicken ribolita, with cannellini beans, tuscan kale, butternut squash, and parmesan broth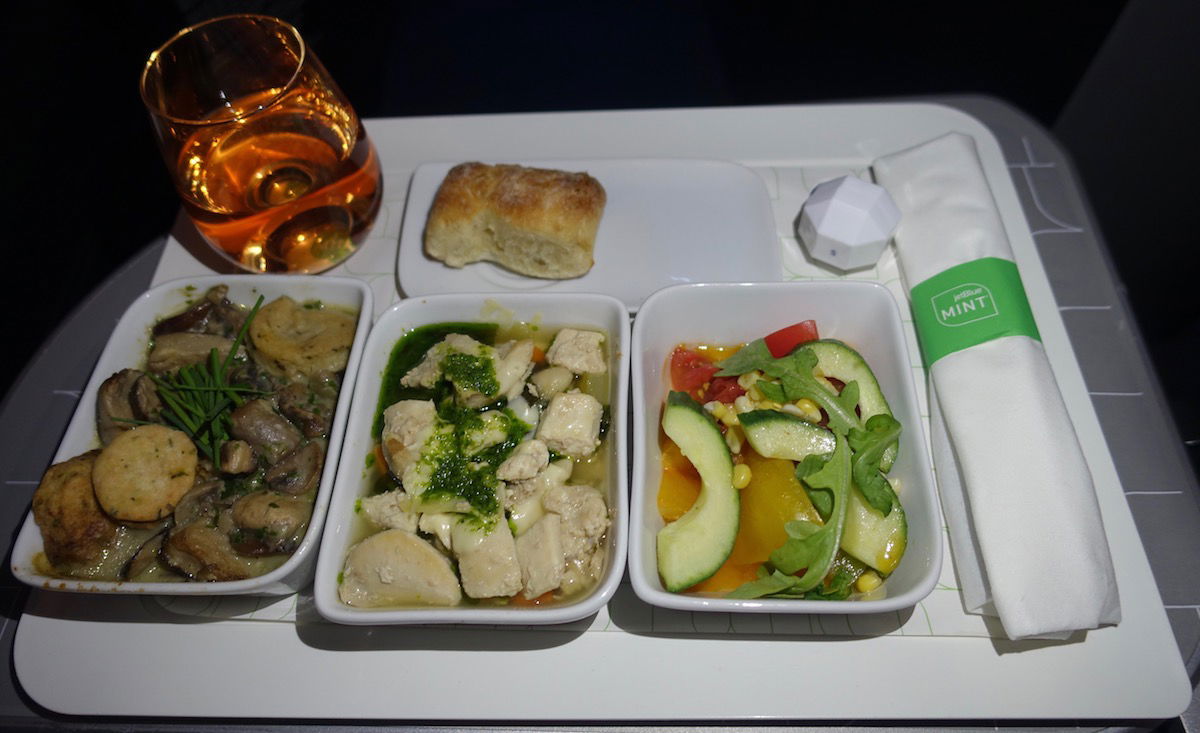 JetBlue Mint dinner
All three dishes were very good. In particular I liked the heirloom tomato and peach salad and the mushroom cobbler.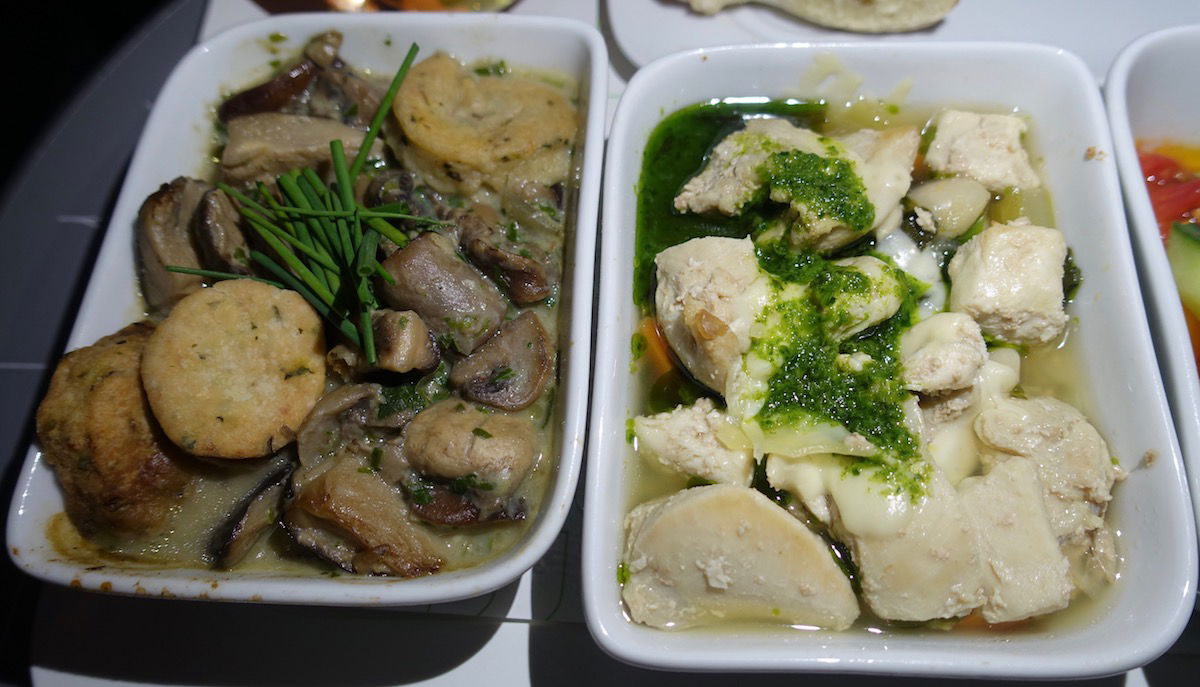 JetBlue Mint dinner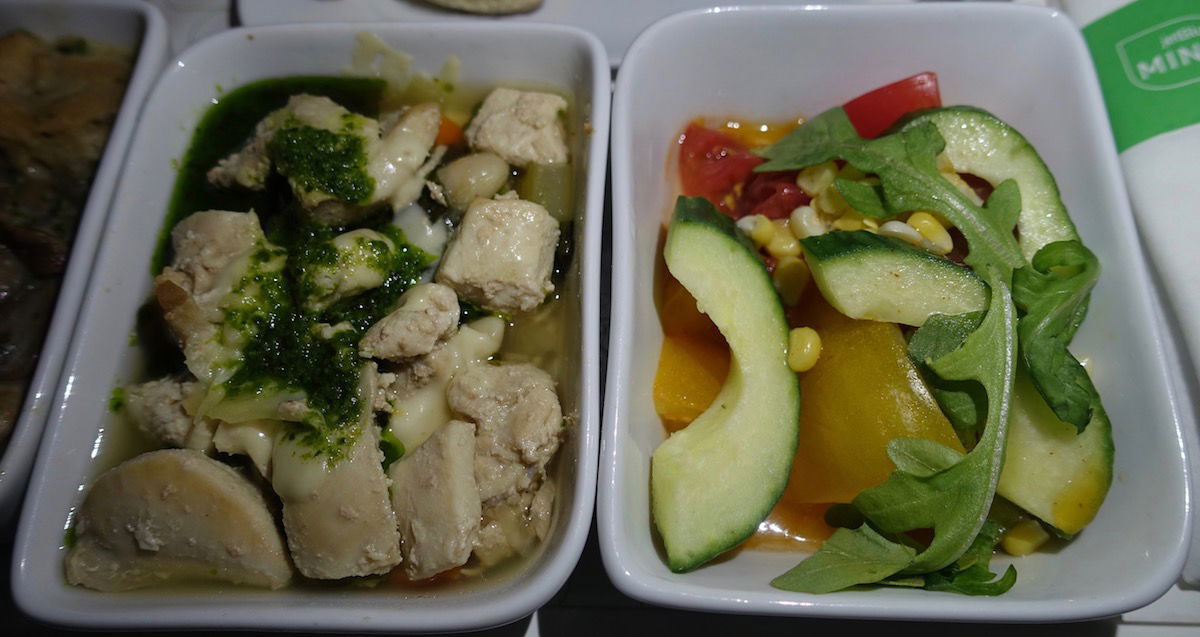 JetBlue Mint dinner
My one slight critique is that I wish they had a bread selection in Mint. Instead they just have one kind of bread that they put directly on your tray.
Once the main course was complete Grecia offered me dessert. She asked if I wanted fruit and/or ice cream, and I selected both. I was also offered a coffee or cappuccino, though passed on that.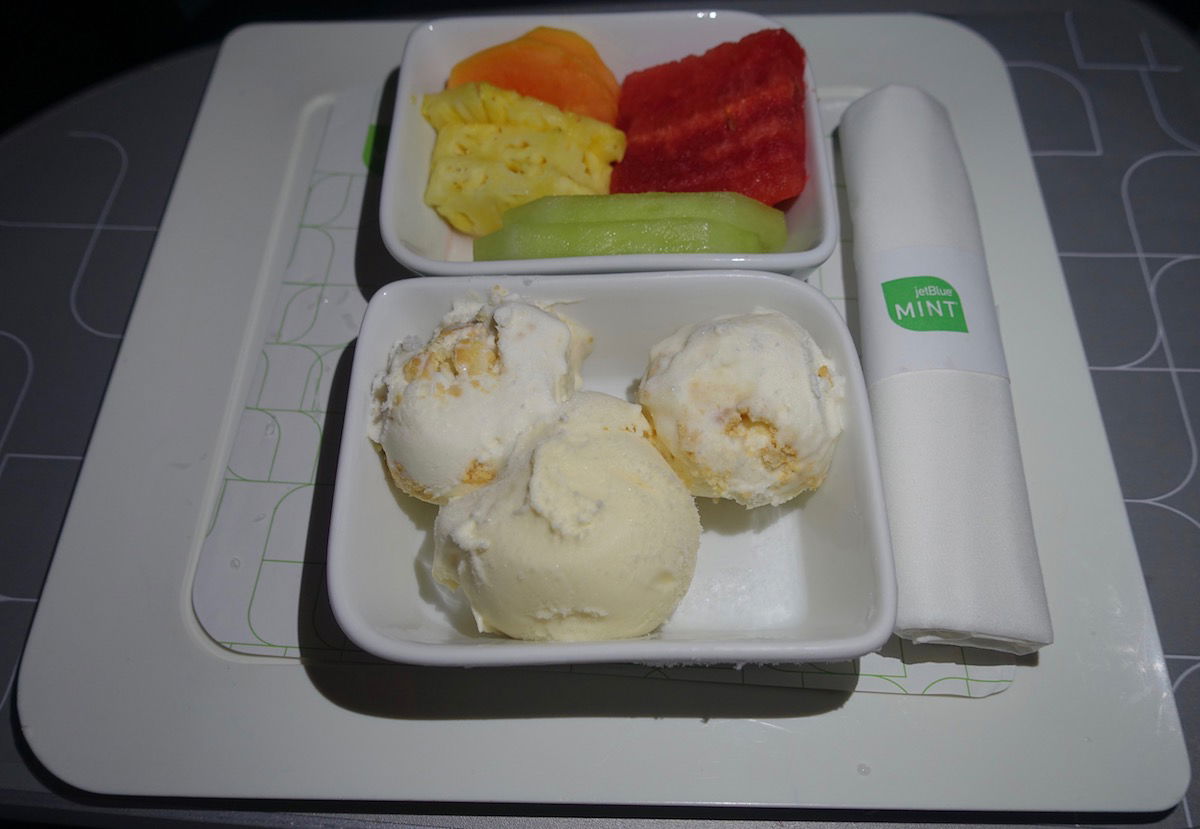 JetBlue Mint dessert
The entire meal service was done about 90 minutes after takeoff, and I have nothing but positive things to say about the service. Grecia was such a delight. She was attentive, efficient, and constantly smiling.
At this point in the flight I was super tired, given that I hadn't slept on my previous transatlantic flight. So I closed the door to my suite and went straight to sleep.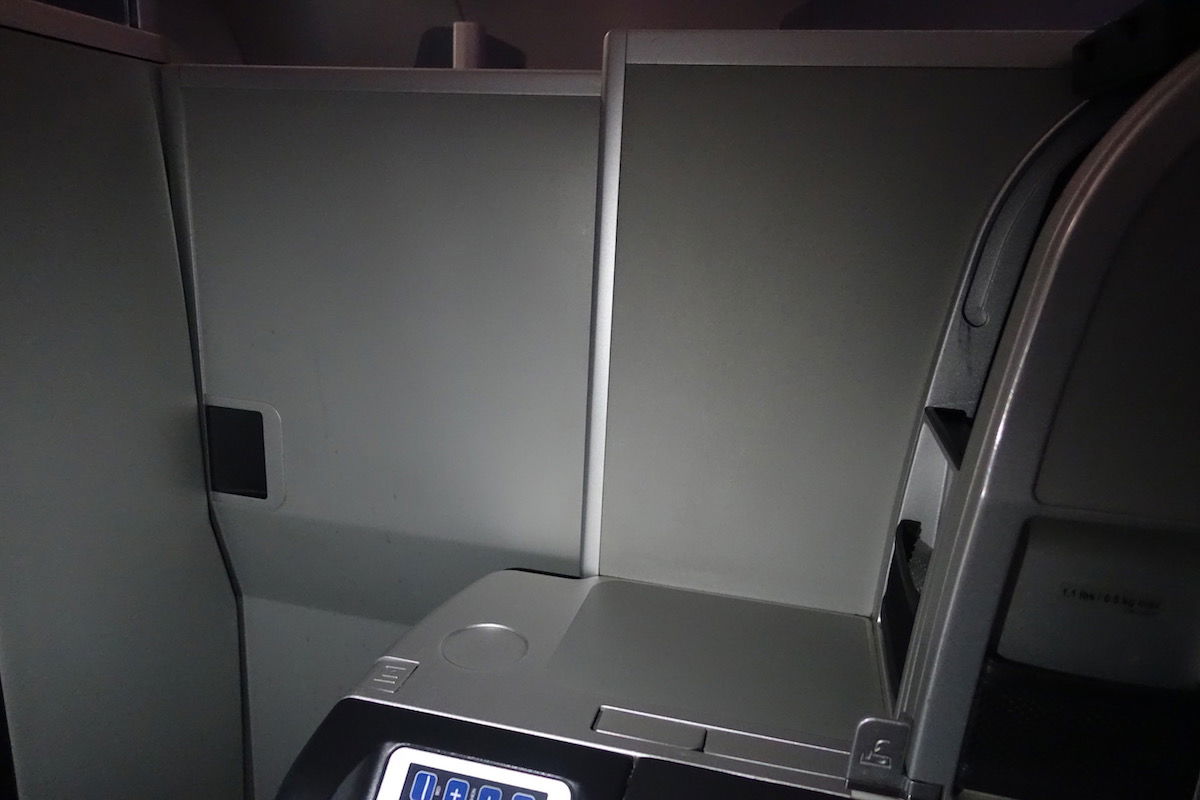 JetBlue Mint suite closed door
I got about four hours of sleep, and I woke up after we started our descent. At this point I asked Grecia if I could have a cappuccino. On other airlines they'd likely say "we're landing soon," but not Grecia. She said "of course you can," and moments later I had my cappuccino.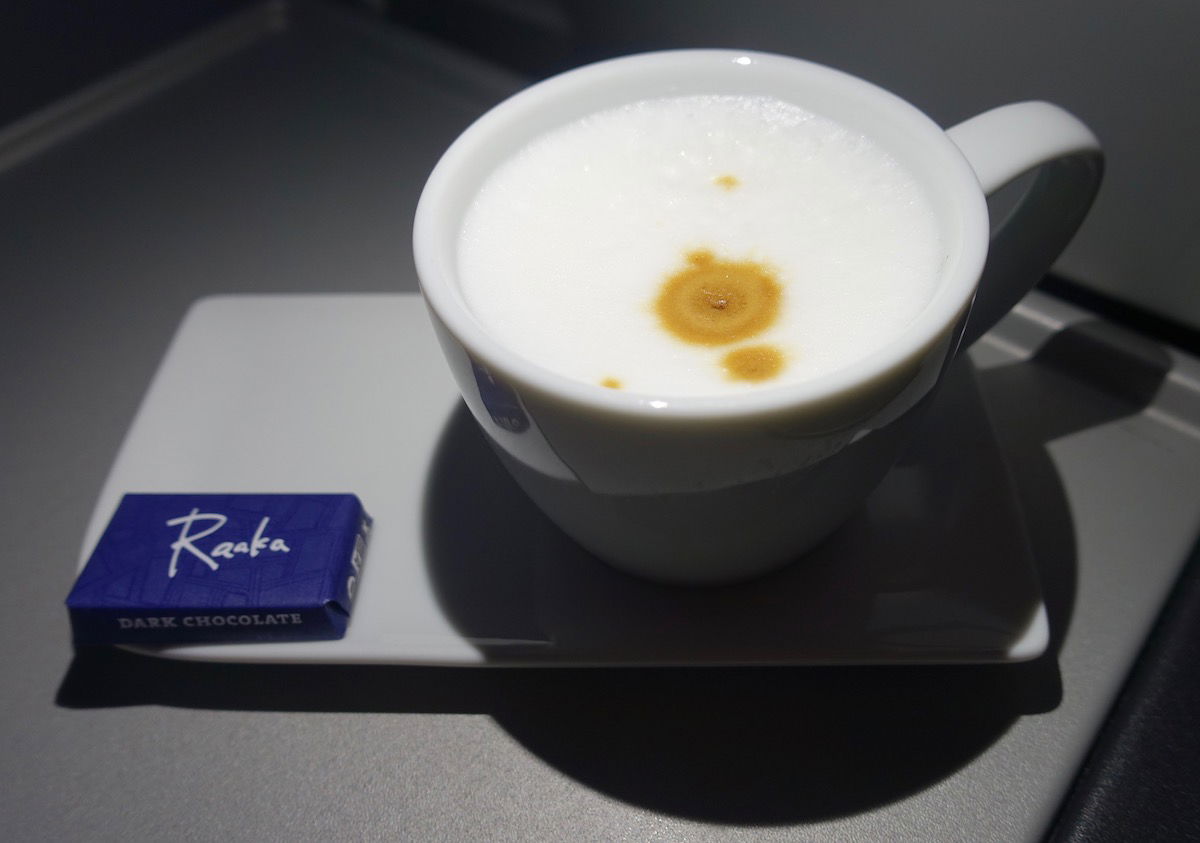 JetBlue Mint cappuccino
As we got further into our descent, Grecia and Kiayana came through the cabin to distribute cookies.
"Mr. Ben, sorry to disturb you. I just wanted to take the opportunity to thank you for flying Mint today. It was a pleasure to have you onboard. Here's a sweet treat you can enjoy now or later. I hope to see you again soon."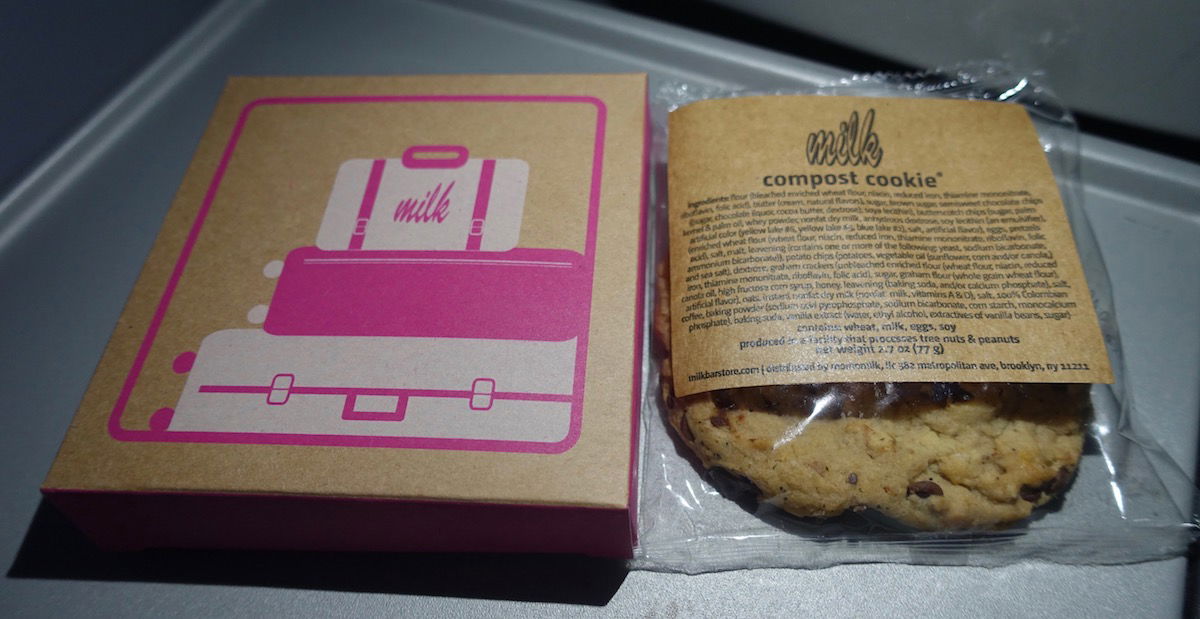 JetBlue Mint cookie
On our descent we flew out over the Pacific and landed into the East (which is quite rare, and typically only happens in the middle of the night or very early morning) at 12:45AM.
From there it was a 10 minute taxi to our arrival gate, where we pulled in at 12:55AM. I bid farewell to Grecia, and was excited to get to a real bed for the rest of the night.
JetBlue Mint bottom line
JetBlue continues to impress me with their exceptional Mint pricing. Not only have they been great from a competitive standpoint in lowering fares and causing other airlines to improve their products, but they also still do the premium domestic experience better than any other airline.
JetBlue Mint flight attendants are consistently exceptional, and I love their meal concept. It's tough to go back to flying American after experiencing this kind of a product on JetBlue…