In the interest of full disclosure, OMAAT earns a referral bonus for anyone that's approved through some of the below links. These are the best publicly available offers (terms apply) that we have found for each product or service. Opinions expressed here are the author's alone, not those of the bank, credit card issuer, airline, hotel chain, or product manufacturer/service provider, and have not been reviewed, approved or otherwise endorsed by any of these entities. Please check out
our advertiser policy
for further details about our partners, and thanks for your support!
For our trip to Greece, we flew LOT Polish Airlines' Boeing 787-9 business class from Chicago to Warsaw, and then connected to Aegean Airlines' Airbus A320neo business class from Warsaw to Athens, so I wanted to review that second flight in this installment.
While intra-Europe flying is rarely something to get excited about in terms of passenger experience, Aegean is probably my favorite regional European airline. The airline offers an elevated soft product in business class, and even offers free food in economy.
Other than Turkish Airlines, Aegean is probably my favorite airline to fly within Europe. I was particularly looking forward to this flight, as it was operated by one of Aegean's brand new Airbus A320neos. The Star Alliance carrier is currently in the process of refreshing its fleet, replacing A320s and A321s with A320neos and A321neos (which are more fuel efficient and quieter).
How I booked our Aegean business class tickets
I booked us the following itinerary in business class for 70,000 Air Canada Aeroplan points plus $76.70 in taxes and fees per person:
8/28 LO4 Chicago to Warsaw departing 9:45PM arriving 1:50PM (+1 day)
8/30 A3871 Warsaw to Athens departing 10:35AM arriving 2:05PM
Admittedly there are much more creative awards you can book with Aeroplan points, but this was still a very good value. Aeroplan points are easy to come by, as the program is transfer partners with Amex Membership Rewards, Capital One, and Chase Ultimate Rewards. On top of that, there's the Aeroplan® Credit Card (review) in the United States, which is quite rewarding.
Aegean business class lounge & boarding
We arrived at Warsaw Chopin Airport at around 8:30AM, around two hours before our 10:35AM flight to Athens. We had already checked in online, so could head straight for security.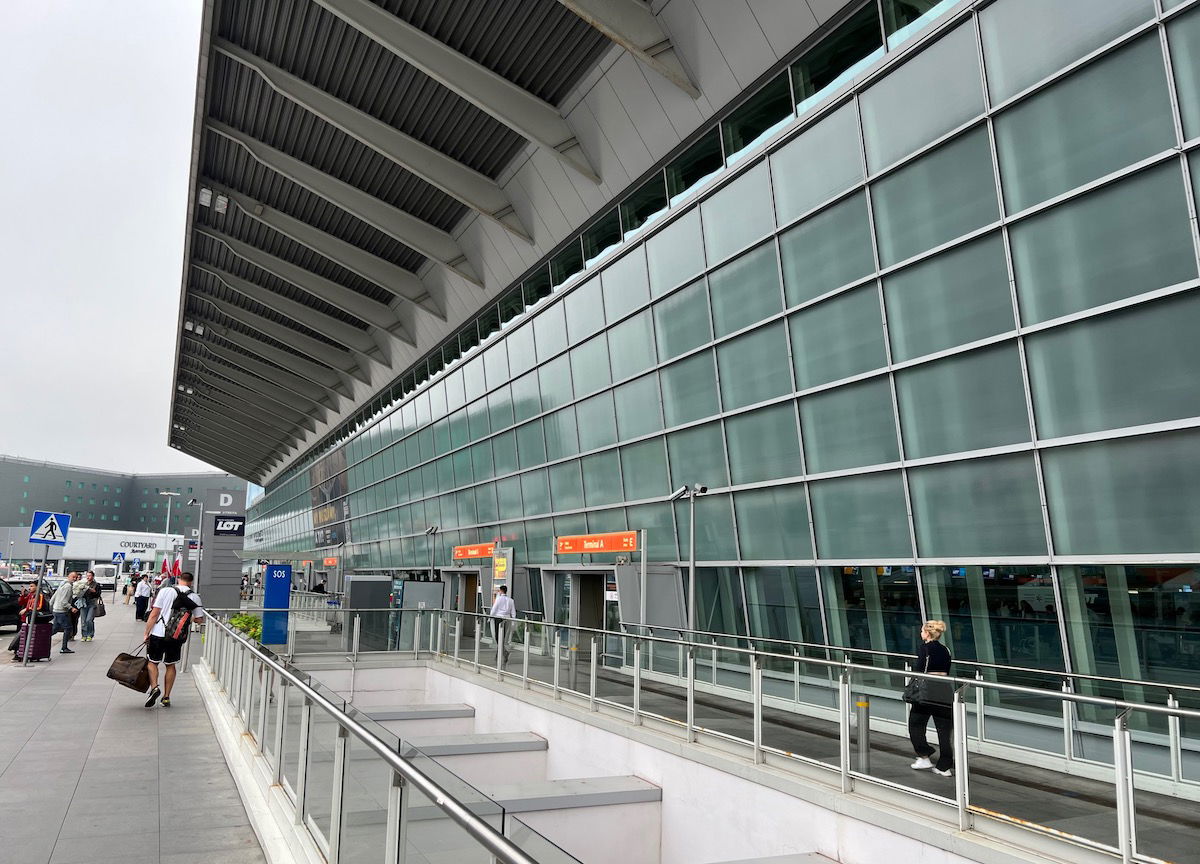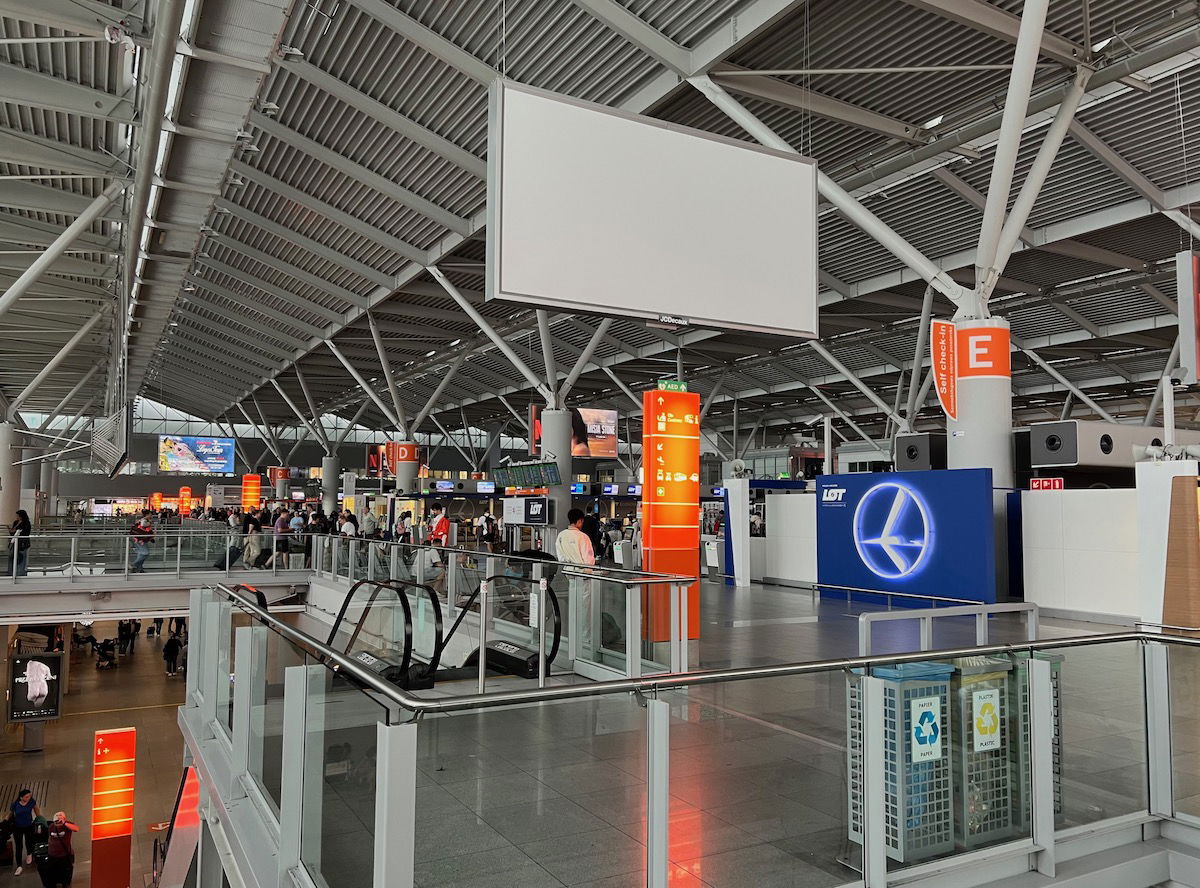 Warsaw Airport has a dedicated premium security checkpoint that's separate from the standard security area, which is awesome, so we were through in a matter of minutes.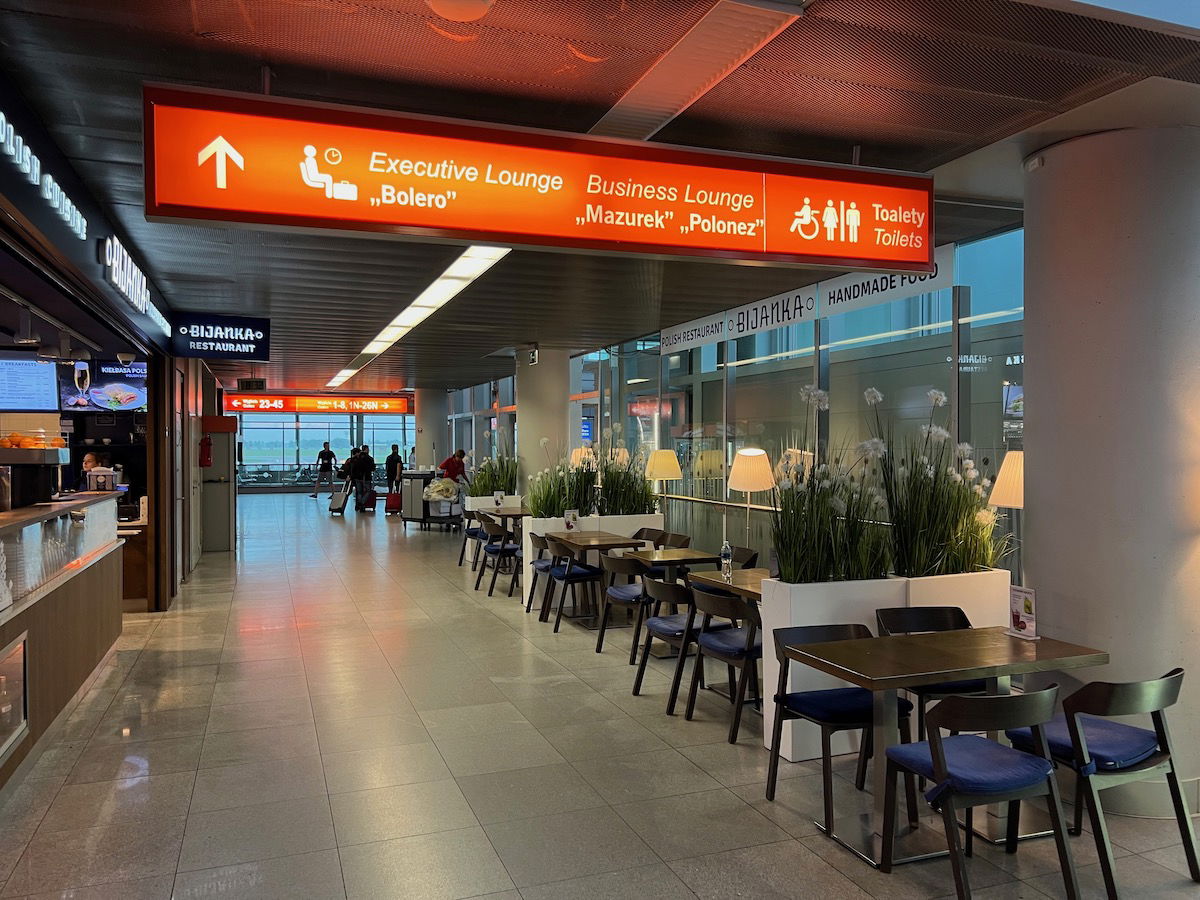 Aegean Airlines passengers are sent to the LOT Business Class Polonez Lounge, so we spent about an hour there.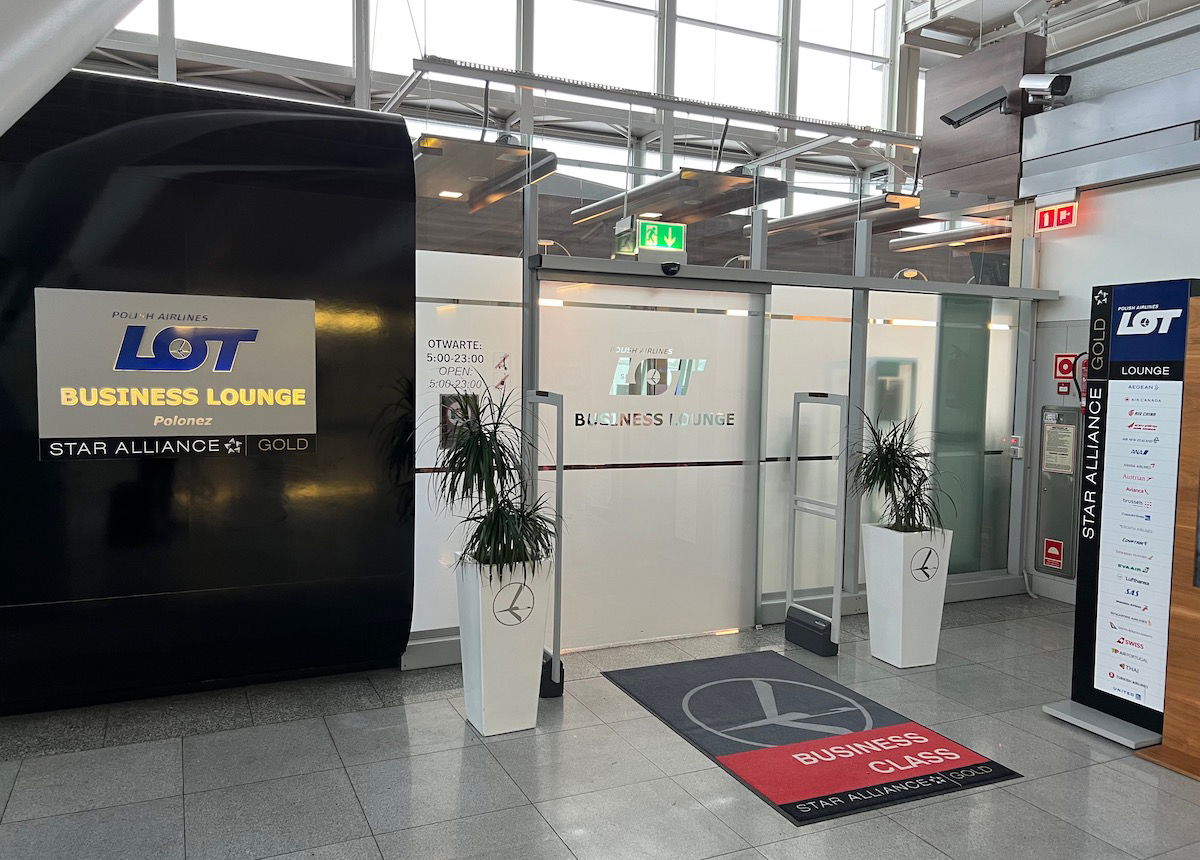 While I would have liked to review it, the lounge apparently has a no photography policy, so between that and the crowding, I couldn't really review it. The lounge was totally okay, but it's not worth arriving early to use.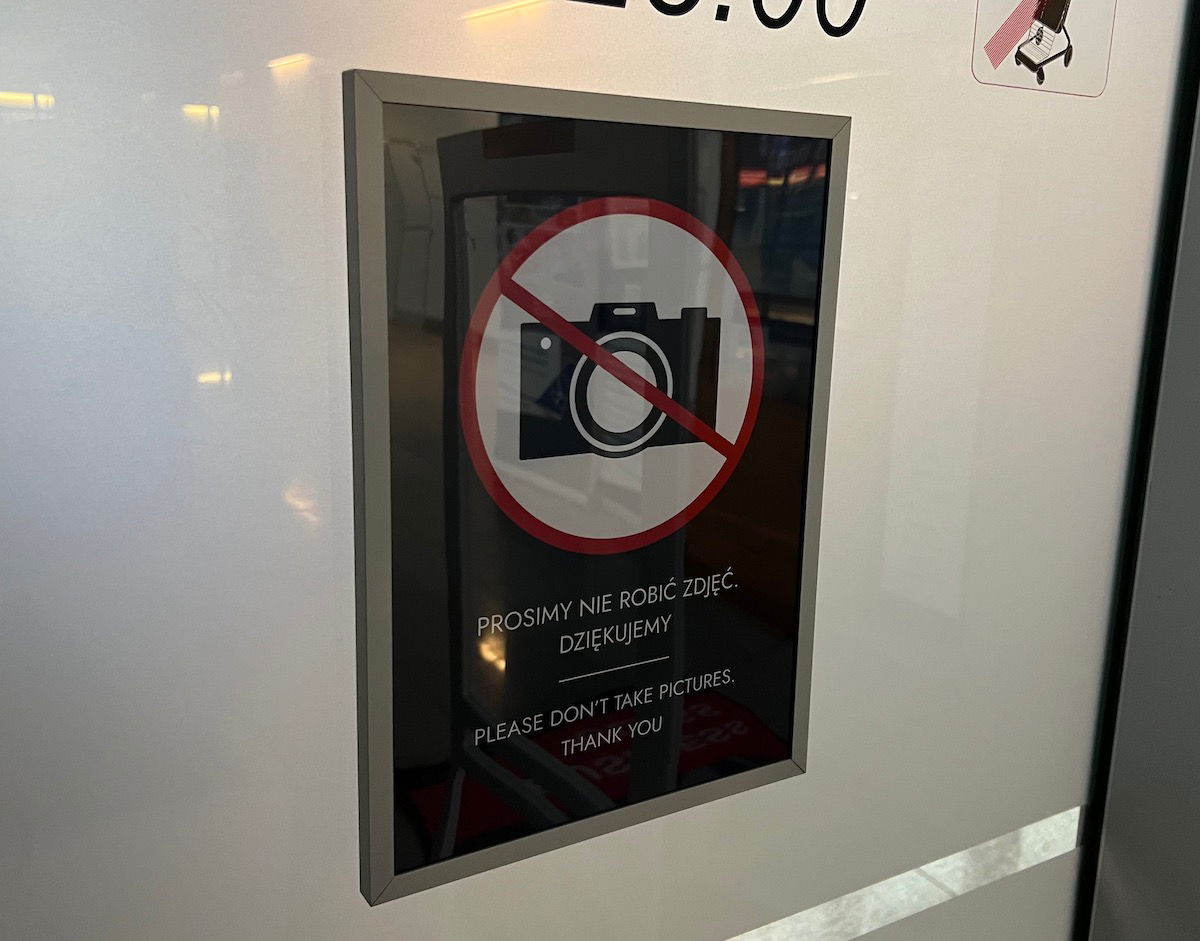 We headed to our departure gate (gate 25) at around 9:30AM, just as our inbound aircraft was landing.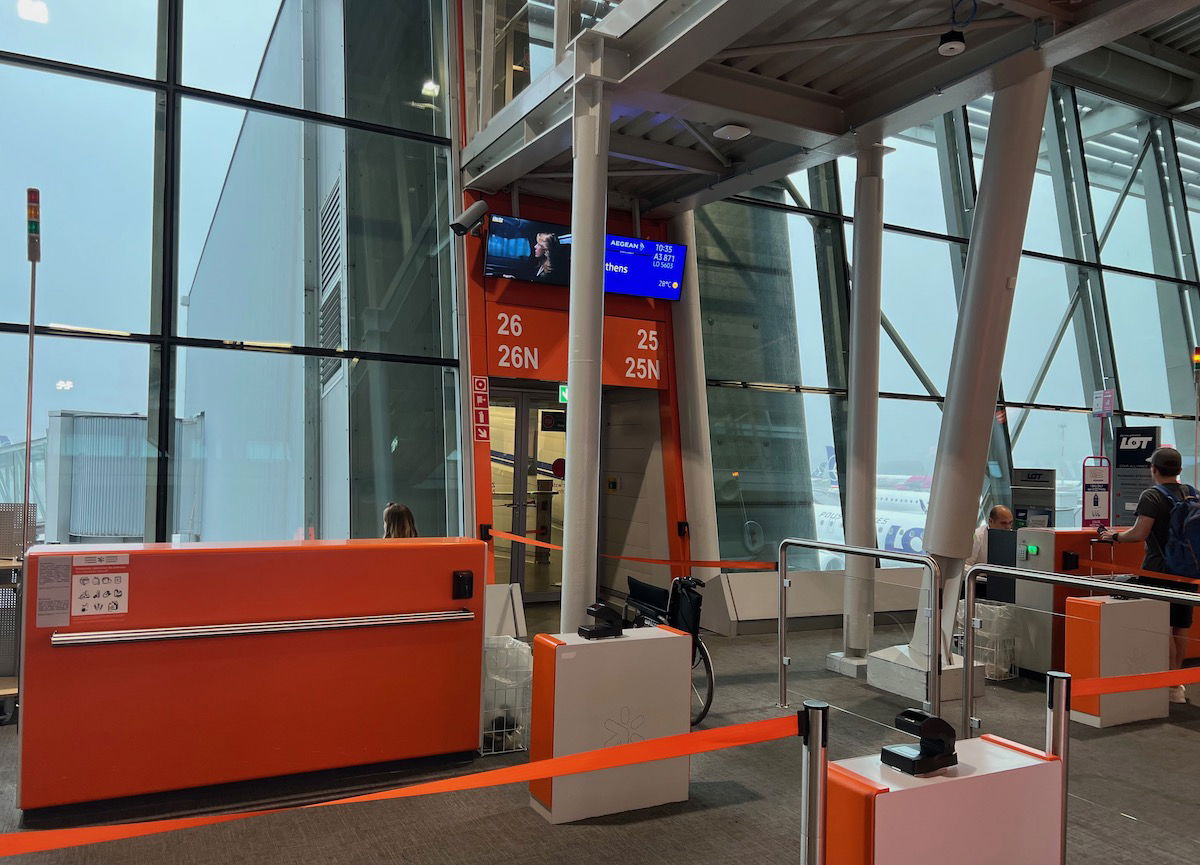 Our flight would be operated by SX-NEK, an aircraft that had just been delivered to Aegean in March 2023. I quite like Aegean's livery — it's not the most exciting one on earth, but it's modern.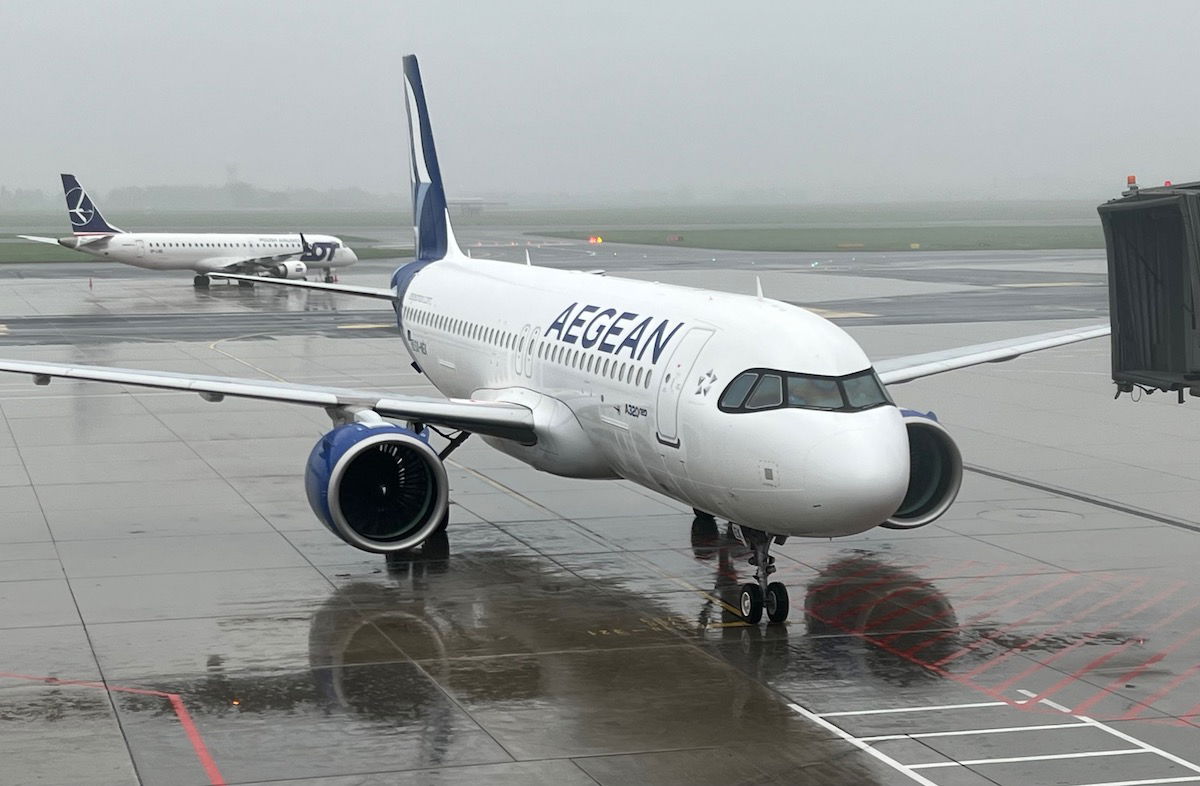 The gate area was pure chaos, as the contract agents were for whatever reason weighing and sizing every single passenger's carry-on bag. It was just so strange, because with every other person or so they'd get into an argument, and eventually they'd just let them keep the bag. Like, what's the point, and as contract agents, why do they actually care? It's not like European airlines generally run out of overhead bin space.
Anyway, while boarding was scheduled to start at 10:05AM (30 minutes before departure), it ended up starting at 10:15AM, with business class passengers being invited to board first.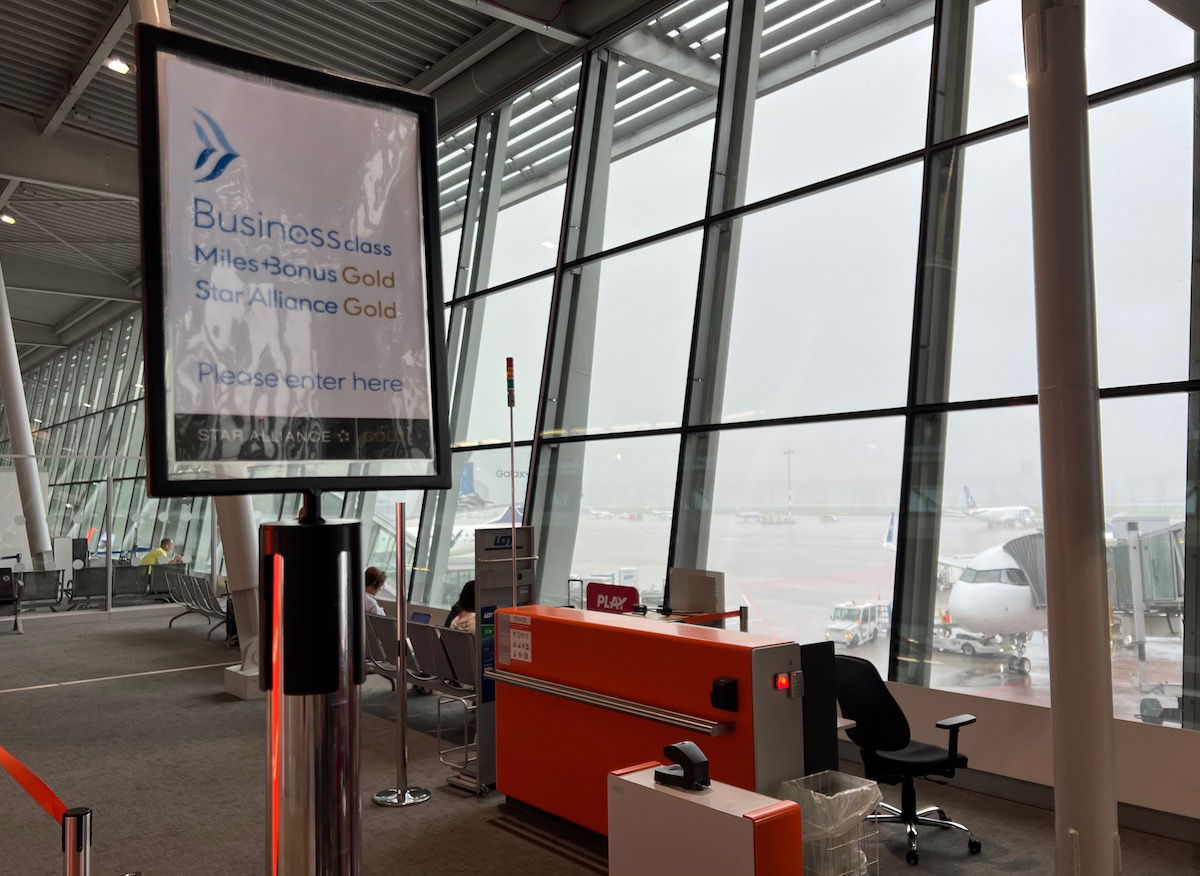 Aegean A320neo business class cabin & seats
At the door we were greeted by the friendly cabin senior. Aegean's A320neos feature 180 seats, spread across 30 rows in a 3-3 configuration. I've gotta say, Aegean's colorful headrests sure do give the cabin a bit of personality, especially in contrast to Lufthansa's very gray narrow body interiors, for example.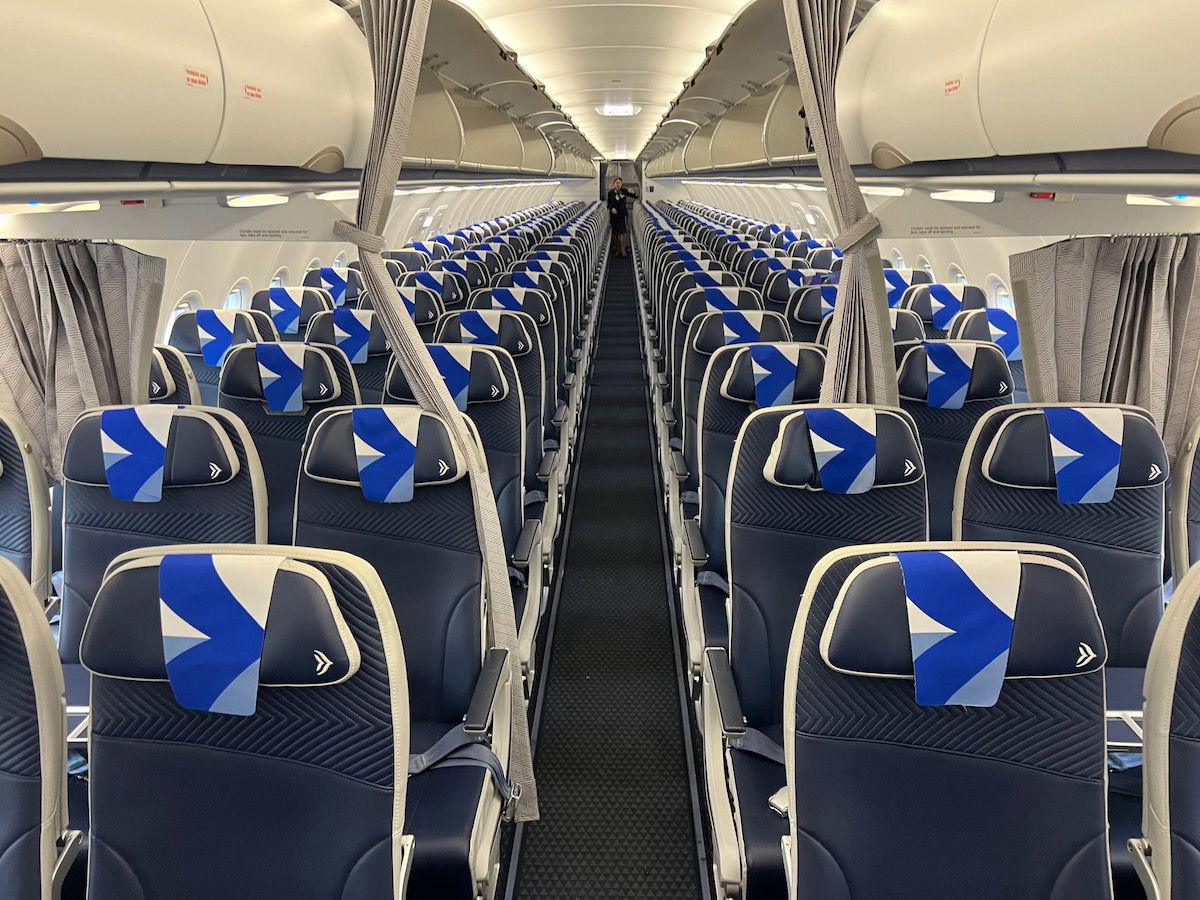 As is standard on intra-Europe flights, business class simply consisted of economy seats with blocked middles. That means the size of the business class cabin can be adjusted with each flight based on demand. On this flight, business class had three rows, so the capacity was 12 passengers.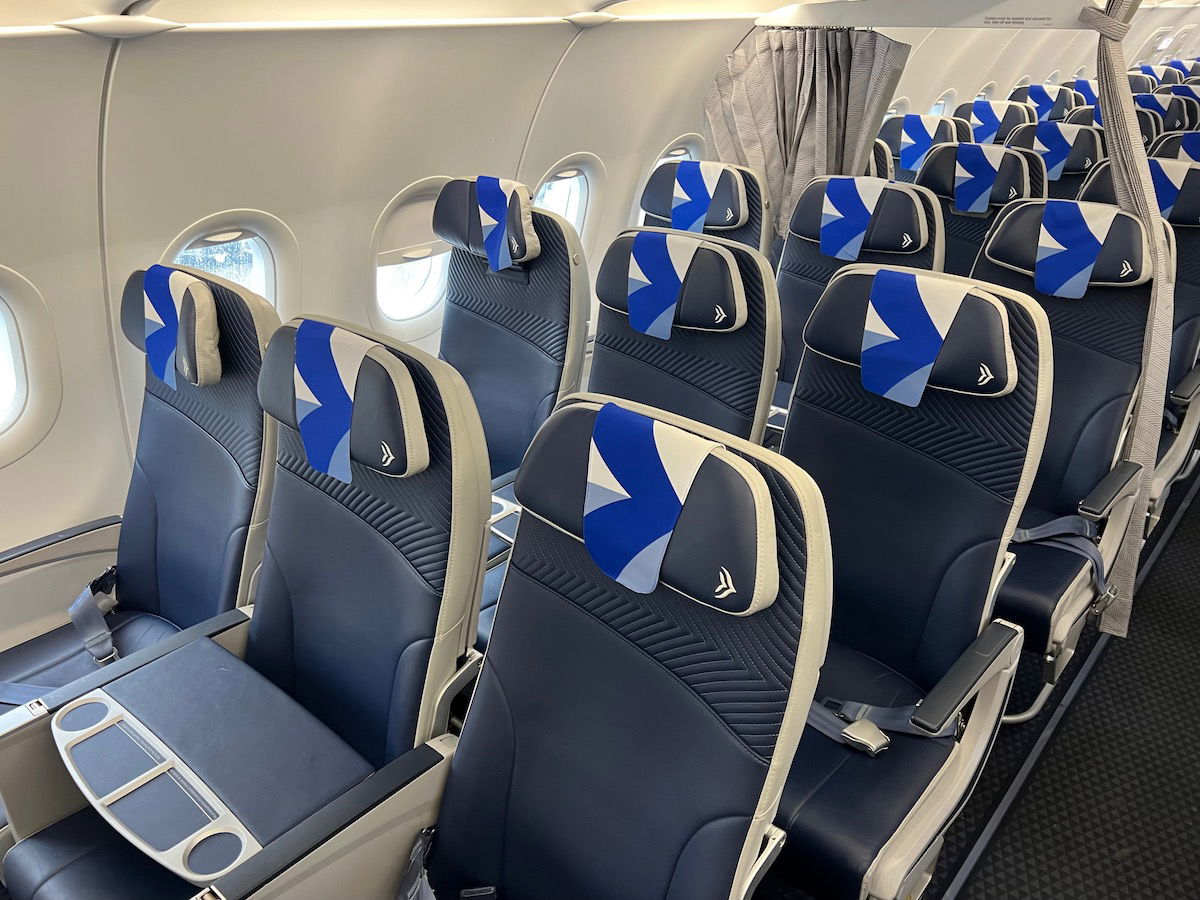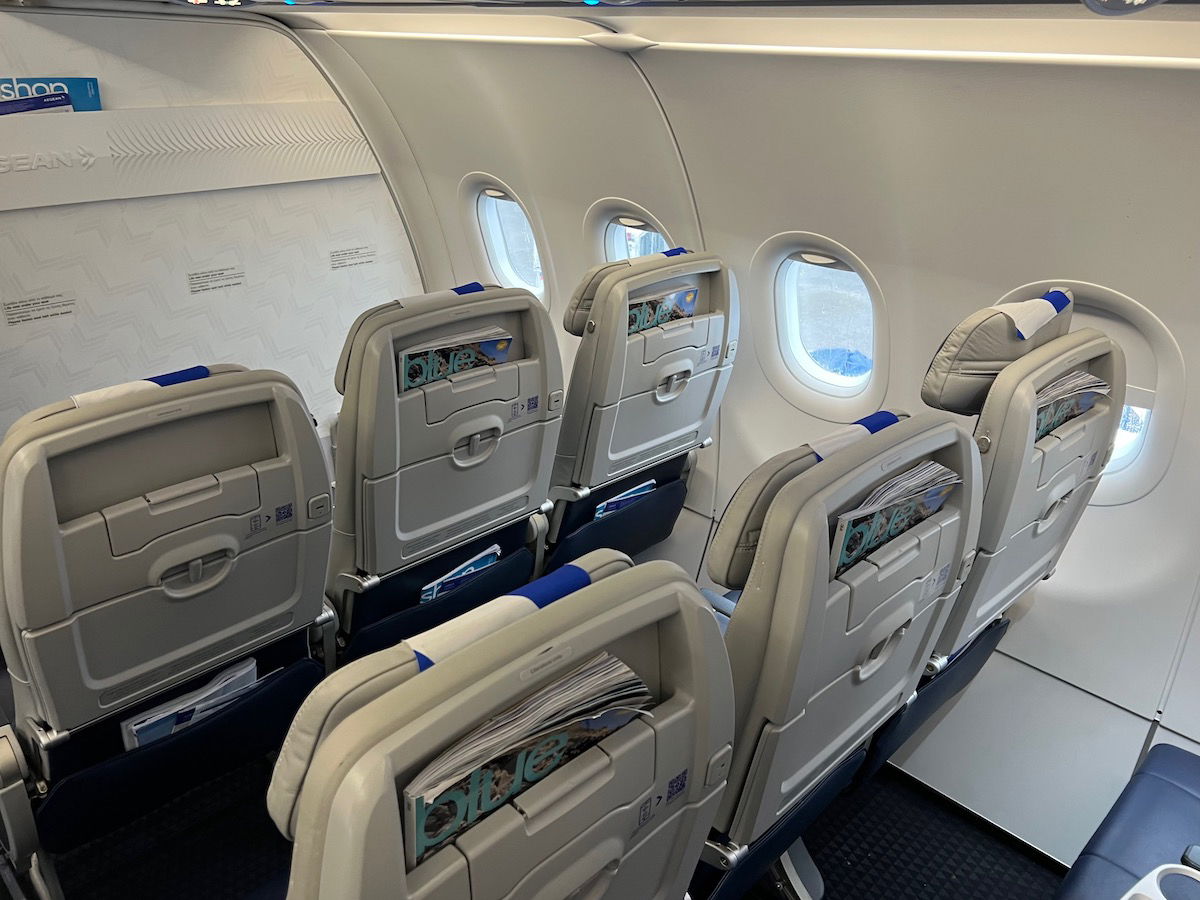 I had assigned us seats 3D & 3F, the window and aisle seat in the third row on the right side.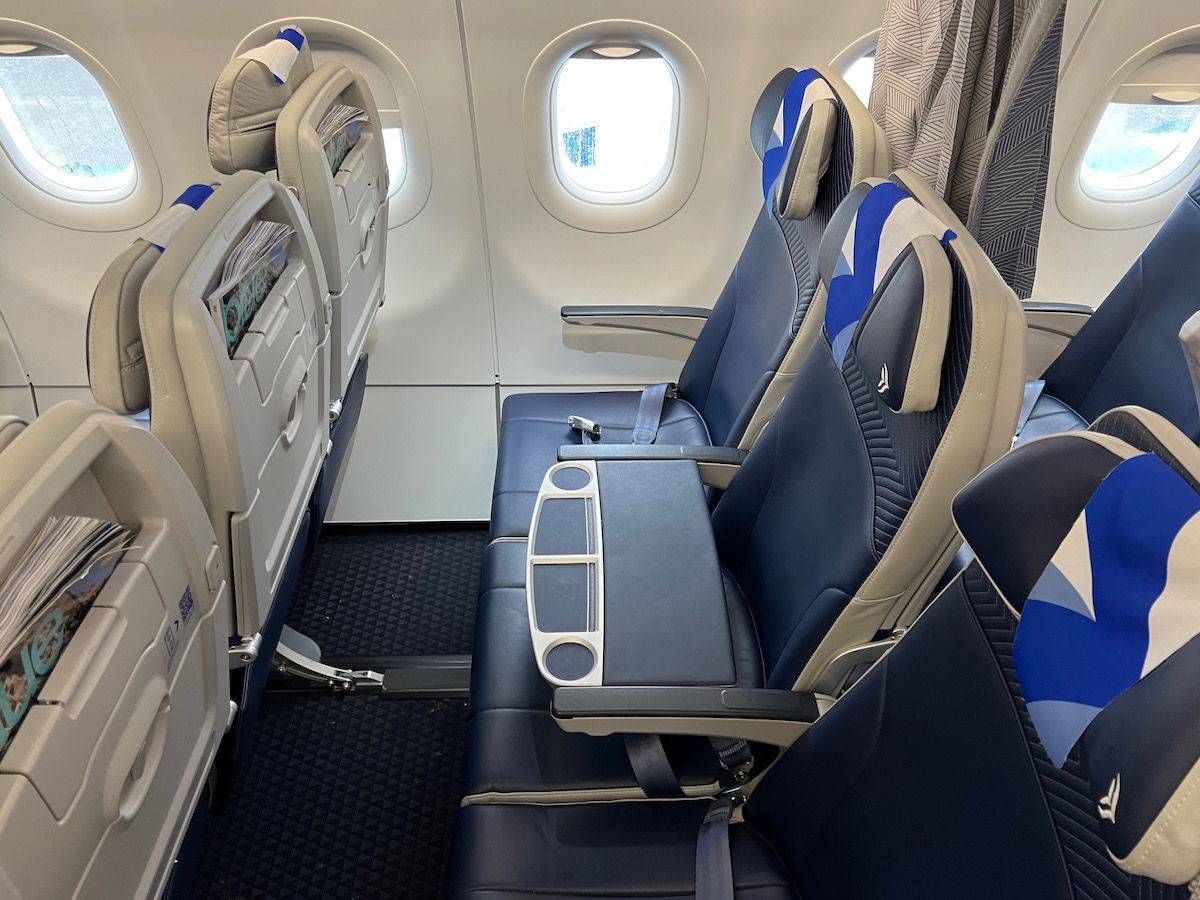 I appreciated how business class had a tray on the center seat. This can be a great place to put a drink or something else without using your own tray table. Back in the day virtually all airlines had these trays on intra-Europe flights, while I think many airlines have now gotten lazy, and no longer offer that.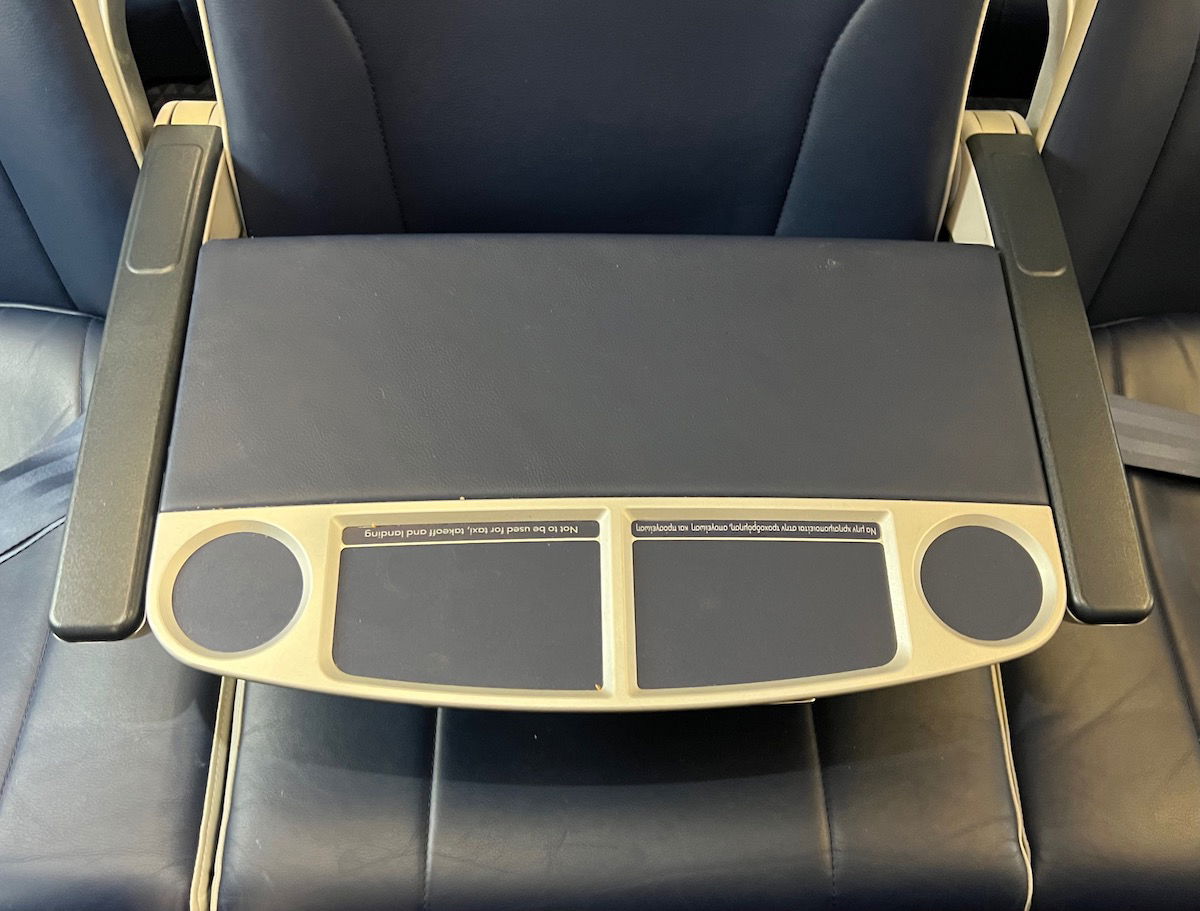 As you'd expect for an intra-Europe flight, legroom wasn't great, though I've also had worse. At least when you have an empty middle seat, you can sort of position your legs toward that seat.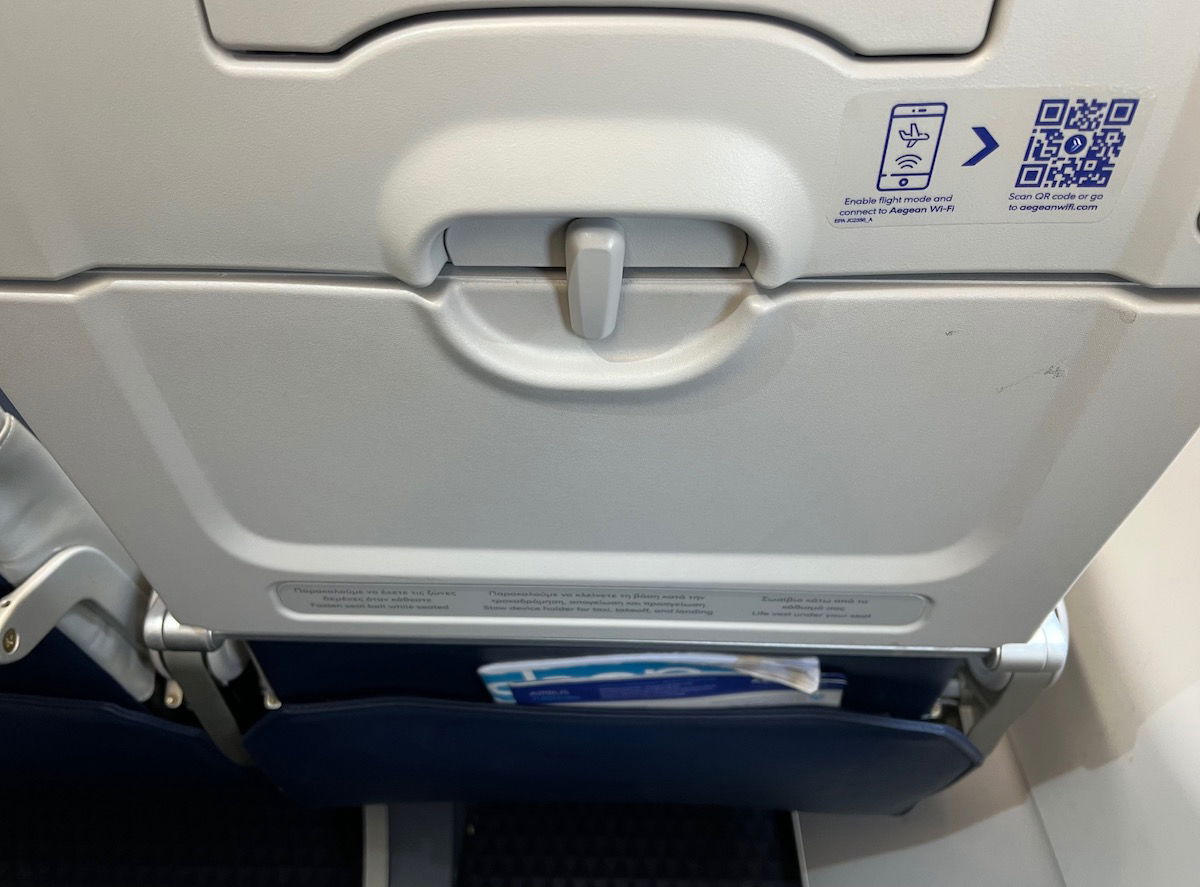 The seat had a couple of new features, at least for Aegean.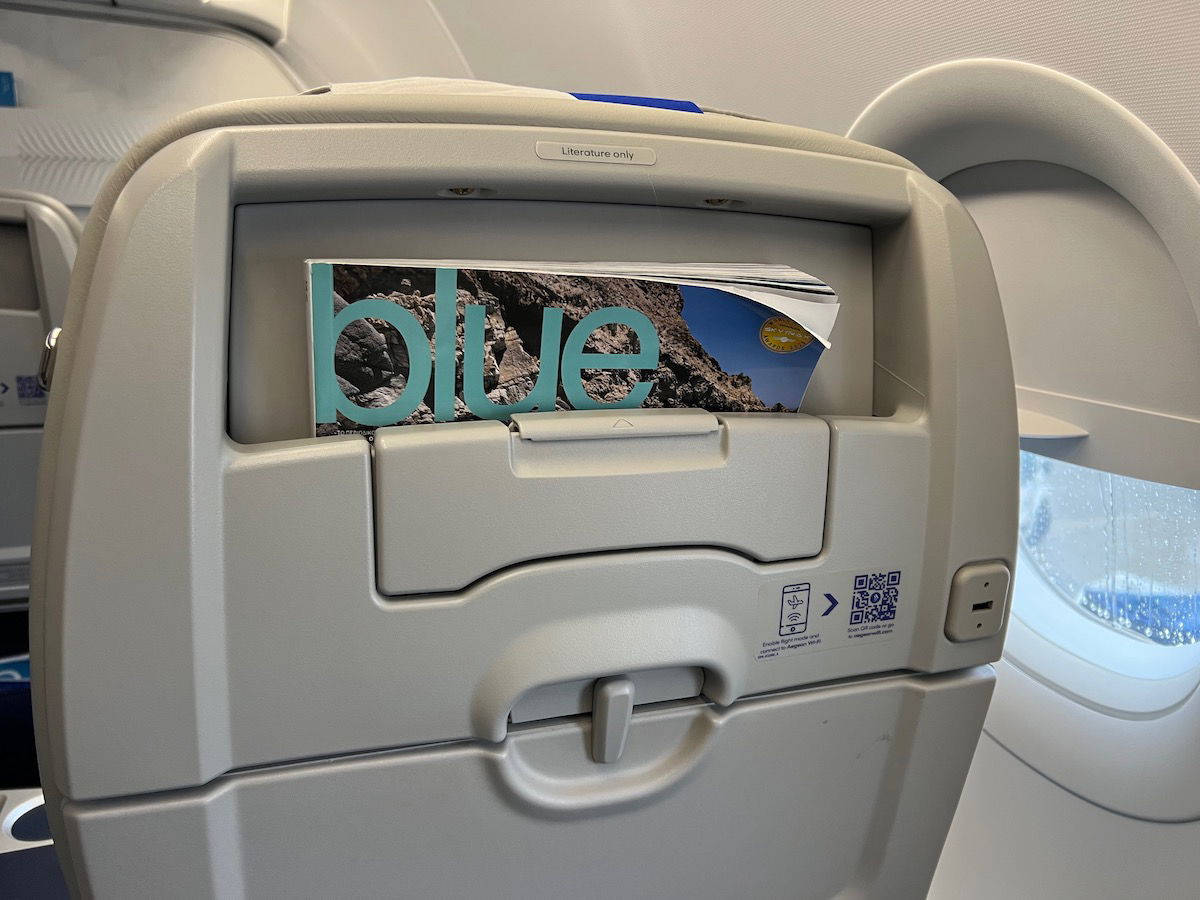 For one, Aegean has finally introduced power outlets, which the airline doesn't have on previous generation jets. Unfortunately the airline just chose to install USB-A outlets. I wish Aegean offered AC power outlets or USB-C outlets, which are quickly becoming the norm. This seems short-sighted to me.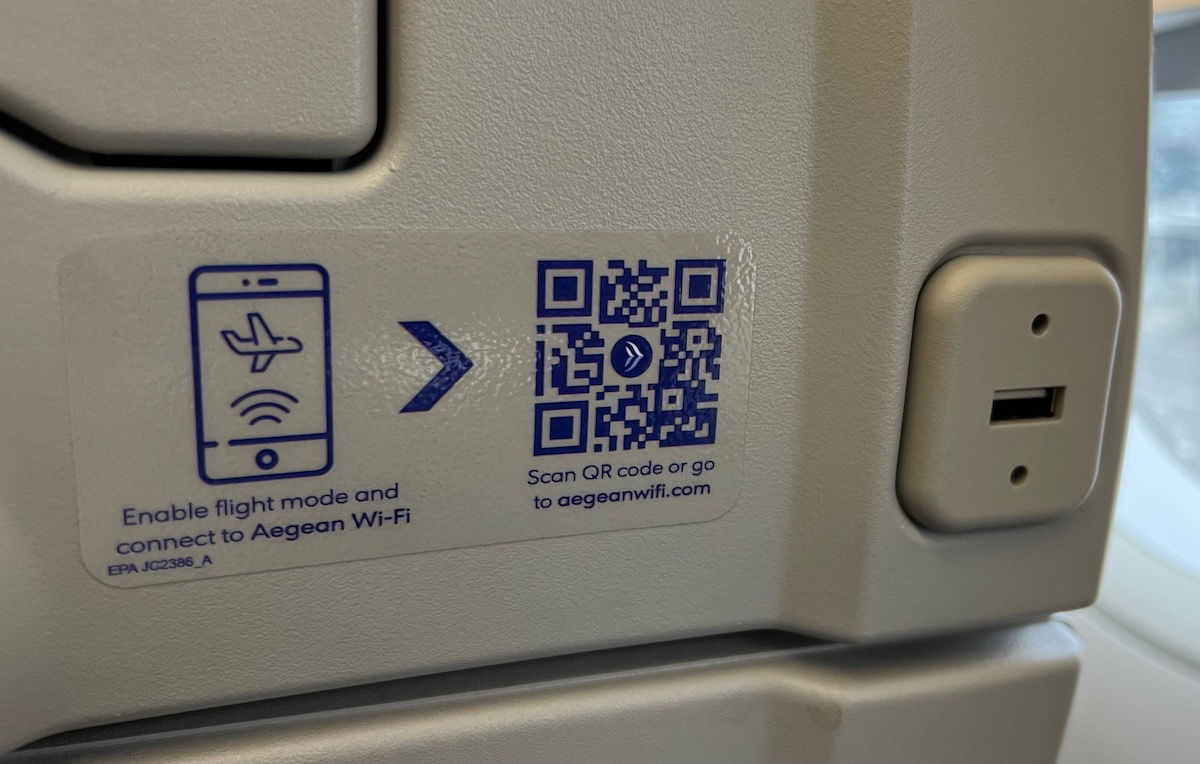 Aegean also has personal entertainment device holders, which are better than nothing, since it's not like any carrier other than Turkish has seat back entertainment on flights like this.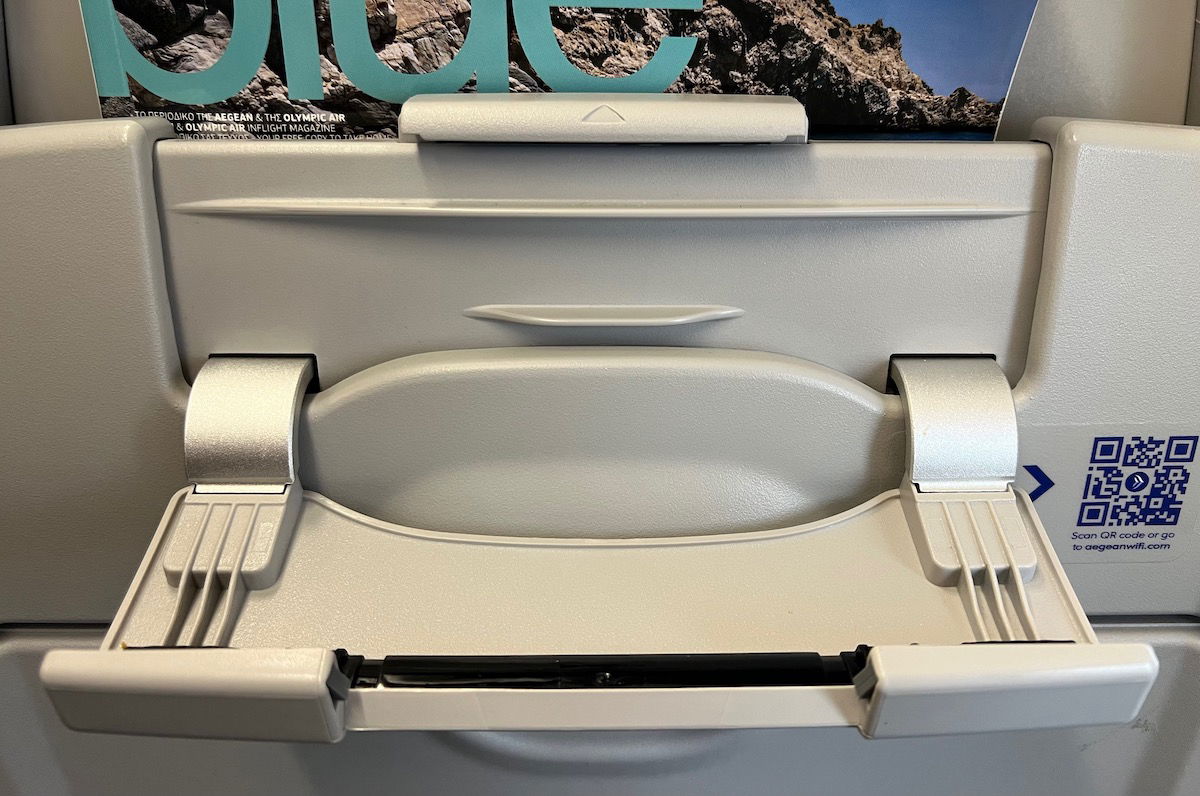 The tray table folded out from the seat in front, and was totally standard.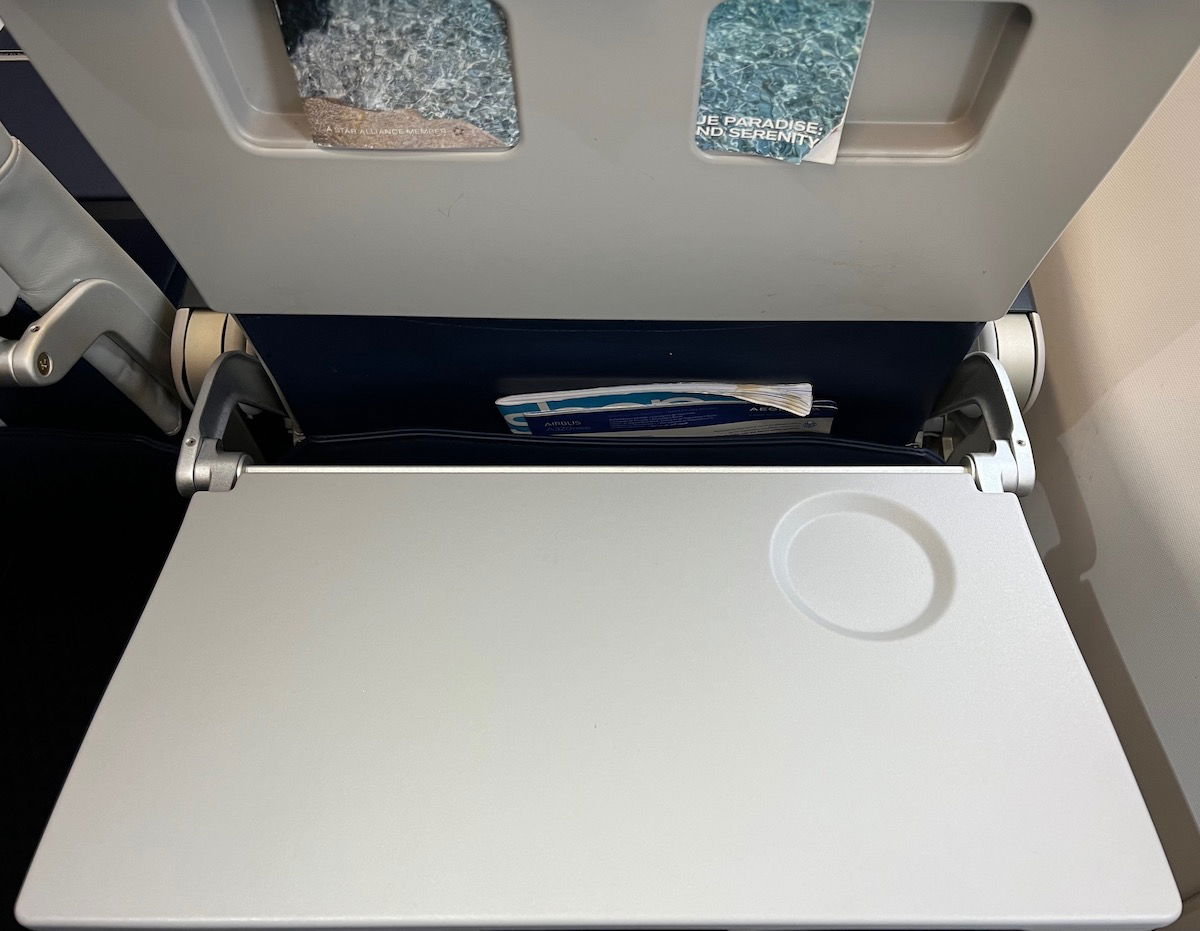 Each seat also had a coat hook, if you wanted to hang a jacket.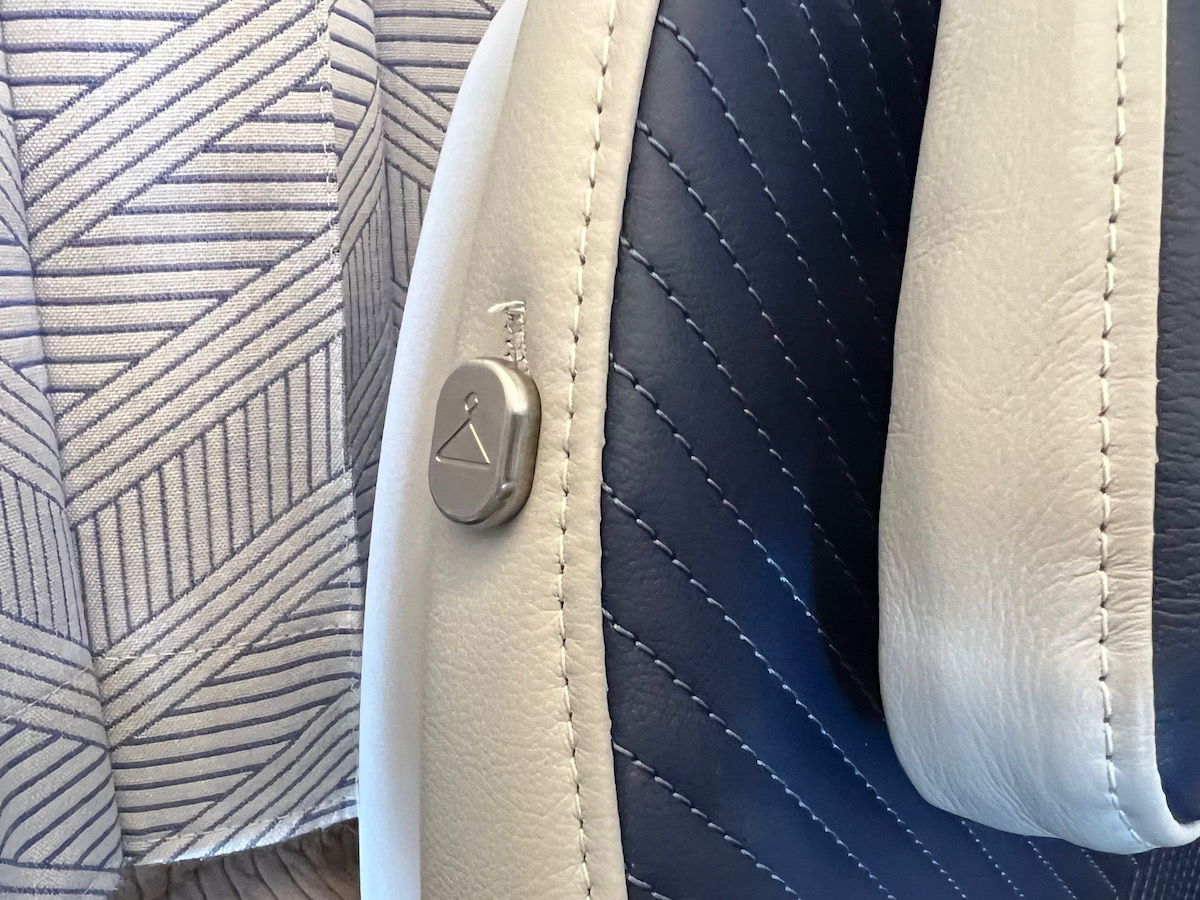 The overhead console was modern, and had both reading lights and individual air nozzles.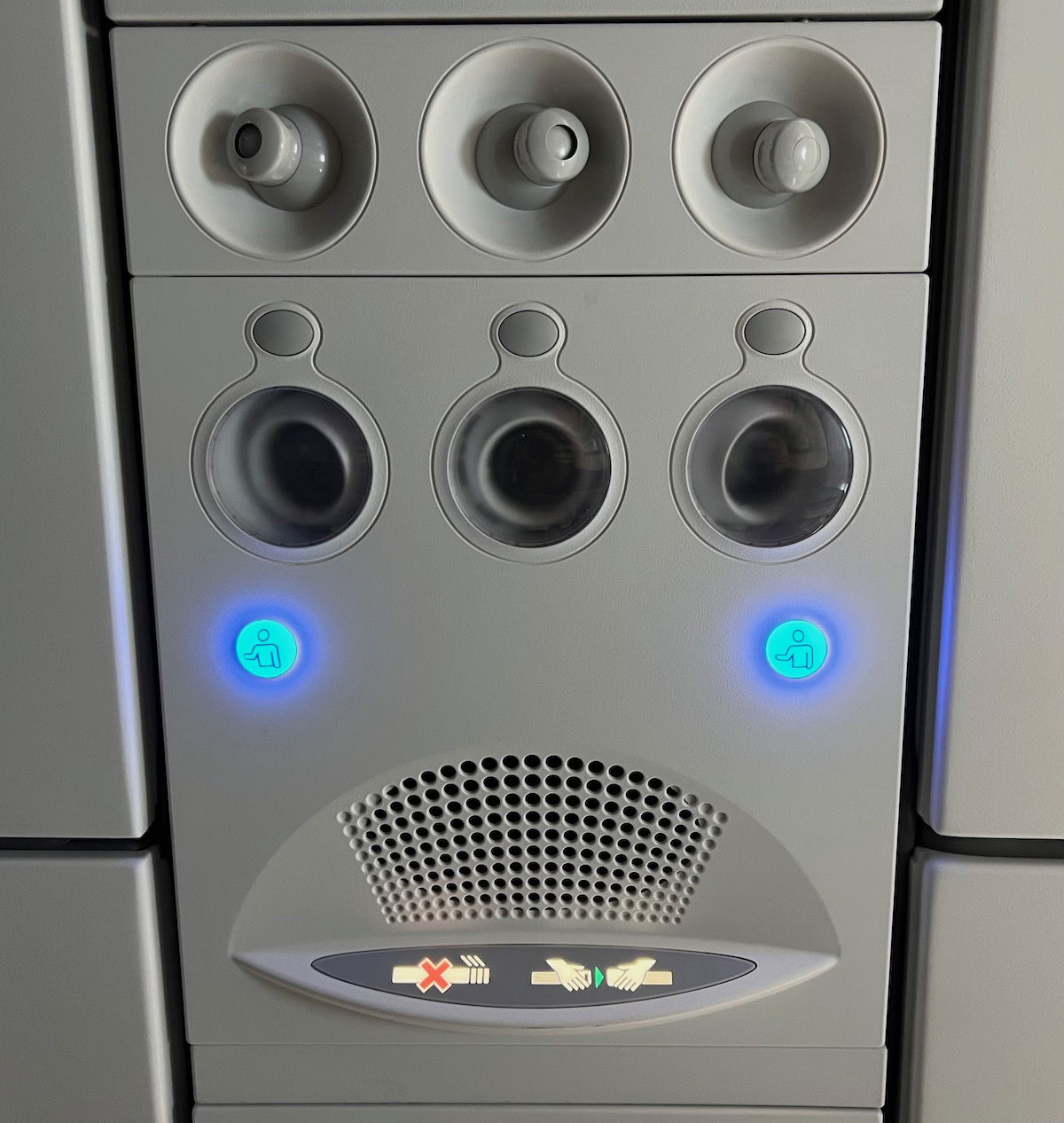 All-in-all, this was a pretty standard but modern-feeling narrow body cabin for a jet in Europe.
Aegean business class amenities
As far as amenities go, Aegean offers each passenger (including in economy) a soft chew candy as they board the plane, which is a cute touch.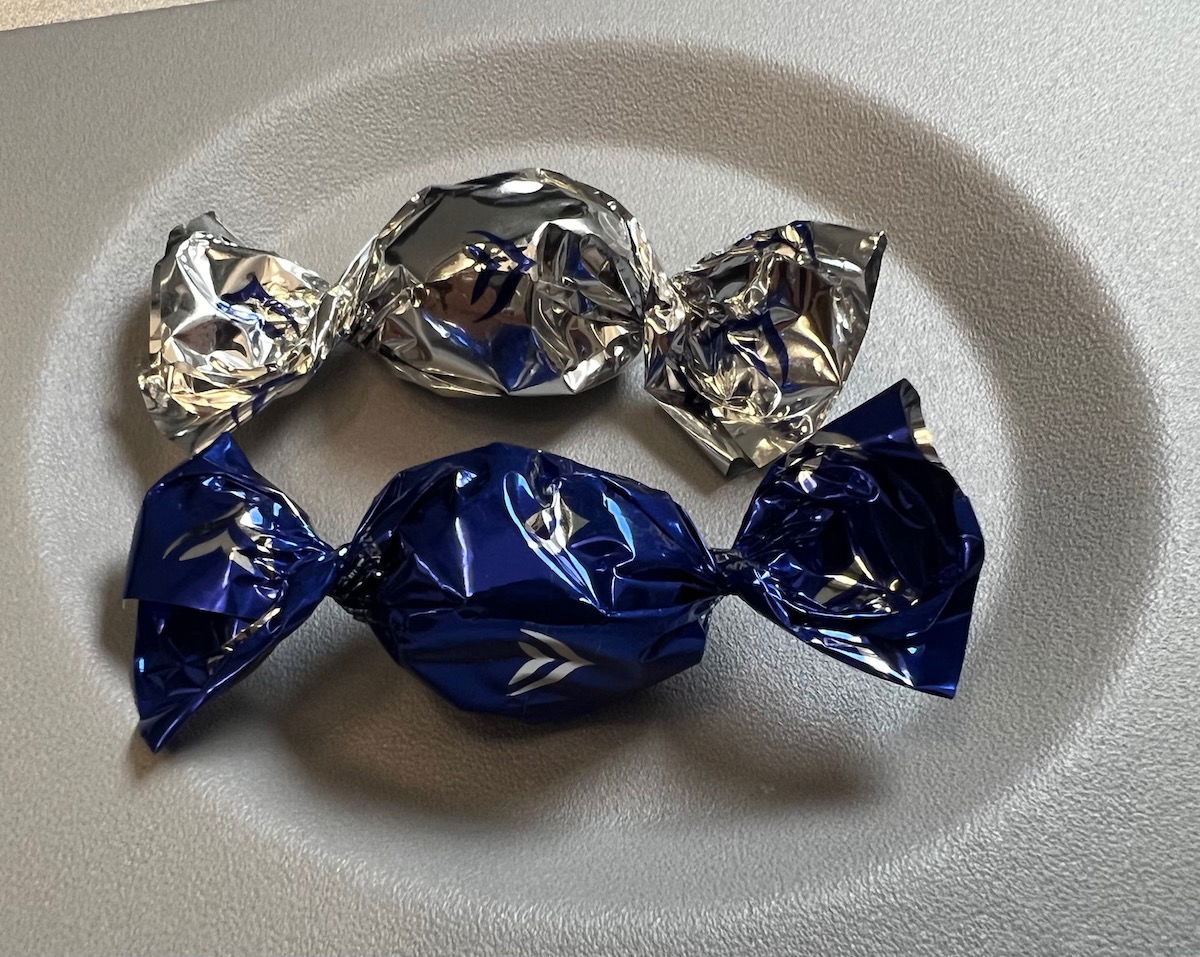 Upon boarding, each business class passenger was also offered a pre-departure drink in proper glassware, with the choice of water, orange juice, or sparkling wine. A vast majority of European airlines don't offer pre-departure drinks on these kinds of flights, so that's another way Aegean differentiates itself.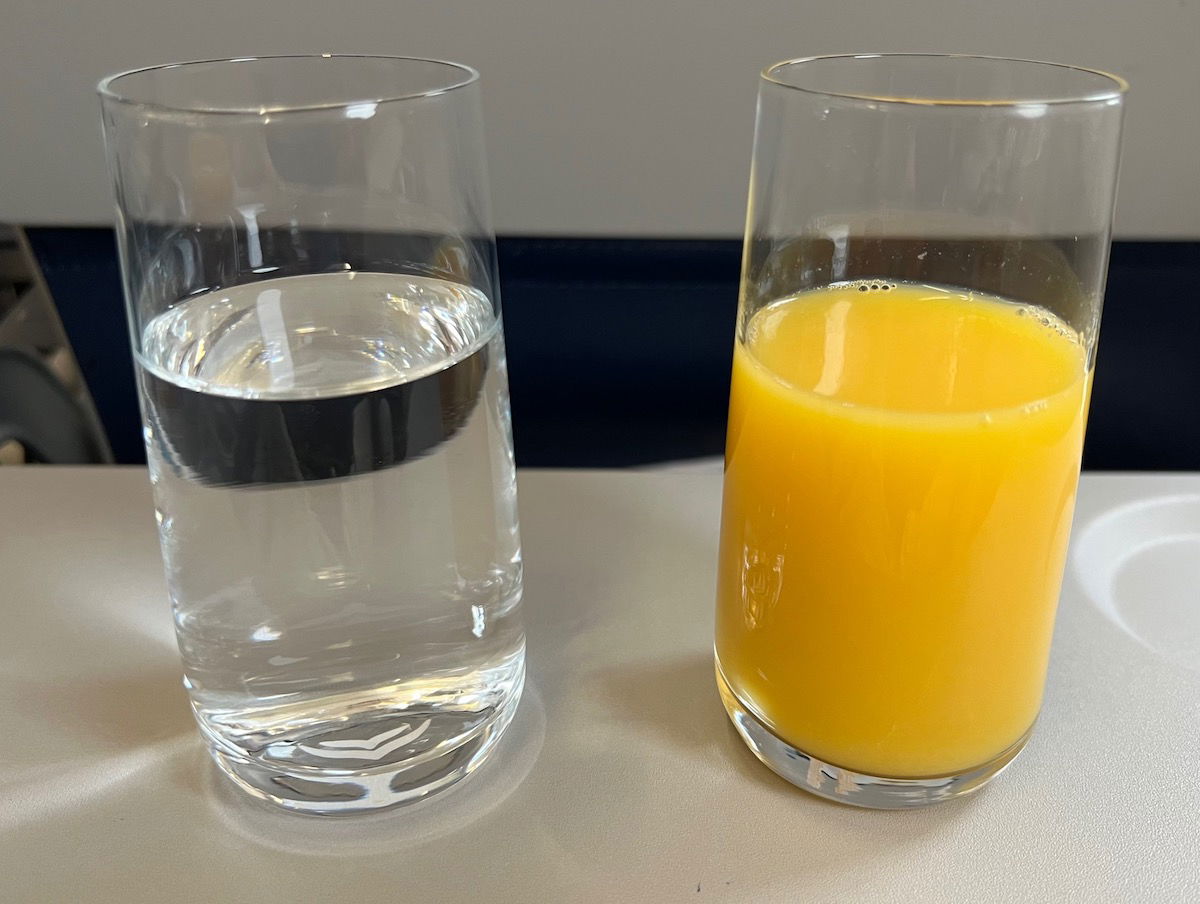 We were also given menus for the flight — again, that's something that not many airlines offer within Europe.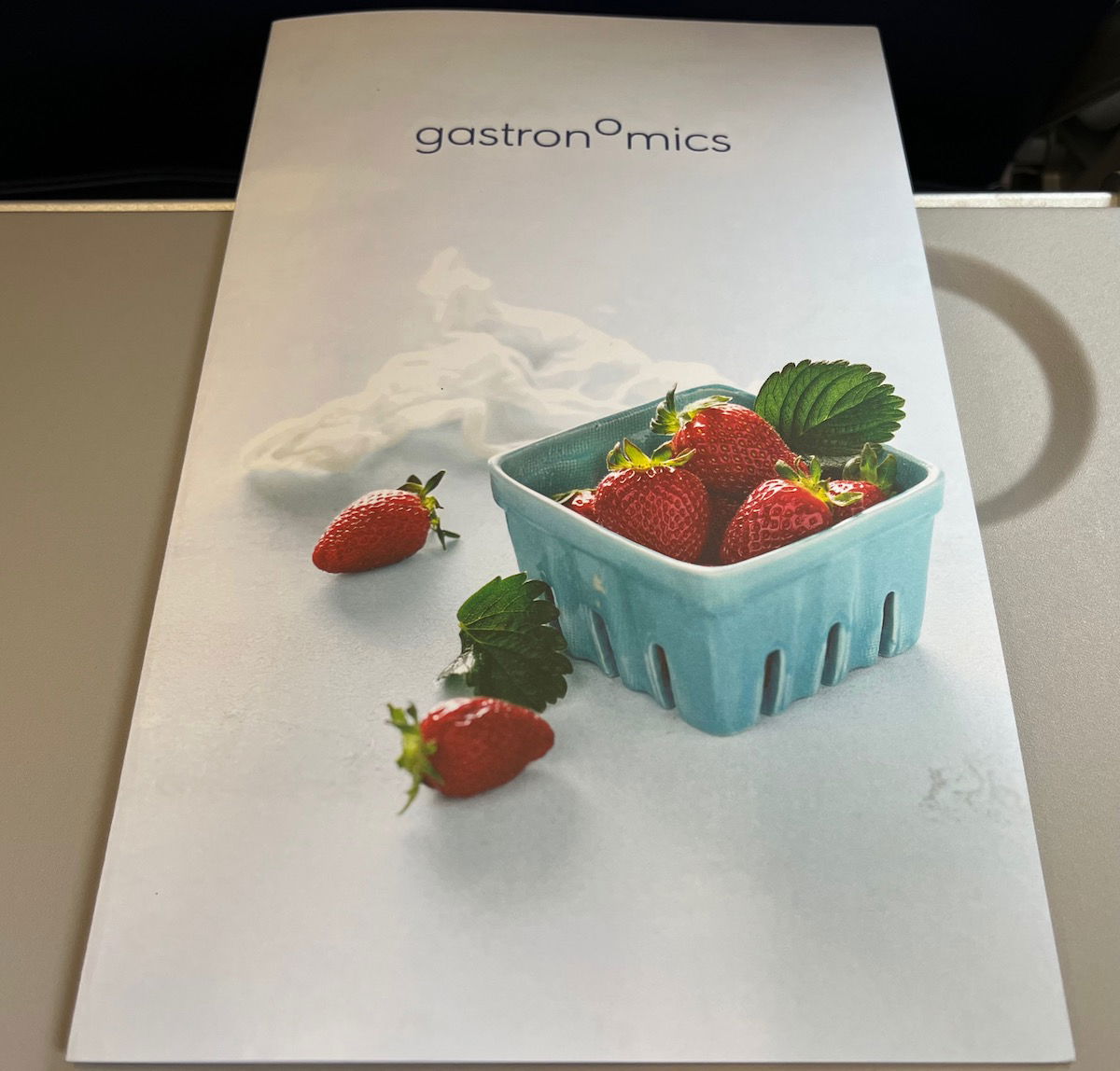 Pillows and blankets are also available on demand, so I requested those.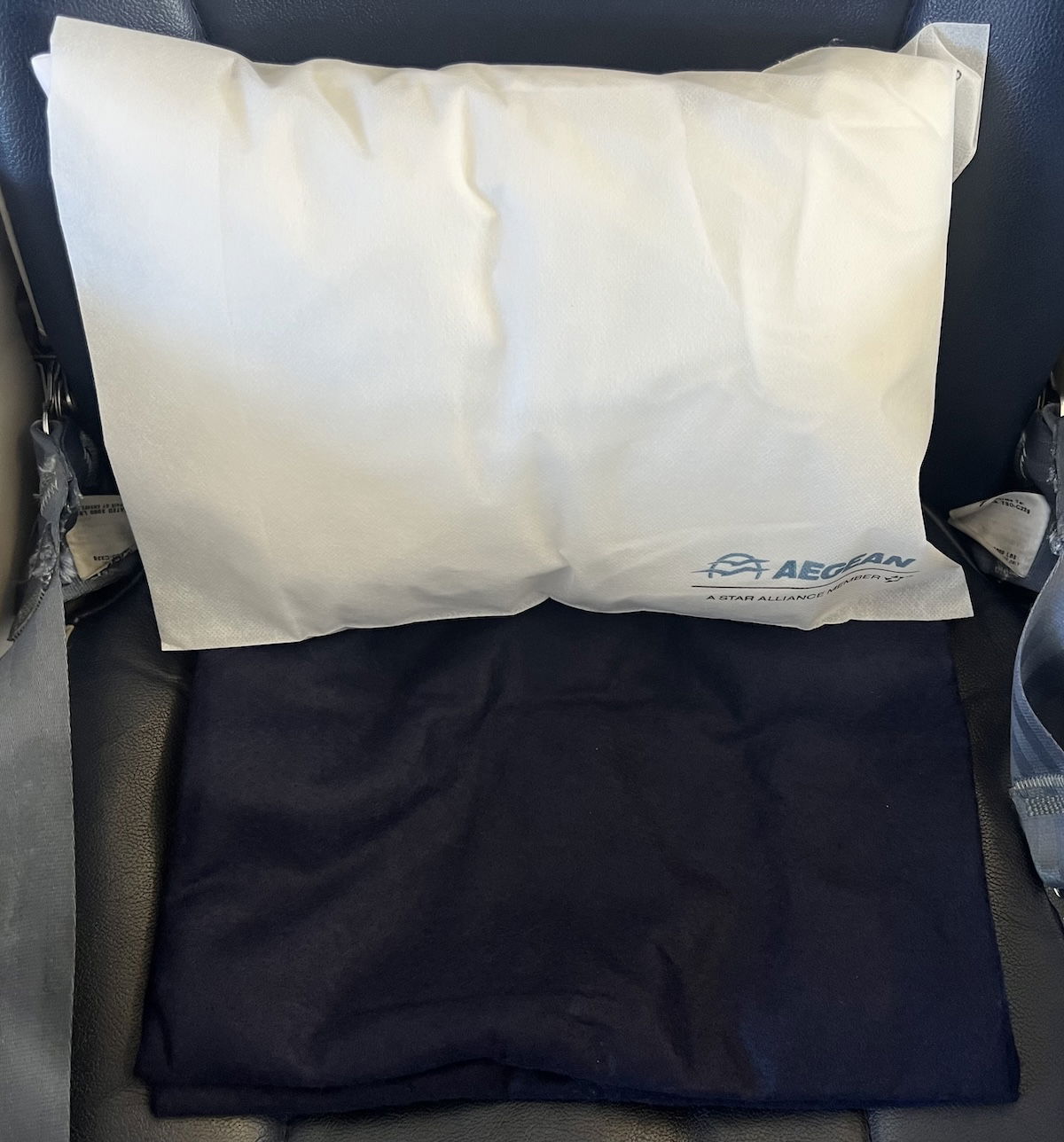 Aegean A320neo business class entertainment & Wi-Fi
Aegean offers Wi-Fi on its A320neo and A321neo aircraft (but not on its standard A320 and A321 aircraft), available after takeoff. As far as pricing goes, all passengers can get 10 minutes of free Wi-Fi, and then a texting and surfing plan with low speeds costs €4, while a streaming plan costs €9. I'd say that pricing is good, given the lack of data caps.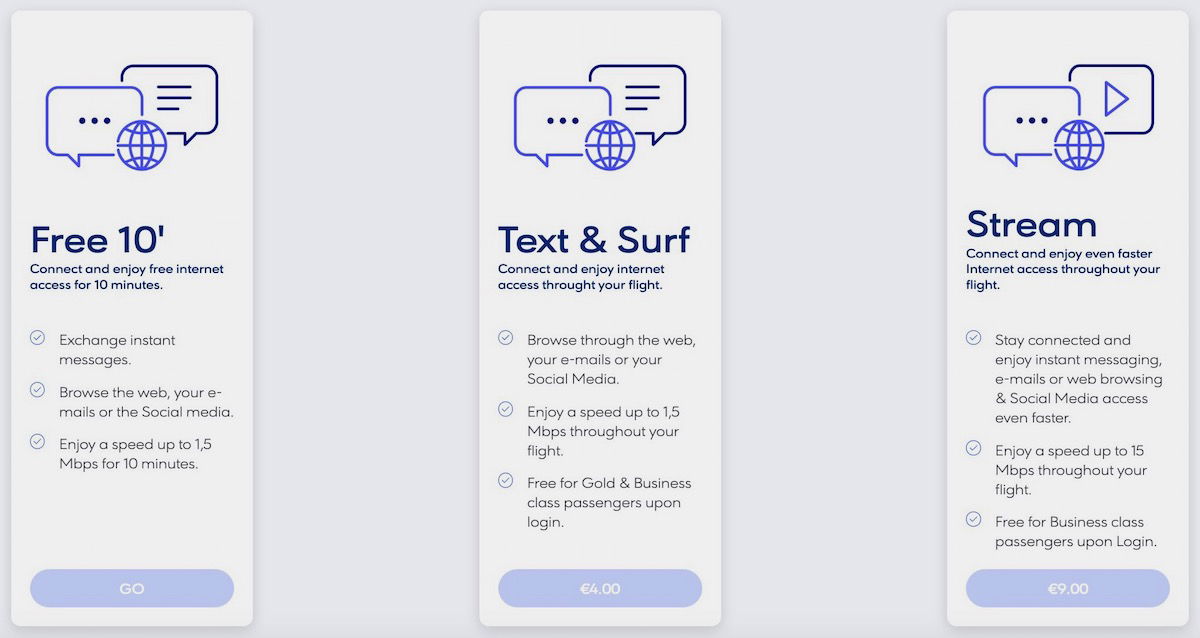 Aegean also offers complimentary Wi-Fi to its business class passengers and Aegean Miles+Bonus Gold members. You can connect either by logging into your Miles+Bonus account, or by entering your PNR and last name.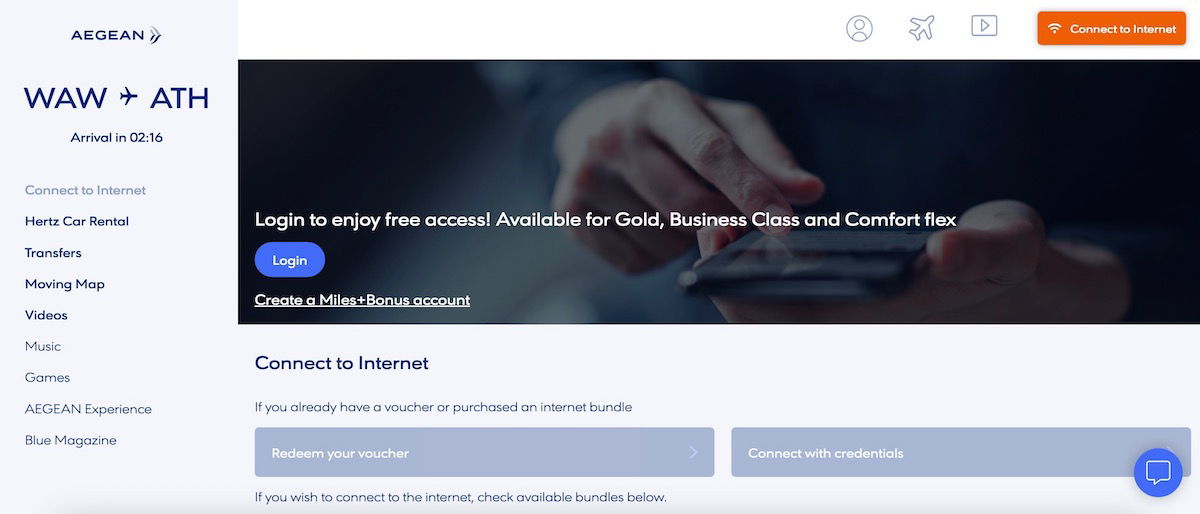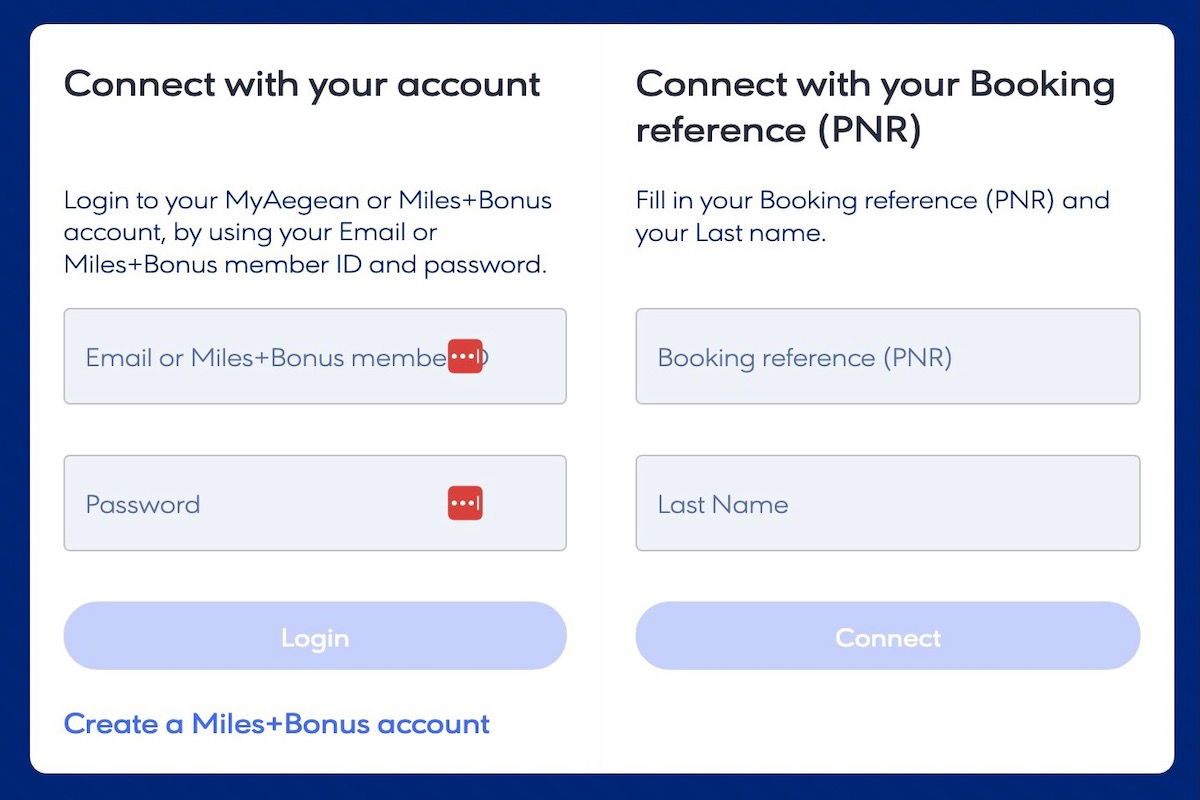 I found the Wi-Fi speeds to be very good, so it's always nice to stay connected above the clouds.
In addition to Wi-Fi, Aegean also has a small selection of complimentary streaming movies and TV shows, which is better than nothing.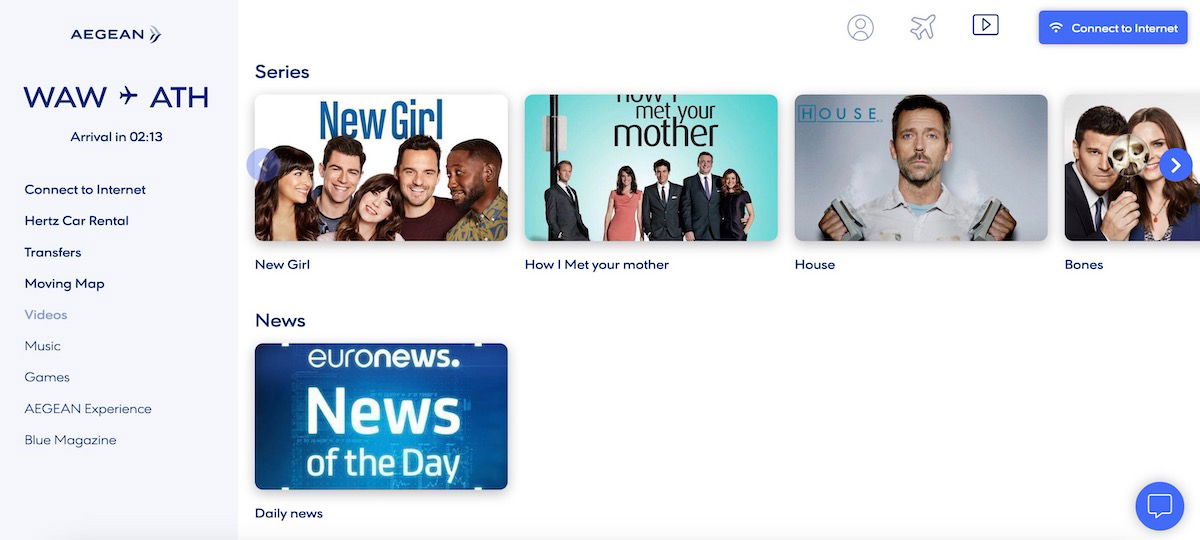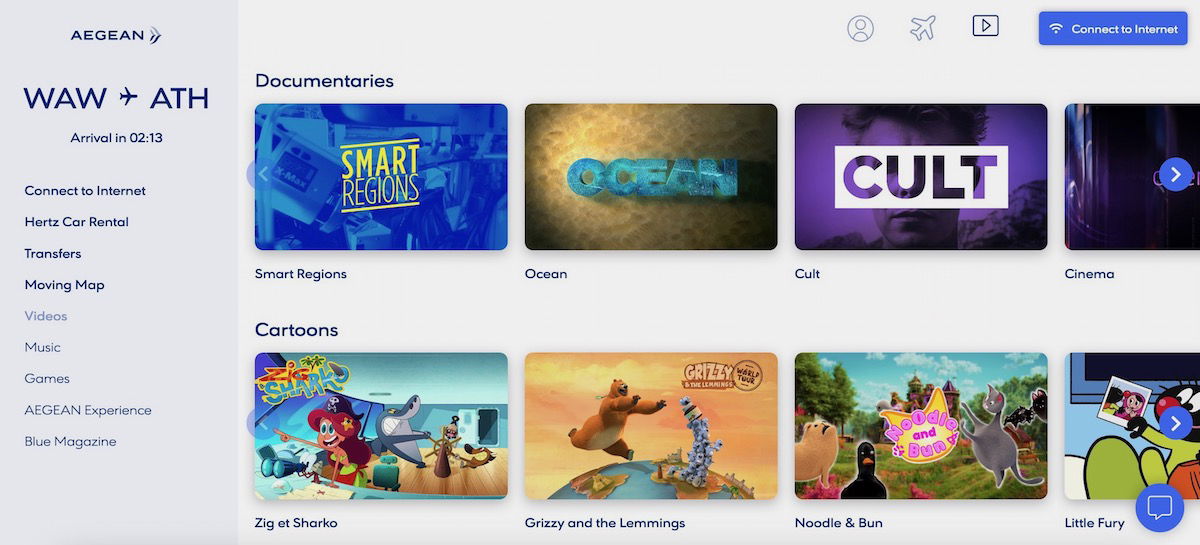 Aegean A320neo departure from Warsaw
The flight to Warsaw was nearly full, in both economy and business. Boarding was completed by 10:35AM, about 20 minutes after it started. At 10:40AM the captain made his welcome aboard announcement, informing us of our flight time of 2hr30min. A few moments later, a manual safety demonstration was performed.
At 10:50AM we began our taxi. Unfortunately I couldn't really get good pictures out the window during our taxi, given that it was pouring outside, so my camera wouldn't focus outside the window.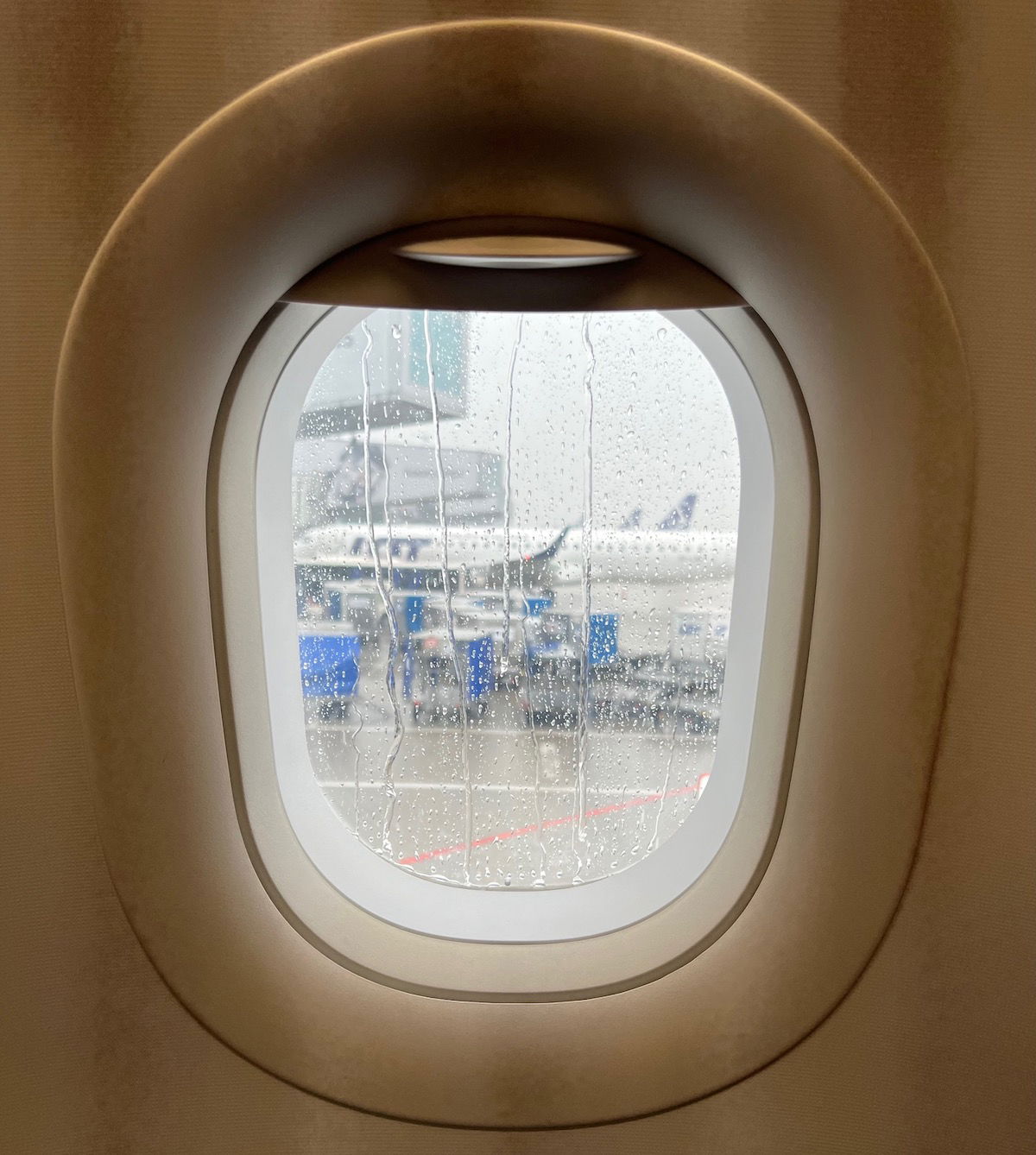 We had a very short taxi, and at 10:55AM were cleared for takeoff from runway 29.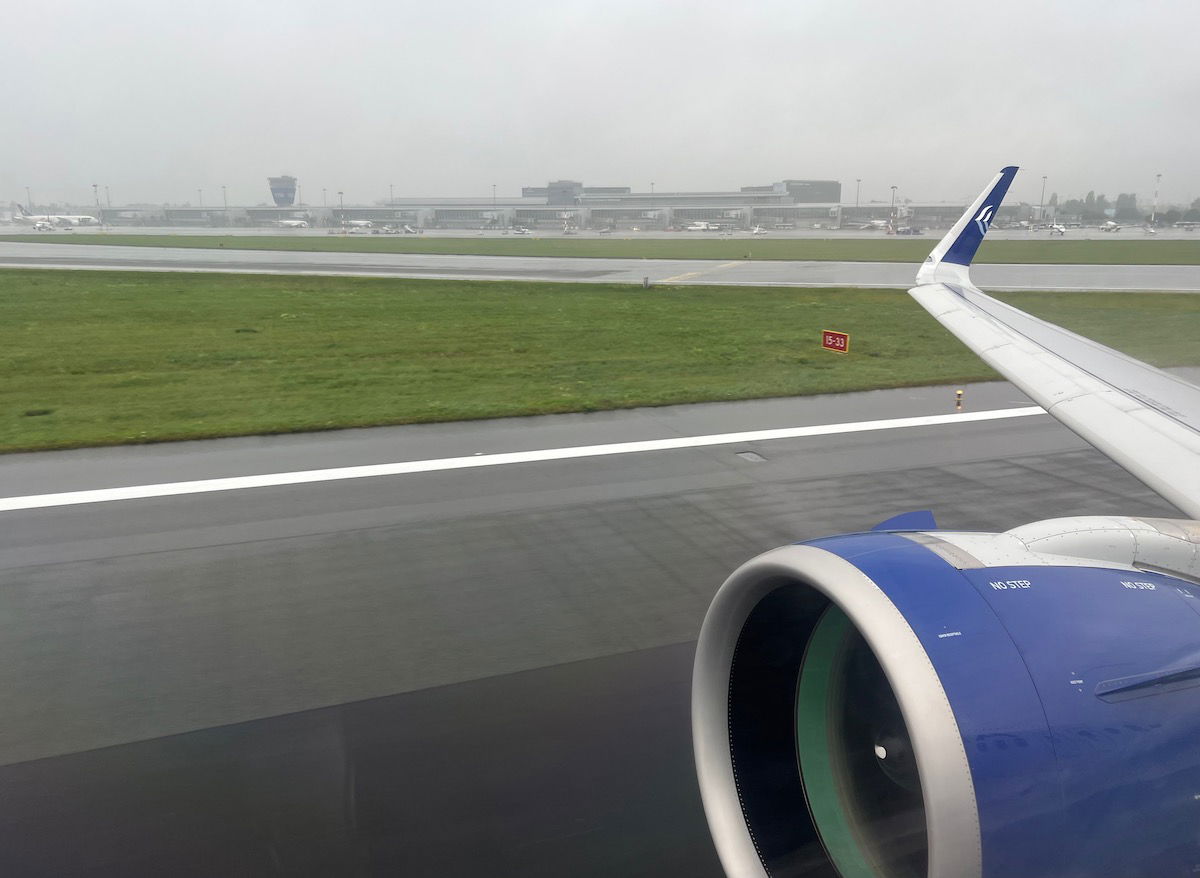 We had a bit of turbulence on the initial climb out, but the ride smoothed out above the clouds.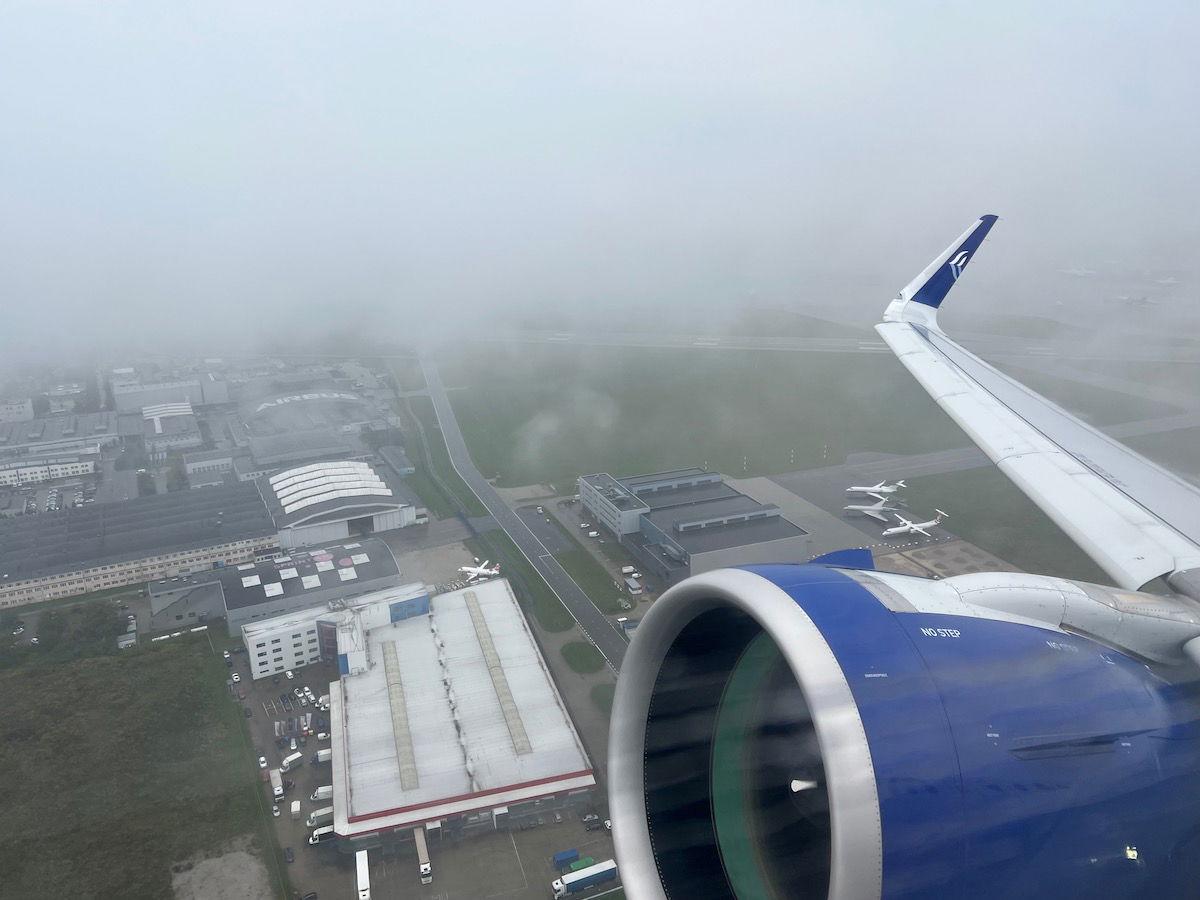 10 minutes after takeoff the seatbelt sign was turned off, at which point the crew closed the curtain between the galley and the cabin.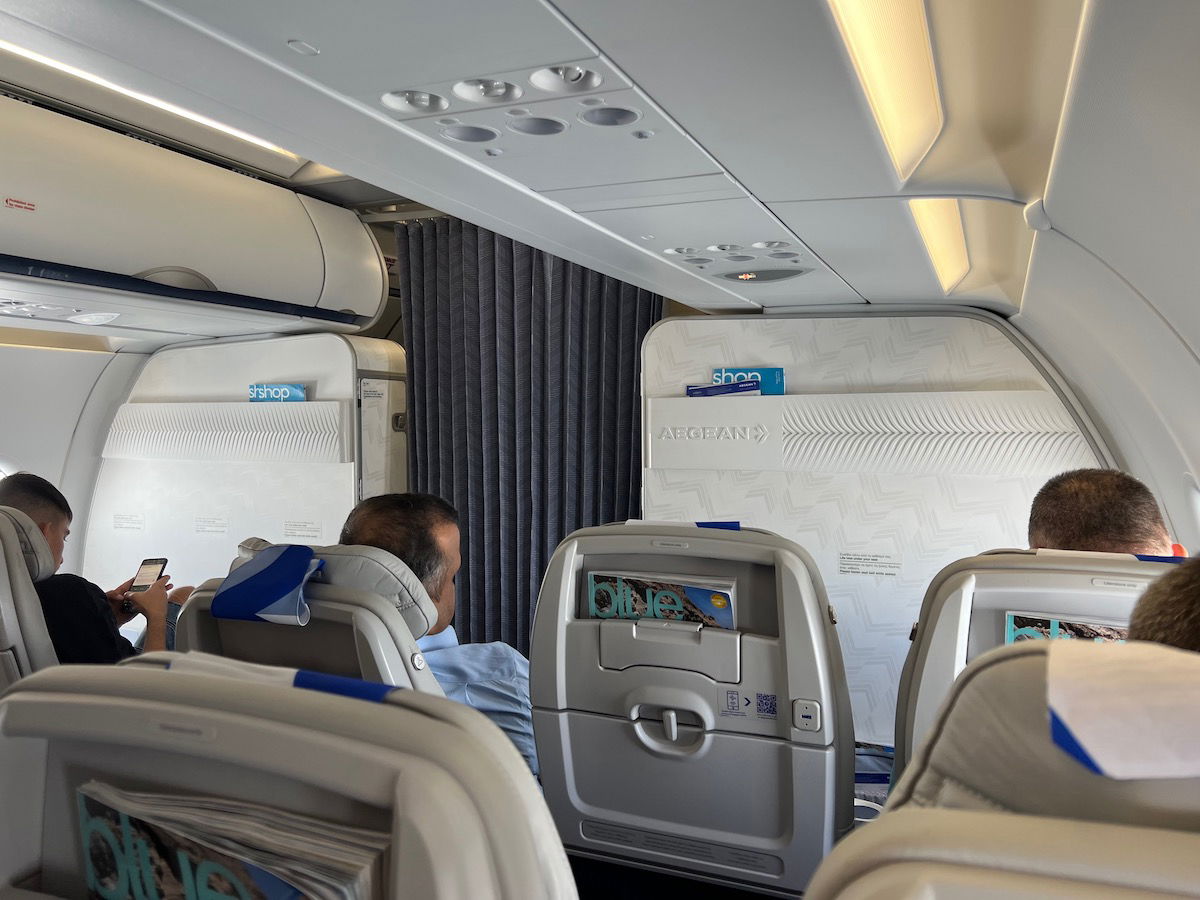 Aegean business class meal service
Shortly after takeoff, the meal service began. You can find the breakfast menu below.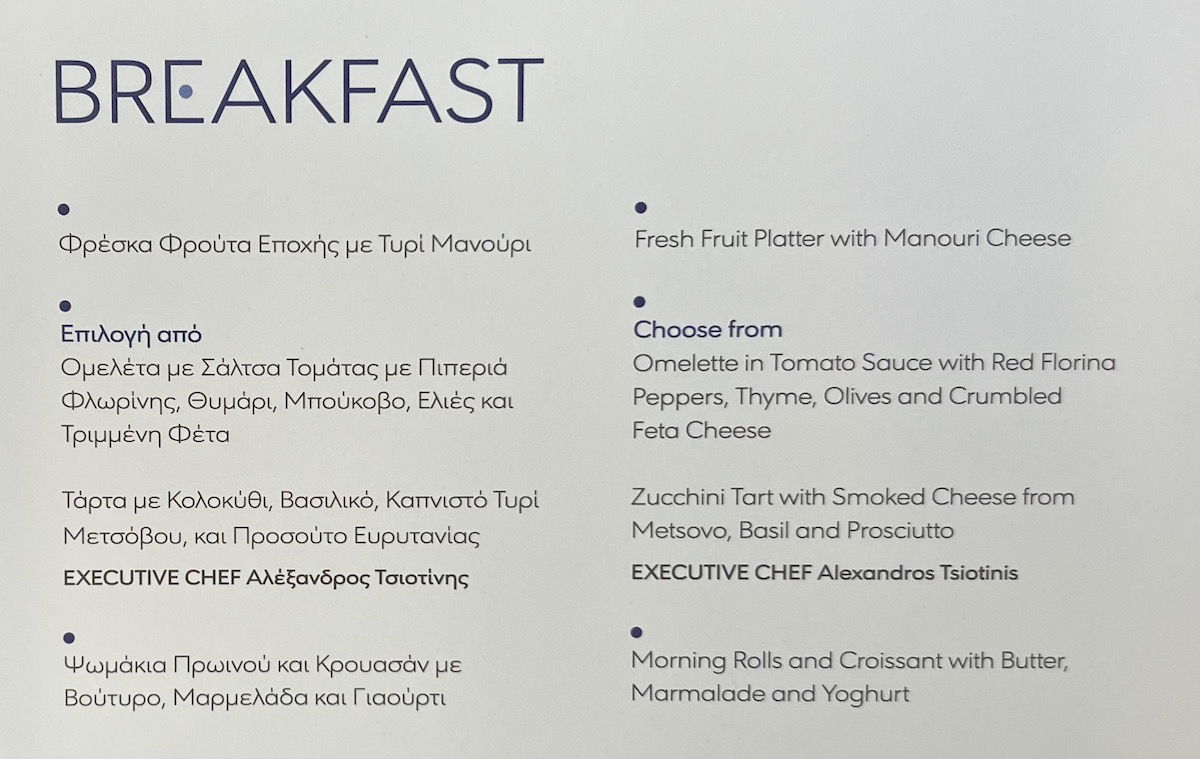 Then you can find the drink list below.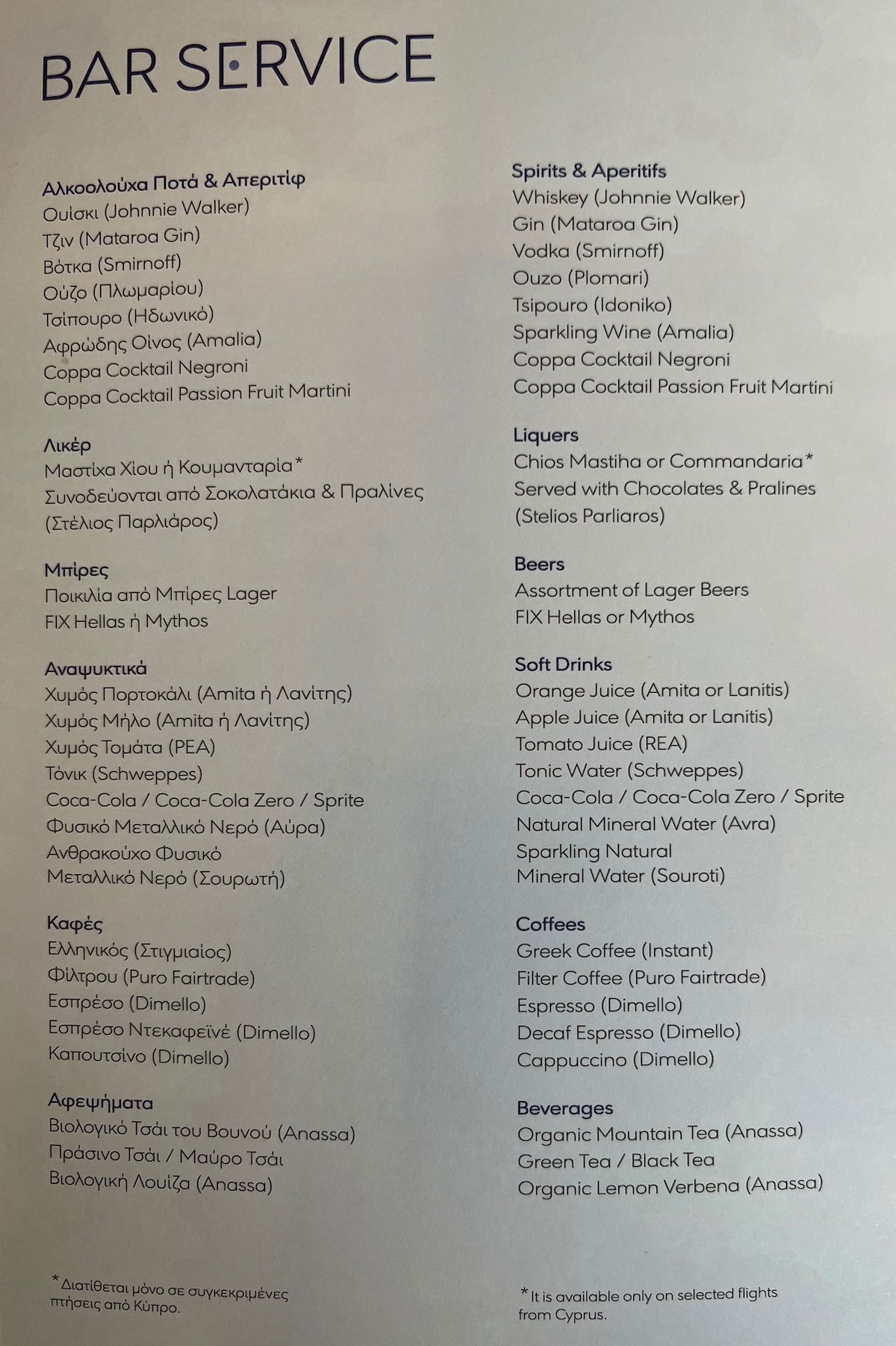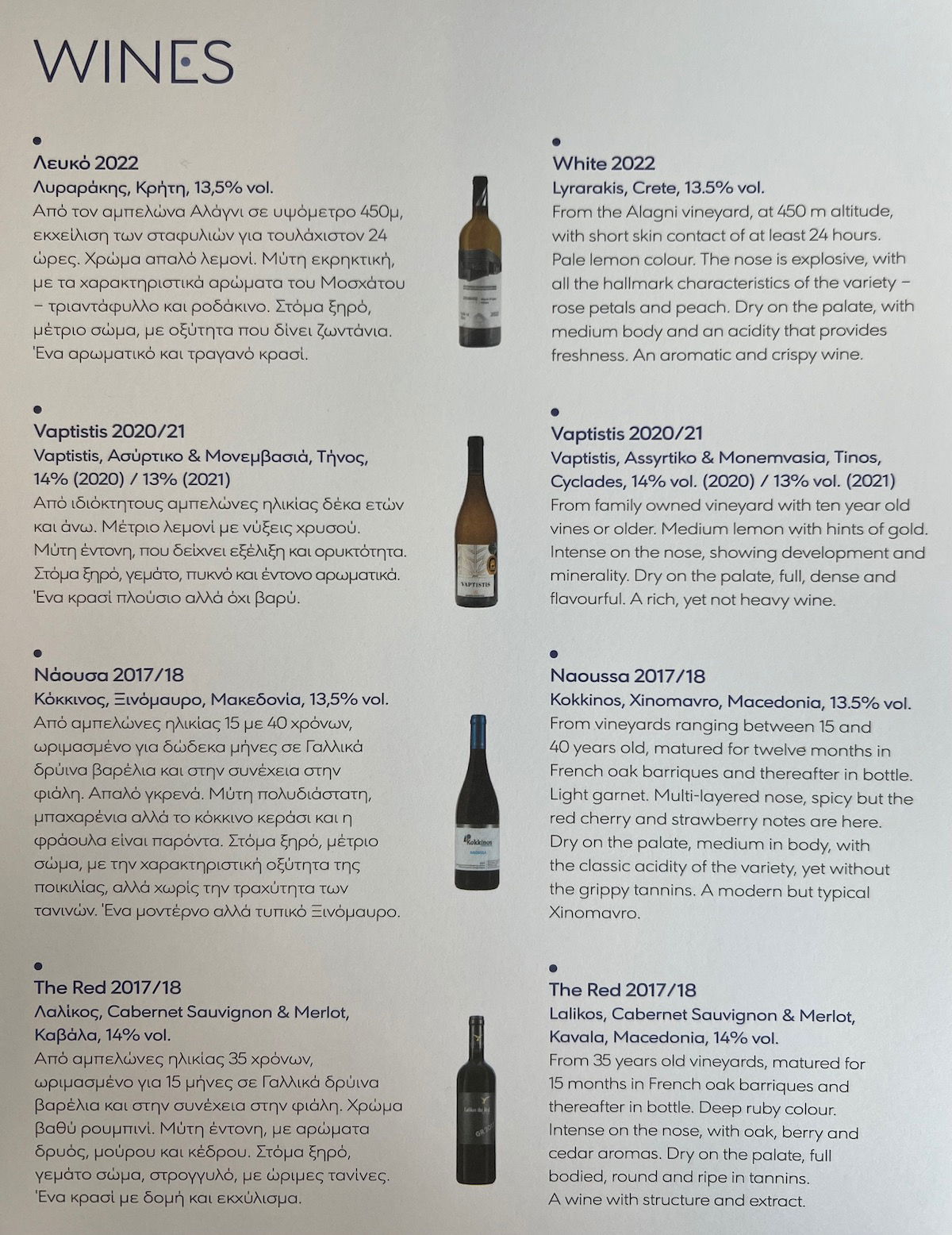 I found it surprising that breakfast was served after takeoff, with a scheduled 10:35AM departure. You'd think that lunch would be more appropriate, but that didn't bother me one bit, as I love Greek breakfasts.
About 25 minutes after takeoff, the senior cabin crew came through the cabin with a trolley containing the meals and drinks. I ordered the omelet in tomato sauce with red peppers, olives, and crumbled feta cheese, which was absolutely delicious, one of the best egg dishes I've had on a plane. Yum. That was served with a side of fruit and cheese, a greek yogurt with honey, and a croissant.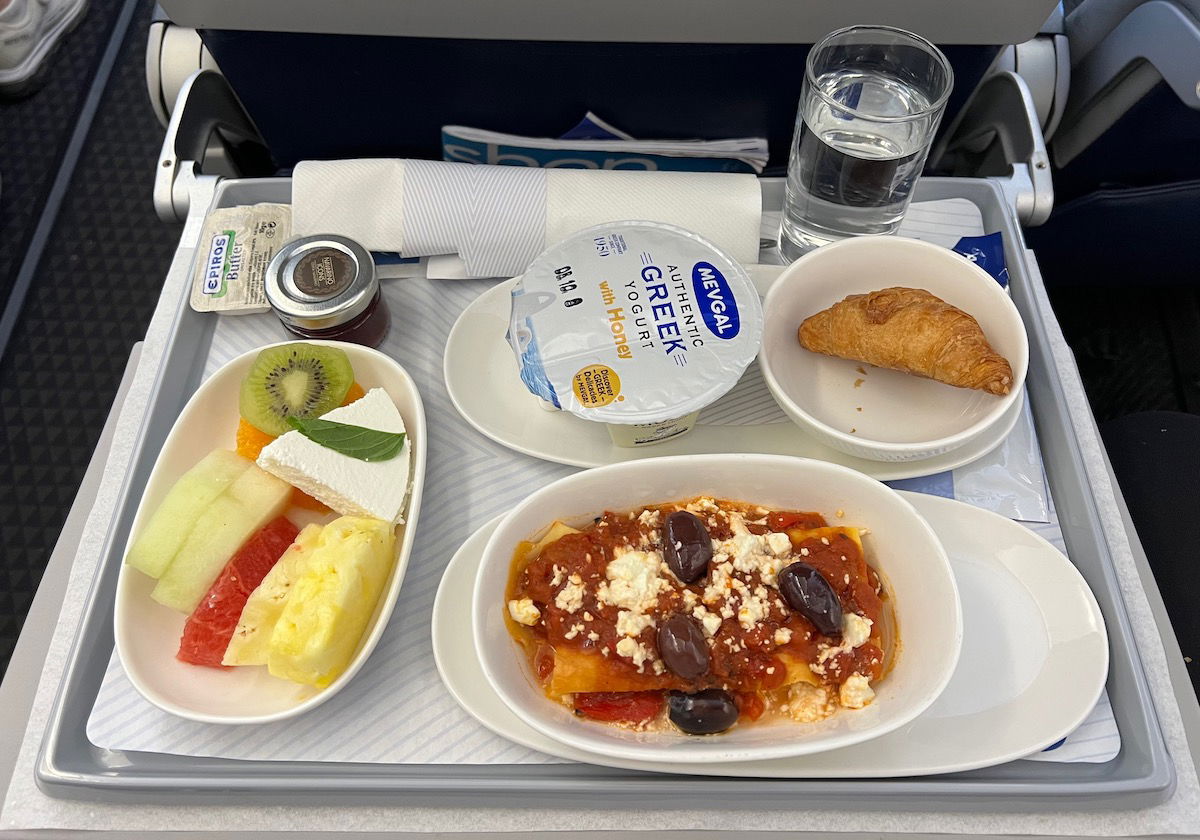 Ford had the other option, which was a zucchini tart with smoked cheese, basil, and prosciutto.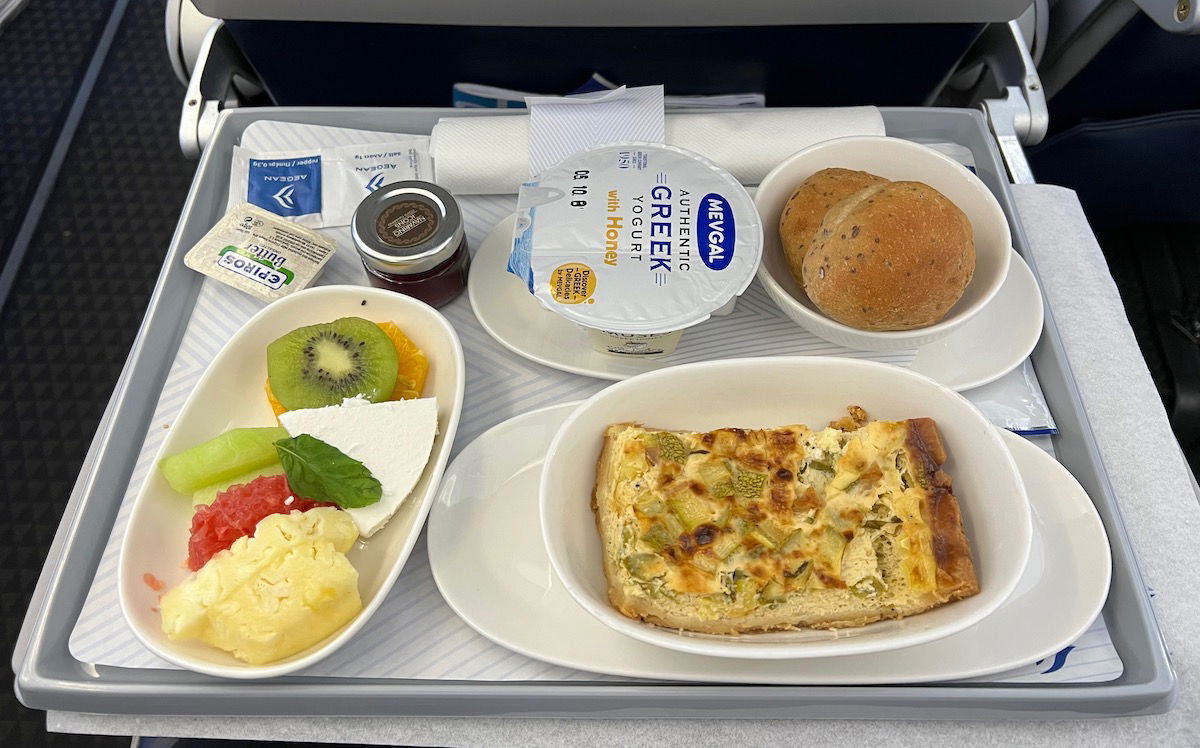 While I just had a water to drink with the meal, after breakfast I ordered a cappuccino. I love how Aegean has espresso-based drinks, as it's rare you'll find that in intra-Europe business class.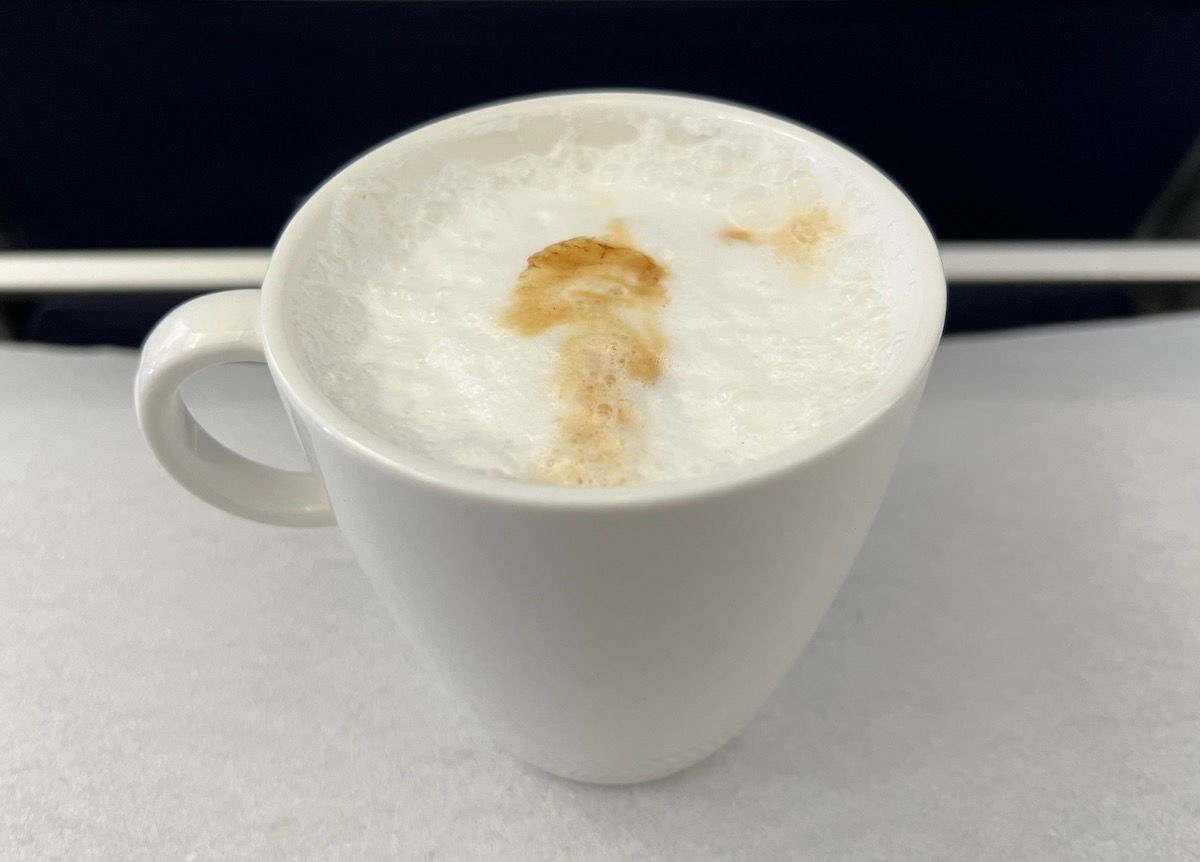 Later on in the flight I also had an espresso, which was tasty.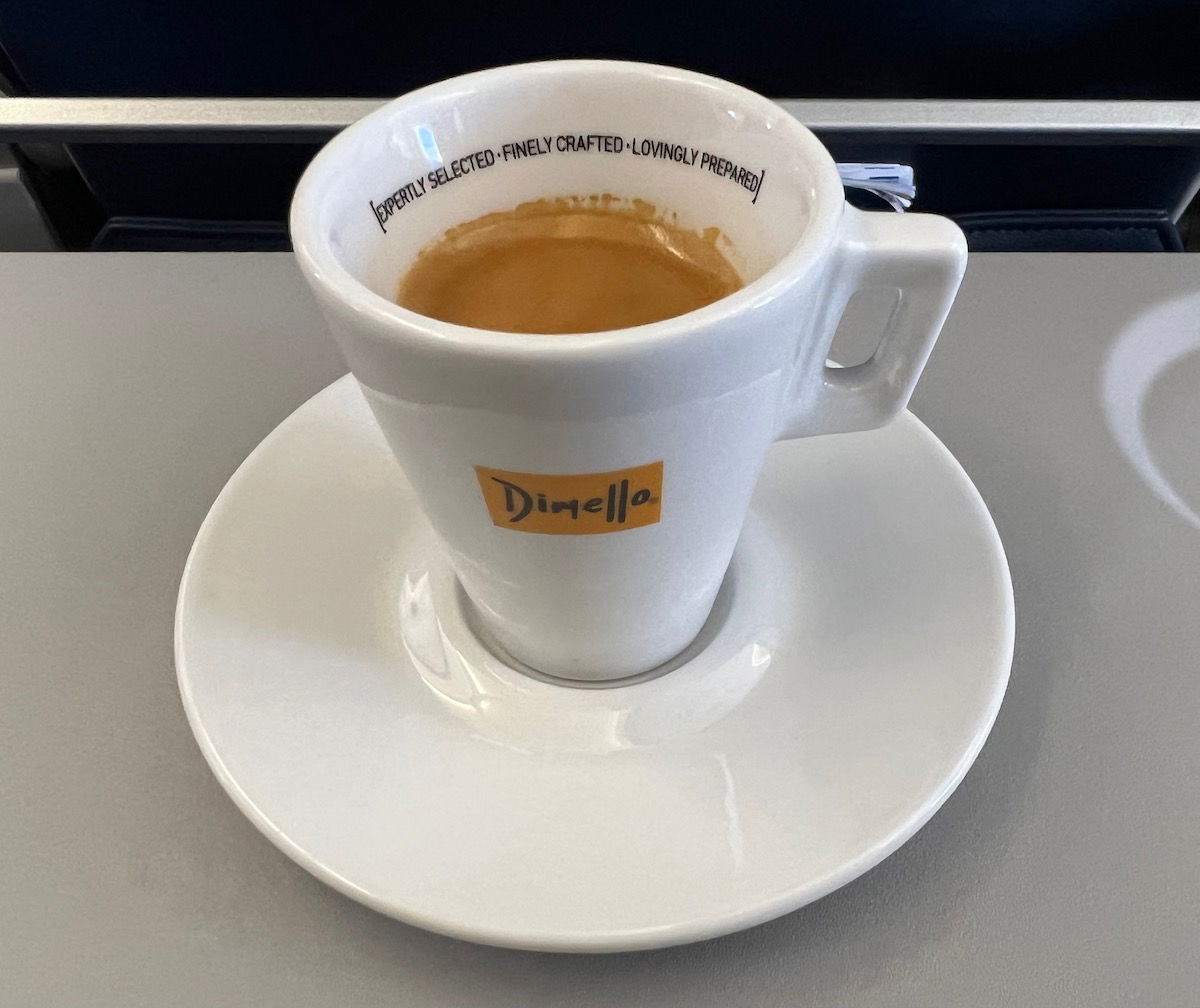 While I didn't have any wine on this flight, it's also worth calling out Aegean's impressive regional selection of wines.
The flight attendant working business class was friendly, and constantly checked on passengers to see if they wanted anything.
Aegean A320neo business class lavatory
There was a lavatory located at the front of business class, reserved exclusively for business class passengers. The lavatory was clean, but otherwise pretty no frills, as there were no special toiletries or amenities.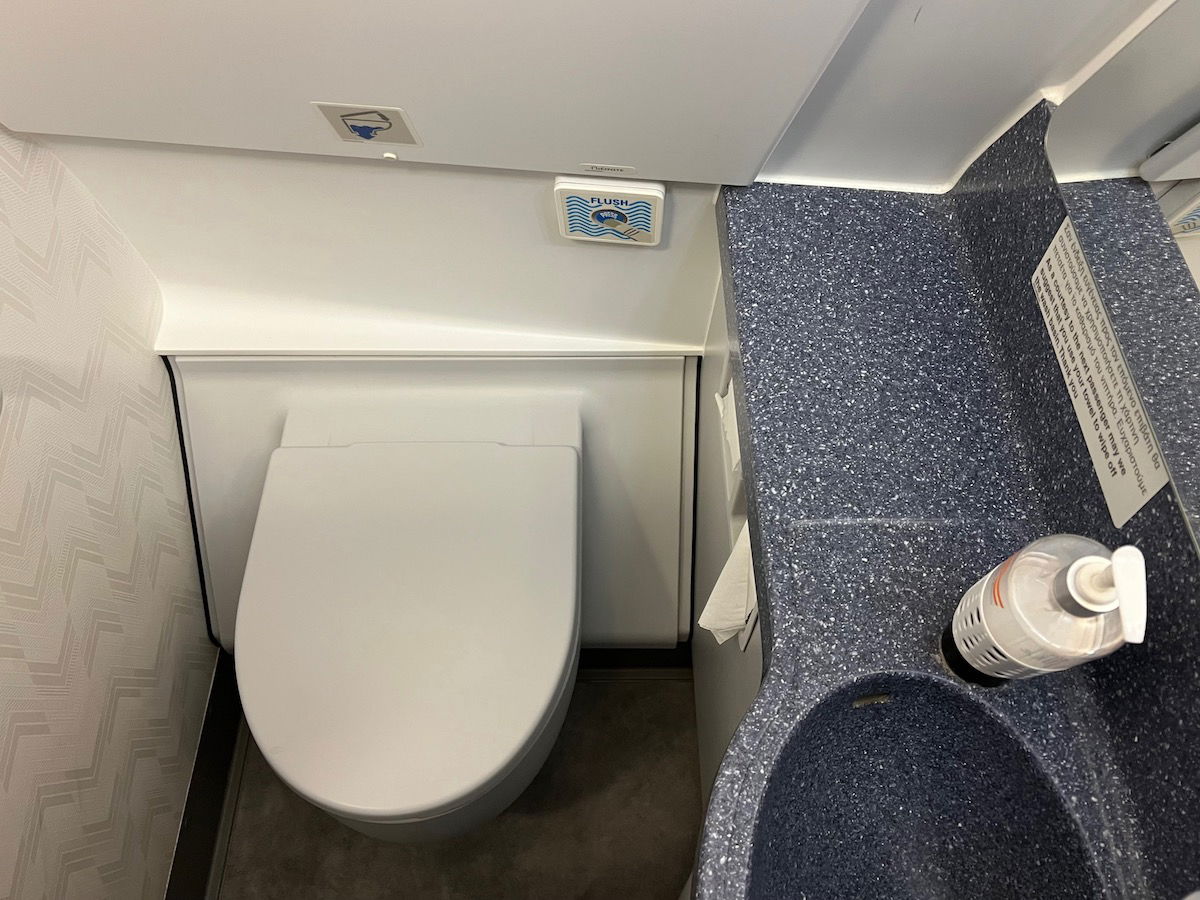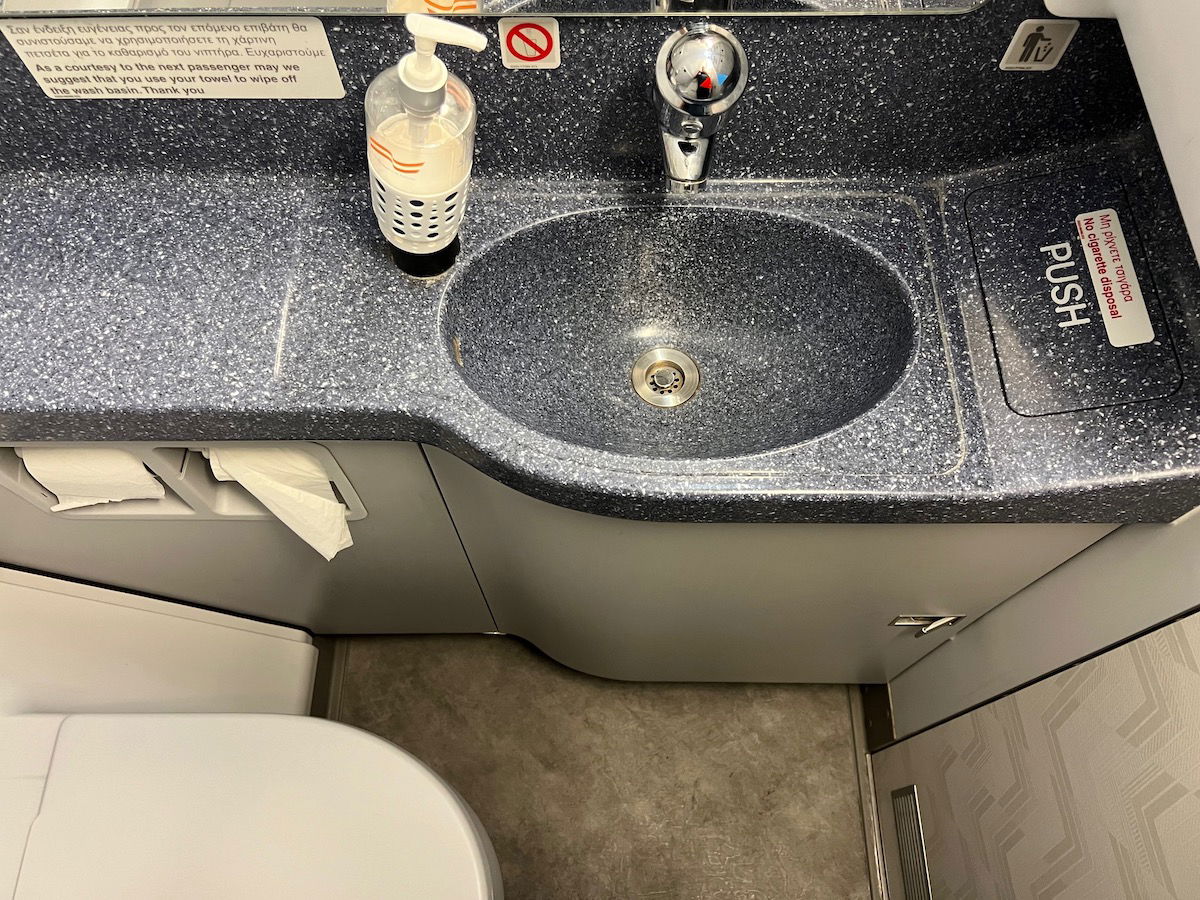 Aegean A320neo arrival in Athens
At 2PM Athens time (there was a one hour time change), the captain announced that we had started our descent, and would be landing in around 20 minutes. About five minutes later the crew prepared the cabin for landing.
Greece is one of the most beautiful countries in the world, and you can't help but just stare out the window during the approach, because it's so gorgeous.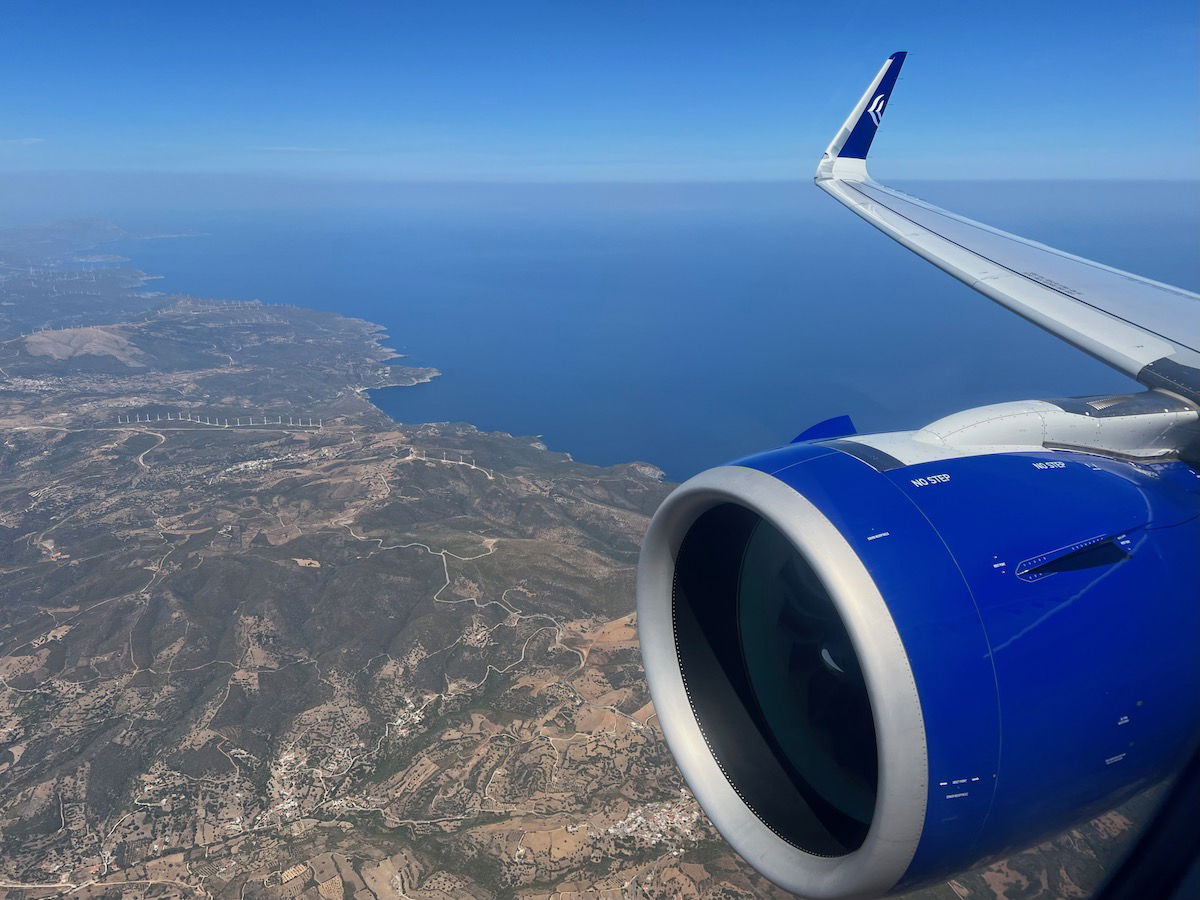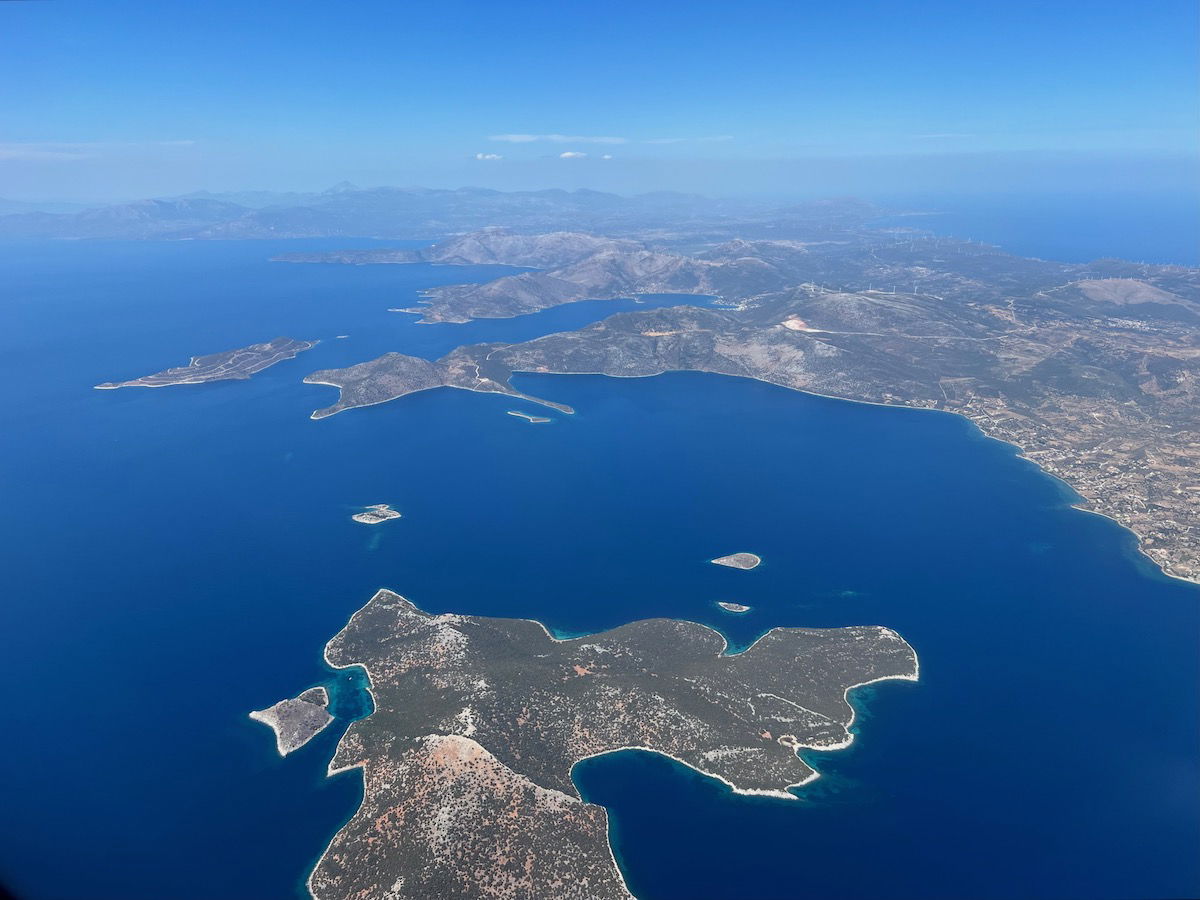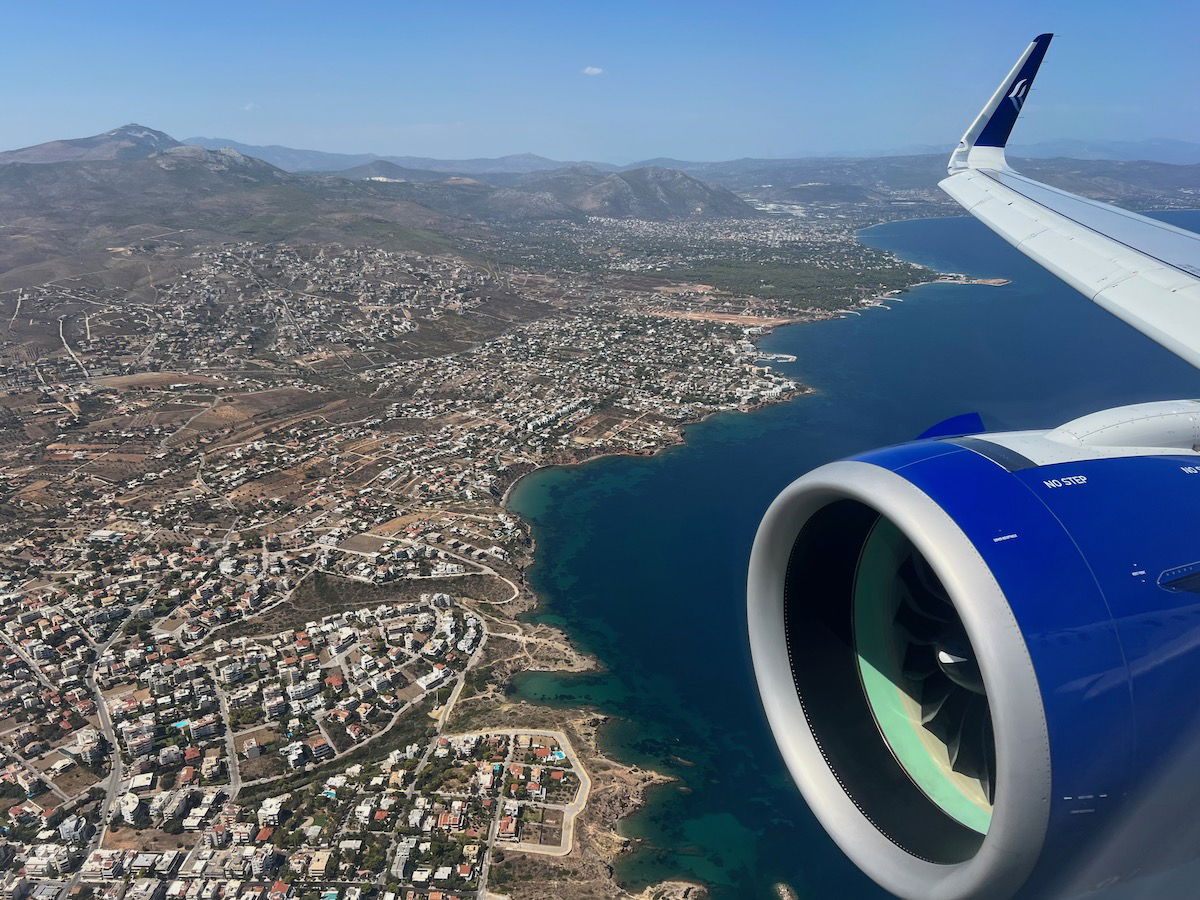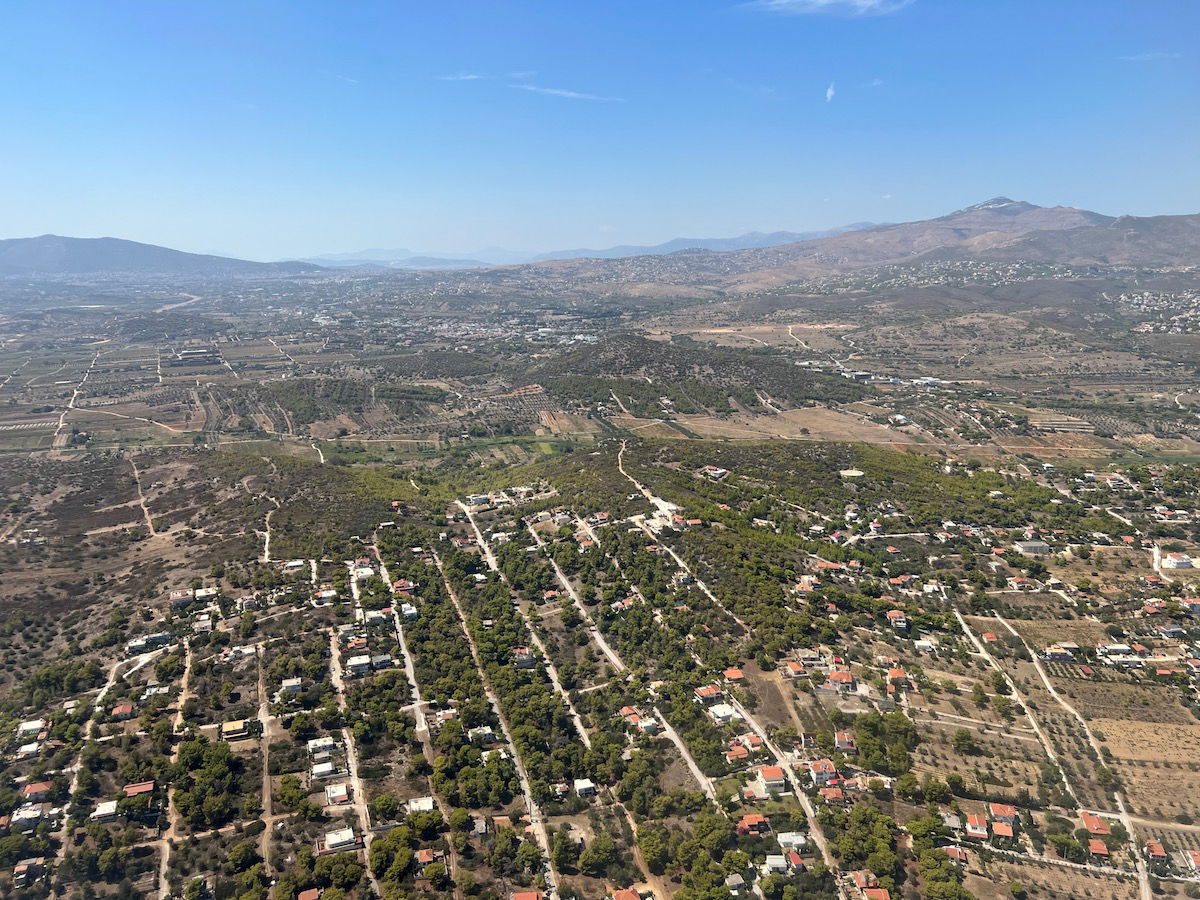 We ended up touching down at Athens Airport at 2:30PM.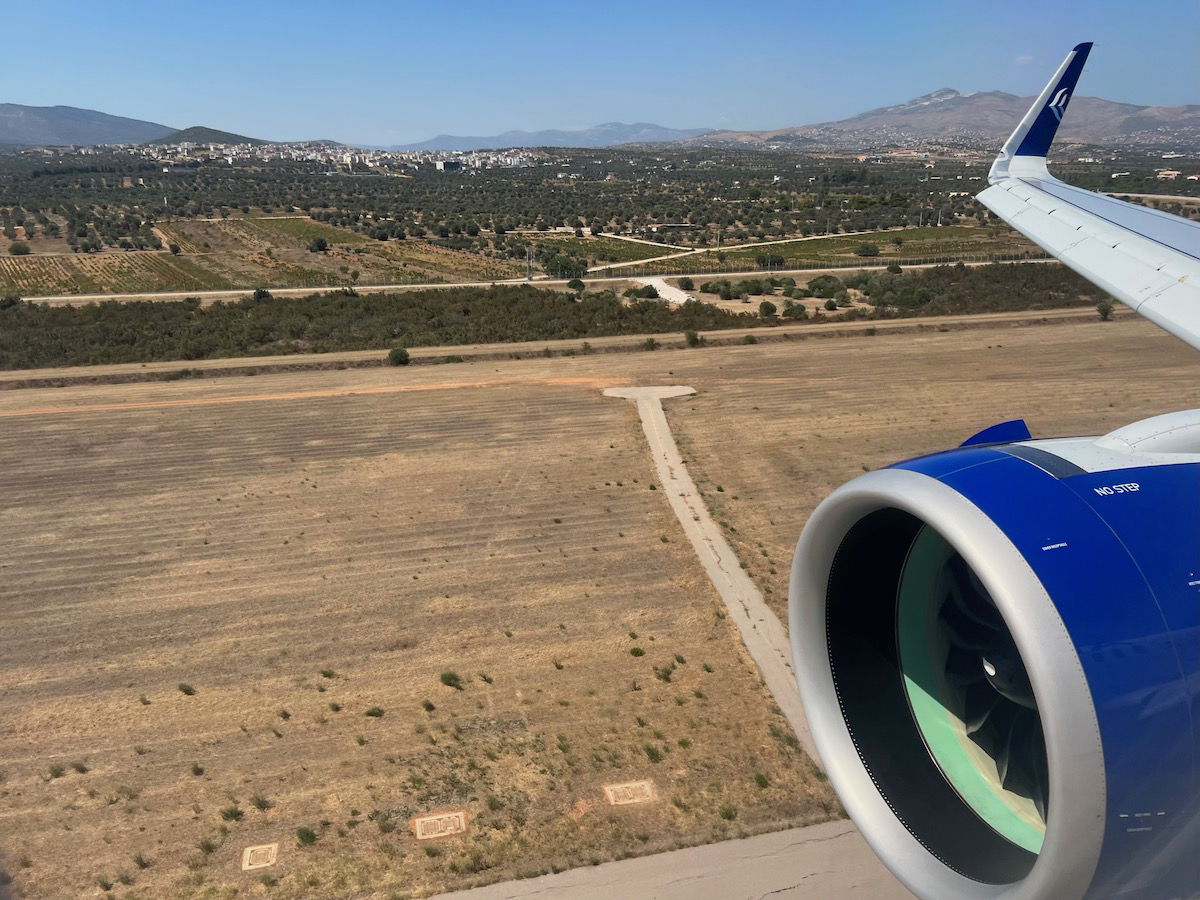 We had about a five minute taxi to our arrival stand, which was a remote gate in this case. That meant we had a great view of the aircraft upon deplaning.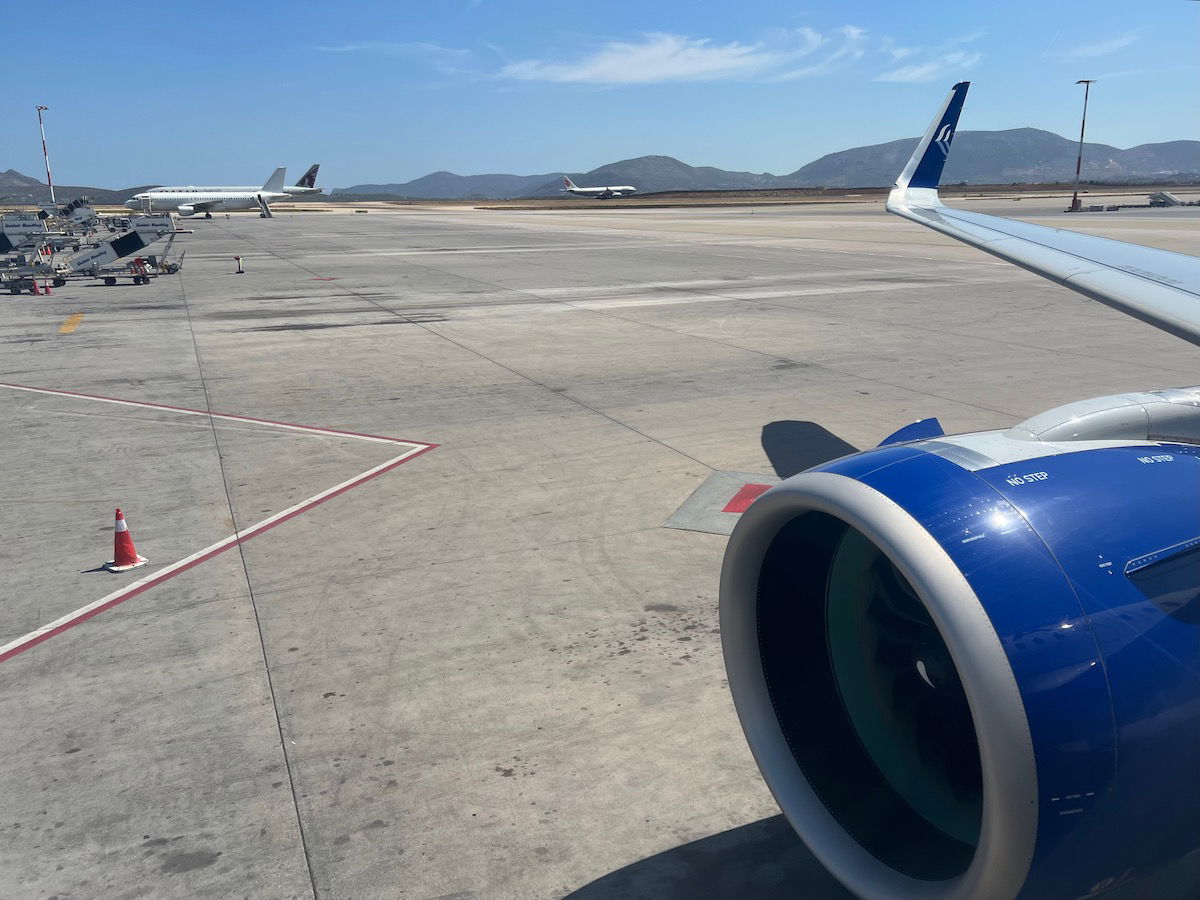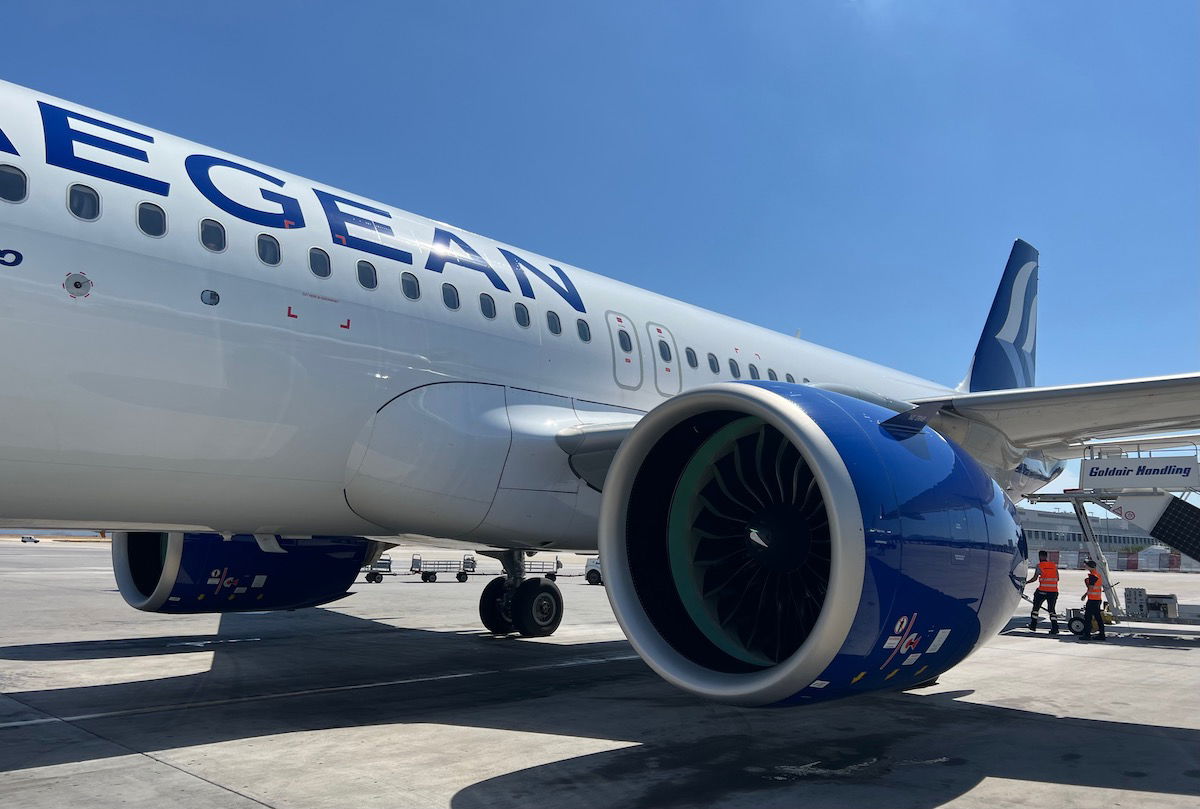 While I'd usually dread a remote stand, it worked out well in this case. Aegean has a separate bus for business class passengers, so we were on our way almost immediately, and were dropped off in a pretty central part of the terminal. From there we took a taxi to Academias Hotel Athens, where we'd be spending the night.
Bottom line
Aegean offers one of the best business class products in Europe. While the hard product is pretty standard (there's not much variation there among airlines), Aegean really tries with everything else. Aegean offers pre-departure drinks, menus, a nice wine selection, espresso-based drinks, tasty food, and free Wi-Fi.
My only real frustration with Aegean's new cabins is that the airline chose to exclusively install USB-A outlets, which isn't ideal.
After Turkish Airlines, I think Aegean offers my favorite intra-Europe business class experience (and people love to argue whether Turkish Airlines flights qualify as intra-Europe, so…).
What do you make of Aegean Airlines business class?