To complete our quick trip to Greece, we returned across the Atlantic in ITA Airways' Airbus A330-900neo business class. Several months ago I flew ITA Airways' A350-900 business class to Europe, so I was curious to see how the A330-900neo compared in the other direction, especially given that this is the carrier's newest long haul jet.
Honestly, ITA Airways is such an impressive airline, and the carrier's A330-900neos are beautiful. ITA has among the best food you'll find in business class on any airline, along with comfortable seats, good amenities, and very friendly service. There aren't many European airlines offering a better experience across the Atlantic.
How I booked our ITA Airways business class tickets
I booked us the following itinerary in business class for 85,000 Virgin Atlantic Flying Club points plus $59.70 in taxes and fees per person:
9/04 AZ630 Rome to Miami departing 10:40AM arriving 3:55PM
Note that for the time being, ITA Airways is still in the SkyTeam alliance, though you can only redeem miles for travel on ITA through select SkyTeam partners, like Virgin Atlantic Flying Club.
That worked out great for me, because over the summer Bilt's rent day promotion offered a transfer bonus to Virgin Atlantic Flying Club. The amount of the transfer bonus varied based on your Bilt elite status. I was eligible for a 125% transfer bonus, which was enough to make me speculatively transfer some points. So in reality I paid just 38,000 Bilt points per ticket, which I'd say is quite a great value!
Keep in mind that Lufthansa Group is supposed to acquire ITA Airways, in which case the airline will likely join Star Alliance. It's anyone's guess if this gets full approval and ends up happening.
ITA Airways business class lounge & boarding
We arrived at Rome Airport at around 9AM, around 1hr40min before our scheduled departure time to Miami. Earlier this year I reviewed the ITA Airways Lounge Rome, so I won't be reviewing it again, as I have nothing new to add. The lounge has great food and drinks, but otherwise doesn't have much in the way of exciting amenities.
Our flight to Miami was scheduled to board from gate E11 at 9:40AM, one hour before departure. Coincidentally, this is exactly the same gate that my ITA Airways A320 flight to Cairo departed from earlier this year.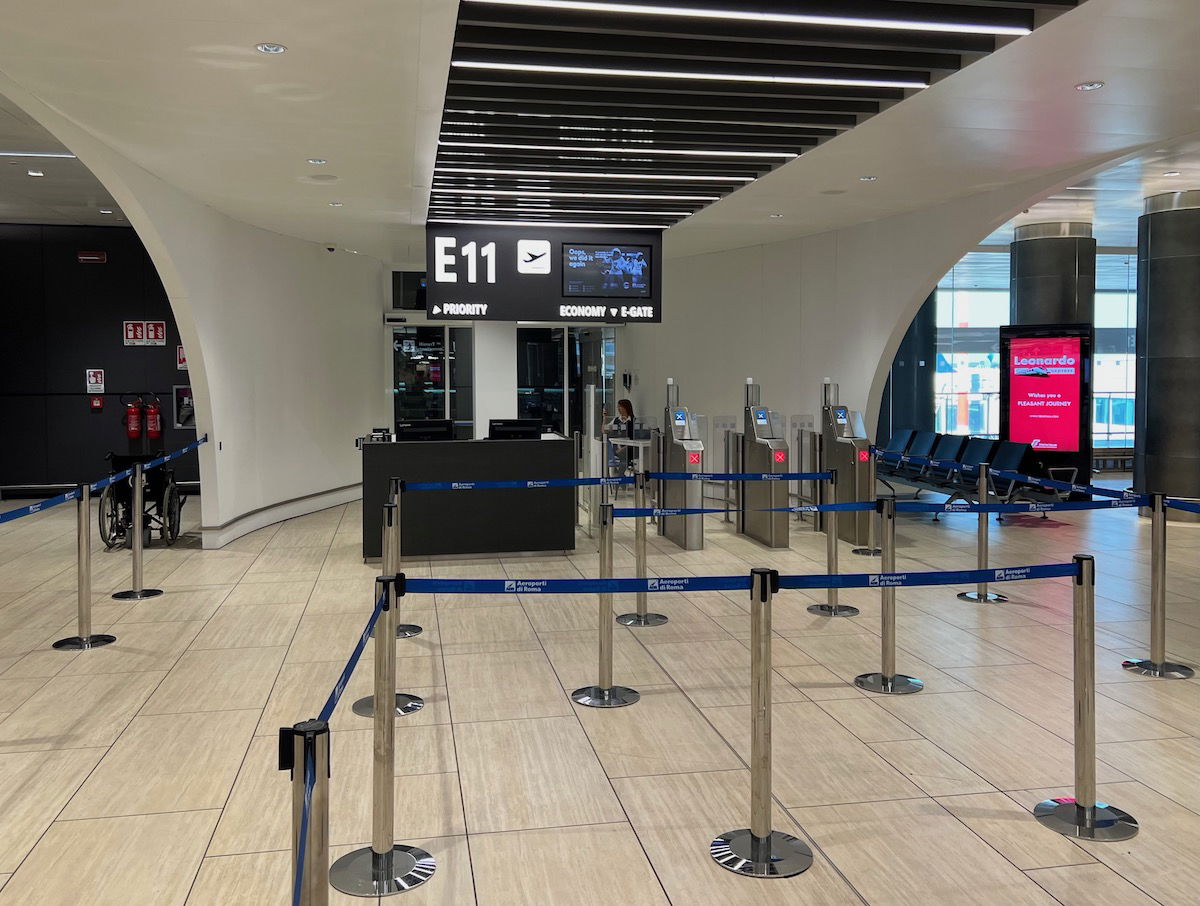 Boarding ended up being delayed quite a bit due to aircraft servicing, and boarding only ended up starting at 10:40AM. Fortunately our flight time was shorter than usual, so we could make up some time in the air. When boarding did start, business class passengers were invited to board first.
I was excited to step onboard a brand new Airbus A330-900neo — what a gorgeous plane, as the ITA livery has really grown on me!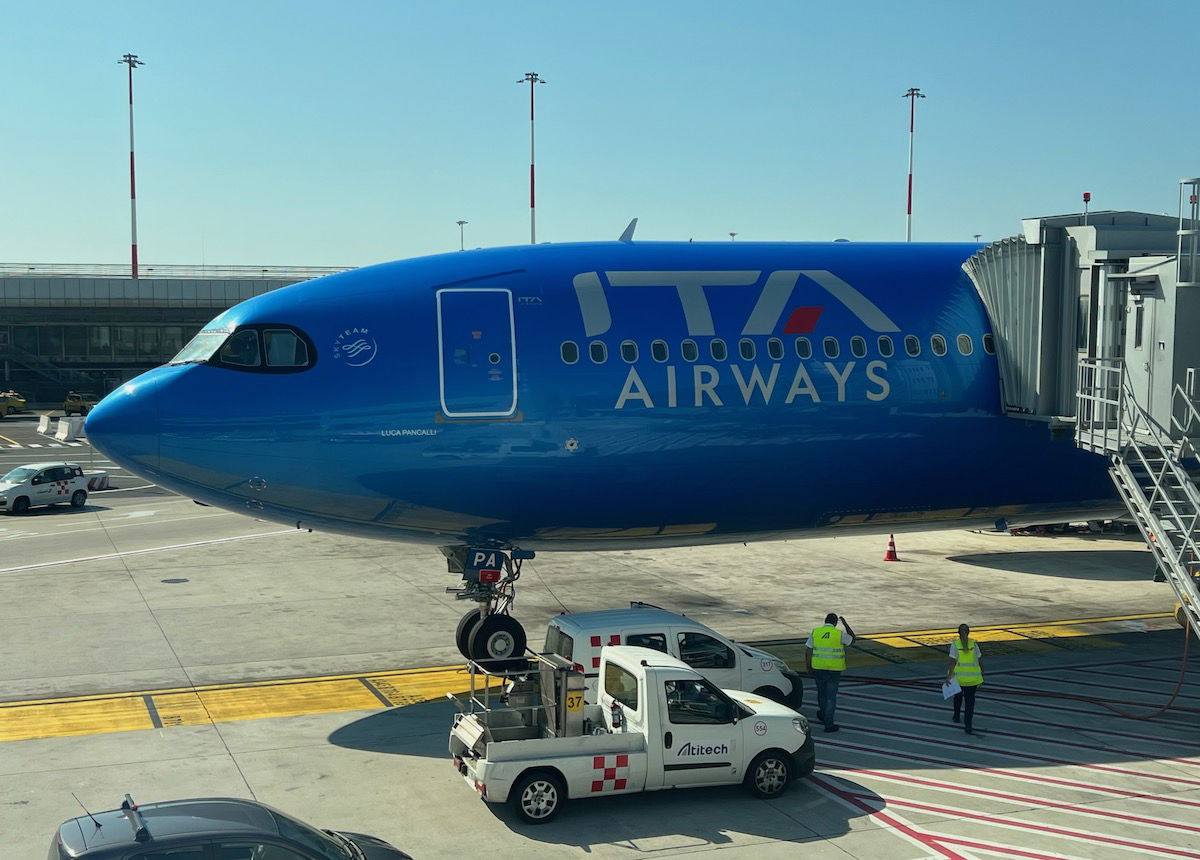 ITA Airways A330-900neo business class cabin & seats
We boarded through the second set of doors, where we were greeted by the friendly crew, and pointed toward business class. What makes the A330-900neo special is that it's the first long haul aircraft with interiors specifically designed for the airline (ITA's A350-900s were initially intended for Hainan Airlines, and maintained the original interiors).
Before turning left into business class, I couldn't help but take a peek at the premium economy cabin, which looked excellent. That cabin consists of 24 seats, spread across four rows in a 2-3-2 configuration (only the center section has four rows, while there are only three rows of window seats).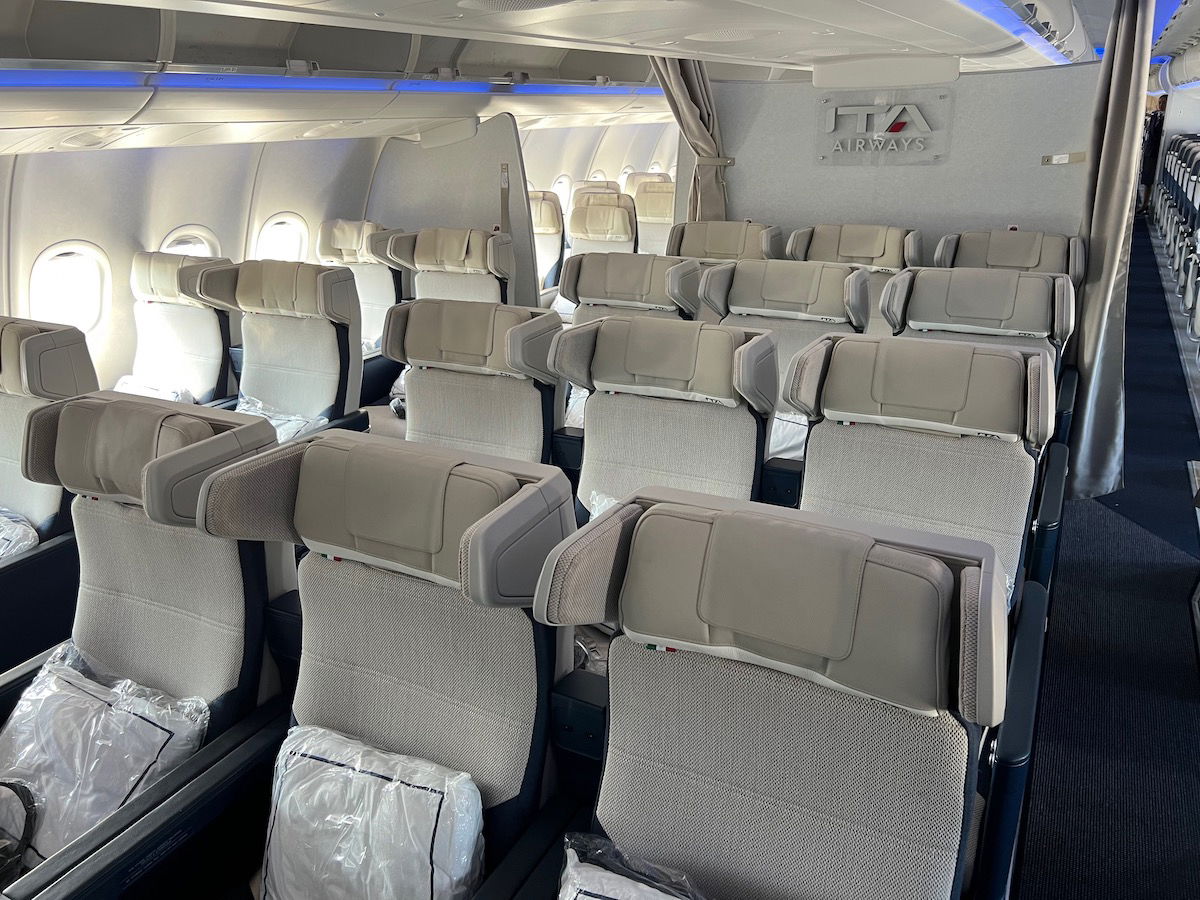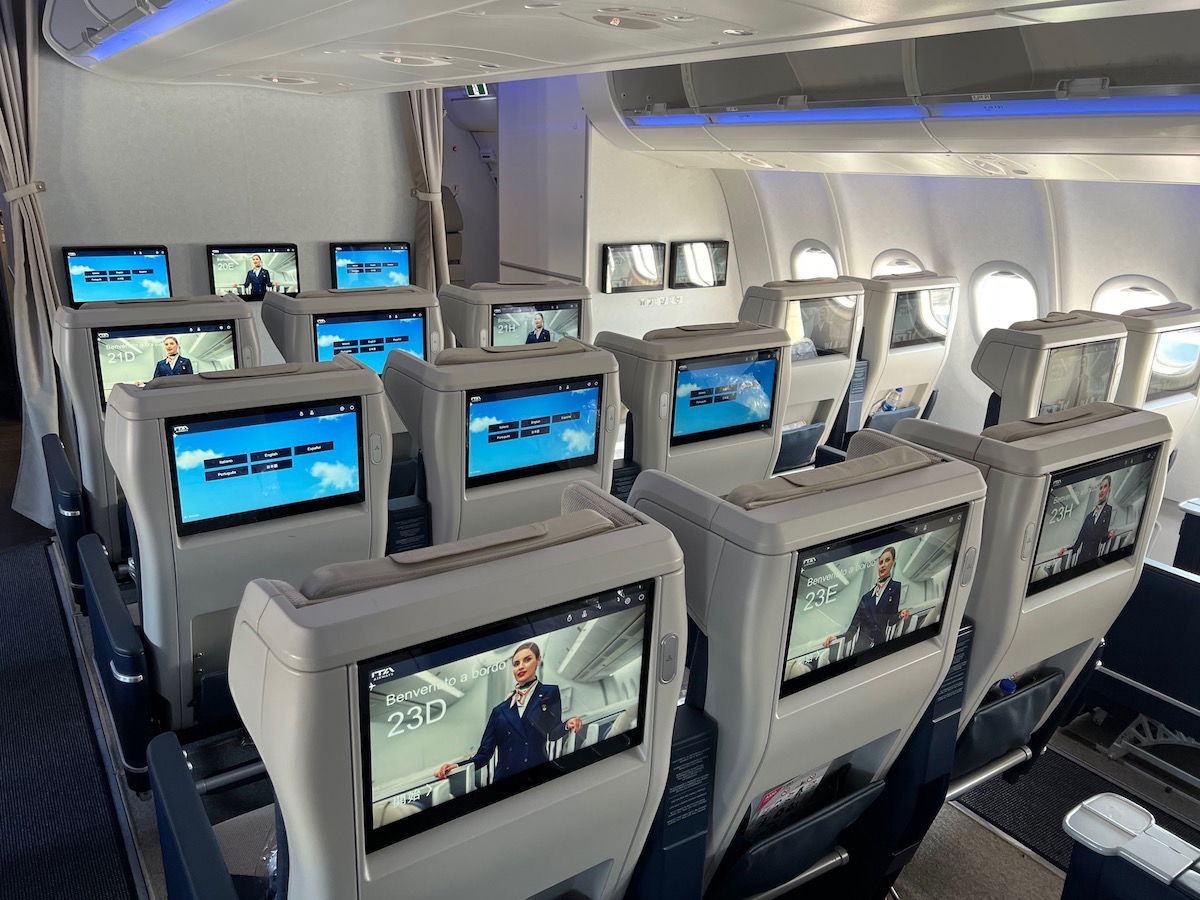 I then headed into the gorgeous business class cabin. The cabin features 30 business class seats, spread across eight rows in a 1-2-1 configuration. ITA has a customized design of the Vantage XL product, similar to what you'll find on the A330-900neos operated by Delta and Virgin Atlantic. However, unlike on those airlines, ITA elected not to install privacy doors.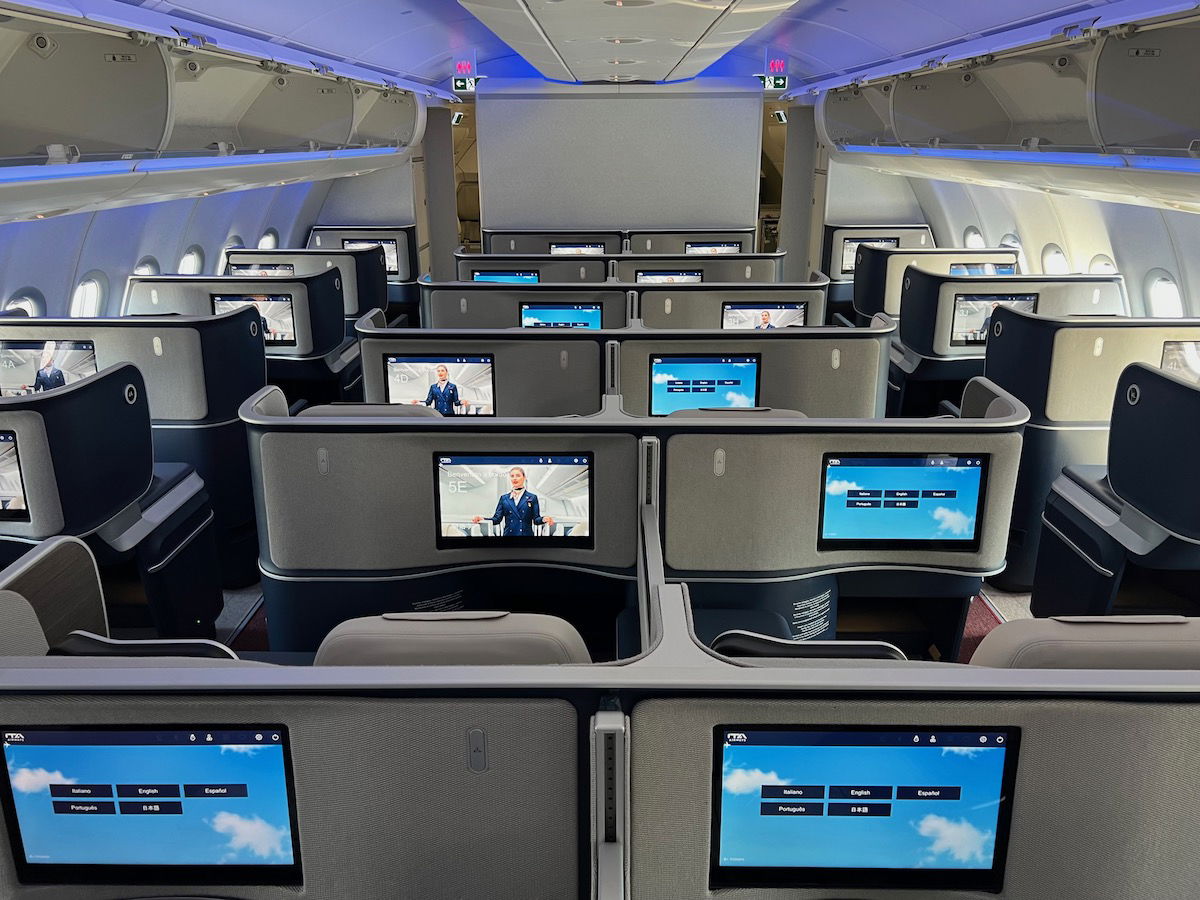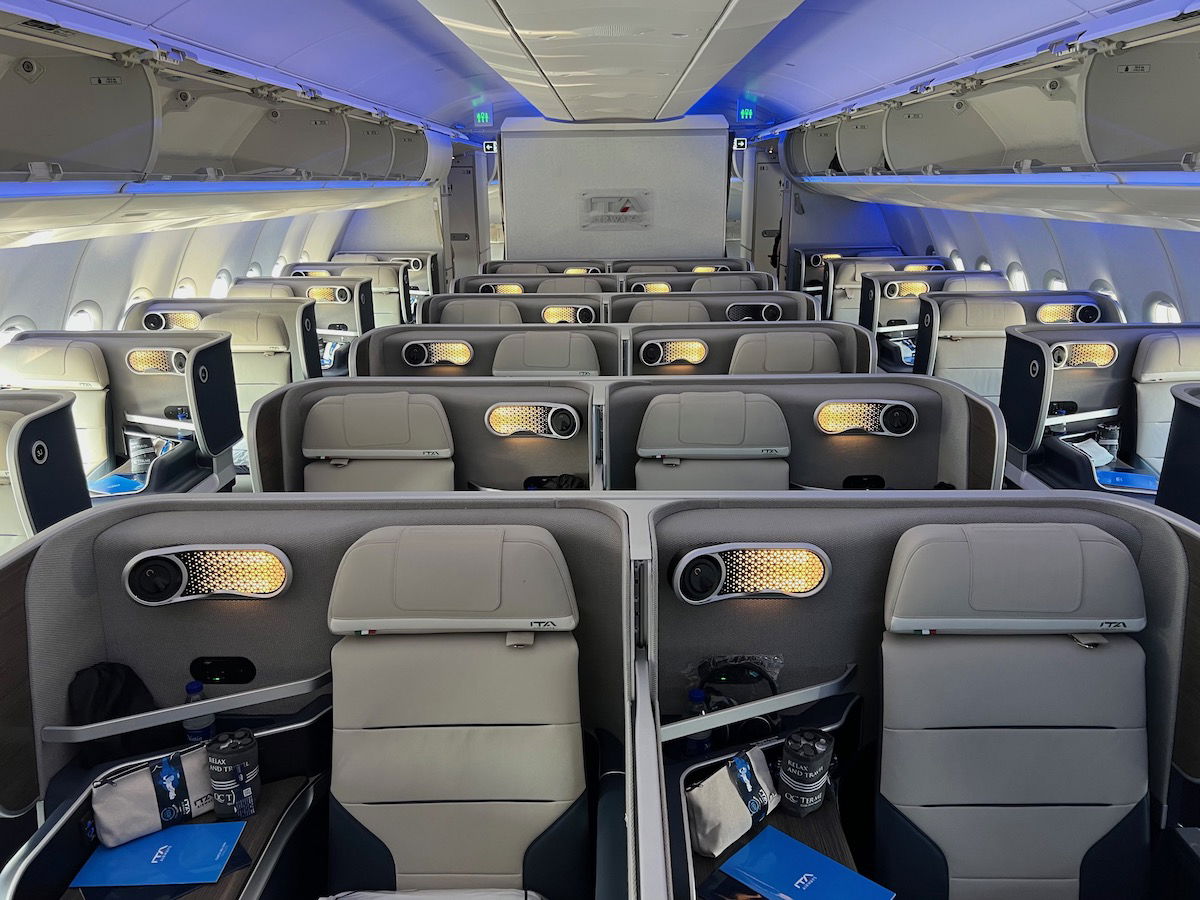 This configuration efficiently uses space by staggering the seats in each row, so that the footwell for one seat is to the side of the seat in front. In the center section, seats alternate between being closer to the aisle and closer to the center, though there are no "honeymoon" seats in this configuration (where two center seats are very close to one another).
If you're traveling with someone, you might like choosing a pair of center seats. If you're traveling alone, fortunately there's a privacy partition between these seats that can be raised as well.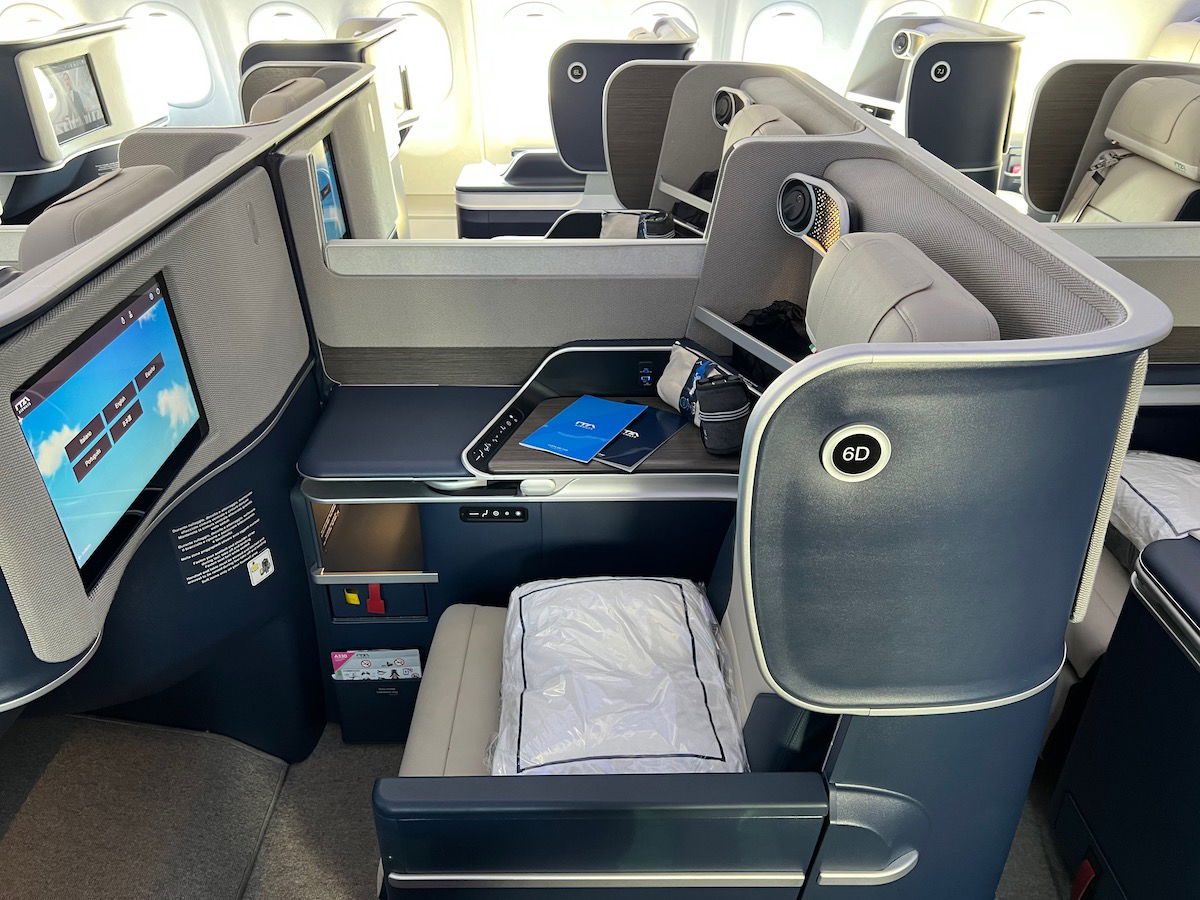 Along the windows, seats alternate between being closer to the aisle and being closer to the window. Specifically, seats in odd numbered rows are closer to the aisle, while seats in even numbered rows are closer to the windows.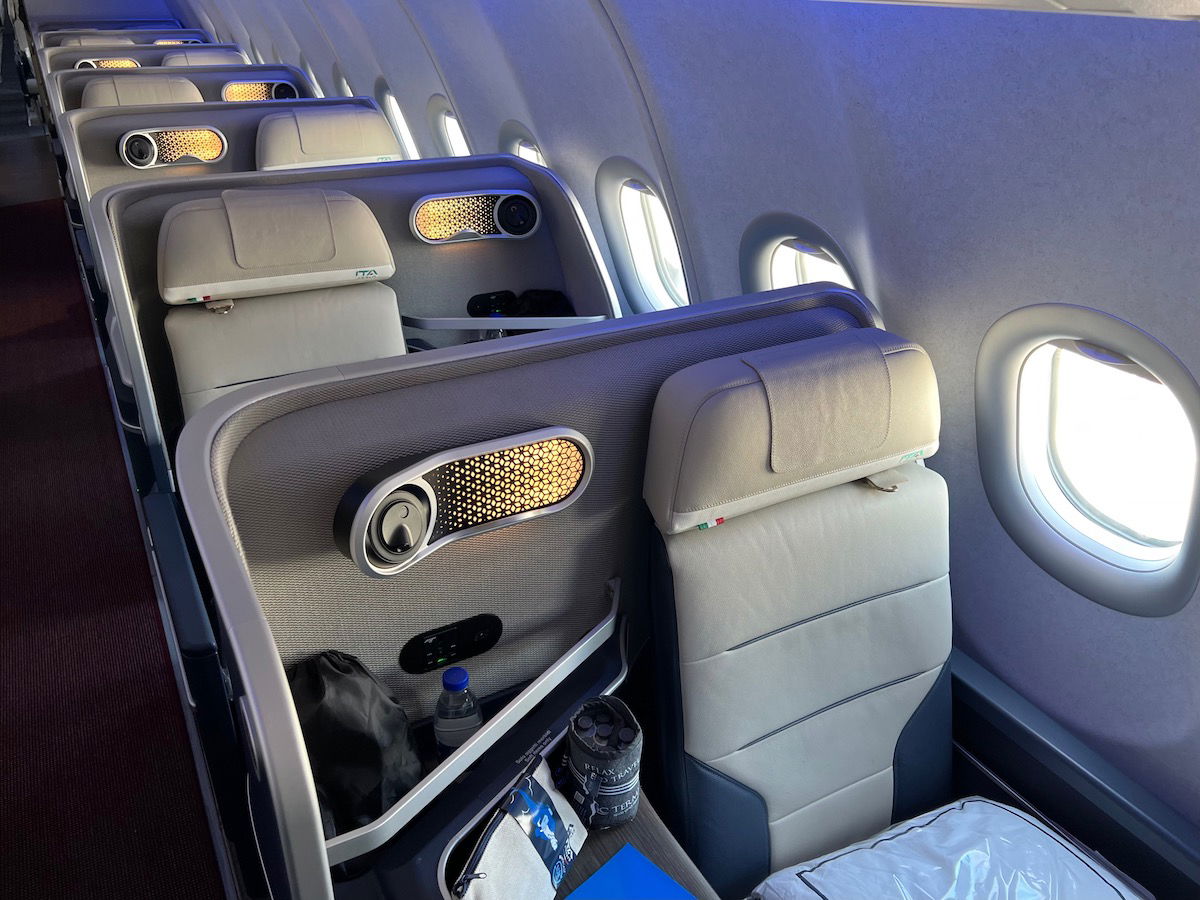 The "true" window seats are the most popular, since you have the most separation from the aisle, and can also easily look out the window.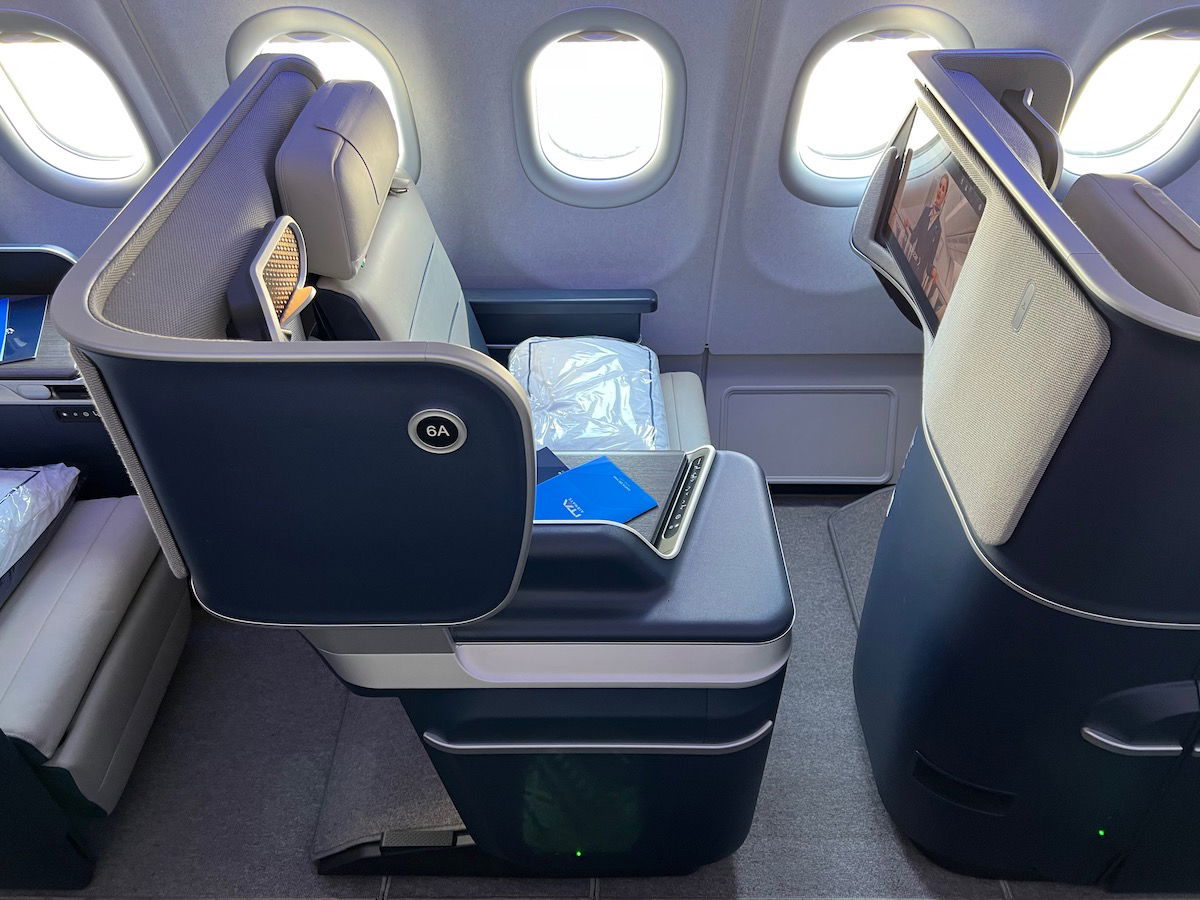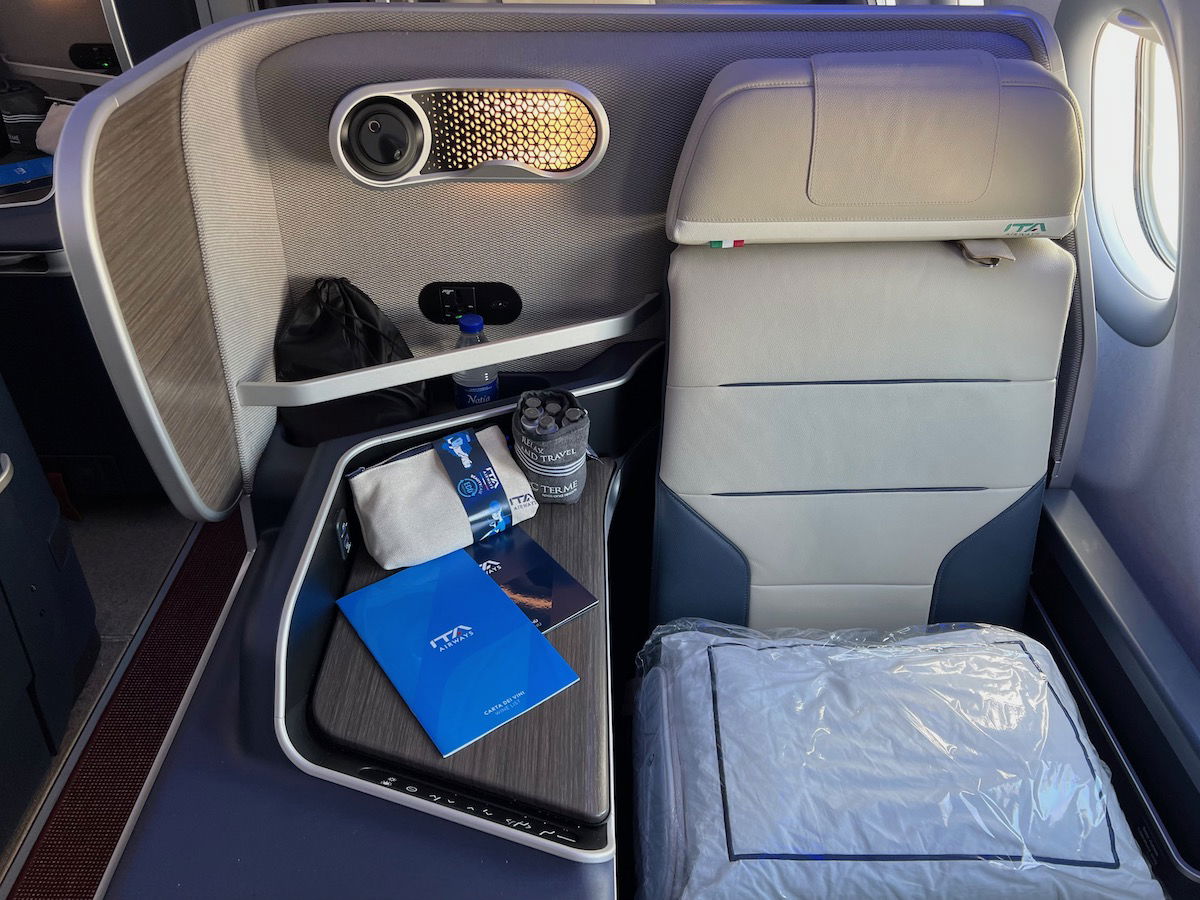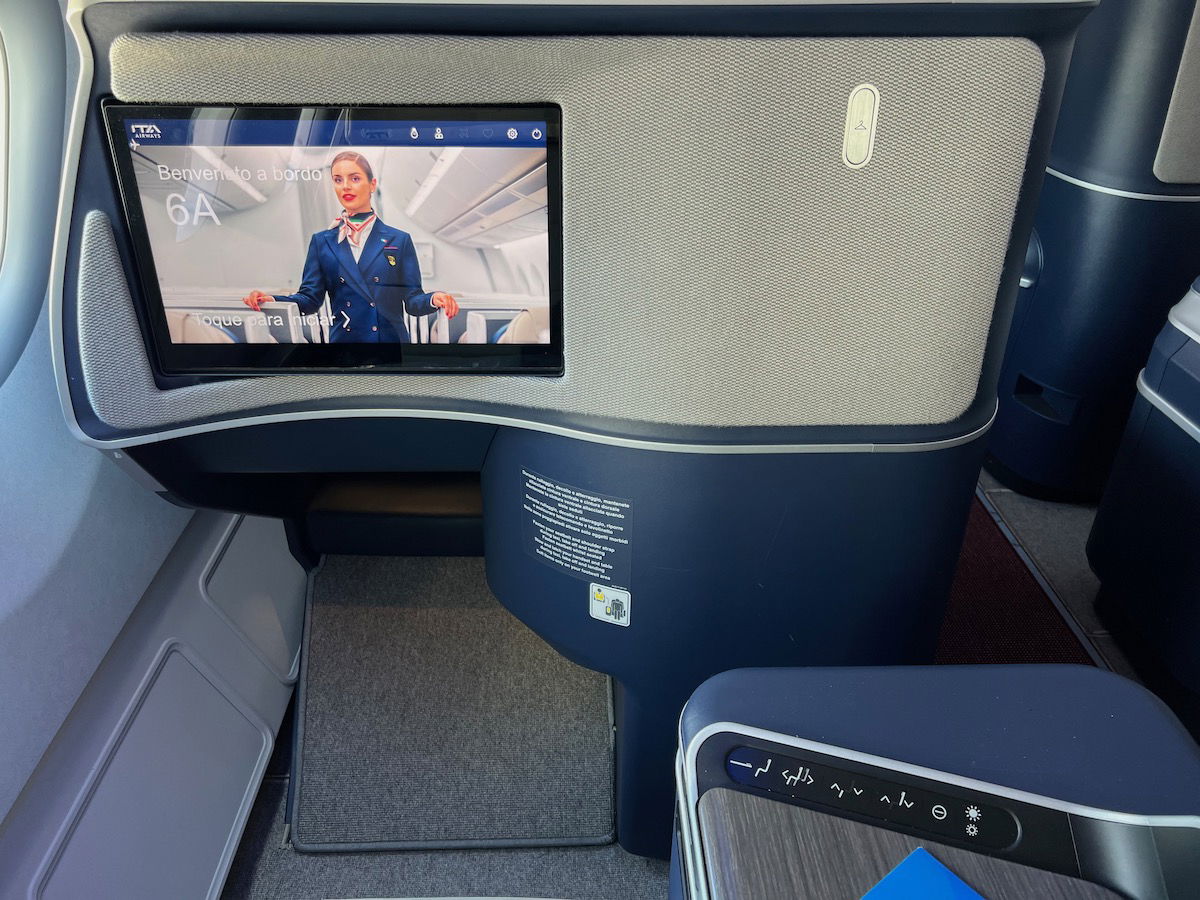 The seats in odd numbered rows that are closer to the aisle aren't half bad either, though.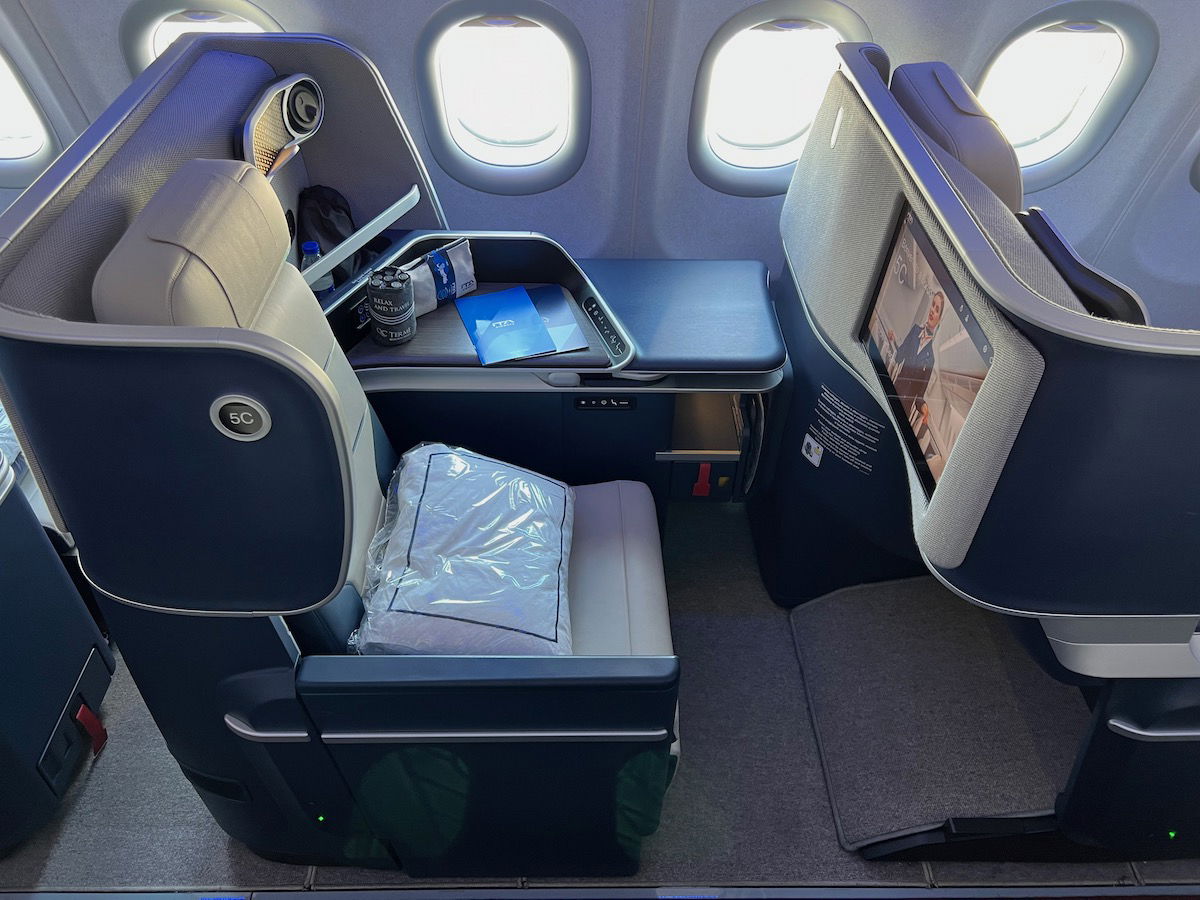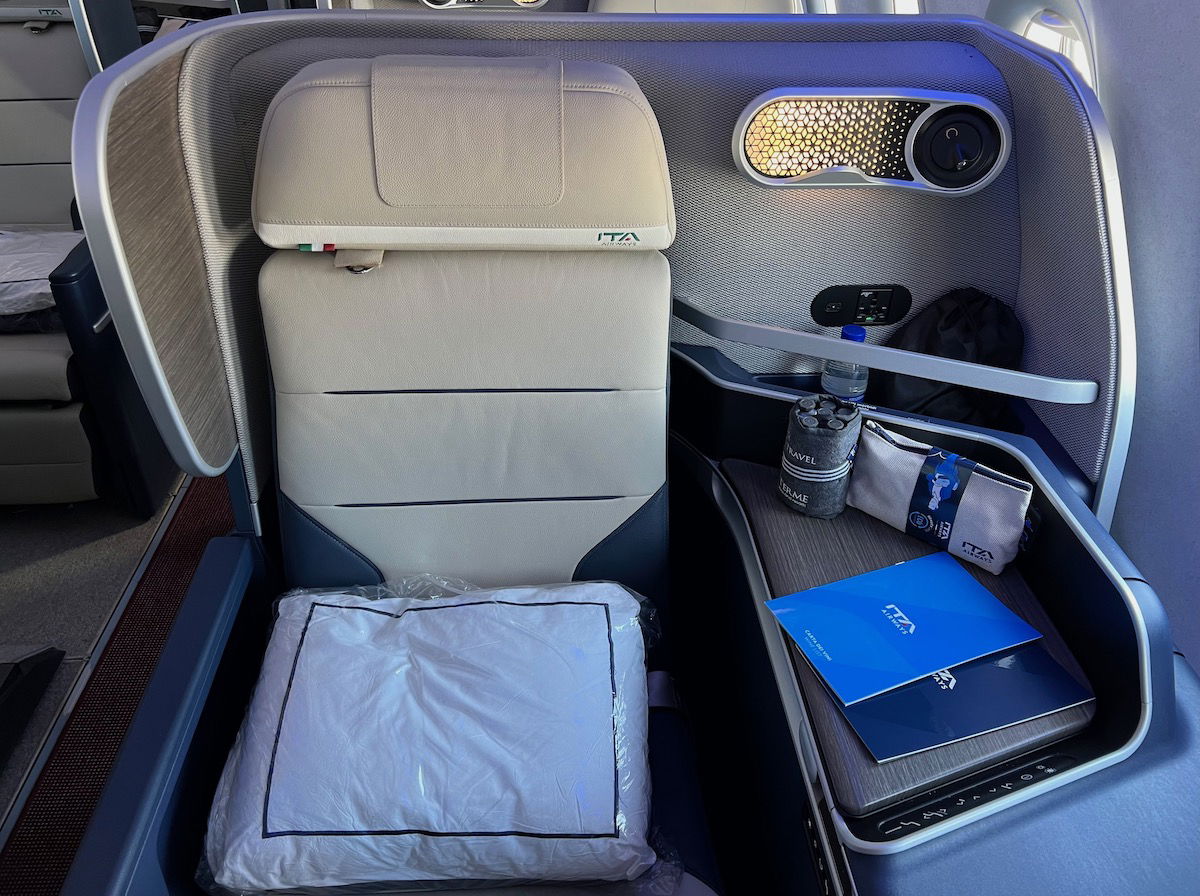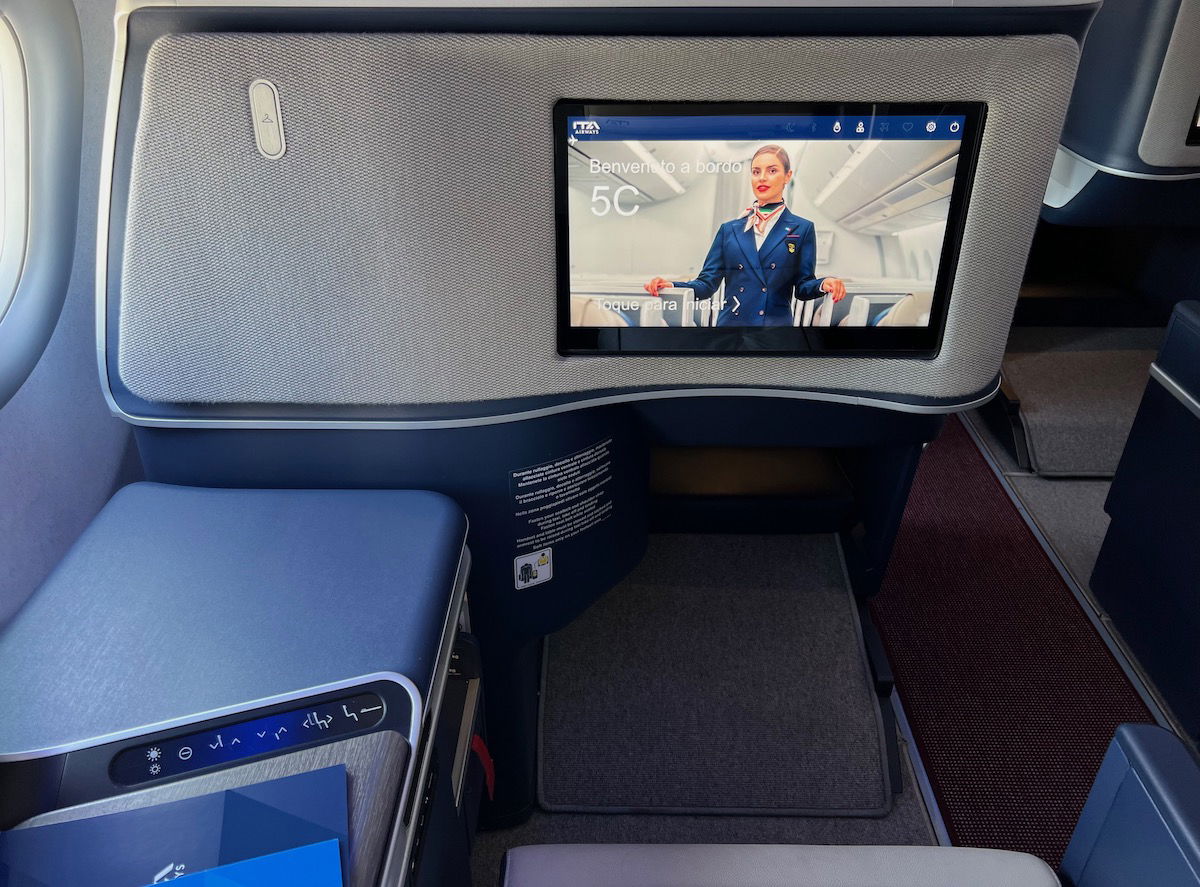 I ended up sitting in seat 8A (the window seat in the last row), while Ford ended up sitting in seat 7C (the seat immediately in front of that). I quite liked the seat finishes in this cabin, as there's a substantial counter to the side of the seat, where you can place things during the flight. There's also an exposed storage area on top of that.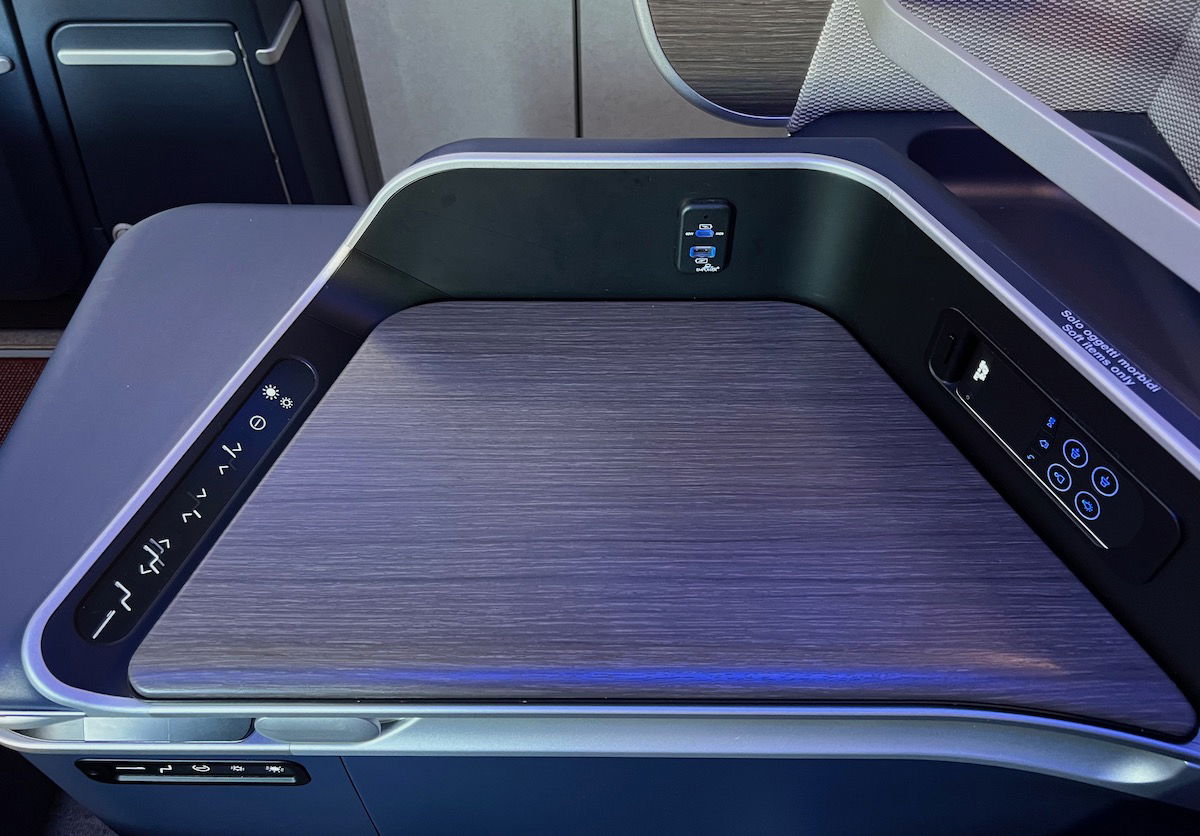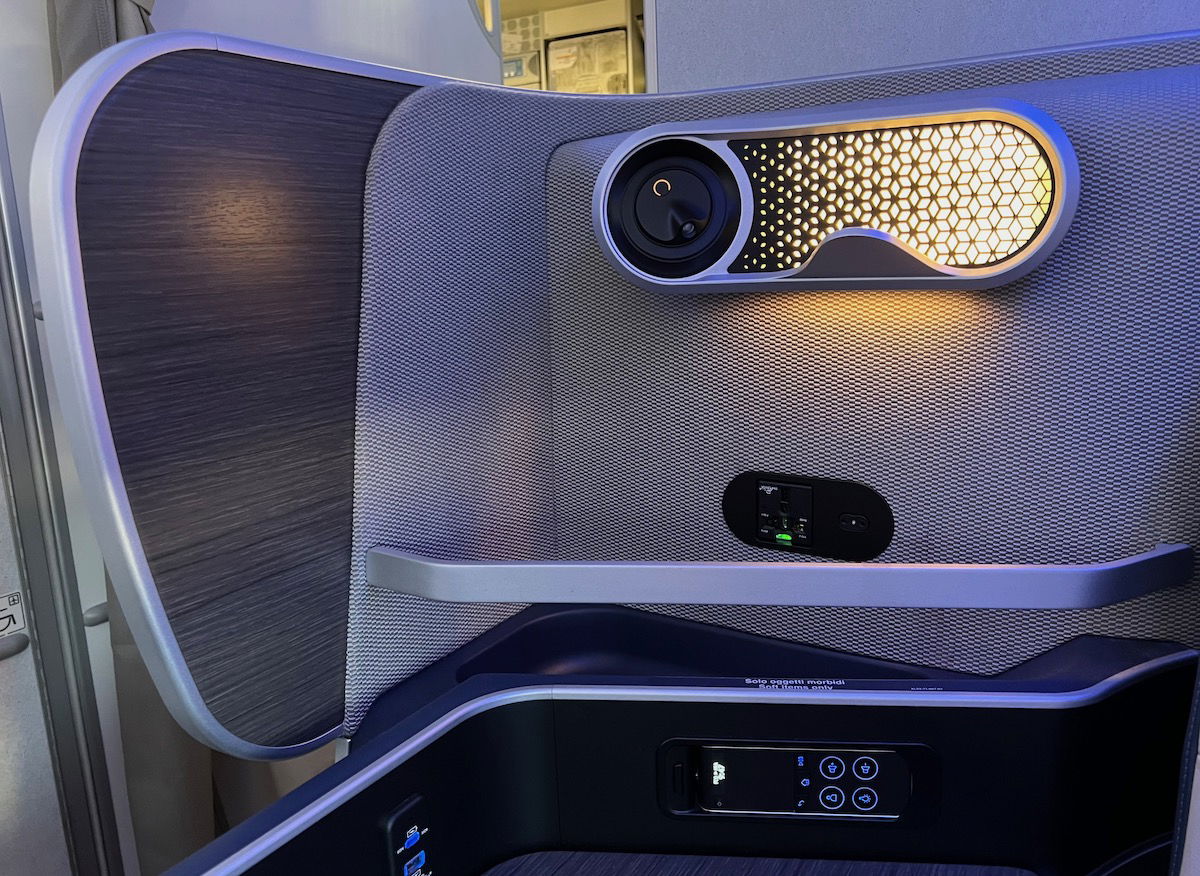 The seat controls are at the front corner of the counter, and I liked where they were located, since you couldn't easily bump them by mistake (unlike with so many other products).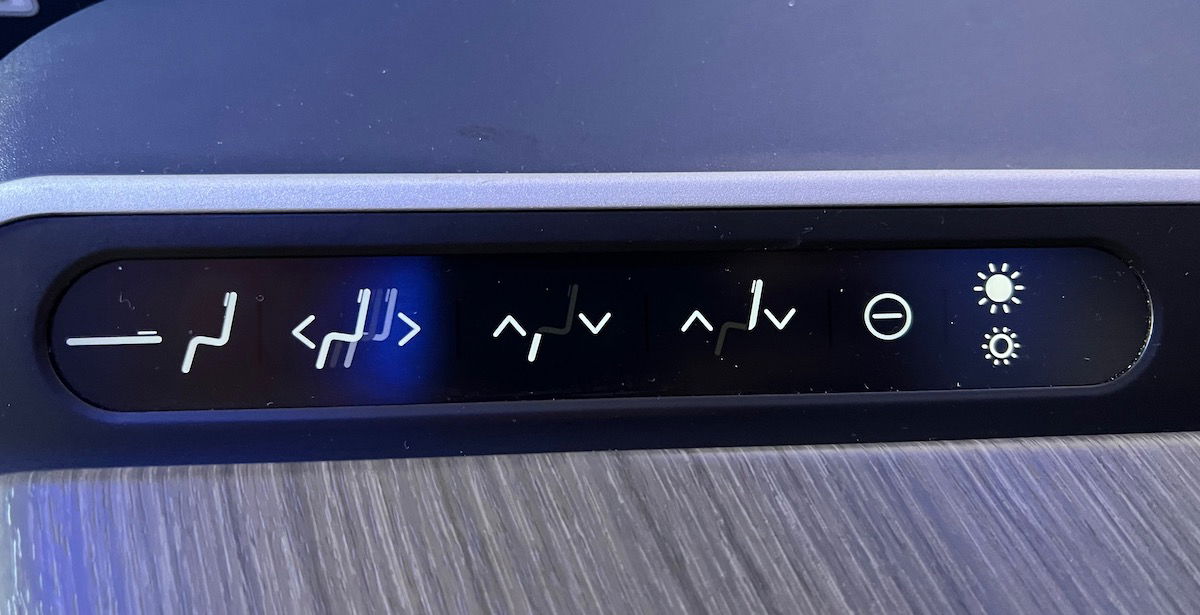 The seat had excellent tech, including a USB-A outlet, USB-C outlet, and AC power outlet, all of which allowed for fast charging.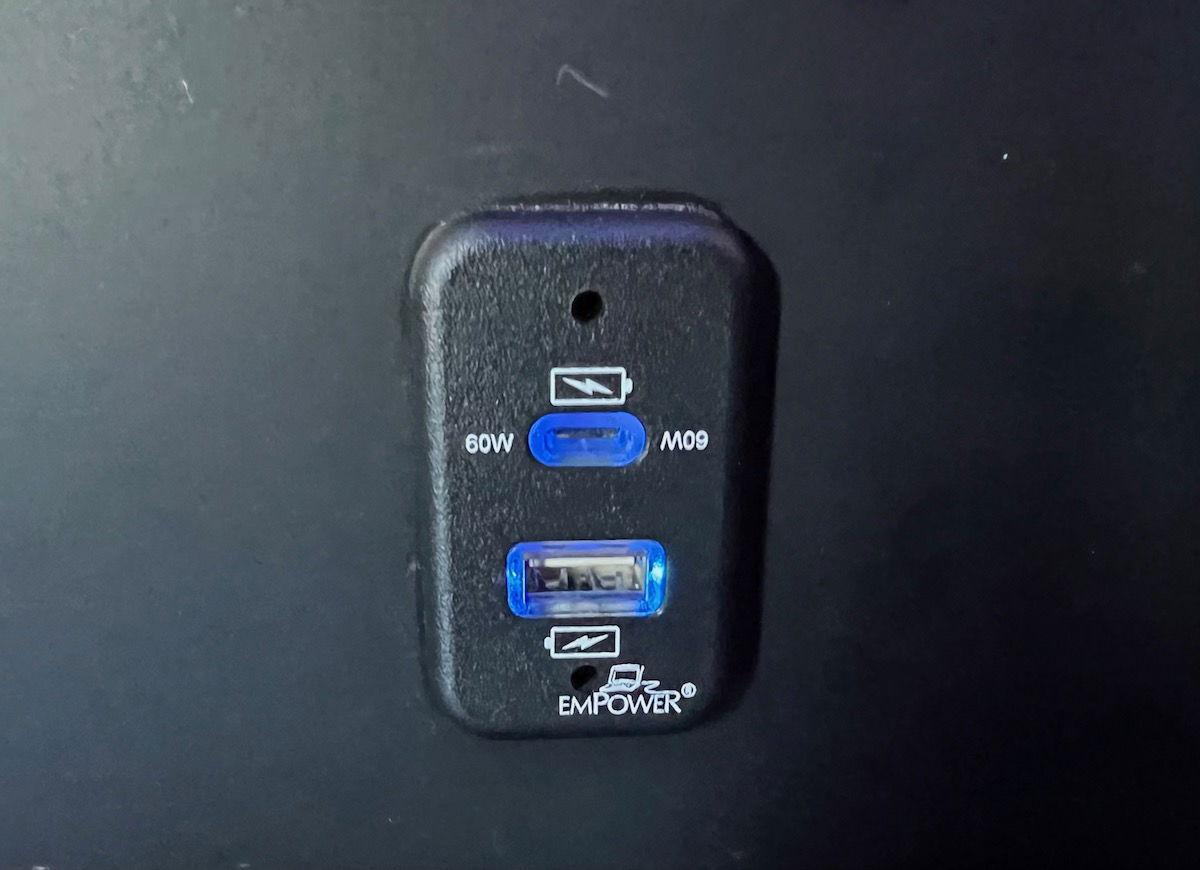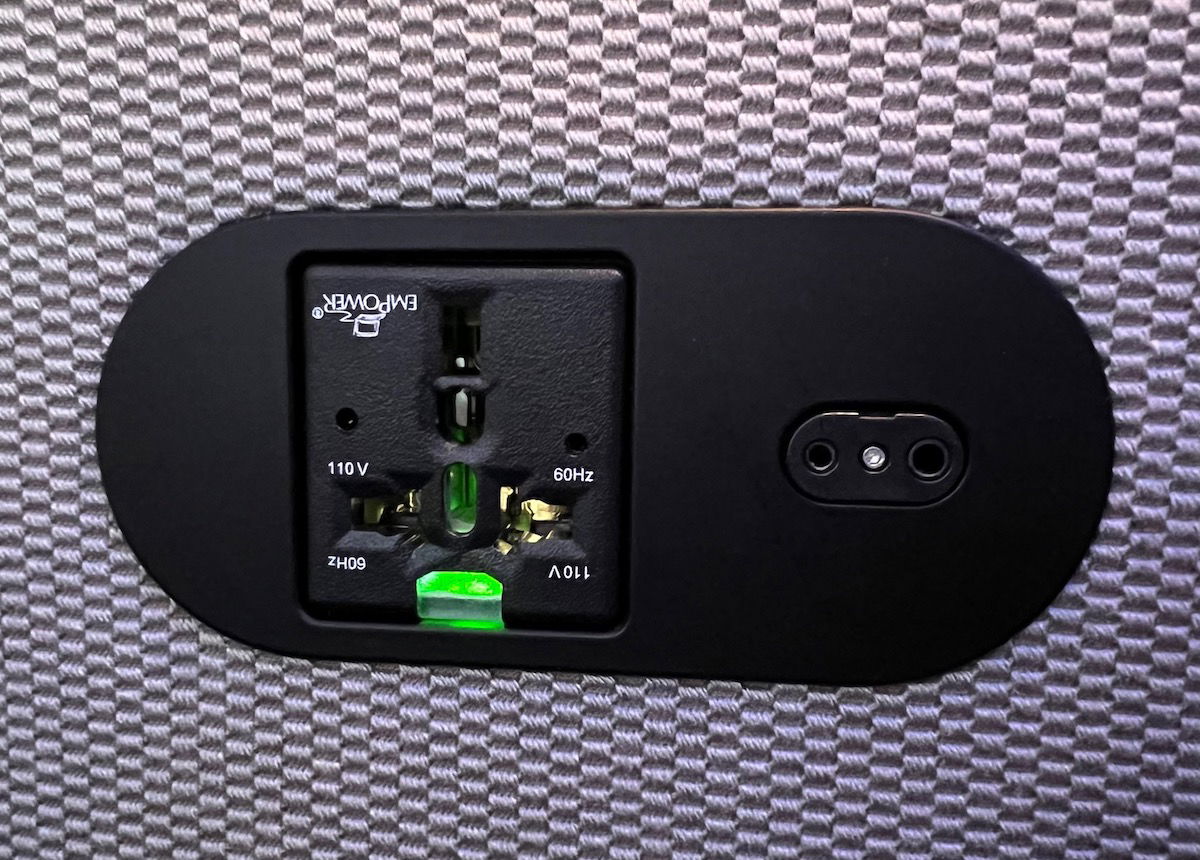 The entertainment controller was also in this area, and was easy to use. Then again, the entertainment is touchscreen, so you can control all the entertainment functions without actually using this.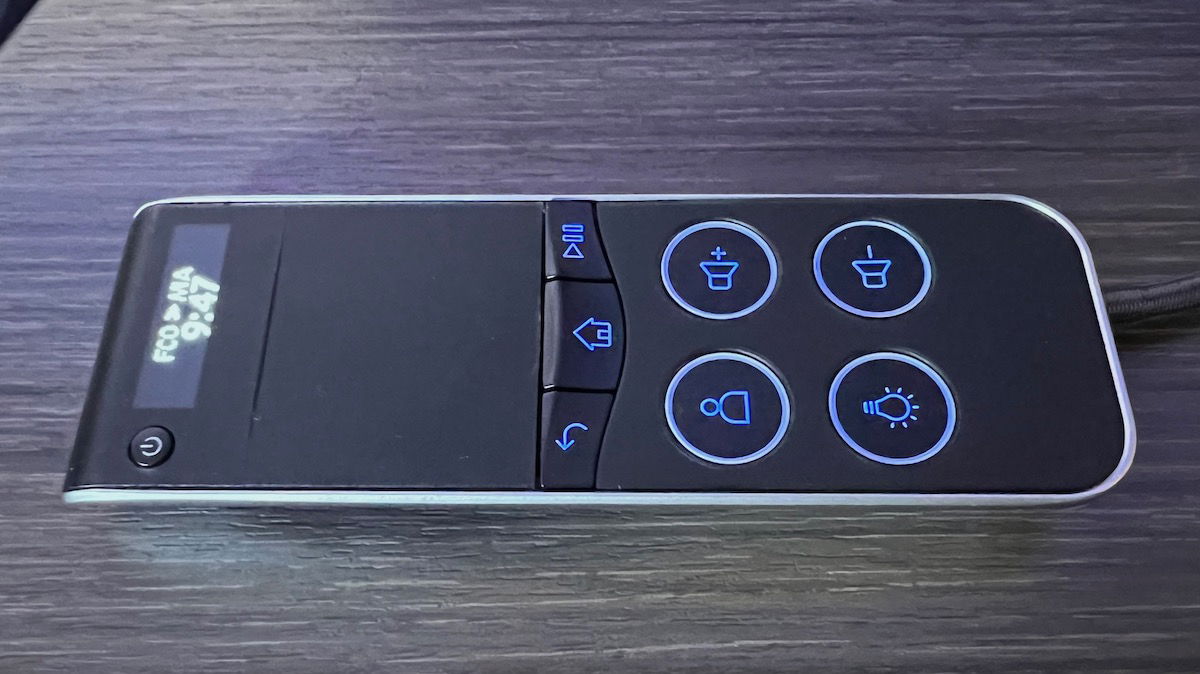 The tray table popped out from underneath the side console, and was a single, large table. So if you need to go to the bathroom, make sure you do so before a meal, because you won't easily be able to move things around if you're being served anything.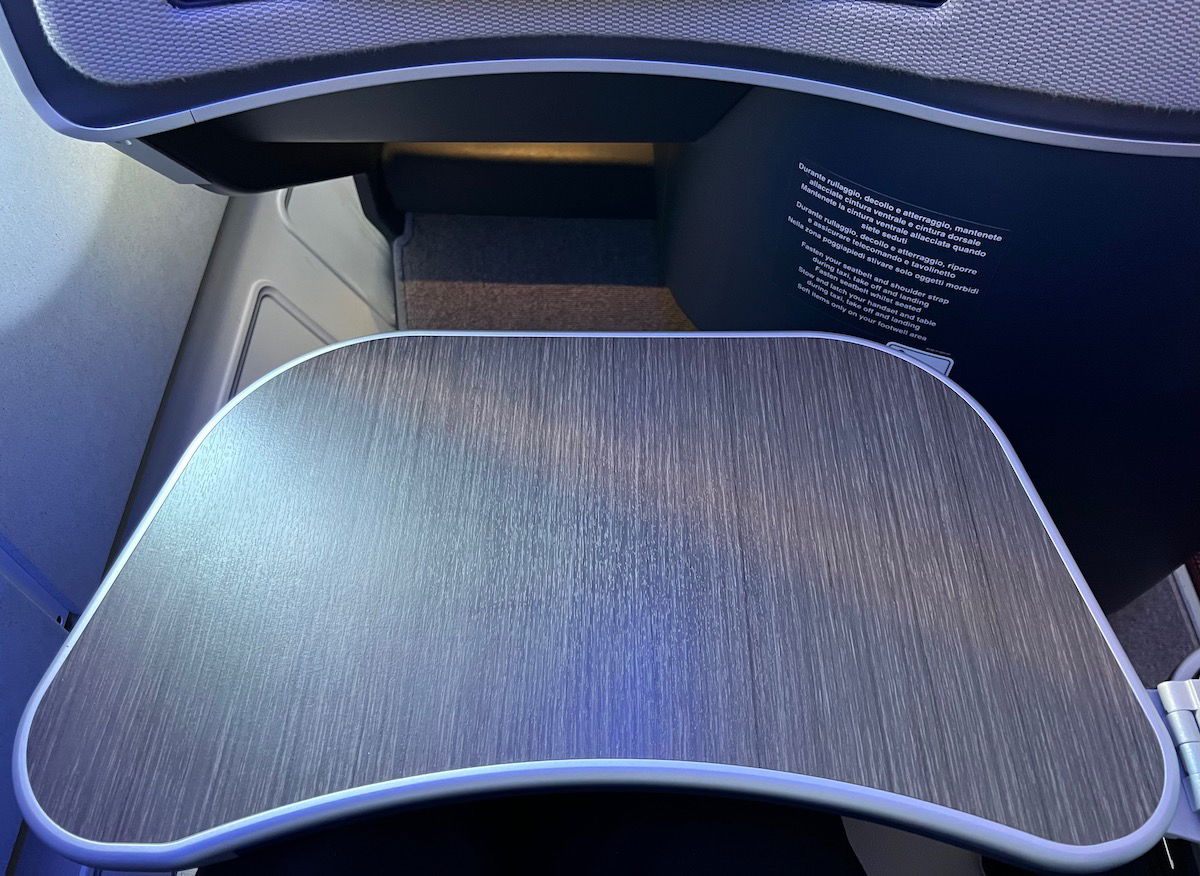 One general concern with these kinds of seats is that footwell space tends to be quite limited, though I found the footwell at my seat to be about as spacious as you'll find on the A330-900neo. Ultimately the A330 is a bit narrower than other wide body aircraft, and you definitely feel that when seated.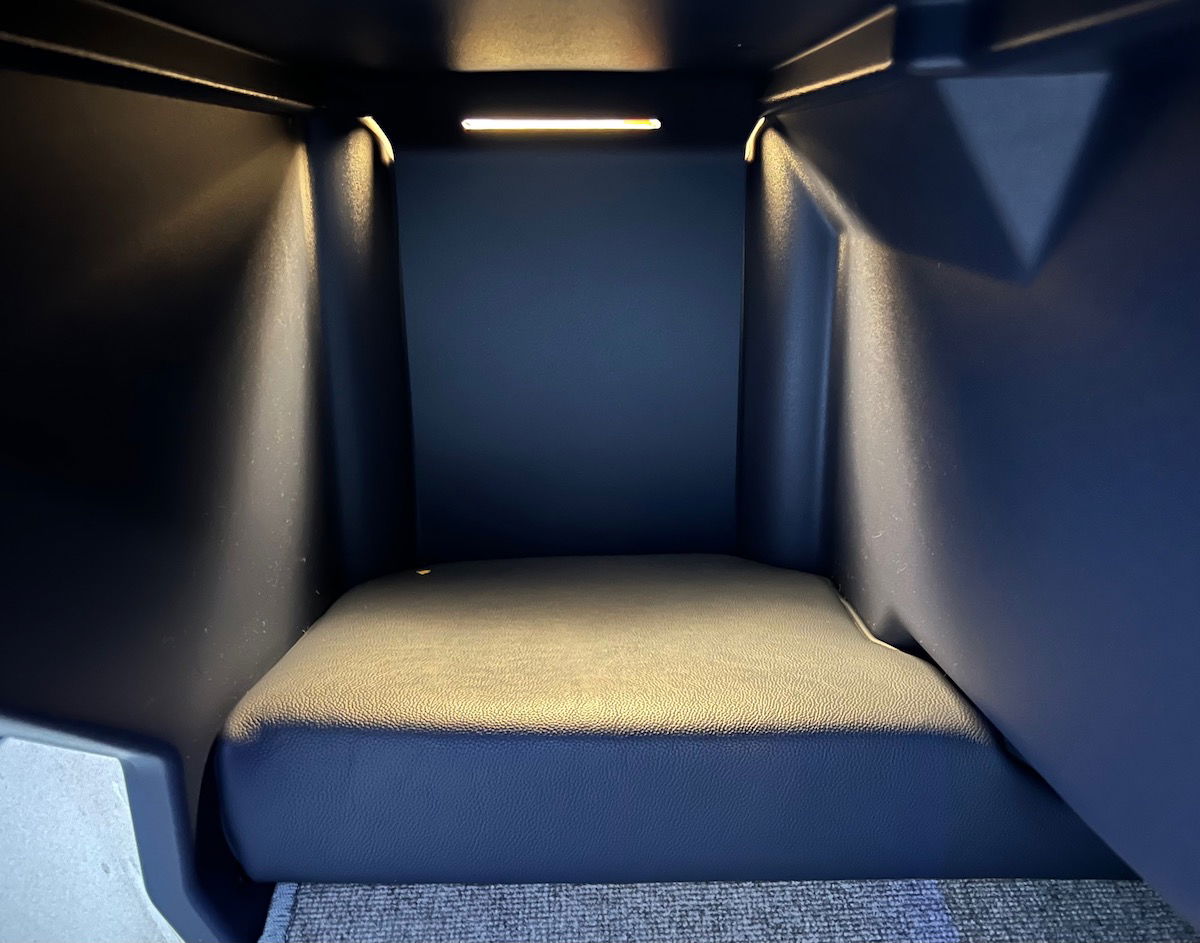 One thing I found frustrating about the cabin was the lack of individual air nozzles, which is an amenity that I value.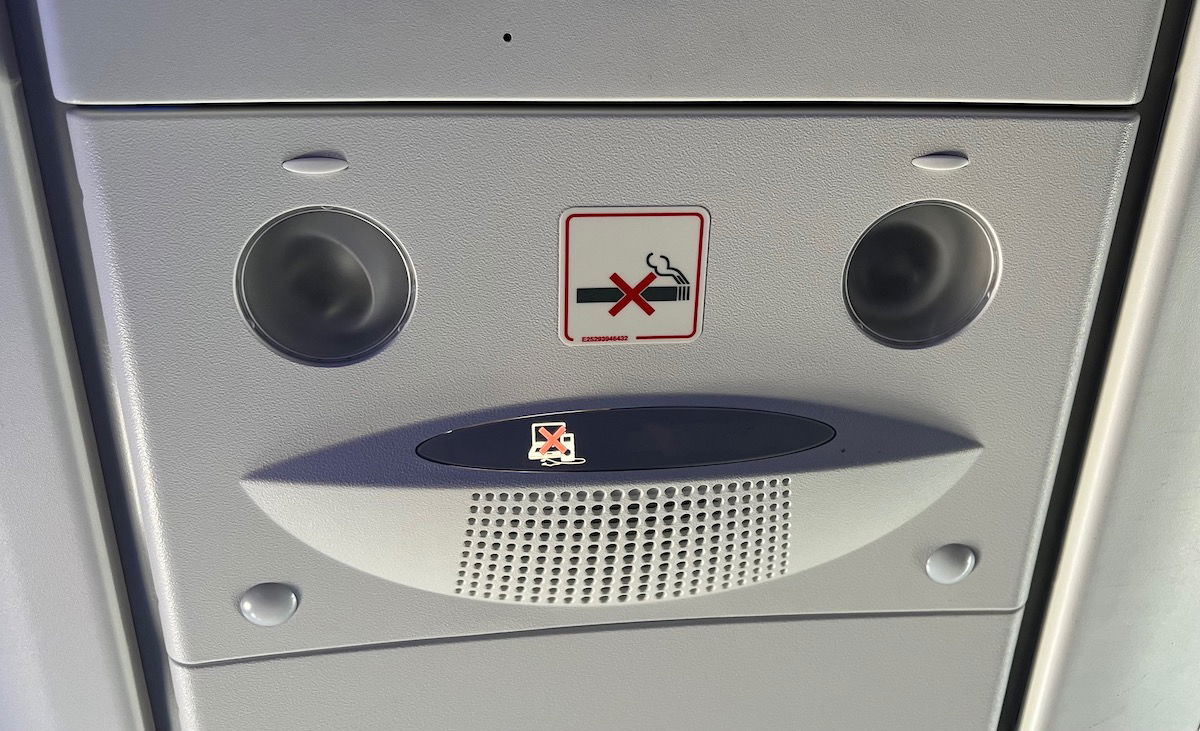 There are slightly better A330-900neo business class hard products out there on other airlines, but I'd say on balance this is a solid product that most people will find comfortable. I also think ITA did a good job with its cabin finishes.
ITA Airways business class amenities
Waiting at each seat upon boarding were a pillow and blanket. The pillow was substantial, while I found the blanket to be pretty cozy.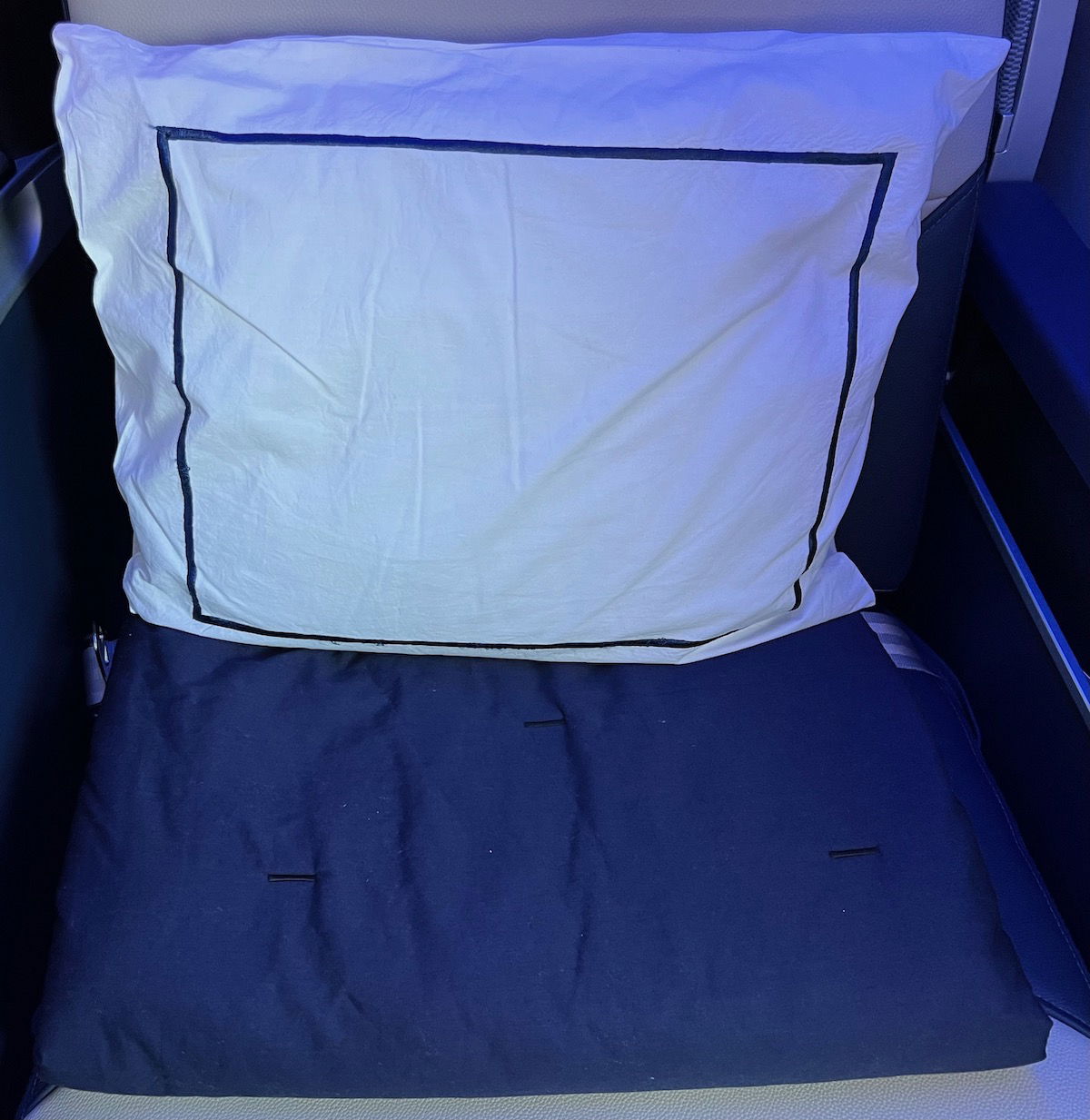 There were also a pair of flimsy slippers at each seat. I appreciate when airlines offer slippers, since it's much easier to put these on when using the lavatories, rather than always putting on your shoes.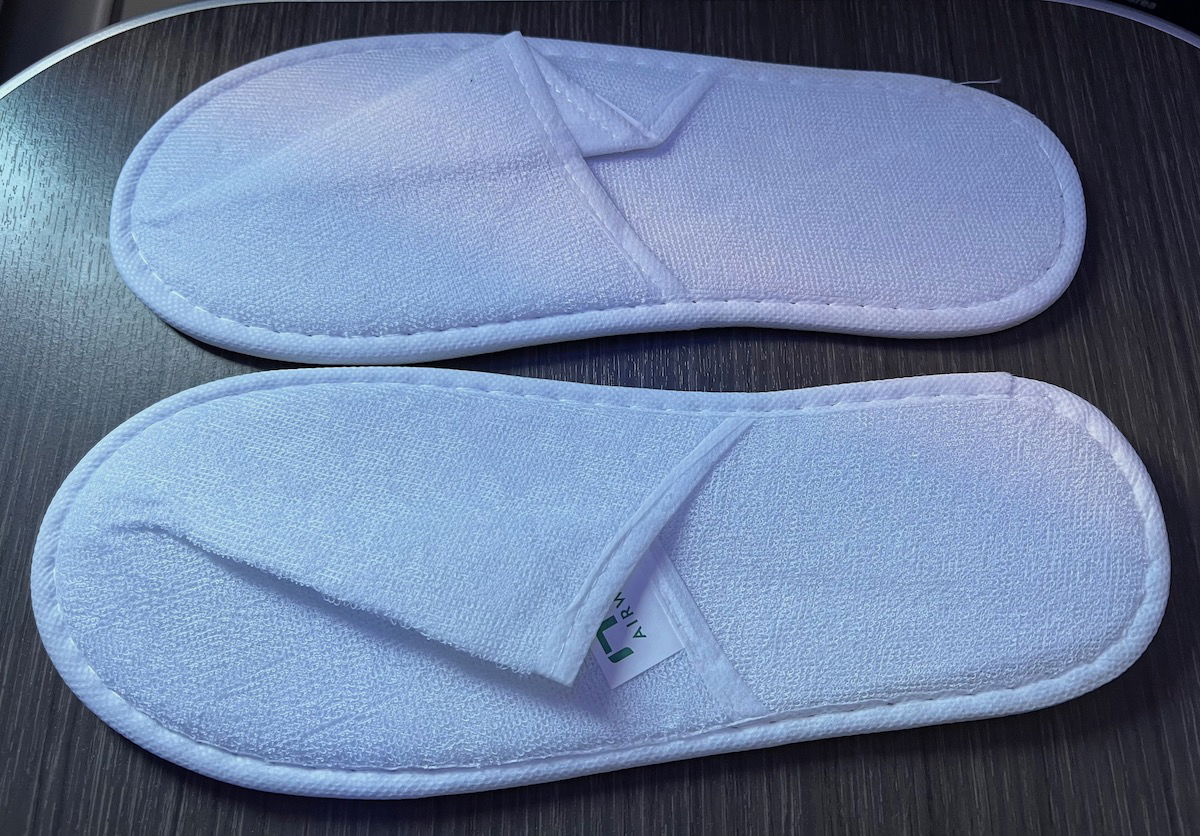 There were also a pair of headphones at each seat, though thanks to bluetooth audio, there's not really much need for these.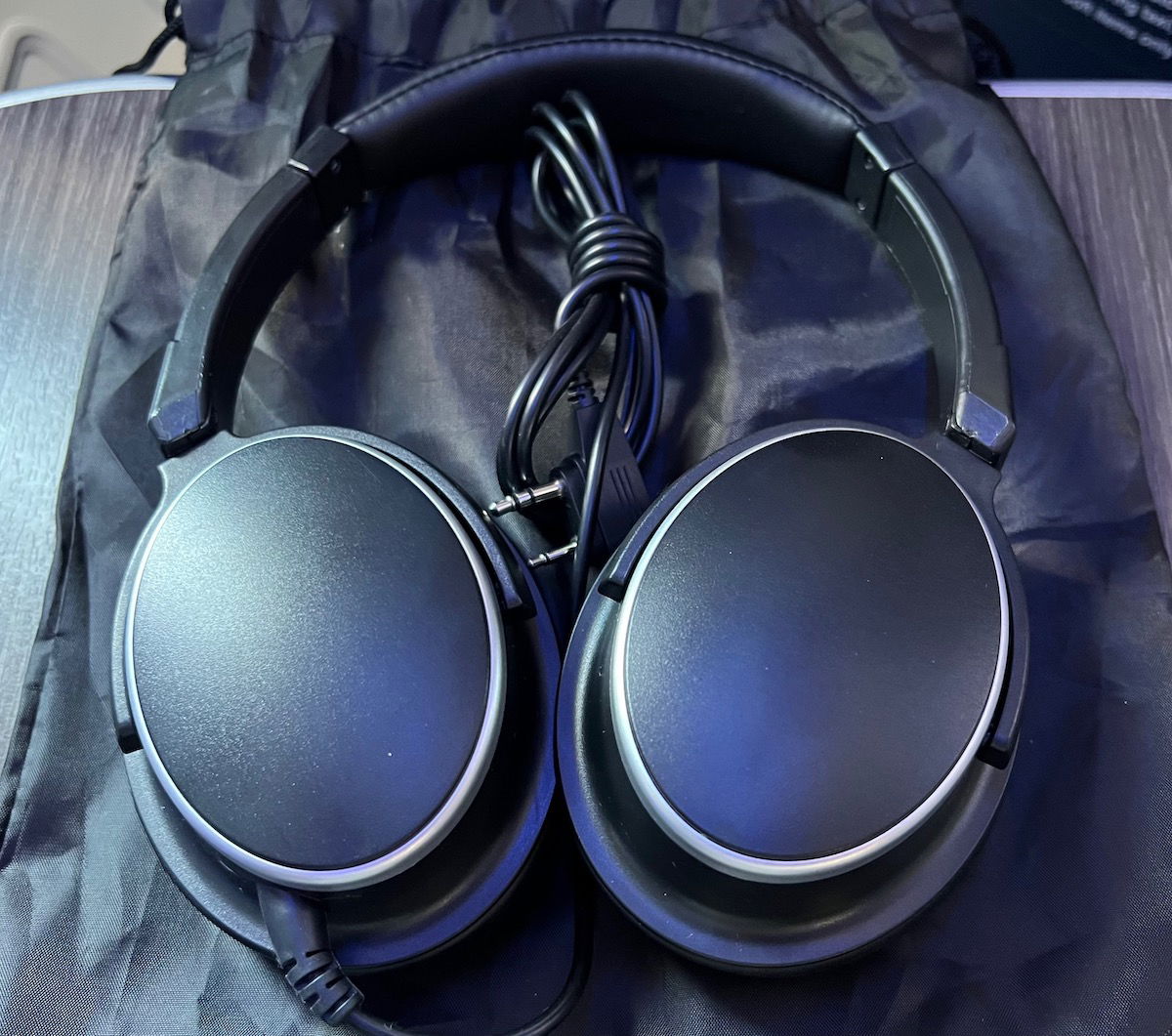 The menu and wine list were also waiting at the seat for each passenger.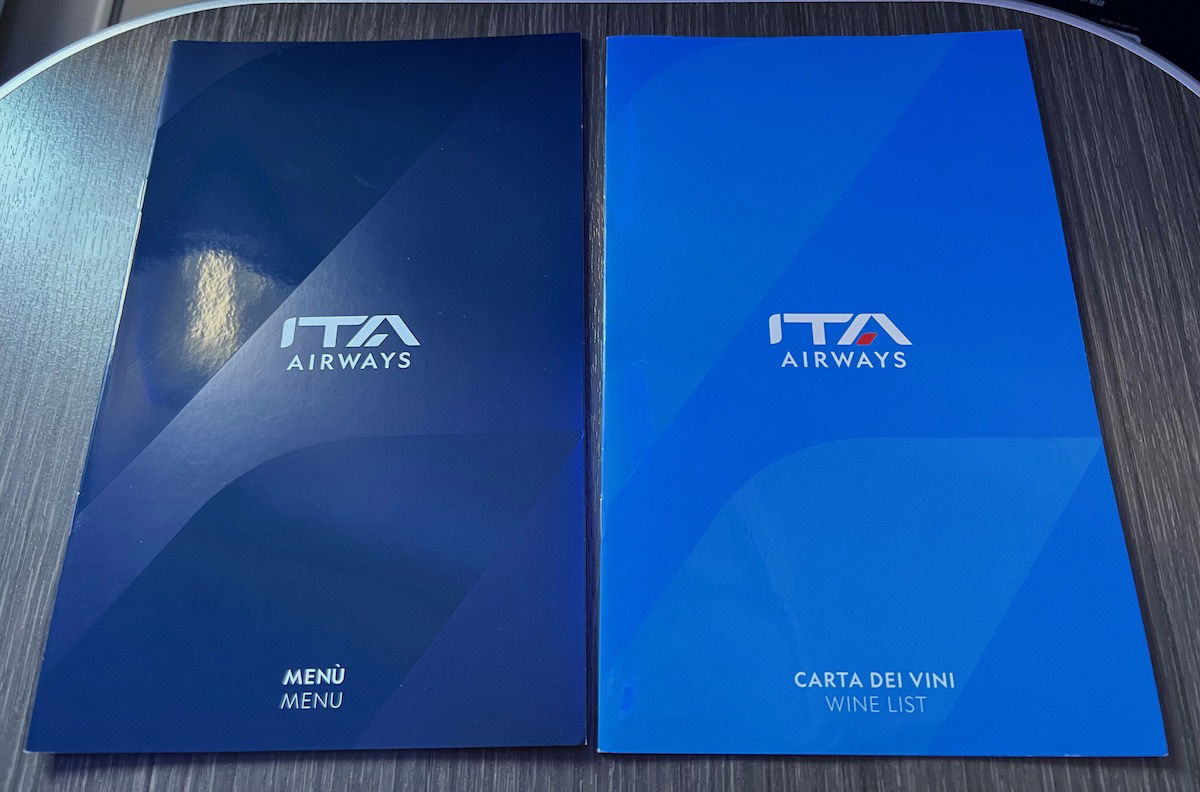 ITA had an impressive selection of business class amenities, consisting of two kits.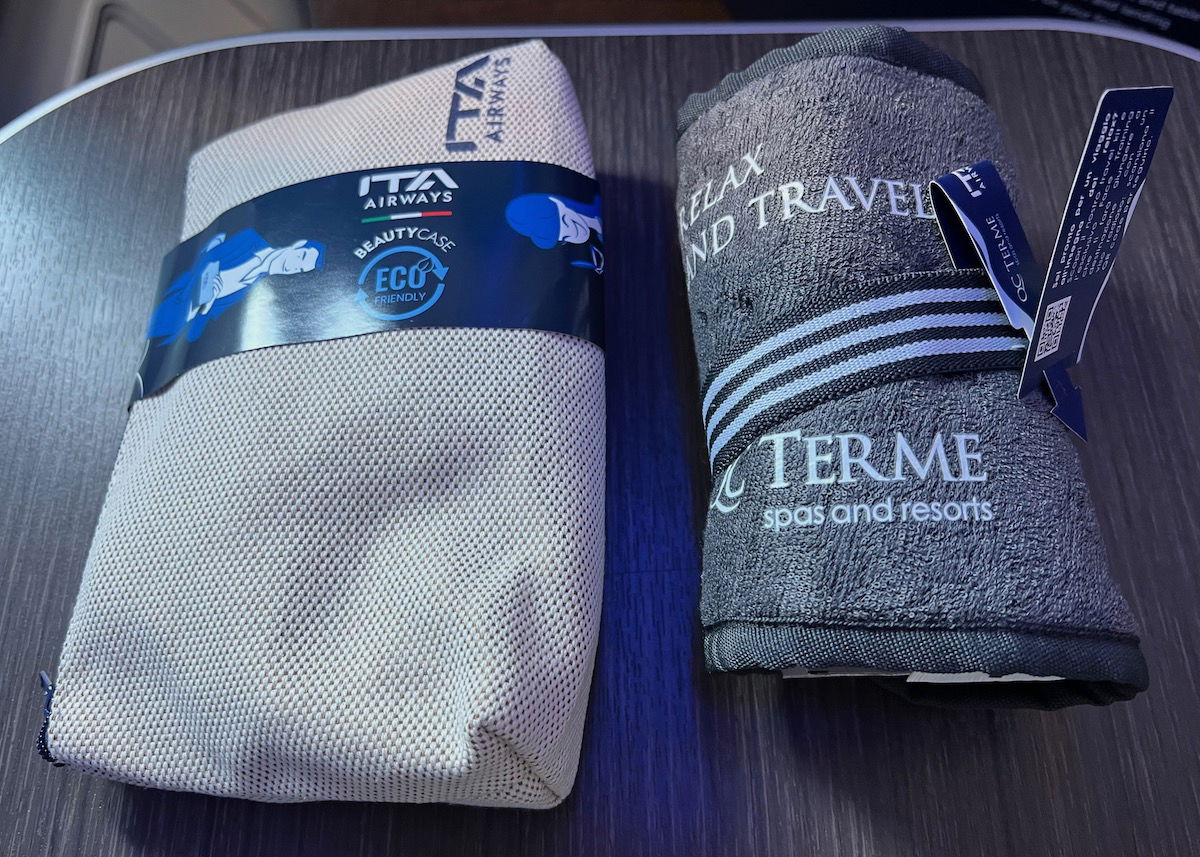 The standard amenity kit contained all the basics, including socks, eyeshades, earplugs, and a dental kit.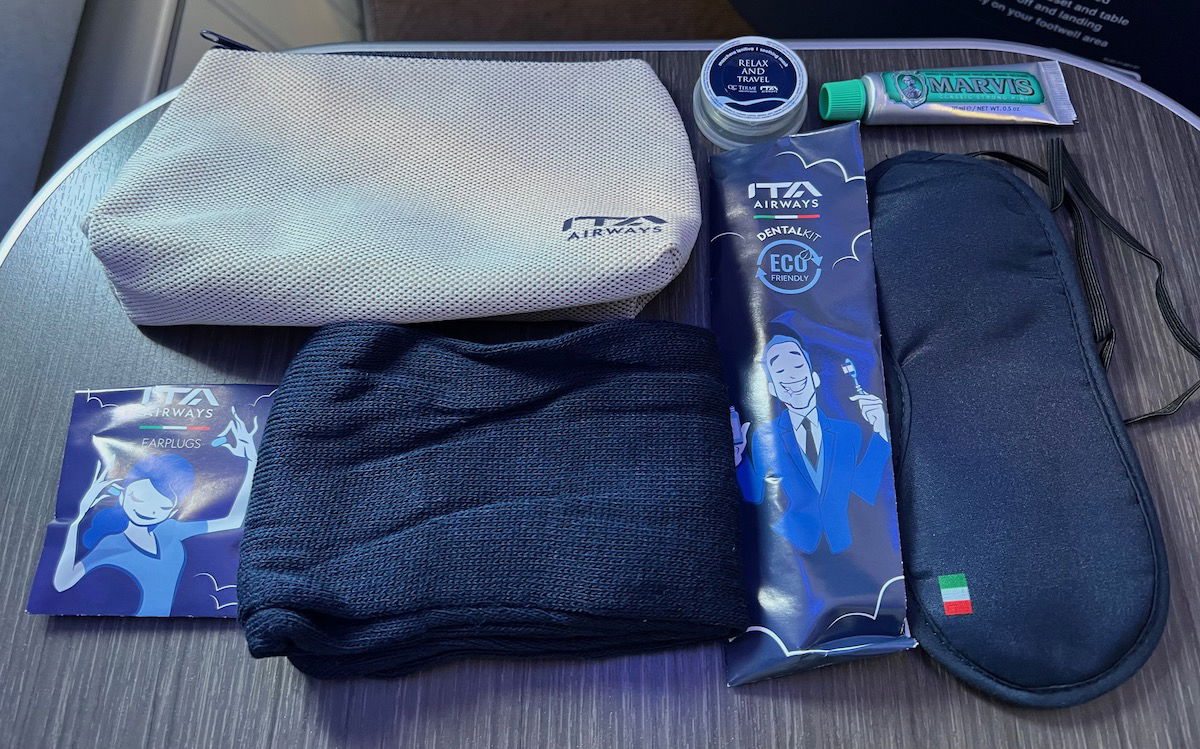 Then there was a second kit in collaboration with QC Terme Spas and Resorts, with half a dozen tubes of liquids, including shampoo, shower gel, lotion, and more. Does anyone know what the connection is between ITA and the brand? I got the sense that this was limited time, but don't know much beyond that.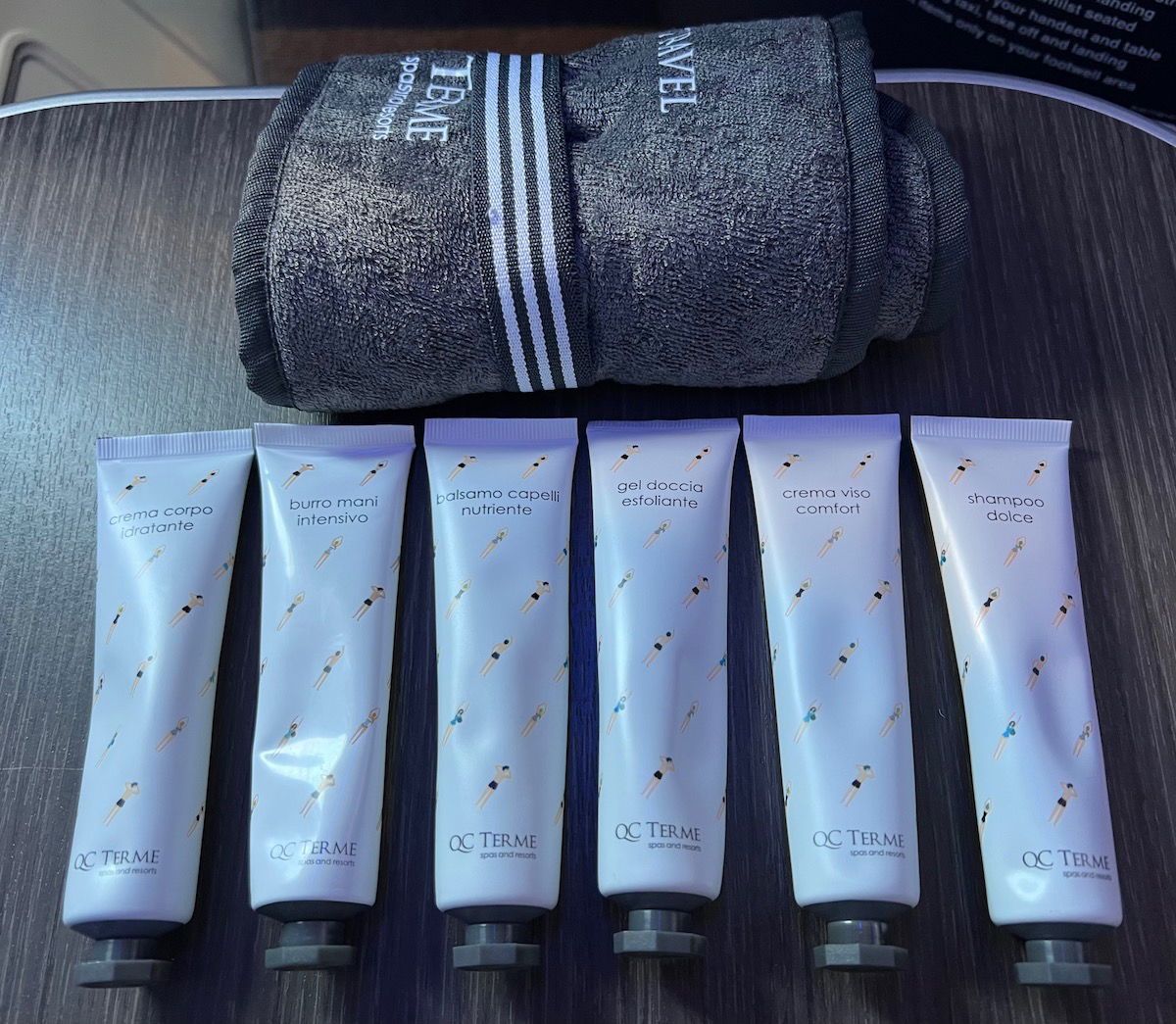 As soon as we settled in, the crew came around to introduce themselves, familiarize passengers with seats, and offer pre-departure drinks of choice. I asked for a sparkling water and an espresso. What a treat to get this as a pre-departure drink, as there aren't many airlines that let you choose these in business class!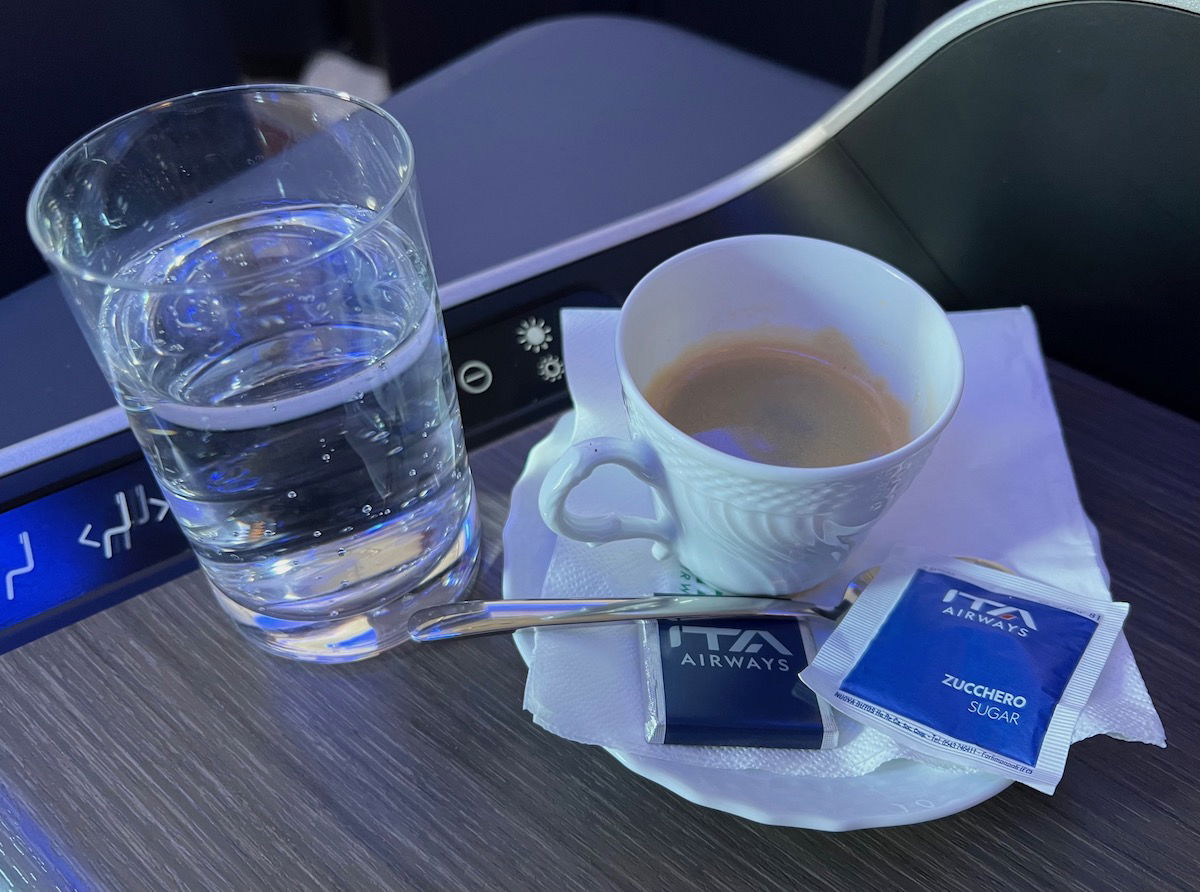 Warm towels were also distributed toward the end of the boarding process.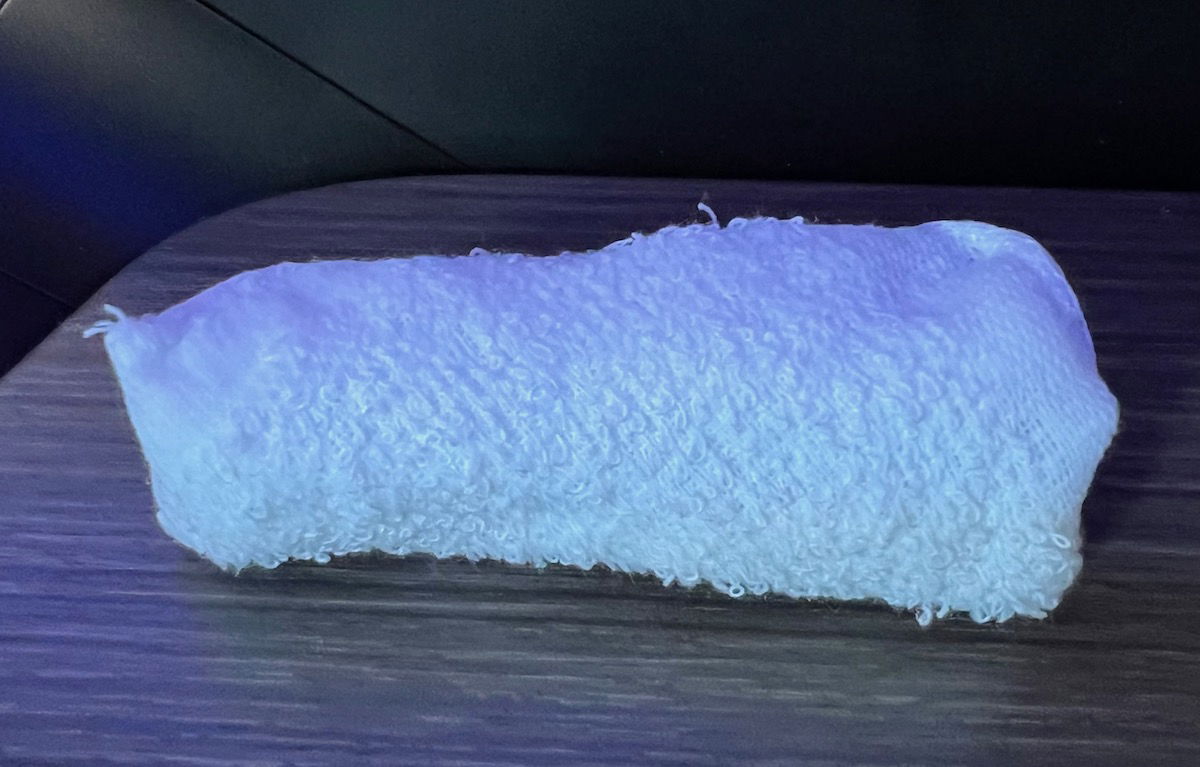 ITA Airways A330-900neo business class entertainment & Wi-Fi
Each business class seat had a 17.3″ personal television with 4K resolution. The monitor was touchscreen, or alternatively you could use the controller, if you prefer.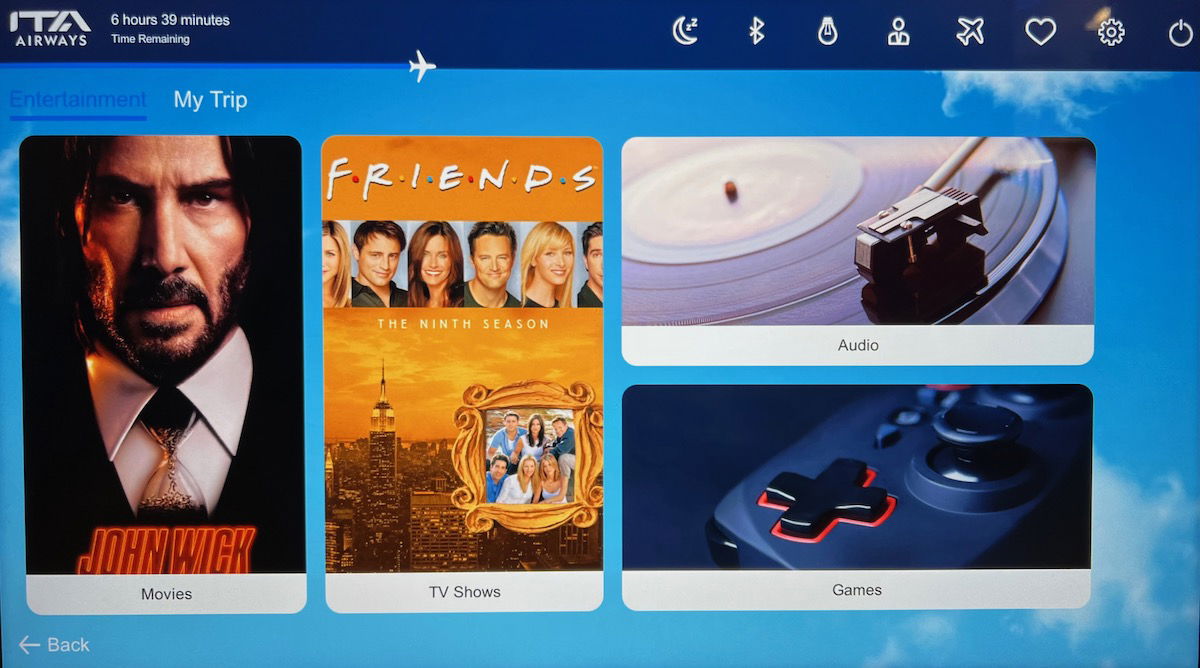 The entertainment selection consisted of 175 movies. It wasn't the most exciting selection on earth, but also wasn't bad.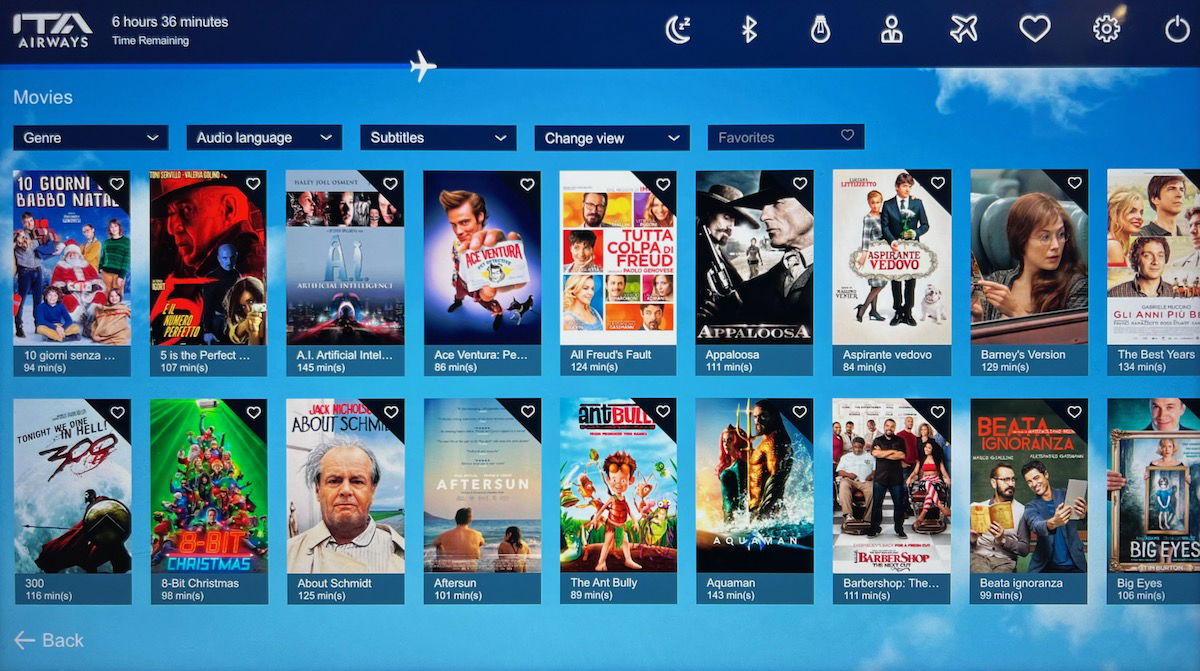 There were also 24 TV shows to choose from, though some of these had multiple episodes to watch.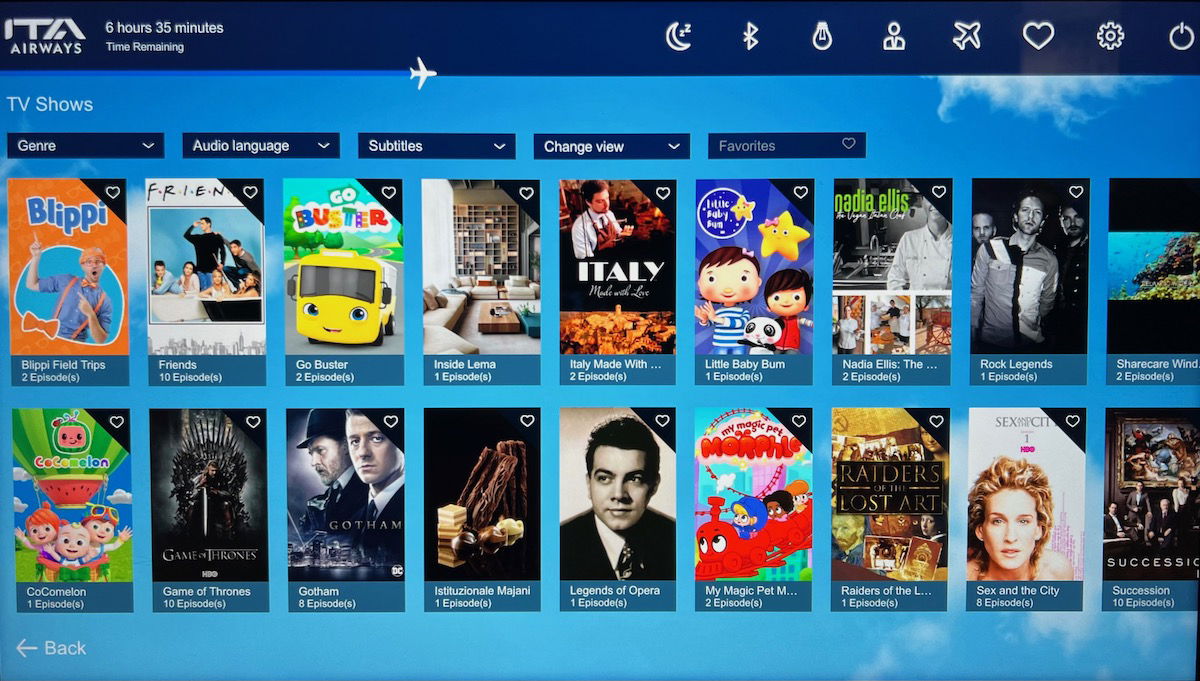 In addition to that, there were several audio channels, as well as games.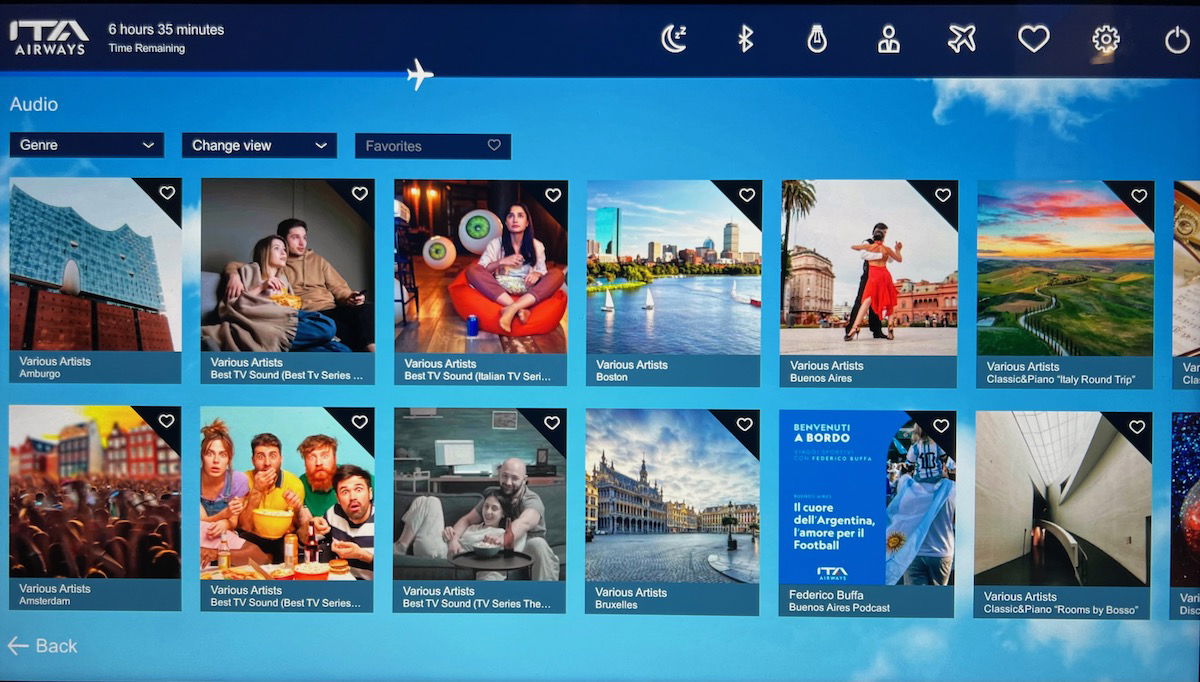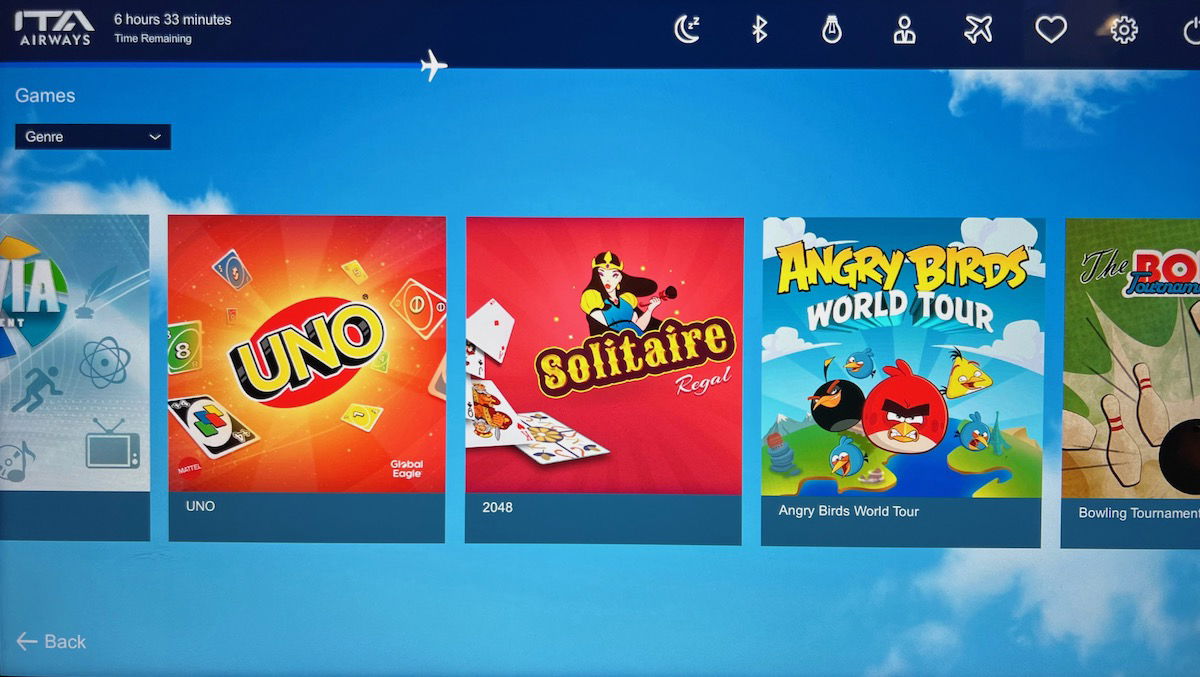 ITA has bluetooth audio in business class on its A330-900neos, so you can connect your personal headphones to the entertainment system. It's awesome how this is becoming increasingly common.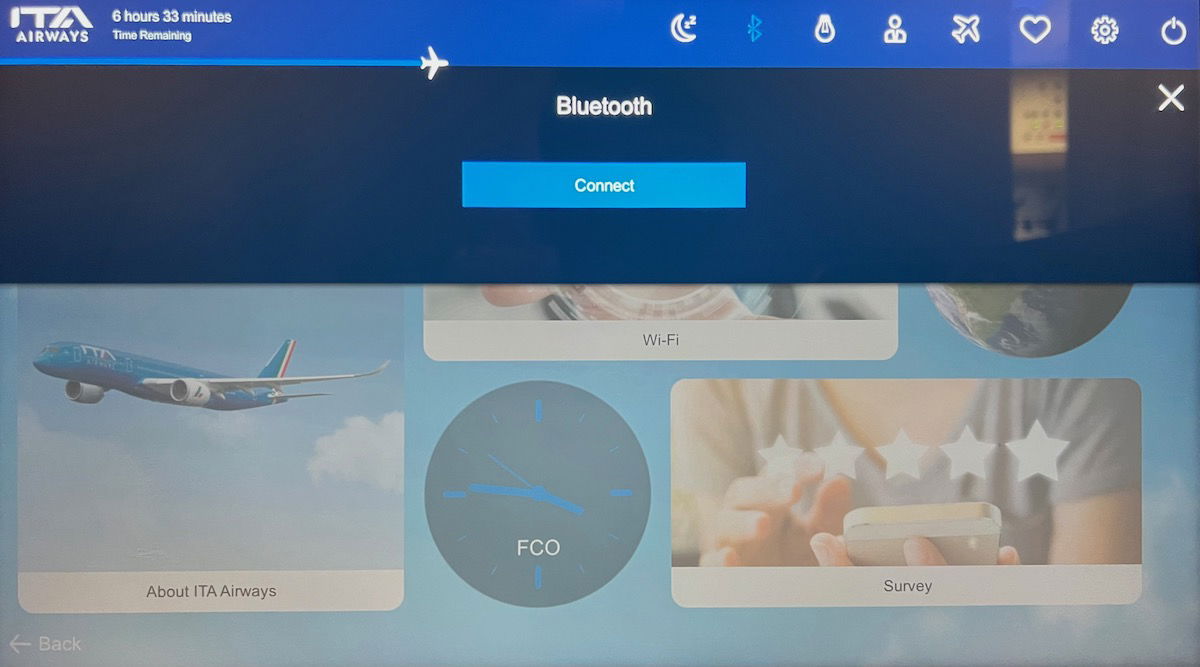 As an avgeek, my favorite part of any inflight entertainment system is the map feature, so that's what I enjoyed for most of the flight. I appreciate how customizable this map was, as you could zoom in and out to your heart's content, and there were all kinds of pre-set options you could cycle through.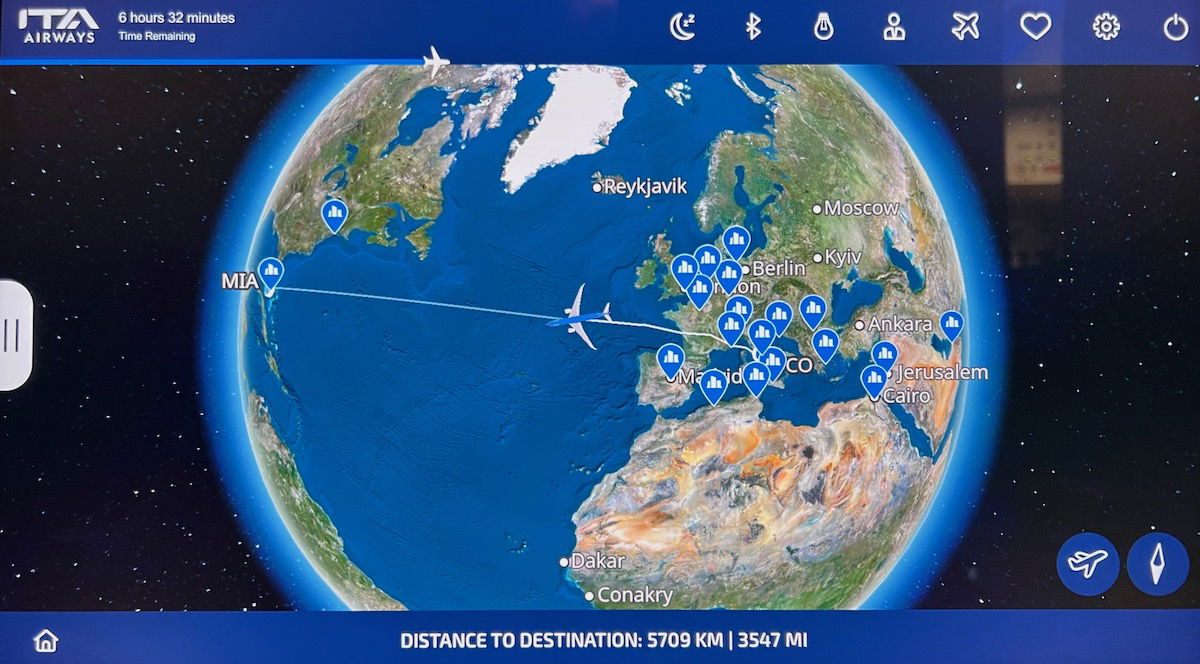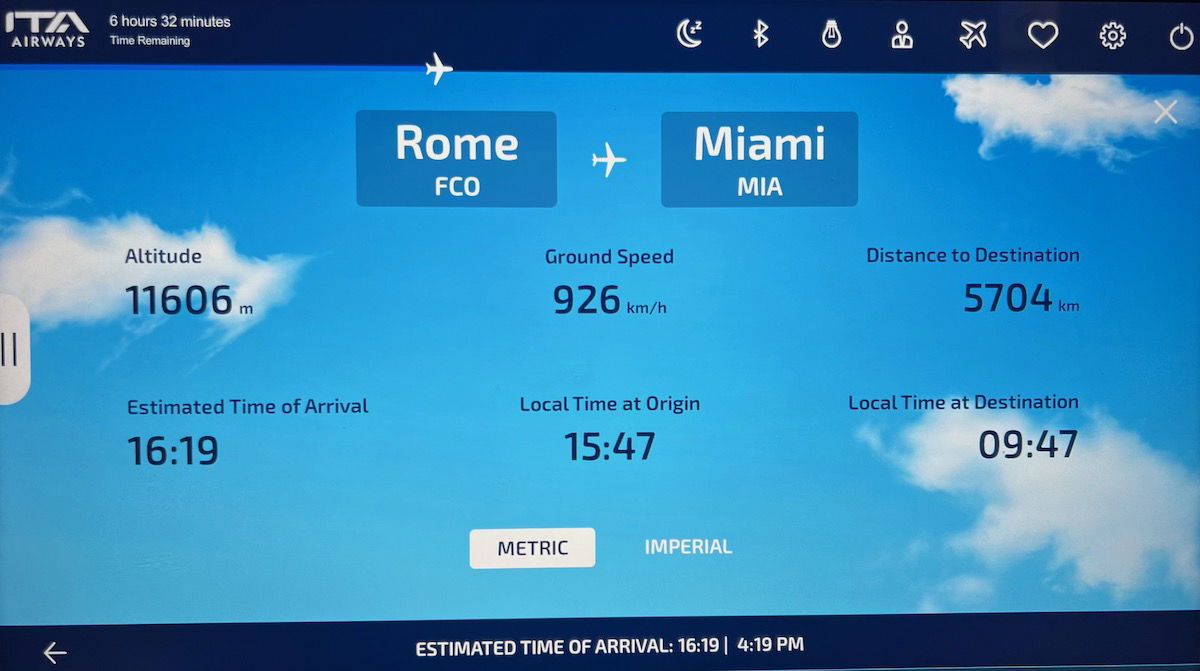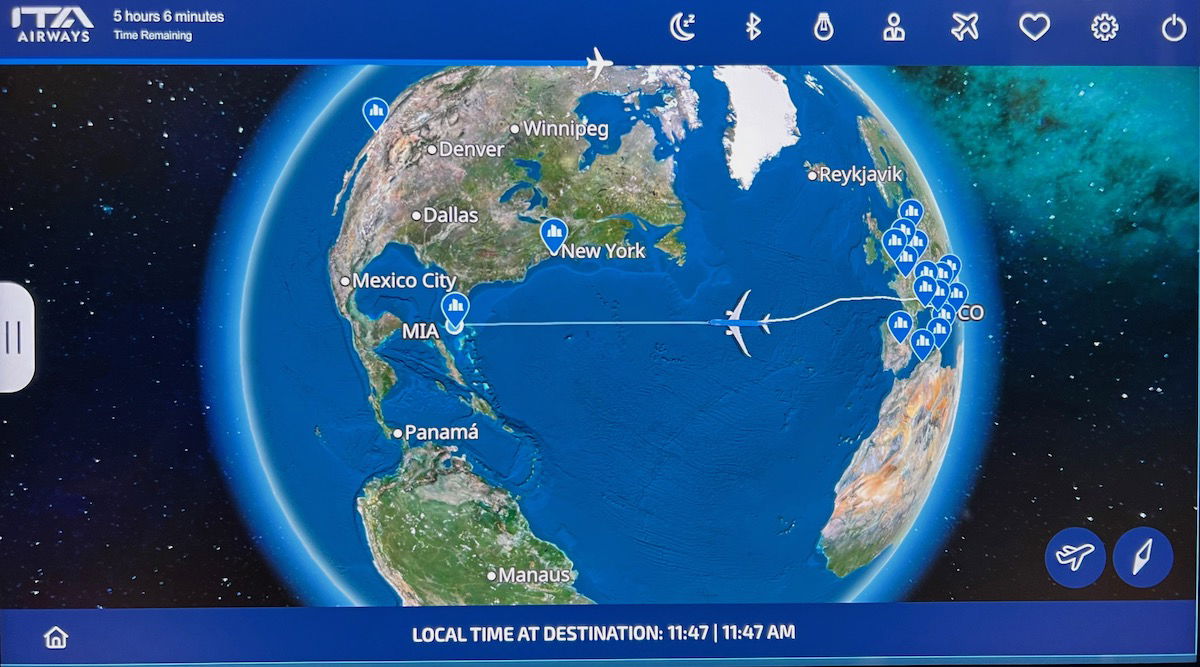 ITA Airways' A330-900neos also have Wi-Fi, which is a much appreciated amenity.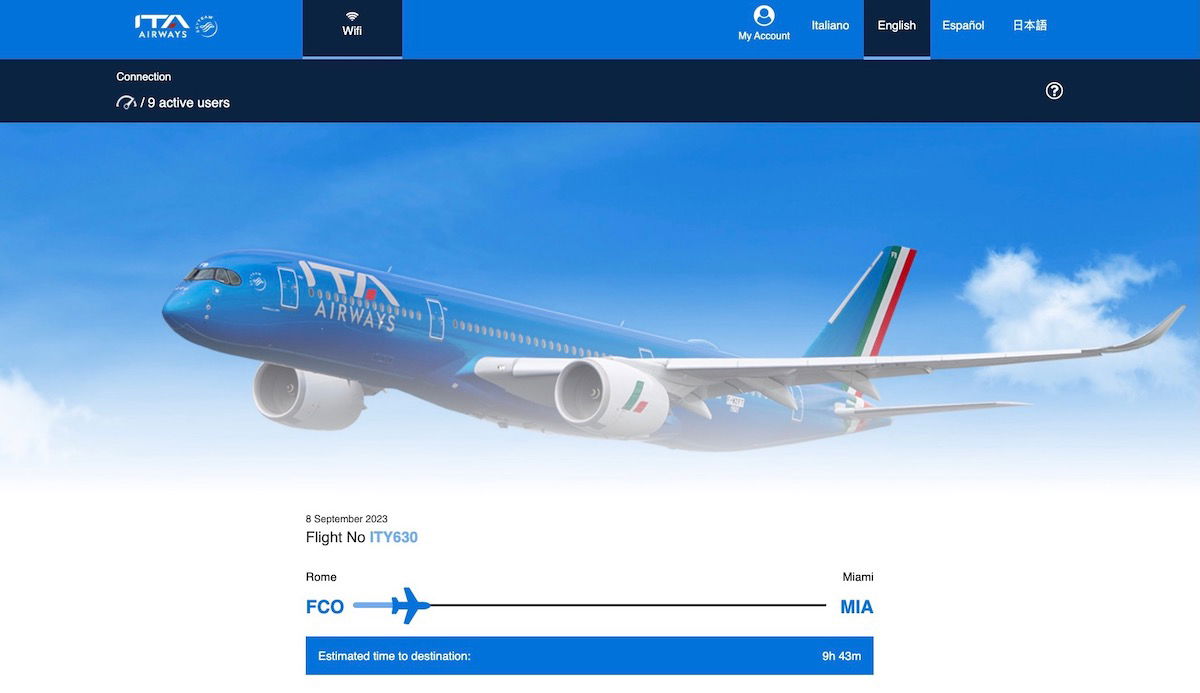 ITA's Airbus A330-900neo Wi-Fi pricing is as follows:
There's a free messaging option, allowing you to use messaging apps without sending pictures or videos
For $10 you can get a two hour Wi-Fi pass, intended for email and web surfing
For $25 you can get a pass for the entire flight that gives you 500MB of data; while it's claimed that this allows streaming, I wouldn't count on it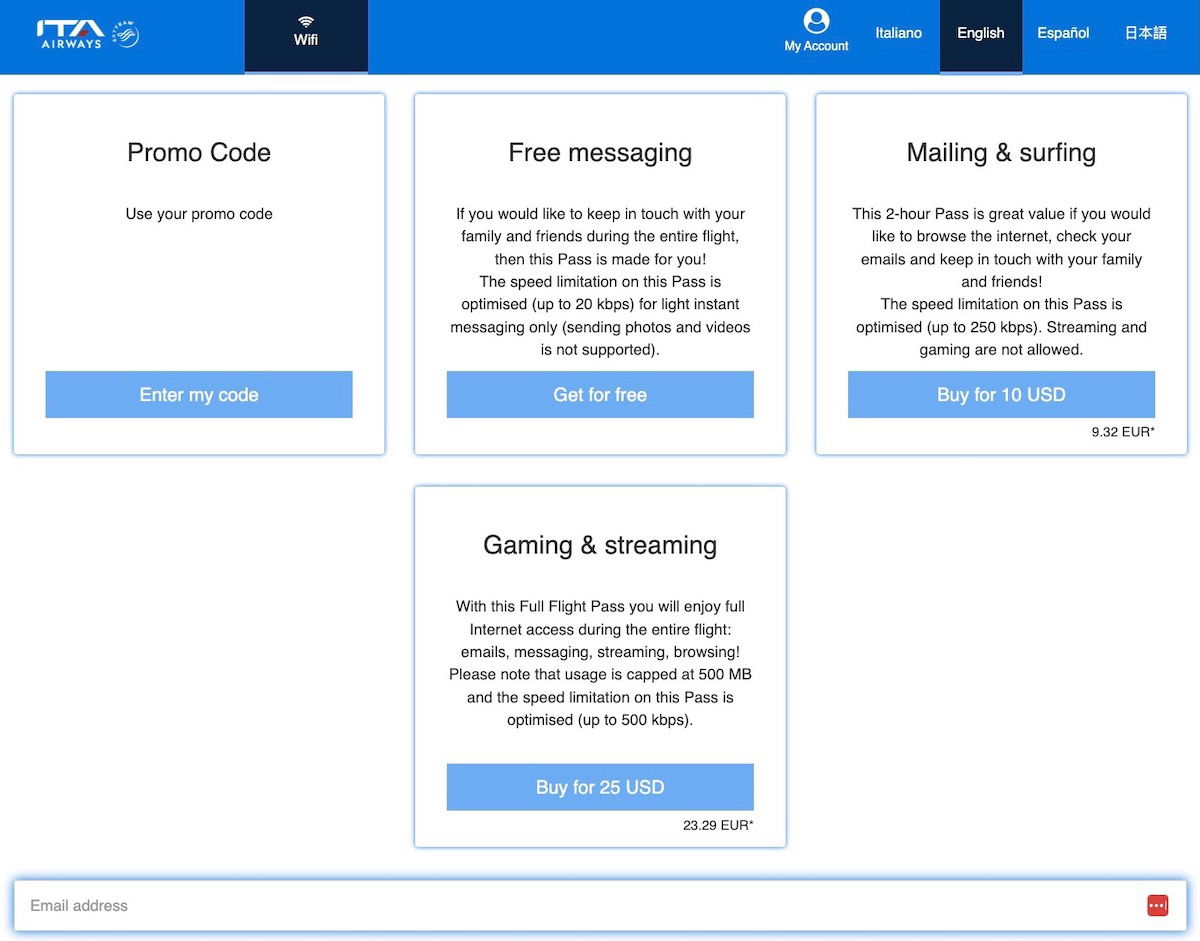 I found the Wi-Fi to be functional, but on the slow side. ITA Airways uses OnAir for its inflight Wi-Fi, which isn't exactly a cutting edge product. I find it interesting how the full flight plan has a data cap of 500MB, while the two hour pass has no data caps.
It can pay to be strategic there. For example, if you're planning on heavy use over certain periods, you might be better off buying two passes for two hours each (with no data caps), compared to a pass for the full flight.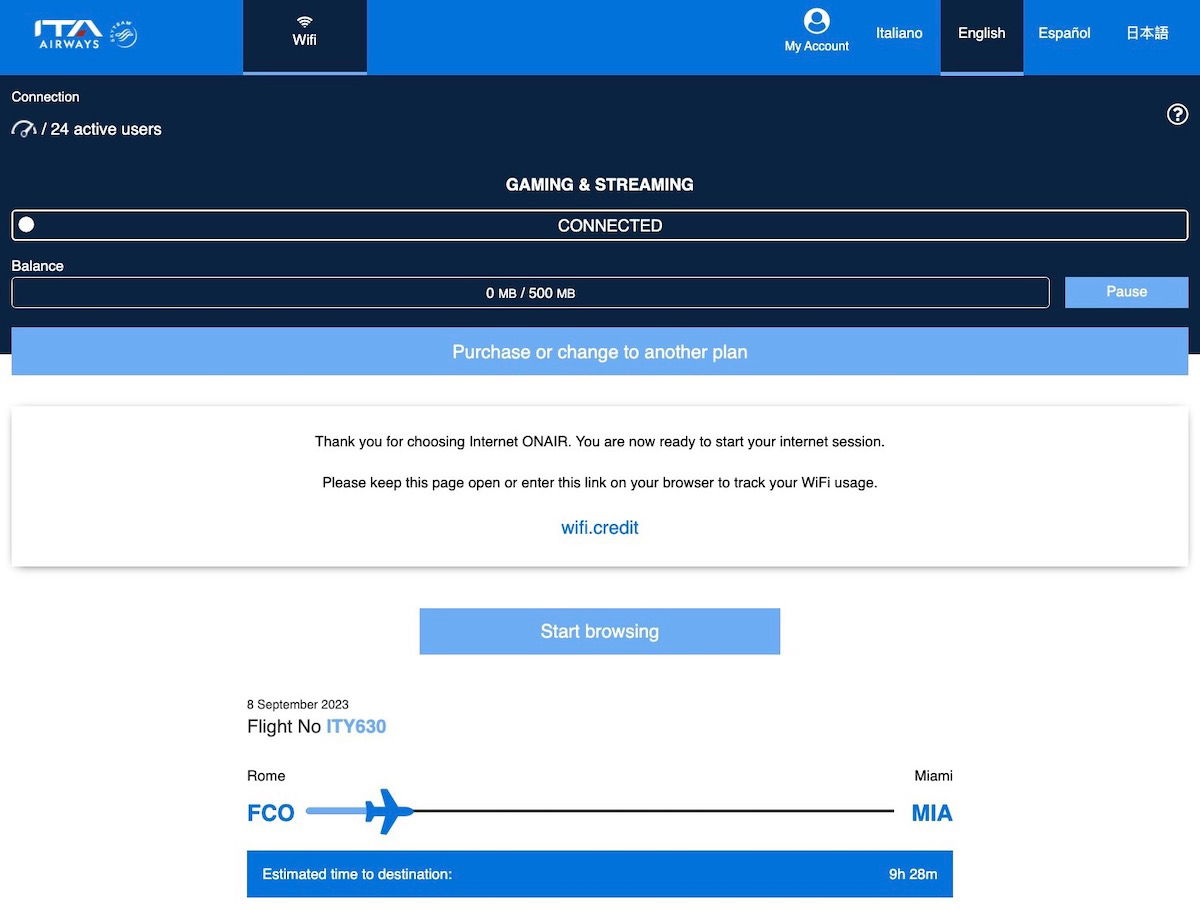 ITA Airways A330-900neo departure from Rome
Boarding was efficient, and was wrapped up by 11AM, 20 minutes after it started. Business class was nearly full (there was only one empty seat), premium economy seemed to be about 25% full, and economy seemed to be about 50% full.
At 11AM the first officer made his welcome aboard announcement, informing us of our flight time of 10hr20min, and our anticipated on-time arrival, despite the late departure. Even once everyone was onboard, it took us some time to push back. The main cabin door only closed as 11:25AM, and then at 11:30AM we began our push back. At the same time the (fun) safety video was screened.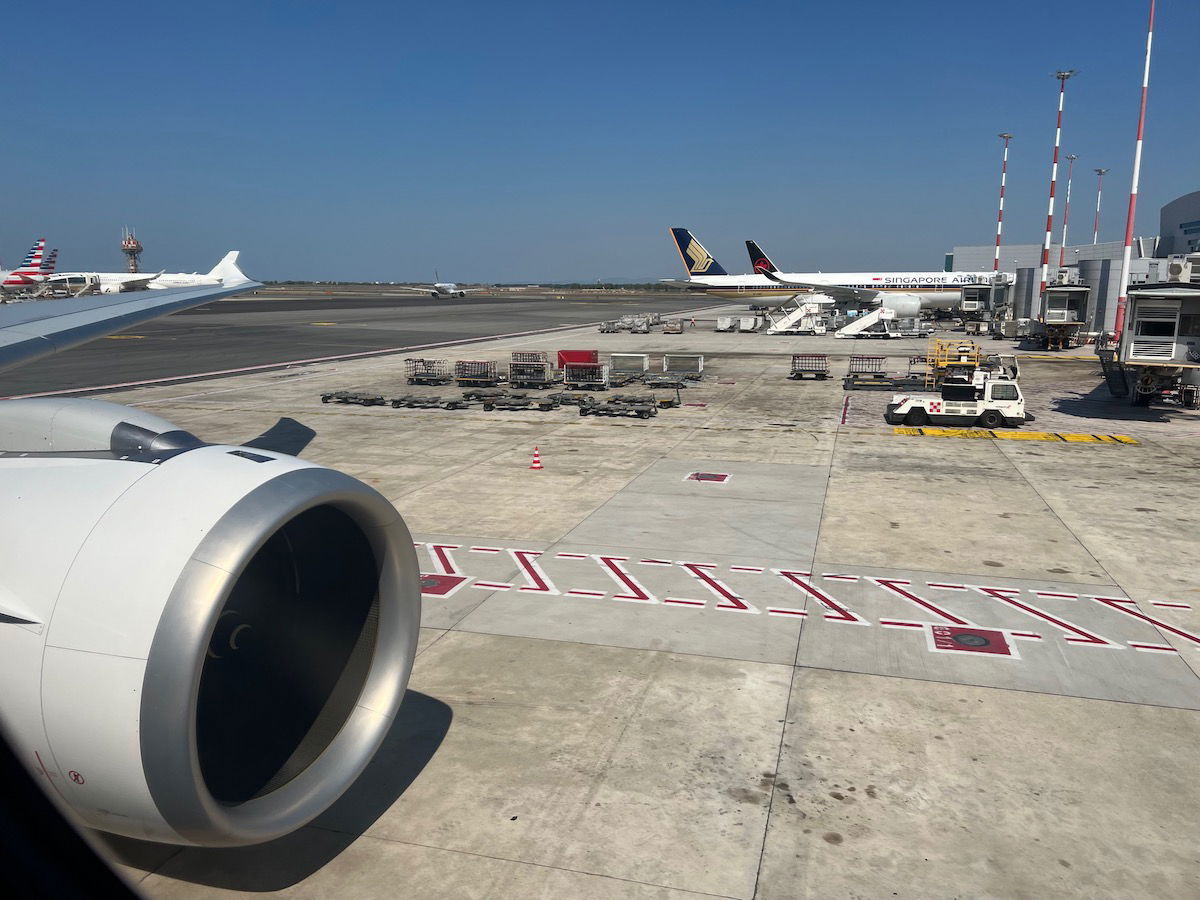 We started taxiing at 11:35AM, and it took about 10 minutes to get to the runway. There was some cool traffic parked at the airport, including a former Thai Airways A330 (which clearly hadn't flown in a long time), as well as a State of Kuwait Airbus A340.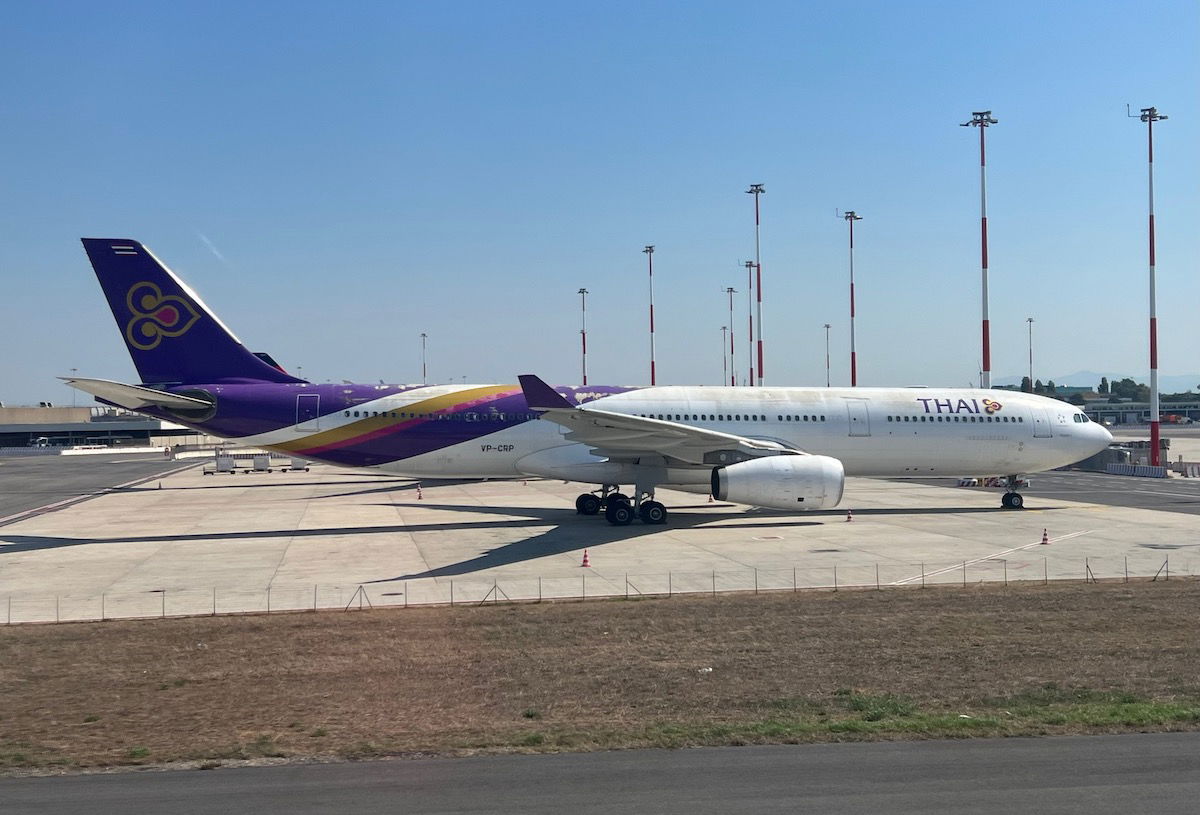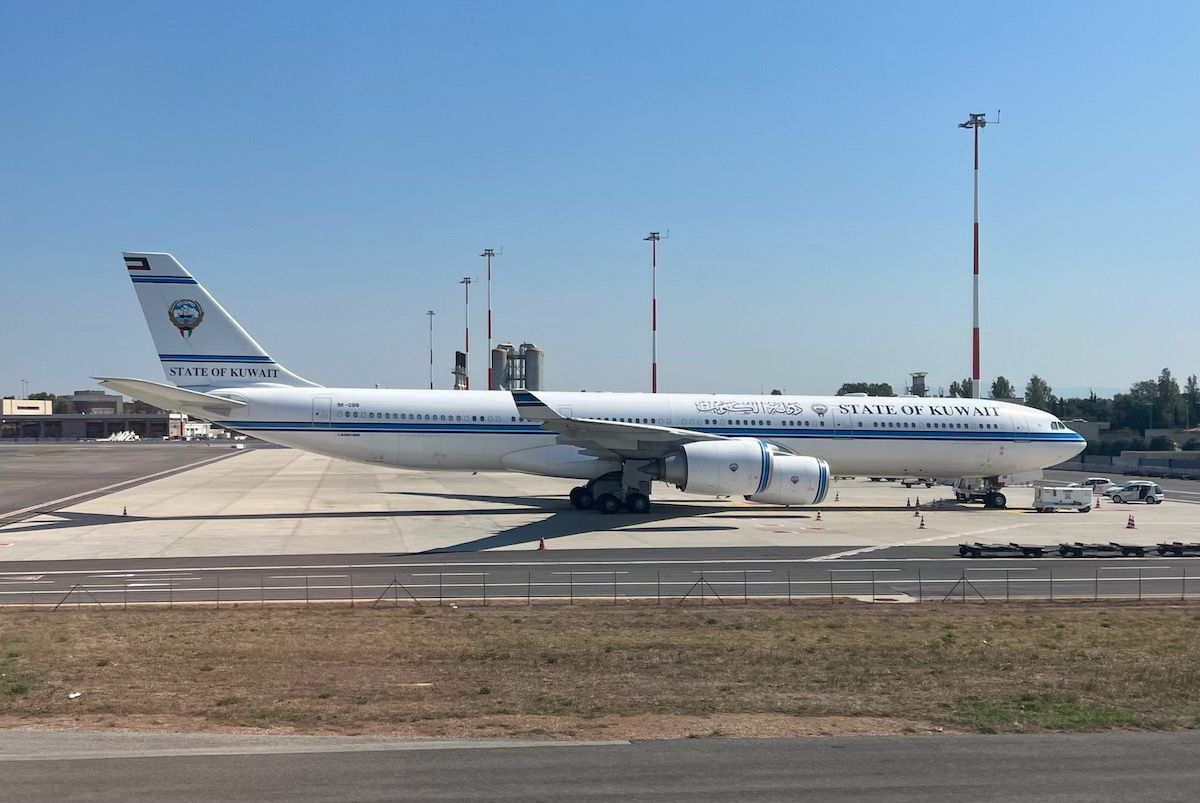 We were cleared for takeoff on runway 34L a 11:45AM. The views on the climb out were beautiful, and the seatbelt sign was turned off about 15 minutes after takeoff.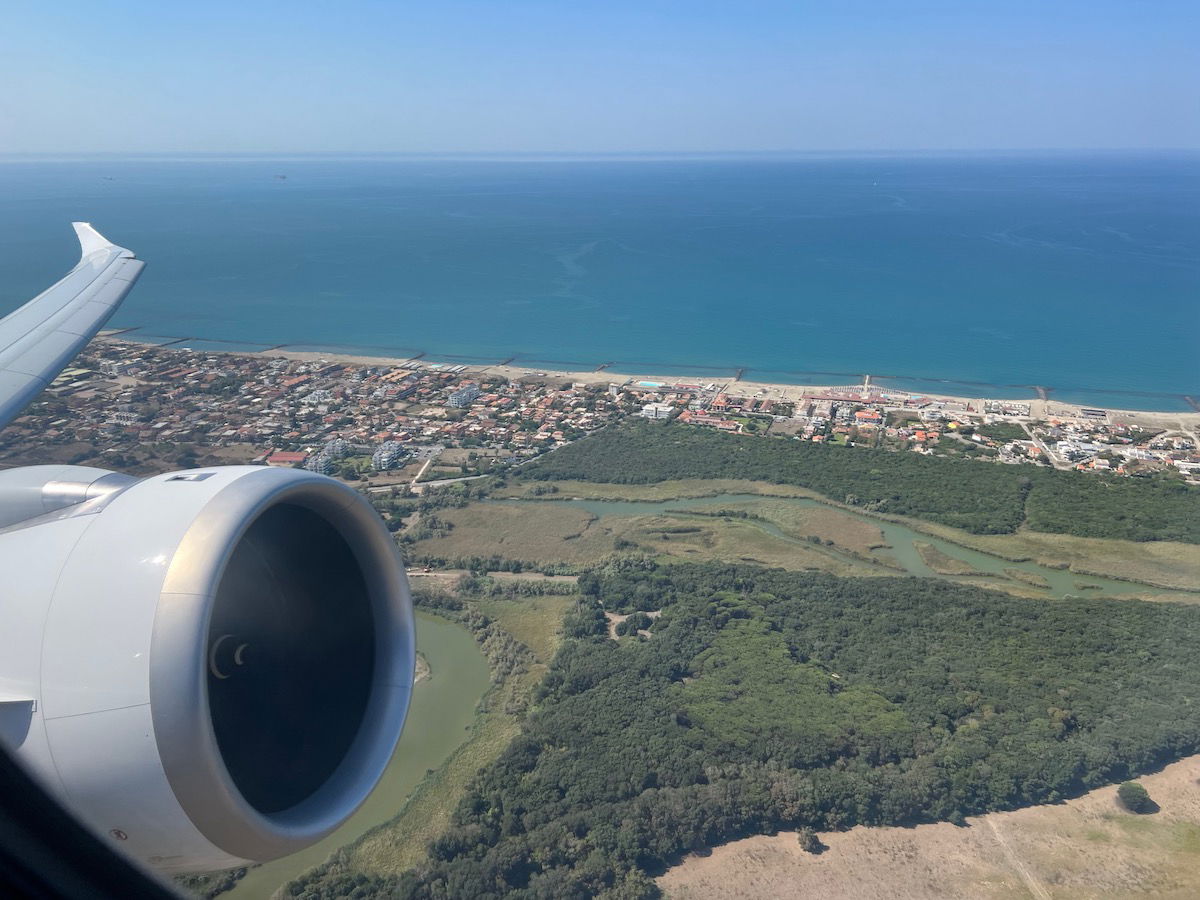 ITA Airways business class lunch service
If there's one thing you'd expect from an Italian airline, it's good food and drinks, and that's an area where ITA Airways doesn't disappoint. I was excited to fly the airline out of its Rome hub, and experience the catering.
Lunch was served soon after takeoff, and you can find the menu and drink list below.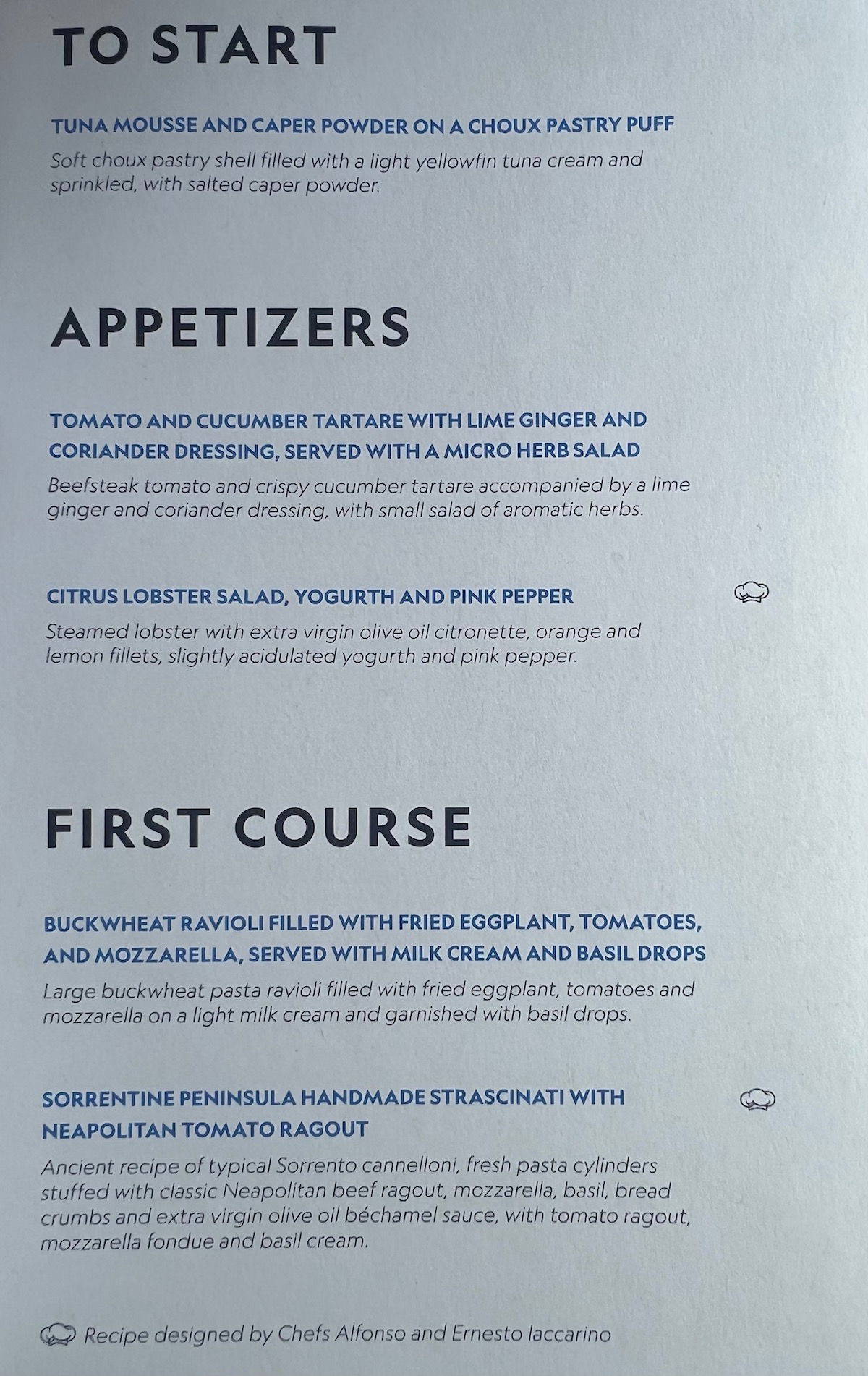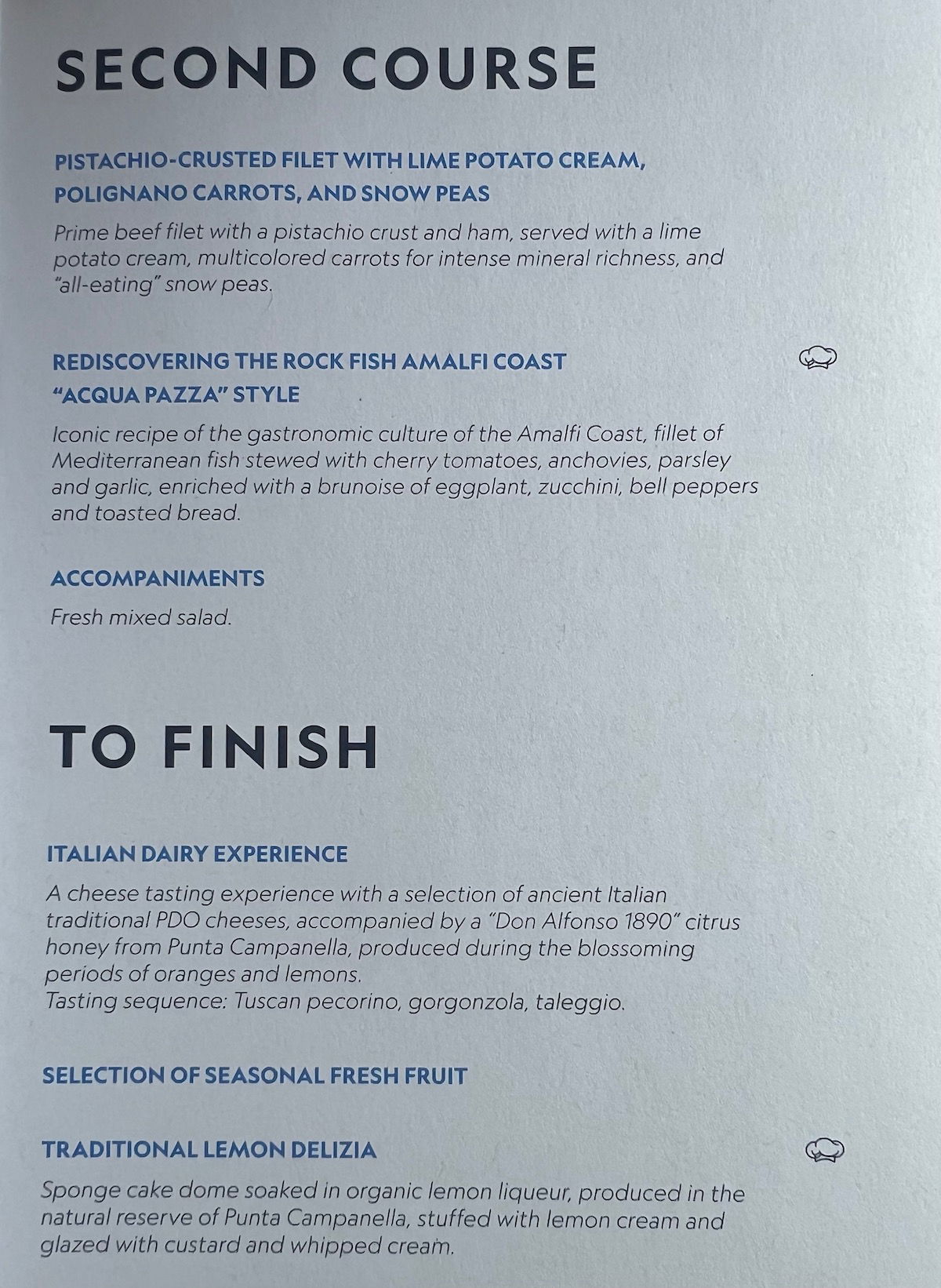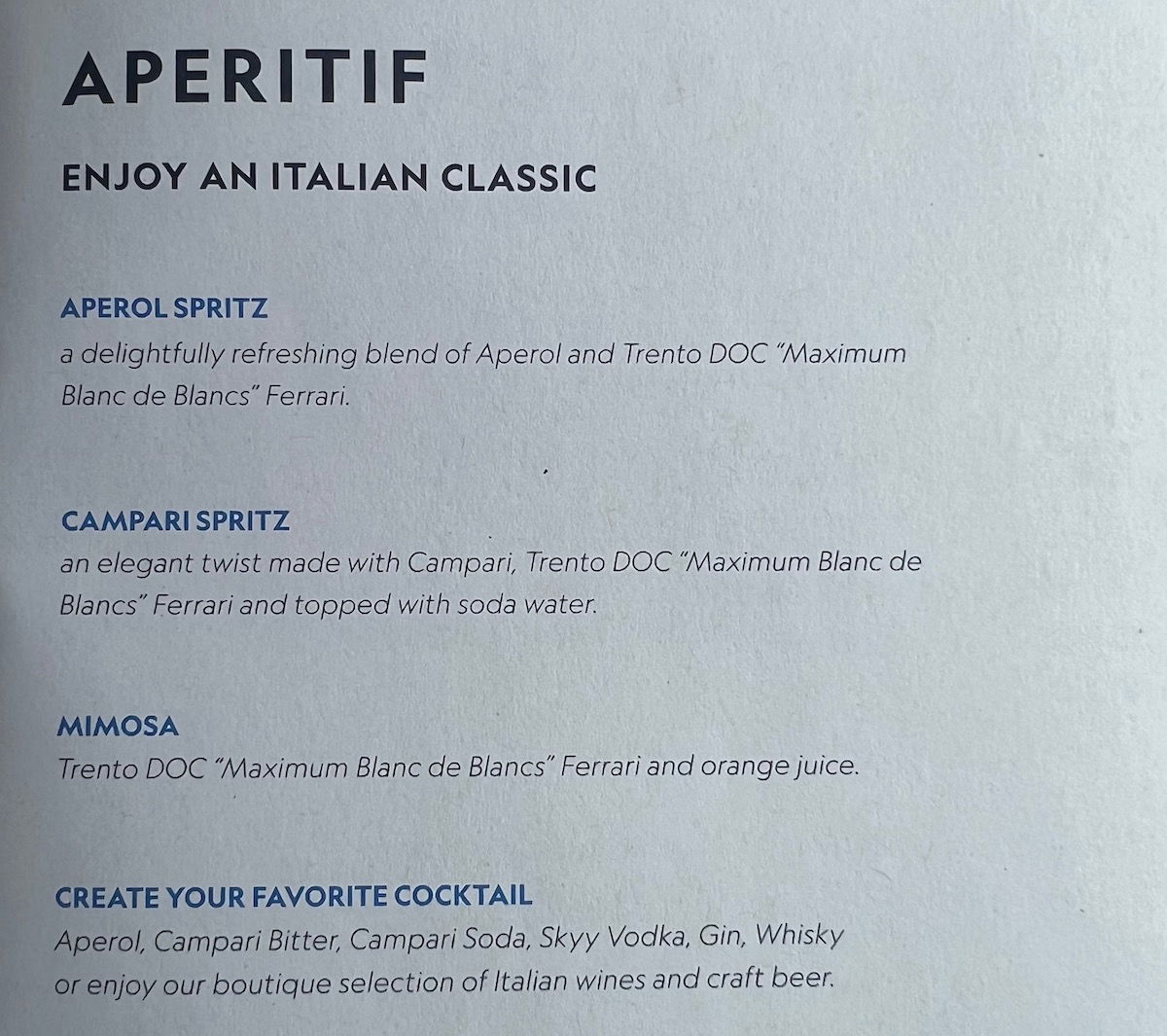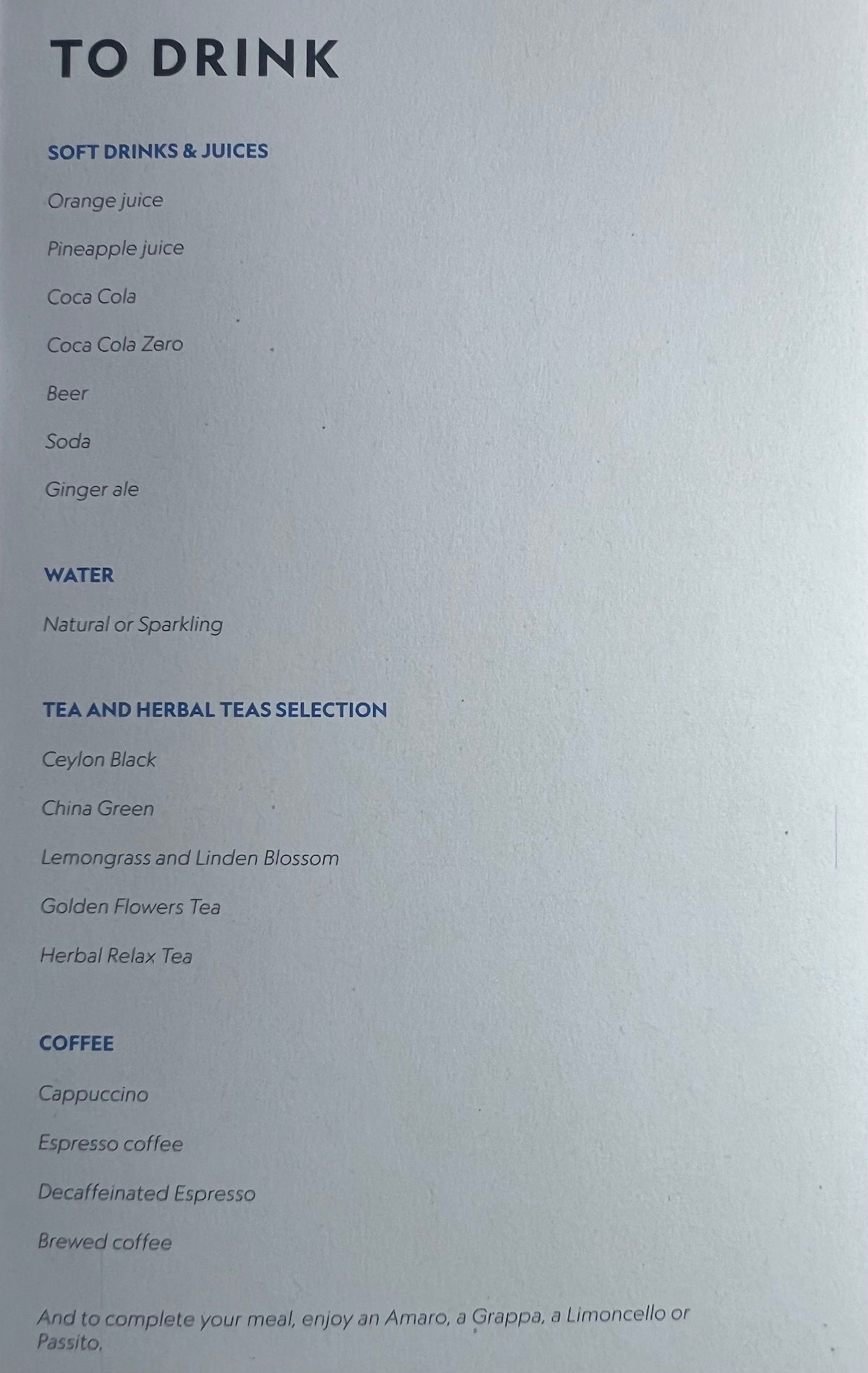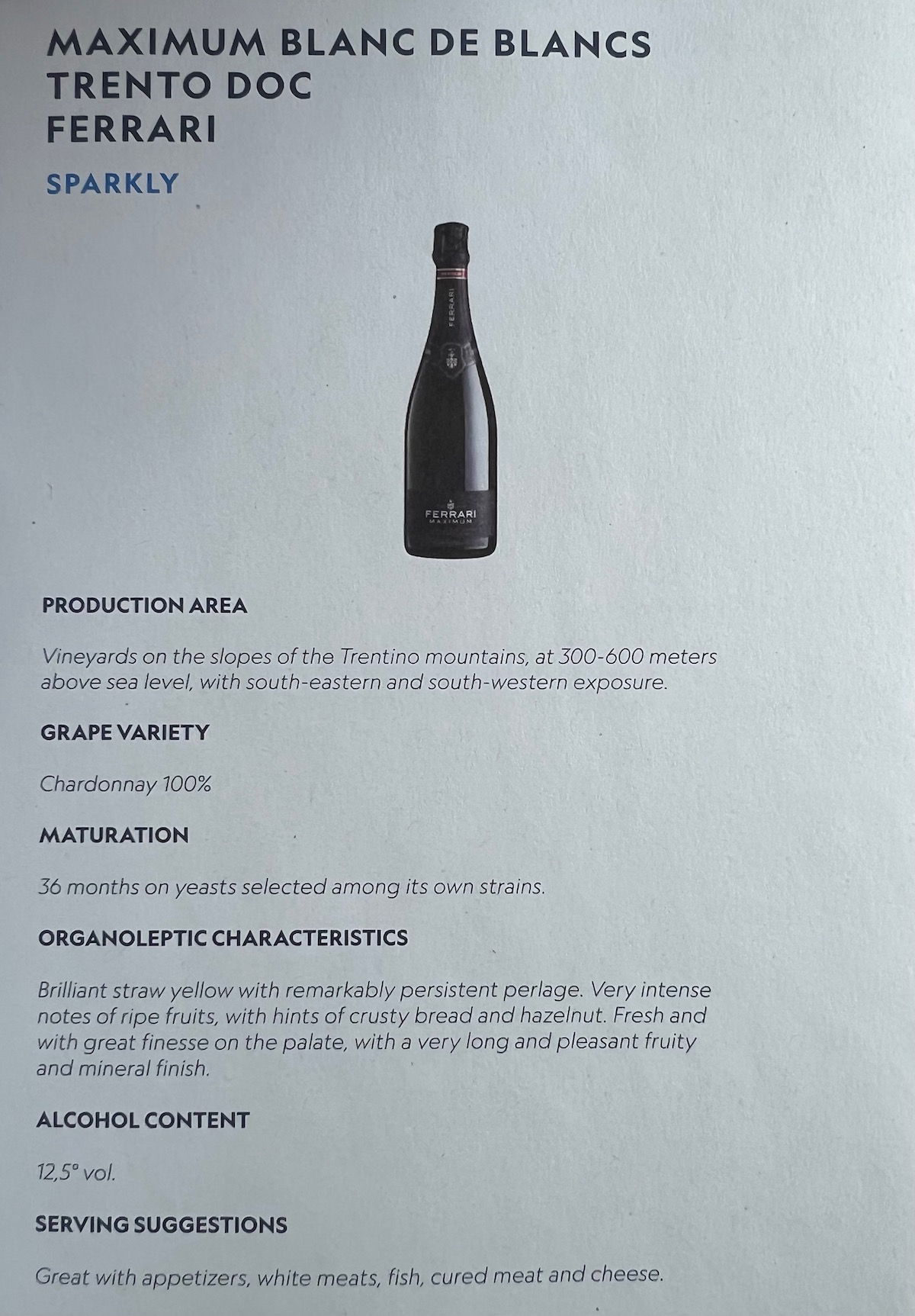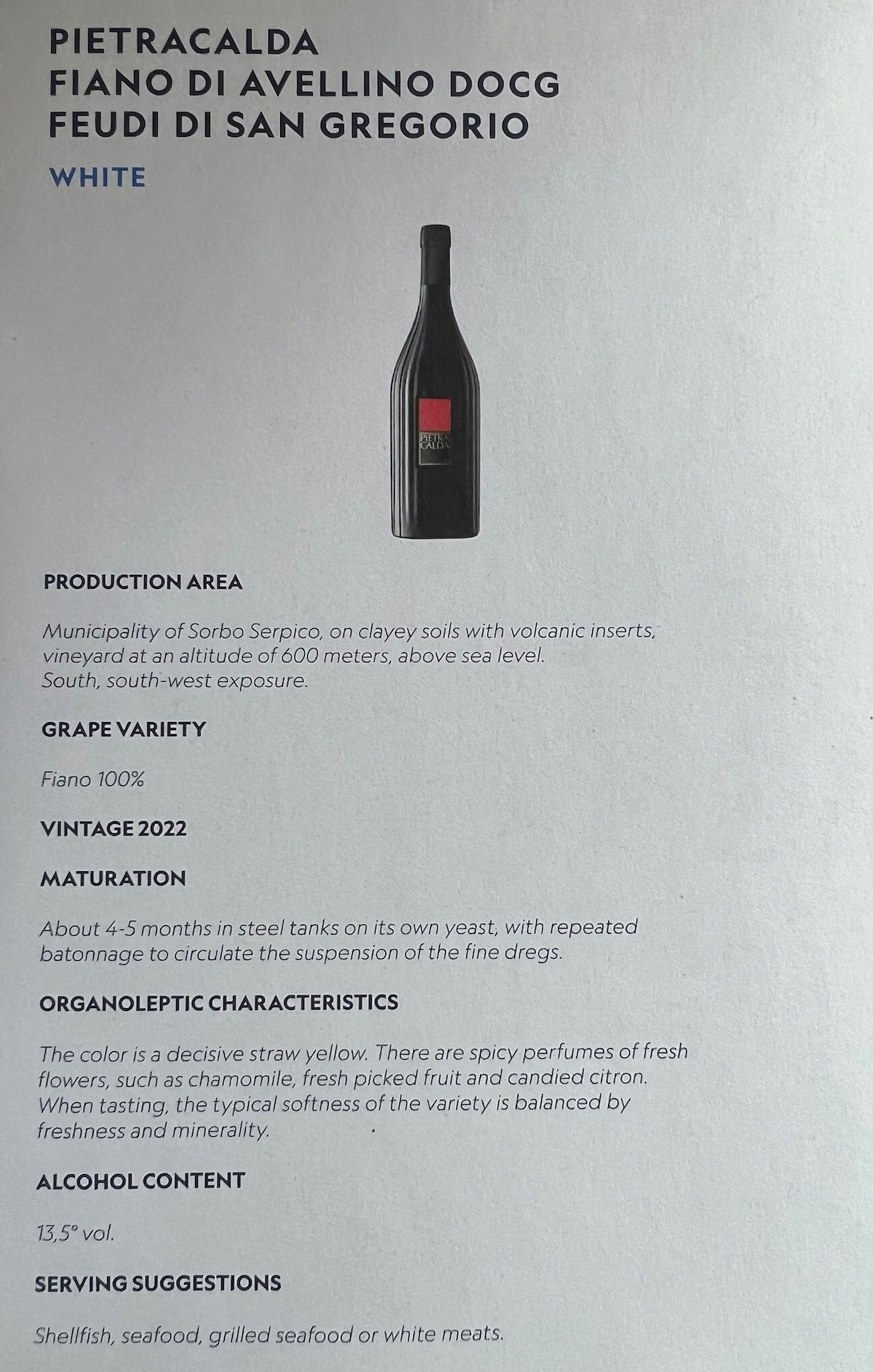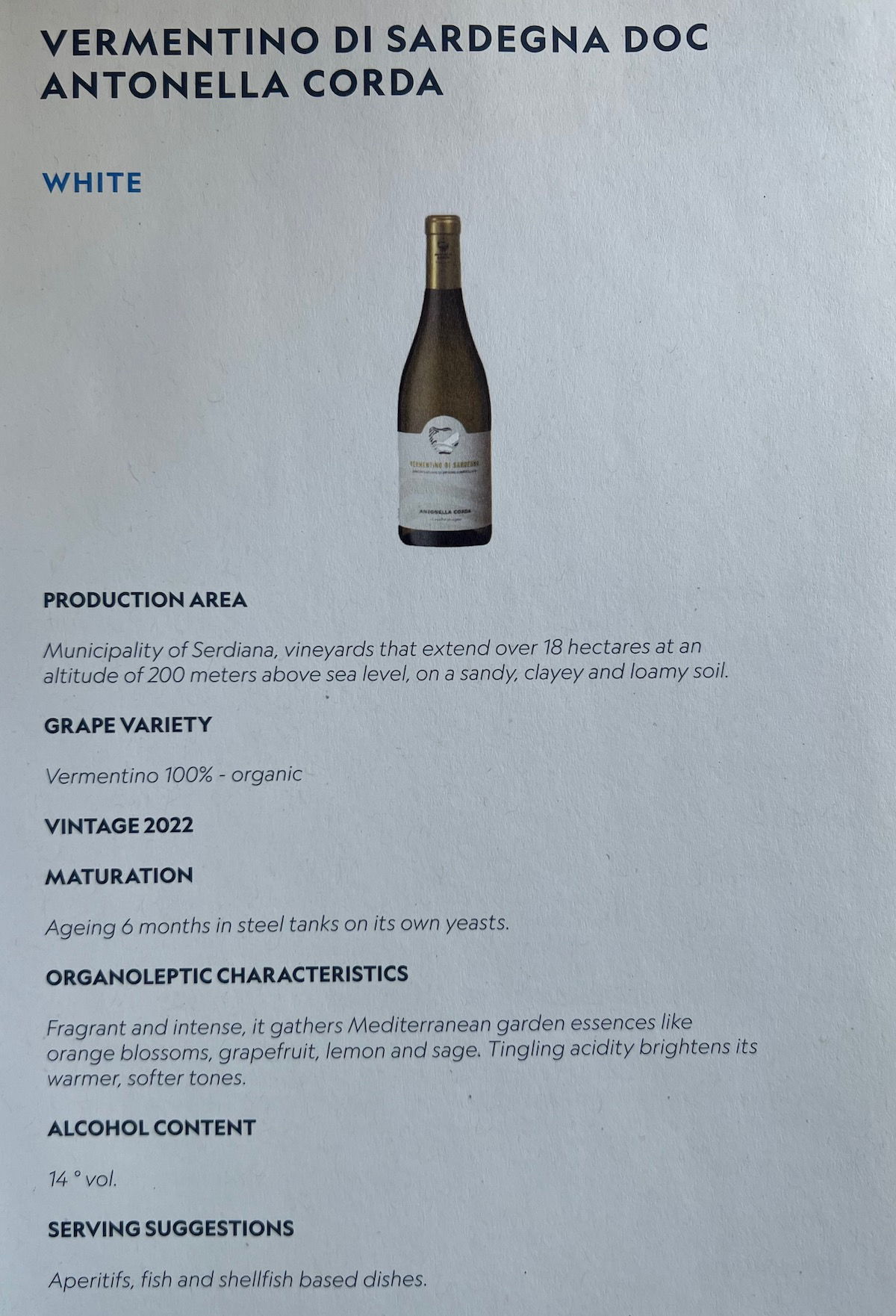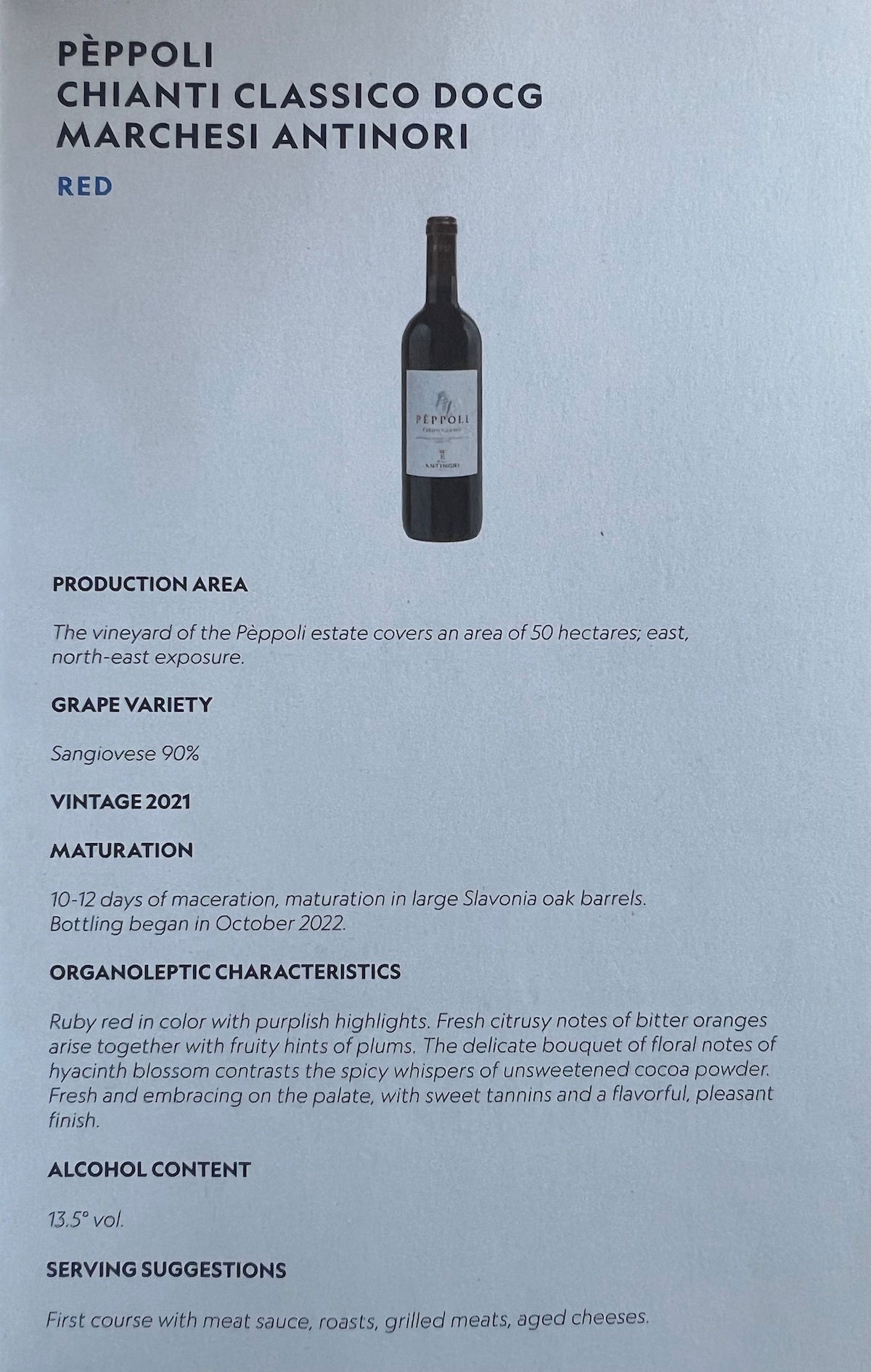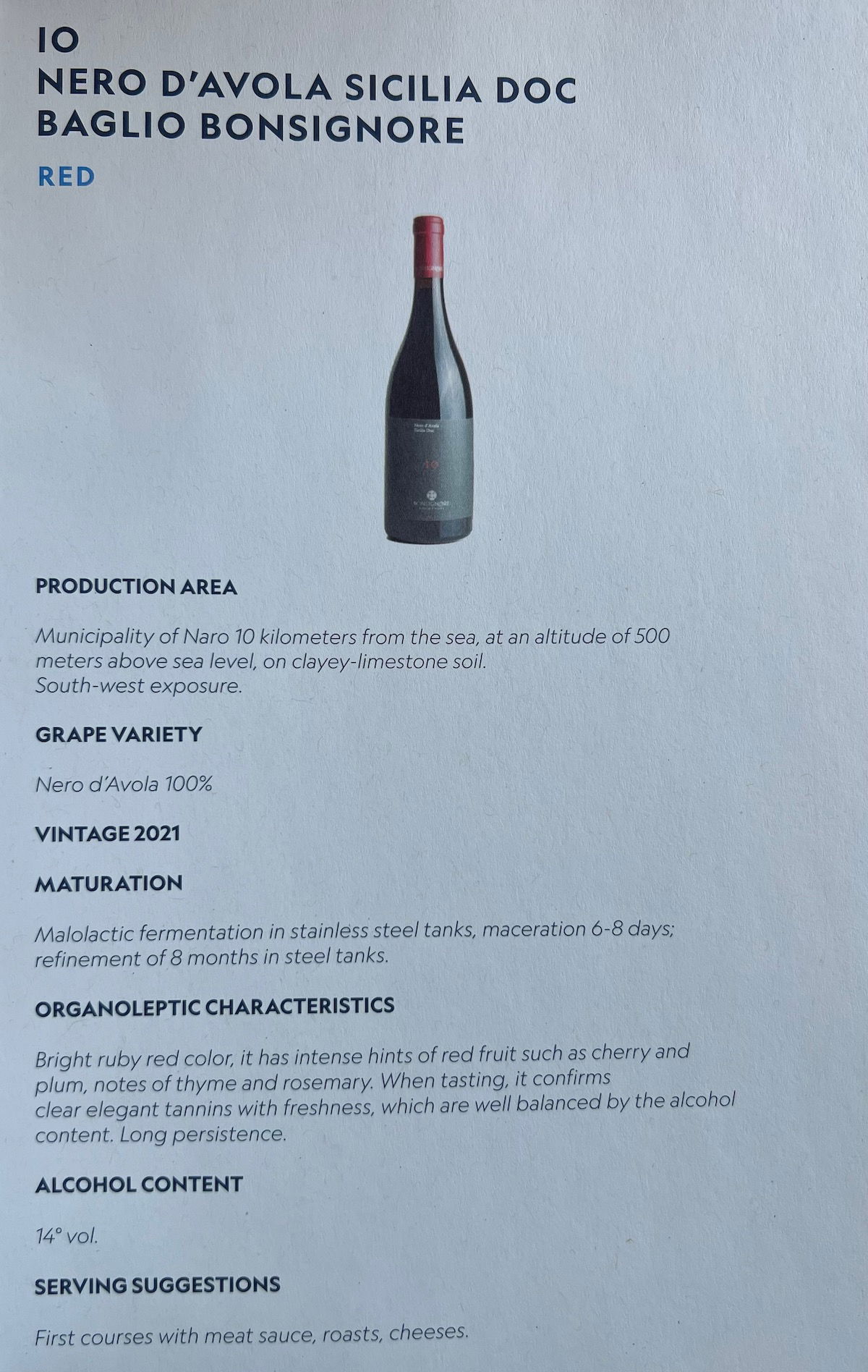 25 minutes after takeoff, flight attendants passed through the cabin to take meal orders. This is quite an involved process, given the number of courses there are, the options to pair them with drinks, etc.
As an aperitif, I decided to order an aperol spritz, which was served about 45 minutes after takeoff. That was accompanied by an amuse bouche consisting of tuna mousse and caper powder on a choux pastry puff.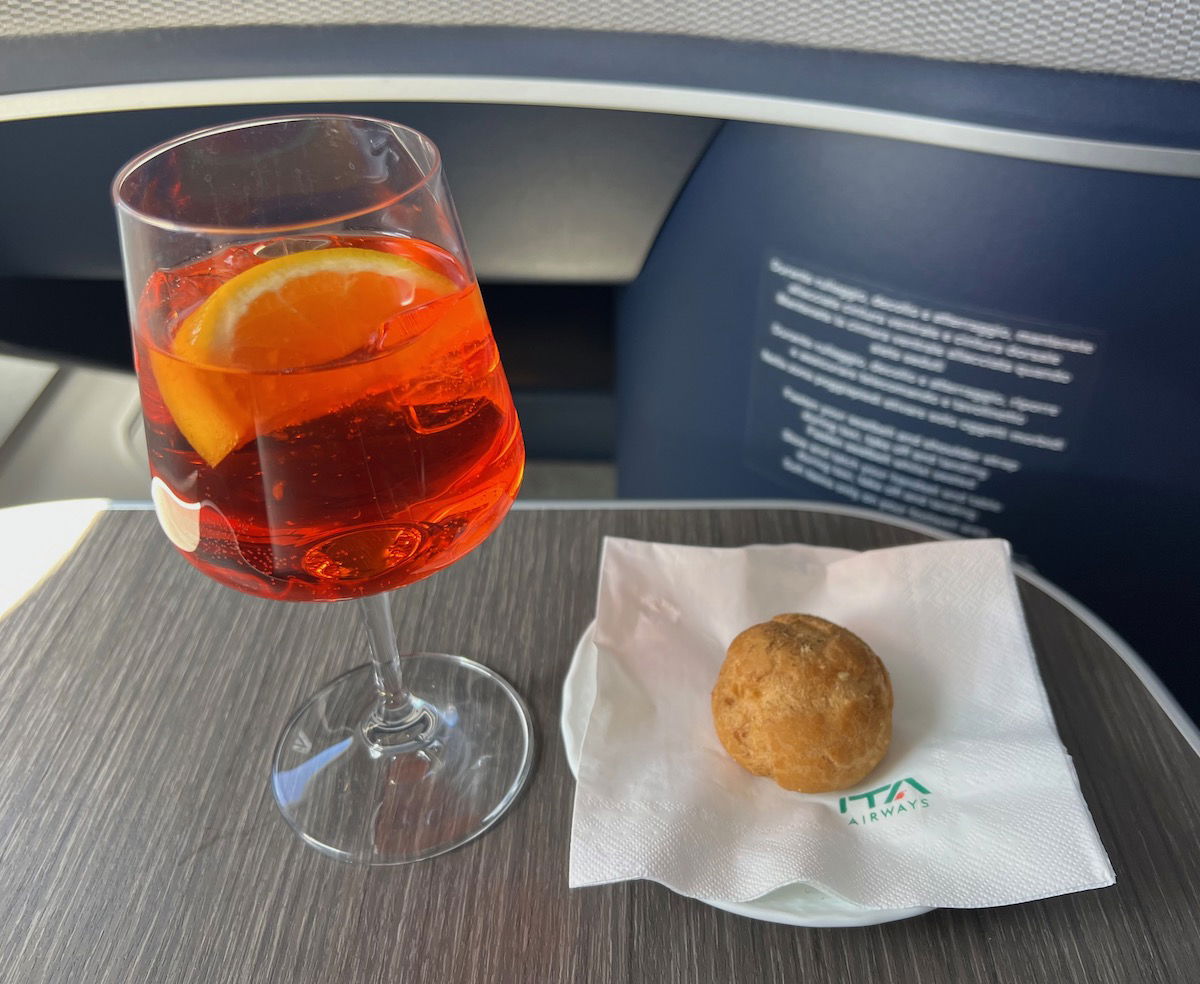 About 60 minutes after takeoff my table was set for the meal. I love how ITA offers a restaurant-style experience, where there's a tablecloth placed on your tray, and then all plates and cutlery are placed directly on that. After the aperitif, I decided to go for a glass of the Sardinian white wine.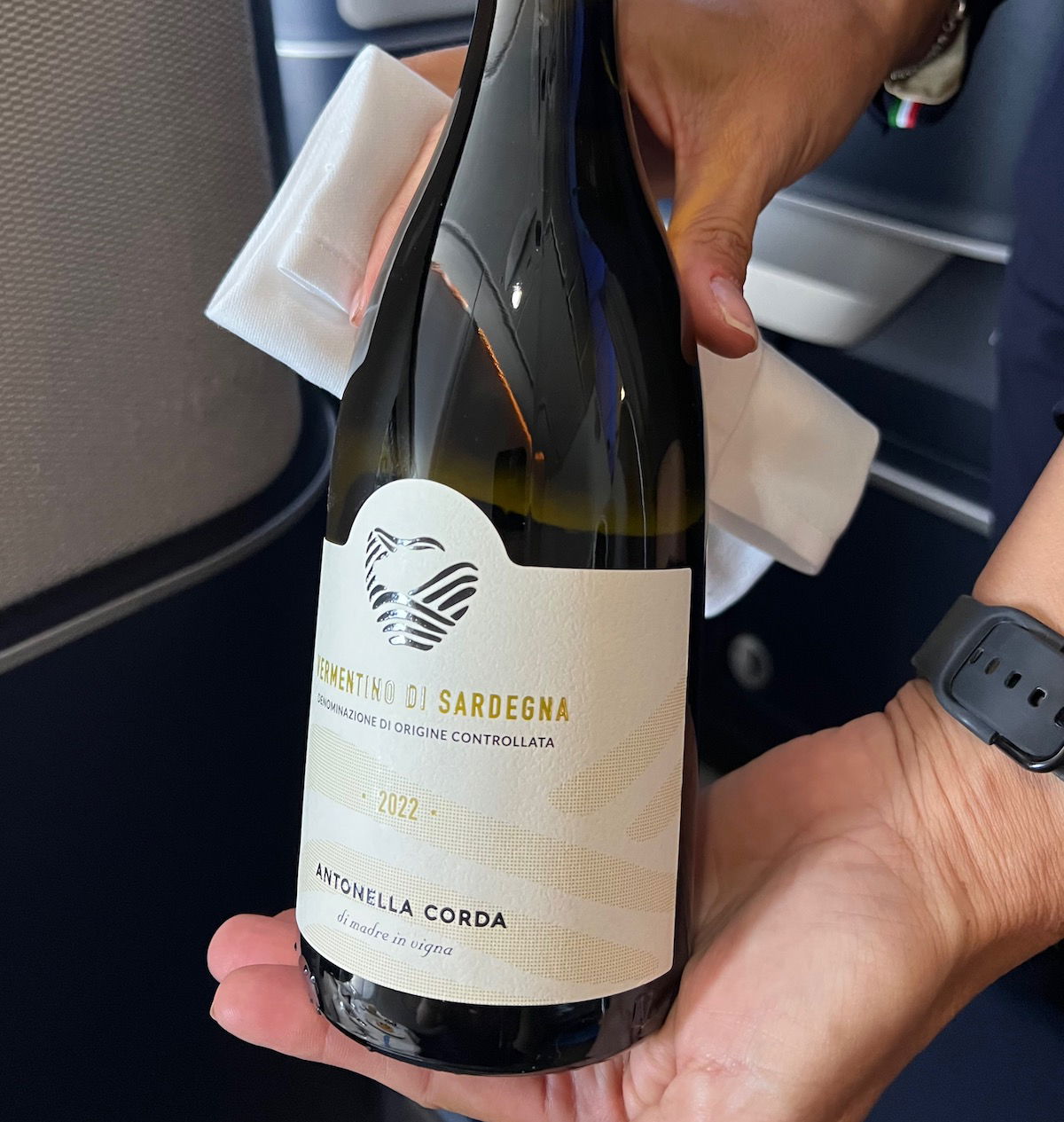 For the starter, I ordered the citrus lobster salad with yogurt and pink pepper, which was absolutely delicious, and beautifully presented. I was also offered a warm bread roll to accompany that.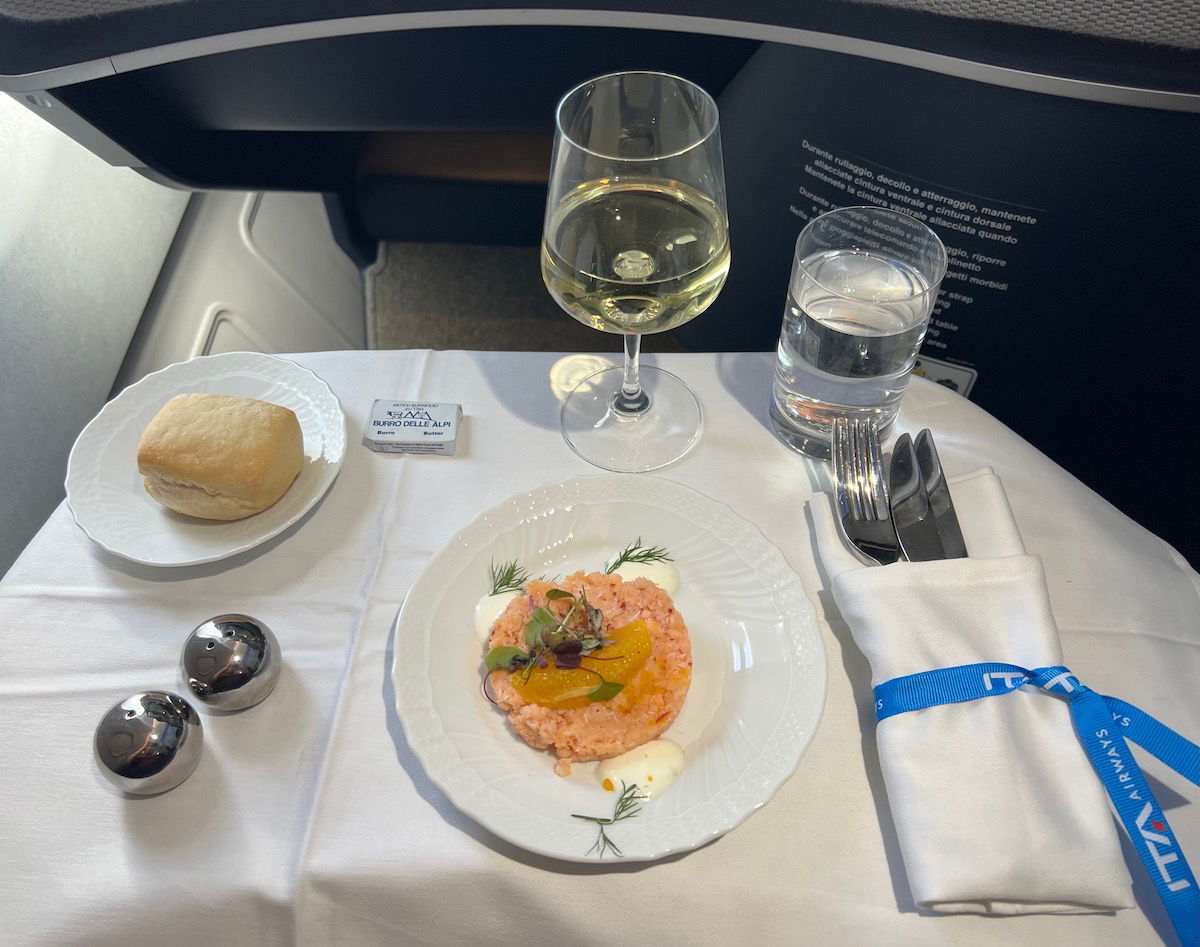 For the pasta course, I then selected the buckwheat ravioli filled with fried eggplant, tomatoes, and mozzarella, served with milk cream and basil drops. Yum, yum, yum.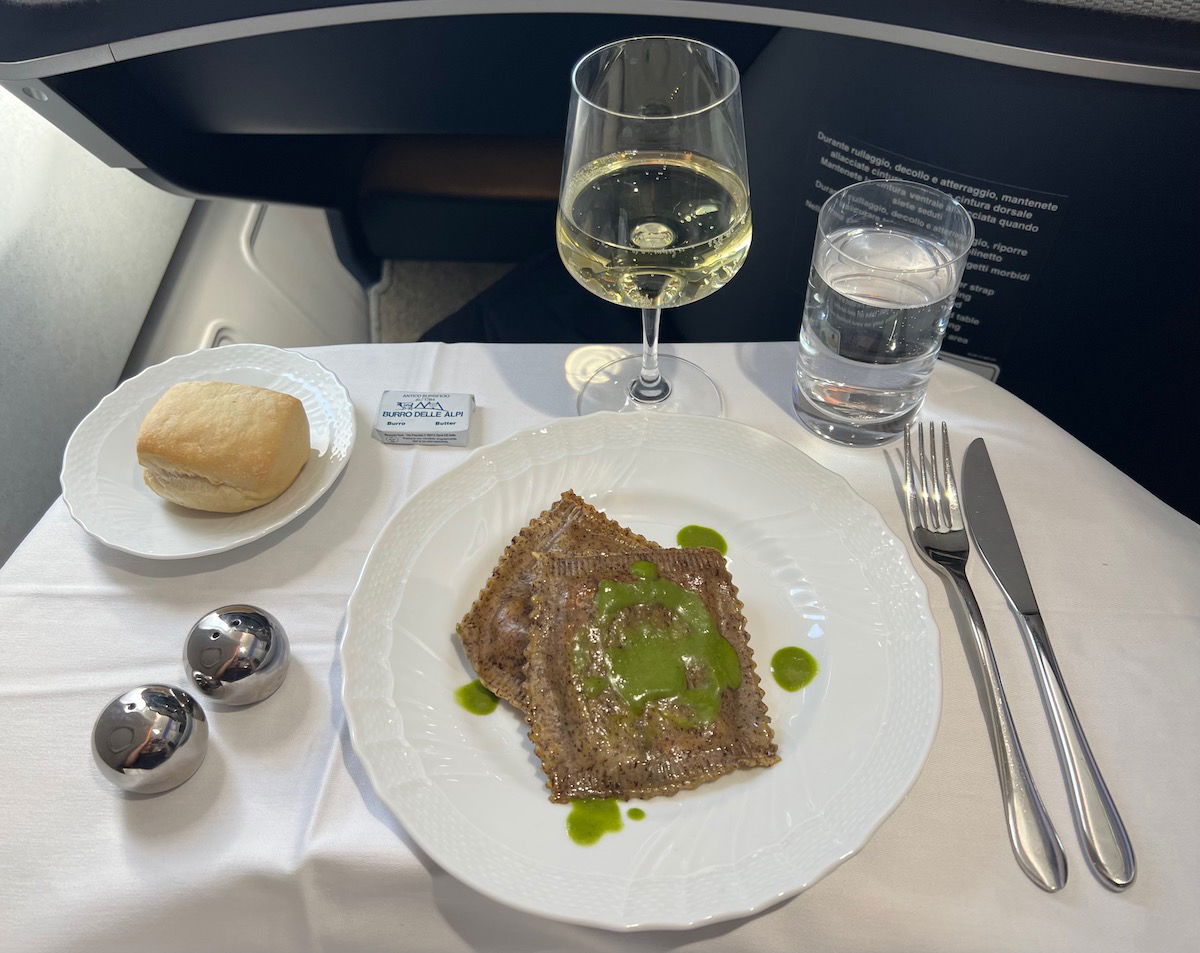 For the main course, I chose the rock fish "acqua pazza" style. This has to be one of the most flavorful fish dishes I've been served on a plane.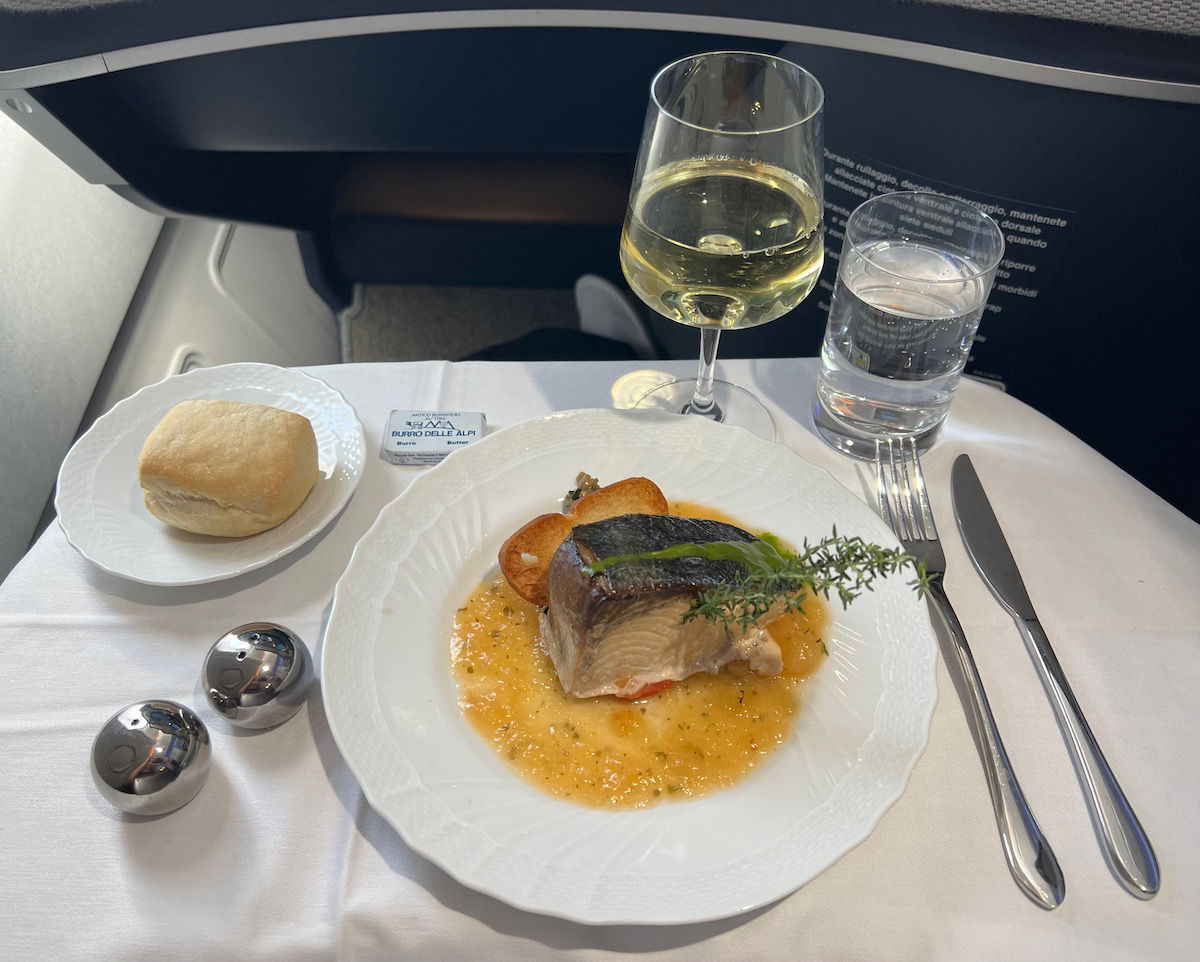 For dessert, I ordered both the fruit plate and the traditional lemon delizia.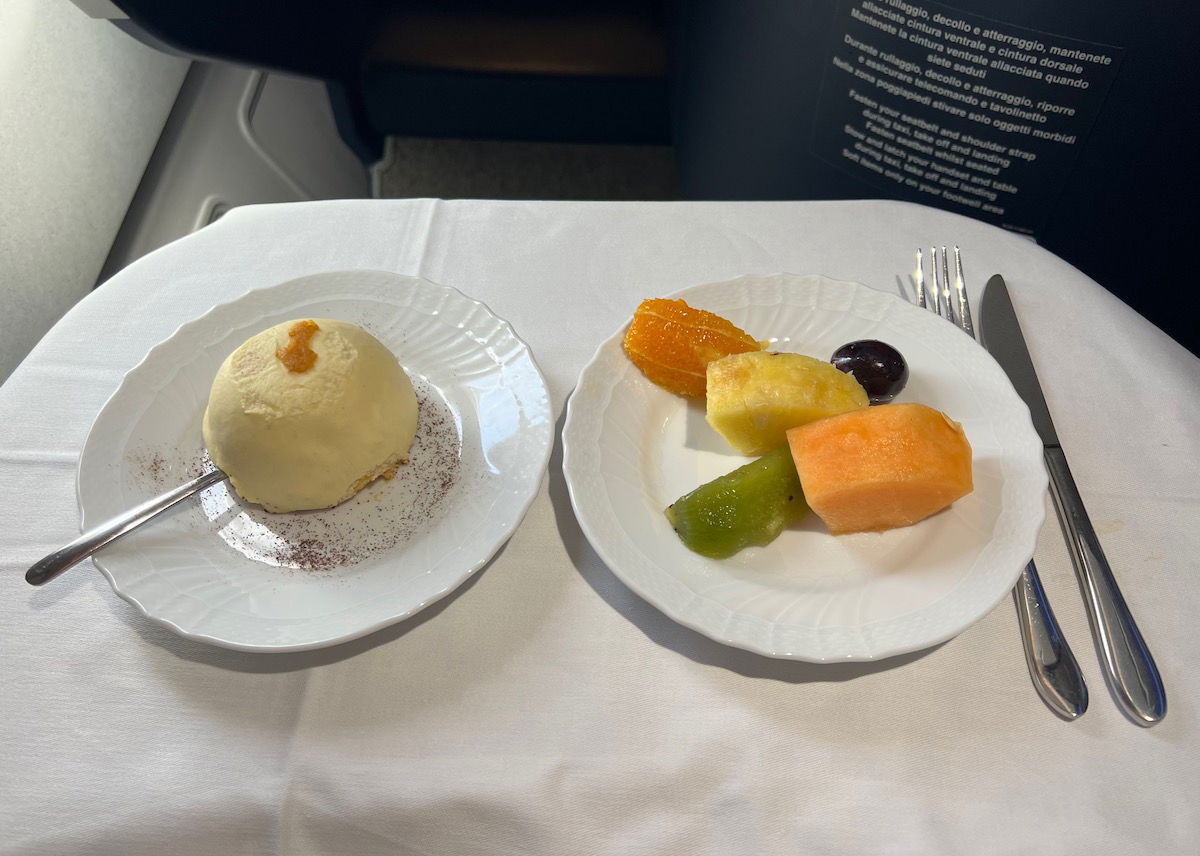 Last but not least, to finish off the meal I ordered a cappuccino and a limoncello. I know that's an offensive combination to Italians on a variety of levels, but I was trying to get pictures of as many aspects of the product as possible, so you're welcome. 😉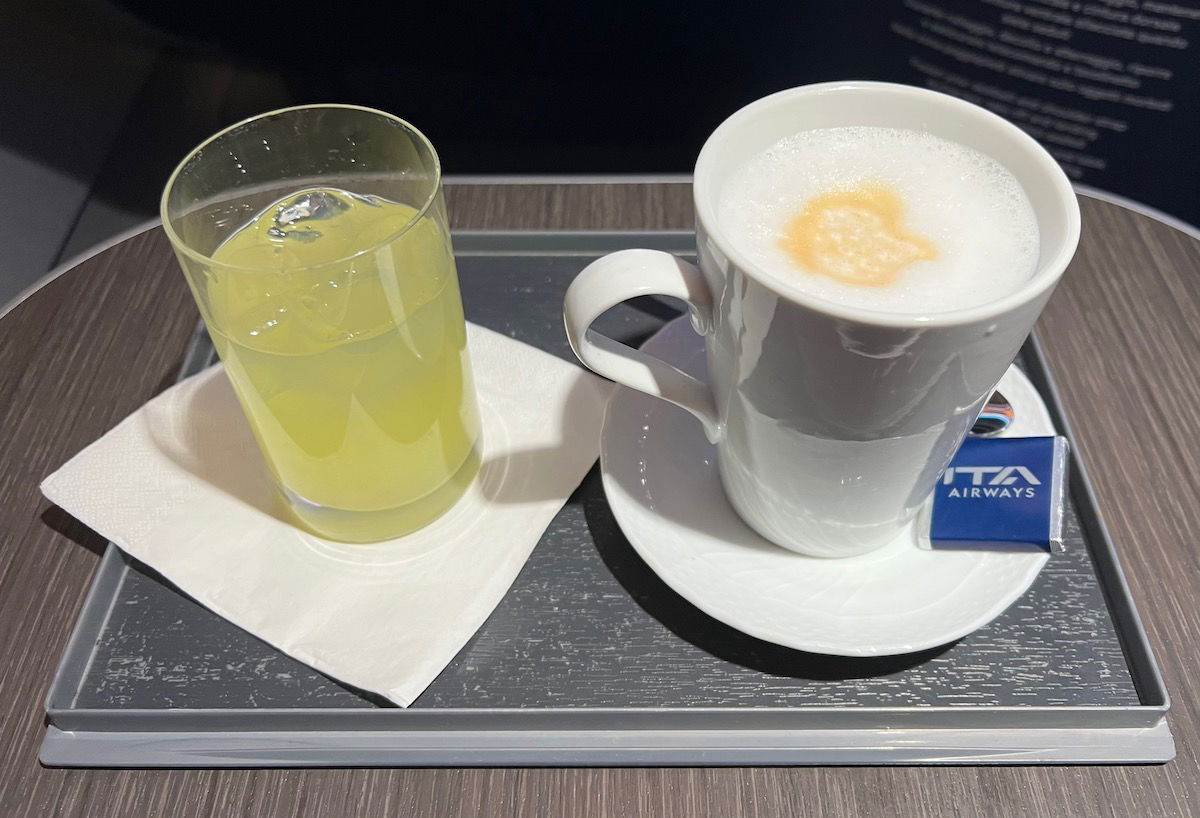 The meal service wrapped up around 2.5 hours after departure. The service was customized to each passenger, as plates were removed and served based on each person's preferred pace.
This is easily one of the best business class meals I've had on any airline, from start to finish. I love how ITA takes a traditional Italian approach to its catering, from the cocktails, to the wine, to the food.
ITA Airways A330-900neo business class lavatories
ITA Airways' A330-900neos have three lavatories around business class — there's one in front of the cabin by the cockpit, and two behind the cabin, in front of premium economy. While the forward lavatory is reserved for business class, the two lavatories behind the cabin seemed to be shared with premium economy.
The lavatories were well maintained throughout the flight, but were otherwise pretty no frills, and didn't have any premium amenities.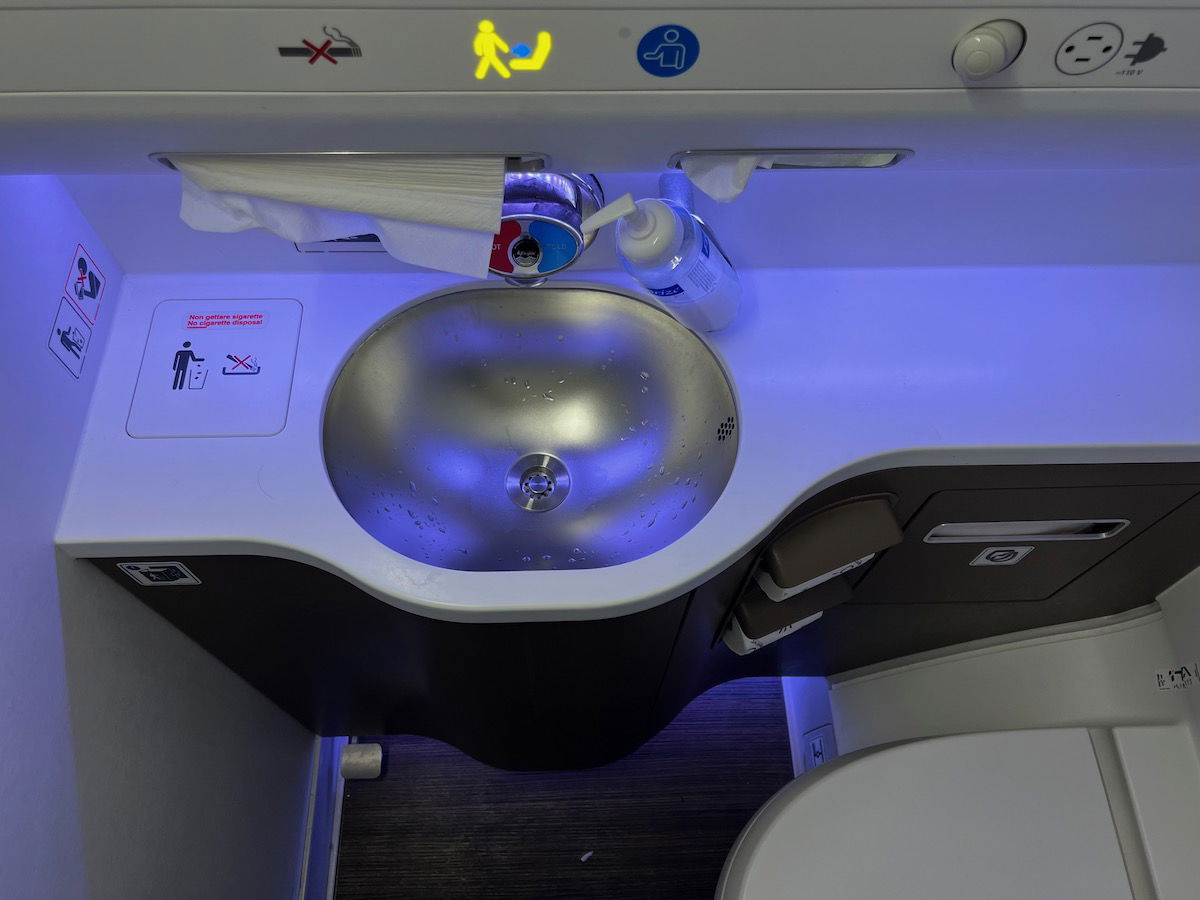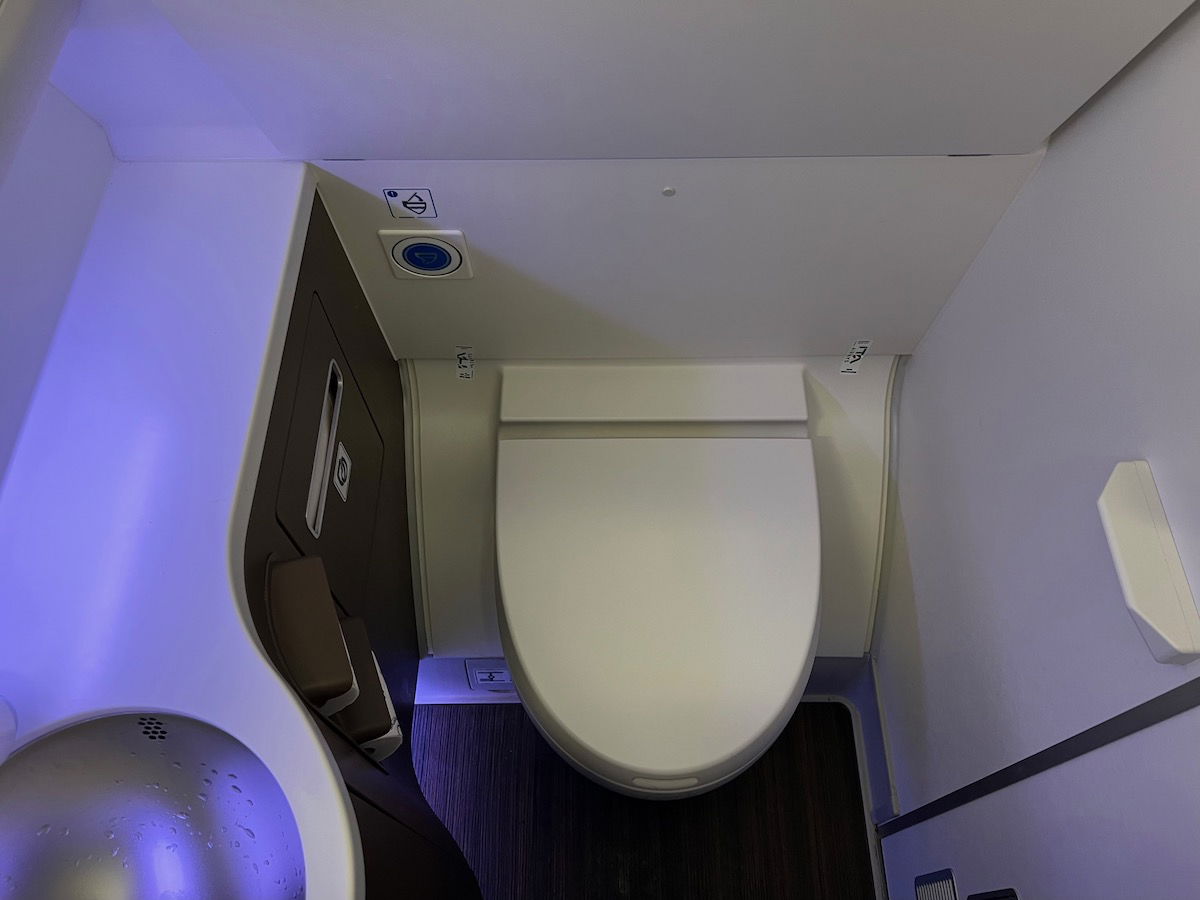 ITA Airways A330-900neo business class bed
After lunch, I decided to try and rest for a bit. I didn't want to sleep for that long since I always like to be tired when I return to the US so I sleep well at night, but I figured I should at least give the bed a try. So I reclined the seat into bed mode.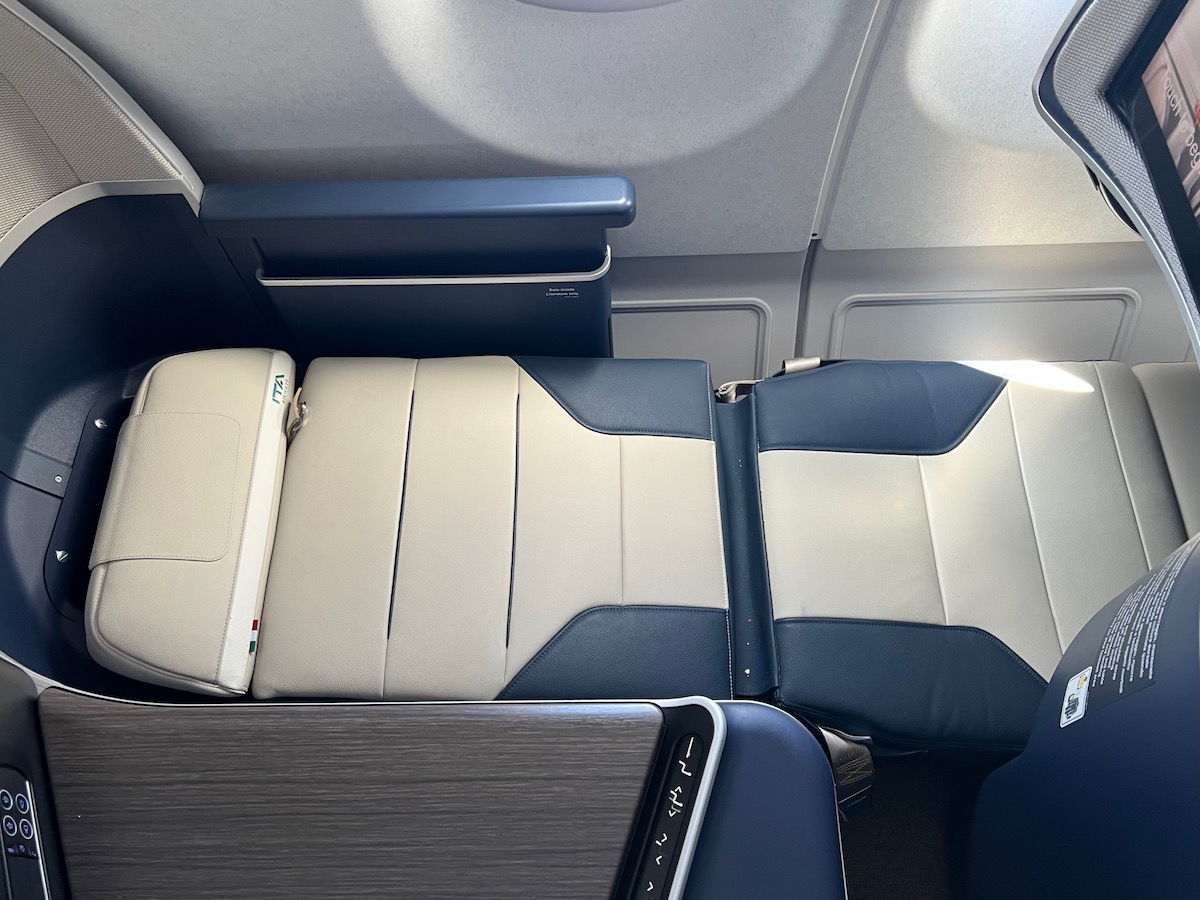 I found the bed to be quite comfortable, though it would be nice if ITA added a mattress pad of some sort for the seat, which would make it even better.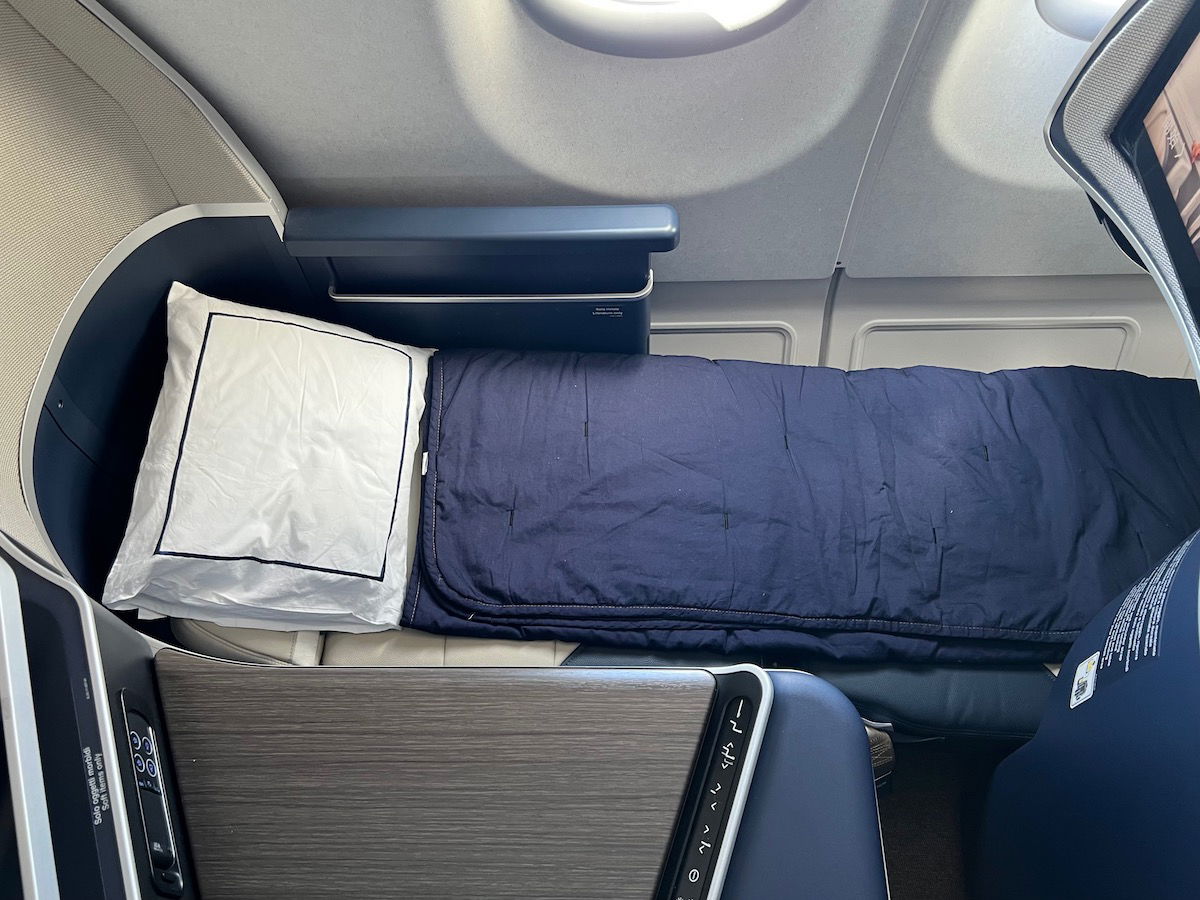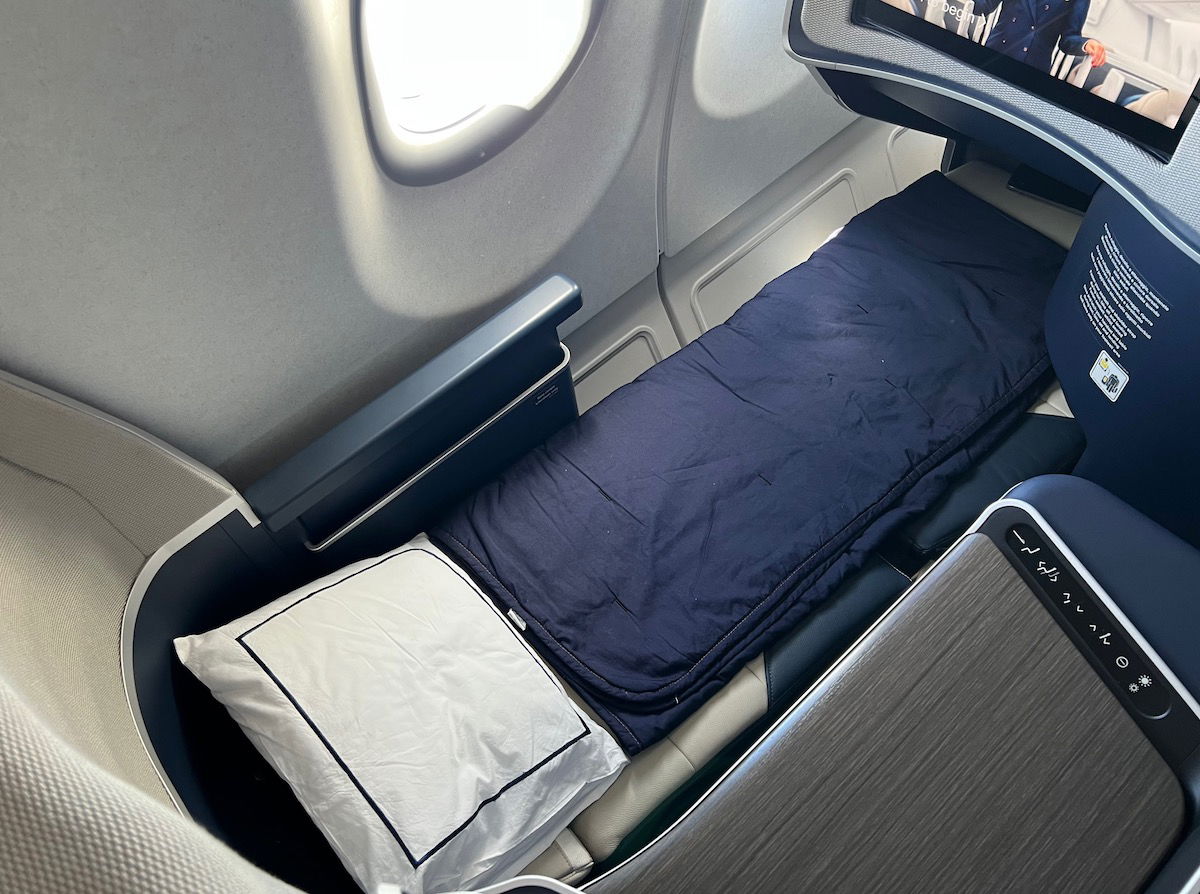 I ended up dozing off for an hour, which was perfect for what I wanted. The cabin was kept pretty dark for most of the flight, though the blue mood lighting was always on.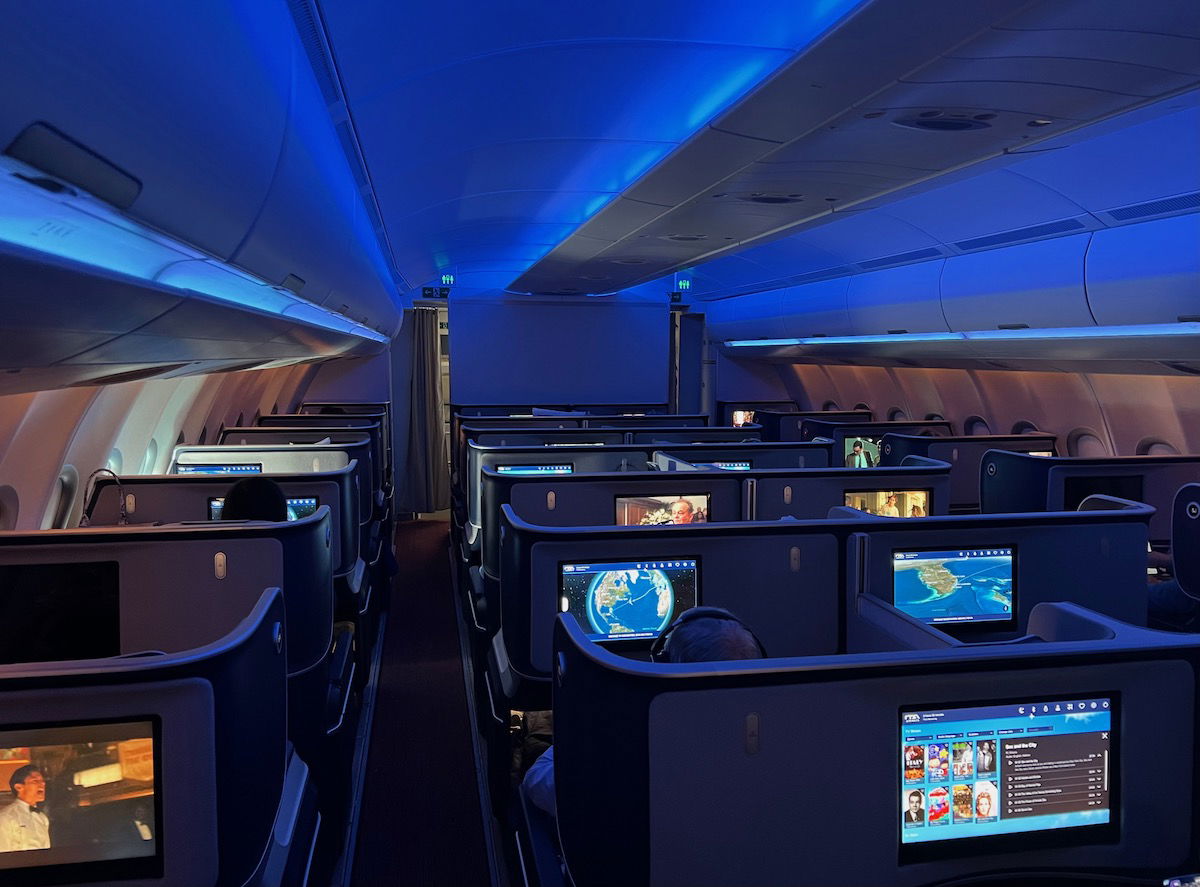 ITA Airways business class snack service
At roughly the halfway point of the flight — with just over five hours remaining to Miami — a snack service was provided. You can find the snack menu below.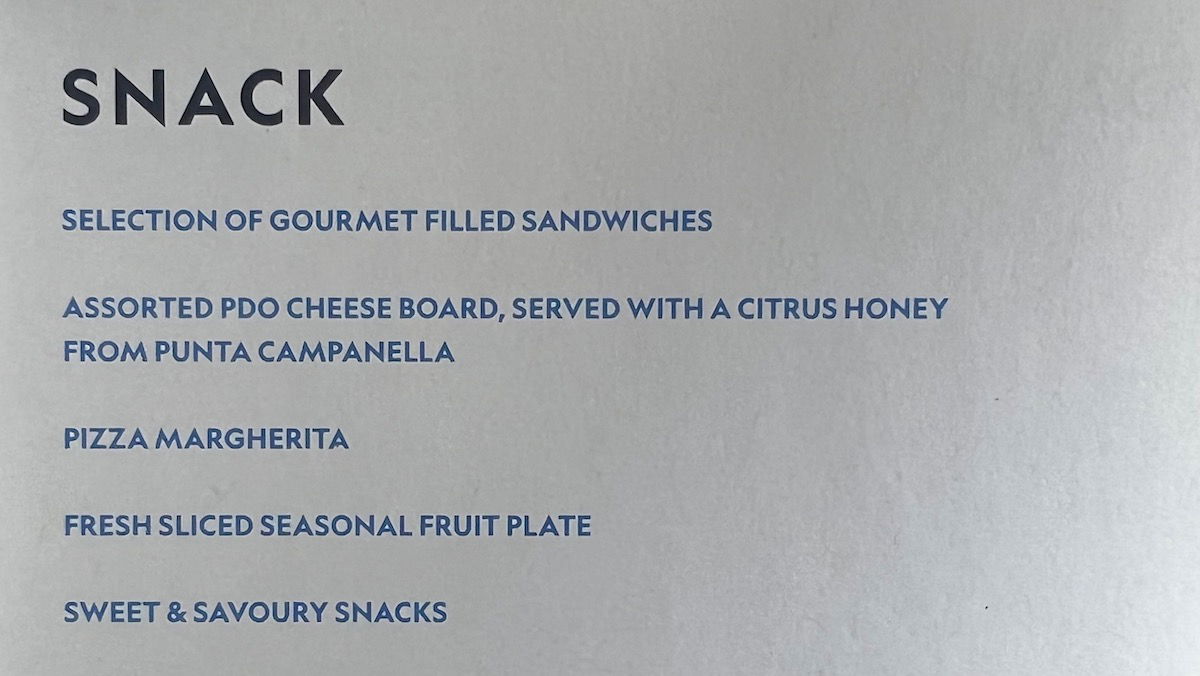 I selected the pizza margherita, and had a Diet Coke to drink. The pizza was small but very good, among the best I've had on a plane.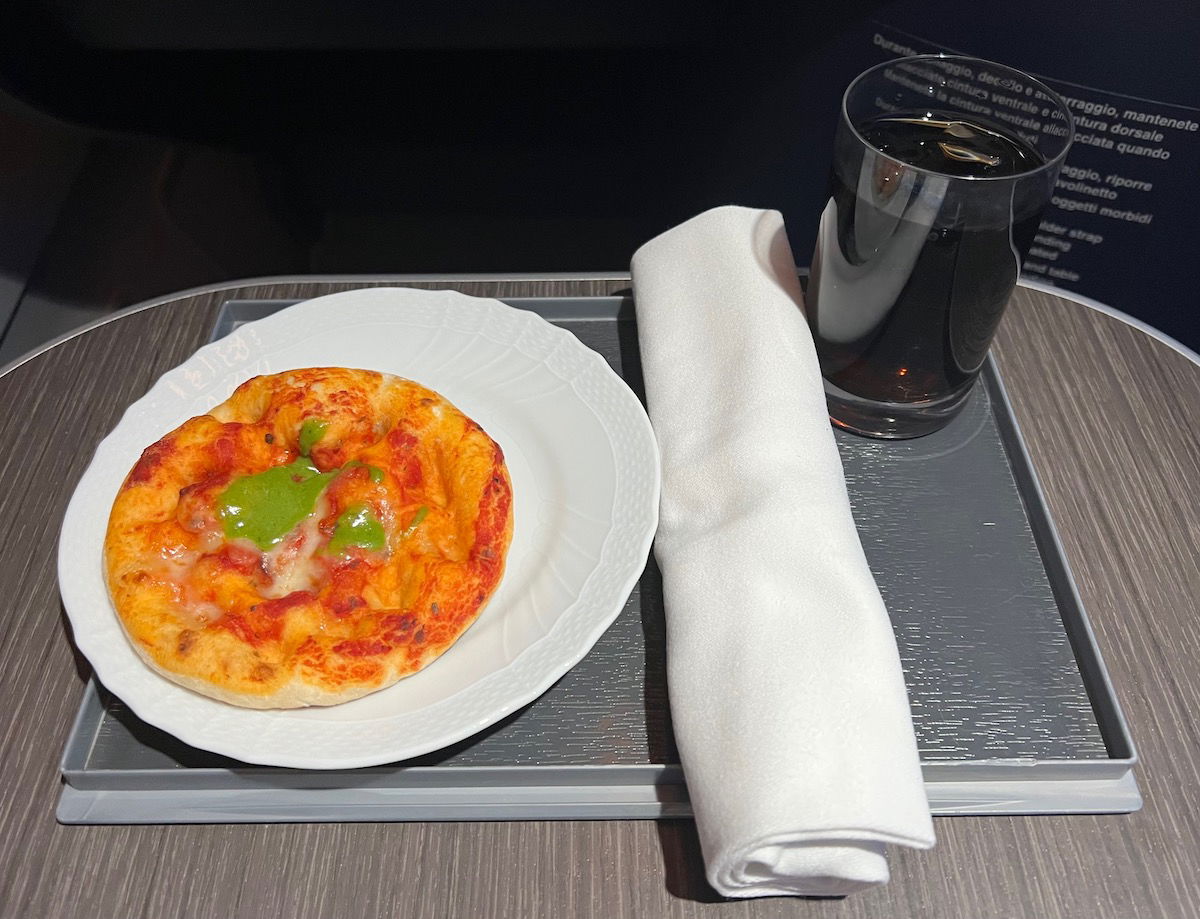 A bit later on in the flight I ordered an americano to drink.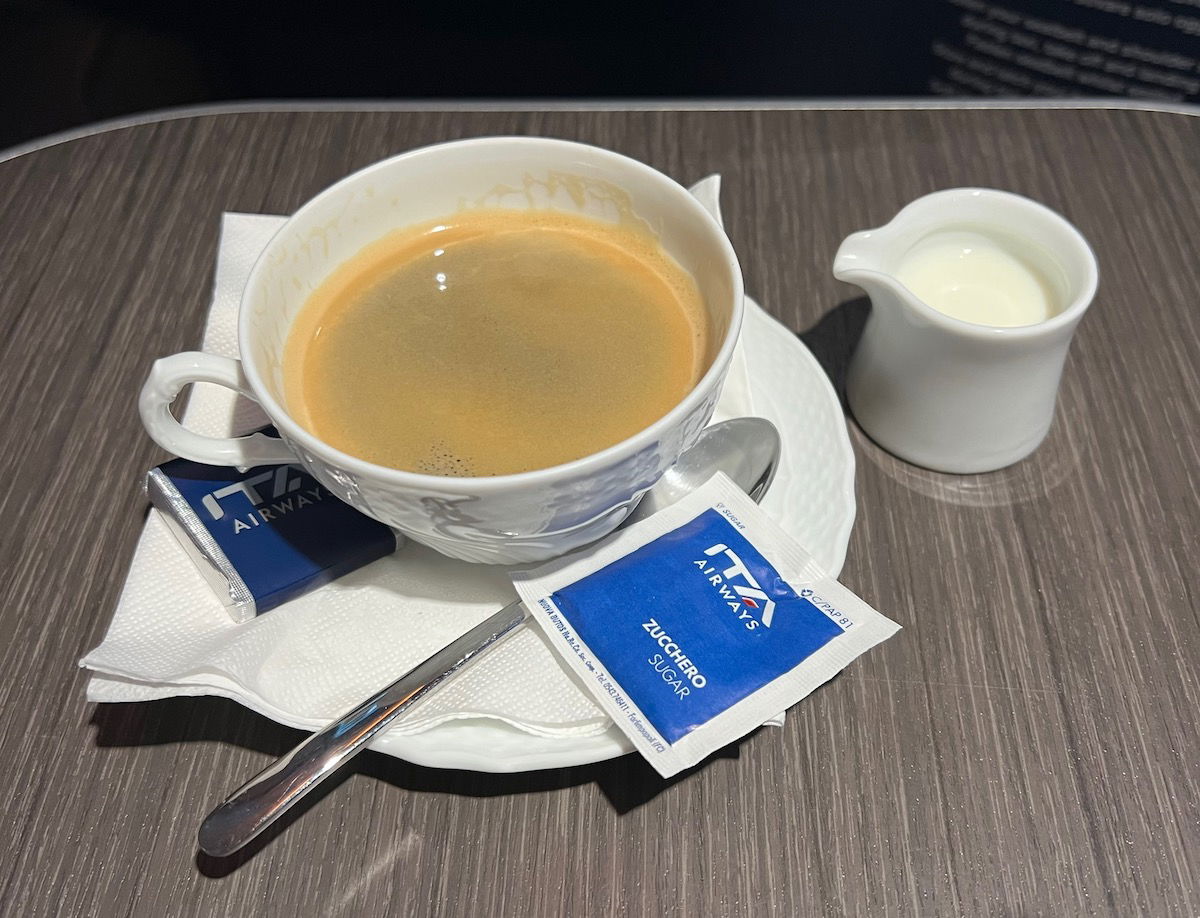 The flight flew by (no pun intended), and around two hours before arrival the cabin lights were turned on, and warm towels were distributed.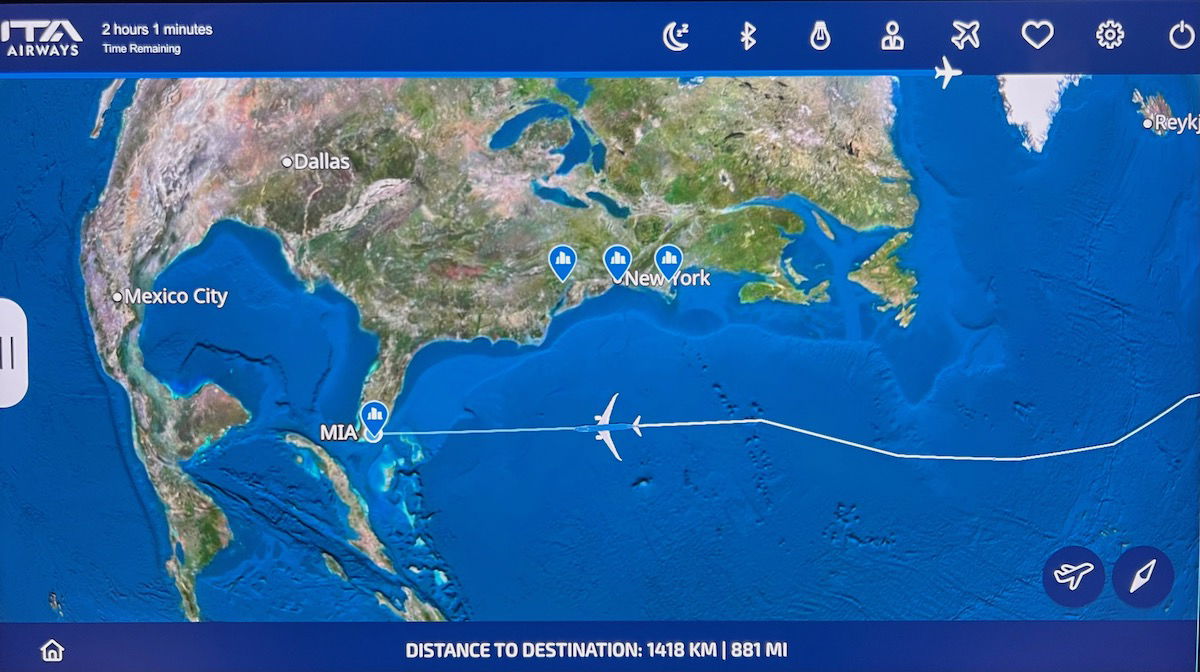 At this point the pre-landing snack was served, and you can find the menu below.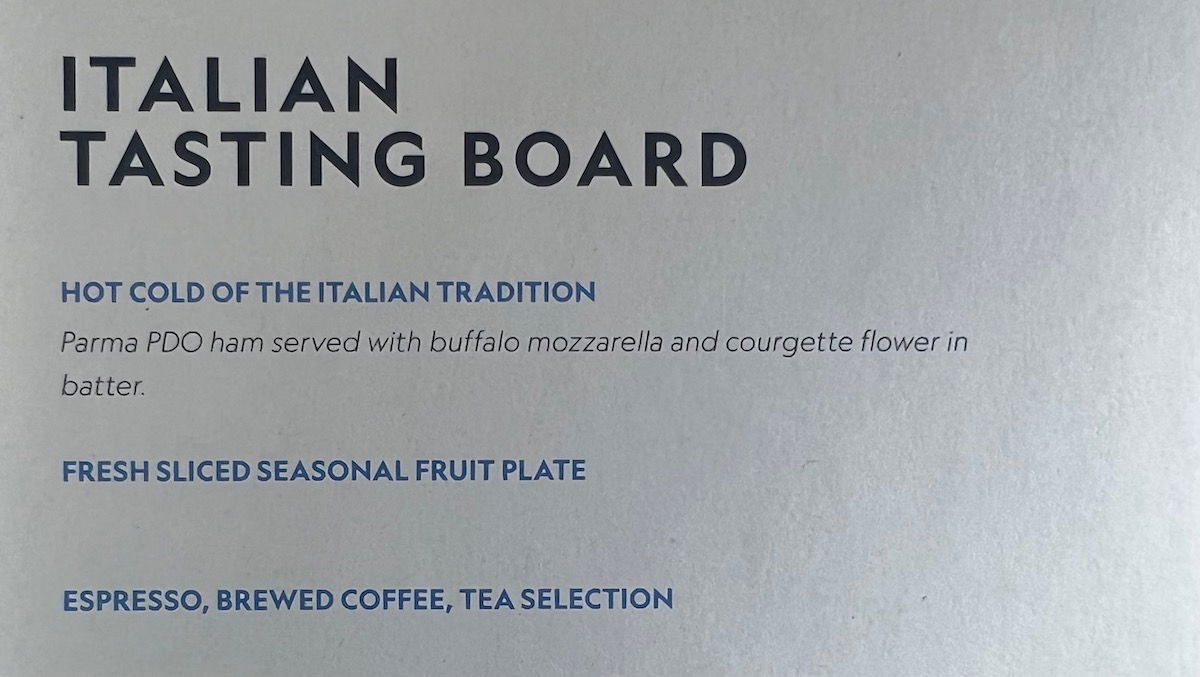 As you can see, there was no choice, but the snack consisted of ham with mozzarella, some bread, and fresh fruit. As someone who doesn't eat pork I skipped the snack, but below is a picture.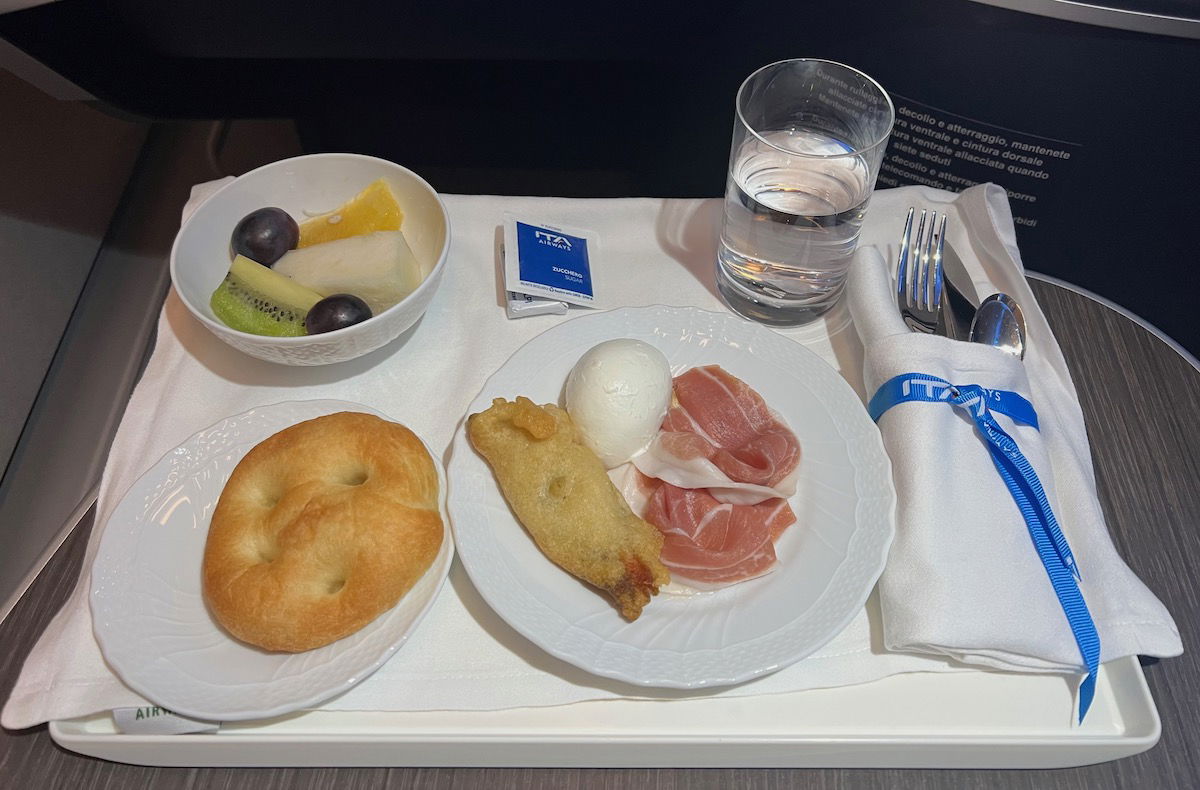 ITA Airways business class service
On my last long haul ITA Airways flight, I was pleasantly surprised by the service, and wondered if it was a fluke or the norm. Well, after a second long haul flight on ITA, I'm inclined to believe it's the latter.
The crew was lovely — they were professional, had great attention to detail, and were friendly. Even though most of the crew were veteran ex-Alitalia employees, they seemed to have a lot of pride in the new ITA, and did a great job.
It's not just that the crew was well intentioned, but I also really enjoyed the service flow, with all plates being directly placed on the tablecloths, bottles of wine being brought out and presented before being poured, etc.
ITA Airways A330-900neo arrival in Miami
At 3:30PM Miami time, the first officer announced that we'd be landing in just under 40 minutes, as we were off the coast of Florida.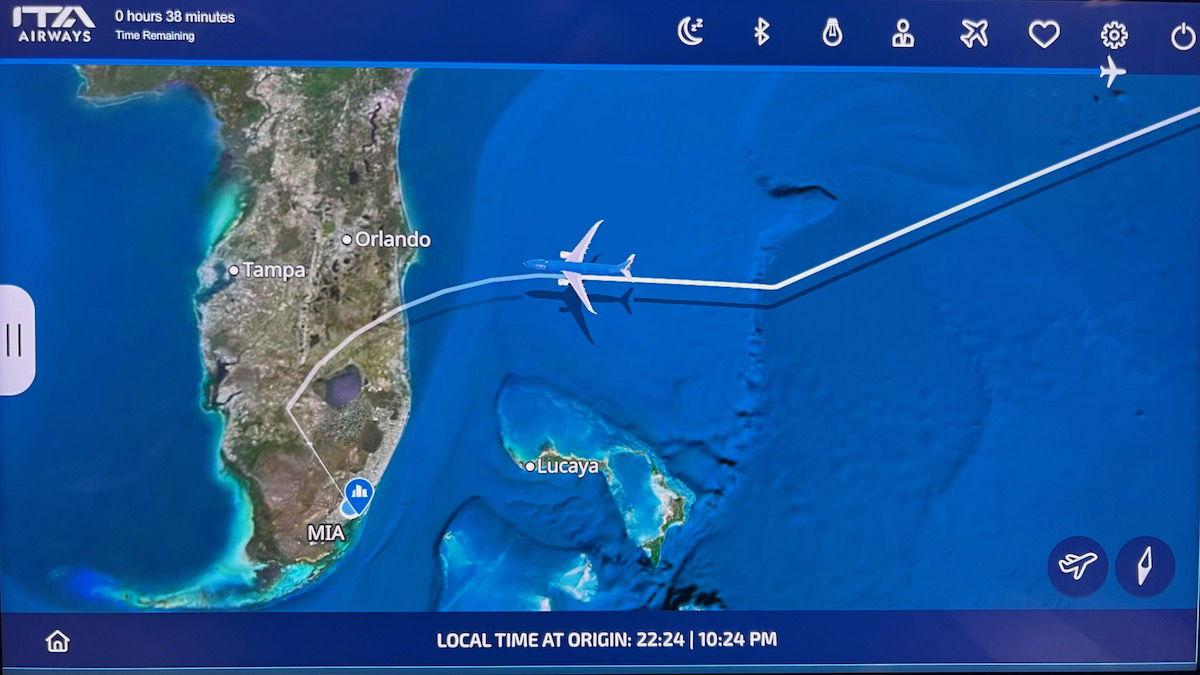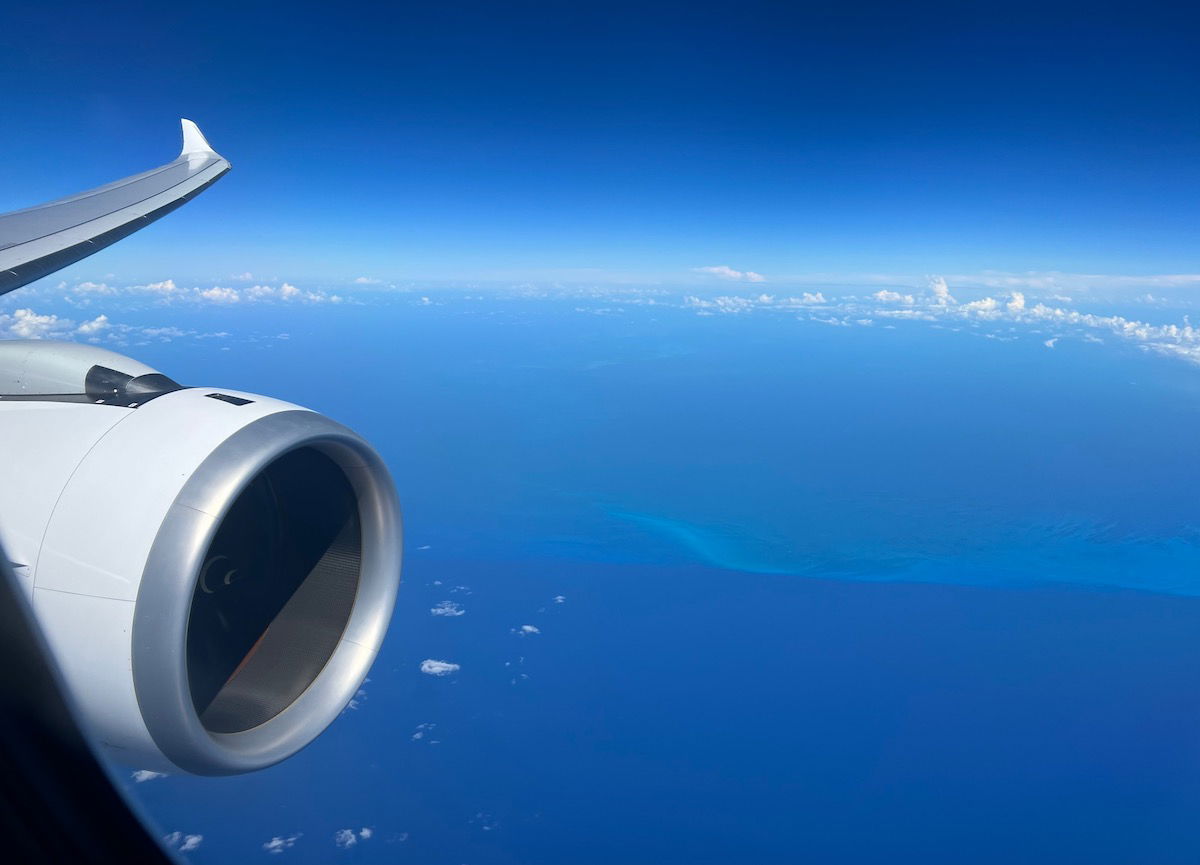 About 15 minutes later the seatbelt sign was turned on. We approached right over Miami, and then flew inland over the Everglades, so that we could land back into the east.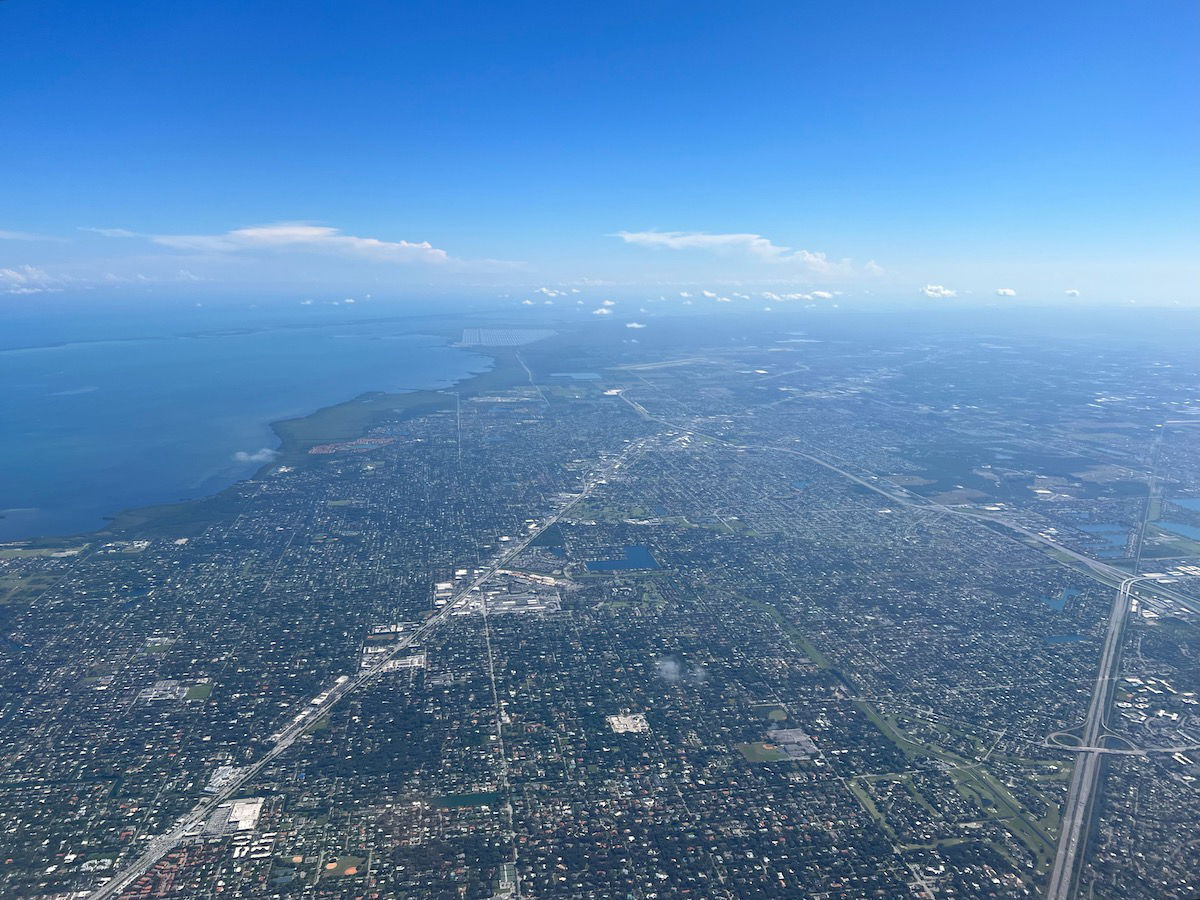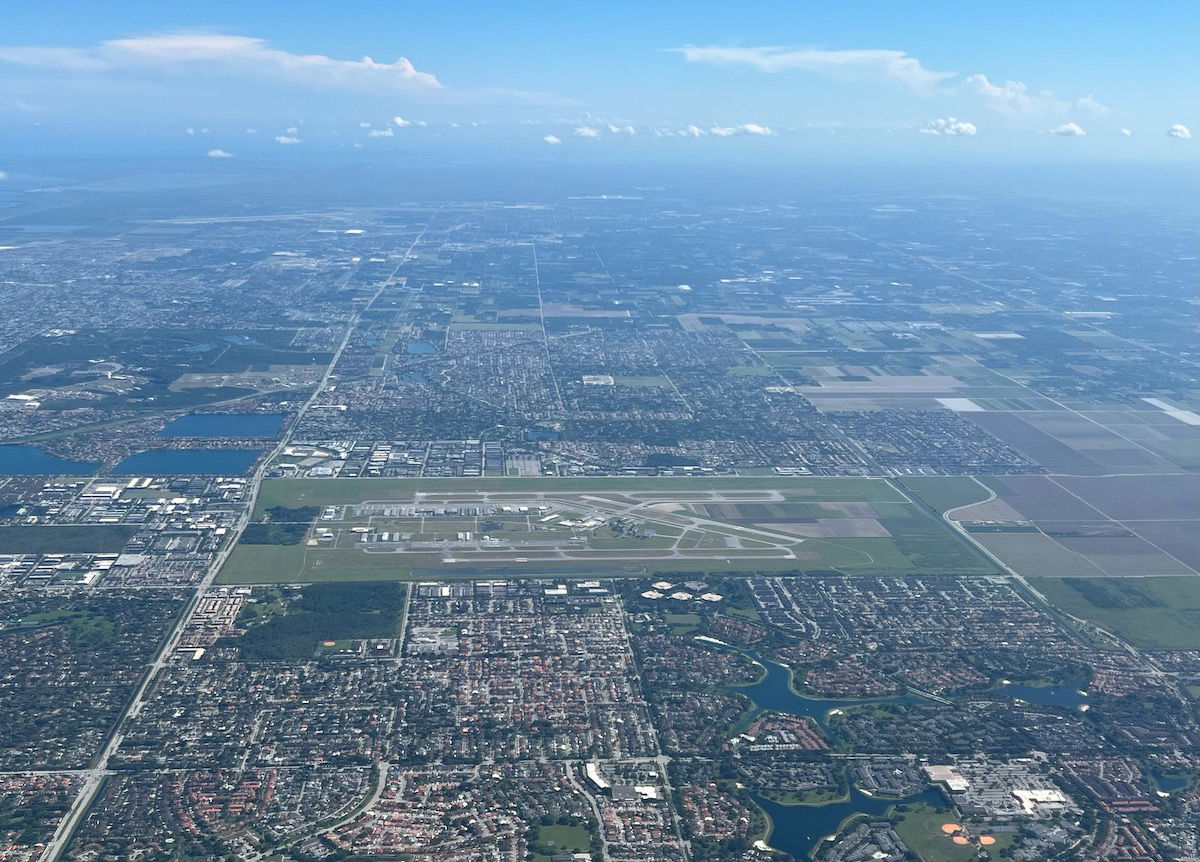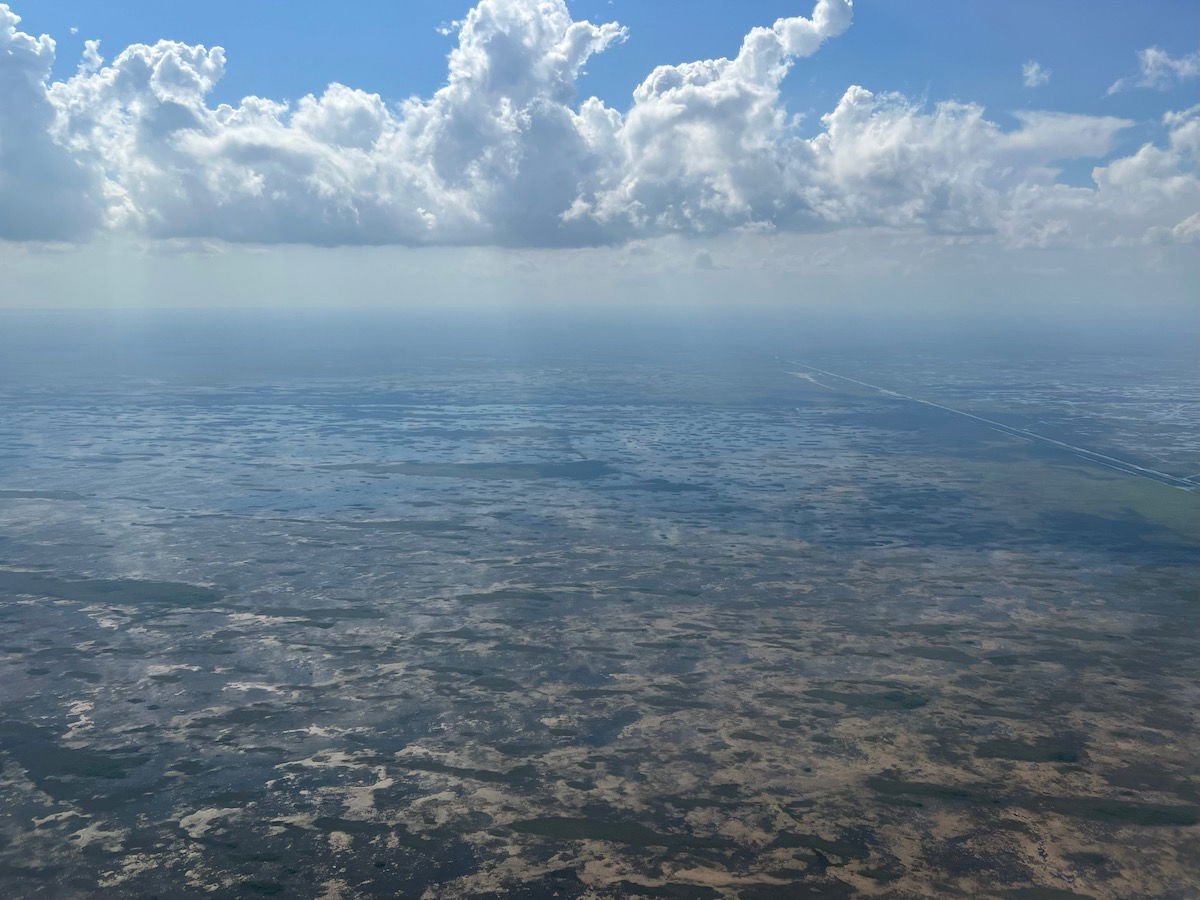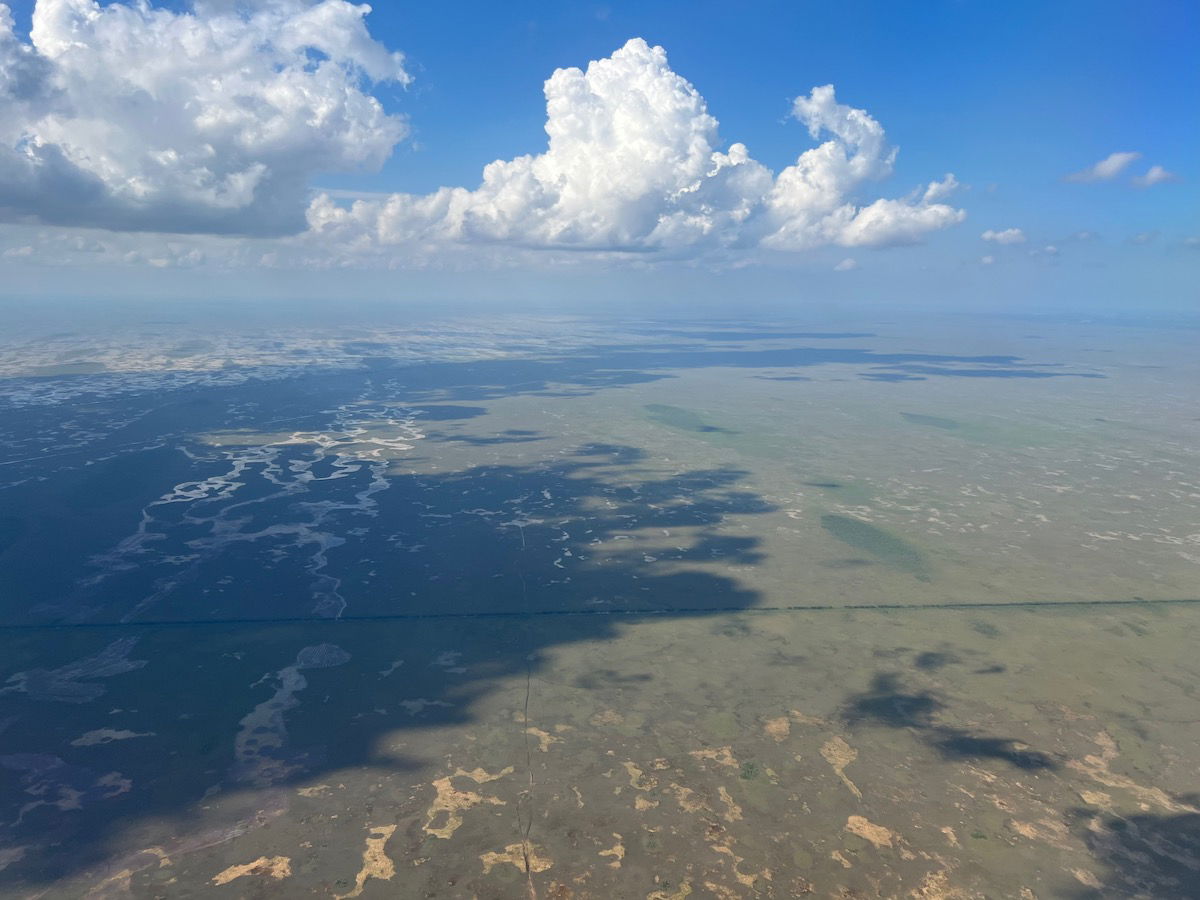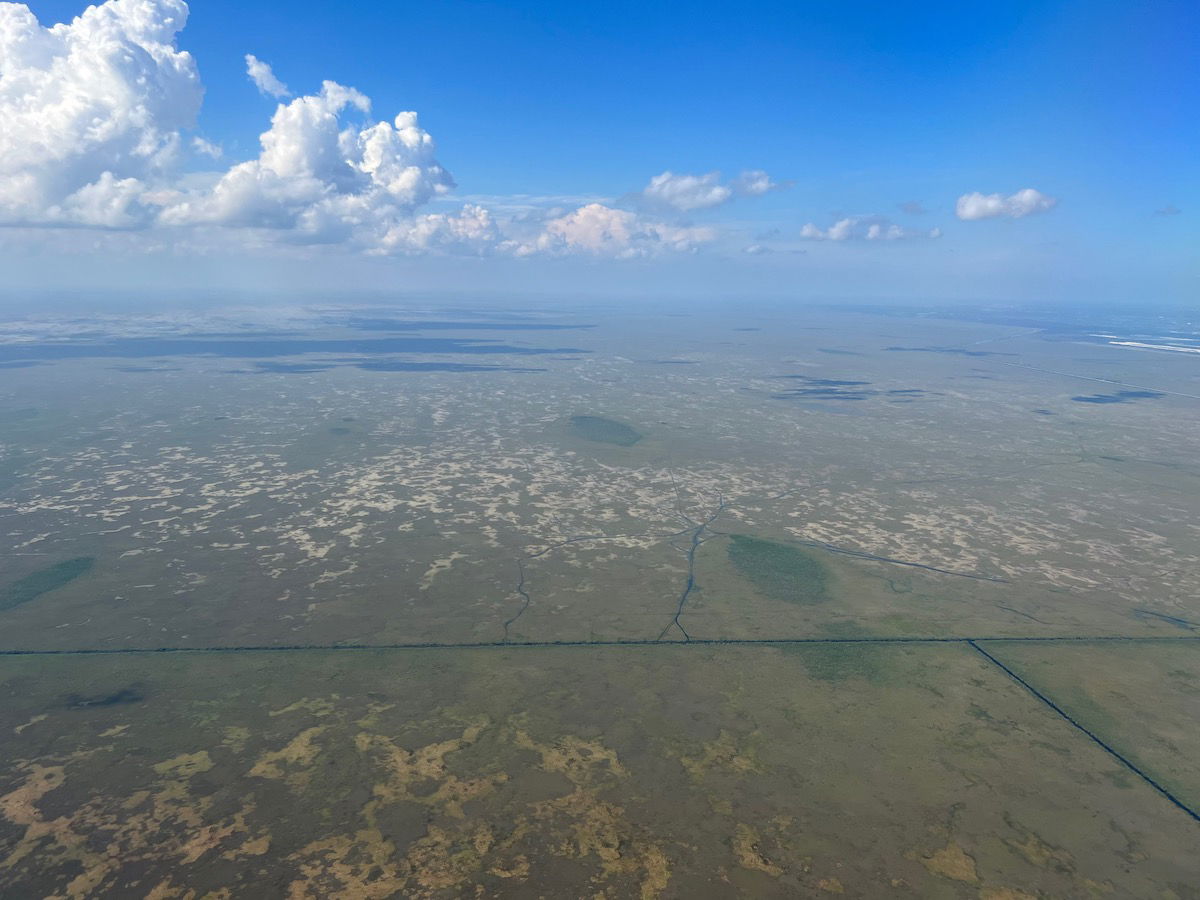 It's always a pleasure to approach right over the GOYA factory, ya know?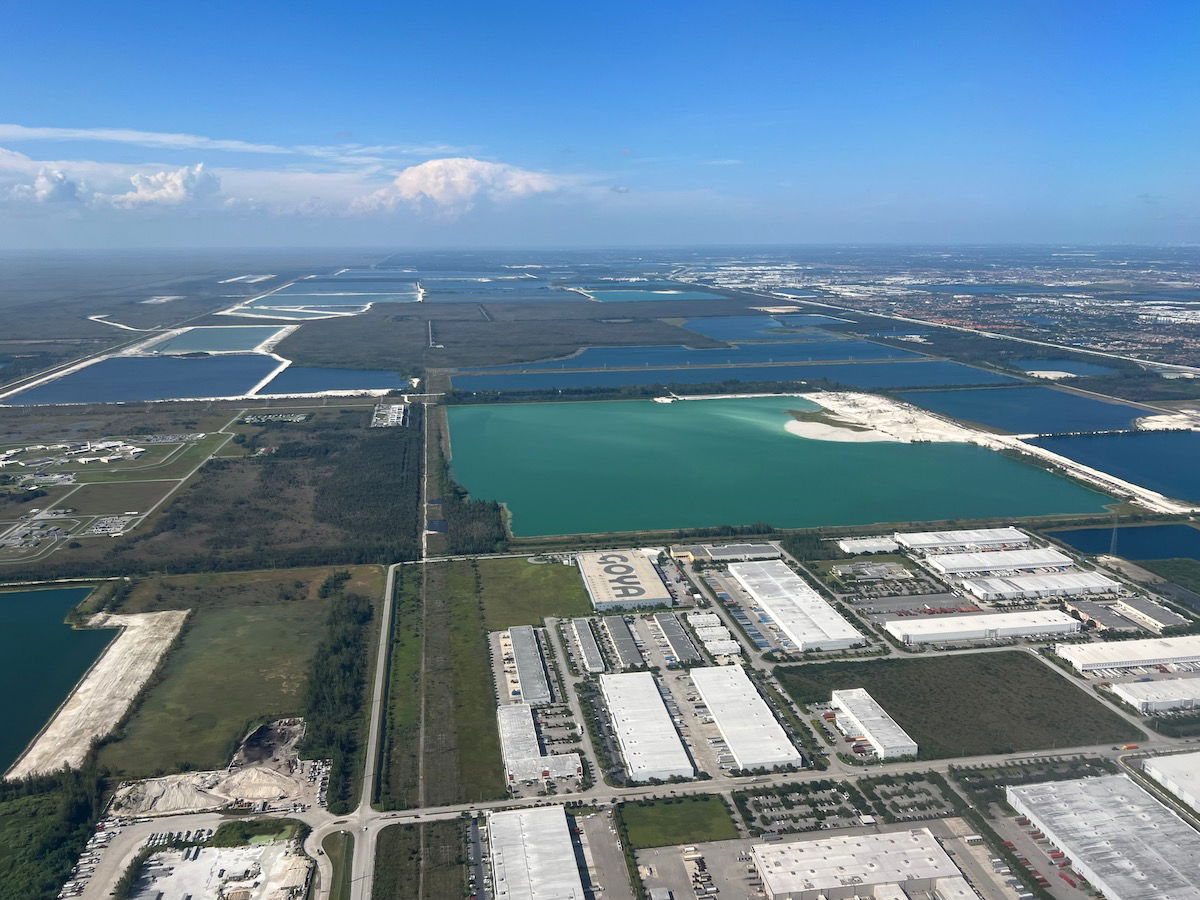 We touched down on runway 9 at 4:10PM, with what must have been the softest landing I've ever had. It was so smooth that you wouldn't have even know you landed unless you looked out the window.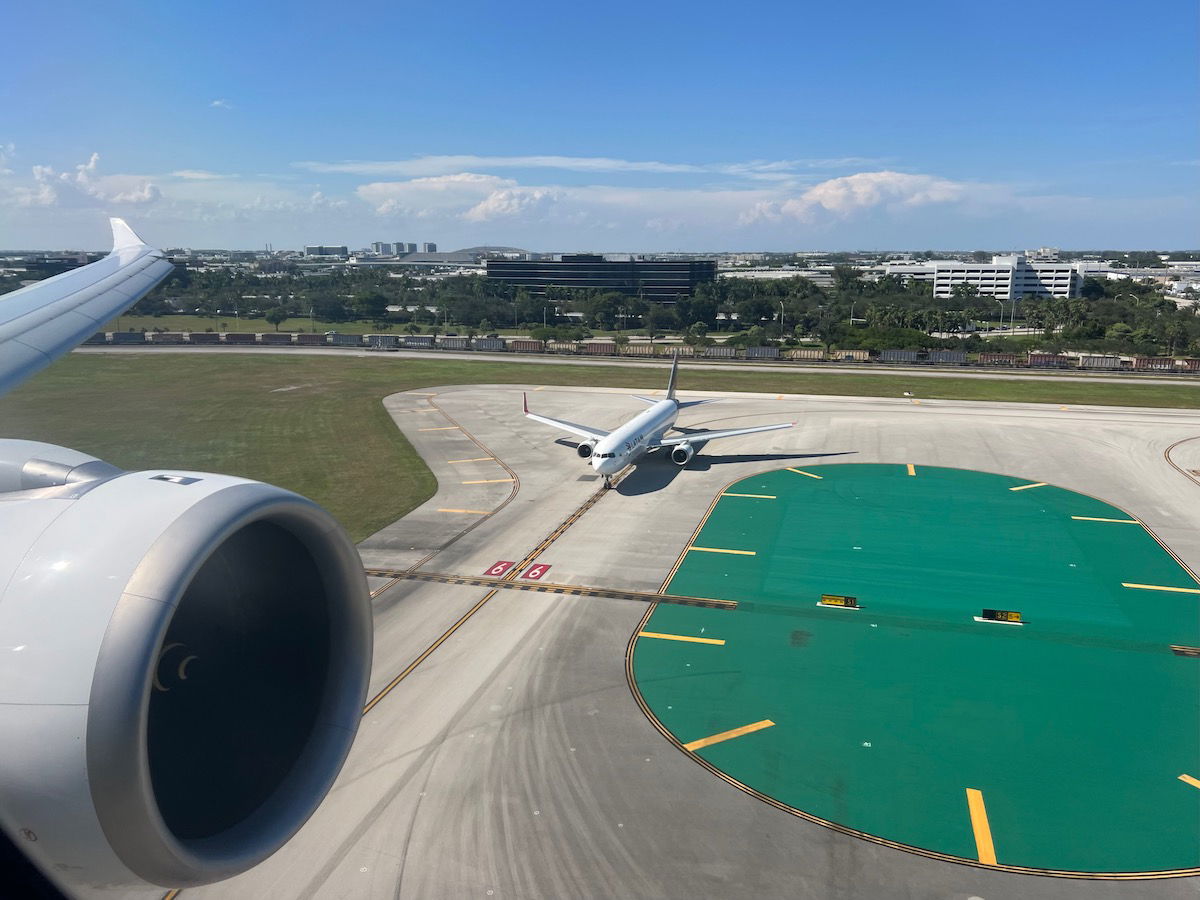 From there we had a five minute taxi to our arrival gate, where we parked next to a United Airbus A320. We quickly passed through immigration thanks to Global Entry, and were excited to get home.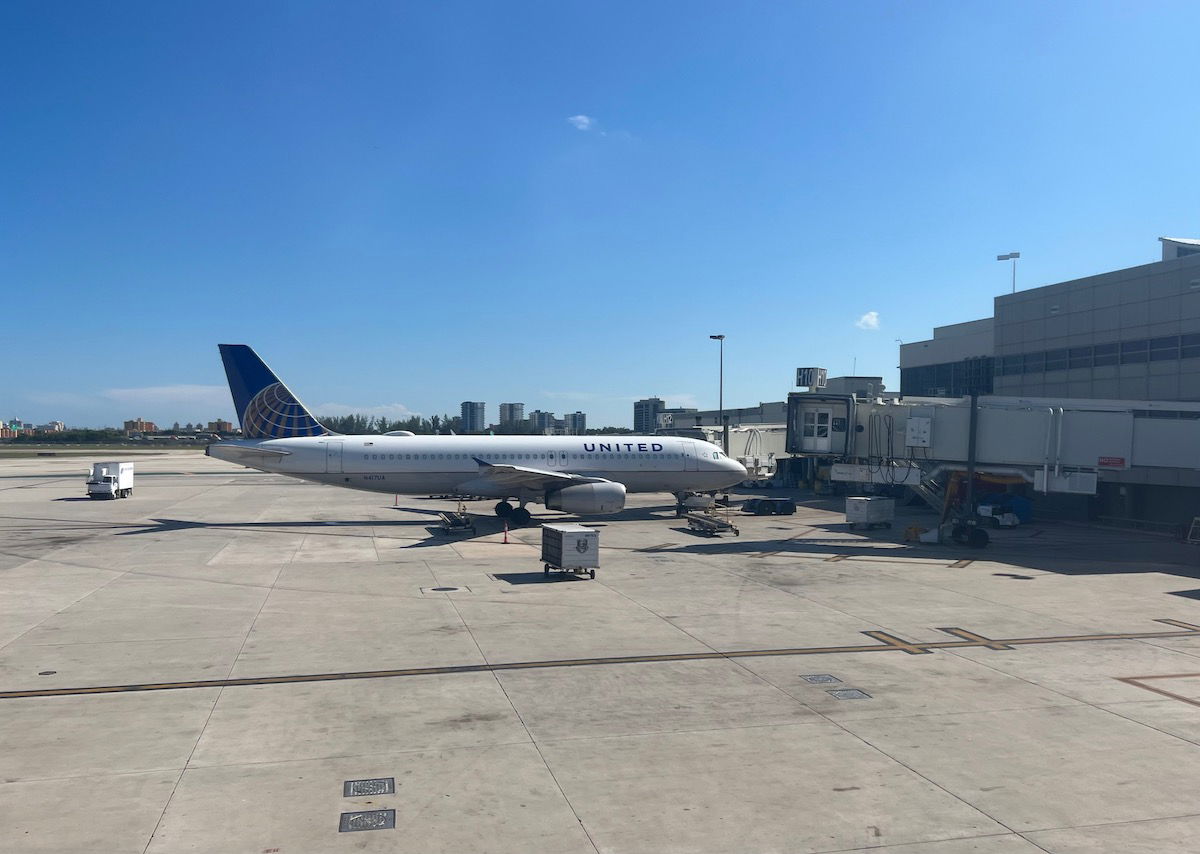 Bottom line
ITA Airways has to be one of the most pleasant airline surprises of the year for me, as I've now had two excellent transatlantic flights on the airline. ITA's A330-900neos have comfortable interiors, but aren't really cutting-edge, aside from the good tech (bluetooth audio, fast charging, etc.).
What really sets ITA apart is the excellent food and drink selection, plus the very friendly service. This is one of my favorite long haul business class products from a European airline, and I can't wait to fly with ITA again.
What do you make of ITA Airways' A330neo business class?