Hello from Athens! After flying LOT Polish Airlines' Boeing 787 business class from Chicago to Warsaw and spending a (lovely) night in Warsaw, we connected to Aegean Airlines' Airbus A320neo business class to Athens.
I've always enjoyed my flights with Aegean, and was looking forward to flying the carrier's new generation aircraft, as the airline is taking delivery of dozens of A320neos and A321neos.
Intra-Europe business class isn't much to get excited about, though I have to say that I think Aegean might just have among the best product you'll find in Europe, other than on Turkish Airlines (some people take issue with me categorizing Turkish Airlines as a European carrier for these purposes, even though Istanbul Airport is on the European side of the city… I digress).
While I'll have a full review soon, in this post I wanted to share some initial thoughts on the Aegean business class experience…
Aegean's A320neo business class hard product is fine
This was my first time flying on one of Aegean's "neo" aircraft, and in this case I was on an A320neo that was just a few months old. Intra-Europe business class simply consists of economy seats at the front of the cabin with a blocked middle.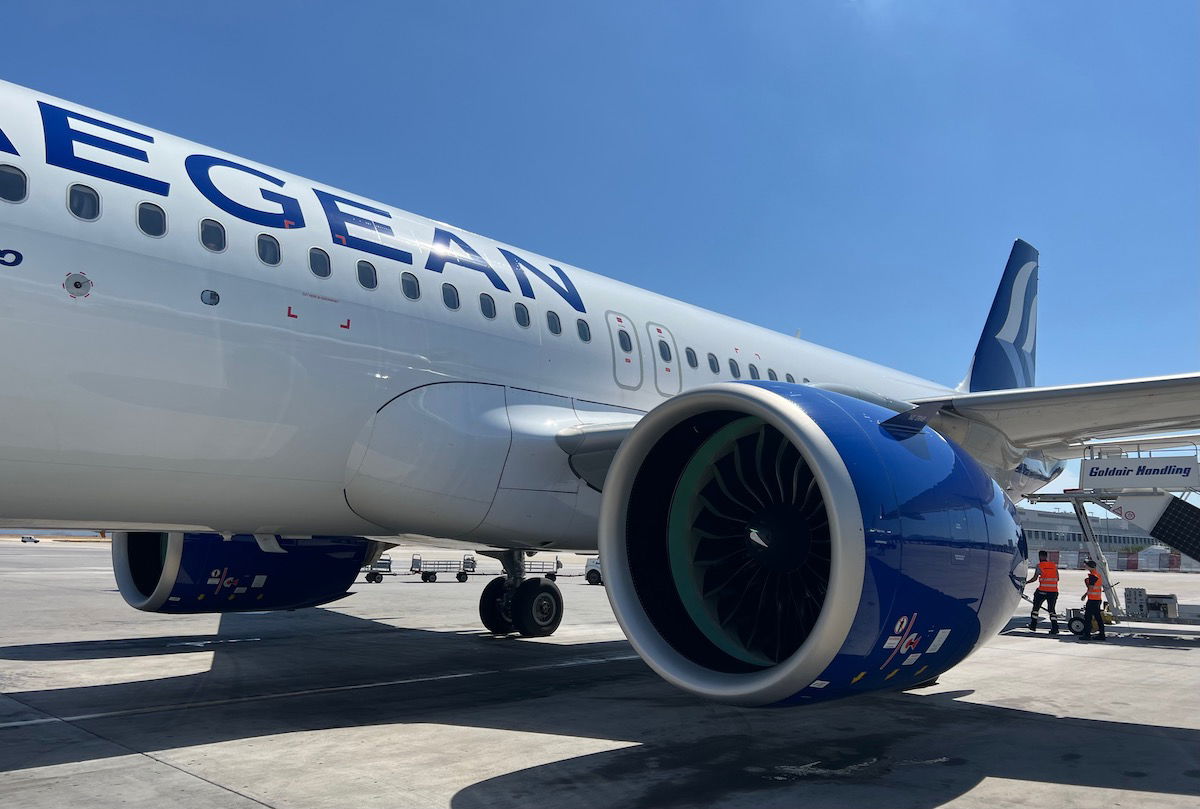 Look, there's absolutely nothing exciting about this product, but this is the same configuration you'll find on all major European carriers, except Turkish Airlines and Aeroflot (with the latter not being terribly relevant nowadays).
Aegean's A320neos have 180 seats, so it's a typically cramped configuration. I do like the modern feeling of the cabin and the cabin finishes. It's amazing how much of a difference cool headrest covers can make.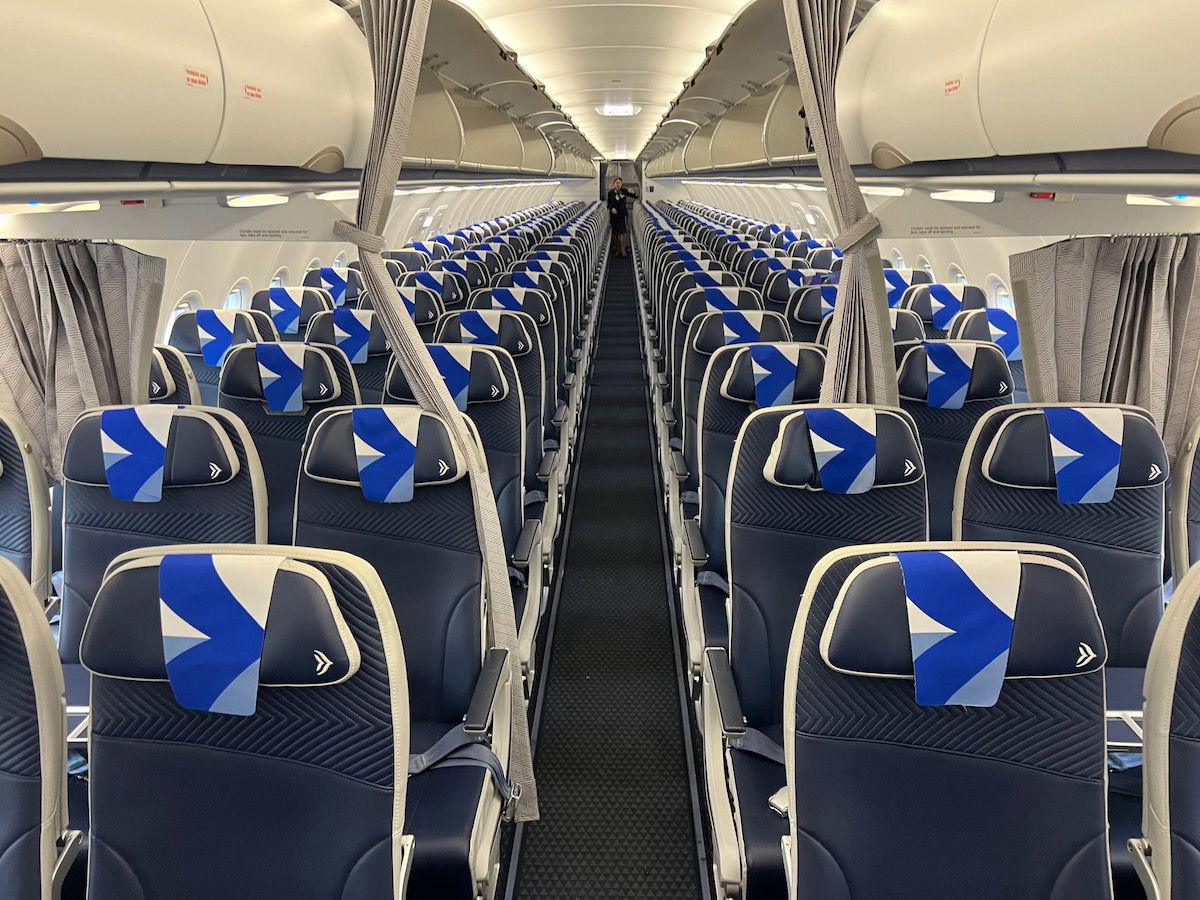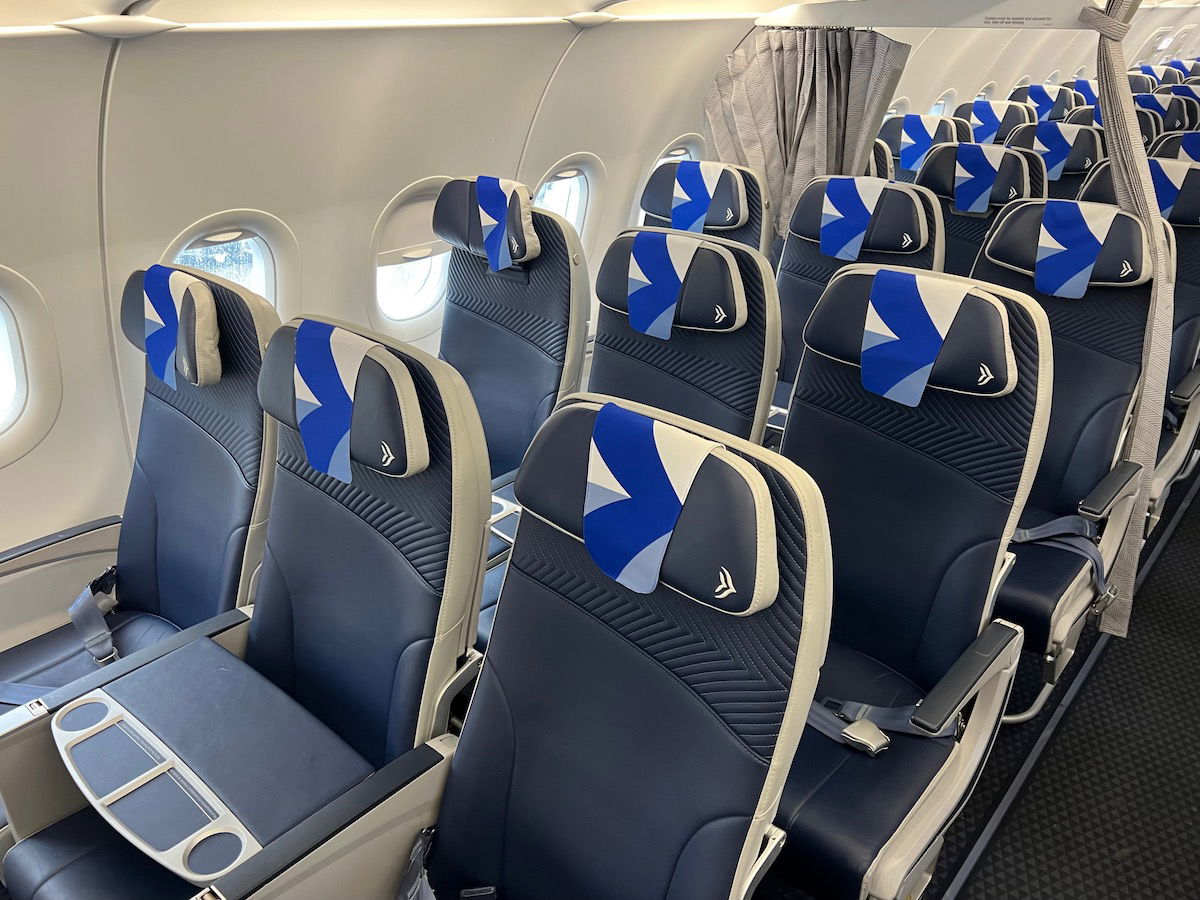 So, what's different about Aegean's A320neos vs. the previous generation aircraft? The seats are a bit more "modern," for better or worse. They're thinner, as you'd expect, though they do have some improved tech.
There are portable device holders on the back of the seats, and there are also charging ports. However, I find it strange that the airline chose to exclusively install USB-A outlets, when the European Union is mandating USB-C chargers for many electronics nowadays. It shows you just how quickly technology evolves, eh?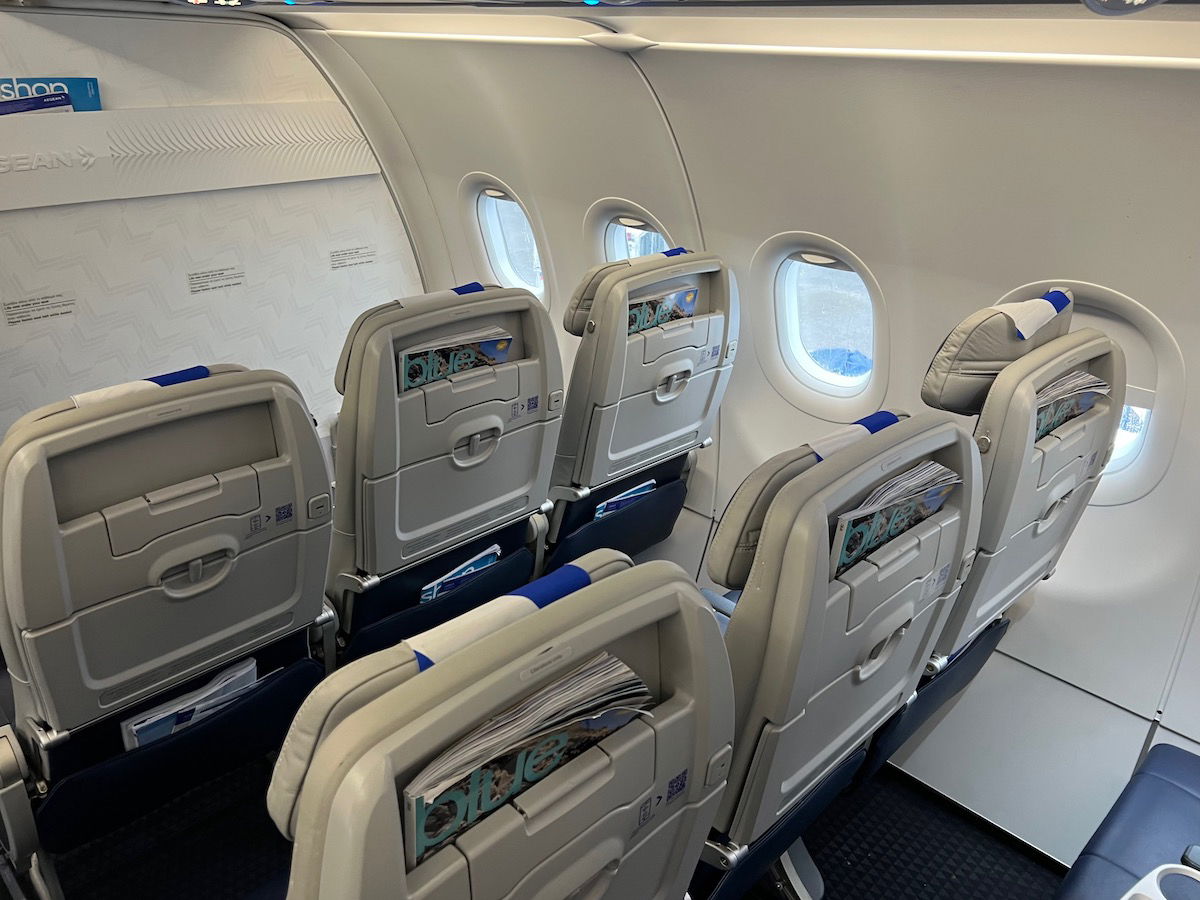 Aegean also has high speed Wi-Fi on its A320neos, which is a much appreciated change. Wi-Fi is free for business class passengers, and just €9 for the entire flight in economy.

So I'd say the hard product is totally fine, but nothing special.
Aegean's business class food & service are great
What really sets Aegean business class apart is the soft product. It's really the littlest things that make a difference, given the pretty low standard of service on short haul flights within Europe.
For example, Aegean offers pre-departure drinks in business class, which very few airlines within Europe do.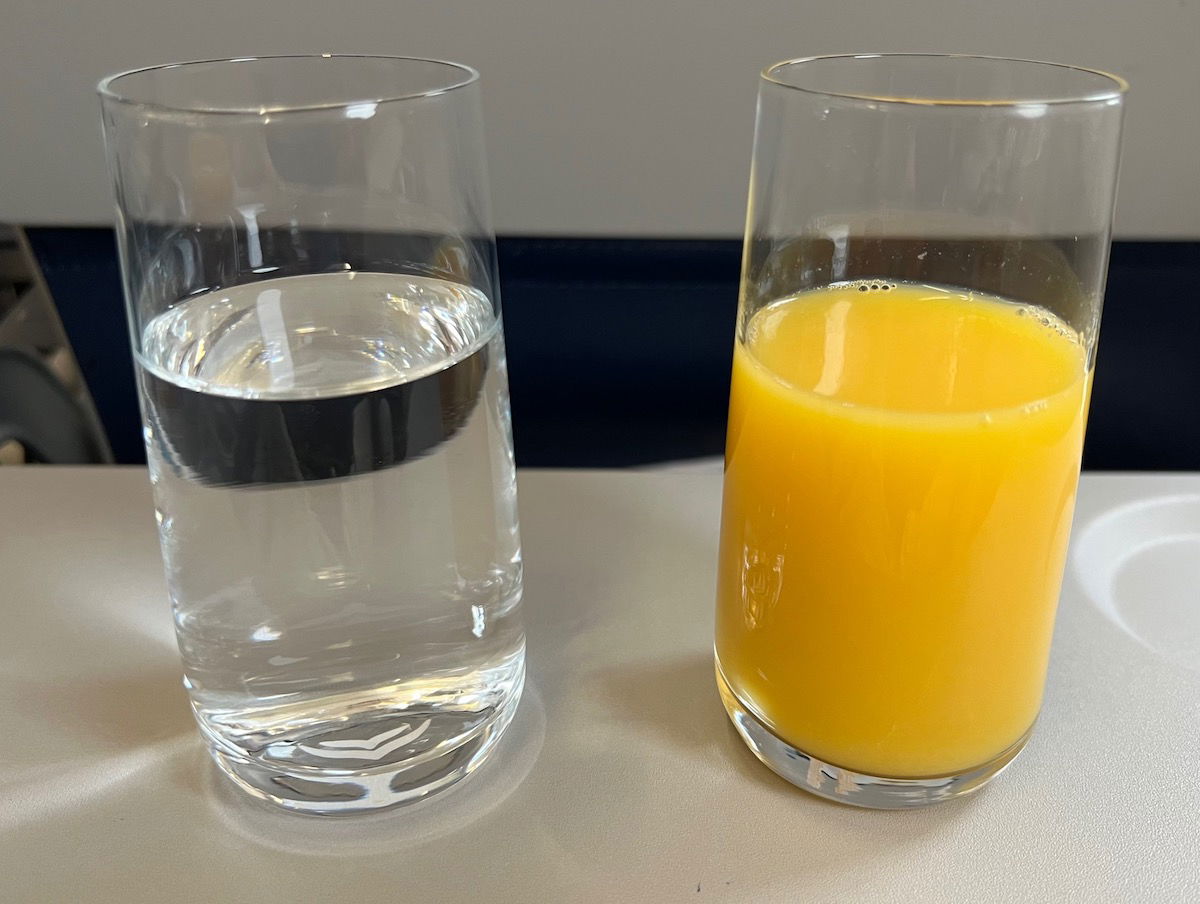 The airline also offers menus in business class, even on a short two hour flight, which you won't find on many airlines within Europe.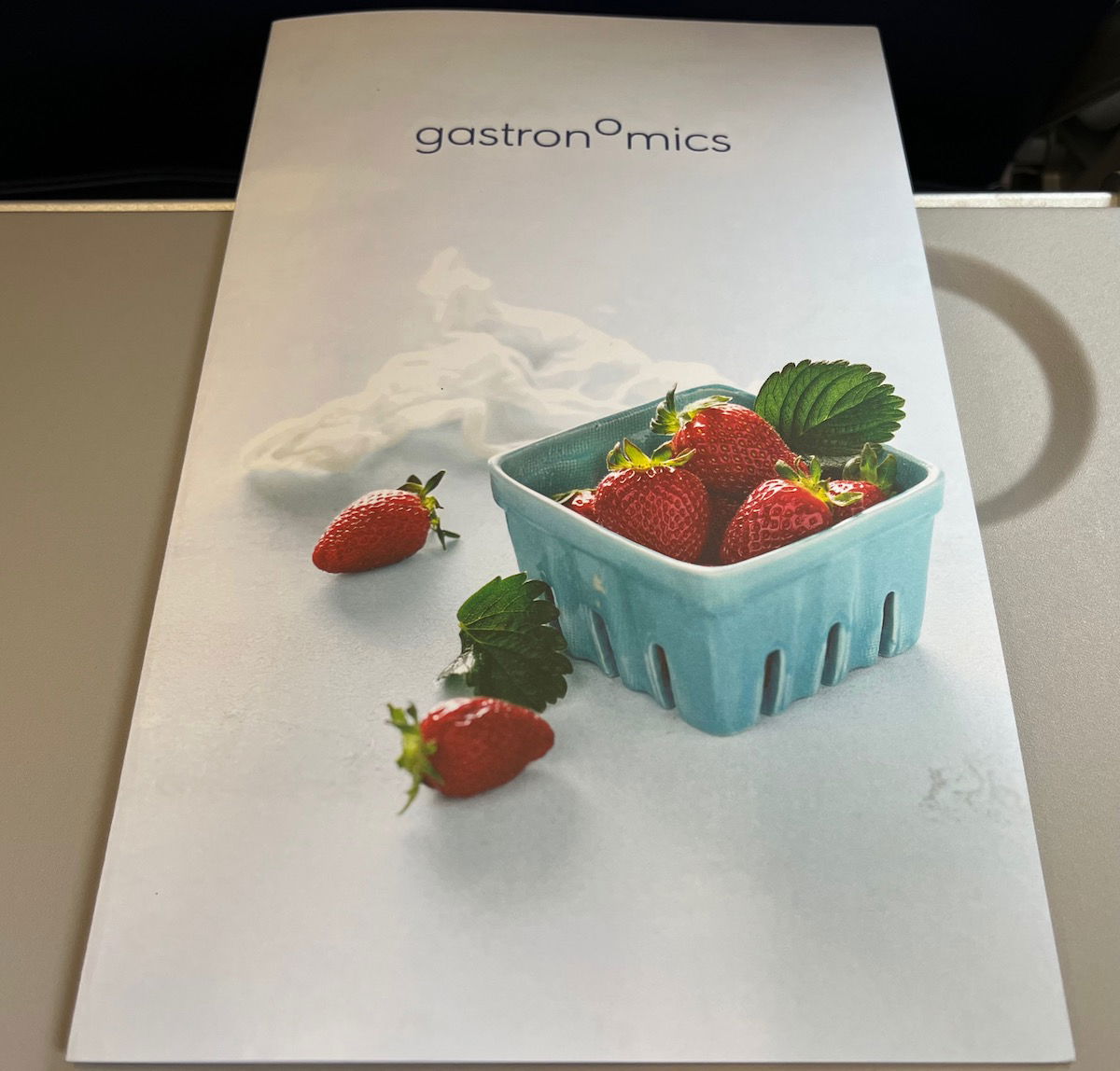 Aegean also has tasty food, in my opinion. I had a delicious omelet with tomato sauce, olives, and feta.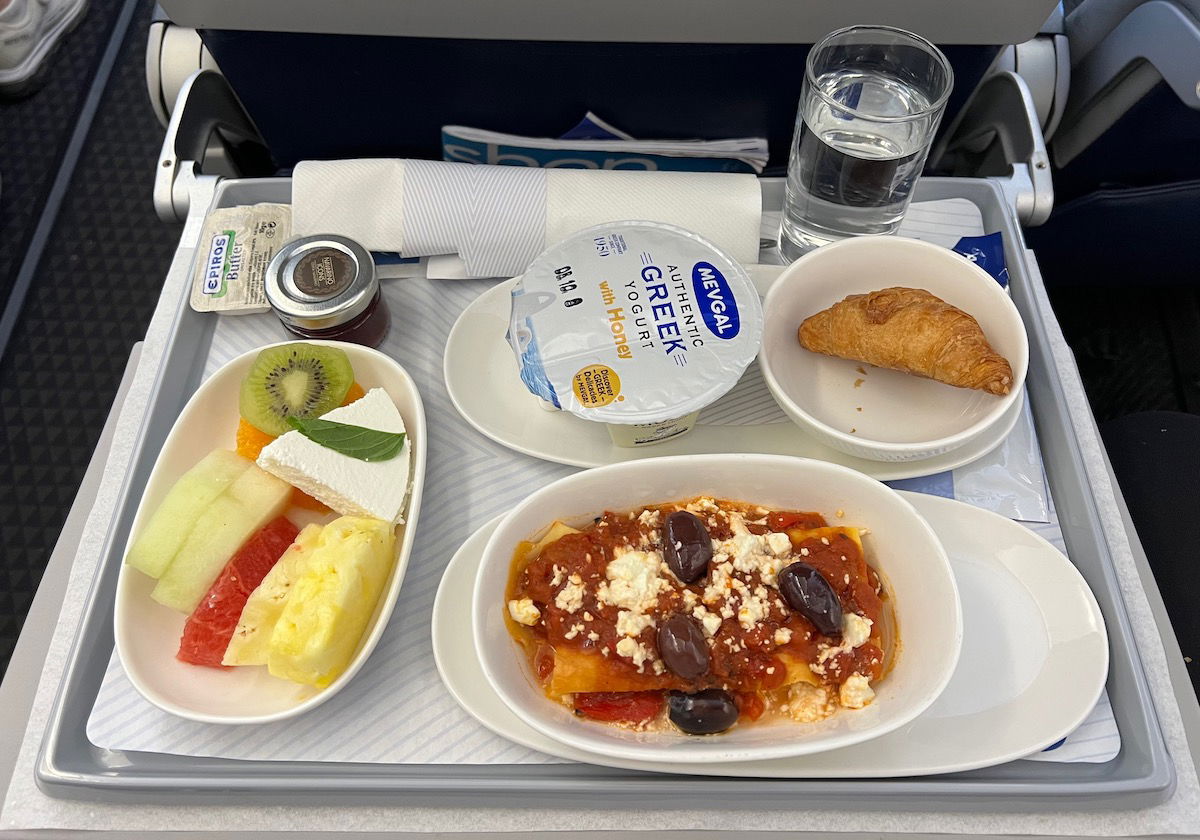 The drink selection is impressive as well, with proper cappuccinos. I can't think of many other major European airline offering cappuccinos on short haul flights, so that's pretty awesome. If the flight were later in the day, I would have had some wine, as Aegean has quite a nice list of Greek wines.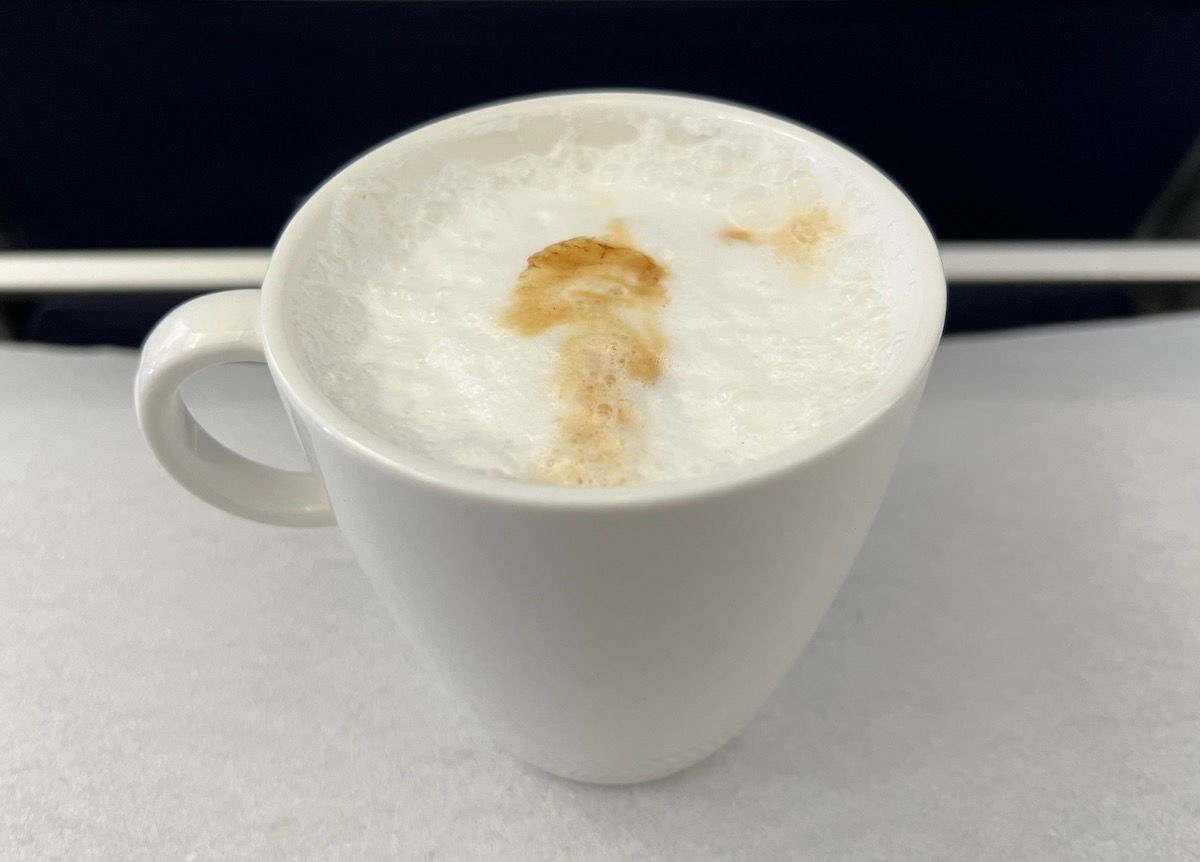 On top of that, I've found Aegean flight attendants to be consistently friendly and professional, and this flight was no exception.
Bottom line
While short haul business class flights within Europe offer among the worst premium experience you'll find anywhere in the world, Aegean offers one of my favorite products in the region. The airline has pre-departure drinks, menus, tasty food, and espresso-based drinks, which is more than I can say about any other major European airline. I also appreciate the high speed Wi-Fi Aegean has on its newer aircraft, though I wish the airline had USB-C or AC power outlets.
When flying short haul to & from Greece, I always enjoy flying Aegean when possible. And keep in mind the airline doesn't just offer a dignified experience in business class, but also serves complimentary meals in economy.
What do you make of Aegean's A320neo business class?