In the interest of full disclosure, OMAAT earns a referral bonus for anyone that's approved through some of the below links. These are the best publicly available offers (terms apply) that we have found for each product or service. Opinions expressed here are the author's alone, not those of the bank, credit card issuer, airline, hotel chain, or product manufacturer/service provider, and have not been reviewed, approved or otherwise endorsed by any of these entities. Please check out
our advertiser policy
for further details about our partners, and thanks for your support!
To kick off our trip to Greece, we flew LOT Polish Airlines' Boeing 787-9 business class from Chicago to Warsaw. It had been years since I'd flown LOT's business class across the Atlantic, so I was looking forward to seeing how it was holding up.
Objectively, LOT offers a subpar transatlantic business class experience. The airline has seats in a 2-2-2 configuration, there's no Wi-Fi, and the entertainment isn't great. Furthermore, there were aspects of the experience that were unpolished.
All that being said, I found the crew to be well intentioned, and if traveling as a pair (or with an empty seat next to you), I actually don't mind this kind of configuration. While I wouldn't seek out LOT again, I wouldn't hesitate to fly with the airline if it was convenient. Let's get into the review.
How I booked our LOT Polish Airlines business class tickets
I booked us the following itinerary in business class for 70,000 Air Canada Aeroplan points plus $76.70 in taxes and fees per person:
8/28 LO4 Chicago to Warsaw departing 9:45PM arriving 1:50PM (+1 day)
8/30 A3871 Warsaw to Athens departing 10:35AM arriving 2:05PM
Admittedly there are much more creative awards you can book with Aeroplan points, but this was still a very good value. Aeroplan points are easy to come by, as the program is transfer partners with Amex Membership Rewards, Capital One, and Chase Ultimate Rewards. On top of that, there's the Aeroplan® Credit Card (review) in the United States, which is quite rewarding.
LOT Polish Airlines business class lounge & boarding
We had arrived the same day from Miami on United Airlines, and had a layover of a few hours in Chicago. As a result, we decided to stay in the United Polaris Lounge in Terminal 1 for as long as possible, before heading over to Terminal 5 for our LOT Polish Airlines flight.
LOT sends its business class passengers to the Scandinavian Airlines Lounge, which is not great, to put it mildly. LOT intends to open a lounge in Chicago in 2024, which will be the carrier's first lounge outside of Poland. That's pretty exciting.
Once over in Terminal 5, we headed to our departure gate, which was M19. Boarding was scheduled to start at 9:00PM, 45 minutes ahead of our scheduled 9:45PM departure.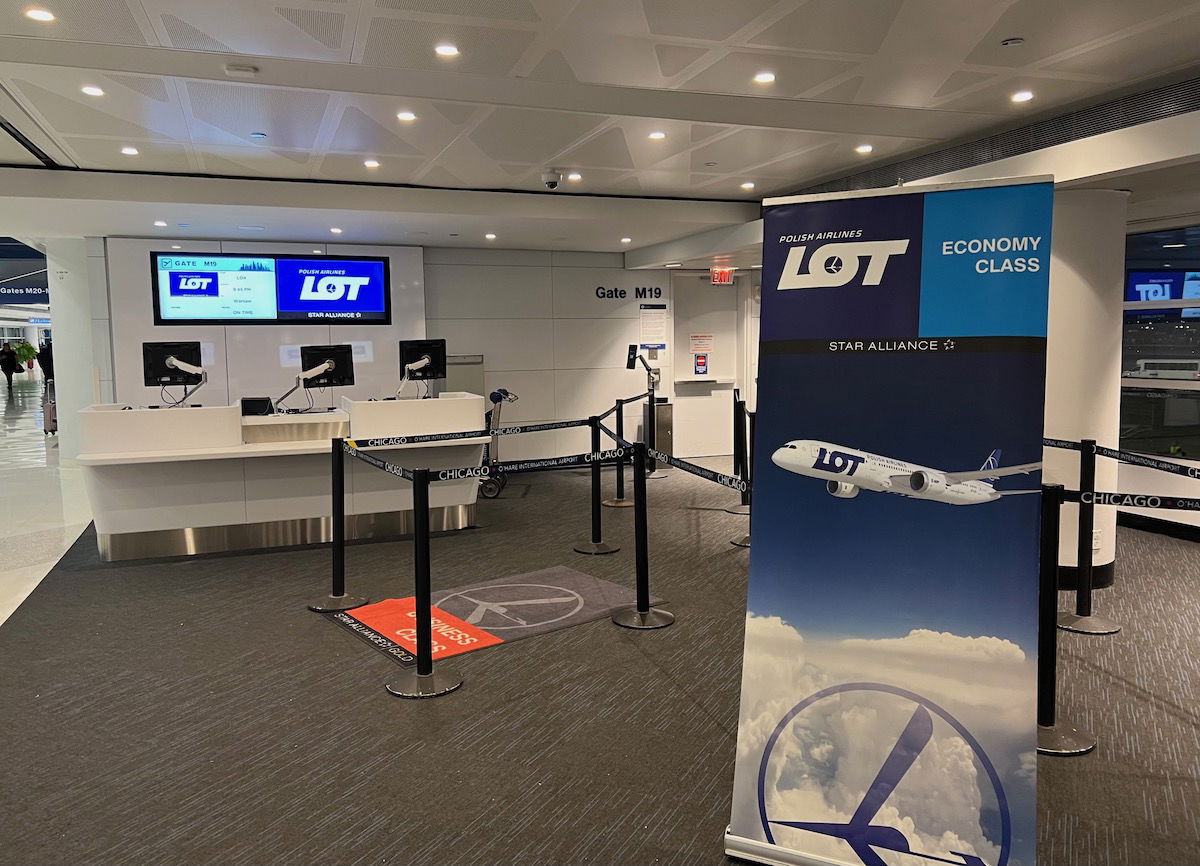 Despite the inbound aircraft having arrived on schedule, that's not the timeline with which boarding happened. The crew only showed up at 9PM, and oddly a gate agent only showed up at 9:10PM. Typically I find that foreign airlines have gate agents show up much earlier at US gateways, in order to verify documents, etc.
Boarding ended up finally starting at 9:40PM, quite a bit behind schedule.
LOT Polish Airlines 787 business class cabin & seats
We boarded through the second set of doors, where we were greeted by the friendly crew, and pointed left into business class. The business class cabin took up the entire space between doors one and two, and consisted of just 24 seats. Talk about an inefficient layout, given that you can typically get up to 30 reverse herringbone seats into this space.
LOT's business class seats are in a 2-2-2 configuration, and are fully flat. However, they're far from cutting edge.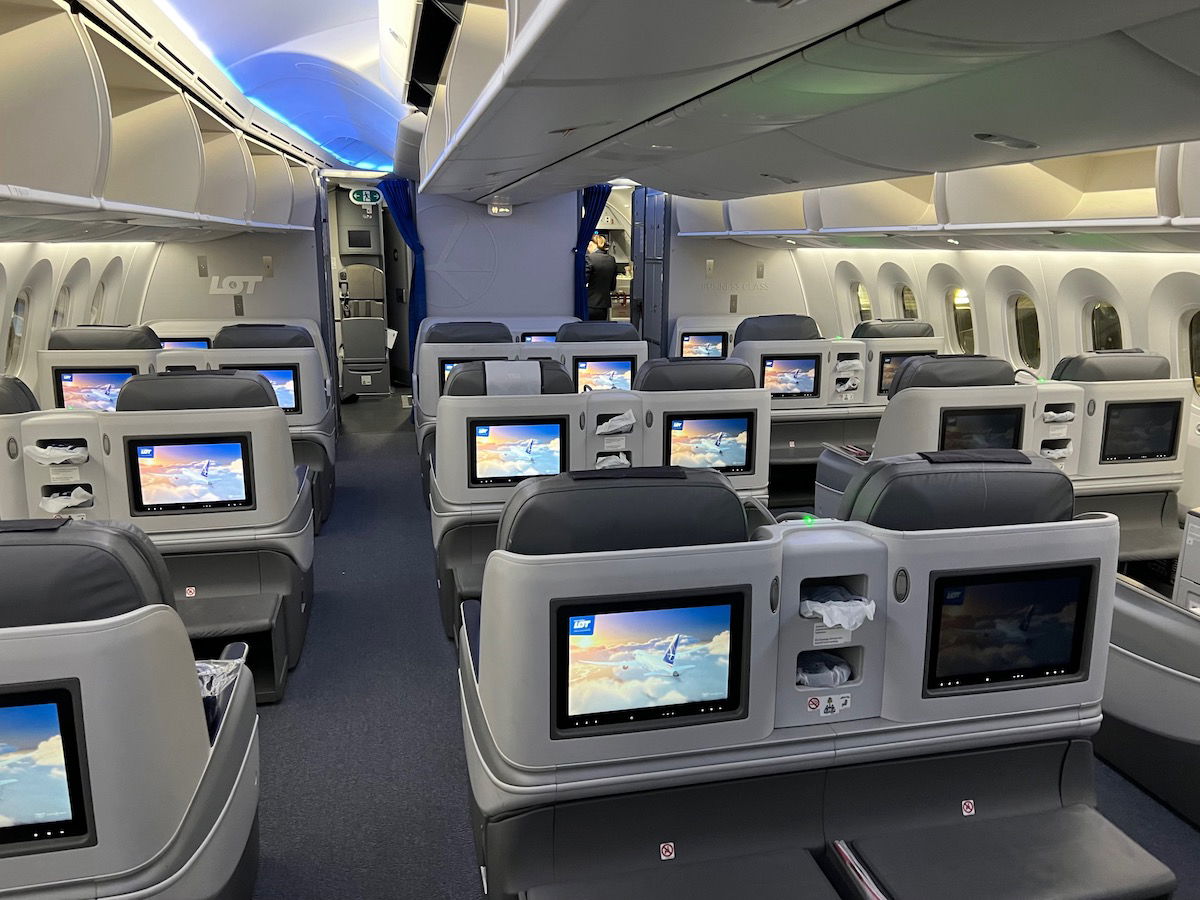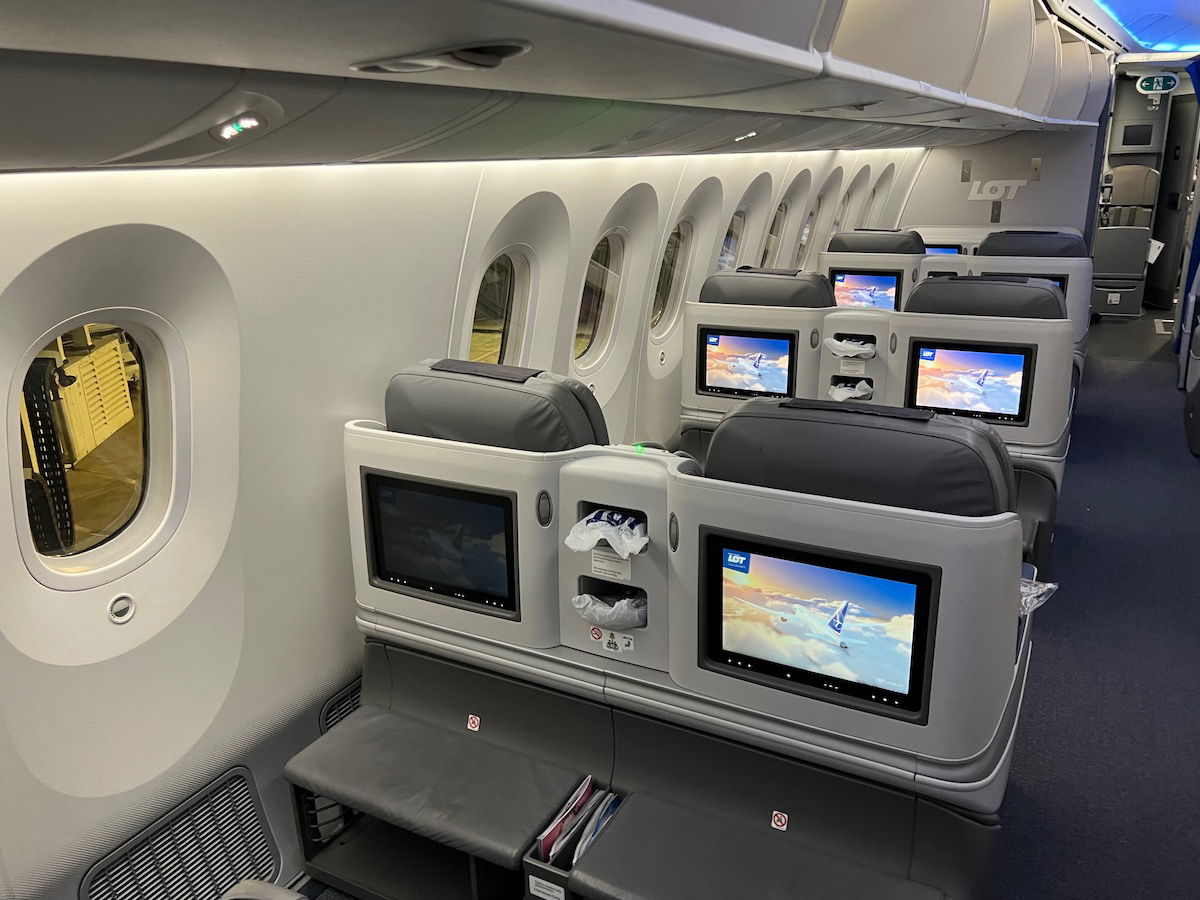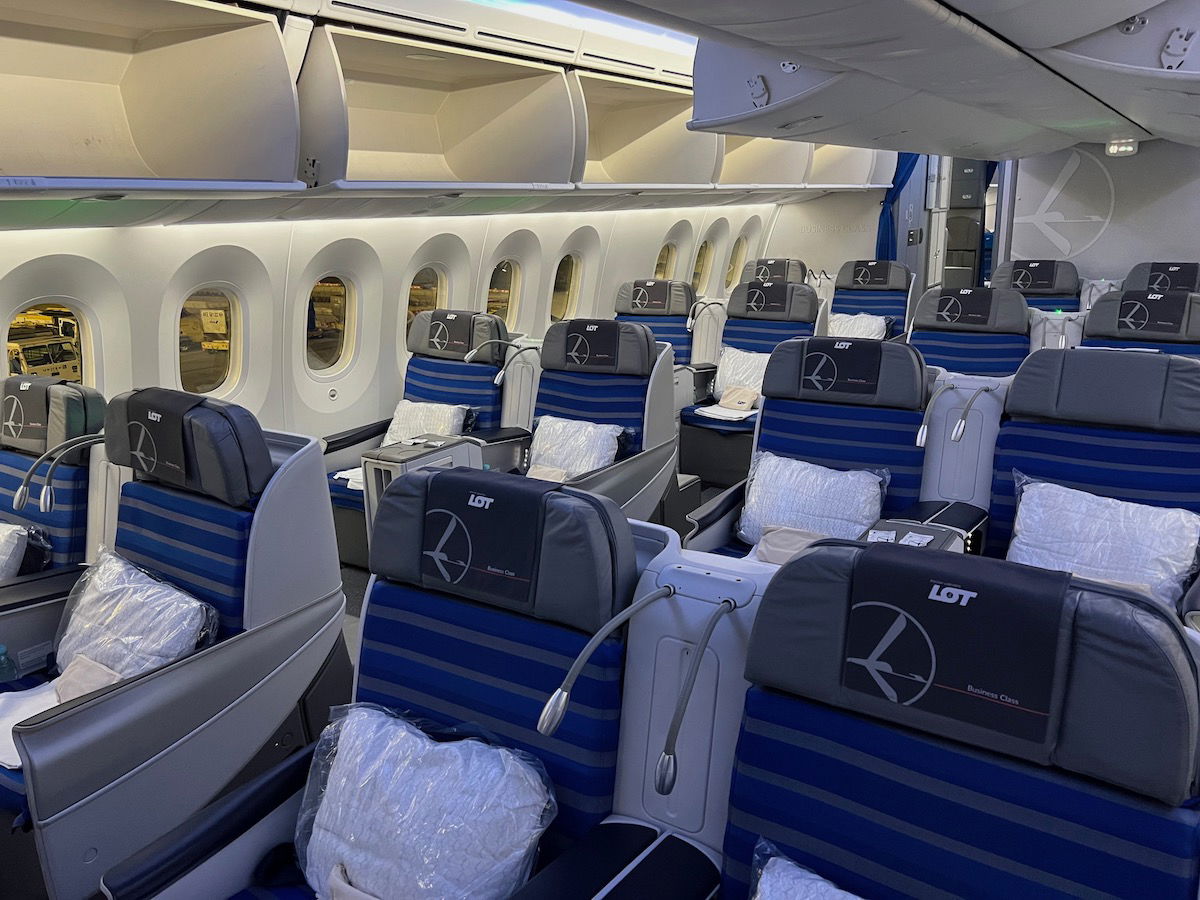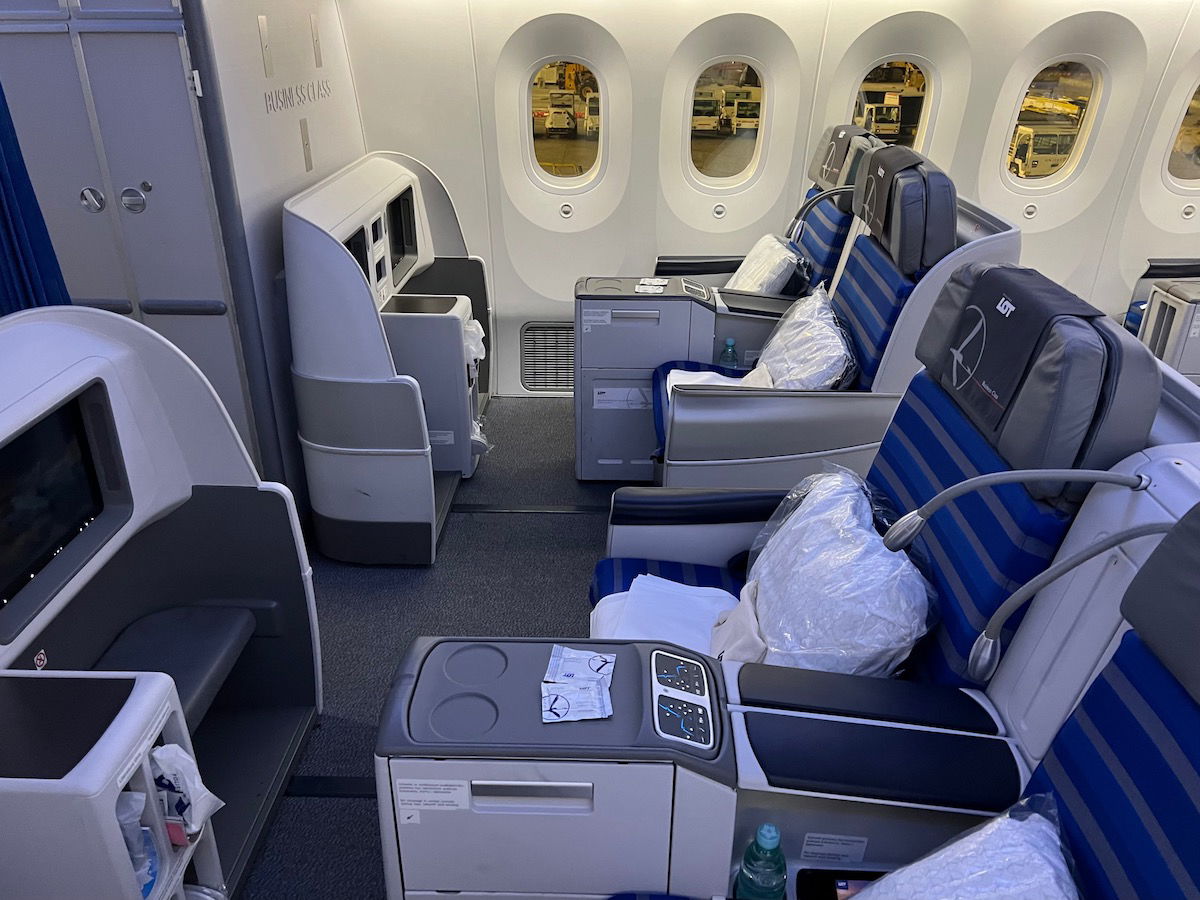 I assigned us seats 4A and 4C, the aisle and window seat on the left side in the last row of business class.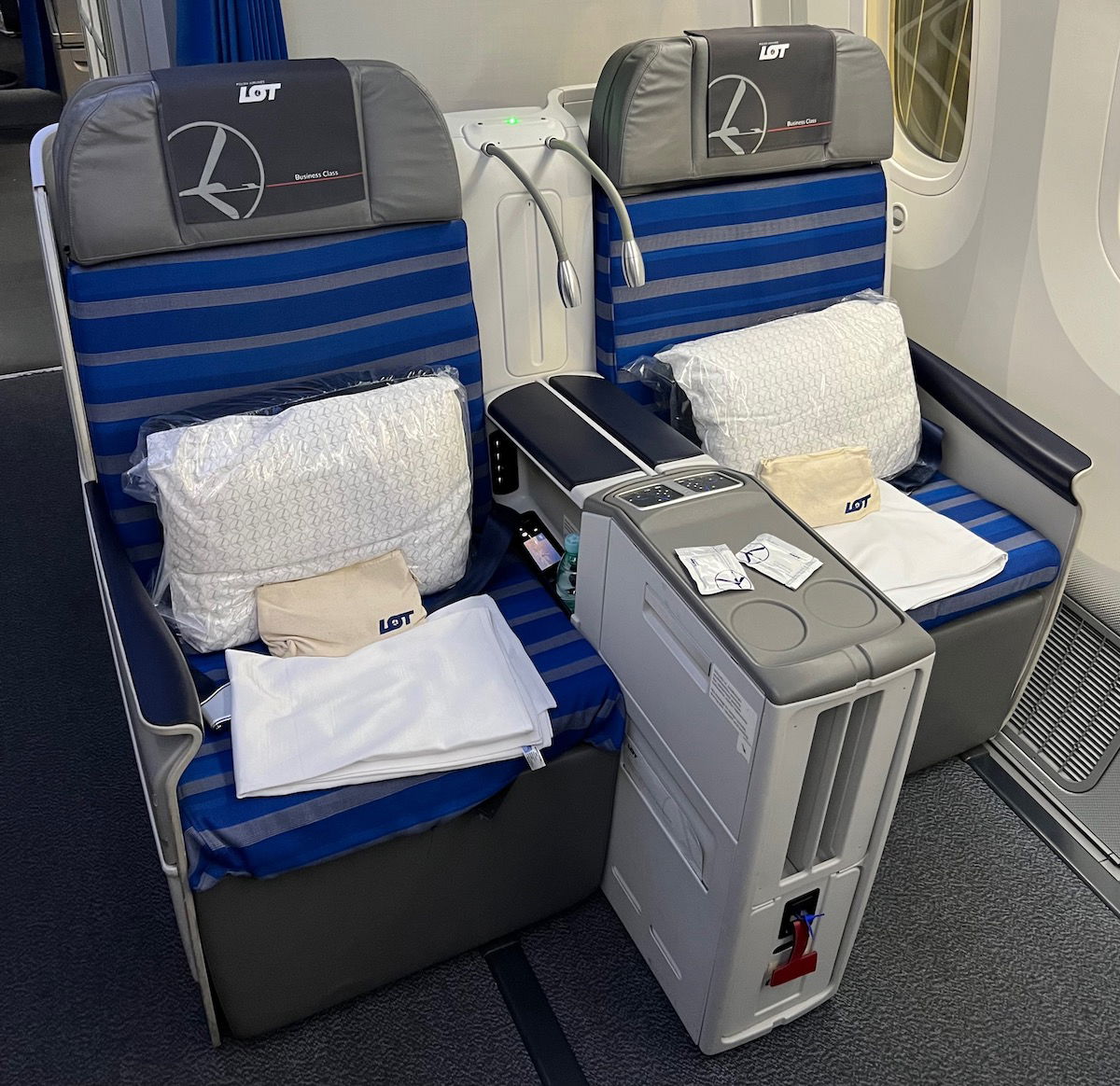 One of the reasons that these seats are quite an inefficient use of space is because there are no small footwells you have to squeeze your feet into, but rather each seat has quite a large ottoman. This is pretty awesome for sleeping, since you don't at all feel constrained (of course this presents its own challenges, if you have a snoring stranger next to you).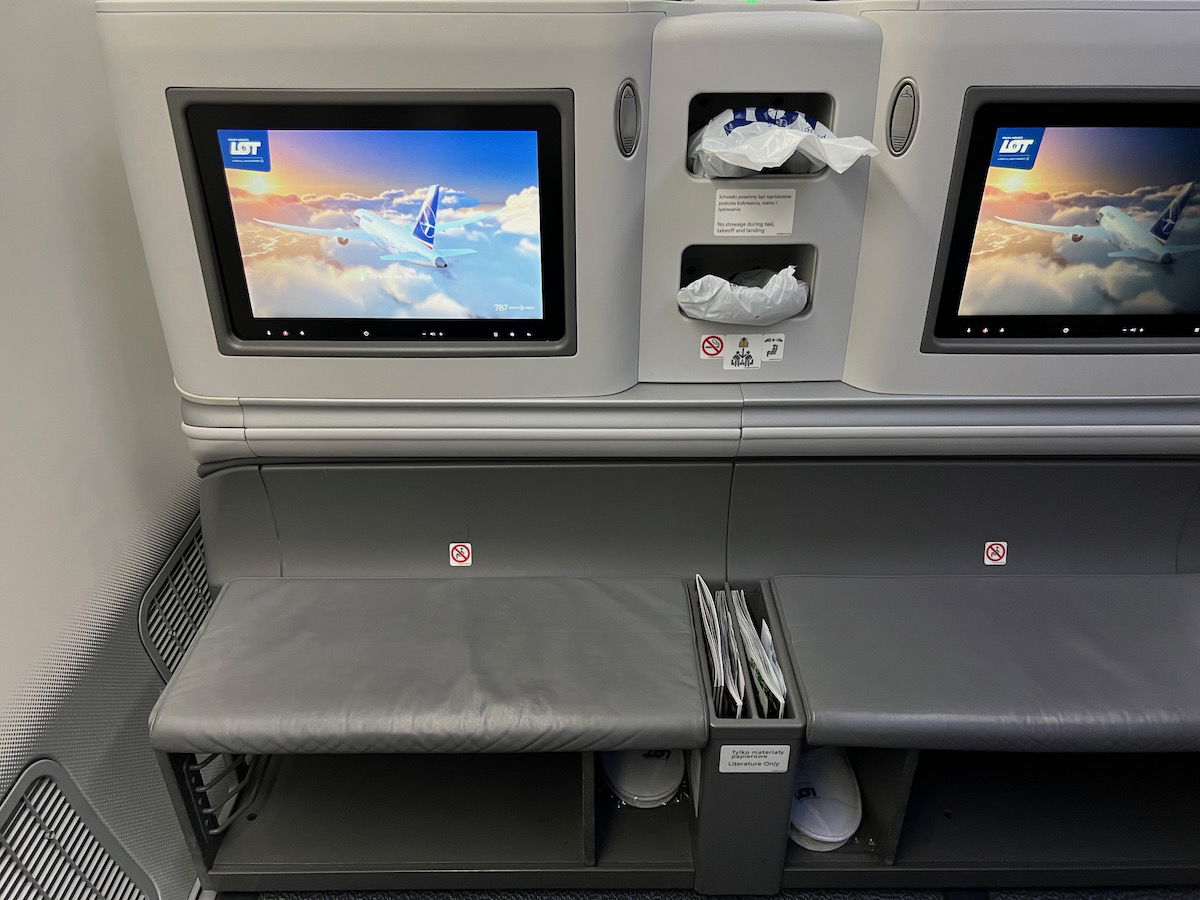 The seat controls were located on the center console, and were easy to use. You could control each individual seat function, or you could just fully recline your seat.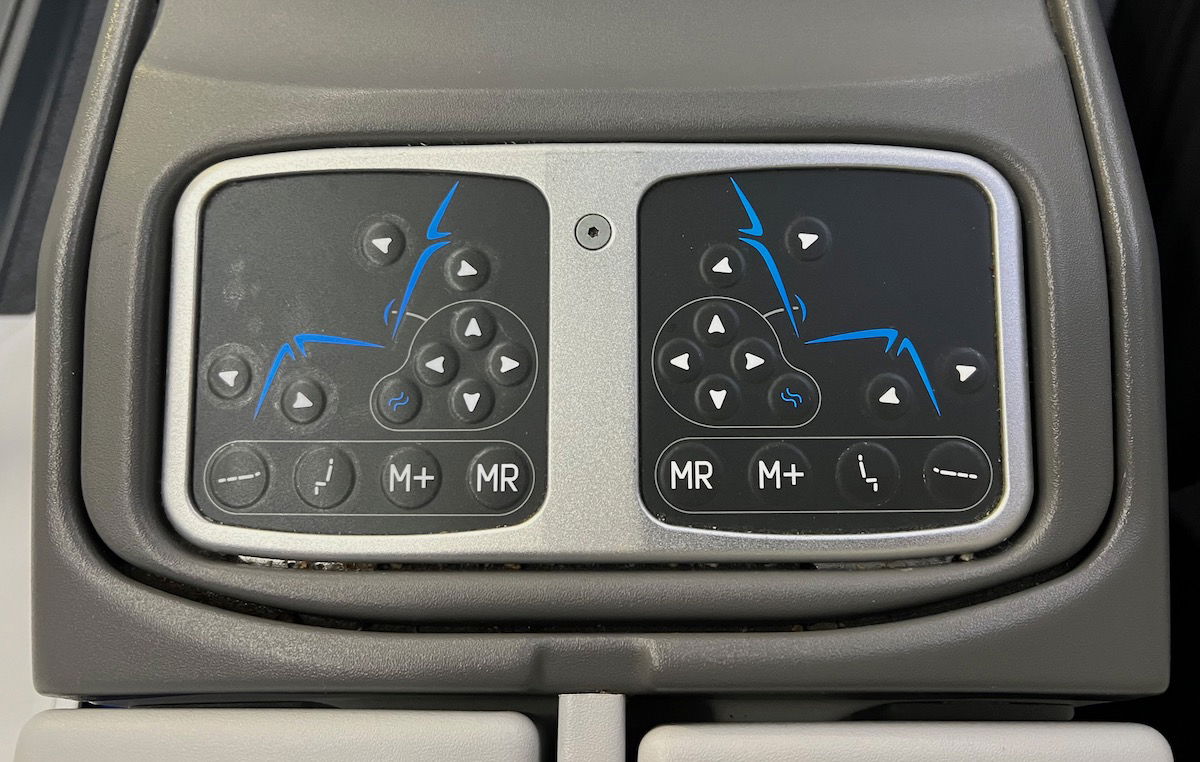 The tray table also folded out from the center armrest, and was a single surface. So if you do have the tray table extended, don't expect that you'll be able to move it to the side to get out of your seat.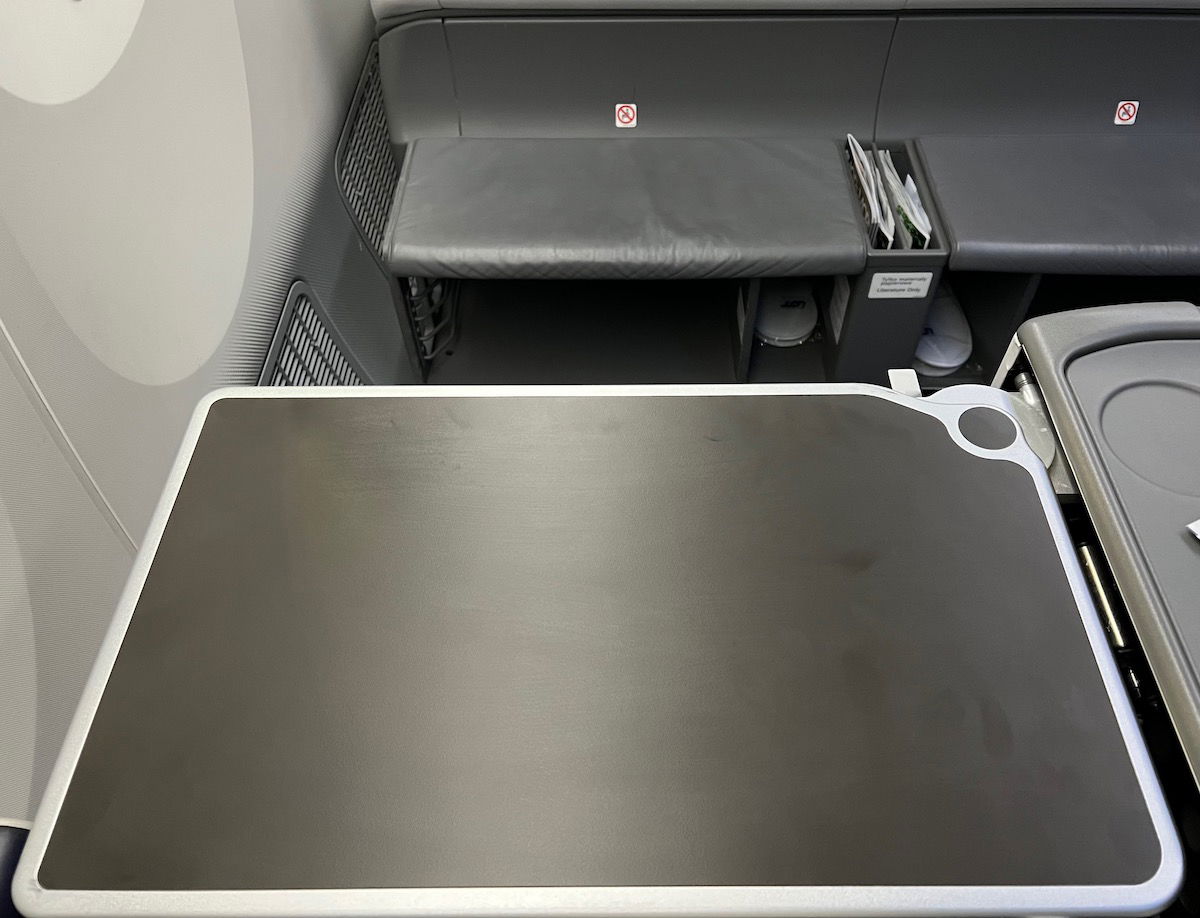 The center armrest could be raised to create a privacy partition of sorts, which is useful if trying to sleep.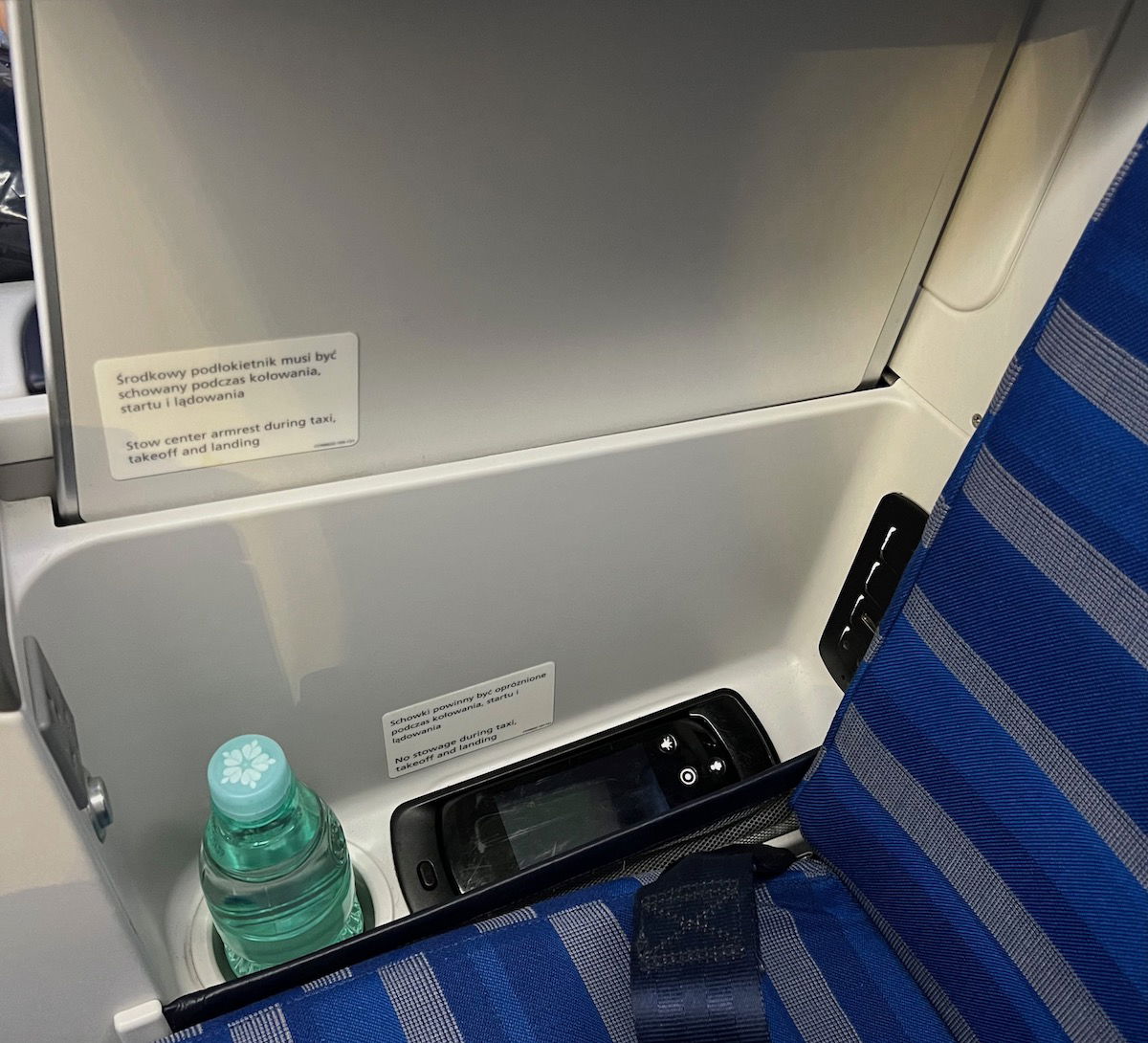 Underneath the armrest was the AC power outlet, as well as the entertainment controller.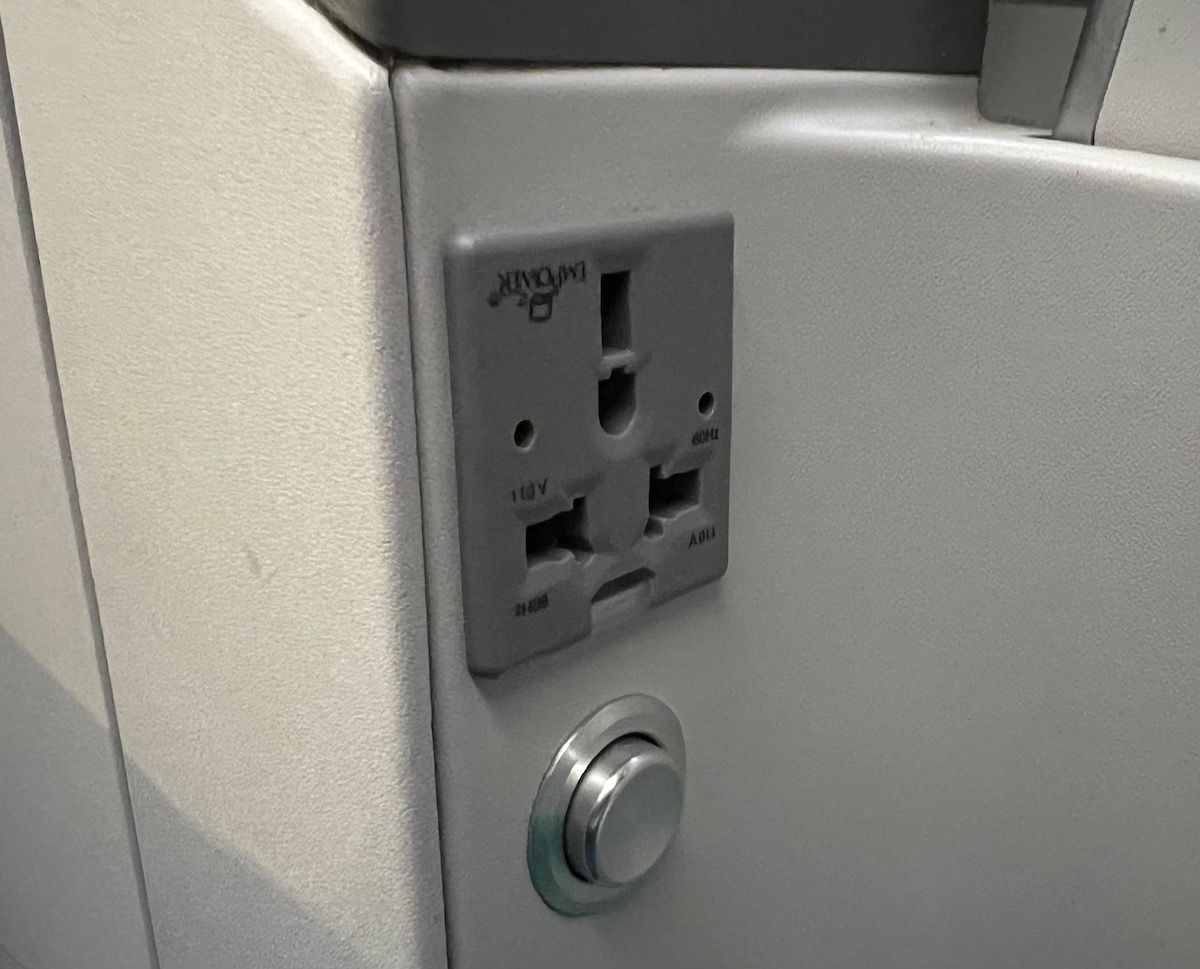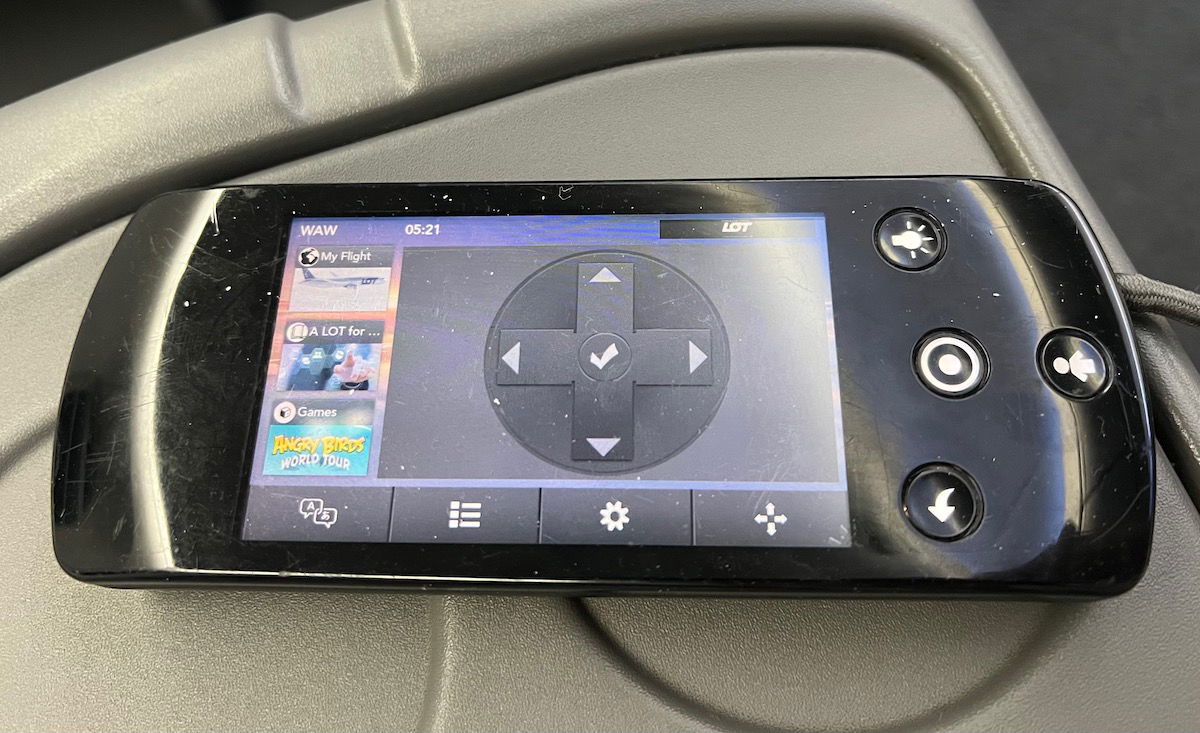 On the front side of the center armrest was a storage area, though you're quite limited in terms of what you can actually place here. It's good for books or magazines, but that's about it.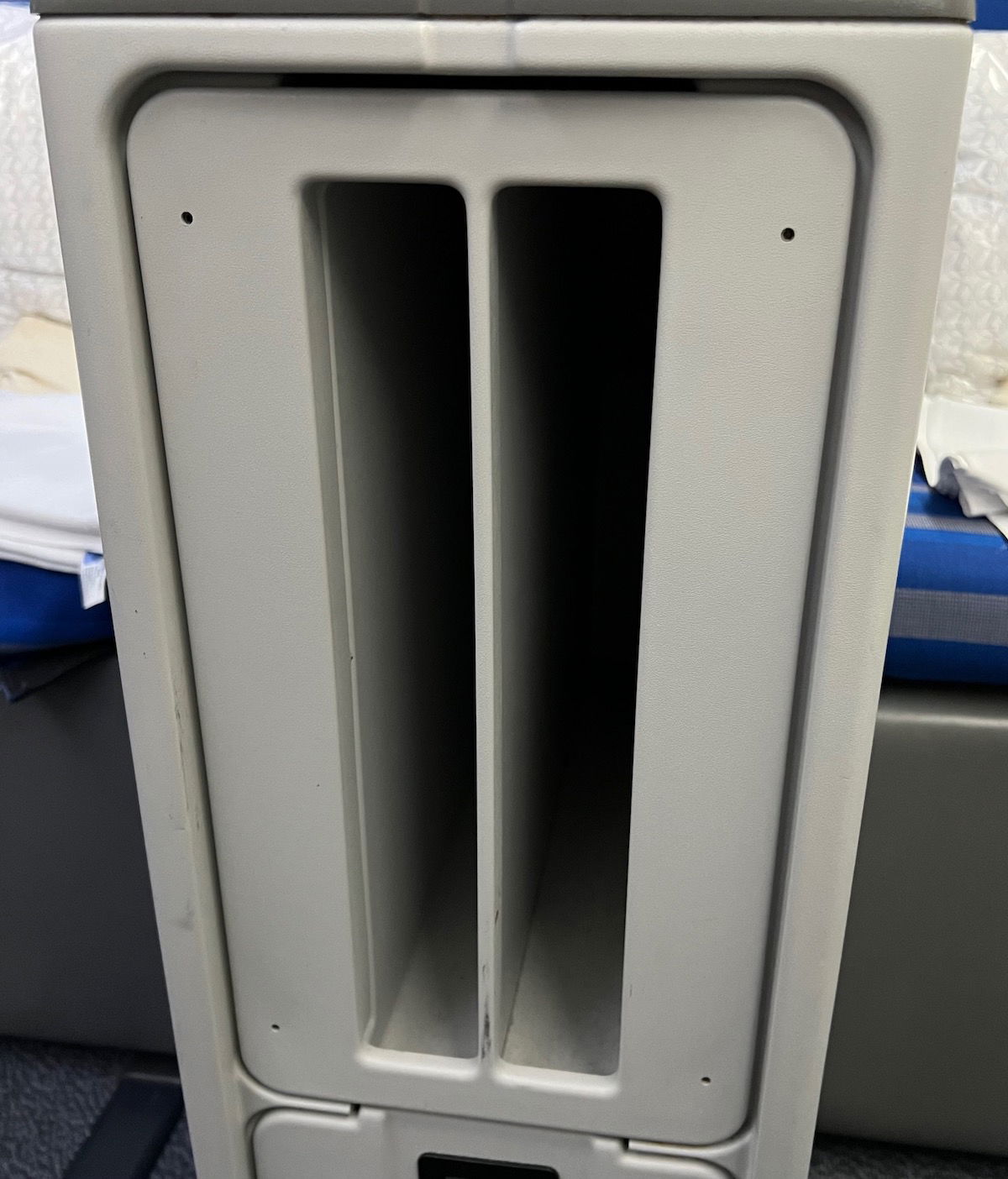 Unfortunately there were no individual air nozzles at seats, though at least the cabin wasn't kept too warm during the flight.
This is definitely one of the less impressive business class products you'll find across the Atlantic from a full service airline. That being said, the cabin on this flight was half full and I was traveling with Ford, so I was perfectly comfortable.
Note that LOT will be introducing a new business class product in late 2026, featuring direct aisle access, Wi-Fi, and many other tech improvements. That's exciting, though we're years from that rollout even starting…
LOT Polish Airlines business class amenities
Waiting at each seat upon boarding was some bedding. This included a thin pillow, an okay blanket, and a sheet to cover the seat when sleeping (I definitely wouldn't call it a mattress pad, though). The bedding wasn't bad, but there's room for improvement there. Fortunately with the cabin not being full, I was able to grab a second pillow to get more comfortable.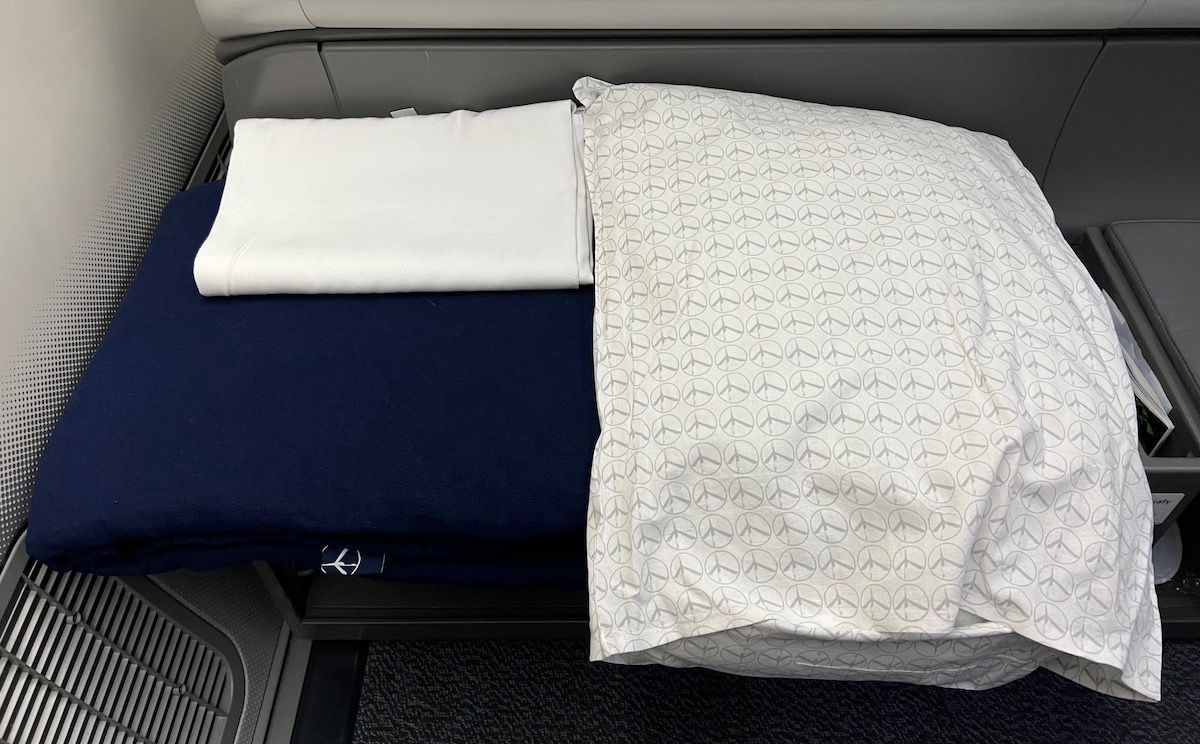 There was also a business class amenity kit at each seat upon boarding. The bag itself was unremarkable, but I loved how it had LOT branded socks — that's fun! The kit also had a dental kit, eye mask, earplugs, lip balm, and cream.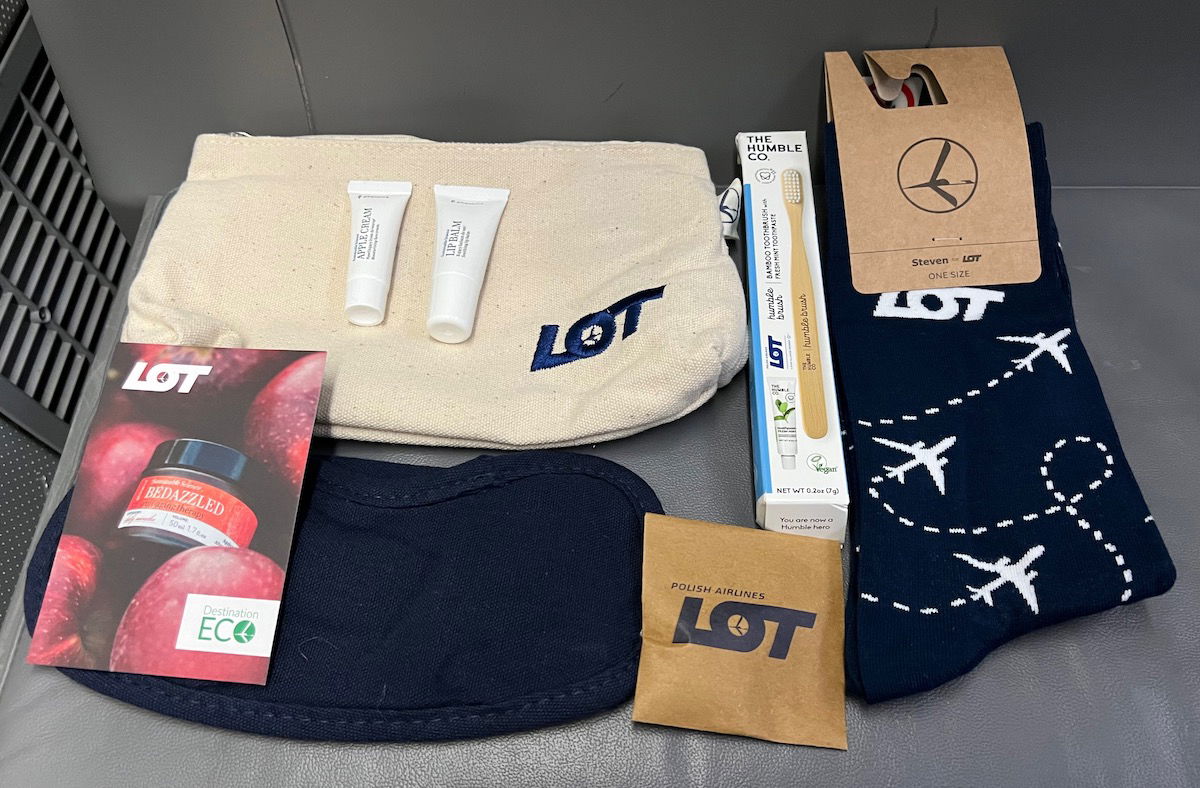 There were also slippers for each business class passenger — these were as flimsy as they get, but then again, most airlines don't offer these across the Atlantic, so I'm a fan.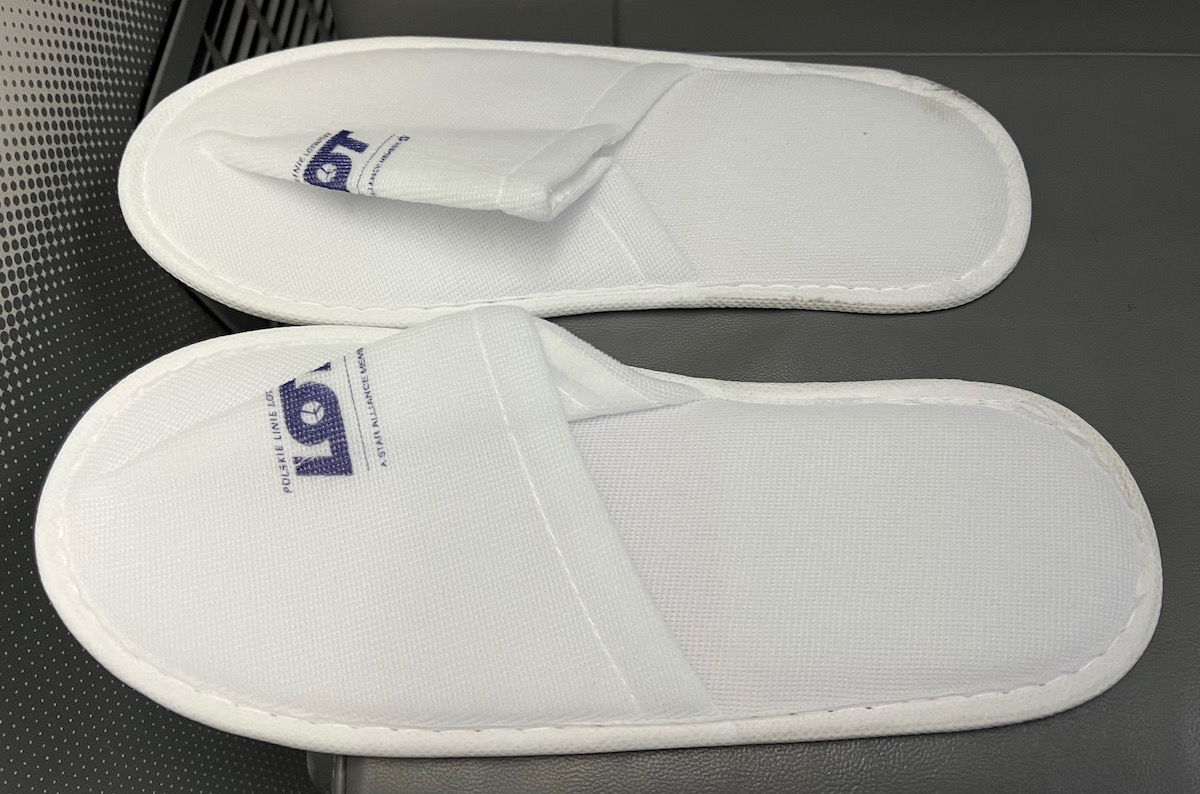 The LOT business class headphones were okay, but nothing great.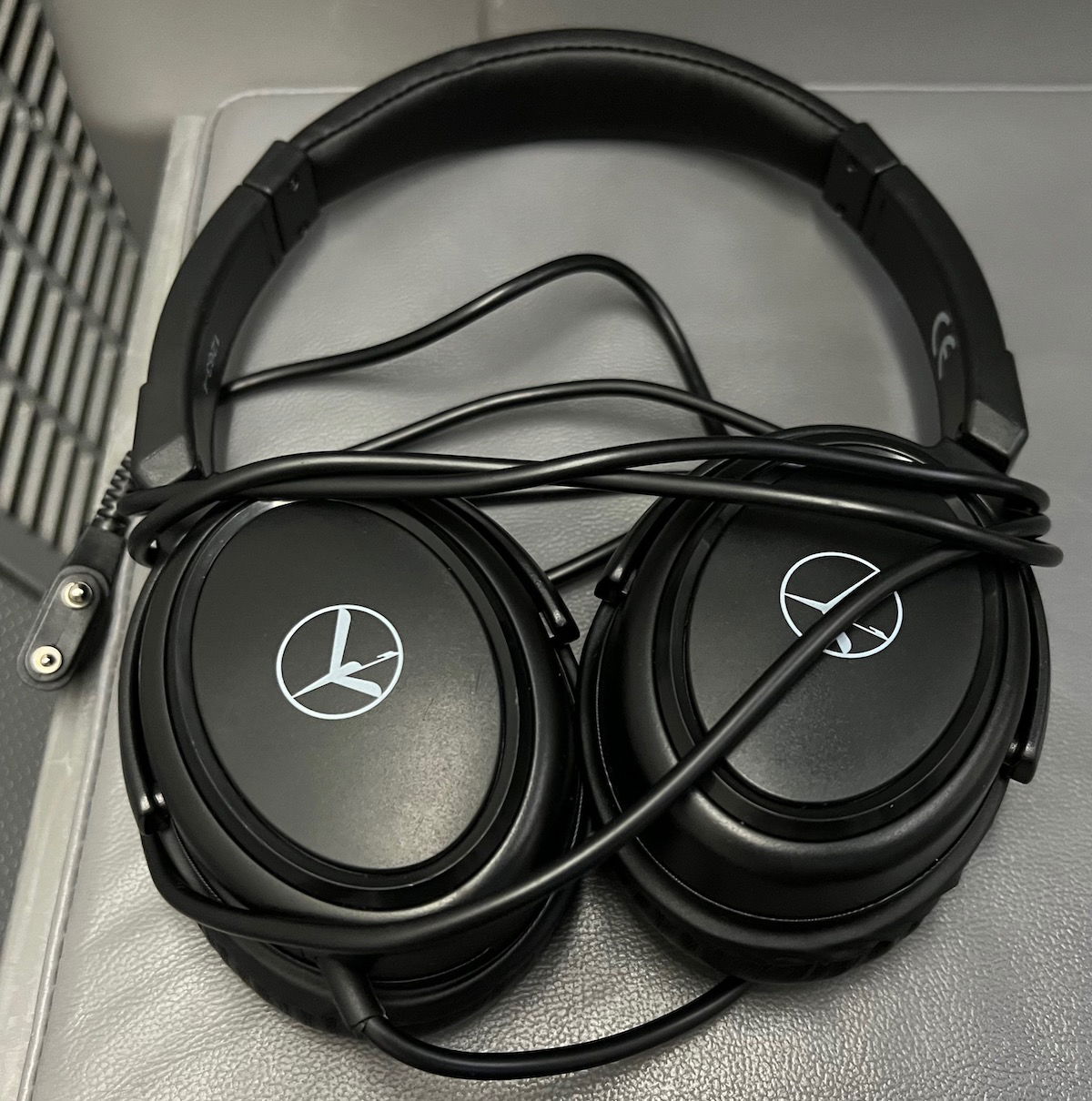 Pre-departure drinks were offered toward the end of the boarding process, with the choice of water or orange juice. No alcohol was offered, and an interesting discussion emerged between a flight attendant and a passenger about the lack of alcohol.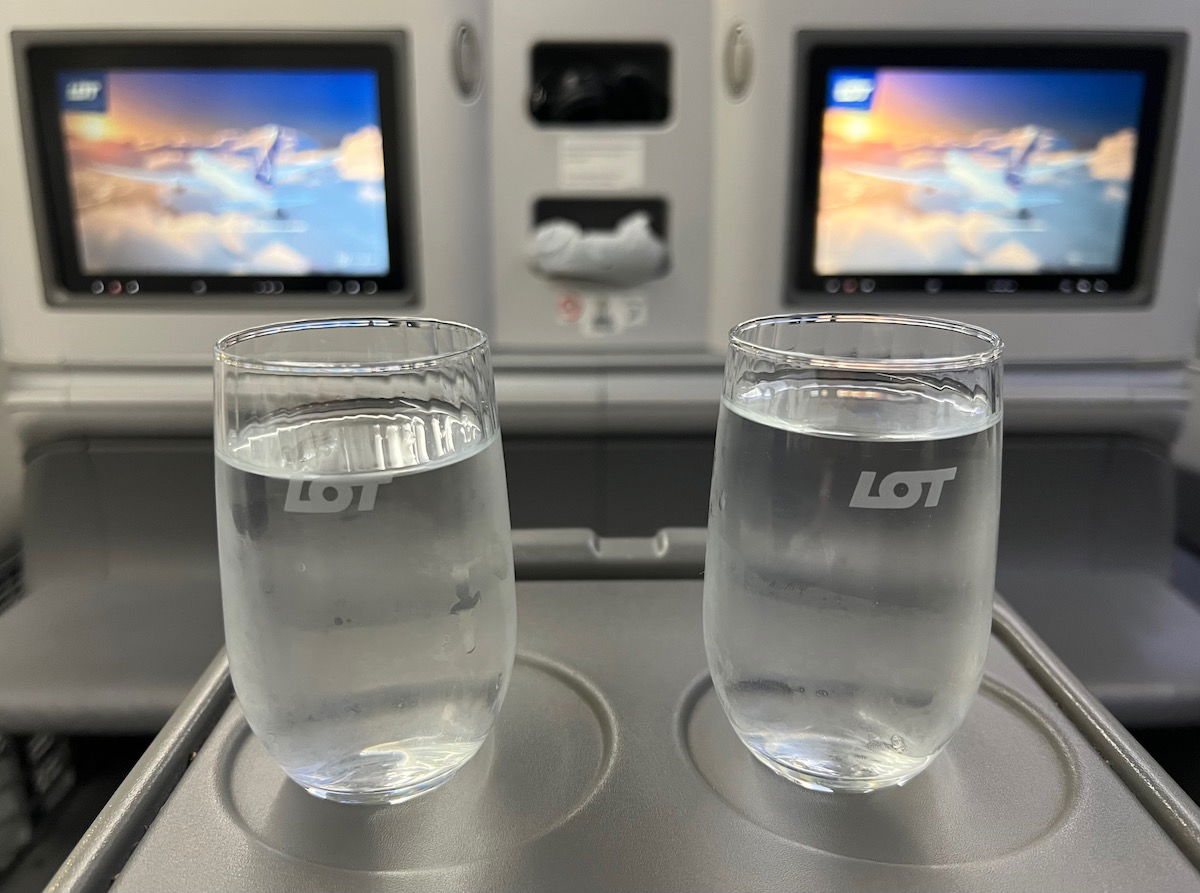 While the pre-departure drinks weren't exciting, what impressed me was the tasty cheese snack that was served to go along with them, which you don't often see.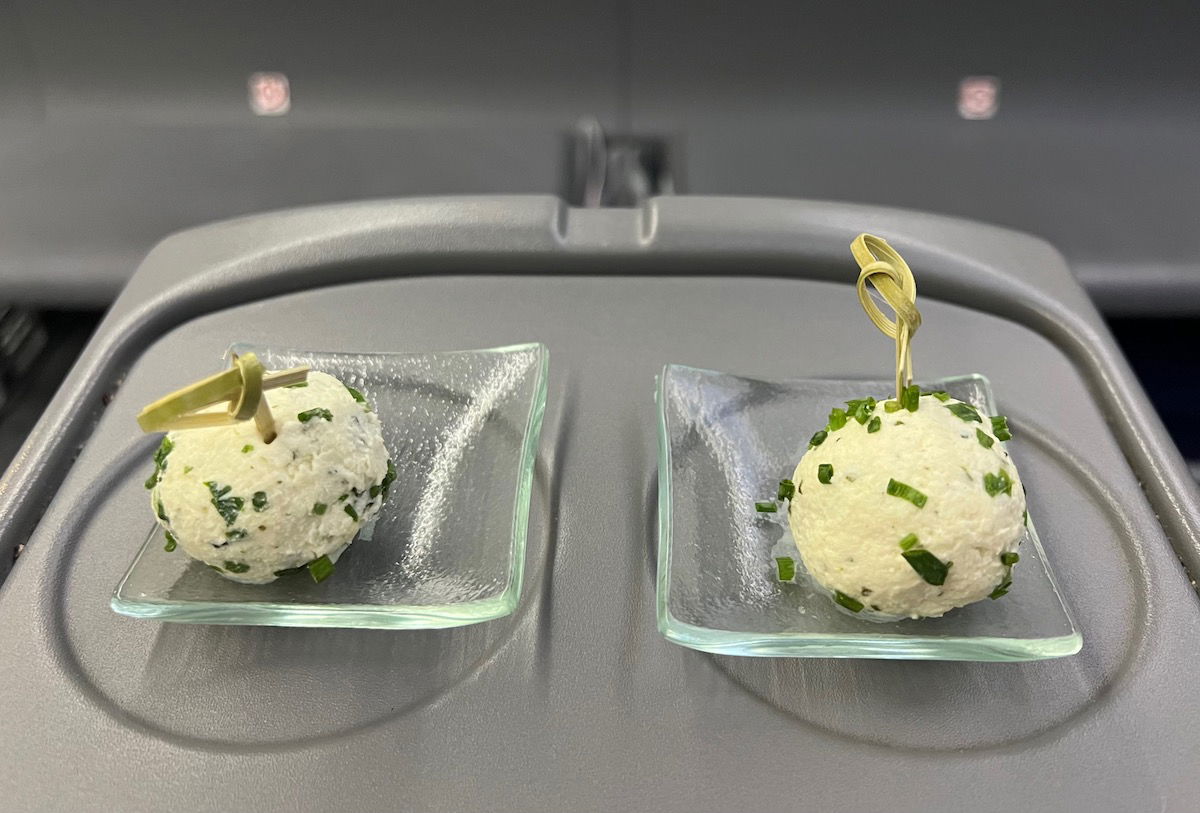 Menus for the flight were also distributed.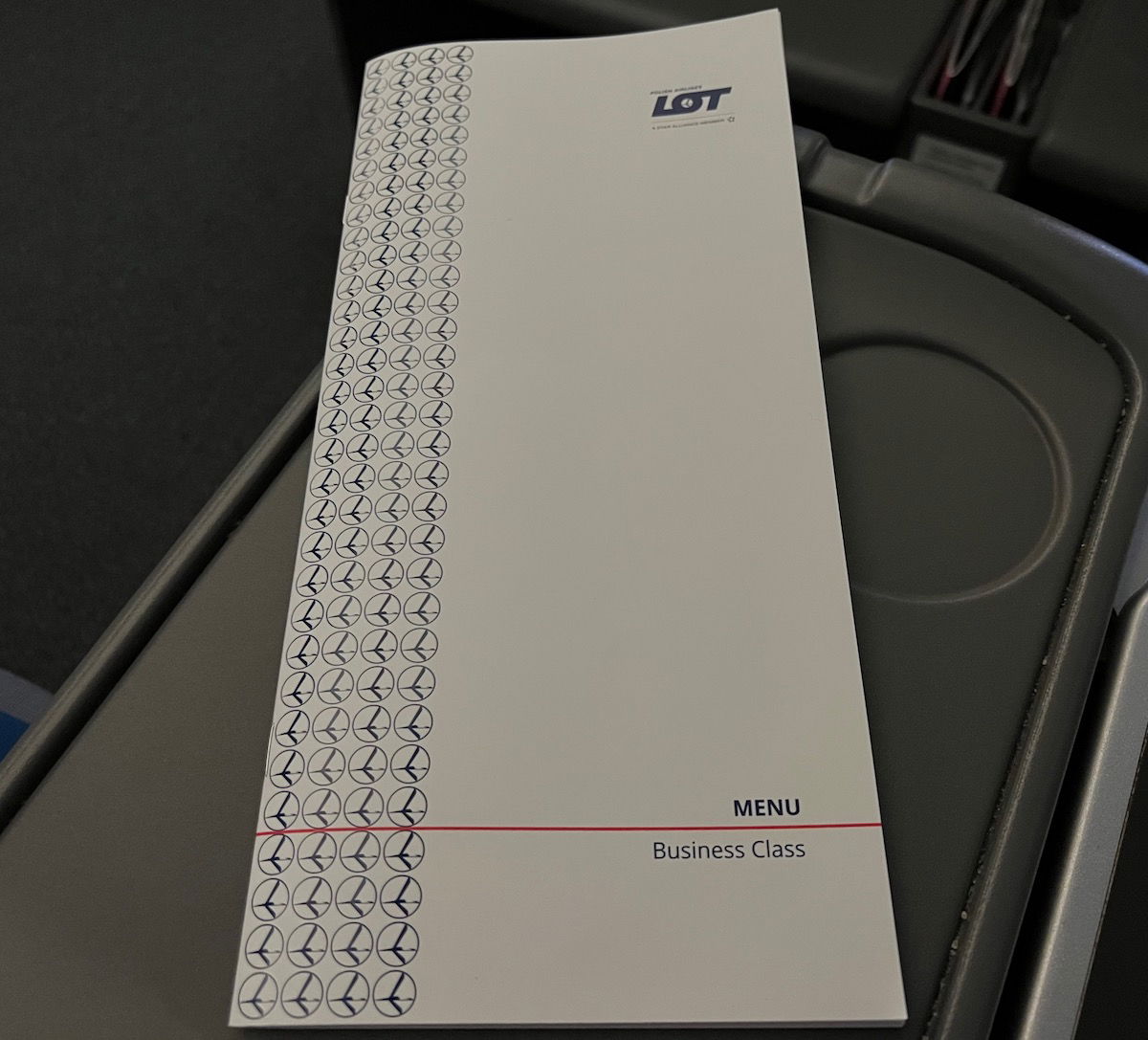 LOT Polish Airlines 787 business class entertainment
Each business class seat had a personal television. In addition to being able to use the handheld controller, the monitors were also touchscreen, so you could tap them directly. The entertainment selection included roughly 130 movies and 230 TV shows. There were also some music options, plus games.
The selection struck me as being quantity over quality (and the quantity wasn't all that great either).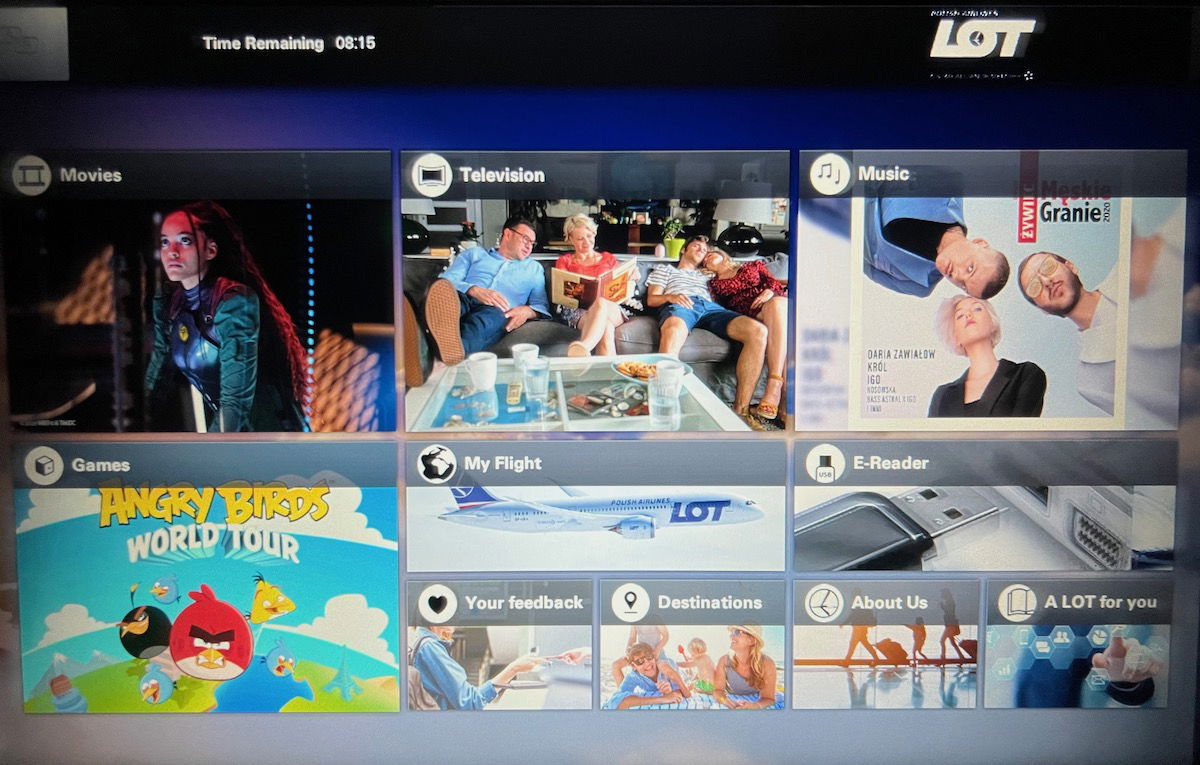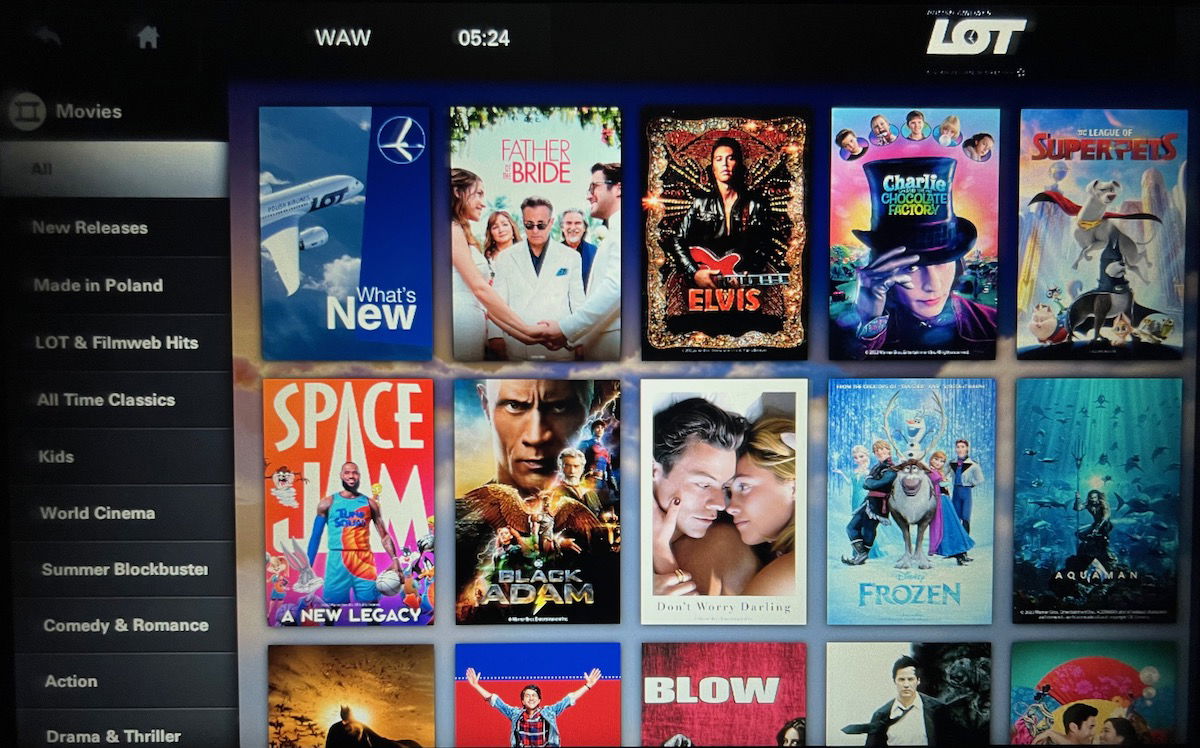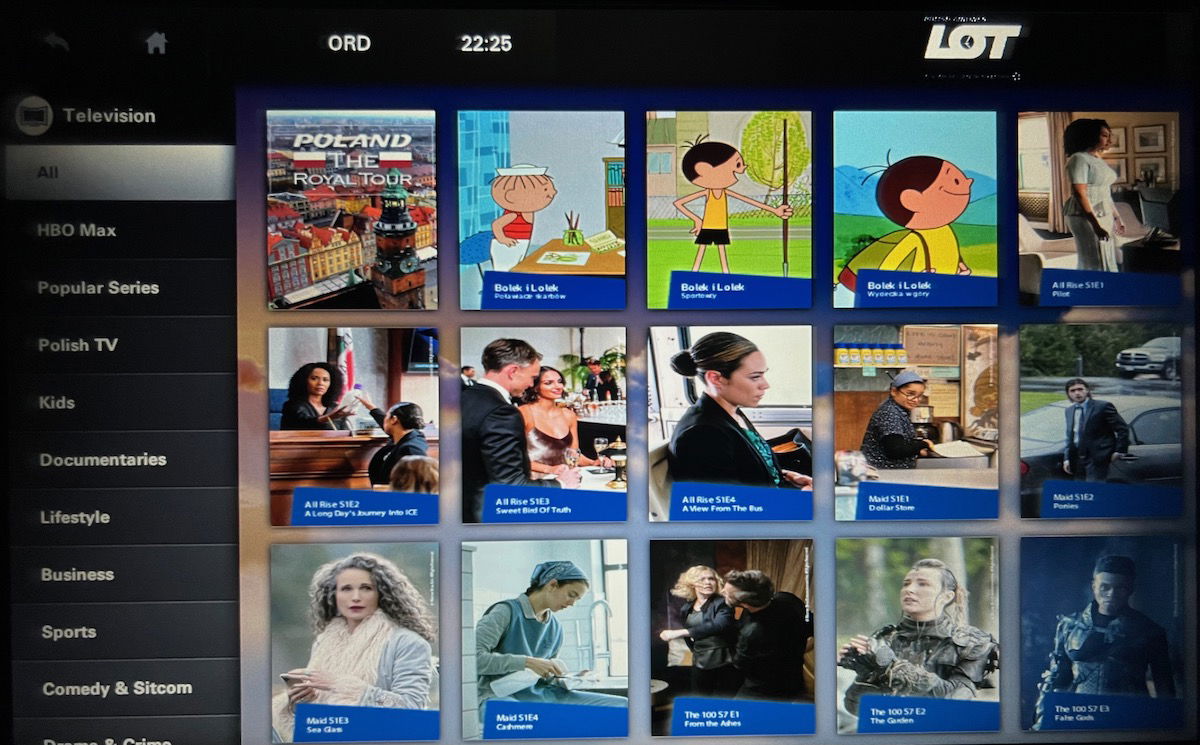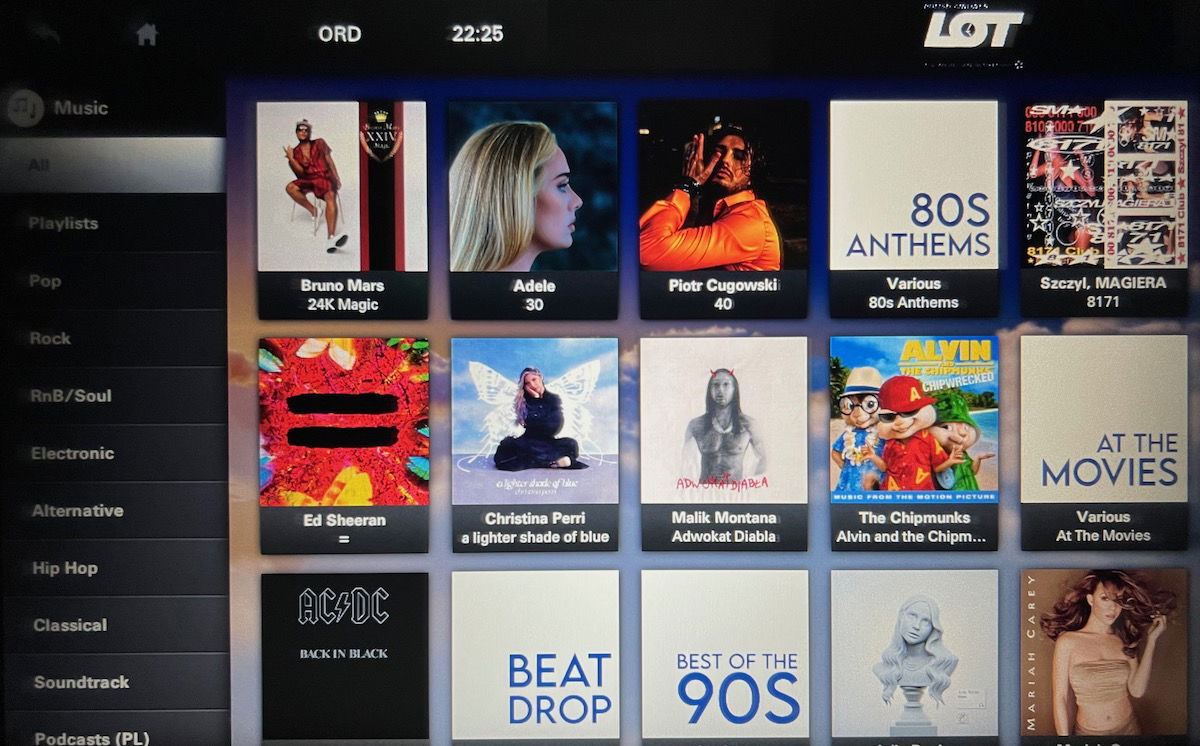 I mostly just enjoyed the map feature for the part of the flight where I was awake, as that's something I could watch all day.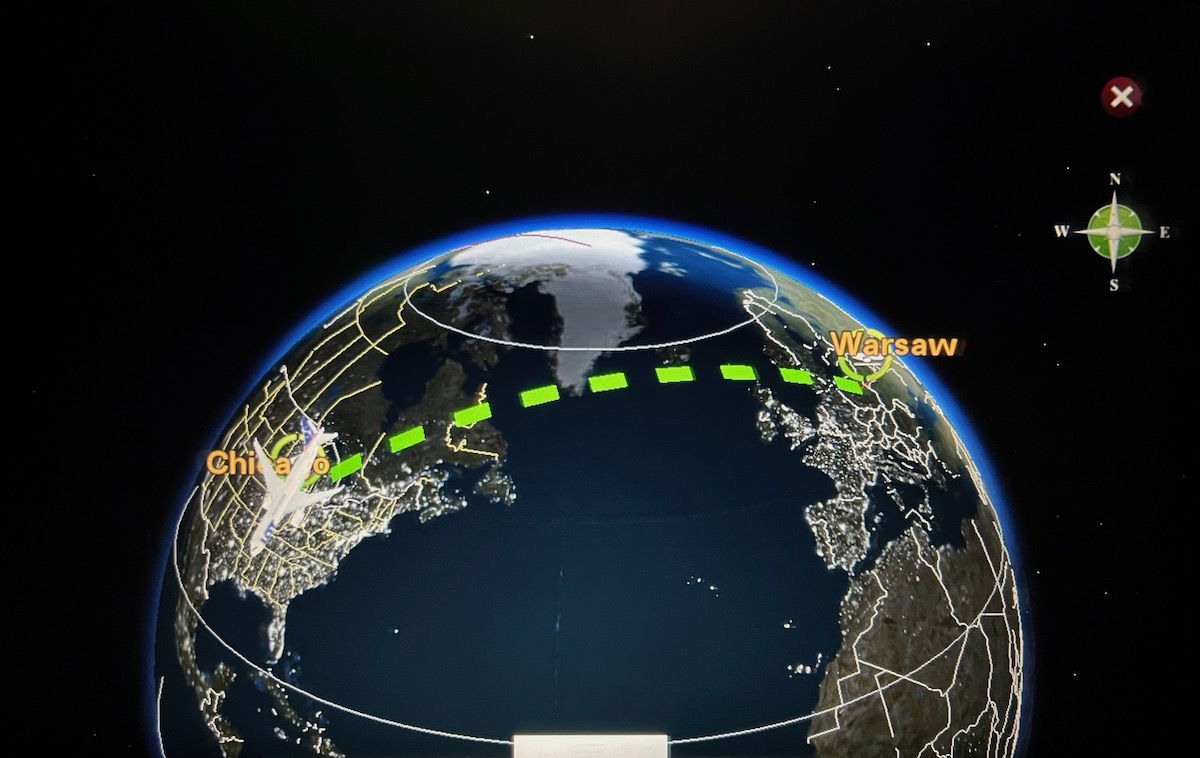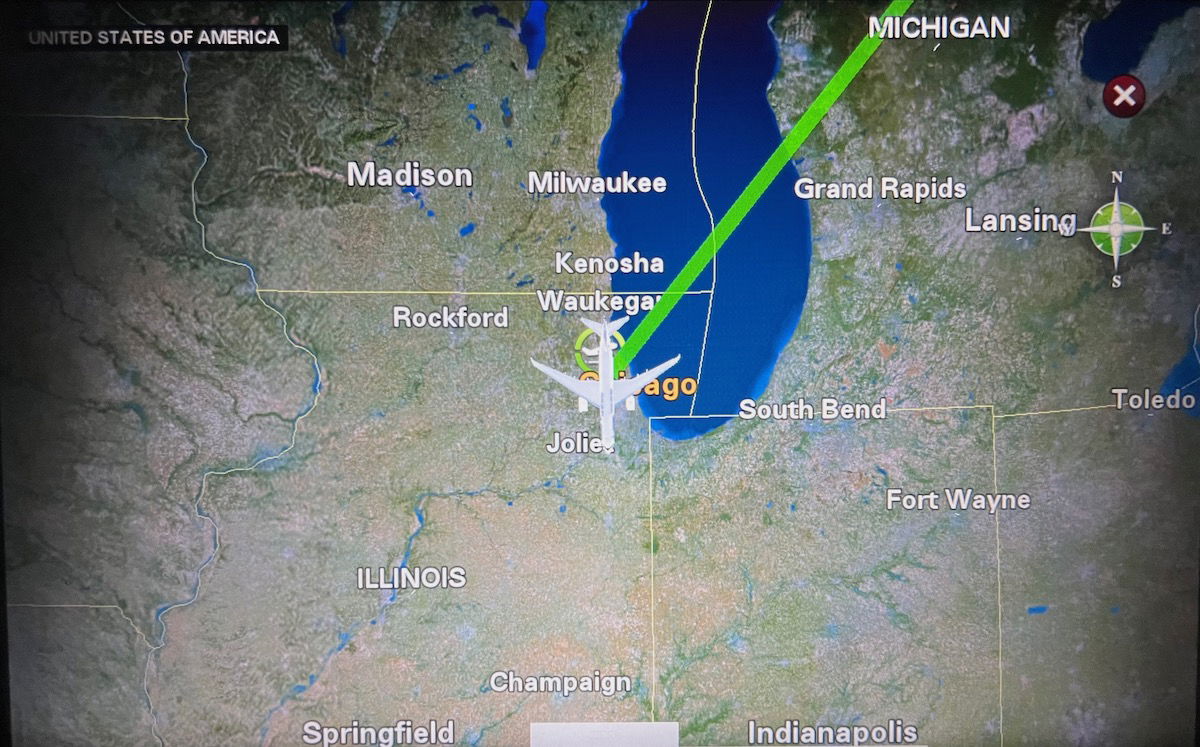 Unfortunately LOT doesn't offer Wi-Fi on its Boeing 787s. The airline plans to start introducing this in late 2026 when the cabin retrofit project starts, but that's a long ways off.
If you're flying LOT on a long haul daytime flight, I'd recommend bringing your own entertainment, especially if you're somewhat picky about what you watch.
LOT Polish Airlines 787 departure from Chicago
Boarding was completed at 10:05PM, about 25 minutes after it started. It was quite efficient, thanks largely to the plane being quite empty — I'd estimate that all three cabins were roughly half full.
The door also closed at 10:05PM, at which point the captain made his welcome aboard announcement, informing us of our flight time of 8hr20min. At 10:10PM we began our pushback, at which point the safety video was screened.
At 10:15PM we began our taxi, and 15 minutes after we began our takeoff, and rocketed into the night.
The seatbelt sign was turned off about 10 minutes after takeoff. During the purser's post-takeoff announcement, I found it noteworthy how she mentioned that anyone who wanted to purchase an upgrade to business class could still do so. That's the first time I've heard an announcement like that after takeoff.
LOT Polish Airlines business class dinner service
As you'd expect, dinner was served after takeoff, and that was carried out pretty quickly, given that many people were looking to sleep. You can find the dinner menu below.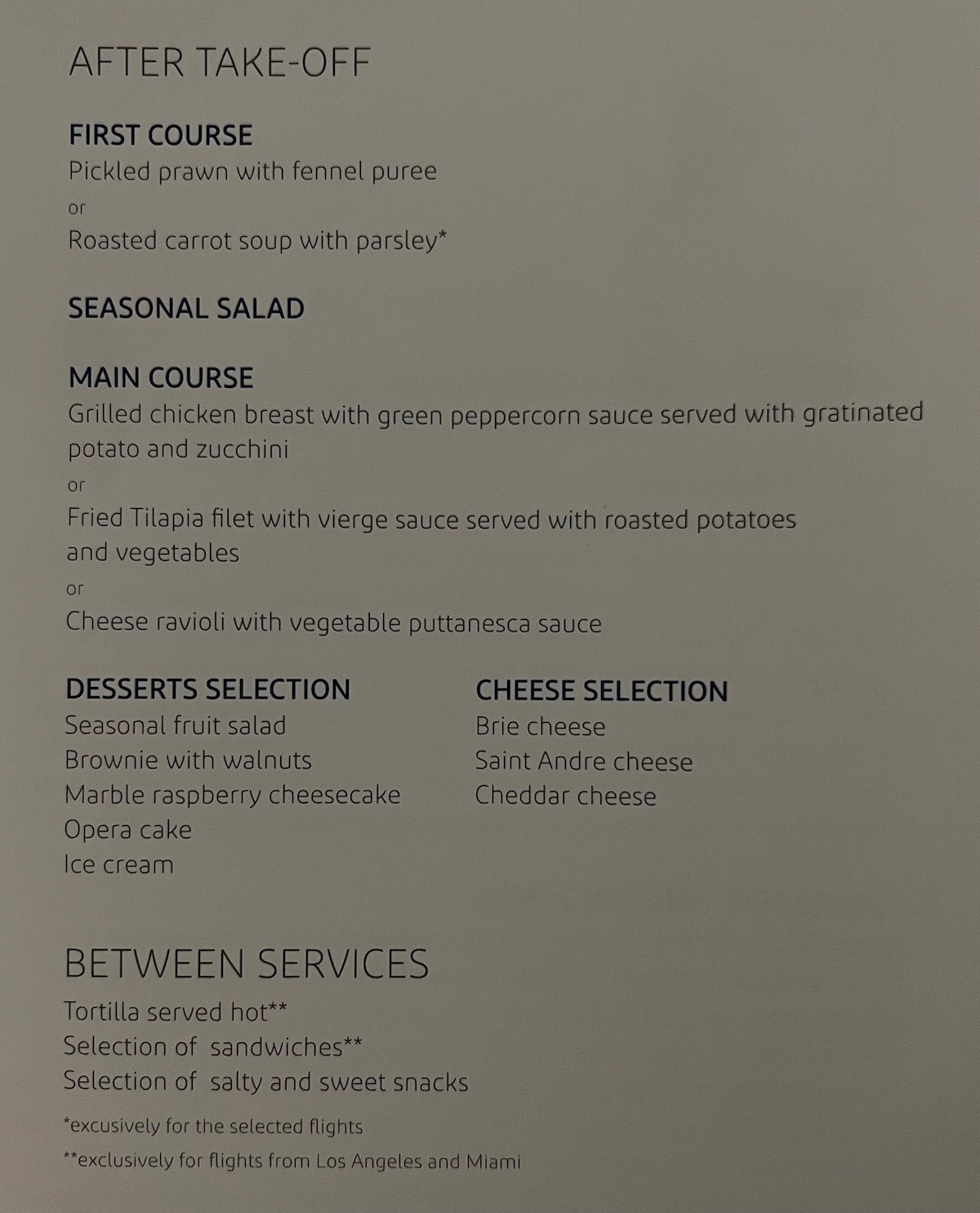 You can find the drink list below.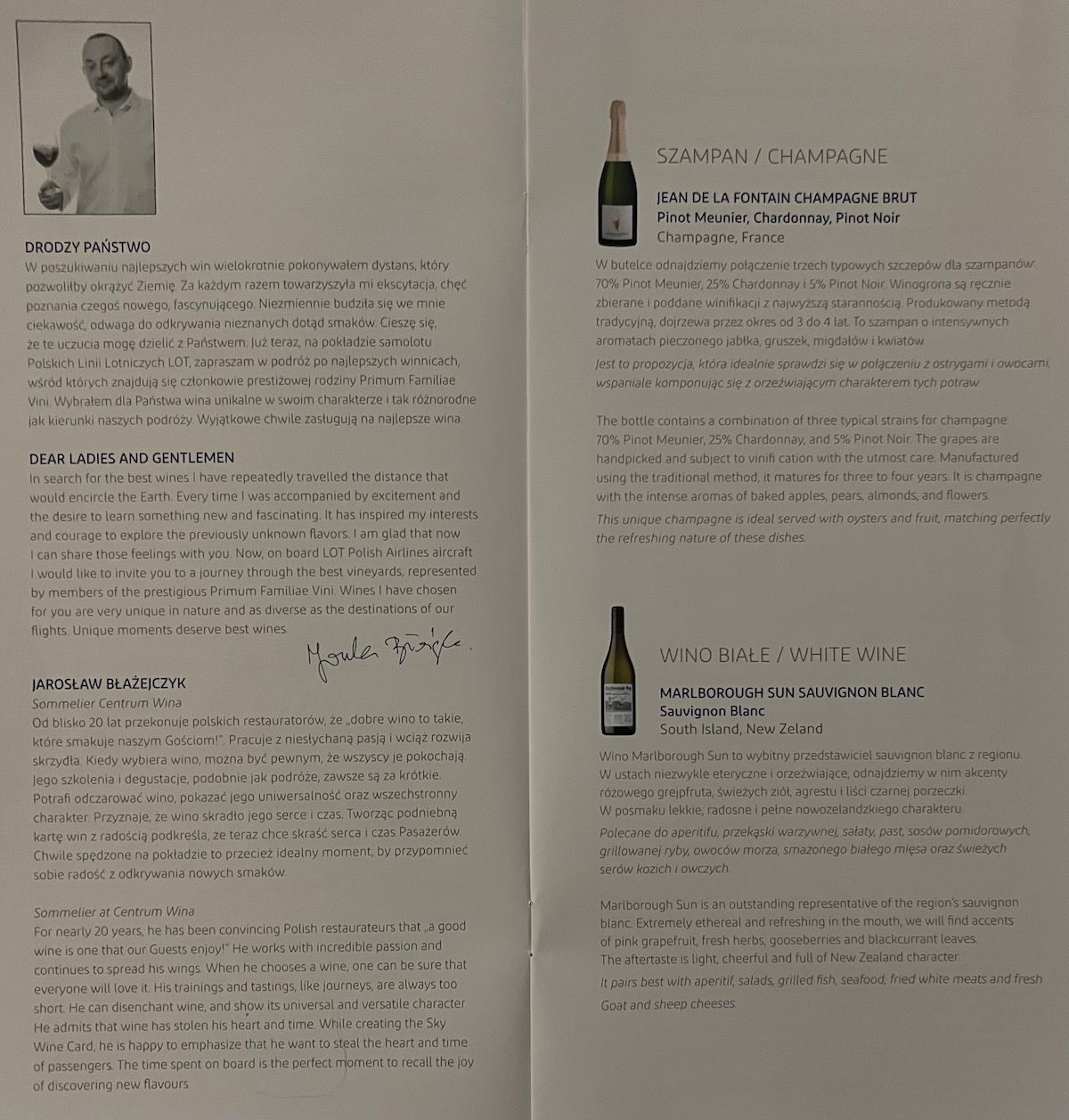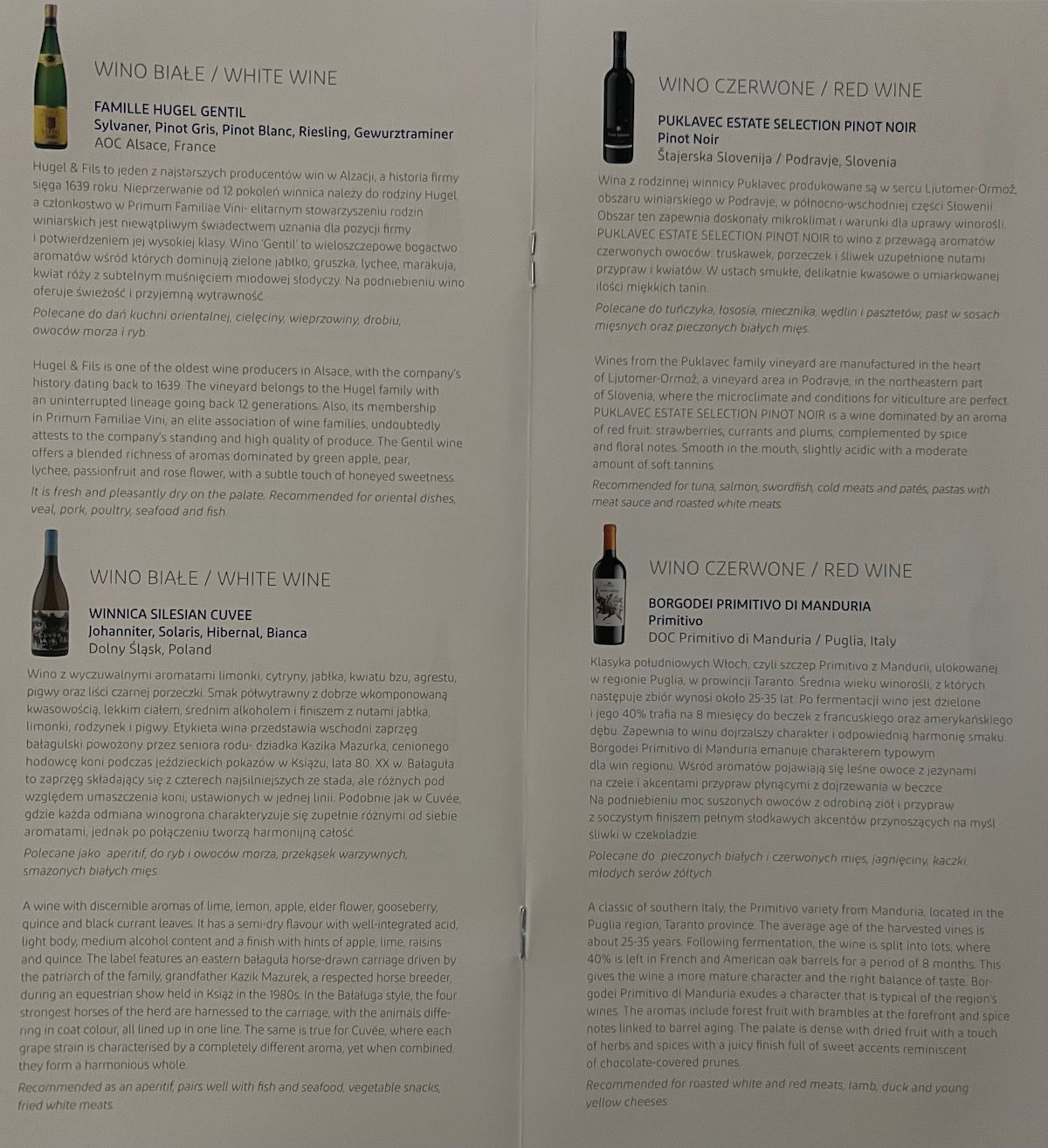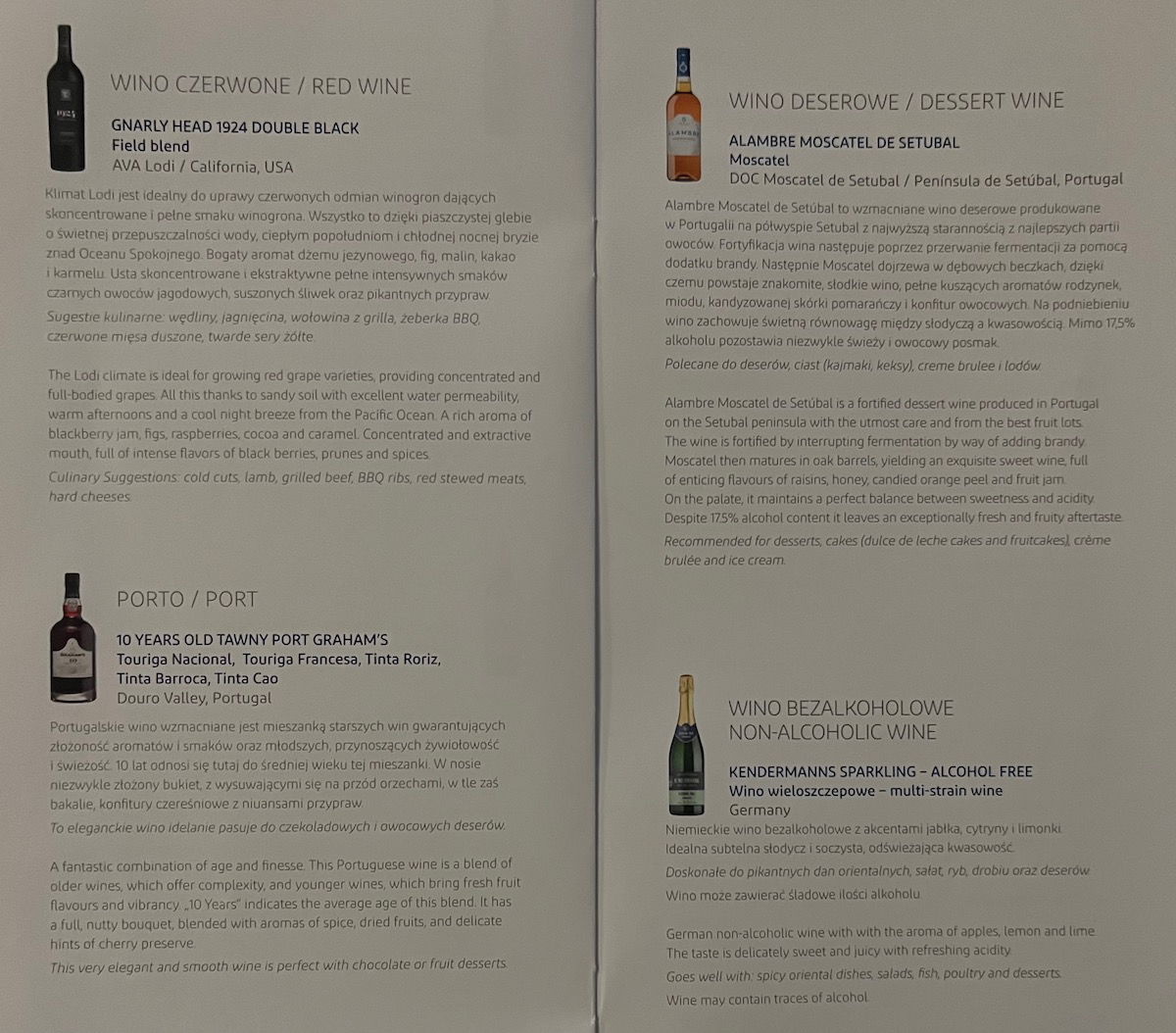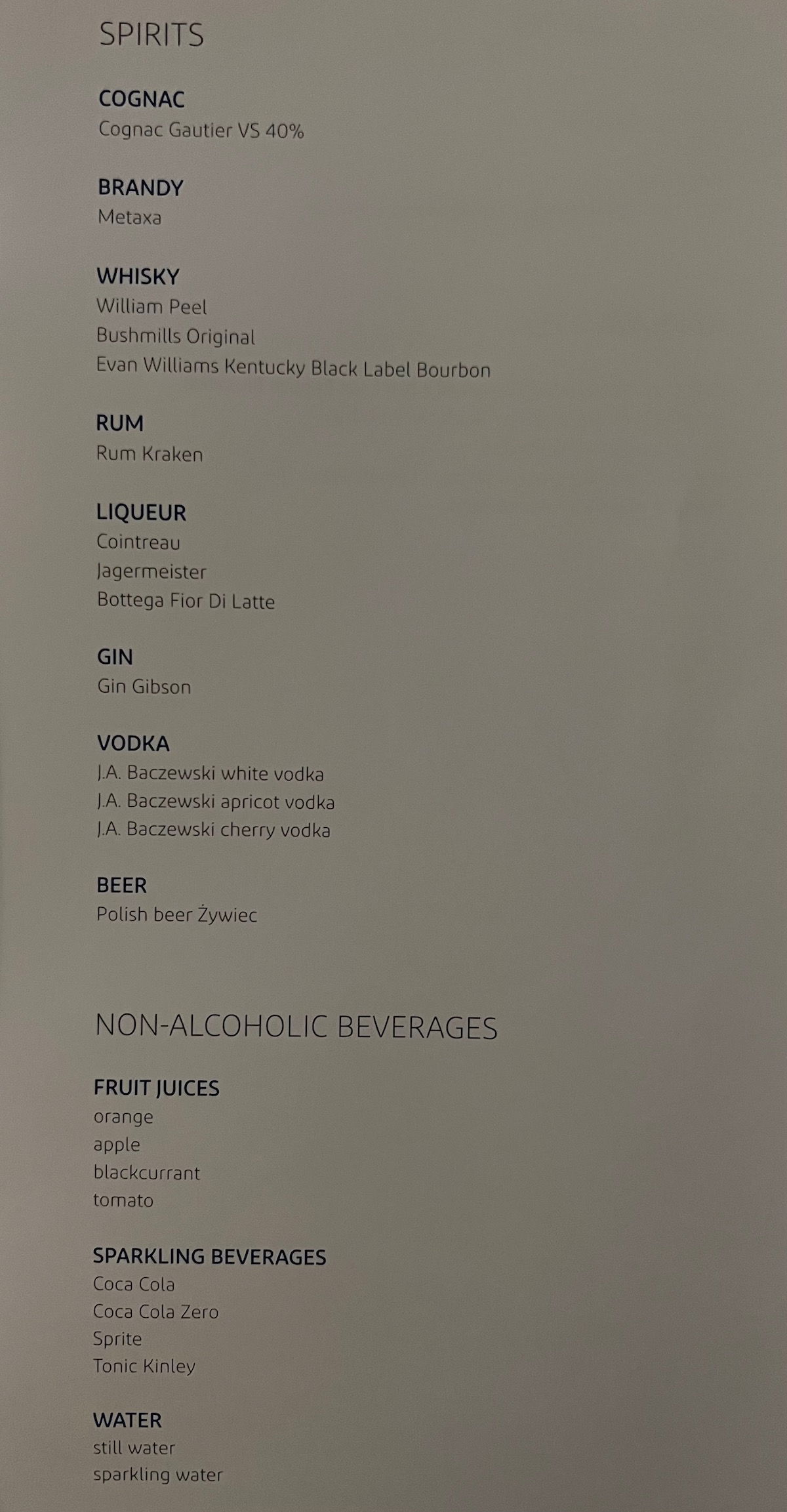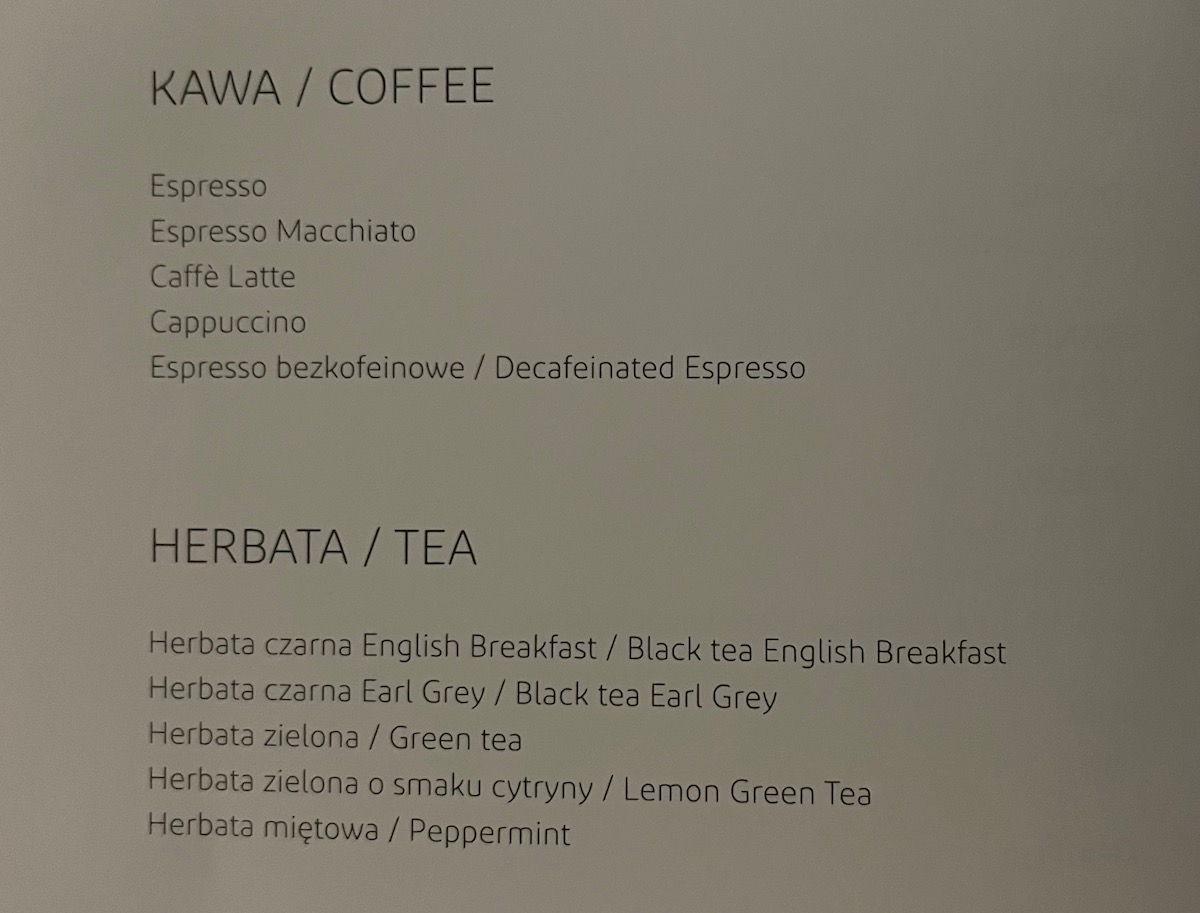 Ford passed out the second we took off, so I decided to just sit in the other window seat in row four, so that I wouldn't disturb him while having the meal, taking pictures, etc.
15 minutes after takeoff, warm towels were distributed, followed by tablecloths.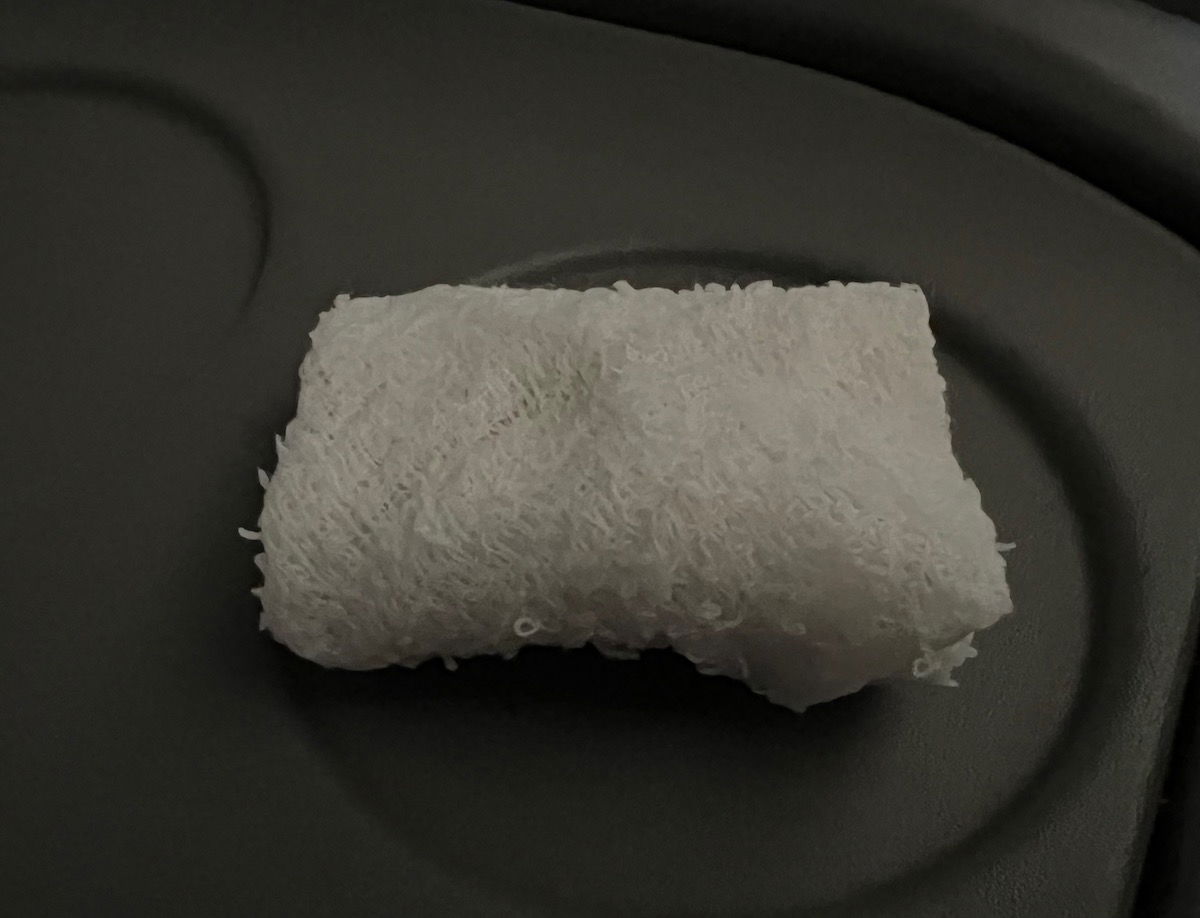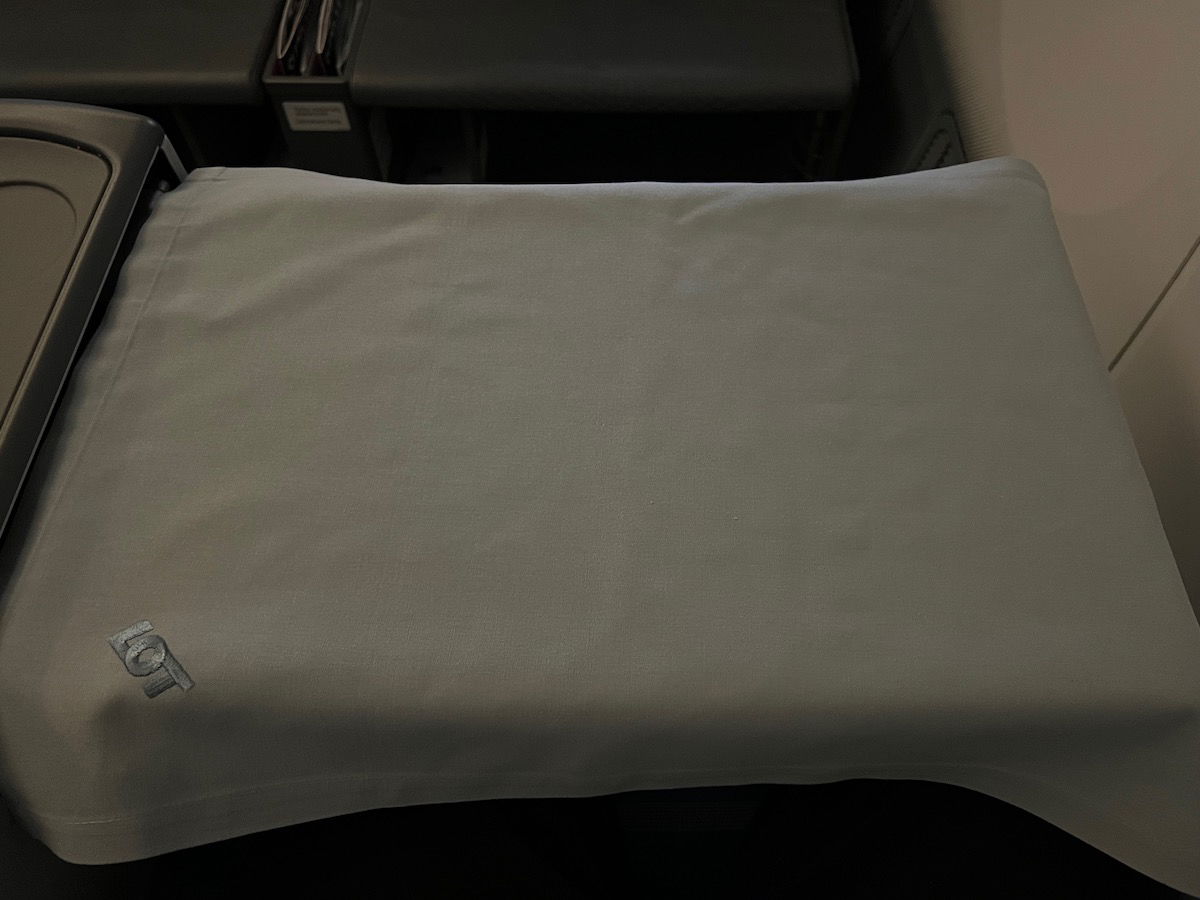 The first round of drinks were served 25 minutes after takeoff, so I appreciated the speed of that. I was also impressed how wine and champagne were served from the bottle directly at the seat, which is a classy touch. I decided to have a glass of champagne, and Jean de la Fontaine Brut was on offer, which I enjoyed. I also appreciated how a champagne flute was used, as that's something many airlines don't offer.
The first drink service came with a snack in a ramekin. This included mixed nuts and raisins.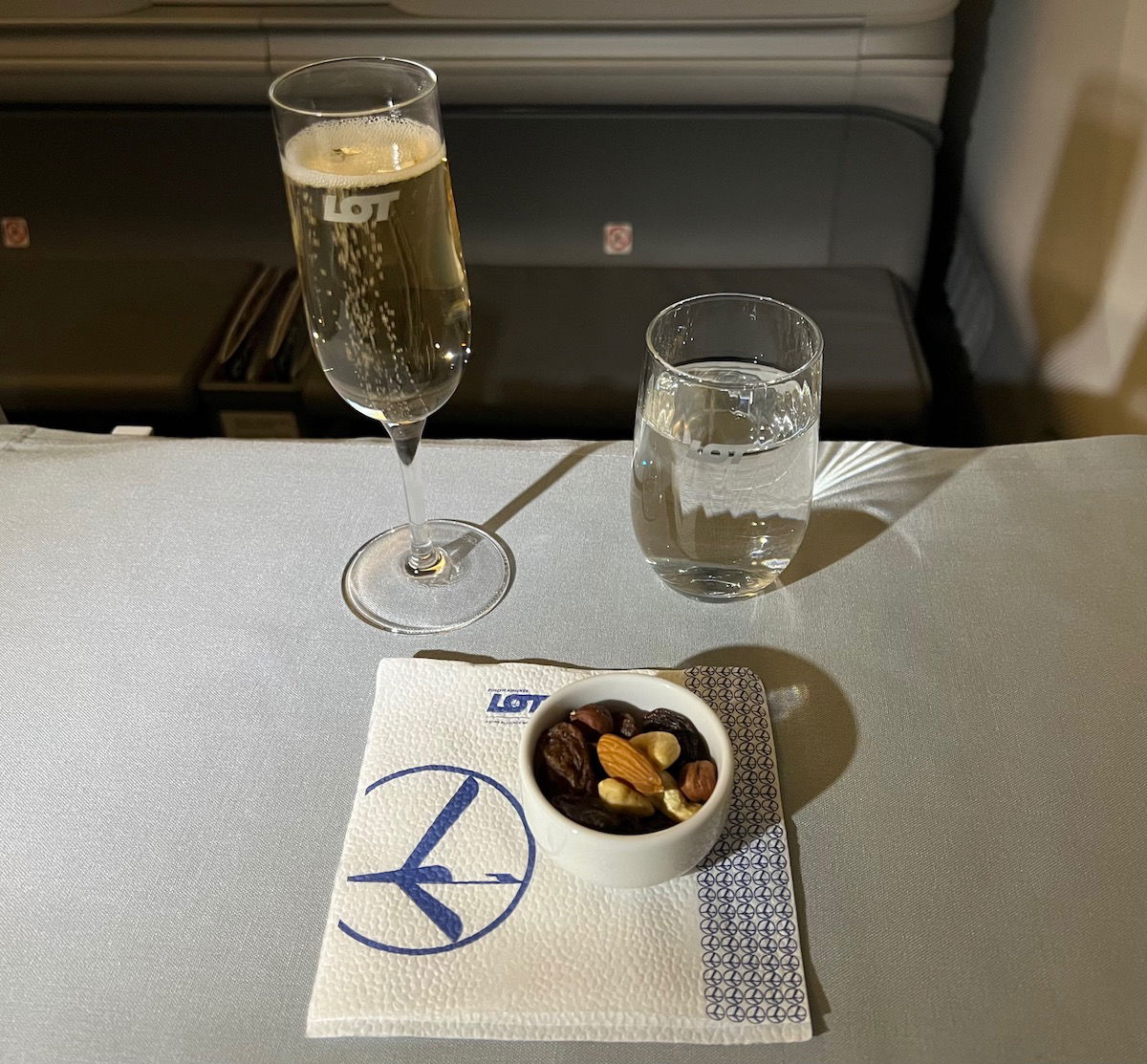 After the champagne, I decided to switch to a glass of the Polish white wine, which was quite good as well.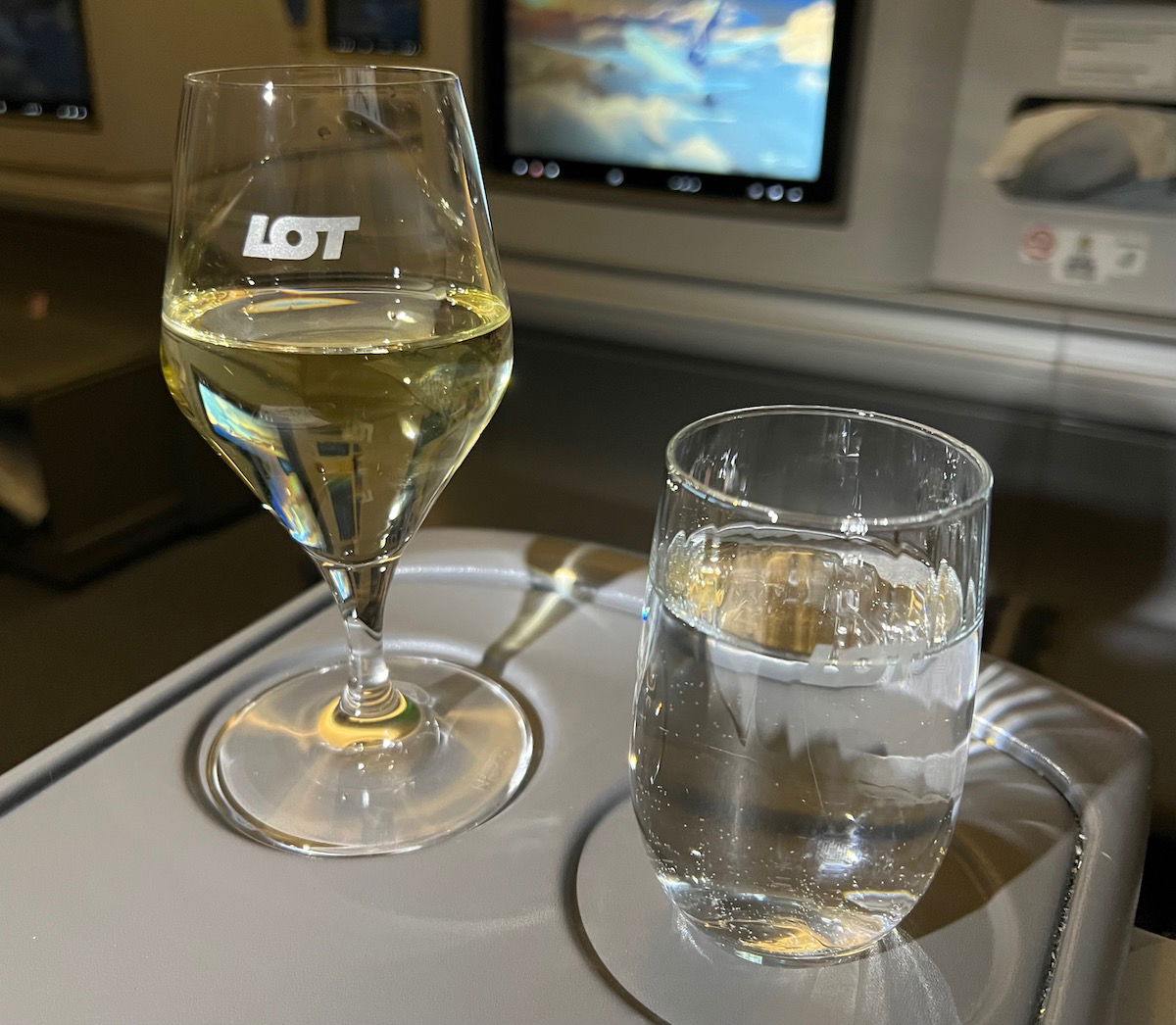 I was served my appetizer about 50 minutes after takeoff. While the menu indicated that there was a choice of starters between a pickled prawn with fennel puree or roasted carrot soup with parsley, I was just offered the former.
I'm not sure if they had run out of the soup, if they had only loaded one type of appetizer, or if they decided I looked more like a guy who likes prawns. This was served with a side salad, as well as a bread roll. The appetizer was quite good, and nicely plated.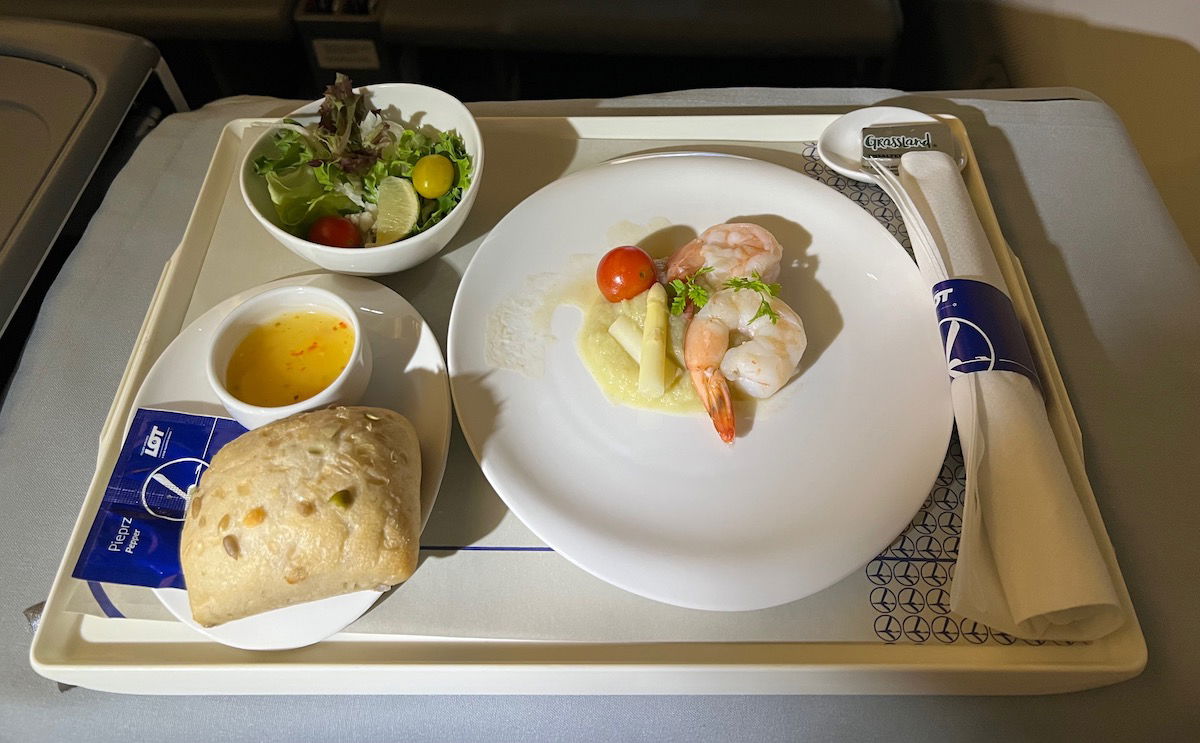 The main course was served about 70 minutes after takeoff. There were three choices, and while y'all probably know I usually go for the fish dish, fried tilapia didn't particularly appeal to me. So I instead went with the pasta option, which was cheese ravioli with vegetable puttanesca sauce.
Okay, the ravioli tasted very good, and I appreciated that it was served on a proper plate, rather than in one of those casserole dishes. This means that the crew plated the dish in the galley. That being said, couldn't they put a bit more effort into plating? The presentation was downright sloppy.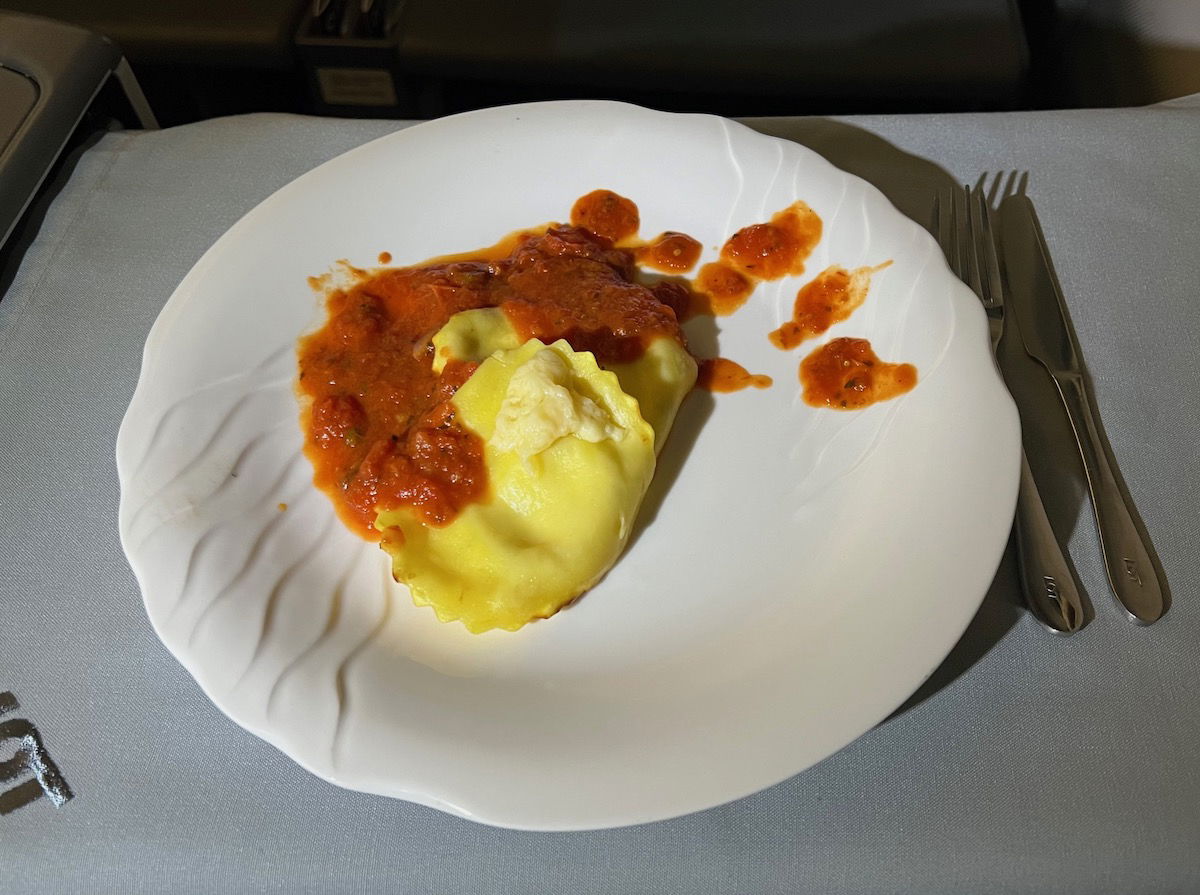 For many, the highlight of LOT's business class meal service is the dessert trolley, which was rolled down the aisle about 90 minutes after takeoff. This included cheese, fruit plates, and dessert, and you could select whatever you wanted. There were also tea options, plus some liqueurs.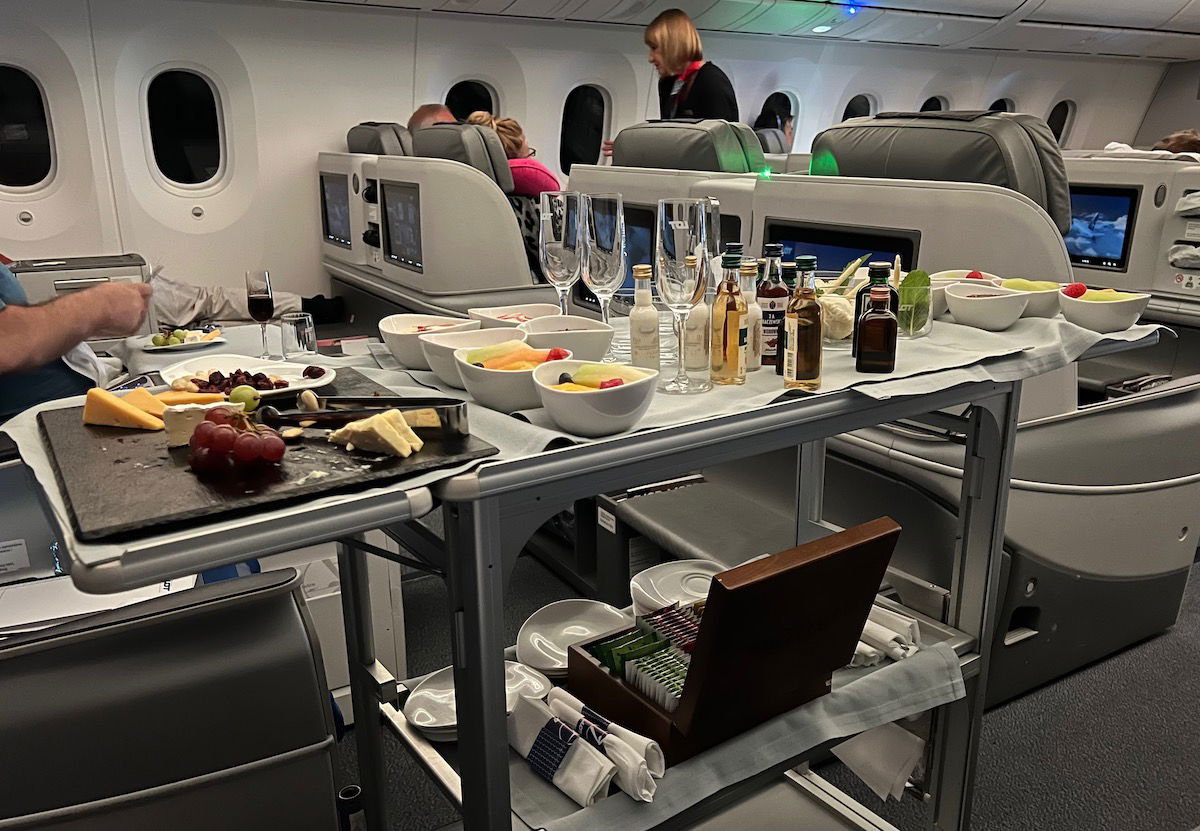 I wasn't very hungry at this point, but selected the brownie with walnuts and a cheese plate.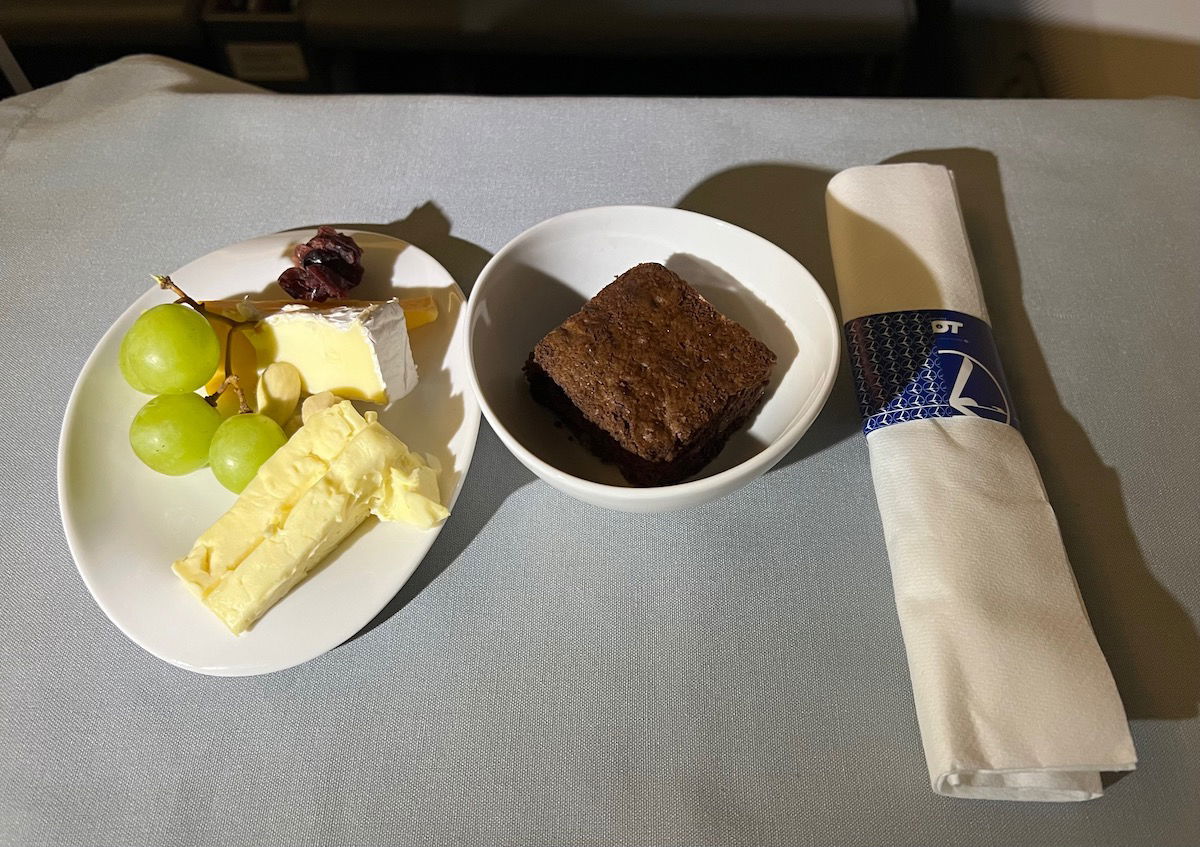 I found the food quality to be quite good. However, I'm confused by the lack of an appetizer choice, the sloppy plating of the main course, plus the paper napkins. I feel like with a little more attention to detail, LOT could have a solid hard product.
LOT Polish Airlines 787 business class lavatories
Business class passengers have access to three different lavatories. There's one in front of the business class cabin, exclusively for business class passengers. Then there are also two behind the cabin, but these are shared with the premium economy cabin.
The lavatories were your standard Boeing 787 Dreamliner ones, which is to say that they felt modern, but weren't particularly spacious. It was a cute touch how the forward lavatory had a rose in it, and also had products from Polish skincare company Phenomé.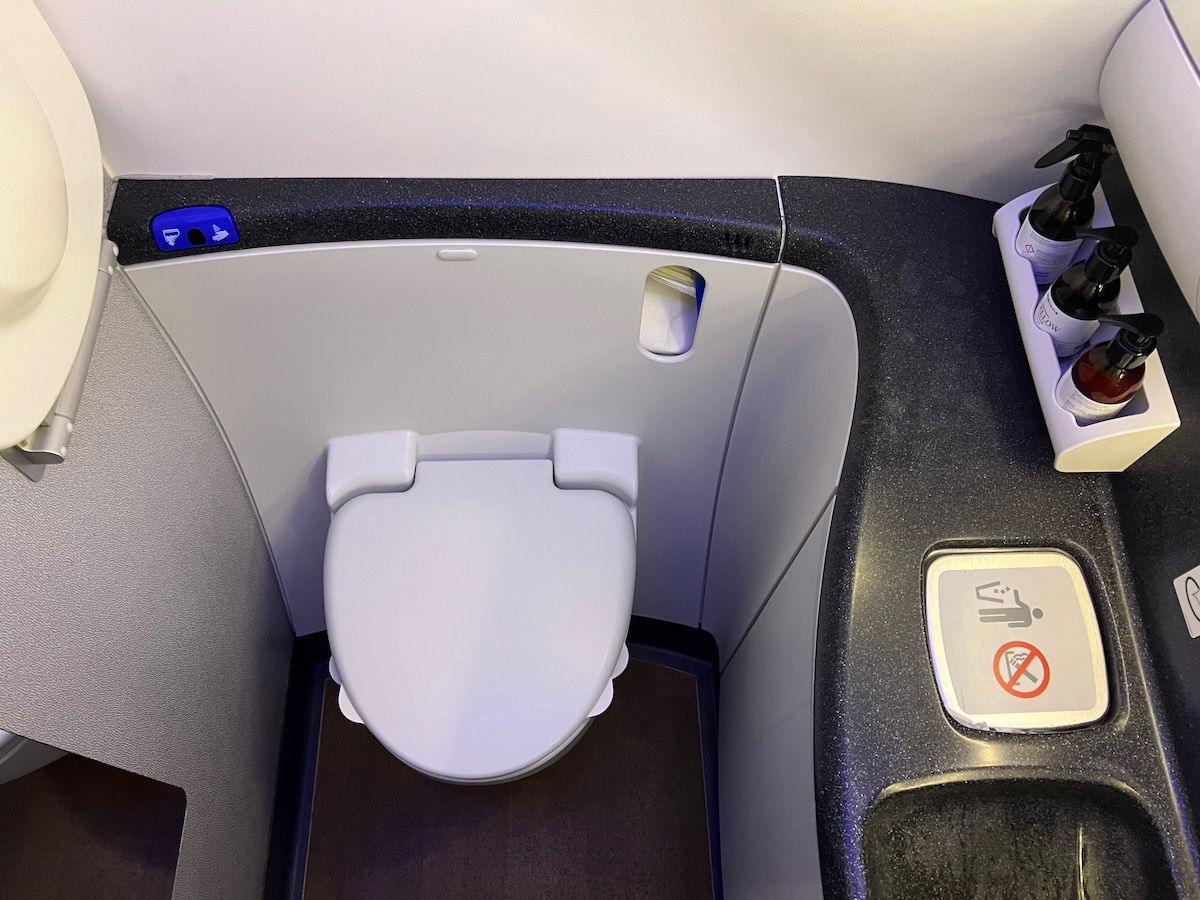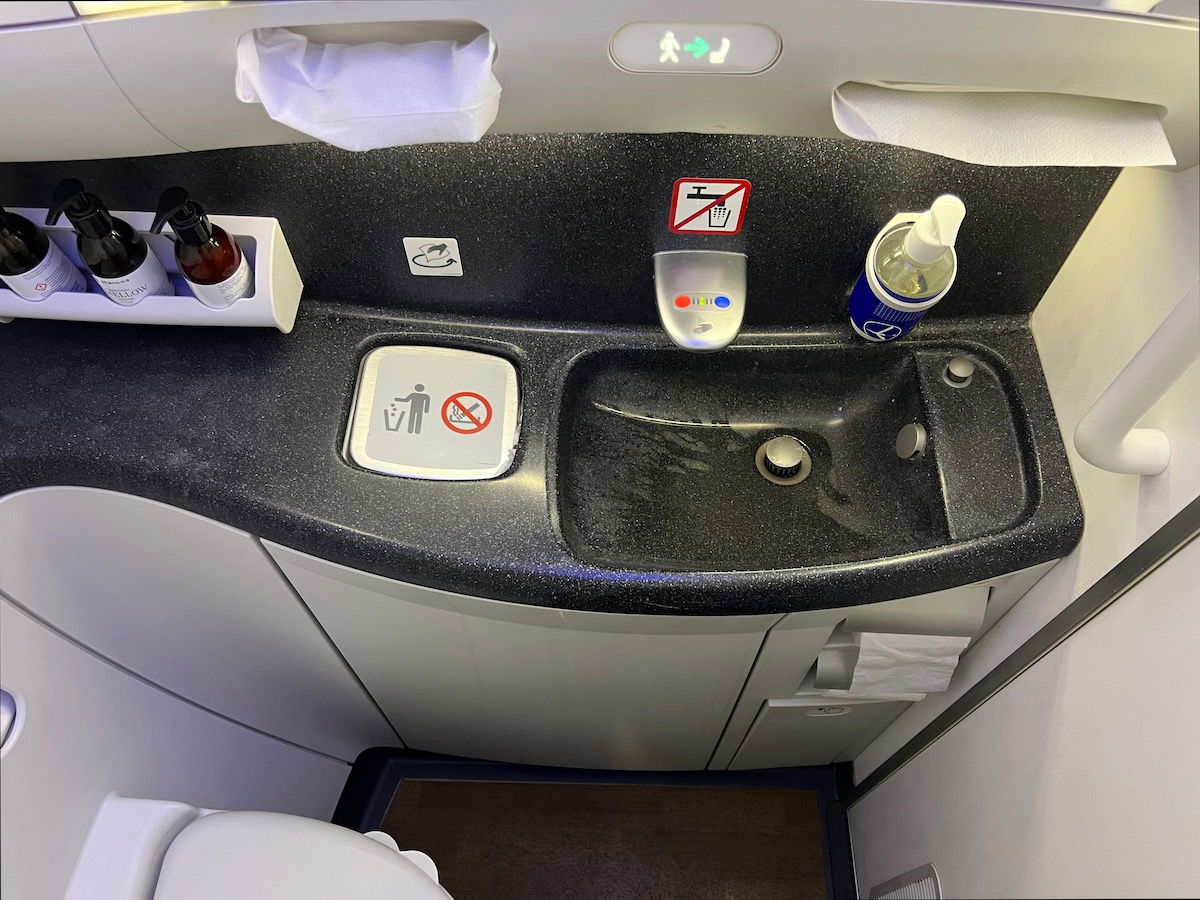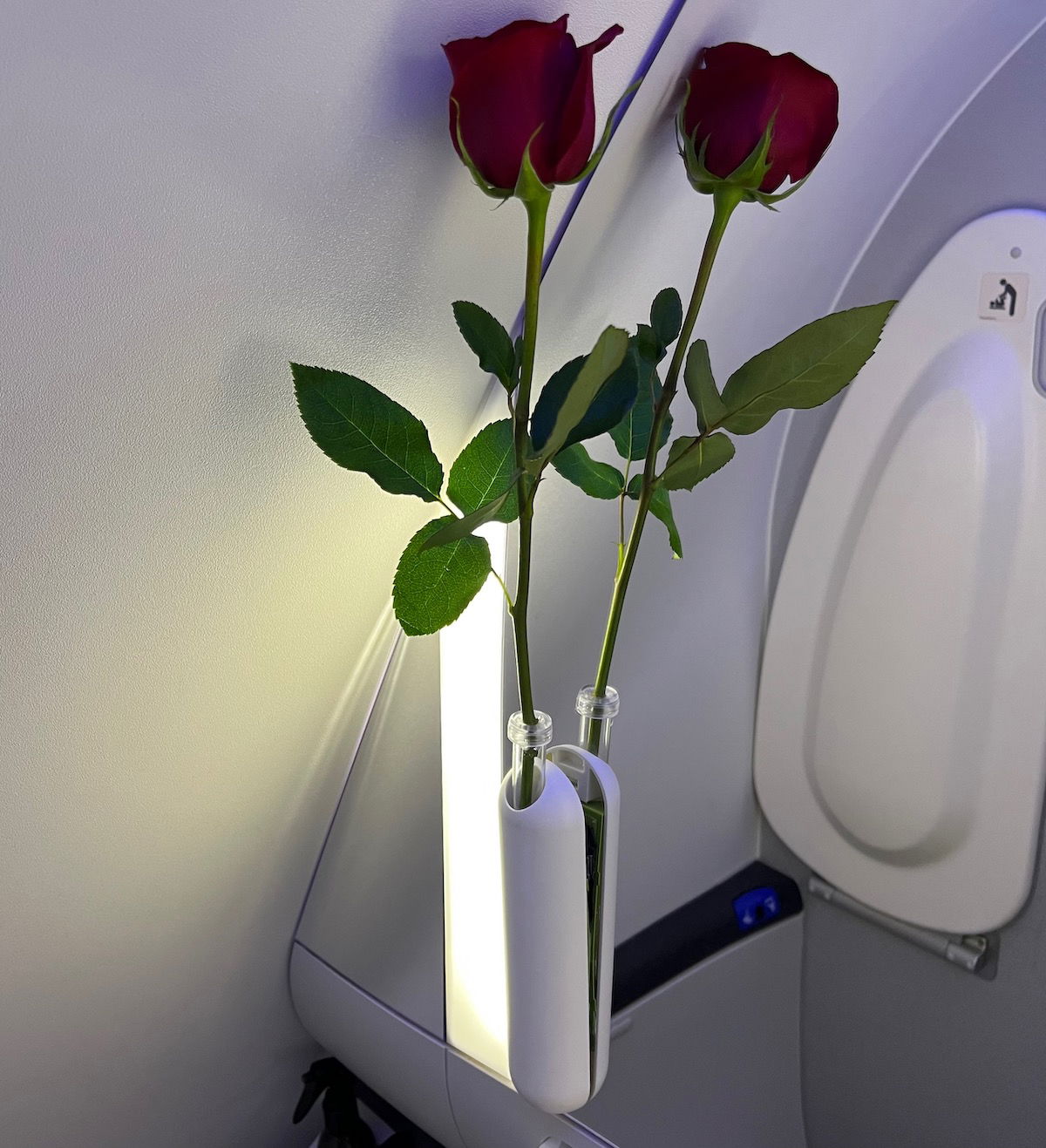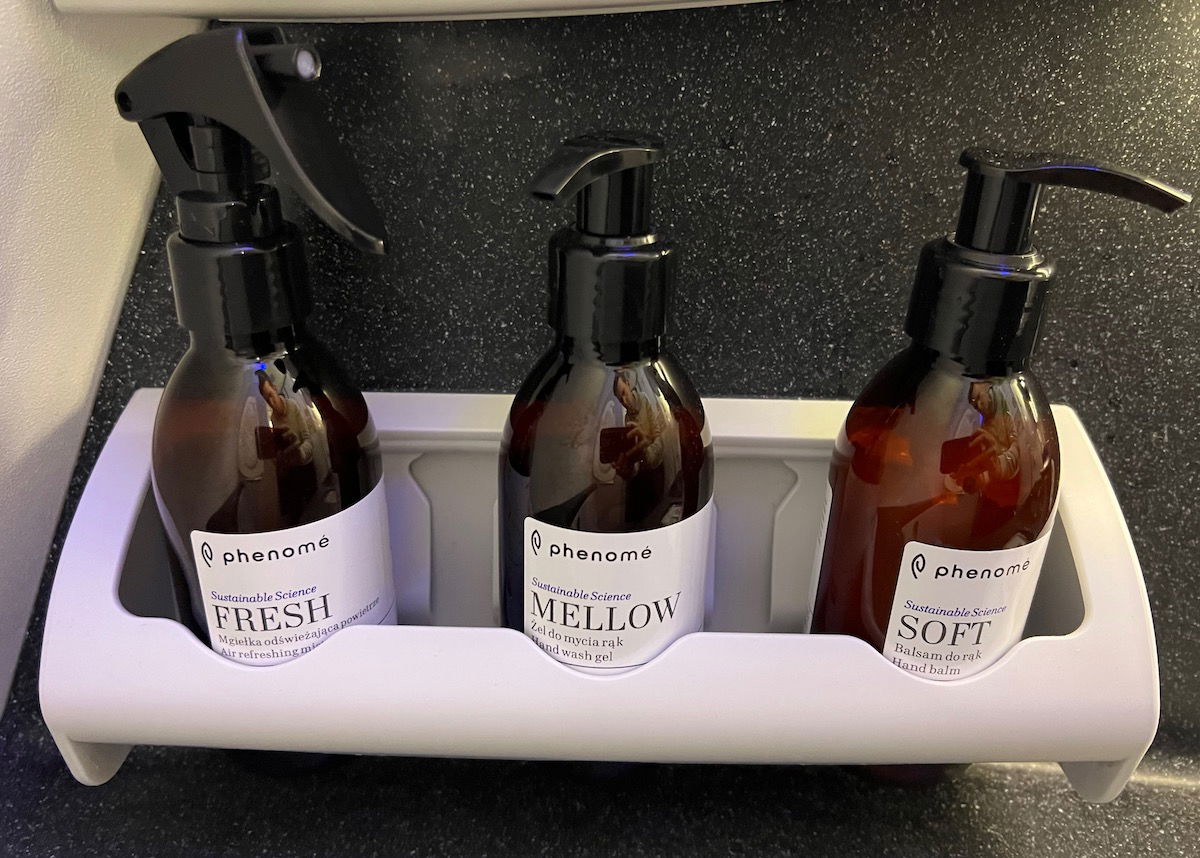 LOT Polish Airlines 787 business class bed
After the meal, it was time to get some rest. I reclined my seat into bed mode, and also made my bed.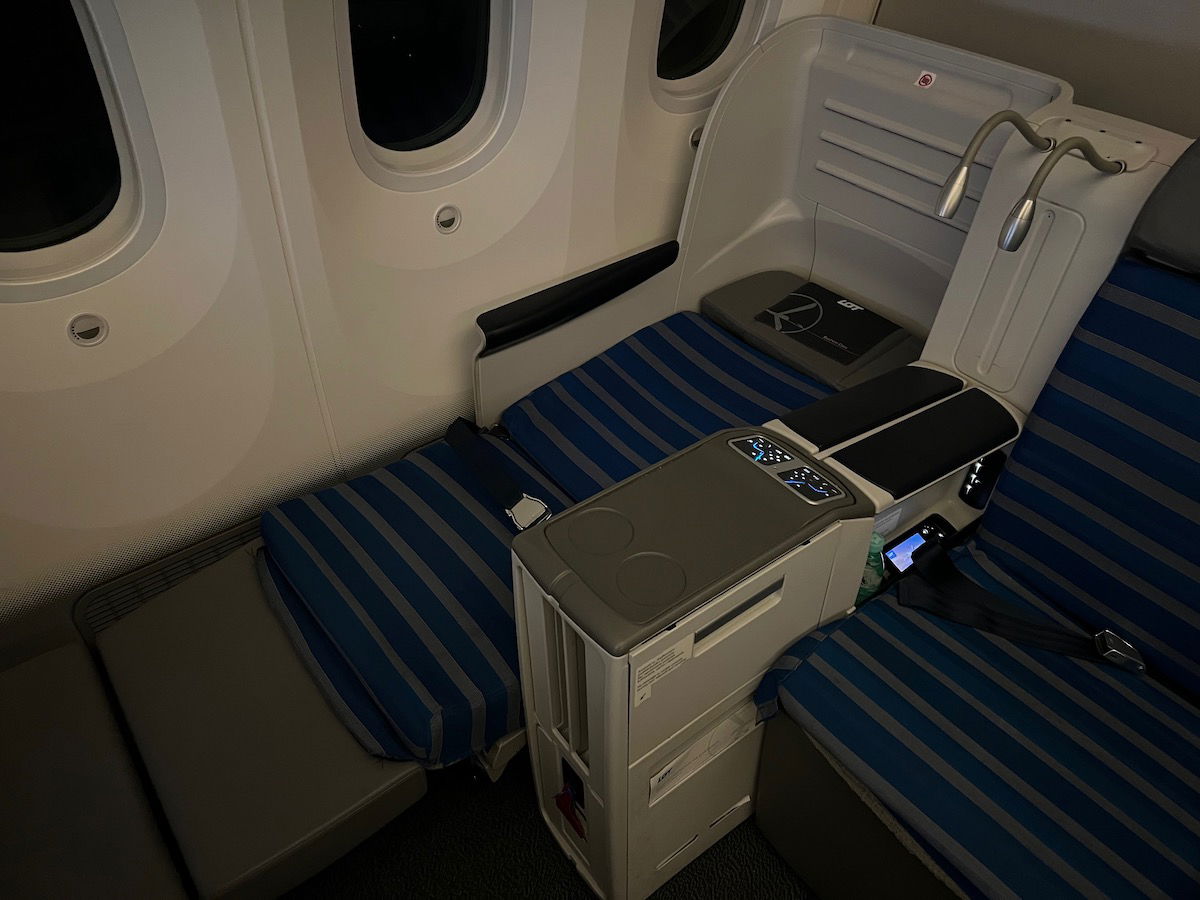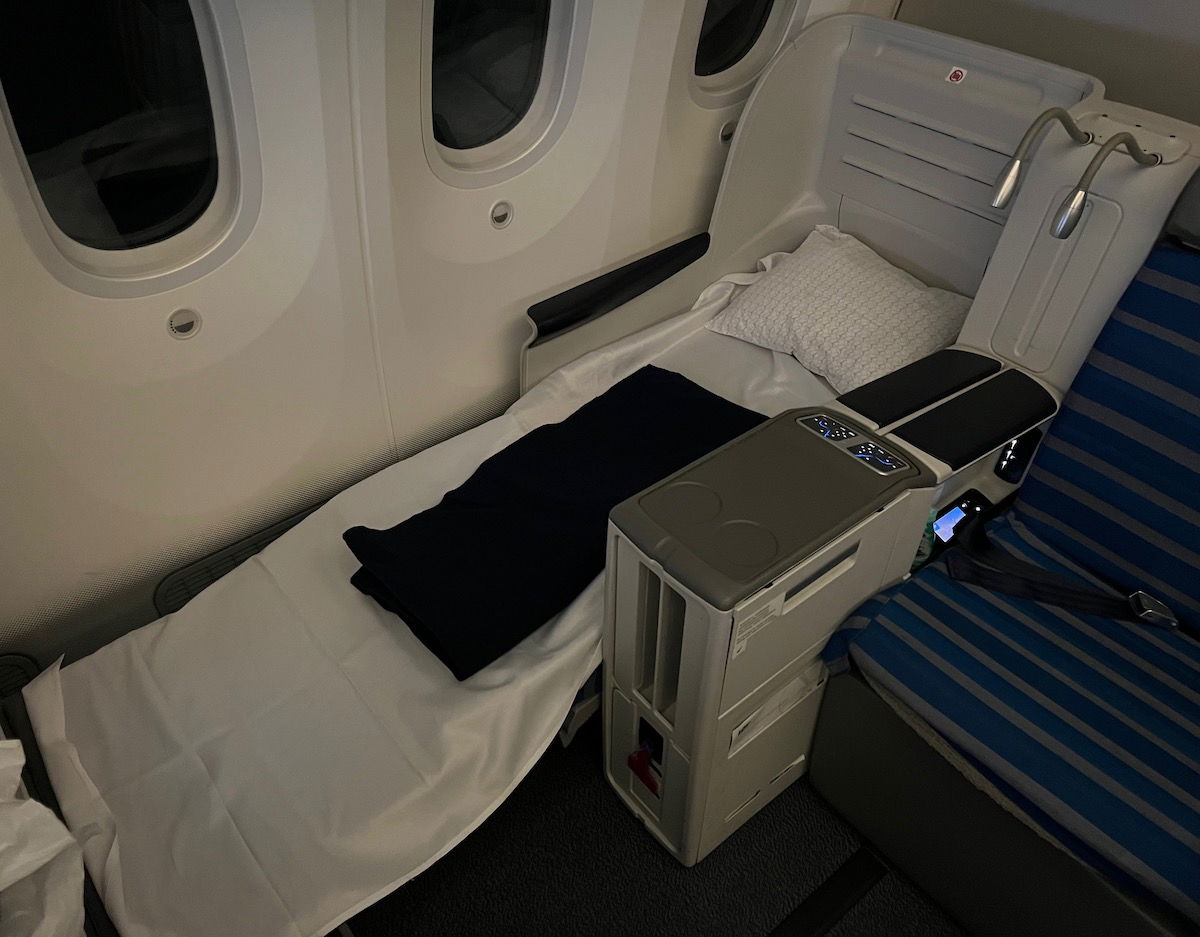 I found the sleeping surface to be very comfortable — I didn't have a seatmate, I was cozy next to the window, and the cabin was kept at a fairly cool temperature (despite the lack of air nozzles). I'm not sure I totally get the crew's decision to keep on mood lighting overnight when everyone was trying to sleep, but it didn't bother me much.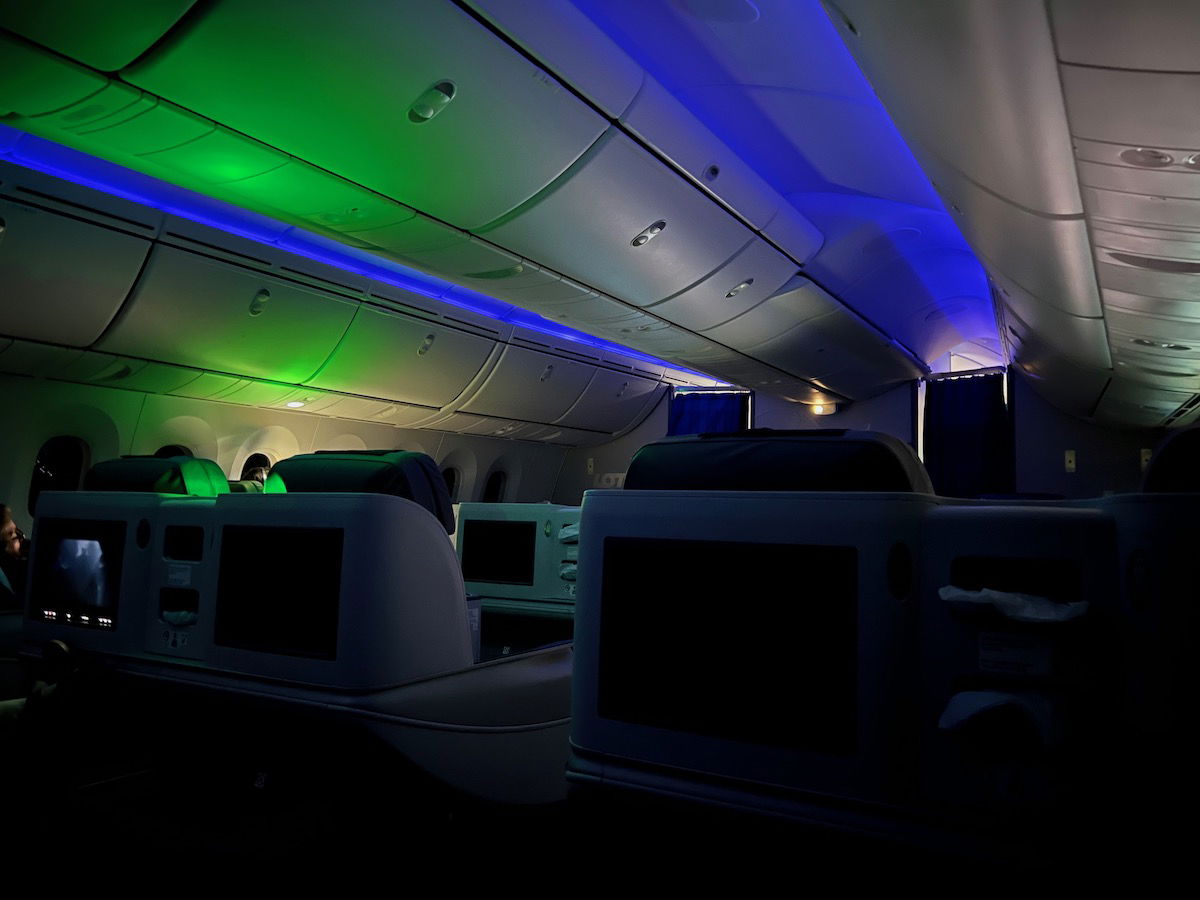 I fell asleep with just under 6hr40min remaining to Warsaw…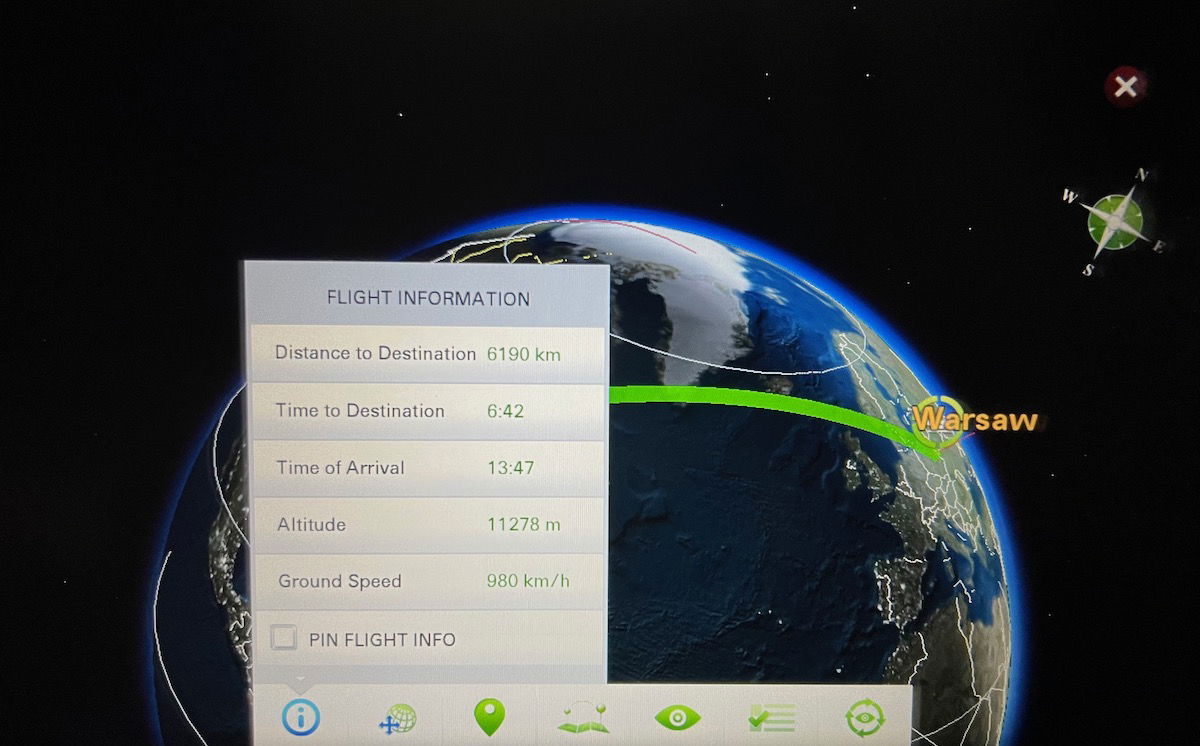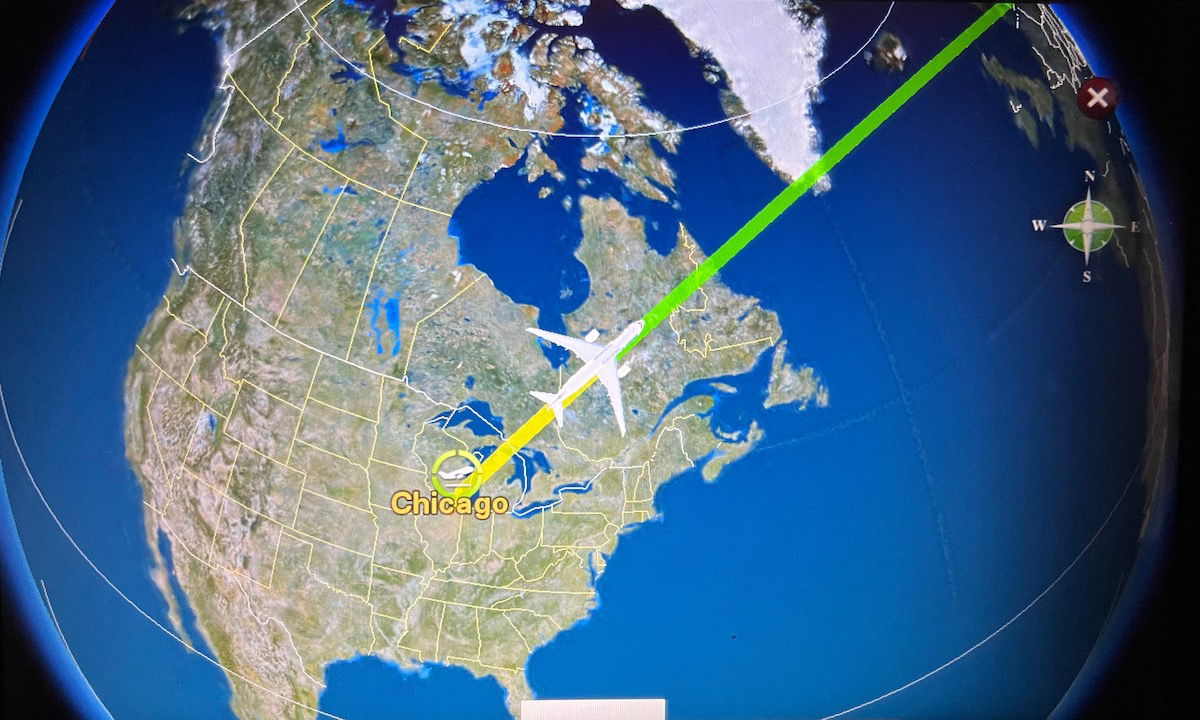 …and woke up just over two hours from arrival in Warsaw.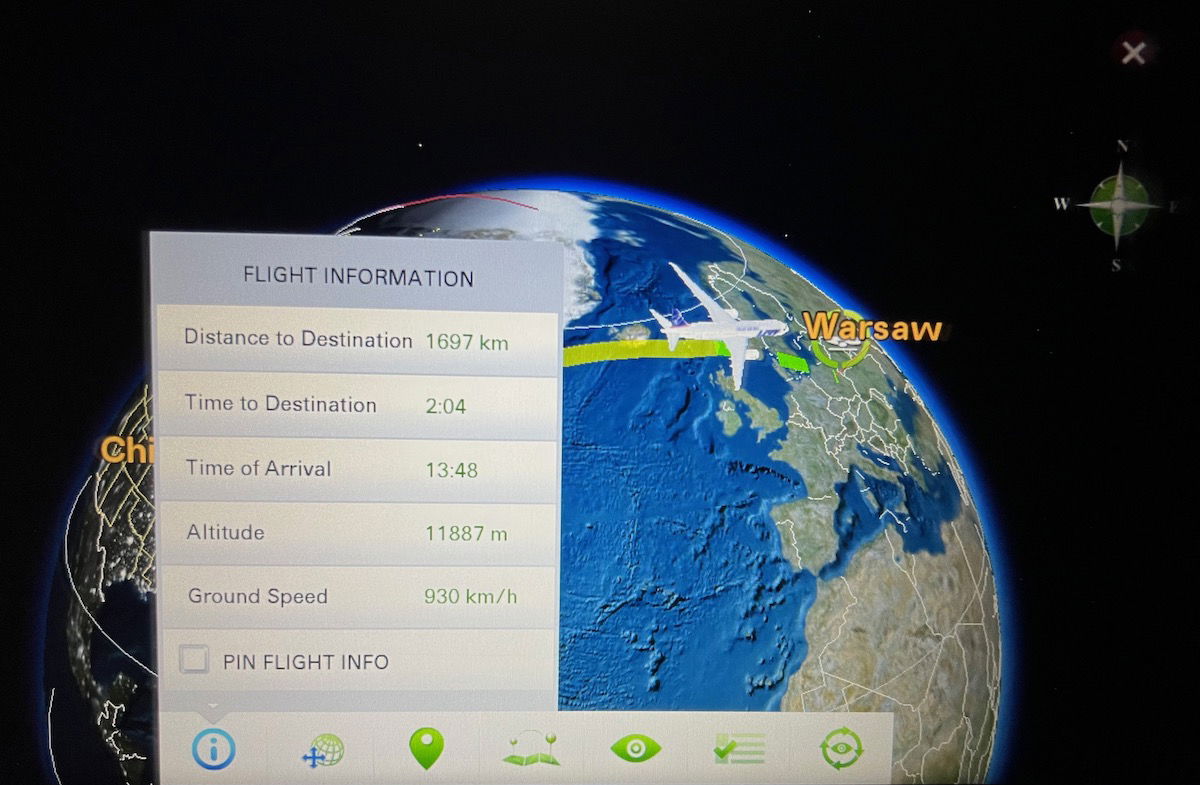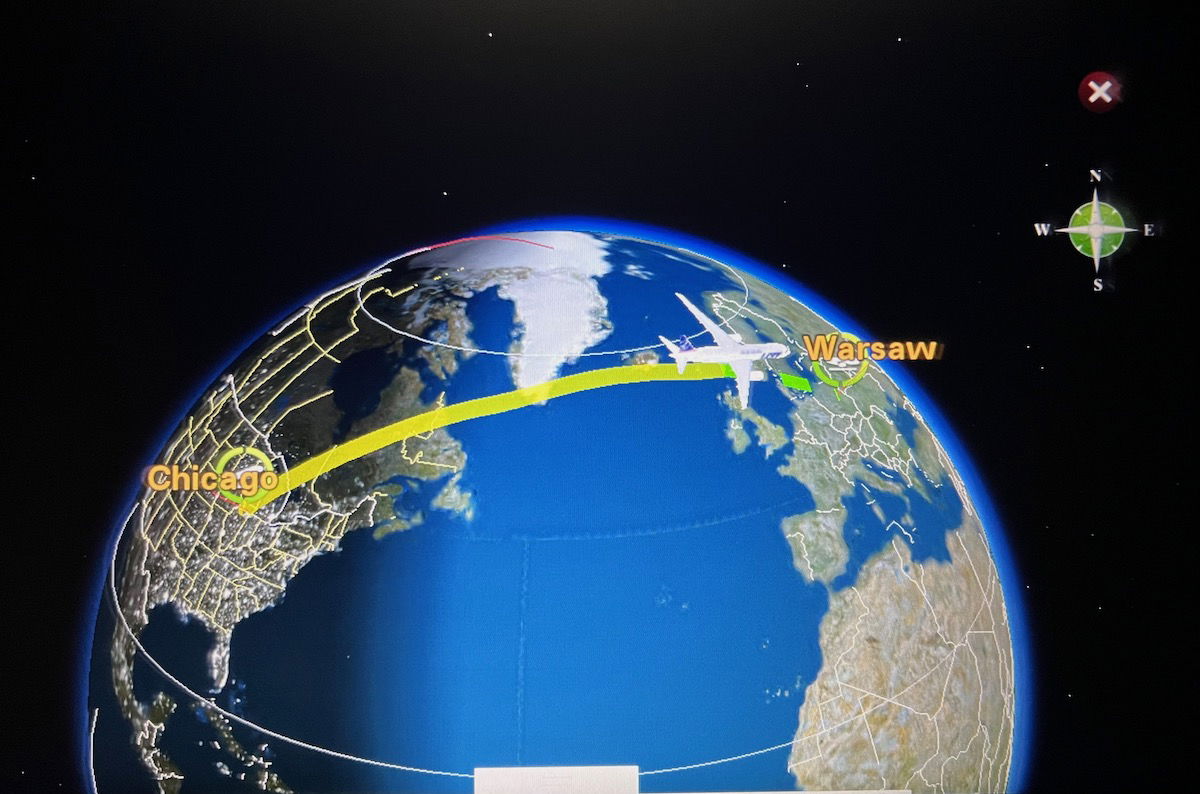 LOT Polish Airlines business class breakfast
Upon waking up, the crew asked me if I wanted to have breakfast. You can find the breakfast menu below.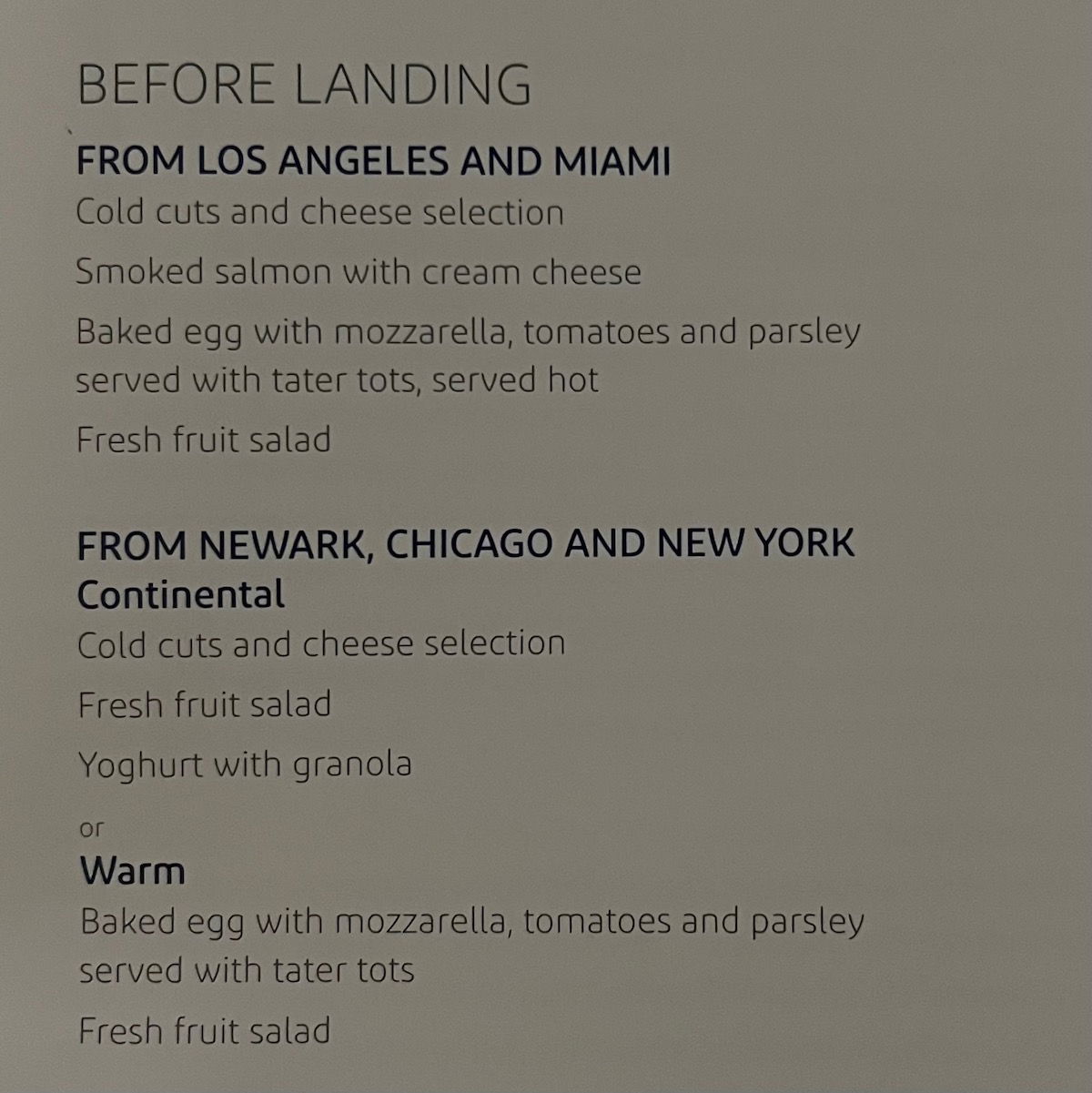 I asked to hold off until a bit closer to landing (everyone else was still asleep). I first tried to get my caffeine hit by ordering a cappuccino, which was listed on the menu. The crew advised me that the milk frother was broken, so I ordered an americano instead. I've gotta say, the coffee was at least very good.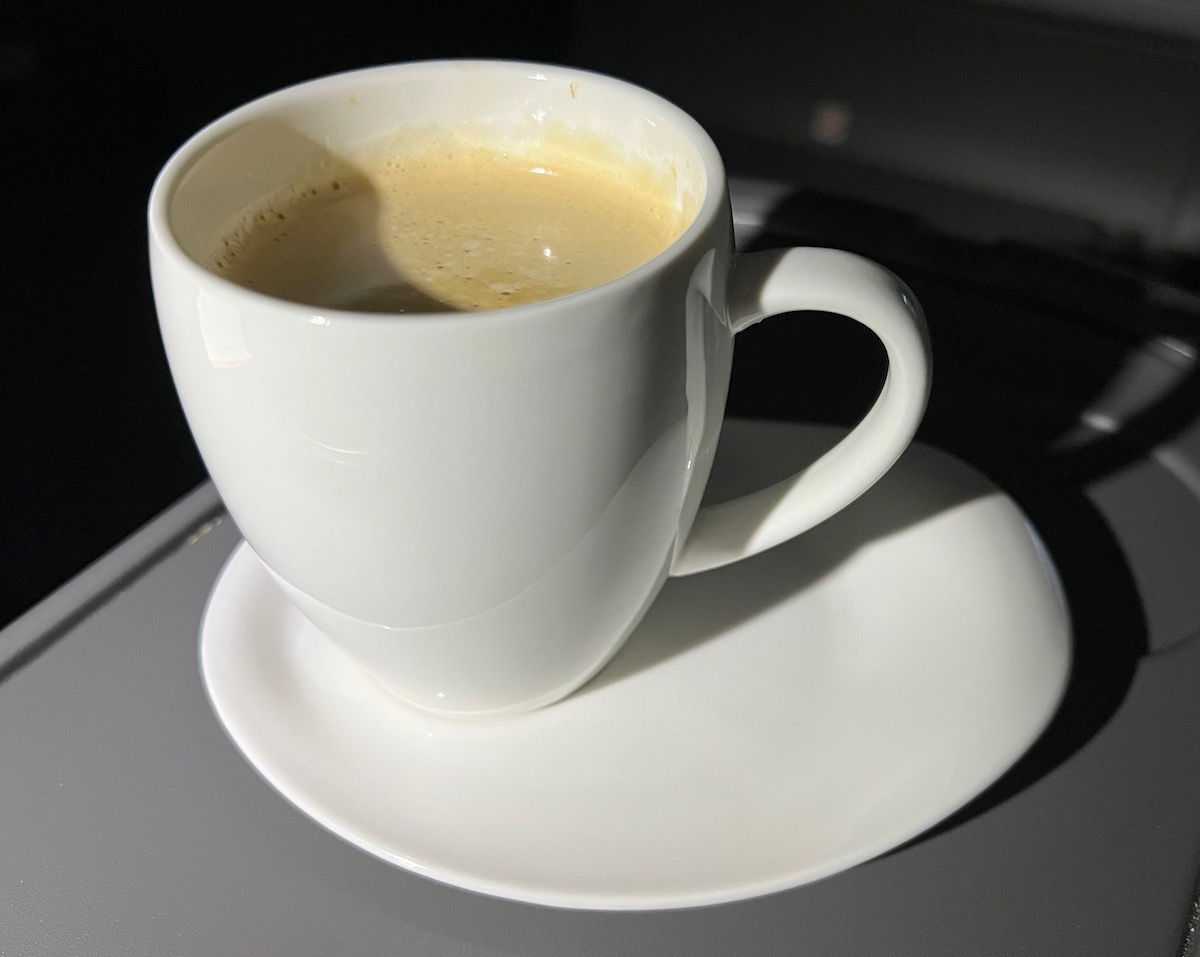 Around 90 minutes before landing the breakfast service began, starting with warm towels being distributed. The crew also came around with trays containing orange juice or water.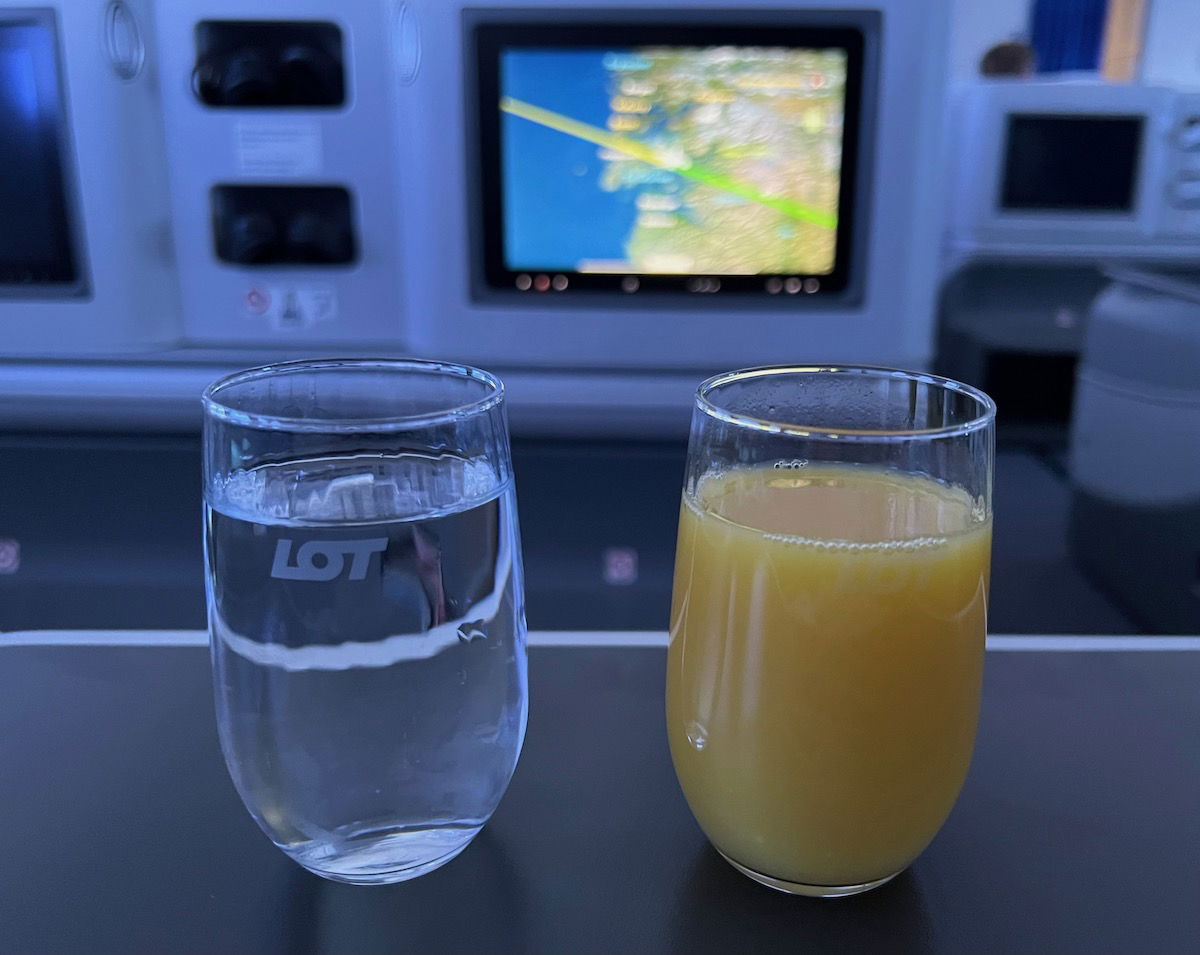 Ford and I were both automatically served the continental selection with cold cuts and cheese, fruit salad, and yogurt with granola. That was perfect for me, since I was still full from having had dinner a few hours earlier.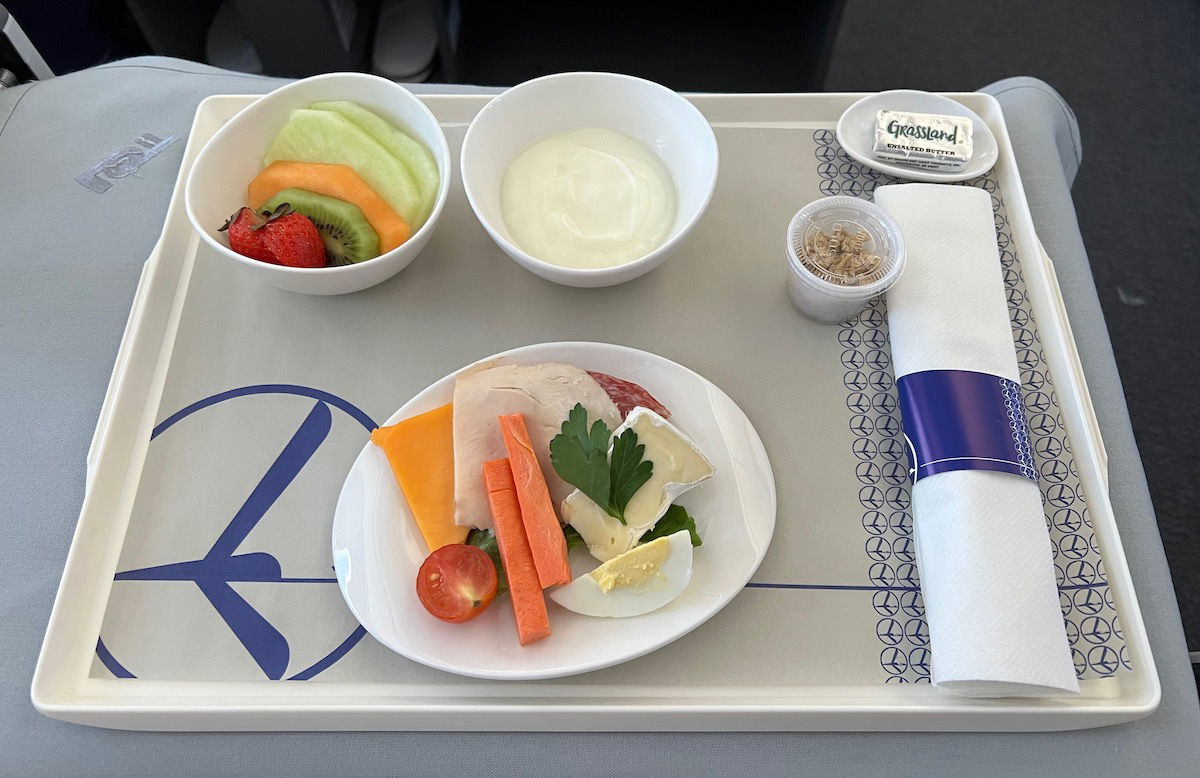 We asked if the hot option was possibly available for Ford, and they said they didn't have any. That was a bit disappointing, given that the cabin was only half full.
I had noticed that after the door closed, a young guy (who I believe was a family member of a crew member, but I'm not sure) was moved to business class. Want to guess what he was eating? Yep, the hot option. It just seems like if you're going to upgrade passengers after the door closes, you should prioritize those who were actually booked in the cabin.
About a minute later, the flight attendant returned to us with a hot option, which she had just removed from the tray of another passenger, who I guess no longer wanted it. That would typically be considered a no-no in the US, but it did get Ford his preferred option, which is great.
The hot option was baked egg with mozzarella, tomatoes, and parsley, served with tater tots, as well as a side of fruit.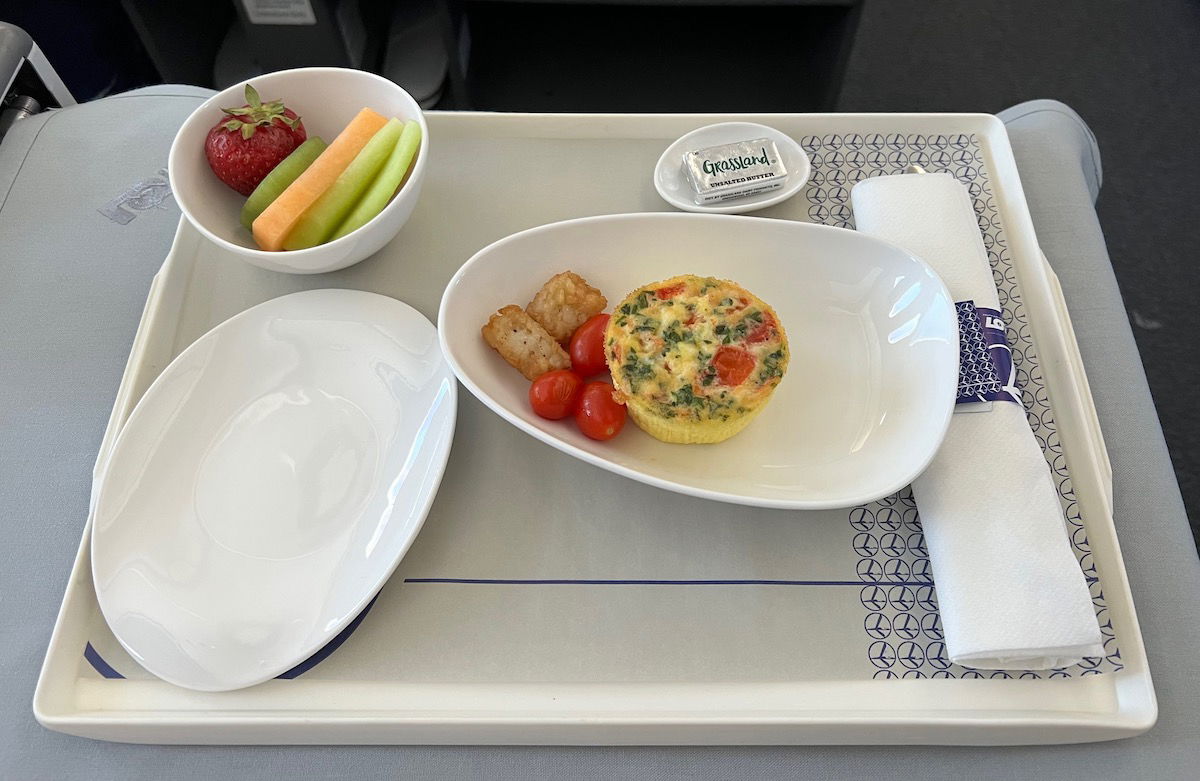 Getting a coffee refill with breakfast was quite a task. The crew apologized, and explained that there was only one espresso machine on the plane, and with all the coffee served being espresso based, it took quite some time.
LOT Polish Airlines business class service
To LOT's credit, I have to say that the crew was very friendly and well intentioned. There was the older purser, as well as a younger flight attendant working the cabin, and they meant very well, had genuine smiles, and seemed to enjoy their jobs (or at least faked it well).
And honestly, they tried very hard, and for the most part, service was professional. They took the time to engage passengers, they poured drinks at seats, and they were very responsive.
But service was also a bit rough around the edges, despite the effort. I've highlighted many of those points above, but it seems like the issues mostly come down to the crews not being equipped with the tools needed to provide a good passenger experience.
Still, I'd say that on balance the service was one of the better aspects of the flight, and exceeded my expectations.
LOT Polish Airlines 787 arrival in Warsaw
At 1:20PM Warsaw time, the captain announced that we'd soon be starting our descent, and would be landing in around 35 minutes. A few minutes later, the purser passed through the cabin to thank each business class passenger for flying with LOT, and to offer them a Polish cream fudge sweet.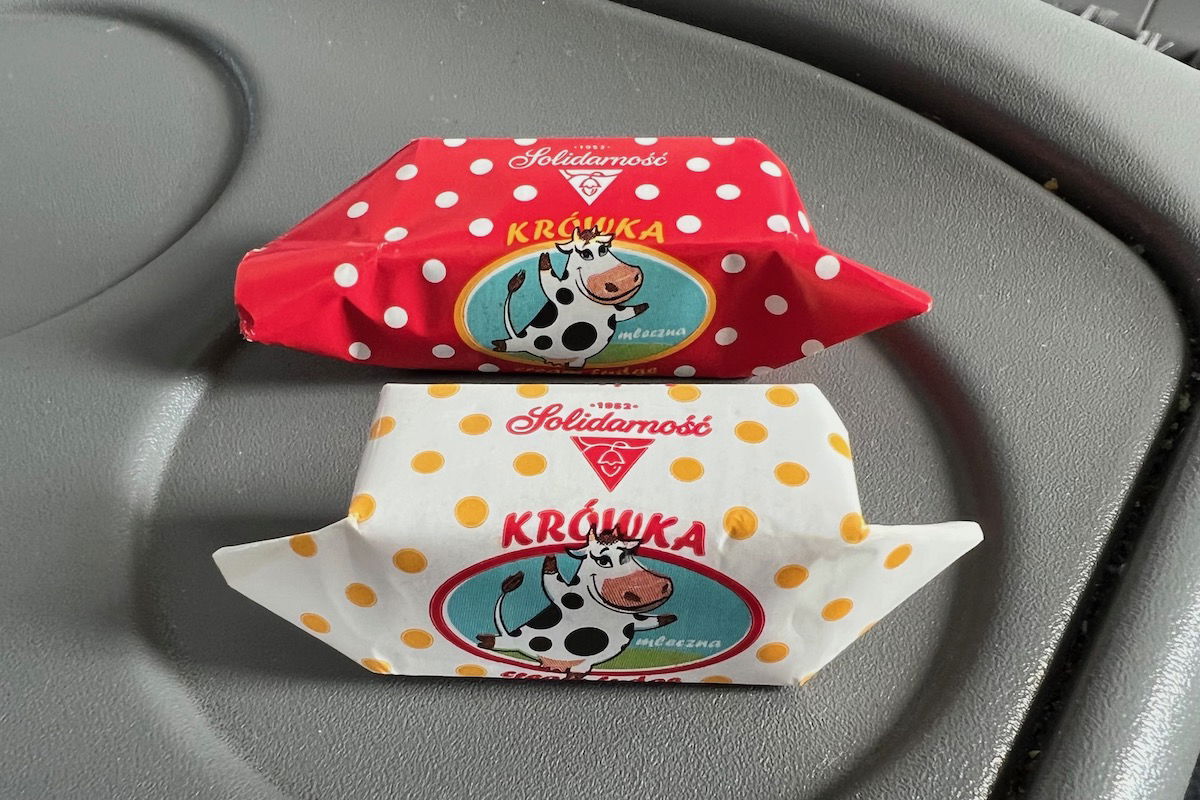 I enjoyed the views of Warsaw on our approach.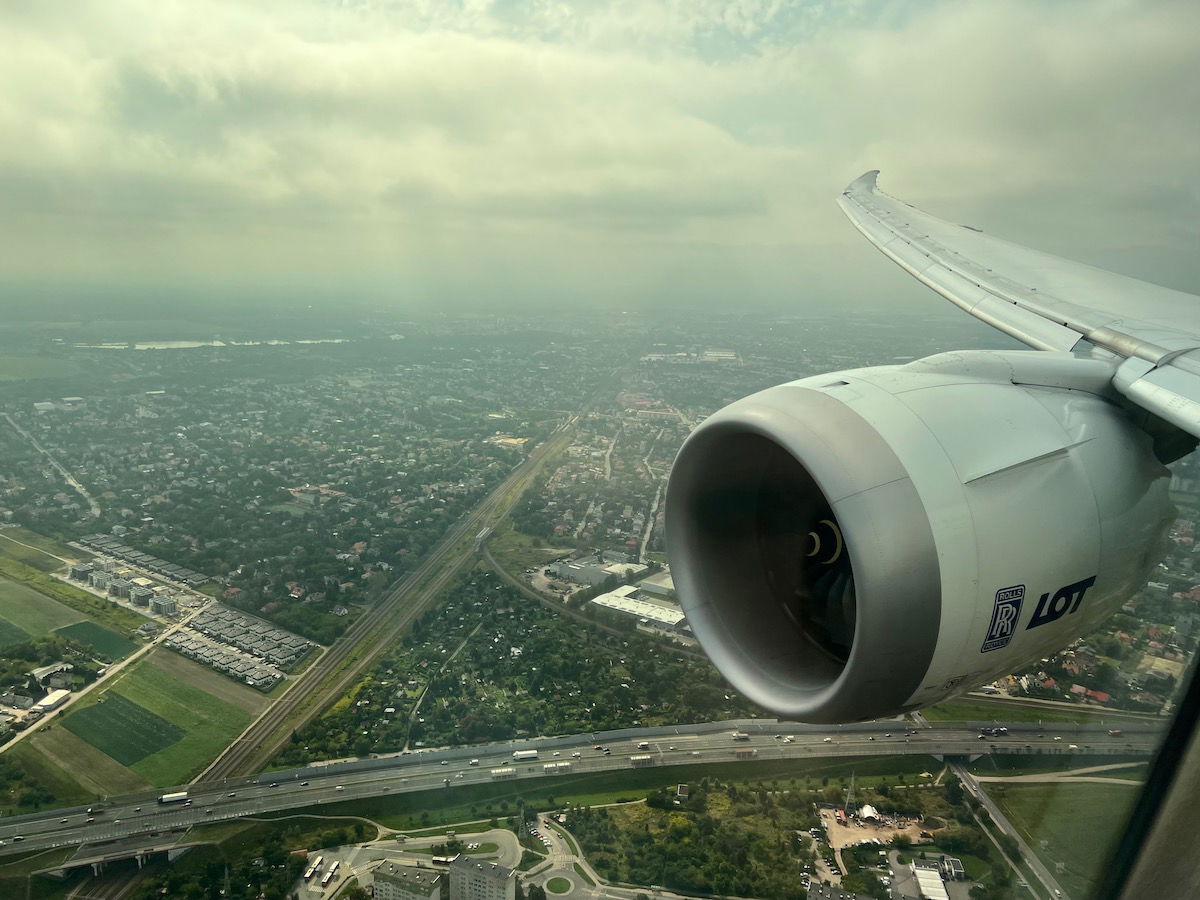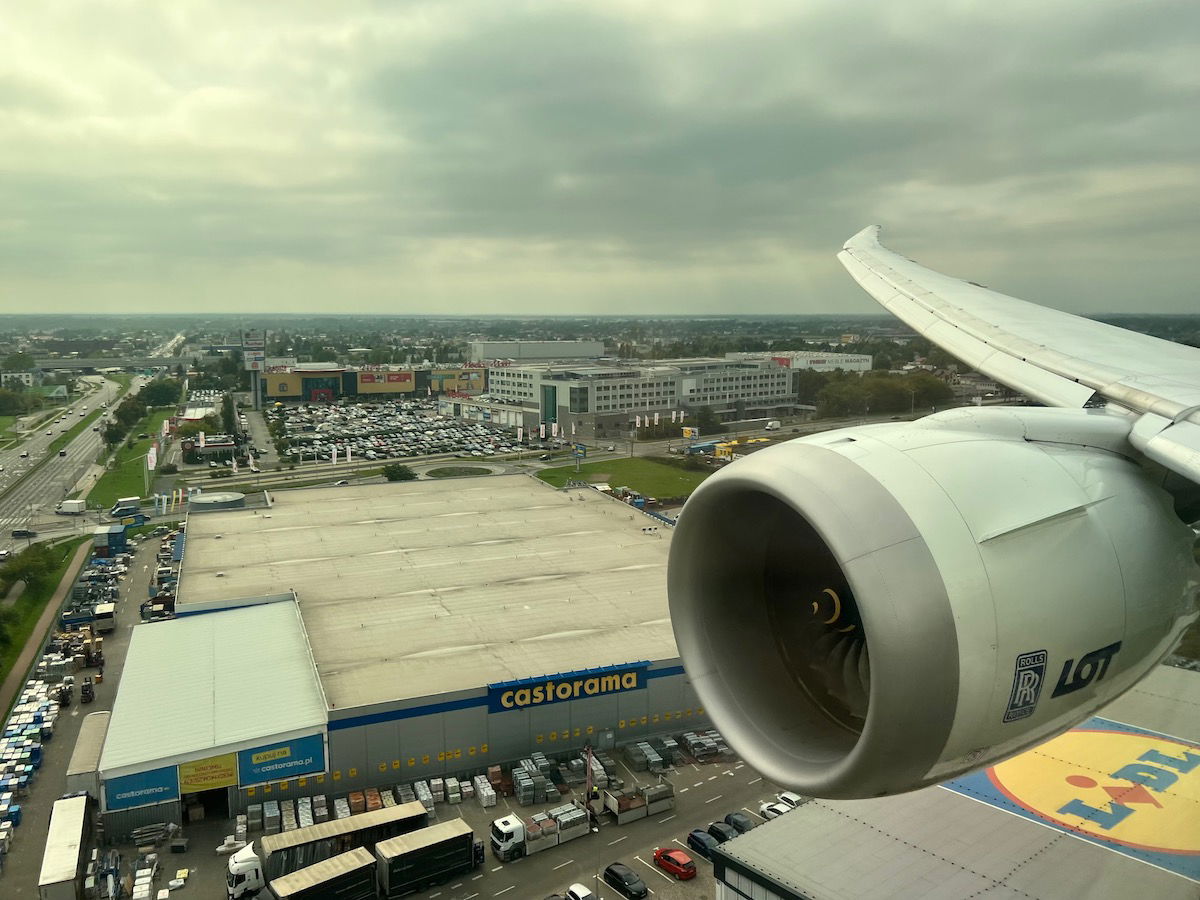 We had a smooth touchdown at Warsaw Chopin Airport at 1:50PM.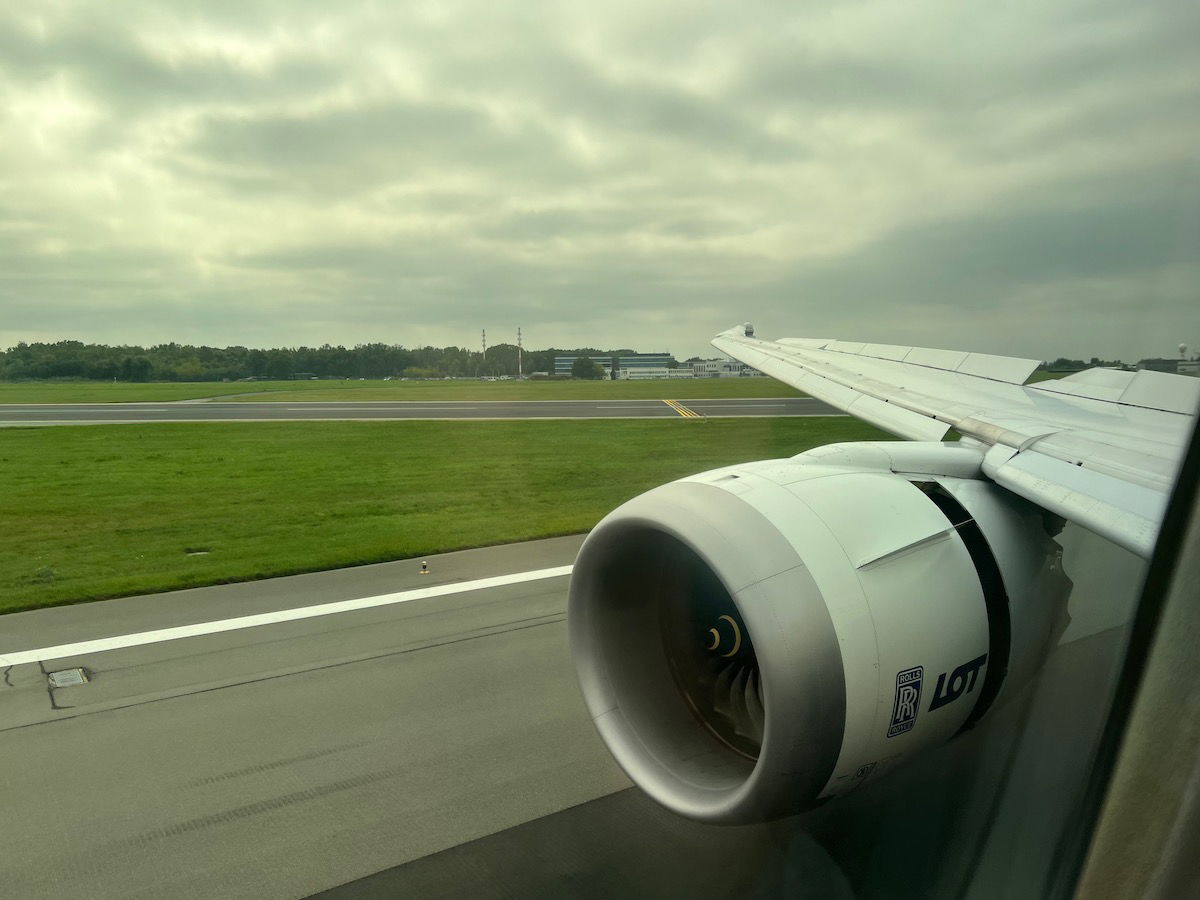 From there we had a short five minute taxi to our arrival gate. I enjoyed seeing the traffic on the ground, from plenty of LOT planes, to a partially painted Norwegian 737, to an Emirates 777.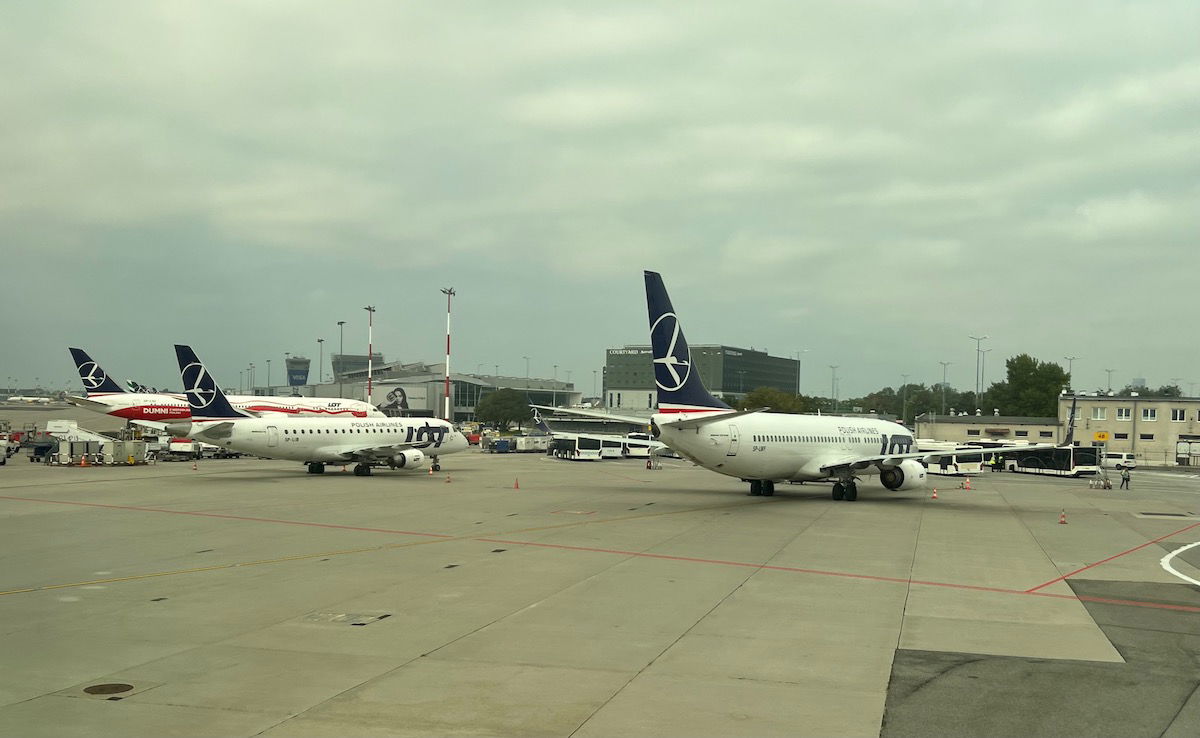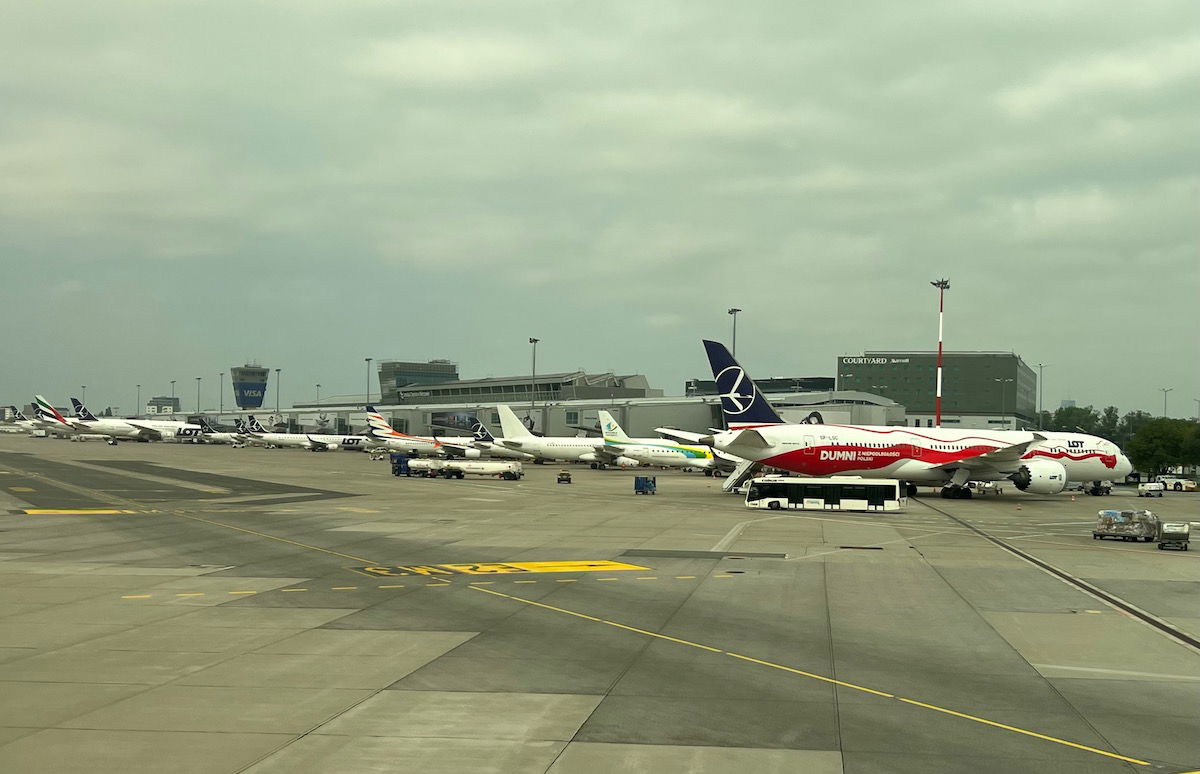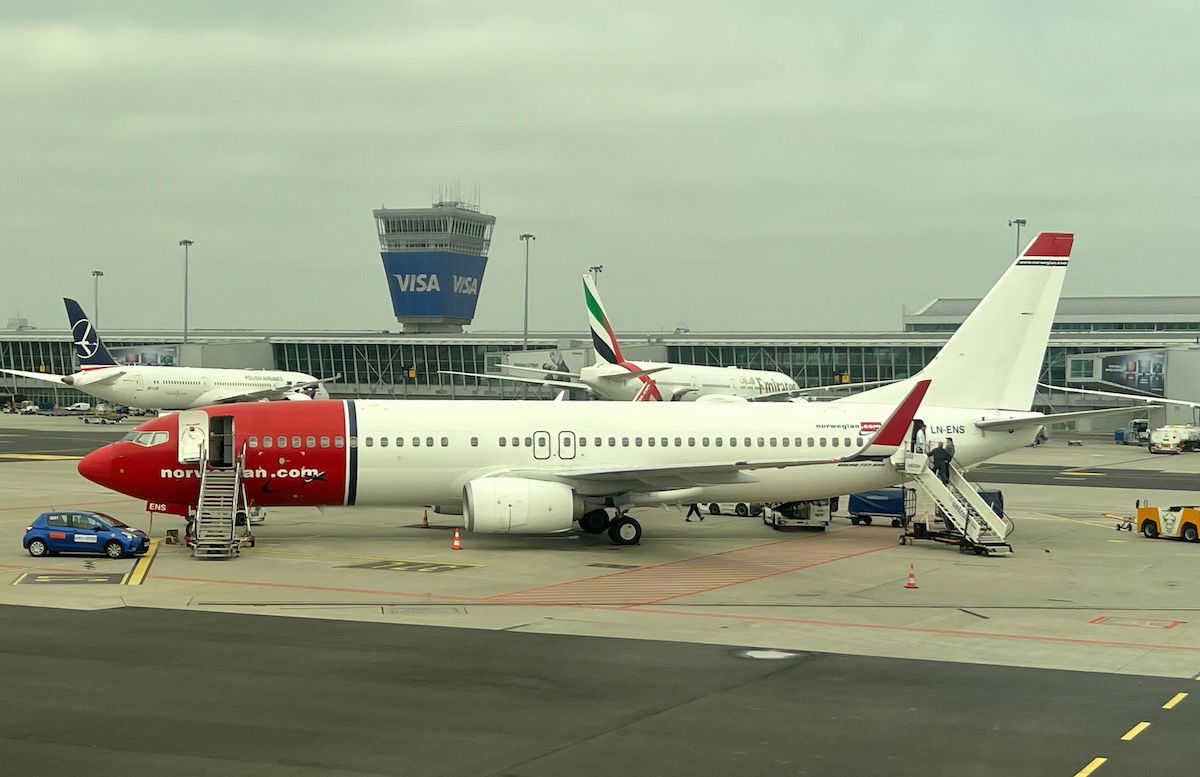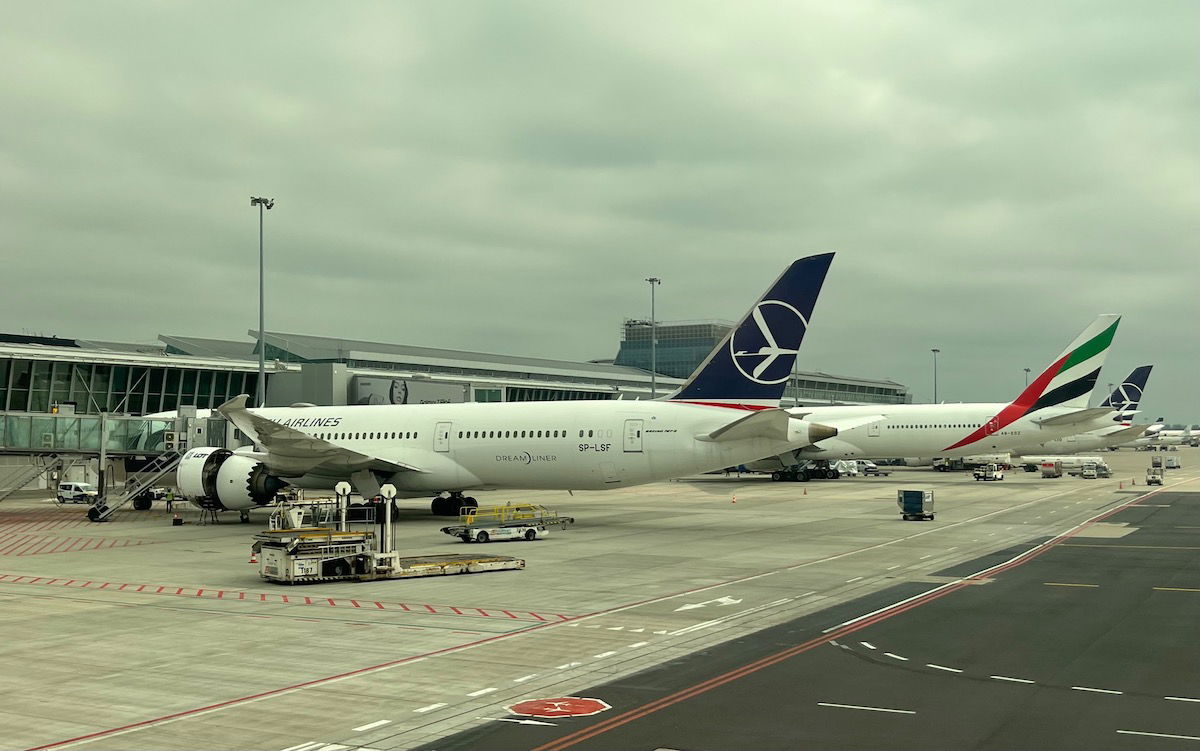 We pulled into our gate at 1:55PM, just five minutes behind schedule.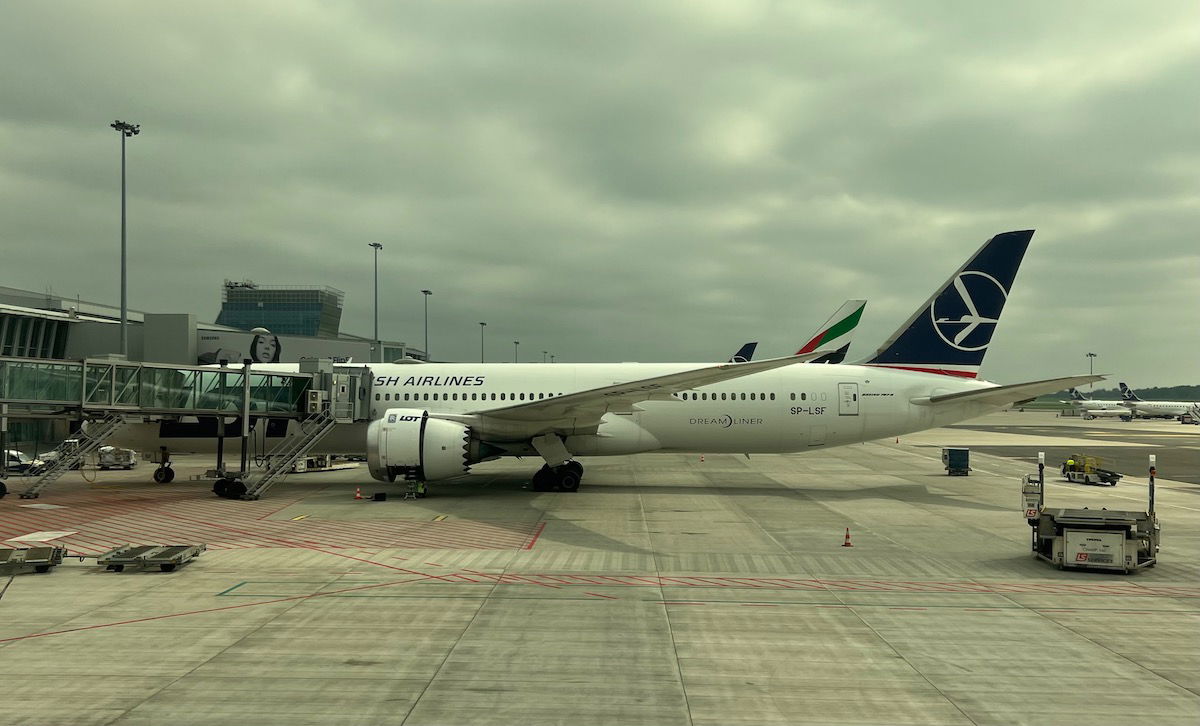 We cleared passport control in no time, and headed to the Raffles Warsaw for the night, where we had a spectacular stay.
Bottom line
LOT's Boeing 787 business class is nothing to get excited about, but also isn't awful.
The airline has an outdated hard product, no Wi-Fi, a limited entertainment selection, and mediocre bedding. However, I found the food presentation to mostly be quite good, and also thought the crew was friendly and professional, if a bit unpolished.
I wouldn't hesitate to fly with LOT again, though I also wouldn't seek out the airline. I'd definitely prefer to fly the airline on an overnight flight rather than a daytime flight (where the entertainment and Wi-Fi is less of an issue). I'd also prefer to fly this with someone, where I don't mind the 2-2-2 configuration, compared to sitting next to a stranger.
If you have the right expectations, I don't think flying LOT is a bad idea, assuming the airline has the best schedule or fare for what you're looking for.
What's your take on LOT Polish Airlines' Boeing 787 business class?