Aegean is the Star Alliance airline based in Greece. While it's generally hard to get excited about an airline just operating short haul flights within Europe, I find them to be a pleasant airline to fly with. While other airlines offer you nothing in short haul economy, Aegean still offers warm snacks.
Well, this week the airline has revealed a big rebranding, which coincides with the airline having recently added the A320neo to their fleet.
Aegean renewing fleet with A320neos
Aegean has a total of 46 firm orders for A320neos and A321neos, with an option for an additional 12 aircraft. Three A320neos have already joined Aegean's fleet, and all 46 planes are supposed to be delivered by 2025. That's a huge expansion, and just about matches the size of their current fleet.
The first A320neo is expected to start flying between Athens and Munich as of tomorrow, Friday, February 14, 2020.
Aegean's fleet otherwise consists of 49 A320 family aircraft, including:
It doesn't sound like the airline is using these to replace existing planes 1:1, but rather they're using these to add capacity. Aegean says that each new plane brings an estimated:
100,000 tourists to Greece
€80 million direct tourism revenue
80 new additional jobs at Aegean
The airline notes that their new planes have 19-23% fewer emissions per passenger seat than previous generation Airbus aircraft, which they currently fly. The plane is not only fuel efficient, but also has more range.
Aegean reveals new livery
With the delivery of the A320neo, Aegean is also introducing a new livery.

Aegean A320neo with new livery
For context, below is a picture of Aegean's old livery.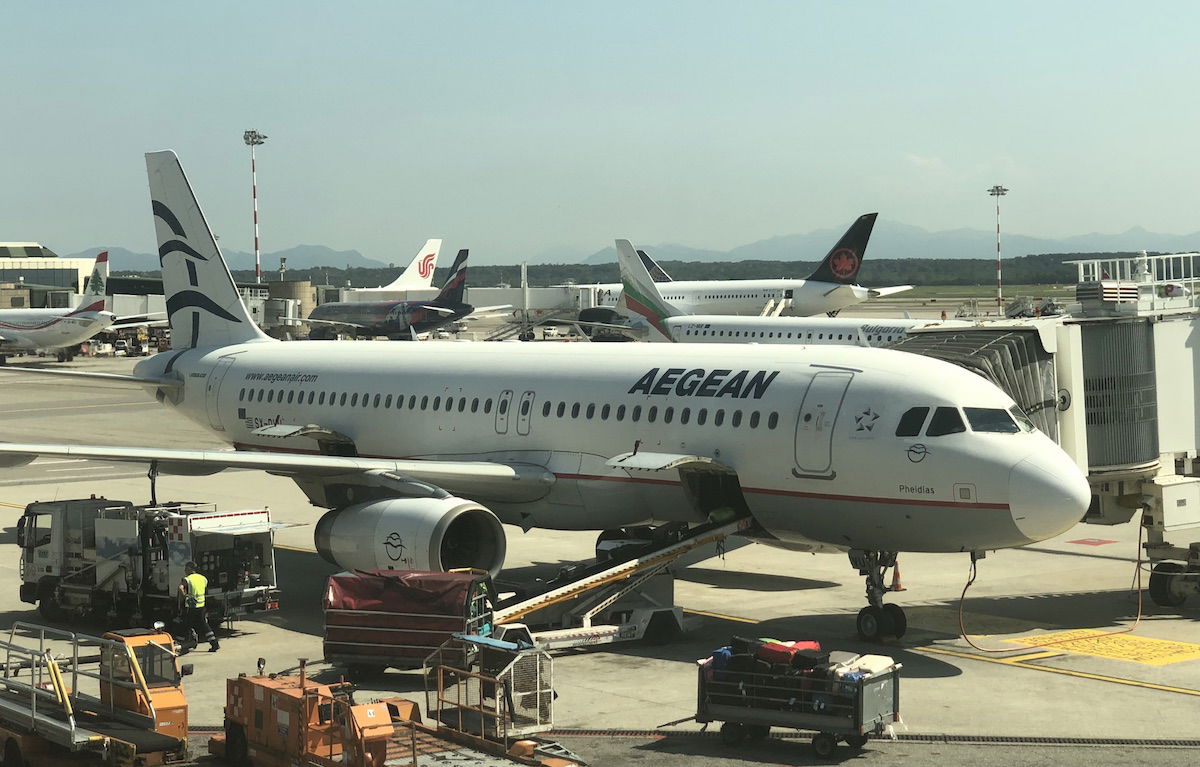 Aegean A320 with old livery
The new livery is most definitely more modern, and it also follows the industry trend we're seeing across the board. It looks like a cross between the new LATAM and Joon liveries, if you ask me.
Here's a video about Aegean's new A320neo:
Aegean A320neo cabins
While the size of the A320neo cabin is identical to the size of the previous generation A320 cabin, the airline is squeezing more seats in.
Aegean's A320s have 174 seats, while their new A320neos have 180 seats, so there's an extra row of seats. A320s don't get much denser than that.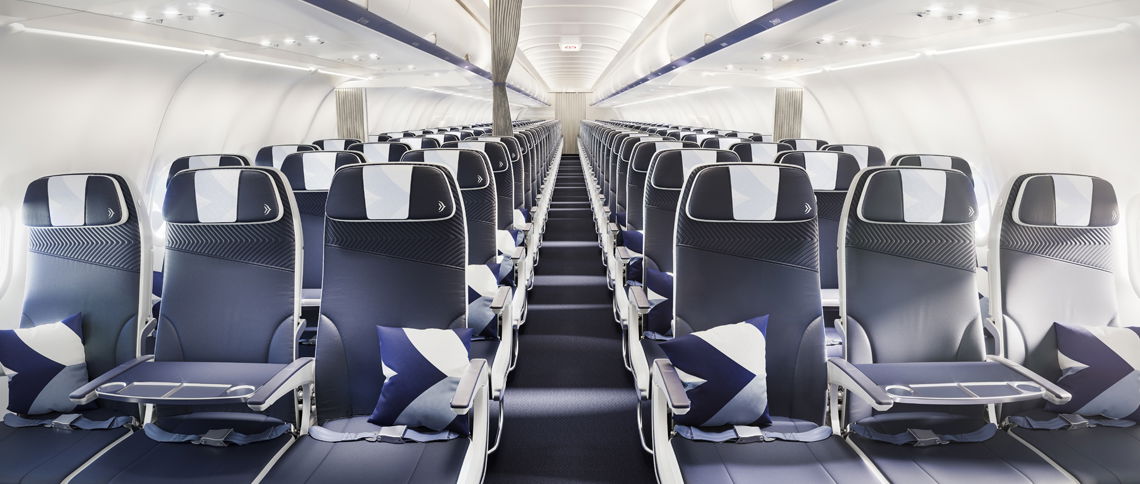 Aegean A320neo cabin
As before, business class will consist of economy seats with blocked middles, and little trays on the center seats.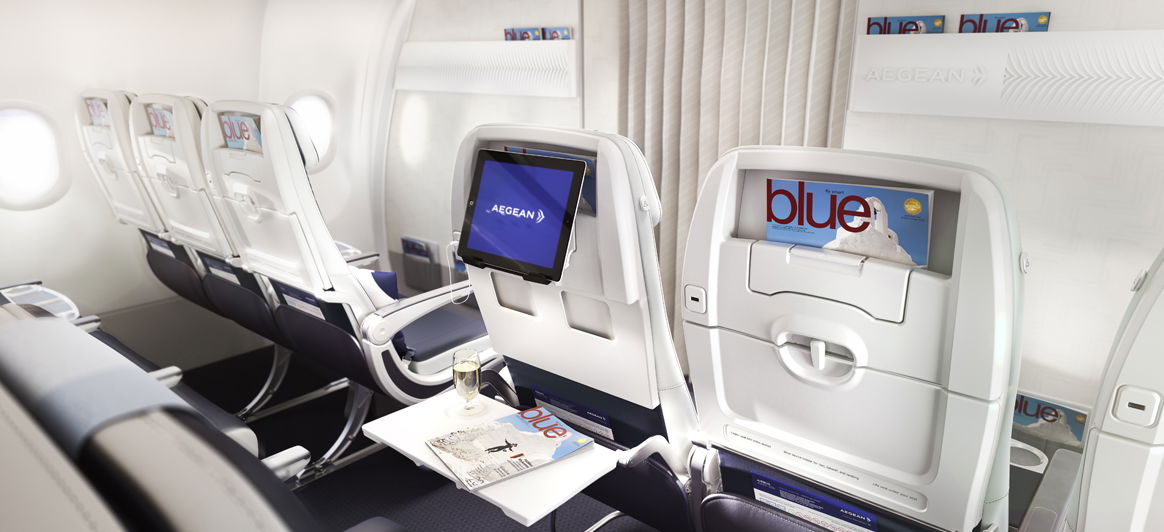 Aegean A320neo business class cabin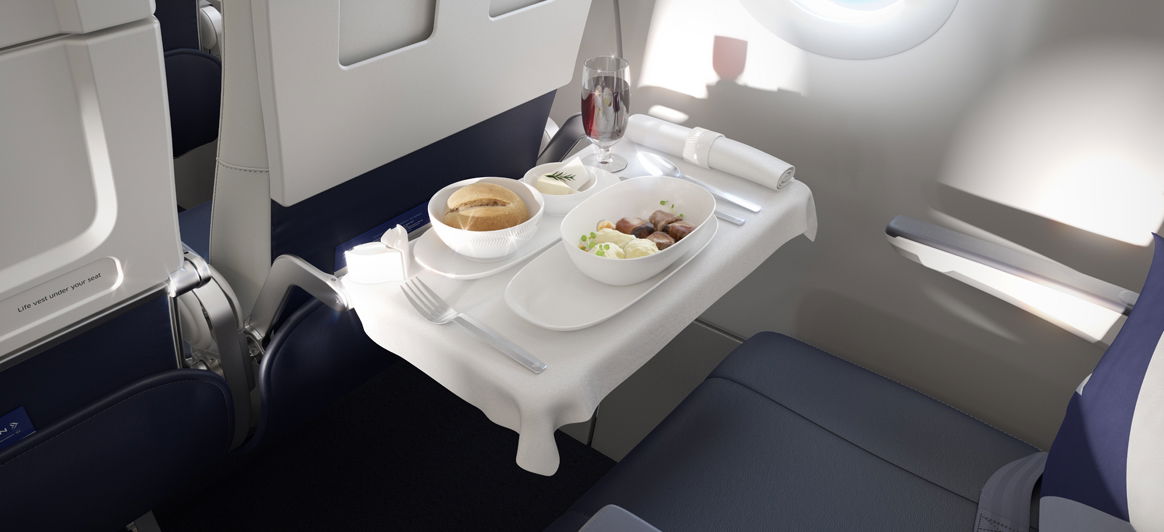 Aegean A320neo business class cabin
Meanwhile economy looks pretty standard as well, with slimline seats.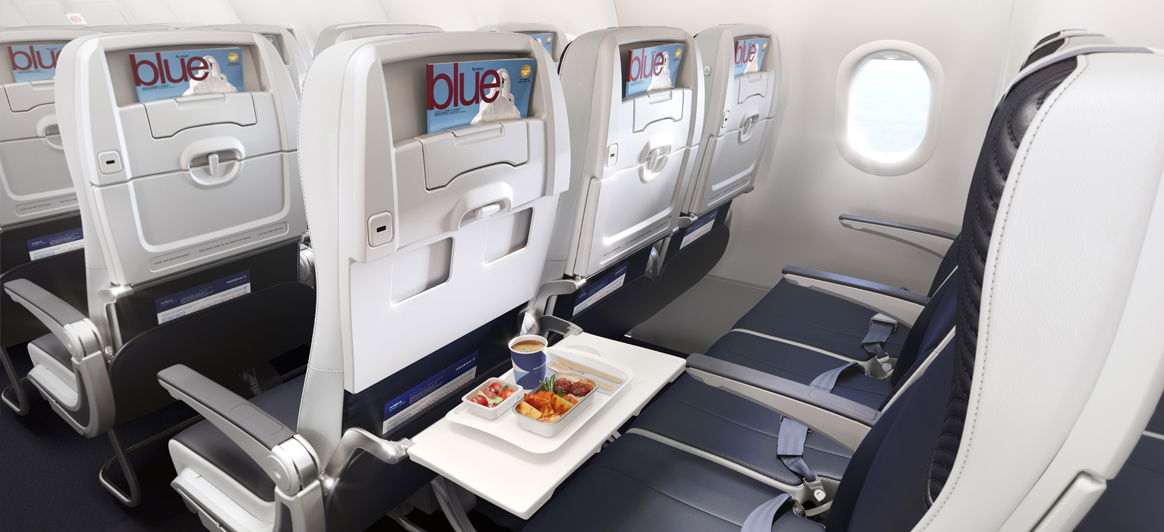 Aegean A320neo economy class cabin
The airline has USB outlets at all seats, though no 110v outlets. Each seat also has a portable entertainment holder.
Bottom line
Aegean has a great onboard service as far as intra-Europe airlines go, so I'm happy to see them expand. I quite like Aegean's new branding (even if it's not that creative), and I'm also happy to see them at least adding USB outlets to planes.
Otherwise these A320neos aren't much to get excited about, as the airline is squeezing even more seats onto planes.