---
I've reviewed Cathay Pacific many times before, so consider this review to be somewhat supplemental. I figured I'd include it since Cathay Pacific first class reviews continue to be very popular, despite how many are out there.
Here are a few of my other most recent Cathay Pacific first class reviews:
With that out of the way, let's get into the review!
Cathay Pacific 873
San Francisco (SFO) – Hong Kong (HKG)
Friday, November 6
Depart: 11:05PM
Arrive: 6:00AM (+2 days)
Duration: 14hr55min
Aircraft: Boeing 777-300ER
Seat: 2K (First Class)
We boarded through the forward door, where we were greeted by the inflight service manager, Paz, and one of the first class crew members. One of the things which makes Cathay Pacific unique is that they have some crews based in North America, and I could pretty quickly tell that they were San Francisco based and not Hong Kong based.
Phillip, one of the first class crew, walked us to our seats, 1K and 2K. This plane featured Cathay Pacific's "refreshed" first class product, which I think is available on all their four cabin 777s at this point. They basically reupholstered the seating and changed the surfaces of the consoles, though the "bones" of the seats are the same they've been for years.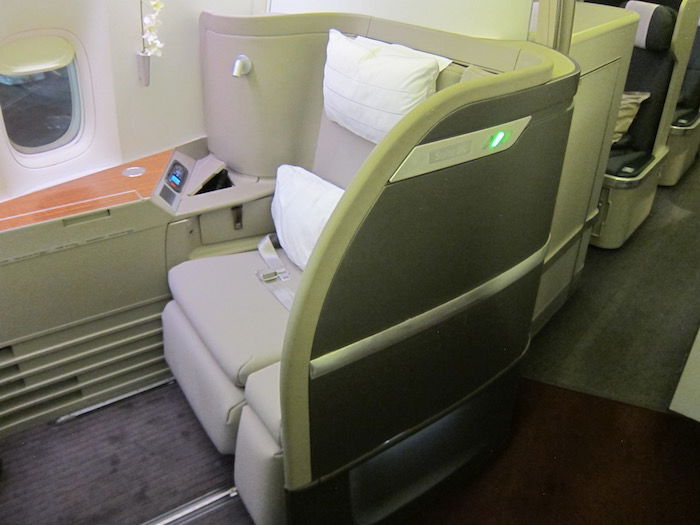 Cathay Pacific 777 first class, seat 2K
While Cathay Pacific's first class seats aren't fully enclosed, they're super spacious and comfortable. You could literally seat two people in a single seat, in addition to the ottoman which is located across from the seat.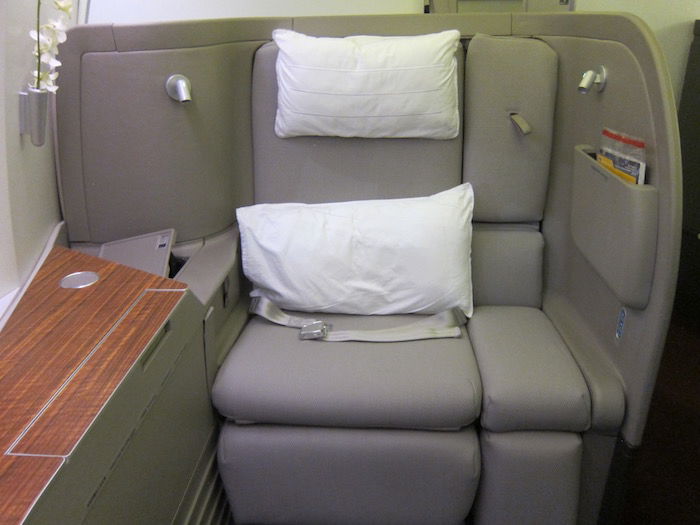 Cathay Pacific 777 first class, seat 2K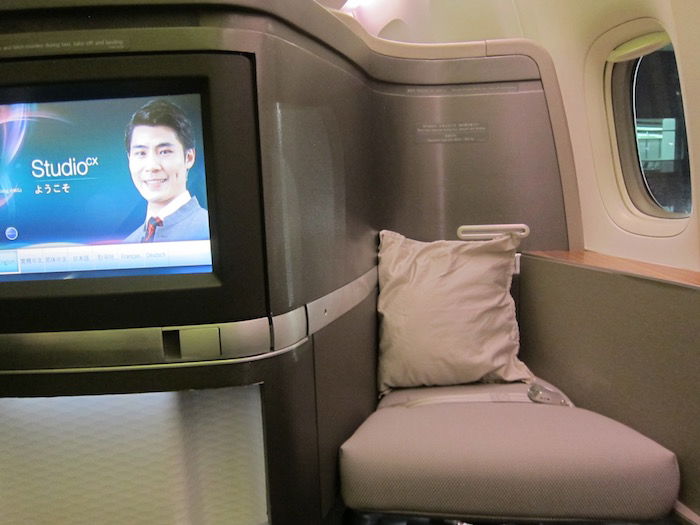 Cathay Pacific first class ottoman
While the seats aren't fully enclosed, the cabin is extremely private. There are only six seats, spread across two rows in a 1-1-1 configuration. Typically I prefer seats 1A and 2A, since those seats have the left aisle all to themselves. Meanwhile the middle seats and right window seats both face the right aisle, so that aisle is shared between four people.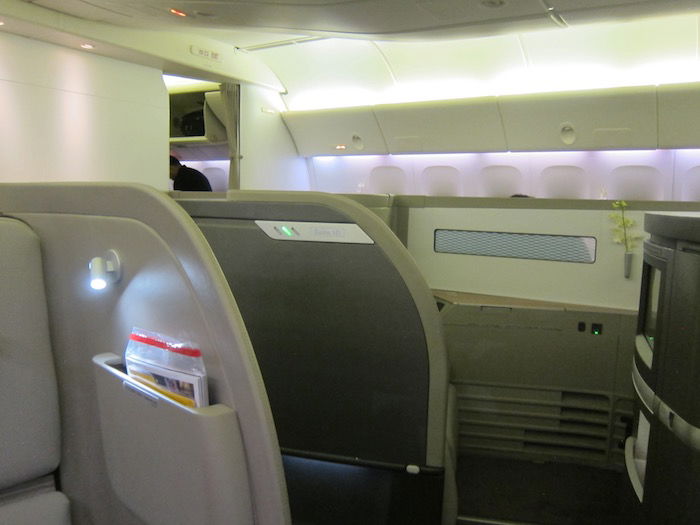 Cathay Pacific 777 first class cabin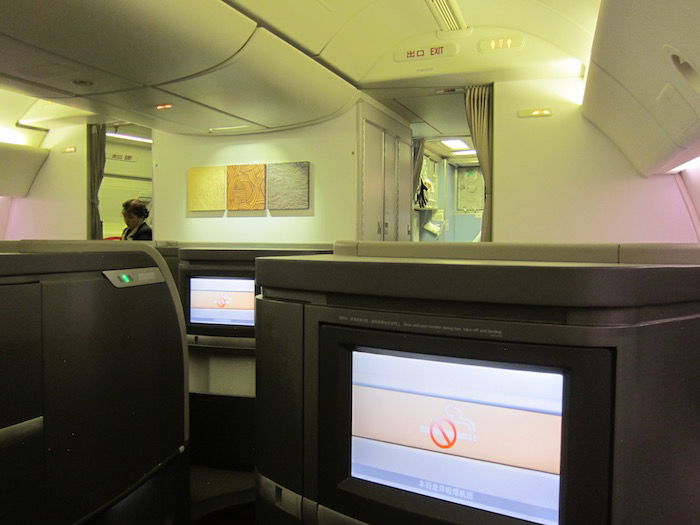 View from seat 2K, Cathay Pacific first class
I also love all the little details in Cathay Pacific first class, like the flower arrangement at each seat.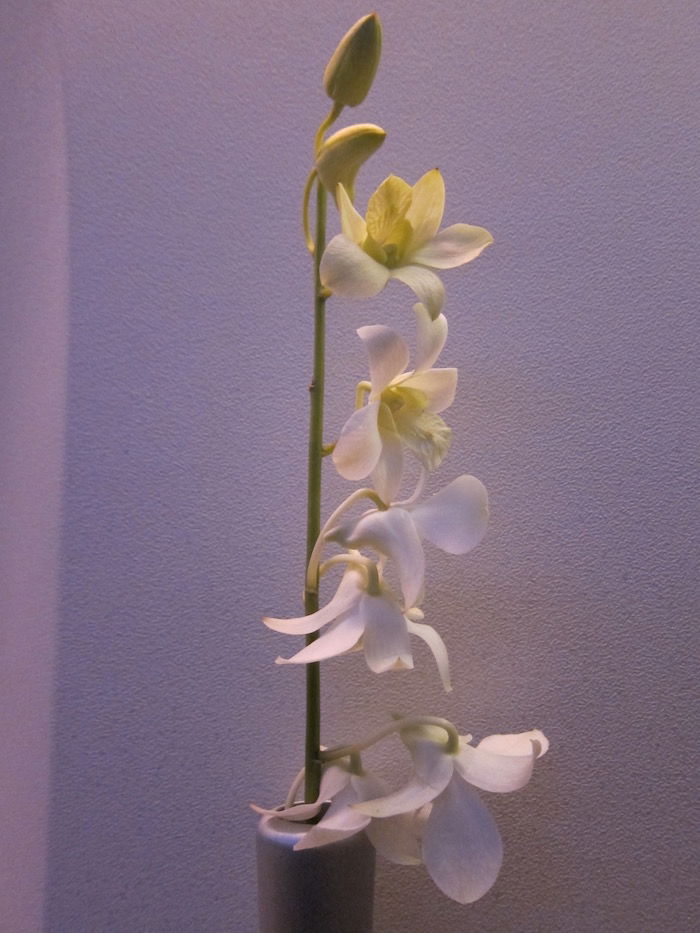 Cathay Pacific first class flower
I moved forward to 1K, where Ford and I had some Krug and amuse bouche to start. The amuse bouche consisted of some sort of fish with mango, which was tasty. I think Cathay Pacific's amuse bouche service on the ground is a really nice touch, as it's not something many airlines offer.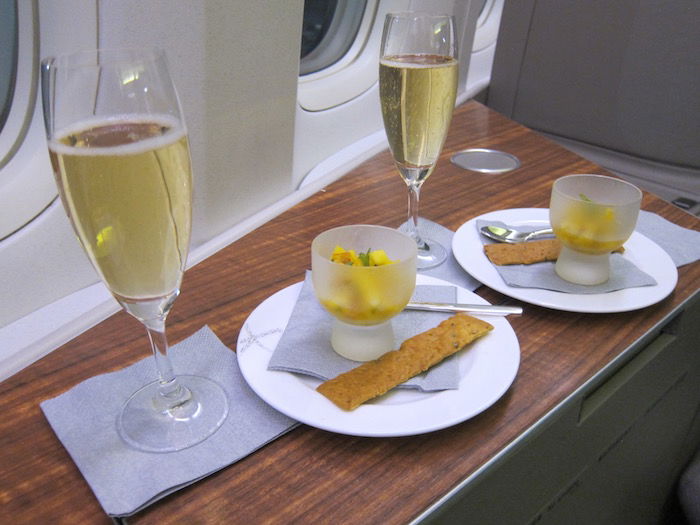 Cathay Pacific first class amuse bouche and Krug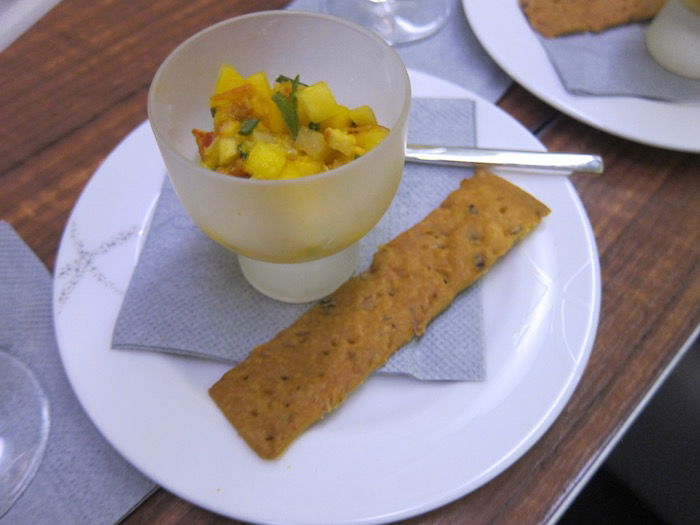 Cathay Pacific first class amuse bouche
Shortly after being offered drinks we were brought Aesop amenity kits along with sleeper suits. The Aesop kit only has a few things in it, though at least they're useful (like lip cream, face cream, etc.).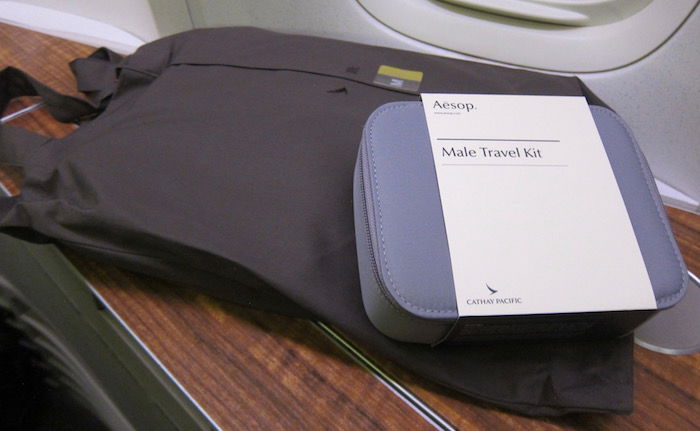 Cathay Pacific first class amenity kit and pajamas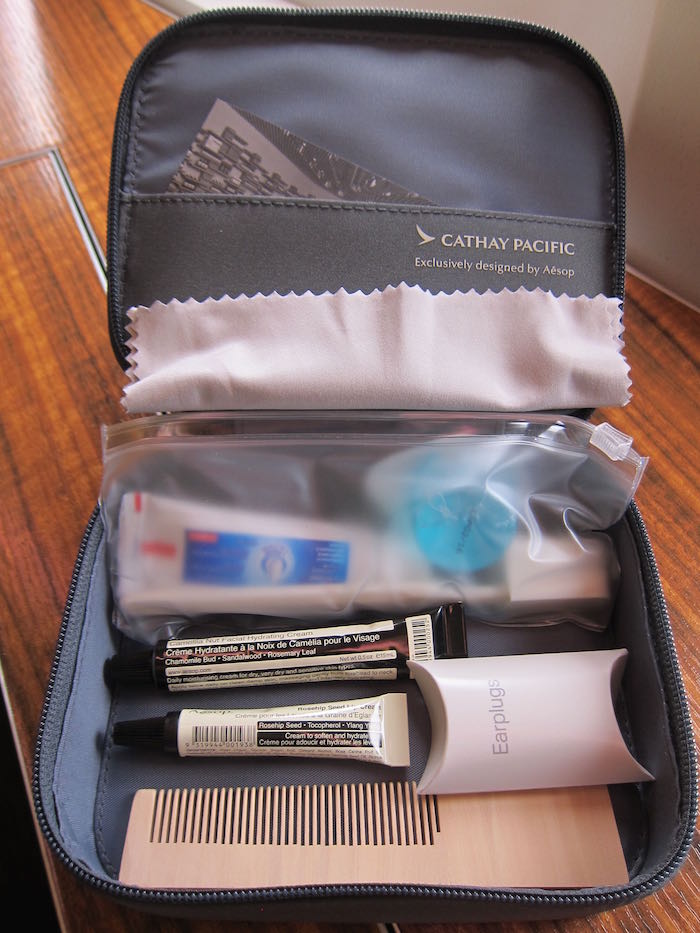 Cathay Pacific first class Aesop amenity kit contents
Cathay Pacific also has great pajamas. Not quite as good as back in the day when they had Shanghai Tang pajamas, but they are still very nice.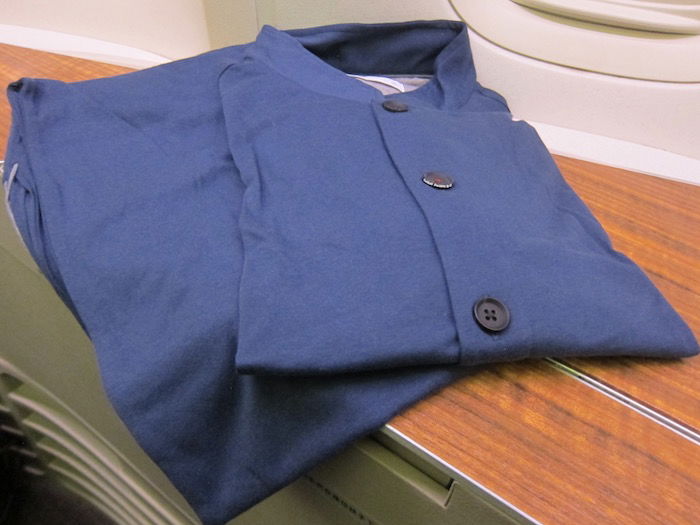 Cathay Pacific first class pajamas
Shortly thereafter we were offered hot towels, and then also the menus for the flight.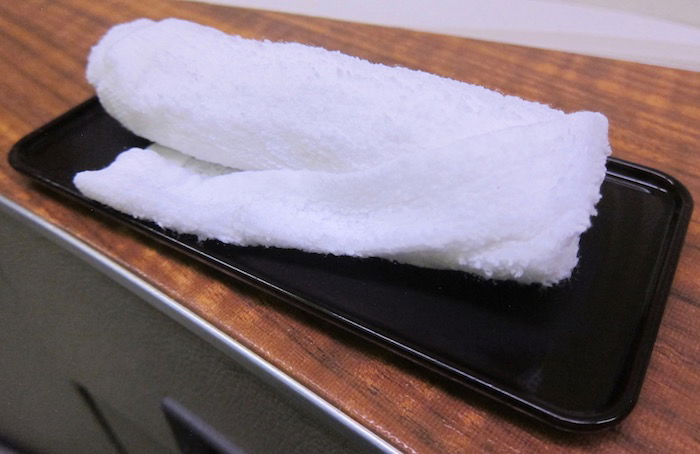 Cathay Pacific first class hot towel
Cathay Pacific recently underwent a brand refresh, which is evident in the menu branding. The menus are presented on wood "tablets," which are a nice touch.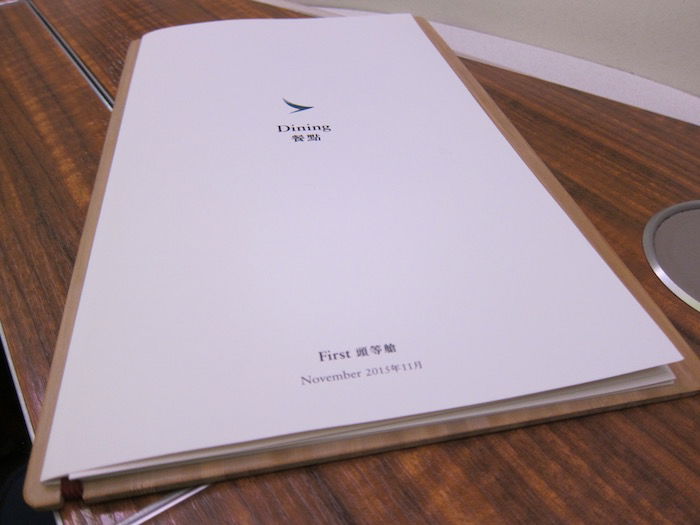 Cathay Pacific first class menu
Phillip briefly stopped by our seats to talk a bit, and explain the flight time of 14hr. Despite our delayed departure, he explained we should still get to Hong Kong on time.
Culturally I find it interesting that Cathay Pacific has both US and Hong Kong based crews. Either way the crews are typically international, which is to say that most of the Hong Kong based flight attendants aren't actually Hong Kong natives, and most of the US based crews weren't actually born in the US — instead they're often Filipino, Malaysian, Thai, etc.
Similarly, on this flight the San Francisco based purser was Filipino, the male flight attendant was Filipino, and I think the female flight attendant may have been Malaysian. We quickly chatted about which routes were now being operated by San Francisco based crews (they operate one of the two daily frequencies).
At around 11:35PM the captain came on the PA to welcome us aboard and apologize for the delay. There were four guys up front — two captains, a first officer, and a second offer. The captain who made most of the announcements sounded like he had an Irish accent. Cathay Pacific also has US based pilots, though this cockpit crew was based in Hong Kong. There is sort of something I love about boarding a flight on an Asian airline and having the captain start his announcement with "hi y'all, welcome aboard."
He explained that boarding was just finishing up and that we should be underway shortly. Due to a fairly short flight time he anticipated we would still land on time, if not a bit early.
At 11:40PM the door closed with every seat on the plane taken (including in first class), at which Cathay Pacific's painfully outdated safety video began to play.
Five minutes later we began our pushback and taxi.
I do find the US based crews are a bit less flexible when it comes to the rules than their Hong Kong based counterparts. While Hong Kong crews typically let you keep your pre-departure beverages (and even refill them) until you're a few minutes from the runway, the US based crews typically collect them as soon as the taxi starts.
At around midnight we made it to runway 28L, where we were immediately cleared for takeoff. Our takeoff roll was long, and our climb out was gradual. Cathay Pacific has a nose camera, though it's extremely grainy. That didn't stop me from watching it throughout the taxi and climb out.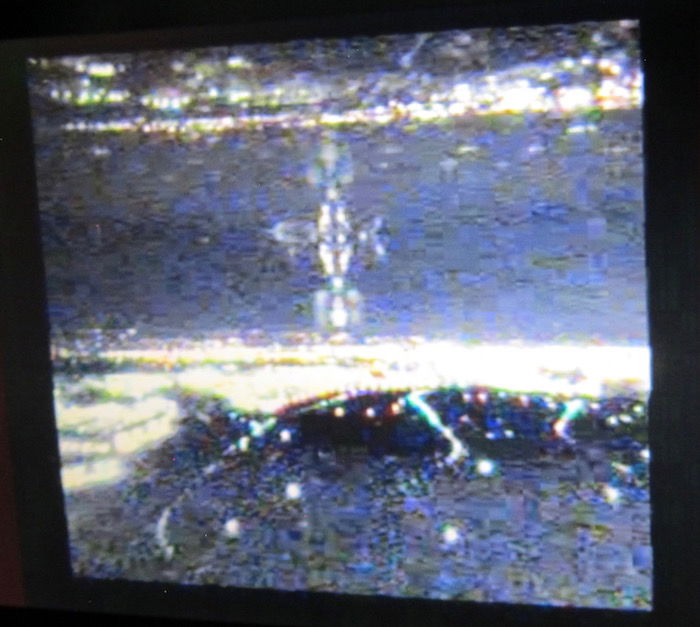 Cathay Pacific 777 nose camera
The views of the Bay Area on the climb out were gorgeous, and the flight was smooth at first.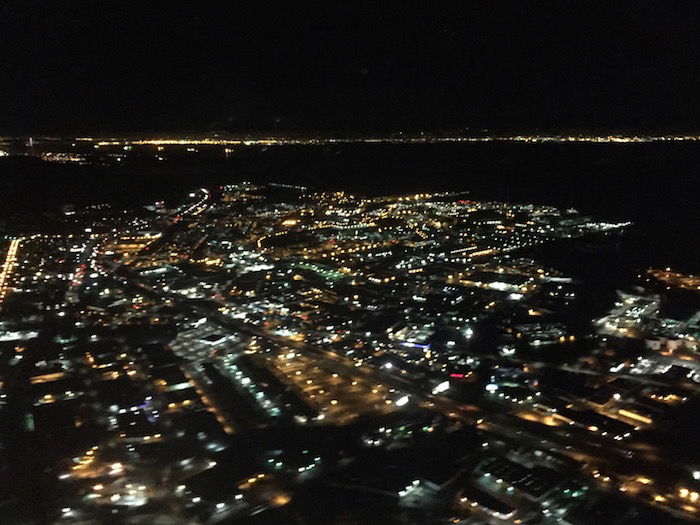 View after takeoff from San Francisco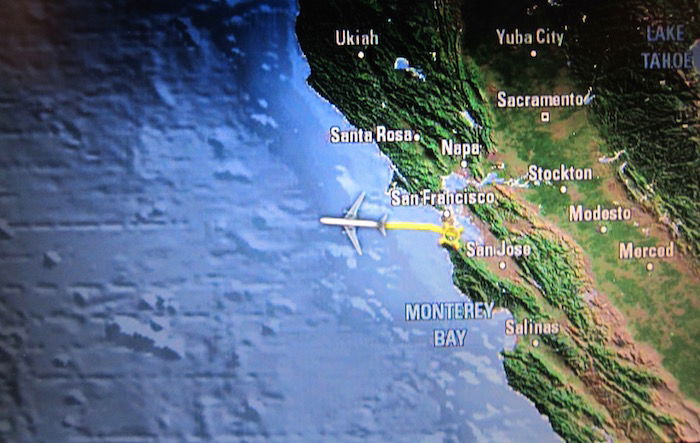 Airshow departing San Francisco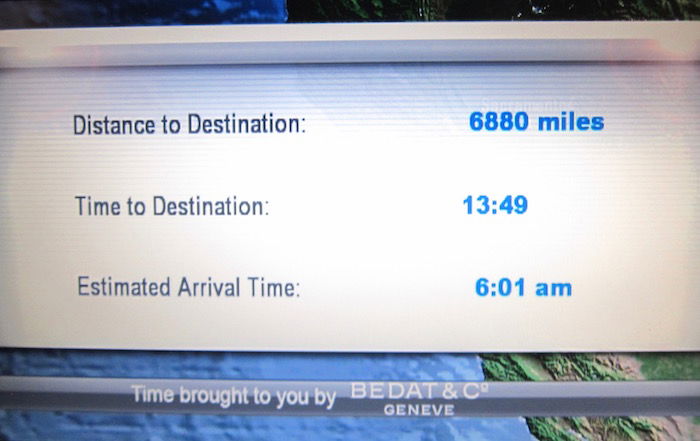 Airshow enroute to Hong Kong
About 15 minutes after takeoff the seatbelt sign was turned off, at which point I changed into pajamas. Shortly thereafter Paz came through the cabin to welcome us aboard again, and also handed out a duty free pamphlet and landing card for Hong Kong. As she handed me the duty free pamphlet she said "if you get bored during this long flight, we have something to keep your wallet busy." Hah!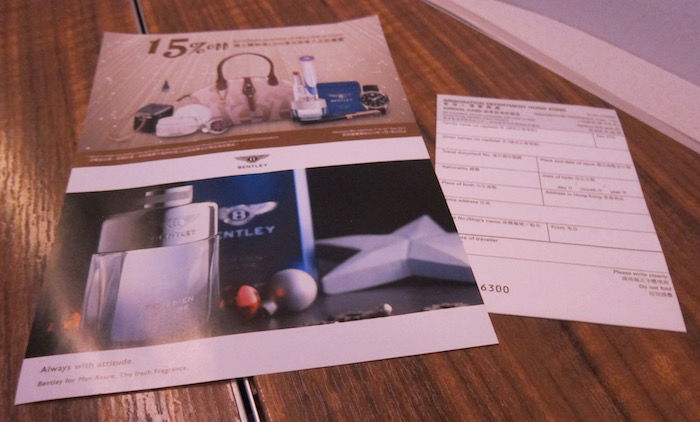 Cathay Pacific duty free pamphlet and Hong Kong landing form
At that point I headed to 1K so Ford and I could have dinner together. Phillip came around to take our meal orders, and also set up the table extender they have for those wishing to dine together. While there are lots of great first class products, there's something especially awesome about being able to sit face-to-face while having dinner. And the table extender makes that really easy.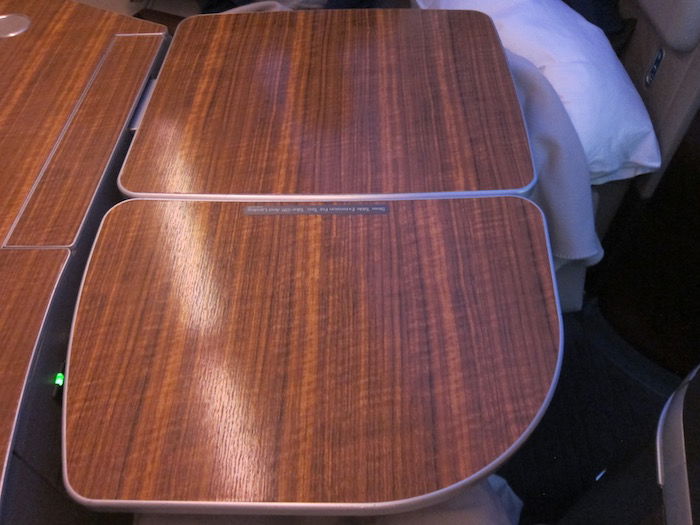 Cathay Pacific tray table extender
Cathay Pacific has virtually the same menu regardless of whether they're serving lunch, dinner, or supper, which I kind of appreciate. Meanwhile Singapore Airlines has a very abbreviated meal service for late night flights, even if they're ultra longhauls.
The supper menu read as follows: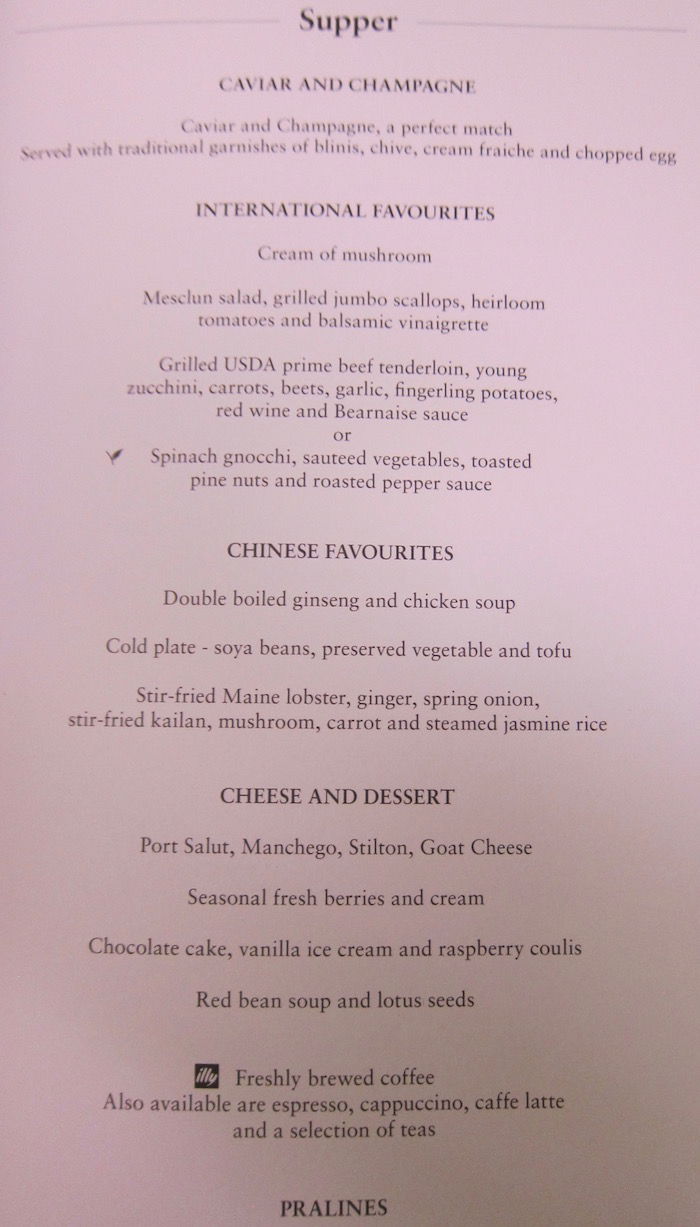 And the drink list read as follows: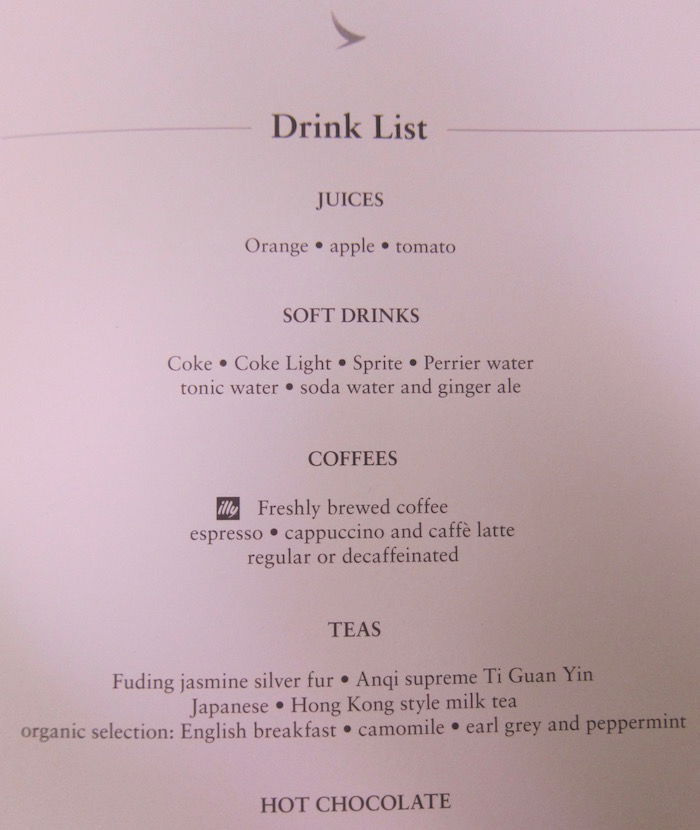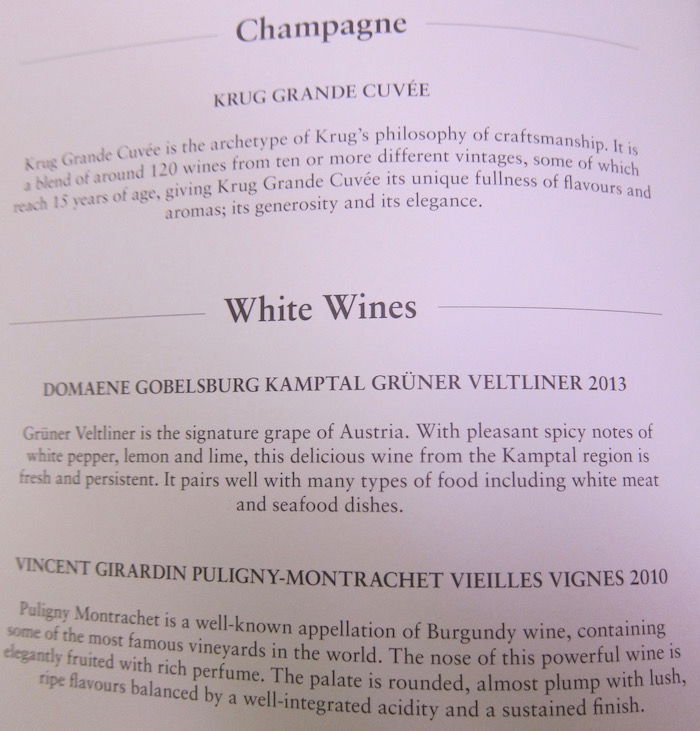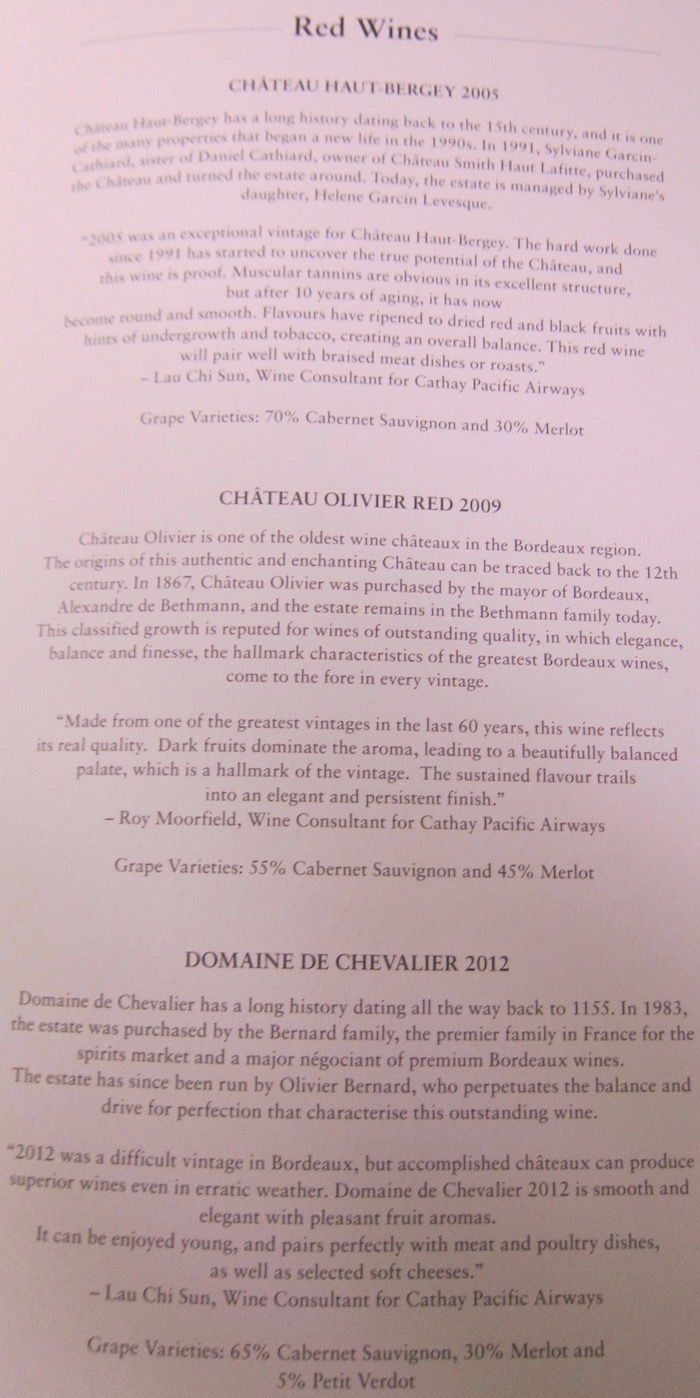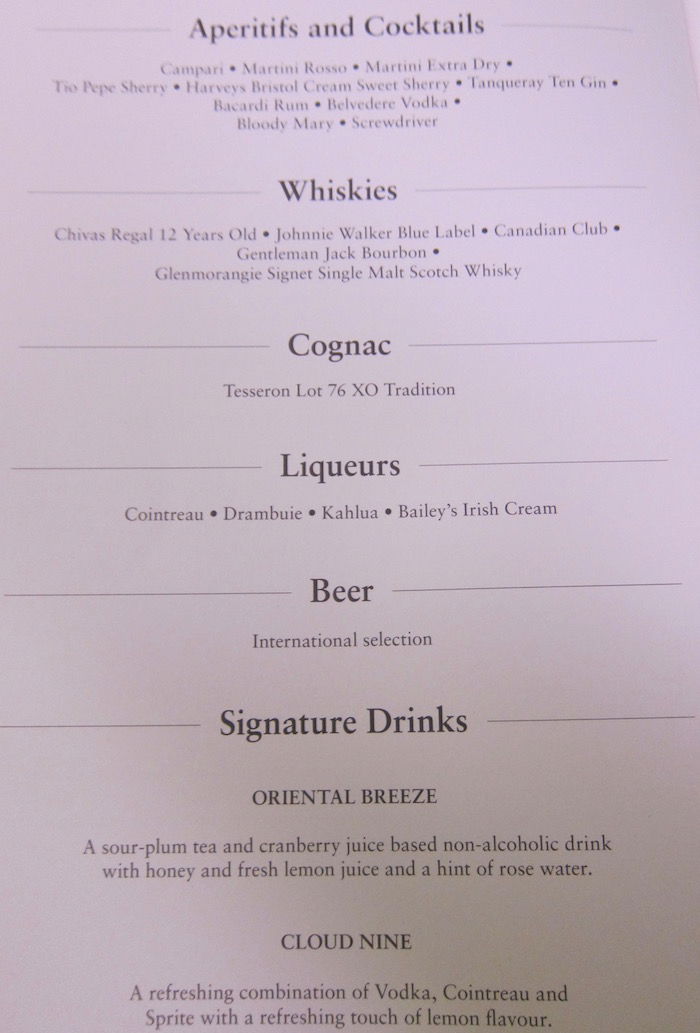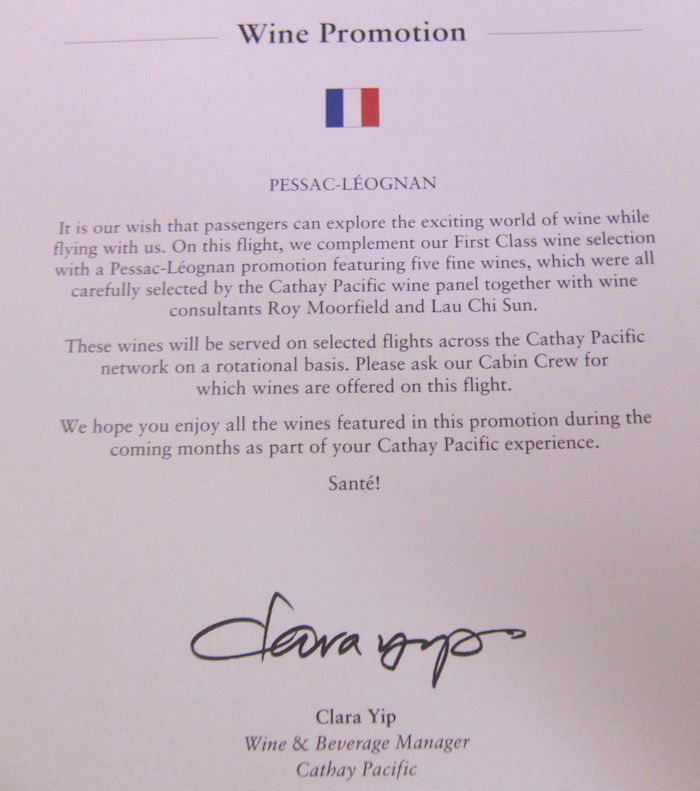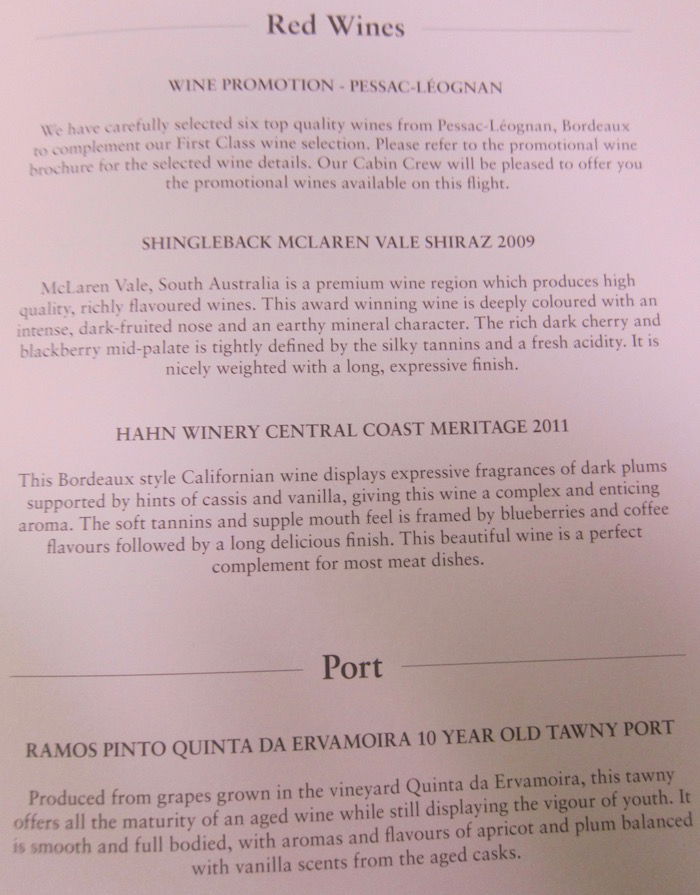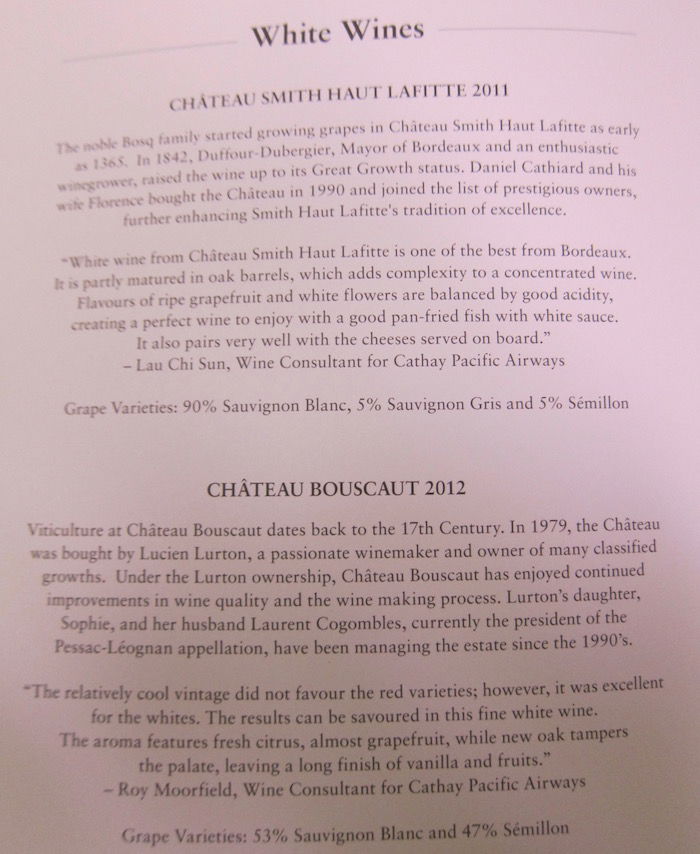 Our table was set, including with the cute handwritten cards that Cathay Pacific crews usually write for first class passengers (if you don't get one, it's typically a sign that service will be lackluster, in my experience).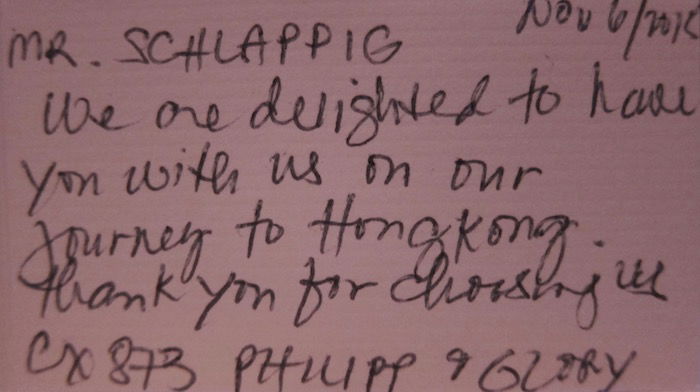 Note from crew in Cathay Pacific first class
Ford and I both had caviar to start. Cathay Pacific does a fabulous caviar presentation, as they serve each passenger an entire tin of Calvisius caviar. I quite like that they leave it in the tin, though I know some find that trashy. I'm sure we can at least all agree that the mother of pearl spoon is a nice touch. 😉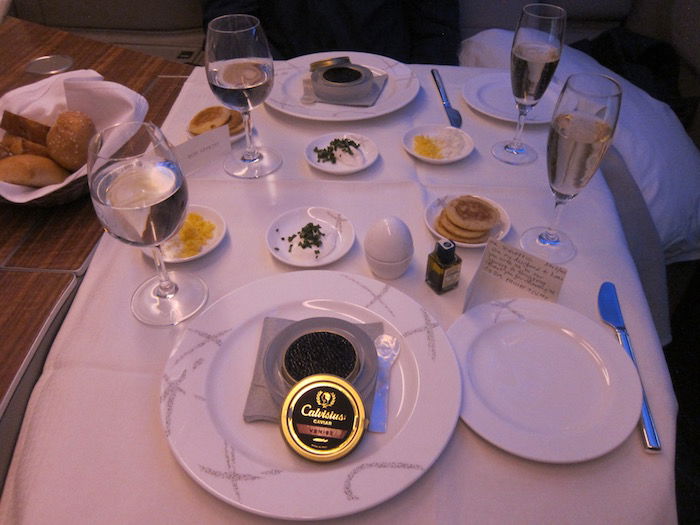 Cathay Pacific first class dinner — caviar and champagne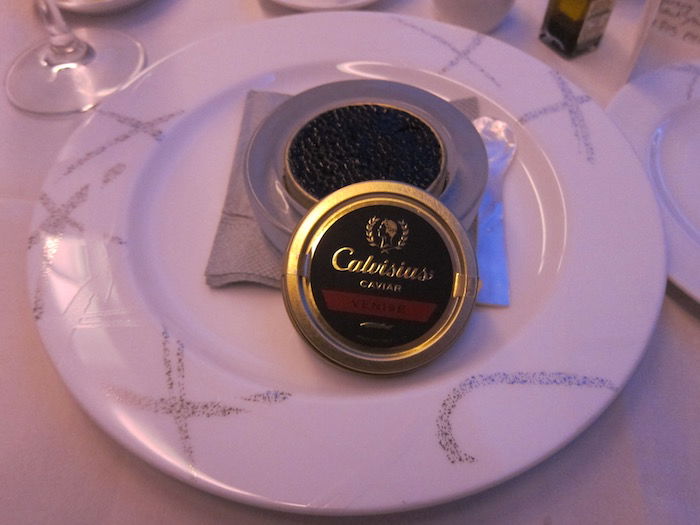 Cathay Pacific first class dinner — Calvisius caviar
We were also offered a bread basket, which had garlic bread and some other types of bread. The garlic bread is all that matters, as it's really good.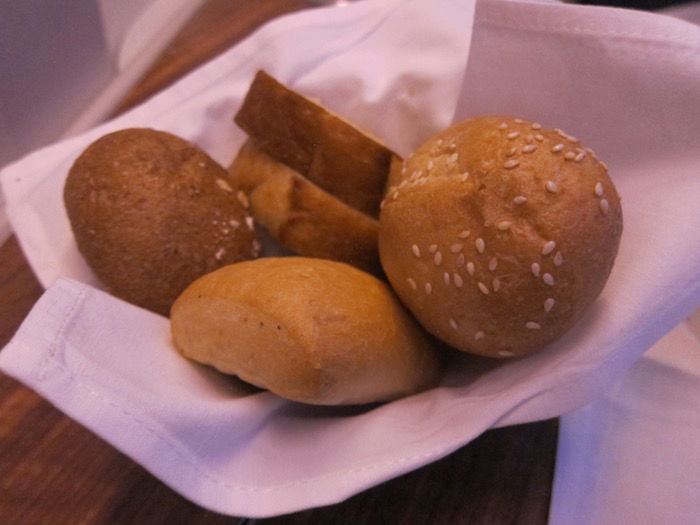 Cathay Pacific first class dinner — bread basket
For the starter I had the cream of mushroom soup. It was nice, though was hardly anything special. It could have just as easily come out of a Campbell's Soup can.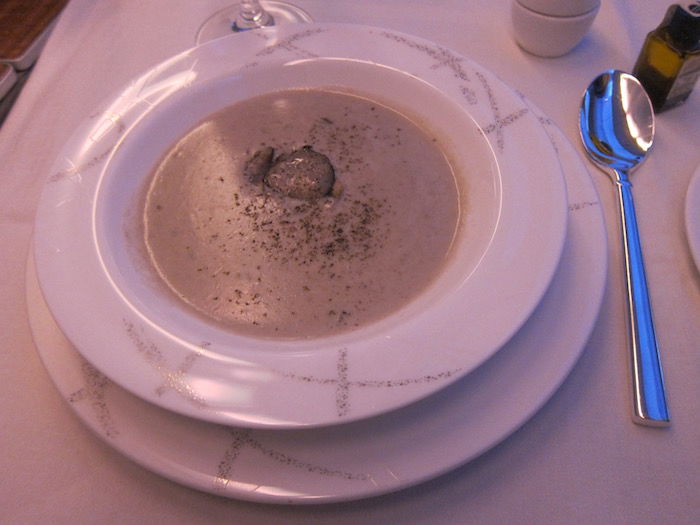 Cathay Pacific first class dinner — cream of mushroom soup
Next I ordered the salad with scallops, which was excellent. As a seafood fan, I love that Cathay Pacific usually puts huge prawns or scallops on their salads.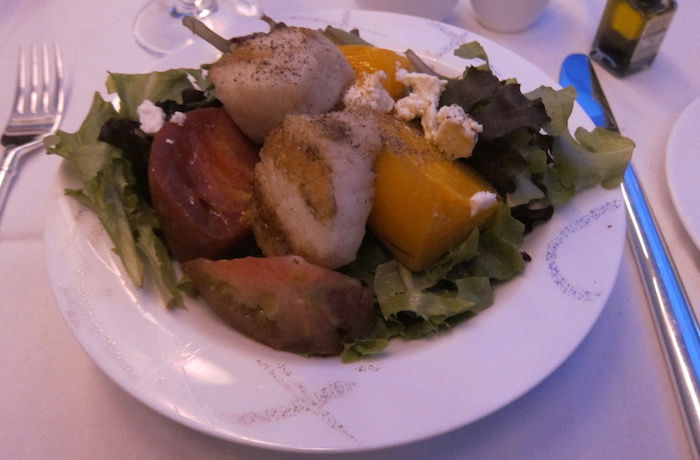 Cathay Pacific first class dinner — mesclun salad with jumbo scallops
I've never been impressed by Cathay Pacific's western main course options (the pasta usually tastes like it's from a Lean Cuisine box, while the beef option tends to be fatty), so I did the stir fried Maine lobster.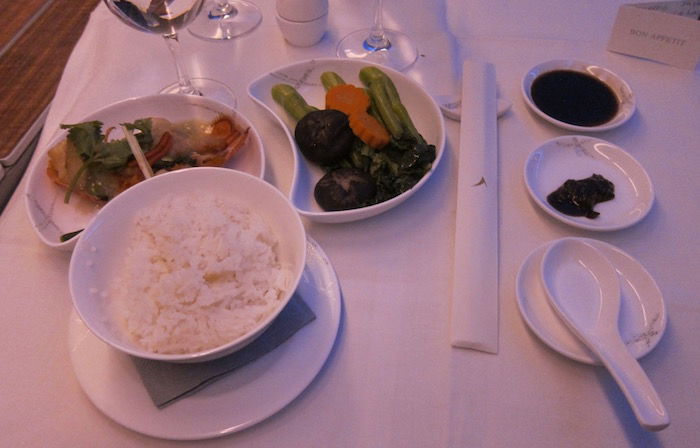 Cathay Pacific first class dinner — stir fried Maine lobster
It was good, though frankly there wasn't much meat in the lobster, and it tasted really buttery. So it was still the best option, but wasn't the best dish I've had on Cathay Pacific.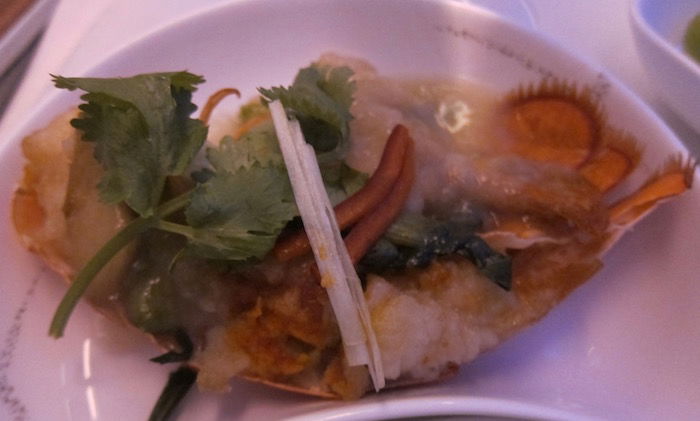 Cathay Pacific first class dinner — stir fried Maine lobster
For dessert I had the chocolate cake with vanilla ice cream, which was sinfully delicious.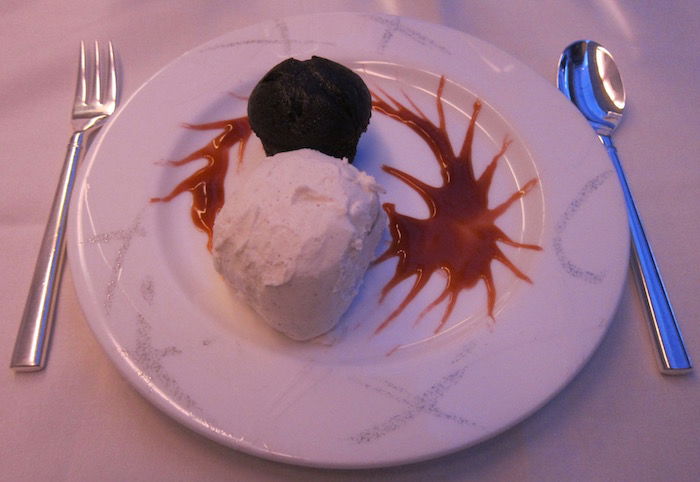 Cathay Pacific first class dinner — chocolate cake and vanilla ice cream
Lastly I had a cappuccino to finish off the meal.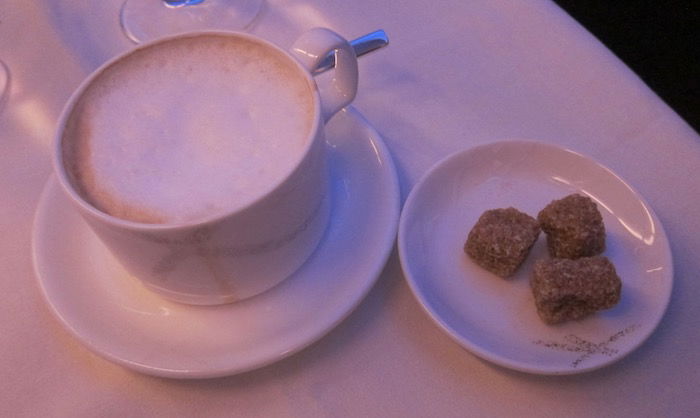 Cathay Pacific first class dinner — cappuccino
Meanwhile Ford had scotch and ice cream.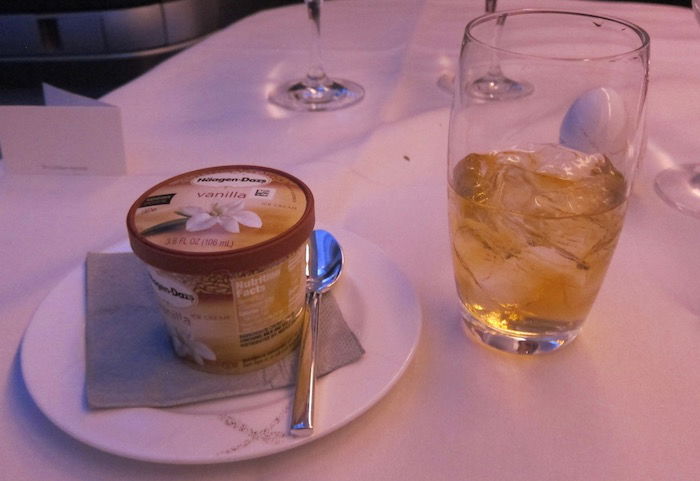 Cathay Pacific first class dinner — scotch and Haagen-Dazs vanilla ice cream
The meal was done about two hours into the flight, which was a good pace of service. Service throughout the meal was good, though not amazing. An amazing Cathay Pacific crew is truly amazing, while I'd say this crew can be described as "good." Patrick was charming and engaging, while frankly the other first class flight attendant seemed a bit removed.
At this point I was tired. I'm an early riser and usually get up at 5AM, so by 2AM it was way past my bedtime.
I requested turndown service as I was ready to sleep. Cathay Pacific has one of the most comfortable beds in the sky, actually largely thanks to the fact that it's not fully enclosed. That makes it feel more spacious and less claustrophobic, in my opinion.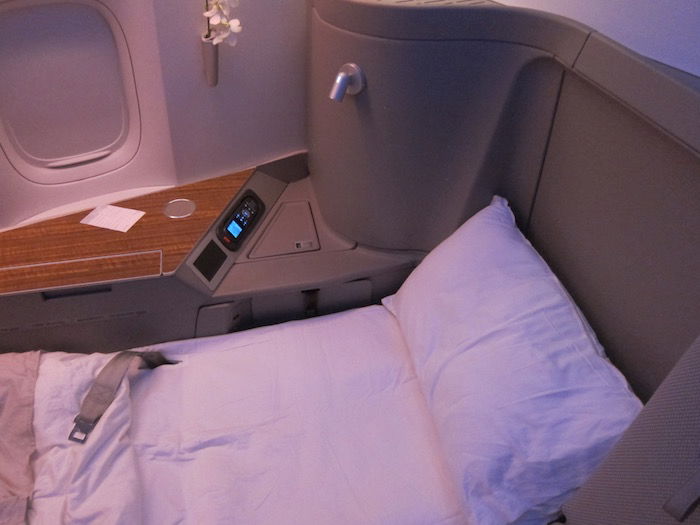 Cathay Pacific first class bed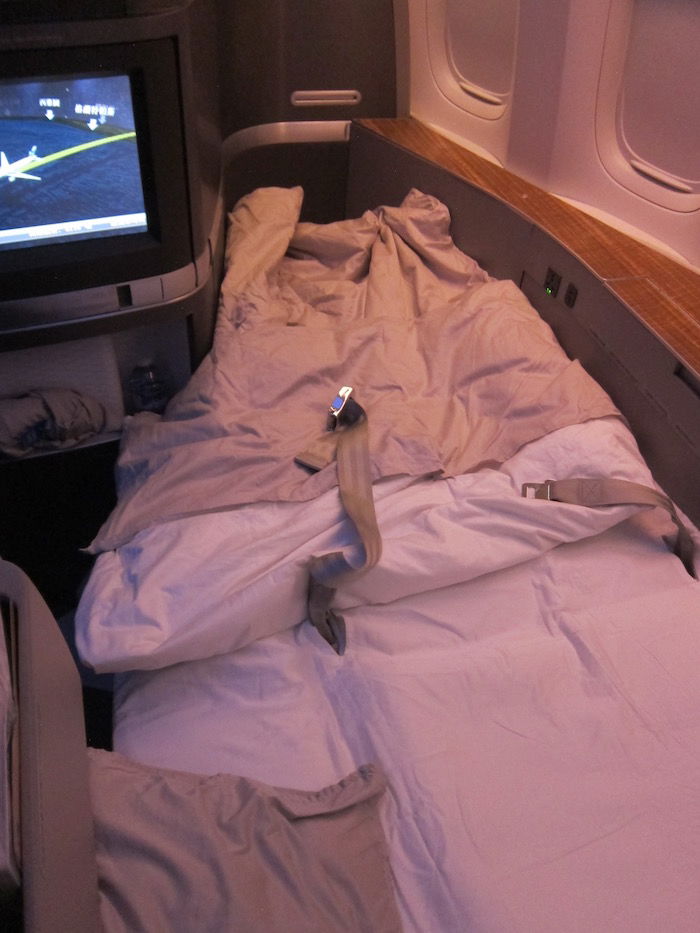 Cathay Pacific first class bed
Along with the turndown service I was offered a bottle of water.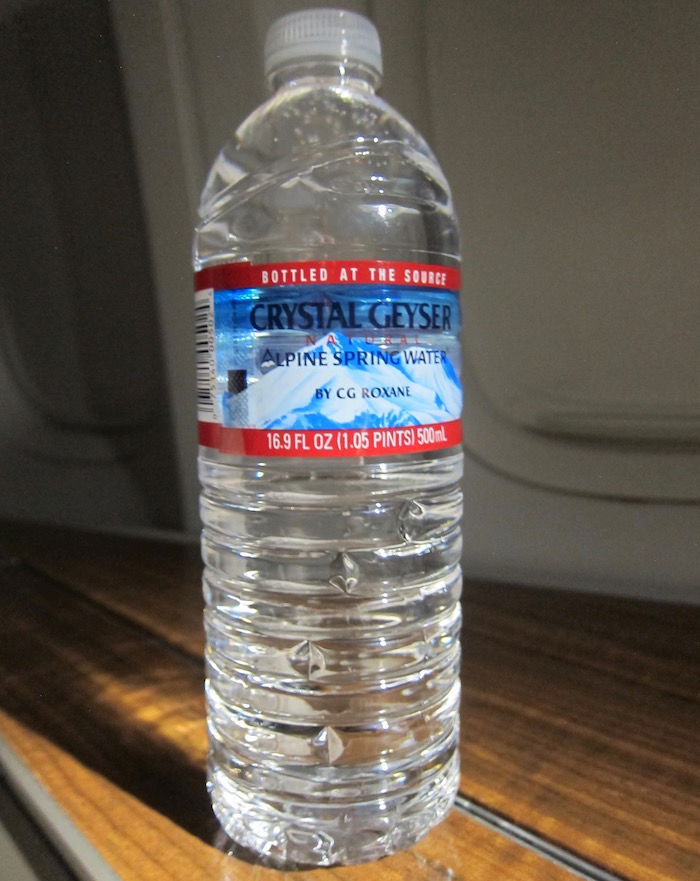 Bottled water
I managed to sleep for about six hours, until we were about six hours out of Hong Kong. It wasn't especially deep sleep due to the turbulence. We were rocking and rolling almost the entire way across the Pacific, as I find to be the norm on Cathay Pacific. I swear Cathay Pacific flights are consistently bumpier than flights on any other airline.
I finally really woke up when we were hitting some serious turbulence. I was still laying down, and the only thing preventing me from levitating above my seat was the snug position my seatbelt was in. It continued for about 15 minutes, at which point it went back to only being mildly turbulent again.
I decided to watch a couple of shows on my iPad, at which point we were five hours out of Hong Kong, just slowly approaching Japan.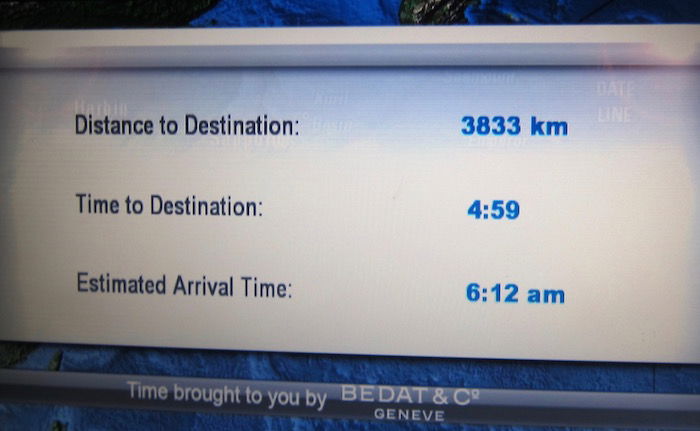 Airshow enroute to Hong Kong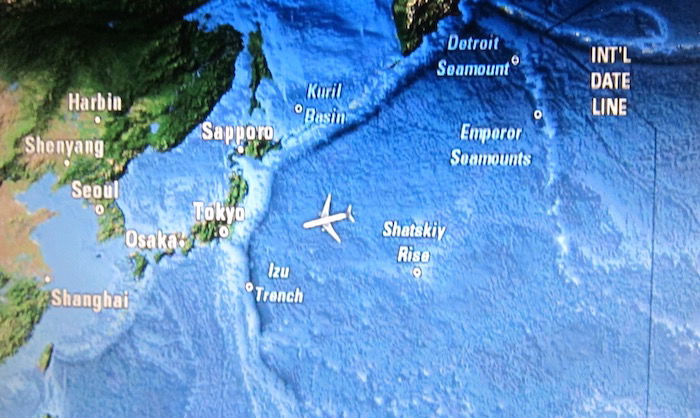 Airshow enroute to Hong Kong
At that point I browsed the StudioCX selection and decided to watch Pitch Perfect 2. I loved the first movie, and the second was almost as hilarious.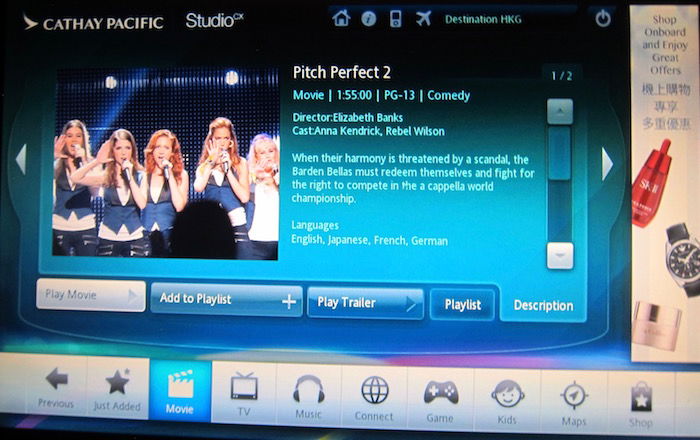 Cathay Pacific StudioCX entertainment selection
The one thing which is annoying about StudioCX is how many ads they play.
They must have a good five minutes of ads before watching anything, including a sitcom. On the plus side, at least they make it fairly easy to fast forward through them. What's also funny about the ads is that they're almost all aspirational banking ads. You'd think they would have some kind of an exclusivity agreement with one of the banks, because when you see five ads in a row about how HSBC, Bank of Singapore, etc., can all manage your money, I'm not sure it actually makes much of an impression.
Then again, maybe it does, because I specifically recall this ad from Bank of Singapore:
At this point I was starting to get a bit hungry, so had a look at the snack menu, which read as follows: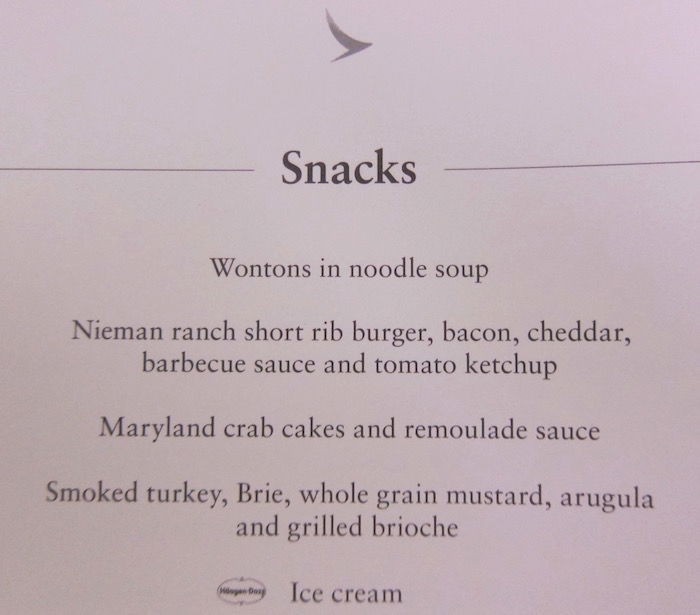 The portions aren't huge, so I decided to pig out a bit. I had the smoked turkey and brie sandwich, which was simple but tasty.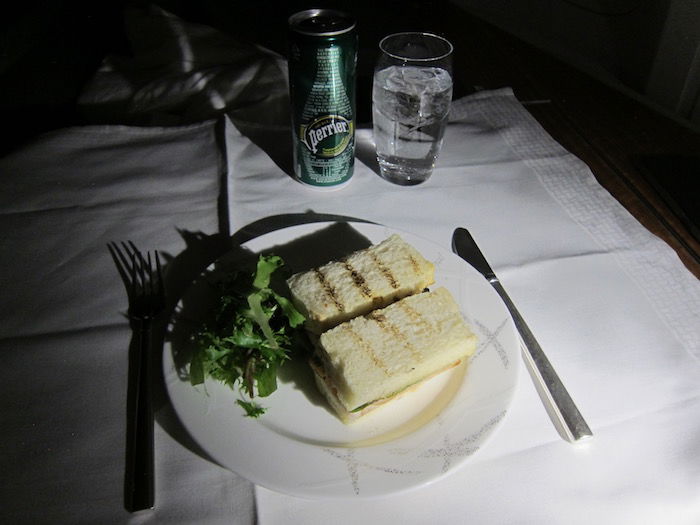 Cathay Pacific snack — turkey sandwich
Then I had the crab cakes, which Cathay Pacific consistently does a great job with. They're one of my favorite airplane snacks.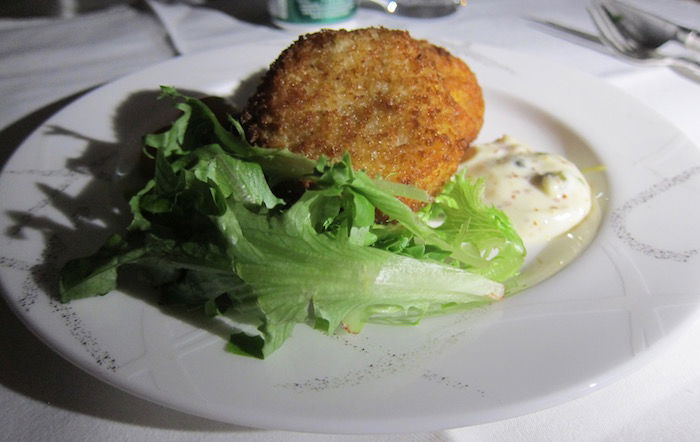 Cathay Pacific snack — crab cake
And then I had some strawberry ice cream to finish off the meal.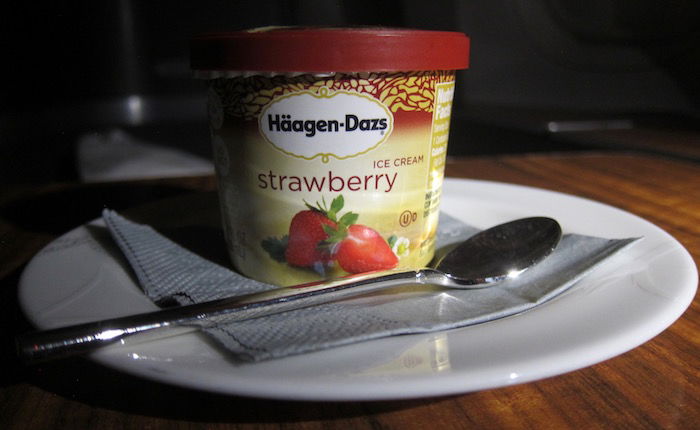 Cathay Pacific snack — strawberry ice cream
I watched a few more sitcoms for the next couple of hours, and then we were already just over 90 minutes outside of Hong Kong, meaning it was time for breakfast. The breakfast menu read as follows: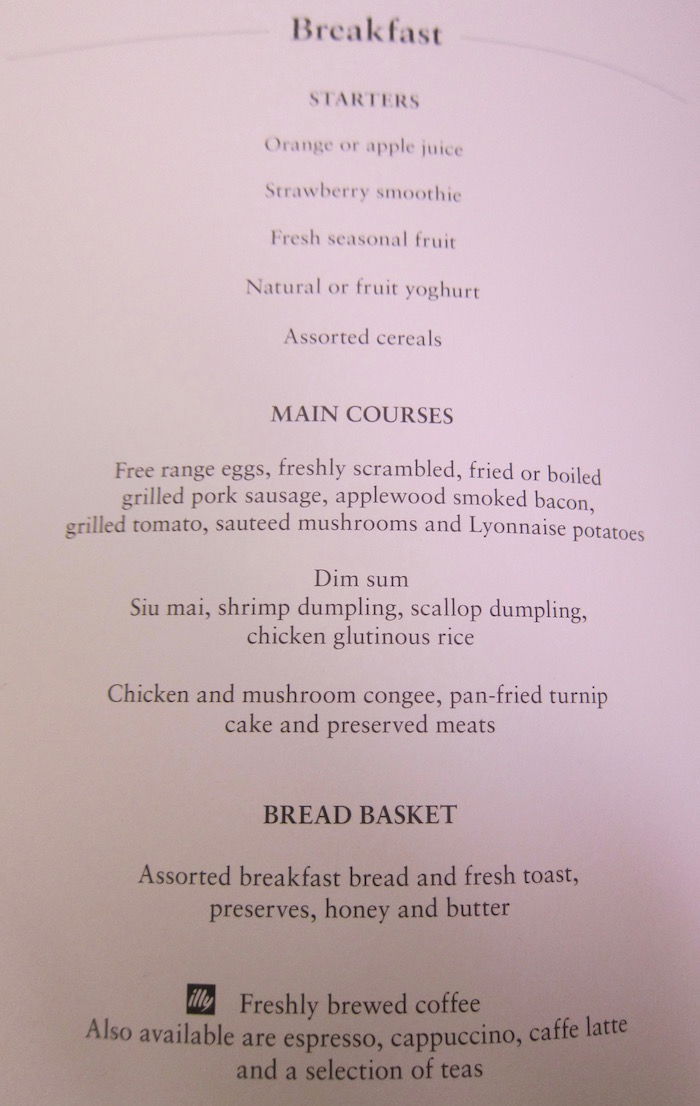 To drink I had still water, the strawberry smoothie, and a cappuccino. Then I had a fruit plate to start.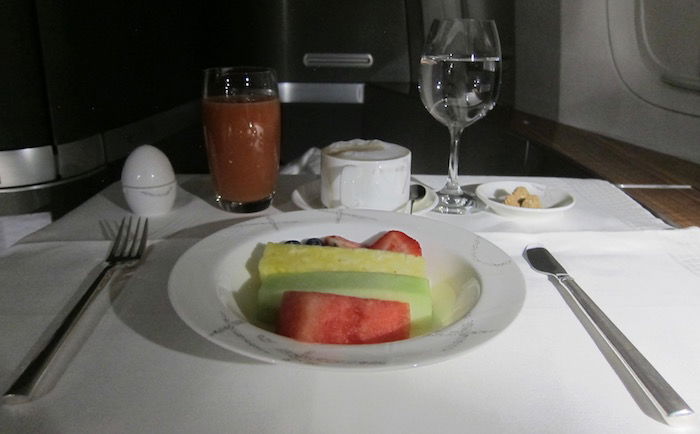 Cathay Pacific first class breakfast — fresh seasonal fruit, smoothie, and cappuccino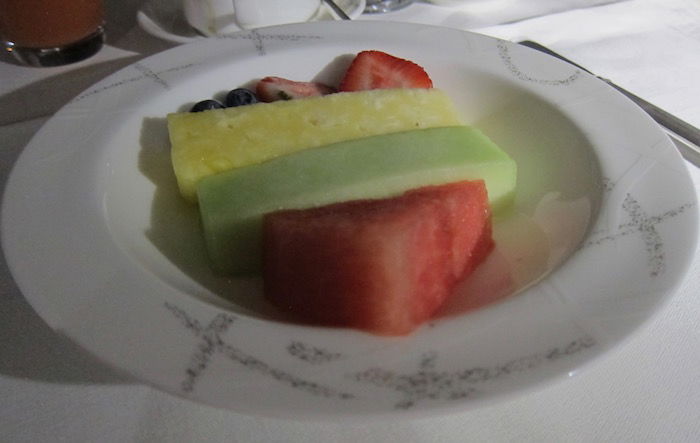 Cathay Pacific first class breakfast — fresh seasonal fruit
Next I had some muesli with milk.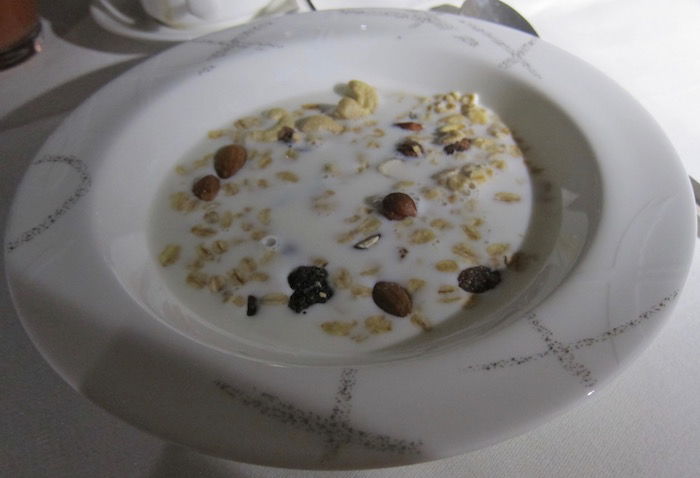 Cathay Pacific first class breakfast — muesli
And then I ordered some scrambled eggs, which Cathay Pacific prepares freshly aboard. I specifically requested they be well done (I hate runny eggs), and they did a great job honoring that request, as they were exactly how I like them. I also love that Cathay Pacific has Tabasco sauce onboard.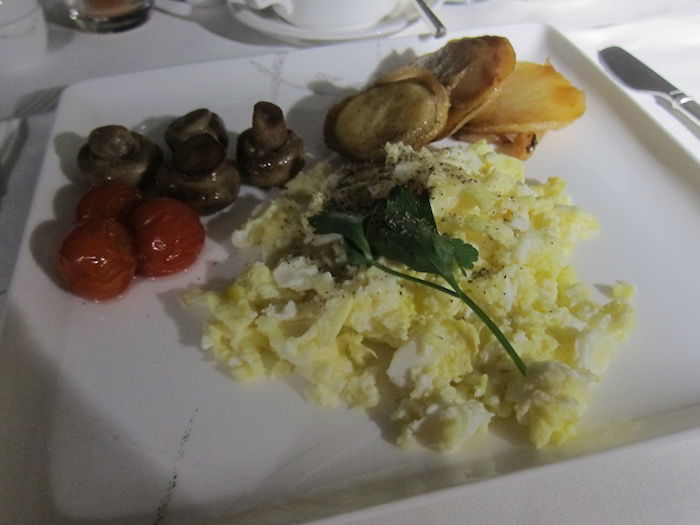 Cathay Pacific first class breakfast — scrambled eggs
About 45 minutes before landing I changed out of my pajamas and into jeans and a t-shirt. Shortly thereafter the captain came on the PA to provide some updated arrival information, informing us we'd be touching down at 6AM sharp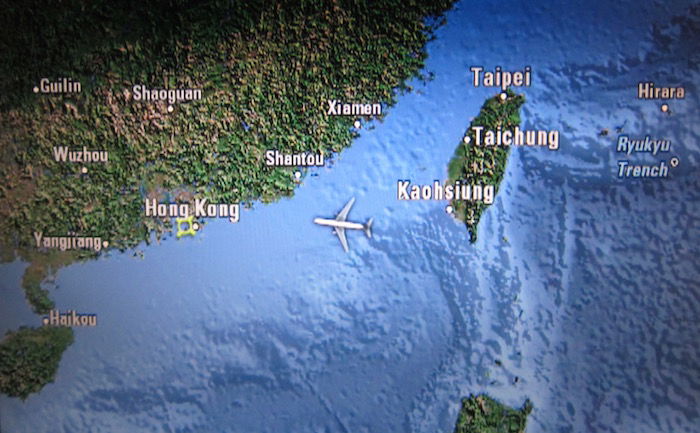 Airshow enroute to Hong Kong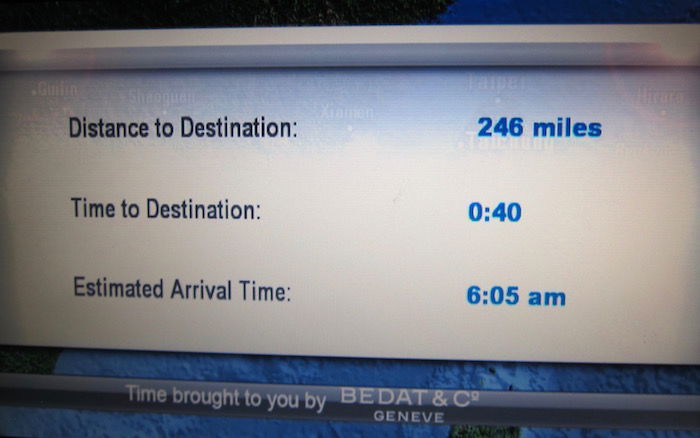 Airshow enroute to Hong Kong
Our descent into Hong Kong was smooth for the most part, minus one pretty huge air pocket. Unfortunately it was still dark outside, though on the final approach I could see some views of the islands surrounding Hong Kong.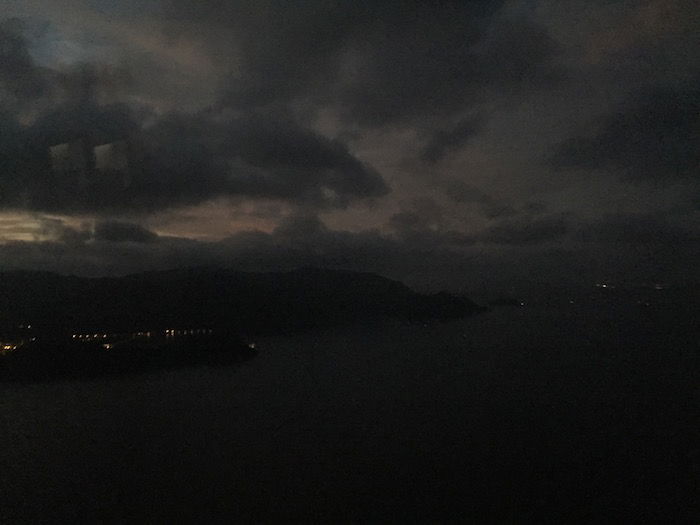 Approach into Hong Kong
We had a smooth touchdown at 6AM even, and then had a 10 minute taxi to gate 19, where we'd be parking.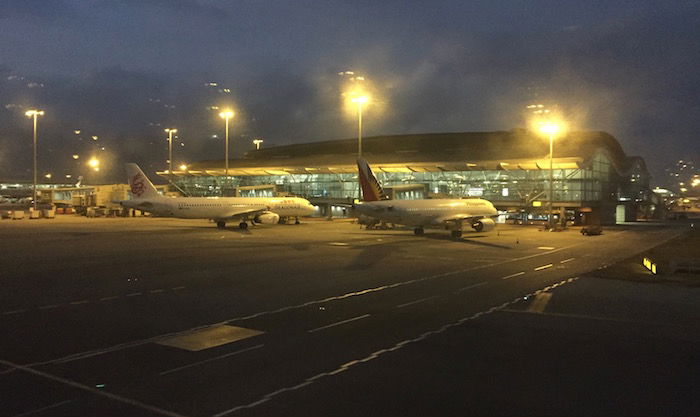 Taxiing Hong Kong Airport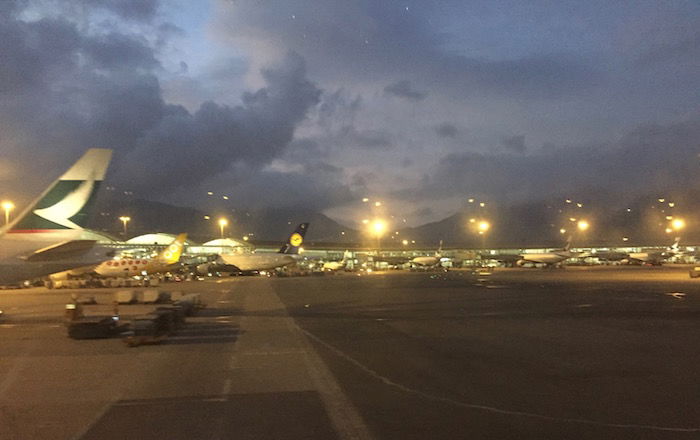 Pulling into gate Hong Kong Airport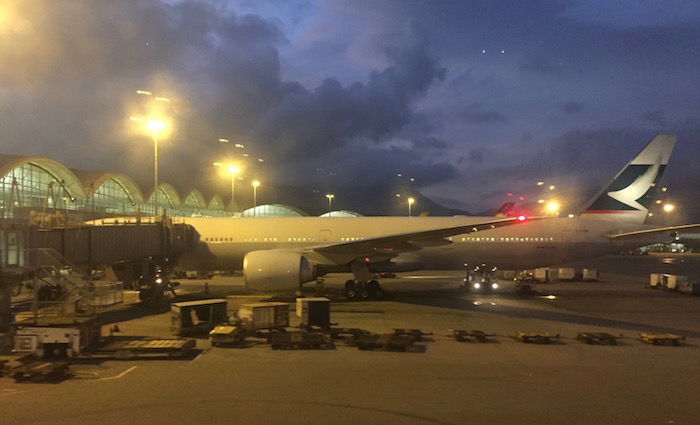 Pulling into gate Hong Kong Airport
From there it was off to the arrivals lounge for a quick shower, and then to explore my favorite city in the world.
Cathay Pacific first class bottom line
Cathay Pacific continues to offer one of the all around most well rounded first class products in the world, in my opinion. From the comfortable seat to the amazing bed to the good entertainment to the solid food to the usually excellent service, it's extremely well rounded.
Cathay Pacific first class truly makes it easy to go to bed in the US and wake up in Asia, cheesy as it sounds.
As far as the service on this sector goes, it was good but wasn't great. I've had some amazing Hong Kong based crews who just have an incredible attention to detail. For example, they'll fluff up your blanket and pillow every time you go to the restroom, and couldn't come across as happier to be there.
This crew was efficient and friendly, though in a way you could also experience on a US airline. So I've had better crews in Cathay Pacific first class, though I've also had worse crews.
All-in-all it was a fantastic flight. I love Cathay Pacific!