---
Flights within the Gulf in premium cabins are a real treat, especially on Qatar Airways. That's because Qatar Airways flies many of their longhaul configured aircraft on short 30 minute flights around the Gulf. Where else in the world can you fly a longhaul configured 777 or 787 on a 30 minute flight?
Beyond that, in the case of Qatar Airways, the forward cabin on intra-Gulf flights is even marketed as first class, meaning you get better lounge access than if you were flying the same seat on a longhaul flight. You can't beat having access to the Al Safwa First Class Lounge before a ~30 minute flight.
Qatar Airways 1056
Doha (DOH) – Abu Dhabi (AUH)
Thursday, November 19
Depart: 8:15PM
Arrive: 10:25PM
Duration: 1hr10min
Aircraft: Boeing 777-300ER
Seat: 3J (First Class)
I boarded through the forward left door, where I was greeted by two charming flight attendants. I've said in the past that I find Qatar Airways crews to be a bit "reserved," but this crew actually had a lot of personality.
Upon boarding I noticed that the plane used for this flight had been swapped. It was supposed to be a 777-300ER in the premium configuration (which features 42 business class seats), but instead they swapped it out to the denser configuration, which features just 24 business class seats, spread across four rows in a 2-2-2 configuration.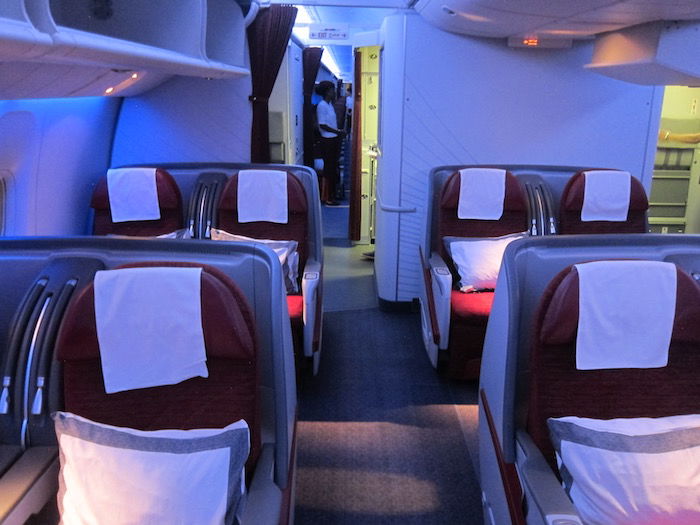 Qatar Airways 777 first class cabin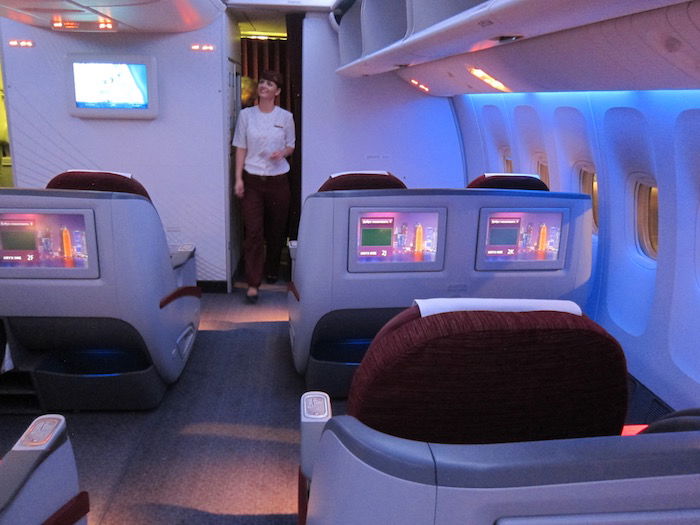 Qatar Airways 777 first class cabin
I had selected seat 3J, an aisle seat on the right hand side in the third row.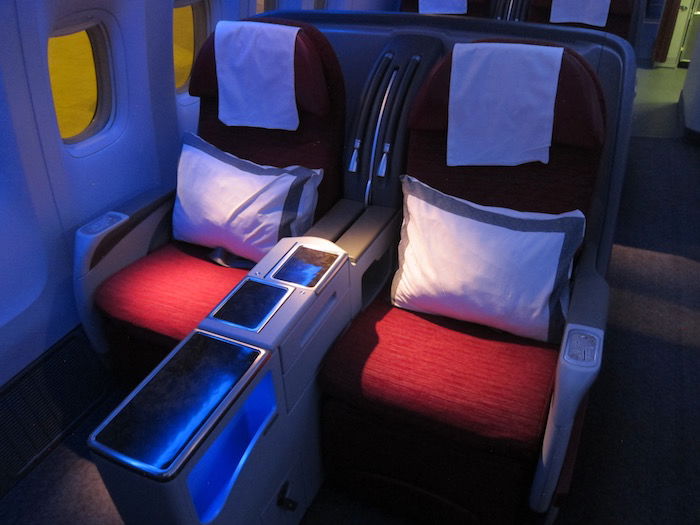 Qatar Airways 777 first class, seats 3J & 3K
Legroom was plentiful, and for that matter I reviewed the seat more in-depth on my flight from Bali to Doha, and on a previous flight from Cairo to Doha.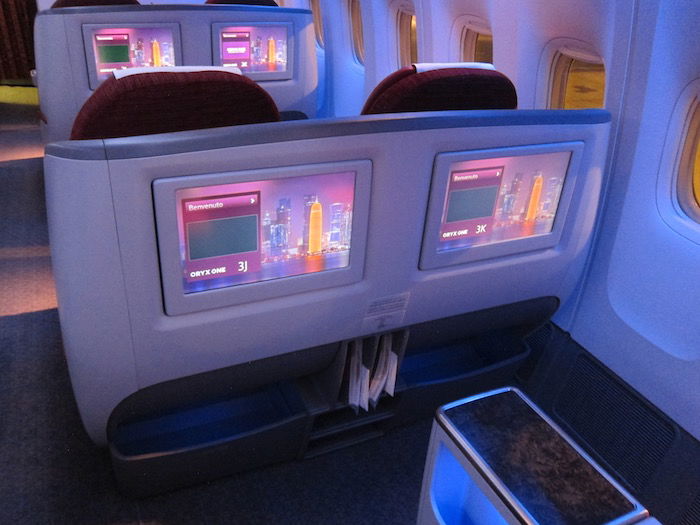 Qatar Airways 777 first class, seats 3J & 3K
Once I settled in, Andrea, the flight attendant taking care of me, came by to introduce herself. Natasha, the supervisor, also came by to say hello and offer me a fast track immigration card for the UAE.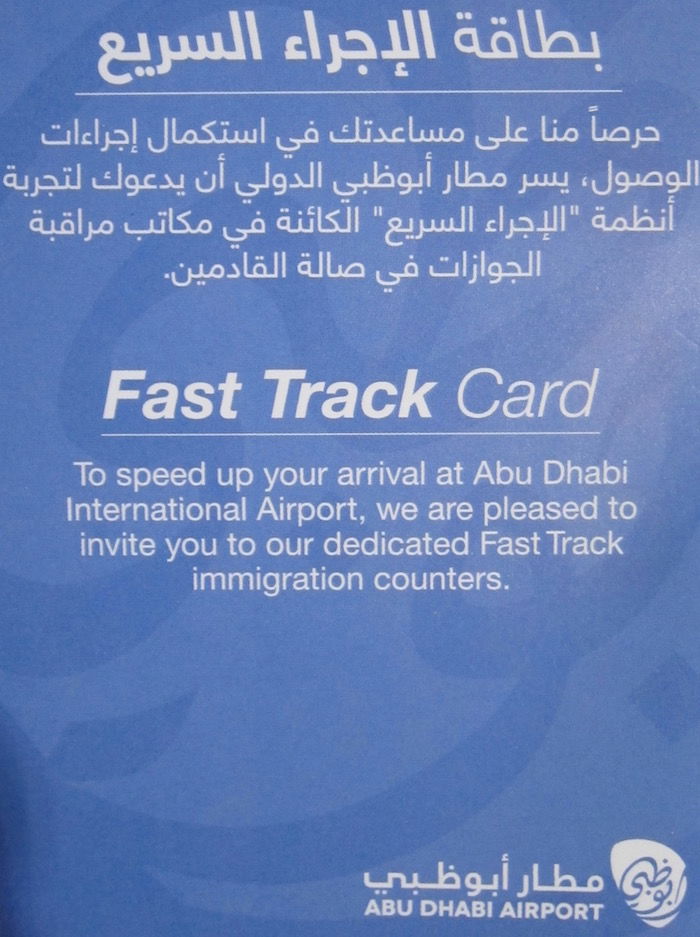 UAE Fast Track immigration card
The crew did a good job of escorting each guest to their seat as they boarded, and familiarizing them with the product.
The cabin quickly began to fill up, until it was about three quarters full. Interestingly almost everyone on the flight seemed to be American, presumably because they were connecting on flights from the US (which makes sense given the time of this flight). Not just that, but they largely seemed to be Americans who were visiting their kids in the UAE.
There was an adorable older American couple seated in front of me, and they must have spent five minutes telling the flight attendant how proud they were of their daughter in the UAE. It was adorable, though at the same time the flight attendant had a lot to do. She was a good sport about it, though.
I also sort of got the sense they may not have been world travelers, to put it mildly. They first asked the flight attendant if she was Oriental. When she said she was from the Philippines, the husband responded with "I'm not sure how long of a journey it is for your people, but for us it was a long flight from the US today."
The guy seated next to me was a younger American guy, who I'm guessing was a government contractor of some sort. I made the mistake of accidentally glancing at his phone while looking out of the window. He was sending genital pictures through iMessage. I put on headphones and avoided eye contact for the rest of the flight.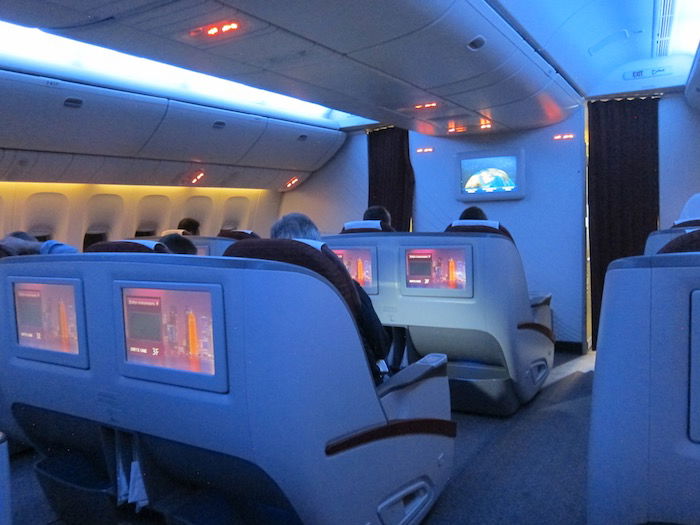 Qatar Airways 777 first class cabin
I was also offered a pre-departure beverage, and selected a glass of champagne. I was offered my choice of hot or cold towel, and selected the latter. Both were promptly served. Qatar Airways starts boarding pretty early, so there were plenty of opportunities for drink refills as the boarding process continued.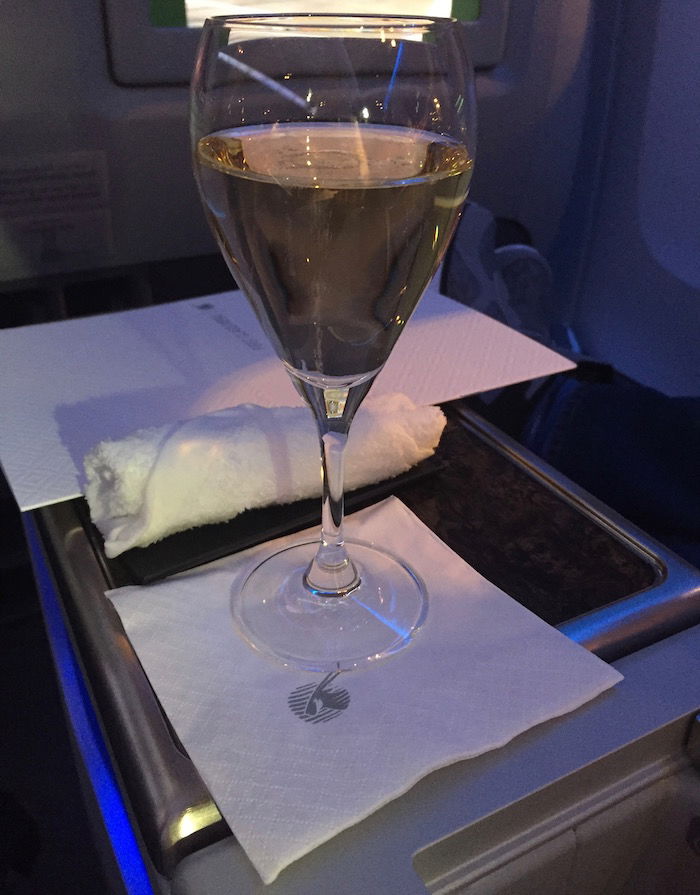 Qatar Airways first class pre-departure champagne and cold towel
Shortly before pushback the crew came through with an Arabic coffee and date service.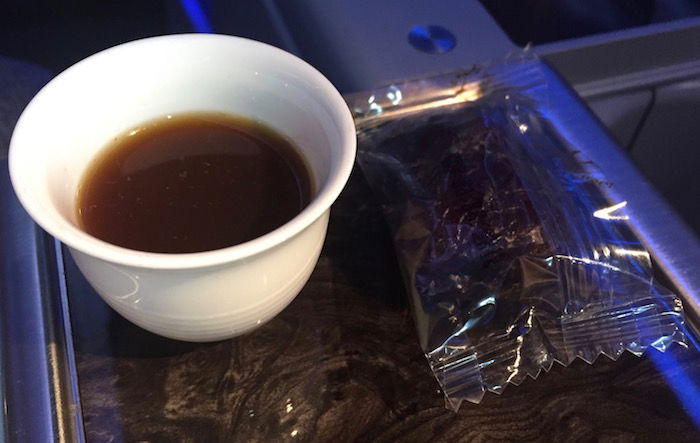 Qatar Airways first class pre-departure champagne Arabic coffee and date
Then the crew came by to take drink and meal orders for after takeoff. The service on this flight is definitely focused on efficiency, given that it's just a ~200 mile flight.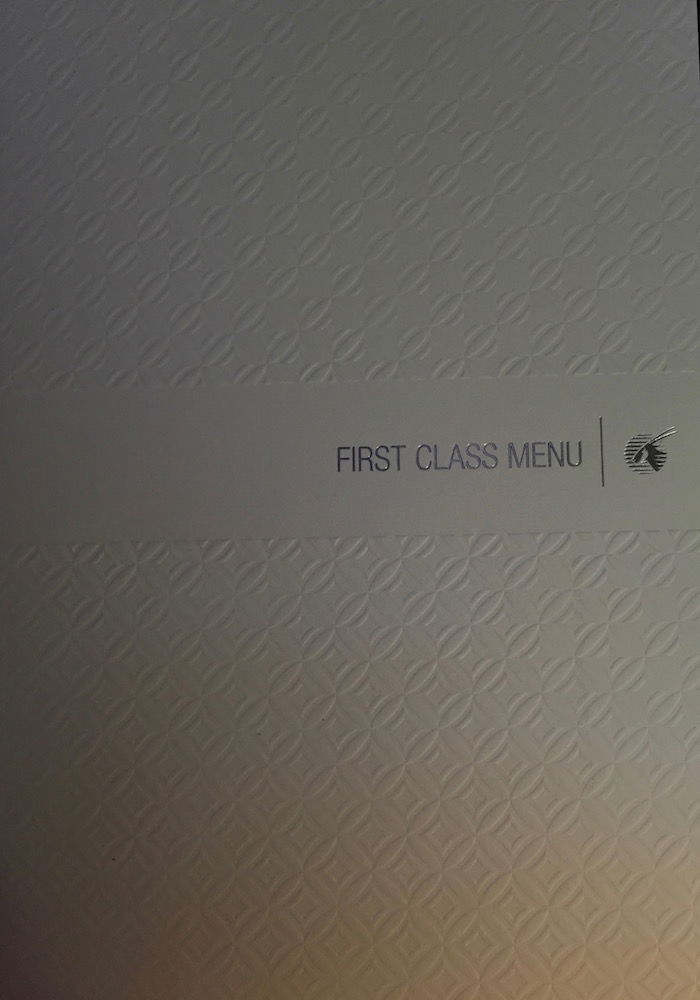 Qatar Airways first class menu
As departure time rolled around the captain came on the PA to introduce himself. He informed us of our flight time of 30 minutes, and that we'd be cruising at 21,000 feet. He further said that his "esteemed colleague," the first officer, would be doing the flying on tonight's flight.
At 8:10PM we began our pushback, though the flight attendants took a few minutes to start the safety video. It was only done at around 8:20PM, at which point the captain announced "cabin crew immediate seats for takeoff." And for good reason, because 30 seconds later we were rocketing down the runway for takeoff.
The takeoff performance was incredible, as you might expect for a 777 with maybe 90 minutes of fuel on it. We had such a quick takeoff roll and a steep climb that it was borderline exhilarating.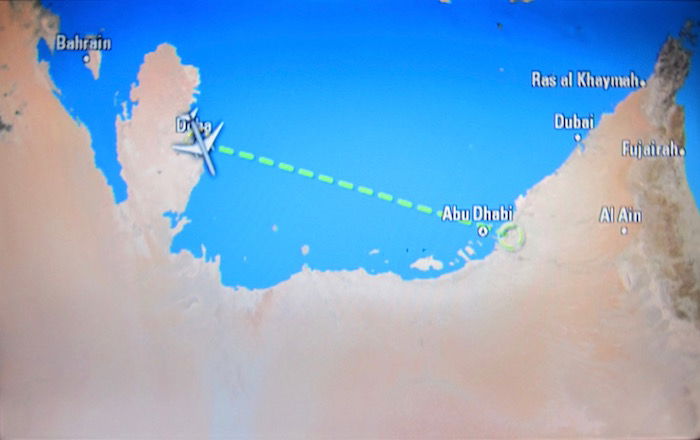 Airshow enroute from Doha to Abu Dhabi
About five minutes after takeoff the seatbelt sign was turned off, at which point service immediately began.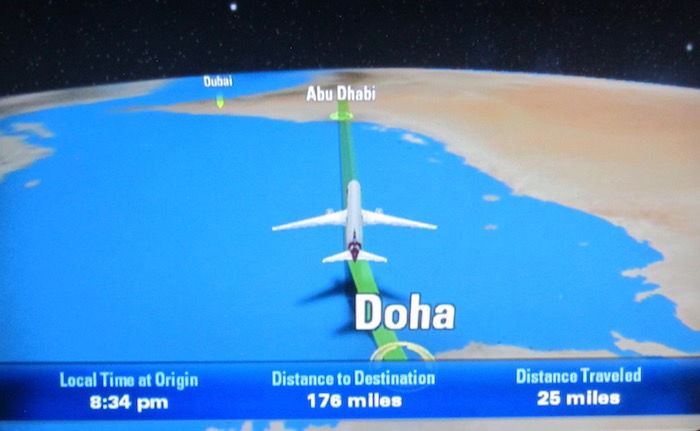 Airshow enroute from Doha to Abu Dhabi
You've gotta love how on an hour flight in the US the crews can't even do a drink service. This experience was exactly the opposite.
The menu read as follows: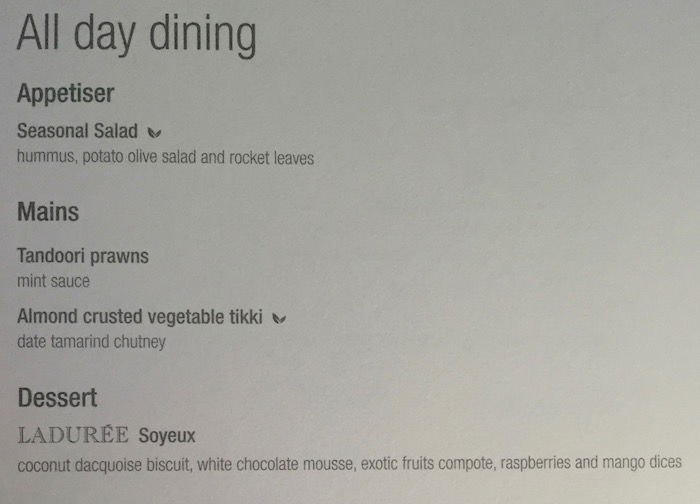 And the beverage list read as follows: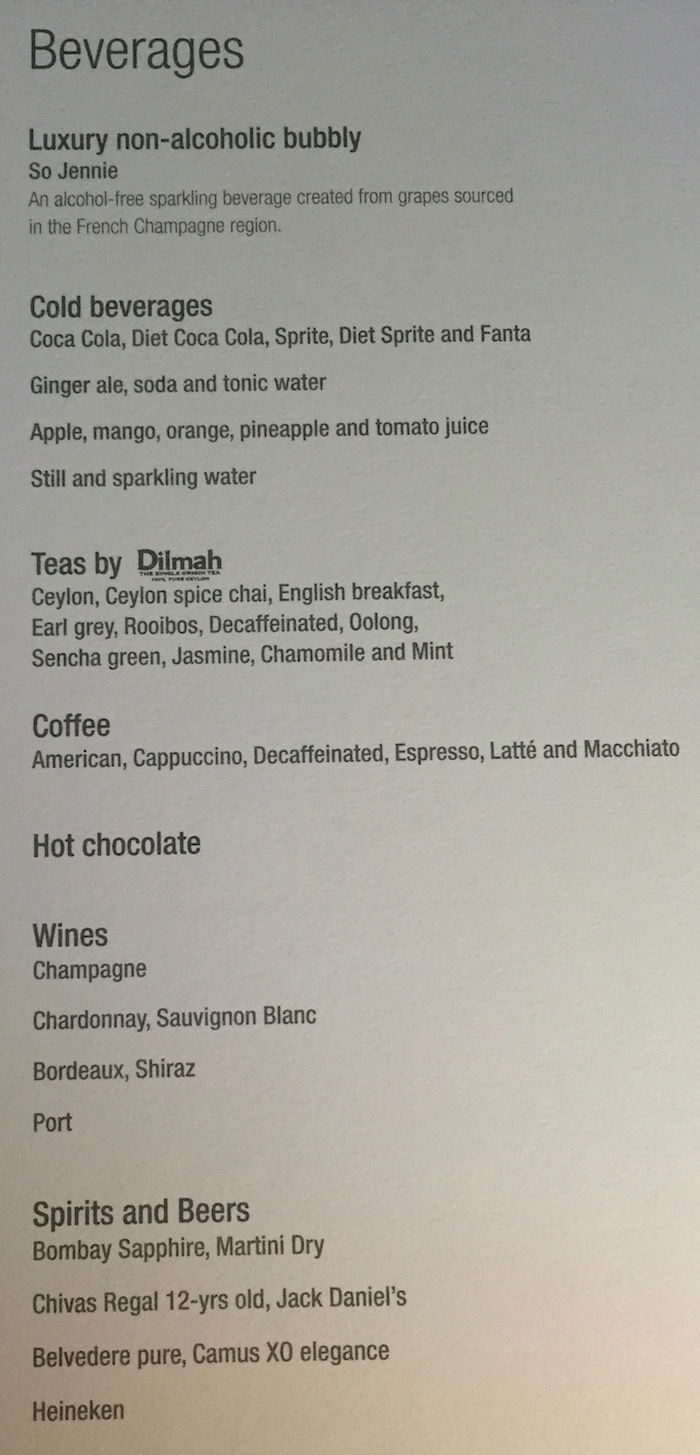 Within a few minutes of the seatbelt sign being switched off I was served a delicious tandoori prawn dish along with a salad and hummus. I was also offered a warm roll and a gorgeous Laduree dessert. To drink I had another glass of champagne as well as a glass of still water.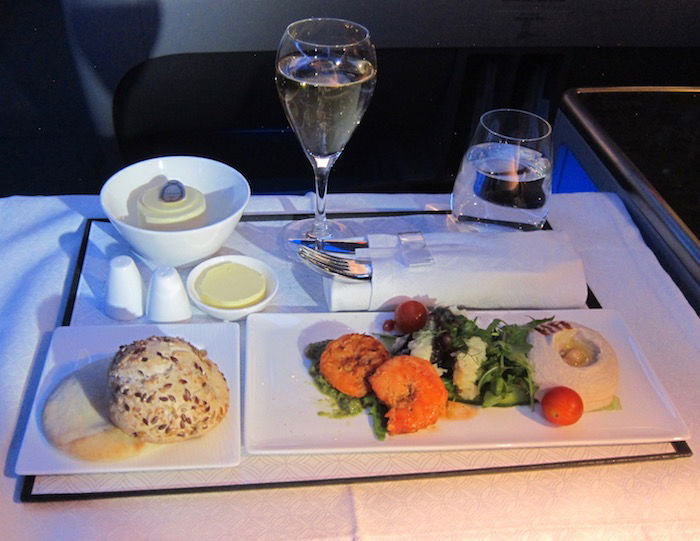 Qatar Airways first class snack — tandoori prawns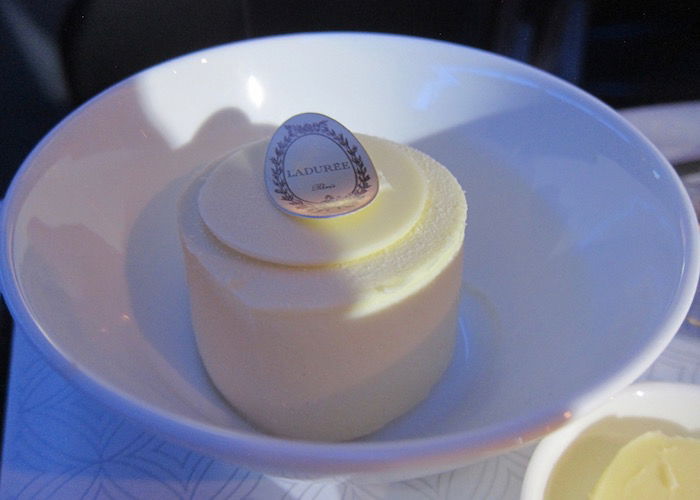 Qatar Airways first class dessert — Laduree soyeux
By the time all the meals were served we were already well into our descent to Abu Dhabi. Nonetheless the crew still did a round of duty free sales.
As my tray was cleared we were already under 10,000 feet, and the flight attendant said "can I get you anything else? Maybe a cappuccino?" Amazing!
Before landing the captain made another announcement, and informed us we'd be delayed just a few minutes due to ATC.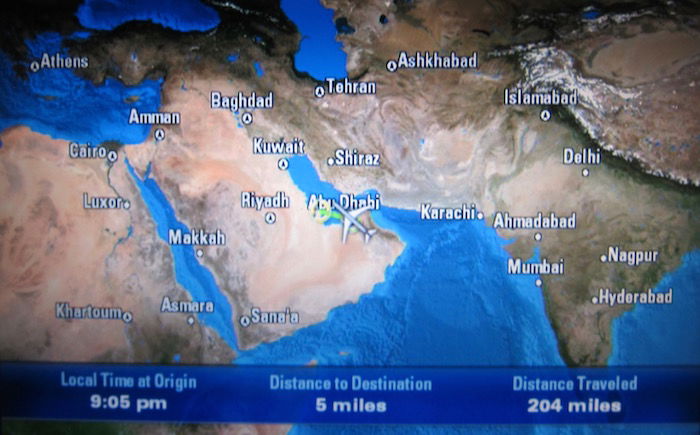 Airshow enroute from Doha to Abu Dhabi
At around 10:05PM we touched down in Abu Dhabi (there was a one hour time change) with a rather rough landing, as the left wheel hit the ground considerably before the right wheel.
As is the norm in Abu Dhabi, it was quite a long taxi to our remote stand. It was 10:20PM before the seatbelt sign was turned off, and then it took a few more minutes before the stairs were positioned and the door opened.
There were two BMW 7-Series waiting, then there was a "premium" bus for first class passengers, and then a couple of other buses for other passengers.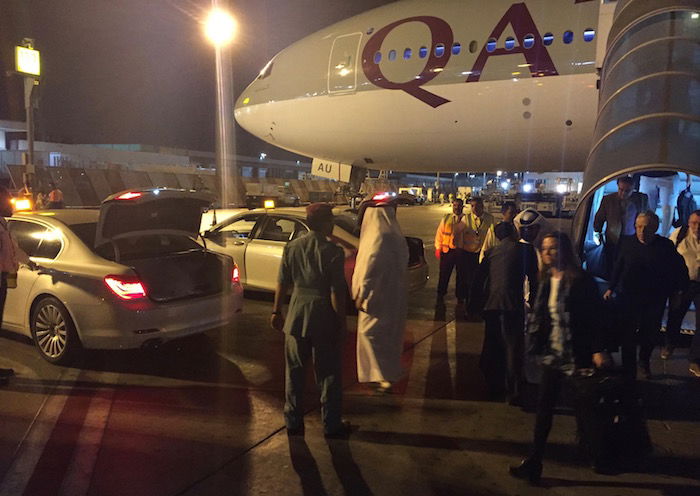 View upon approach in Abu Dhabi
As is the norm when I arrive at a remote stand, I love to take pictures, though I try to do so without drawing too much attention to myself. So I took a few pictures from the bus while it was waiting for the other passengers to board. A guy approached me and said "you must not take pictures of them," while pointing to the two people getting into the BMWs.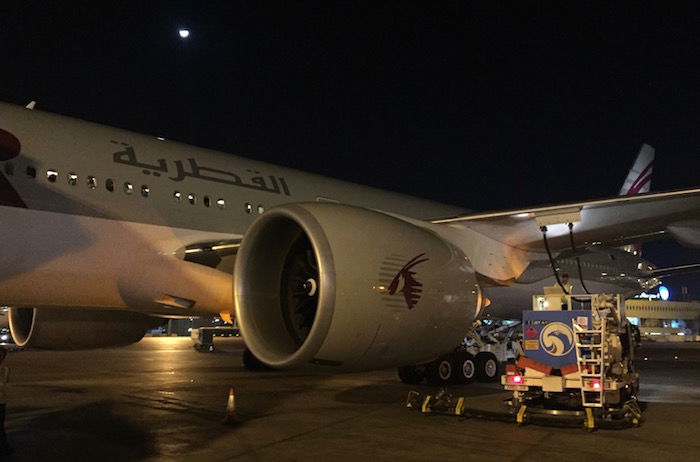 Qatar Airways 777 upon arriving in Abu Dhabi
I had no interest in taking their pictures — it was the planes I wanted to photograph! I apologized, and was sent on my way.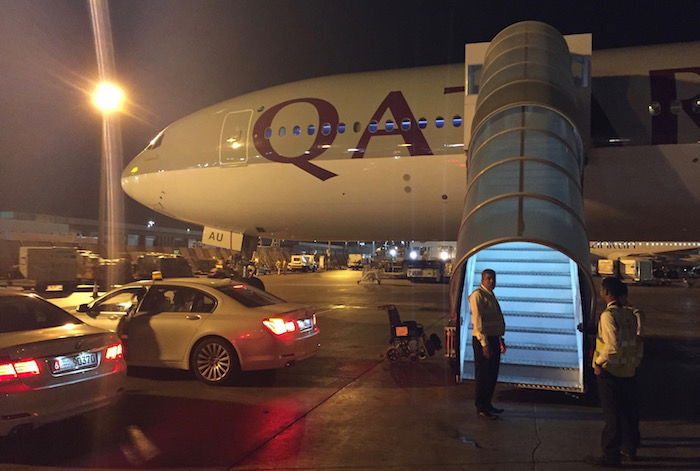 Qatar Airways 777 upon arriving in Abu Dhabi
The premium bus was fairly nice and had seating for everyone.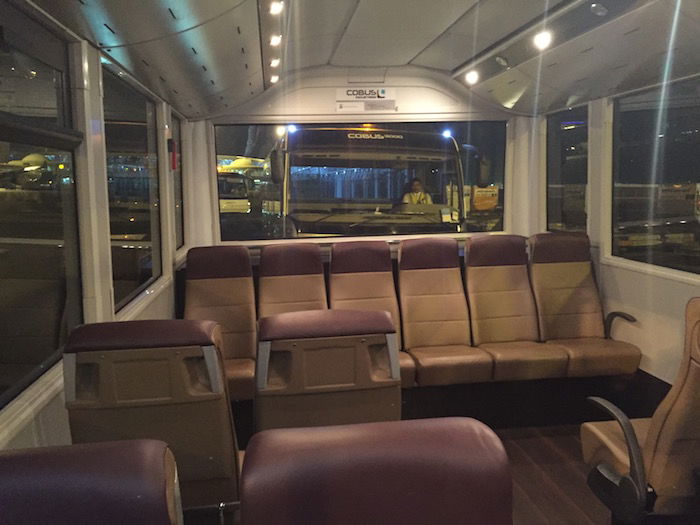 Premium bus to immigration
The drive to immigration took about three minutes, where there was just a very short queue. Within a few minutes I was on my way to Le Meridien Abu Dhabi.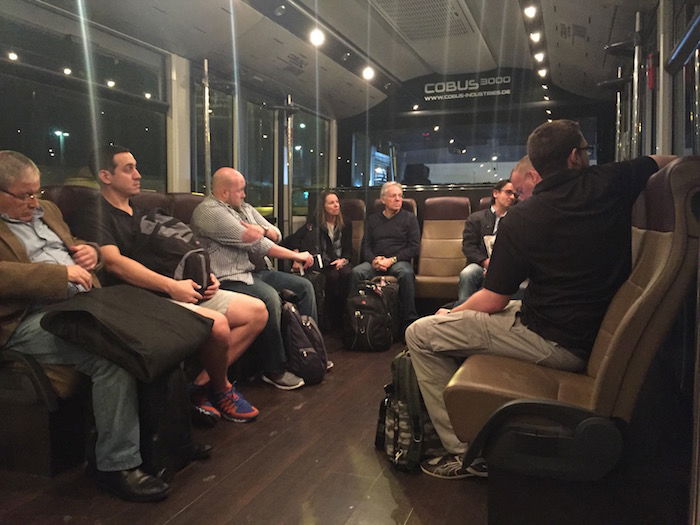 Premium bus to immigration
Qatar Airways first class bottom line
The Middle East might just offer the all around best short-haul premium cabin experience in the world. Between the amazing service, lounges, and flat beds even on 30 minute flights, I can't think of anywhere else in the world which offers as all around awesome of an experience.
The service on flights like this almost feels like a performance, given how much service they provide in such a short time. This was also one of the better Qatar Airways crews I've had.