---
Not to interrupt the narrative, but I'm jumping in the middle of Ben's epic 'round the world' trip using American miles to tell you about my (comparatively small) portion of the trip. We were scheduled to fly the inaugural A380 flight from Abu Dhabi to New York together, and while I had originally planned on a longer trip, some changes at home (aka learning last-minute that I'd be having a dozen over for Thanksgiving in my loft apartment) meant that I had to shorten the trip dramatically if I still wanted to go.
I went ahead and canceled my original outbound arrangements, and then watched space. On the 10th nonstop award availability opened up from Los Angeles to Abu Dhabi for the afternoon of the 20th, which sounded perfect, so I locked that in. I was able to add the connecting flight from San Diego a few days before departure, which made for easy flights.
In the end, my full itinerary was as follows:
11/20 AA5955 San Diego to Los Angeles departing 12:00PM arriving 12:56PM [First]
11/20 EY170 Los Angeles to Abu Dhabi departing 4:10PM arriving 8:30PM (+1 day) [First]
11/23 EY103 Abu Dhabi to New York departing 3:20AM arriving 9:10AM [First]
11/23 AA3 New York to Los Angeles departing at 12:30PM arriving 3:54PM [First]
11/23 AA5958 Los Angeles to San Diego departing at 5:38PM arriving 6:34PM [First]
Overall, this itinerary cost 180,000 American AAdvantage miles, plus $46.30 in fees. I also booked one night at the Park Hyatt Abu Dhabi — I needed the Hyatt stay credit and they had Points+Cash availability. As a bonus it meant I could spend the day at the beach, which seemed like a win all-around.
None of these products are particularly new to OMAAT, so rather than doing individual posts I thought I'd throw the highlights together in one big post. After all, it was a whirlwind trip for me, so maybe we can try and recreate that experience. 😉
San Diego to Los Angeles
I'm not sure if it's directly related to the closure of the commuter terminal at Lindbergh Field, but American has all-new planes on the San Diego > Los Angeles route now.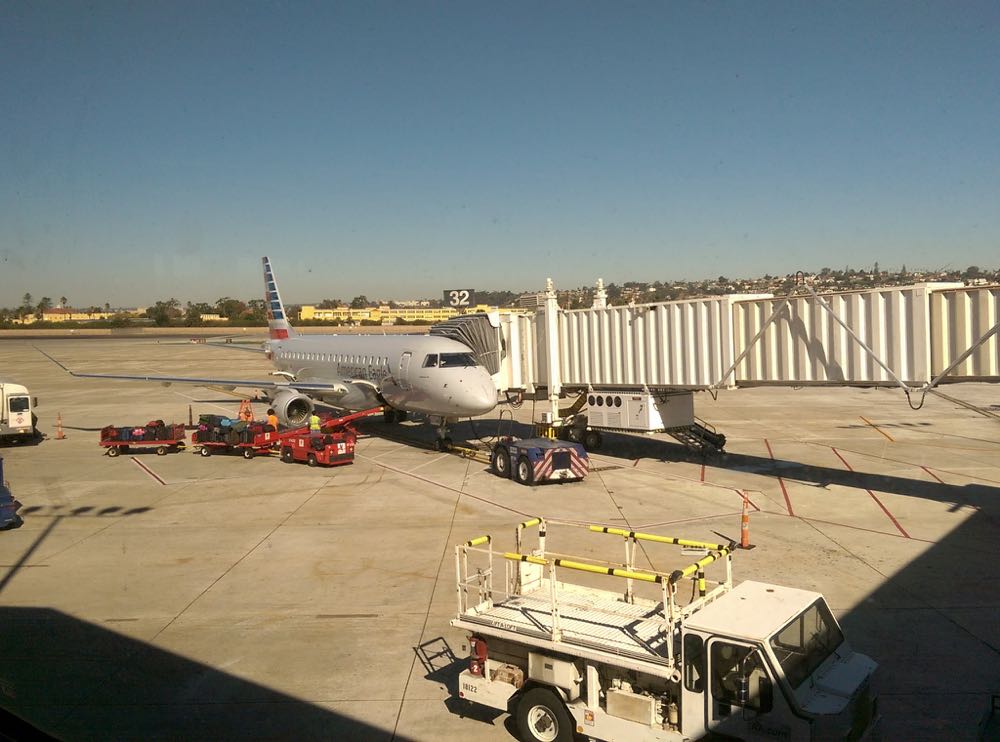 American Eagle San Diego to Los Angeles ERJ-175
These jets are operated for American Eagle by Compass Air, and they are just delightful little planes. First class has a 1-2 configuration, which is surprisingly spacious.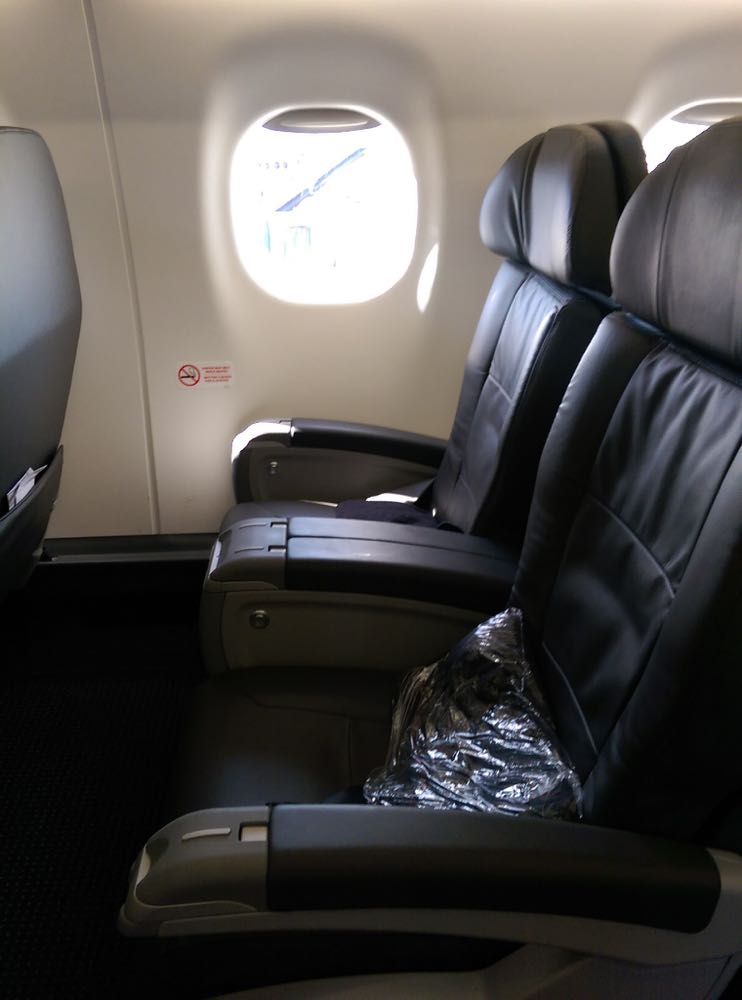 American Eagle San Diego to Los Angeles First Class
Seriously, there's more leg room here than on some of the mid-con products: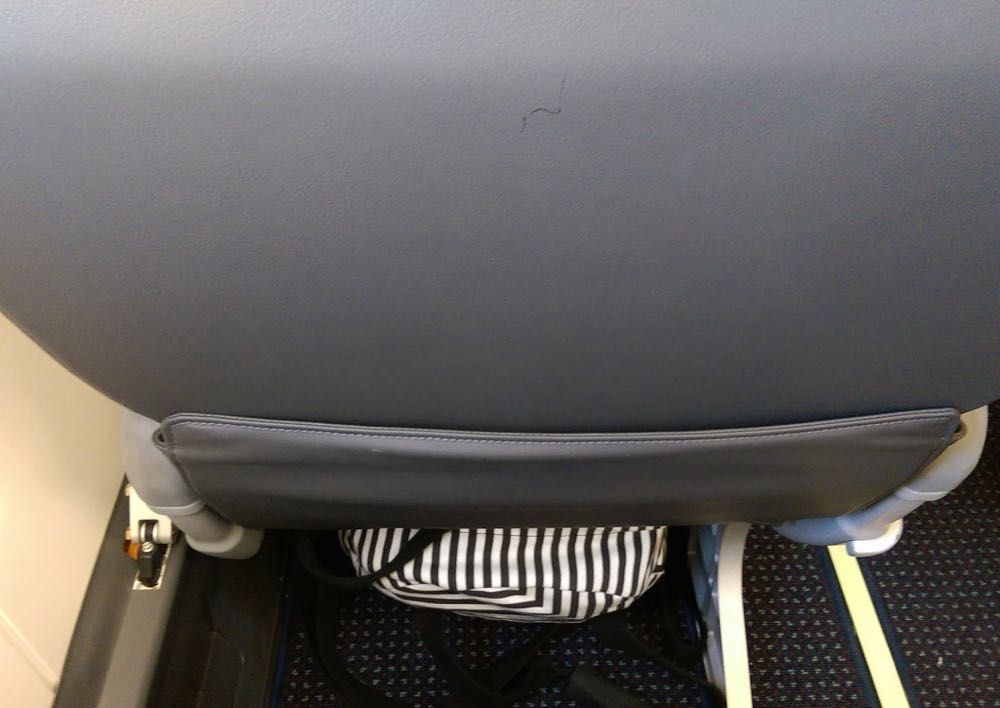 American Eagle San Diego to Los Angeles First class leg room
Boarding was quick, given the plane isn't that big, though the chipper flight attendant still had time to deliver pre-departure beverages of choice and take drink orders for the flight, and after the usual wait we were ready to takeoff.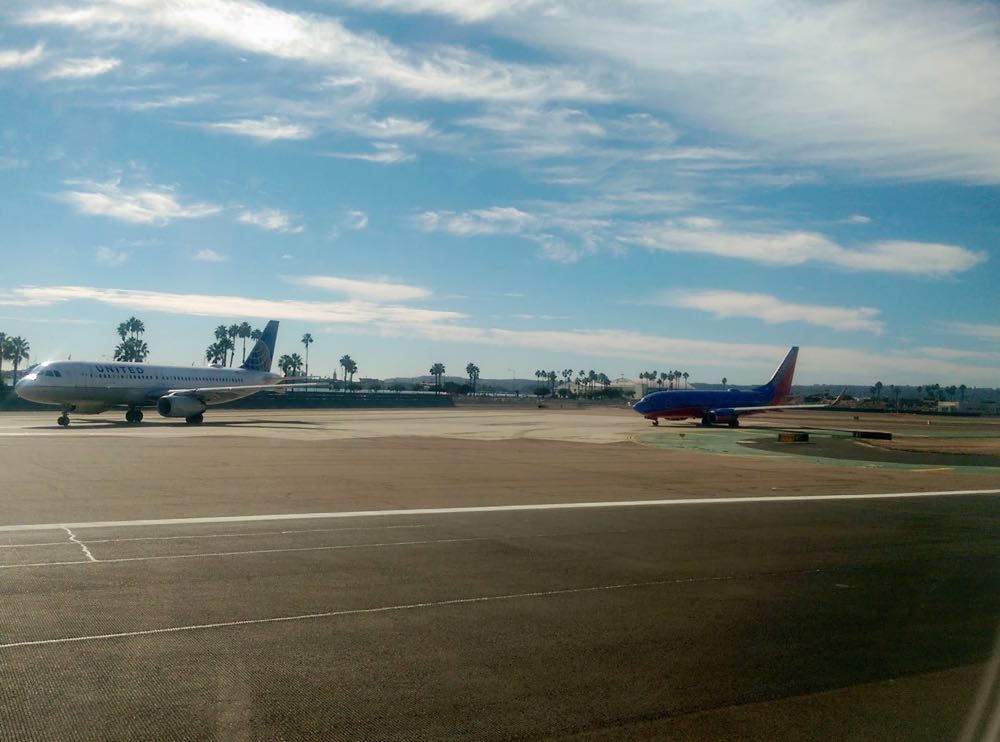 American Eagle San Diego to Los Angeles departure queue
My favorite feature of this route though is the scenery. The lower altitude is great for checking out the coastline, and on a nice day the views are magical.
Apologies in advance for the glare on the photos — it was a gorgeous day, which was fun for looking out the window, but a bit problematic for photography.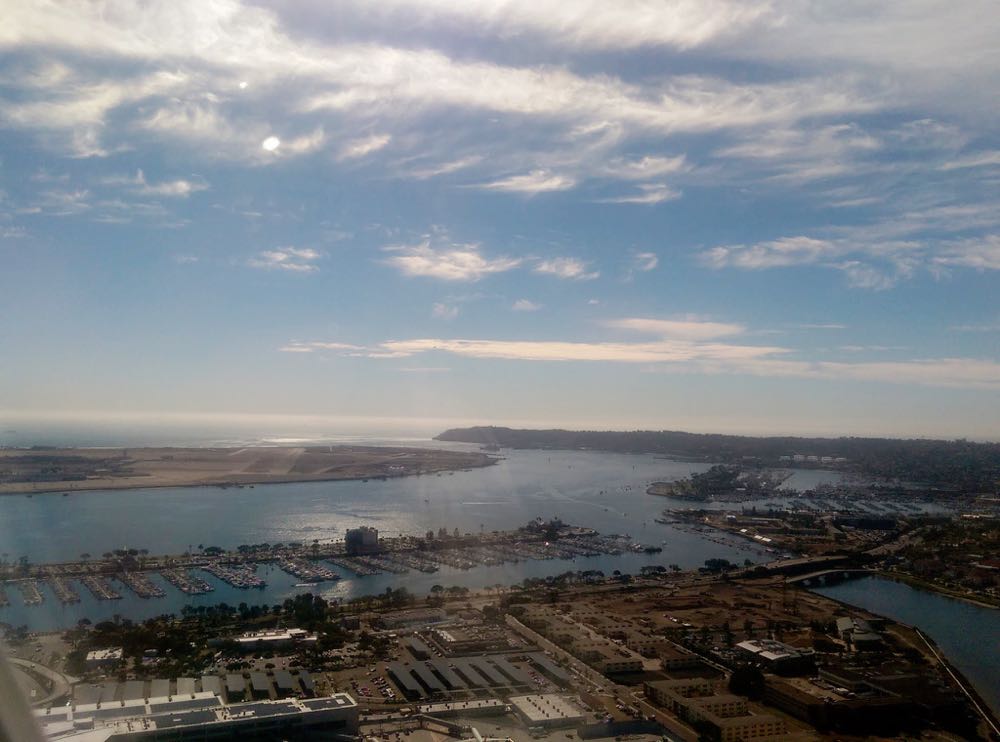 Leaving San Diego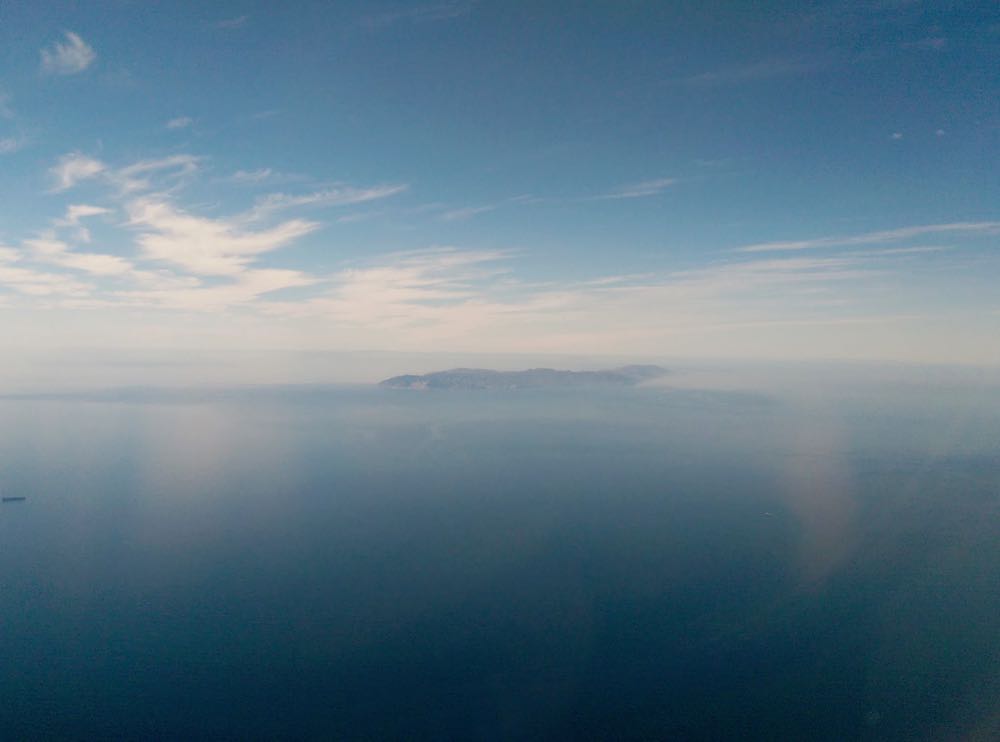 Channel Islands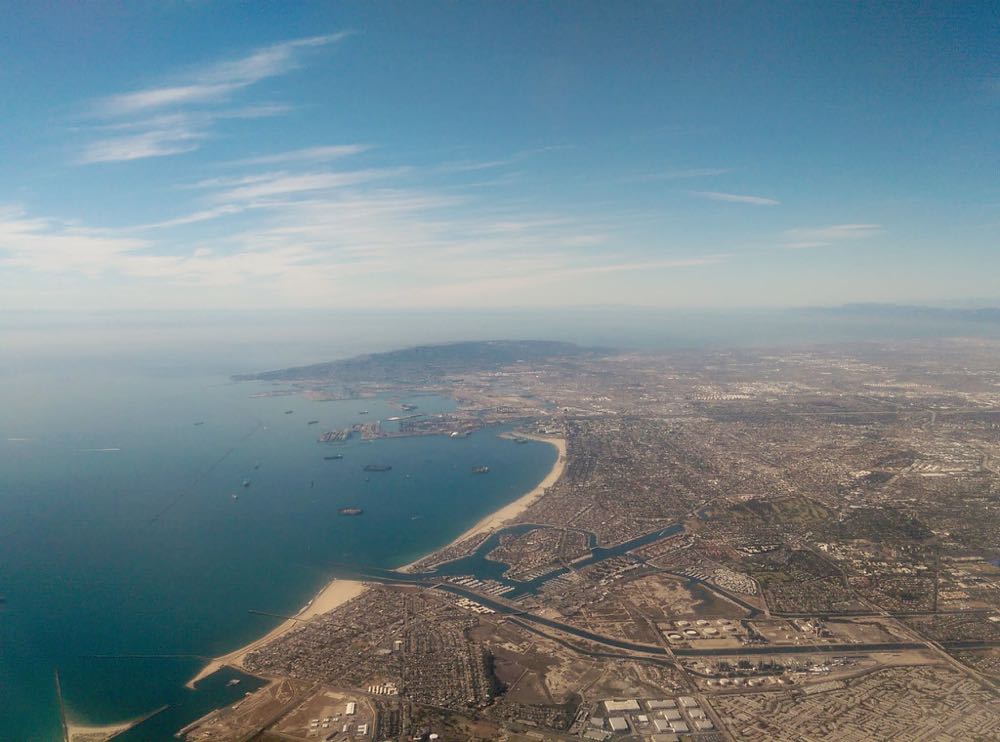 Long Beach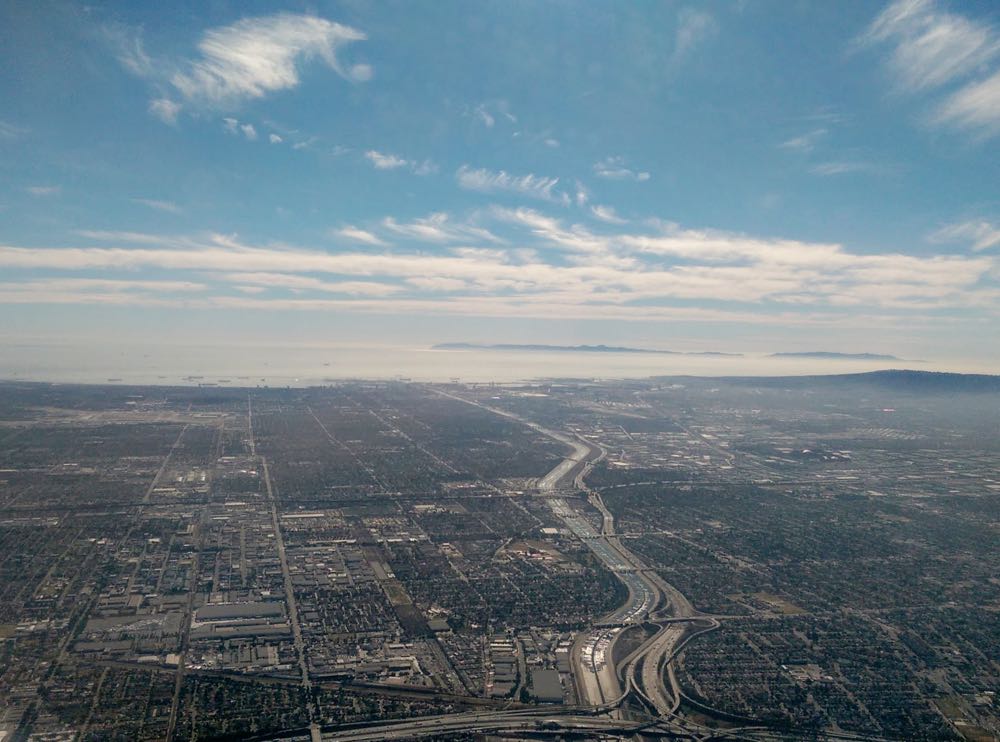 On approach to LAX
Actual flight time is only something like 23 minutes, and it's super fun. I've actually been finding excuses to fly between the two cities! I loved flying up and down the coast even when the planes were old and junky, so the updated product just makes this extra nice.
Which helps, because the situation at LAX is a little abysmal.
Transiting LAX
So I actually sorta love connecting through LA during the holidays (wait, what?) because the main American terminal has such a fun vintage vibe.
Combine the garlands, twinkly lights, and the Bing Crosby/Andrews Sisters carols on repeat, and the whole place starts to remind me a bit of the glory days of the jet age when having separate terminals for each airline was cutting-edge and desirable.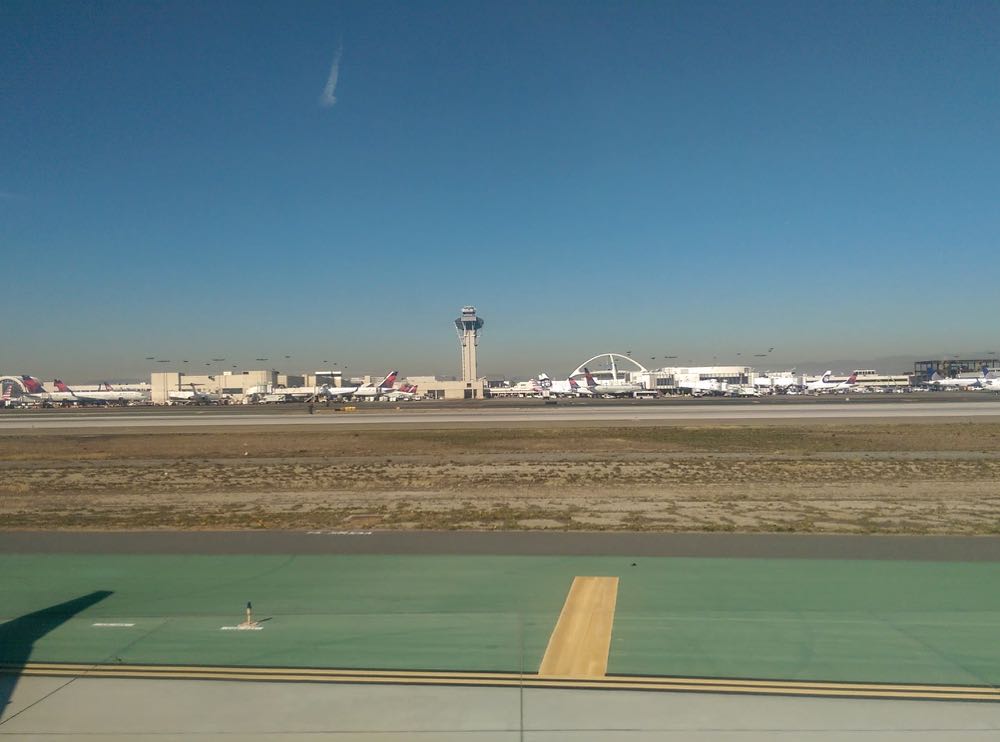 Los Angeles airport tower
Of course, for connecting traffic in this decade, those jet-age airports couldn't be less convenient. And I think I've found the worst possible transit situation.
The American Eagle terminal at LAX is basically a trailer out in the middle of nowhere. It's closer to the United maintenance hangers than to anything passengers might want to go to, and there aren't any pedestrian routes. So once you arrive at the Eagle terminal, you have to take a bus to the main terminal to even be able to exit the airport.
Which, I mean, at least they have a plan for that.
What they don't have a plan for, as you can see by the new poster installed in the Eagle terminal, is getting over to Tom Bradley International Terminal.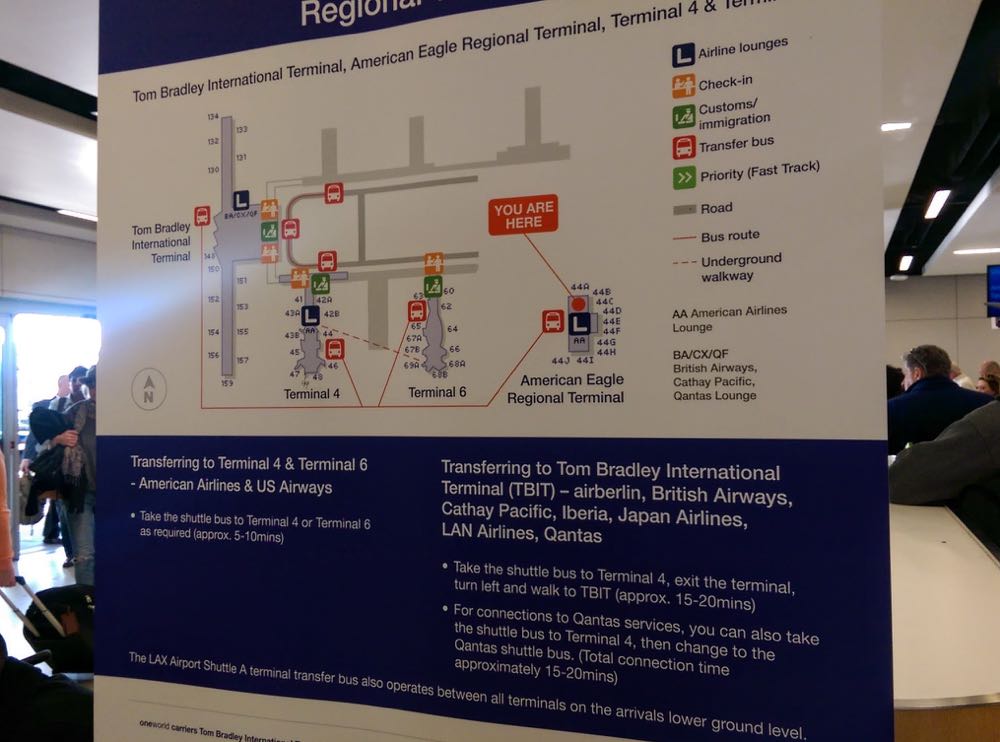 American Eagle shuttle map
I realize that a quantity of text and two bullet points suggests the appearance of a plan, but really the best option they have is to travel to the main American terminal (T4), then walk your happy self the rest of the way, which means leaving the secure area and re-clearing security.
There is a shuttle for Qantas passengers from T4 to TBIT, and supposedly a shuttle directly from the Eagle terminal to TBIT for Cathay Pacific passengers. But neither applied to me in this case.
Which is okay, because the shuttle bus is fun.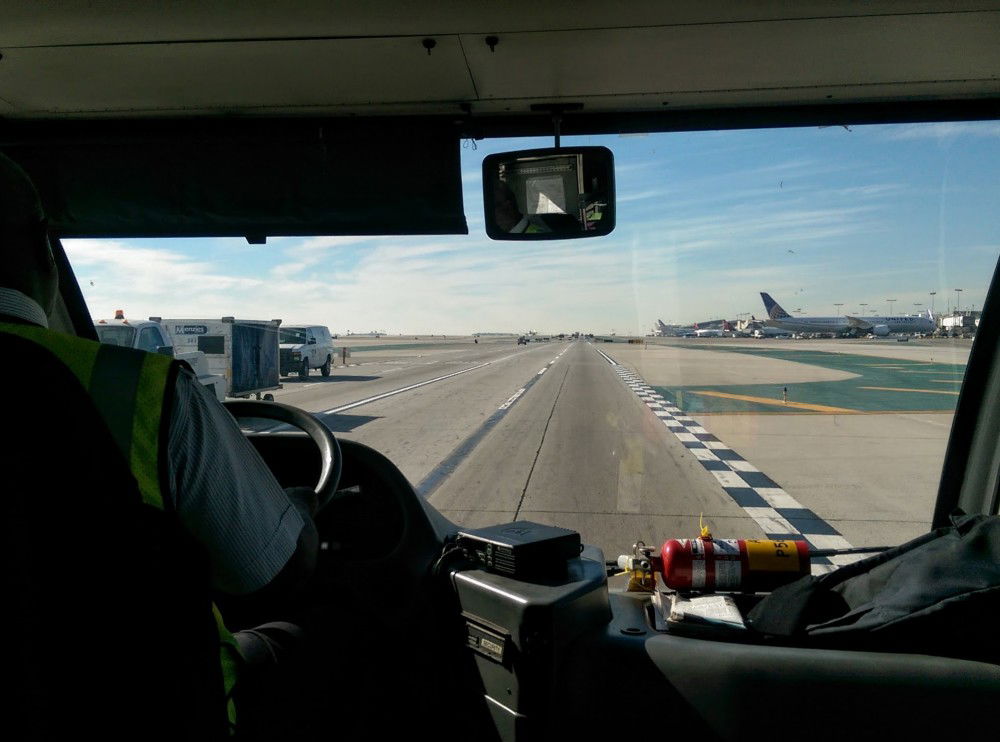 American Eagle LAX shuttle
A little bit like ice road truckers at time, but still fun. People in the US aren't really used to bus gates, and the shuttle always seems to have people giggling at being on the tarmac, which makes me smile.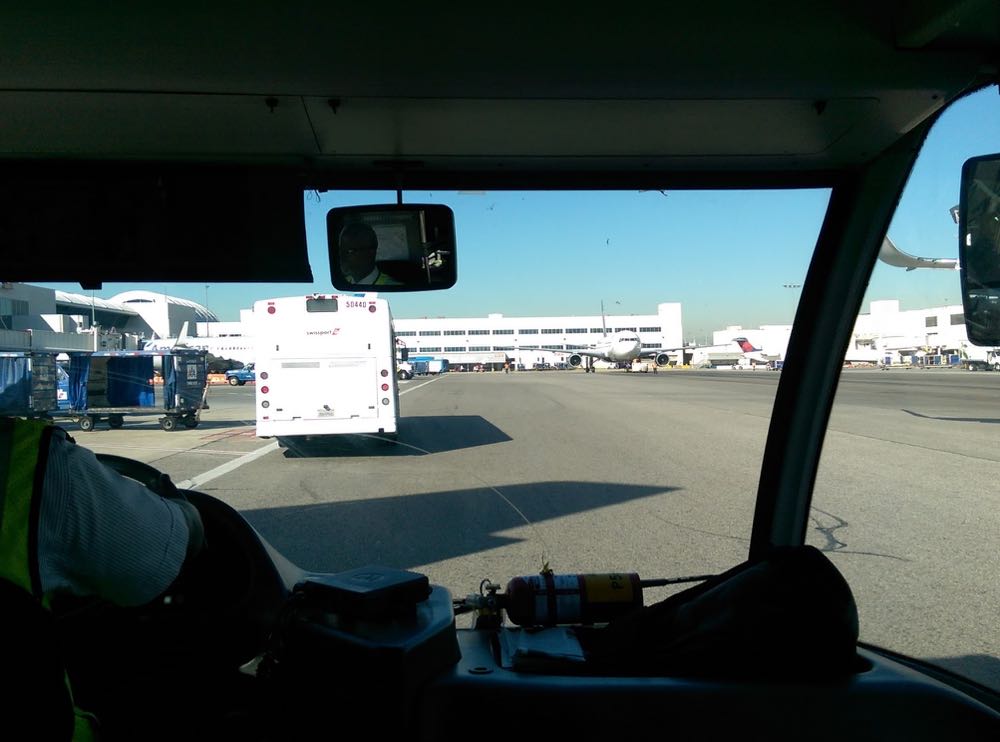 American Eagle LAX shuttle
And it's a good thing the bus can bring a smile to so many, because this next part is lame.
You have to schlepp through the terminal to baggage claim: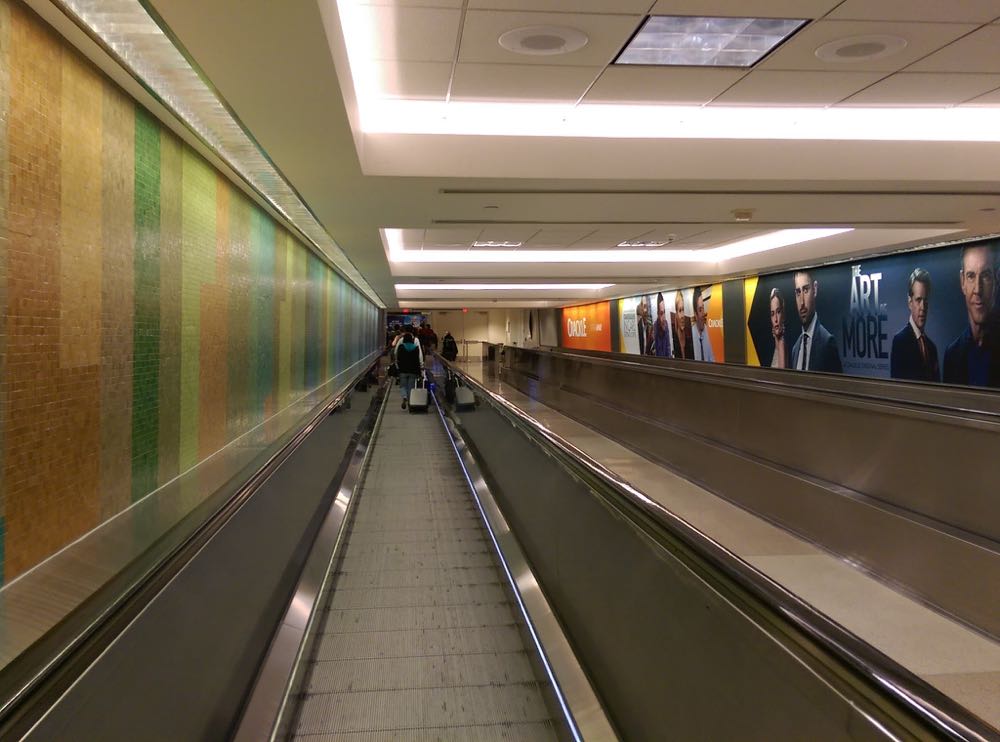 American LAX arrivals
Then exit the airport and walk along the roadway: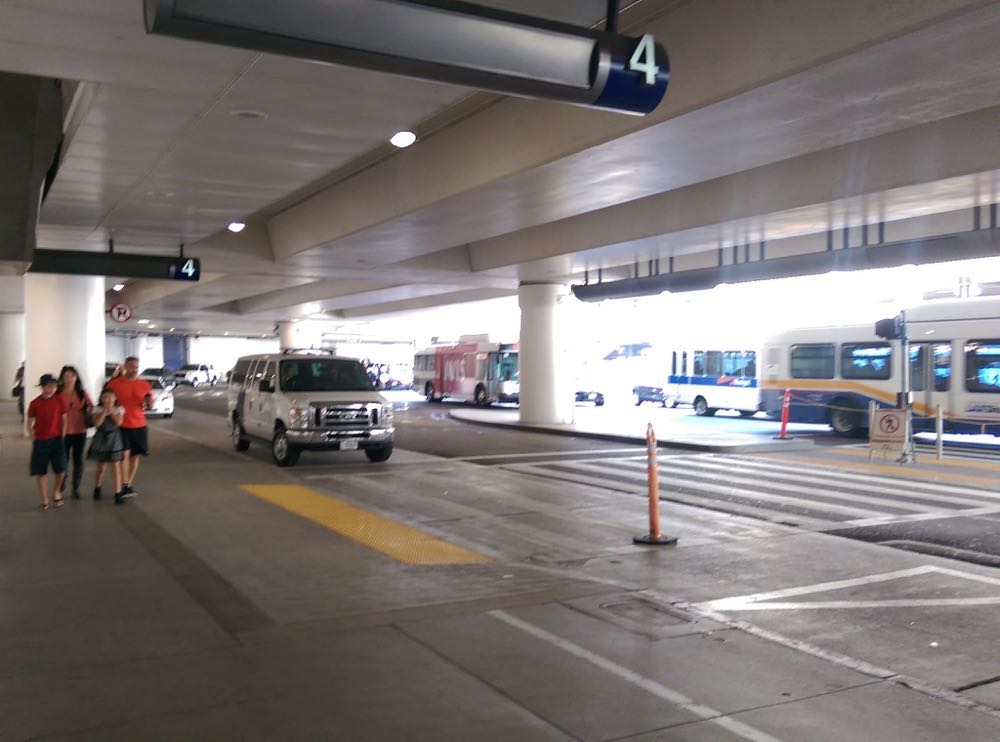 LAX roadway
And then walk a bit more: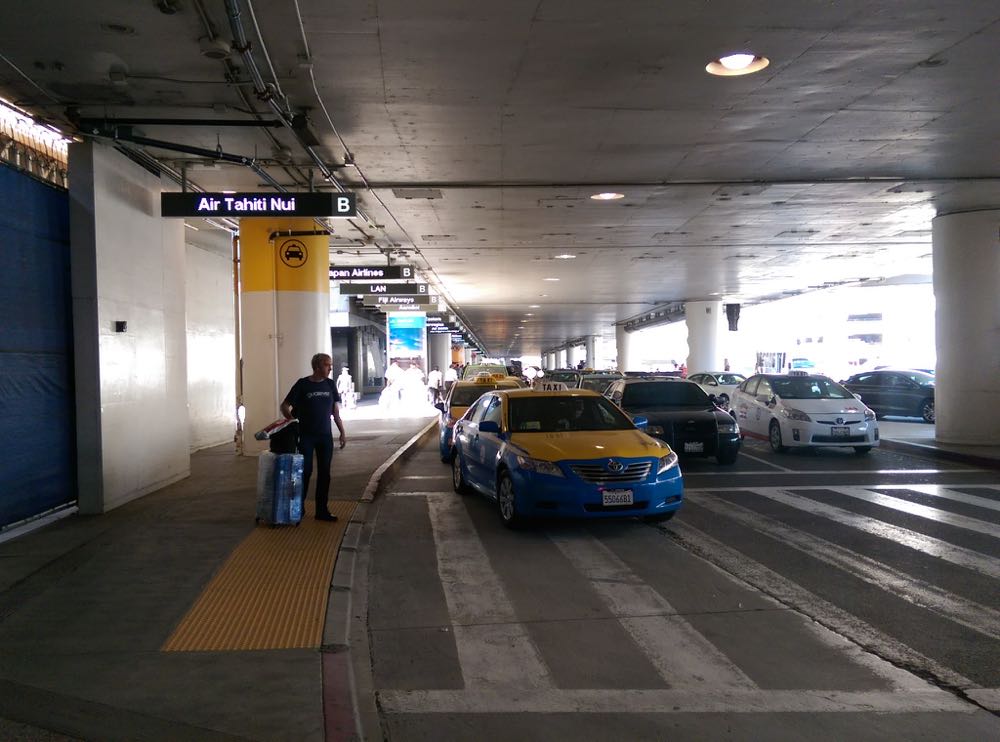 LAX roadway
Before arriving at TBIT, which was bustling, as usual for the early afternoon.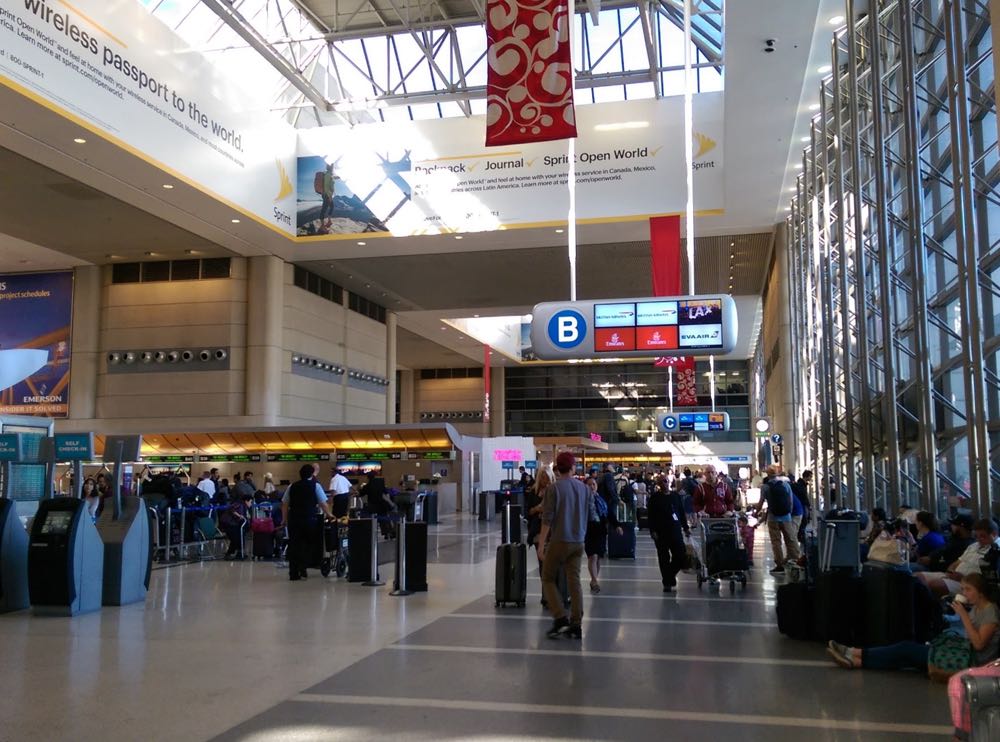 Tom Bradley International departures
It's not that far of a walk, but it is a pretty acrid one. The exhaust situation along that roadway is gross, and the whole setup is a little embarrassing, in my opinion. American is starting to send domestic flights out of TBIT as well, so hopefully they'll implement a broader solution for airside connections shortly.
With that part of the adventure out of the way, I stopped by the Etihad counter to grab my boarding pass. The queue for economy check-in was lengthy, but neither the first nor business class lines had a wait.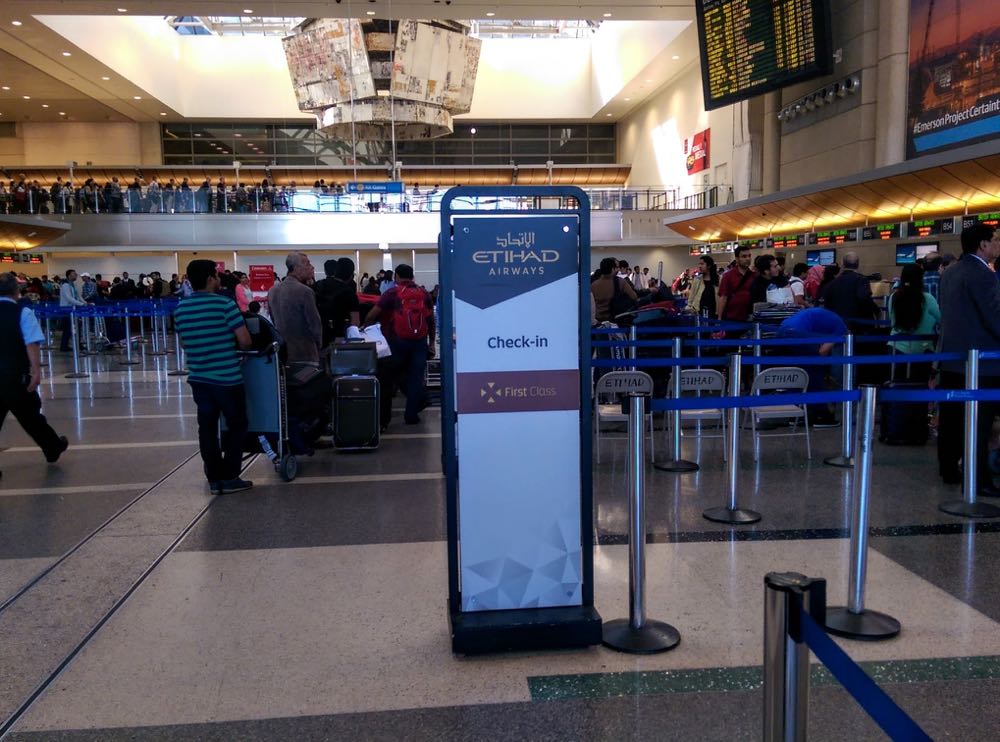 Tom Bradley International departures
Check-in was quick, and I was soon making my way upstairs to security. TBIT doesn't have pre-check, though there are fast-track lanes for premium cabins. Those still feed into the main queue eventually though, so I'm not sure there's much benefit.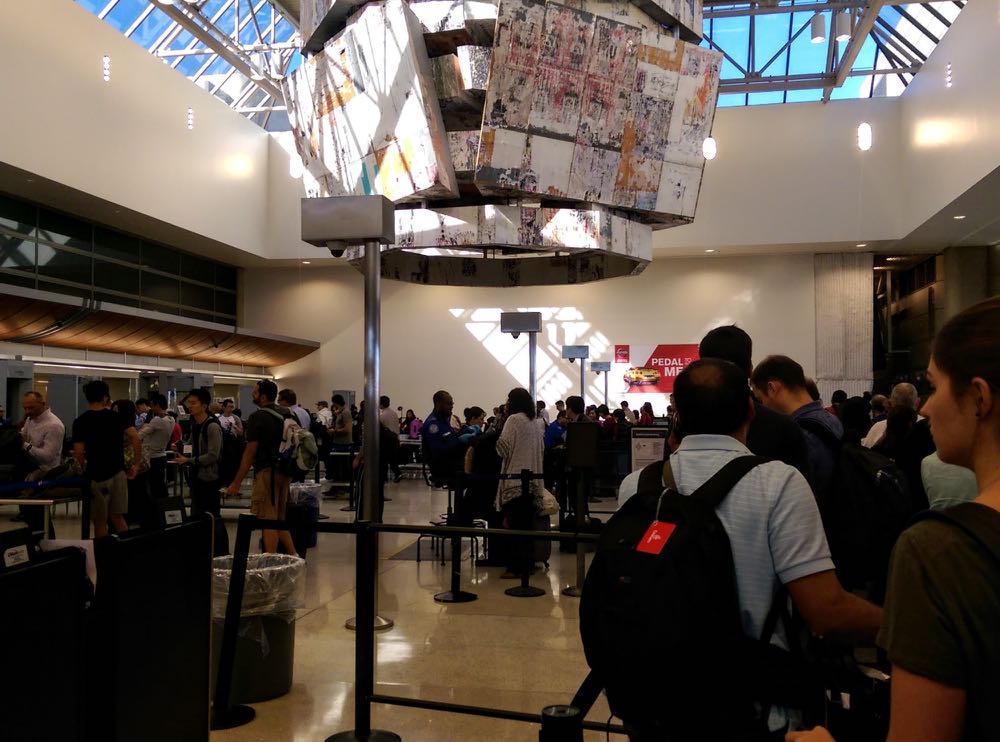 Tom Bradley International departures
Fortunately/unfortunately, TSA over at TBIT seems to be taking the "PreCheck for EVERYONE" approach these days. Shoes on, leave everything in your bag, remove belts and everything from your pockets has been the mantra the past few times I've gone through security there.
So at least the line was fast.
Etihad uses the Star Alliance lounge in Los Angeles, which is essentially unchanged from when Ben was there last year. The buffet is a bit more limited in the afternoons, and the lounge agents were actively encouraging everyone to go to the business class lounge for a better selection.
There was also an a la carte menu: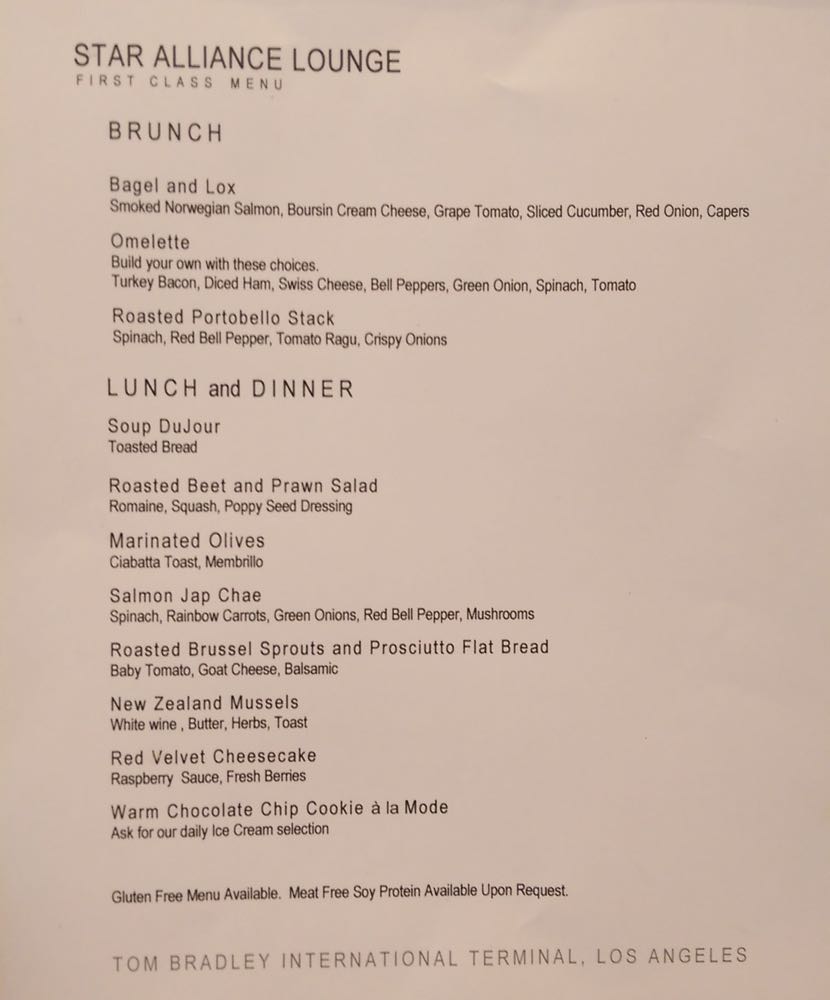 I ordered the flat bread, which sounded and looked much more delicious than it actually was: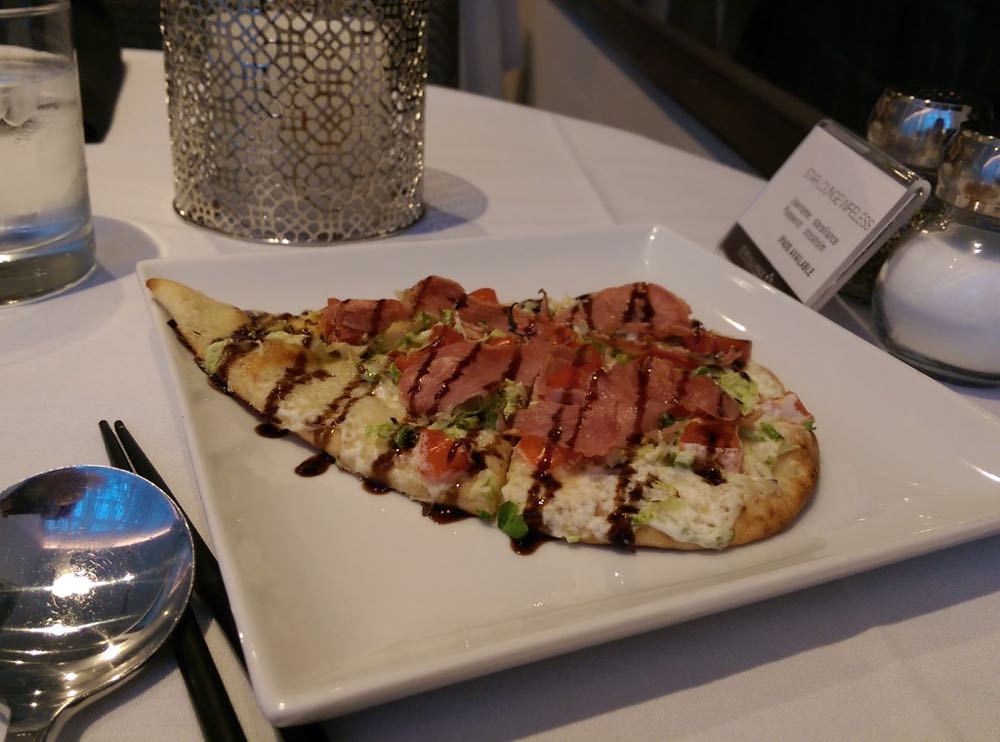 Star Alliance First Class Lounge LAX lunch
But I wasn't that hungry, and was able to get a ton of work done, so it was a successful lounge visit overall.
Etihad 777 First Class Los Angeles to Abu Dhabi
I arrived at the gate about 45 minutes prior to departure to discover that not only had boarding not started, the crew wasn't even on-board, despite showing an on-time departure.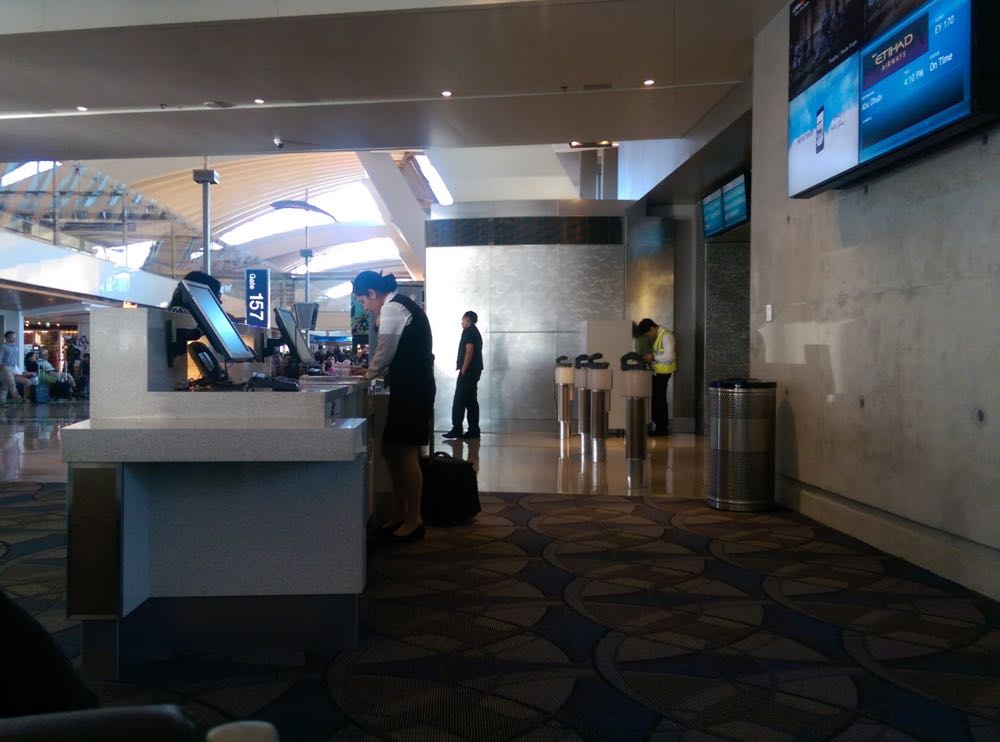 Etihad boarding gate at LAX
We eventually boarded, in a very chaotic process. Tom Bradley is a beautiful terminal, but it sure doesn't give the airlines much space to organize boarding zones!
This flight was operated by a Boeing 777-200LR, which features eight first class suites, spread across two rows in a 1-2-1 configuration. This isn't a new product for Etihad, but they did have the "refreshed" blankets and pillows with the desert mosaic motif: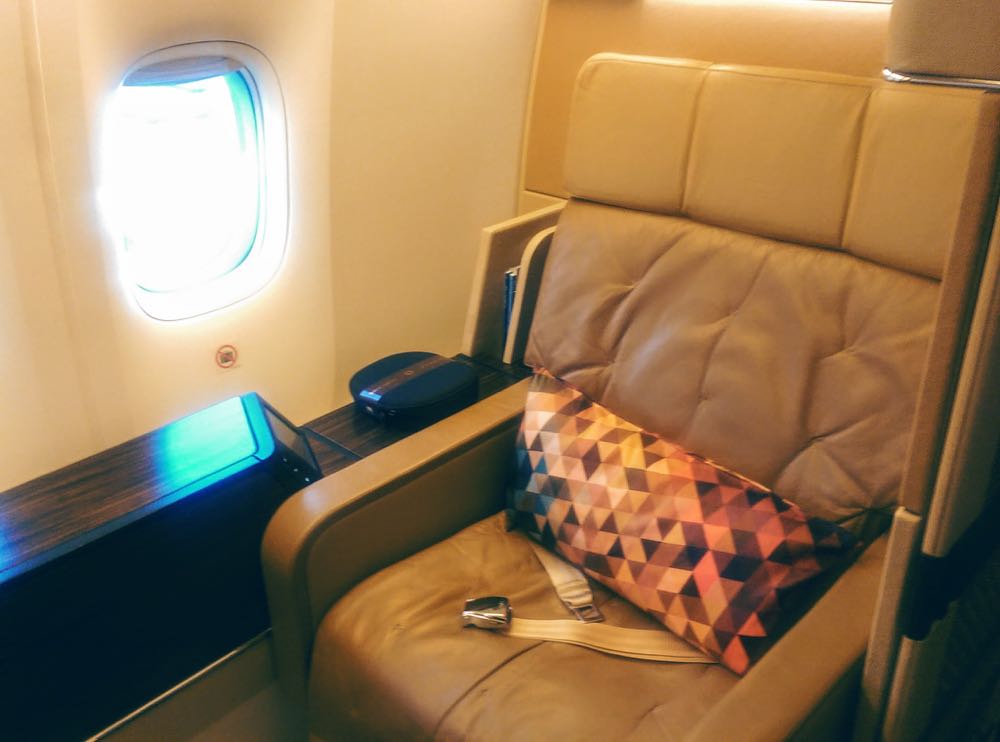 Etihad 777 first class seat
The other passengers on this flight were an absolute cast of characters:
1A, 1D, & 1G — Three "rich kids of Instagram" for lack of a better term. They obviously came from money, judging by the Gucci and Hermes flashing everywhere, and the complete lack of public social awareness that is generally associated with the very spoiled. They were obnoxious throughout the entire flight, and were horribly rude to the crew. Just ridiculous.

1K — An older gentleman who was Clearly Important. Everyone spoke to him with tremendous deference, and he had several "attaches" in business class who would come up to check and make sure he had everything he needed, and was being treated well. About every ten minutes. The entire flight.

2A — Another gentleman who also had people in business class. I'm pretty sure these were adult children though, as they would wander up and take half a roll, etc. I'm telling you guys, the people watching was SO GOOD on this flight.

2D — Innocuous business-type who raised the divider as soon as it was allowed and then slept the entire flight.

2G — Me!

2K — A woman about my age, who may have been involved in some kind of fashion/media. She apparently booked her flight on the way to the airport, was only going for a few days, etc. We exchanged lots of fun glances at the antics of our fellow passengers throughout the flight.
Suffice it to say, with all that entertainment, I never touched the IFE.
As everyone was getting settled, beverages were delivered (just water for me), along with towels and dates: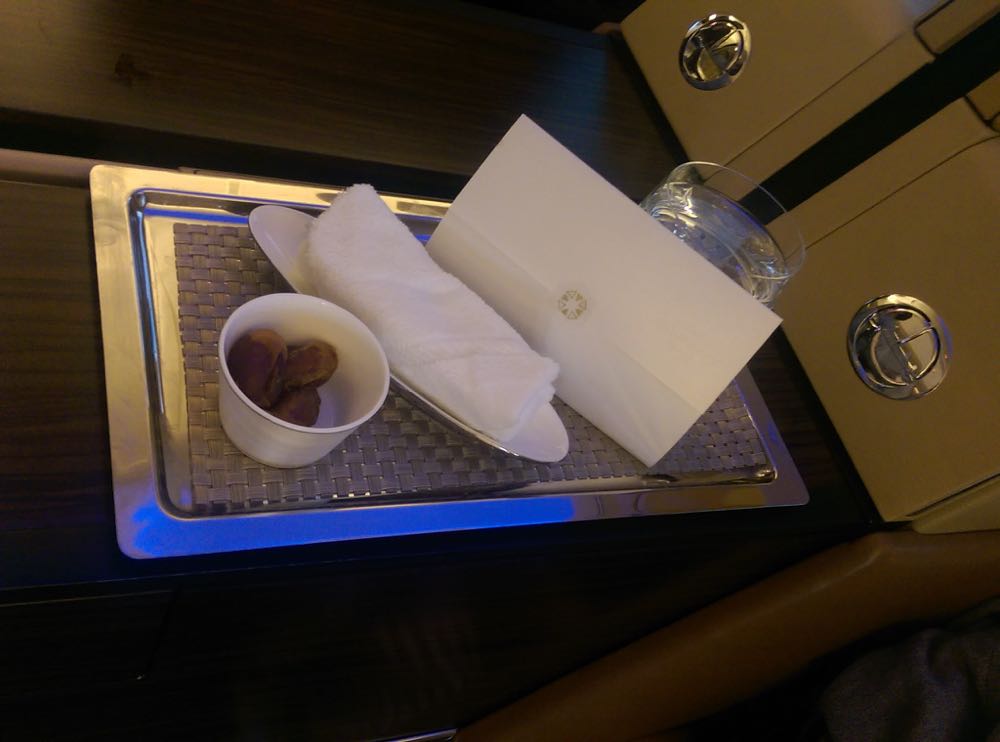 Etihad first class pre-departure service
Arabic coffee was then offered, which I didn't have a chance to grab a picture of.
When comparing Etihad to Emirates, it's worth noting that Emirates makes a much grander production of everything the coffee tradition. Not only is the coffee itself superior to that on Etihad, but the flight attendants are trained on the art of pouring and serving the coffee, and it's a much better presentation. The dates on Emirates are a higher quality as well, I think.
Amenity kits and pajamas were distributed, along with menus for the flight.
The food selections were as follows: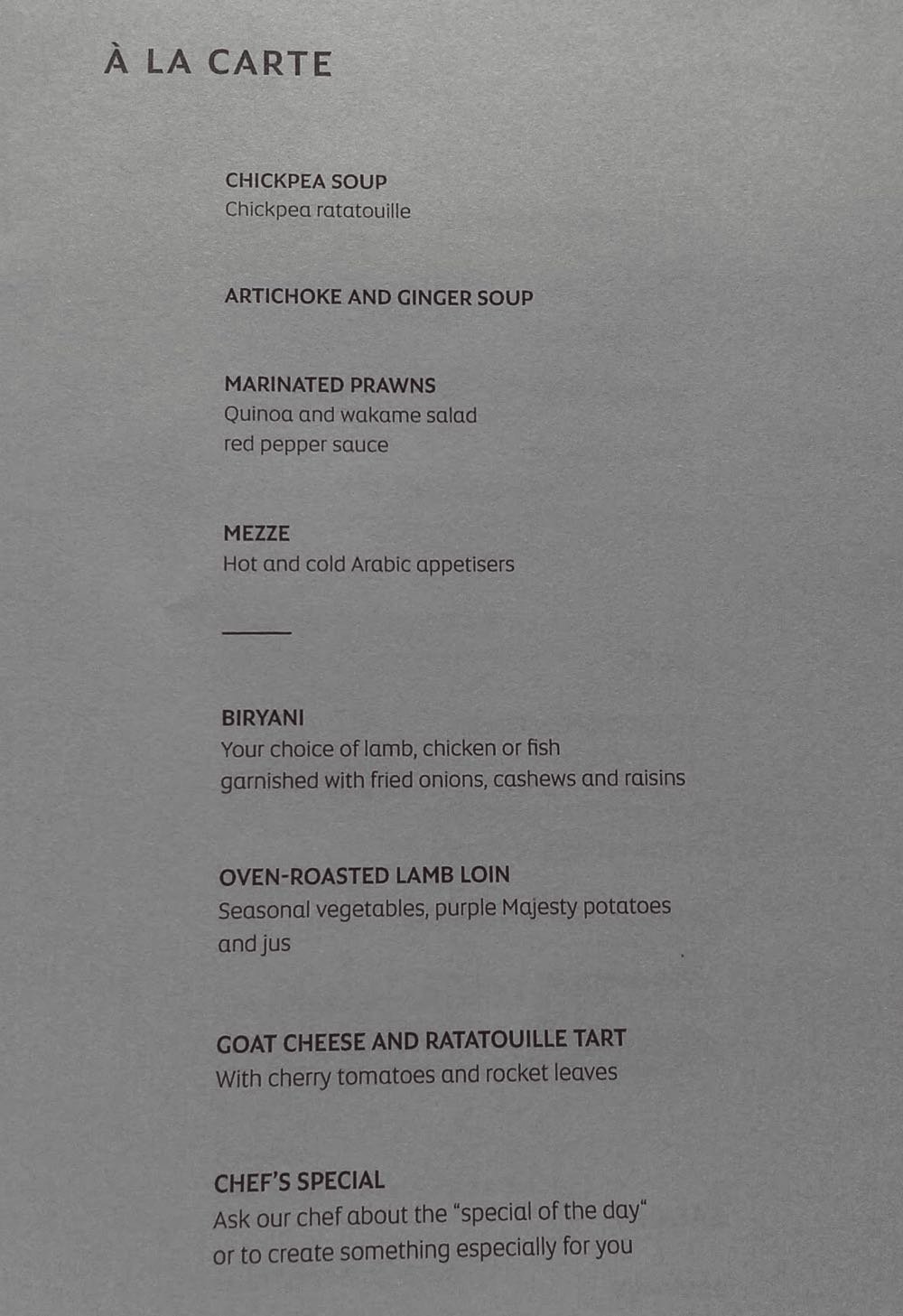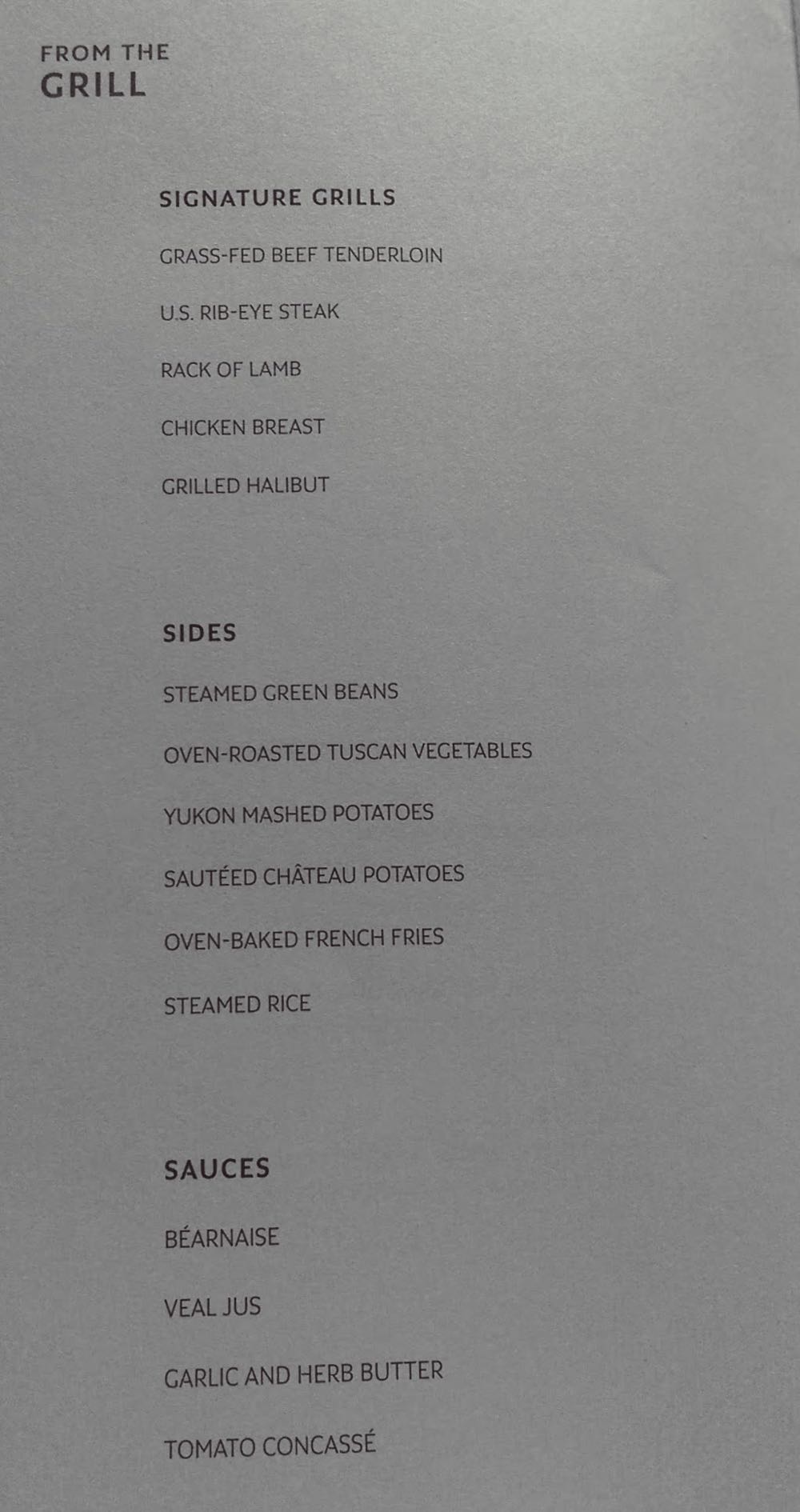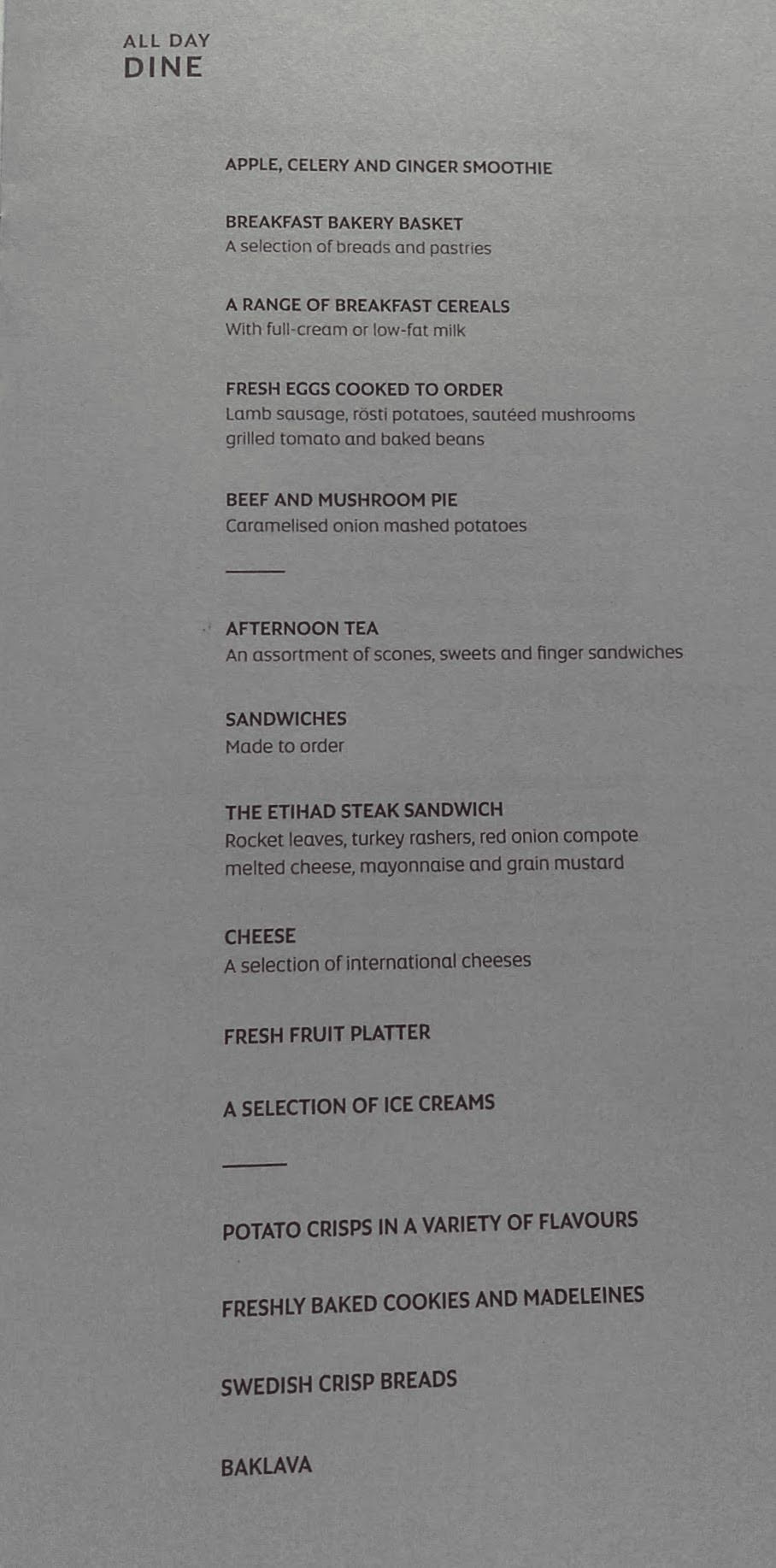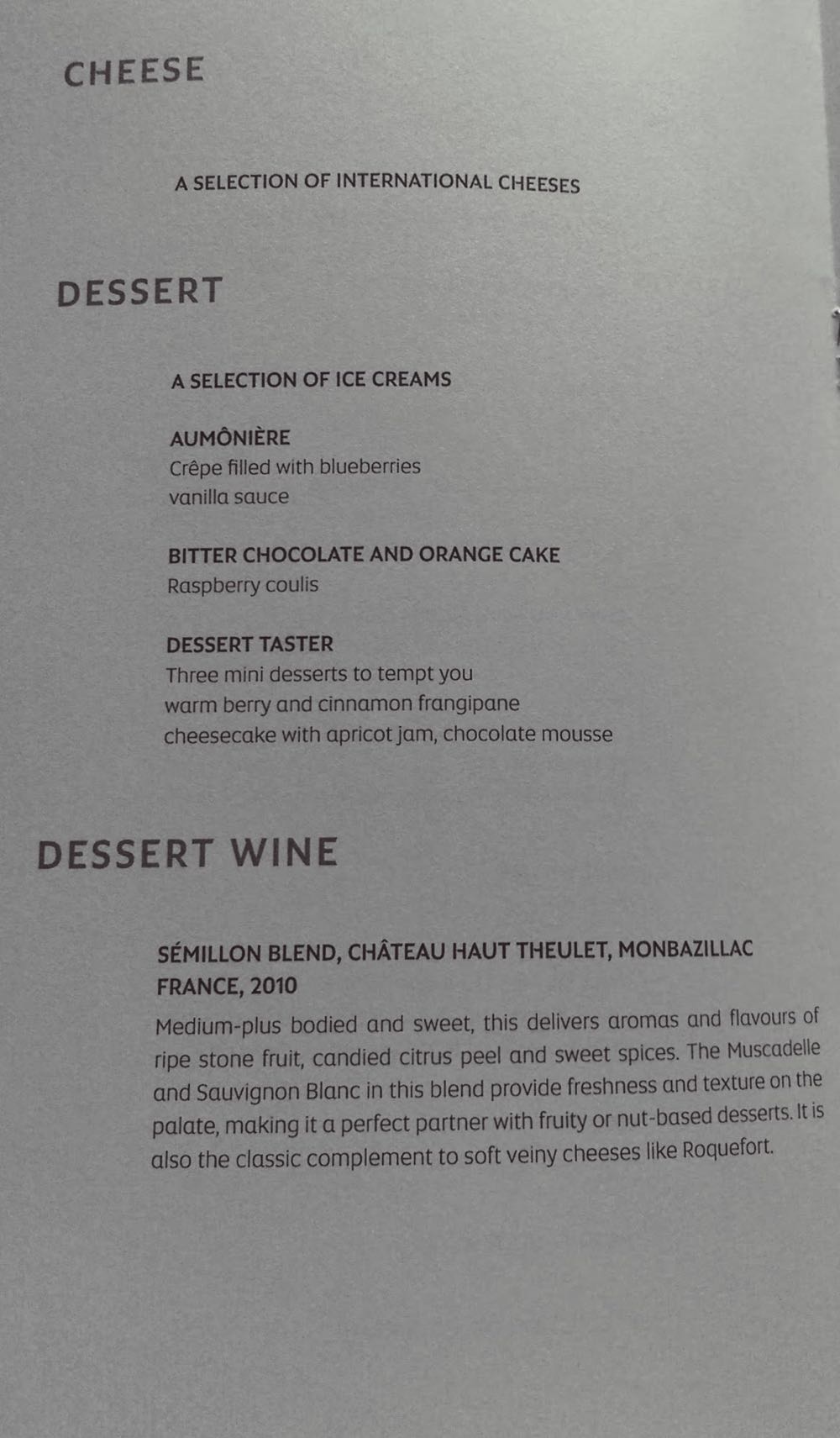 With the following beverage selections: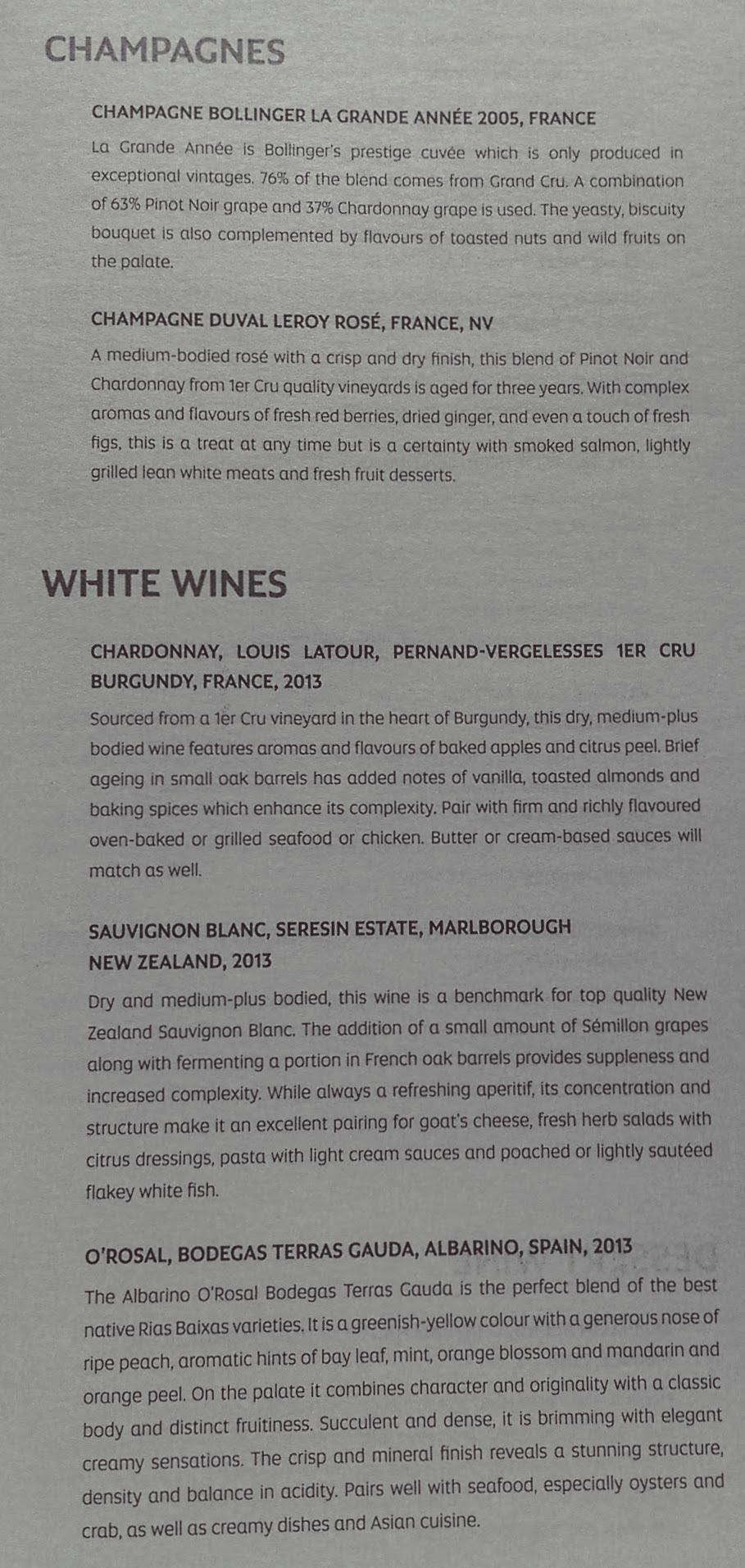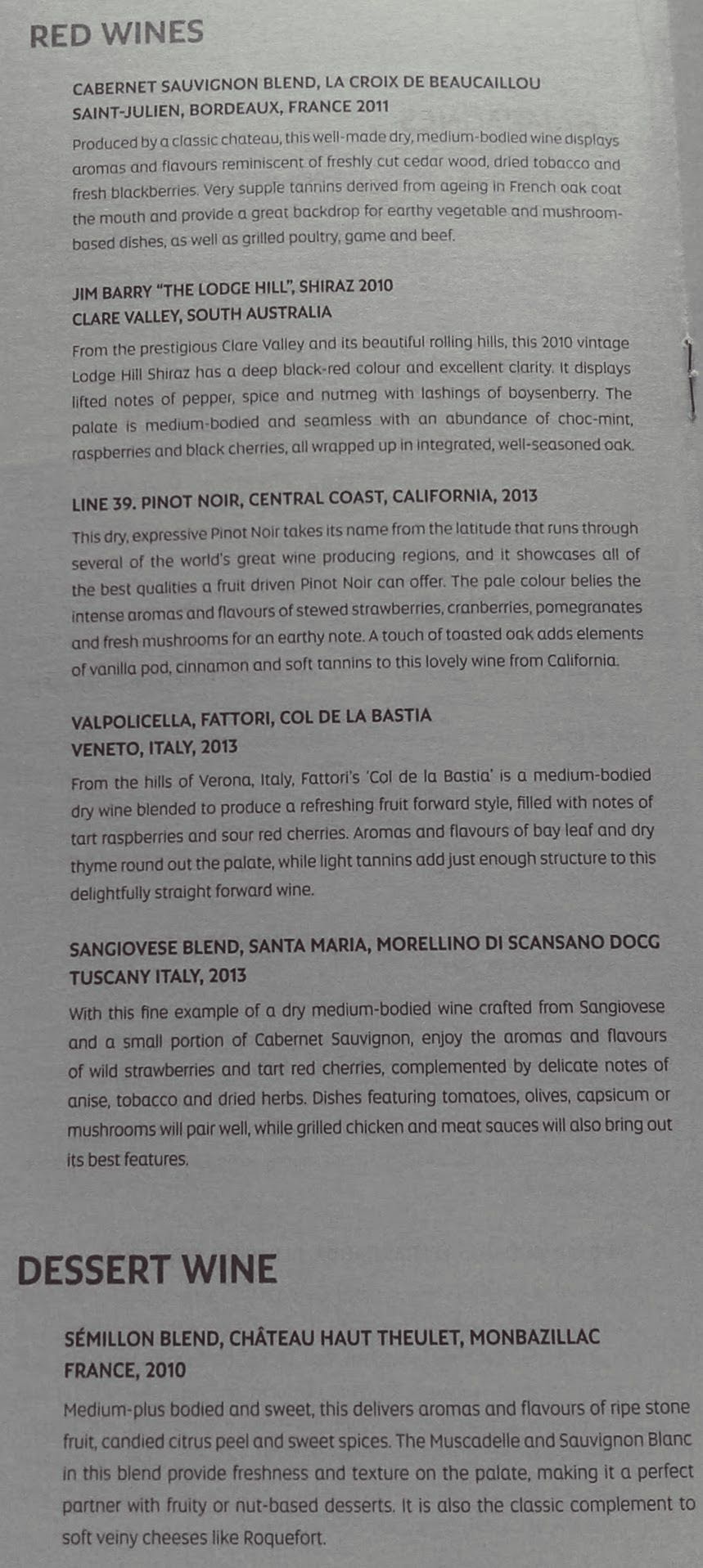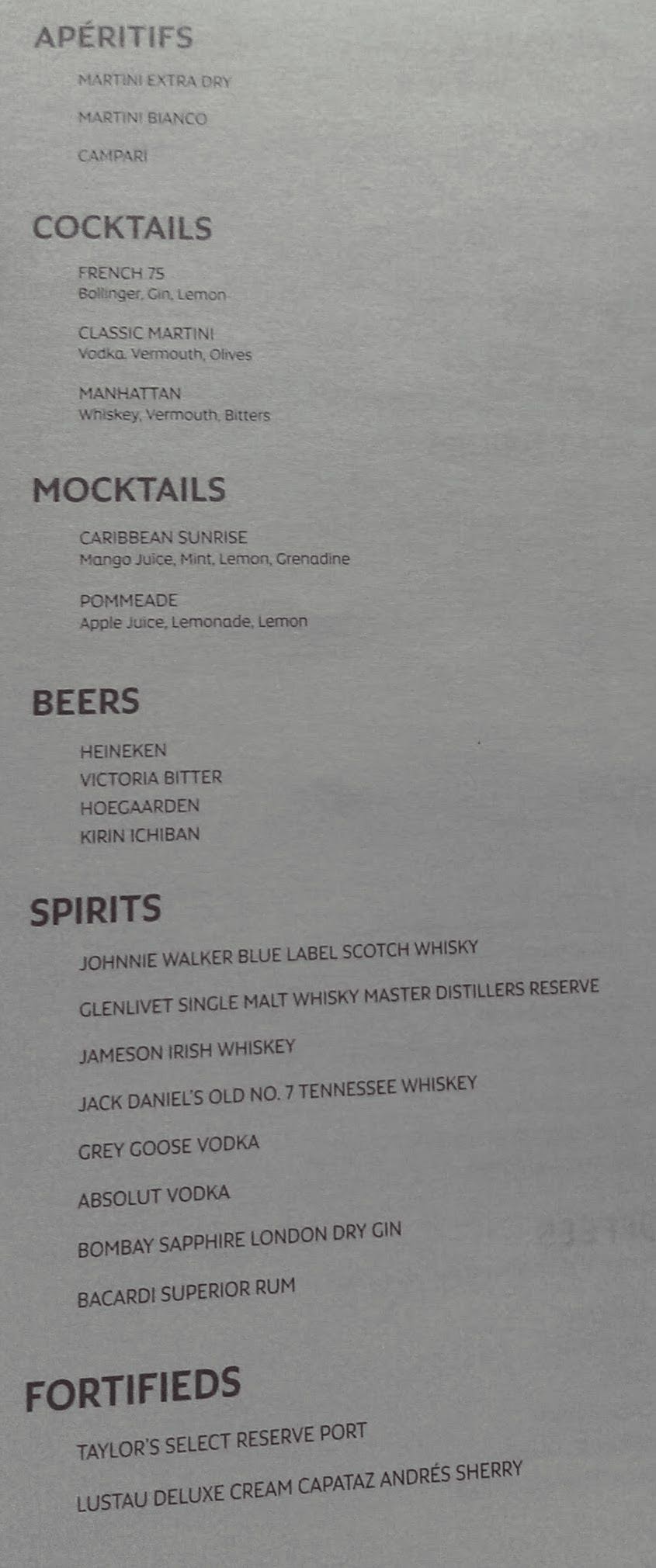 After takeoff I ordered a glass of champagne, which was served with Etihad's usual assortment of nuts, olives, and veggie crisps: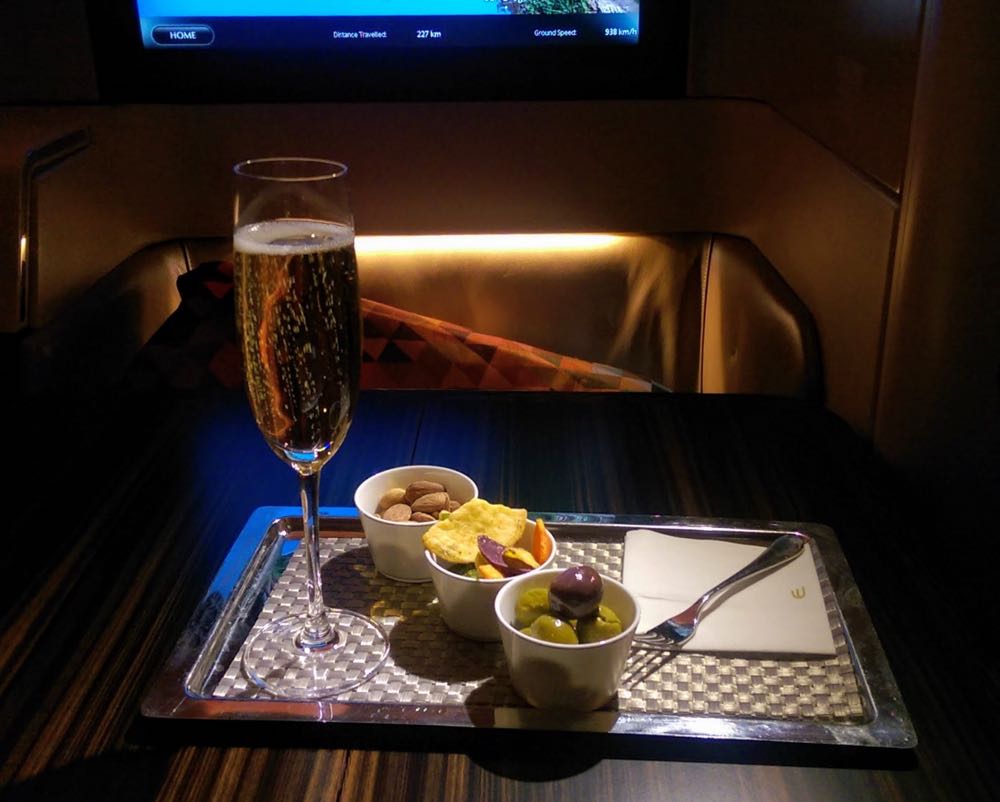 Etihad 777 first class champagne and munchies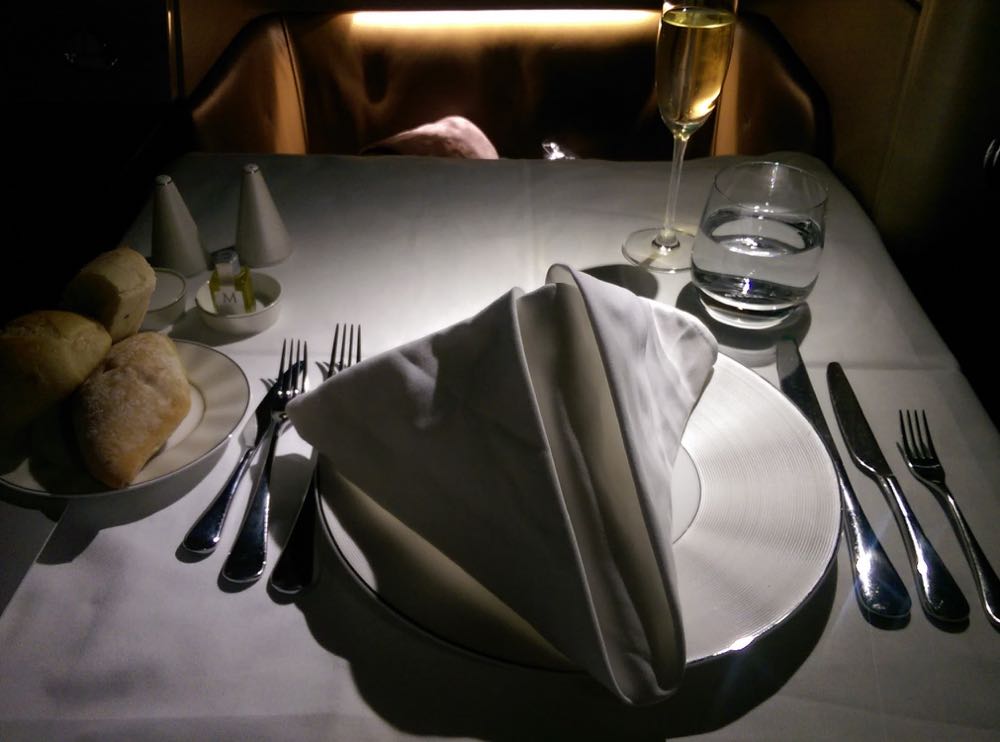 Etihad 777 first class table setting
The amuse bouche followed, which was a delicious portion of roast duck.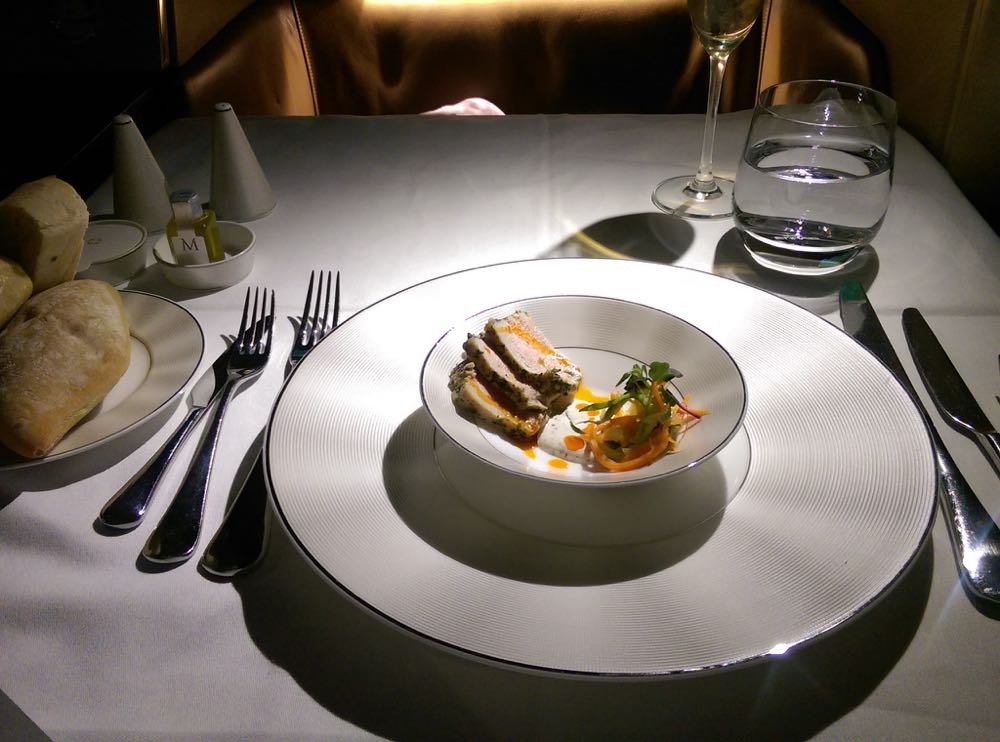 Etihad 777 first class amuse bouche
I then ordered the mezze as a starter, which the chef made his best attempt to plate in a non-offensive way. (Seriously Etihad, this is an easy thing to fix, you should.)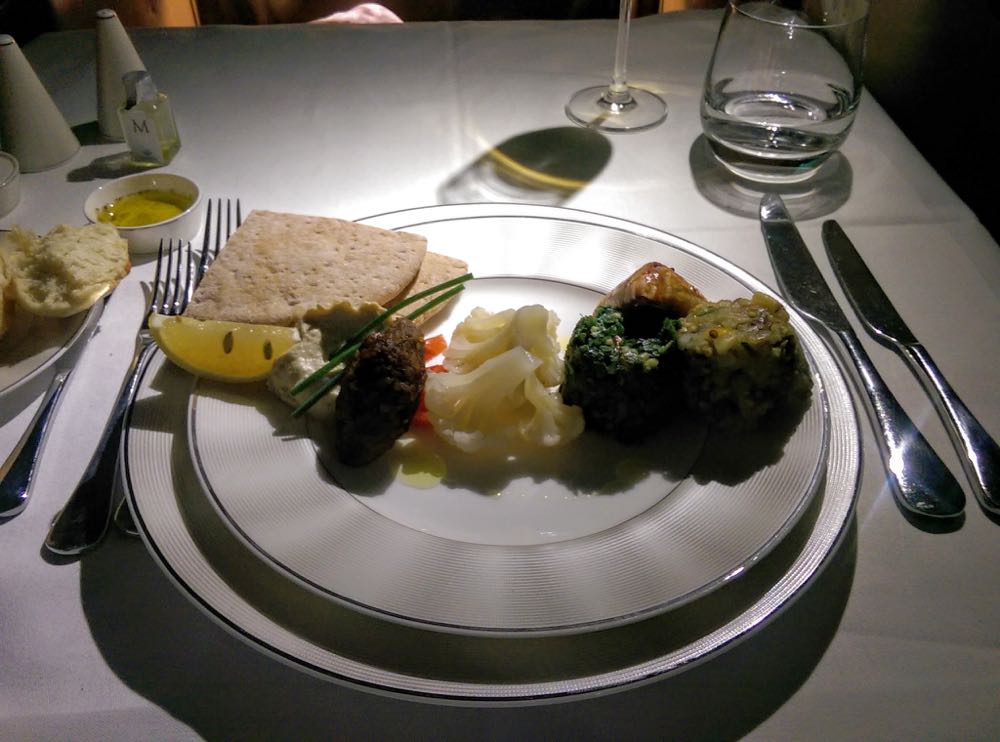 Etihad 777 first class mezze
This was followed by a lemon sorbet: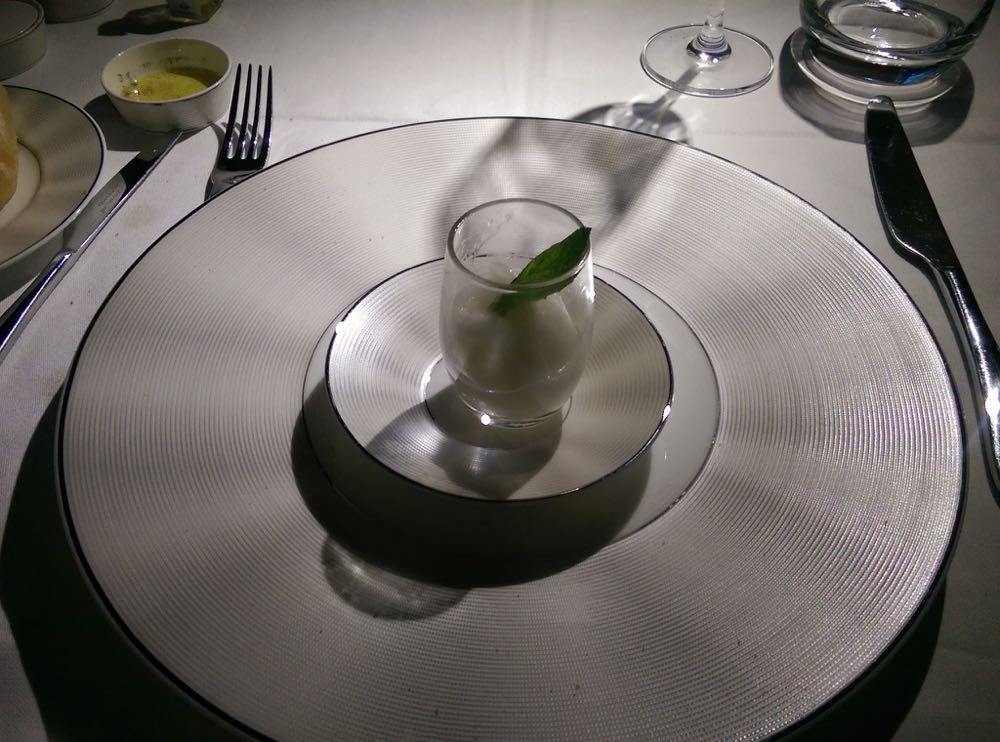 Etihad 777 first class sorbet
And then I'd selected the grilled beef "with whatever else" as my entree, along with a glass of the Shiraz. Both were quite nice.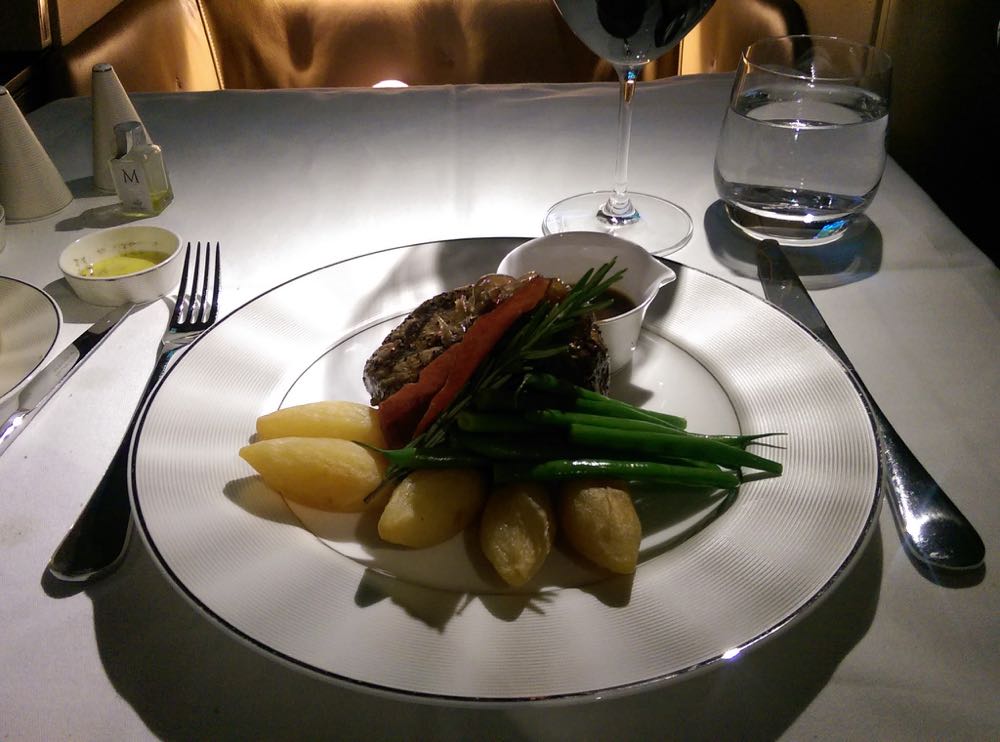 Etihad 777 first class entree
The onboard Chef had been fun and engaging throughout the flight (perhaps in sympathy for the more difficult passengers), so when it came time for dessert I asked him to just surprise me.
Which may have been a mistake.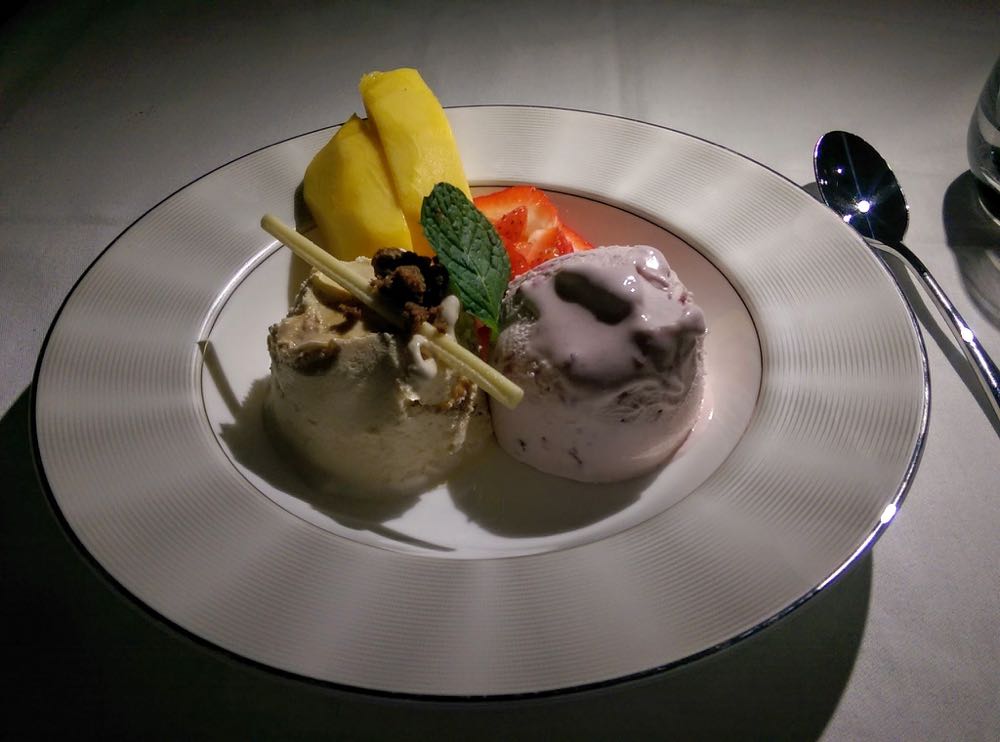 Etihad 777 first class dessert
He brought a bowl with strawberry and caramel ice creams, accompanied by fresh strawberries and mangoes. And while I like all those things separately…
It was an interesting combo, let's put it that way.
Despite our late departure we weren't too late getting in to Abu Dhabi. We parked at a remote stand, and a car met the gentleman from 1K and two of his attendants, with the remainder of the first class passengers being allocated a separate bus. Immigration was quick, and it wasn't long before I was in my Etihad-chauffeured car en route to the Park Hyatt.
Park Hyatt Abu Dhabi View King
Ben and I have both reviewed the Park Hyatt extensively in the past, so if you want to get a feel for the resort you'll want to look over those:
We've always had suites at this property though, so I thought it might be helpful to share some photos of the more-or-less standard room. I think I may have been upgraded to a room with a better view, but the rooms are otherwise the same.
The room had many of the same furnishings as the suites, just on a smaller scale. The door opened to a small entryway, which either led left to the closet and bathroom, or straight ahead to the minibar and desk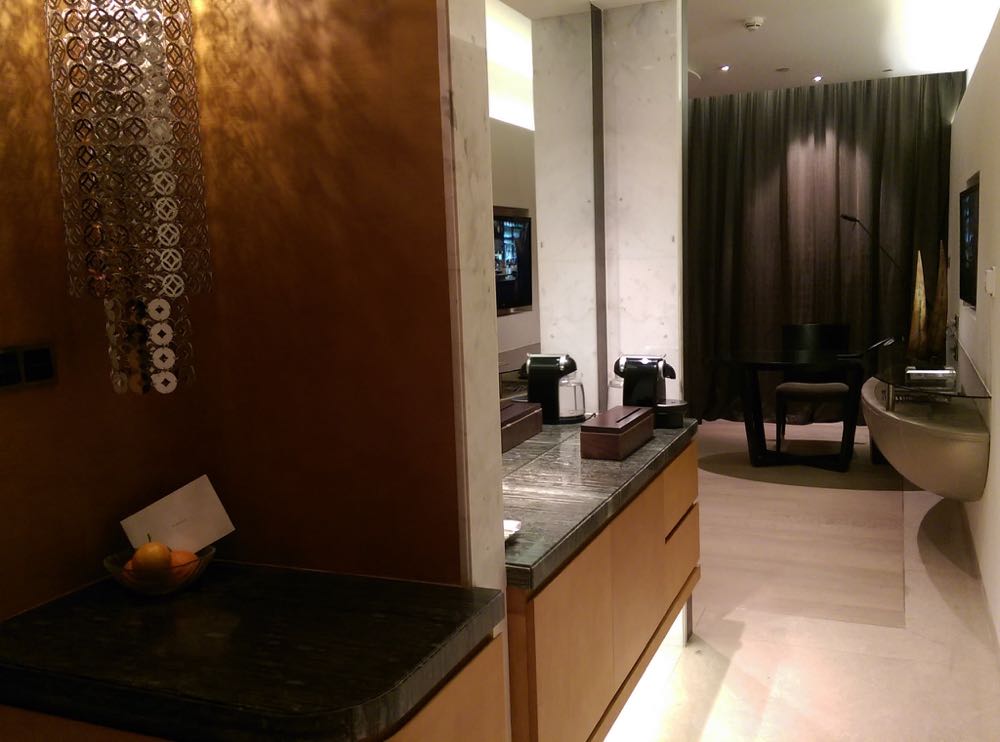 Park Hyatt Abu Dhabi standard room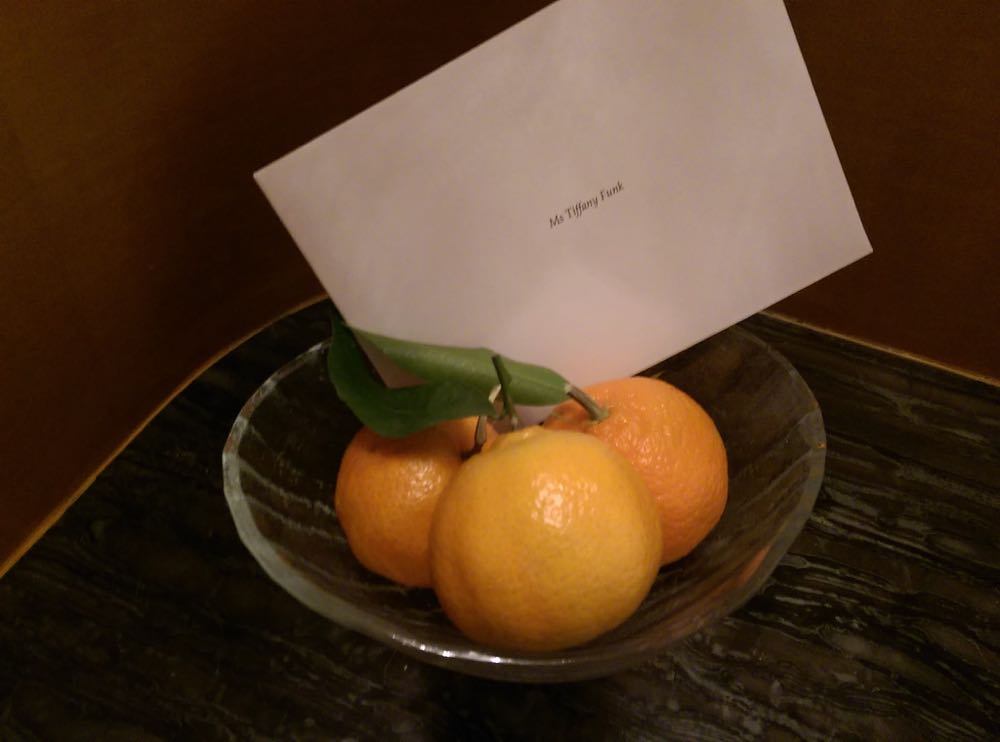 Park Hyatt Abu Dhabi welcome gift
The bathroom was gorgeous, with a wood-paneled closet, double sinks, rainforest shower, and a fabulous soaking tub.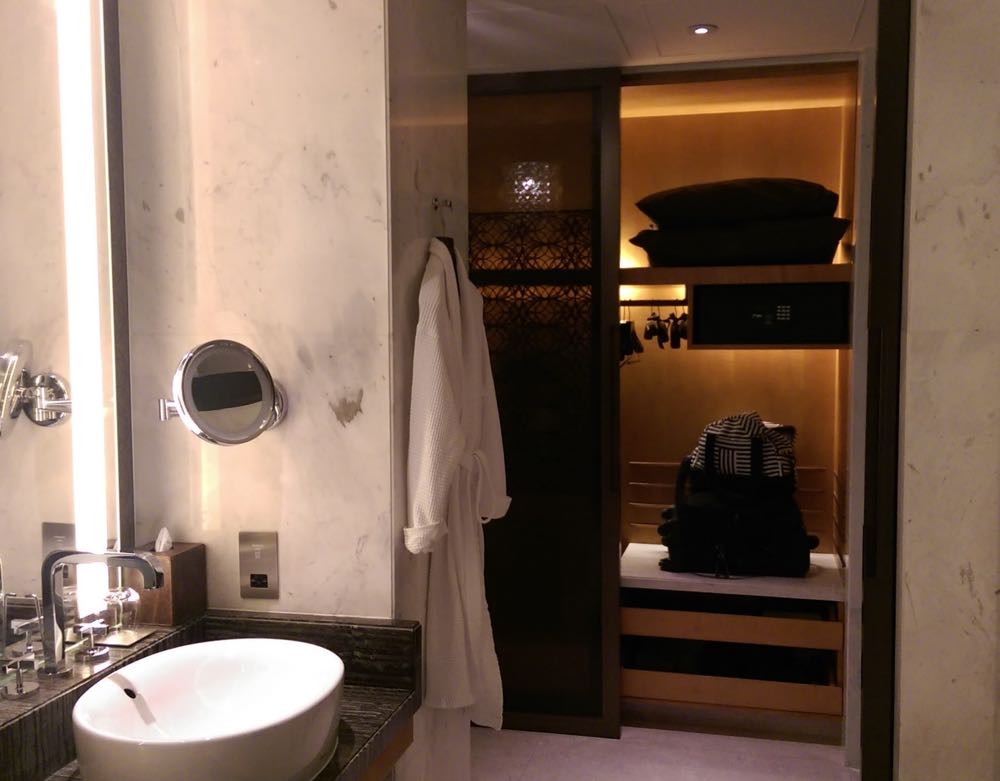 Park Hyatt Abu Dhabi standard room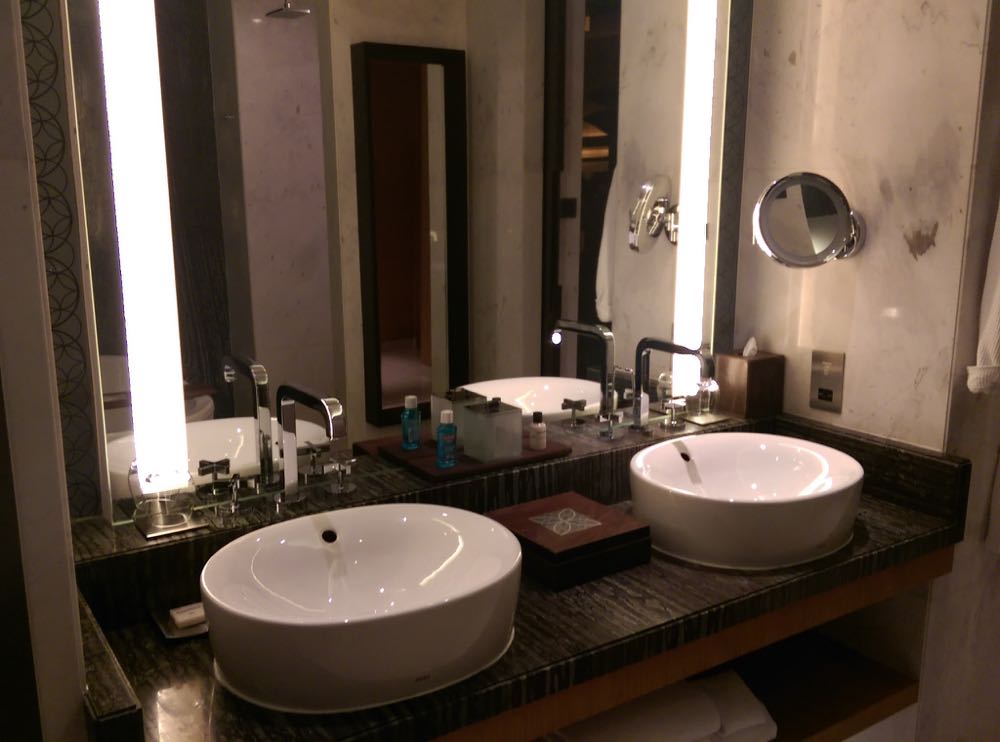 Park Hyatt Abu Dhabi standard room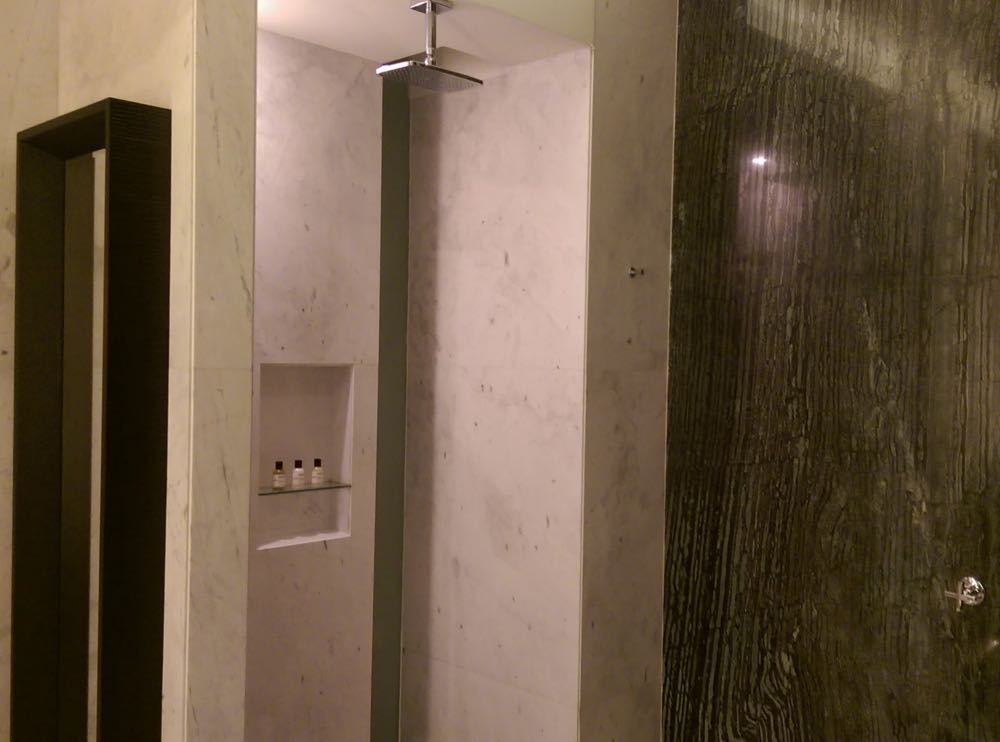 Park Hyatt Abu Dhabi rainforest shower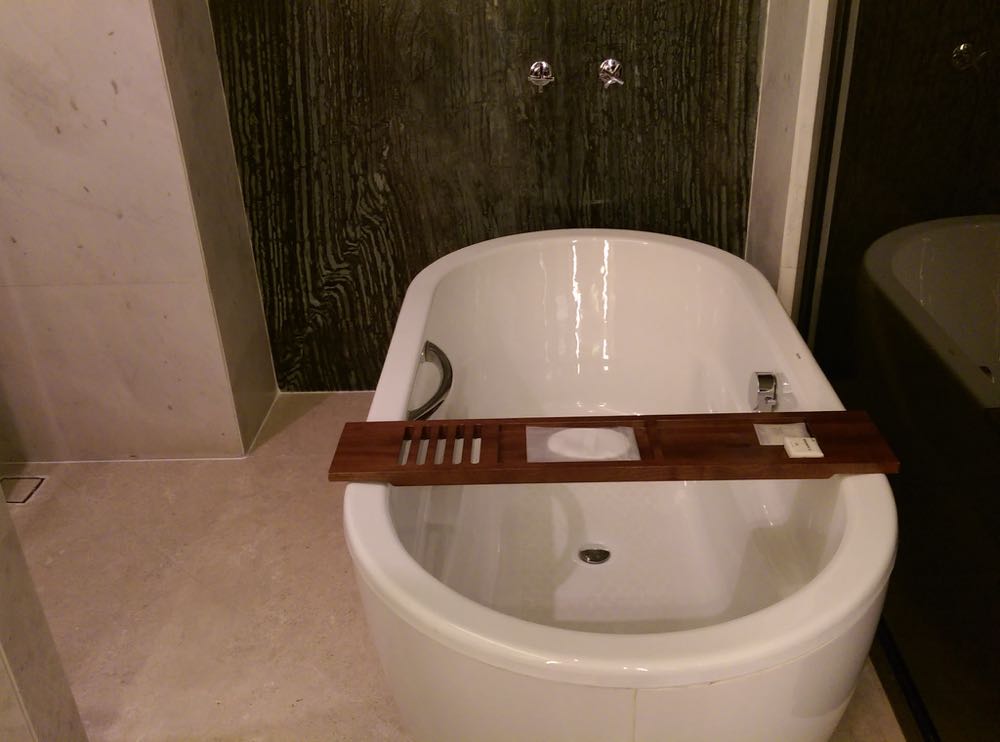 Park Hyatt Abu Dhabi soaking tub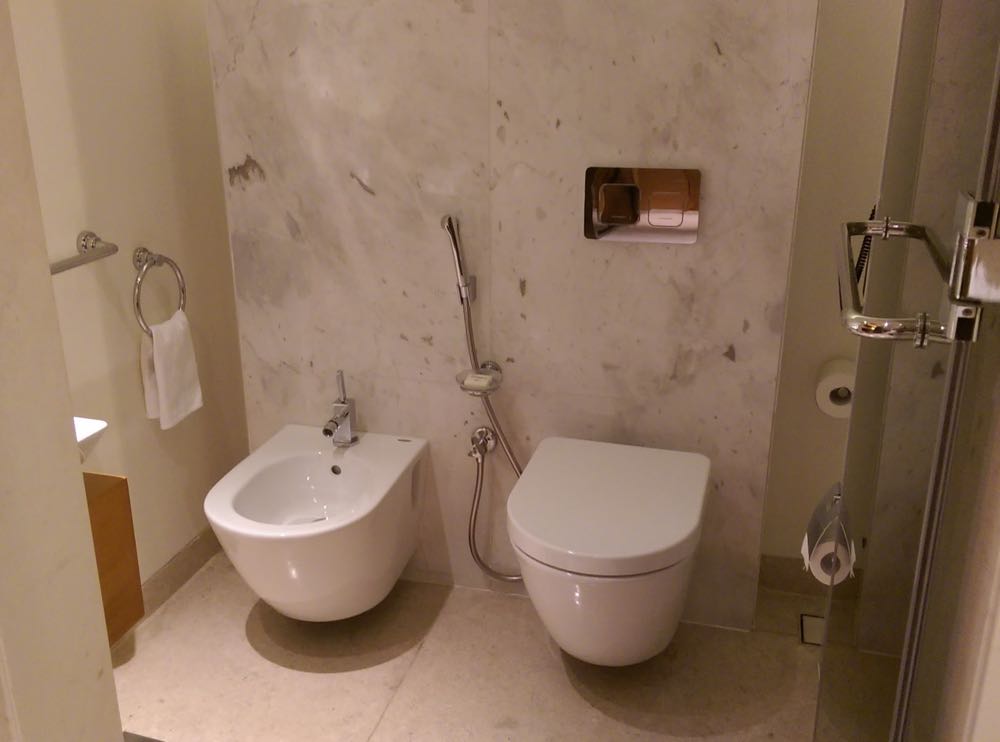 Park Hyatt Abu Dhabi bathroom
The bedroom could be accessed directly through the bathroom, and featured a comfy bed, chaise, and large desk.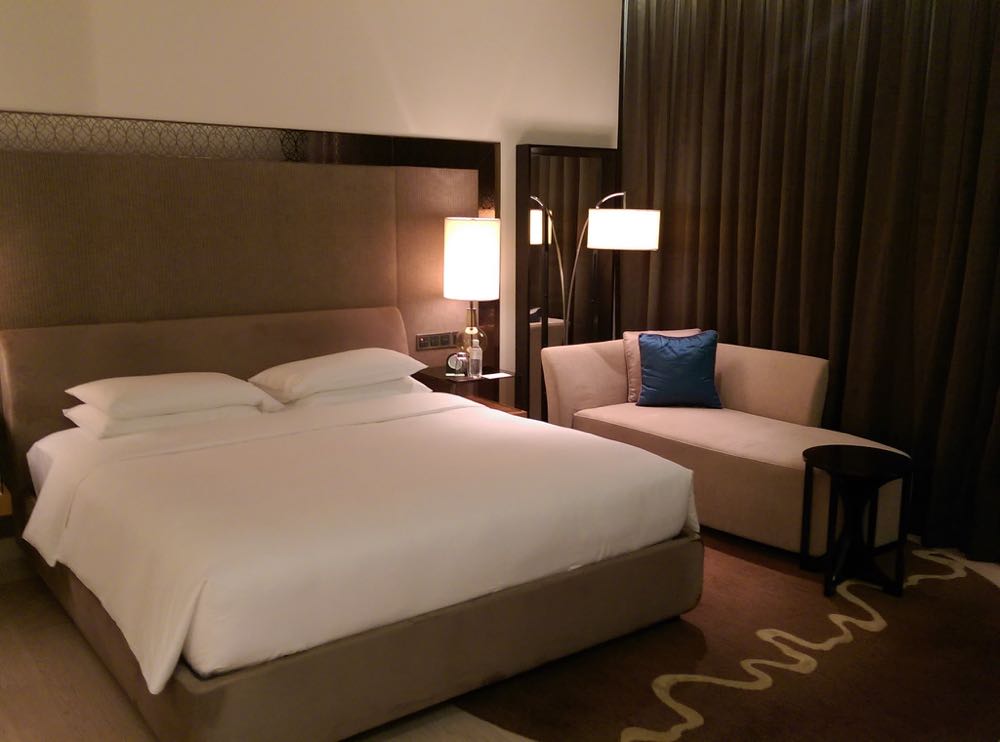 Park Hyatt Abu Dhabi standard room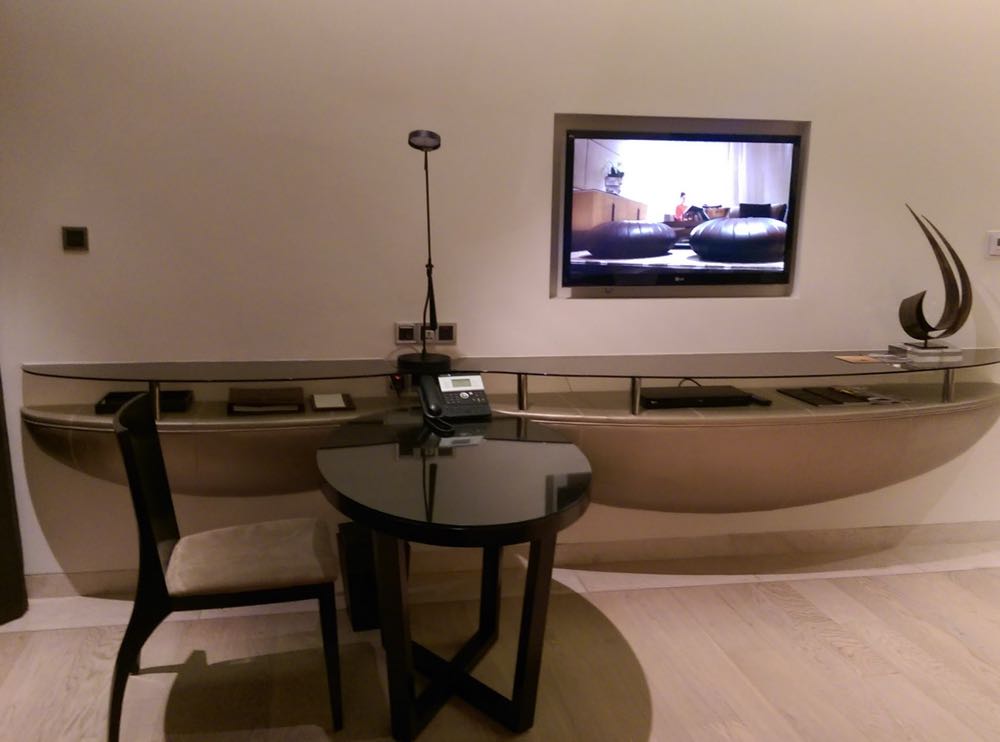 Park Hyatt Abu Dhabi standard room
The room had nice views over the resort and the Gulf, and was very large for a base room (nearly 600 square feet).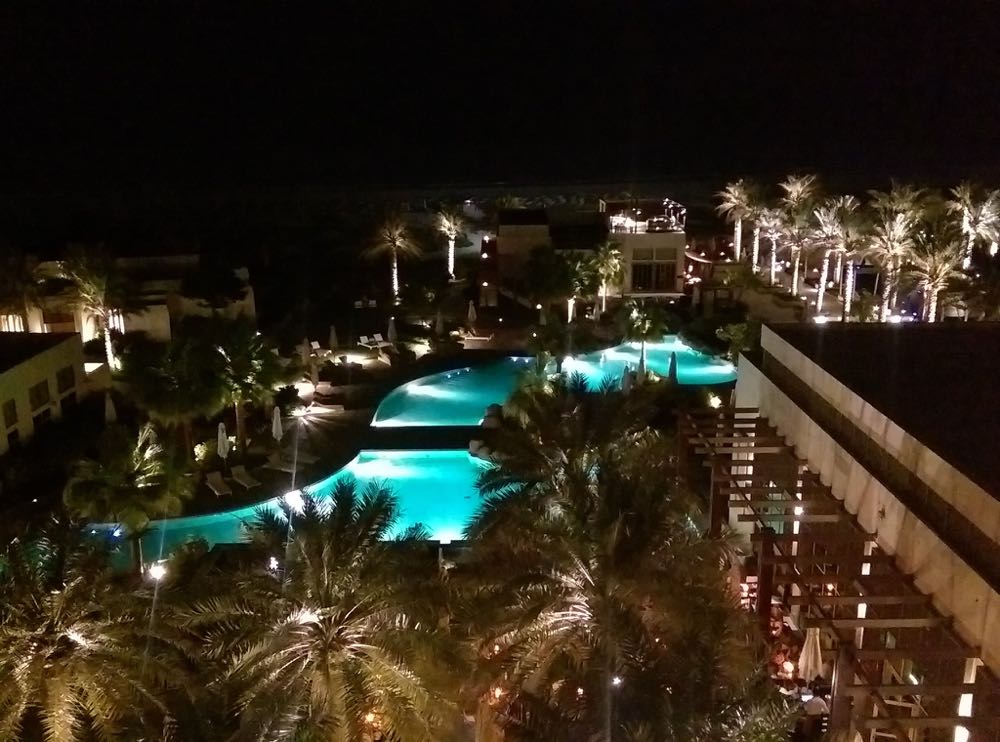 Park Hyatt Abu Dhabi room view
While I almost always choose points as my Diamond amenity, this time I selected the food and wine option, and a lovely antipasto plate was delivered with a half-bottle of wine shortly after I got settled in.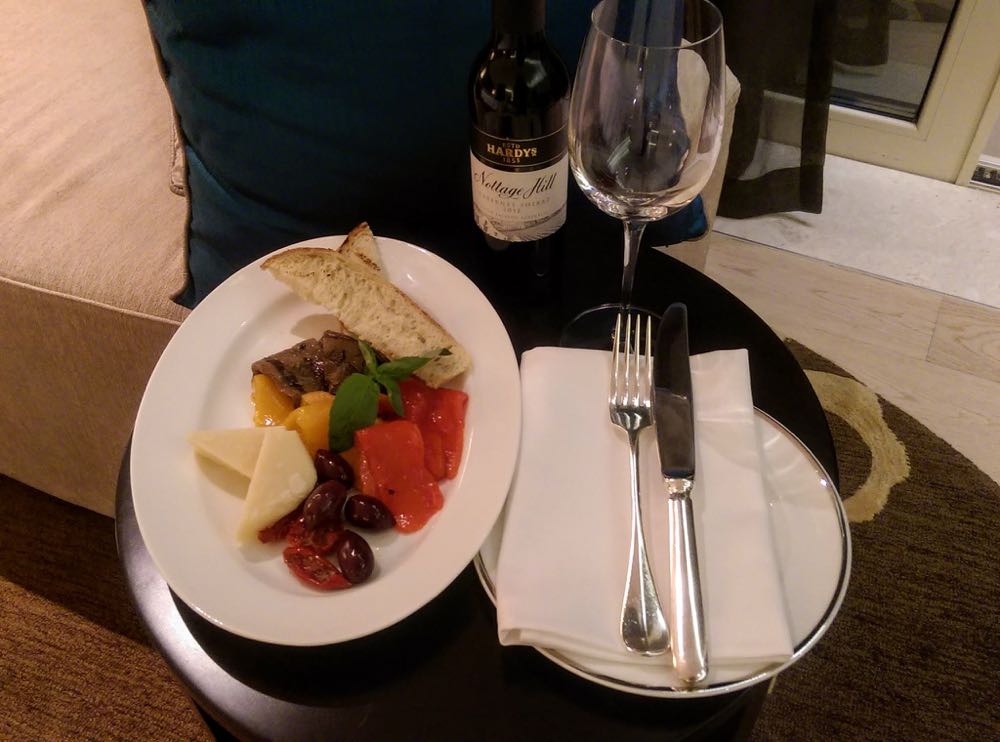 Park Hyatt Abu Dhabi Diamond amenity
The following morning I had a working breakfast, then spent the bulk of the day down at the beach, as the weather was just too perfect.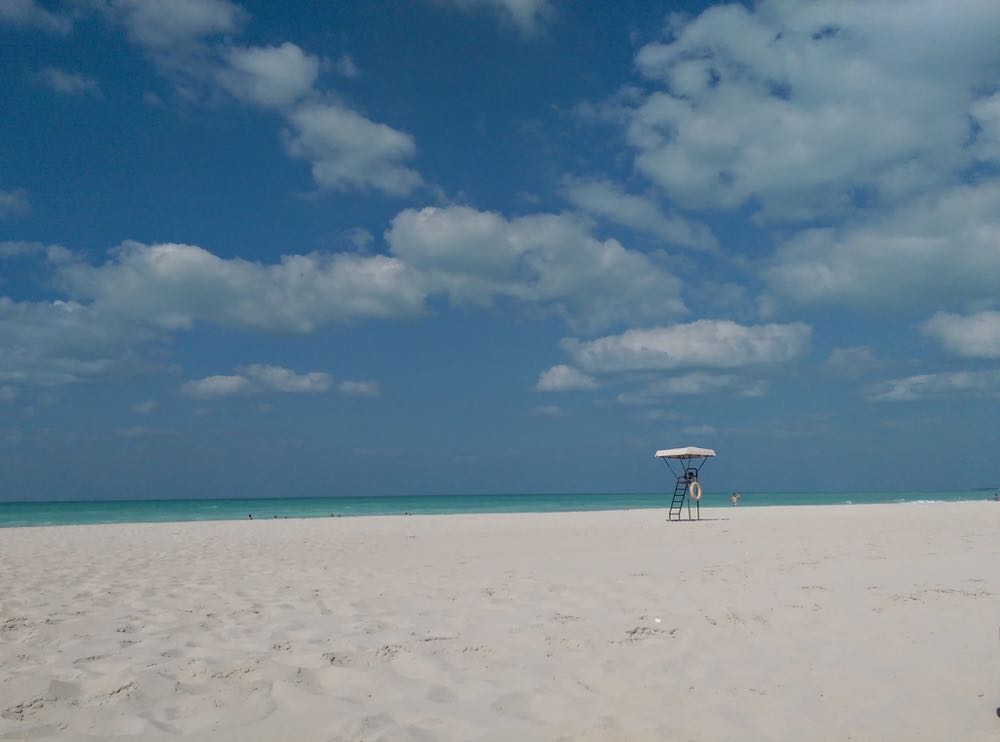 Park Hyatt Abu Dhabi beach
I was also able to do my Thanksgiving grocery shopping from the beach and have everything delivered to my very surprised husband, because living in the future is amazing.
Overall
I know this was a ridiculously fast trip, but I'm glad to have done it. Being able to snag convenient flights at the last minute certainly made it easier, and there are certainly worse ways to spend a weekend!