---
This review will be fairly short, as I didn't have a chance to check out all the features of the property, and also because I probably won't be returning, so I figure a short review is better than none.
Following my flight from Abu Dhabi to New York, I needed to spend one night in New York City. My flight out of New York was at 5AM the following morning, so that I could get to LA in time for my British Airways business class ticket to London for Thanksgiving.
The good thing about staying in New York City on the Monday before Thanksgiving is that hotels are quite cheap. So in this instance my hotel selection was based almost solely on location, and Le Parker Meridien suited my needs perfectly. The rate wasn't bad either, as it was $189 for a pre-paid rate.

The flexible rate for the night was $249, for what it's worth.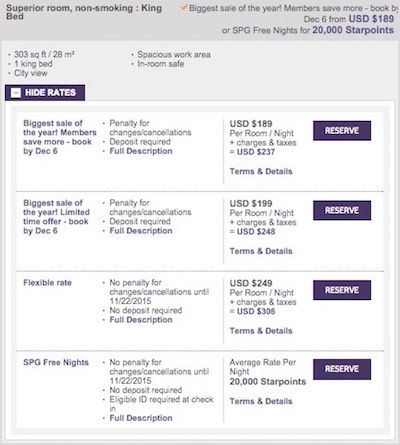 This doesn't include the $15 per night "facilities fee," which includes the following:
Wired or Wireless High Speed Internet Access for multi-devices in guestrooms, the lobby, restaurants and the bar
Unlimited use of Gravity Fitness Center
Unlimited use of the penthouse pool
Unlimited toll free and local calls from your in room phone
I've always hated resort fees, though it's even worse when they make their way to city hotels.
For what it's worth, this is a Category 6 SPG property, meaning a free night redemption would have cost 20,000 Starpoints — at a redemption value of less than one cent per Starpoint, paying cash was definitely the better option.
There were two other things which made me especially interested in staying at this hotel:
Anyway, on to the actual review. I arrived at the hotel at around 11AM. The hotel is on 56th, between Avenue of the Americas and 7th. I love the location in general — it's just a block from the Park Hyatt New York.
The lobby of the hotel is fairly sterile, though has high ceilings and a bit of artwork which make it slightly less boring. Still, the lobby has a completely different theme than Le Parker Meridien Palm Springs, which is fun and quirky.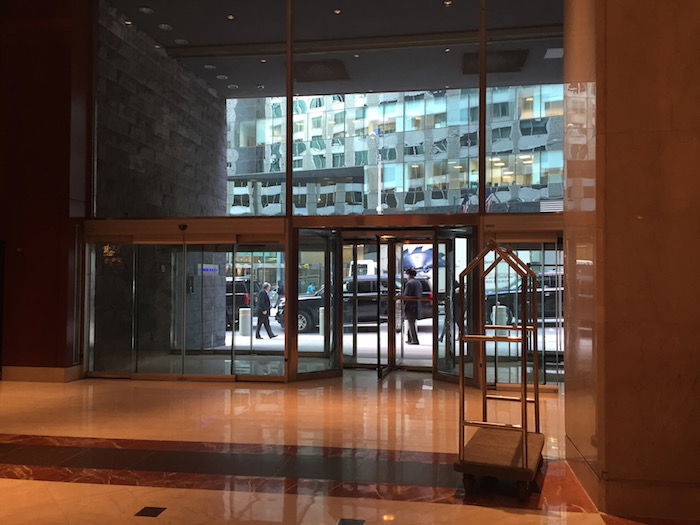 Le Parker Meridien New York lobby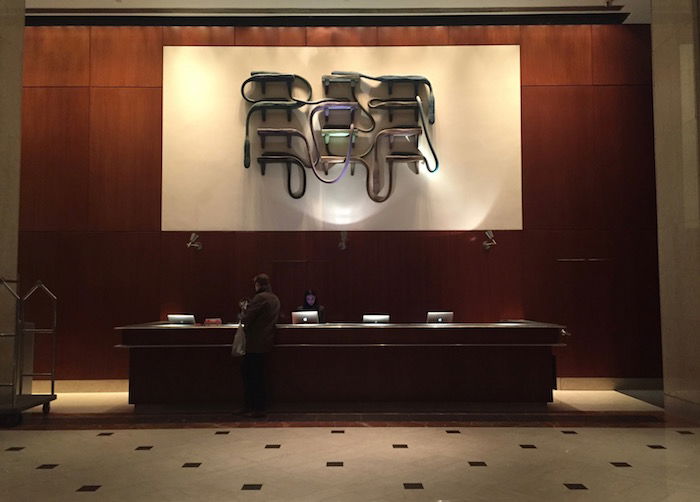 Le Parker Meridien New York reception
At reception I was helped by a fairly rude associate. I handed her my credit card and ID, and said "checking in, please." It was a solid minute before she said anything to me.
Rather than offering me my choice of Platinum welcome amenity (500 Starpoints, free breakfast, or local amenity), she said "I've credited your account 500 Starpoints as a Platinum member." In this case that worked out since my flight was at 5AM (though she had no way of knowing that), but the fact that I wasn't even offered a choice shows how this hotel feels about SPG.
She further explained that since it was before check-in time they only had a room with two twin beds available. That worked for me, since my priority was getting to sleep as quickly as possible.
Perhaps the most puzzling part of Le Parker Meridien is that the room keys are made of the same material as usual, but are roughly twice as long. What an outrageously impractical design, as the key is too long to fit inside any wallet.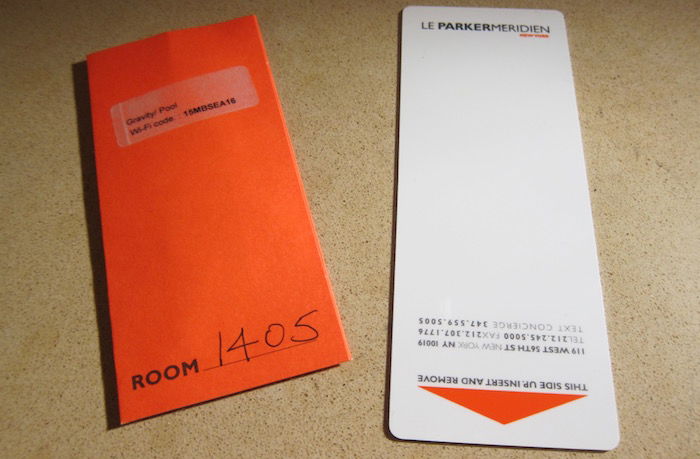 Le Parker Meridien New York keys
I was assigned a room on the 14th floor, room 1405.


Le Parker Meridien New York floorplan
Again, since my point of reference was Le Parker Meridien Palm Springs, I was expecting the room to be fun and quirky. Instead it was just… bleh. The room truly had no personality.
The room was a decent size for a standard room in NYC, at maybe 300 square feet. It featured two beds, and then along the window there was a desk with a comfortable office chair.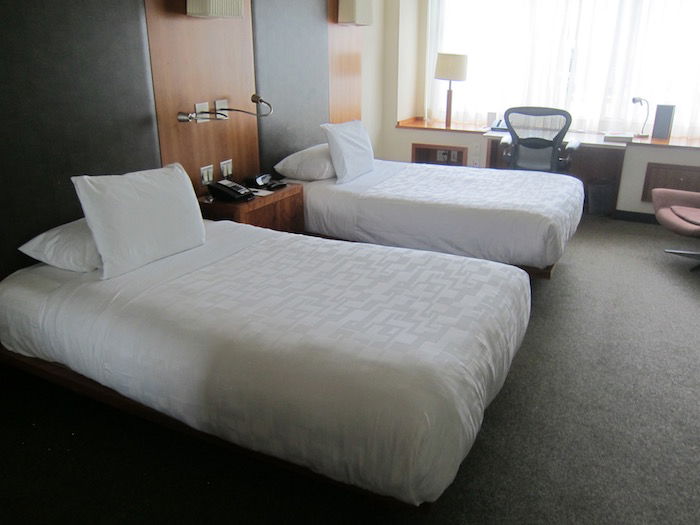 Le Parker Meridien New York room with two beds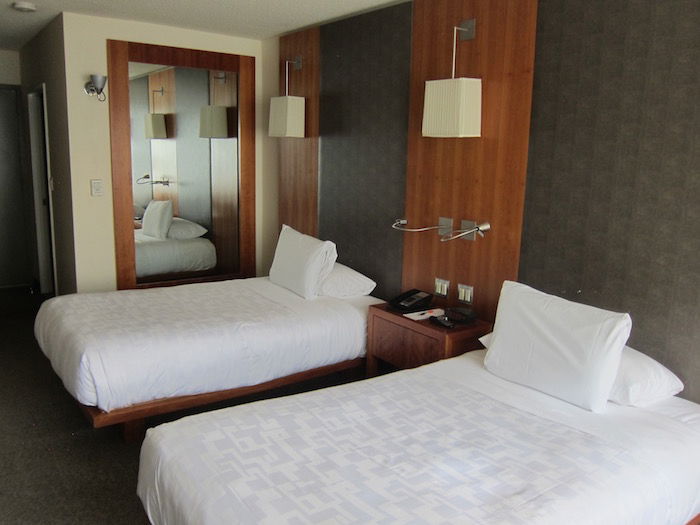 Le Parker Meridien New York room with two beds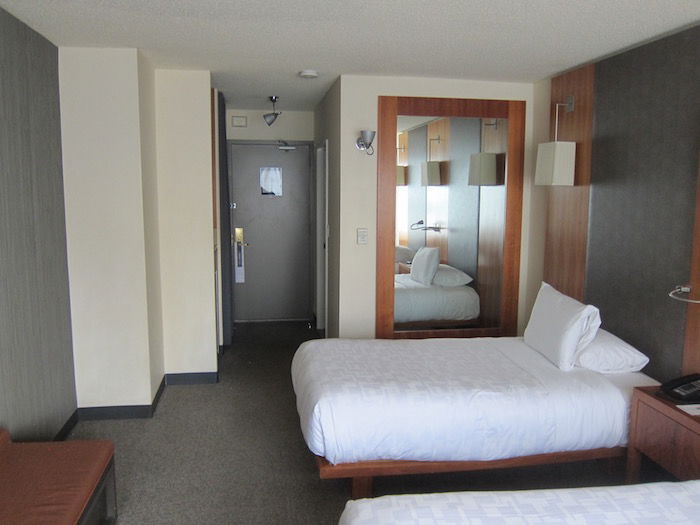 Le Parker Meridien New York room with two beds
The hotel deserves some credit for at least having proper office chairs in the room, given that many hotels don't even have desks anymore.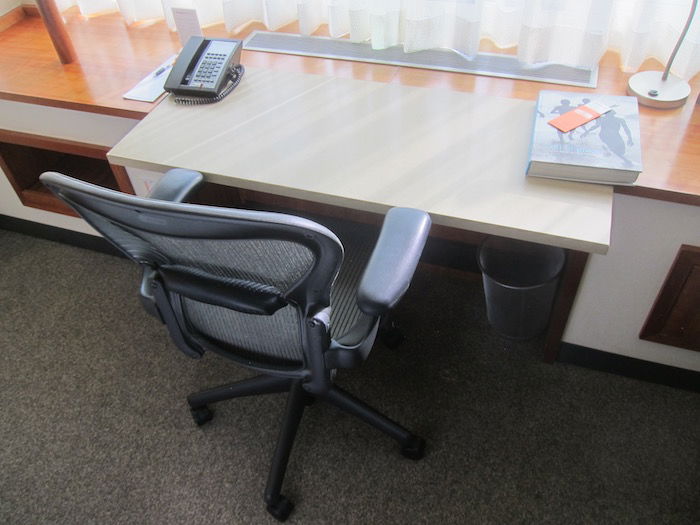 Le Parker Meridien New York room — desk
Then in the corner across from the desk was a chair for lounging, though it may have been more comfortable if there were an ottoman.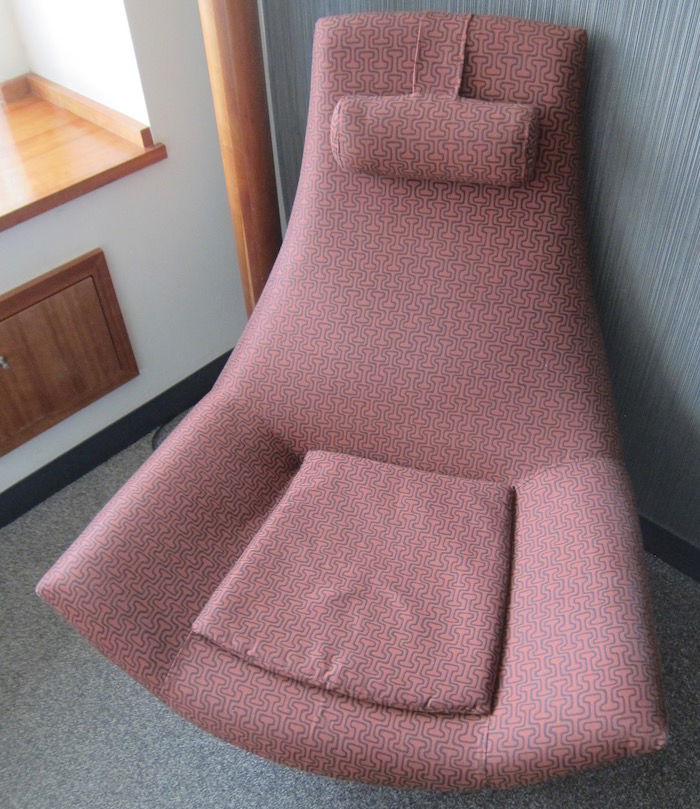 Le Parker Meridien New York room — chair by window
Then there was a TV and luggage rack across from the two beds.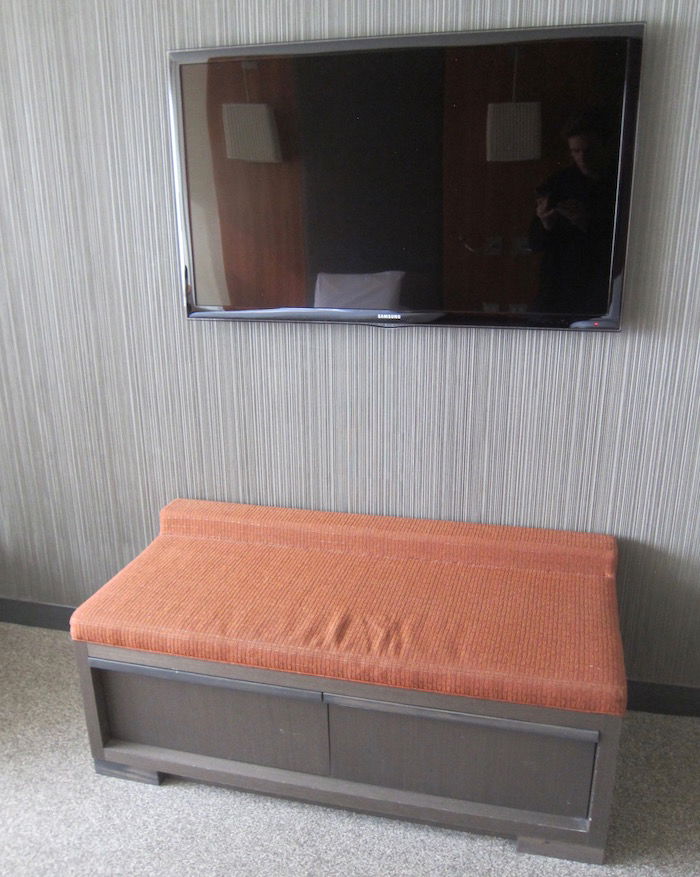 Le Parker Meridien New York room — TV & bag storage
The room didn't have much in the way of views, but even the Park Hyatt, which is one block closer to Central Park, doesn't have any views.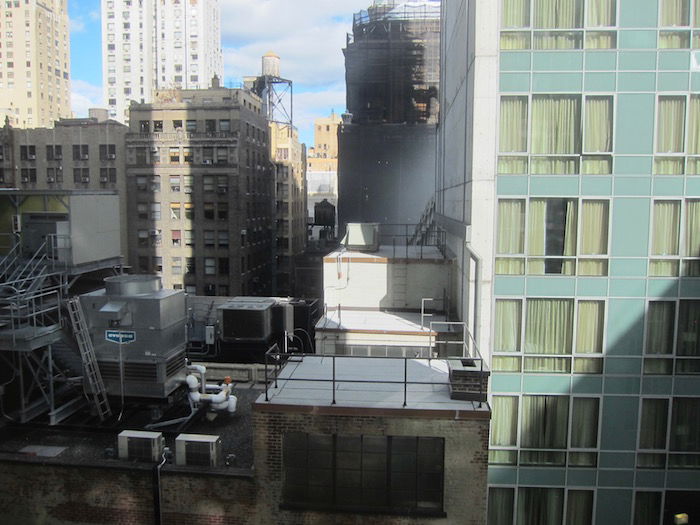 Le Parker Meridien New York room view
The bathroom was small but functional, with a sink, toilet, and shower/tub combo.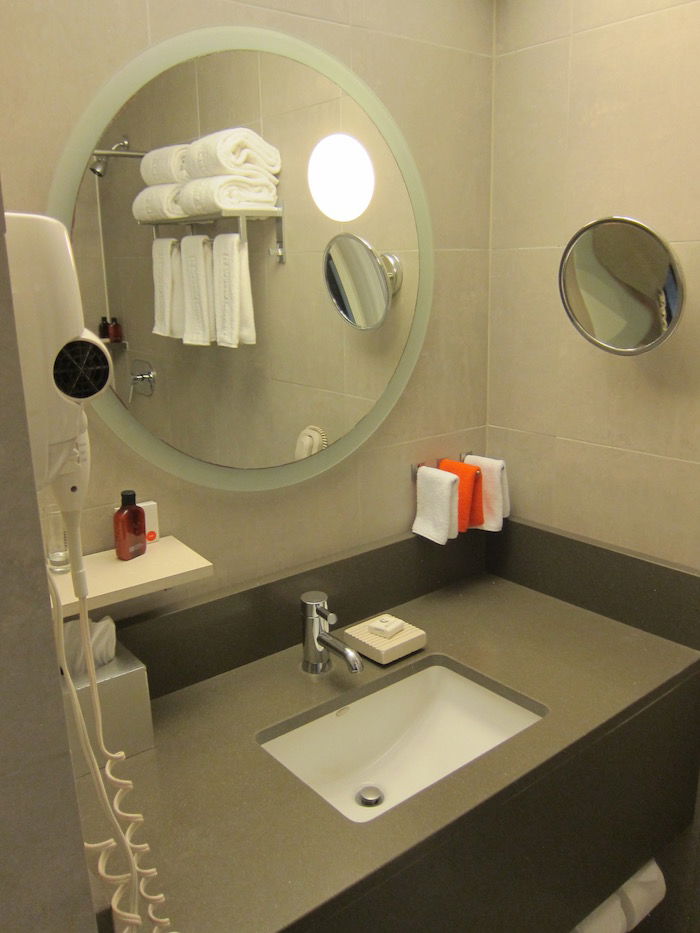 Le Parker Meridien New York bathroom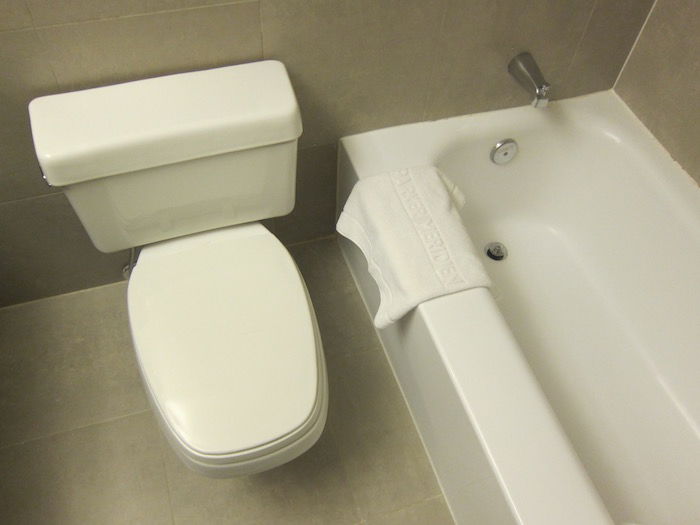 Le Parker Meridien New York toilet & shower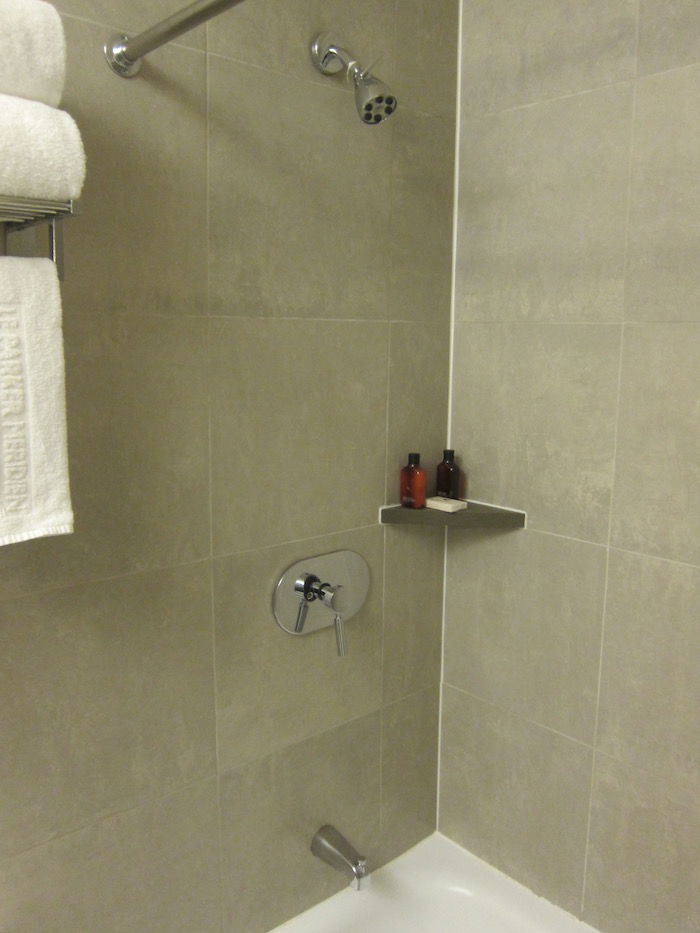 Le Parker Meridien New York shower
For a hotel which otherwise had very little in the way of branding, it's worth noting that at least their towels were Le Parker Meridien branded.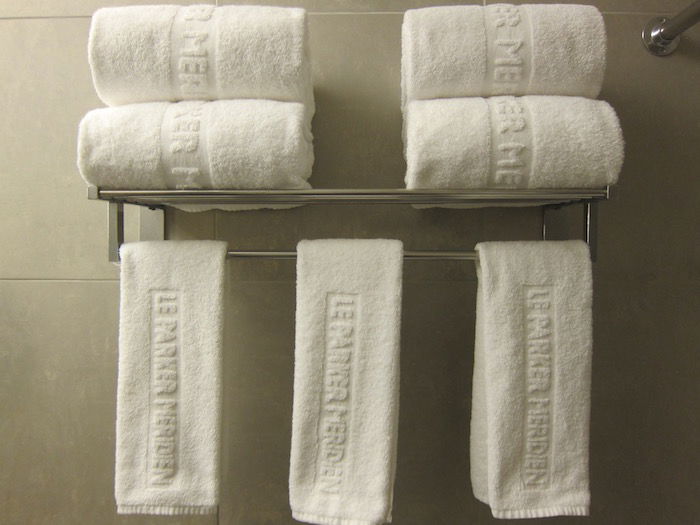 Le Parker Meridien New York towels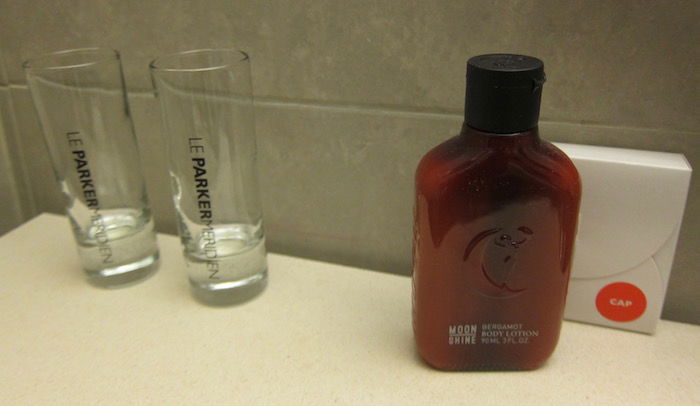 Le Parker Meridien New York toiletries
The next morning I left shortly after 3AM, so it was a fairly short stay. I tried to check out the gym on the way out, but it was closed.
Apparently the hotel has a really nice gym and also has a pool, which is rare for NYC hotels. Personally I'll take a mediocre 24 hour gym over a nice one with limited hours, but I also know I have a weird schedule.
Le Parker Meridien New York bottom line
Le Parker Meridien New York has a great location, at least in terms of where I like to be when in New York. Aside from that, I find the hotel to completely lack any personality, and the limited interaction I had with the staff was underwhelming. It's especially disappointing when you compare it to Le Parker Meridien Palm Springs, which is one of the most fun and quirky hotels out there. The rooms in this hotel could have been any generic hotel brand.
Unless I had to be back in this area and the price was right, I don't think I'd return. I'd take just about any of the Hyatt options over this, including the Grand Hyatt New York, Hyatt Times Square New York, Hyatt Union Square New York, Andaz 5th Avenue New York, Park Hyatt New York, etc.
With Starwood I of course love the St. Regis New York, though that's also a different caliber of hotel.
If you've stayed at Le Parker Meridien New York, what was your experience like?