This is meant mostly tongue in cheek, but also not completely. I'm curious if anyone can relate.
We Are Just Wrapping Up Our Amazing Trip
I'm sorry for the pause in the trip report for my dad's surprise trip. We're just wrapping up an incredible 2.5 week trip for my dad's birthday, which has been so fun. I intended to make the report as "live" as possible, but seven hours of game drives per day while on safari really didn't leave much time to dedicate to trip reports, given how much time they take to write.
The good news is that we're now headed back to the US, so I hope to publish the remainder of the report quickly. I'm sad that this trip is over, but I'm also excited to never eat and drink again (forget a lion eating a whole zebra, they feed humans more than that while on safari).
With that out of the way, I wanted to talk about something I feel like I constantly deal with when planning travel for family, and I'm curious if anyone feels the same way.
I Love Planning Travel For Family
I'm obviously a huge airline and product geek. I love to try cool airline products, I love to visit great lounges, and I love to share those experiences with family members.
So in my family we have a rule that no one books a flight without talking to me first. I'm the "expert" in that regard, and I've learned that spending a bit of time upfront helping to plan travel for family saves me a lot of headache down the road (for example, "I didn't want to bother you, so I redeemed 360,000 SkyMiles for an economy ticket to Frankfurt… is that a good deal?").
The problem is that I always get super excited when I can book family members on airlines I really love, though I also need to come to terms with the fact that I'm usually more excited than they are.
Perhaps more accurately they are excited, but getting them to follow my tips for "maximizing" flights turns into a chore. I've learned not to expect a family member flying Lufthansa first class to walk 20 minutes to the First Class Terminal in Frankfurt just so that they can be driven to the plane in a car. 😉
My Dad Loves Premium Travel, But…
We're currently well into a very long journey on Qatar Airways, where we're flying 25+ hours in business class. My dad absolutely loves flying first and business class, is incredibly grateful for it, and would never complain about a flight. I know he even actively enjoys it.
The problem is he refuses to actually "maximize" the experience, at least by my standards. What do I mean? We just completed a 10 hour flight, and:
While he napped for about four hours, it was entirely in the upright position
He didn't watch any movies or TV shows, but rather spent the other six hours just looking at the map
"Dad, do you want to recline your seat so you can sleep?"
"No Benny, I am not tired, I will just rest my eyes"
*proceeds to sleep for three hours in the upright position*
"Do you want me to help you pick out something to watch?"
"No Benny, I don't need that."
He has literally spent this entire flight in the upright position, and the only entertainment he has enjoyed is the moving map.
The problem is that he's really happy and is enjoying the flight. He just does so very differently than I do, and that's something I struggle to come to terms with.
I realize I can't change what makes him happy, but it sure would make me happy if he would just recline his seat so that I could feel better about this.
On our outbound flight in Air France first class he slept upright from New York to Paris, and only after begging him did he agree to have his bed made on the flight from Paris to Johannesburg.
I fully recognize I just need to accept that this is how he travels, and that he's actually enjoying himself. It's just tough to come to terms with him preferring to not take advantage of the features offered in the cabin.
On the plus side, Ford is well trained in how best to enjoy a flight. He has spent most of the flight reclined while watching episodes one through six of the latest season of Real Housewives of Potomac — now that's how you maximize a flight!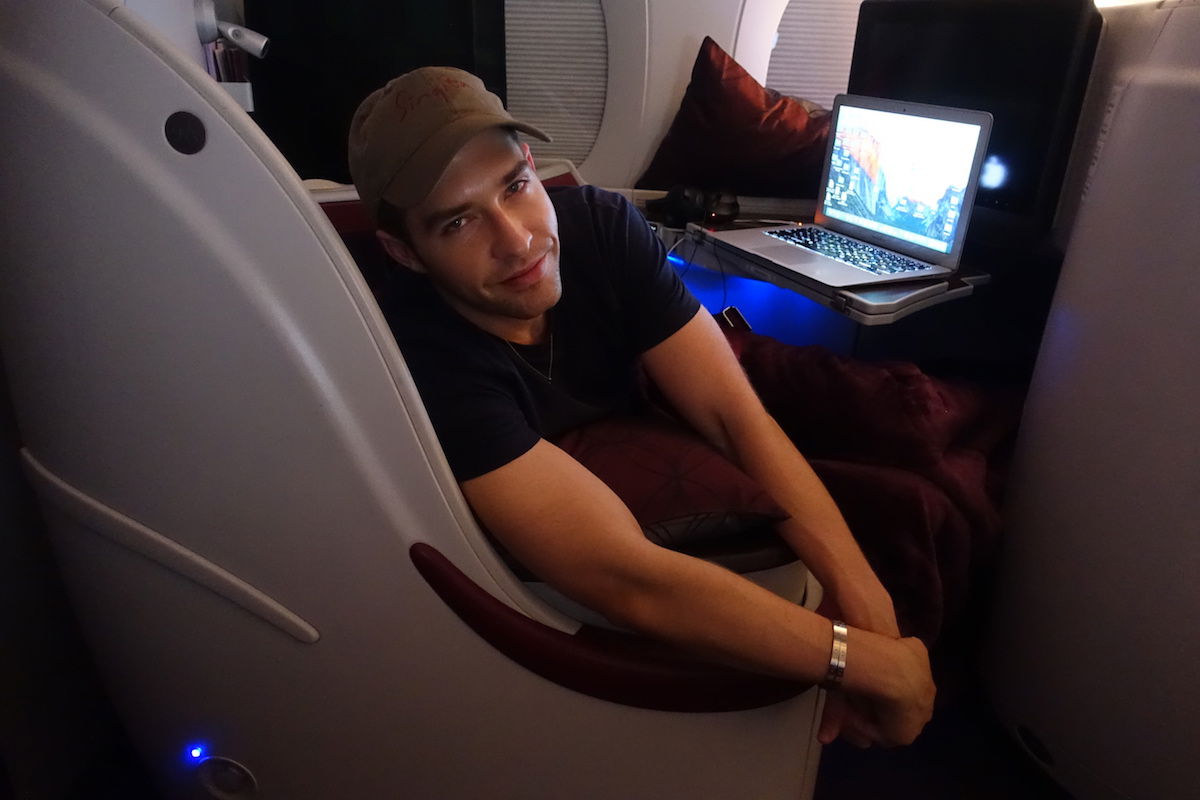 (Meanwhile I have literally spent the past eight hours organizing and editing photos on my laptop from our trip… FML.)
Anyone else have similar experiences when traveling with family in a premium cabin?