Whenever possible I do what I can to collect transferrable points currencies, given that they're much more flexible and allow you to transfer points to any of a number of airline partners. One of my favorites is American Express Membership Rewards, which has well over a dozen airline transfer partners.
Not only do Membership Rewards points afford you a lot more flexibility than just accruing a single, specific currency, but:
Many cards which accrue Membership Rewards points offer category bonuses, meaning you can often earn 2-3x points per dollar spent
Membership Rewards sometimes offers transfer bonuses, whereby you get some additional points when transferring points to a partner program
For the most part the transfer ratio is 1:1 when converting Membership Rewards points into airline miles. There are exceptions, for non-traditional programs, as explained in the Membership Rewards terms & conditions:
For most frequent customer programs, 1,000 Membership Rewards points will equal 1,000 miles, points or credits and must be transferred in 1,000-point increments unless otherwise noted. The only exceptions are:

JetBlue Airways: 250 points = 200 JetBlue TrueBlue® points; must be transferred in 250-point increments
El AL Israel Airlines: 1,000 points = 20 Matmid points
Starwood Preferred Guest®: 1,000 points = 333 Starpoints®
Hilton®: 1,000 points = 1,500 HHonors™ points
Virgin America: 200 points = 100 Elevate points; must be transferred in 200-point increments
However, it looks like we're about to see a change to the above. As of October 1, 2015, Membership Rewards points will transfer to British Airways/Iberia Avios at a 250:200 ratio (or 1,000:800), rather than the current 1:1 ratio.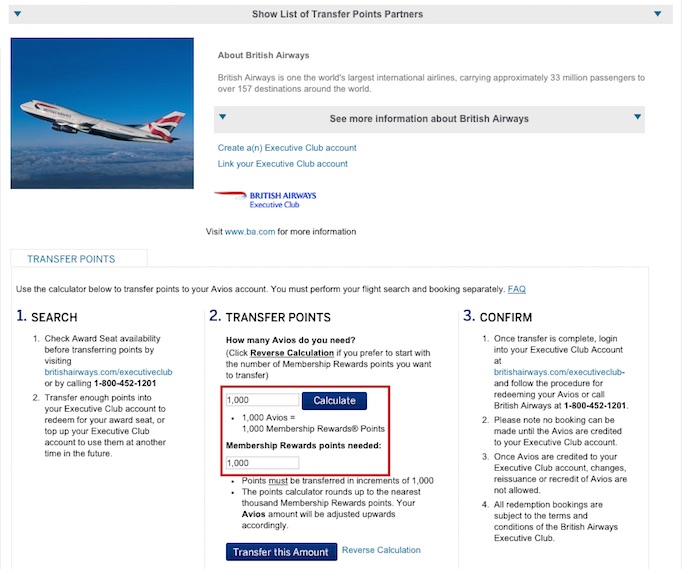 Travel With Grant received the following communication in his most recent American Express statement:
Effective October 1, 2015, when transferring points from Membership Rewards to British Airways and Iberia, the number of Avios you receive will change. From this date, for every 250 Membership Rewards points you transfer to the British Airways Executive Club and Iberia Plus programs, you will receive 200 Avios (the previous conversion rate was 1,000 Membership Rewards points for 1,000 Avios). As of October 1, 2015, you must transfer points to these loyalty programs in increments of 250.
Ouch! This stings especially since:
What makes this especially interesting is that British Airways also partners with Chase Ultimate Rewards and Starwood Preferred Guest, where they also have a 1:1 transfer ratio. So it will be interesting to see if their ratios change as well.
Do keep in mind that British Airways' co-branded credit card is issued by Chase, so it wouldn't surprise me if Chase Ultimate Rewards' transfer ratio remained 1:1. In theory it's possible that Chase simply didn't want American Express to have an equally lucrative transfer ratio to British Airways, though that's just a theory.
Bottom line
Of course this is a negative change, and sets quite the precedent for a change from the traditional 1:1 transfer ratio we're used to with transferrable points currencies.
This industry is just constantly changing, and when you really step back and look at it, you can't help but laugh. Yes, programs keep getting devalued, but the opportunities to earn points keep increasing. Ultimately I'm convinced the long term purchasing power for those of us who are savvy is still on the rise, though on a day-to-day basis it can be hard to realize that.
What do you make of this change, and do you think this is the beginning of a trend?