---
Our connecting flight landed at DFW at around noon, so we headed to the Amex Centurion Lounge. Lufthansa has their own lounge at DFW located inside "The Club" (that's the name of the lounge), though it's a rather uninspiring setup, so we skipped it altogether. For anyone interested, it's similar to the setup Emirates has, which I've reviewed before. About 90 minutes before departure we headed to our departure gate to have our boarding passes printed.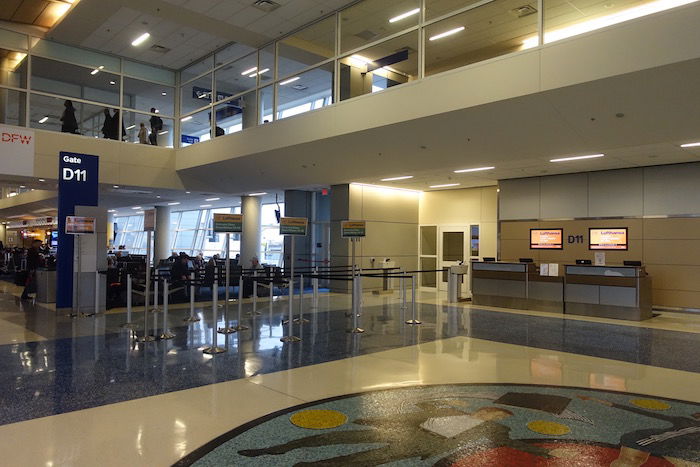 Lufthansa departure gate DFW Airport
The associate who checked us in was super nice, and said she'd pick us up from the Centurion Lounge when the flight was ready for boarding, which was a nice touch.
Our flight was scheduled to board at 3:40PM, though boarding ended up only starting about five minutes after that, at 3:45PM, with wheelchair passengers and then first class.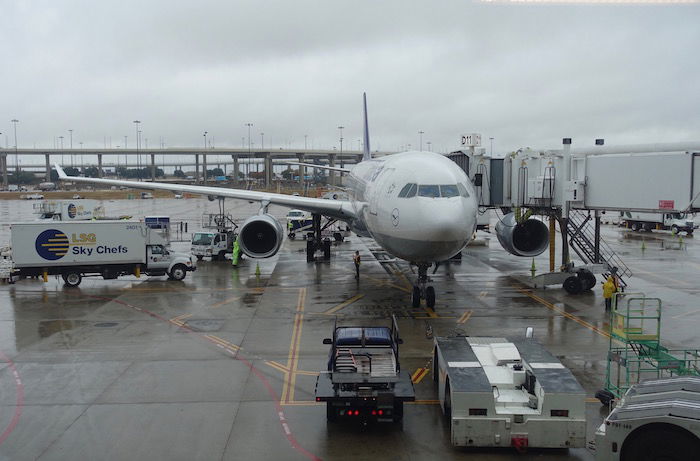 Lufthansa A330 DFW Airport
Before I get too much into the review, I want to say upfront that I'm limiting how much I'm writing about the hard product, given how often I've flown Lufthansa first class before. I've reviewed Lufthansa first class many times, including on the A330, A340, A380, 747-8, etc.
Lufthansa 439
Dallas (DFW) – Frankfurt (FRA)
Saturday, December 3
Depart: 4:10PM
Arrive: 8:50AM (+1 day)
Duration: 9hr40min
Aircraft: Airbus A330-300
Seat: 1D (First Class)
We boarded through door L2, where the purser greeted us and pointed us left towards the first class cabin. Lufthansa has two rows of business class in front of the second set of doors. Then there are two rows of first class, in a 1-2-1 configuration.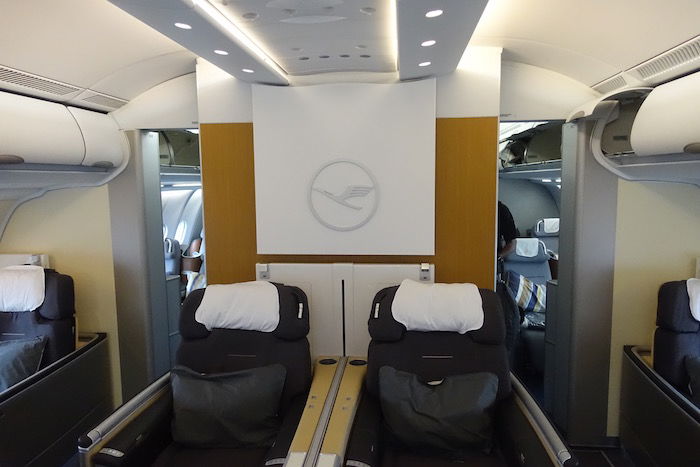 Lufthansa A330 first class cabin
We had originally assigned ourselves seats 2D & 2G, though were informed that seat 2D had problems, which is why we were moved forward a row.
I love how stylish Lufthansa's first class cabin is, and in particular the Lufthansa logo and "First Class" written on the bulkhead, as well as the drink display with champagne, roses, etc.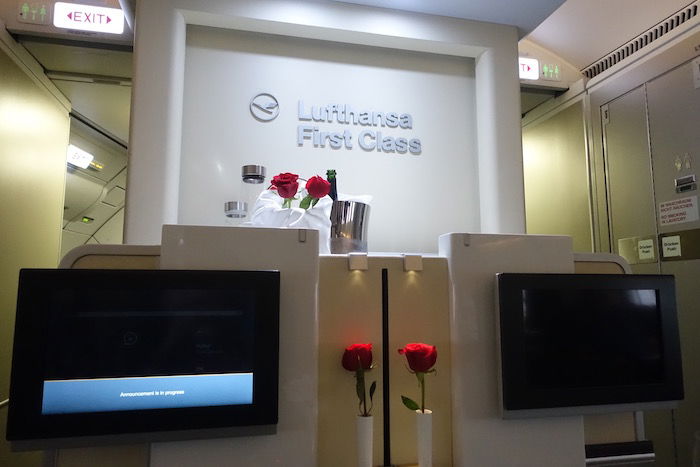 Lufthansa A330 first class cabin
I apologize for the lack of cabin pictures, but because Lufthansa representatives escorted all the first class passengers to the gate, all seven of the first class passengers boarded within a minute of me, which limited picture opportunities.
Lufthansa first class seats are semi-private, though if you're in the center section of row one you feel a bit exposed, as you're right by the lavatory, and also the flight attendants are serving people off the service area in front.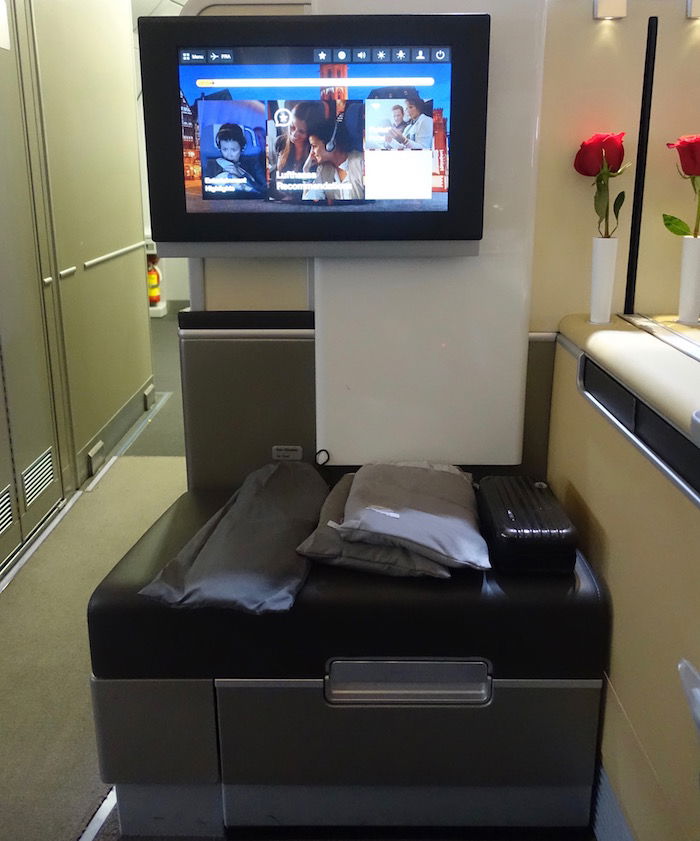 Lufthansa first class ottoman & television
The first class ottoman is well designed, as it can move towards your seat, making it easy to place your feet on even when not in bed mode. I wish more airlines had ottomans that can be adjusted. The ottoman can also open so you can store shoes, a laptop, etc.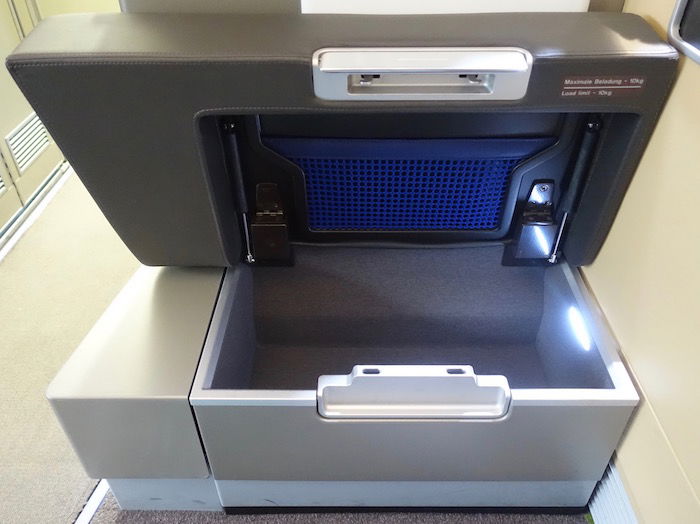 Lufthansa first class ottoman
The seat controls were to the left, and fairly easy to use. Personally I primarily use the four pre-sets at the top, though you can also adjust individual seat settings if you prefer.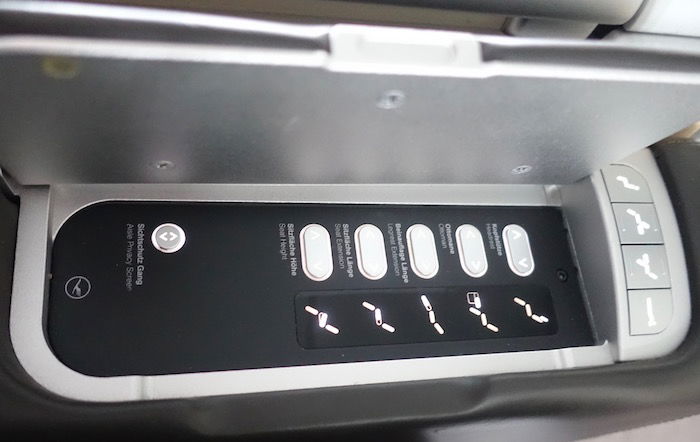 Lufthansa first class seat controls
Then on the right side of the seat was the entertainment controller. It's relatively easy to use, though I find the "scrolling" feature to be rather cumbersome.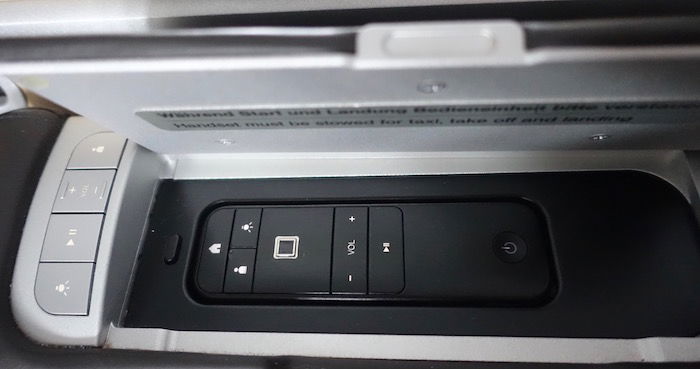 Lufthansa first class entertainment controls
Behind the entertainment controller was a compartment with Bose headphones, which are permanently "wired" to the plane. So they're great for using Lufthansa's entertainment system, though you can't use them with your own entertainment.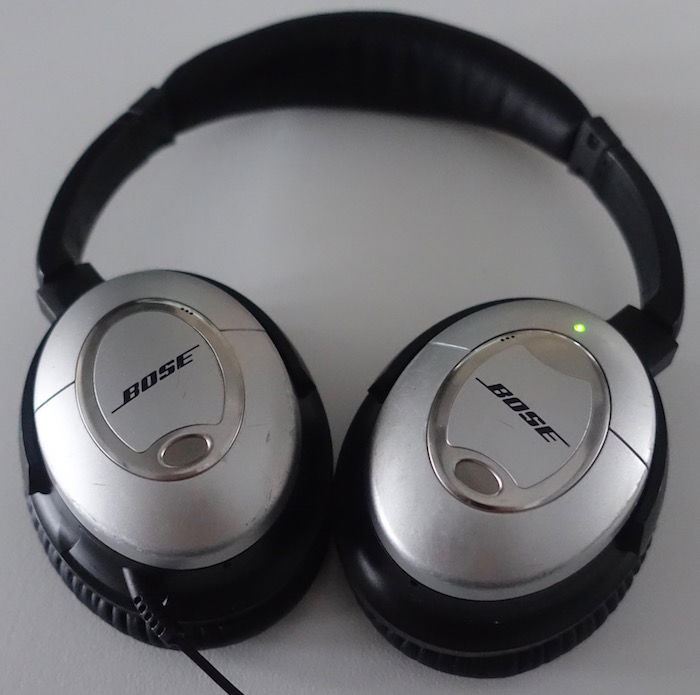 Lufthansa first class Bose headphones
The tray table extended from the center armrest. On one hand I love that the tray can be slid back and forth, though I don't love that you have to get up to take the tray out, since it's located so far forward.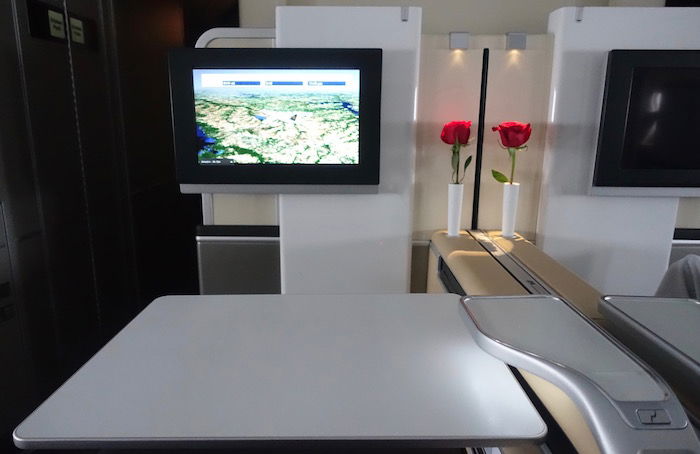 Lufthansa first class tray table
Once settled in the two first class flight attendants came by to introduce themselves. The flight attendant working the aisle was a woman in her early 30s and seemed professional but distant, while the flight attendant working in the galley was probably 10-15 years older, and couldn't have been friendlier.
We were quickly offered pre-departure beverages, and asked for champagne, which was served with macadamia nuts.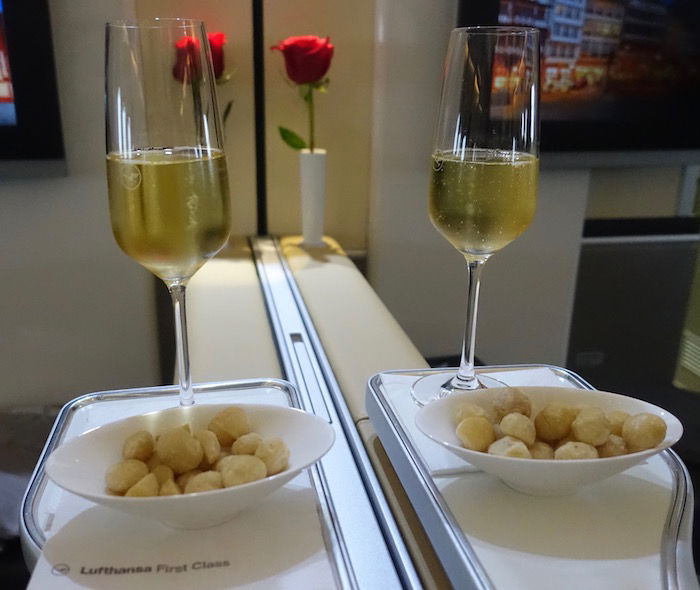 Lufthansa first class pre-departure champagne & macadamia nuts
Then we were offered the typical pajamas, amenity kits, and slippers. Lufthansa's amenities are super high quality, though they really haven't changed them up much in a long time.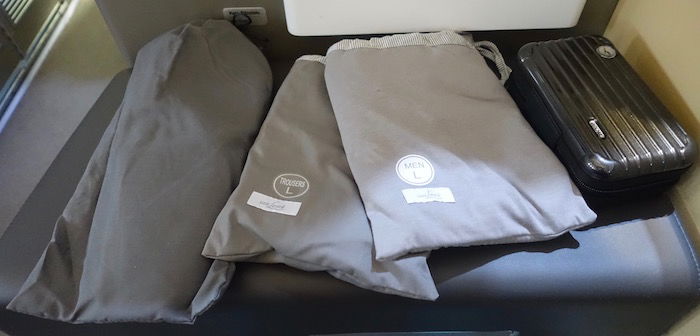 Lufthansa first class amenities
It doesn't get better than Lufthansa's Rimowa amenity kits. They had these a few years back, then got rid of them, and now seem to have them again.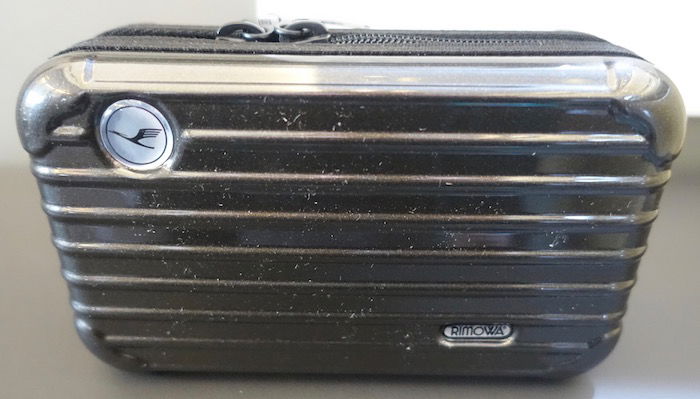 Lufthansa Rimowa amenity kit
The amenity kit was fairly well stocked, with a comb, shoehorn, socks, earplugs, a toothbrush and toothpaste, etc.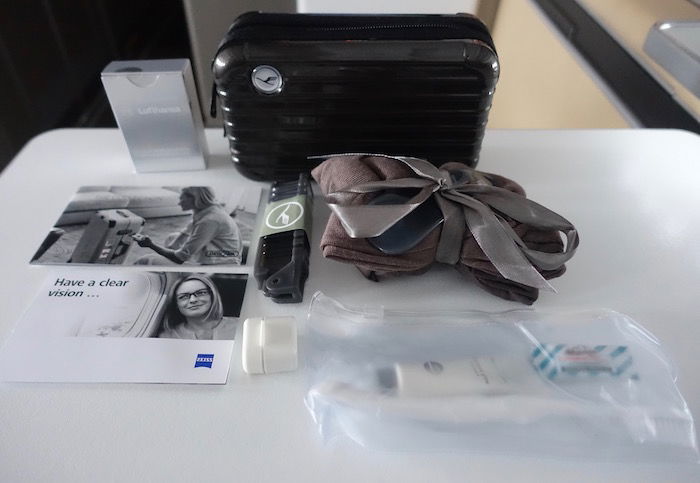 Lufthansa first class amenity kit contents
Then there were La Prairie amenities, including lip balm, hand cream, and "ice crystal cream."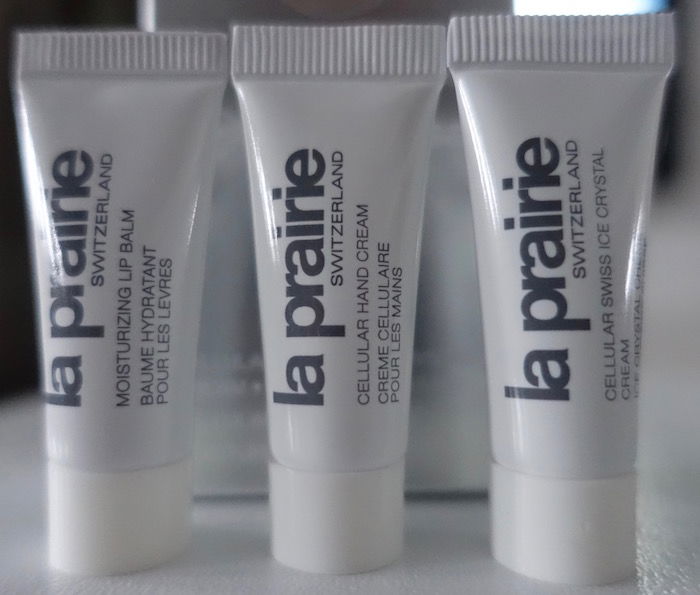 Lufthansa first class La Prairie toiletries
Lufthansa's first class slippers are great, as they're nice and sturdy.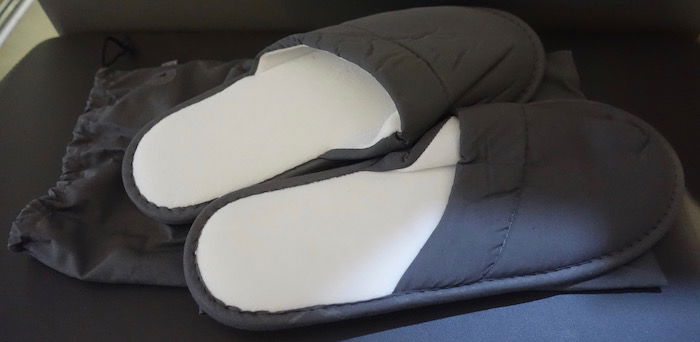 Lufthansa first class slippers
Lufthansa's pajamas are provided by Van Laack, and I have a bit of a love-hate relationship with them. The trousers feel like scrubs you'd wear in an ER, while the top is a button down. Together they look very stylish, though as someone who usually prefers just wearing the top or bottom, they can look a bit odd separately.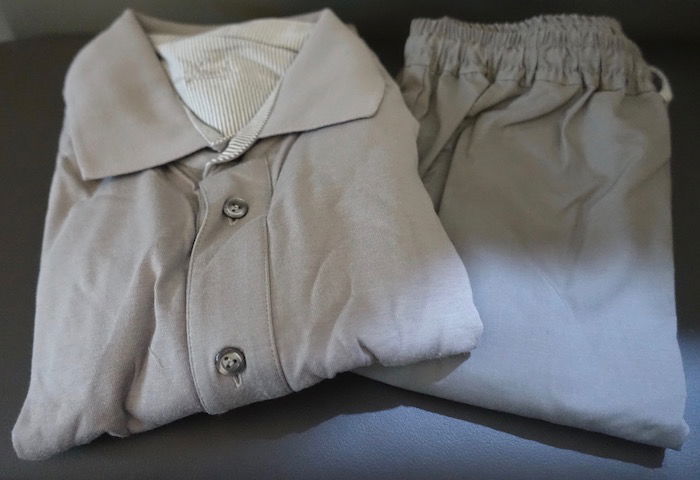 Lufthansa first class pajamas
By 4:05PM the boarding process was complete and door closed, just a few minutes ahead of our scheduled departure time. As stated above, seven of the eight first class seats were occupied.
I know I'm crazy, but I love Lufthansa pilots, and always look forward to their announcements. When they're not on strike, they're damn confident and professional. Captain Rainer was in charge of this particular flight, and especially hilarious — "the weather enroute is… mediocre. Our charts say it will be bad, but I do not believe them." LOL! He informed us that our flight time was 9hr10min, and that we should have a punctual arrival (as one does when flying a German airline).
At 4:15PM we began our pushback, at which point purser Ulricha played the safety video. Our taxi to the runway was reasonably quick, and by 4:30PM we were airborne.
The seatbelt sign was only turned off about 30 minutes after takeoff, due to the turbulence we had on our climb out. Once the seatbelt sign was turned off the crew sprung into action and began their service.
To start we were offered more drinks, and decided to have another couple of glasses of champagne. At the moment Lufthansa is serving Grand Siecle, which I always enjoy.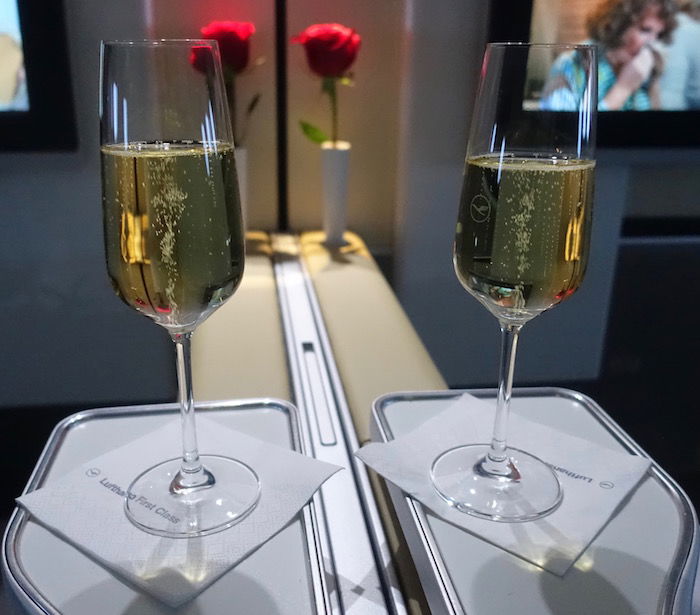 Lufthansa first class dinner — champagne after takeoff
We were also offered warm towels, which were beautifully presented and had a great scent.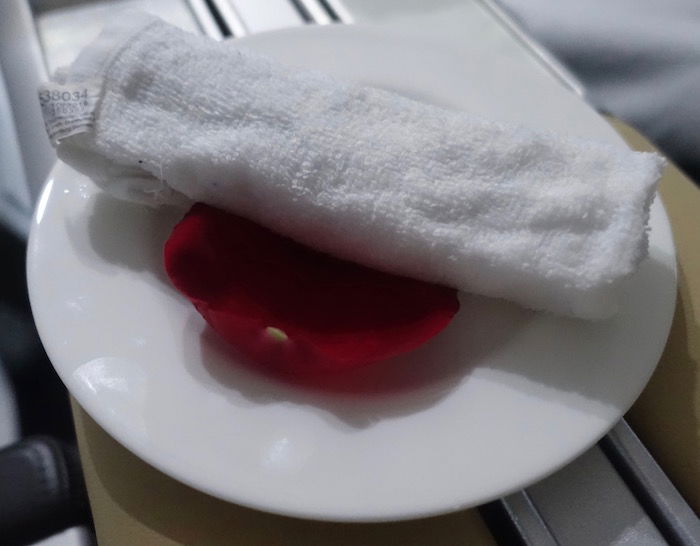 Lufthansa first class dinner — warm towel
We were then offered an amuse bouche, which contained zucchini, tomato, olive, and cheese. Lufthansa's amuse bouches are typically a bit odd, though this one was pretty good.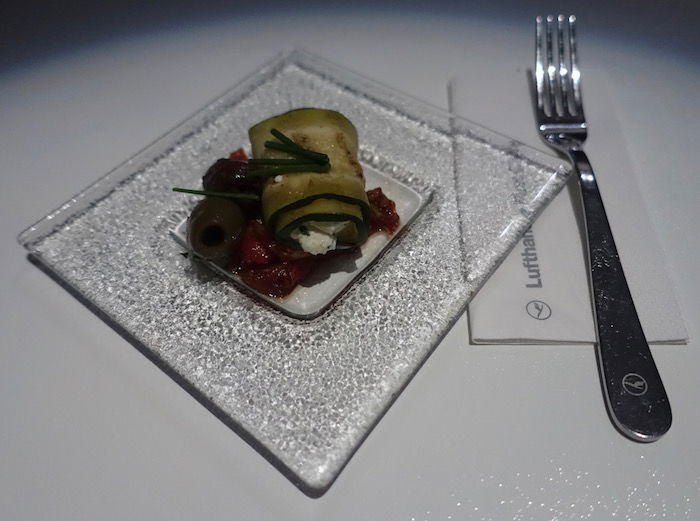 Lufthansa first class dinner — amuse bouche
Around this time the purser came through the first class cabin distributing the menus and wine list for the flight. The menu read as follows: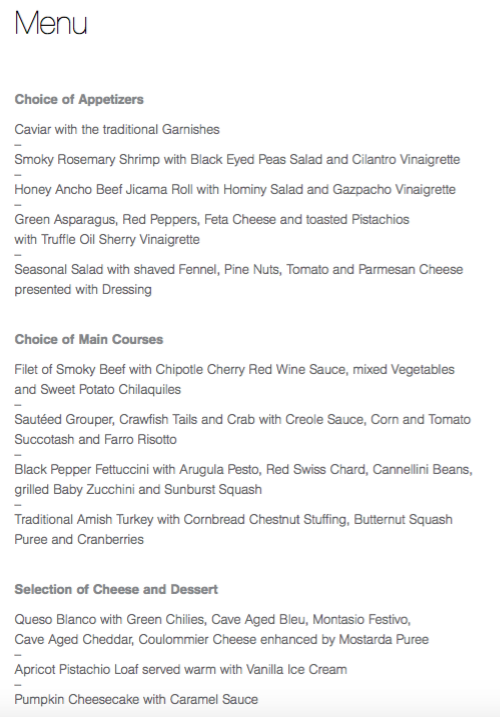 And the drink list read as follows: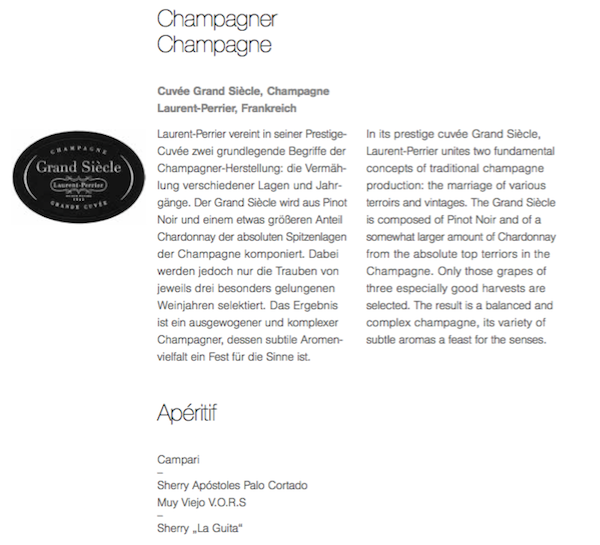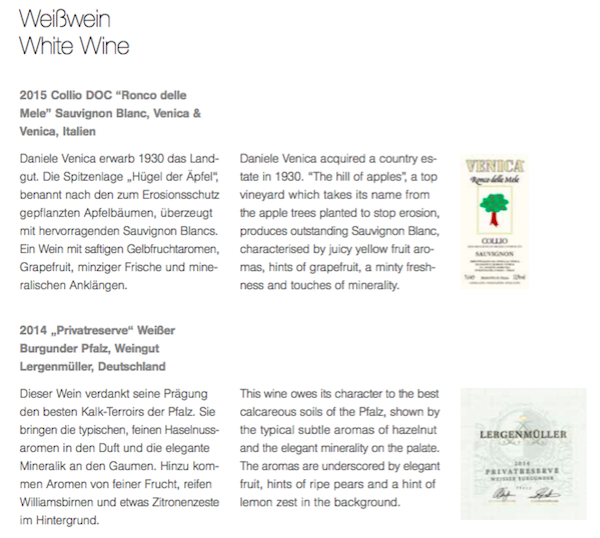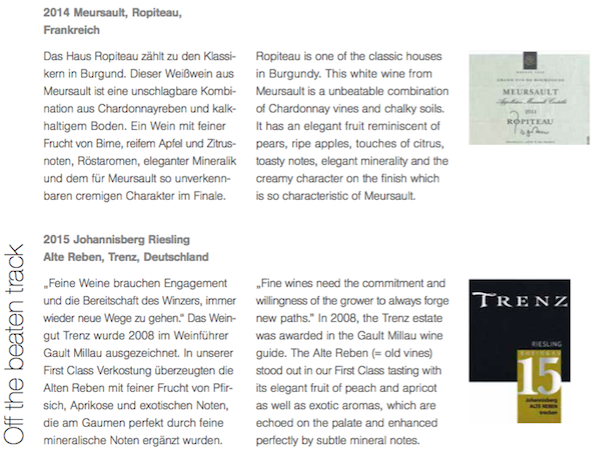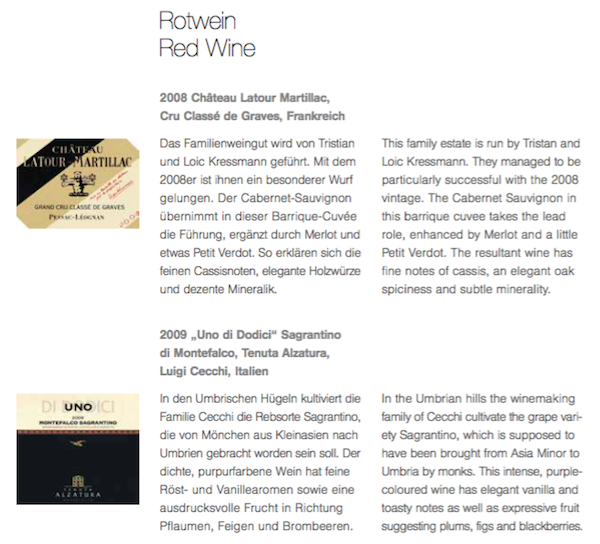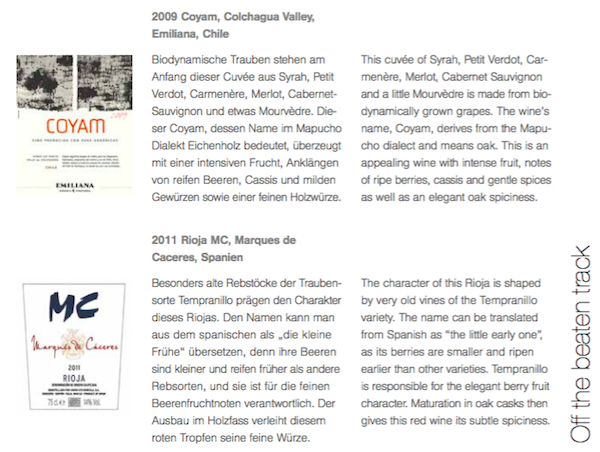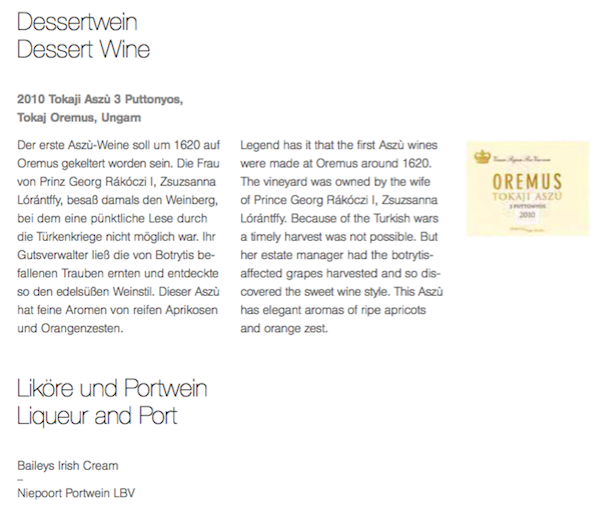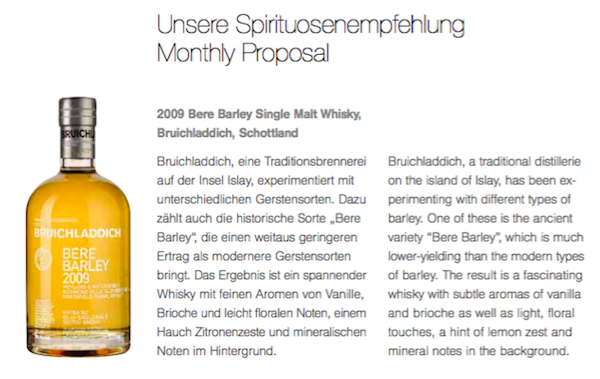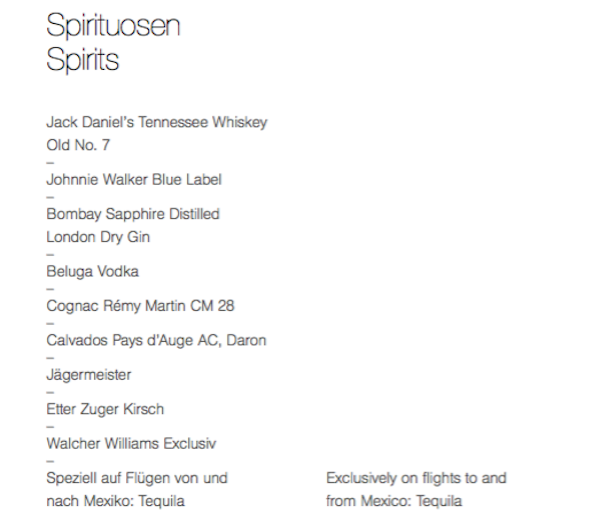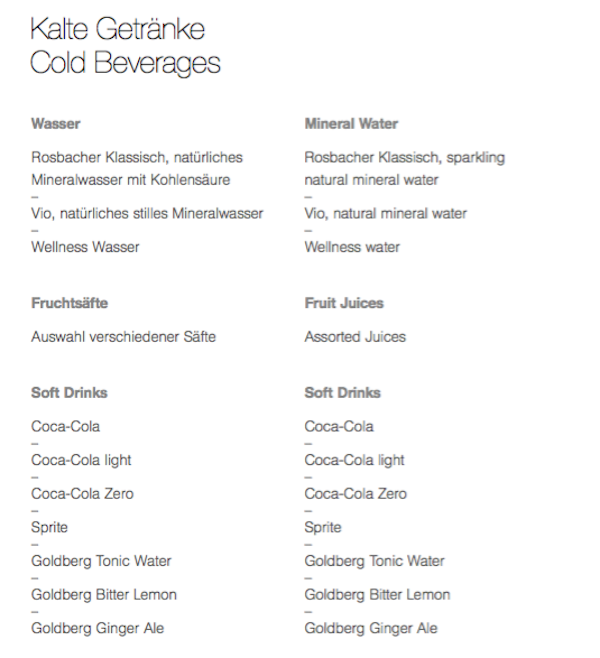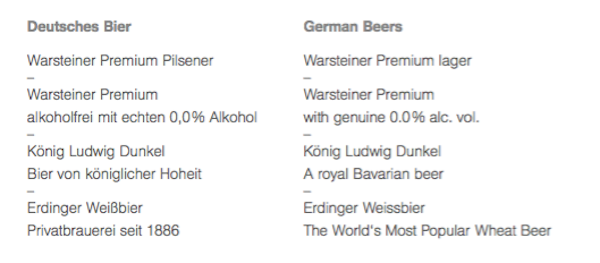 About an hour after takeoff our tables were set, including a tablecloth, salt and pepper mills, bread, and butter.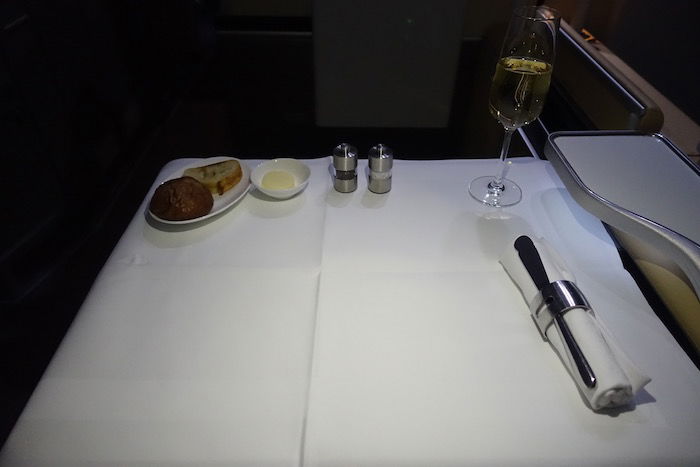 Lufthansa first class dinner — table setting
We were offered a selection from the breadbasket, and I selected a piece of garlic bread and pretzel bread.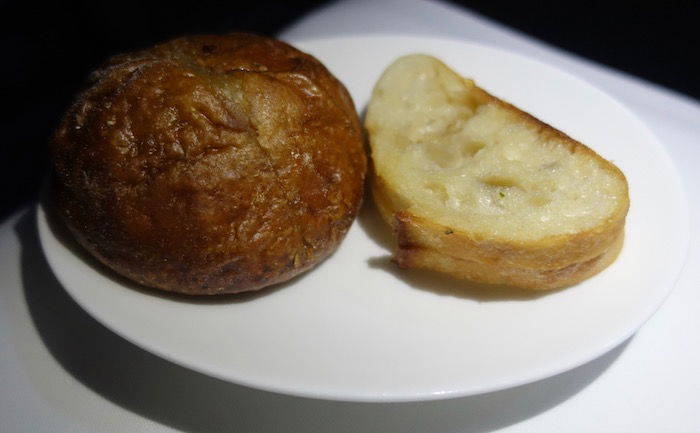 Lufthansa first class dinner — pretzel bread and garlic bread
About 15 minutes later the aisle flight attendant rolled a cart through the aisle with the caviar service. Usually I find Lufthansa flight attendants are really generous with their caviar portions, which wasn't the case on this flight. I suspect that's because the cabin was almost full, which is rarely the case, in my experience.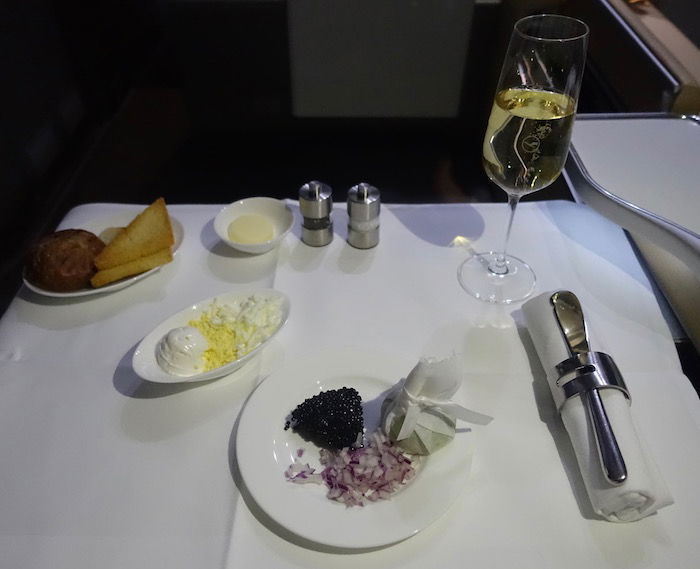 Lufthansa first class dinner — caviar service
Lufthansa's caviar service is one of my favorites in the sky, though I do wish they'd offer a mother of pearl spoon. I know that's the most first world commentary I could possibly provide. However, if you're going to go through the effort of serving caviar, it seems odd to cut corners at the very end and serve it with metal cutlery.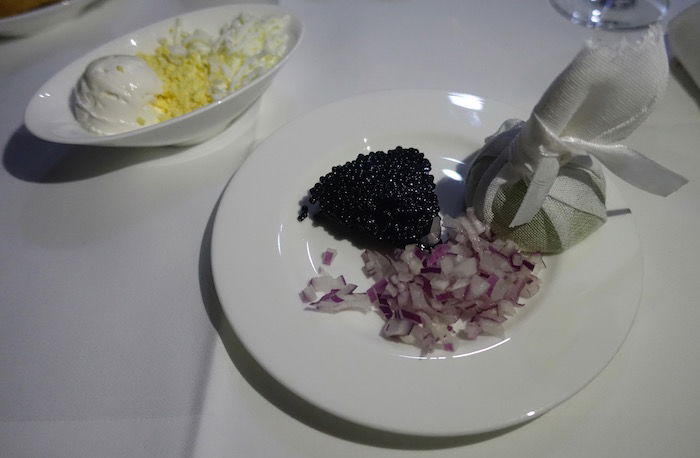 Lufthansa first class dinner — caviar service
After that the flight attendant rolled the appetizer cart down the aisle. I decided to try all three of them, and they were exceptional. On the left was rosemary shrimp with black eyed pea salad and cilantro vinaigrette, in the middle was green asparagus, red peppers, feta cheese, and toasted pistachios with truffle oil sherry vinaigrette, and on the right was a honey ancho beef jicama roll with hominy salad and gazpacho vinaigrette.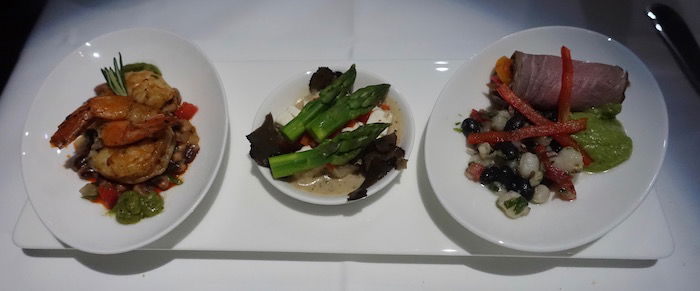 Lufthansa first class dinner — appetizers
Ford also had a salad, though I passed, since I was already quite full.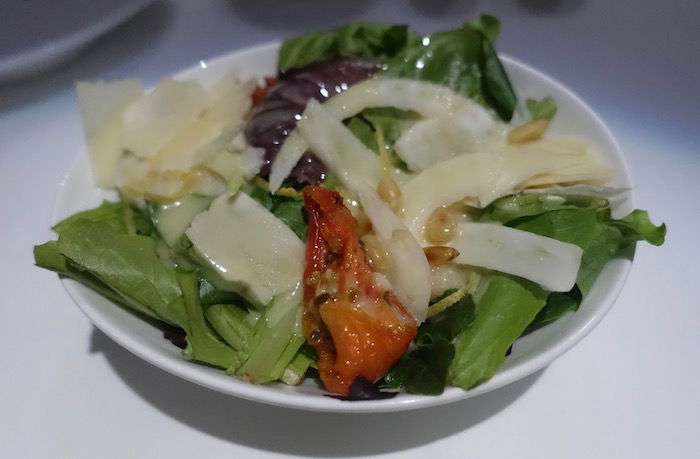 Lufthansa first class dinner — salad
After that the main courses were served. I ordered the fish dish, which consisted of sautéed grouper, crawfish tails and crab with creole sauce, corn and tomato succotash, and farro risotto. It just wasn't very good at all — I don't love grouper to begin with, but even taking that into account, there was just too much going on with the dish.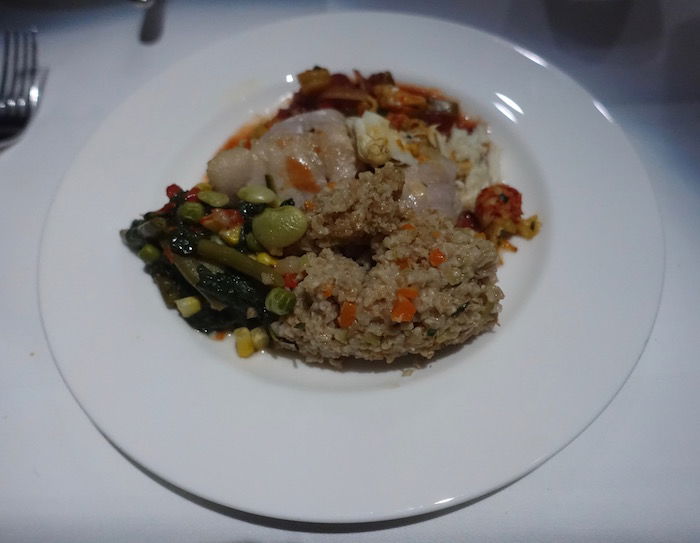 Lufthansa first class dinner main course — sauteed grouper
Ford had the traditional Amish turkey with cornbread chestnut stuffing, butternut squash puree, and cranberries, which he enjoyed.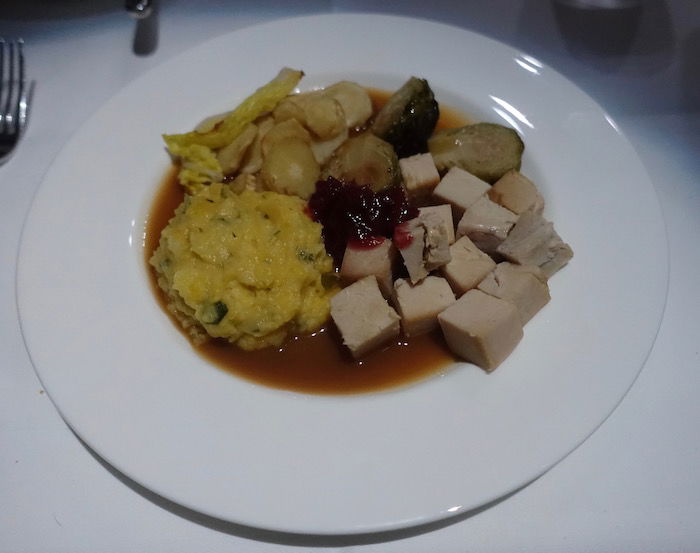 Lufthansa first class dinner main course — traditional Amish turkey
For dessert I had the pumpkin cheesecake, which was excellent.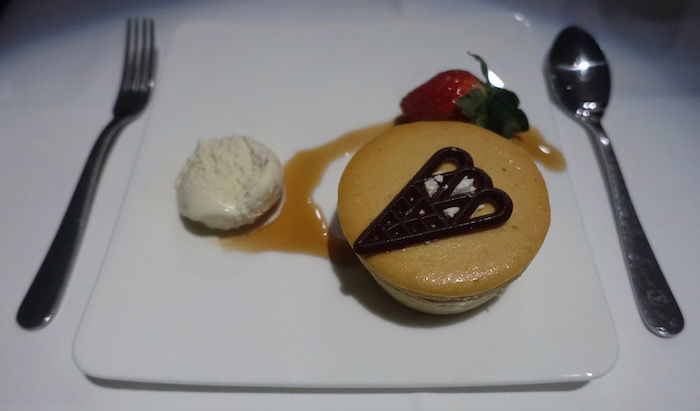 Lufthansa first class dinner dessert — pumpkin cheesecake with ice cream
Ford had the apricot pistachio loaf.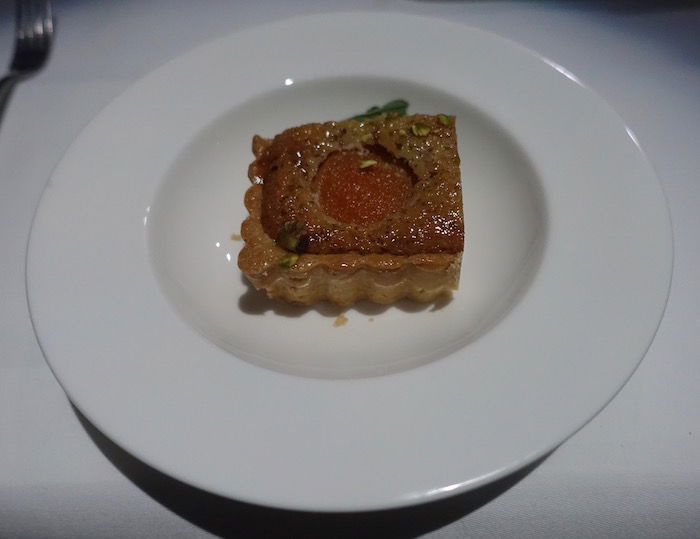 Lufthansa first class dinner dessert — apricot pistachio loaf
I think they messed up the desserts a bit, because the pumpkin cheesecake came with ice cream, while the menu said that the pistachio loaf was supposed to be served with ice cream.
After the meal we were offered chocolates, though I was stuffed at this point, so passed.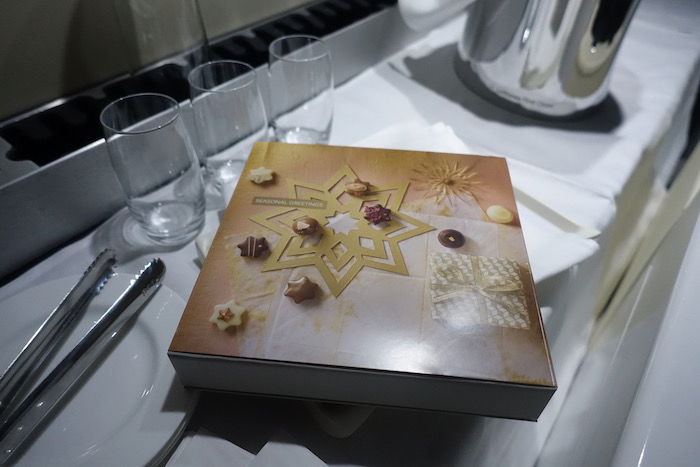 Lufthansa first class dinner — post-dinner chocolates
Aside from the main course it was an excellent meal. The service took quite a while, and was only done about 2hr20min into the flight. Ultimately that's fine and what I've come to expect on Lufthansa, given that they roll out carts with the caviar, then the appetizers, etc.
I was a bit conflicted about the crew, however, though I can't quite put my finger on why. The flight attendant working the aisle was professional, but wasn't as friendly as I've found most Lufthansa flight attendants to be. So the service wasn't bad at all, but was completely forgettable. It's minor, but at the same time on the return flight the crew was incredible, and it made such a difference in terms of the overall experience.
After dinner I asked for my bed to be made, so while that was being done I headed to the lavatory. There's one lavatory on each side of the cabin in front of first class. While they're not especially spacious, they're at least well designed, and I appreciate that they have a "seat" that can be placed on top of the toilet.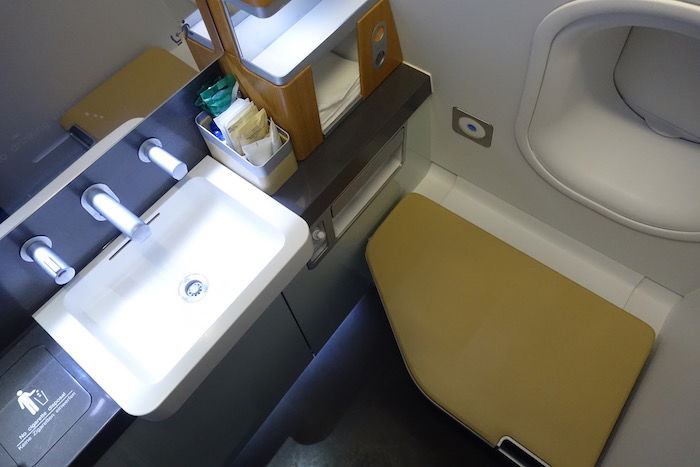 Lufthansa first class lavatory
The toilet also had some nice La Prairie amenities, as well as a shaving kit, hand wipes, a rose, etc.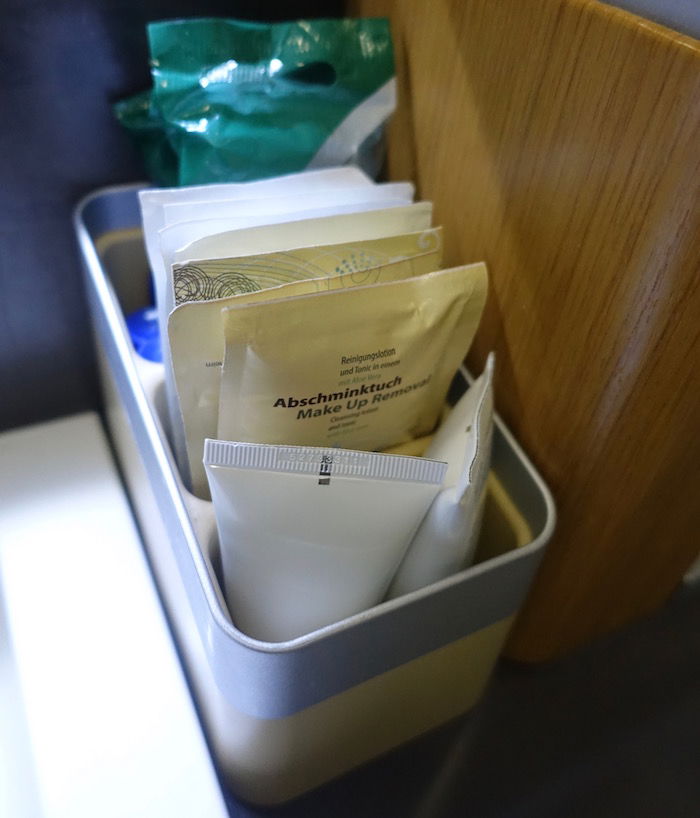 Lufthansa first class lavatory amenities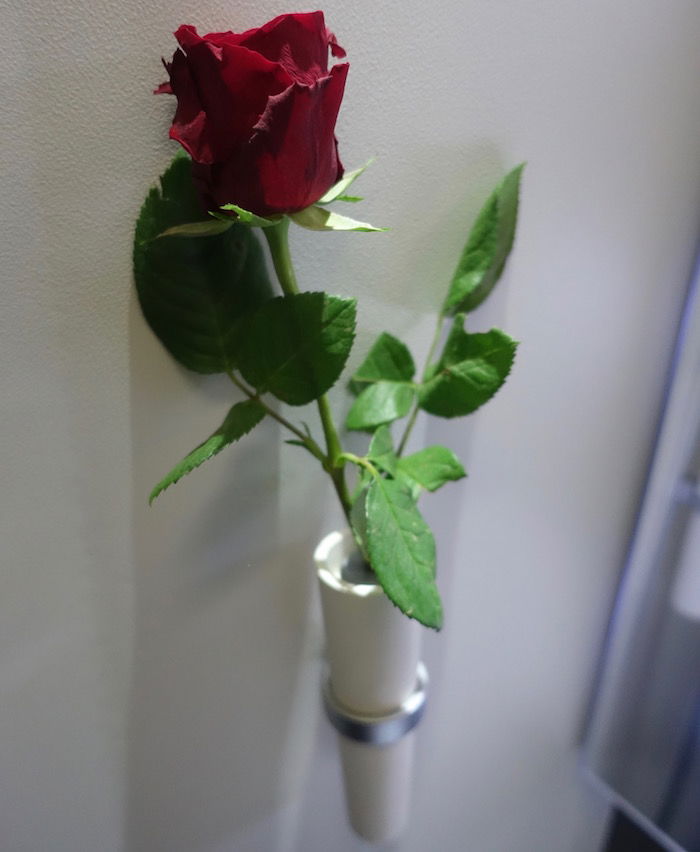 Lufthansa first class lavatory rose
Soon enough our beds were made, as we had about 6.5 hours until our arrival in Frankfurt. As you can see, while Lufthansa's first class seats aren't fully enclosed, they have good privacy shields.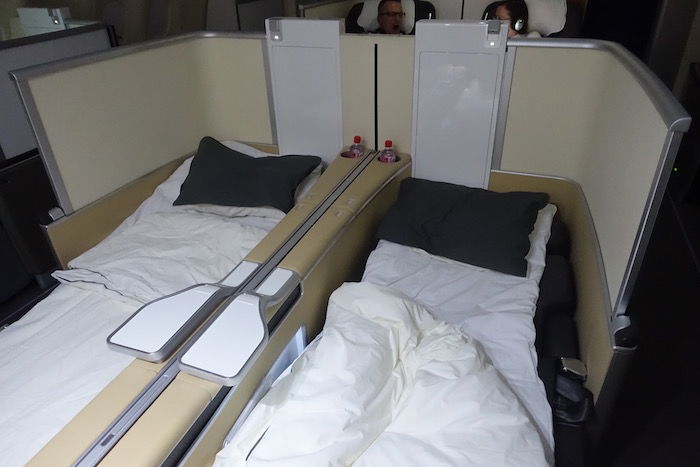 Lufthansa first class bed
Lufthansa's bedding is heavenly, among my favorite in the sky.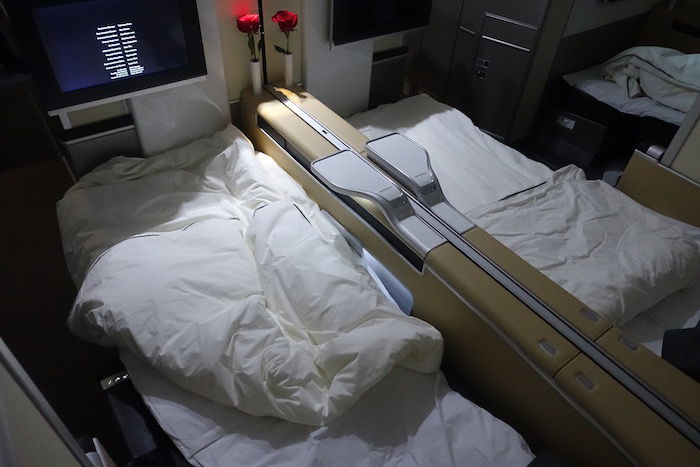 Lufthansa first class bed
Before going to sleep I decided to briefly browse the entertainment selection.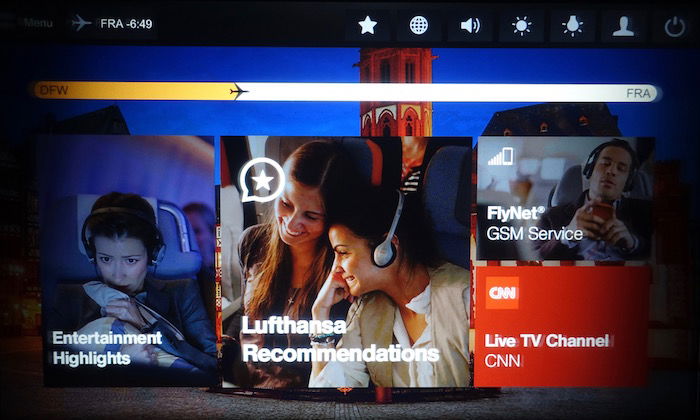 Lufthansa A330 entertainment system
I found the selection to be significantly improved compared to the last time I flew a Lufthansa A330, as they actually had a good number of movies. However, the quantity and quality of TV shows was still lacking.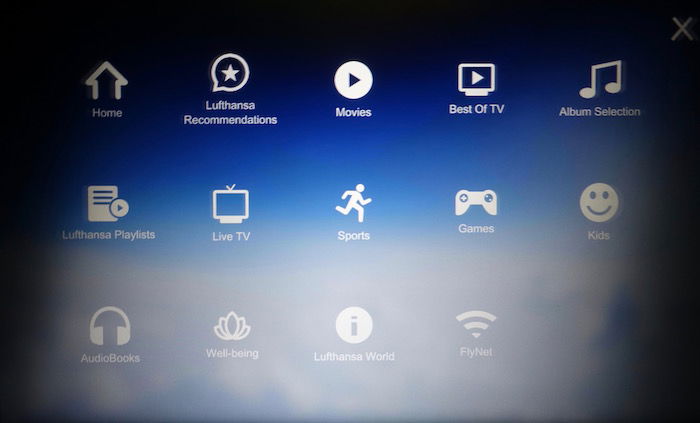 Lufthansa A330 entertainment system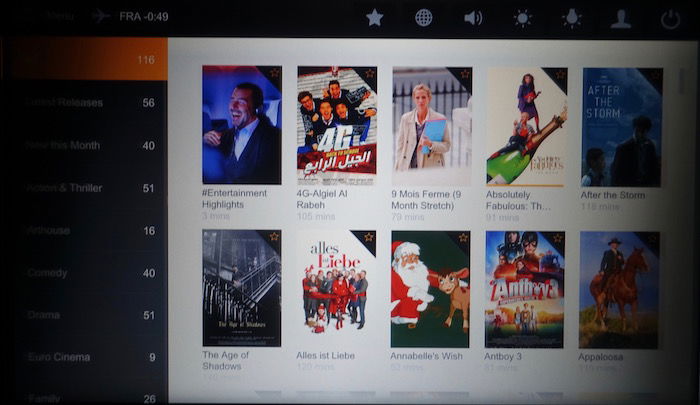 Lufthansa A330 entertainment system
I also briefly browsed the airshow — at this point we were just passing Boston.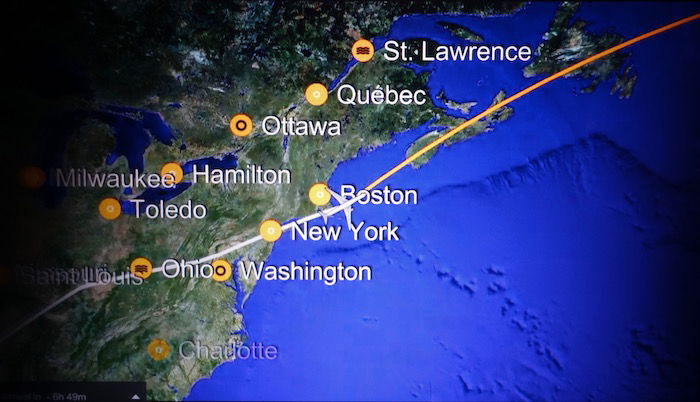 Airshow enroute to Frankfurt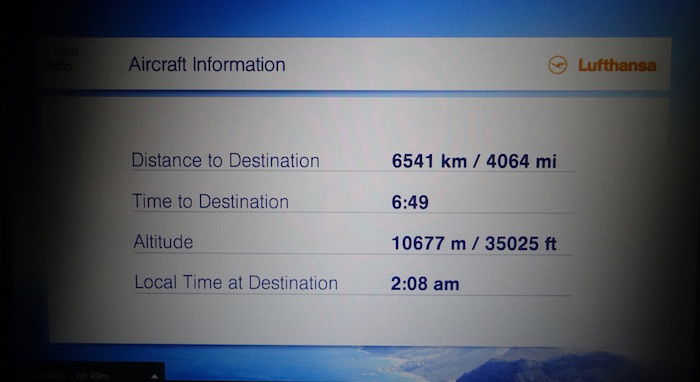 Airshow enroute to Frankfurt
Lufthansa also offers inflight Wi-Fi, though for the first time I can remember, I decided not to use it, given that I was sleeping for most of the flight. However, Lufthansa's Wi-Fi is reasonably priced at just 17EUR for a pass lasting the whole flight, so it's among my favorite international Wi-Fi systems out there.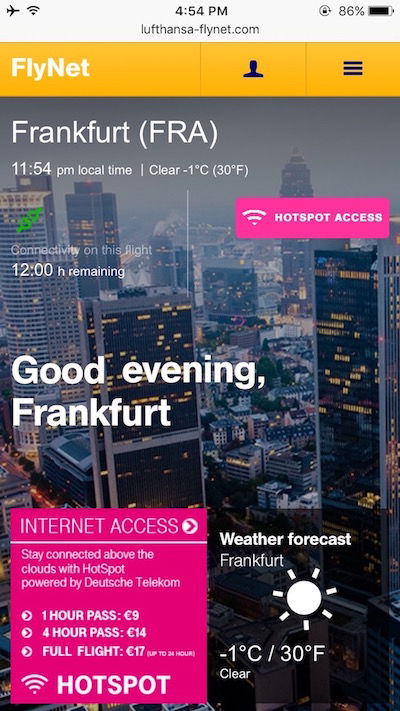 Anyway, I slept amazingly well until about 80 minutes before landing, when the flight attendant woke me up for breakfast. At this point we were over the UK.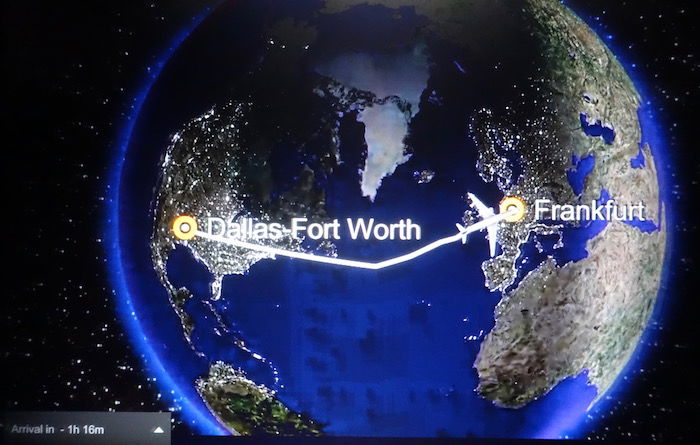 Airshow enroute to Frankfurt
The breakfast menu read as follows: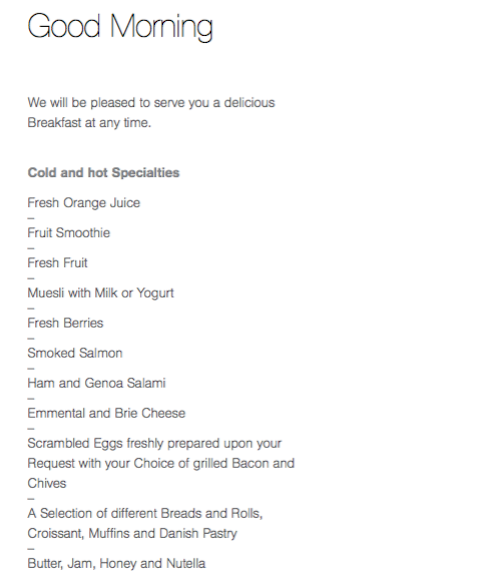 I ordered a cappuccino and also some orange juice. In the past I recall orange juice in Lufthansa first class being freshly squeezed, though that wasn't the case here. I'm not sure if it's just freshly squeezed out of Frankfurt, if they simply don't offer that anymore, or what.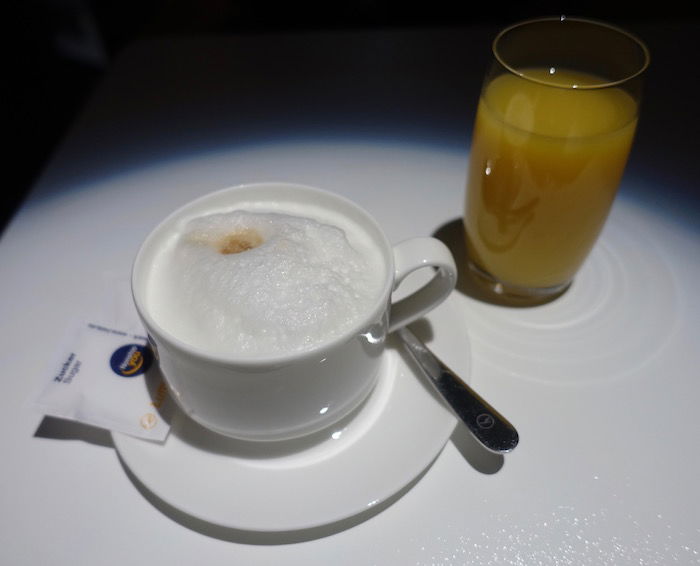 Lufthansa first class breakfast — cappuccino and orange juice
After that I had a fruit plate, some berries, some plain yogurt, and a croissant.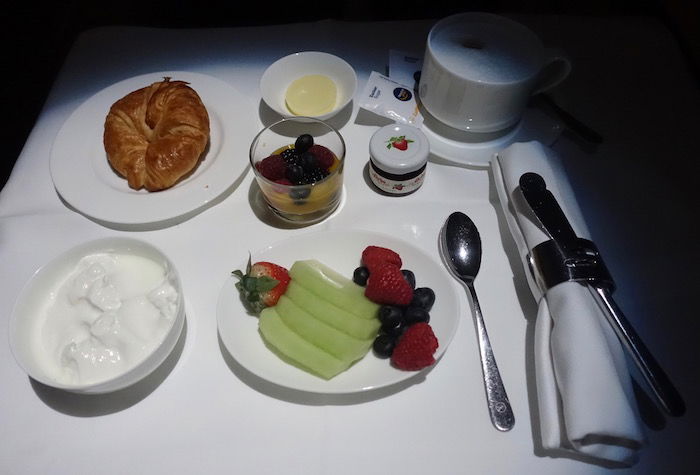 Lufthansa first class breakfast — fresh fruit, berries, and yogurt
I love Lufthansa's freshly prepared eggs, so ordered that without bacon. Unfortunately the machine they use was apparently broken on this flight, or something. As a result, the portion I was served was tiny. The plate below is the same size as the bread plate, for context (because it might look like a big portion without context).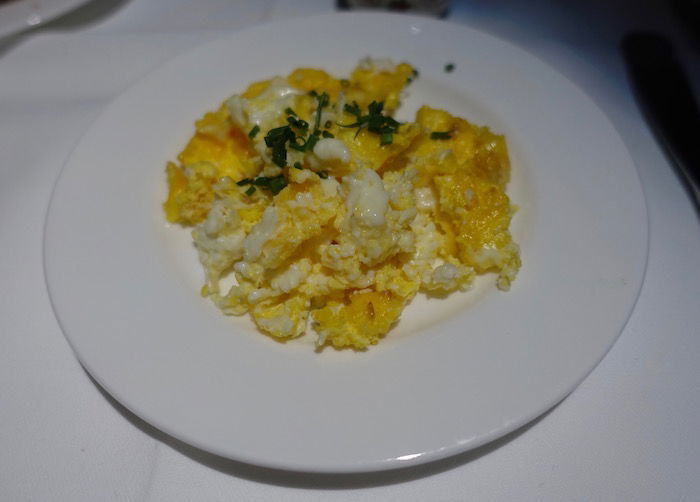 Lufthansa first class breakfast — scrambled eggs
Meanwhile Ford had the scrambled eggs with bacon, which was also a small portion.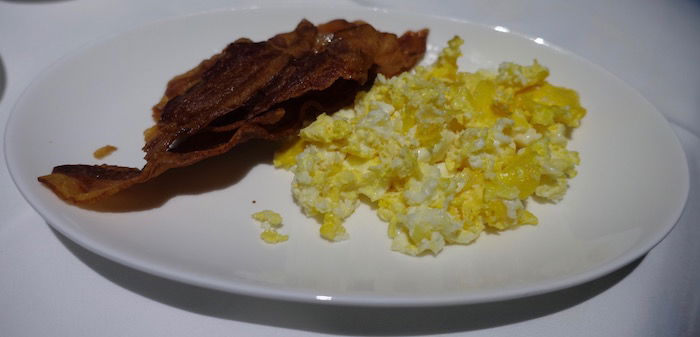 Lufthansa first class breakfast — scrambled eggs with bacon
After breakfast I freshened up in the lavatory and prepared for our arrival in Frankfurt. It was a beautiful morning as we approached.
30 minutes before arrival the captain came on the PA to provide us with some updated arrival information, including the weather in Frankfurt.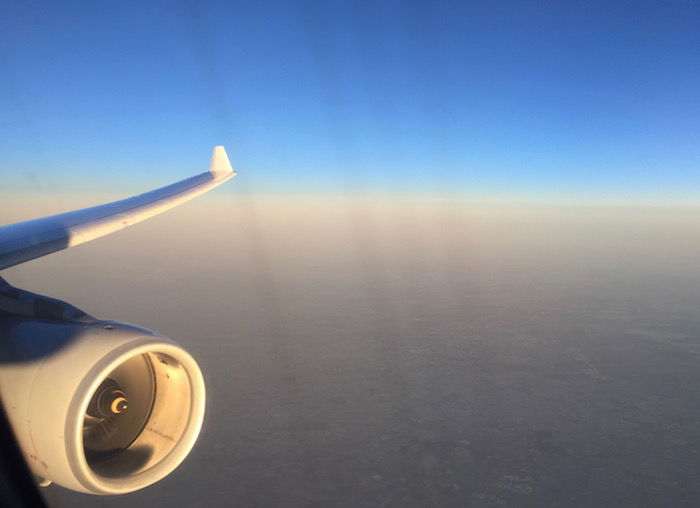 View enroute to Frankfurt
As we began our final descent the flight attendant working the galley came around to thank each passenger for flying Lufthansa. She was followed a few minutes later by the purser, who did the same. The aisle flight attendant didn't, however.
We had a very smooth landing at Frankfurt Airport at 8:55AM, and then a short 10 minute taxi to our remote stand (though our captain was taxiing with gusto).
Usually I'd be annoyed about arriving at a remote stand, though on Lufthansa I actually prefer it, at least when flying first class. As you can see below, there were two Mercedes vans waiting for first class passengers.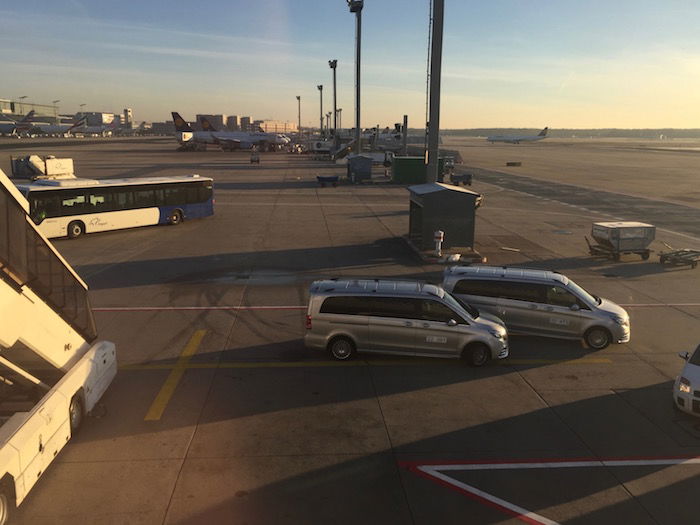 View on arrival in Frankfurt
One of the vans was for the three passengers terminating their travels in Frankfurt, while there was another van for the four of us with connections.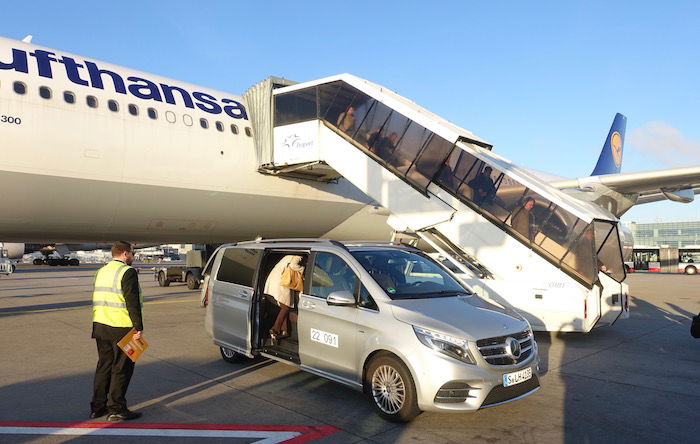 First class tarmac transfer in Frankfurt
Unfortunately Lufthansa's first class ground experience isn't nearly as seamless as Air France's in Paris, as the driver simply drops you off in the terminal, rather than taking you to a First Class Lounge or the First Class Terminal.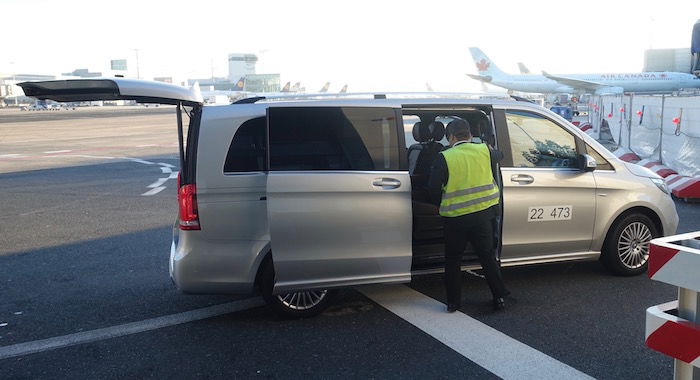 First class tarmac transfer in Frankfurt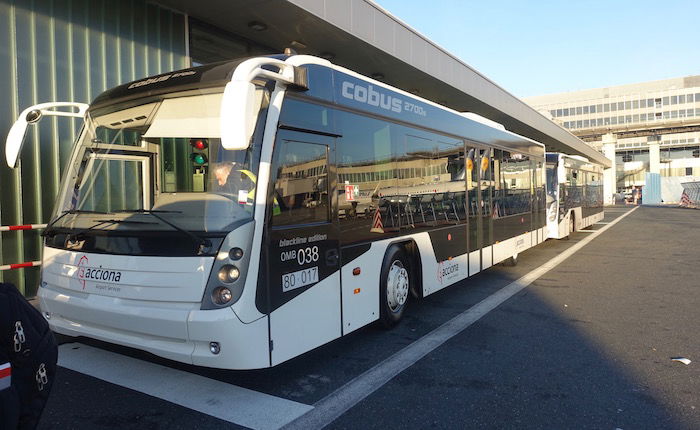 First class tarmac transfer in Frankfurt
So upon being dropped off we made the trek to the First Class Terminal before our connection to London.
Lufthansa first class bottom line
Lufthansa has one of my favorite transatlantic first class products. The amenities and bedding were great as always, the Wi-Fi was reasonably priced (which is an amenity I ordinarily really value, though didn't use on this flight), the food was great (aside from the main course, which I didn't love), and I got a good night of sleep
The service on this flight was objectively solid, but in my opinion below average compared to the service I've typically received in Lufthansa first class.
Lufthansa first class continues to be the most comfortable and accessible product you can fly transatlantic using miles, in my opinion.
If you've flown Lufthansa first class lately, what was your experience like?