---
Lufthansa 906
Frankfurt (FRA) – London (LHR)
Sunday, December 4
Depart: 12:00PM
Arrive: 12:45PM
Duration: 1hr45min
Aircraft: Airbus A321
Seat: 3F (Business Class)
I'll keep this review relatively short, given that Europe is probably the worst region in the world when it comes to the quality of business class offerings.
As is the norm on Lufthansa, business class consisted of economy seats with a blocked middle seat. This gives the airlines a lot of flexibility, since they can adjust the size of the business class cabin on each flight.
On this particular flight, there were just three and a half rows of business class (the first row just has seats on the left side). That means there was total capacity for 14 business class passengers, though only seven of those seats were occupied.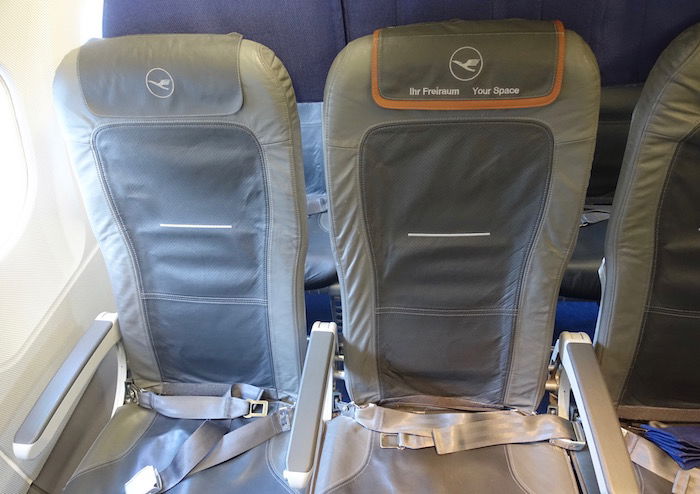 Lufthansa A321 business class seat
Most of the center seats had a tray table on them (the one in the above picture didn't, since it was the last row, which was unoccupied). I at least appreciate that Lufthansa places a tray table on the center seat, which some other airlines don't.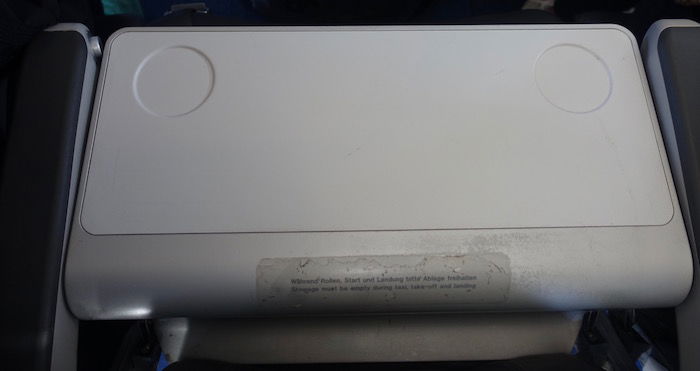 Lufthansa regional business class blocked middle
The cabin had cute Christmas decorations, which really was the only pizzaz in the cabin, since Lufthansa's intra-Europe cabins are as sterile as they come.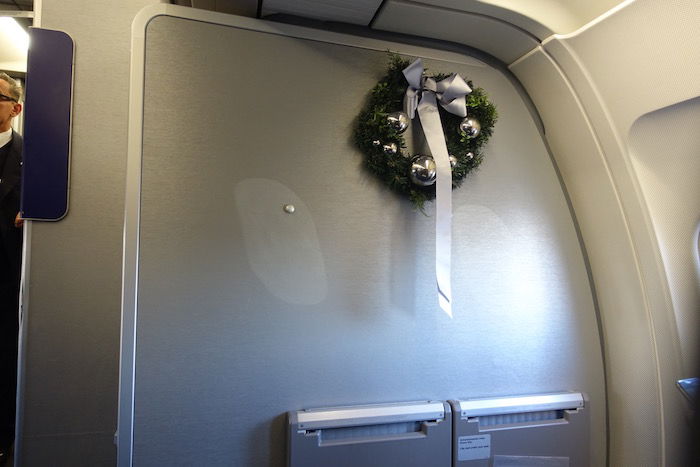 Lufthansa onboard Christmas decorations
Lufthansa doesn't offer any pre-departure beverages or hot towels within Europe, but rather we were just offered magazines and newspapers.
By 12PM boarding was complete, at which point Captain Peter added his welcome aboard, and informed us of our flight time of just one hour to London. The purser also introduced himself. Within a few minutes the crew did a manual safety demonstration, and then at 12:05PM we began our pushback.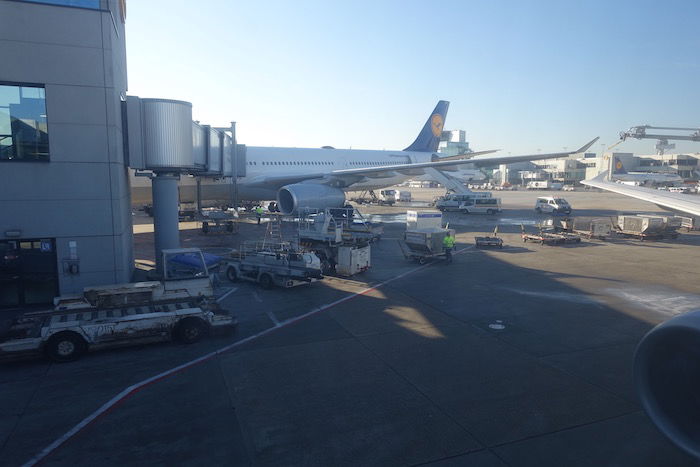 View prior to pushback at Frankfurt Airport
As usual at Frankfurt, I loved looking at all the planes around us. I was surprised to see an Austrian 767, which the airline is flying at the moment between Vienna and Frankfurt. That's one of their longhaul planes with a fully flat business class product, so it's a huge improvement over their normal intra-Europe product.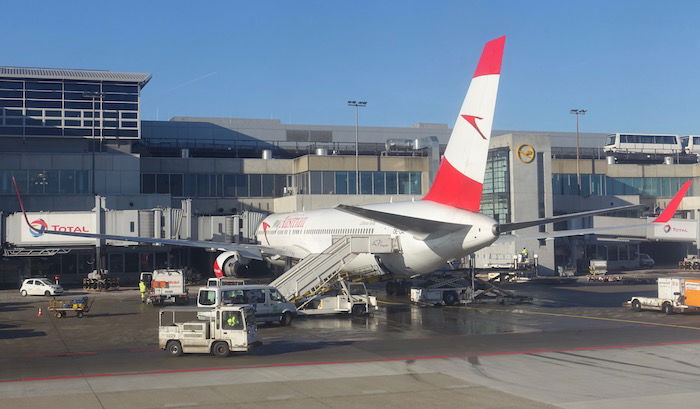 Austrian 767 Frankfurt Airport
We also taxied past one of Lufthansa's first A320NEO aircraft.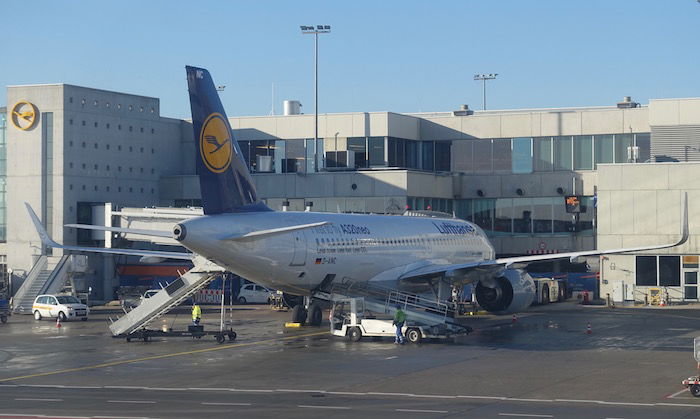 Lufthansa A320NEO Frankfurt Airport
I loved the views of all the Lufthansa heavies as well.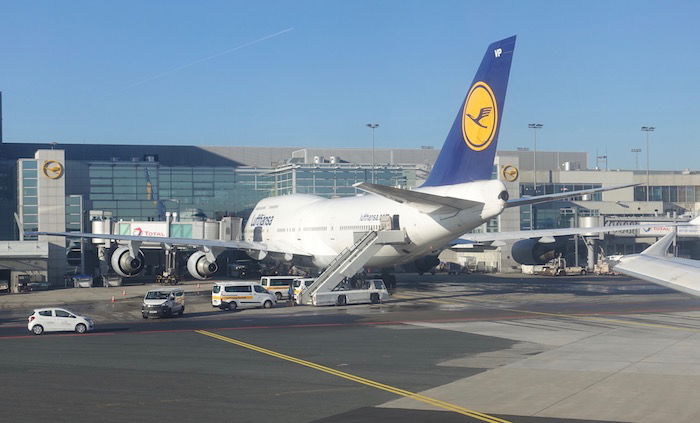 Lufthansa 747-400 Frankfurt Airport
Our taxi to the runway was pretty high speed, and as we approached the runway there were a bunch of Condor planes at remote stands. As a kid I'd always fly Condor nonstop between Tampa and Frankfurt (back when they still had a smoking section), so in a way I can't help but smile whenever I see a Condor plane.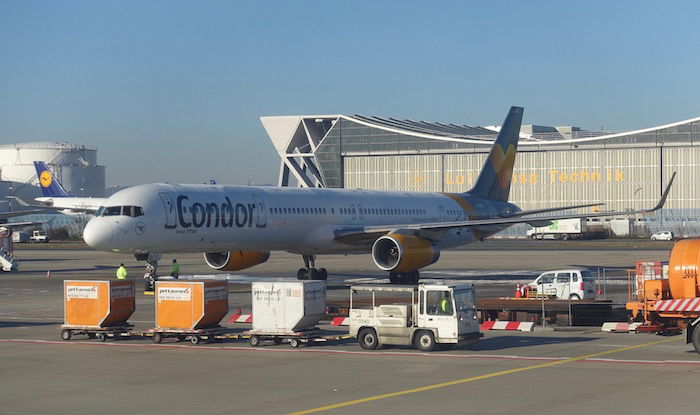 Condor 757-300 Frankfurt Airport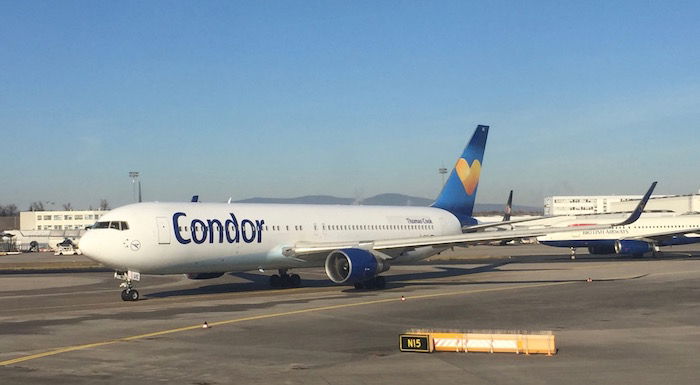 Condor 767-300 Frankfurt Airport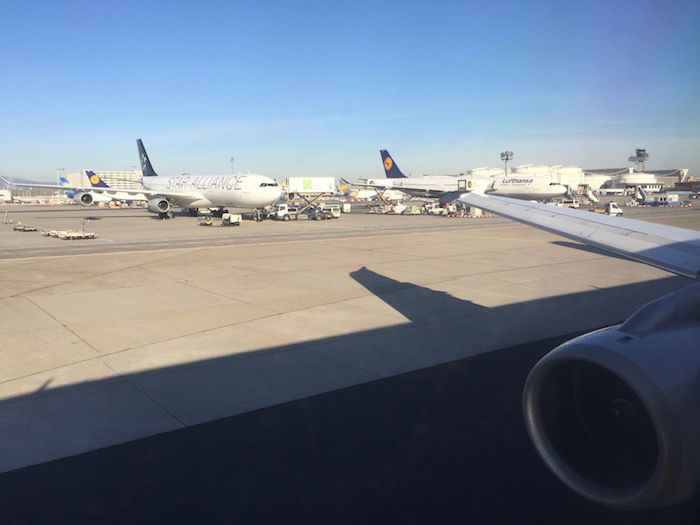 Taxiing Frankfurt Airport
By 12:15PM we reached our departure runway and were immediately cleared for takeoff.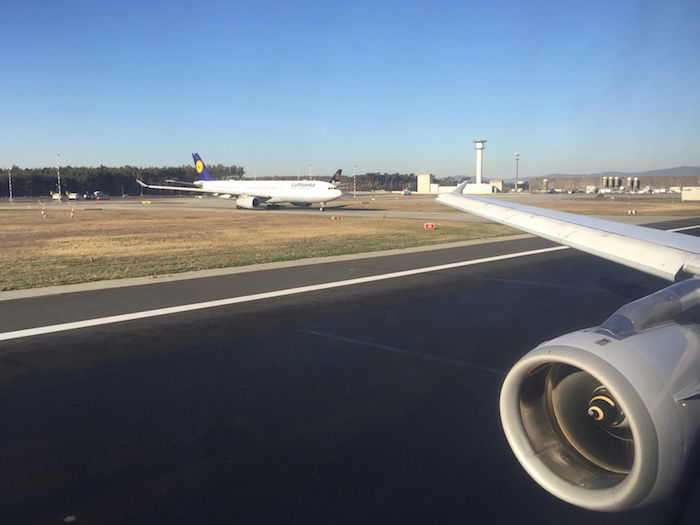 Taking off Frankfurt Airport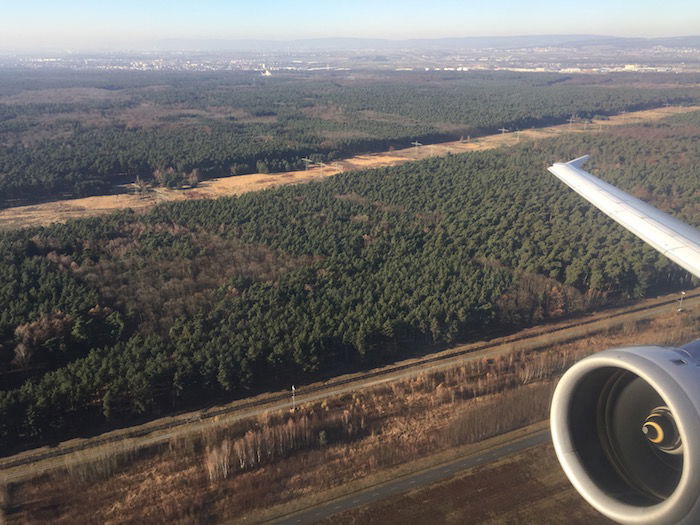 View after takeoff from Frankfurt Airport
As usual, the views over Germany were gorgeous.

View after takeoff from Frankfurt Airport
Less than five minutes after takeoff the seatbelt sign was turned off, at which point the crew closed the curtain between cabins.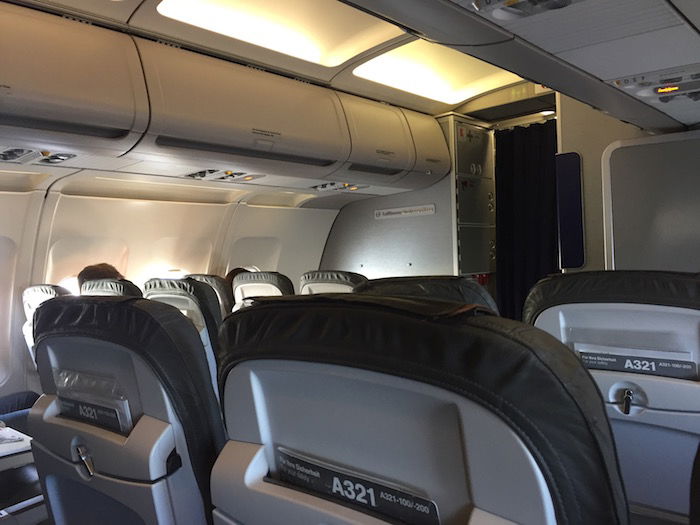 Lufthansa A321 business class cabin
About five minutes later the crew brought out the business class snack. Often I find Lufthansa's short-haul snacks to be terrible, though this one was actually quite good. It consisted of cold cuts, some salmon with guacamole, some sort of cheese spread with pesto and pine nuts, a hot roll, a chocolate dessert, and a box of Godiva chocolates. Everything was delicious.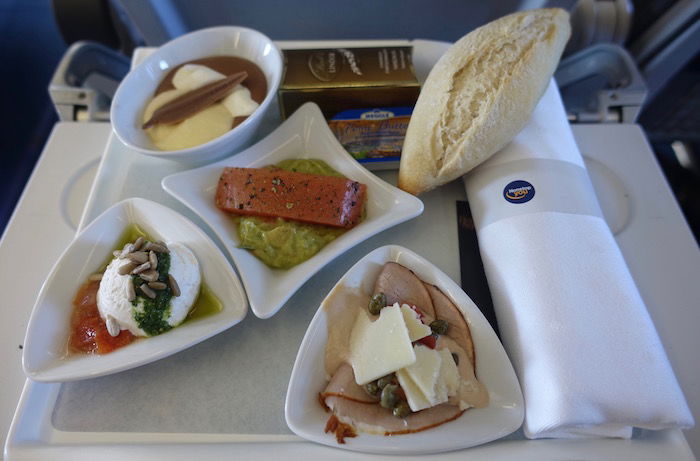 Lufthansa business class snack
After distributing the trays, the purser came through the cabin with drinks. I had a glass of still water, and also a coffee, which was served in a ceramic mug that almost looked like a plastic cup.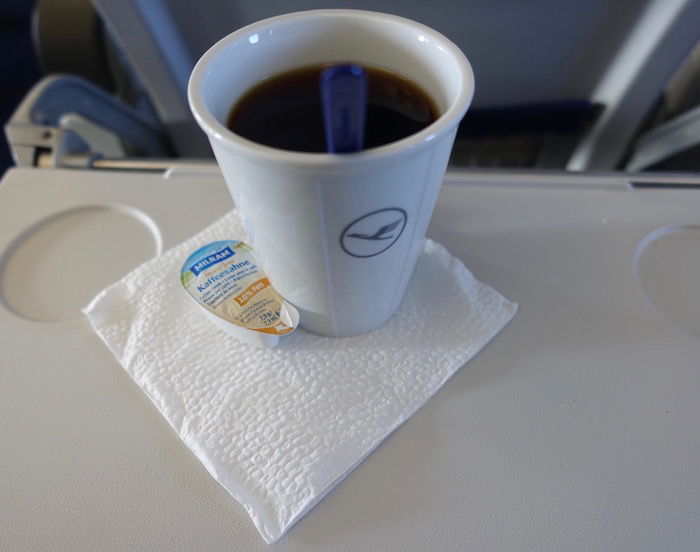 Lufthansa business class coffee
After the purser finished service in the business class cabin he went back to economy to help there.
I worked on my laptop briefly, though always kept an eye out the window, given what a scenic flight it is.
As we flew over the English Channel I saw dozens of wind turbines in the water, that I don't recall ever seeing before. Based on Googling it seems like this is the world's largest offshore wind farm.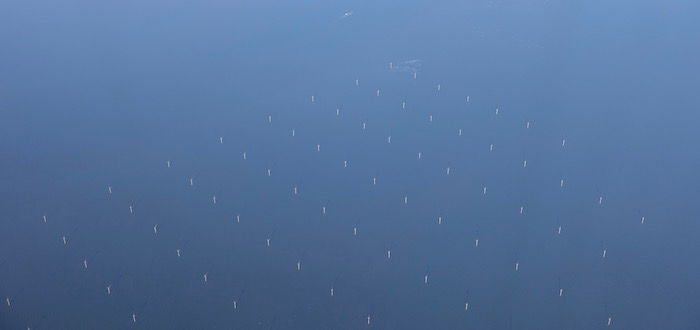 View over the English Channel
About 20 minutes before landing the captain came back on the PA to provide us with updated arrival information, and to inform us we'd be descending shortly.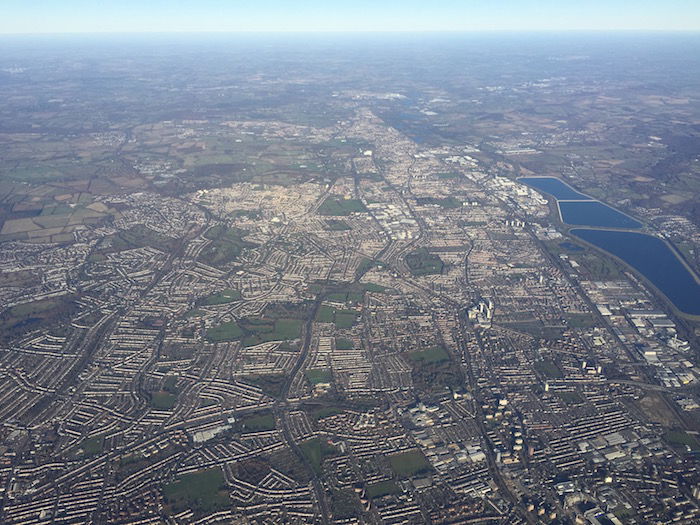 View approaching London
Once again, the views on descent were beautiful. While we didn't seem to enter a typical circular holding pattern, we did a lot of vectoring in just about every direction, so we were slowed down a bit on our approach.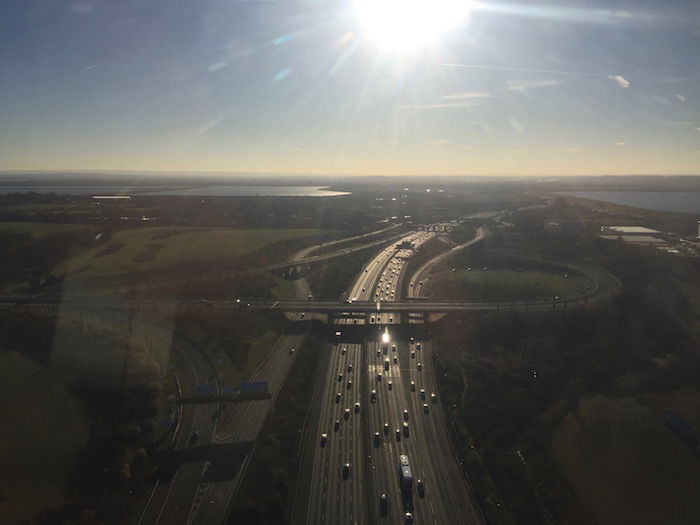 View approaching London
Finally at 12:45PM we touched down on runway 9L.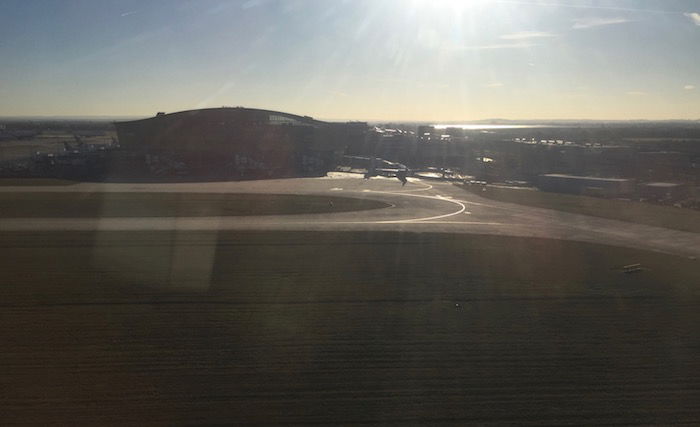 View approaching London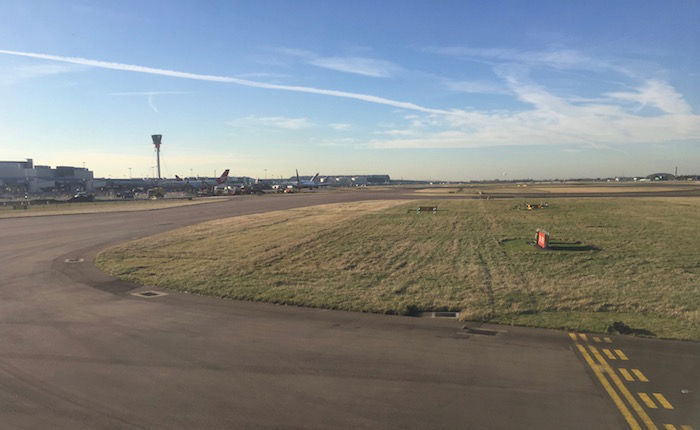 Taxiing London Heathrow
From there it was just a short taxi to our arrival gate at Terminal 2. There's always cool traffic there, as we taxied past an Air Canada A330, EgyptAir 777, Air Canada 777, and an Etihad A380 taxiing to the runway.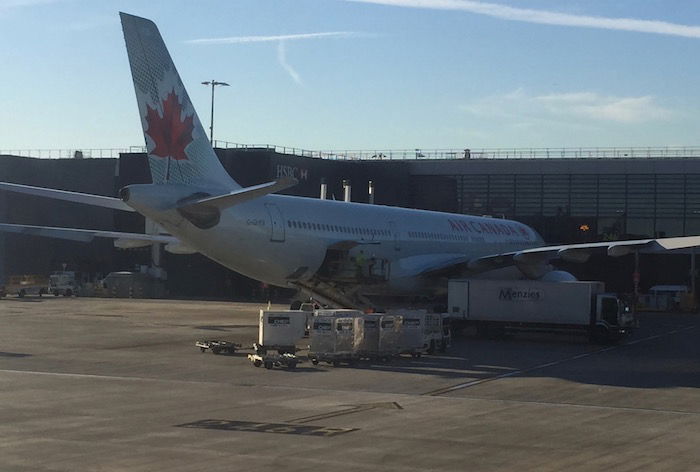 Air Canada A330 Heathrow Airport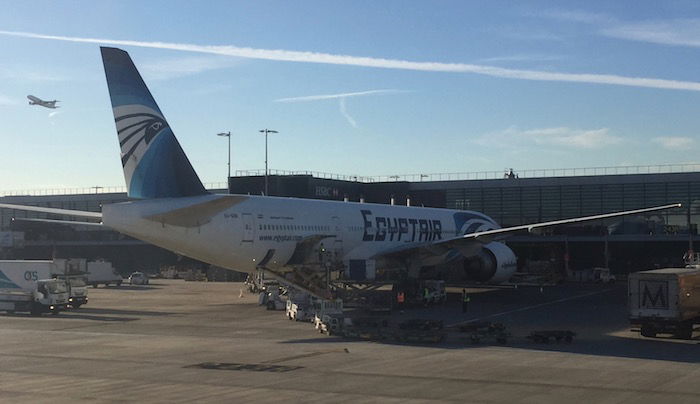 EgyptAir 777 Heathrow Airport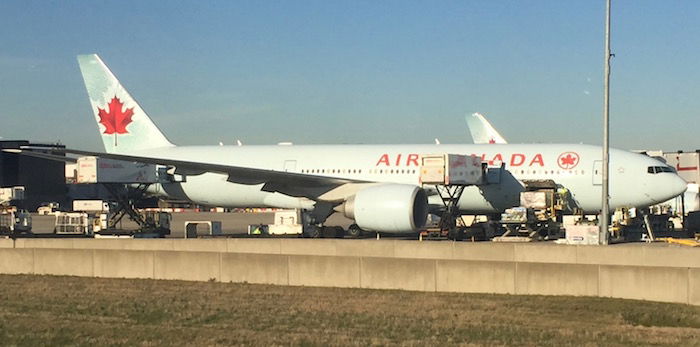 Air Canada 777 Heathrow Airport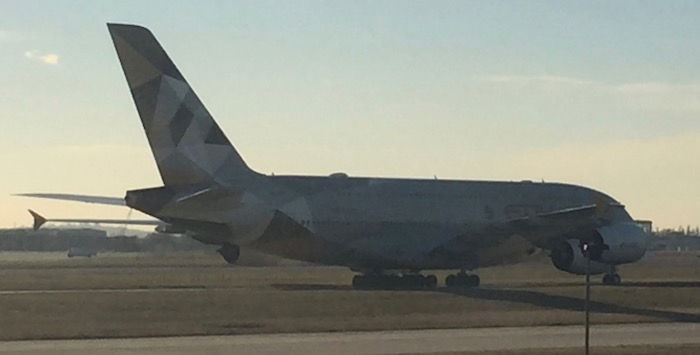 Etihad A380 Heathrow Airport
Terminal 2 consists of two separate concourses, so we had to taxi to the further one, which involved taxiing around the airport a bit.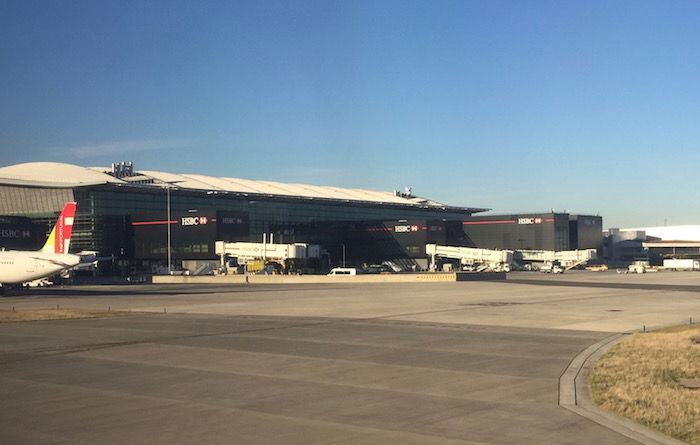 Terminal 2 Heathrow Airport
We arrived at our gate just before 12:55PM.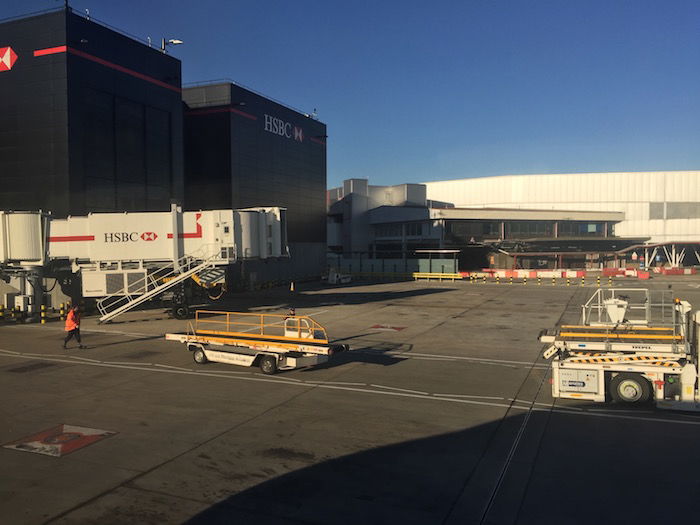 Arrival gate Heathrow Airport
Lufthansa A321 business class bottom line
This flight was perfectly fine as far as intra-Europe business class on Lufthansa goes. The food was better than usual, the flight was mostly on time, and the cabin wasn't full.
That being said, I don't think there's a region in the world that does short-haul business class worse than Europe. There are some exceptions, like Air Serbia and Aeroflot, which actually have a legitimate business class product on short-haul flights. However, just blocking a middle seat and offering a snack and calling it business class is no fun. Compare that to 30 minute flights within the Middle East, where you get a flat bed, pre-departure beverages, a meal, and a cappuccino.