---
We had an early morning flight from Vienna to Frankfurt, which I won't be reviewing given that intra-Europe flights are mostly the same. We had a roughly three hour layover, so on arrival we walked to the First Class Terminal, a process that took about 20 minutes from the time we arrived at our gate.
We hung out there for a couple of hours, until the PA fetched us at 10:15AM and told us our flight was ready for boarding. The three of us were being transported alone from the FCT to the plane (if there are other first class passengers or HON Circle members, they'll typically transport everyone together) in a Mercedes van. The ride took about five minutes, and as usual, I was like a kid in a candy store driving across the tarmac.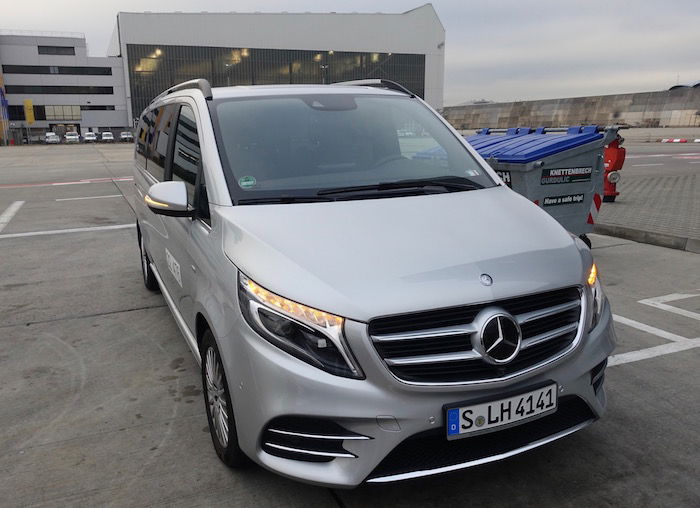 Transfer from First Class Terminal to plane
While I love the A380 from a passenger comfort standpoint, the 747 will always be the queen of the skies, so as an aviation geek there's not a plane in the world I'm more in awe standing next to.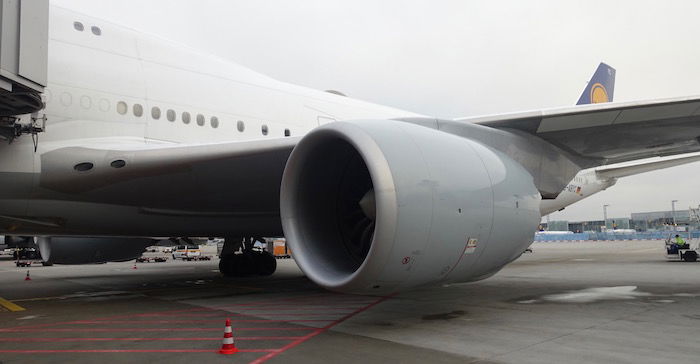 Lufthansa 747-8 taking us to Boston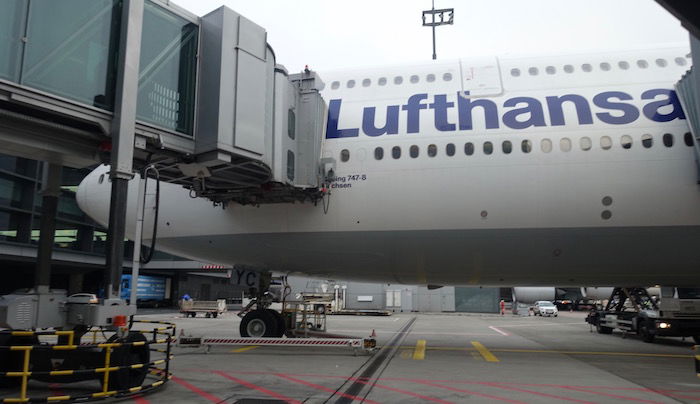 Lufthansa 747-8 taking us to Boston
Once we got out of the car we walked towards the jet bridge, where we took the elevator up a level, and then the driver introduced us to the crew. Before I get onto the flight review, let me say that I reviewed Lufthansa's 747-8 first class a bit over a year ago, so I'll keep this review mostly about the soft product rather than the hard product.
Lufthansa 422
Frankfurt (FRA) – Boston (BOS)
Thursday, December 15
Depart: 10:55AM
Arrive: 1:10PM
Duration: 8hr15min
Aircraft: Boeing 747-8
Seat: 3D (First Class)
We boarded through door L1, where the friendly purser handed us over to the first class crew. Lufthansa 747-8 first class cabin is pretty special, as it has just eight seats in the nose of the plane. There are three rows with one seat on each side, and then there's a single set of two seats in the center of the third row.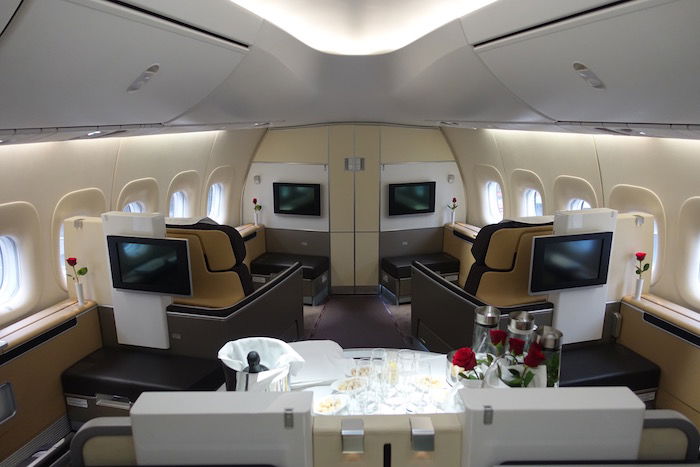 Lufthansa 747-8 first class
Since the three of us were traveling together, I figured we'd sit in row three, as it was likely we'd have the whole row to ourselves (meaning that one of the seats would stay empty).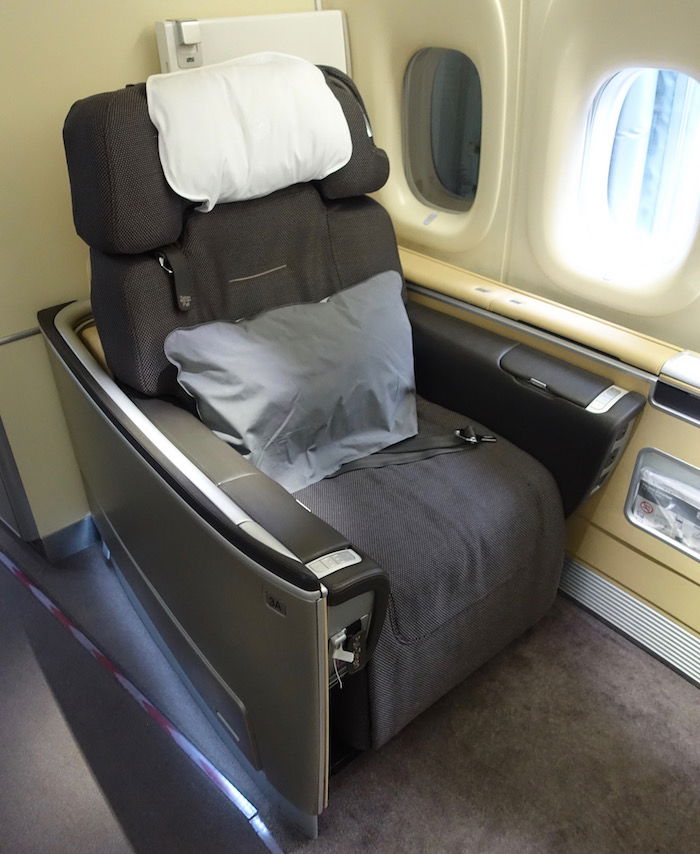 Lufthansa 747-8 first class, seat 3A
I sat in 3D, which is the left-side aisle seat in the center section.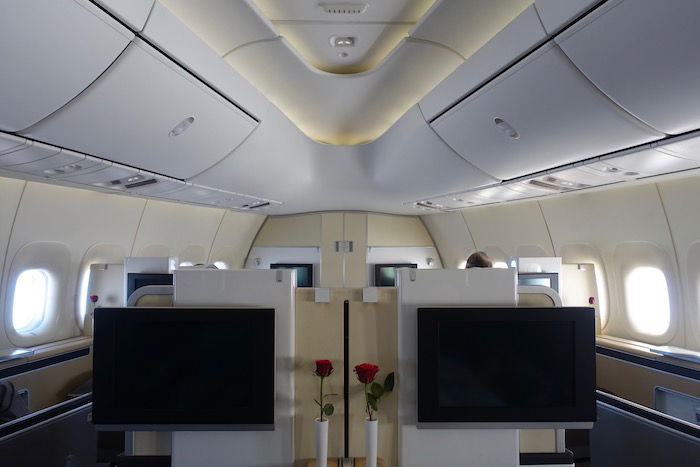 Lufthansa 747 first class cabin
While seat 3C doesn't feel as private as some other seats given that you sort of feel like you're "in" the aisle, it's nice to be able to sit immediately next to someone.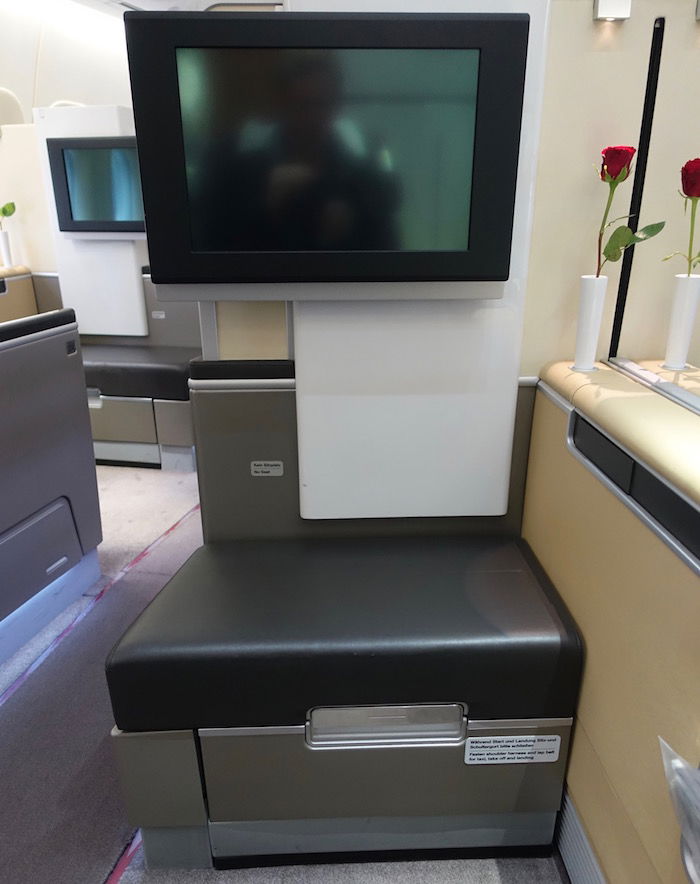 Lufthansa 747 first class, seat 3C
I wasn't impressed by the crew on the outbound flight from Dallas to Frankfurt. It's not that the flight attendant serving us was rude, but rather she just wasn't especially warm, and didn't seem like she wanted to be there. Conversely, this crew was incredible, probably one of the best I've ever had on Lufthansa. The two ladies working first class were so indescribably sweet and professional.
Once settled in, the crew first offered us the typical amenities. The slippers were placed by my feet, and the pajamas and Rimowa amenity kit on my ottoman.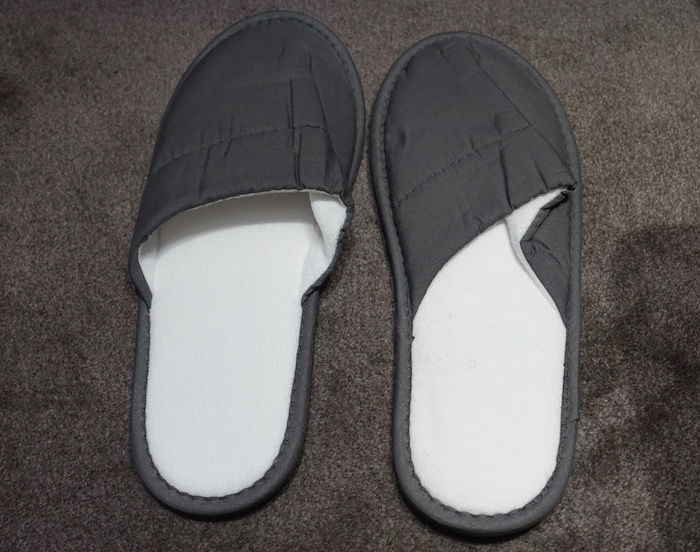 Lufthansa first class slippers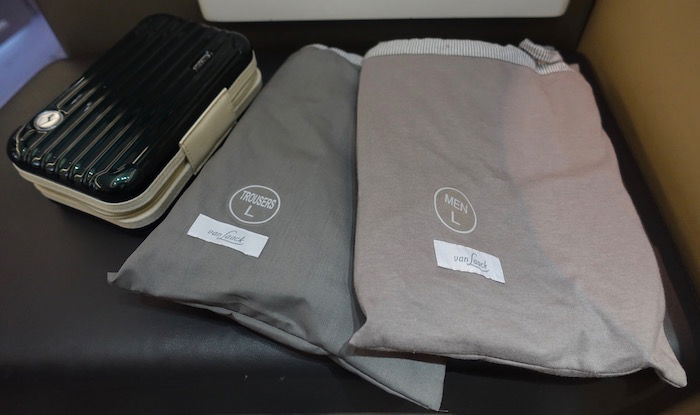 Lufthansa first class pajamas and amenity kit
We were also offered pre-departure beverages. I had a glass of champagne, while Ford was being good and had sparkling water. Both were served with tasty macadamia nuts.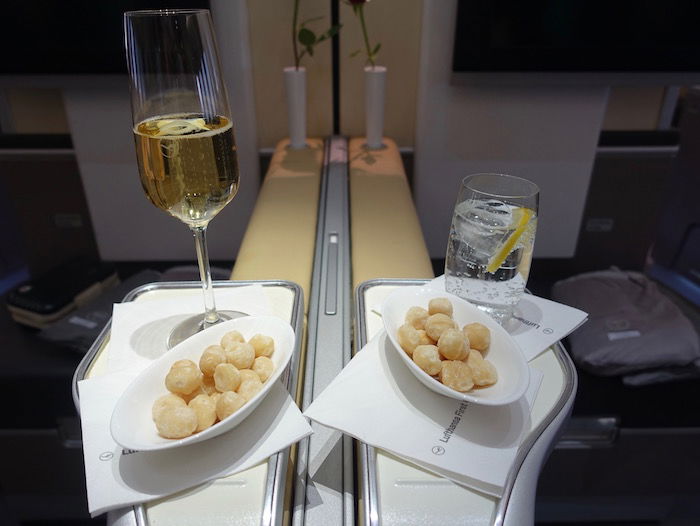 Lufthansa first class pre-departure beverages
We were then offered a warm towel.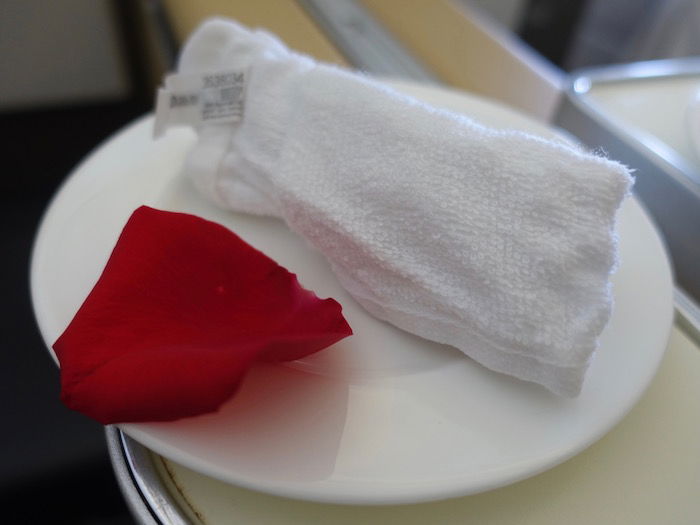 Lufthansa first class pre-departure warm towel
By 10:45AM it was announced that boarding was completed, and there were a total of three other first class passengers, meaning there were two empty seats. There was an American couple in row two, and then a German guy in row one.
At this point Captain Hans added his welcome aboard, informing us of our flight time of 7hr20min to Boston. He said the weather in Boston was "nice," and followed that up by saying it was -15 degrees and the winds were 50km per hour. Hmmm….
At 11:05AM we began our pushback, at which point the purser added his welcome aboard and the safety video was screened.
Our taxi to the runway was lengthy, and once at the runway there was a queue for takeoff, so it was 11:30AM before we were airborne.
The seatbelt sign was turned off less than 10 minutes after takeoff, and about five minutes after that purser Alexander came through the cabin to introduce himself and distribute menus. He highlighted some of the holiday dishes on the menu, and highly recommended the roast goose, which he said was rich but delicious.
As usual on Lufthansa, you can dine whenever you want, though we decided to have lunch right away. The menu read as follows: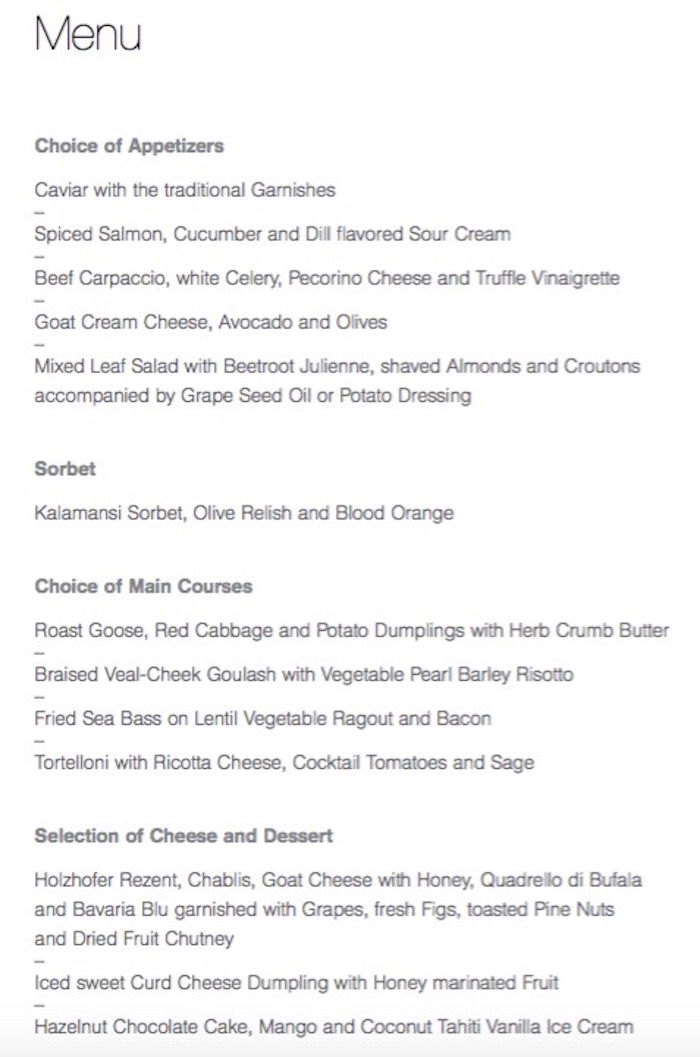 Service began with the amuse bouche, which consisted of shrimp with carrot. I had another glass of the lovely Laurent-Perrier Grand Siecle to accompany it.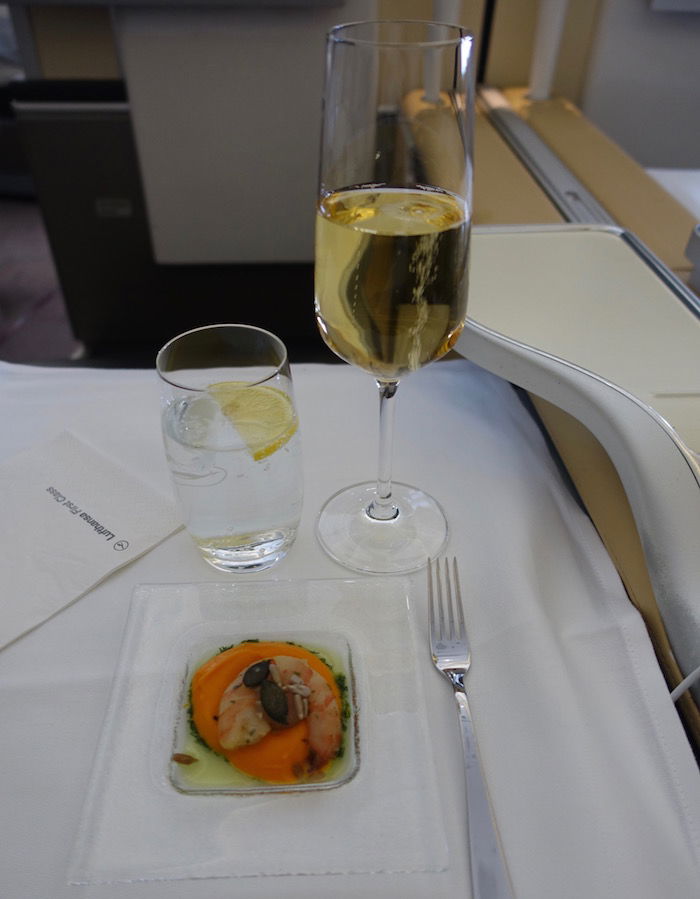 Lufthansa first class lunch — amuse bouche
Once that was cleared my table was set. There was an extensive selection in the breadbasket, and I selected a piece of garlic bread and pretzel bread.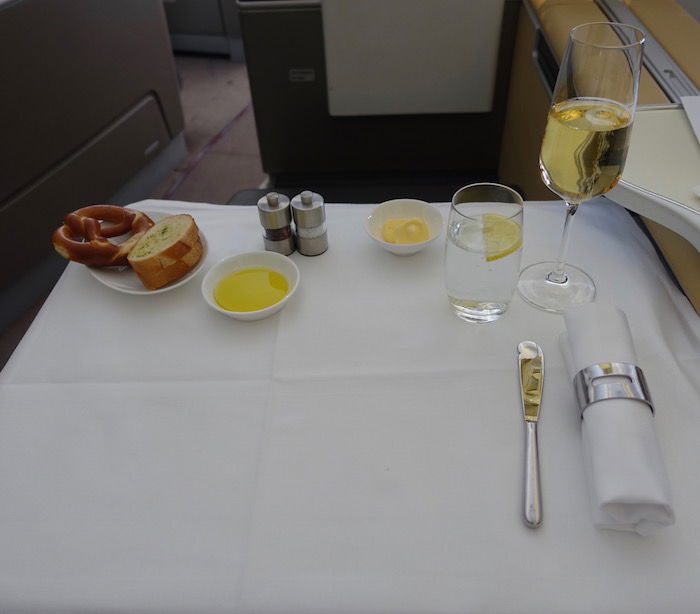 Lufthansa first class lunch — table setting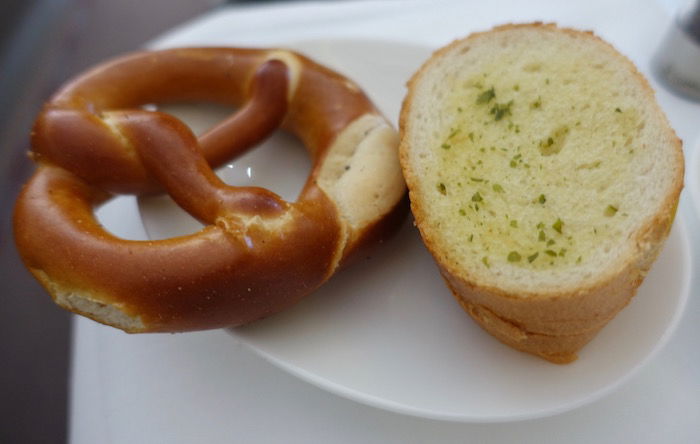 Lufthansa first class lunch — pretzel and garlic bread
Once tables were set, the caviar trolley was rolled down the aisle, and I was offered a generous portion.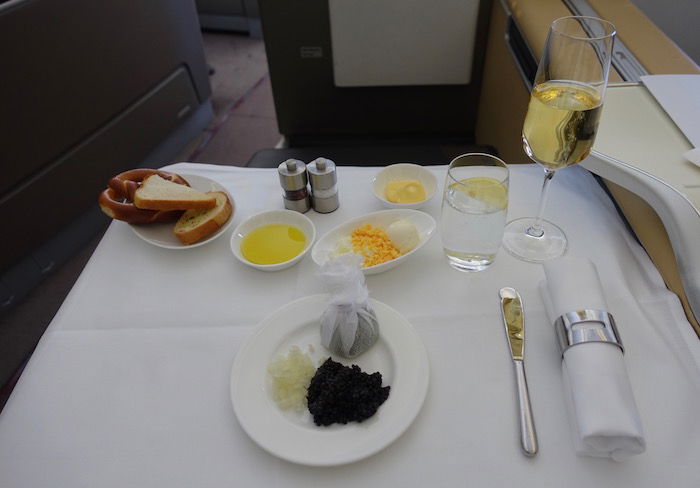 Lufthansa first class lunch — caviar service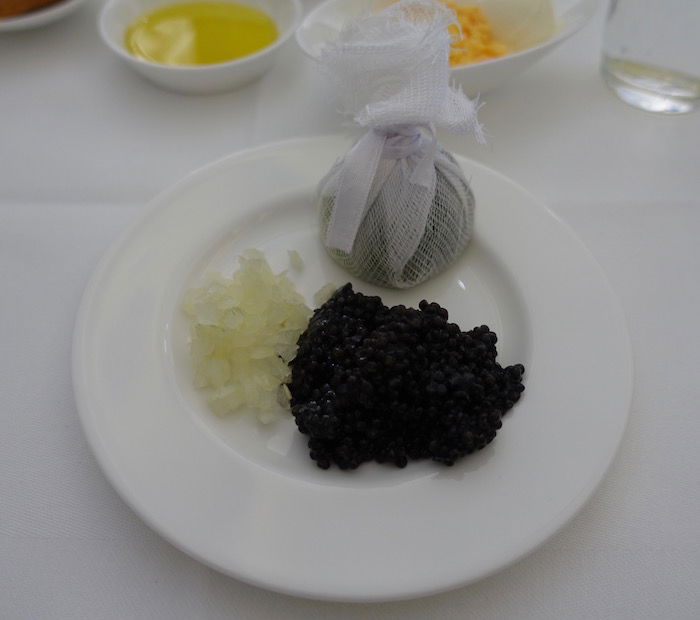 Lufthansa first class lunch — caviar service
After that the appetizer trolley was rolled through the cabin. Much to my surprise, all three appetizers that I had were excellent. This included beef carpaccio, goat cream cheese with avocado, and spiced salmon with cucumber.


Lufthansa first class lunch — appetizer course
After that I was offered a kalamansi sorbet as a palate cleanser. I don't remember ever being offered a sorbet on Lufthansa before.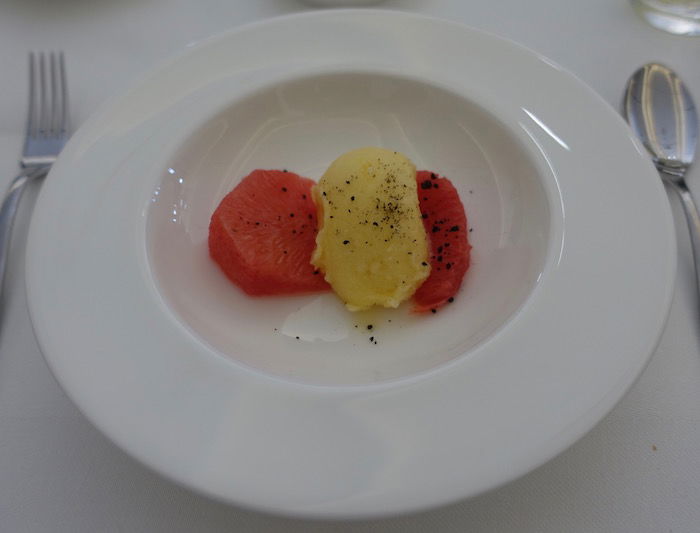 Lufthansa first class lunch — sorbet
For the main course I had the fried sea bass, which they gladly prepared without bacon, per my preference. It was good for what it was, even though the preparation as such wouldn't be my first choice.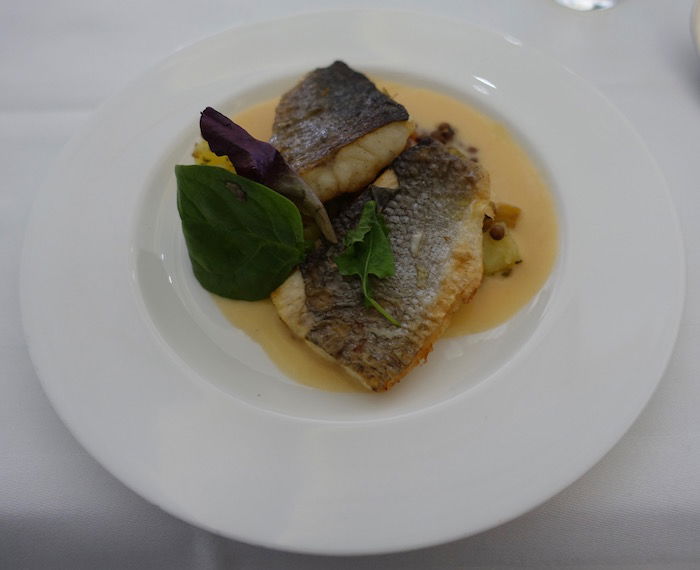 Lufthansa first class lunch — fried sea bass
Ford had the roast goose, which he really enjoyed.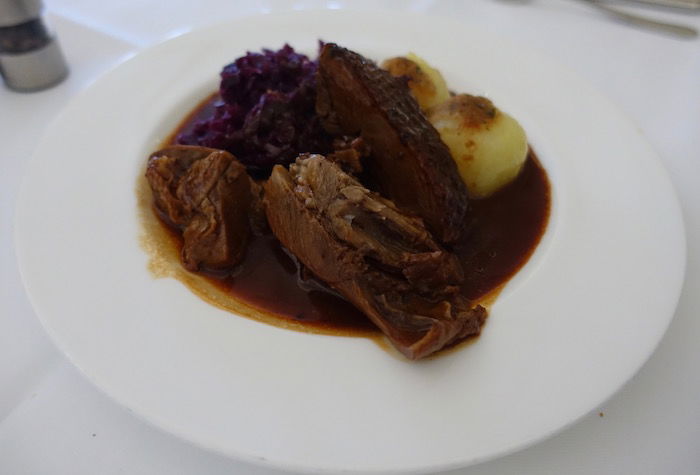 Lufthansa first class lunch — roast goose
For dessert I had the hazelnut chocolate cake with with mango and ice cream. It was really good.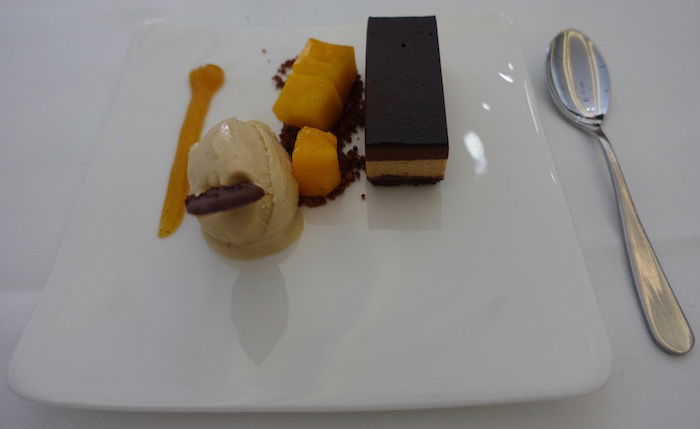 Lufthansa first class lunch dessert — hazelnut chocolate cake
To finish off the meal we were offered cute Christmas cookies.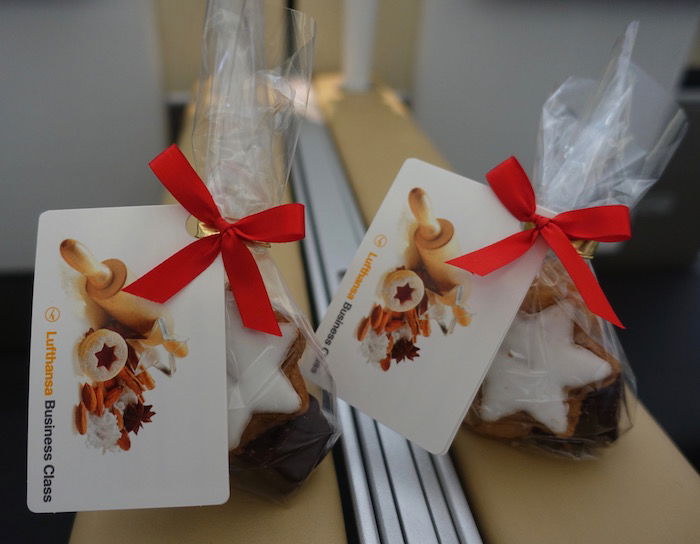 Lufthansa first class Christmas goodies
The entire meal service was done just under two hours into the flight, which was a pretty good pace. I can't say enough good things about the flight attendants serving us. Both of them were so sweet and professional. They genuinely gave the impression that they wanted to be there to a degree that you don't often see on a western airlines. They were a class act.
I asked to have my bed made in seat 3K, and while they did that, I quickly headed to the lavatory. There are two lavatories located behind the first class cabin on the 747-8. They're both quite spacious and have windows.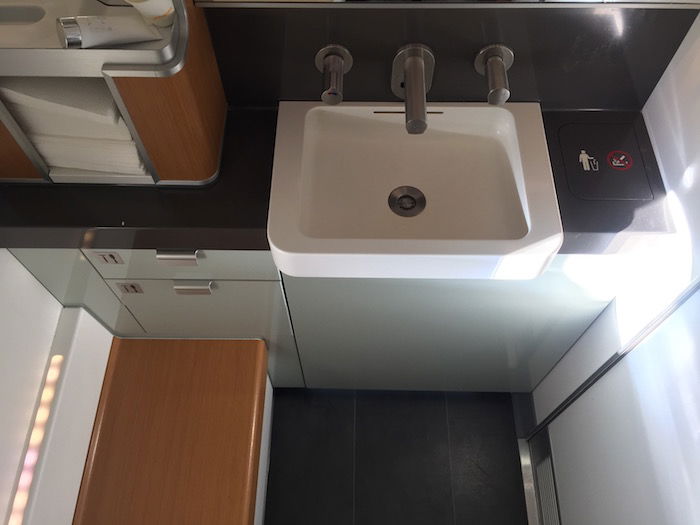 Lufthansa 747-8 first class lavatory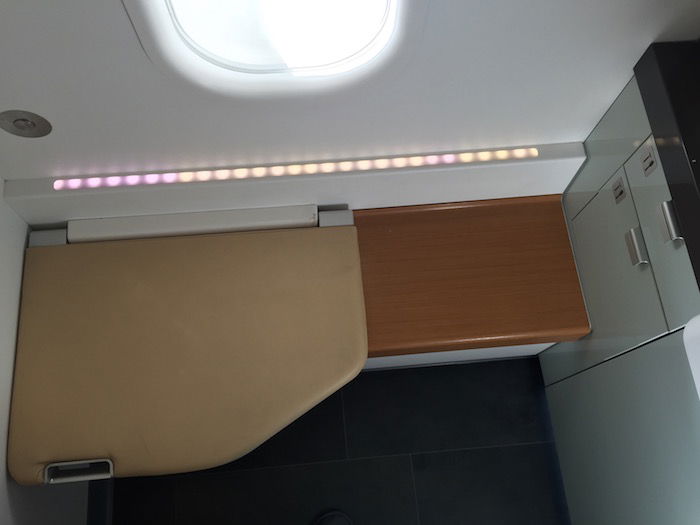 Lufthansa 747-8 first class lavatory
Once back in the cabin my bed was already made, and the privacy partition was up. While Lufthansa's first class seat ins't the most private in the world, the bedding is excellent, and it offers enough private thanks to the shield you can raise.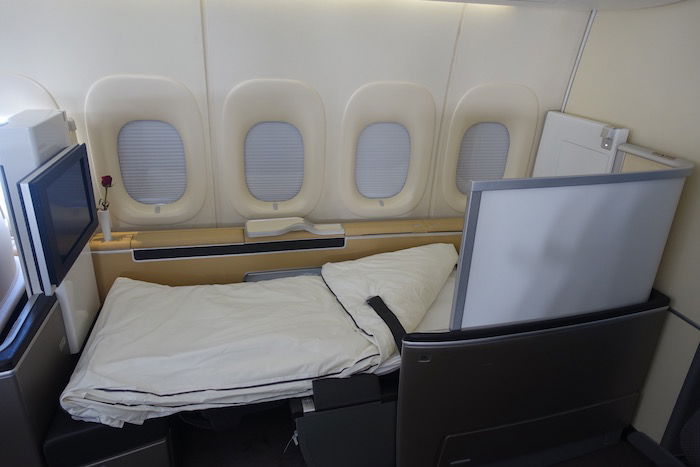 Lufthansa first class bed
I managed to nap for a couple of hours, which is all I hoped for, since I wanted to be able to get a good night of sleep in Boston on arrival.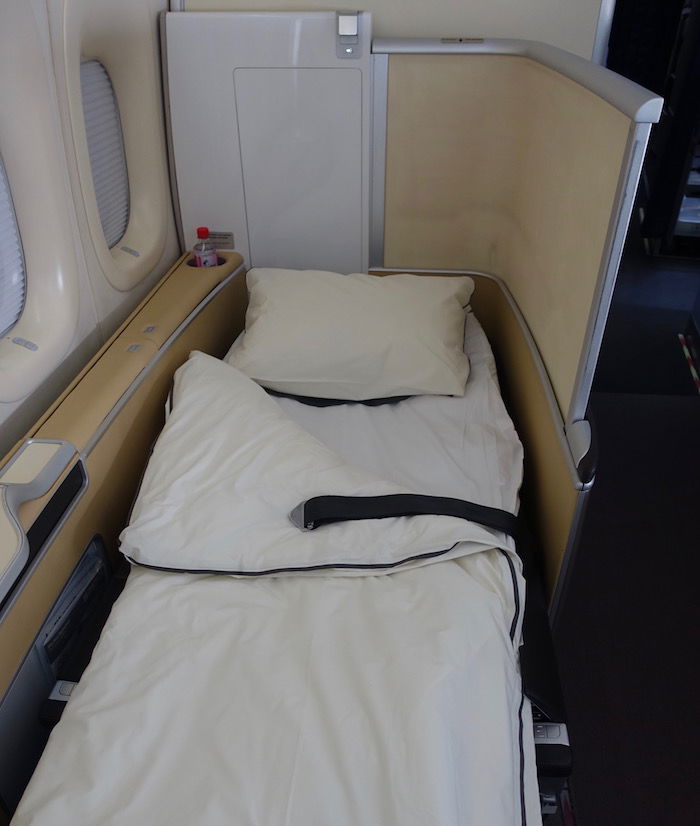 Lufthansa first class bed
Within minutes of waking up, the flight attendant appeared in the cabin to see if I wanted anything. I ordered a cappuccino, which was served with a cute santa chocolate.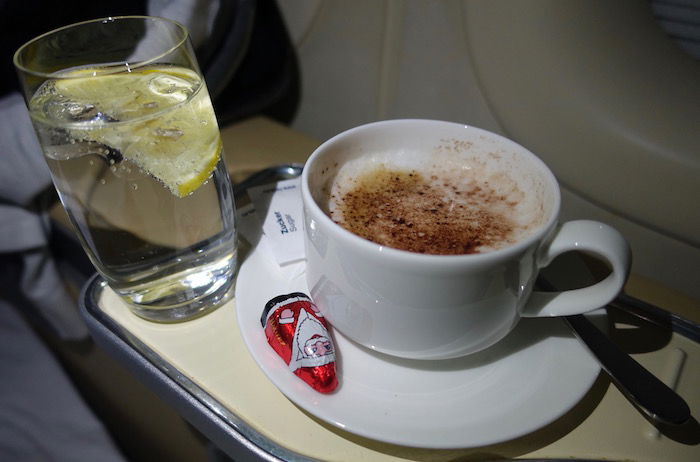 Lufthansa first class cappuccino
I connected to the Wi-Fi and worked for a couple of hours. Lufthansa's inflight Wi-Fi is among the best out there, as it's reasonably priced and has no data caps.
About an hour before landing it was "last call" for food. I wasn't especially hungry, but figured I'd have something since I was hoping to sleep just a couple of hours after landing.
The pre-arrival snack menu read as follows: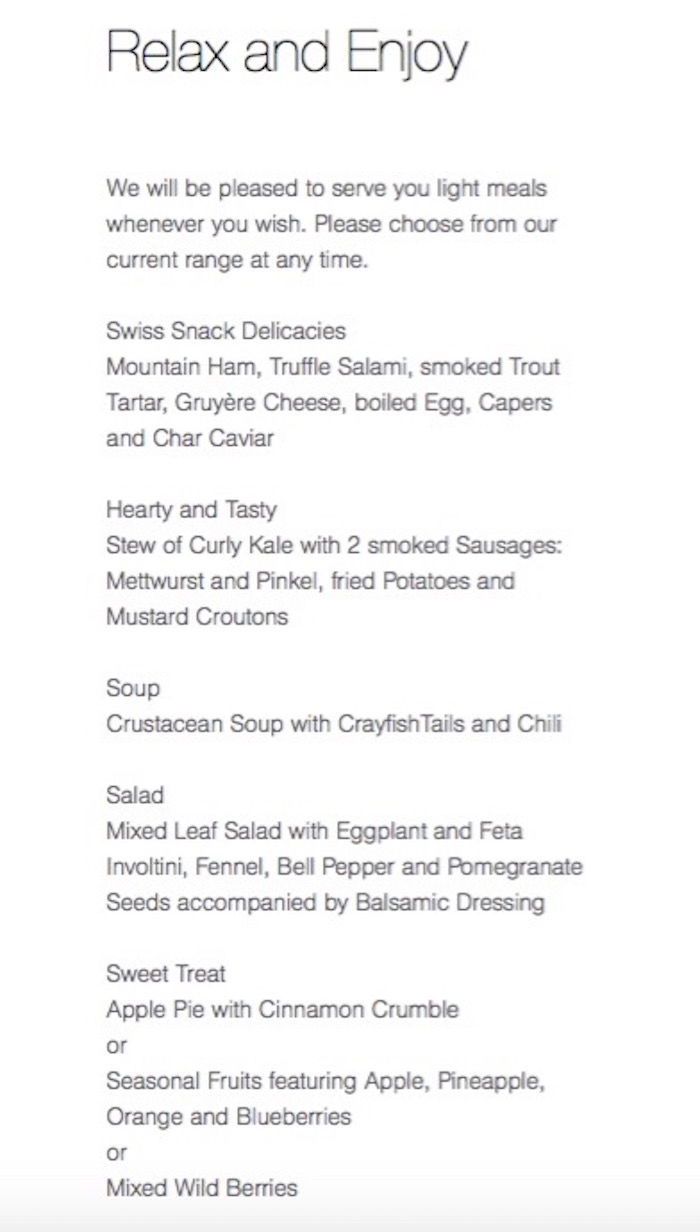 I had a mixed leaf salad with eggplant and feta, which hit the spot.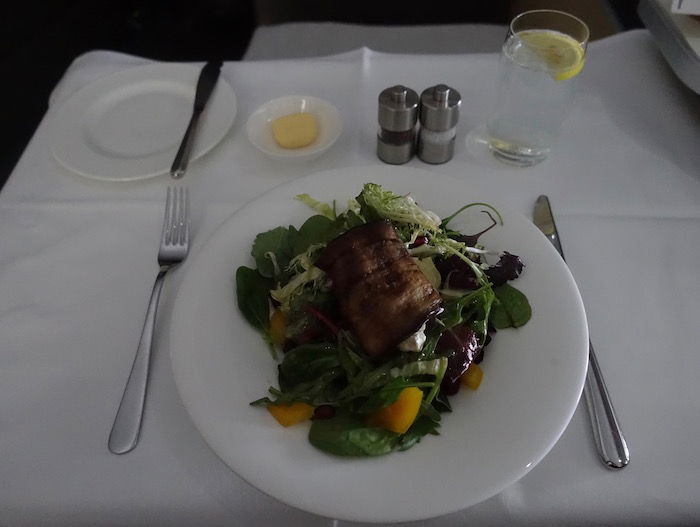 Lufthansa first class snack — mixed leaf salad with eggplant and feta
For dessert I had the apple pie with cinnamon crumble, which was also very good.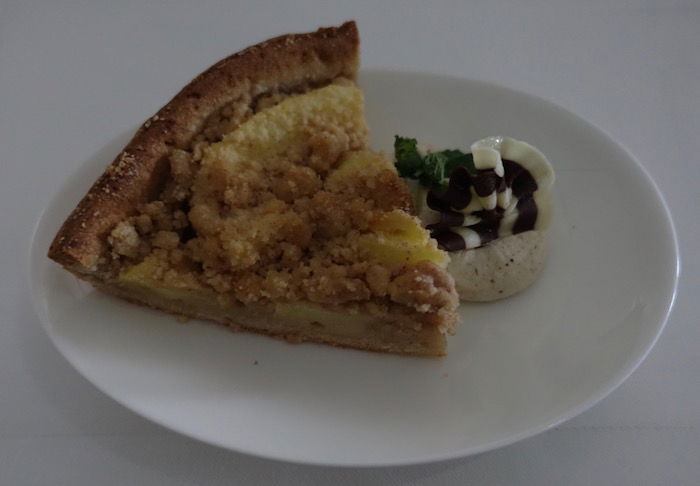 Lufthansa first class dessert — apple pie with cinnamon crumble
After the meal I had a coffee with milk.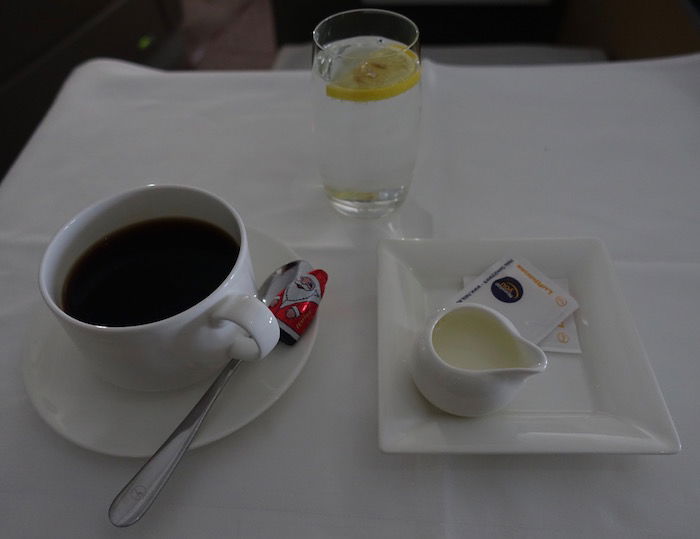 Lufthansa first class coffee
About 25 minutes before landing we began our descent, and moments after that the captain turned on the seatbelt sign.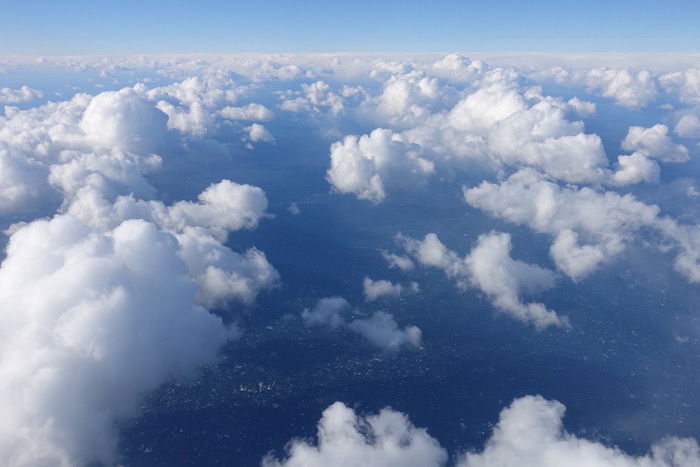 View approaching Boston
Our approach was rough, as you'd expect with 50km per hour winds and below freezing temperatures.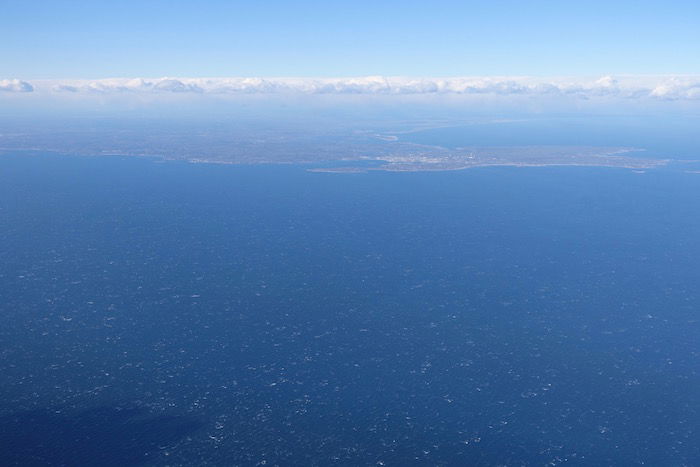 View approaching Boston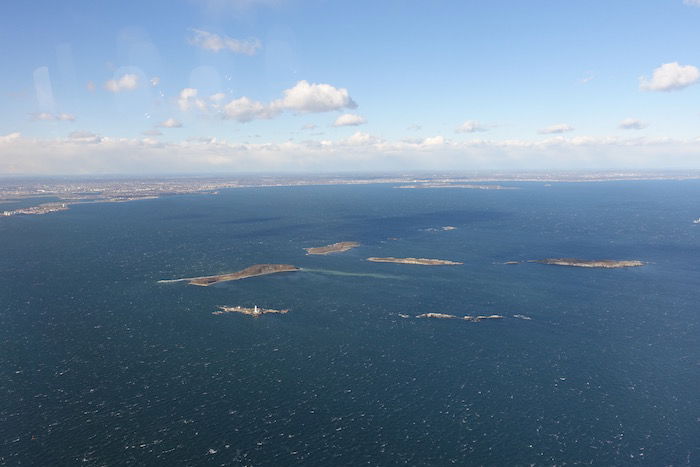 View approaching Boston
So while there was a lot of side to side swaying, we had a gorgeously smooth touchdown on runway 33L at 1PM.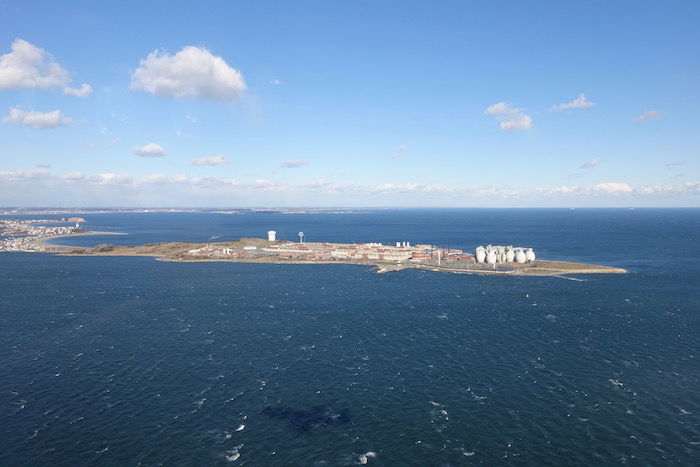 View approaching Boston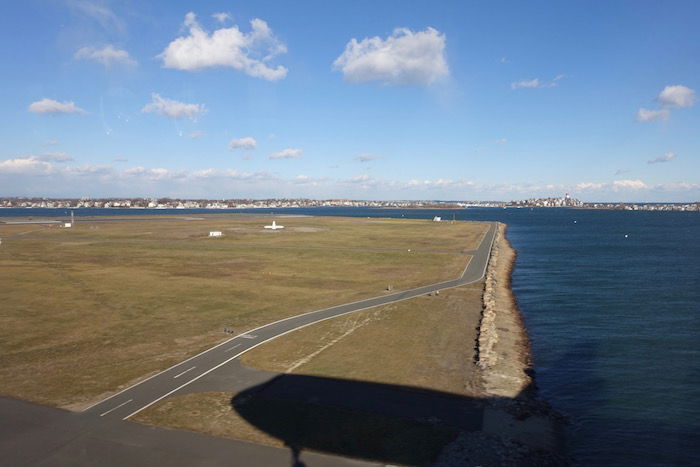 Final approach into Boston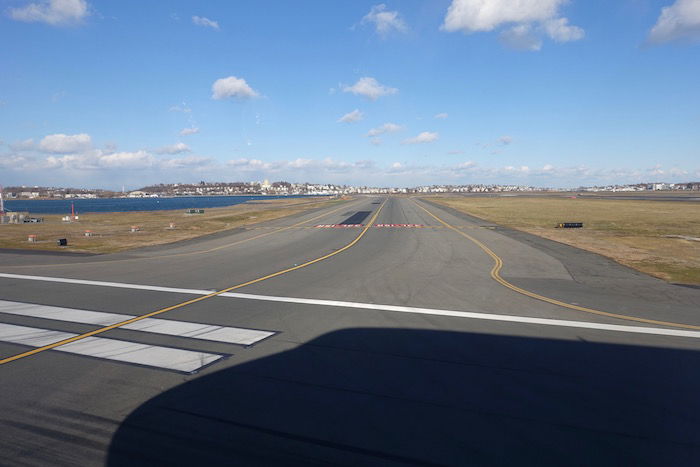 Taxiing Boston Airport
From there we had just a very short taxi to our arrival gate. It was so windy in Boston that you could feel the plane swaying in the wind even as we were parked at the gate.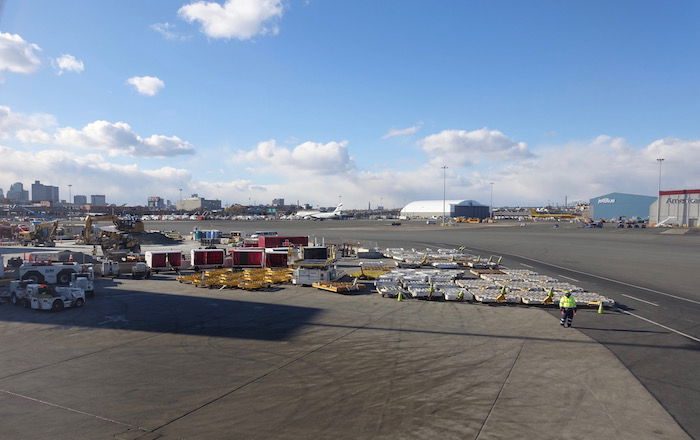 Arrival gate Boston Airport
We bid farewell to the crew, cleared immigration quickly thanks to Global Entry, and were off to our hotel.
Lufthansa 747-8 first class bottom line
This flight was flawless. The 747-8 is a gorgeous plane with an intimate first class cabin, the crew was exceptional, and the food was among the best I've had catered out of Germany on Lufthansa. What a fantastic flight.