---
The reason we flew to Boston was because it's the closest major airport to where Ford's mom lives, so this was a good way for us to drop her off before continuing our journey. We arrived from Frankfurt at around 1PM, and had a flight the next morning at 6AM.
We decided to book the Aloft Boston Seaport. This isn't an airport hotel, and also isn't even really in the most desirable part of Boston, but the reason we stayed here was because I needed to make one Aloft stay before the end of the year in order to earn 11,000 bonus Starpoints through Starwood's brand bonus promotion.
The paid rate for our one night stay was ~$140. As a point of comparison, this is a Category 5 SPG property, meaning that a free night redemption would have cost 12,000 Starpoints, so paying cash was definitely the better option.
I know it sounds weird, but I really love Aloft hotels. I feel they do such a good job managing expectations, and have always enjoyed my stays at them (even if this was my first Aloft stay of the year).
Aloft is one of the Starwood brands that offers keyless check-in, so when we landed I saw that the room was ready, and figured we'd go straight to the room. While I love the concept of keyless check-in I usually don't use it, since as a Platinum member I prefer going to the desk and seeing if any upgrades are available, etc. However, at Alofts most rooms are roughly the same, so I didn't think it mattered much.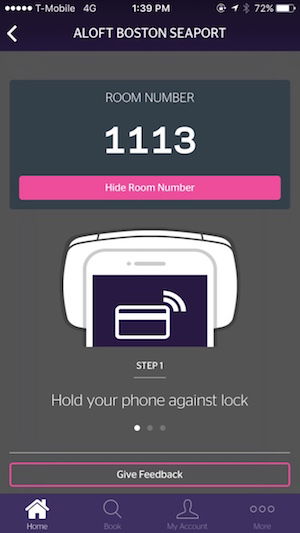 When we arrived at the hotel we headed straight to the elevator. Rather than just pushing the "up" button, you select the floor you want to go to, and then the screen tells you which elevator to use.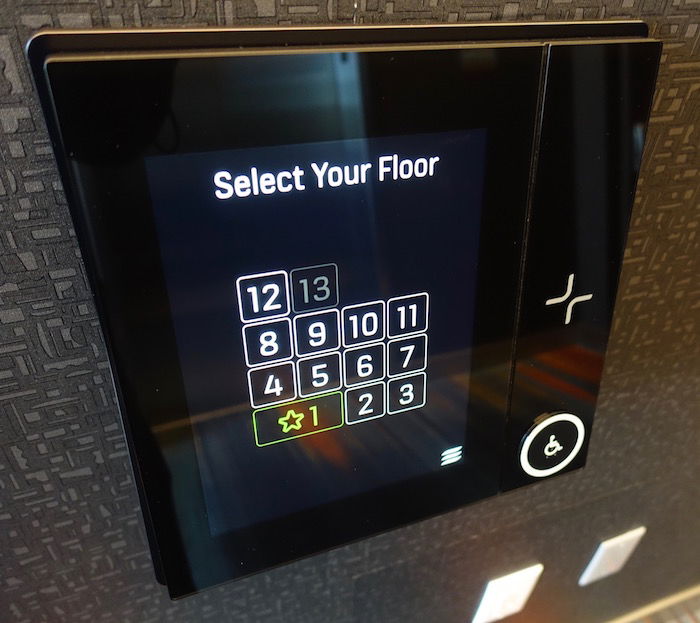 Aloft Boston Seaport elevator floor selection
We were assigned a room on the 11th floor, not far from the elevator.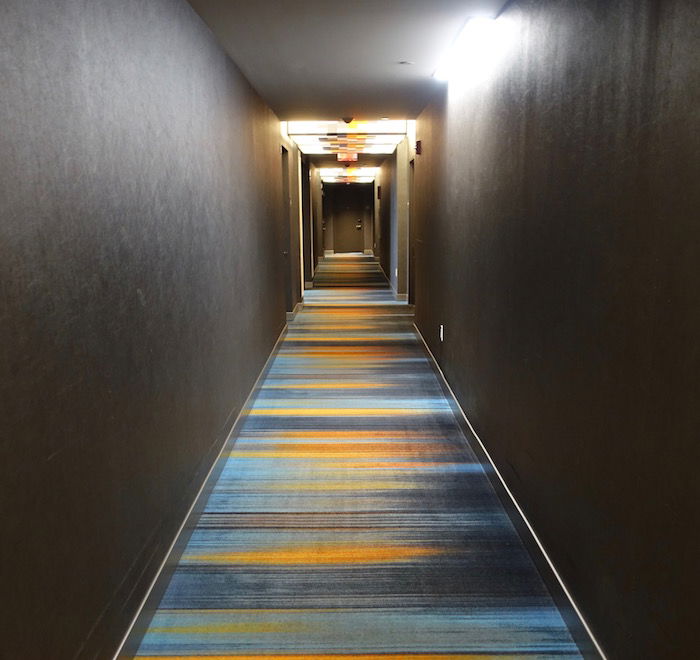 Aloft Boston Seaport hallway


Aloft Boston Seaport floorplan
The room was more or less brand standard for an Aloft. The room was on the small size, but was well designed — it featured a king size bed, legitimate blackout curtains, a desk with a chair, conveniently placed outlets, etc.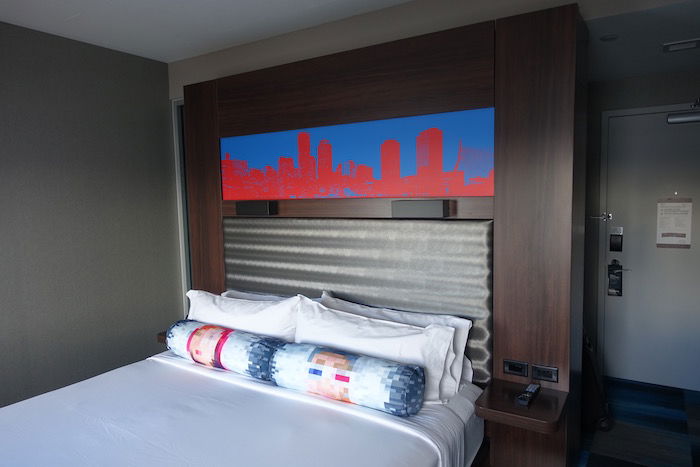 Aloft Boston Seaport king room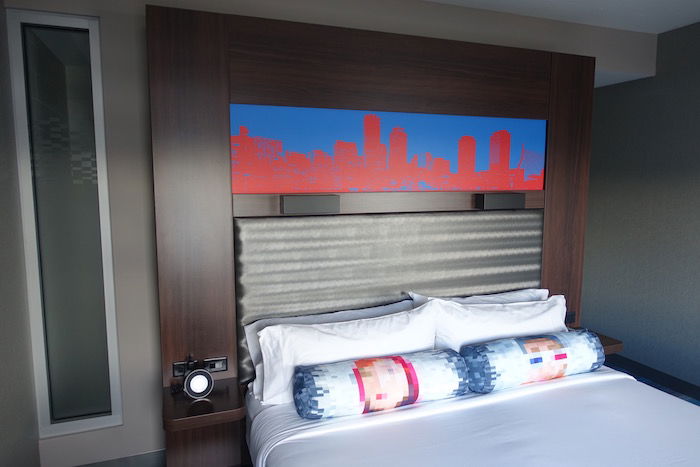 Aloft Boston Seaport king room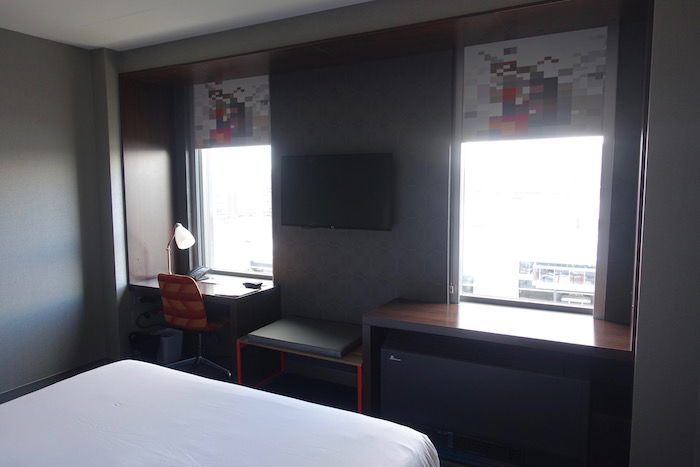 Aloft Boston Seaport king room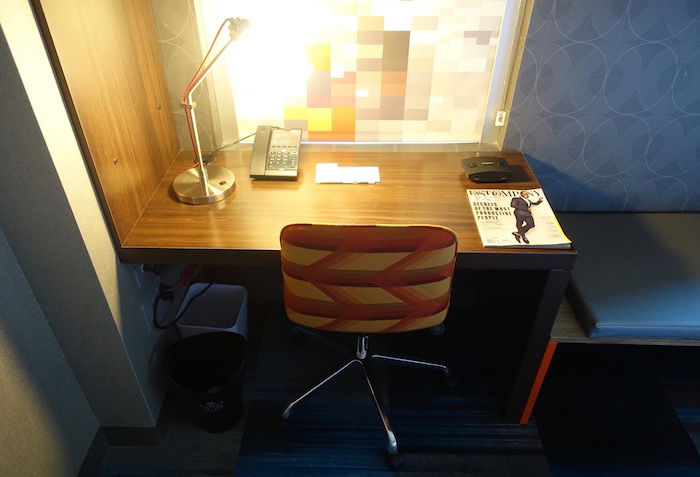 Aloft Boston Seaport king room desk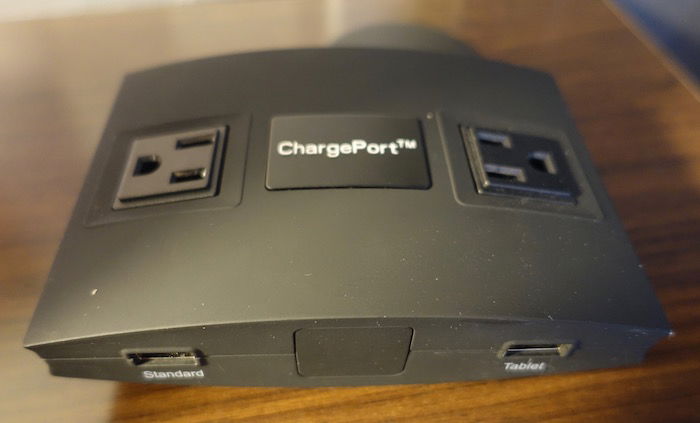 Aloft Boston Seaport king room power outlets
Back near the entrance was an exposed closet, as well as a bottle of water and a Mr. Coffee coffeemaker.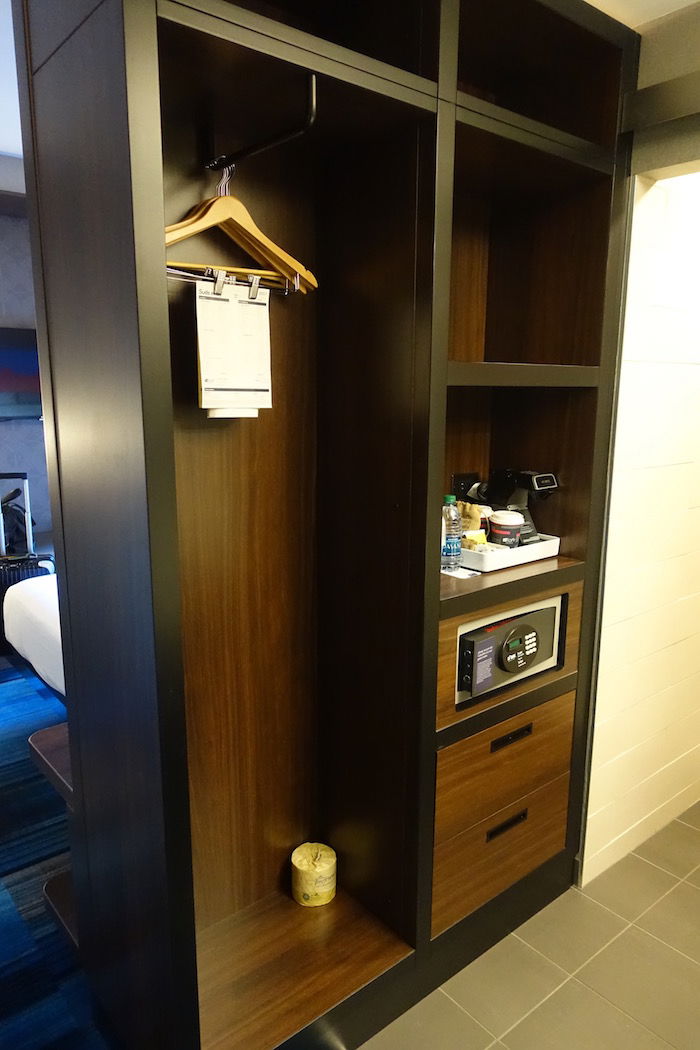 Aloft Boston Seaport king room storage space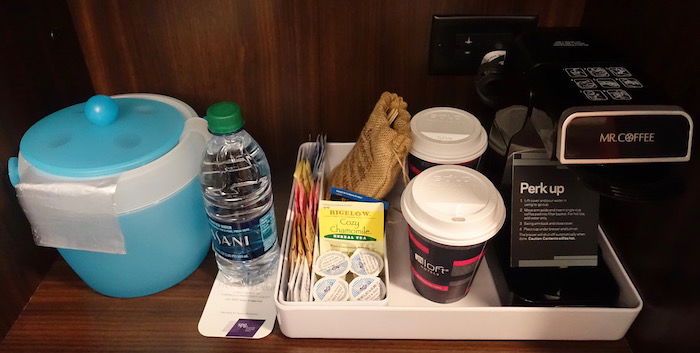 Aloft Boston Seaport king room coffee & bottled water
Across from that was a sink, and next to that were the toilet and walk-in shower.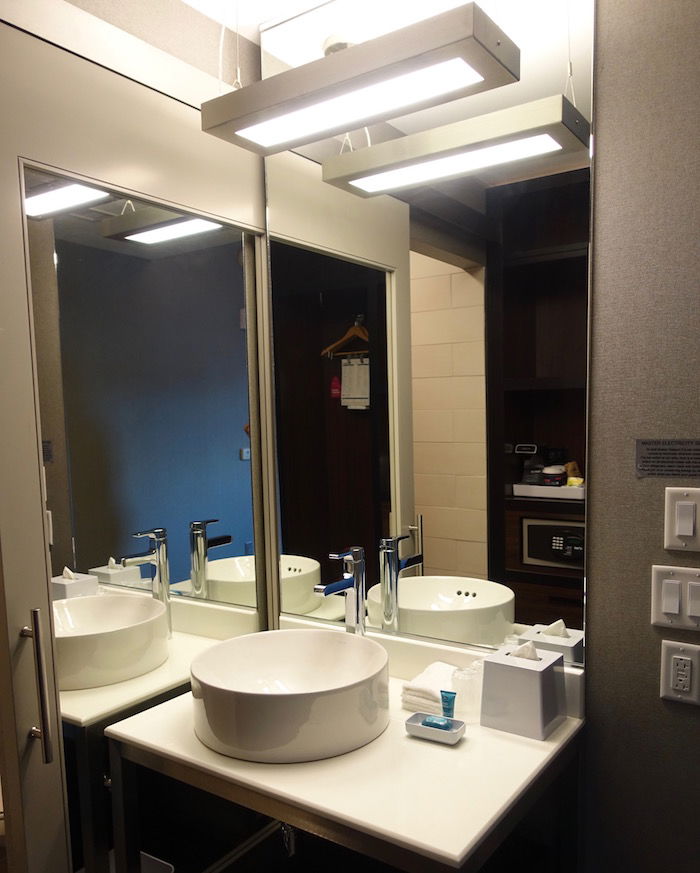 Aloft Boston Seaport king room bathroom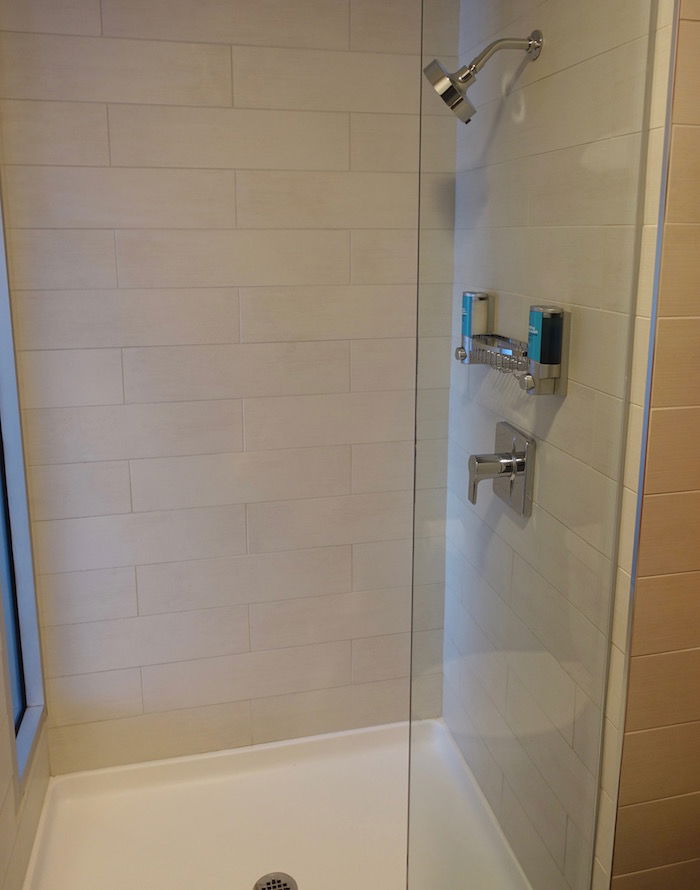 Aloft Boston Seaport king room shower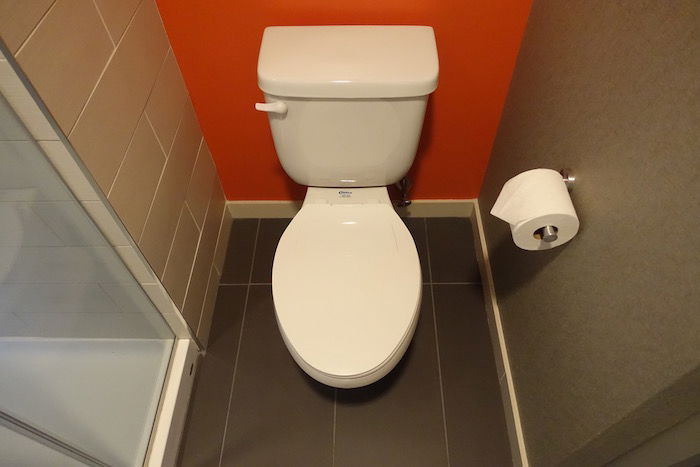 Aloft Boston Seaport king room toilet
The shower featured the same Bliss toiletries available at W hotels, though they came in a dispenser rather than individual bottles.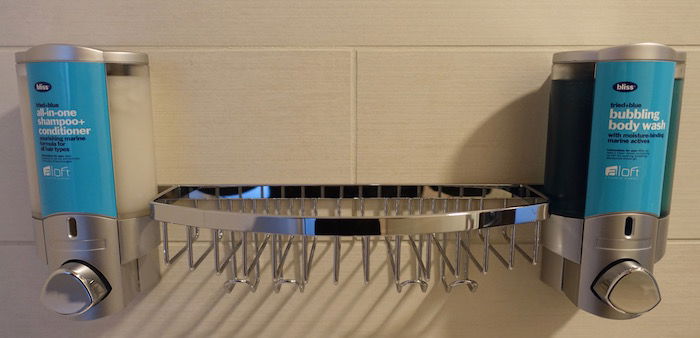 Aloft Boston Seaport king room Bliss toiletries
The room had a nice view of the harbor and skyline in the distance, not that we had many hours of daylight to enjoy the view.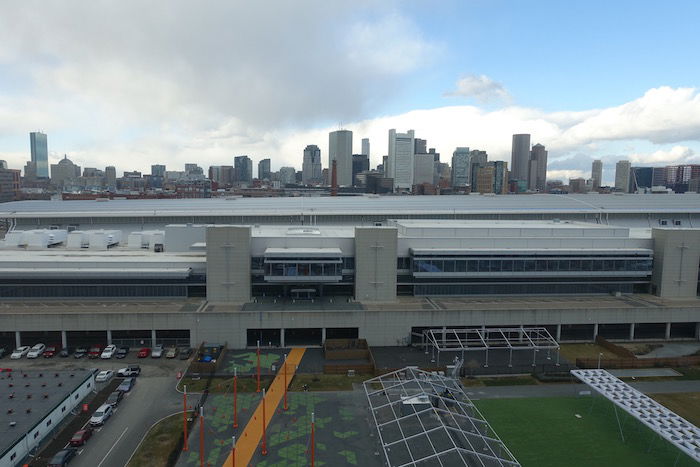 Aloft Boston Seaport king room view
About an hour after arriving at the hotel there was a phone call apologizing that they missed us at check-in, and that they had an upgraded room available for us. I guess this is where technology fails sometimes. I of course appreciated the gesture, but I guess I should have gone to check-in to begin with.
The room we were further upgraded to was one floor further up and felt mostly the same, except it was a voice-activated room. I love the technology that Aloft integrates into their properties, so I was oddly excited to check it out.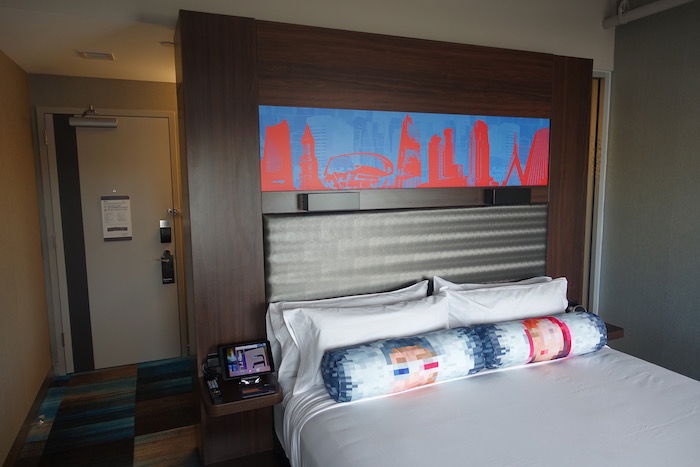 Aloft Boston Seaport voice-activated room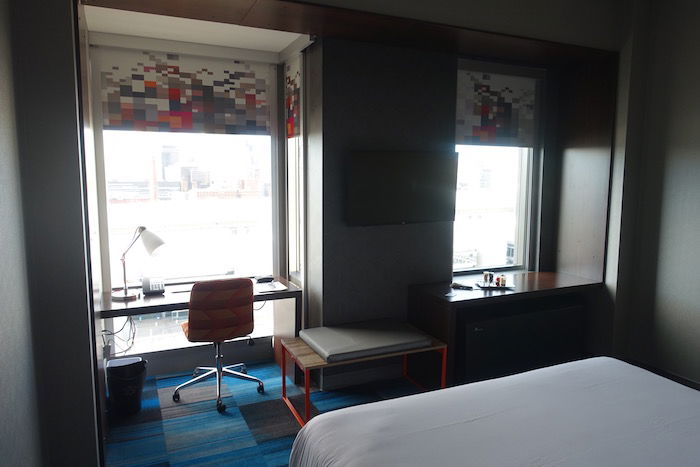 Aloft Boston Seaport voice-activated room
The voice activated technology can be controlled by the iPad next to the bed, and there's some pretty cool stuff you can do, like turn on mood lighting, etc.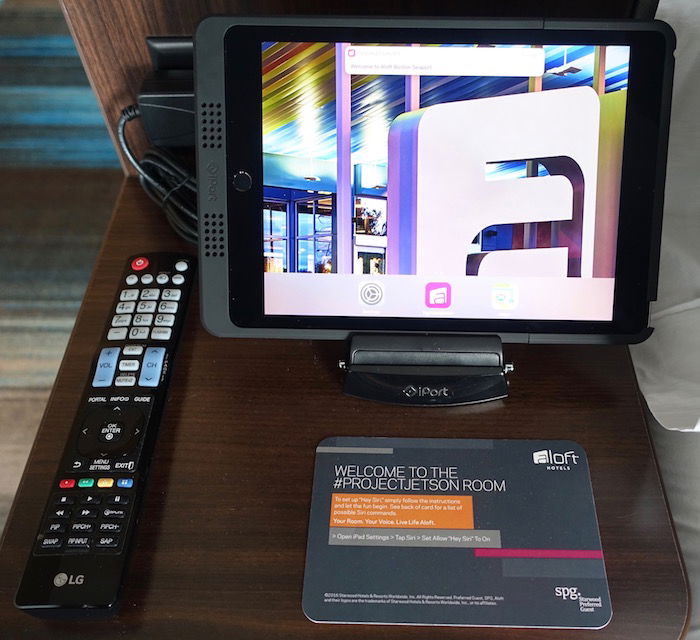 Aloft Boston Seaport voice-activated room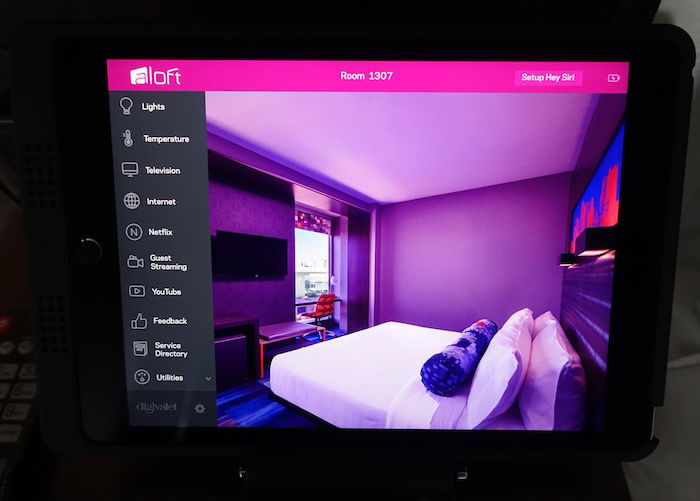 Aloft Boston Seaport voice-activated room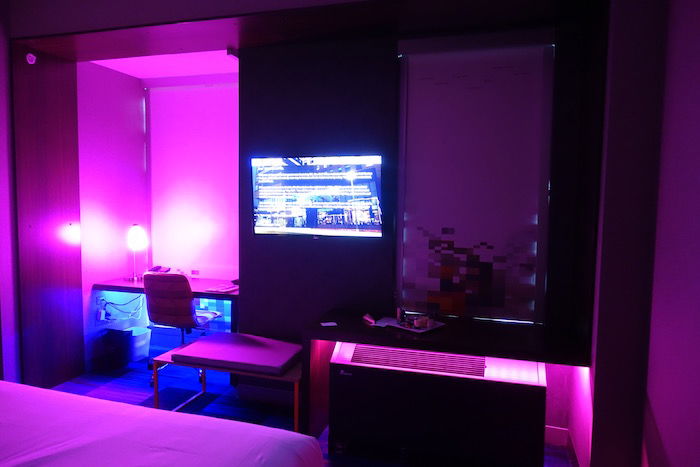 Aloft Boston Seaport voice-activated room
However, the second I walked in the room I couldn't help but notice that it was freaking freezing. It was a cruelly cold day outside, and it must have been 50-something degrees in the room (which was still a full 45 degrees warmer than it was outside).
We figured they just hadn't turned the heat on, so we turned it on ourselves. After a while it was just as cold, so we called down, and they sent maintenance to our room.
The guy couldn't fix it, so they had us move rooms again. The front office associate said that she "pushed" the new room key to my smartphone. That's a convenient feature with keyless. The only problem was that when I got to the room, the door wouldn't open. I went down to the front desk, and the lady came up with me and had the same issue, though she was able to force it open with her master key.
That room was virtually the same as the first one we had.
So the problem is that the hotel was extremely well intentioned, but sometimes technology just fails. And this was one of those stays.
We slept for almost 12 hours for our night at the Aloft, though I figured I'd briefly cover the public areas. As far as limited service properties go, I think Aloft hotels have by far the coolest public areas. I actually enjoy working from the lobby bar area at Alofts, which I can't say about any other limited service brand. The whole area is just so well set up, with good music, pool tables, couches, etc.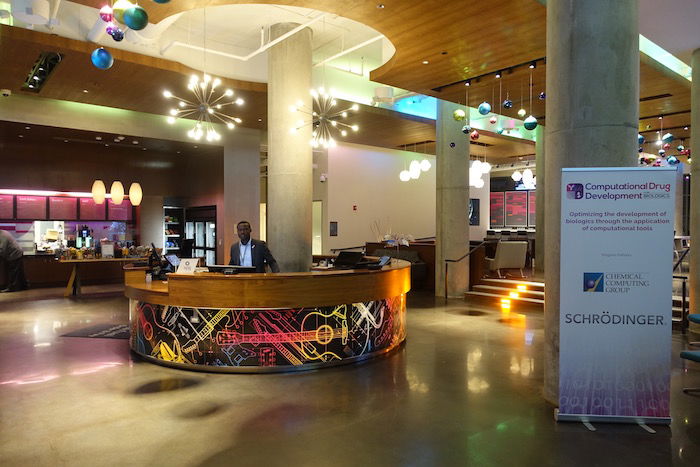 Aloft Boston Seaport lobby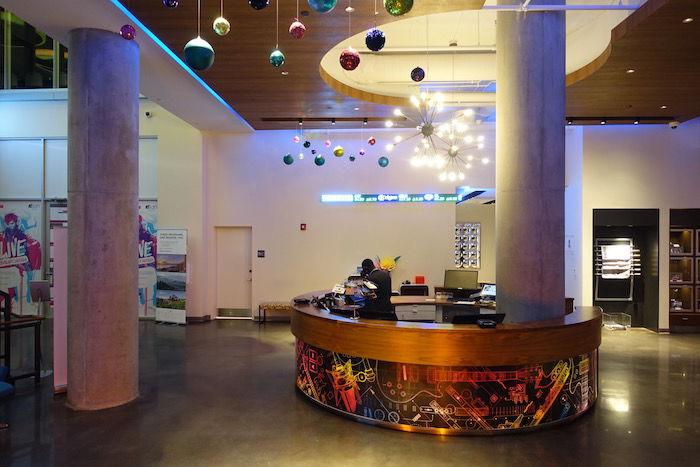 Aloft Boston Seaport lobby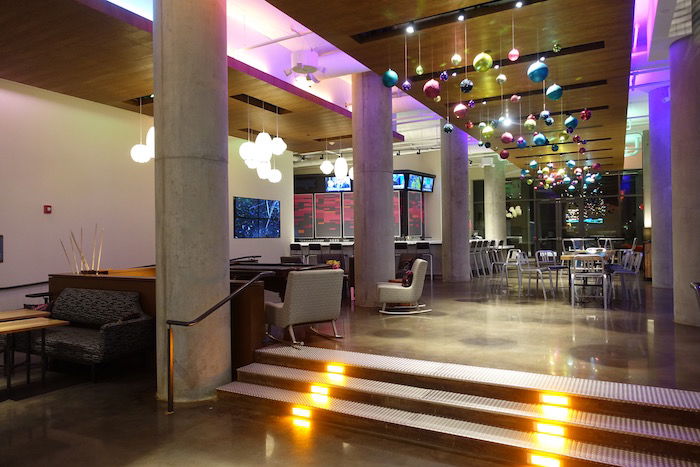 Aloft Boston Seaport lobby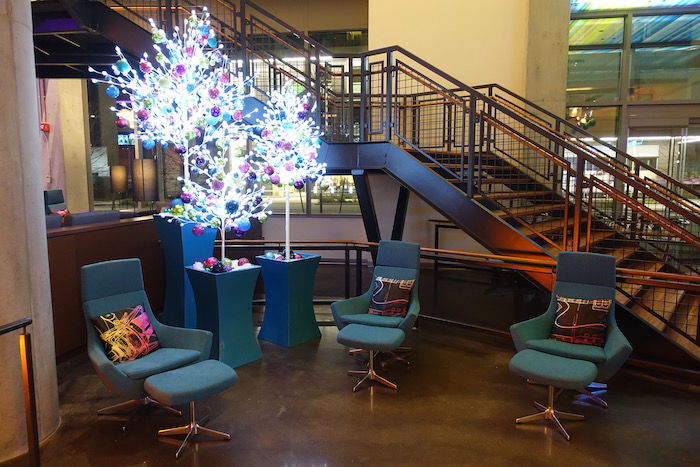 Aloft Boston Seaport lobby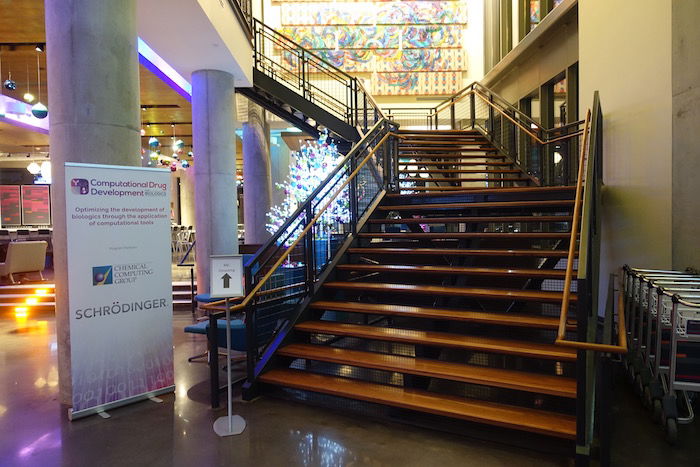 Aloft Boston Seaport lobby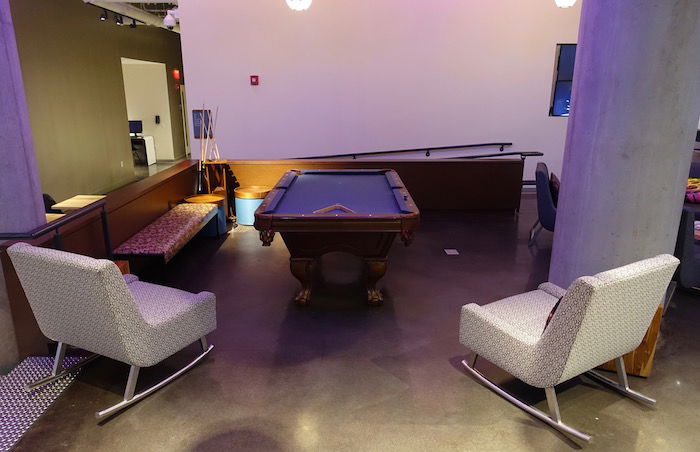 Aloft Boston Seaport lobby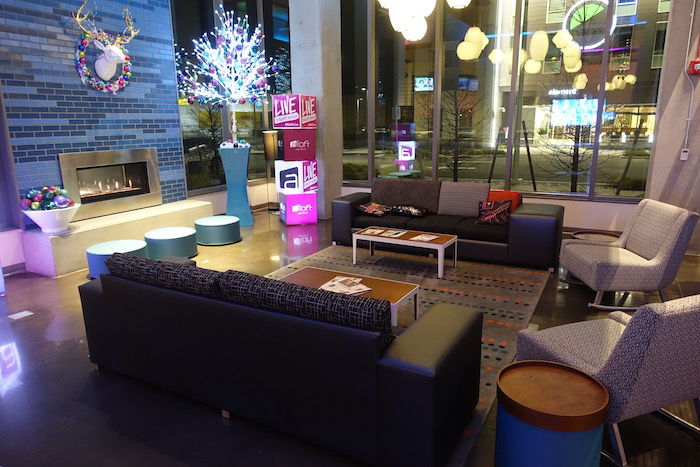 Aloft Boston Seaport lobby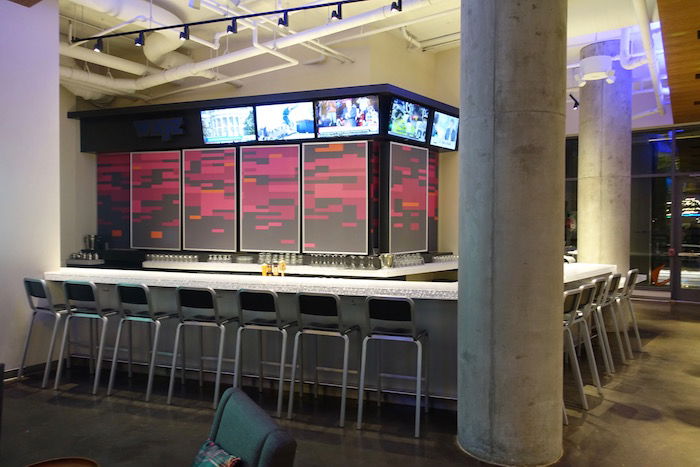 Aloft Boston Seaport WXYZ Bar
There's also a pantry area where you can buy drinks, snacks, meals, etc. They have some decent stuff, though we ended up just ordering something from nearby through Postmates.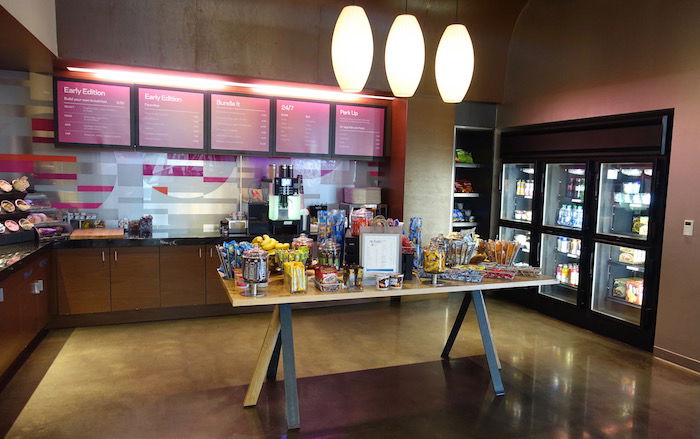 Aloft Boston Seaport snacks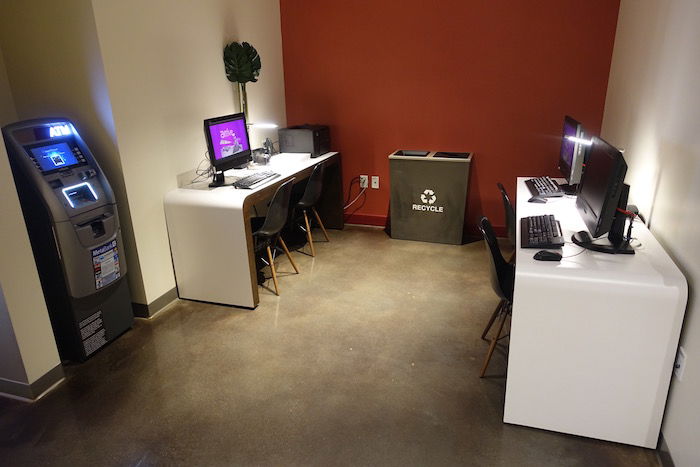 Aloft Boston Seaport business center
The hotel also had a small pool, which surprised me. While I couldn't imagine using it, I suspect people traveling with small children would find to be a nice amenity.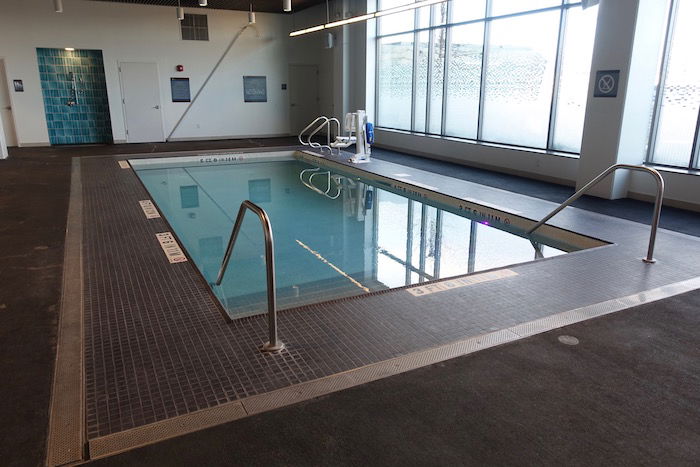 Aloft Boston Seaport pool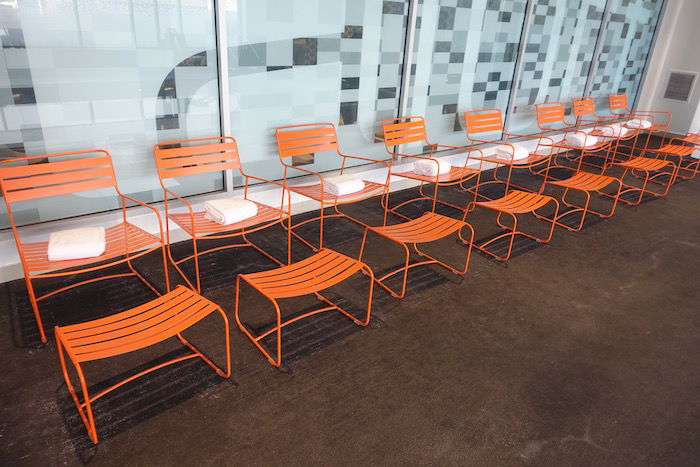 Aloft Boston Seaport pool seating
The next morning we left the hotel before 5AM. I got my folio by email shortly after leaving the hotel, and noticed that they charged me the wrong room rate — they charged me for the room we had been upgraded to (except we didn't actually stay in it, since the heat was broken).
Aloft Boston Seaport bottom line
I really do love the Aloft concept, and for whatever reason the brand really resonates with me. I always know what to expect when staying at an Aloft, I love the rooms (they're like well designed dorm rooms), the public areas are great, etc.
However, having four mistakes for a quick overnight stay is pretty inexcusable (upgrading rooms after the fact, being upgraded to a room without functioning heat, then being moved to a room where our keys don't work, then charging us for an upgraded room we didn't get). Ultimately it was all due to their good intentions of trying to provide an upgrade, but I think they have a bit of work to do when it comes to execution.
Still, there's no love loss of the Aloft brand for me — I remain a huge fan.