---
When I originally planned our trip to Ireland I had seen the Ritz Carlton Powerscourt, though wasn't planning on staying there. It looked beautiful, though is about 45 minutes from Dublin, which is a bit too far for a base from which to tour the city. However, during our trip we ended up modifying our plans a bit. Initially we had ambitious goals of driving the coasts, though we had two major obstacles. First, the weather was awful. It was raining nonstop every day, and that just wasn't weather in which I wanted to spend 12 hour days driving around. But the bigger issue was that since I'm under 25 the only rental car agency from which we could rent was Dan Dooley. While you can read about the whole fiasco here, long story short they would only give me a piece of crap car where I had to tilt the steering wheel 10 degrees in order to drive straight. Between driving stick, driving on the "wrong" side of the road, and driving this garbage car in awful weather, I just wasn't up for the challenge.
So instead we decided to save that until after I turn 25 and can rent a decent car, and instead spend two nights at the Ritz Carlton Powerscourt. I booked through American Express Fine Hotels & Resorts. The rate was 250EUR per night, though it included breakfast, an 85EUR hotel credit, a room upgrade, and guaranteed 4PM late check-out.
And I was happy to have tried out the Ritz Carlton, since it's now up there on the list of my favorite hotels. It's located in Powerscourt, a large country estate full of gardens, golf courses, and hiking. It reminded me almost a bit of Berchtesgaden, except it wasn't as "dramatic."
The hotel's exterior felt like a massive palace of sorts, minus the feeling of lingering ghosts, given that the hotel only opened in 2007.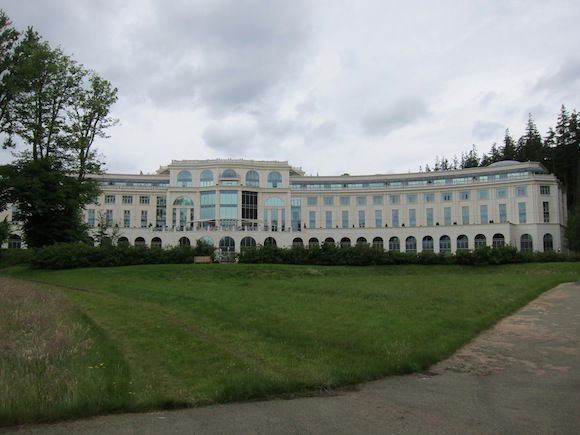 Hotel exterior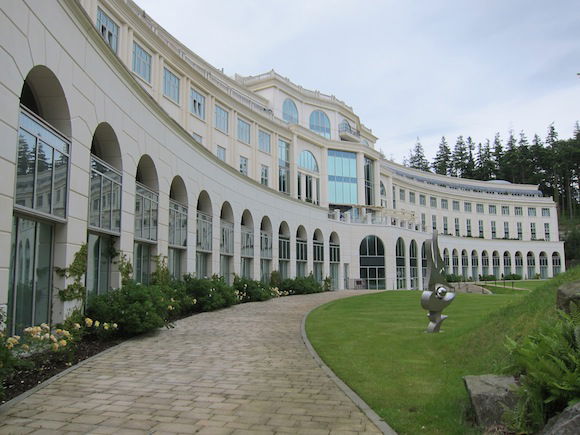 Hotel exterior
Parking was free, and after driving in the wrong direction of traffic more than once my friend made me promise we wouldn't touch the car until we left two days later and instead find alternative forms of transportation.
Once in the lobby we were greeted by the bellmen who pointed us towards reception, which was located on the right side of the lobby.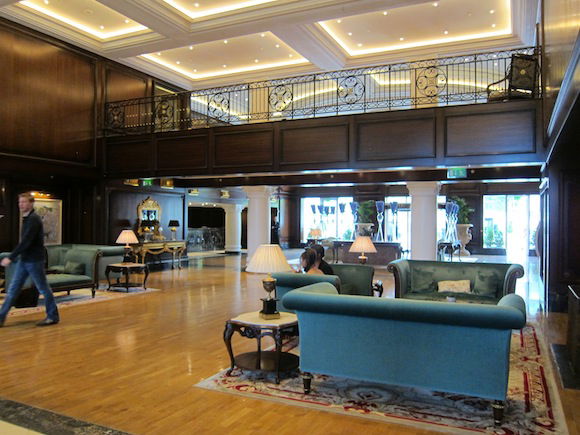 Lobby
I might as well say up front that every single employee we came in contact with was spectacular from the minute we arrived to the minute we left. While you expect that at luxury hotels, the employees here were so personable that it really made my stay. Maybe part of it is that many were quite young, so maybe they were just more motivated and enthusiastic.
The check-in process was efficient, and all of the American Express Fine Hotels & Resorts benefits were explained to us. We were even offered a suite upgrade, which is usually pretty atypical for Fine Hotels & Resorts/Virtuoso bookings, since it's usually just a one category upgrade. That being said this hotel has a disproportionate number of suites, given that 93 of their 200 rooms are suites, so I suspect that's why they're so generous with upgrades.
After the check-in formalities were complete, we were walked to our room by the bellman, who showed us the functions of the room.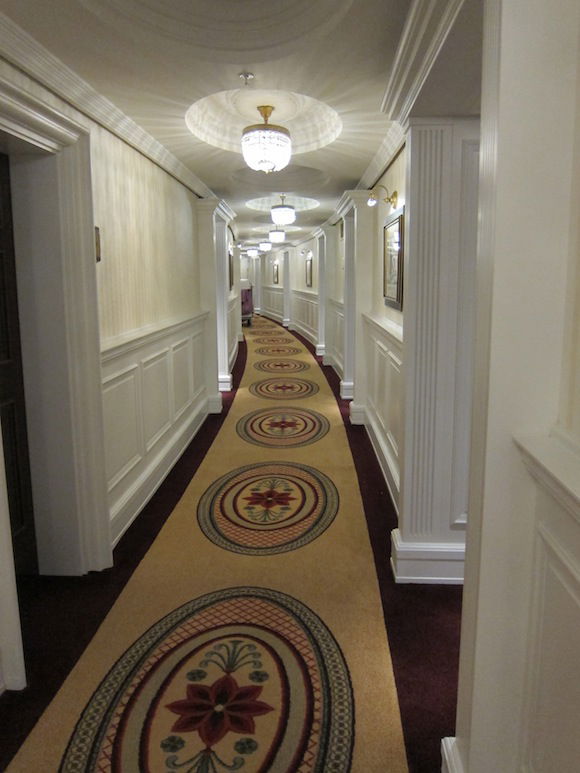 Hotel hallway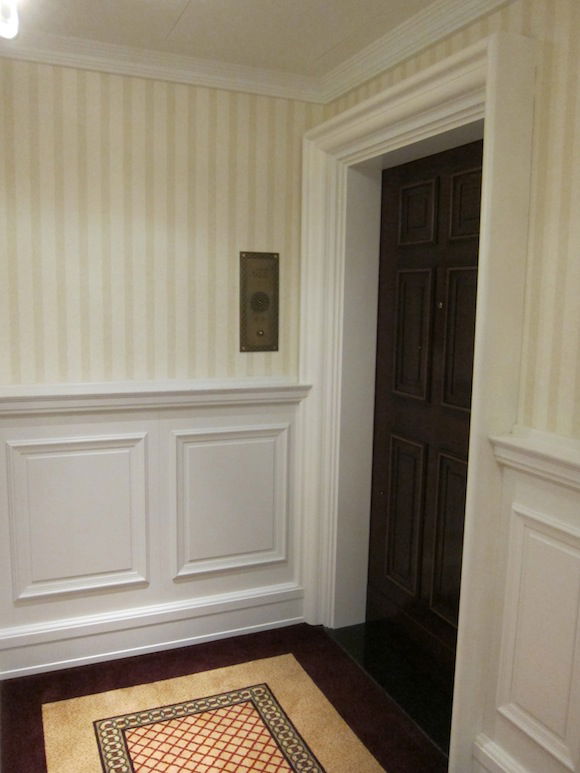 Entrance to our room
The room had a large foyer which led to the living room, which featured a couch and two chairs facing a flat screen TV.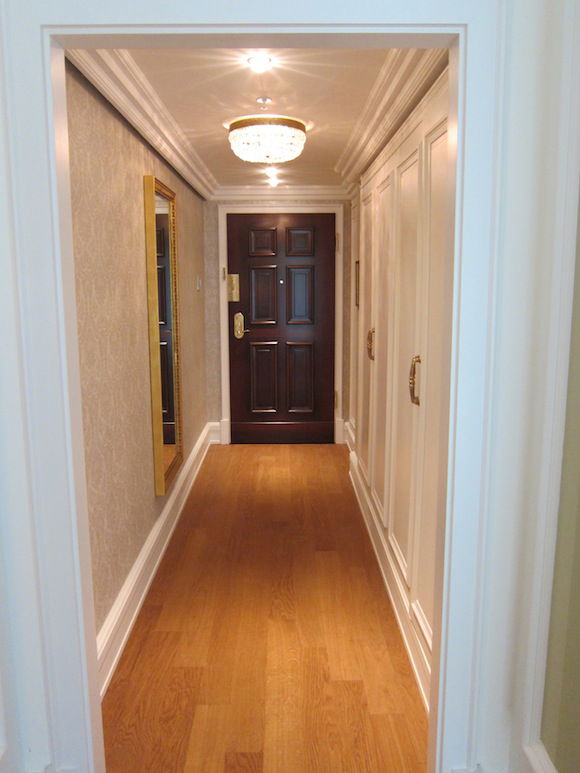 Foyer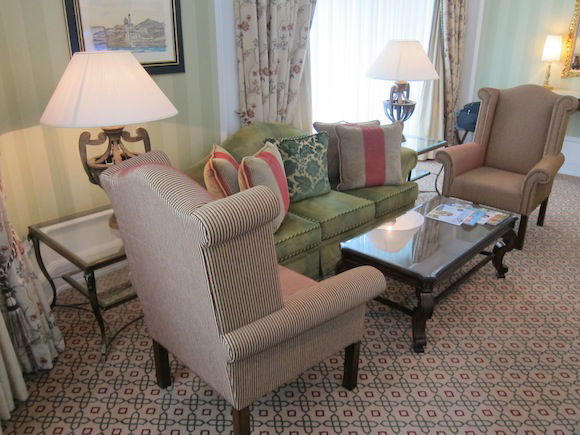 Living room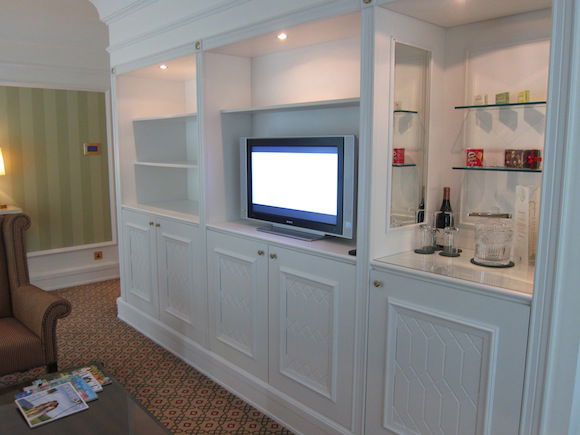 TV
Waiting for us on the table was a chocolate amenity.

Chocolate amenity
Next to the living room was a desk and then the bed.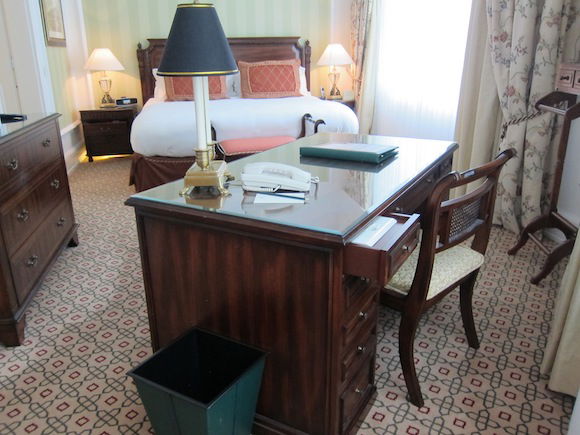 Desk
It's worth noting that the bed was the most comfortable European bed I've slept in.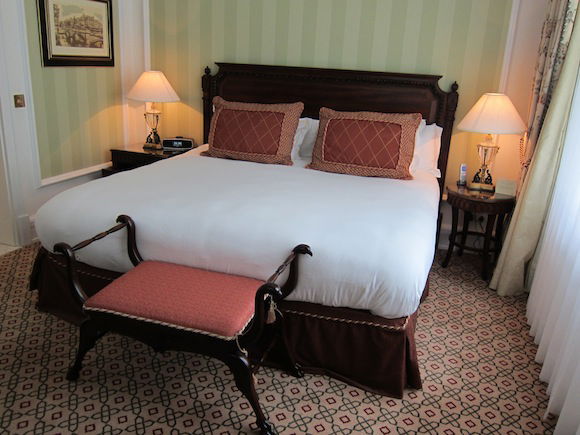 Bed
Since our suite was at the corner of the hotel, the views weren't all that great.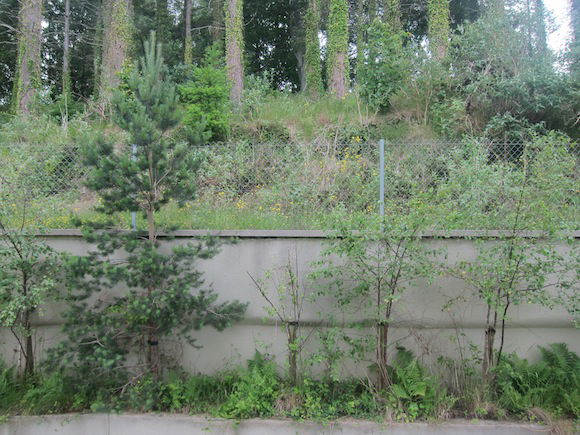 Views (or lack thereof)
The bathroom was also beautiful, with a large tub, and separate enclosed shower and toilet.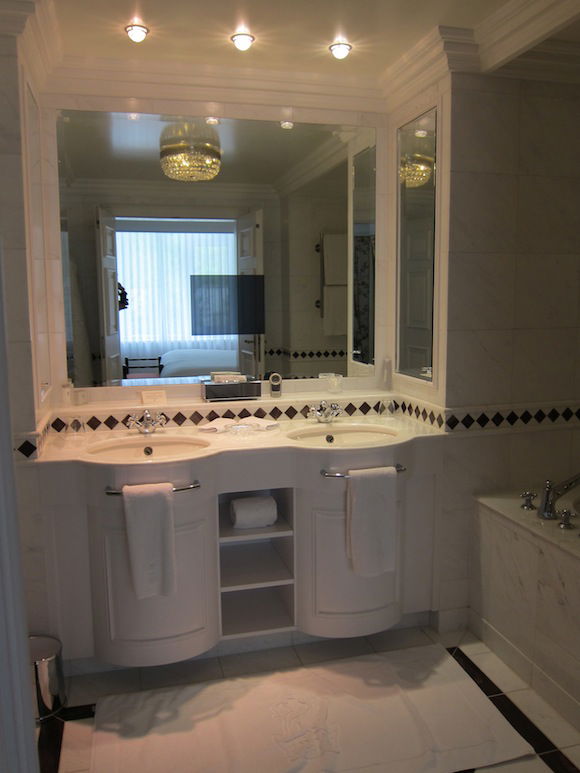 Bathroom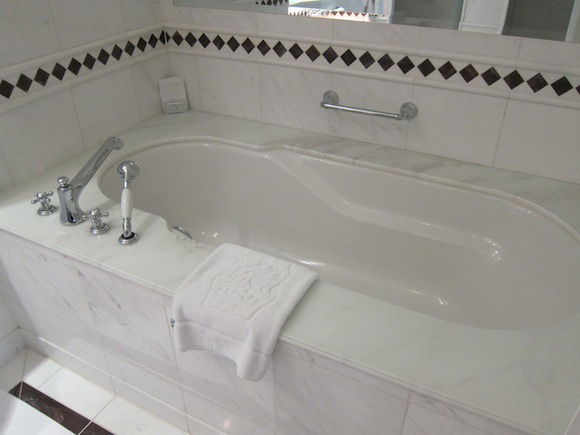 Tub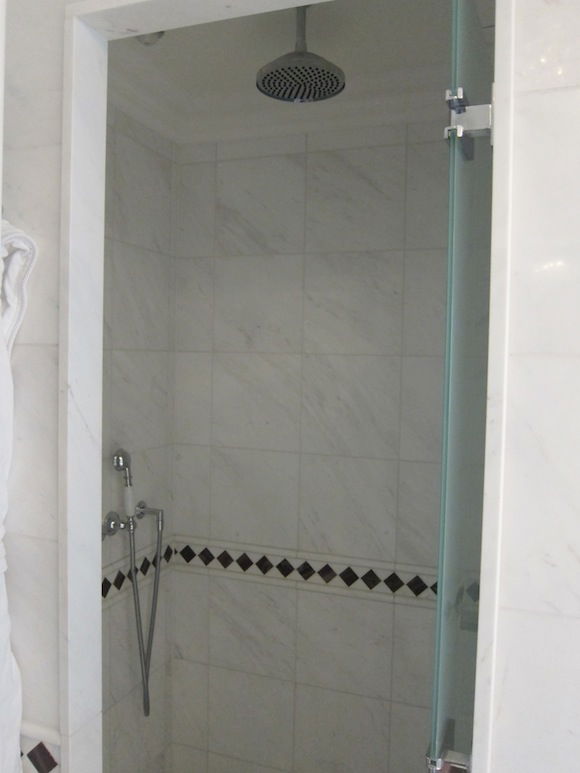 Shower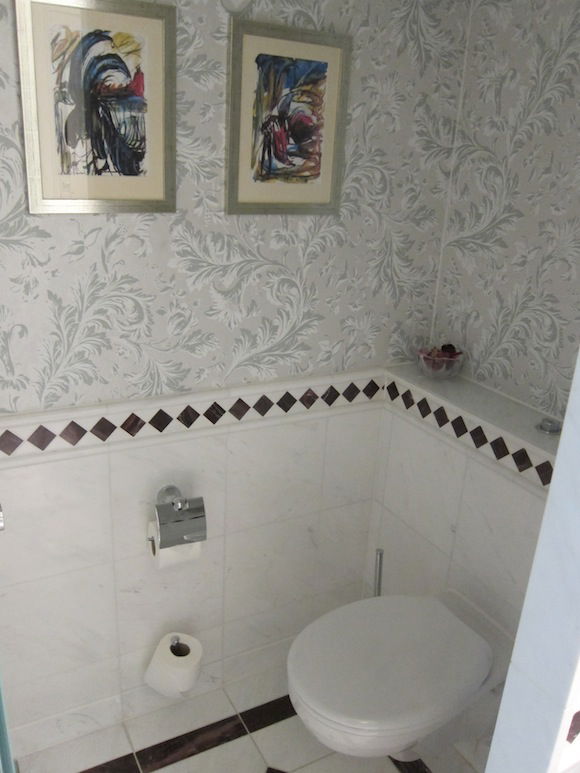 Toilet
Here's another awesome thing about this hotel — it has free Wi-Fi! I know, I know, all luxury hotels should have free Wi-Fi, though that's not the reality. This is the only Ritz Carlton I know of with free Wi-Fi, so that's pretty exciting given how much it can cost in Europe.
One of the highlights of the hotel had to be the pool and jacuzzi, which were Swarovski crystal-lit. Yeah, a bit of an overkill, but the ambiance was very nice… 😉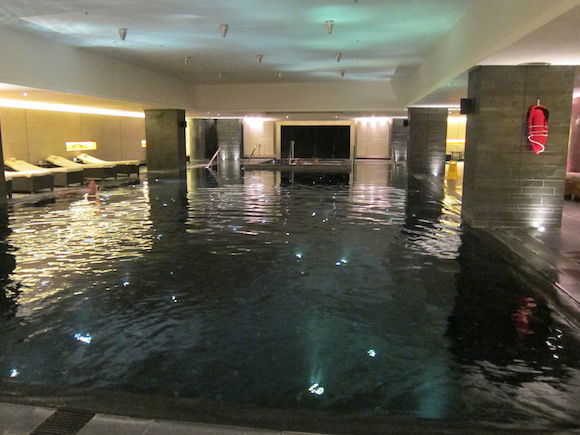 Pool
The gym was huge and featured every type of equipment imaginable.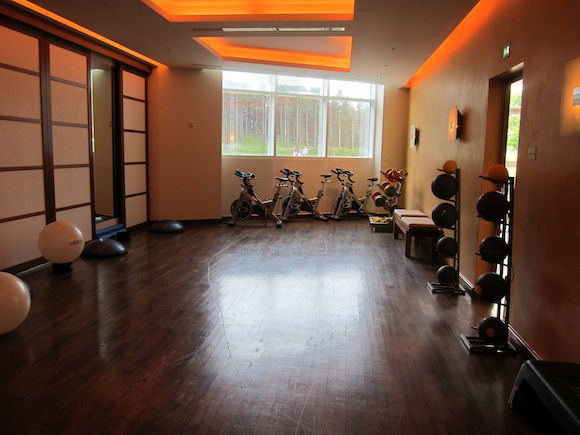 Gym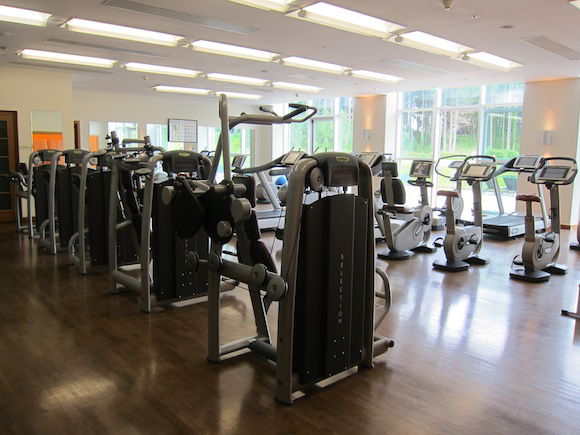 Gym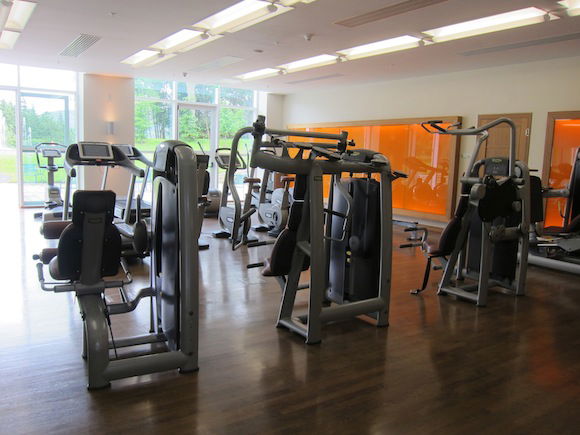 Gym
Breakfast was served in the hotel's Gordon Ramsay restaurant. Interestingly Gordon Ramsay was actually at the hotel the same time we were, which is apparently a rare occurrence. We saw him as we were having afternoon tea.
Anyway, back to breakfast. The spread was very nice and fresh, and much to my waist's chagrin, featured some of the best pastries imaginable.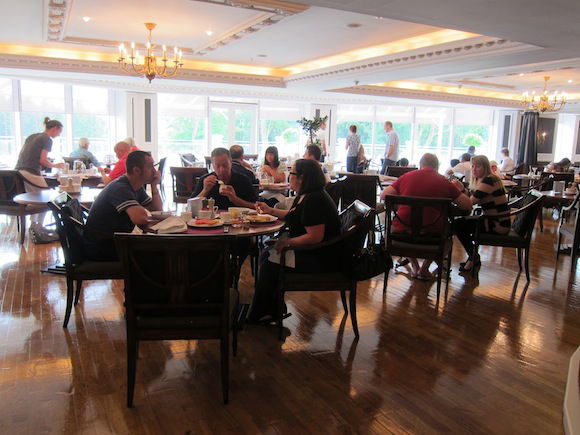 Gordon Ramsay restaurant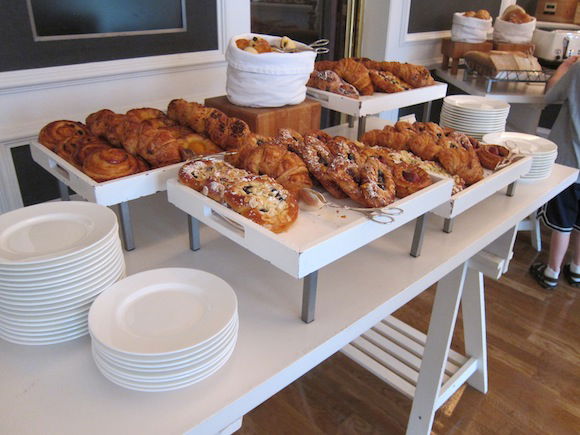 Breakfast spread

Breakfast spread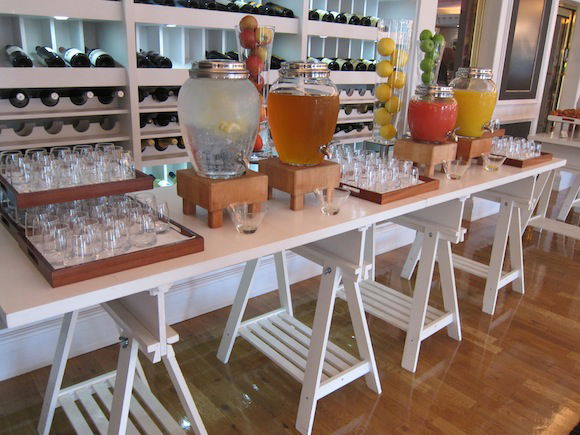 Breakfast spread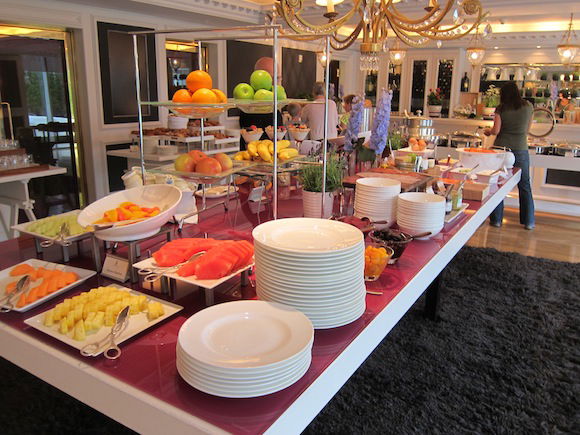 Breakfast spread
I did just want to give one example of great service in the restaurant. We always had tea with breakfast, and on the second morning I asked if they had the same vanilla tea that I had with afternoon tea the previous afternoon. The waitress informed me they only stocked more basic tea flavors for breakfast, though insisted on going up to the Sugar Loaf Lounge to get some of the tea that I had asked about.
Since we had the hotel credit to spend we decided to have afternoon tea in the hotel's lounge, The Sugar Loaf Lounge. It's located right off the lobby with beautiful views of the surrounding greenery. Service was great since our waiter was still on a "high" from having just served Gordon Ramsay, which he couldn't seem to keep to himself. 😉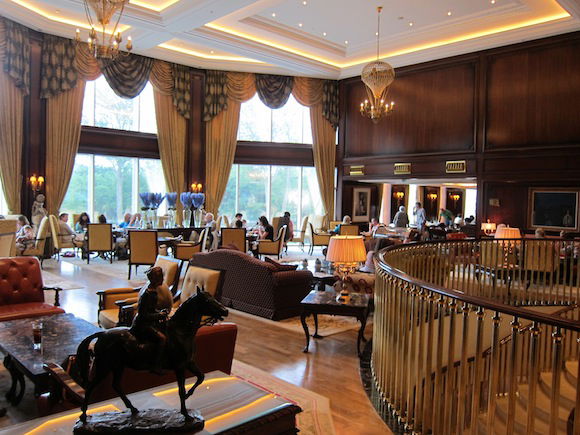 The Sugar Loaf Lounge
Afternoon tea was quite good as well, especially the sweet stuff.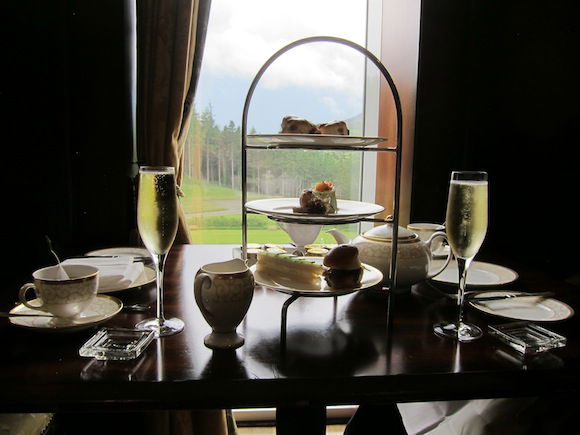 Afternoon tea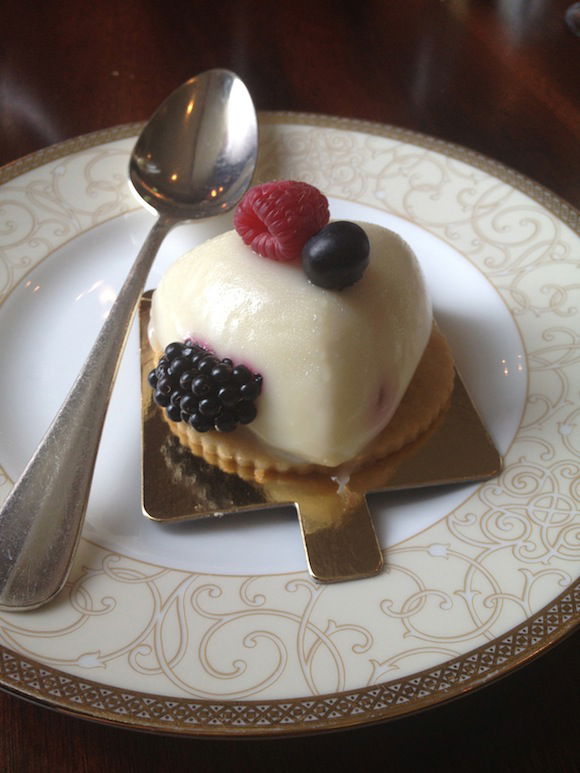 Cheesecake tart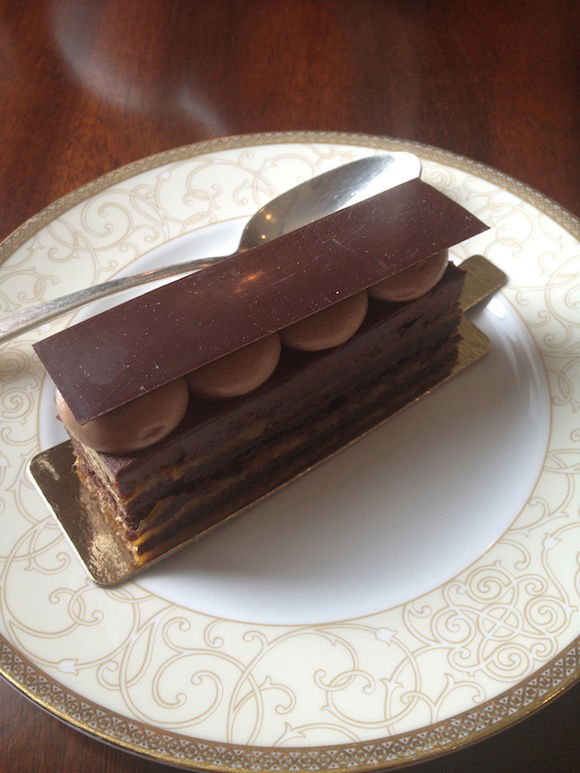 Chocolate cake
The Ritz Carlton is only about five minutes from the town of Enniskerry. My parents are both from tiny towns in Germany, though this takes "small town" to a whole new level. There are just a few restaurants, one ice cream place, one supermarket, etc. It's a very cute town, and we had dinner there both nights, one night at an Italian restaurant, and one night at an Asian fusion restaurant. Other than that there are gardens, golf courses, and a waterfall.
If you have the chance I highly recommend this place. I'm still not really sure how it fits into an Ireland vacation (in the sense that it's far enough from Dublin so it's not a good base for sightseeing there, and close enough to Dublin that it's not necessarily a destination in and of itself that you couldn't see in a day trip from Dublin), but hopefully that doesn't stop you!