---
We arrived at the gate from the Air France lounge at around 5:55PM, at which point boarding was announced for business class and Gold Circle members.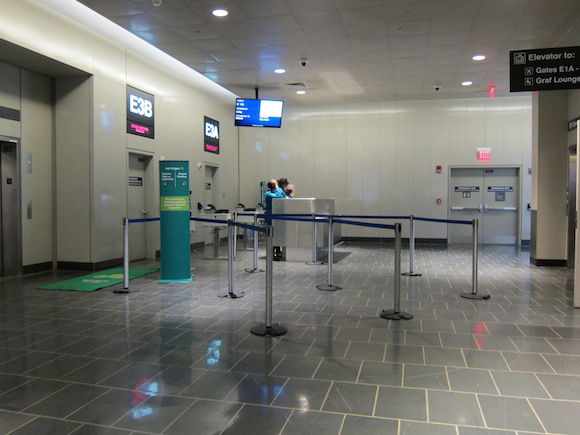 Departure gate
Aer Lingus 136
Boston (BOS) – Dublin (DUB)
Wednesday, June 27
Depart: 6:25PM
Arrive: 5:20AM (+1 day)
Duration: 5hr55min
Aircraft: Airbus A330
Seat: 2C (Business Class)
The purser and one of the coach flight attendants were greeting passengers at the door, and invited us to turn left to the business class cabin.
The business class cabin consisted of a total of 24 seats, in four rows of 2-2-2 seating. While the seats are angled flat, they were reasonably well maintained and perfectly comfortable, given how short the flight is.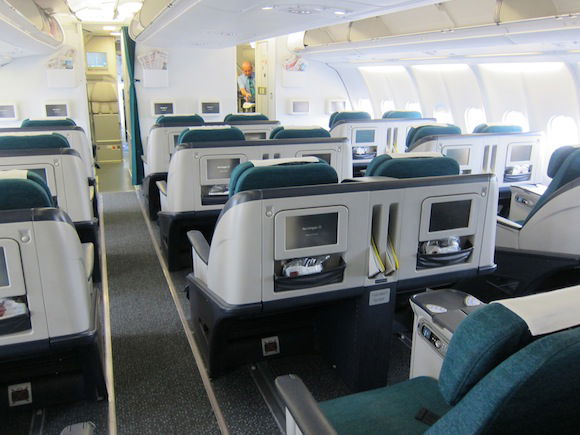 Business class cabin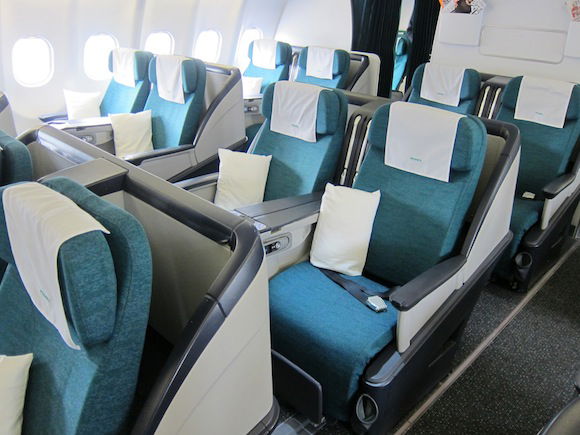 Business class cabin
We quickly stowed our belongings and settled into our seats, 2A & 2C, where rather compact pillows and headphones (in the seatback pocket) were waiting for us.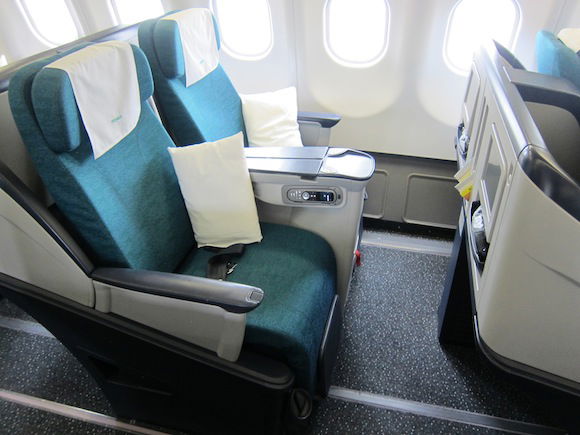 Our seats, 2A & 2C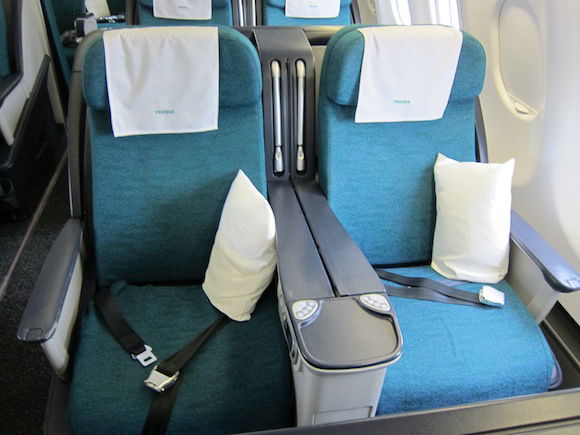 Our seats, 2A & 2C
The business class seats have built in personal televisions, which were large enough given that there wasn't that much distance between my face and the screen (unlike in Lufthansa first class, where it's a distance of about six feet).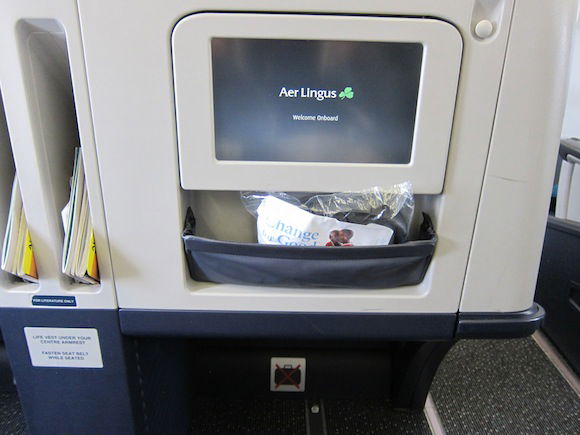 Personal television
There were two different seat controls — one on the surface of the center console, which had basic presets, and one under the left armrest, which had more customized control options.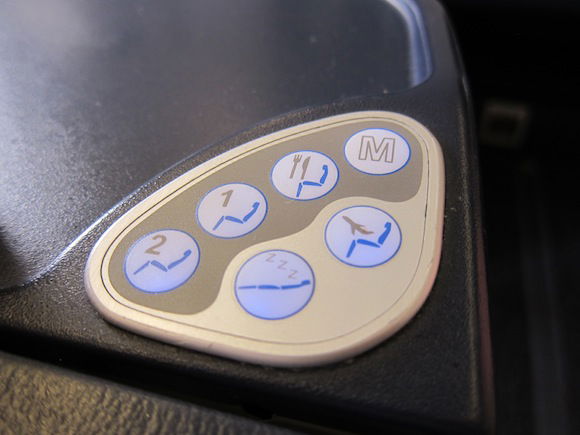 Seat controls on center console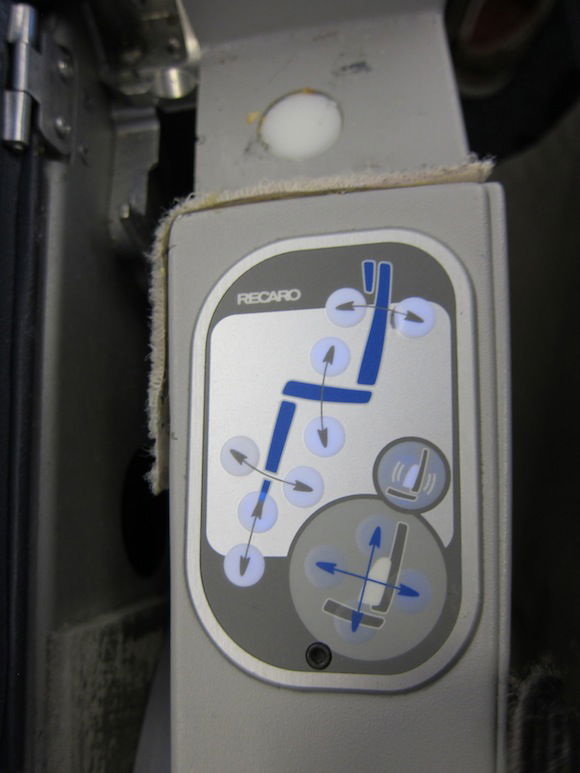 Seat controls under center armrest
That's also where the entertainment controller was found, which was similar to the one offered by many airlines nowadays.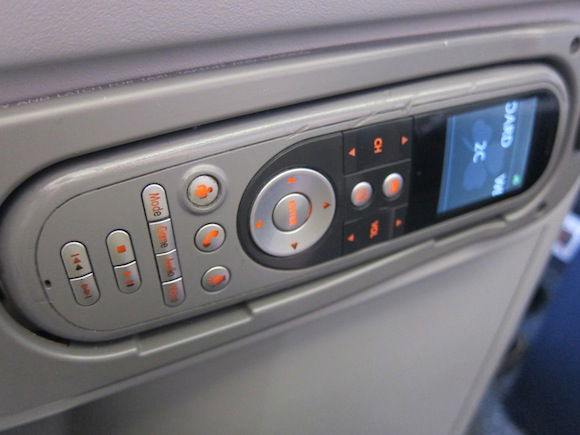 Entertainment control
Within minutes of settling in a French male flight attendant offered us pre-departure beverages. I went with OJ, while my friend went with champagne. Aer Lingus sure does have nice glassware!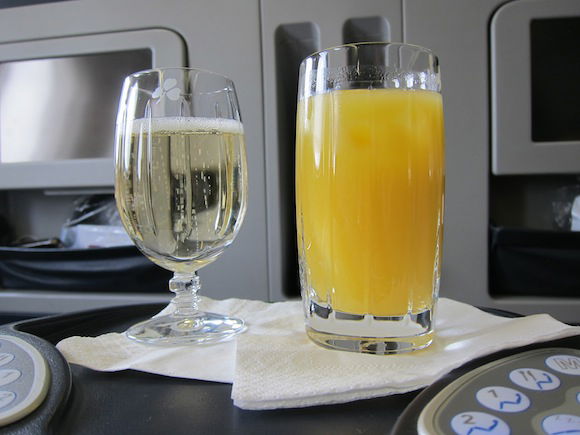 Pre-departure beverages
Once most business class passengers settled in (the cabin was about 75% full), the other flight attendant (she was Irish) offered us menus and an amenity kit.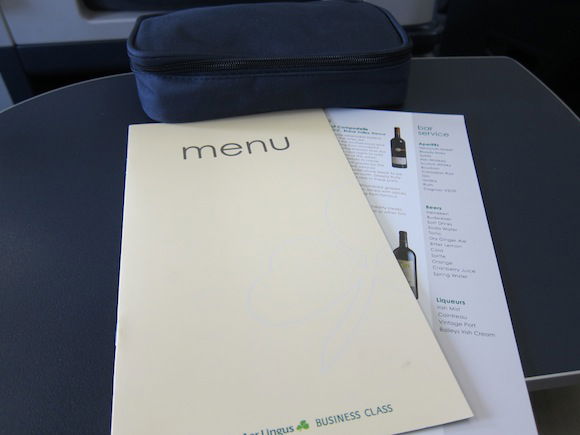 Menu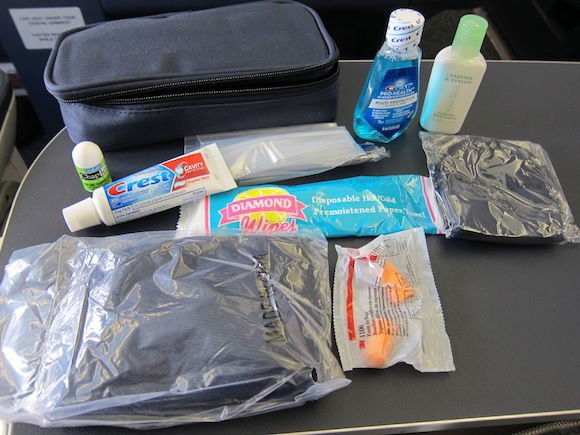 Amenity kit contents
As our departure time rolled around the captain came on the PA to advise us of our flight time of 5hr20min, and that we might be a few minutes late due to long queues for takeoff.
While I usually do everything I can to book a longer transatlantic flight in order to allow for the most sleep possible, I was excited about this one, since it's one of the shortest transatlantic flights there is. I believe it's the second shortest transatlantic flight out of the US (Boston to Shannon is a bit shorter), and shorter than many transcons I've taken. New York to San Francisco regularly takes over six hours in the air, so I was quite looking forward to seeing how the service is on a flight like this. I do still have my eye on St. Johns to London, though, which is ~2,300 miles and operated by an Air Canada A319.
My original plan was not to sleep at all. I'm a night owl and given that the flight departed Boston so early and was scheduled to land in Dublin at around midnight eastern time, I didn't think there was any chance I'd get any sleep, and my plan was to nap for a few hours upon landing. More on that later.
We pushed back right on-time and joined the queue for takeoff, where there were were about 15 planes ahead of us, so it was about 25 minutes before we were airborne.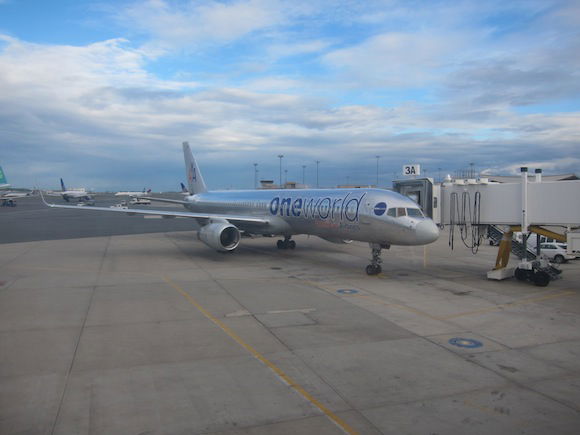 American 757 in OneWorld colors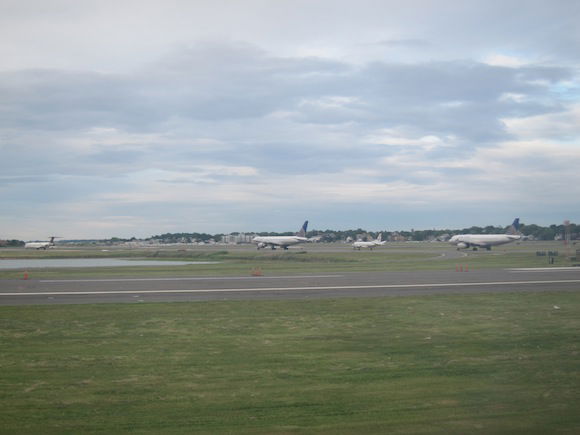 Queue for takeoff
By around 6PM we were finally airborne into the southwest, and made a 180 degree turn which resulted in some great views of the airport.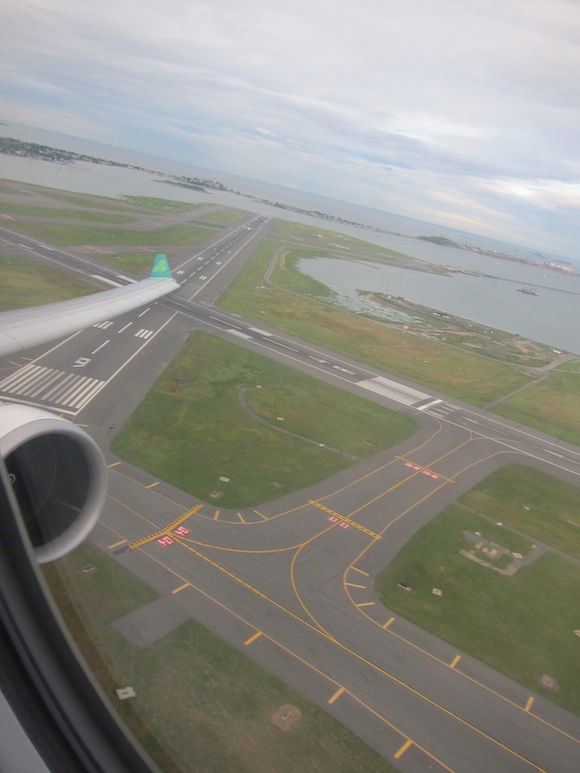 View shortly after takeoff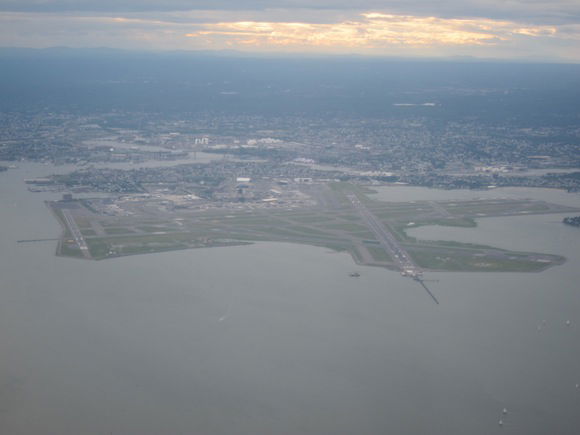 View of Boston Logan Airport after takeoff
About 20 minutes after takeoff the seatbelt sign was turned off. The flight attendants first distributed duvets for those that wanted to go straight to sleep, which was a handful of passengers. I also played around with the entertainment system, which featured plenty of movies, TV shows, and CDs. The selection was impressive, and I was even more impressed that the system can be used on the ground after pusback, which is always nice when you have a long wait. I decided to watch a few sitcoms with dinner.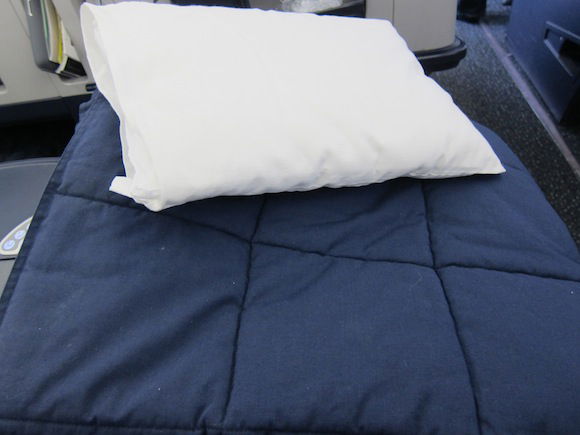 Duvet and pillow
At that point the dinner service began. The menu read as follows: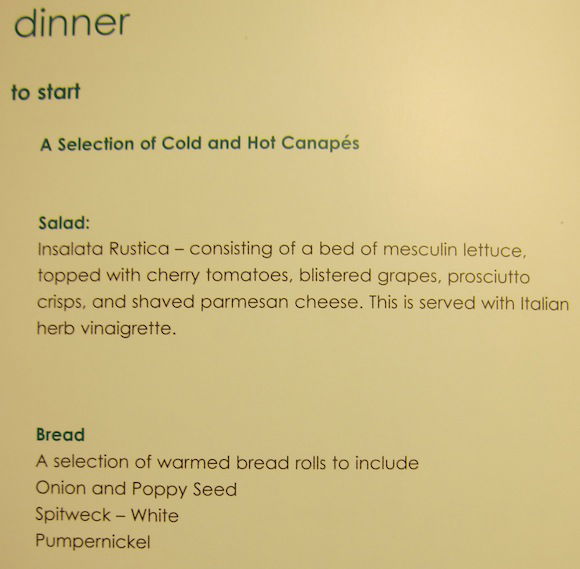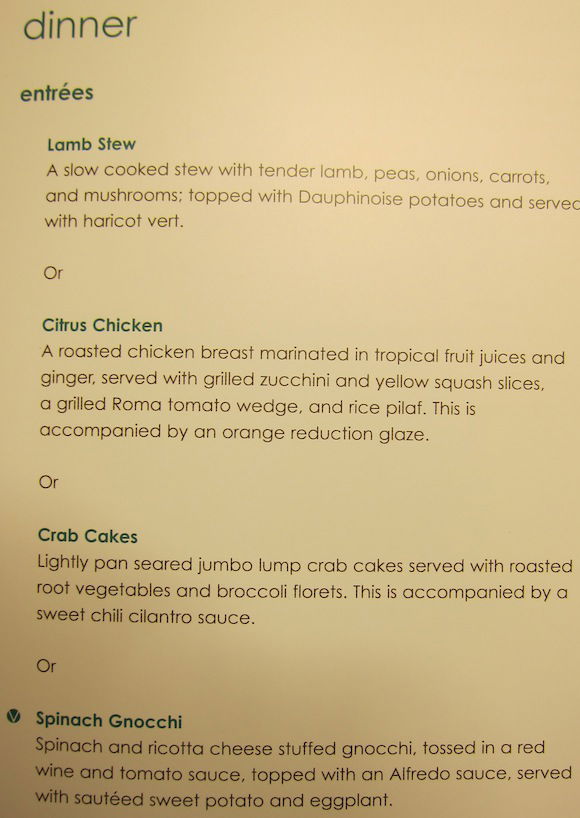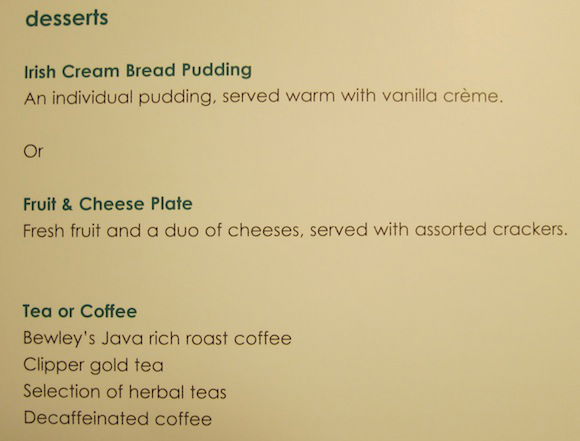 And the wine list read as follows: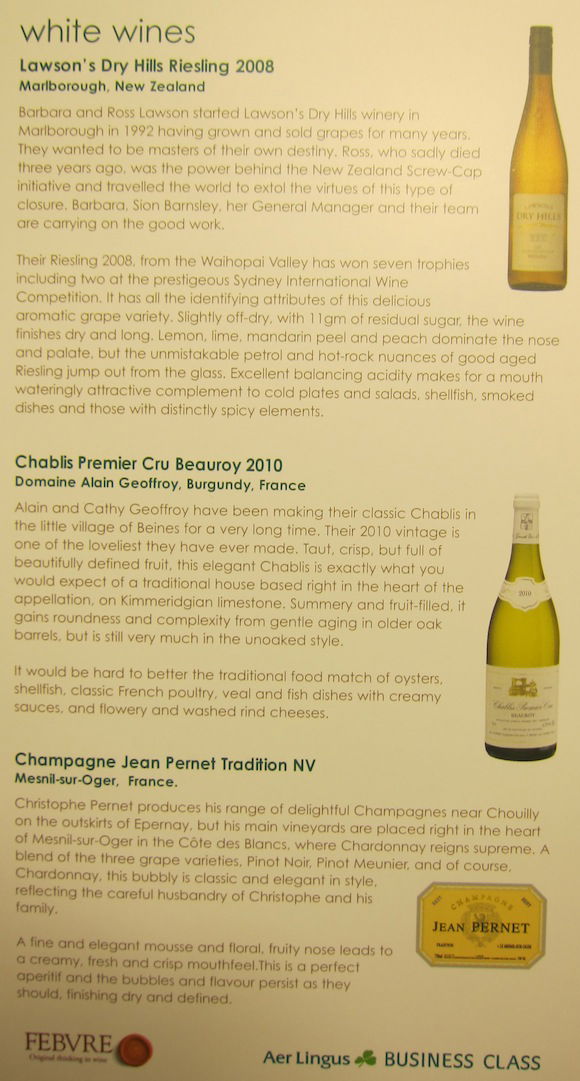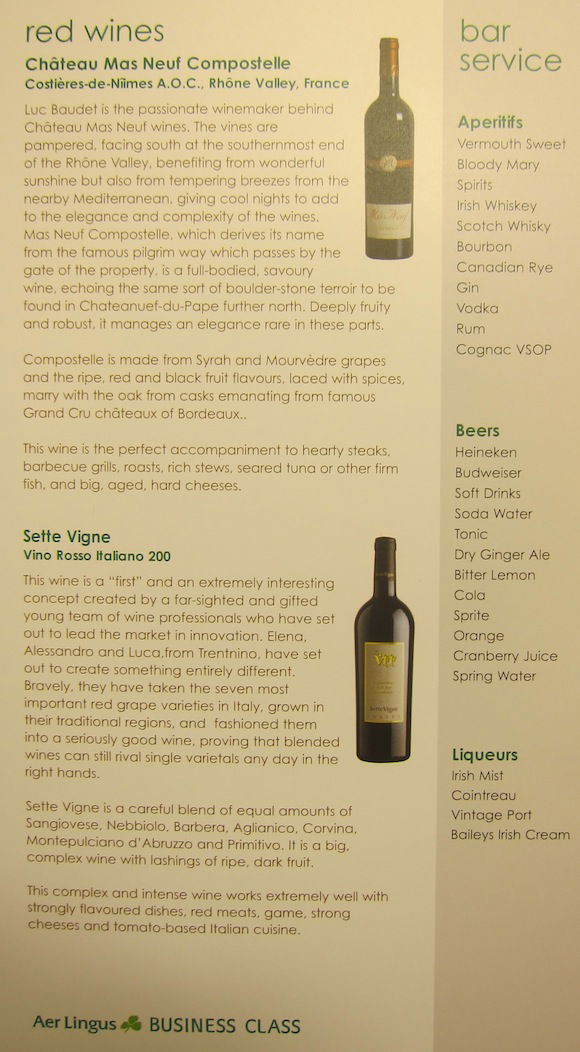 The entire service was done on a cart in order to be as efficient as possible. The purser, Tanya, was working my aisle, and she was friendly.
Service started with some cold canapes and drinks. I ordered a Diet Coke, which they cater in those miniature European cans, so they immediately gave me two.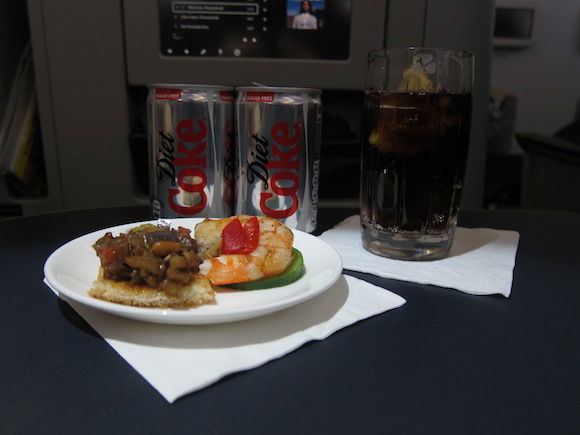 Drinks and cold canapes
About five minutes later the galley flight attendant came around with a pan filled with hot canapes, which she served on the same plate.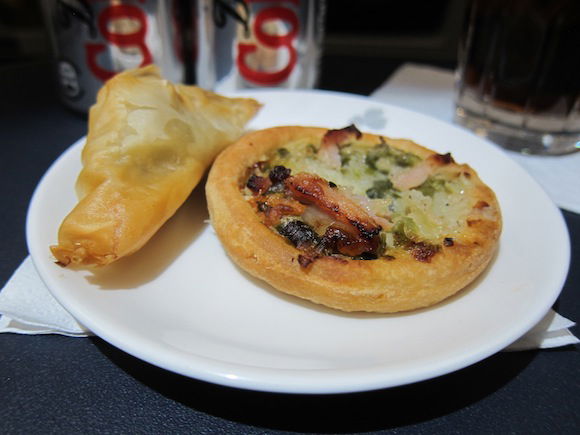 Hot canapes
The main course and salad were served on a single tray to minimize service time. The salad was tasty and served with a vinaigrette. For the main course I selected the spinach gnocchi. It was quite tasty though a bit too saucy/cheesy/greasy.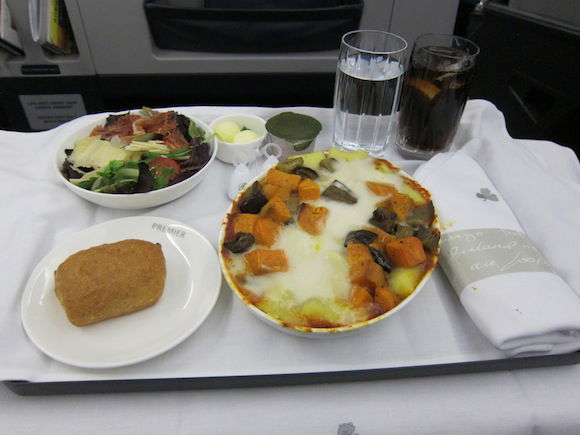 Spinach gnocchi
My friend had the lamb stew, which he also found a bit too greasy tasting, if that makes any sense.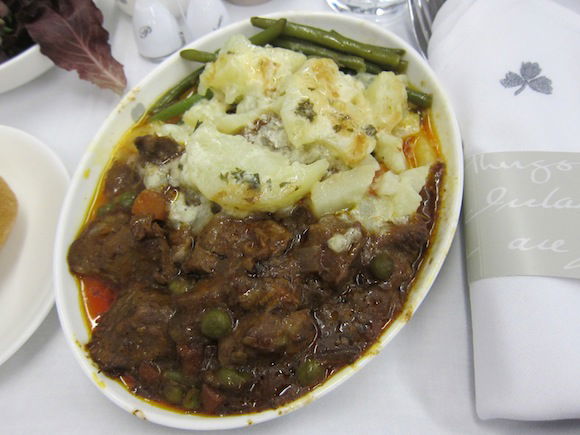 Lamb stew
The dessert was Irish cream bread pudding, which I have wet dreams about to this day. Simply spectacularly delicious. I ordered a glass of Baileys with it, which was served in the biggest mini I've ever seen on a plane.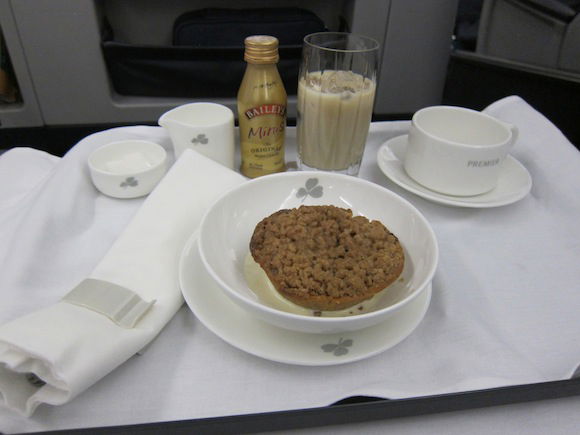 Irish cream bread pudding
The meal service concluded about two hours into the flight, with just under 3hr30min to go to Dublin.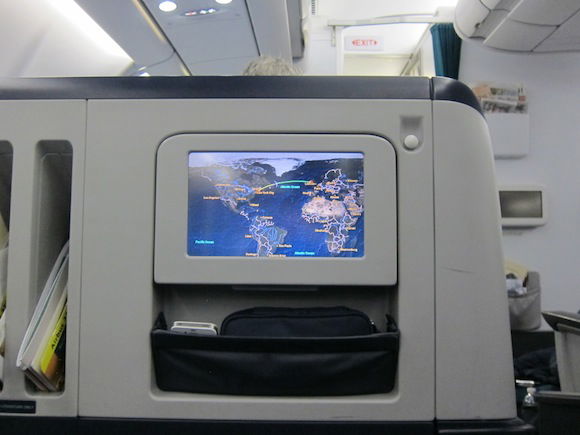 Airshow progress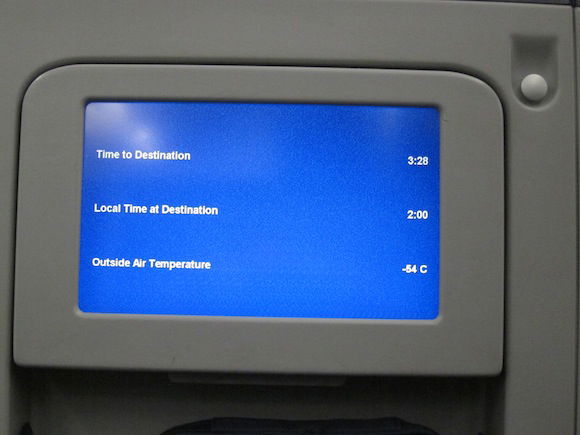 Time to destination
Much to my surprise I was exhausted after dinner, and conked out almost immediately, and slept till an hour before landing. Over two hours of sleep on a 5hr20min flight isn't half bad! In terms of comfort the seat was similar to American's, though I found the duvet to be especially comfortable.
Despite the short flight time a continental breakfast is served prior to arrival, and I appreciated the fact that the crew waited till about an hour before landing to do so (instead of the usual 90 minutes on most transatlantic flights). The breakfast menu read as follows:
While there's no good reason to be hungry only a couple of hours after dinner I took one for the team. 😉
I selected fresh fruit, a croissant, yogurt, and tea. The fruit was tasty, the croissant was made in an airline catering facility (you know what that means), and the yogurt was also quite good.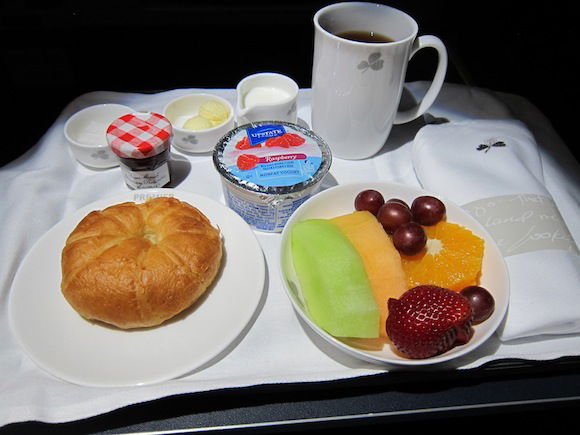 Continental breakfast
30 minutes out the captain came on the PA to make his landing announcement, informing us we'd be arriving about 15 minutes late.
It was rather stormy on approach so we hit a bit of chop on the way down. Despite that we had a smooth landing, and five minutes after that found ourselves at our arrival gate. On the taxi in Tanya made the landing announcement, and at the end there were a few words in Gaelic. For a moment I thought I was just really exhausted and my comprehension was getting bad, though apparently that wasn't the case.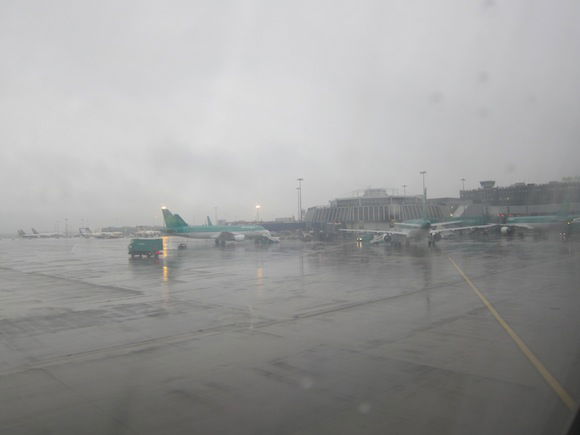 Taxiing to our gate
It was about a five minute walk to immigration, where there was only a very short queue.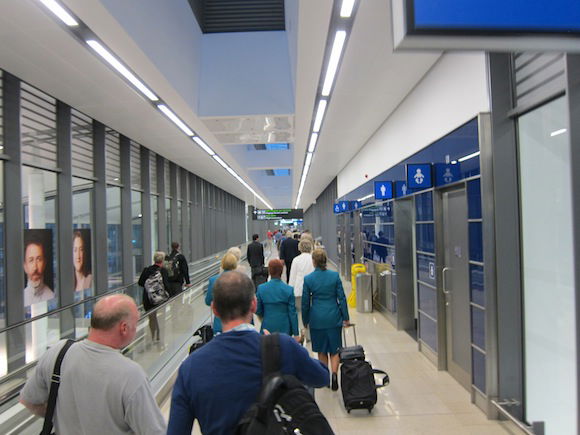 Walk to immigration
Within 15 minutes of landing we were in the arrivals hall, where we followed the taxi signs, and made it to the Four Seasons Dublin before 6:30AM.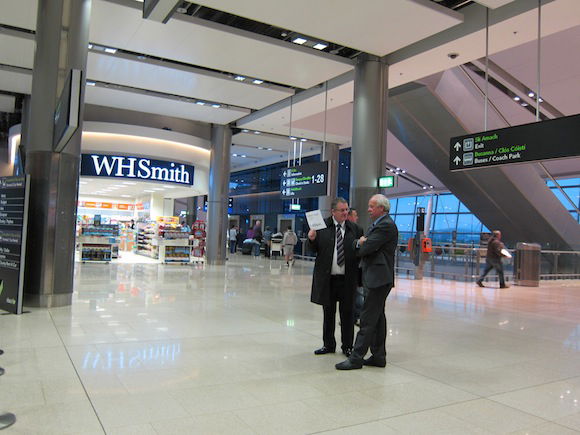 Terminal upon arrival
On the whole I was impressed by Aer Lingus. The crew was efficient and reasonably friendly, the food was quite good, and I found the seat perfectly comfortable for such a short flight. I'm even more impressed when I factor in the fact that I spent only 25,000 British Airways Avios for the one-way ticket in business class. 😉