---
As I had outlined in this post, I decided to book the Four Seasons for our three night stay in Dublin, frankly because it was more or less the cheapest option available. I booked through Virtuoso, which had a third night free offer. Our rate was 210 Euros per night (with the third night free), and for all three nights we got free breakfast, a room upgrade, and an 85 Euros hotel credit we could use anytime during the stay. So if you were to (theoretically) value the 85 Euros food and beverage credit at face value, we were paying just over 100 Euros per night. Given that the Westin was more than double that, it seemed like a no brainer. In the back of my mind I still questioned whether the hotel was any good since I'm at least to some extent a believer in the "you get what you pay for" theory, and obviously in this case we weren't paying a whole lot.
We took a taxi from the airport, which took around 30 minutes and cost ~35 Euros, arriving around 6:30AM. The hotel was nice enough to confirm in advance that we would be able to check-in early, which I found generous.
As we pulled up to the hotel I was really impressed by the beautiful classic exterior.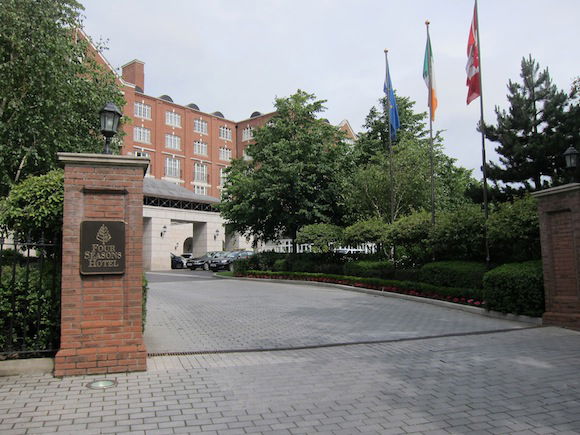 Four Seasons Dublin entrance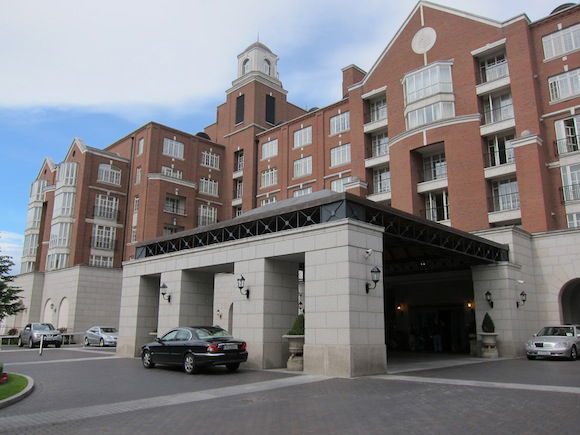 Four Seasons Dublin entrance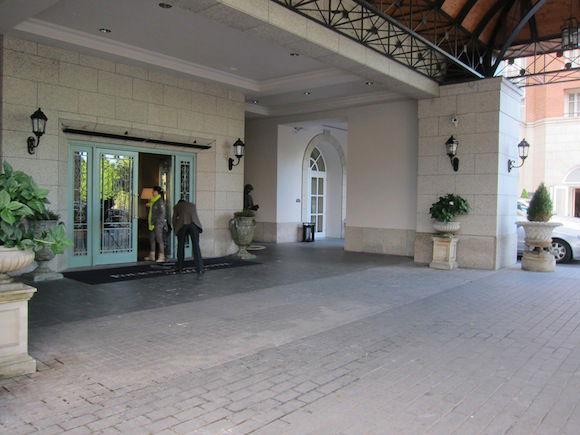 Four Seasons Dublin entrance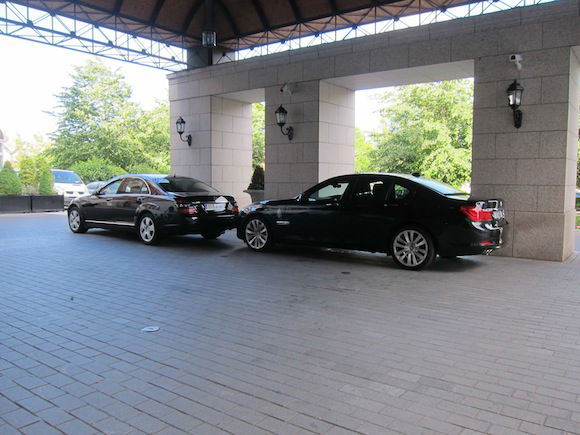 Four Seasons Dublin driveway
As soon as we pulled up we were approached by a bellman who offered to help us with our bags, though there was no need since we just had carry-on bags. He instead gave us two cold bottles of water, which was much appreciated.
Once in the lobby we turned right towards reception, where we were immediately helped.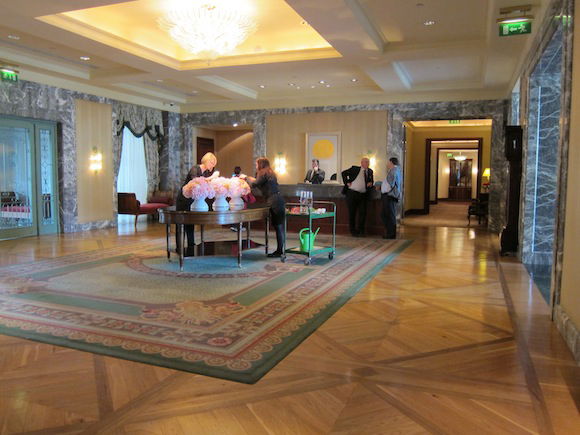 Lobby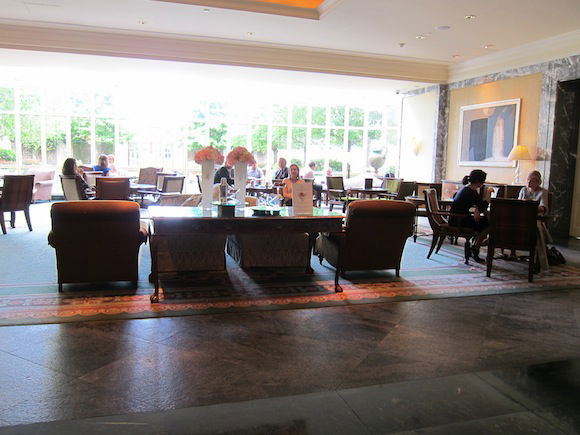 Lobby bar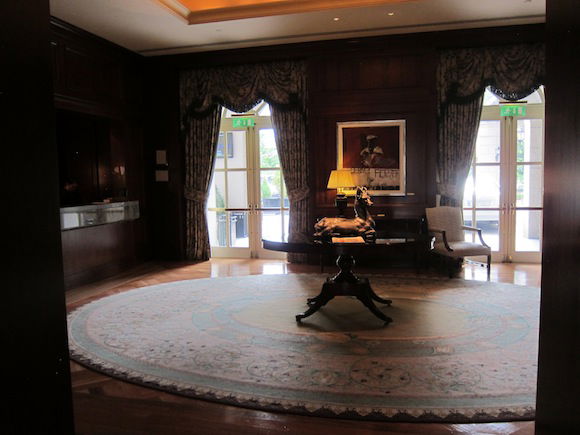 Reception
The front desk associate was friendly and efficient, and went over all the benefits we would be receiving for our stay courtesy of Virtuoso. He offered an upgrade to a junior suite for 50 Euros per night (we would have otherwise been upgraded to a deluxe room), which I accepted, though later regretted. Exhaustion does crazy things to you!
We were quickly on our way to the 3rd floor, where our room (319) was located on the right side towards the end of the hallway.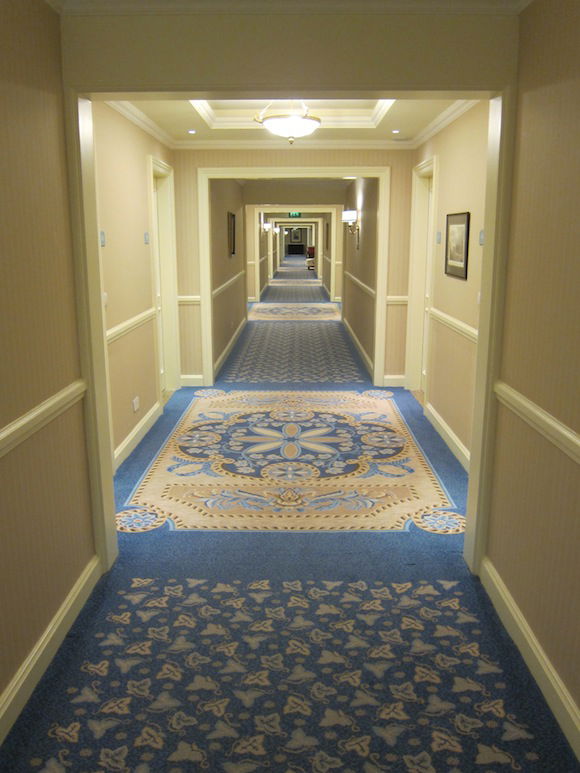 Hallway
The junior suite was around 600 square feet so very large, though it felt like there was a lot of "empty" space. At the entrance was a small foyer which led to the rest of the room.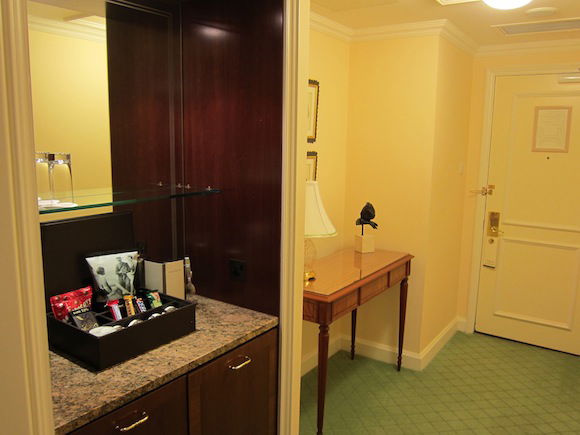 Foyer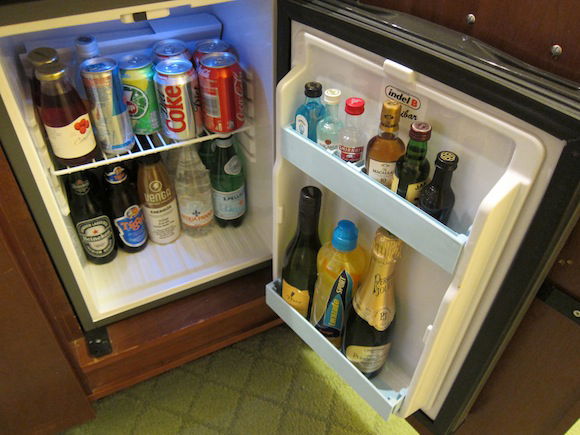 Minibar in foyer
Closest to the entrance was a desk with two chairs, and then a couch and lounge chair with ottoman.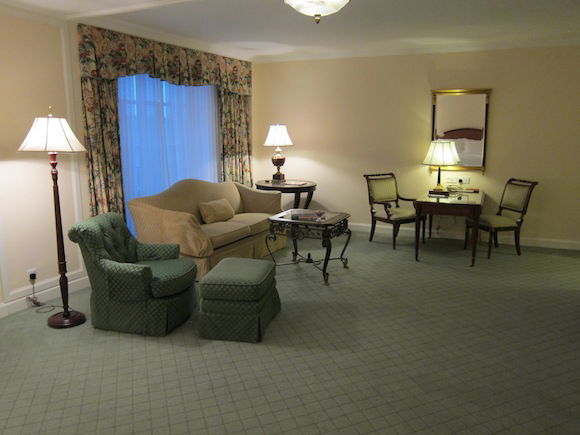 Living room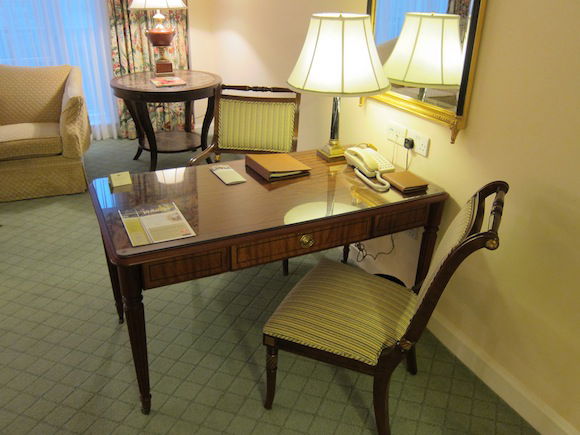 Desk
The bed was located on the other end of the room and was quite comfortable.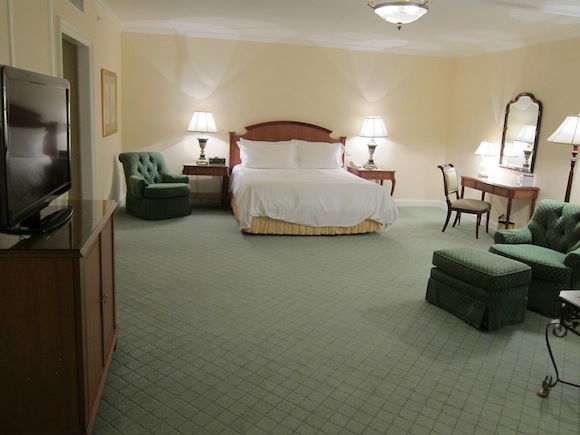 Bed
Next to the bed was the hallway to the closet and bathroom.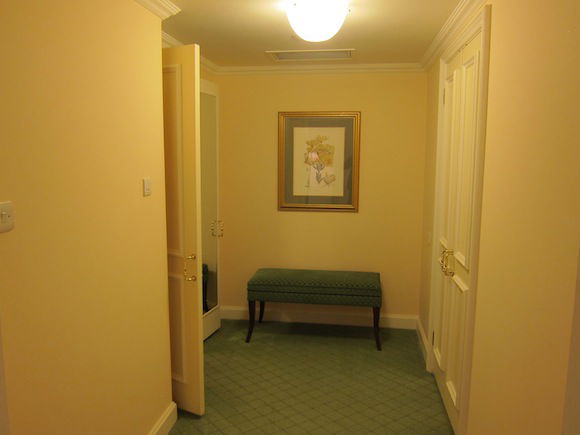 Hallway
The closet was huge — as large as some Japanese hotel rooms I've stayed in!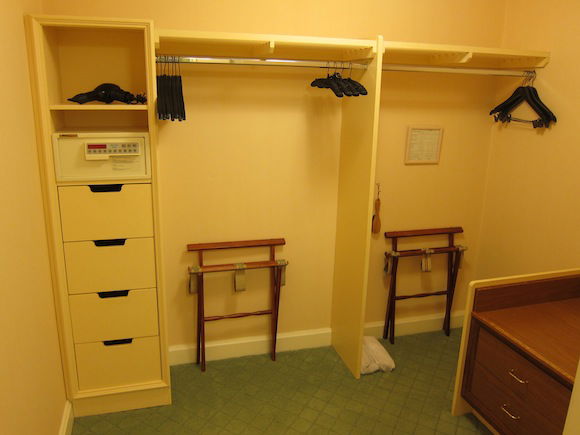 Closet
The bathroom featured a nice tub, shower, and toilet in a separate room.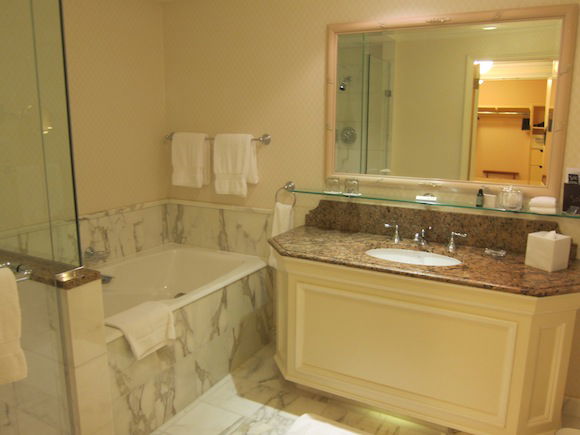 Bathroom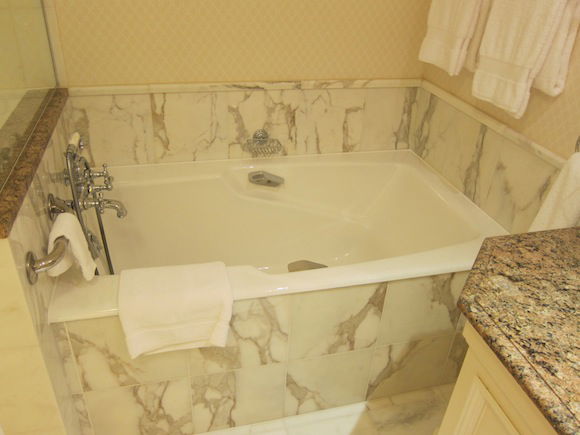 Tub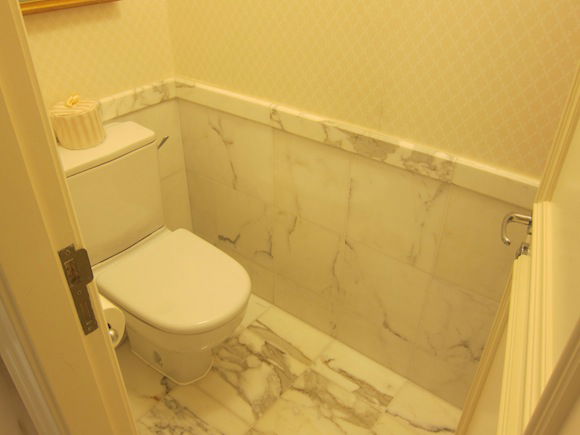 Toilet
Toiletry snobs will be happy to hear that the hotel stocks L'Occitane toiletries.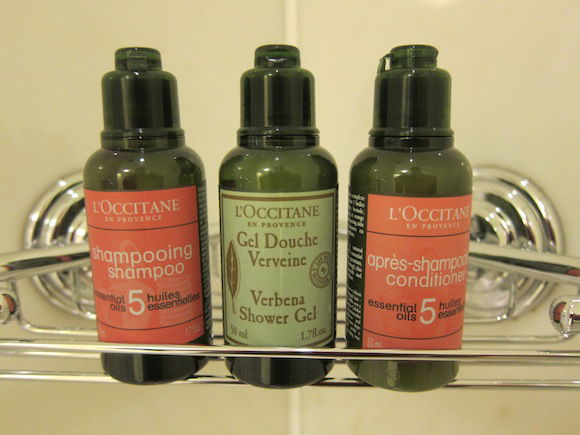 Toiletries
Since this is a Four Seasons the hotel does charge for Wi-Fi at the rate of 25 Euros per 24 hours. The good news is that this cost covered connectivity on up to four devices, and the charge was based on 24 hours of use (as opposed to a 24 hour period), so it lasted us throughout the stay. Not half bad!
When I first posted a picture of the room on my Facebook the comments included the following:
"The furnishings look like something you'd expect from a Holiday Inn."
"looks like my grandmothers living room"
"Yuck"
"I thought it was a Country Inn & Suites. lol"
"Good thing JRL isn't traveling with you, otherwise you would never heard the end of it for damaging his rep."
"What a dump!"
"thats 4 seasons? well…"
There's a fine line between a room being charming and a room being outdated, and chances are the hotel now fits into the latter category. That being said, I was perfectly pleased with the room, because it's exactly what I was expecting. I didn't honestly think I'd be paying about $150 per night in the peak of summer for a room at the most modern, recently renovated Four Seasons, but this certainly did the job!
The hotel does have very nice public facilities, including a nice gym with modern equipment and a reasonably nice pool.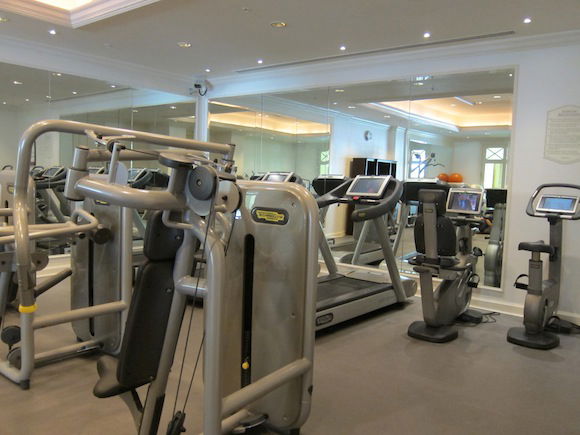 Gym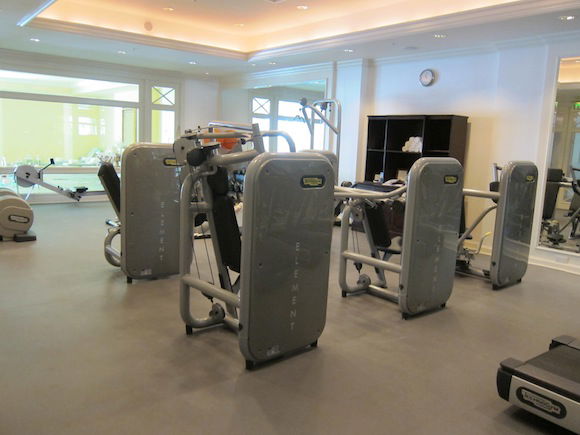 Gym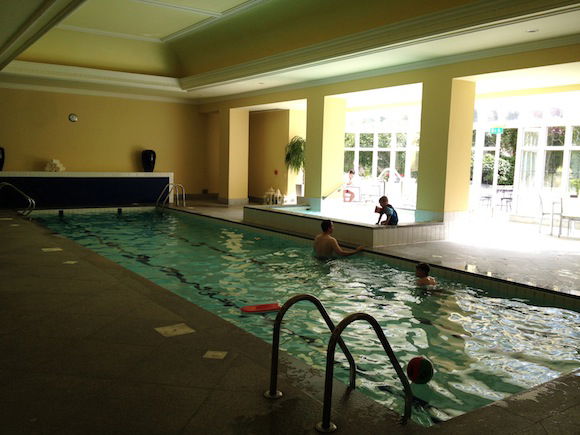 Pool
The hotel also has a very nice garden.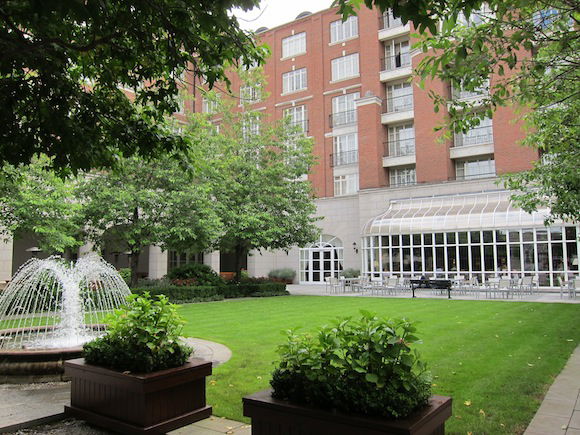 Garden
Our rate included breakfast, which was served daily between 7AM and 11AM at the hotel's restaurant, Seasons. Our rate included the full buffet, which offered a nice spread. It was by no means a buffet like you'd see in Asia (the St. Regis and Le Meridien Bangkok come to mind), though by European standards it was great. All the food was fresh and high quality as well.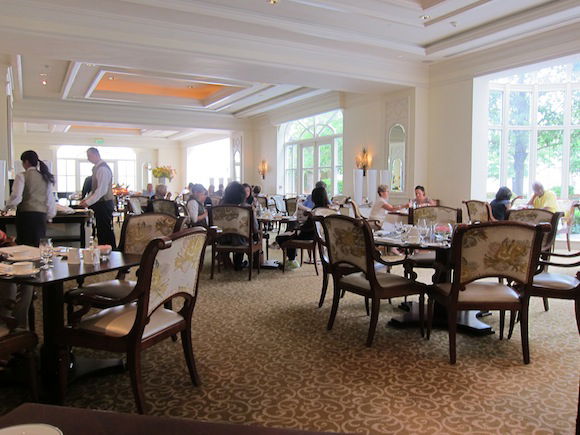 Seasons Restaurant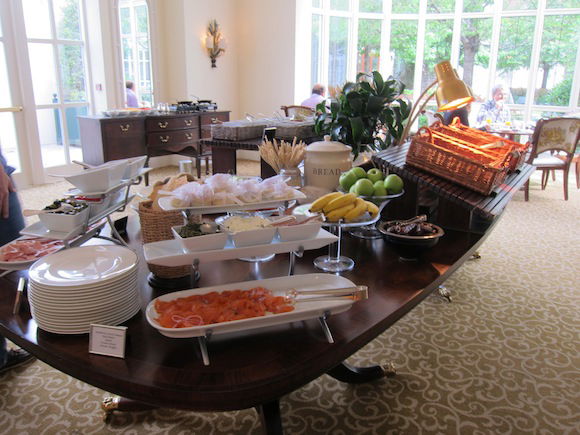 Breakfast buffet

Breakfast buffet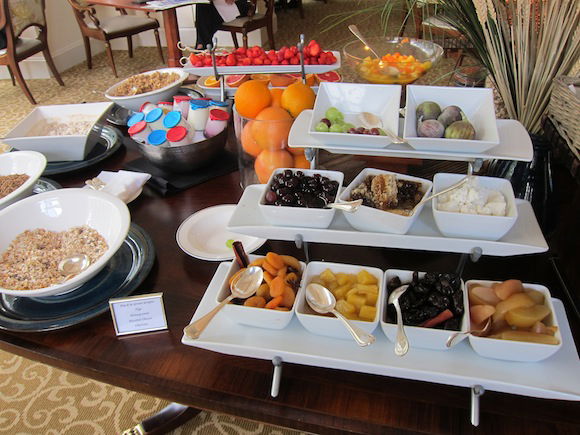 Breakfast buffet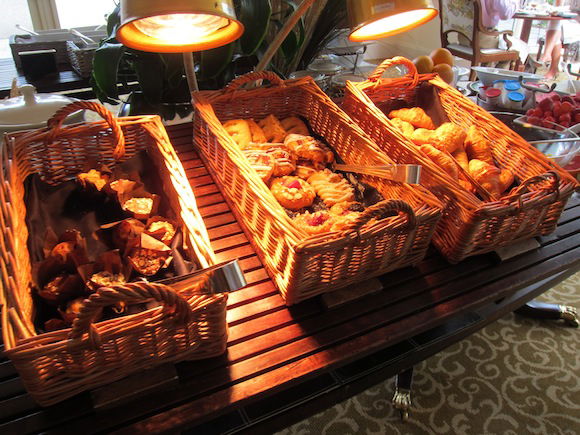 Breakfast buffet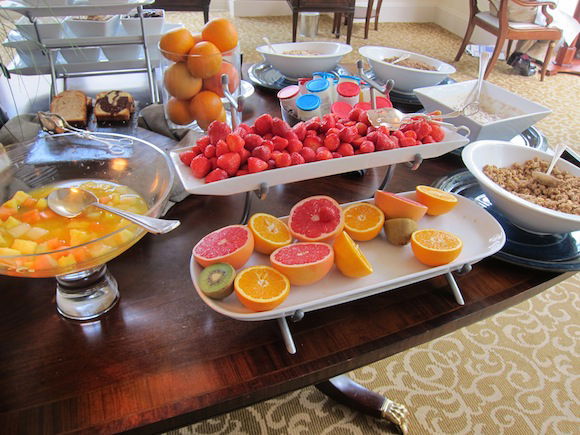 Breakfast buffet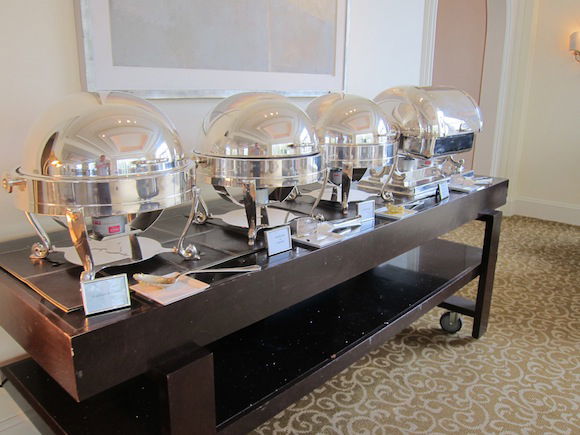 Breakfast buffet
While the property might not be the most physically stunning there is, I have to say the employees were phenomenally polished, professional, and attentive, and I have nothing but positive things to say about them.
The guests, however, were a different story. I've never been to a hotel with such "uppity" guests, that almost made me feel uncomfortable. The dining room was filled mostly with couples that wore suits to breakfast and potential cast members of "The Real Housewives of Dublin." It's just one of those hotels where you really don't feel comfortable walking around the lobby in shorts, not because of the employees, but because of the other guests.
The other thing worth noting is that the hotel isn't exactly in the city, though is about a 5-10 minute drive away. The good news is that the Four Seasons offers a complimentary BMW 7-Series car service into and out of the city during business hours, so that was awesome. The hotel's driver also happened to be incredibly helpful, so the drive to/from the city center proved to be quite fun and insightful.
On the whole the hotel was exactly what I had expected — Four Seasons service, an older property, and not the most convenient location for sightseeing. But I certainly feel we got a good value for what we paid.
Next time I go to Dublin I'd probably stay in the city at the Westin, assuming the rate is reasonable. But I wouldn't hesitate to recommend the Four Seasons on a good rate, assuming you're not expecting the world's most modern property.