---
Okay, I'm not sure what the title of the post has to do with anything, but I love Lucky Charms cereal, my "name" is Lucky, and Lucky Charms' mascot is Irish, right? As you can see we have very high standards here at One Mile at a Time when it comes to post titles. 😉
Ever since I was young I've wanted to visit Ireland. It's a country that has always fascinated me, but for whatever reason I kept pushing off visiting. I guess part of it was that Ireland doesn't fit too well into any "aspirational" award redemption, given that there aren't very many exciting airline products to Ireland. Furthermore, I never really saw any compelling mileage "specials" that would cause me to book a trip there. I knew I'd eventually make it there, I was just putting it off for all the wrong reasons until the perfect opportunity rose.
In April that opportunity finally arose when I found out it was possible to redeem 50,000 British Airways Avios for roundtrip business class between Boston and Dublin. While Aer Lingus business class might not seem like the most "aspirational" airline product, I've always been kind of curious about their product and have wanted to try them. And at 50,000 Avios roundtrip it sure was an amazing value.
The reason this was so cheap is that British Airways' new (devalued) award chart is distance based, and the cost for a roundtrip distance of 6,000 miles is 50,000 Avios in business class or 25,000 Avios in coach. As luck would have it, Boston to Dublin is just under 3,000 miles each way, so it would be just 50,000 Avios roundtrip (vs. the next distance up on the award chart, which would have been 80,000 Avios roundtrip).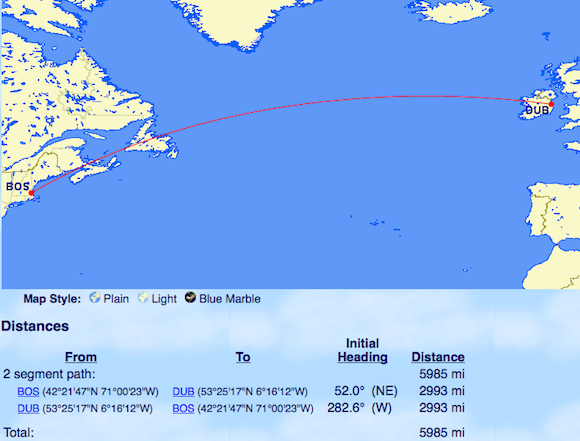 The other downside to Avios points is that British Airways imposes huge fuel surcharges on award redemptions, in particular to Europe. As it turned out Aer Lingus doesn't impose fuel surcharges on award redemptions, so the total cost of taxes/fees was under $150 roundtrip per passenger.
Unfortunately there's no way to search Aer Lingus award space online (at least not the space that British Airways has access to), so I called up the Executive Club call center, which is one of my least favorites. After about 30 minutes on the phone I had the following tickets booked in business class for me and a friend for 50,000 Avios roundtrip per person:
06/27 Aer Lingus 136 Boston to Dublin departing at 6:25PM and arriving at 5:20AM (+1 day)
07/04 Aer Lingus 137 Dublin to Boston departing at 2:15PM and arriving at 4:15PM
Since the trip originated in Boston and I live in Tampa, I booked a separate ticket from Tampa to Boston on American for about $250 roundtrip, which I won't be covering in this trip report since they were run of the mill domestic flights. I scheduled an overnight in Boston in each direction to leave plenty of room to connect, and since I haven't been in Boston for years, so was interested in seeing a bit of the city again.
I'll cover the actual hotel and itinerary decision-making process in the individual installements, though those are the basics of how my trip to Ireland came to be.
It's also worth mentioning that this deal is alive and well, so if you're interested in visiting Ireland this is about the most economical way to do so. If you have any questions regarding my trip or how to book Aer Lingus awards, just let me know in the comments section.