The name should have raised a red flag. Kind of like how AirTran's name bares a striking resemblance to the public transportation available between Kennedy Airport and Jamaica (Queens, not the one in the Caribbean).
As I've mentioned before, I'm spending six days in Ireland right now. The first three were spent in Dublin at the Four Seasons, and for that we didn't have a car, since we figured it would be easier to just get a cab when necessary. And that all worked out very well.
We didn't actually finalize the last three days of the trip until last night, since we wanted the flexibility to go where we wanted based on feedback we got from locals.
So late last night I tried to finally book a car. I had researched this weeks ago and read that in Ireland only Dooley's and Payless will rent cars to those under 25 (even with the hefty underage surcharges). The rest of the agencies won't rent cars to those under 25 at any cost.
So late last night I went to Dooley's website to make a booking. It wasn't cheap at all, about 80 Euros per day including a navigation system and the underage fee. But it's not like I had a choice, since we needed a car in order to see anything outside of Dublin.
I made the booking, thinking that when I hit "Confirm" the booking would be confirmed. Instead I get a message saying that my request for a car is confirmed, and I'll be notified by email within 24 hours if they have availability. Hmmm, fine, whatever. I would've preferred a bit more disclosure, especially since I had made a non-refundable credit card deposit and the rental was 12 hours after I put the request in, but it wasn't a big deal.
At around 8AM the request was confirmed, which was fine for a noon pick-up.
We go to the airport to the car rental counter, and this is where the fun begins.
Dooley's and Payless share a counter at Dublin Airport. The two girls working the desk seemed to be best friends. The one working the Dooley's side of the desk had the personality of a rock (I'm probably being generous here). Meanwhile, the girl working the Payless side of the desk had on a Catholic schoolgirl Halloween costume, and acted the part too (again, I'm trying to be as politically correct as I can here, and I'm struggling).
I presented my drivers license and a credit card, and she typed away for a few minutes without saying a word. Here's a video of that:
Or something like that.
After about five minutes she gets on the phone to tell someone at the car center to put a GPS in our car. After hanging up she calls back right away and says "wait, make sure you don't give them the nice car since they're under 25." Gee, thanks for saying that right in front of us.
She then types. And types. And types. For literally 20 minutes without saying a word to us. Then she makes another phone call to verify that our rate was correct, because it "seemed too low" to her. Mind you, we're paying 80 Euros per day. Seriously?
After standing at the counter for over 30 minutes we finally had the receipt, and were directed to go to the shuttle center to pick up our car. We're told a Dan Dooley bus should appear within a few minutes.
We stand there and wait. And wait. And wait. Out of boredom after 20 minutes I decided to start snapping a picture of every Dollar/Thrifty shuttle that stopped at the station. Yes, I counted seven, and I only started counting after 20 minutes.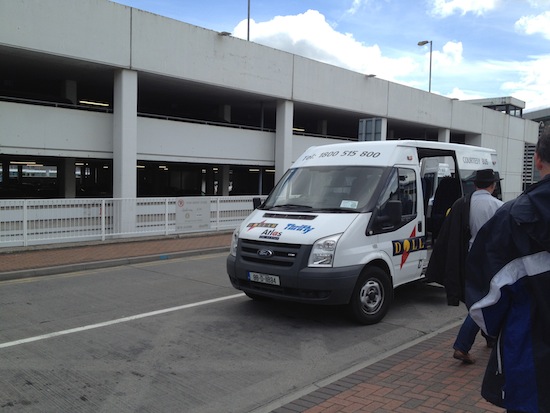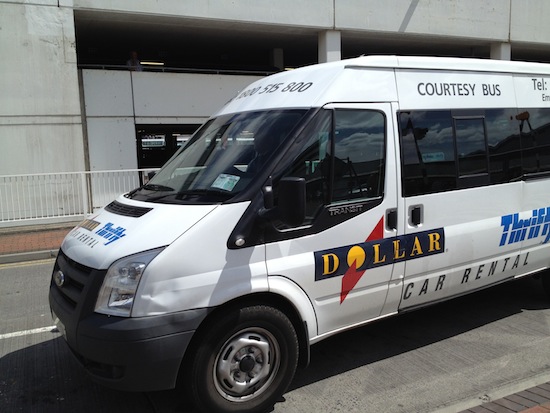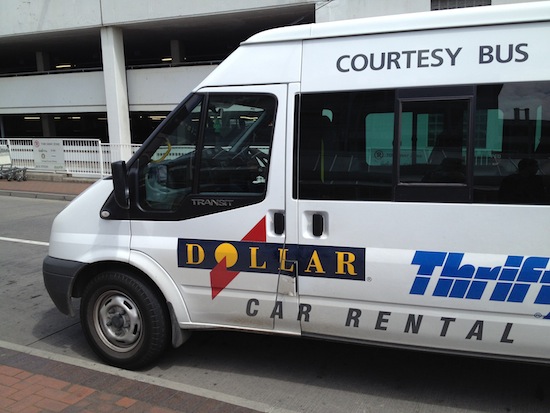 At that point I went back inside to ask my two favorite schoolgirls when I could expect the shuttle to arrive. Unfortunately there was a bit of a queue, as one of the airport workers was trying to hit on them, though eventually they acted surprised and said they'd call, so I went back outside.
After only Lord-kn0ws-how-long, the Dan Dooley bus shows up. We get in the shuttle, which was about ten times older than any of the other shuttles, and sit there and wait. It's not like they had any other customers, though we sat there as the shuttle bus driver was talking to a friend, where every second word was "f*&k." Nice.
Then we drive to the lot. The shuttle bus was playing Britney Spears music. "Oops I did it again," to be exact. The song would've been nice enough if it was actually sung by Britney Spears, but instead it was some weird version by a guy that couldn't sing. Oy. At this point I'm feeling like I'm in the Twilight zone.
Then we get to the lot, only to find the car isn't ready. After waiting another 15 minutes the car is finally ready. It was apparently being "washed," which translates to them hosing it down.
Not surprisingly it's an old, beat up Ford Mondeo. It had 60,000 km on it. For rental cars, miles/km are like dog years, given how carelessly people drive them. I don't think I've ever driven a rental car with 60,000 km on it. Not surprisingly it was in horrible condition too. The stick was stickier than the syrup dispenser at IHOP.
While I have no problem driving stick, driving on the left side of the road can take some getting used to. What took even more getting used to was that the car started vibrating when I went over 80km/h, and also that in order to keep the car straight I had to tilt the steering wheel about ten degrees to the left.
Worst of all is that when we made it to our destination I noticed that the gas tank was only half full, while the papers claimed we left on a full tank of gas. There's no way we burned that much on a 30 minute drive.
Ireland, you're a beautiful country, but I doubt I'll be exploring your hills and valleys again till I'm 25. And Dan Dooley, whoever you are, you suck.