---
At around 1:45PM we boarded our flight back to Boston through door 2L, and turned left into the business class cabin.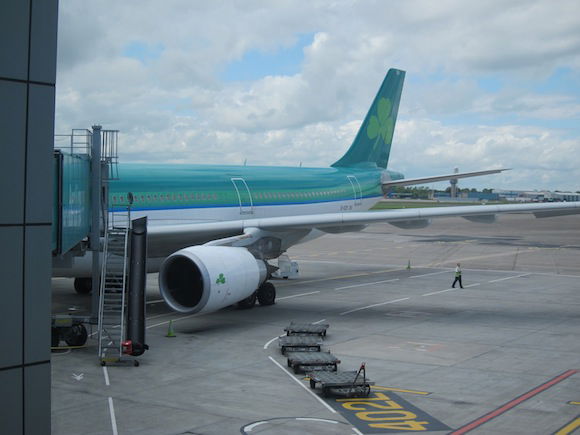 Aer Lingus 13
Dublin (DUB) – Boston (BOS)
Wednesday, July 4
Depart: 2:15PM
Arrive: 4:15PM
Duration: 7hr
Aircraft: Airbus A330
Seat: 2C (Business Class)
Within moments of settling down we were offered pre-departure beverages. I ordered orange juice, while my friend ordered champagne.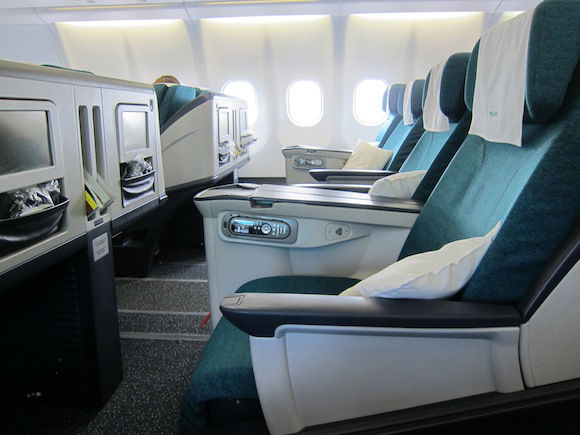 Business class cabin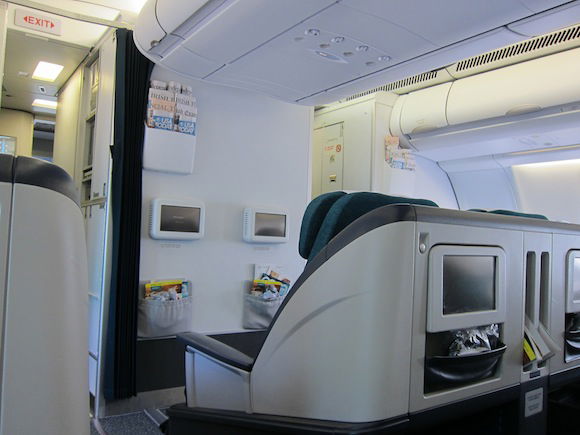 Business class cabin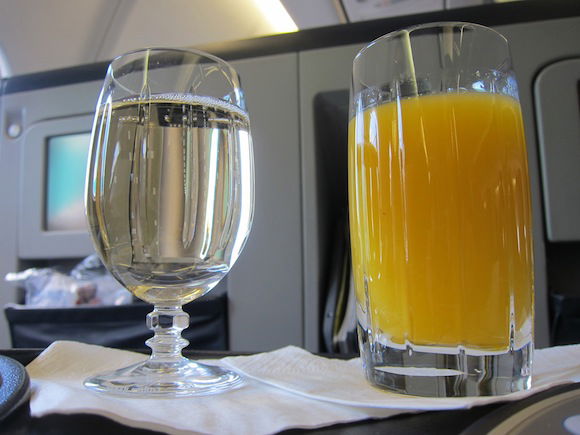 Pre-departure beverages

Shortly thereafter we were also offered amenity kits and the menu. The amenity kits on this flight were in transparent bags, unlike the ones on the outbound (perhaps for the convenience of those with onward connections).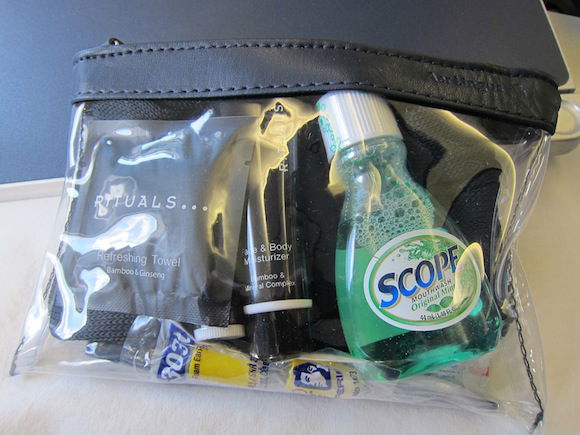 Amenity kit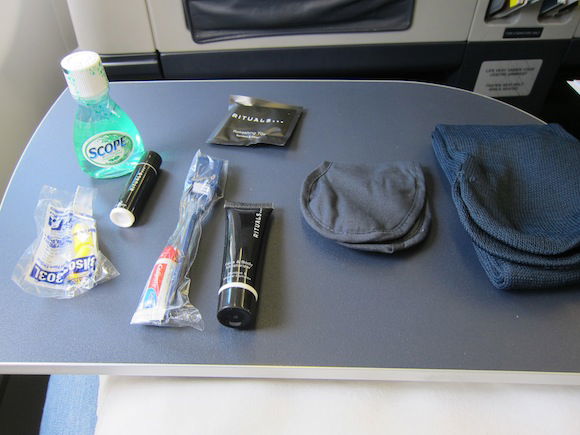 Amenity kit contents
Within about 25 minutes boarding was complete, and unlike on the outbound, business class was fairly empty, with only about a dozen seats taken. We were the only ones seated in row two.
As the door closed the captain came on the PA to advise us of our flight time of 6hr20min, which he estimated would put us into Boston about 15 minutes early. We pushed back right on-time and began our rather long taxi to runway 10, which is the furthest from the terminals.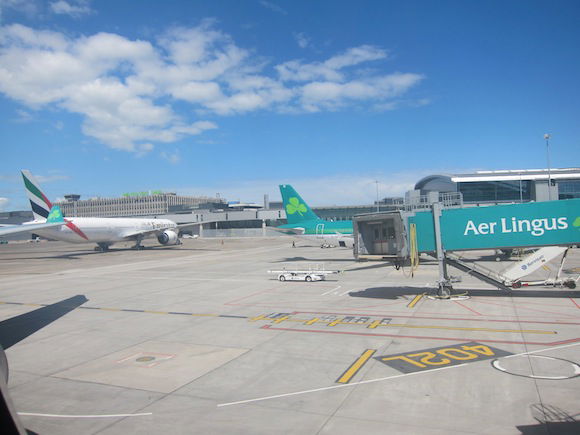 Pushing back
We followed an Emirates 777 all the way to the runway, which took off right before us.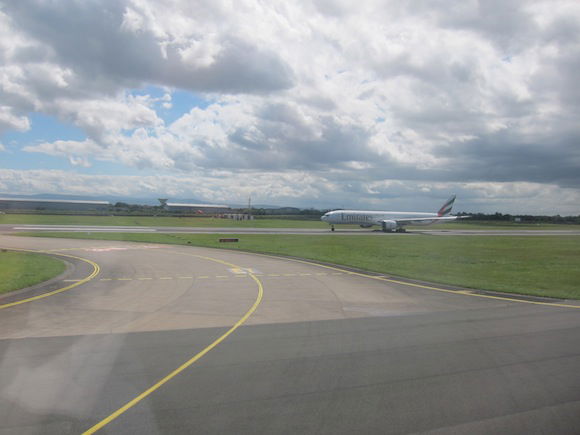 Emirates 777 taking off
It was a beautiful afternoon (go figure that it was the first nice afternoon during our time in Ireland!), so the views during takeoff and the climb out were beautiful.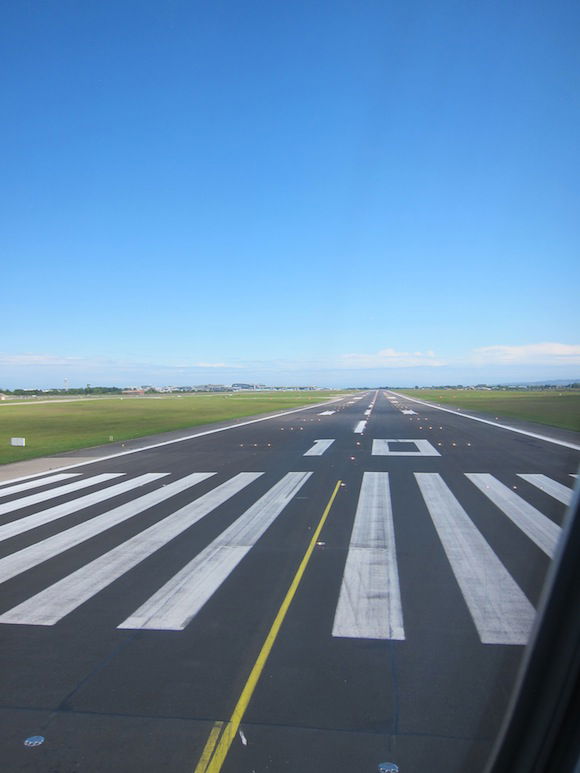 Lining up on the runway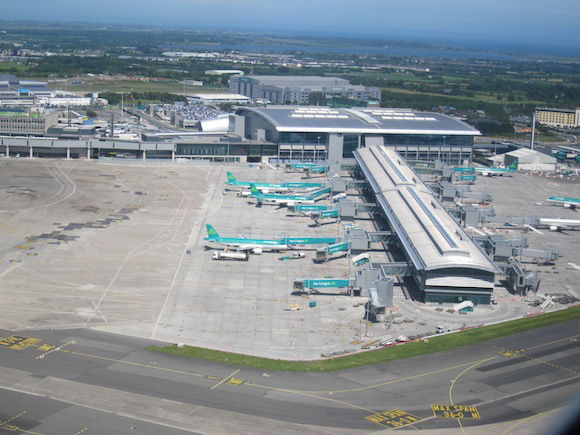 Shortly after takeoff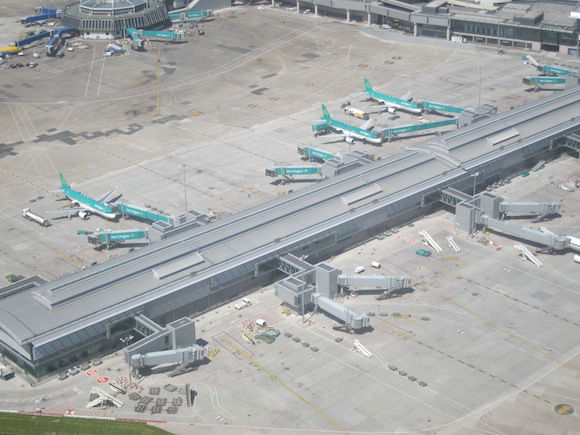 Shortly after takeoff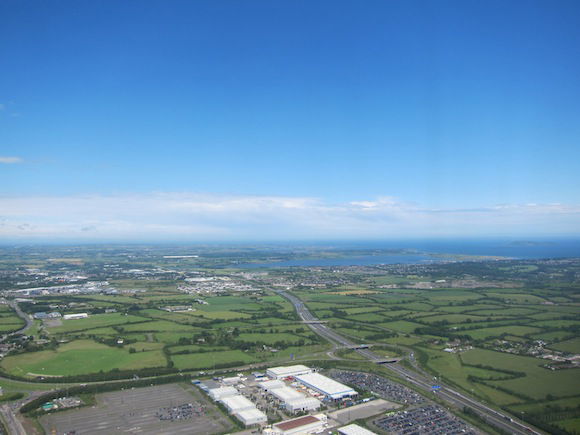 Shortly after takeoff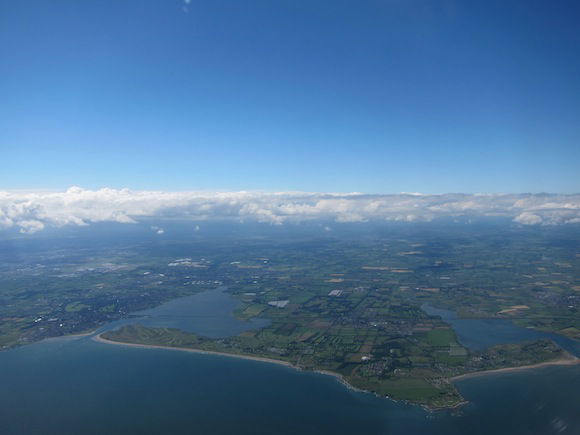 Shortly after takeoff
As we climbed out I went through the entertainment selection to try and choose a movie. The selection was slightly different than on the outbound since it was now July (while our outbound was in June). In the end I decided on "Game Change," which was about John McCain's selection of Sarah Palin as his running mate in the 2008 election. I'm not sure how accurate the movie is, but it sure was fascinating.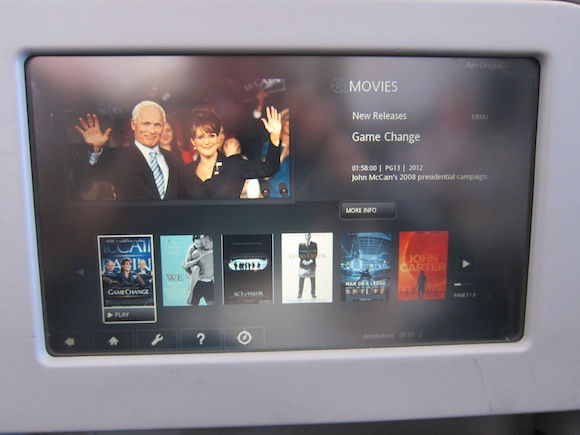 Entertainment system
15 minutes after takeoff the seatbelt sign was turned off, and a few minutes after that the lunch service began. The menu read as follows: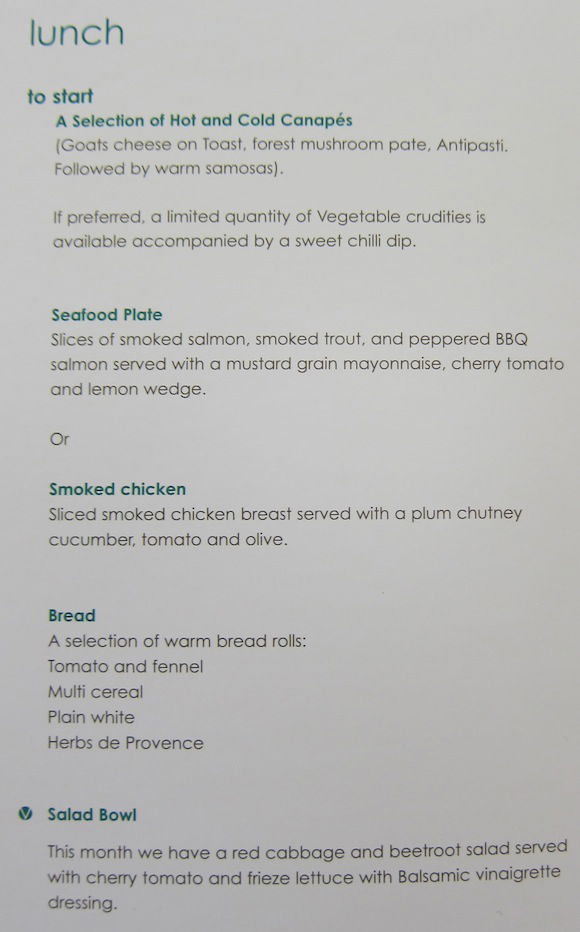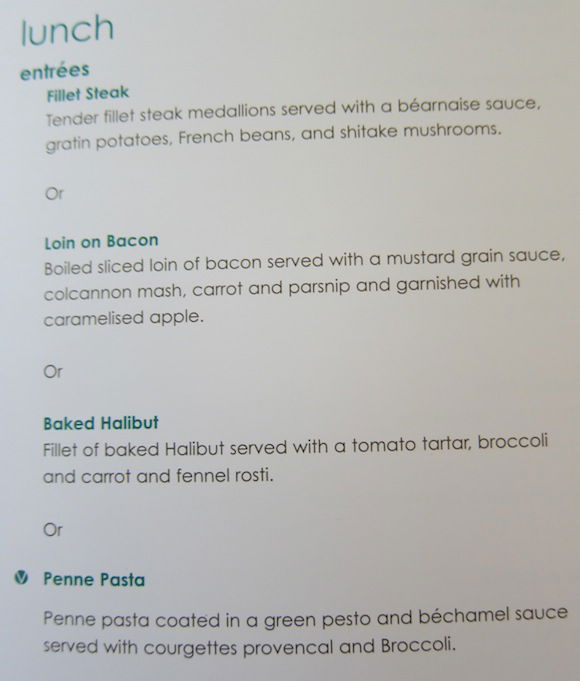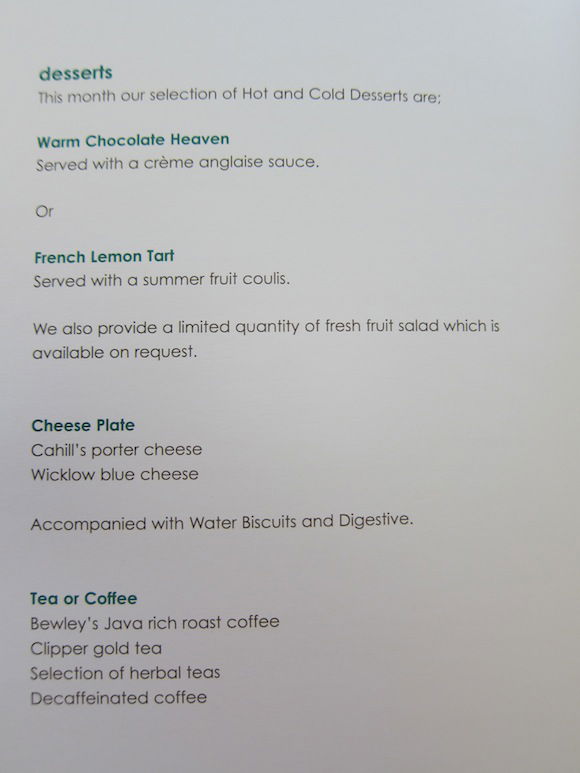 The return menu was more extensive than the outbound menu, which makes sense given that the outbound is a short overnight flight, while the return is a daytime flight.
About 30 minutes after takeoff the flight attendants were in the aisle serving drinks and canapes. I ordered a Diet Coke, which was served with goats cheese, a mushroom pate, and antipasti.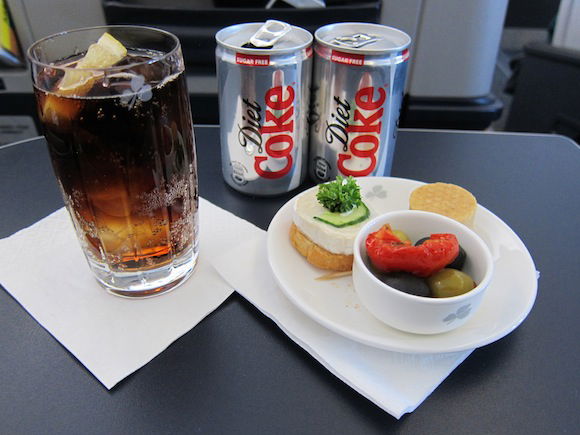 Diet Coke and cold starter
A few minutes later another flight attendant appeared to offer the hot starter, samosas, out of a pan.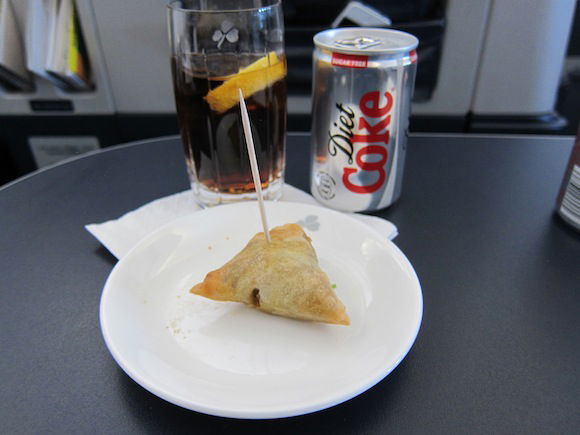 Samosas
After that the appetizer cart was rolled around, with the option between a chicken and seafood plate. I went with the former, which was served with a salad and selection of breads (I chose tomato and fennel bread).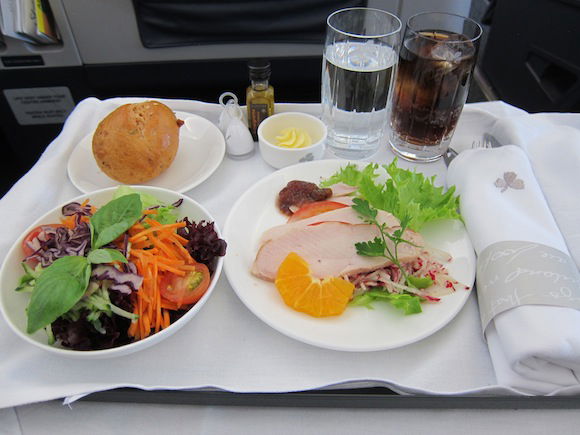 Chicken starter and salad
Next the main course was served. I selected the fillet steak, which was tasty, including the gratin potatoes and bearnaise sauce.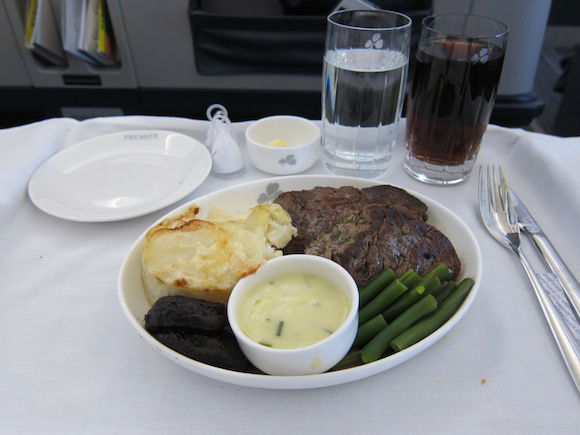 Fillet steak
Much like on the outbound, the real highlight was the dessert, which was delicious chocolate cake with creme anglaise sauce. The name of the dish — warm chocolate heaven — summed it up quite accurately.
I was also proactively offered a cheese plate with a selection of crackers.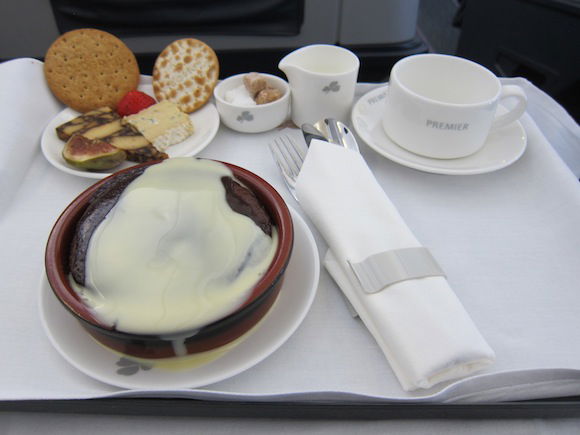 Warm chocolate heaven
Then to finish off the meal I was offered coffee and Baileys.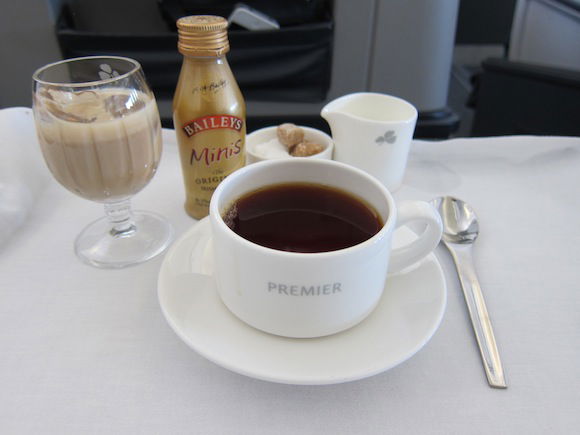 Coffee and Baileys
The service throughout the meal was good, in an unmemorable way (and I don't mean that in a bad way). The flight attendants did their job with a smile, were extremely efficient, and were glad to fulfill all requests. Nonetheless the service wasn't especially personalized, but then again this is business class and not first class, so that's to be expected.
The lunch service took about 90 minutes, so after my meal and movie finished I decided to take a nap. I slept till about 75 minutes before landing, at which point afternoon tea was served. The menu read as follows: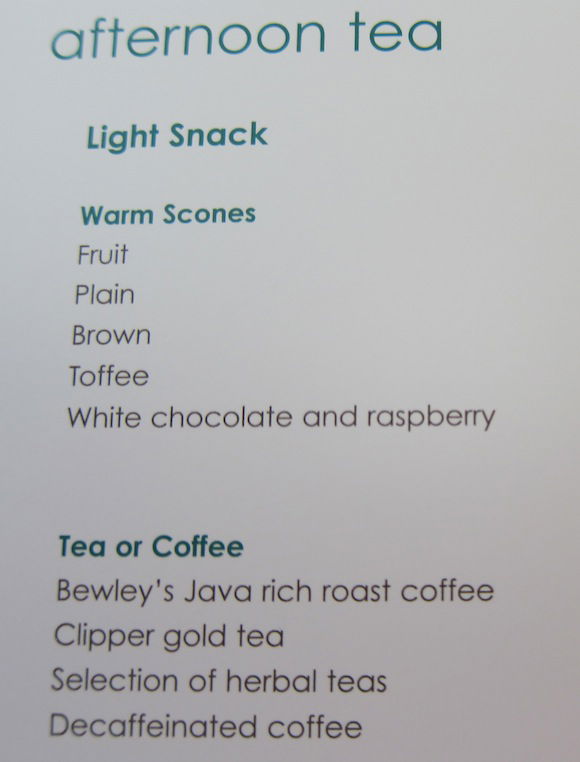 The service consisted of a single tray with a plate of roast beef and then a selection of scones, served with jam and clotted cream. The scones were fresh and warm, and the roast beef was quite good as well.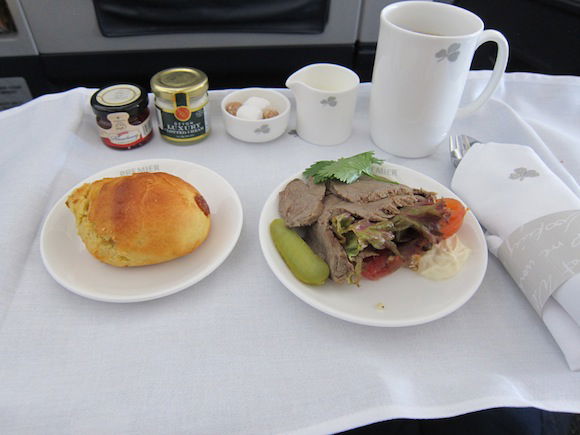 Afternoon tea
Extra scones were offered once the service was complete.
About 30 minutes out we began our descent and the captain came on the PA to advise us that we should be arriving about 15 minutes early. The descent was smooth, and about 20 minutes before landing the seat belt sign was switched on.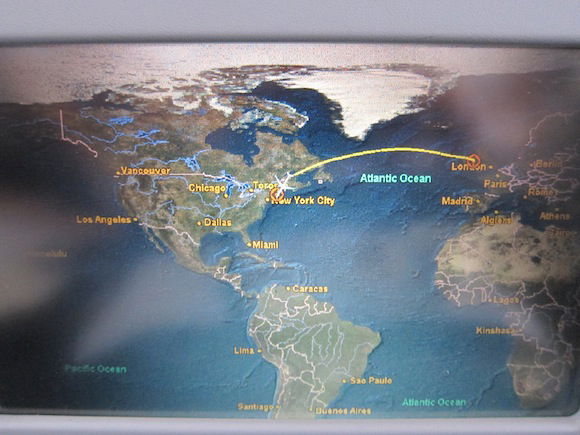 Airshow on approach
It was a beautiful day in Boston and given how close the airport is to the city, the views were great.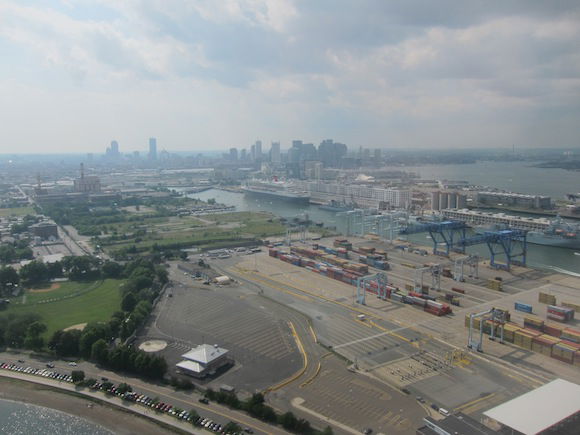 Views on approach
The approach seemed normal and we even flew over the runway threshold (we were maybe 50-100 feet over the runway) before the pilots full throttled it and pulled up for a go around. This was only my second go around in more than two million flown miles, and this one was definitely a lot less scary than my first one.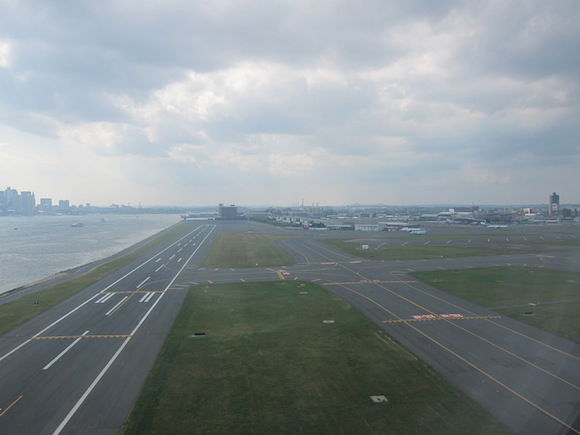 On approach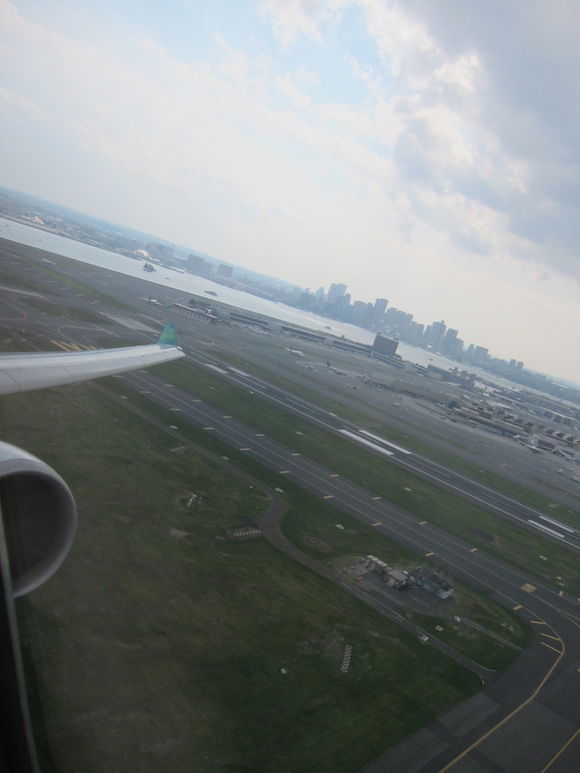 Go around!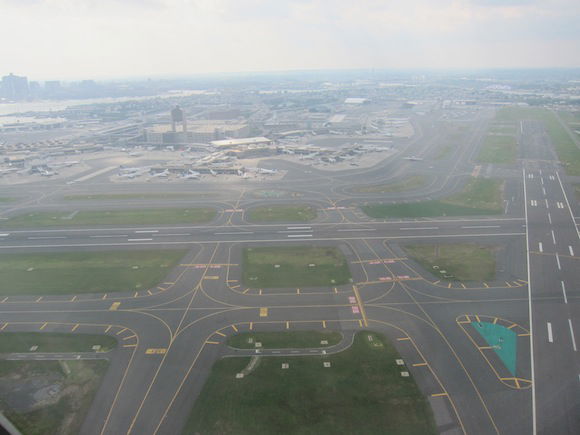 Views after the go around
We simply made a pattern around the airport (with right turns), and as we were on the downwind leg (flying the opposite direction of the runway we were going to land on) the captain advised us that some speed indicators went off on approach so he decided to execute a go around.
With the second approach we had a smooth touchdown, though the go around cost us about 15 minutes, causing us to "only" arrive on-time.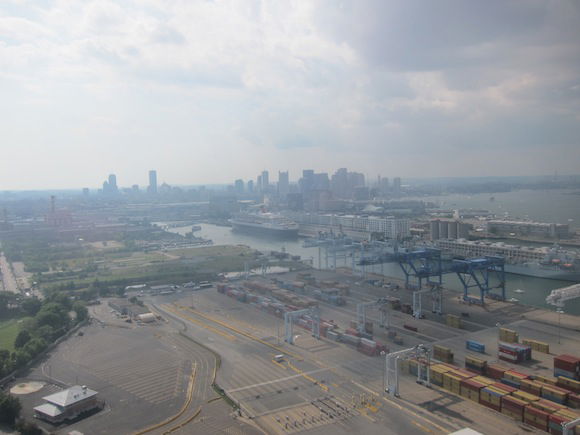 On approach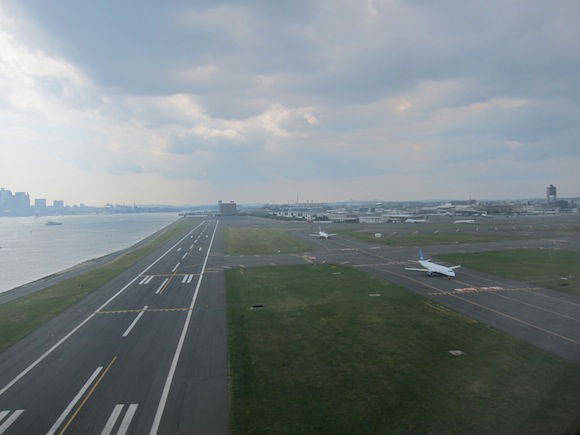 On final approach
After landing we had a quick taxi to the gate, where we parked right next to another Aer Lingus Airbus 330 bound for Shannon. Even though I don't mind customs and immigration nowadays thanks to Global Entry, it was still nice to get off the flight as "domestic" passengers.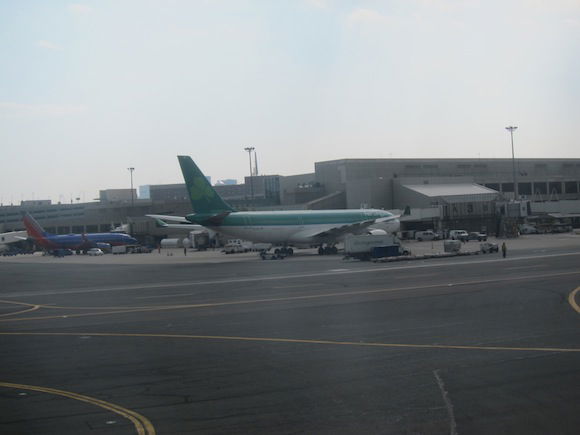 Aer Lingus A330 bound for Shannon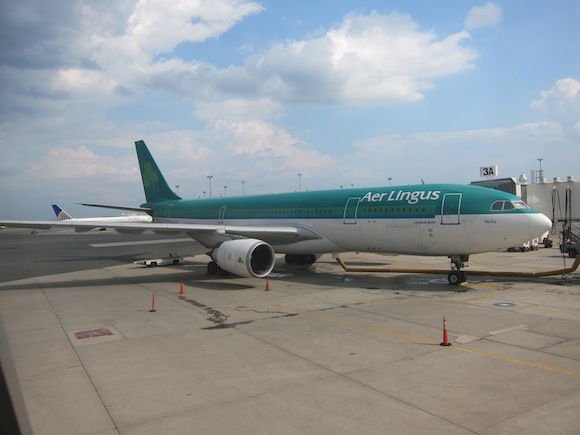 Aer Lingus A330 bound for Shannon
Anyway, on the whole I was extremely pleased with Aer Lingus. I found the food to be reasonably good in both directions (definitely better on the return than the outbound) and the flight attendants to be efficient and courteous. The angled flat seats were more than sufficient for what essentially amounts to a transcon flight.
Best of all, for only 50,000 British Airways Avios per person roundtrip in business class I felt like I got one of the best award redemption values ever. I look forward to returning to Ireland soon, be it for a weekend in Dublin or Shannon, or a week exploring the countryside (hopefully either when I'm at least 25 or traveling with someone that's 25, so I don't run into the same issues with a car rental).