One of the single best award ticket values in the industry is US Airways' 90,000 mile business class award between the US and North Asia. There are lots of things that make this awesome, including:
90,000 miles is the lowest roundtrip business class award cost for any legacy US loyalty program between the US and Asia
The Star Alliance has a ton of great business class products, so you have lots of airlines to choose from
US Airways lets you route from the US to Asia via Europe, and you can even have a stopover enroute (flying just between the US and Europe would cost 100,000 miles, so you're actually saving 10,000 miles by continuing flying)
Over the years I've booked several of these 90,000 mile business class awards, including:
I've written a couple of posts in the past with tips/reminders on how to book these:
Anyway, US Airways is leaving the Star Alliance on March 30 and joining OneWorld on March 31, 2014, so this is really your last chance to book a 90,000 mile business class award from the US to Asia via Europe on Star Alliance. Now apparently US Airways Dividend Miles will initially preserve their current award chart for travel on OneWorld, though I'm not entirely sold on the terms of that or how long it will last.
With that out of the way, I figured it was time to book one more 90,000 mile business class award to North Asia, and my friend/blog reader/contest winner/fellow accidental fetish bar goer Andrew B was up for joining me.
Andrew B is incredibly entertaining, as you may have noticed, and he was kind enough to write a post last week asking you guys for advice on which carriers you'd like us to fly. As a reminder, I've recently flown the following Star Alliance airlines in business class:
So the goal was to try some new carriers, and after taking your suggestions into consideration, we ended up booking the following: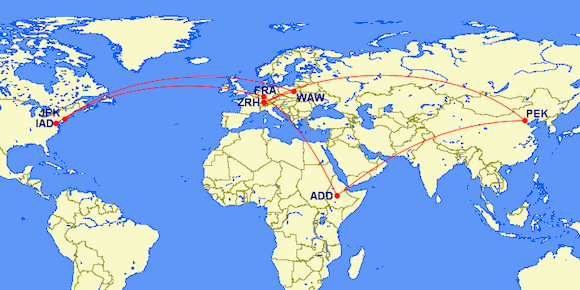 Best of all is that these are all miles I acquired for very little. Last year US Airways offered a 100% bonus on the sharing of miles twice (once in October and once in December). This was basically a way to generate US Airways miles for 1.1 cents each. So at 90,000 miles roundtrip, that means I basically spent $1,000 plus the taxes on the ticket for this entire itinerary — that's tough to beat, if you ask me!
I'm quite excited, Andrew's mother is quite terrified, and Andrew is… well, I'm not sure.
So what do you guys think, how did we do? Anyone else planning a US Airways 90,000 mile business class award on the Star Alliance before they exit on March 30?