I'd like to think I eat a lot when I fly (I mean, I'd rather not think that, but I'm just being honest with myself). I'd rather not think how many hours I have to spend on a treadmill to burn off what I eat and drink on a longhaul flight on a premium airline in first class.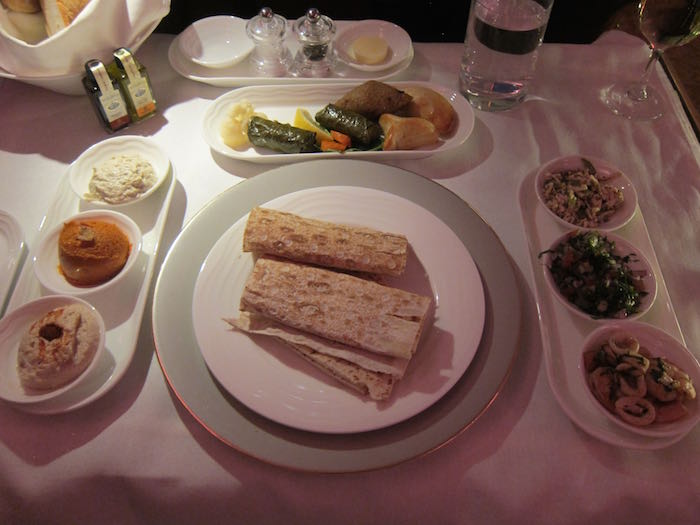 For that matter, I tend to think that airlines serve too much food in premium cabins, if anything. Like, look at a domestic American first class lunch, for example. You get hot nuts, salad, chicken or ravioli, and a hot cookie. It's terrifying to think how many calories that has.
How much food can you order in first class?!
Interestingly I'm still often asked if it's possible to order more food. I don't think I've ever been hungry in international first class. I've maybe a couple of times ordered seconds of caviar, etc., and then skipped another course. But I've never gone beyond that.
On an almost daily basis I'm asked something along the lines of "I want to maximize my first class experience — can I order everything?"
Like this question, for example:
I will be flying in Cathay first class for first time, if I ask for 2nd, 3rd, 4th request for more caviars and different variation of Main Course for dinner/lunch, will the flight attendant feel annoyed and can say they don't have anymore or run out of it? What is your advice to ask for more caviars and main course dishes without annoying them? I want to maximize my first time experience in first class, as I don't have much points/miles to splurge and don't travel frequently, so it might be once in a lifetime chance. Thanks a lot for your help!
Or this one:
Does JAL have Dom, Krug, and caviar? can I ask for 2nd, 3rd, and 4th (unlimited)?
Or this one:
On meal/dinner, can I ask for another dishes that is in main entrée or appetizer after I finished the first one? I would like to try all the appetizers and main entrée dishes (I have big appetites, especially if it's in first class, I want to maximize my experience! yumm!)
Just to give a few examples…
So I figured I'd share some thoughts, along with the thoughts of an "expert:"
"Maximizing" is not the same as eating/drinking everything in sight
I think this is a struggle many of us experience to some extent in first class. For example, I've often said that I'll arrive more well rested in business class than first class.
Why? Because in business class I'm happy going straight to sleep and skipping the service, since it's usually unmemorable, while I'll usually stay up in first class to enjoy a nice meal, a few glasses of champagne, etc.
But I think there's an important middle ground here. You can enjoy a nice meal and feel like you've maximized the experience without having tried everything, in my opinion. And you'll certainly feel better getting off the plane if you don't eat just for the sake of "maximizing," in my opinion.
Asking for extras is fine… in moderation
Like many things in life, moderation is key, in my opinion (not that I'm very good at following my own tips sometimes). 😉 If you really enjoy caviar and it's being offered, I think it's fine to ask for an extra portion in a non-pushy way.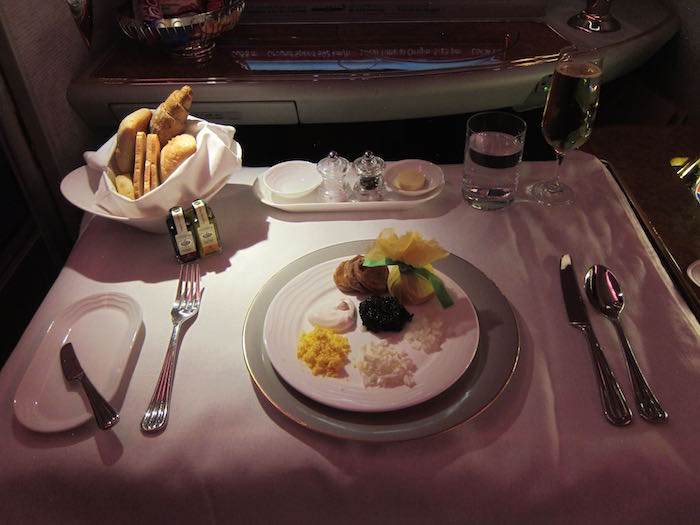 If two desserts both sound good, I think it's fine to ask to try them both, if they have enough.
If they have enough I'm sure they'll oblige. But I think going beyond that and requesting "thirds" and "fourths" and "unlimiteds" will be perceived as pushy.
I'll give an example. I have a friend that's first class crew for a major airline, and he recently texted me about a passenger he had that ordered four starters, five main courses, three desserts, and demanded to try all the wine. As my friend put it, the passenger kept leaving nice "surprises" in the toilet throughout the flight.
Suffice to say at that point the crew will feel annoyed and like you're taking advantage of the situation.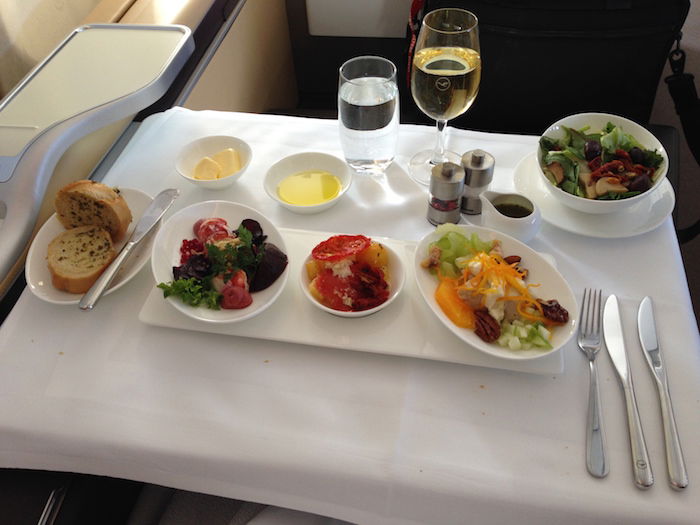 A purser chimes in…
To get the "definitive" answer, I asked a friend that's purser for a major airline to chime in. Here's what he had to say:
Part of my role as a purser is to try to ensure that all my passengers in the First Class cabin receive what they ask for.

If that happened on my flight we would do our best to meet all your requests but the following is likely to happen:

a) The crew (and not just those working First) will have heard about you by the end of the flight.

b) We'd try to direct you to items on the menu that we have a lot of.

c) If you're really over the top with the ordering I would be forced to have an awkward conversation with you about having to save some food for the other passengers.

My advice? Just explain to us it's very rare that you get to fly in First and you'd appreciate our help to maximize your experience. It's then far more likely that we'll give you extra attention as we know you'll enjoy it.
Bottom line
Hopefully that's a fair summary!
Would be very curious to hear both what you guys think and what your experiences have been.
Do you think it's appropriate to ask for extras, and where is the line drawn? If you do frequently ask for extras, what has the response been?