Sometimes, when it comes to finding award space, it's better to be lucky than good. You can spend days and hours looking for a perfect award, and other times a glut of award space will appear out of nowhere. When this happens, it's generally best to act as quickly as possible, as one never knows how long space will be available.
Other times, however, that space is only appearing due to a system glitch, and isn't actually bookable. That's what seems to be the case with the reported (and enthusiastically promoted) abundance of Finnair business class award space this afternoon.
Finnair has a great business class product, with fun Marimekko accents. And the easy connections in Helsinki make Finnair awards a phenomenal use of American AAdvantage miles.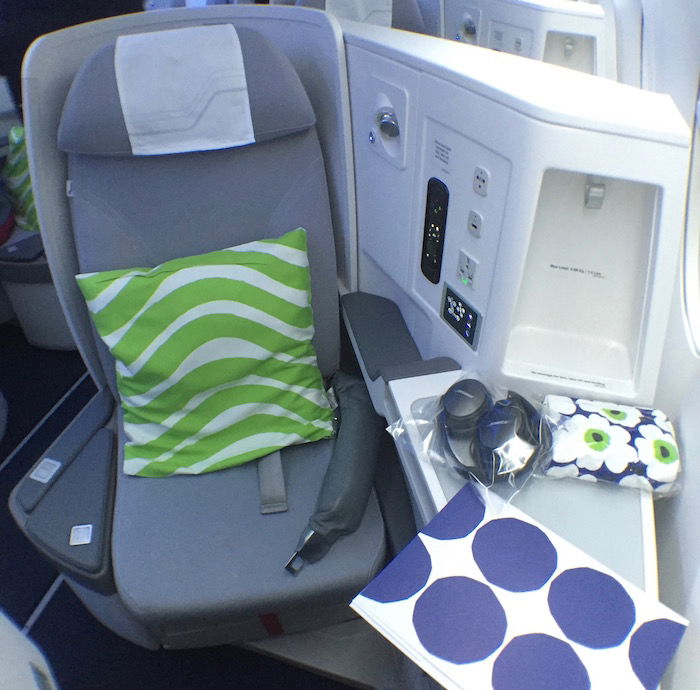 Unfortunately, the majority of the space displaying on American's website for Finnair over the past several weeks has been fake, or "phantom."
Here, for example, is what American's award search calendar suggests is available for business class space (for six passengers!) between New York and Helsinki next June: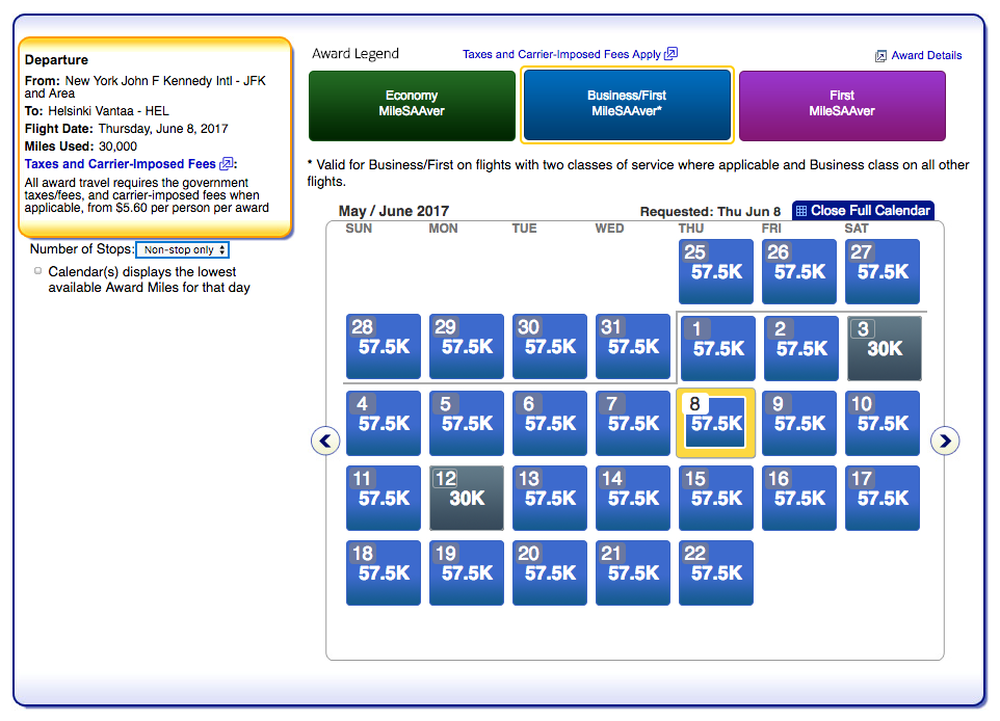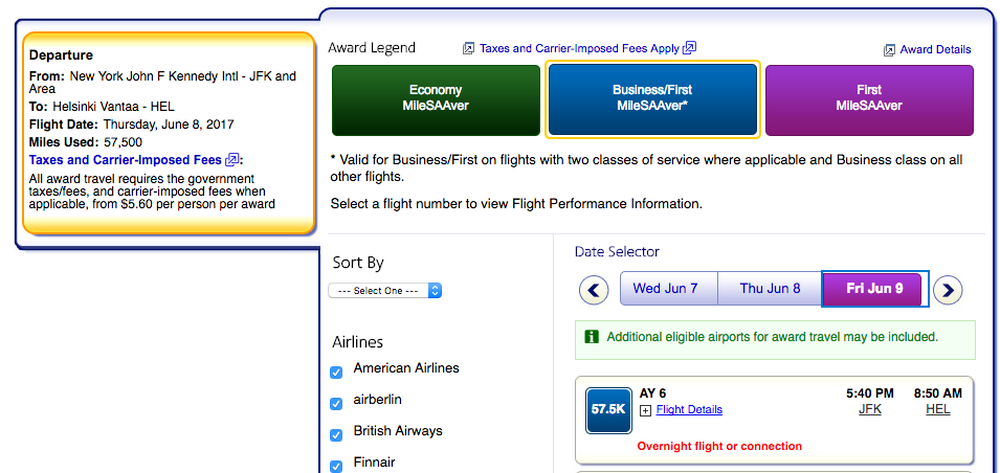 But if you try to book those seats, you're more likely to receive the following message than not:

This has been a persistent problem with the connection between Finnair and AAdvantage. For some reason, AA.com will display copious amounts of award space that simply doesn't exist.
Here's the actual award availability in June for the direct New York > Helsinki flight (for four passengers, not six):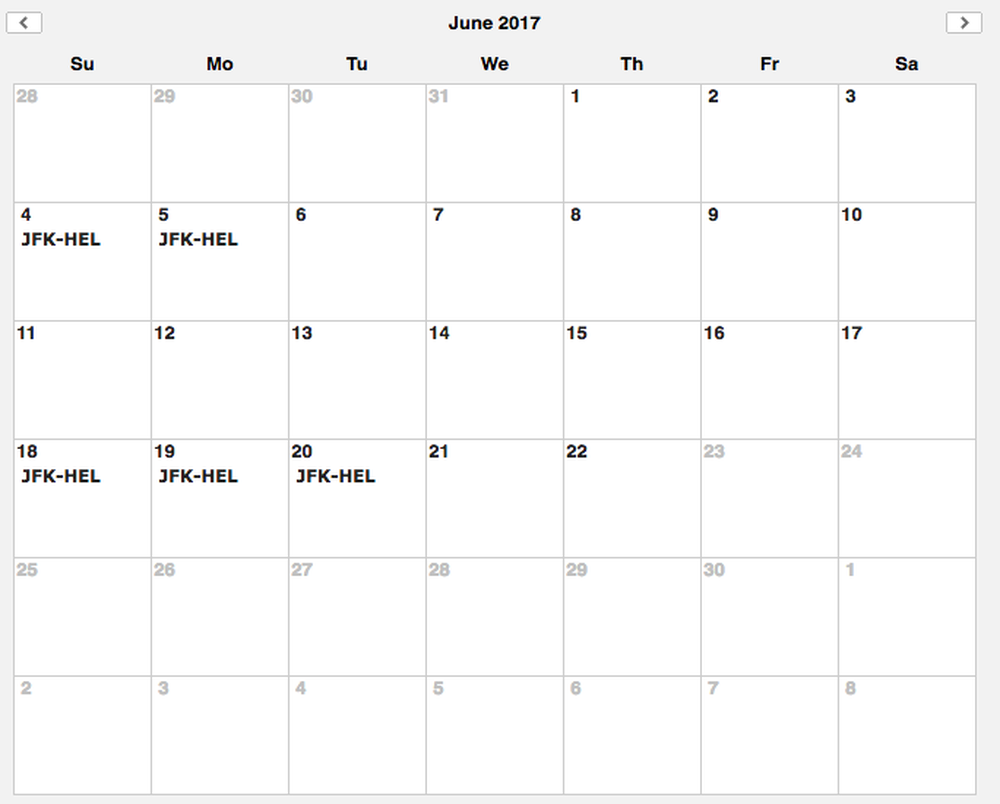 And the availability for two passengers, which is slightly better: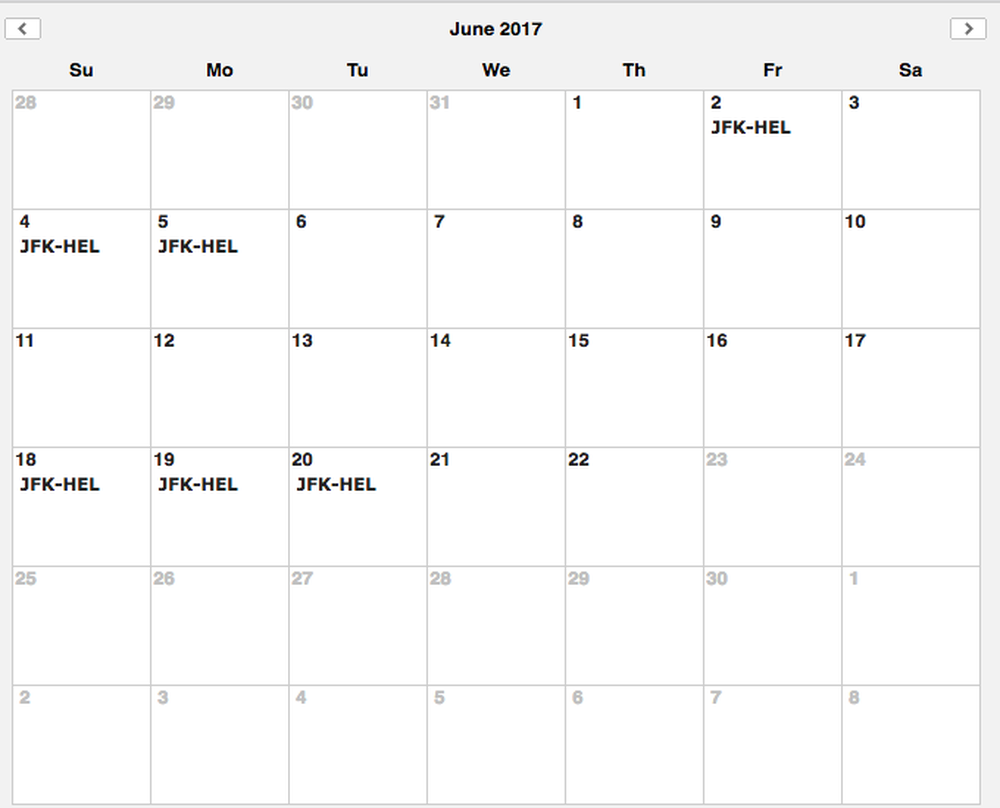 I used AwardNexus to generate the calendar, but the same space is visible on the British Airways tool. On June 9th (where aa.com claims there is space for six), here's what's truly available:

Nothing.
A few dates do have space, of course, and when inventory is available it shows on the British Airways site just fine: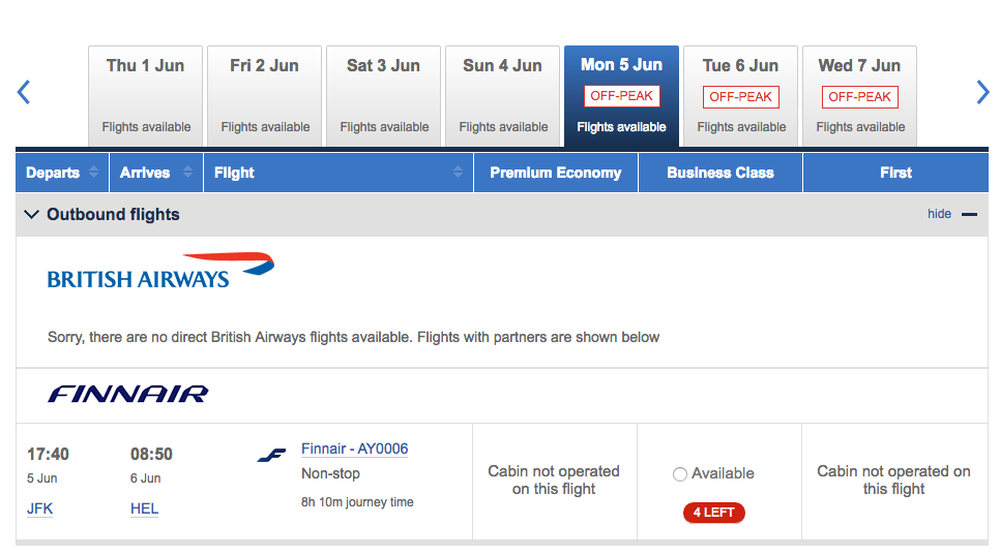 So if you are interested in finding award space to Europe using American miles, and see award space on Finnair, I'd recommend checking availability against the BA tool. If the space isn't actually there you won't be able to hold or ticket it anyway, but this should save you some frustration in searching.
Bottom line
While it's important to act quickly when fare sales or gluts of award space become available, it's even more important to do your own due diligence and make sure the fare (or space) is actually bookable. There are a few seats out there, and this is a good option for using American miles to Europe, but it's not a stop-the-presses moment, or really an unusual amount of availability for Finnair in summer.
Fortunately (in this case) no program makes instant transfers to AAdvantage, and hopefully no one would transfer points to British Airways for these seats, so the repercussions are limited.
But if you've been trying and failing to secure this Finnair space, it's not you. The space was likely never there to begin with.