As I'll openly admit, I'm really not great when it comes to technology. While I'd like to think I'm great at searching for award availability, my methods are pretty low-tech. There are some tech add-ons out there that are supposed to make it easier to search for award availability, though often airlines shut them down, since they don't want these services scraping their websites.
There are also some paid services out there that provide plug-ins or tools to help you search award availability quicker. The only real subscription service I use is ExpertFlyer. Some people like some other services too, though I can't say I use them.
One thing I hadn't previously heard of, but that's awesome, is award.travel. The Milelion wrote about it over the weekend, and now I'm hooked.
What is award.travel?
Award.travel is a free Chrome plug-in that lets you search award availability through Air Canada Aeroplan, Air France-KLM Flying Blue, ANA Mileage Club, British Airways Executive Club, Japan Airlines Mileage Bank, Qantas Frequent Flyer, and Singapore KrisFlyer, faster than you'd usually be able to search.
Earlier I wrote about how frustrating it is to search award availability on Singapore Airlines:
Singapore Airlines only makes most premium cabin award seats available to members of KrisFlyer, and not to members of partner frequent flyer programs, so you can only use Singapore Airlines' website to search
Singapore KrisFlyer only lets you search award availability day by day; there's no option to search availability for weeks at a time
How to use award.travel to search award availability
To use award.travel you'll first want to follow this link to install the Chrome extension.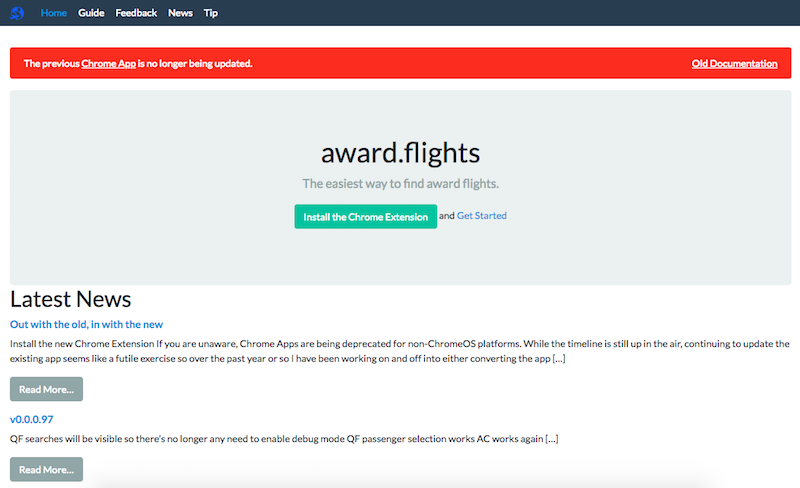 The process of installing this Chrome extension takes just a second.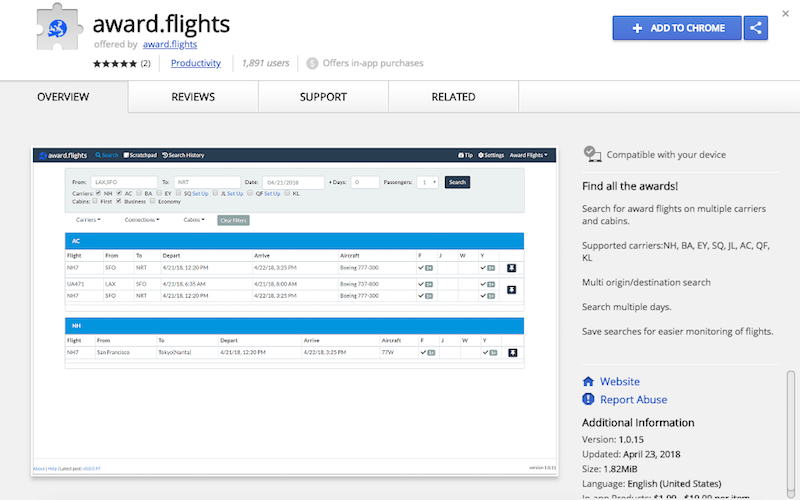 On the next page you'll see the simple search options. Before you can search award availability you have to add your frequent flyer account information by clicking "Set Up" (this is so they can use your frequent flyer account to search award availability).

I don't know who runs this plug-in, though personally I'd generally recommend not registering with your primary frequent flyer account (or any account that has a lot of miles in it), just to be on the safe side. Maybe use a family member's account who doesn't have any miles in their account, or make a new one. The process of adding your frequent flyer accounts is easy — you just have to enter the same info you'd need to log in directly on their websites.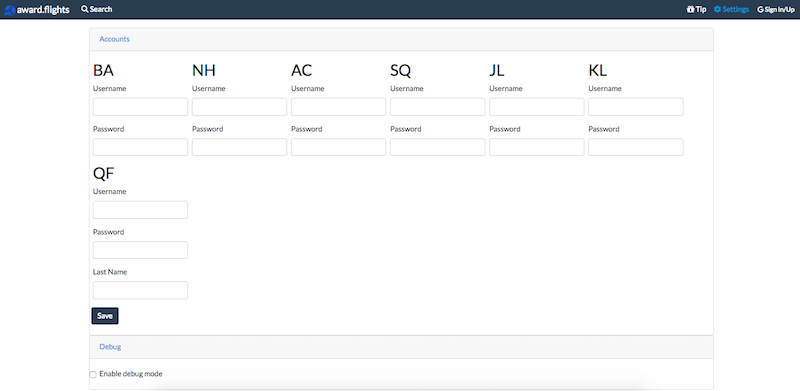 Since I find Singapore Airlines award availability especially frustrating to search, let's search availability through them. Say you want to fly first class from San Francisco to Hong Kong. When you do your search you set your starting date, and then you can also specify how many days after that you'd like to search as well.
In other words, if you wanted to search for 15 days on each side around August 30, you'd want to set August 15 as the date, and put 30 days as the "+ Days" range. They generally recommend searching no more than 30 days at a time, and obviously it will take longer the more dates you want to search.
You can also specify if you want to search just Singapore Airlines, or travel on partners as well (personally I'd recommend just searching Singapore Airlines, since there are ways to easily search partner award availability on other websites). Furthermore, you could search multiple cabins. Just remember that the more things you search, the longer it will take.

Once you're ready, just click "Search," and then another browser will open. This will automate the process of searching for award availability. It will open up Singapore Airlines' website and search availability in the same way you might. Just keep it in the background, and check back with the award.travel page after a while. That page will indicate what date it's presently searching, to give you a sense of how far through the search it is.

It will display all of the dates that have saver level award availability (not standard level availability, and not availability that can be waitlisted).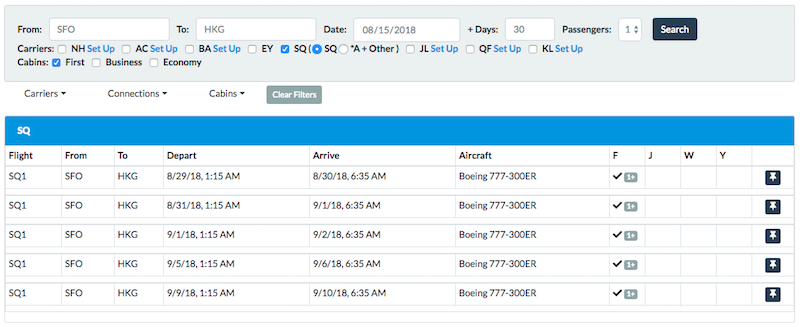 You can use that information to then go to Singapore Airlines' website to book.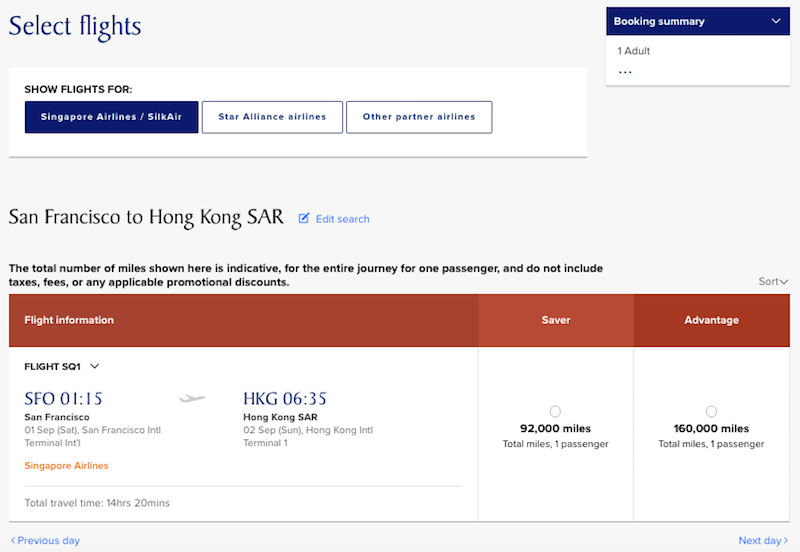 The one thing to be aware of is that this will take longer than if you searched on your own. It seems that the way the script runs is that it searches availability on a given day, and then rather than clicking the "Next Day" button, it goes back to the homepage and starts the search all over again for a new date, which takes a lot longer.
This isn't a huge deal since it's working in the background and you can just forget about it once you start the search. For me, searching for 30 days of availability took about 30 minutes. I'd estimate that I could have searched that same availability in about 10 minutes. I'd much rather have something running in the background for 30 minutes than having to actively spend 10 minutes pushing buttons, so I'd still consider this to be a big win.
Bottom line
I'm loving the award.travel plug-in, as it makes the process of searching for award availability on some airlines significantly easier. It's especially valuable for programs like KrisFlyer, which otherwise make it cumbersome to search for award availability. The plug-in is free and easy to use, so what's not to love? You can bet I'll continue to use this going forward.
Hopefully some of you can benefit from it as well.
Anyone else love award.travel, or have another extension/plug-in they like?
(Tip of the hat to View from the Wing)