---
I apologize that the next two installments may seem a bit scattered, as I'll be covering the Air India first class ground experience in this post, and then in the next post will be covering the actual Air India lounge in Delhi, which is shared between first & business class passengers.
Why am I breaking it up this way? Because in Delhi, Air India offers the world's most personalized first class ground experience. I sure as hell wasn't expecting that.
There aren't many reviews of Air India first class out there, so going into this trip I had no clue what to expect. And perhaps that's why the ground experience delighted me beyond words.
As I stepped off the plane there were three people standing on the jet bridge, and one of them had a sign with my name on it. Great, I was really impressed they'd send someone to pick me up at my gate. As it turns out, they didn't send one person to pick me up.
They sent three people. Three people. There was a lady named Shalina there to escort me, another guy there to carry my bags, and another guy just to oversee the whole operation.
I don't think I've ever gotten so many looks walking through a terminal, as I had someone in front of me and then two people trailing behind me. In terms of the looks, it probably didn't help that I was wearing sweatpants at this point in my trip, given that my layover was in the middle of the night between two longhaul flights.
As we walked I informed the team I didn't yet have a boarding pass for my connecting flight to San Francisco. The guy overseeing the whole operation picked up his cell phone to make a call. The walk took quite a while, and about 15 minutes later we found ourselves at the international transit desk, where they had my boarding pass waiting for me. Amazing!
From there I had to go through international transit security. There was a single checkpoint open, and every single person was getting a pat down, though there was only one person to conduct them. Apparently security was extra heavy because it was around India's Republic Day. The line must have been over a hundred people deep.
Shalina opened up a special rope, while one of the other guys escorting me pushed me to the very front of the line to get the pat down. Like not just into the queue where you place your bags on the x-ray, but literally in front of everyone else. It was awkward. Meanwhile the guy with my bags took care of my baggage screening. I didn't have to pay any attention to the bags.
I was through in a minute flat. On the other end, Shalina said "let's go." "But we don't have my bags." "My colleague will take care of that for you, don't worry."
So we proceed up to the Air India first class lounge, which was a special section in Air India's main lounge. Within a couple of minutes my bags arrived as well.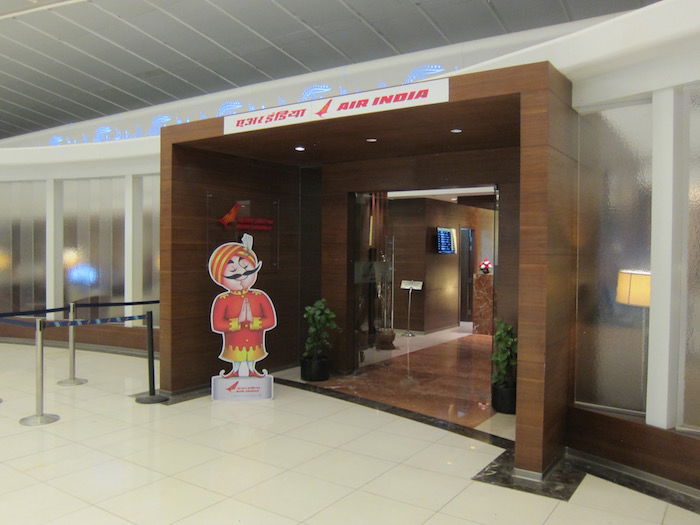 Air India Lounge Delhi entrance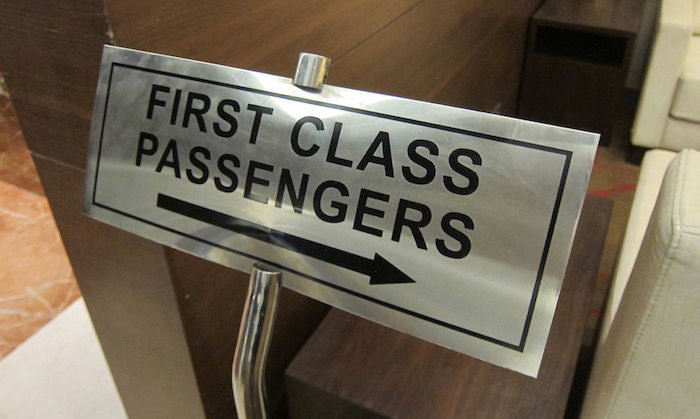 Air India Lounge Delhi first class signage
Shalina explained she would also collect me when my connection was ready for boarding, and asked if I wanted to board first or last. Nice option to have!
I was blown away, and figured the great service stopped there. I was wrong.
The first class section of the Air India lounge had some over-the-top service as well. The thing is that they don't actually have much to work with, but the two guys taking care of me, Kamlesh and Rohit, couldn't have been more attentive. It might have helped that I was the only person in the lounge.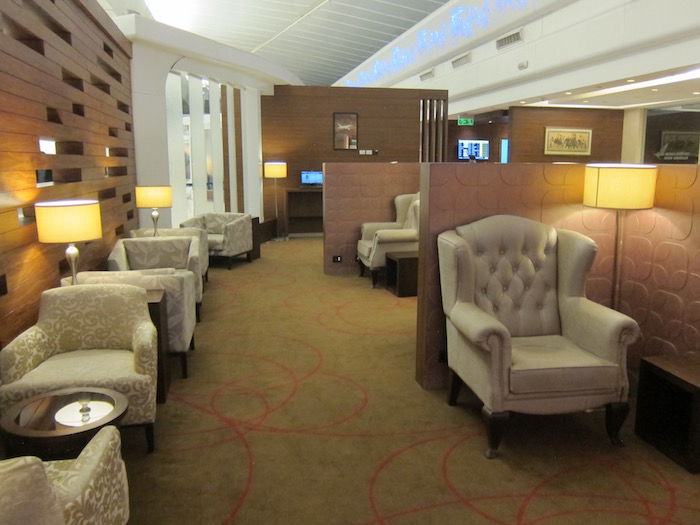 Air India Lounge Delhi first class section
They were almost annoyingly attentive, but I loved how passionate they were about making sure their "guests" were happy.
The moment I settled in I was proactively offered bottled water and a plate with some snacks, and they asked if I wanted anything else. I ordered a coffee.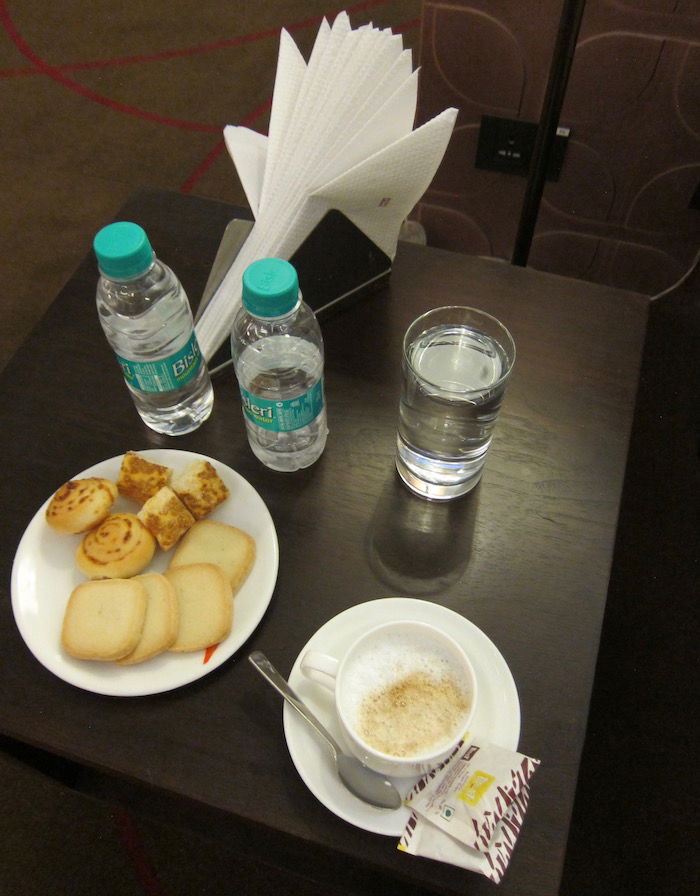 Air India Lounge Delhi coffee & snacks
Kamlesh continued to stand maybe 20 feet away, and without exaggerating, would check on me every 30 seconds. It was comical and borderline annoying, but he was just so friendly and passionate about being attentive that it put a huge smile on my face.
"Maybe I can get you some hot appetizers?"
"I'm fine for now, thanks."
"How about something else to drink?"
"Maybe later, thank you."
"Another coffee maybe? Is it still warm?"
"It's perfect, thank you."
"Would you like a shower? I can arrange that for you."
"Sure, can I get one in 30 minutes?"
"Yes! And maybe after that I can arrange some rest for you? We have some rooms with beds."
"I think I'm okay for now, thanks."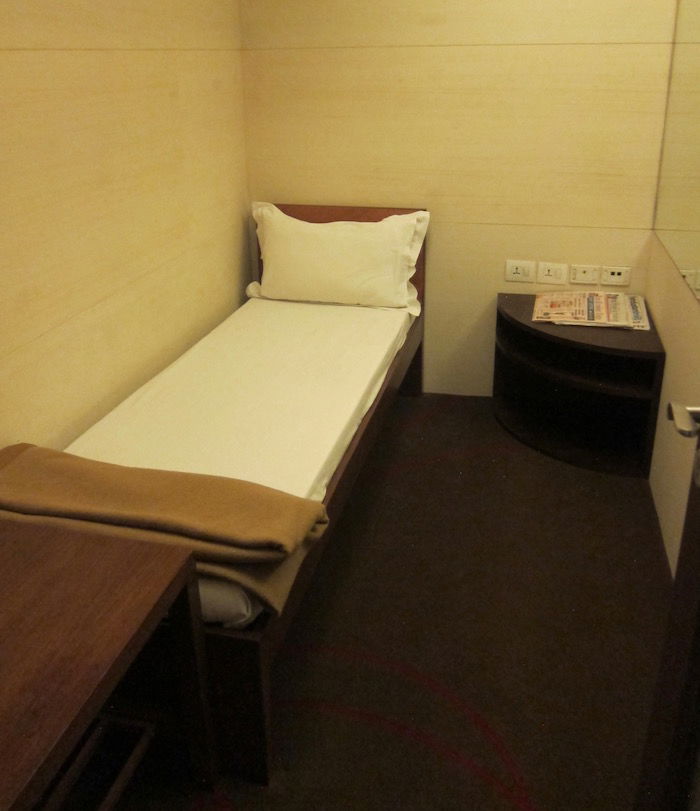 Air India Lounge Delhi nap room
And that continued for just about the entire time I was in the lounge. I felt like I was doing them a favor by asking for things. 😉
When it was time to shower, Rohit insisted on carrying my bags to the shower room. When I emerged from the shower room, one of his colleagues was waiting there to carry my bags for me.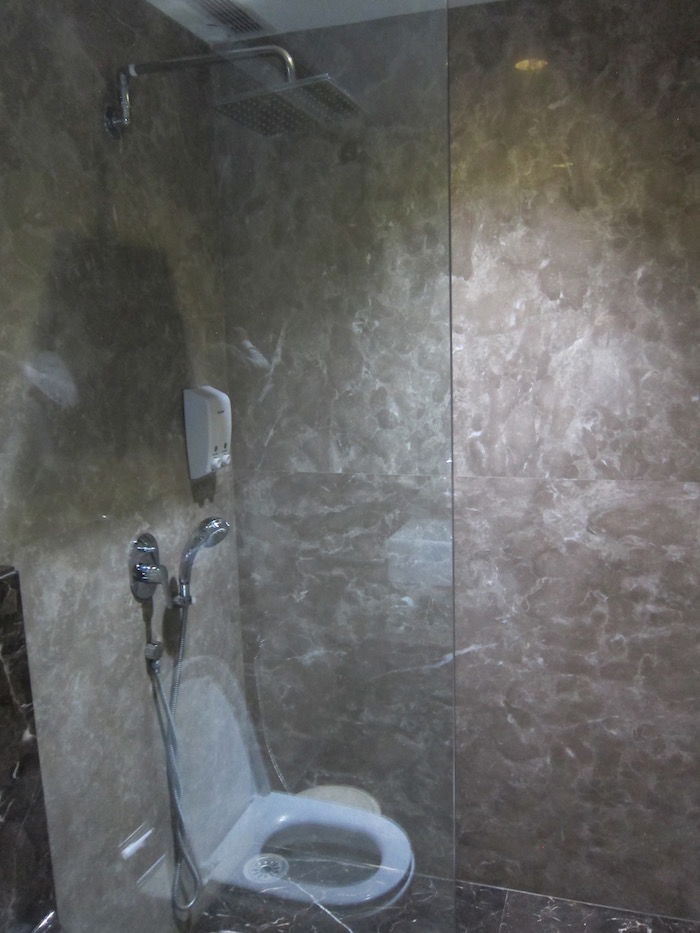 Air India Lounge Delhi shower room
When I went to the business class section, Kamlesh literally walked behind me the entire time to make sure I didn't want anything. Again, it was completely over the top and borderline uncomfortable, but the attentiveness really left me speechless.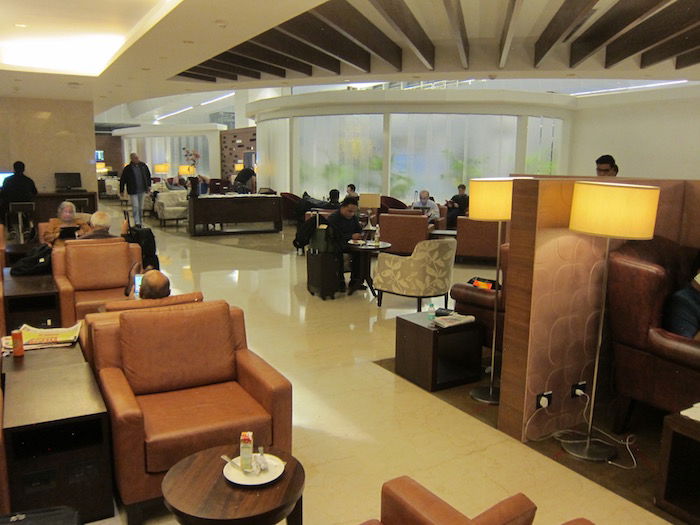 Air India Lounge Delhi business class section
My boarding pass indicated that boarding would commence at 1:35AM, which was an hour before departure. Around this time Shalina came by to inform me that there was a delay in boarding, but that she would be monitoring very carefully.
In the meantime I heard the boarding calls for the flights to Chicago and New York, and noticed that there was even a second flight to New York, since the storm in the US had canceled the previous night's flight.
At 2AM Shalina finally informed me it was time for boarding, so she and her colleague appeared to take me (and my bags) to the plane.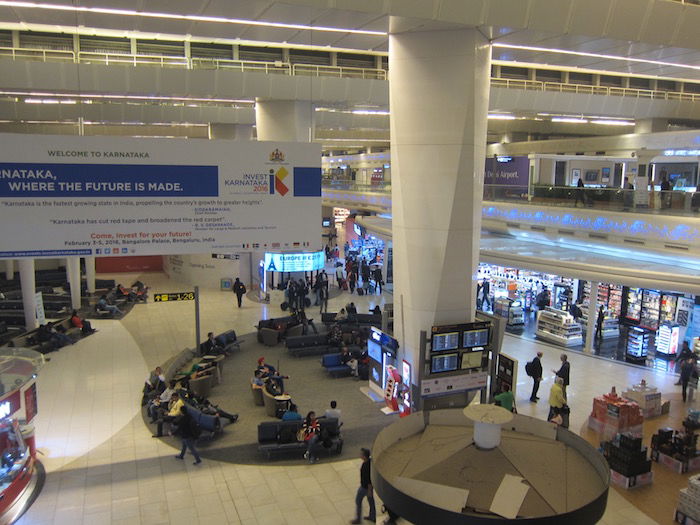 Delhi Airport terminal
We headed over to our departure gate, which was gate 1. She explained that the airline takes a lot of pride in their new flight to San Francisco, and that it always leaves from gate 1. She explained that this is the gate usually used for VIP and government departures, as the gate is fully "enclosed."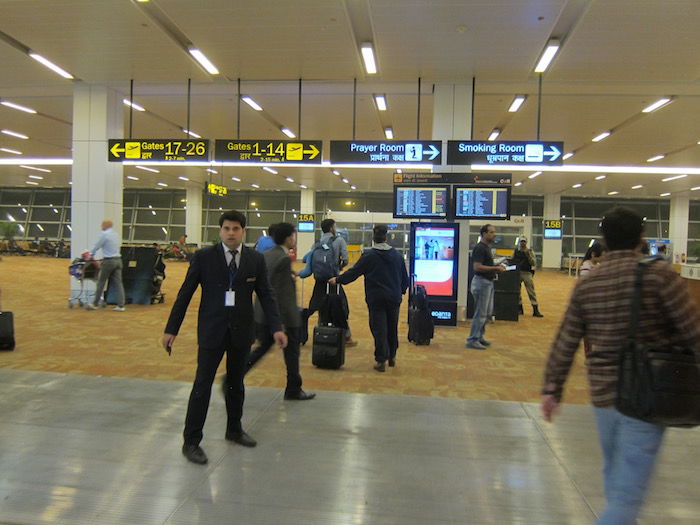 Being escorted to gate at Delhi Airport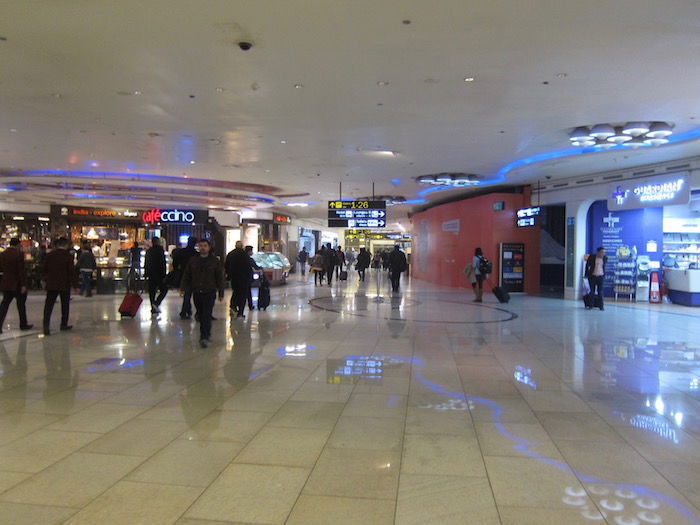 Being escorted to gate at Delhi Airport
We showed up at the gate after a five minute walk, where there was yet another security checkpoint with quite a line.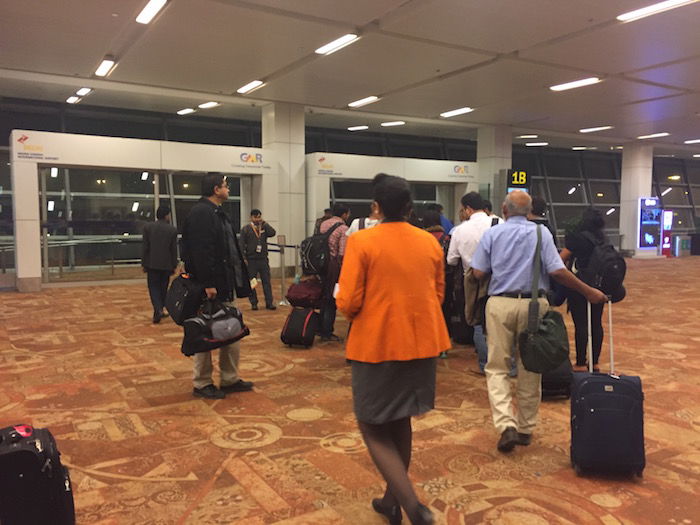 Departure gate to San Francisco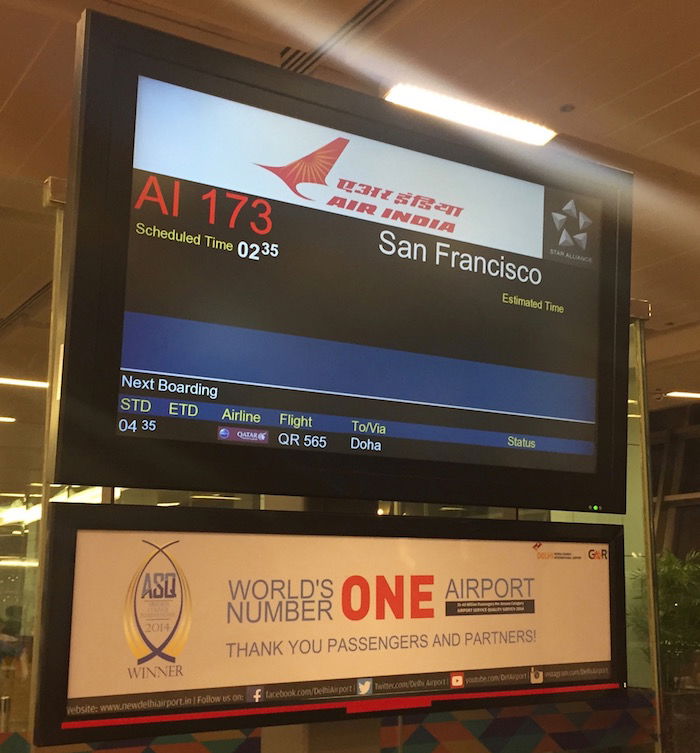 Departure gate to San Francisco
Just as when I arrived in Delhi, I was escorted to the very front of the line, and told to just walk through the metal detector, while my bags would be taken care of. On the other end Shalina said "let me escort you aboard." "But what about my bags?" "They will come, don't worry."
Alrighty then! She escorted me right onto the plane, where within a minute I was greeted by the cabin crew in charge and captain. I could tell this would be a very different flight.
A couple of minutes later the other awesome escort appeared with my bags, which he placed in the overhead bin for me.
Bottom line
Air India's ground service in Delhi really blew me away. It was over the top, and the most attentive gate-to-gate escort service I've ever had. Now, the lounge itself left a lot to be desired, including basic things like usable Wi-Fi. But all the ground staff I interacted with exemplified the epitome of Indian hospitality.
While Air India isn't at risk of qualifying for the top first class airline lounges in the world, the attentiveness of the staff is award-worthy.
I'm sure some will ask "well, did you just get special treatment for being a blogger?" The only other review I've read of Air India first class also indicates that they had three handlers pick them up at the plane. And for what it's worth, the other first class passengers on my flight to San Francisco showed up with a similar entourage. But I also know that won't stop some from thinking I got special treatment, which is always the case when I have a good experience (and that's fine). If it is the case, they have some work to do, given how lousy the service was on my flight from London to Delhi.
Stay tuned, because the great service continued onboard!