Introduction
Review: Finnair Business Class A350 New York To Helsinki
Review: Holiday Inn Helsinki Airport
Review: [email protected] Lounge Helsinki Airport
Review: Finnair Lounge Helsinki Airport
Review: Finnair Business Class A340 Helsinki To London
Review: Hilton London Heathrow Terminal 4
Review: Air India Lounge London Heathrow Airport
Review: Plaza Premium Lounge London Heathrow Airport Terminal 4
Review: Air India First Class 777 London To Delhi
Review: Air India's AMAZING First Class Ground Experience In Delhi
Review: Air India Lounge Delhi Airport
Review: Air India First Class 777 Delhi To San Francisco
---
Finnair operates out of Terminal 8 at JFK, which is the terminal primarily occupied by American. I'm starting the trip report here since my flights from Los Angeles to Dallas to New York were uneventful, and I also barely had time to use the lounge.
Finnair business class passengers use the Admirals Club at JFK, which isn't all that great as far as international business class lounges go. Oneworld Emerald members can use the Flagship Lounge, which I've reviewed before. It's located inside the Admirals Club, and is definitely a step up, though probably more comparable to the better business class lounges globally, rather than competitive with the better first class lounges.
The flight to Helsinki boarded from gate 16 at 5:15PM, starting with business class.
Finnair 6
New York (JFK) – Helsinki (HEL)
Wednesday, January 20
Depart: 5:45PM
Arrive: 8:50AM (+1 day)
Duration: 8hr5min
Aircraft: Airbus A350
Seat: 3A (Business Class)
I boarded through the mid-cabin door, and upon presenting my boarding pass was directed left by the chief purser.
Finnair's A350 business class cabin is quite large, with a total of 46 seats. They're all in a reverse herringbone configuration, which is my favorite kind of business class hard product.
There are 32 business class seats in the forward business class cabin, spread across eight rows in a 1-2-1 configuration.

Finnair A350 business class cabin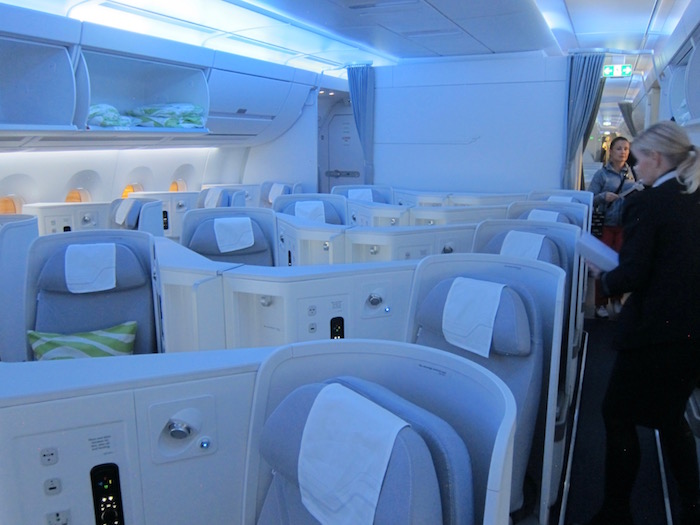 Finnair A350 business class cabin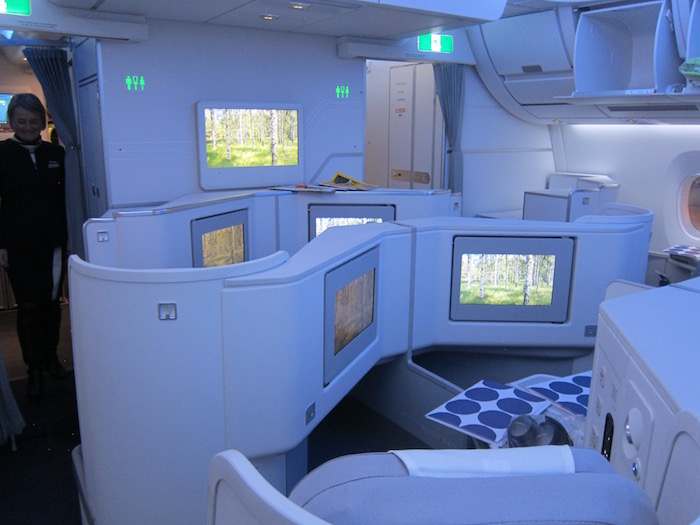 Finnair A350 business class cabin
On top of that there's a mini-cabin located behind the door through which I entered. It has four rows, with a total of 14 seats (one of the rows only has two seats in the center section and no seats by the windows, due to the lavatories in front of them).

Finnair A350 business class mini-cabin
I quickly found my seat, 3A, which was the window seat on the left in the third row.
I absolutely love Finnair's cabin design and finishes. I know some may say that it screams IKEA, but when the airline is based in Northern Europe, I think that's perfect. And I also loved all the splashes of color in the cabin, from the lime green pillow to the blue amenity kit and "folder."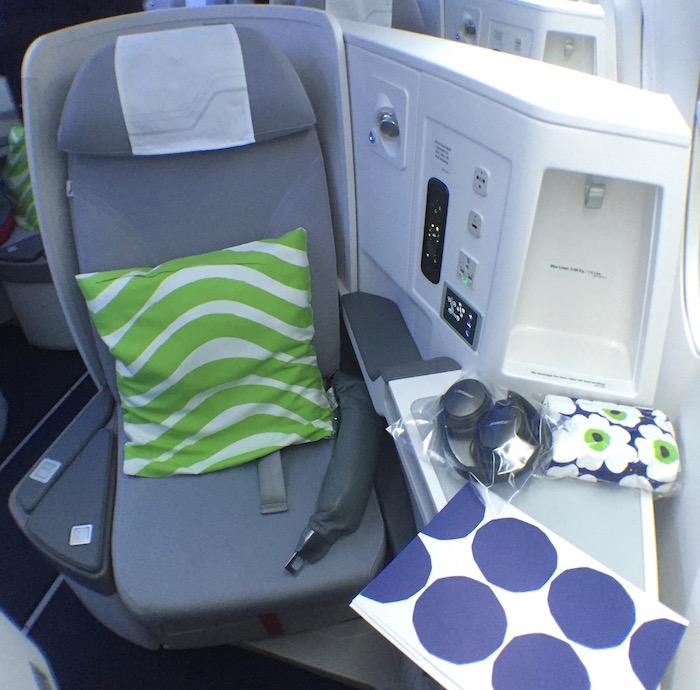 Finnair business class seat A350
This seat is very similar to the reverse herringbone configuration found on other airlines, like American, Cathay Pacific, etc. The seats all face towards the window, and the TV screen "swings out" when you want to watch TV.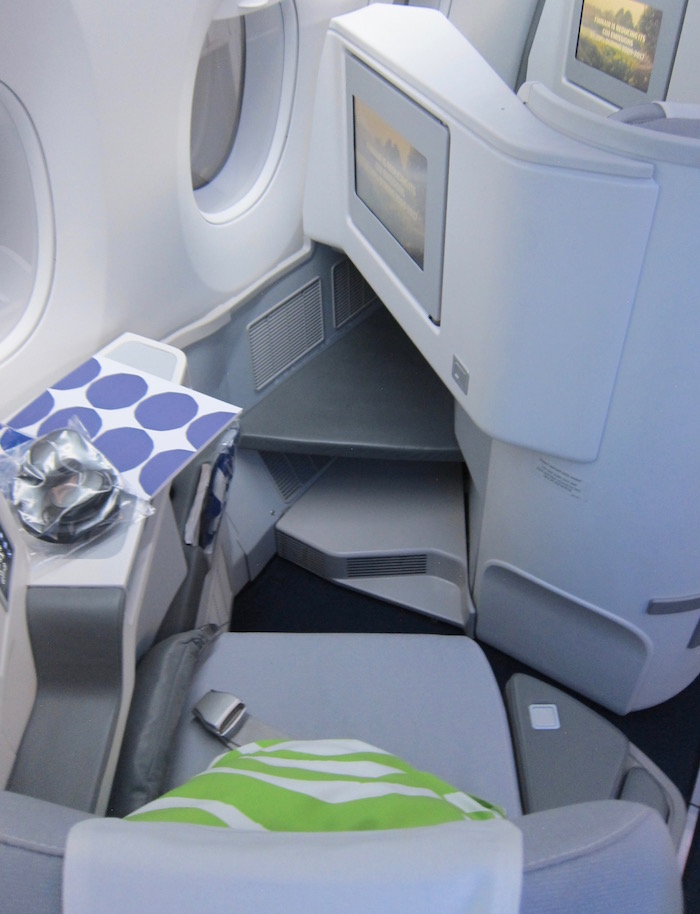 Finnair business class seat A350
There's one important point I want to make about seat comfort, but I'll save that for a bit later.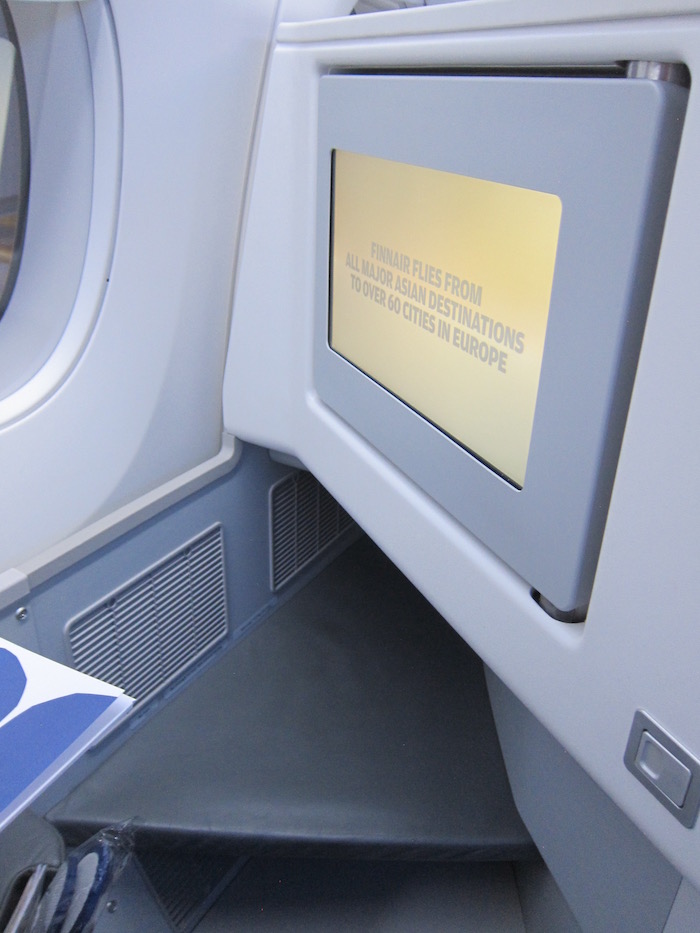 Finnair business class seat, legroom and personal television
To the left of the seat were the entertainmant and seat controls, headphone jack, USB plug, and 110v plug.

Finnair business class seat controls, entertainment controls, and power outlet
To the side of that was a reading light.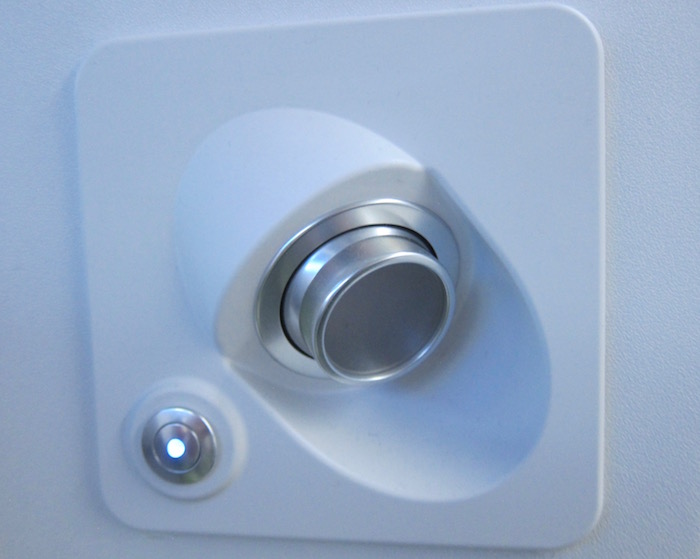 Finnair business class reading light
And then next to that was a place where you could hang headphones.

Finnair business class headphone storage
Speaking of headphones, Finnair offers Bose headphones in business class. Other than American, they're the only airline I know of which offers Bose headphones in business class.

Finnair business class Bose headphones
To the left of the seat by the side of the footrest was a pouch for magazines, as well as a water bottle holder. There were a pair of slippers waiting in the magazine pouch.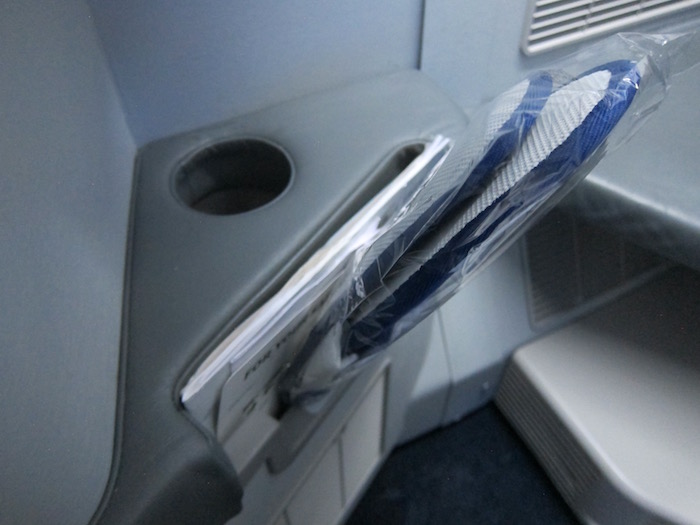 Finnair business class slippers, magazine storage, and water bottle holder
Then on the right side of the seat was a pretty deep storage compartment, as well as the aisle-side armrest, which needs to be stowed for takeoff.

Finnair business class seat storage
The tray table swung out of the left side of the seat, and could be extended by being folded "over."

Finnair business class tray table
As soon as I settled in, one of the business class flight attendants offered me a pre-departure beverage. I had the choice between champagne, water, and juice. I chose the champagne, which was Nicolas Feuillatte. I absolutely adore the glassware Finnair uses in business class, though.

Finnair business class pre-departure champagne
Also waiting at my seat upon boarding was the colorful amenity kit.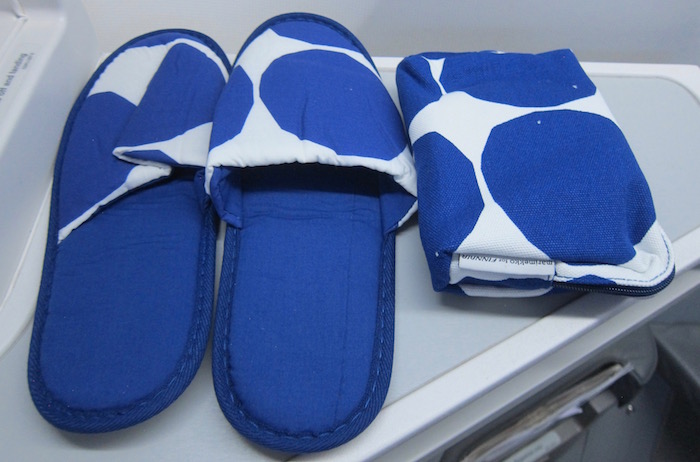 Finnair business class slippers and amenity kit
The amenity kit was sparingly stocked, with eyeshades, earplugs, and then Clarins hydrating cream and lip balm.

Finnair business class amenity kit contents

Finnair business class amenity kit contents
There was a note in the amenity kit noting all the other amenities they had available on demand, including a shaving kit, mouthwash, socks, a hairbrush, makeup remover, etc. I actually think this is a pretty smart system. Eyeshades and earplugs are the most important amenities on a longhaul flight, and all the other amenities are available on demand, so they don't waste as much.

Finnair business class additional amenities available
Also waiting at my seat was a dotted-folder, which had a menu, wine list, breakfast card, and duty free card.

Finnair business class menu and wine list
While I'll talk more about the menu later, I loved the concept of the breakfast card. Basically you could write down whether you wanted to be woken up for breakfast, and what exactly you wanted. That saves both passengers and the crew aggravation, and is something I wish we'd see from more airlines.

Finnair business class breakfast card
The crew was quite busy during boarding, as the cabin was mostly full. There were about five or six empty seats in business class, but otherwise every seat was taken.
The business class crew consisted exclusively of middle-aged blonde women. Their command of the English language wasn't great, but they were all extremely friendly and kind. I also thought it was a classy touch that they wore black gloves during boarding.
As boarding continued, a flight attendant came around with Finnair-branded shoe bags, offering to store passengers' shoes in the overhead bin. That's the first time I recall seeing that on any airline.

Finnair business class shoe bag
Once settled into my seat I decided to take a look at the entertainment system. Content aside (which was good but not amazing), the actual interface was my favorite of any airline ever:
It was the most responsive system I've ever used, as there was virtually no lag after selecting options
There were no ads before starting shows or movies
The entertainment system had an awesome flight overview, which showed a timeline of the flight, including when meals would be served, etc.
The airshow was possibly my favorite airshow system ever, as it was easy to use and showed so many cool angles

Finnair business class service schedule

Finnair airshow from New York to Helsinki
But since this was an A350, my favorite view was the tail camera, which is almost always my entertainment of choice.

Finnair A350 tail camera while at departure gate
Paula, the chief purser, announced that boarding was complete at 5:40PM, and informed us of our flight time of 7hr30min.
At 5:50PM we began our pushback, at which point the safety video began to play.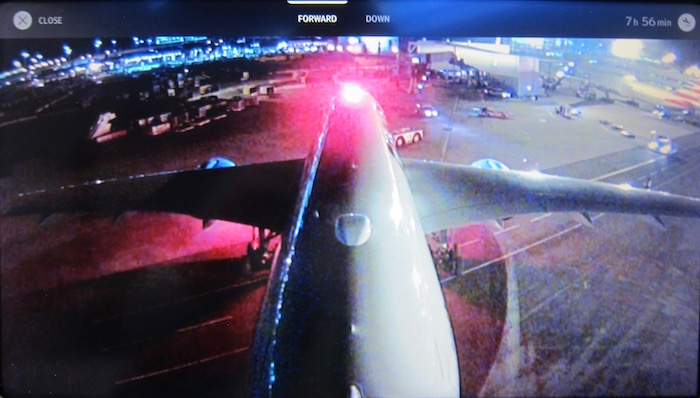 Finnair A350 tail camera while pushing back
We were departing from runway 22R, which is a bit of a haul from Terminal 8. This required taxiing across runway 31L.

Finnair A350 tail camera while taxiing
Once we made it to runway 22R we were number three for takeoff, after two American 737s.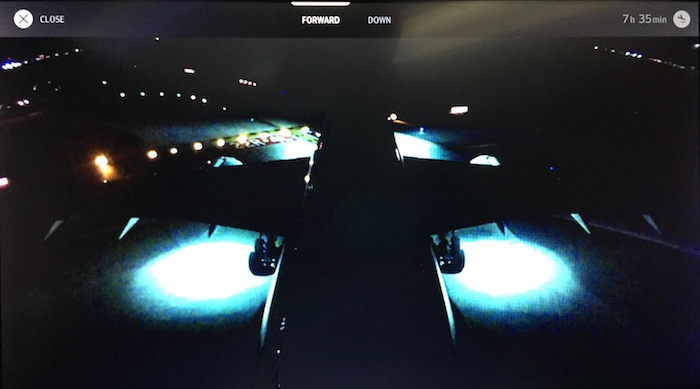 Finnair A350 tail camera while taxiing
At 6:15PM we were cleared for takeoff, and had a fairly quick takeoff roll.

Finnair A350 tail camera while taking off
The Airbus A350 is such a gorgeous, quiet, smooth plane. Even the takeoff roll was extremely quiet, much like on the Airbus A380; I barely realized we were taking off.

Finnair A350 tail camera shortly after takeoff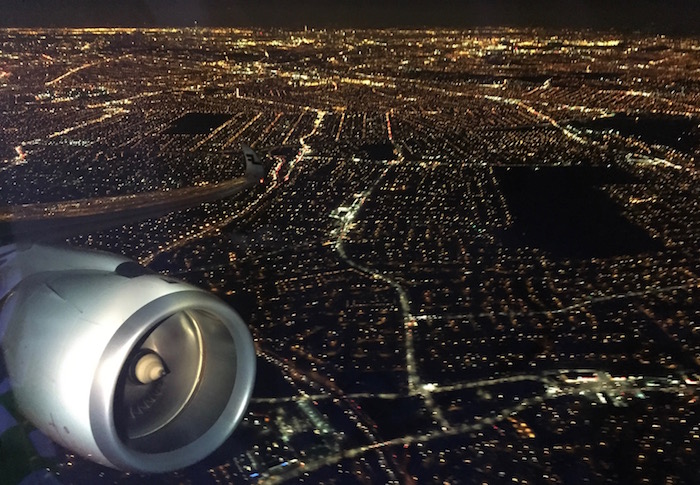 View after takeoff from New York
Less than 10 minutes after takeoff the seatbelt sign was turned off (speaking of which, I love the electronic signs on the A350).
At that point a video played throughout the cabin, explaining some features of the plane, the option to purchase duty free, etc.
After that I took a more thorough look at the entertainment selection. Like I said, it was fairly extensive, though not to the level of what Emirates or Singapore Airlines offer, for example.
I don't usually watch movies, but Ted 2 caught my attention. It's not a movie I'd ever watch on the ground, but I found the first movie funny enough, so figured I might as well watch the sequel. And it was funny… and even sort of sad. Who knows!
The Finnair A350 has wifi, and business class passengers even get a code for free wifi. The bottom left of the screen had the complimentary wifi code throughout the flight, and then there was a dedicated page explaining how to log-in.
Finnair uses a proprietary wifi system, so it's not OnAir, T-Mobile, etc. There are two choices of internet plans you can purchase, both of which have no data limits:
Full flight for 15EUR
1hr for 5EUR
Those are extremely reasonable prices, though as a business class passenger they're somewhat irrelevant, since you get it for free either way.

Finnair complimentary business class wifi
One thing I'll note is that their password requirements are rather over-the-top for a wifi service. It has to be between 8 and 16 characters, include letters, numbers, special characters, upper case, and lower case letters. Alrighty then!

Finnair's impossibly complicated wifi password
The issue with the wifi is that it didn't seem to work for the first 90 minutes of the flight. I got an error message saying "Unable to log you into the access controller." I informed the chief purser, and she told me everyone was having the problem, and that the wifi should automatically begin working at some point.
About 20 minutes after takeoff the captain came on the PA for a brief announcement, lasting just 30 seconds or so.
Before dinner I headed to the lavatory to change into something more comfortable. The Finnair A350 has four lavatories — two in the front of the cabin, and another two between the two business class cabins. They're all modern, though not especially big. The forward lavatories even each have a window.

Finnair business class lavatory

Finnair business class lavatory
After that I headed back to my seat to keep watching my movie and have dinner.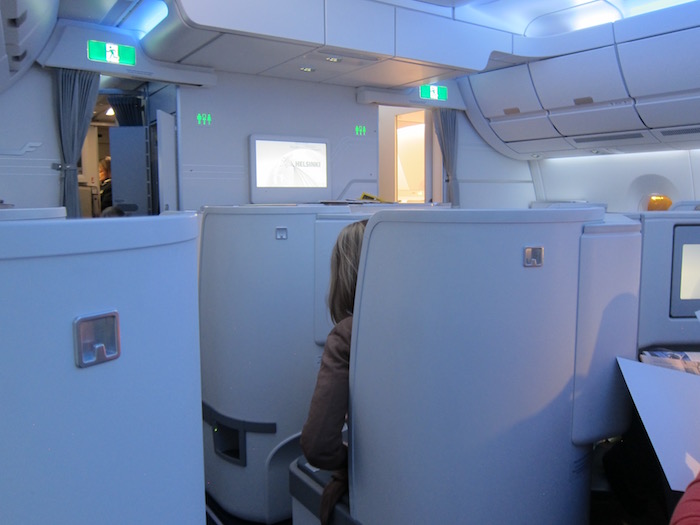 Finnair business class cabin from seat 3A
The service started pretty slowly, especially for a short transatlantic redeye. About 30 minutes after takeoff the chief purser came around to take meal orders.
The dinner menu read as follows:
And the wine list read as follows: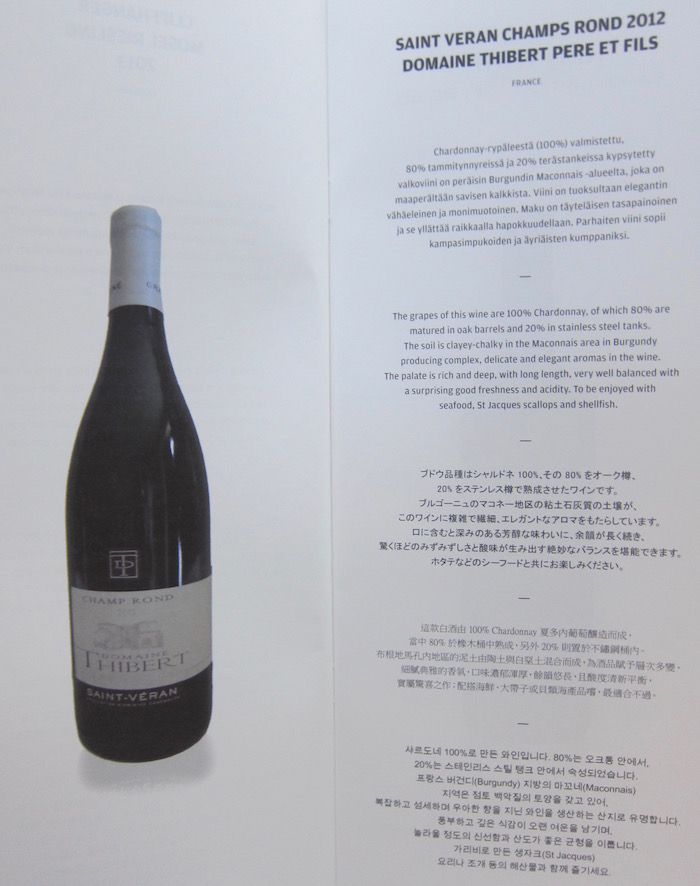 Lastly, the cocktail & beverage list read as follows: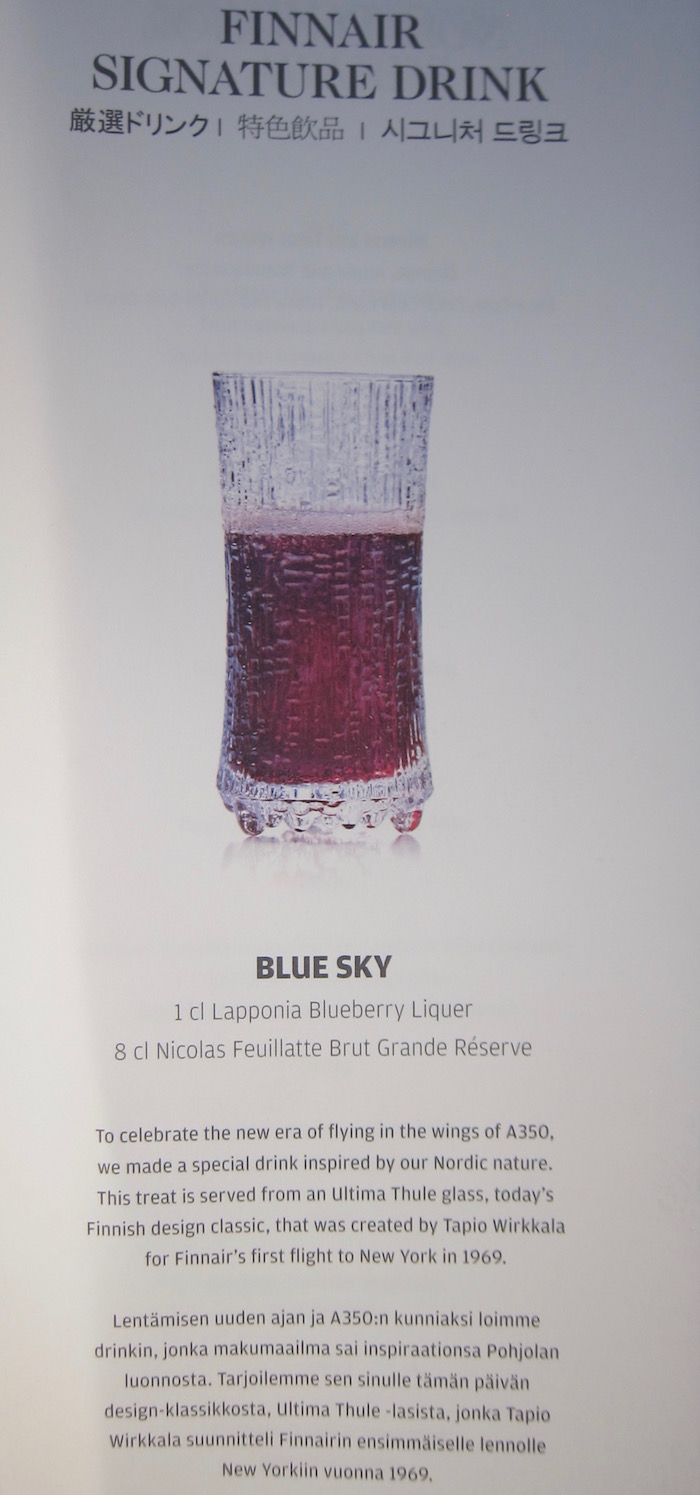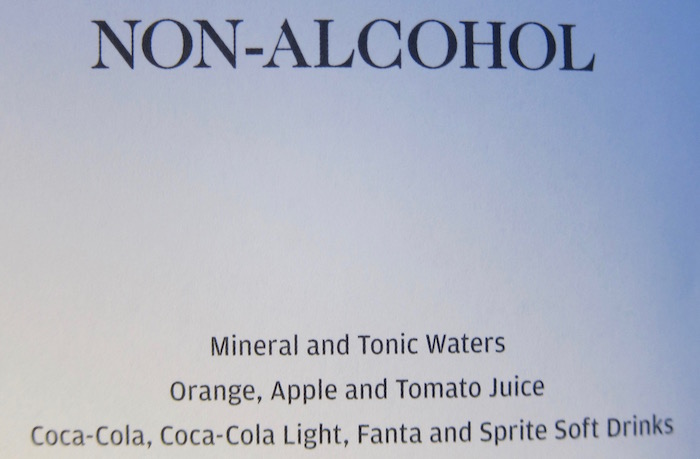 Shortly thereafter another flight attendant came around with hot towels, which were the same cheap ones American uses on their flights.

Finnair business class dinner service — hot towel
After that the flight attendant came around to offer pre-dinner drinks, along with a small amuse bouche of beef yakitori and grilled sesame pineapple.
I ordered Finnair's signature drink, the blue sky. It was tasty, though extremely sweet… even too sweet for me (which is rare, since I like my cocktails sweet and sassy). Again, I loved the glassware.

Finnair business class dinner service — blue sky signature cocktail and amuse bouche

Finnair business class dinner service — beef yakitori and grilled sesame pineapple amuse bouche
After that the crew came around with tablecloths.

Finnair business class dinner service — table setting
Finnair's meal service is simple, as everything is automatically served on one tray. On one hand that would generally be pretty underwhelming, while on the other hand I don't think it's a bad idea for a short transatlantic flight.
The meal consisted simply of a salad, a side of cheese (presumably intended for after the meal), and then the main course, for which I selected the beef. There was no appetizer, unless you count the amuse bouche.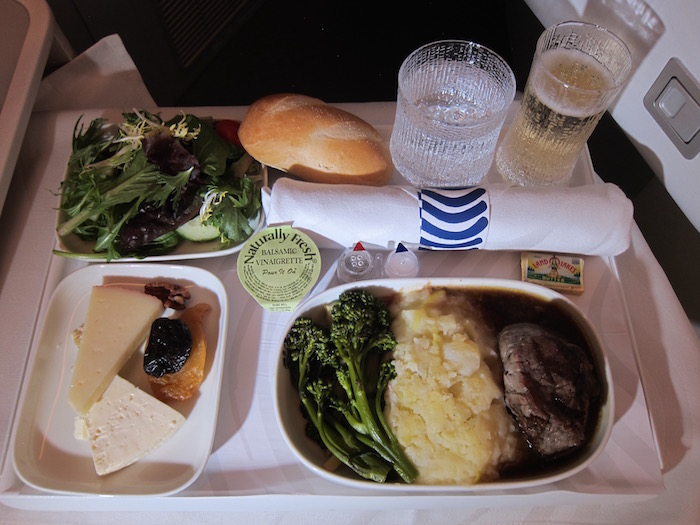 Finnair business class dinner — salad, cheese, and main course
The food itself was fine, though unremarkable. The beef was way overcooked, as is the norm on planes. The broccoli and potatoes were quite good, though.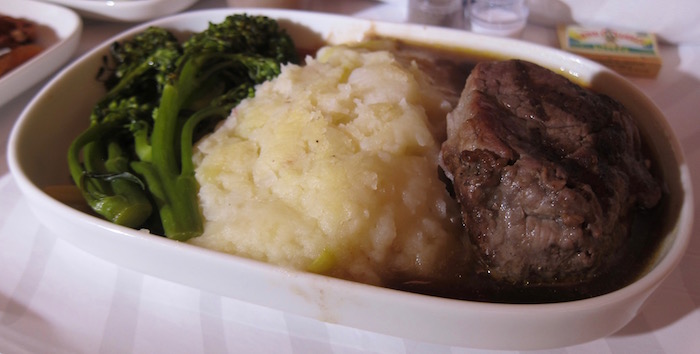 Finnair business class dinner — grilled tenderloin of beef with broccoli and potatoes
The side salad was rather simple.

Finnair business class dinner — baby field greens with vine ripe cherry tomato and cucumber
As was the side of cheese, which just had manchego and gorgonzola.

Finnair business class dinner — manchego and gorgonzola cheese
Lastly for dessert the only option was ice cream, which was Haagen-Dazs vanilla ice cream. I also had a coffee to accompany it (Finnair doesn't offer espresso-based drinks onboard).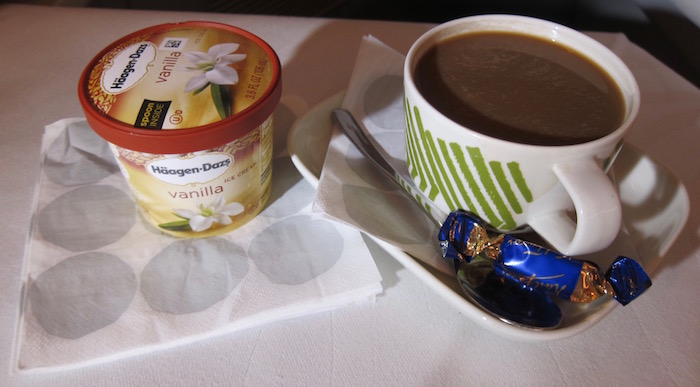 Finnair business class dinner — Haagen-Dazs ice cream and coffee dessert
While I was loving the Finnair experience, the meal itself was disappointing. Again, I don't think that's a huge deal for a 7hr30min redeye, but they basically have an "express" service for everyone (on other airlines you can choose an express service, though you also have the choice of a more elaborate meal).
After the meal the lights were dimmed a bit. Finnair has some fantastic mood lighting, though it seemed to change quite often and drastically, so it was almost a bit distracting.
After the meal I just sipped on some water, which I had been handed on the jet bridge as I boarded (that's the first time I've seen that system used for bottled water).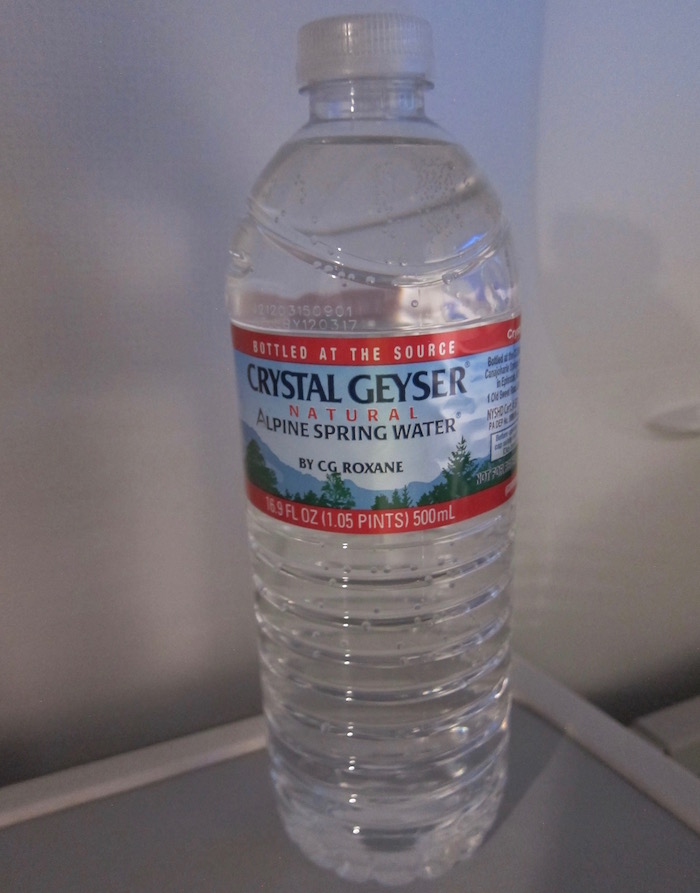 Finnair business class bottled water
I finished watching Ted 2, and then decided to get some shut eye.
I reclined the seat into the fully flat position, and should note that not only is the A350 quiet, but the seat recline function is super quiet as well. On some airlines the seat's motor can be really loud, while on Finnair you can barely hear it, which is awesome.
Finnair had a great pillow and blanket, so I was snug in that regard. As I reclined my reverse herringbone seat into the fully flat position, though, I couldn't help but feel like it was tighter than the seats offered on American and Cathay Pacific. And a closer inspection of the footrest revealed why. The area for your feet is much more restrictive than on other reverse herringbone products. As you can see below, at the back of the seat the space isn't even wide enough to stretch out your feet.
I tend to sleep with my legs bent, and I could only do that when facing the window, and not when facing the aisle, given how restrictive the seat space was on the side. So I do feel like Finnair went with a slightly tighter reverse herringbone configuration than some other airlines, though all things considered I still found it to be quite comfortable.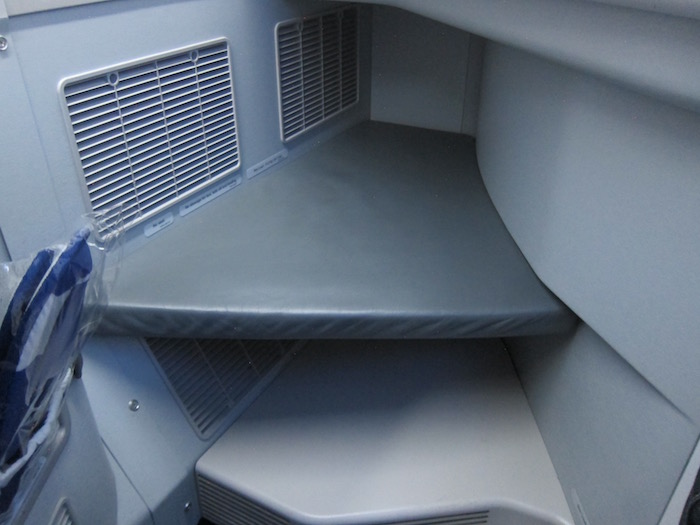 Finnair business class seat legroom A350
I couldn't sleep especially well, not because of the restrictive space for my legs, but rather because I wasn't too tired given the early departure time of my flight. So I figured I'd stay up, especially since I had the following day in Helsinki to catch up on sleep.
I noticed that there was a business class snack menu, which read as follows: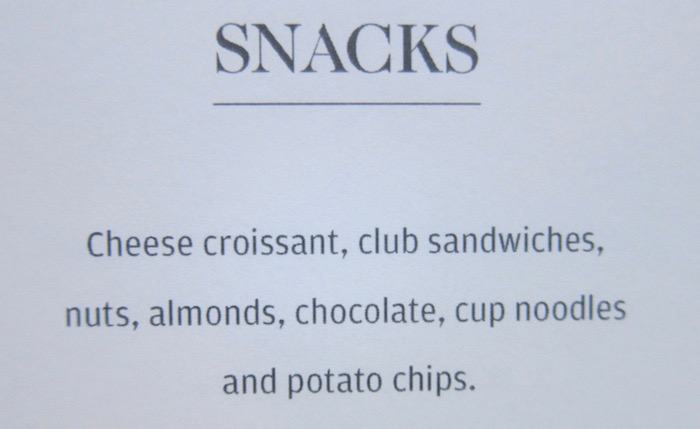 There was a cart set up in the mid-galley, which had some drinks and snacks on display. It's not too often you see that for a short transatlantic redeye, so that was cool.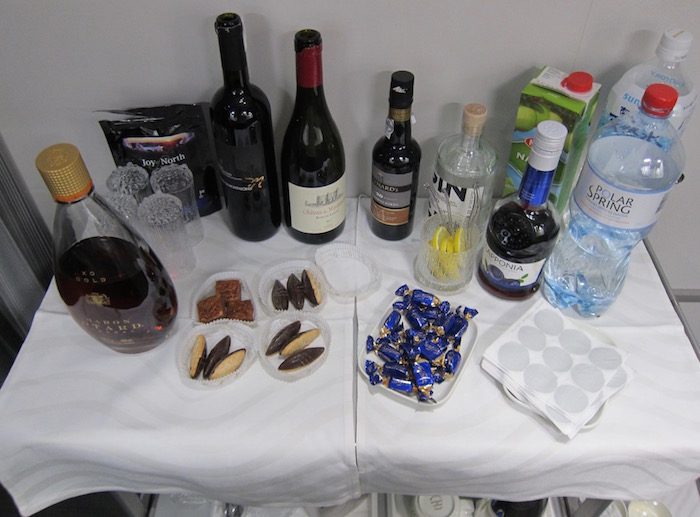 Finnair business class mid-flight snack setup
Soon enough we were over half way into our flight to Helsinki, just between Greenland and Iceland. As I said earlier, I really loved the airshow, and how easy it was to change the perspective of the view.

Airshow enroute from New York to Helsinki
For the next couple of hours I got caught up on some work thanks to the onboard wifi (which began working shortly after dinner was complete). The flight couldn't have been smoother, as I don't recall hitting a single bump during the whole flight.
About 90 minutes out a flight attendant came by and asked if I wanted breakfast.
The breakfast menu read as follows: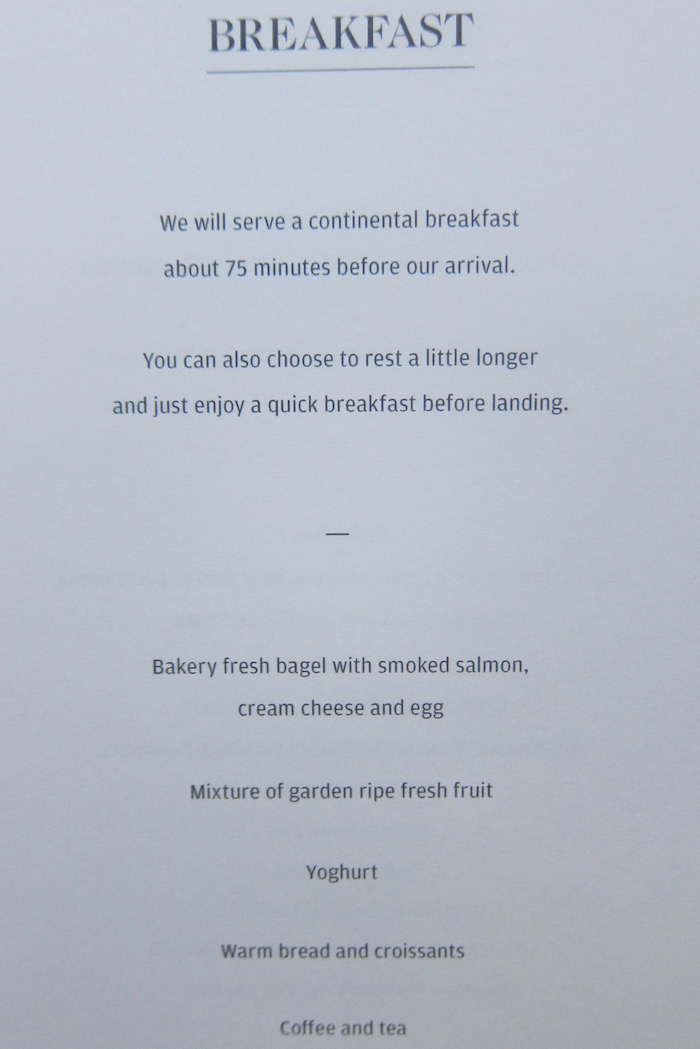 I selected the continental breakfast, and had an orange juice and coffee to go along with it.

Finnair business class breakfast
The main course was a "bakery fresh bagel with smoked salmon, cream cheese and egg." The bagel was at best a mini-freezer bagel past its expiration. It was stale and hard as a rock. My dreams of having a New York-style bagel were crushed. 😉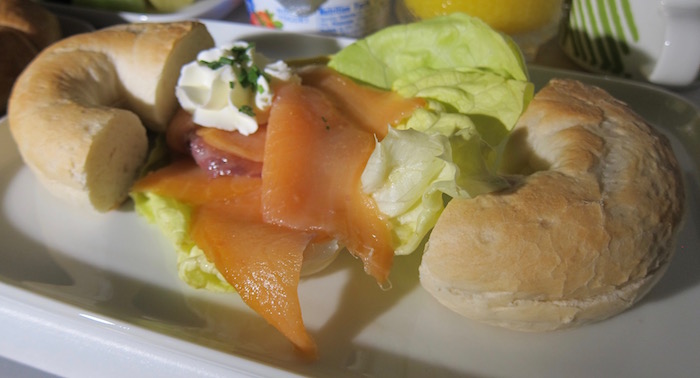 Finnair business class breakfast — bagel with smoked salmon and cream cheese
The side of fruit was tasty, and nicely varied.

Finnair business class breakfast — fresh fruit
As I finished up my meal, most other passengers slowly began to wake up. It was still pitch dark outside, so I turned on another cool feature of the airshow, which was advertised as "cockpit view."
When I turned it on I realized we were at 43,000. WOW, I don't think I've ever flown that high! Apparently the service ceiling of the A350 is 43,100 feet, so I guess that's about as high as you'll get.
I then switched to the tail camera, where I saw the start of a gorgeous sunrise. I find winter in Northern Europe to be depressing, given the lack of sunlight, but for some reason the last 40 minutes of this flight are among the most magical moments I've spent in the air recently. It's tough to describe, but there was something about the faint, glimmering sunrise which reminded me of how much I love flying (not that I often forget, but…).
I'm not sure if it's just the distortion of the camera or if it's because of the altitude at which we were flying, but you could see what looked like the curvature of the earth.
35 minutes before landing the first officer came on the PA to advise us of our landing time of 8:50AM.
30 minutes before landing they played a pre-landing video, explaining the arrivals process at Helsinki Airport, both for those terminating their travels there, as well as connecting passengers.
The video was over soon enough, so I could switch back to the incredible tail camera view.

Tail camera on approach into Helsinki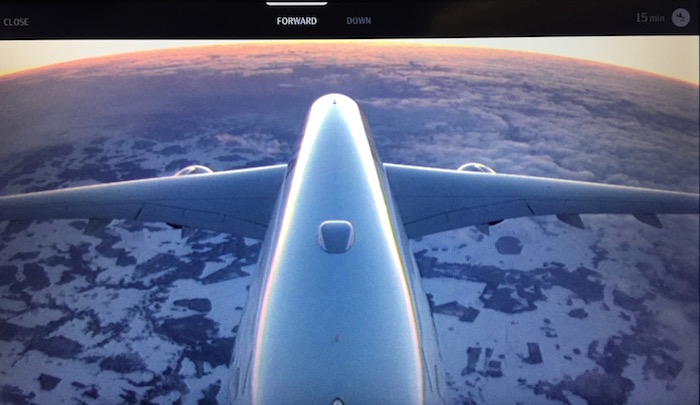 Tail camera on approach into Helsinki
The view out the window was equally captivating.

View on approach into Helsinki

View on approach into Helsinki
And it only got better as we dipped below the clouds. I'm guessing it's because I've spent the past several months in the Middle East, Southeast Asia, Australia, etc., but there was something so indescribably enchanting about the snow-filled scenery below.

View on approach into Helsinki
15 minutes before landing the seatbelt sign was turned on, and I once again focused on the tail camera. The gear came out a couple of minutes before landing, and I could see us lining up with the runway on the tail camera.

Tail camera on final approach into Helsinki

Tail camera on final approach into Helsinki
We had a smooth landing on runway 4R at 8:50AM, and then began our taxi to the gate.

Tail camera upon landing in Helsinki
As we taxied you could see the engines blowing the snow off the taxiway path, as in some areas the taxiways were barely visible due to the amount of snow.

Tail camera while taxiing in Helsinki
Our taxi to Terminal 2 took only about five minutes, as we arrived at our gate at 8:55AM.

Tail camera upon arriving at our gate
Helsinki Airport is one of the most pleasant airports in all of Europe, so within minutes I was through immigration and on my way to my airport hotel.
Finnair business class A350 bottom line
I'm so happy I had the opportunity to finally sample Finnair's business class, especially on their brand new A350.
I love the A350, and from a passenger comfort standpoint it's a win. Between how quiet it is, the tail camera, and the general cabin ambiance, it's one of my favorite planes to fly.
I also loved the attention to detail in Finnair's service. From the colorful pillows and amenity kits, to the flight attendants wearing gloves during boarding, to the breakfast cards, the product was extremely well thought out.
I also love reverse herringbone seats, though I found this specific type to be a bit less comfortable than others when sleeping. I couldn't tell when sitting up, but in the reclined position legroom was limited.
The only disappointing aspect of the flight was the food. I don't consider that to be a huge issue on a short transatlantic flight, but Finnair definitely has some room for improvement there, as it was one of the less impressive catering experiences I've had on a transatlantic flight.
All things considered, Finnair's A350 business class still ranks high. The reverse herringbone seat and wifi are what matter most to me, while the special touches and quirky design are what set Finnair apart for me.
I'm excited to fly them again. Now I'm just hoping Finnair regularly flies the A350 to the US, as this was only limited time.
If you've flown Finnair, what was your experience like?