Finnair has announced some major passenger experience upgrades, as the airline has revealed all new cabins for its long haul aircraft, including Airbus A330s and A350s. This includes the introduction of a new business class seat, the addition of a premium economy cabin (which the airline didn't previously offer), and some updates to economy class, representing an overall investment of €200 million. Let's go over the details.
Finnair's new business class seat
Finnair is introducing the Collins Aerospace AirLounge seat in business class, for which the airline is the launch customer. As it's described, this isn't a traditional aircraft seat, but rather it takes inspiration from lounge furniture. The seat is designed to maximize comfort, space, and freedom to move.
Here's how some of the seat's key features are described:
The seat's fixed contoured shell with no recline enables a wide variety of sitting and sleeping positions
You can sit at different angles, rest your feet on the ottoman, or use infill panels to create a large flat surface
A mattress and duvet turn the space into a comfortable bed, and you can use the cushy pillows to relax in a variety of sitting positions
The high cocoon shell of the seat provides privacy, while the divider between central seats can be lowered when traveling with a companion
The lighting options in the seat allow tailoring the ambiance of every customer's own "nest"
Along with a customized lamp that doubles as a reading light, a do not disturb light is included if privacy is desired
The cabin will feature new mood lighting intended to combat the impacts of jetlag
The design scheme is inspired by Nordic nature, complete with the northern lights as the cabin is dimmed for sleep
There are various storage options, including spaces for personal items, laptops, and all pillows and blankets, and they can all be used for taxi, takeoff, and landing
The flexible table can be used to read, dine, or work, and each seat comes with USB-A, USB-C, PC power, and wireless mobile charging
The inflight entertainment system comes with a new, more user-friendly and customized interface with a wider 18″ screen
Below are some pictures of Finnair's new business class product.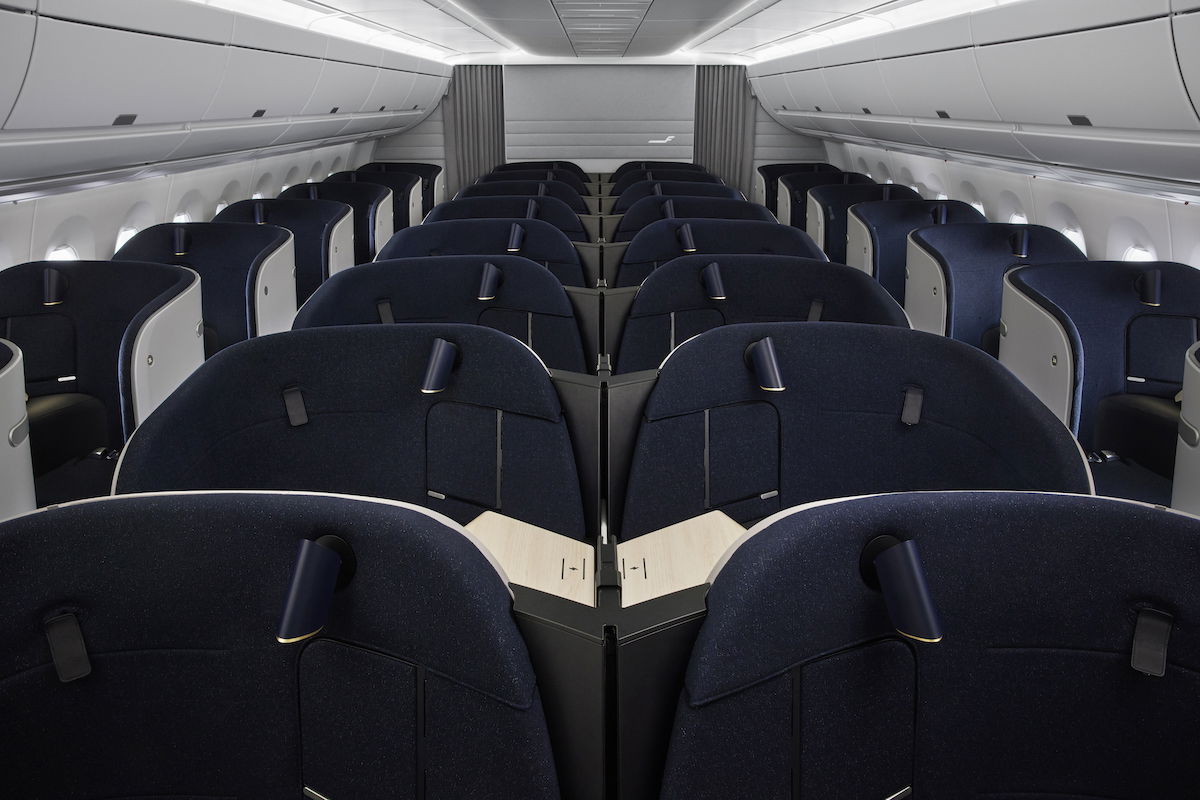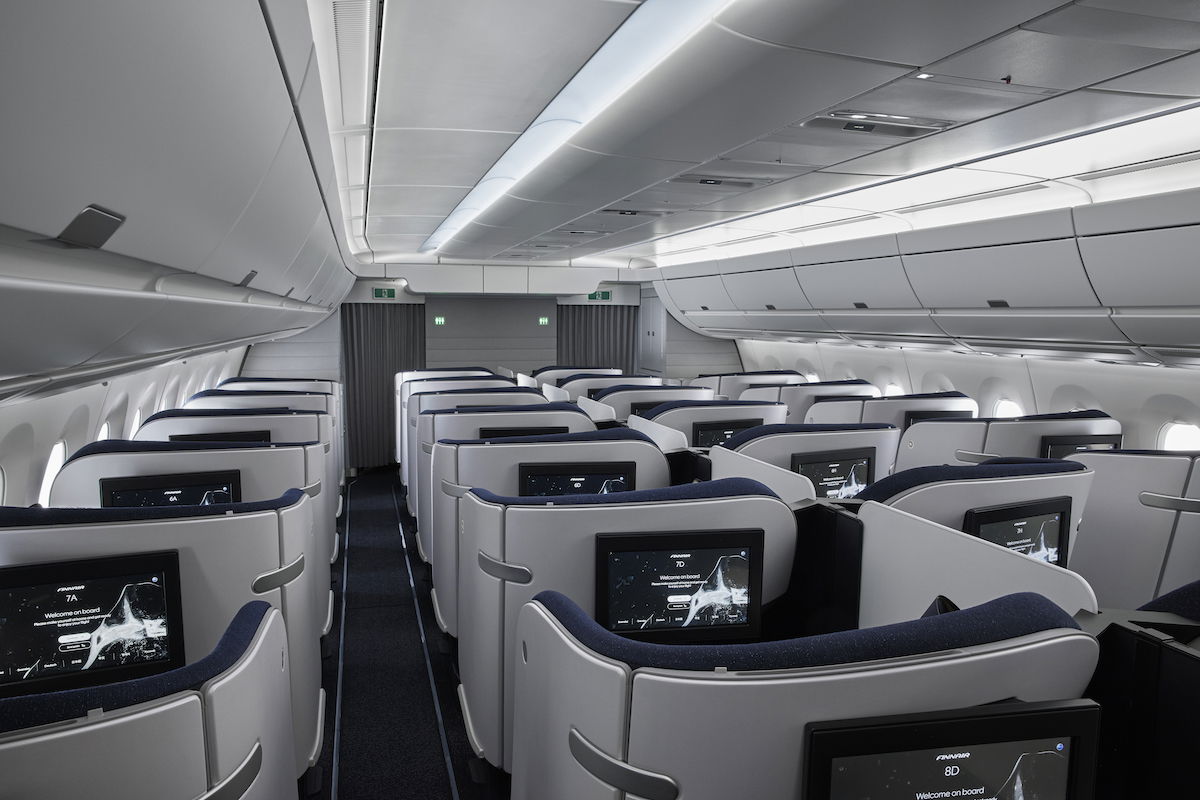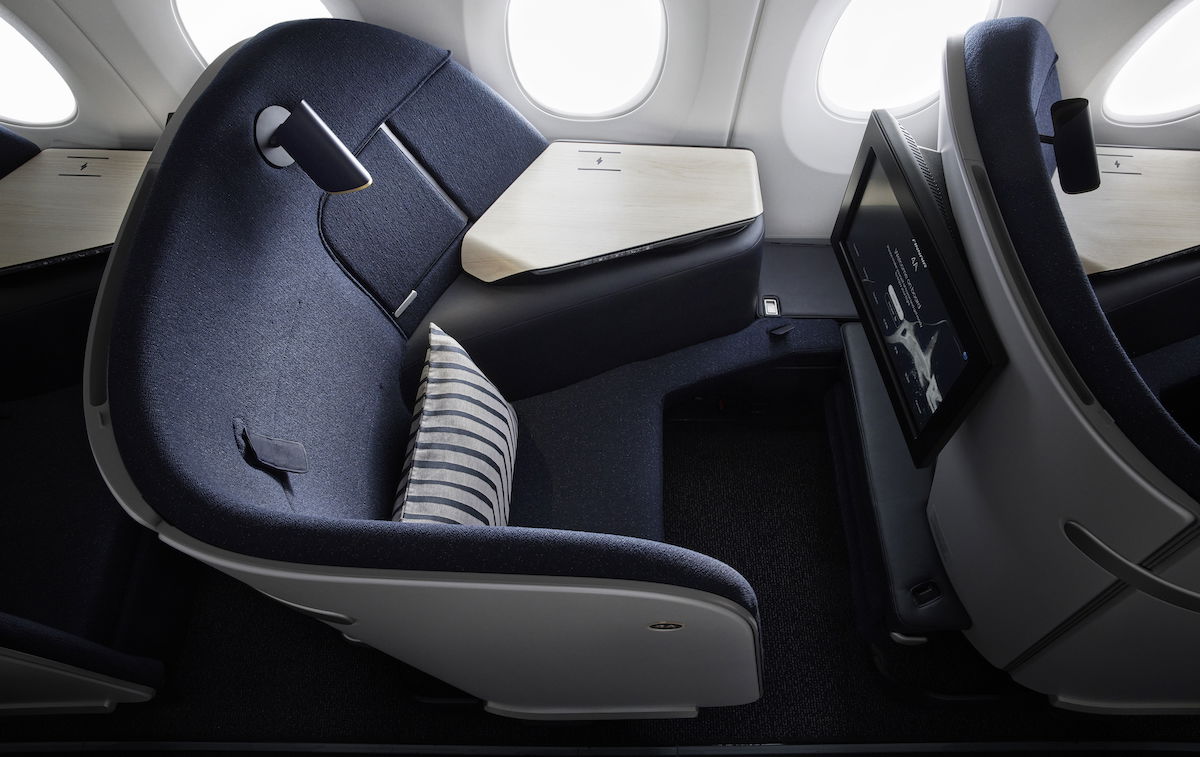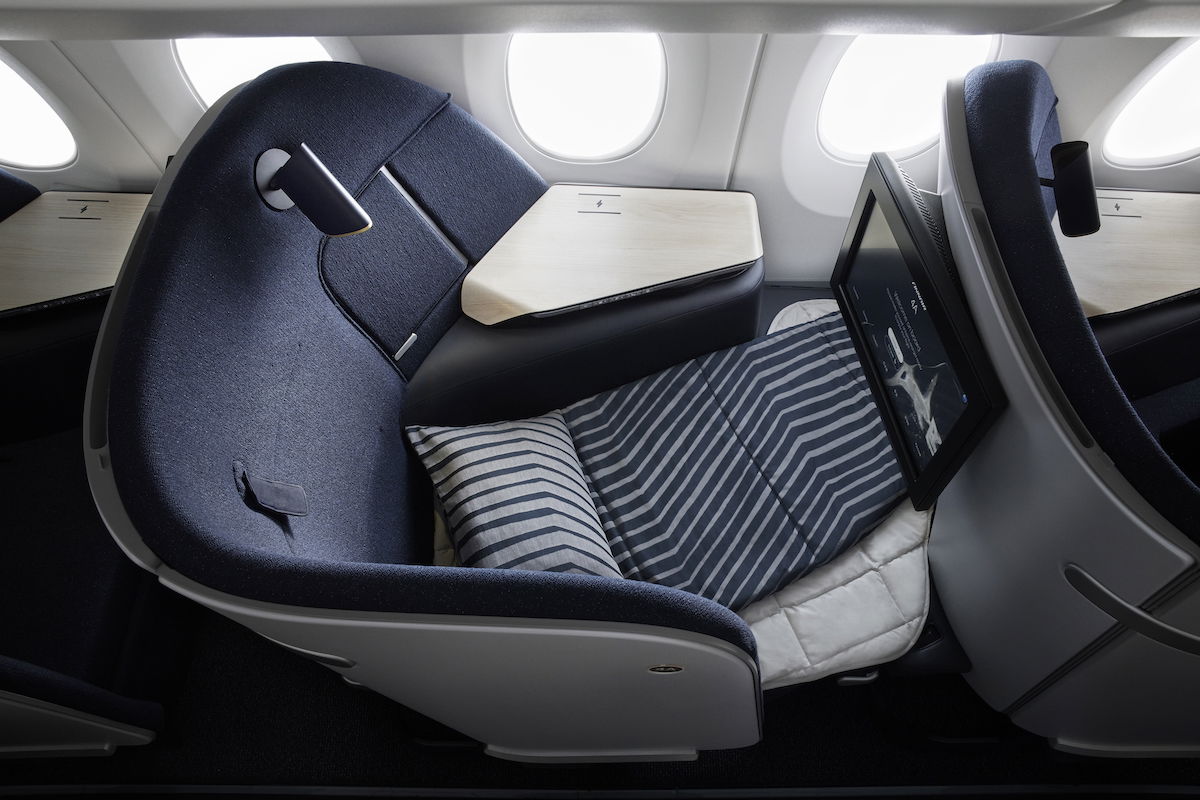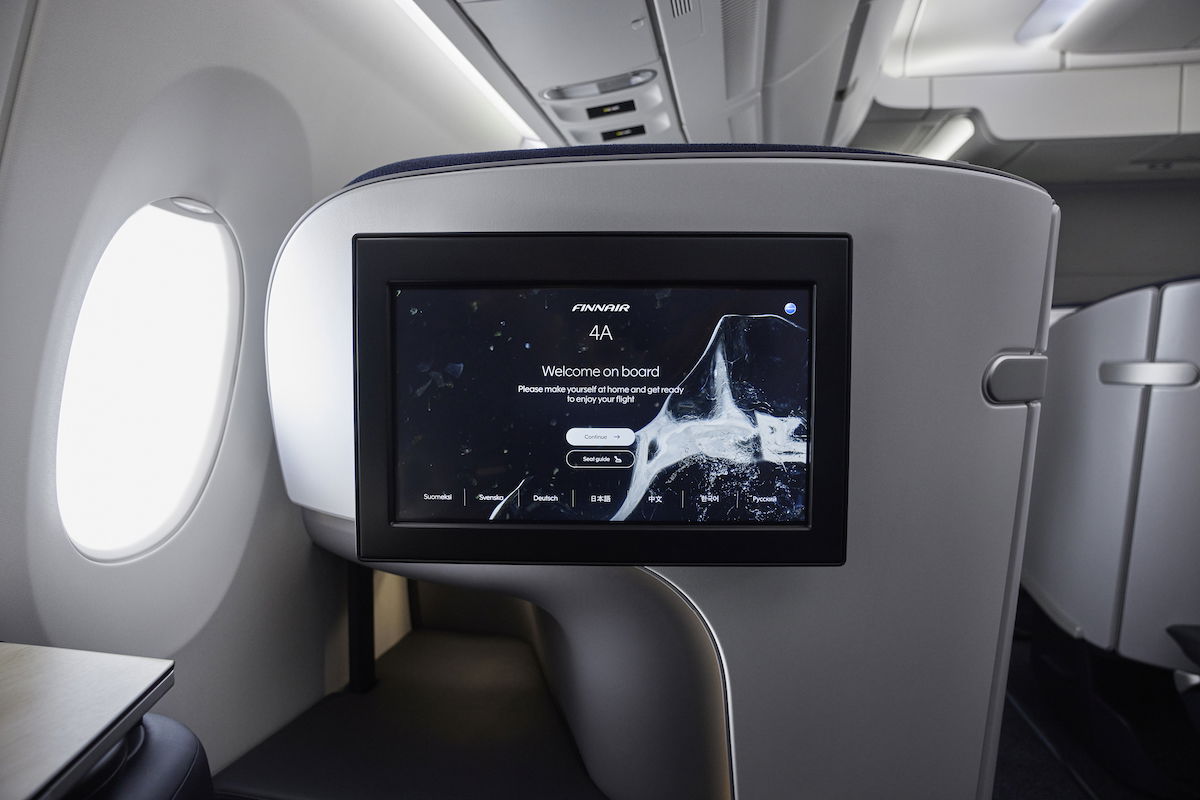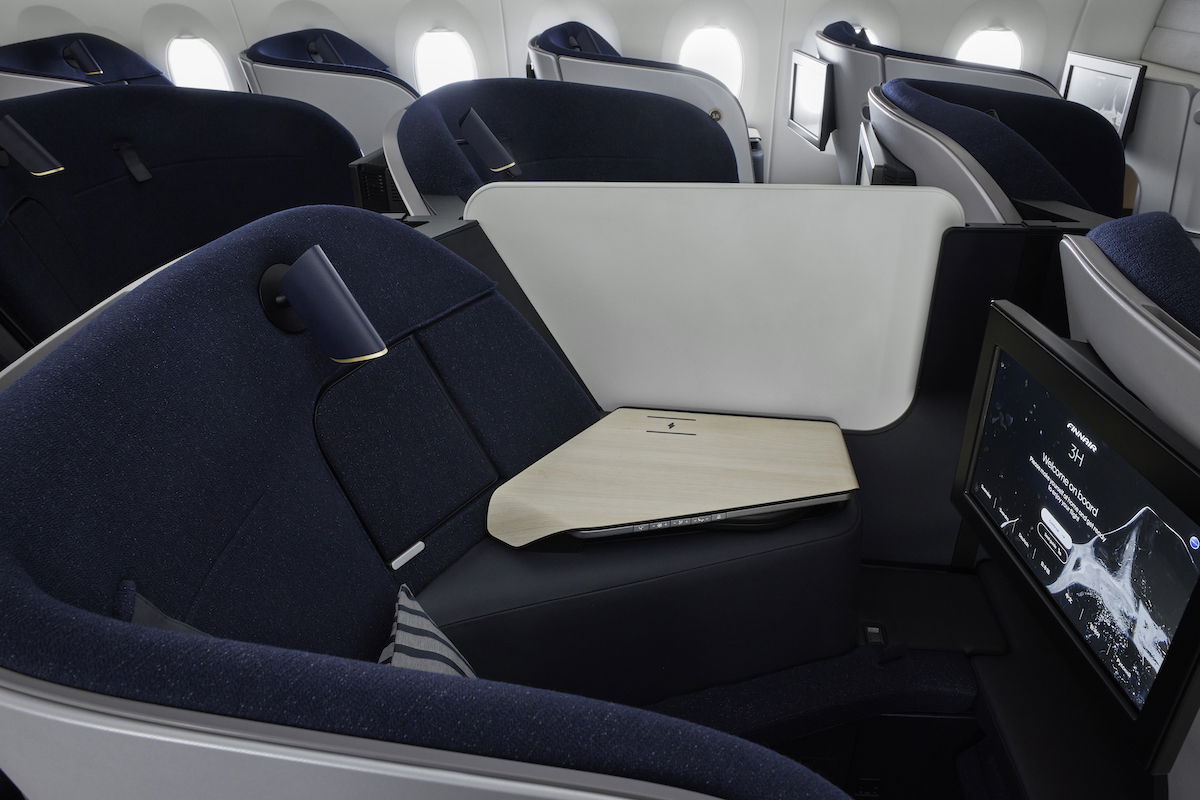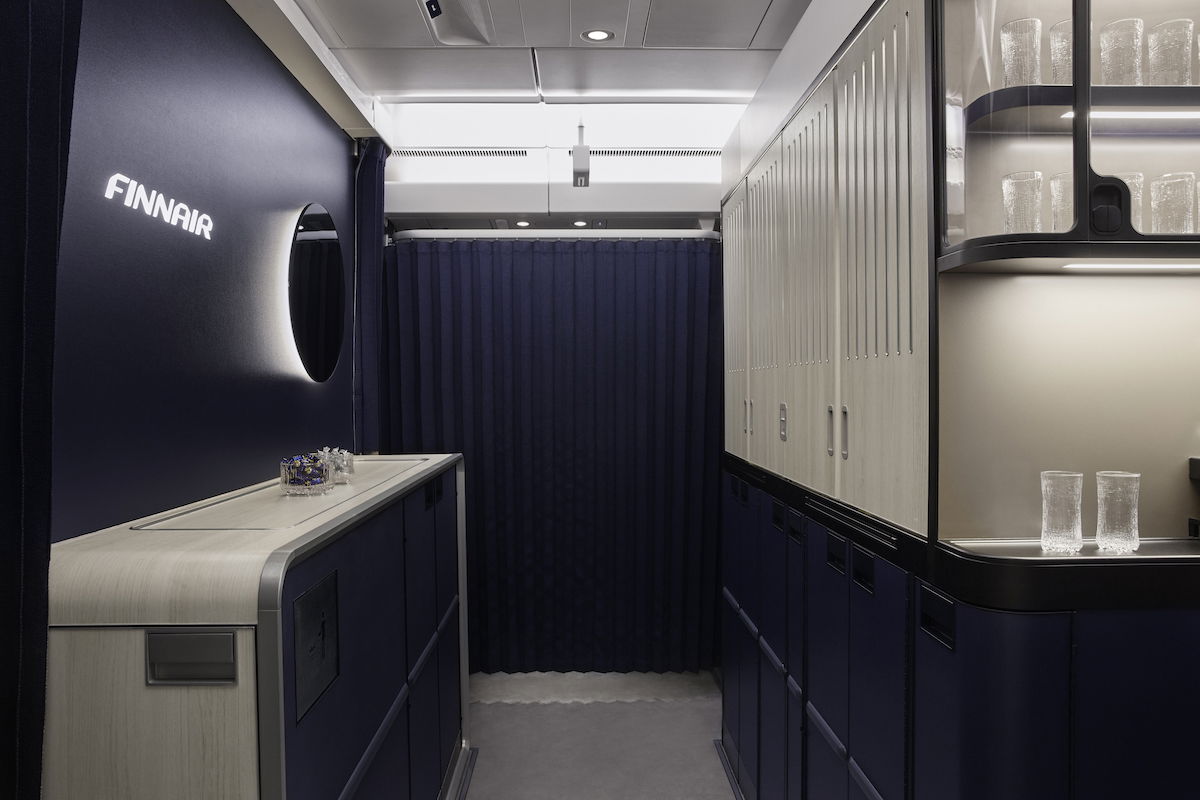 Below is a video of the new seat, which is extremely useful given how unusual this seat is, as it doesn't recline.
Finnair's new premium economy product
Not only is Finnair refreshing its business class product, but the airline is also introducing an all-new premium economy product, which is a cabin the airline doesn't currently offer. Finnair's new premium economy cabin will be the Vector seat from HAECO, and Finnair is also the launch customer for that product.
Here are some of the key details about Finnair's new premium economy:
The seat will feature 50% more space than economy class, and there will be at most 26 seats in the cabin
The seat will feature memory foam cushions, 8″ of recline, waterfall leg rest, and a six-way headrest
There will be dedicated storage for laptops and small personal items
There will be a large and sturdy single leaf meal tray for work and dining, as well as individual reading lights
There will be USB-A and PC power outlets
Each seat will feature a redesigned inflight entertainment system with 13″ wide screens
In terms of service, premium economy will feature two meal services as well as a selection of drinks throughout the flight; the first meal service will be three courses, while a lighter meal will be served before landing
Below are some pictures of Finnair's new premium economy product.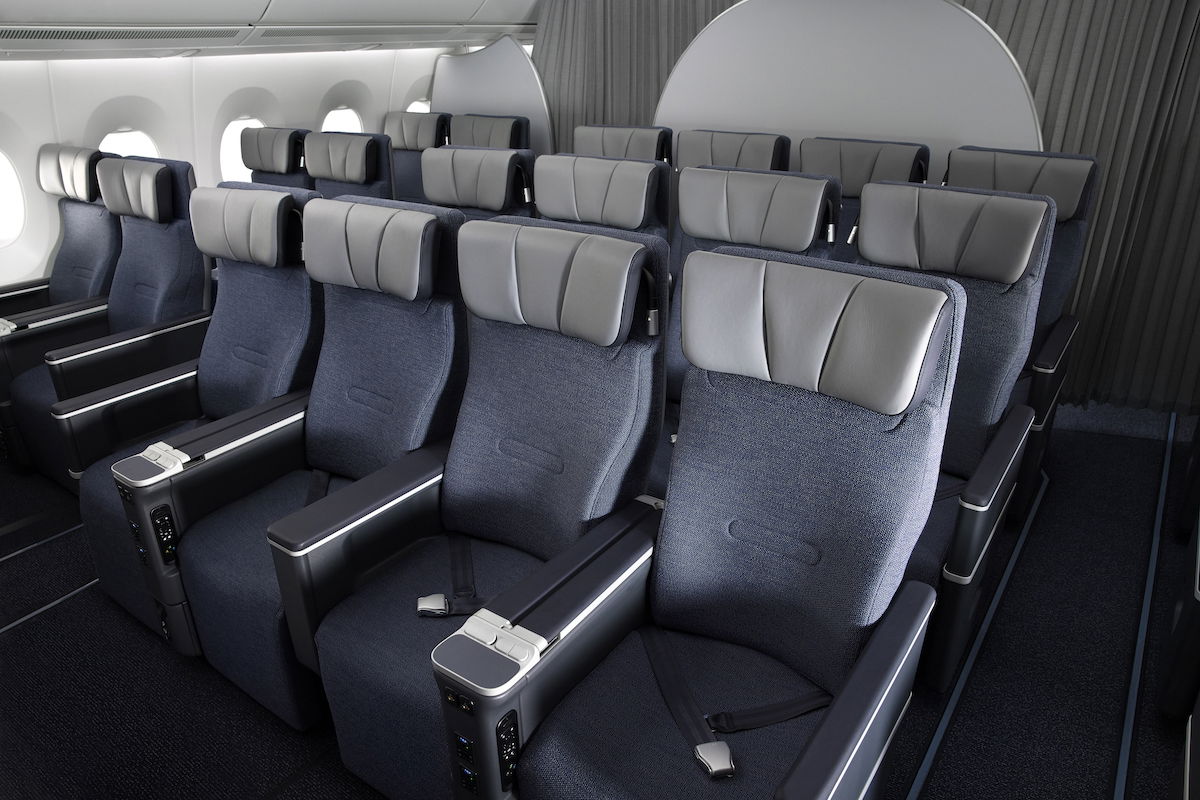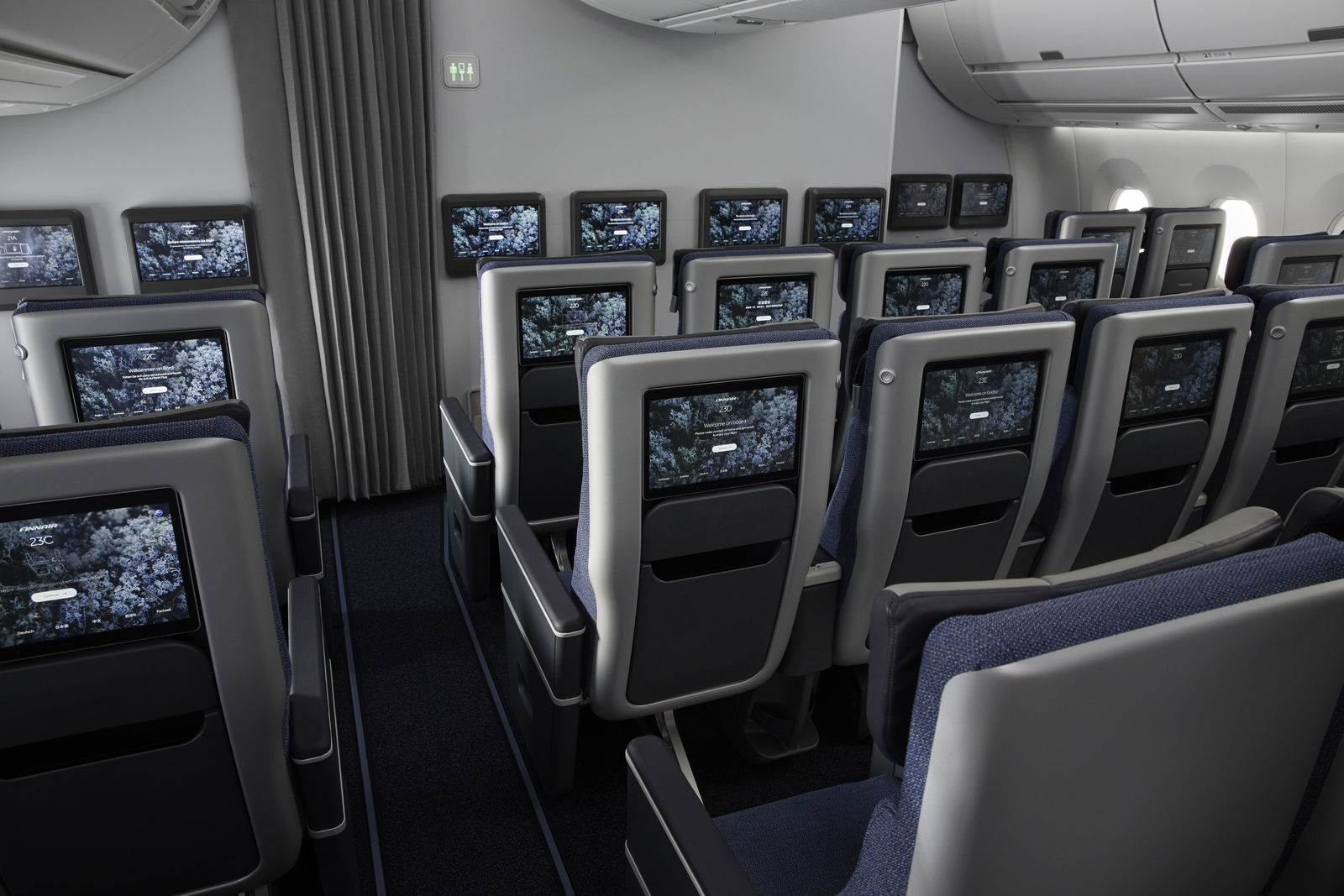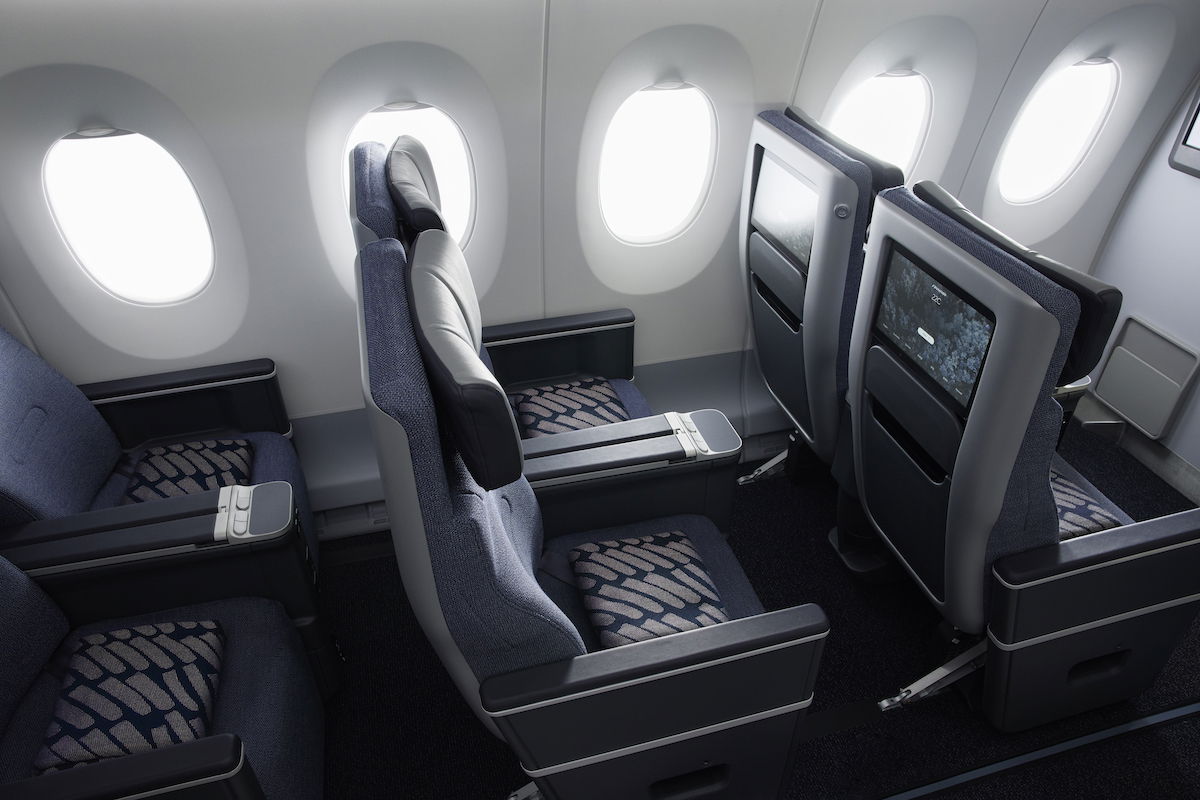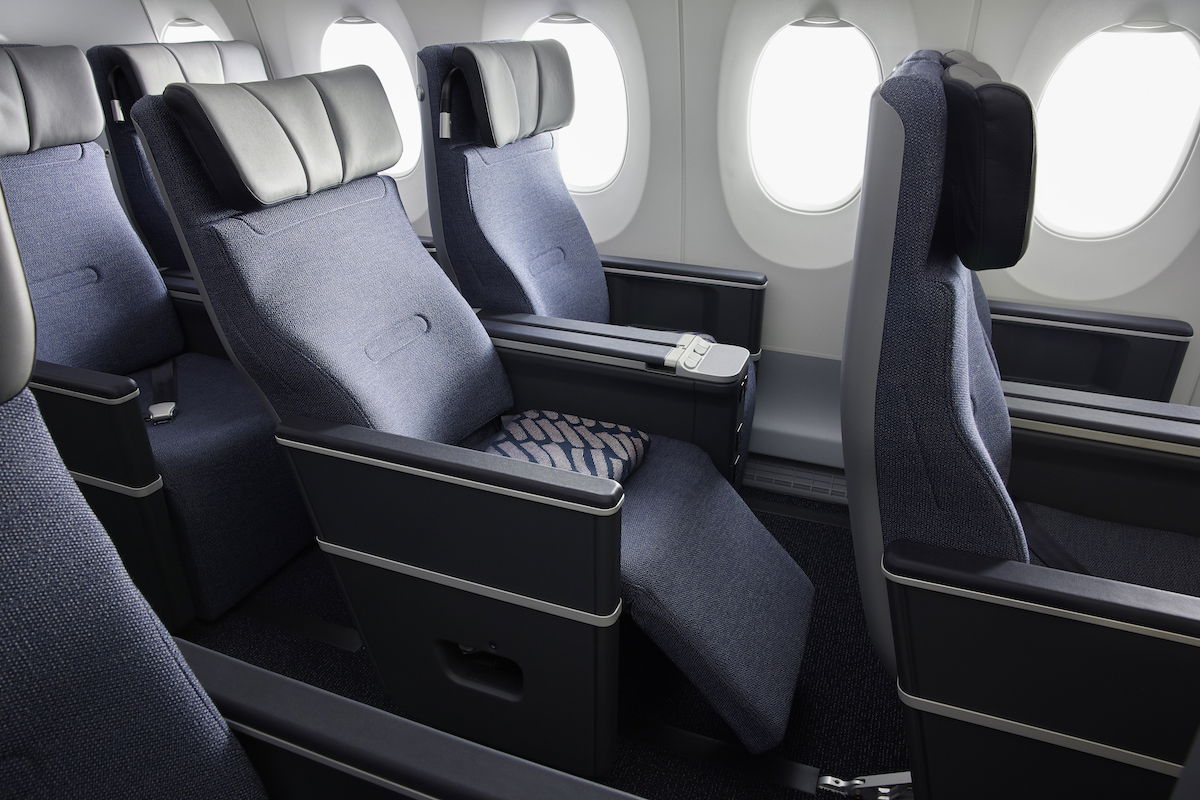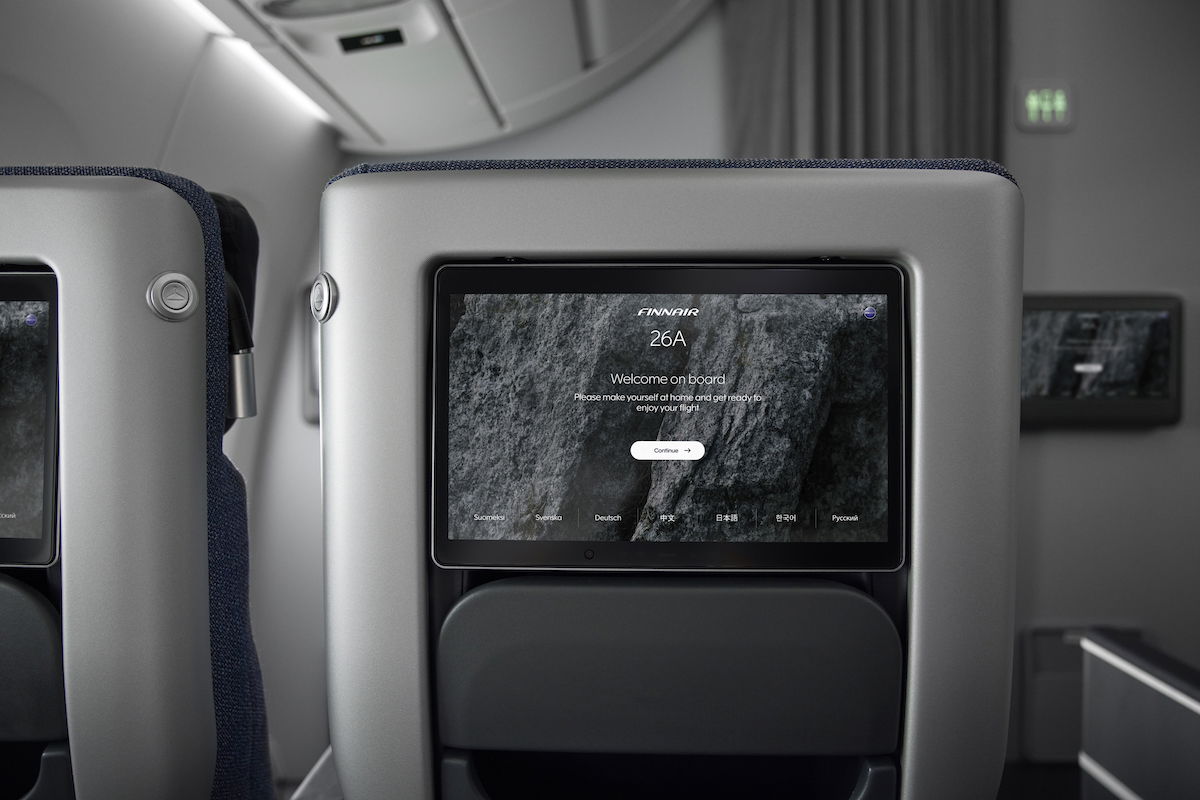 Finnair's economy class refresh
While I wouldn't get too excited, there are also some minor changes coming to Finnair's long haul economy class experience. This will be coming to Finnair's A330s, plus the three Finnair A350s that the airline has ordered but hasn't yet put into service. For these planes we can expect:
New lighter seats
Enhanced ergonomics, personal stowage options, USB-A and USB-C connectivity, and a larger inflight entertainment screen with an updated user interface
Meanwhile Finnair's existing A350s will simply receive new seat covers and an updated IFE experience.
When will Finnair's new cabins be introduced?
Finnair is debuting the new cabins on both the A330 and A350 around the same time. Finnair has ordered an additional three Airbus A350-900s that haven't yet entered service, so the first planes with the new cabins should be some of those A350s. Furthermore, Finnair has already reconfigured one A330 with the new cabins.
Finnair has been offering its new cabins between Helsinki (HEL) and London (LHR), but as of now the planes haven't started operating long haul routes. That will soon be changing. Finnair's first three long haul destinations to get the new cabins will be New York, Singapore, and Dallas:
The Helsinki (HEL) to New York (JFK) route will be operated by an A330 with the new cabins as of May 2, 2022
The Helsinki (HEL) to Singapore (SIN) route will be operated by an A350 with the new cabins as of May 11, 2022
The Helsinki (HEL) to Dallas (DFW) route will be operated by an A350 with the new cabins as of May 12, 2022
Obviously this remains subject to change, but as of now that seems to be the plan. If you want to easily tell based on the seatmap whether the seat features the new cabins, it's pretty easy to do.
For the A330, you know it's the new cabins if business class is in a 1-2-1 configuration the whole way through.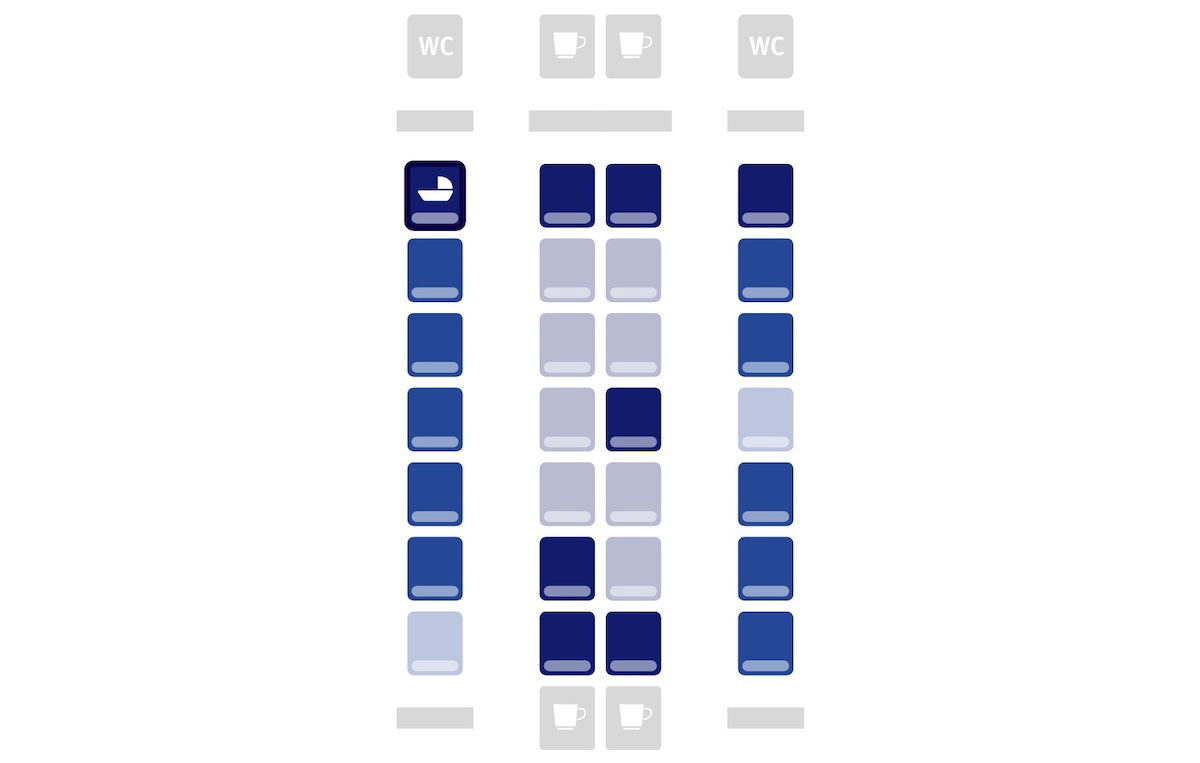 For the A350, you know it's the new cabins if the forward business class cabin has seven rows of seats along the windows, rather than eight. Furthermore, the rear business class cabin has three rows of seats on the left side and four rows of seats on the right side.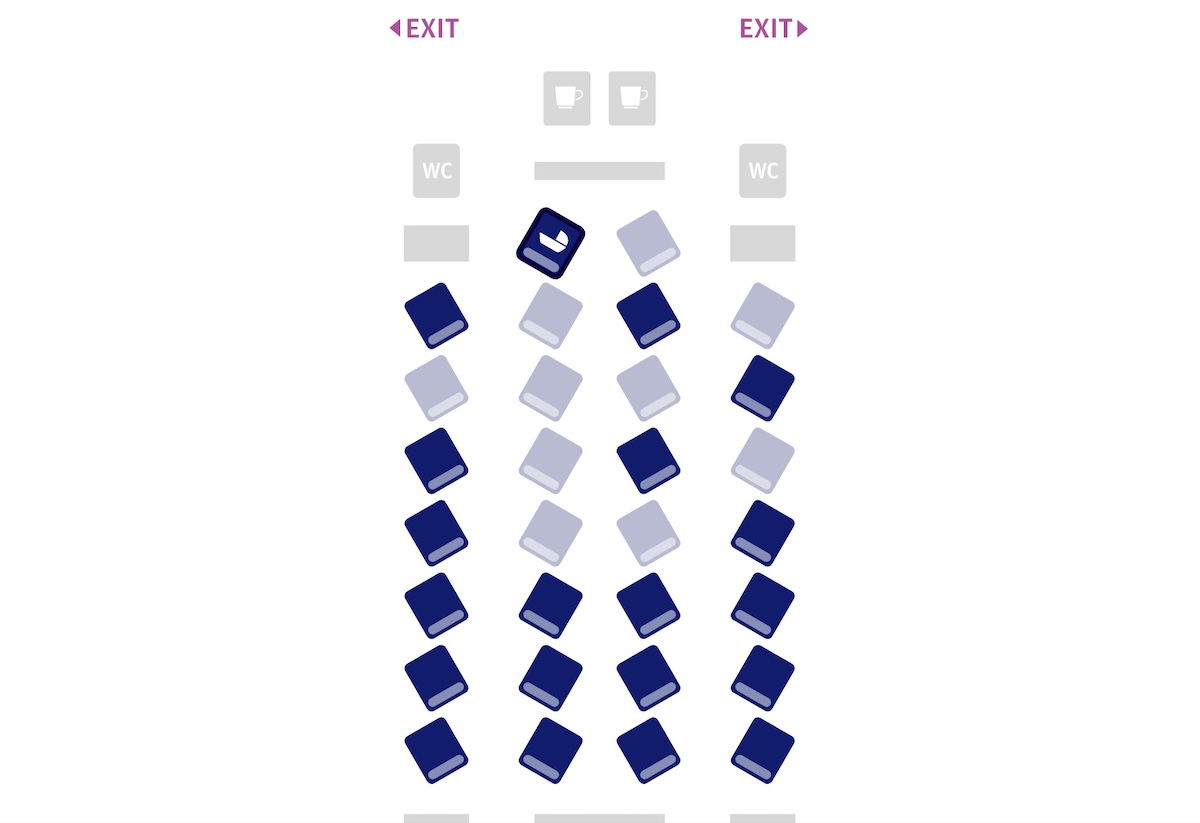 My take on Finnair's new cabins
A few thoughts on Finnair's new cabins. Let's start with business class:
It's always exciting to see an all new seating product introduced, as Finnair is the launch customer for this seat
This seat is truly revolutionary, for better or worse, as it doesn't offer recline; I've gotta be honest, I'm highly skeptical of this in terms of being able to find various positions in which to comfortably sit (what if you don't want to sit upright or sleep?), but I guess I'll have to reserve judgment
On some level I imagine a non-reclining seat is a cost saving measure, as this seat must be significantly lighter (meaning it leads to less fuel burn), and also potentially require less maintenance (since there's less that can break)
I love the Nordic design of the cabin; while minimalist, it has a bit of personality too
It sounds like the cabin is pretty thoughtfully designed, between all the storage compartments, the wireless charging, etc. (though again, I'm skeptical about the lack of recline)
This seat does remind me a bit of Singapore Airlines' business class seat, as it appears that you have to sleep at an angle, and I'm not sure if that's a good thing or not; I question how comfortable these seats will be
For context, Finnair's A350s currently have reverse herringbone seats, while Finnair's A330s currently have staggered seats; this will be a particularly big upgrade for A330s
As far as premium economy goes:
Premium economy is becoming an increasingly popular seating offering, so it's nice to see Finnair finally introduce this
This looks like a pretty standard premium economy product, though I do like the finishes
Lastly, when it comes to economy:
The new "lighter seats" probably aren't good news, as I imagine they're not going to be particularly comfortable
While it's nice that Finnair will offer USB-A and USB-C connectivity, why no PC power?!
Bottom line
Finnair is introducing an all new long haul experience, including a refreshed business class product, an all new premium economy cabin, and some minor refreshes in economy. The first planes with these products are flying as of the spring of 2022, with long haul flights launching as of May 2022.
While the economy and premium economy cabin updates are roughly what you'd expect, Finnair is going with a revolutionary new business class product that doesn't feature recline. We've never seen an airline do that before (to my knowledge), so I'm really curious to see what the seat comfort is like. I'm skeptical, and can't wait to try the new business class.
What do you make of Finnair's new long haul cabins?