---
Intra-Europe business class is usually a pretty underwhelming product. It even makes domestic first class in the US look good. On most European airlines it's simply an economy seat with a blocked middle and improved service & food.
For whatever reason, Finnair was flying an Airbus A340 between Helsinki and London for the flight I booked. This is a plane they usually fly on longhaul routes, so it would allow me to experience their old longhaul business class seat. While Finnair has a new reverse herringbone business class product on the A350, the A330s and A340s feature a fully flat, staggered product.
Finnair 831
Helsinki (HEL) – London (LHR)
Friday, January 22
Depart: 8:00M
Arrive: 9:10AM
Duration: 3hr10min
Aircraft: Airbus A340
Seat: 7L (Business Class)
I boarded through the second door on the left, where a couple of friendly flight attendants greeted me and pointed me to my seat.
Finnair's A340 business class cabin consists of a total of 45 seats, spread across two cabins. The rows alternate between being in a 1-2-1 configuration and being in a 2-2-1 configuration.
The forward cabin consists of a total of seven rows with 32 seats, while the rear cabin consists of three rows with a total of 13 seats.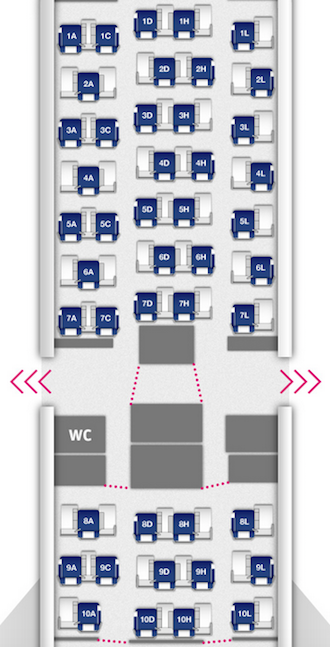 This business class hard product is very similar to the staggered configuration offered on Austrian, Brussels, Delta, Swiss, etc.
As I popped into the plane I quickly took a look at the mini cabin behind the main entryway door.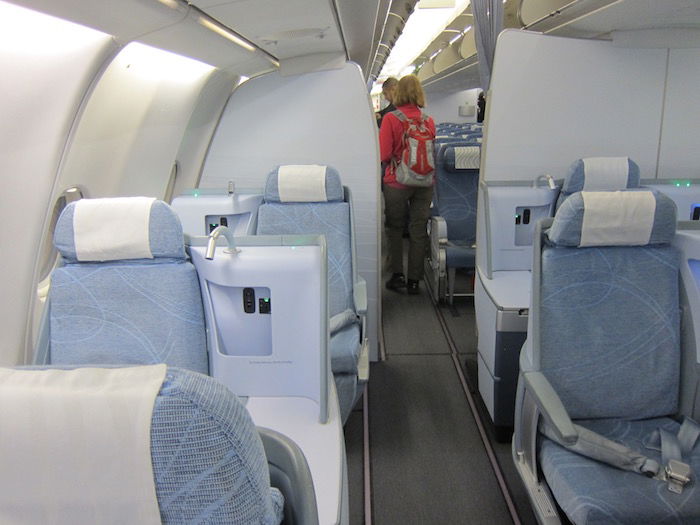 Finnair mini-business class cabin A340
And then I moved into the main business class cabin. While I loved the design of Finnair's A350 cabins, I can't say the same thing about the A340s.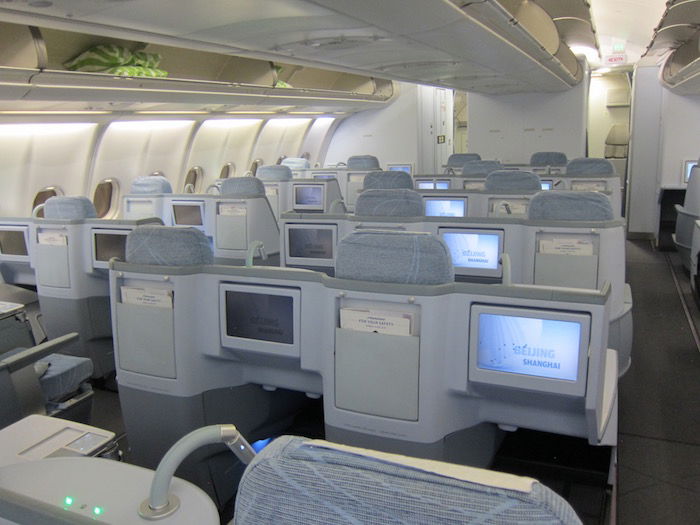 Finnair business class cabin A340
I just found the finishes of the cabin to be bland, and also thought the seats themselves were rather run down. The blueish/grayish color really doesn't age very well, unfortunately.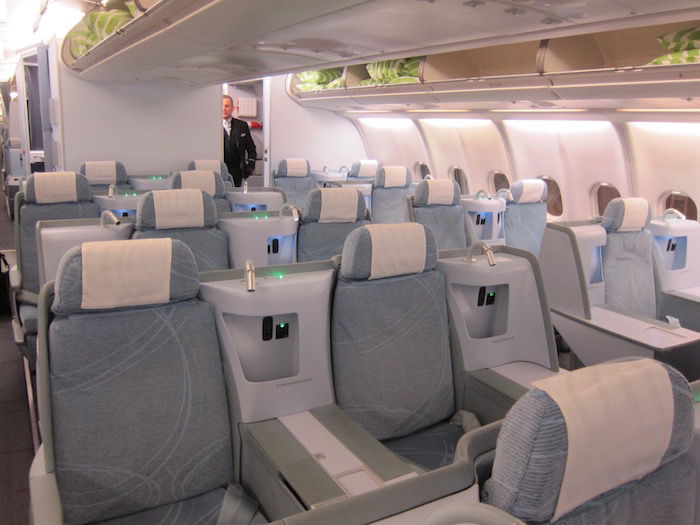 Finnair business class cabin A340
In general with these staggered configurations my preference would be to select the single seat closest to the window, as it has the most privacy. In this cabin those would be seats 2L, 4L, 6L, and 9L.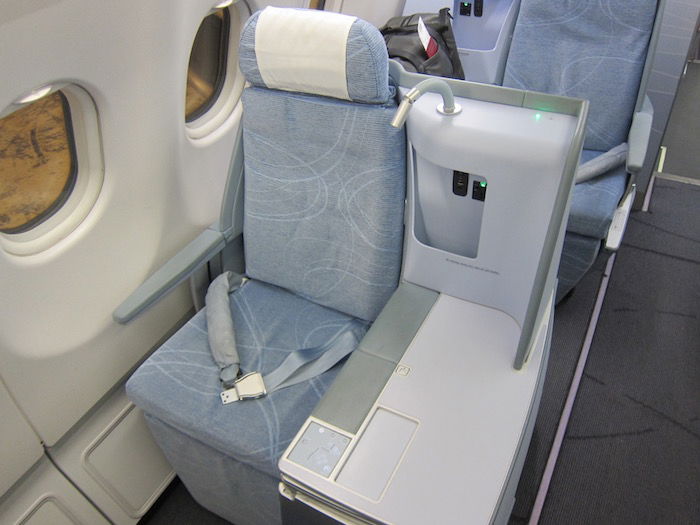 Finnair business class, seat 6L
The downside of the seats closest to the windows are that they have a fairly restrictive foot cubby, so you'll have a limited amount of space for your feet when trying to sleep.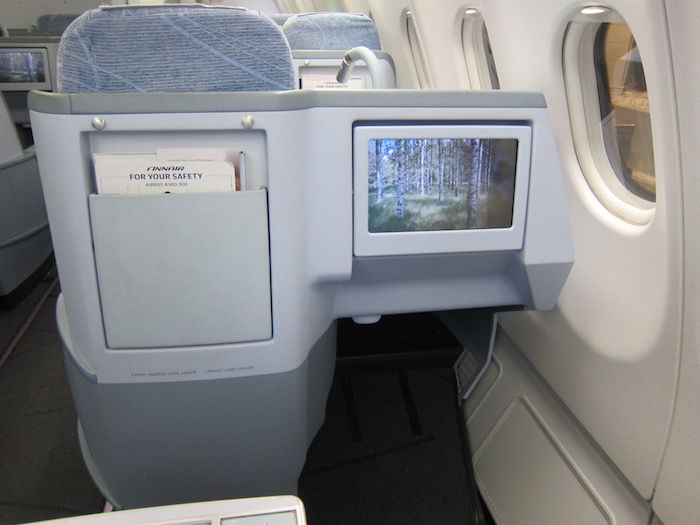 Finnair business class, seat 6L
For this flight I had selected seat 7L, which is a window seat closer to the aisle.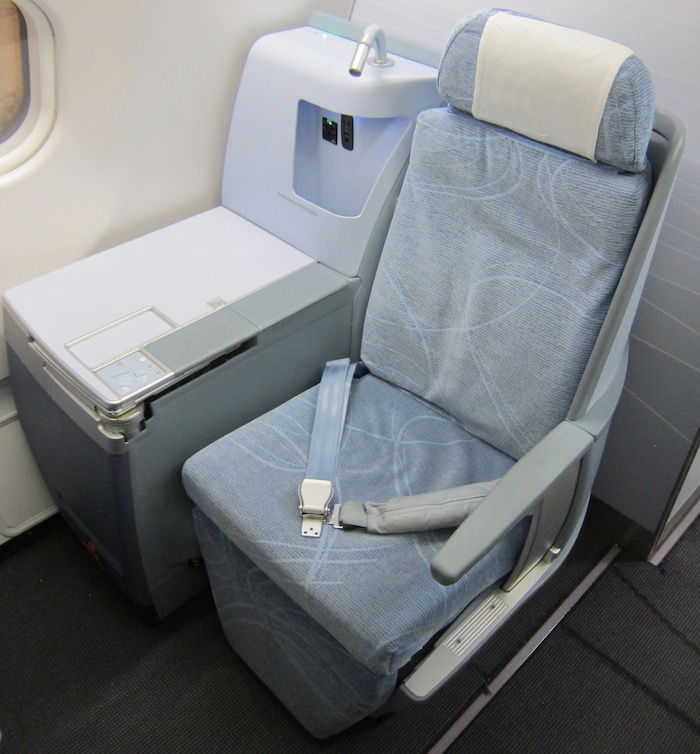 Finnair business class, seat 7L
While it has less privacy than the "true" window seats, the advantage is that the area for your feet isn't as restrictive.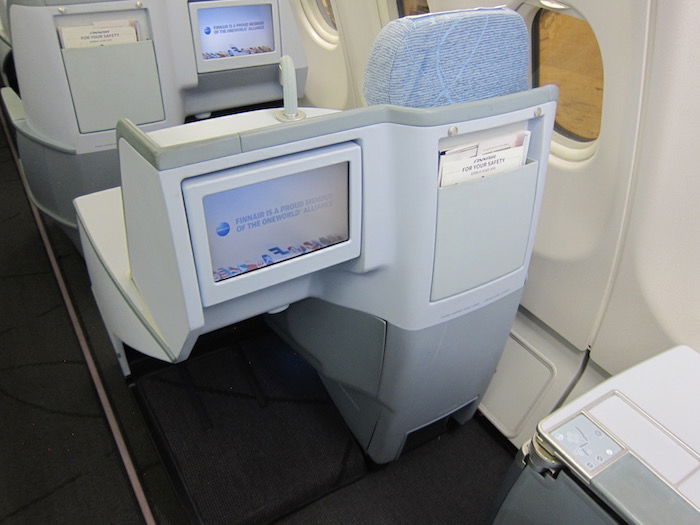 Finnair business class, seat 7L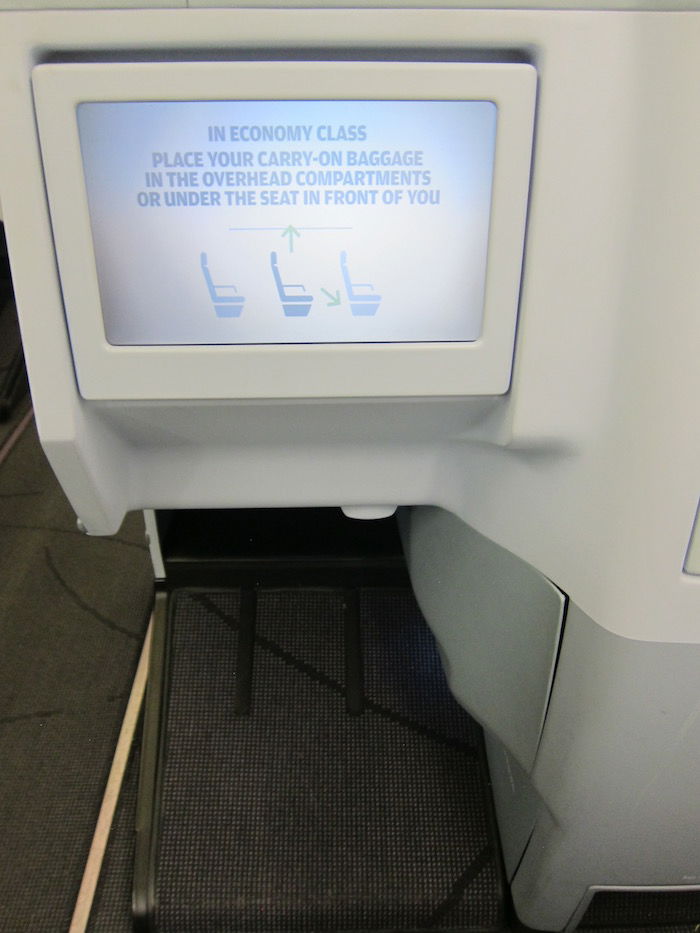 Finnair business class legroom
It's still a fairly small space for your feet, but thanks to the aisle you have a bit more room.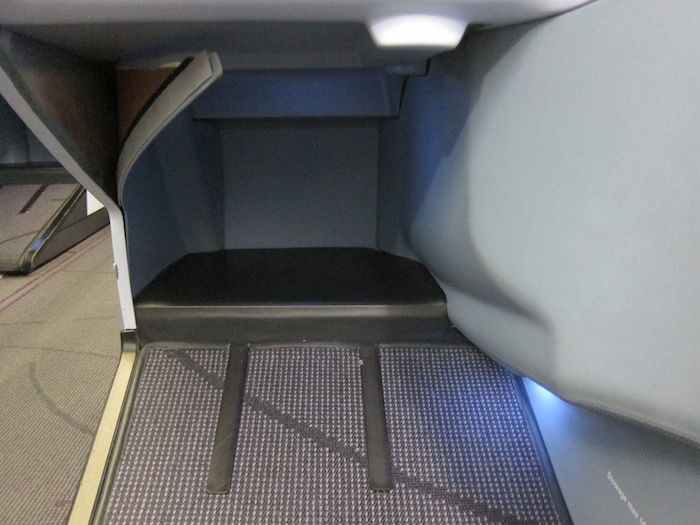 Finnair business class foot cubby
The seat controls are to the right of the seat, and are fairly easy to use.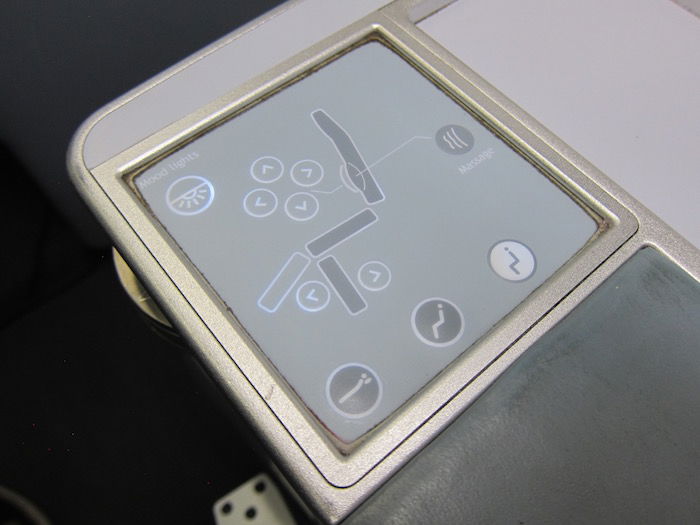 Finnair business class seat controls
Just below that is the entertainment controller, which is located under a cover.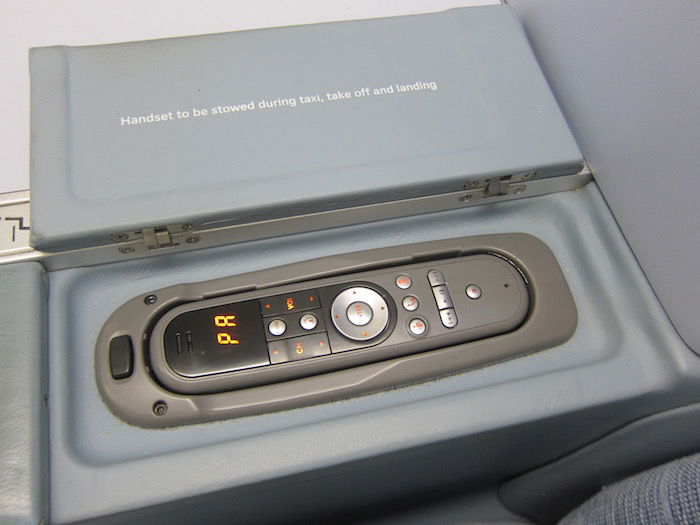 Finnair business class entertainment controls
Above that and on the back right of the seat was a 110v and USB power outlet, as well as the headphone jack.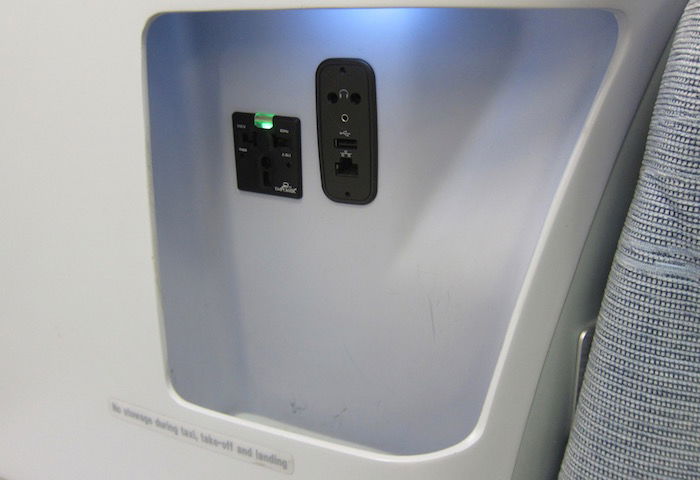 Finnair business class power outlet and headphone jack
One other thing I loved about the cabin is that it had individual air vents. I know this might sound minor to some, but many airlines keep their planes at sauna-like temperatures, so being able to get a bit of extra airflow is nice.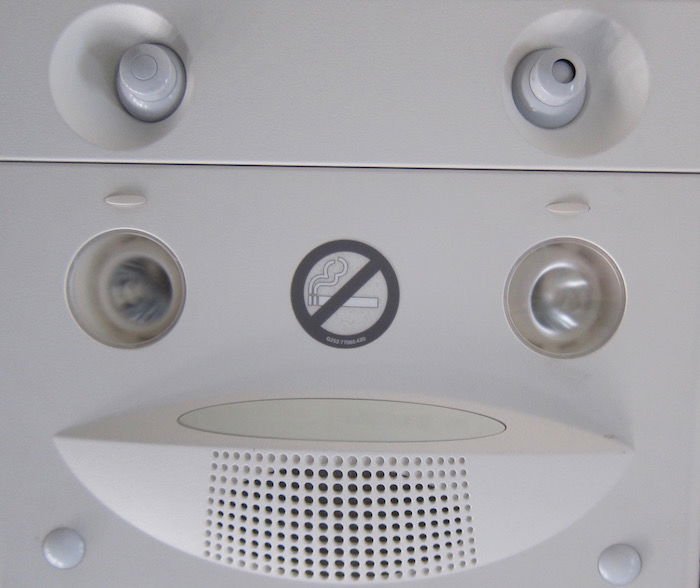 Finnair business class air vents
The overhead bins were filled mostly with pillows and blankets, so I grabbed a pair as I sat down. They at least added a splash of color to the otherwise bland cabin.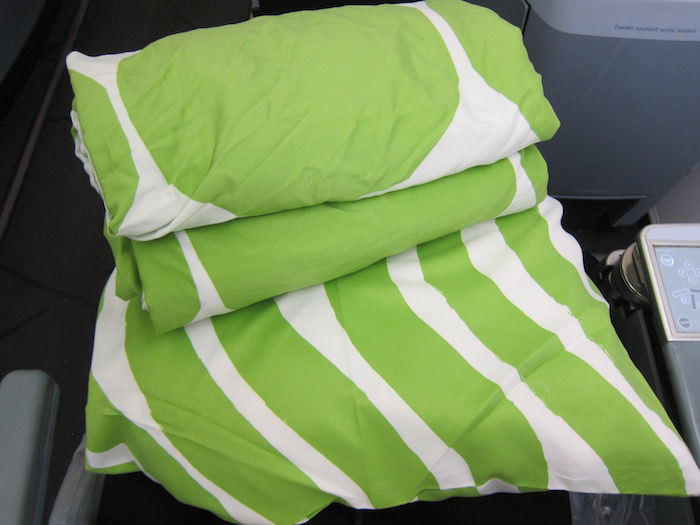 Finnair business class pillow & blanket
The cabin filled up quite a bit as the boarding process continued, and by 7:50AM the purser announced that boarding was complete, as about 80% of business class seats were occupied.
The crew came through the aisle with newspapers and magazines, though there were no pre-departure beverages.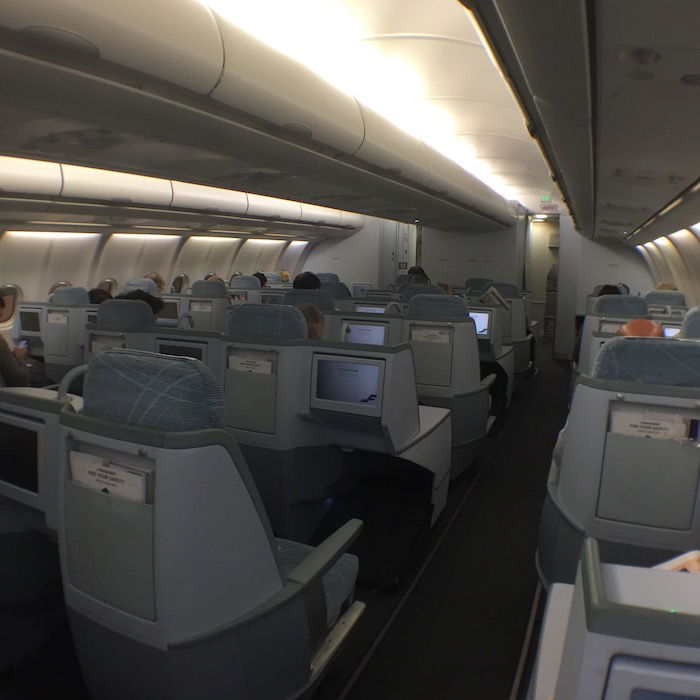 Finnair business class cabin
The purser also made an announcement informing passengers this plane was usually only flown on intercontinental routes and therefore featured seatback entertainment, and went on to explain that they'd be handing out headphones as a result. While the headphones weren't as good as the Bose ones they handed out on the New York to Helsinki flight, they were still decent.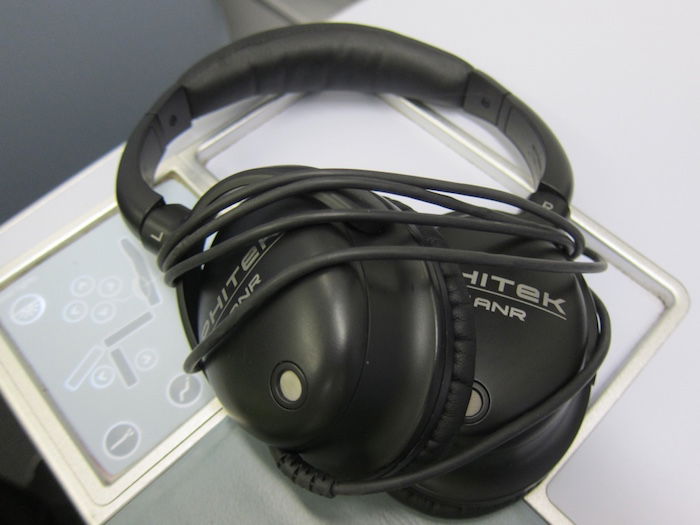 Finnair business class headphones
At 7:55AM the main cabin door was shut, at which point the plane was deiced.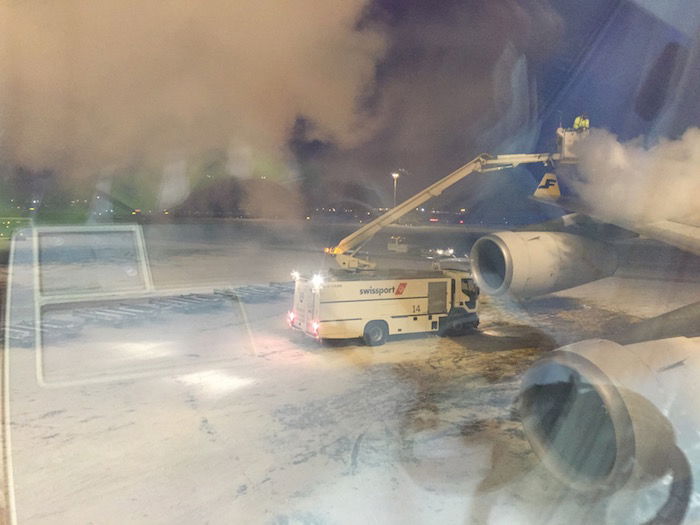 Deicing at Helsinki Airport
I guess it shouldn't come as a surprise that Finnair deices their planes in almost no time, but the plane was all set to go within 10 minutes.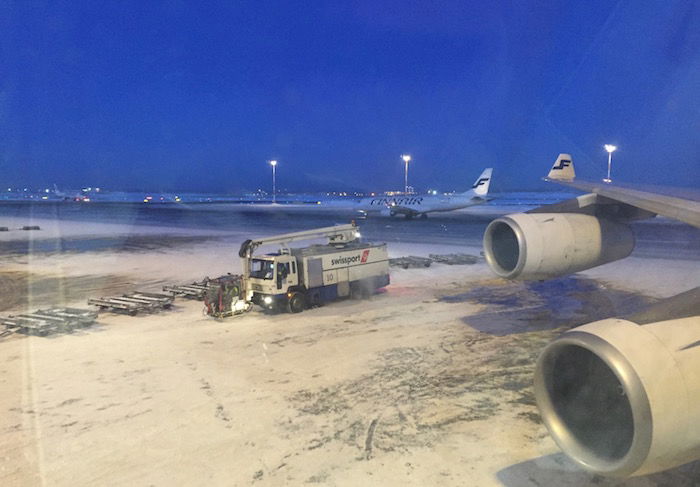 Deicing complete at Helsinki Airport
At 8:10AM the captain came on the PA to inform us we would be delayed a few more minutes due to heavy traffic behind us, but we should be pushing back shortly. He also informed us of our flight time of 2hr30min, and anticipated we would be arriving in London on schedule.
Sure enough, five minutes later we began our pushback.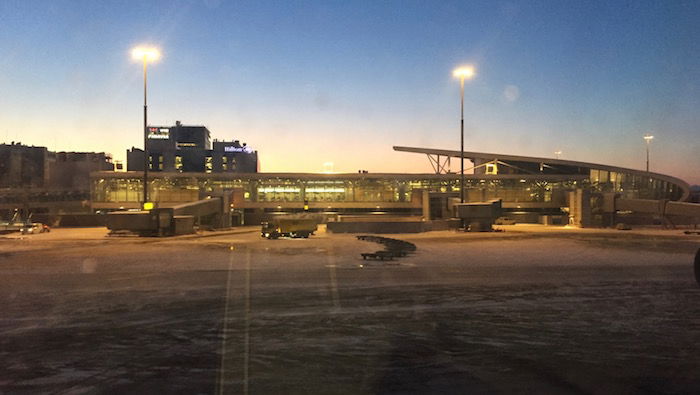 Pushing back Helsinki Airport
As we taxied out to the runway the safety video played. My eyes were glued out the window, as the sun was slowly beginning to rise.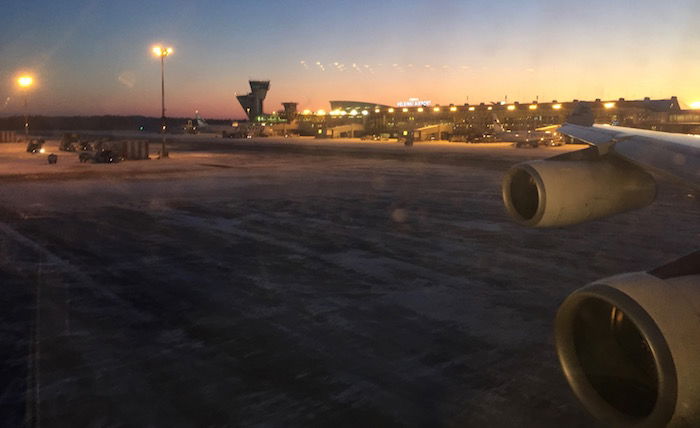 Taxiing Helsinki Airport
While I was thrilled to be leaving Arctic temperatures, I was sort of sad to be leaving the gorgeous landscape behind.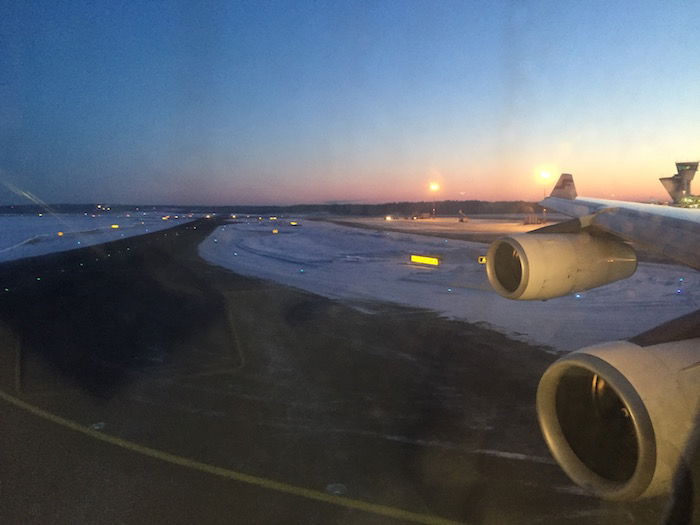 Taxiing Helsinki Airport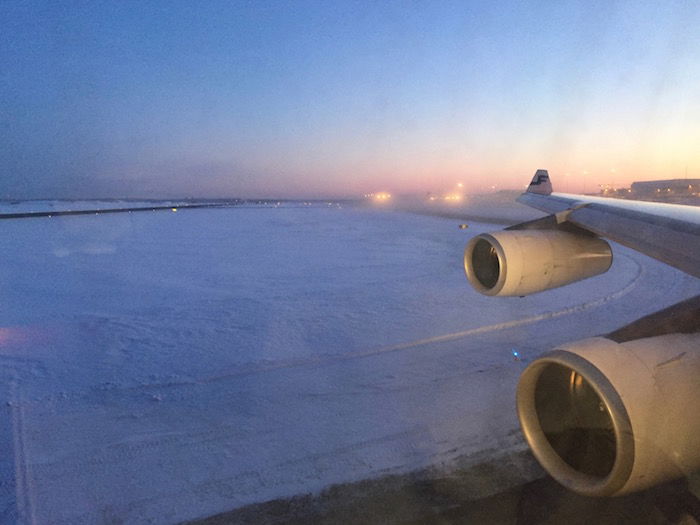 Taxiing Helsinki Airport
We made it to runway 4R shortly after 8:20AM, at which point we were immediately cleared for takeoff.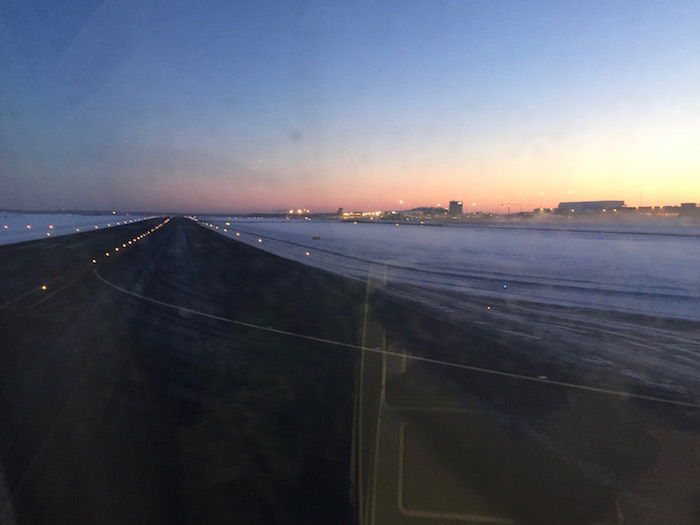 Taking off Helsinki Airport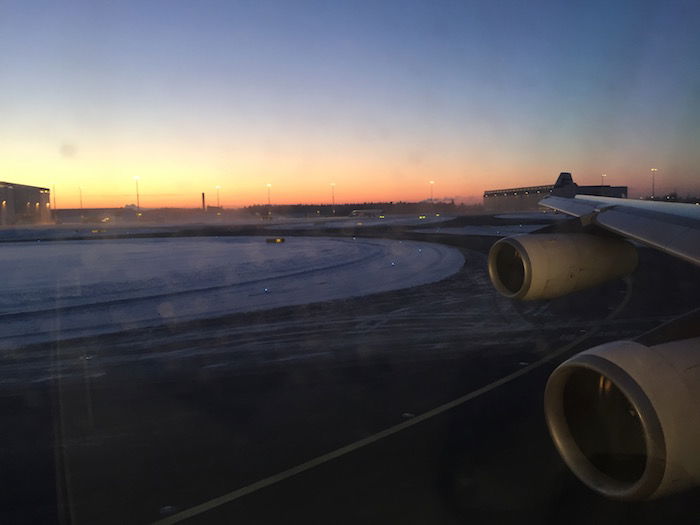 Taking off Helsinki Airport
Despite the A340-300 being a pretty underpowered-feeling plane, we were airborne in no time, presumably due to our light fuel load.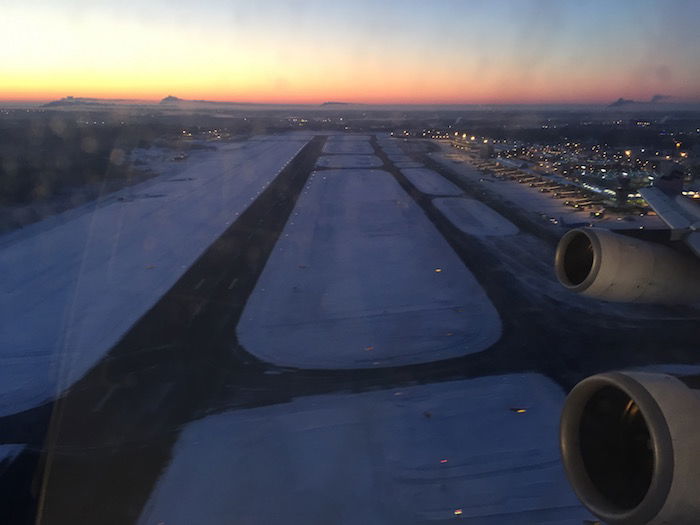 View after takeoff from Helsinki Airport
The climb out was smooth and rather steep for an A340, and less than 10 minutes after takeoff the seatbelt sign was turned off.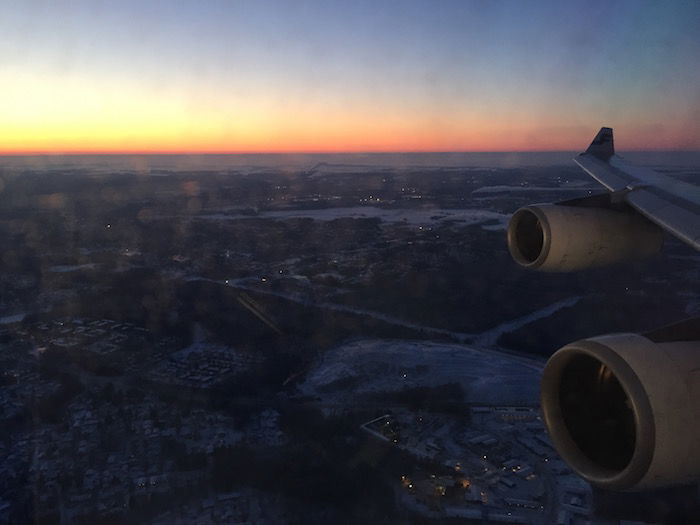 View after takeoff from Helsinki Airport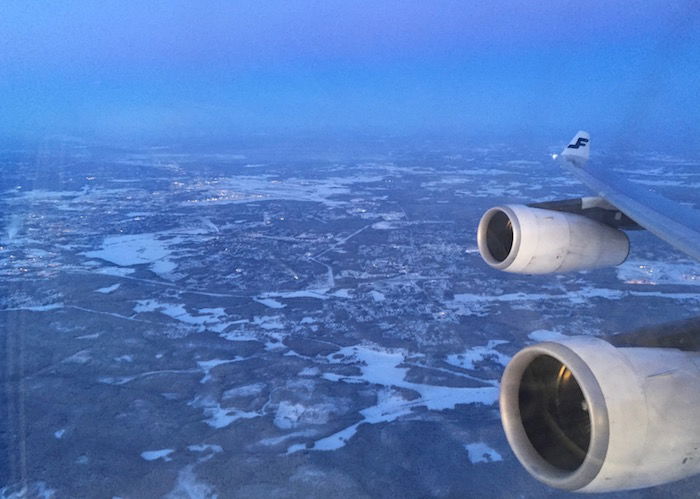 Climbing to cruise altitude
I switched on the airshow to get a sense of our route for the flight.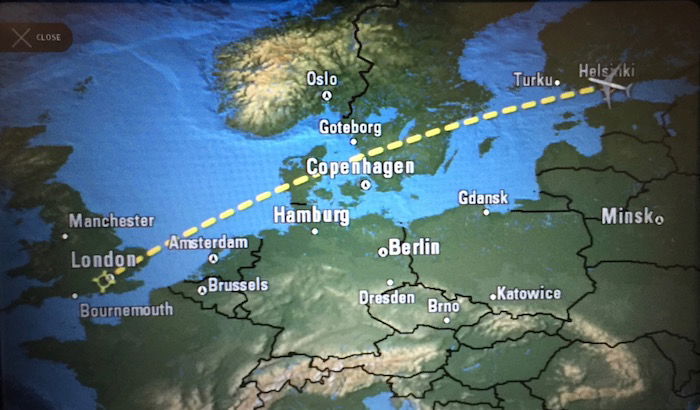 Airshow enroute to London
I then browsed the entertainment selection, which was fairly extensive. The interface itself wasn't as easy to use as on the A350, but the selection was good. I had brought my own entertainment on my iPad, though, so didn't watch anything on the seatback TV.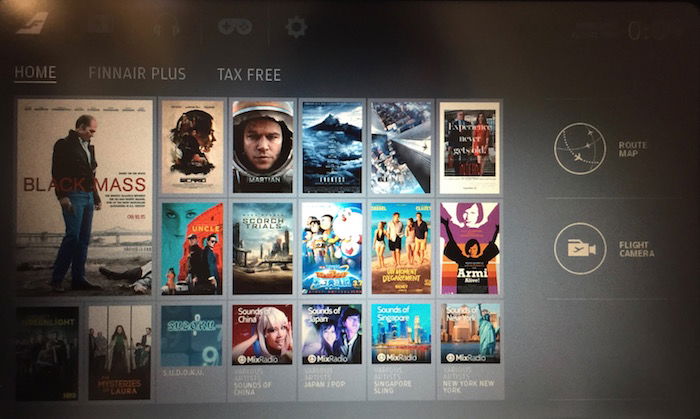 Finnair inflight entertainment selection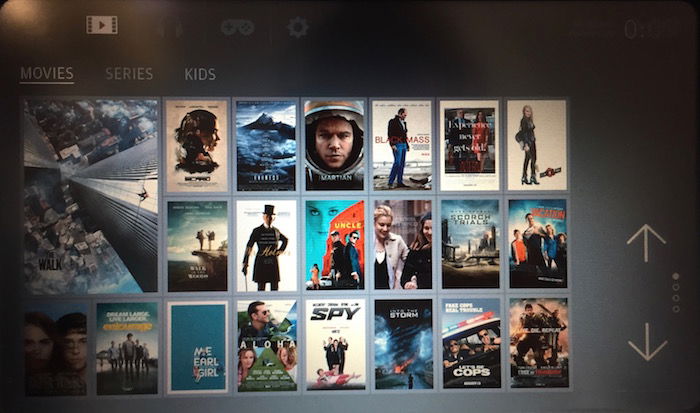 Finnair inflight entertainment selection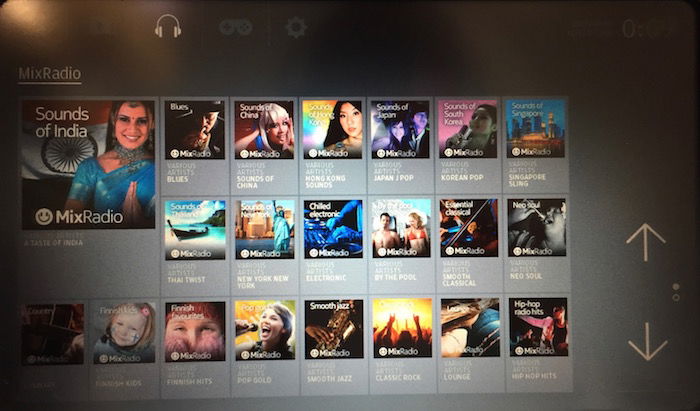 Finnair inflight entertainment selection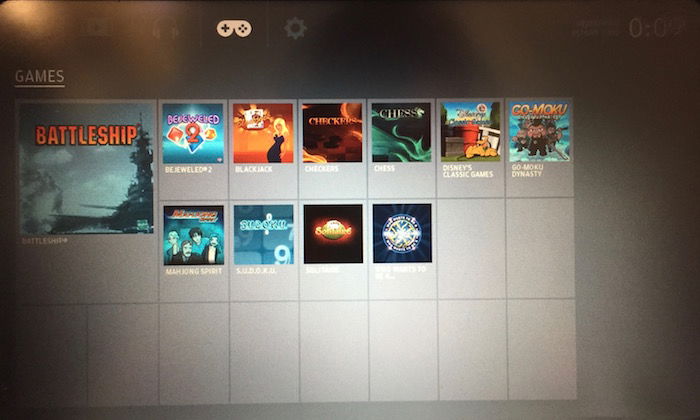 Finnair inflight entertainment selection
About 20 minutes after takeoff the breakfast service began, starting with hot towels.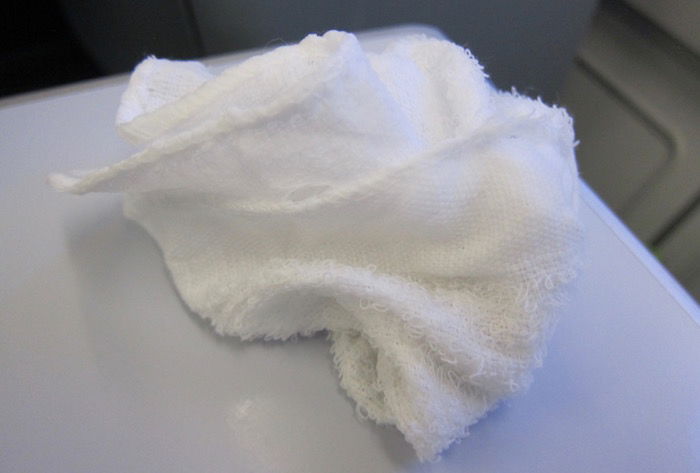 Finnair business class hot towel
Breakfast was served off a cart, and there seemed to be four flight attendants working business class — two on each aisle.
There was no choice of breakfast, though what was being served was fairly good.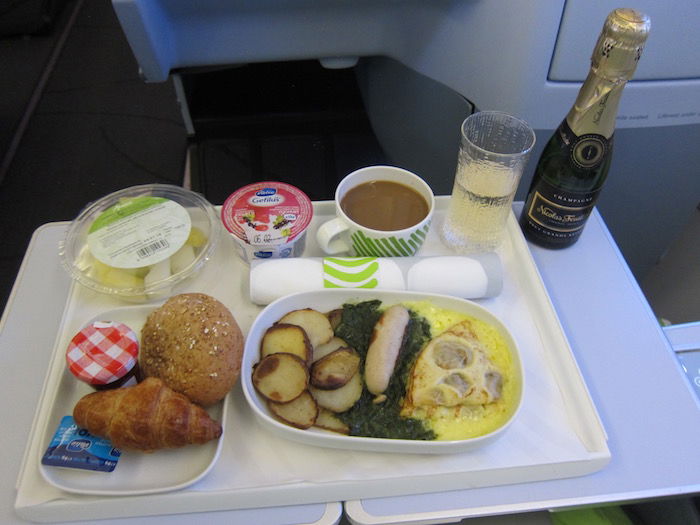 Finnair business class breakfast
It was some sort of egg dish with spinach, potatoes, and sausage.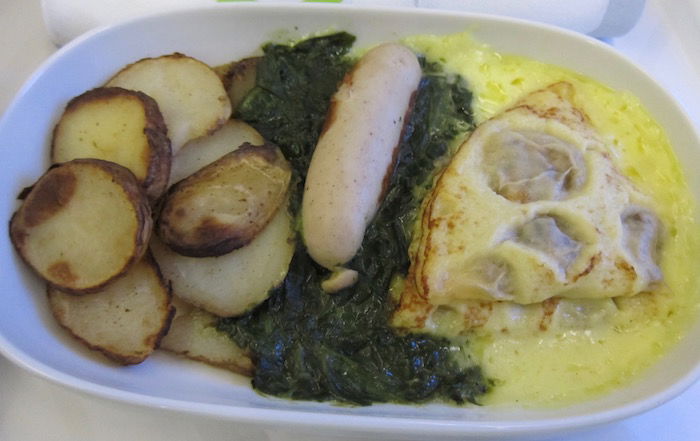 Finnair business class breakfast
There was a side of fruit and yogurt, as well as a roll and croissant on the side.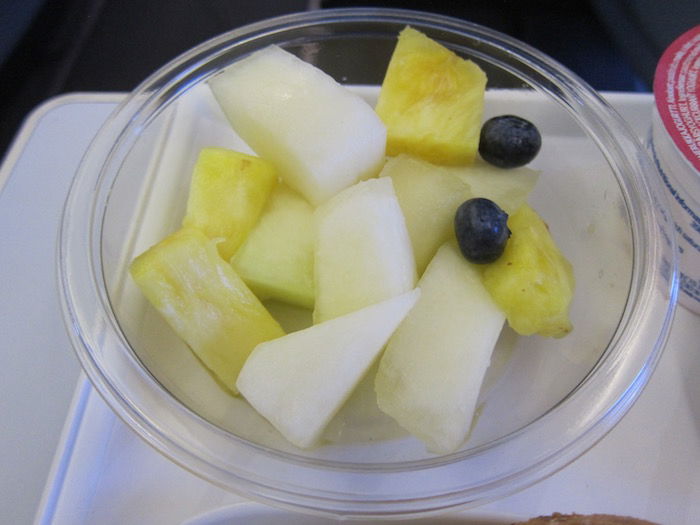 Finnair business class fruit with breakfast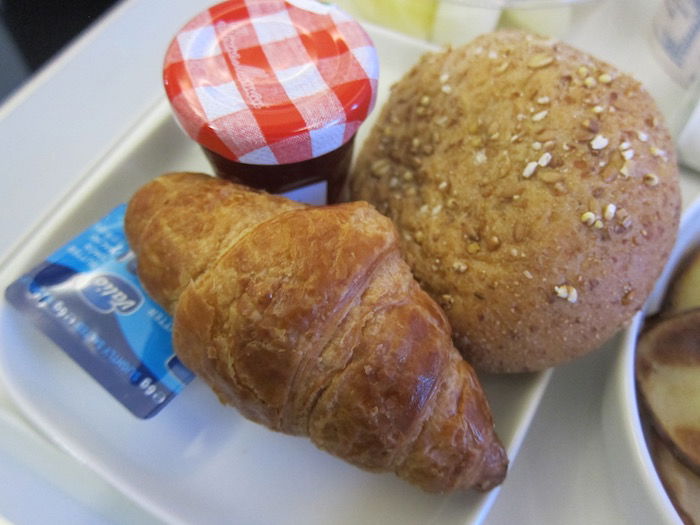 Finnair business class breakfast roll & croissant
To drink I ordered some champagne, which was served in a mini-bottle. Drinks stayed topped up throughout the flight, and the crew was extremely friendly.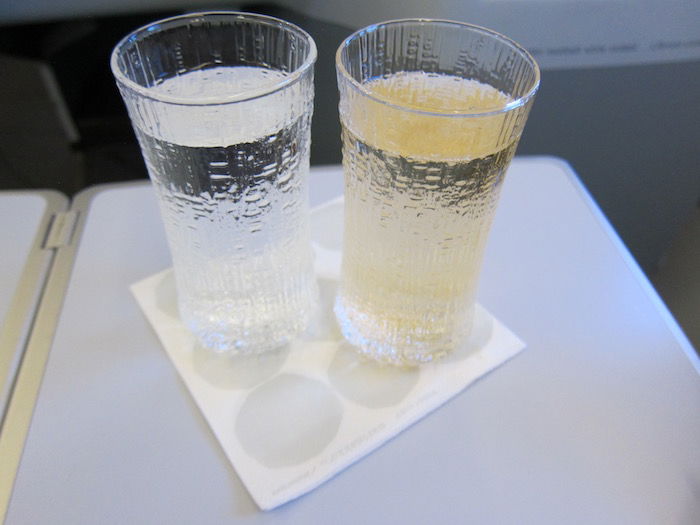 Finnair business class champagne & water
The meal service was completely done about halfway into the flight, as we were approaching Copenhagen.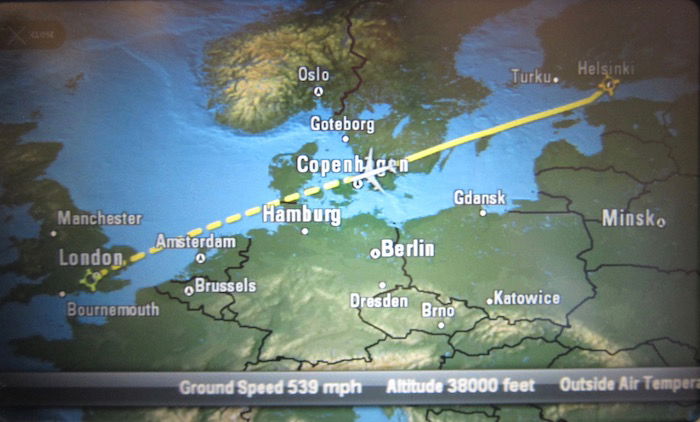 Airshow enroute to London
The business class crew consisted of two male and two female flight attendants, and about halfway through the flight one of the male crew said "I noticed you're taking a lot of pictures… are you writing a trip report?" That's the first time I've had a flight attendant ask that, so we talked a bit about the A350, the A340 being flown to London, etc. He seemed to be an aviation geek as well.
I worked a bit on my laptop, and eventually the first officer came on the PA to inform us that we were just 30 minutes out of London. Shortly thereafter we began our descent.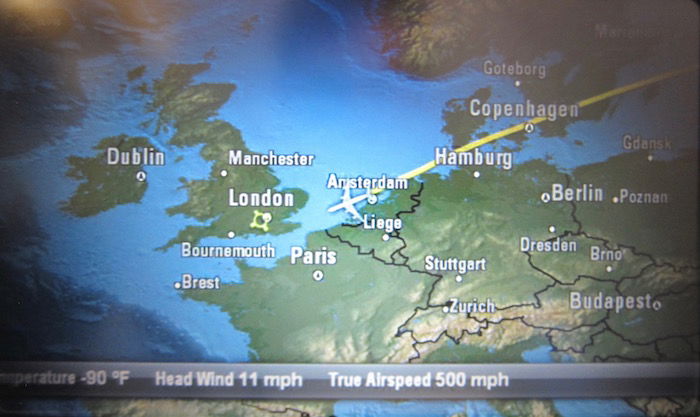 Airshow enroute to London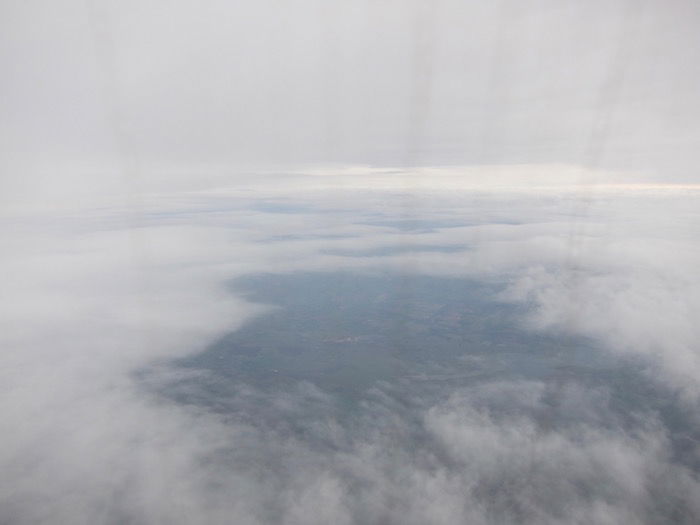 View on approach into London
As we approached London we entered a holding pattern, as you'd probably expect for a flight landing at Heathrow in the mid-morning. Fortunately we were released from that pattern, and within minutes began our final approach.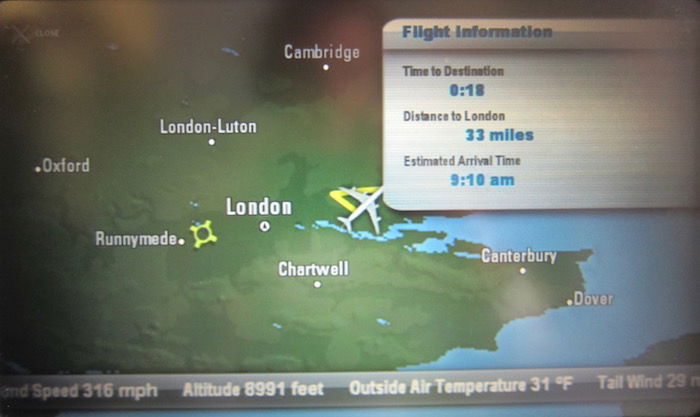 Airshow while holding near Heathrow
The weather in London looked much warmer than in Helsinki, which was a relief. Unfortunately that also meant the landscape wasn't quite as beautiful.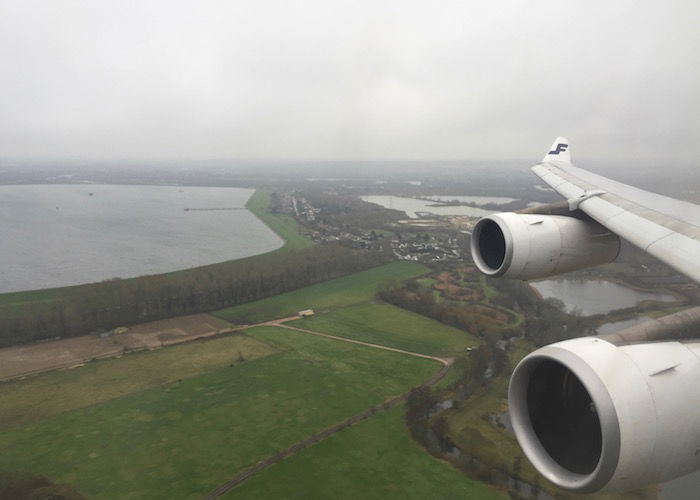 View on final approach into London Heathrow
We had a smooth touchdown on runway 9L at 9:10AM, and turned off the runway just as we passed Terminal 3.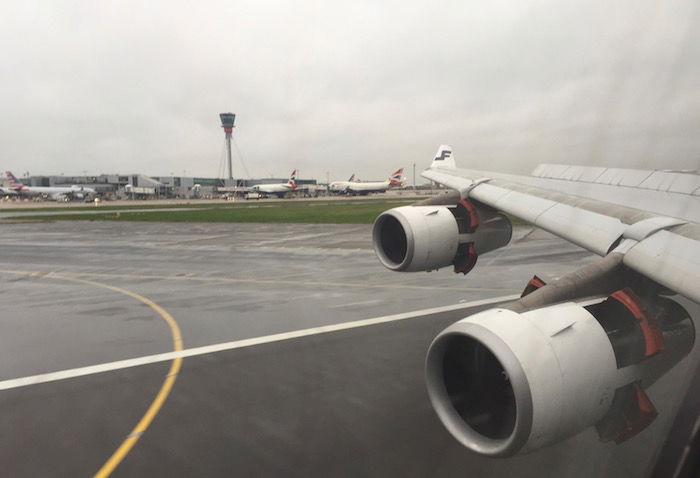 Touchdown London Heathrow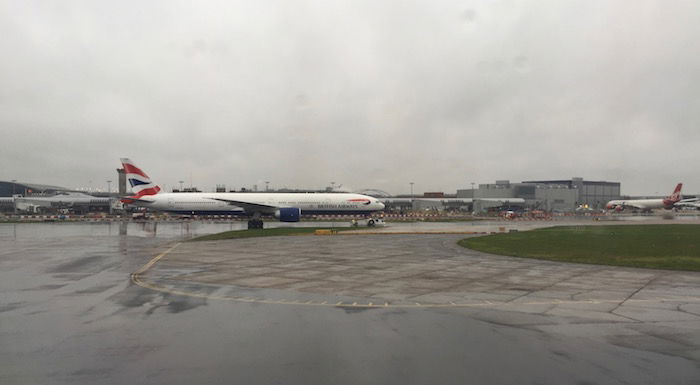 British Airways 777 London Heathrow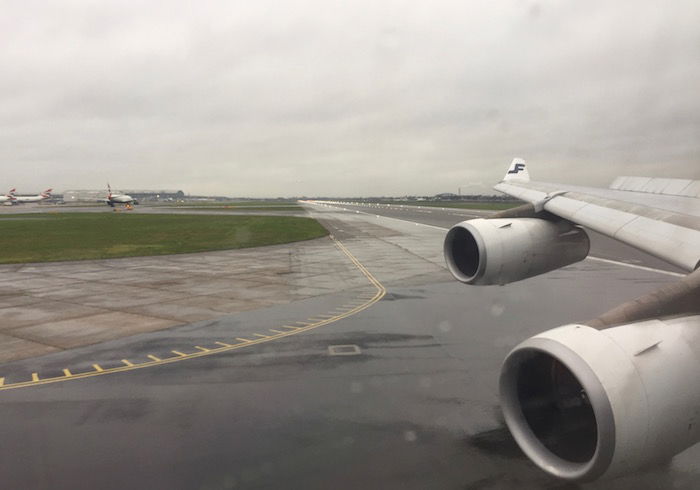 Taxiing London Heathrow
A Virgin Atlantic A340 was landing just after us.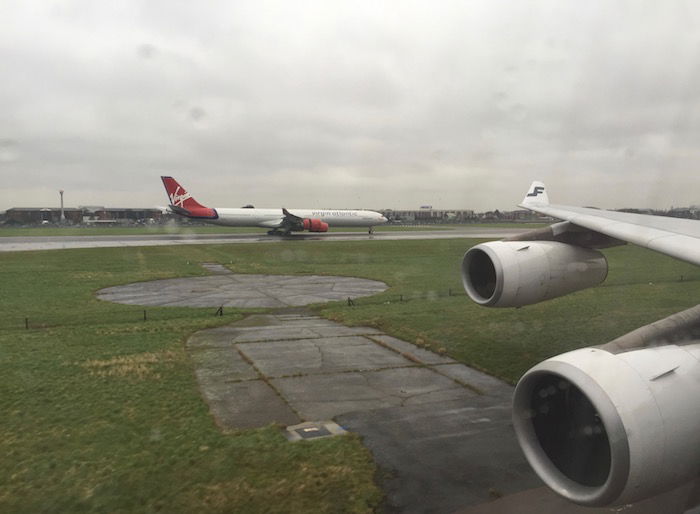 Taxiing London Heathrow
The taxi to Terminal 3 took about five minutes, as we passed some Virgin Atlantic and Delta planes.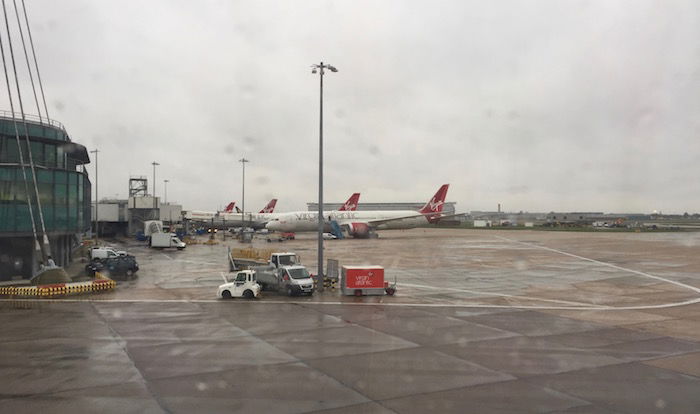 Terminal 3 London Heathrow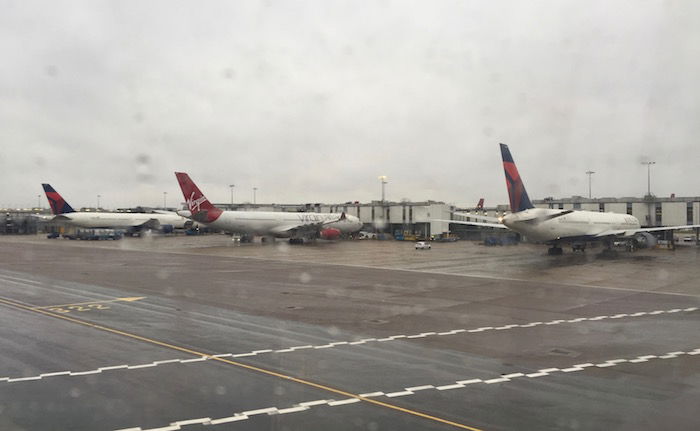 Terminal 3 London Heathrow
Finally we pulled in next to an American 777-300ER at 9:15AM, just a few minutes behind schedule.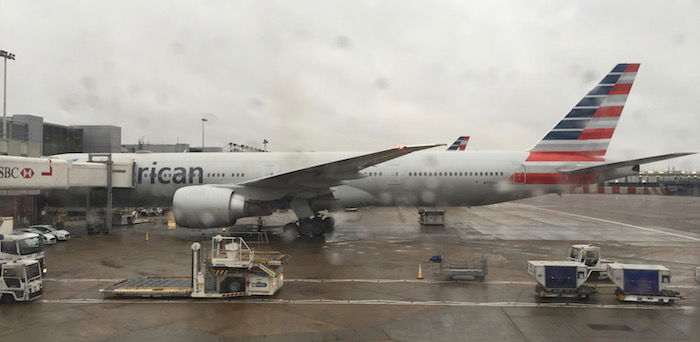 American 777 London Heathrow Terminal 3
From there I headed towards immigration so I could take the Heathrow Express connector train to Terminal 4, where I'd be staying at the Hilton for the night.
Finnair A340 business class bottom line
Flying a longhaul configured aircraft with flat beds on an intra-Europe flight was a real treat. As far as the actual A340 hard product goes, staggered seats aren't my favorite business class hard product, and I also didn't love the finishes that Finnair uses in their cabins. The plane definitely paled in comparison to the A350, which I'd go out of my way to fly in the future.
But the food on this flight was quite good, and the crew was extremely friendly. Overall I'm a fan of Finnair, and especially of Helsinki Airport.