Introduction
Review: Finnair Business Class A350 New York To Helsinki
Review: Holiday Inn Helsinki Airport
Review: [email protected] Lounge Helsinki Airport
Review: Finnair Lounge Helsinki Airport
Review: Finnair Business Class A340 Helsinki To London
Review: Hilton London Heathrow Terminal 4
Review: Air India Lounge London Heathrow Airport
Review: Plaza Premium Lounge London Heathrow Airport Terminal 4
Review: Air India First Class 777 London To Delhi
Review: Air India's AMAZING First Class Ground Experience In Delhi
Review: Air India Lounge Delhi Airport
Review: Air India First Class 777 Delhi To San Francisco
---
Air India 173
Delhi (DEL) – San Francisco (SFO)
Sunday, January 24
Depart: 2:35AM
Arrive: 6:00AM
Duration: 16hr55min
Aircraft: Boeing 777-200LR
Seat: 2A (First Class)
As I was escorted onto the plane I was greeted by a guy who was standing on the jet bridge. At first I assumed he was an airport supervisor or something, given how much Air India seems to value this San Francisco flight. He introduced himself as Sandip, took my boarding pass, and escorted me to my seat, 2A. At it turns out, he was one of the senior first class crew!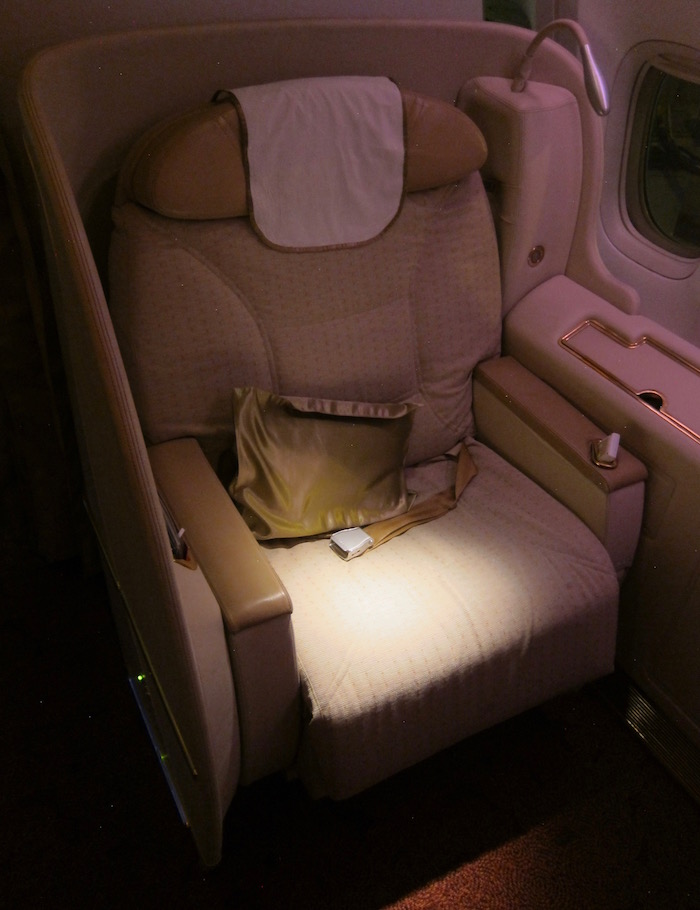 Air India first class, seat 2A

Air India first class, seat 2A
Within a minute the cabin crew in charge, Havanda, came by to introduce herself and welcome me aboard. I could immediately tell this would be a very different flight than my previous one. Havanda was just so nice that it couldn't help but put a smile on my face. She had one of those smiles which warms your heart, and such a soft presence and positive attitude.
Then a couple of minutes later the captain came by to add his welcome aboard as well. He was every bit as kind as Havanda and Sandip, and welcomed me aboard. He seemed proud of this new route, and even indicated he had worked the first ever Air India flight to San Francisco ("you can see me in the inflight magazine"). He also paid compliments to the cabin crew on the flight, indicating they would take great care of me, and that I was especially lucky, since they usually worked flights for the prime minister. For some reason I wasn't surprised!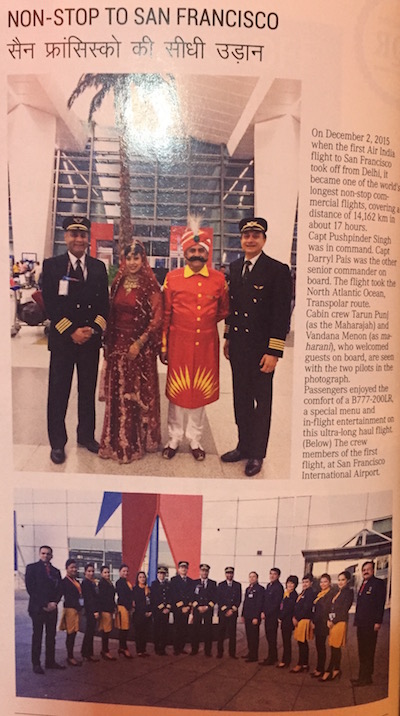 Crew from inaugural Air India flight to San Francisco
He explained the flight time, and how well this route was doing for Air India, given that every economy and business class seat was occupied. Captain Pais did the same thing for each first class passenger. Later in the flight I found out that he's actually Air India's general manager for customer service. Cool!!
Havanda came back to my seat to offer me a drink. I requested a glass of champagne, which I was promptly served.

Air India first class pre-deparutre champagne
I was also offered a variety of amenities, including pajamas, an amenity kit, slippers, and socks/eyeshades.

Air India first class amenities
I'm not sure what was wrong with the slippers, though they were nasty, despite being presented in packaging.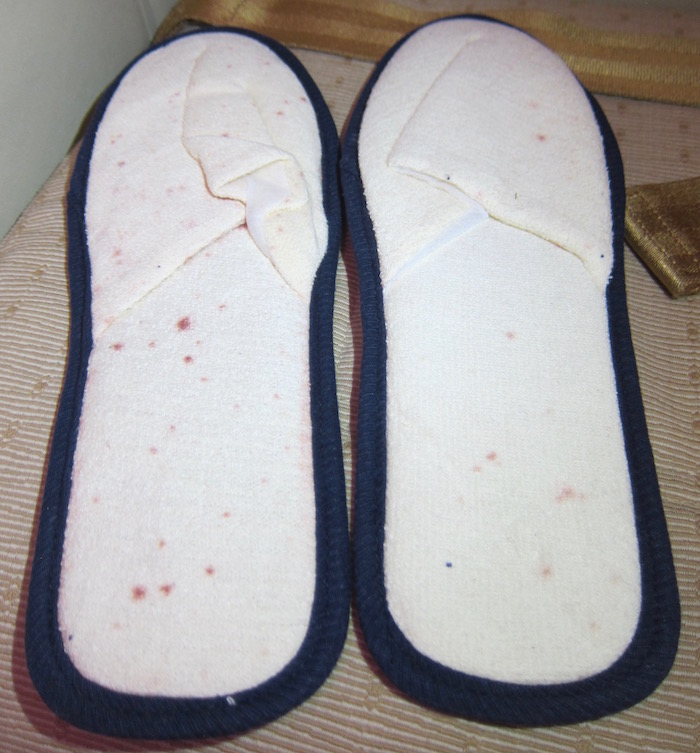 Air India first class slippers
The amenity kit was sort of adorable, and had a Maharaja pattern on the inside of it.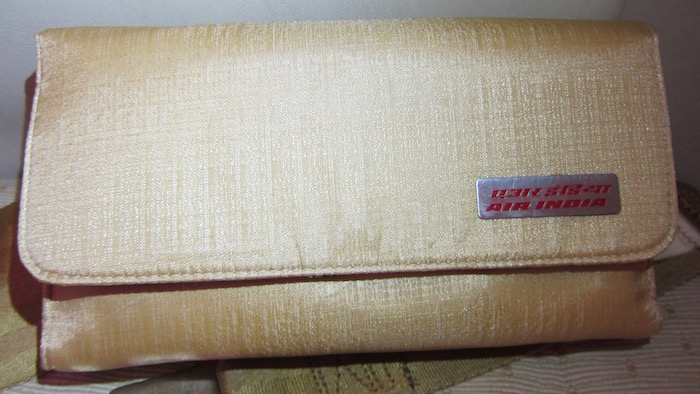 Air India first class amenity kit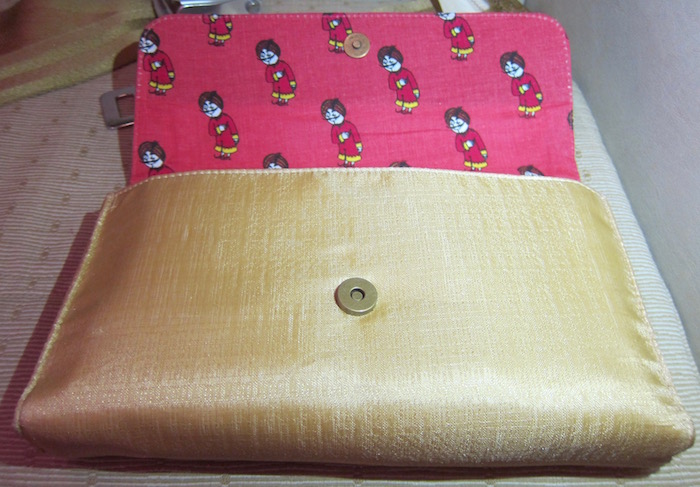 Air India first class amenity kit
The contents of the amenity kit were simultaneously amusing and adorable.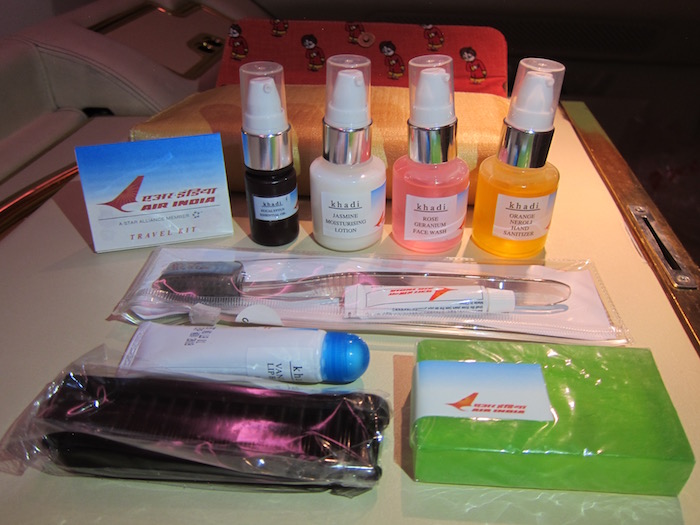 Air India first class amenity kit contents
I'm not sure who came up with the amenity kit contents, but the fact that the amenity kit had a bar of soap sure was… unique. There were also eucalyptus essential oils which smelled fantastic, though I'm not sure what exactly you're supposed to do with them on a plane.
The amenity kit contents were adorable because they seemed homemade, as if someone filled up the bottles and then slapped custom Air India stickers on them which they just produced with their home printer. Adorably shoddy, if you ask me…
The first class cabin continued to fill up, and eventually five of the eight seats were taken. I believe at least two of the passengers were upgraded on the day of departure, given that business class was oversold. I sort of lucked out, since there were passengers in 1D, 1K, 2G, and 2K. In other words, there was no one in front of me (in 1A) or across from me (in 2D).
The guy in 2G was an Indian guy who lived in Baltimore and was headed to Phoenix, as we chatted a bit in the lounge. The guy in 1D was someone famous I sort of recognized, but I couldn't figure out who he was. He did yoga during the flight in the aisle.
On this flight the entertainment system was turned on while still on the ground (on the previous flight it was only turned on after takeoff), so I watched an episode of Big Bang Theory.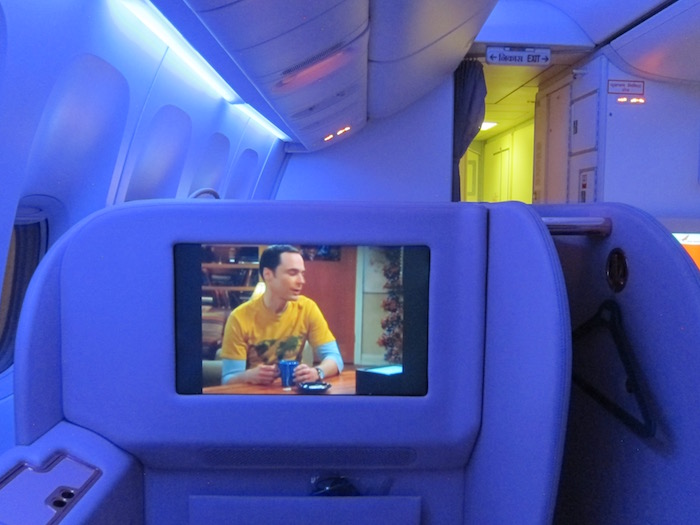 Air India inflight entertainment
At 2:45AM the main cabin door closed. Havanda came on the PA to welcome us aboard our 16hr5min flight to San Francisco. Yow, that's a long flight without wifi! At that point she screened the safety video.
Unfortunately we didn't start our pushback, and it quickly became apparent why — the weather was deteriorating rapidly, and visibility was next to zero.
At this point Captain Kapur (the other captain) came on the PA to inform us of our indefinite delay due to fog, explaining that no planes were departing, and that we'd get underway as soon as the weather improved.
At this point Sandip came by to explain the service on the flight.
"Mr. Ben, after takeoff we'll serve some snacks, and then there will be a breakfast service several hours later, and then lunch before landing. What can I get you to drink after takeoff?"
"How about another glass of champagne?"
"I can do that now, how about after takeoff?"
"Another glass of champagne, please! Just keep the champagne coming."
"We'll see about that!"
I found the order of meals on this flight interesting. So on a 16 hour flight you're simply served a light snack after takeoff, then breakfast halfway through the flight, then lunch before your early morning landing in San Francisco. The meals are clearly based on Delhi time as opposed to San Francisco time. Alrighty then!
During our delay the jet bridge was pulled back up to the plane again, and then at around 3:25AM the door was closed again. At this point the entire cabin was fumigated, which is the first time I've experienced that before takeoff (usually it's right before landing, in my experience).
At 3:35AM we finally pushed back, and I was a bit confused, because the fog was the worst it had been the whole time. I couldn't even see anything out of the window. A few minutes later we began a really slow taxi (presumably due to the limited visibility).
As we taxied out I noticed that most passengers in business class were already reclined and sleeping.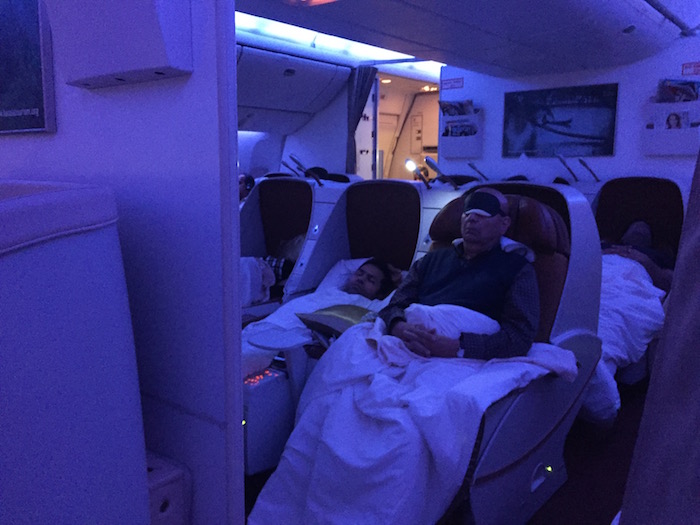 Business class passengers reclined
After a 30 minute taxi we made it to the departure runway, where visibility was ever-so-slightly better, but still extremely limited. Without delay we began our takeoff roll, and were airborne at 4:10AM. Less than 30 seconds after takeoff it was a clear night above Delhi, so the fog was only at low altitudes.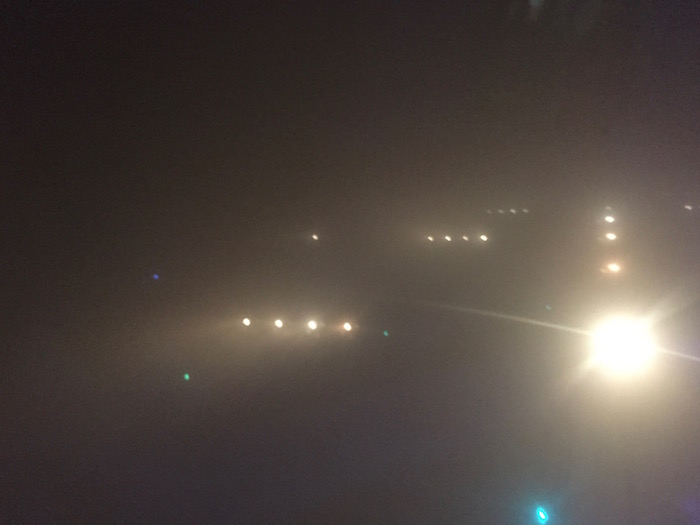 Taxiing into position for takeoff Delhi Airport
Later in the flight I had the chance to speak to the captain again, and asked him about our departure. He basically explained that he figured we'd begin taxiing to the runway, in hopes of the weather improving slightly and us then being among the first planes to takeoff, given that there would otherwise be huge traffic delays. Apparently we lucked out and the minimum visibility of 125m appeared right as we got to the runway, so we could take off.
Our climb out was smooth, and 10 minutes after takeoff the seatbelt sign was turned off. Another 10 minutes after that the cabin lights were turned all the way on. I was a bit surprised by that, given that most passengers were sleeping.

Air India 777 first class cabin after takeoff
At this point tablecloths were placed out on the tray tables.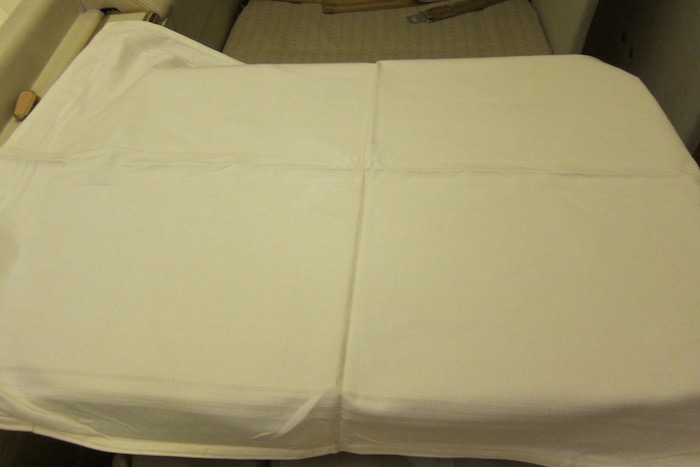 Air India first class snack service tablecloth
Havanda appeared within a few minutes to bring two small plates, silverware, and a glass of champagne. Interestingly the silverware was in a sealed ziploc bag.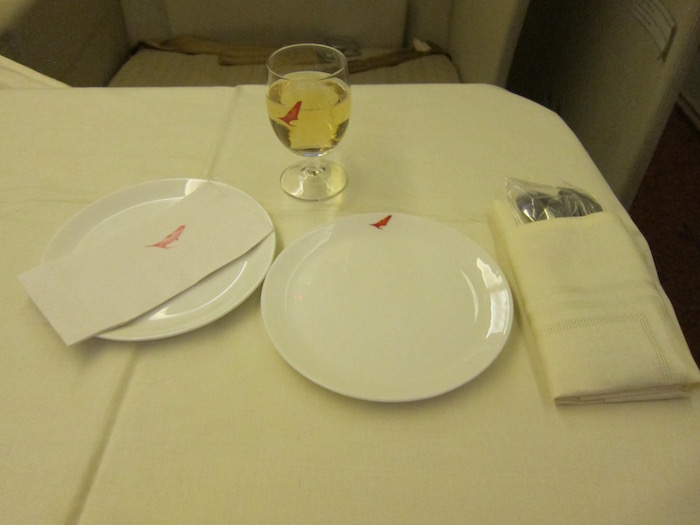 Air India first class snack service table setting
There was a third flight attendant working first class (he was much younger than the other two, though I didn't get his name), who offered me a selection of packaged snacks from a snack basket. The choices were between peanuts, almonds, and "dry snax."
After that Sandip came around with some aluminum tins with a couple of choices of food, including chicken and shrimp. I requested a couple of each, and figured that was it for the snack.

Air India first class snack service
But they kept bringing around more food…

Air India first class snack service
And more food…

Air India first class snack service
It was certainly a filling snack, and in many ways hit the spot, since most passengers were ready to sleep at this point. I asked for my bed to be made, which Havanda took care of in a matter of minutes. She also placed two bottles of water by my seat.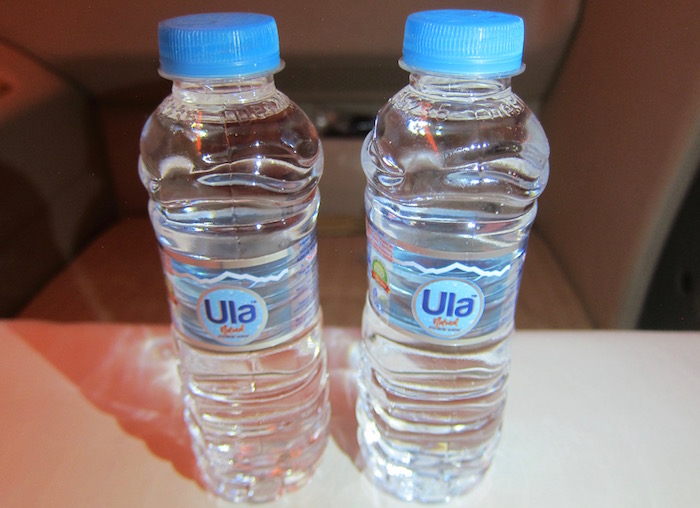 Air India first class bottled water
While she made the bed I headed to the lavatory to change, and saw the nice selection of amenities they had on offer, including toothbrushes which still had price tags on them.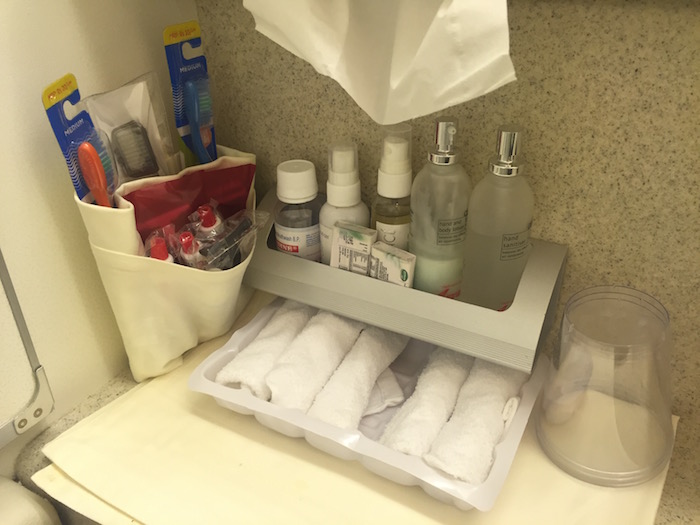 Air India first class lavatory
Much like on the last flight, the seat itself was rather lumpy and there was no mattress pad, but rather just a sheet placed on the seat. As a result, it wasn't the most comfortable sleeping surface. Still, I was extremely tired given what a long day (and week!) it had been, and fell asleep in no time.
I woke up feeling quite well rested, thinking we were approaching the halfway point in the journey. I turned on the airshow, only to realize we had 12 hours left to San Francisco.

Airshow enroute to San Francisco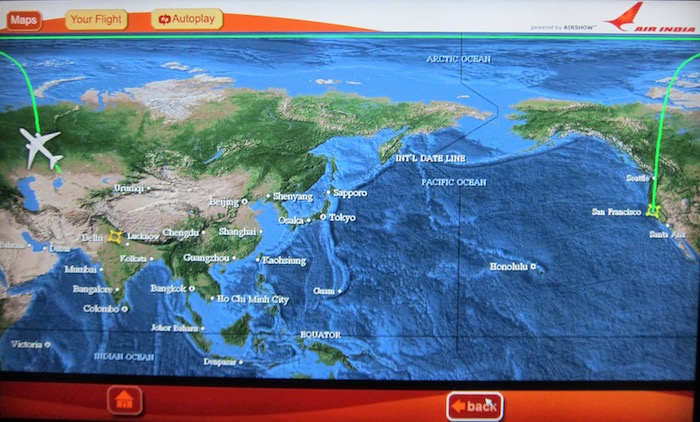 Airshow enroute to San Francisco
Given that there was no wifi and entertainment choices were limited, I decided to get some work done on my laptop. I made a lot of progress on this trip report.
Not to be creepy by noticing how other people sleep, but my gosh the guy across from me slept in the creepiest way I've ever seen. He must have gone out of his way to look like a mummy while he was sleeping. His head was elevated and he crossed his arms across his chest. Worst of all, he had his reading light on the entire time he was sleeping, so his face was lit, as if he was some sort of an artifact in an ancient Egyptian museum.
We were making progress, slowly but surely…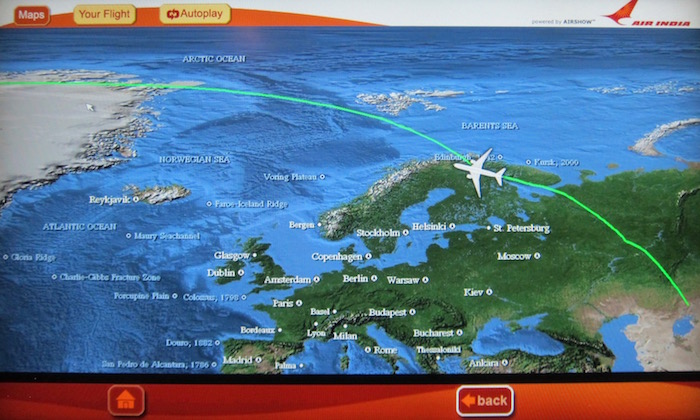 Airshow enroute to San Francisco

Airshow enroute to San Francisco
I asked Sandip when breakfast would be served, and he explained it would be in a couple of hours, and that he was trying to "buy time," given the long flight time and that they only had two meals to serve.
On longhaul flights other airlines have a huge dine on demand menu, where you can eat what you want when you want. In the case of Air India the meal service was pretty structured, so they were trying to draw out the second meal so that people wouldn't get too hungry waiting for the last meal.
In the meantime Sandip bought me a plate of sweets, which was tasty, though not especially healthy. 😉

Snacks before breakfast in Air India first class
I also ordered a coffee to accompany it.
I really can't emphasize enough how kind and genuine this crew was. On my last flight the crew didn't come through the cabin once to check on me, while on this flight Havanda and Sandip must have been walking through the cabin every 15 minutes to see if anyone wanted anything, despite it being the middle of the night.
Seven hours into the flight, at around 11AM in Delhi, the captain came on the PA to give us an update on the flight, informing us we'd be landing at around 7AM, an hour behind schedule. At this point the cabin lights were turned up again, and breakfast service began.
The breakfast menu read as follows: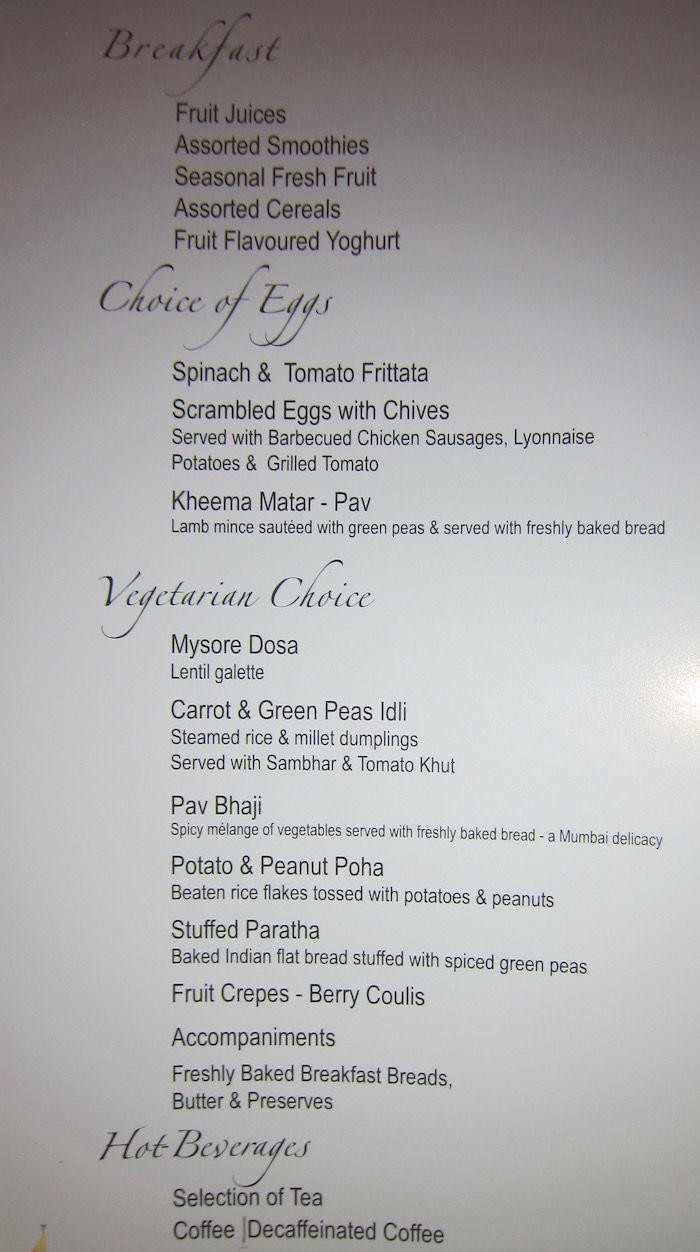 The breakfast starter consisted of strawberry yogurt, a fruit plate, and a croissant.

Air India first class breakfast starter
The fruit plate was actually very good. It tasted fresh, and I love kiwi, mango, pineapple, and those melon "balls."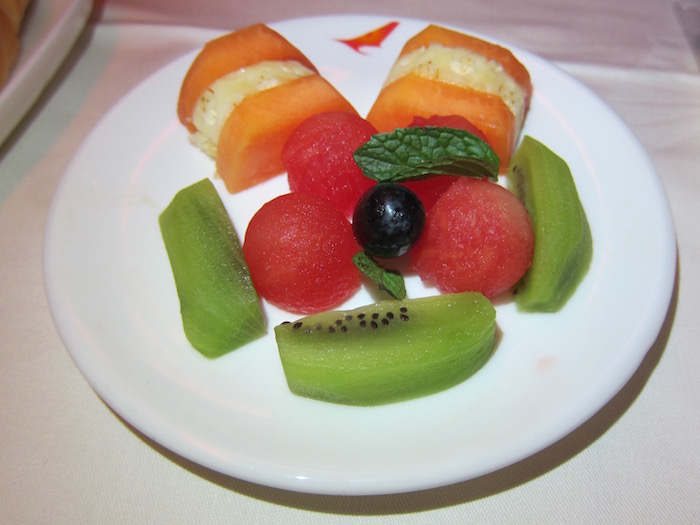 Air India first class seasonal fresh fruit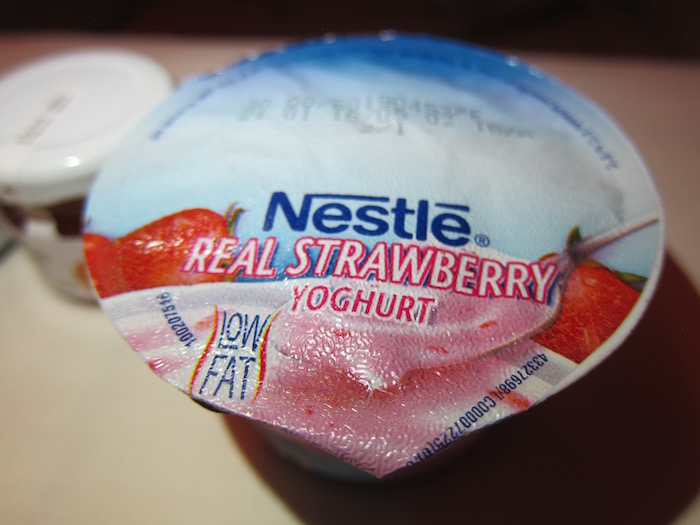 Air India first class strawberry yogurt

Air India first class breakfast jam
For the main course I asked for whatever Indian vegetarian food they recommended, and it didn't disappoint. It was delicious.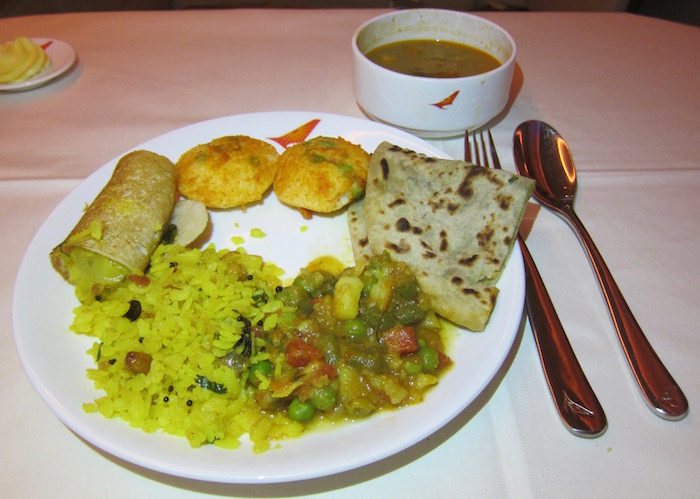 Air India first class Indian breakfast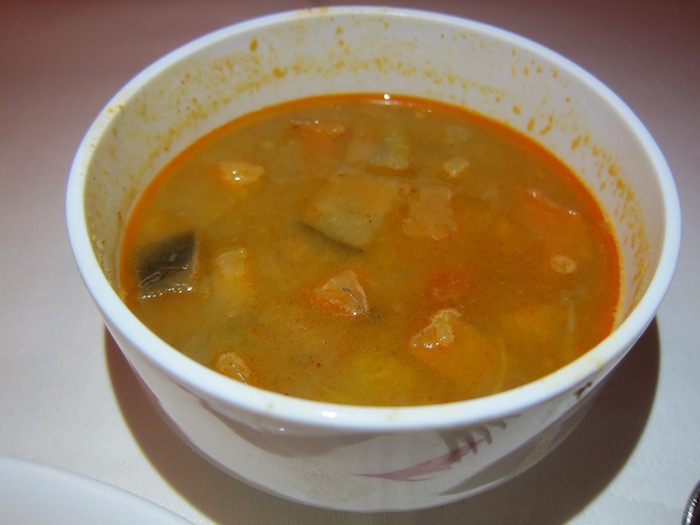 Air India first class Indian breakfast
After the meal I came to the realization we had about eight hours left to San Francisco. This absolutely felt like the longest flight of my life, by far… much longer than comparable flights from Los Angeles to Dubai, Abu Dhabi to Los Angeles, Dallas to Hong Kong, etc. The lack of wifi, amenities, and decent entertainment sure drew things out. I wasn't really tired, so I kept working on my laptop for a bit longer.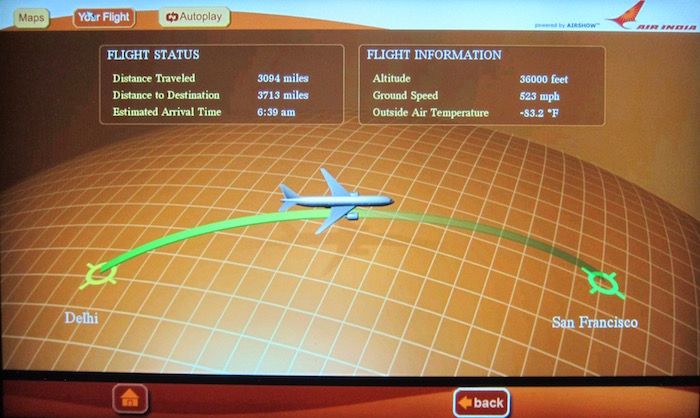 Airshow enroute to San Francisco
Soon enough we were over Greenland…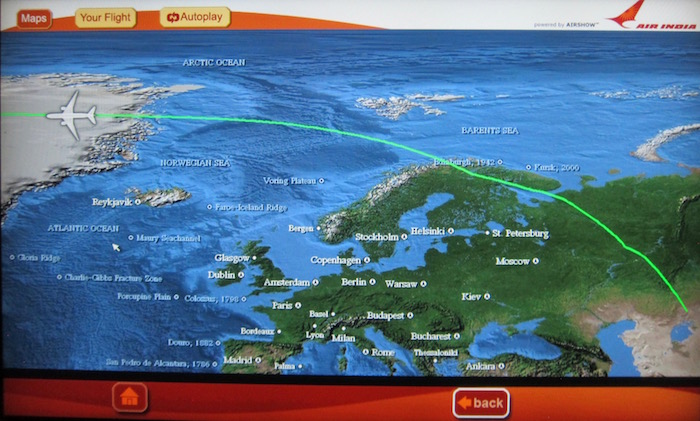 Airshow enroute to San Francisco

Airshow enroute to San Francisco
After working for several more hours I was getting pretty desperate, so decided to watch some episodes of Modern Family I had already seen.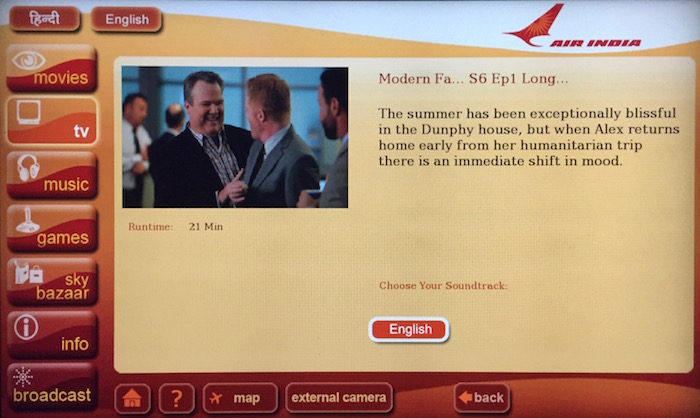 Air India inflight entertainment
I don't know why, but I struggled so much to sleep. I guess my mind was just wandering with the whirlwind few days I had. Fortunately I finally managed to fall asleep about three hours before landing, and slept for about 75 minutes, until lunch service began. While it was only a short nap, it made me feel quite refreshed.
At this point we were over Canada.
The lights were turned up again, and the meal service began. The lunch menu read as follows: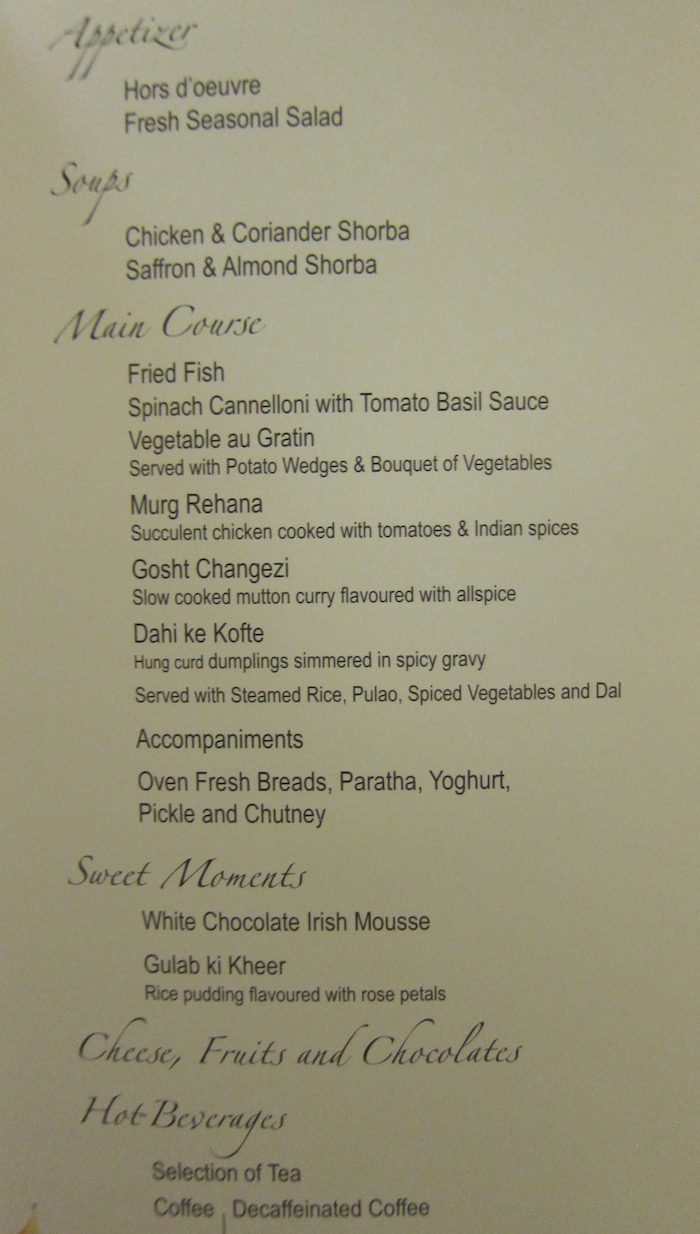 Again, it's quite interesting that Air India bases meal times on Delhi time rather than the time at your destination, given that it was 4AM in San Francisco at this point, and we were eating lunch.
To start I was served the "hors d'oeuvre," which was almost as puzzling as on the London to Delhi flight. I'd rather have some decent Indian food than a bland piece of chicken.

Air India first class lunch hors d'oeuvre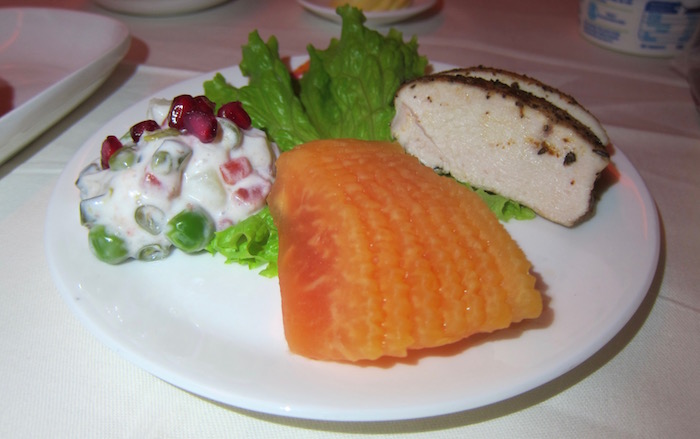 Air India first class lunch hors d'oeuvre
The starter was served with a side of tasty veggies.

Air India first class lunch salad
There was also a bread plate, consisting of some wheat and garlic bread.

Air India first class bread selection
Next I had the saffron & almond shorba, which was delicious.

Air India first class lunch saffron & almond shorba
And then the buffet lunch commenced, where Havanda and Sandip rolled a cart through the aisle off of which I could choose. While the presentation left a bit to be desired (not on the part of the crew, but rather on the part of management in terms of what they're giving staff to work with), everything looked delicious.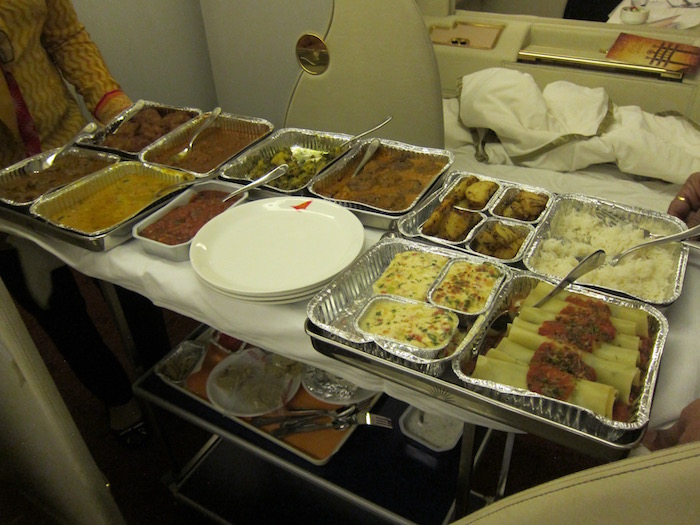 Air India first class lunch buffet
And here's the lovely Havanda serving the meal.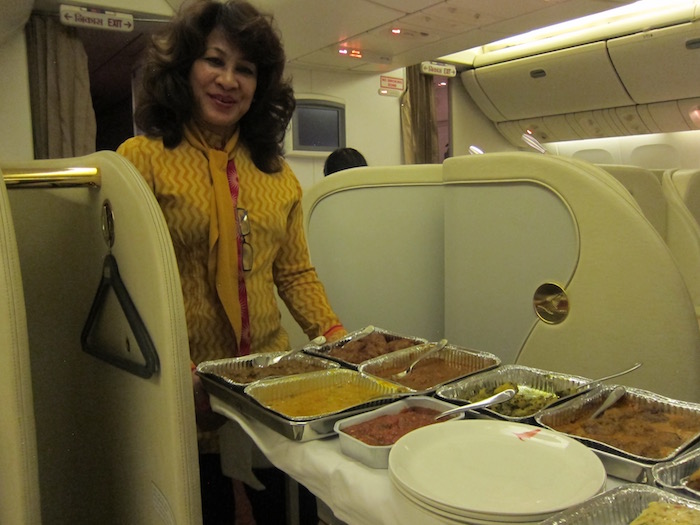 The amazing Havanda looking great after 14 hours of flying!
I asked for one plate with everything vegetarian, which was an eclectic mix, to put it lightly. It's not every day you get spinach cannelloni on the same plate as an Indian smorgasbord.
I also had a side of the fried fish, which was the only part of the meal I didn't really enjoy (which perhaps I should have guessed when I ordered it, since I'm not generally a fan of fried fish). 😉
After that the dessert cart was rolled through the aisle, consisting of fresh fruit, boxed chocolates, cake, and a cheese board.

Air India first class dessert trolley
I asked for a small cheese board and also a slice of cake. The cake was tasty.

Air India first class dessert and cheese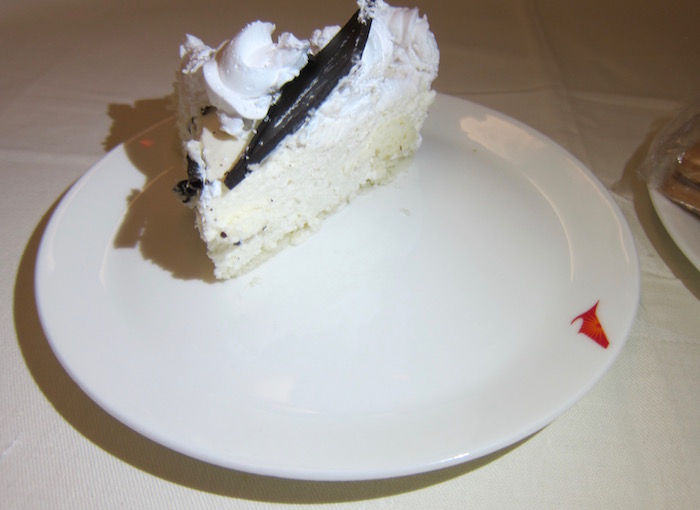 Air India first class dessert — white chocolate Irish mousse

Air India first class cheese plate
I was also offered some Taj chocolates after the meal.

Air India first class chocolates
To finish off the meal and get my day started I also had a cup of tea.
Soon enough we were approaching the descent stage of our flight. Captain Pais once again came through the cabin to say hello to passengers. He was a true class act.
Soon enough we began our descent into the Bay Area, where I witnessed a very slow and gorgeous sunrise as we descended. There's nothing quite like a gorgeous sunrise while flying.
We touched down on runway 28R at 6:40AM, and then had a quick five minute taxi to the gate.
I bid farewell to Havanda and Sandip and thanked them for the great service, though was also excited to be on my way after 30 hours with Air India. There was a bit of commotion as I deplaned, but from there I was through customs in a matter of minutes thanks to Global Entry.
Air India first class bottom line
When I first booked my ticket in Air India first class, this flight was what I was expecting as the best case scenario. I was expecting an aged and worn product with lackluster entertainment. And I got that. I was expecting a non-globally competitive product in terms of how the meal service worked (no dine on demand menu, etc.), and not especially well planned out processes. And I got that.
But I had also hoped I'd experience hospitality from the heart from staff who do a great job because it's in their nature to do so, rather than because of any direct incentive to do so. And I got that as well. Havanda, Sandip, and Captain Pais were a class act, and made me feel like a guest in their "home."
So, would I recommend Air India first class? It's not going to be competitive with the world's best first class products, but it's also not actively unpleasant in any way. I felt safe at all times, the product is comfortable enough, and if you get a good crew, you'll feel really special. The ground experience in Delhi is downright impressive. If they were the most convenient or practical option, I wouldn't hesitate to fly with Air India again.
Would YOU consider flying Air India first class?