Landing in HKG always feels like arriving at home. We proceeded to transit security, where there was only a very short line. Compared to the TSA, security in Hong Kong is a bundle of fun. Shoes and belts stay on, and liquids stay in bags. Could it get any better than that? Most importantly, the agents are polite and treat passengers as customers, not fugitives.
Once through security we headed straight for "The Wing," Cathay Pacific's first class lounge. It was a bit of a hike, though HKG isn't a bad airport to be stuck walking around!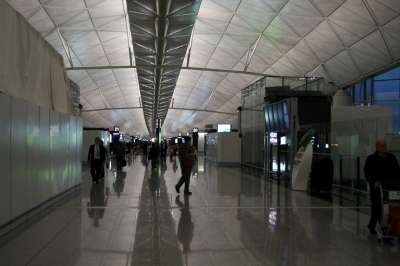 HKG
At "The Wing" we handed the agent our lounge invitation and found a nice place to sit. Cathay's services for premium passengers in Hong Kong aren't world class, in my opinion (certainly not comparable to Lufthansa's First Class Terminal in Frankfurt or Thai's ground services in Bangkok), though they're solid. Keep in mind that top tier OneWorld elites, Emerald members, get access to first class lounges, which tends to cause a bit of a crowding issue compared to the more private feel of other first class lounges.
"The Wing" has lots of comfortable couches and seating, though the lounge isn't huge, so you're often stuck sharing a "seating area" with someone. There are waiters roaming around offering everyone drinks, and the drink selection is quite good.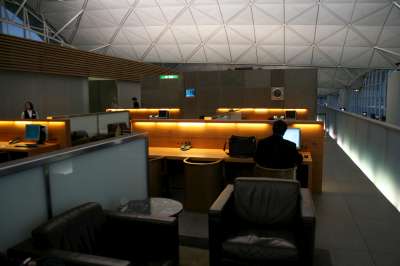 The Wing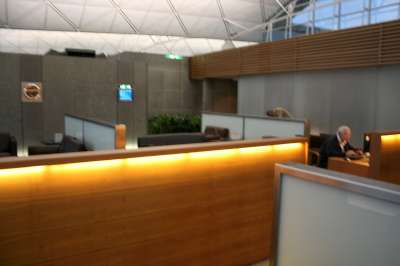 The Wing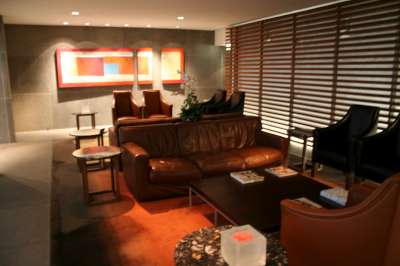 The Library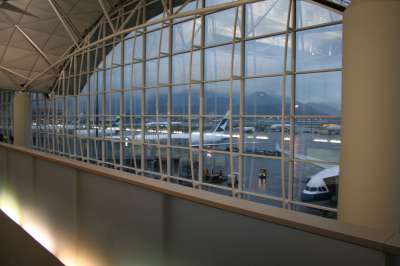 View from "The Wing" (that one's for you, Gary)
After sitting around for about 30 minutes I couldn't help but smirk as I saw the Singapore Airlines 777-300ER taxiing in, the same one we saw in San Francisco the night before. So I think it's safe to say we beat them there by about 45 minutes. Not sure if that's a good thing or a bad thing, but it sure does make a difference!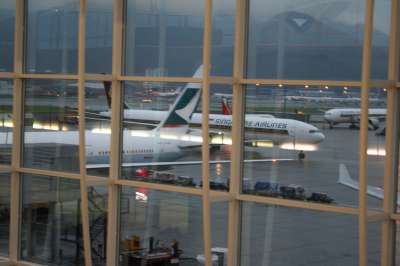 A bit tardy!
There are two things that make "The Wing" somewhat special, though — "The Haven" and "The Cabanas." The former is their dining area, which has a pretty nice buffet. We weren't hungry at all, so stay tuned for the return portion of the trip report for details on that. But I sure as hell wanted a cabana! These are the very nice private shower rooms that Cathay has. They have a shower, bathtub, and even a nice sitting area overlooking a small pond, as if you have a balcony.
I'd say they're easily the best airport shower facilities anywhere, except for one minor gripe — the toiletries are absolute crap. They have shampoo and body wash dispensers. First of all, having dispensers feels kind of cheap. Second of all, the dispensers weren't dispensing very well. So I spent at least 20 minutes showering thanks to the huge amount of effort I had to put in dispensing. Quite pathetic. I did get to relax on one of the lounge chairs for about 15 minutes, though.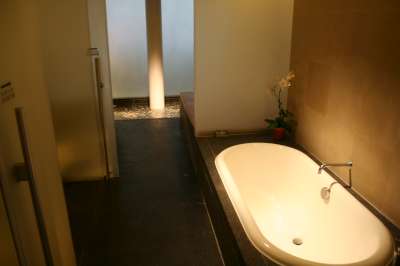 The Cabana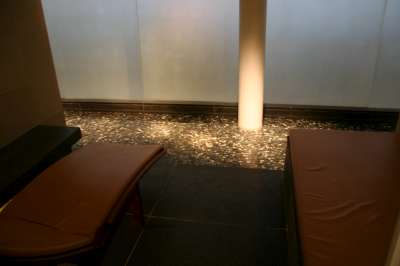 The Cabana overlooking pond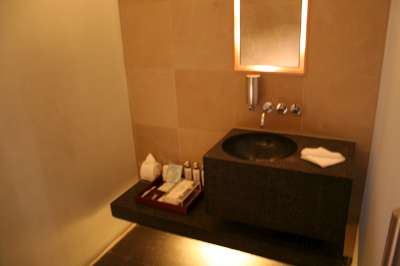 The Cabana
I was feeling refreshed after a nice shower and ready to tackle the rest of the day. I spent the better part of an hour checking my email, and then approached one of the agents to see if we might be able to be seated in the first class section of the plane for our flight to Bali. You see, Cathay operates 747s to Bali, which have three cabins, but they only sell coach and business class. They seat some business class passengers (especially elites) in first class upon request. When I asked nicely, explained my OneWorld status, and explained we were on a first class ticket, the agent made a quick phone call. Moments later boarding passes popped out for seats 2A and 3A.
Soon enough we headed to the gate for our departure, which was maybe a ten minute walk. We lined up in the business class line, where my brother pointed out that the couple behind me was making "fun" of my pants. While I was wearing a sports jacket and collared shirt, I was also wearing the green pants from the Shanghai Tang pajamas I had received on the previous flight. Apparently they quickly commented that those were the first class pajamas, so I guess they actually ended up appreciating them. 😀
Boarding was announced shortly thereafter and off we were. I was almost happy not to have the full first class service — that means less food with all the comfort of first class!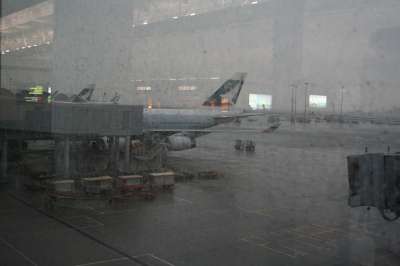 Our jumbo
Cathay Pacific 785, HKG-DPS, 747
Tuesday, March 9
Depart: 10:05AM
Arrive: 2:50PM
Duration: 4hr45min
Seat: 2A (Business Class)
I was curious to see how Cathay handles the service in first class on this flight, given that it's not really first class. I've gotta say, it really did feel like it, though. In typical Cathay fashion, I was escorted to my seat, addressed by name, and welcomed aboard. The flight attendant introduced herself as Grace and offered me a beverage. I went with some water.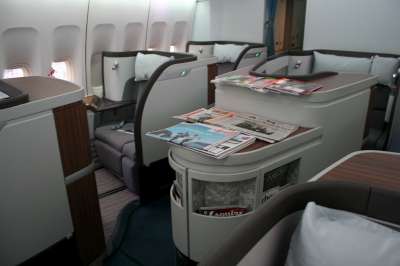 Empty first class cabin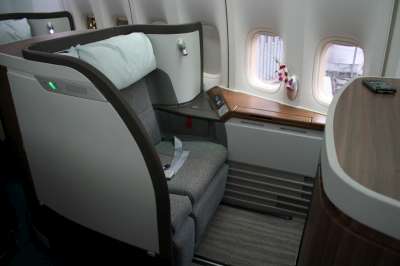 My seat, 2A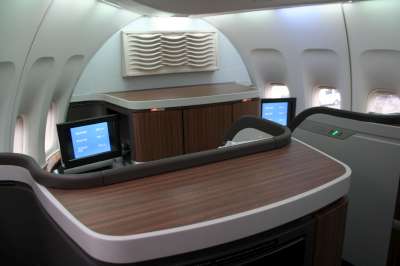 View from 2A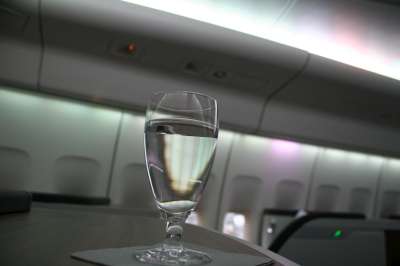 Pre-departure water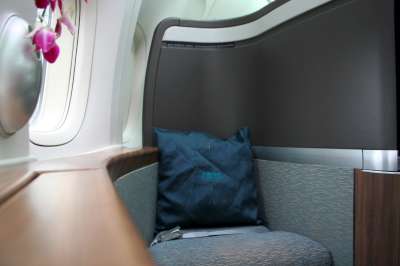 My seat
Once settled, the first class cabin started to fill. Seated in row one was the couple that made fun of my pants, seated across from me was some European businessman (at least that's what he looked and sounded like), and seated behind my brother was a pilot, I believe for Cathay Pacific. So that made the load in the first class cabin five out of nine.
I was then offered a blanket, which was definitely from business class. Kind of cheap, actually, much like the blankets United offers in domestic first class.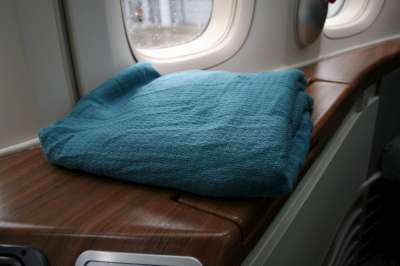 Blanket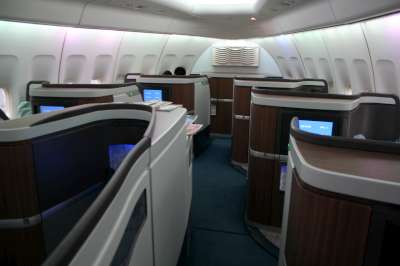 The cabin
As I waited for the door to close I looked through the entertainment magazine to try to pick a movie. After much deliberation I went with The Extract. As departure time came around the captain came on the PA to welcome us aboard. He informed us of our flying time of 4hr25min, and advised us we'd be arriving right on "shed-jewel" (believe it or not, that's how I've been pronouncing the word since my Cathay Pacific flights last year).
After a rather long taxi to the far end of the runway we taxied into position, held, and blasted off after a quick takeoff thanks to the light load.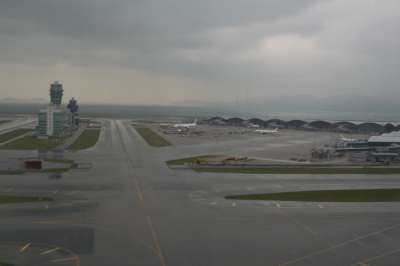 Taking off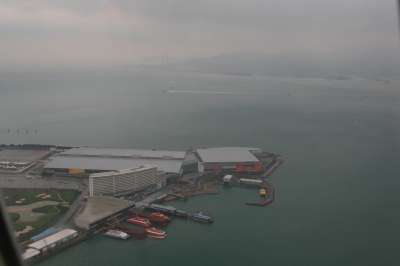 Marriott SkyCity, I believe
Our climb out was smooth and the weather a few miles up looked much nicer than in Hong Kong.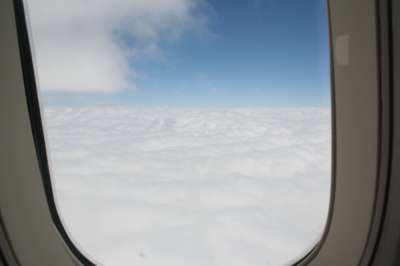 On climb out
As the seatbelt sign was turned off and the UNICEF video played, the inflight service manager, Kitty, came by to introduce herself and present us with the lunch menu, which read as follows:
Starters
Cajun spiced prawns with green mango salad

Mesclun salad served with cherry tomatoes, cucumber and balsamic vinegar dressing

Main Course
Braised lamb shoulder rack, mashed parsnip with garlic and thyme, mixed vegetables and vine ripen tomato

Prawns in turmeric sauce, coconut rice with shallot and stir-fried kailan

Braised chicken and chestnuts in oyster sauce, steamed jasmine rice and Chinese mixed vegetables

Dessert
Fresh seasonal fruit

Chocolate mascarpone cream cake with mango coulis

Tea and Coffee

Pralines
None of the main courses sounded particularly appetizing to me, but I went with the chicken. And the wine list read as follows:
Champagne
Billecart-Salmon Brut Champagne

White wines
P.Ferraud & Fils Vire-Clesse 2008
Trinity Hill Sauvignon Blanc 2008

Red wines
Peter Lehmann Barossa Shiraz 2006
Bodegas Alto Almanzora Este 2007

Port
Dow's Late Bottled Vintage Port 2004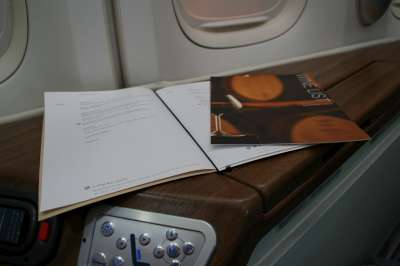 Menu
Our drink orders were quickly taken, and I went with a…. you guessed it, Diet Coke with lemon! The nut ramekin was noticeably smaller on this flight than the previous flight. Guess people in business class don't need as many nuts!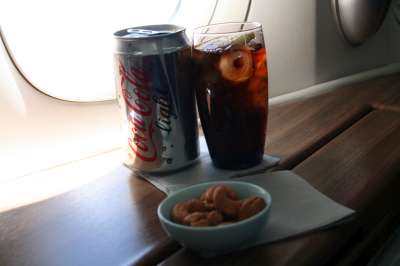 Diet Coke with lemon and nuts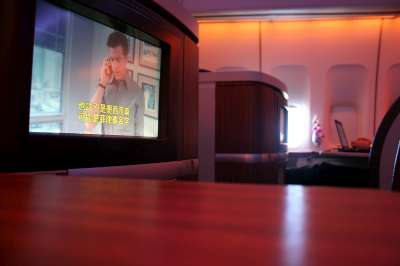 View from my seat
The service from Kit and Grace, our two flight attendants, was phenomenal. Service wise, it really did feel like first class. The first course was brought out, along with the bread basket. Yum, garlic bread. The first course was very good. The prawns were tasty and the salad was crisp and fresh.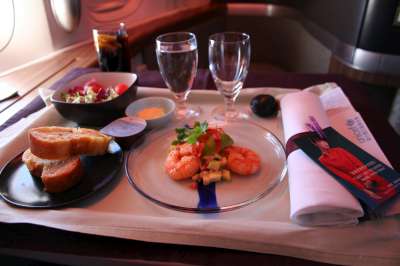 Salad and appetizer
Next came the main course, which wasn't all that good. I'm not a huge fan of oyster sauce, so that's probably what did it for me.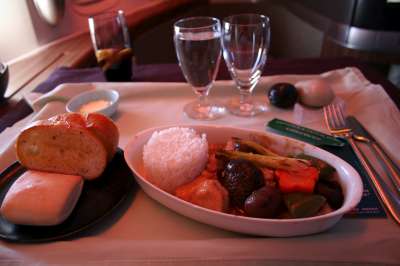 Braised chicken and chestnuts in oyster sauce, steamed jasmine rice and Chinese mixed vegetables
The dessert more than made up for it, of course. 😉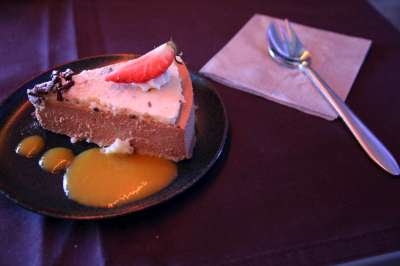 Chocolate mascarpone cream cake with mango coulis
The meal finished up about two hours into the flight, right as The Extract finished up. What a great movie. I laughed my rear off, especially at the annoying neighbor. I can relate.
I guess because I seemed the most "wowed" by the service (not sure if they think my picture taking means I never fly premium cabins, and as a result am easy to please, or what) I received a survey. That's the second flight in a row. While I'm not opposed to filling them out, they're so damn long and it's just a matter of checking boxes, rating various aspects of the service on a one to five scale. I'd much rather provide more detailed feedback.
Anyway, I gladly took the survey so that I could keep the pen.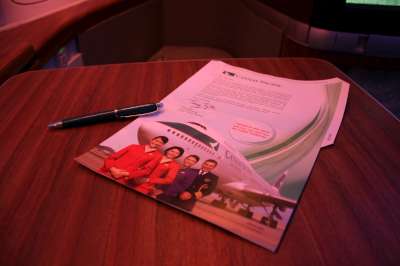 Survey
After completing the survey we had about two hours left to go, so I decided to take a nap since we'd still have most of the day in Bali. I slept very well for about 1.5 hours, and was woken up by the captain advising us that we had 30 minutes to go till landing. As we began our descent the seatbelt sign was switched on and I restowed all my carry-ons. We made a descent towards beautiful Bali, where it looked like a great day.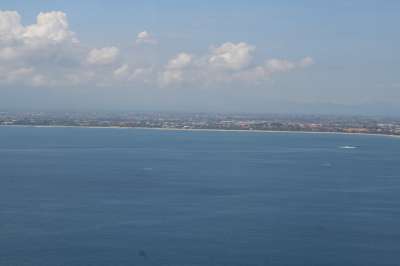 Approaching Bali
With a smooth landing ahead of schedule we taxied to the gate and bid farewell to the crew once again, thanking them for their great service.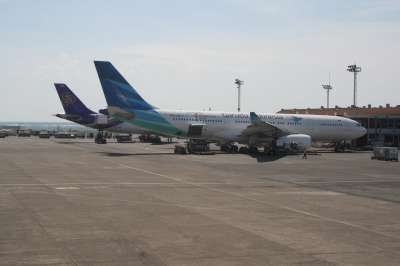 Neighboring aircraft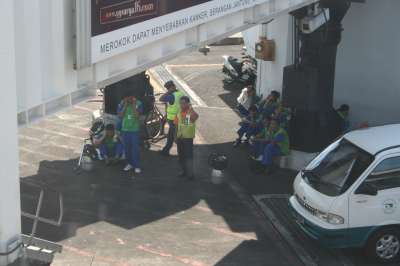 Someone's waiting for us!
Bali airport isn't exactly modern, in stark contrast to our departure airport. Last time I was in Bali I stayed at the InterContinental which included an arrivals service (which has been discontinued due to "corruption"…. biggest oxymoron ever in Indonesia), so this was my first time arriving without assistance. First we had to pay the visa fee of $25 per person, which is literally a matter of them stamping something in your passport, and then cleared customs and immigration.
Our checked bag came off the belt a few minutes later, so we proceeded outside, where we were greeted by ridiculously hot weather. We had ordered a car service from the Grand Hyatt, which we figured made sense, even at a steep $32, given what a mess Bali can be upon arrival. And it was worth it, as we were greeted with a sign and immediately directed to our air conditioned Mercedes.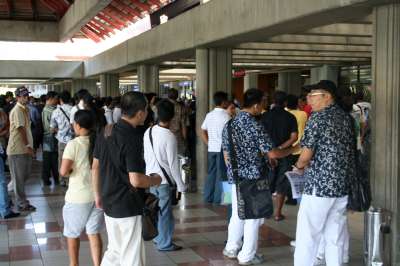 Arrival in Bali
Four days of relaxation, here we come!