---
Upon arrival in Hong Kong I headed towards the "SkyeXpress" counter. In the past I've always taken the Airport Express into the city, but this time around we were staying at the Hyatt Regency Sha Tin, which is located in the New Territories. Why? Because I needed Hyatt stay credits, the hotel came out to 130USD all-in (as opposed to double that in the heart of the city), and I wanted to see a new area of Hong Kong.
So the Airport Express wouldn't get us there, but the "SkyeXpress" bus goes nonstop between the airport and hotel. My brother took the Airport Express into the city to meet up with a friend, while I just wanted to sleep, so I bought a ticket for a very reasonable 100HKD (a special rate they have for hotel guests). I was escorted all the way to the waiting area, where I couldn't help but feel like I was in the airport scene in "Meet the Fockers." I was quite clearly the only person sitting there waiting for the bus, and an agent came up, stood in front of me, and loudly exclaimed, as if to an audience "ladies and gentlemen, we are now ready to board the bus to Sha Tin." After that announcement she looked straight at me and walked me to the bus.
My bus "boarding pass" was taken, I took a seat on the bus, and the door closed. I've gotta say, holy cow, this was the nicest bus I've ever been on. I'm no bus enthusiast, but damn. It was a huge bus with leather seats in a 1-2 configuration. I'd say the width of the seats and seat pitch was about the same as domestic first class. I can't even begin to say how bad I felt being the only passenger on this bus which probably seats 50 people. Doubt they're making a profit on my 14USD fare!
Driving towards Hong Kong, especially at night, is always amazing. I listened to some music on my iPhone and enjoyed the 45 minute ride. Upon arrival at the hotel I was helped with my bags and directed to the front desk (as if the location wasn't glaringly obvious). Once there I was immediately thanked for being a Diamond member and the agent explained I was being upgraded to the club floor and I would receive free internet. I asked the agent to hold a key for my brother since he was arriving later; she obliged.
The bell boy walked with me to my room with our bags (as I also had my brother's bags), and once in the room explained all the features to me. The room was a decent size, modern, and still had the "fresh" look to it.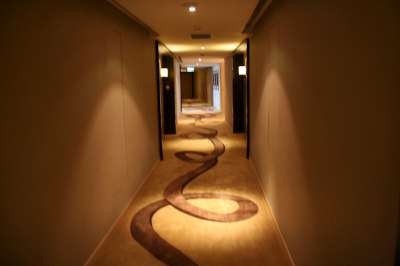 Hallway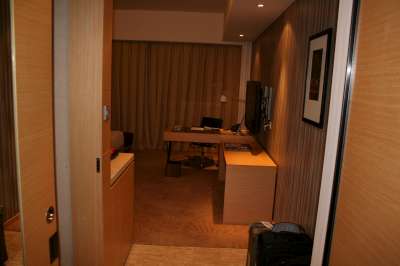 Entrance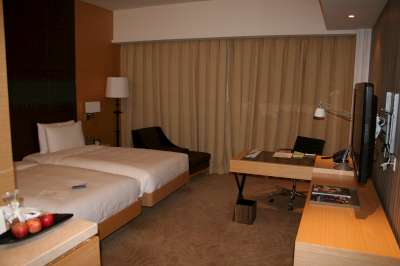 Room
As seems to be the norm by now, the bathroom was separated from the room by a glass partition, though there was a privacy screen. There was also a large shower and toilet.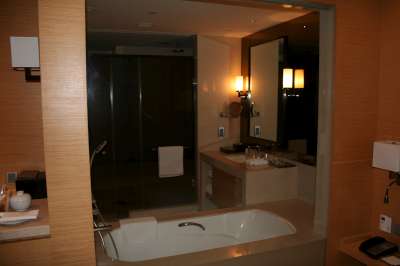 Bathroom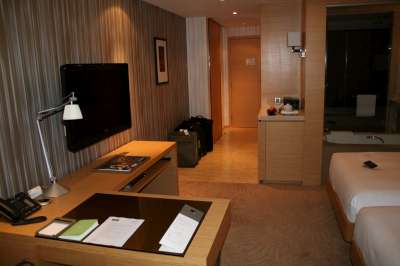 Room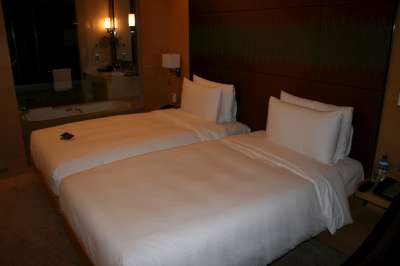 Beds
Again, you'll have to pardon my bitching, but what the hell is up with Hyatt's "food and beverage" amenities? Three apples and six nasty cookies. Really? I wish we had a choice of choosing 1,000 points in place of the amenity at international properties as well.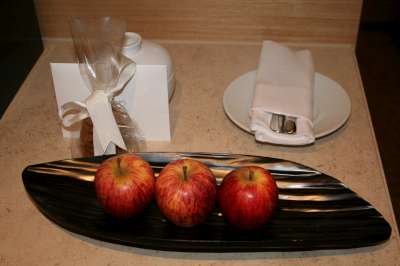 Welcome amenity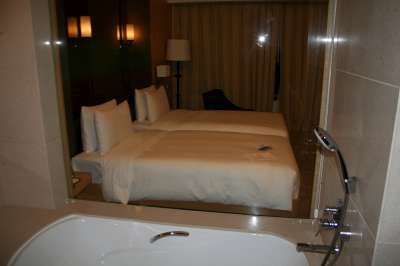 View of bedroom from bathroom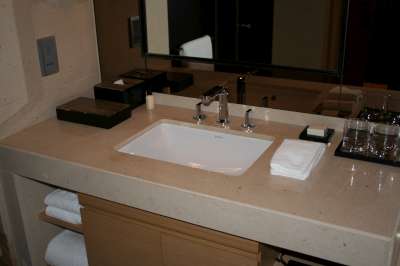 Sink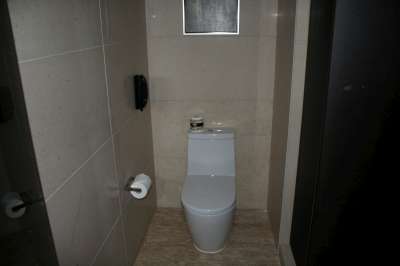 Bathroom
It was getting late and I was still a bit jetlagged, so after checking my email for a bit I was ready for bed. I was quite thirsty, though, so first went to the Regency Club to get something to drink. I sat there in the dark with a bottle of water just enjoying the relative calm after a rather long day. After that I slept like a baby for about ten hours thanks to the very, very, very comfortable beds.
Upon waking up I could tell it was a not-all-that-nice day in Hong Kong. It was foggy and looked like it might rain.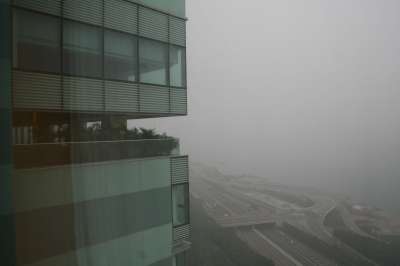 View from room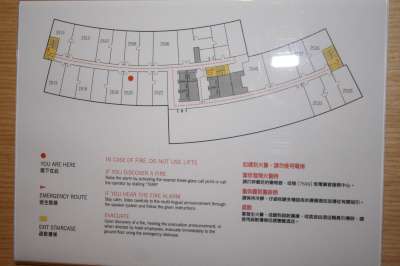 Floor layout
We headed to the club lounge for breakfast. The lounge has both an indoor and outdoor area. I loved the outdoor area given that it was quite windy and it's just cool to be on a high floor and get some fresh air, but it was a bit too windy, so we ate breakfast inside.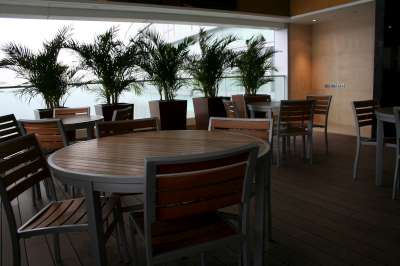 Outside patio in Regency Club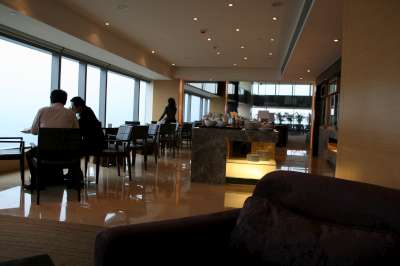 Regency Club
I forgot to take a picture of the breakfast spread, but it was surprisingly good. They had some hot options along with everything else you'd expect from a club lounge spread. Definitely filling, though didn't want to eat too much before our longhaul to San Francisco.
By the time we finished breakfast it was 11AM and we had set up a transfer to the airport at 2PM. We walked outside the hotel for a bit, only to realize that there wasn't anywhere to stroll for an hour or two. There wasn't enough time to go into the city, so we ended up getting some work done. After showering, packing, and getting ready, it was time to leave.
Check-out was prompt and we once again took the "SkyeXpress" bus to the airport. Sadly enough (for them), we were the only customers yet again.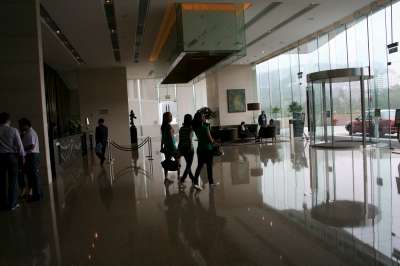 Lobby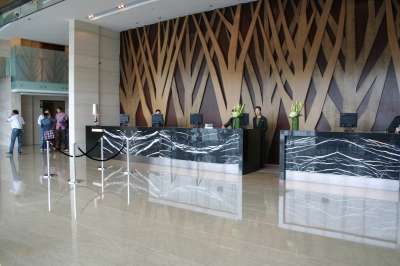 Lobby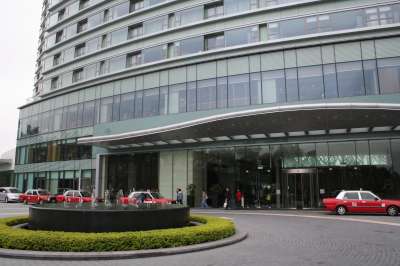 Hotel entrance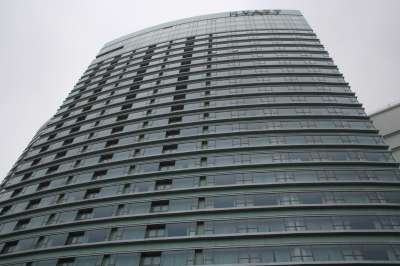 Hotel exterior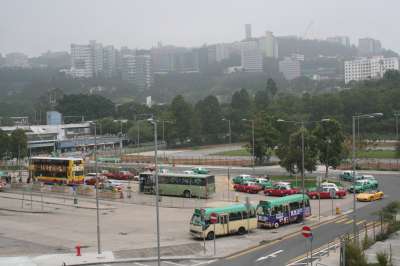 View from hotel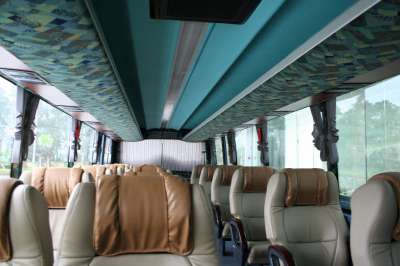 Ridiculously nice bus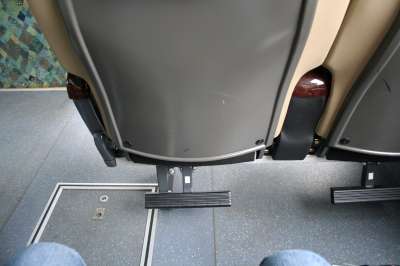 Look at that legroom…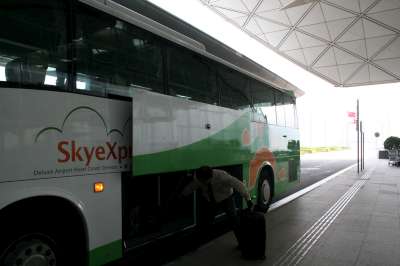 Arriving at the airport
We got to the airport just before 3PM, two hours before our departure. We had a nice stay at the Hyatt Regency Sha Tin, and the hotel was very nice, though I'm not sure I'd return. The location is rather inconvenient, and even the very reasonable price doesn't make it worthwhile when actually wanting to see Hong Kong. Next time I'll probably redeem points or free nights at the Grand Hyatt or otherwise stay at one of the two InterContinental hotels. That being said, for a quick overnight I wouldn't hesitate to return, as the bus is convenient.