---
With two weeks to go till Spring Break, I still had no travel booked. I knew it would be a busy summer, so I wanted to go somewhere while I still could. My brother (who is in business school) had the same spring break as me, so we decided to go somewhere together. We had explored the various options for weeks, but nothing fit together perfectly. We were focusing mostly on Star Alliance, trying to piece together an Aeroplan first class award from the US to Asia via Europe. We kept holding out hoping something better would show up, and then talk of the Lufthansa pilot strike surfaced, which made me a bit apprehensive.
Just for fun I took a look at Cathay Pacific award availability, not expecting to have any luck. I had the pleasure of flying Cathay Pacific first class over spring break last year to Manila (trip report can be found here), and was itching to fly them again, and especially to be able to "introduce" my brother to one of my favorite airlines. After a quick availability check using the British Airways website, I was shocked to find two first class award seats from San Francisco to Hong Kong and back in Cathay Pacific first class. At that point I was excited and spent hours on end trying to piece together the perfect itinerary.
A couple of years back I took a trip to Bali with a friend and had an incredible time (trip report can be found here), and figured my brother would enjoy it just as much, especially since we were looking to relax and "disconnect." And there's no more relaxing place on earth than the InterContinental Bali, in my opinion. Fortunately Cathay Pacific had award availability from Hong Kong to Bali, which was operated by one of their three cabin 747s. Unfortunately they only sell it as a two cabin flight, meaning they don't sell first class. Instead they'll seat some top elites in first class, but provide them with business class service. I wanted to try Cathay Pacific business class anyway, so the lack of three cabin first class service was fine by me.
Next came the domestic segments of the trip, which proved to be the most time consuming. My brother lives in New York and I live in Tampa, but he was visiting for a few days before the trip, so we both started in Tampa. He was returning to New York, though, so we decided to sample American's Flagship Service, which is the three cabin premium product they operate between New York and Los Angeles and New York and San Francisco to compete with United's Premium Service. Besides, getting as many three cabin first class flights is a big part of maximizing the experience.
We then had to add the segments from Tampa to New York, which we routed through Miami both ways. Miami to New York was even operated by one of American's 757s configured with business class seats. Overall I was really happy with the itinerary we got once it was finally booked, which cost a total of 135,000 miles and about $50 in taxes per person — a steal! As I blogged about before the trip, the booking process turned out a bit more cumbersome than I had hoped. Anyway, here's what the finalized itinerary looked like:
March 06, TPA-MIA, AA1819, 3:40PM-4:45PM, First, 1hr05min, 757
March 06, MIA-JFK, AA1400, 7:35PM-10:29PM, Business, 2hr54min, 757
March 07, JFK-SFO, AA0177, 6:00PM-9:45PM, First, 6hr45min, 767
March 08, SFO-HKG, CX0873, 12:05AM-6:50AM+1, First, 14hr45min, 747
March 09, HKG-DPS, CX0785, 10:05AM-2:50PM, Business, 4hr45min, 747
March 13, DPS-HKG, CX0784, 4:00PM-8:45PM, Business, 4hr45min, 747
March 14, HKG-SFO, CX0872, 5:05PM-2:00PM, First, 12hr55min, 747
March 14, SFO-JFK, AA0018, 11:10PM-7:30AM+1, First, 5hr20min, 767
March 15, JFK-MIA, AA1079, 10:30AM-1:45PM, First, 3hr15min, 757
March 15, MIA-TPA, AA1960, 3:40PM-4:40PM, First, 1hr00min, 737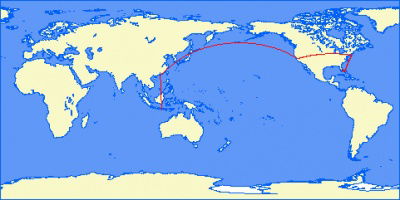 The only thing left to plan was hotels. We had four nights in Bali, and my goal was ultimately to stay at the InterContinental Bali as long as possible in a club room, since the club is really a resort within a resort. I managed to snag a "Friends & Family" rate of about $250 per night for the last two nights of our stay, although unfortunately that rate wasn't available for the first two nights since it requires booking 14 days in advance. I decided to expand my miles and points horizon, and status matched to Diamond status with Hyatt. I then snagged the Grand Hyatt Bali for $160 per night and used one of my confirmed suite upgrades on the reservation. Not a bad value, especially with access to their club lounge and free internet!
On the way back we had a one night layover in Hong Kong (wish we could have stayed longer, but American no longer allows stopovers on awards), so I booked the Hyatt Regency Sha Tin. It was rather inconveniently located, although at $130 per night it seemed perfect for a quick layover given the points I'd earn, free internet, club access, and ultimately location in a part of Hong Kong I hadn't visited before.
The biggest challenge came with choosing a hotel in New York on the outbound. The logical choice would be to stay near the airport, although JFK airport hotels have to be among the most depressing in the world. I was ready to book the Holiday Inn JFK (where, as some of you may recall, I have received excellent treatment), which, as I learned the hard way, seems to have been recently rebranded. Hope my buddy there at least still has a job. 😉
So instead we got a bit creative. Still wanting to try out my new Hyatt Diamond status and a whole new "concept" of hotel, we eventually decided on the Andaz Wall Street. Totally out of the way? Yep. An area I really don't want to be in? Yep. But nonetheless totally worth it. The rate was $250, which, while steep, came with some nice benefits. By using the "ANDAZ5" promotion code I earned 5,000 bonus Gold Passport points and $50 hotel credit, which is in addition to the 2,000 Gold Passport bonus points through the "G2" promotion at this hotel, in addition to the 1,000 point Diamond amenity. Add that to the $50 breakfast credit they already give you, and I was looking at over 10,000 points and over $100 to blow at the hotel for $250. Not a bad deal at all, especially since it would also allow me to review a new type of hotel that has been the subject of much hype.
And there ya have it. I'll do my best to crank out the trip report as quickly as possible, ideally one installment a day. Sit back, relax, and enjoy the journey!