---
Getting off a flight in international first class is pure bliss, isn't it? With a beautiful day like it was in San Francisco, what could possibly go wrong? "WE'VE BEEN HERE FOR TWO DAYS! DEREGULATION HAS DESTROYED THE AIRLINE INDUSTRY! I'M NOT LEAVING TILL YOU REBOOK ME, CALL THE COPS IF YOU NEED TO."
Yep, that's what we were met with at American's check-in counter. All we wanted to do what re-check my bag for our ongoing flight, for which we lined up in the Priority AAccess line, along with two of the other passengers that flew with us in Cathay Pacific first class. What followed was a wait of over 30 minutes as an angry mob formed as a result of the cancellations thanks to the bad weather in New York. The ticket counter was way understaffed and passengers just wouldn't shut up, as they kept pestering the agents. Fortunately that led to quite a bit of entertainment for us. I have to say the agents handled the situation remarkably well, much better than I would've.
Of course this mob of angry people had to be led by someone I imagine to be one of the world's most infrequent fliers. I'll omit my potentially offensive description of her for everyone's sake. Somehow she got a big following from the other passengers that were stranded, and she "demanded answers." She would march up to the counter repeatedly, insist on being rebooked sooner, and harped for at least ten minutes about how deregulation has ruined the airline industry. I'm betting this is the same person that bought her ticket on Orbitz for $199 roundtrip to New York. 😉
Lady, when the weather gets bad, even regulation can't help you. Anyway, eventually an agent gestured us over to her counter, and I couldn't help but say "looks like a fun day, huh?" She responded with "tell me about it," and her face turned from a frustrated expression to a smile. She checked my bag and printed our boarding passes, and even informed us our redeye was on time. First we wanted to get some work done, so we decided to head over to the British Airways lounge in the international terminal. Our plan was to then walk along the bay in Burlingame later in the evening to get some fresh air.
The nice thing about security at SFO is that they'll typically let you access a different terminal, even if you're not flying out of it, as long as you have a boarding pass. We explained we wanted to use the British Airways lounge, and both the line ID checker and TSA agent were fine with it. This time without a "full body scan" experience we were through within a few minutes.
Moments later we were in the British Airways lounge, which unfortunately was around the same time that the flight to London was departing, so the lounge was packed. The snacks were as awful as they were on the way out, which is really quite embarrassing. I was looking forward to the flight boarding so that the Wi-Fi would be a bit faster and the lounge a bit quieter, but as boarding finished up I decided to check the status of our redeye to JFK. And amazingly enough, it showed as canceled due to crew. Crap! Many of the previous flights had already been canceled due to weather, so this was very bad news, since everything was sold out for days to come.
I hopped on ExpertFlyer, only to find that virtually nothing was available, let alone in first class. We decided to go to the ticket counter to see what they could do for us. Ya see, this is where it helps to have been nice to the agent earlier. 😉
We got to the counter, which was quite empty this time, and walked up to the same agent that helped us earlier. As we walked up to her she said "oh boy, I was hoping not to see you guys again for your sake. What's wrong?" We explained the flight was canceled, at which point she indicated she was happy her shift was almost over. She spent the better part of an hour trying to find us a way home. There was nothing. Nothing at all. No matter how hard she tried, she couldn't find us anything. And trust me, I fed her all the possible options I could come up with.
The only thing she saw was the 3:30PM flight from San Francisco to New York which was delayed by four hours, essentially making it a redeye. Unfortunately it was oversold by 26, so there was no way she could even force us on it. Eventually the other agent that had been overhearing our conversation (and noticing that we weren't bitching about deregulation, how much American Airlines sucks, or threatening not to move until a solution was found) said "run to the gate for the delayed flight to New York, here are some departure management cards. They can get you on it."
Holy cow! We ran through security and got to the gate, where they were processing non-revs. Not sure how the flight went from oversold by 26 to undersold. Both my brother and I were handed boarding passes, although unfortunately only for business class. We were just happy to be getting home, though.
American 20, SFO-JFK, 767-200
Sunday, March 14
Depart: 7:00PM
Arrive: 3:20AM +1
Duration: 5hr20min
Seat: 10B (Business Class)
Once on the jetway we were asked to gate check our bags. Lovely. I didn't think twice about it (literally had been running nonstop for five minutes) or else I would have argued with the agent as there was plenty of overhead bin space. I settled into seat 10B, in the second to last row of business class. On one hand I was pissed to be downgraded, but on the other hand I was happy to be able to experience American's business class product on Flagship Service as a point of comparison to United.
I have to say the seats as such were disappointing. They weren't nearly as comfortable as United's Premium Service business class seats, and the legroom seemed a bit more restrictive.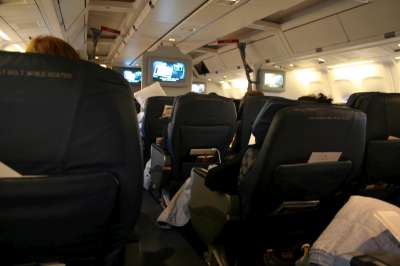 View from seat 10B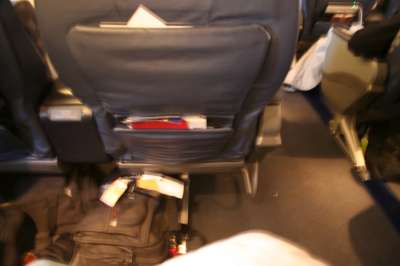 Legroom
Five minutes after settling in the door closed, the safety video played, and the captain made an announcement apologizing for the delay and explaining we'd be arriving at JFK just after 3AM, as opposed to slightly before midnight. Lovely. We started a quick taxi to runway 1R and were airborne quickly, at which point I reclined and started to nap, as I was quite tired. After about 20 minutes the purser made her welcome aboard announcement, exclaiming that "we flew this plane up from LA under one condition – the lights are broken, so they need to either all be on or all be off. So we'll compromise. For the first two hours of the flight all the lights will be on, and for the rest of the flight they'll all be off." Hissing filled the cabin.
As we leveled off menus were distributed followed by personal entertainment systems. Despite this basically being a redeye due to the delay, we were still getting a full dinner service. The menu read as follows:
Dining Service

To Start
Warm mixed nuts

Appetizer
Mojito shrimp served with somen noodles
garnished with parsley

Salad
A combination salad featuring fresh seasonal
greens, offered with classic Caesar dressing or
Sapori d'Arte olive oil and balsamic vinegar,
accompanied by a chile cucumber salad

Bread Basket
Assorted gourmet breads

Main Course
Chili Coconut Shrimp
Sauteed shrimp simmered in a chili coconut
herb sauce, offered with sauteed vegetables
and jasmine rice with vermicelli
An American Classics Item

Cheese Ravioli
Semolina pasta filled with four cheeses,
offered with a mushroom tomato cream sauce,
sauteed shallots and sliced mushrooms

Dine Upon Request
You may choose one of the featured entrees
for your Dine Upon Request selection, presented
all at once, at any time you wish during the flight

Dessert
Ice cream sundae
Vanilla ice cream with a choice of hot fudge,
butterscotch or seasonal berry toppings,
whipped cream and pecans
or
Fruit and cheese
A selection of seasonal fruit and fine cheeses

Light Refreshment
Freshly baked on board cookies

Pre-Arrival Beverage

For Your Enjoyment
Chilled sparkling water with a fresh citrus garnish
While I took a media player I didn't actually watch anything. Instead I connected to the Wi-Fi and spent the flight playing around with my iPhone. Service began within moments, and I asked for a Diet Coke with lime (and yes, it's nice to be flying an airline once again that has lime). The flight attendant was extremely friendly, always following up my "thank you" with "you're welcome sir." The drink was served with hot nuts. It's worth noting that service was done using a cart in each aisle, unlike United, where it's tray service, even in business class.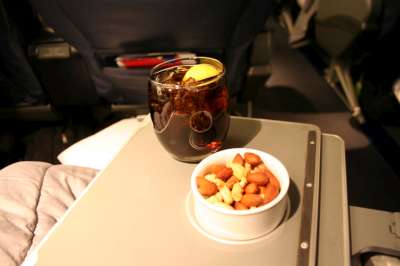 Diet Coke with lime and hot nuts
The highlight of my flight had to be when the flight attendant came around with a wine carafe filled with hot, steamy nuts, ready to pleasure our ramekins at will. I of course asked for a refill.
Dinner orders were taken starting in the front thanks to American's "FEBO" system. I still managed to snag my first choice, the cheese ravioli. The cart containing appetizers and salad was rolled out next. All this was promptly served, along with bread from the bread basket. The salad was nasty, probably because it had been sitting around for four hours thanks to the delay, the dressing was nauseating, and the shrimp were tasteless. The bread was good, though. 😉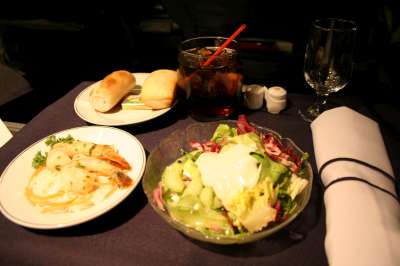 Salad and appetizer
The flight attendants did a very good job of replacing the appetizers with main courses as each passenger finished up (as opposed to waiting for everyone to finish their appetizer and then proceed with the main course). They also did a great job keeping drinks topped off.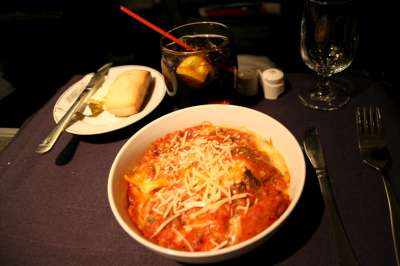 Delicious cheese ravioli
Of course it's the last impression that counts, and the ice cream sundaes are pretty unbeatable. I had mine with all the trimmings. Too good.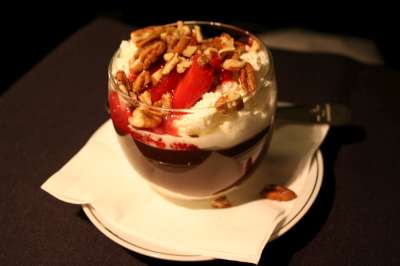 Ice cream sundae
After the meal I decided to take a nap, and while the seats weren't very comfortable I was tired so managed to sleep for an hour or two. Unfortunately the flight attendants decided to leave all the lights on for the whole flight, since apparently some passengers were requesting they stay on.
As we approached JFK I smelled cookies, but I didn't actually see them served. Not sure if the flight attendants baked them to take 'em home or if I was just too tired to see them being served.
Nothing's more exciting than landing at JFK at 3AM in the morning. Actually, almost anything is, but that's besides the point. It goes without saying the terminal was totally empty.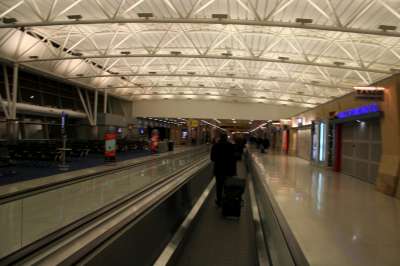 Terminal at 3AM
Since my brother and I both gate checked our bags we headed to baggage claim to retrieve them. After waiting for about 30 minutes someone got on the PA and announced rather apathetically that "it's gonna be at least one and a half hours till the bags arrive because we don't have any rampers working at this time. If you'd like to file a baggage report and have the bag sent to you, feel free to do that." All of a sudden 100 people lined up, as if that's going to be faster than 1.5 hours. Baggage claim was a total mess.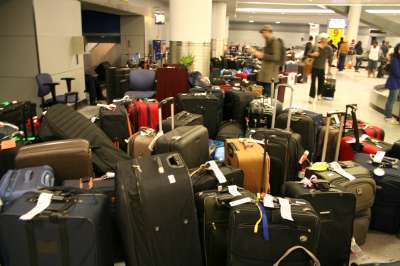 Not sure where these bags are from….
My brother and I decided to go to the departure level to escape the pissed off people in baggage claim, and we hung out there for about an hour. There were cots set up with dozens of people sleeping, so it made it a bit strange to just walk around. After nearly an hour we decided to head back downstairs, and were happy to see our bag was waiting for us at that point.
Unfortunately this was the end of our trip together. I bid my brother farewell as he lives in New York, and headed back to the departure level for my flight to Tampa via Miami. While my flight was only at 10AM I was looking forward to taking a shower in the Flagship Lounge.
The TSA checkpoint at 4:45AM was an adventure. Ms. Williams at the TSA checkpoint was getting a bit angry at her colleague because he wouldn't tell her which flights were canceled from the previous day. The guy in front of me had a boarding pass from the previous day and said the flight was canceled, so Ms. Williams hassled her colleague to find out exactly which flights were canceled, because, as she said while waving her finger back and forth "I ain't gonna put my John Hancock on something if it ain't right."
By the time I got through the TSA checkpoint it was around 5AM, 15 minutes before the Flagship Lounge and Admirals Club opened. I lined up along with a few other people. At 5:15 (not a minute earlier) the door was opened and we lined up to enter. As I presented my boarding pass to the agent she gave me a key to the Flagship Lounge.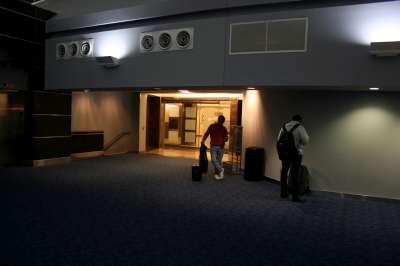 Waiting for the lounge to open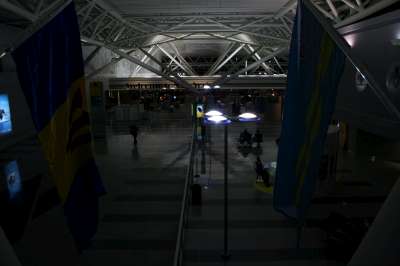 View from the upper level
Inside the Flagship Lounge was quite possibly one of the most professional customer service representatives I've ever dealt with. She cheerily welcomed me, addressed me by name, and tried to start a conversation. She offered me a Wi-Fi card, so I sat down and browsed the web for a bit while having breakfast.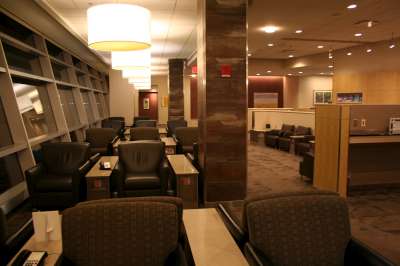 Flagship Lounge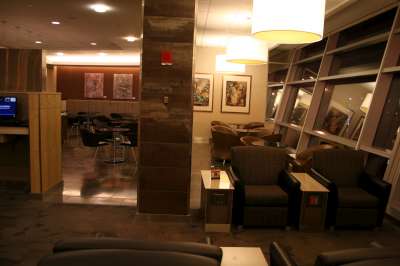 Flagship Lounge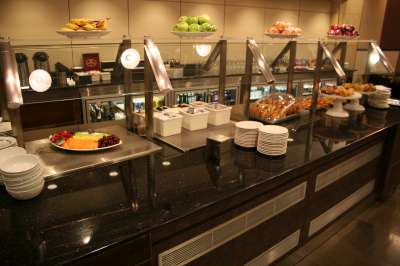 Breakfast spread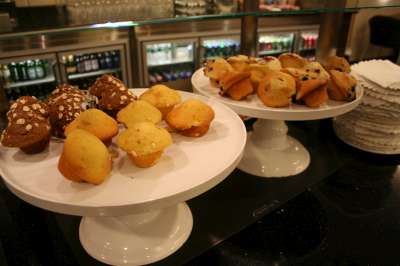 Breakfast spread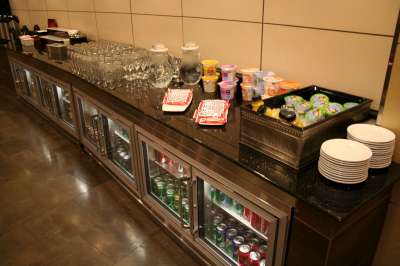 Cereal and yogurt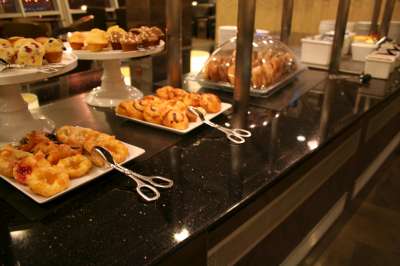 Pastries and muffins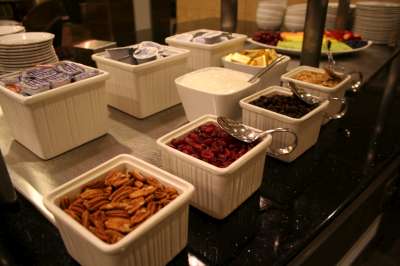 Something or another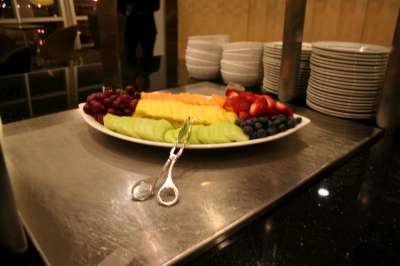 Fruit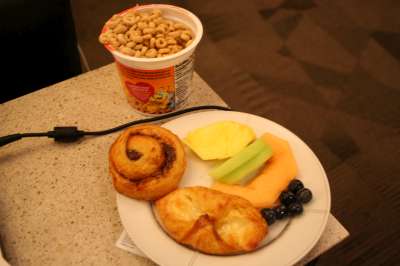 My breakfast
I had the lounge to myself for about 30 minutes, at which point three other people showed up. Again, I observed just how professional the lady working the Flagship Lounge was. She went up to one of the people that just had entered, addressed her by name, and said "I notice you don't have an AAdvantage number on your reservation. Did you maybe have a number at one point? I could look it up if you give me your zip code, or otherwise sign you up for a new account."
She was equally gracious with every guest that entered. I just can't express how impressed I was by her. I eventually asked to take a shower, and she walked me to a shower room and explained how everything works.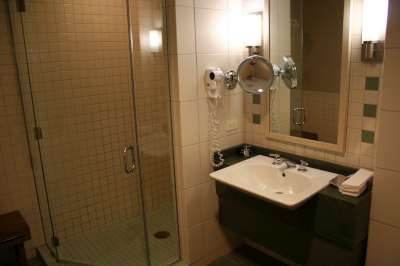 Shower room
Nothing's more refreshing than a shower after a long couple of days of flying. After the shower I headed to one of the comfortable lounge chairs by the window and relaxed for about an hour, at which point I headed towards the gate for my flight to Miami.
I got to the gate at around 9:45AM. Boarding started a bit early, at around 9:50AM, but as I tried to board the scanner beeped. It appears I was offloaded by mistake due to the change in flights out of San Francisco, but fortunately there was still a first class seat left, though a window (while I prefer aisles).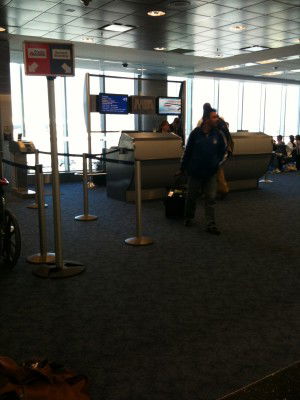 Departure gate
American 1079, JFK-MIA, 757
Monday, March 15
Depart: 10:30AM
Arrive: 1:45PM
Duration: 3hr15min
Seat: 3A (First Class)
I was welcomed aboard by two flight attendants that looked like identical twins. Both were balding middle aged men with the same pissed off look on their face. There was a lady seated in the aisle seat, and as I gestured that I was in the window seat, she just sat there. She moved her feet to make room for me. Is it too much work to get up so I can slide in? I promise I won't be high maintenance otherwise, lady.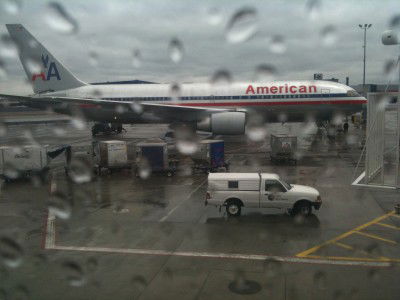 View from 3A
I was still quite tired so napped during boarding. I woke up when the captain came on the PA to welcome us aboard and advise us of our flight time of 2hr45min, giving us an on-time arrival into Miami.
The flight was rather unremarkable. The seatbelt sign was on the for the entire flight yet the service was quite attentive. First hot nuts were served, and I was once again enjoying my favorite limy drink.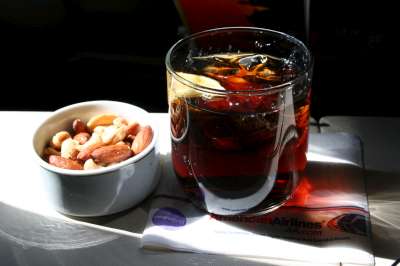 Hot nuts and Diet Coke
Lunch choices were the same as the "snack" choices on our flight in the opposite direction — chicken parmesan or a salmon salad. I went with the chicken parm, which was served with a side salad, pita chips, and hummus. Very tasty — definitely blows United out of the water for a similar flight.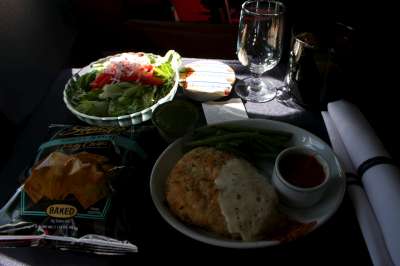 Chicken parmesan
Throughout the flight refills were offered, and towards the end of the flight, sugar cookies were served.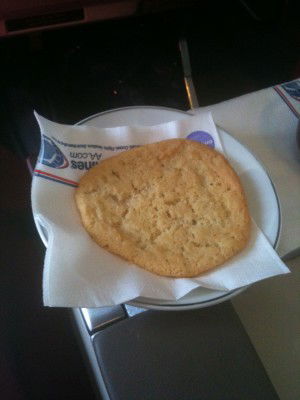 Sugar cookie
The approach into Miami was beautiful as always.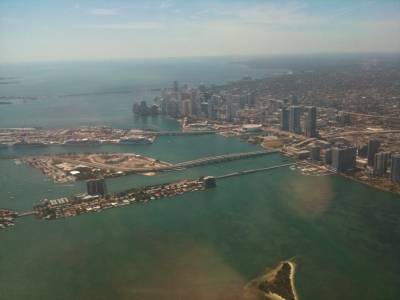 Downtown Miami
I'm trying to figure out how exactly the Miami terminal is designed. I followed the signs towards the E concourse to visit the Flagship Lounge, and the walk was at least 20 minutes. Is there an airport that's more of a maze than Miami?
The Flagship Lounge was much like it was on the way out — the snack selection was decent, but I really just wanted to catch up on email, so I spent a couple of hours doing that. Shortly before 3PM I headed to the gate for my flight to Tampa. Boarding started right around 3PM and off I was for my last, short segment.
American 1960, MIA-TPA, 737
Monday, March 15
Depart: 3:40PM
Arrive: 4:40PM
Duration: 1hr
Seat: 6E (First Class)
I settled into the last row of first class on this fresh looking 737 and again began to nap. While pre-departure beverages were offered, I passed. I was happy when the door closed 10 minutes early as I was one step closer to finally being home. Unfortunately there was no such luck, as we sat there for another five minutes, at which point the door opened and they let about five more passengers aboard. Wow, that's a first!
Then we sat there for another ten minutes, at which point they opened the door yet again and let on another ten people or so. Then the door closed. Then, yet again, the door opened ten minutes later and another five people got aboard. At that point we found out that there was a mechanical issue, which makes me wonder why they kept opening and closing the door.
Soon enough that problem was fixed, the safety video played, and we began a quick taxi. Our flight time was 35 minutes, just enough time for a round or two of drinks with snack mix. The purser, Ben, was professional and efficient, though there's not all that much you can do on a 35 minute flight to set yourself apart.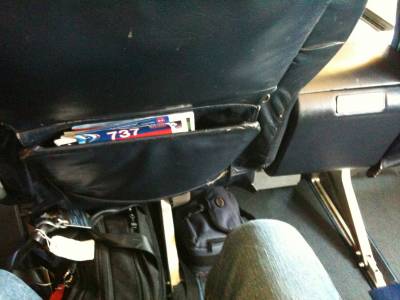 Legroom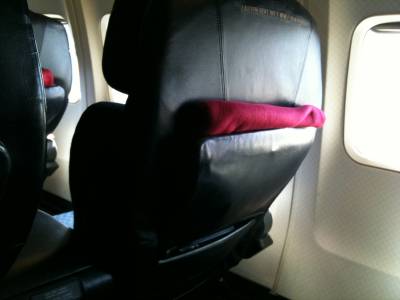 Seatback
Upon landing in Tampa I was thrilled to find that my bag did indeed make it despite the reroute, and was happy to finally be home. Nothing beats a good night of sleep after a long trip.
Anyway, thanks for reading. I had an amazing trip and enjoyed sharing most of the details. As usual, Cathay Pacific didn't disappoint. American was, overall, surprisingly pleasant. Bali was beautiful as always. And of course Hong Kong still has that exciting feeling to it.
Happy travels to all!